I liked the previous (version II) iteration of Canonís 12x36 IS binoculars, but the stabilisation was too slow and clunky. Recently, theyíve released an updated IS III version. In this review I find out if itís any better (spoiler alert: it is).
Canon 12x36 IS III Review
<![if !vml]>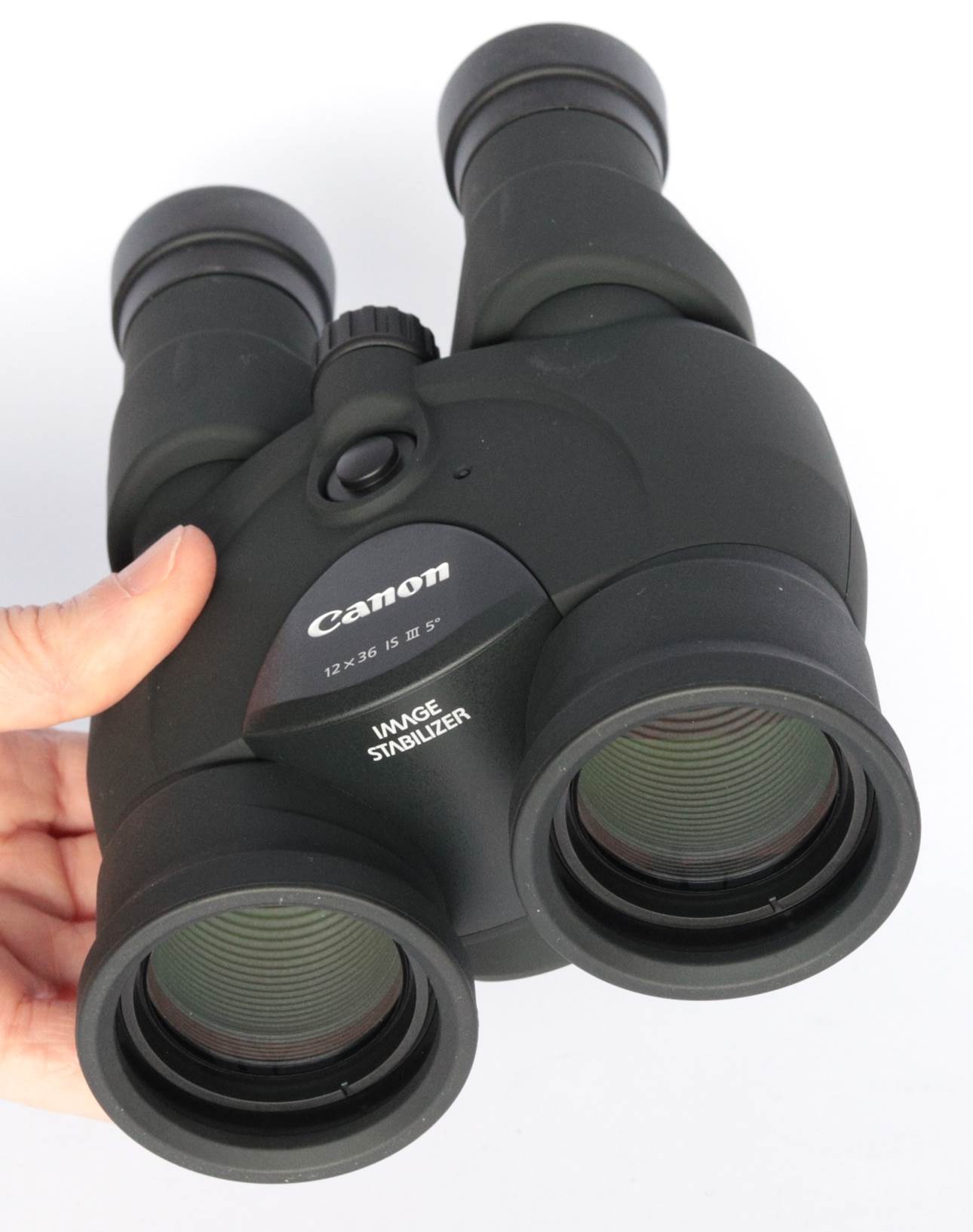 <![endif]>
The first pair of Canonís 12x36 IS I owned were great in some ways, but flawed in others. I sold them, with some regret afterwards, almost a decade ago. Since then Iíve flirted with another pair, because I recall them being excellent for astronomy. So recently (2020) I decided to get a pair of the latest specí (IS III) to see if I still liked them and what (if anything) has really changed.
Iíve left the original review for reference or for those shopping used. You can read it here.
<![if !vml]>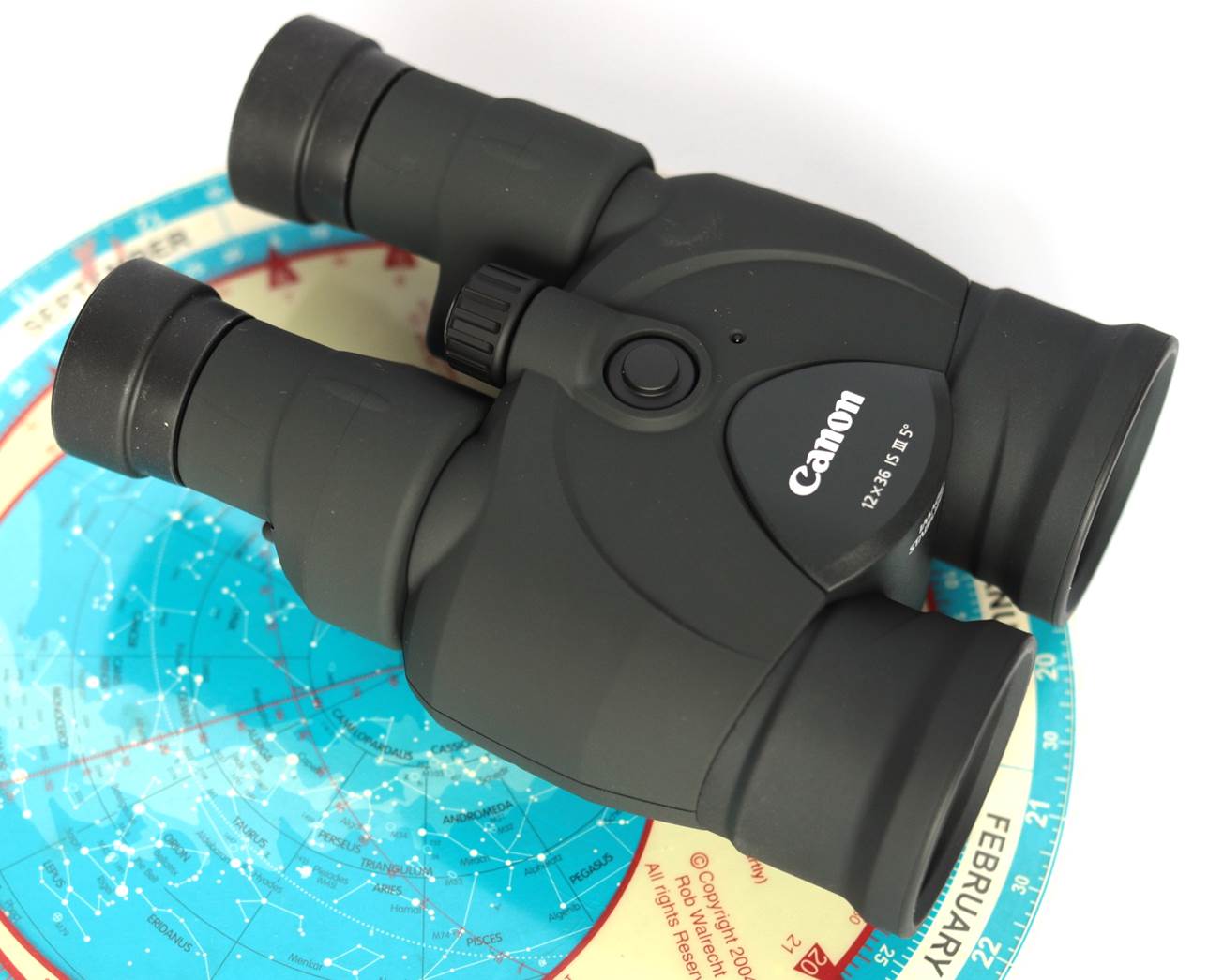 <![endif]>
At A Glance
| | |
| --- | --- |
| Magnification | 12x |
| Objective Size | 36mm |
| Eye Relief | 14.5mm (15mm measured) |
| Actual Field of View | 5į |
| Apparent field of view | 55.3į |
| Close focus | 7m |
| Width x Length | 150 x 174mm |
| Weight (my measurements) | 650g w/o batteries (~700g with) |
Data from Canon/me.
Whatís in the Box?
The packaging for the IS III version has changed subtly. Itís still a depressingly small box, though, if youíre used to deluxe packaging from Swarovski and Zeiss. Good for the environment, I guess.
<![if !vml]>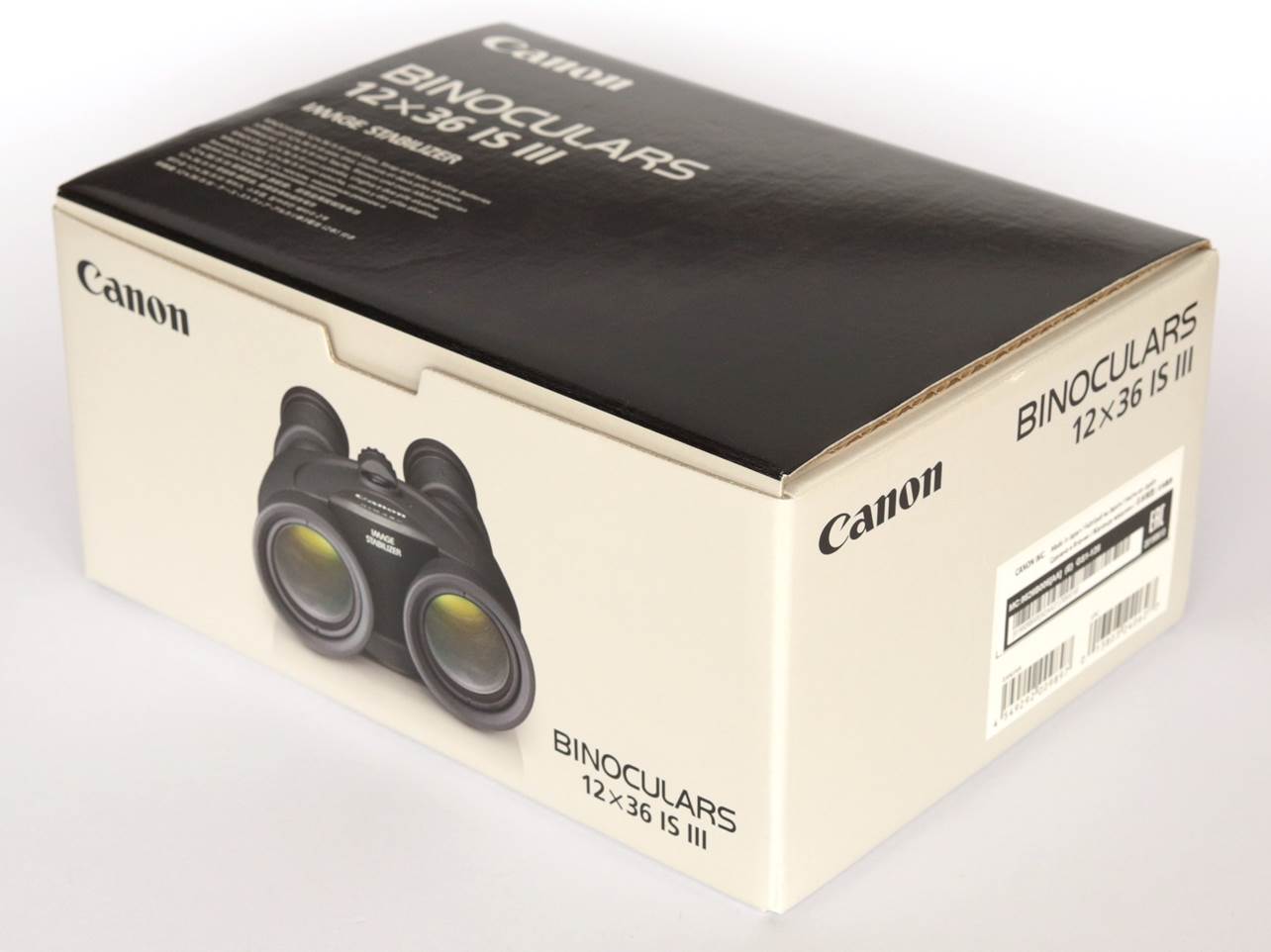 <![endif]>
<![if !vml]>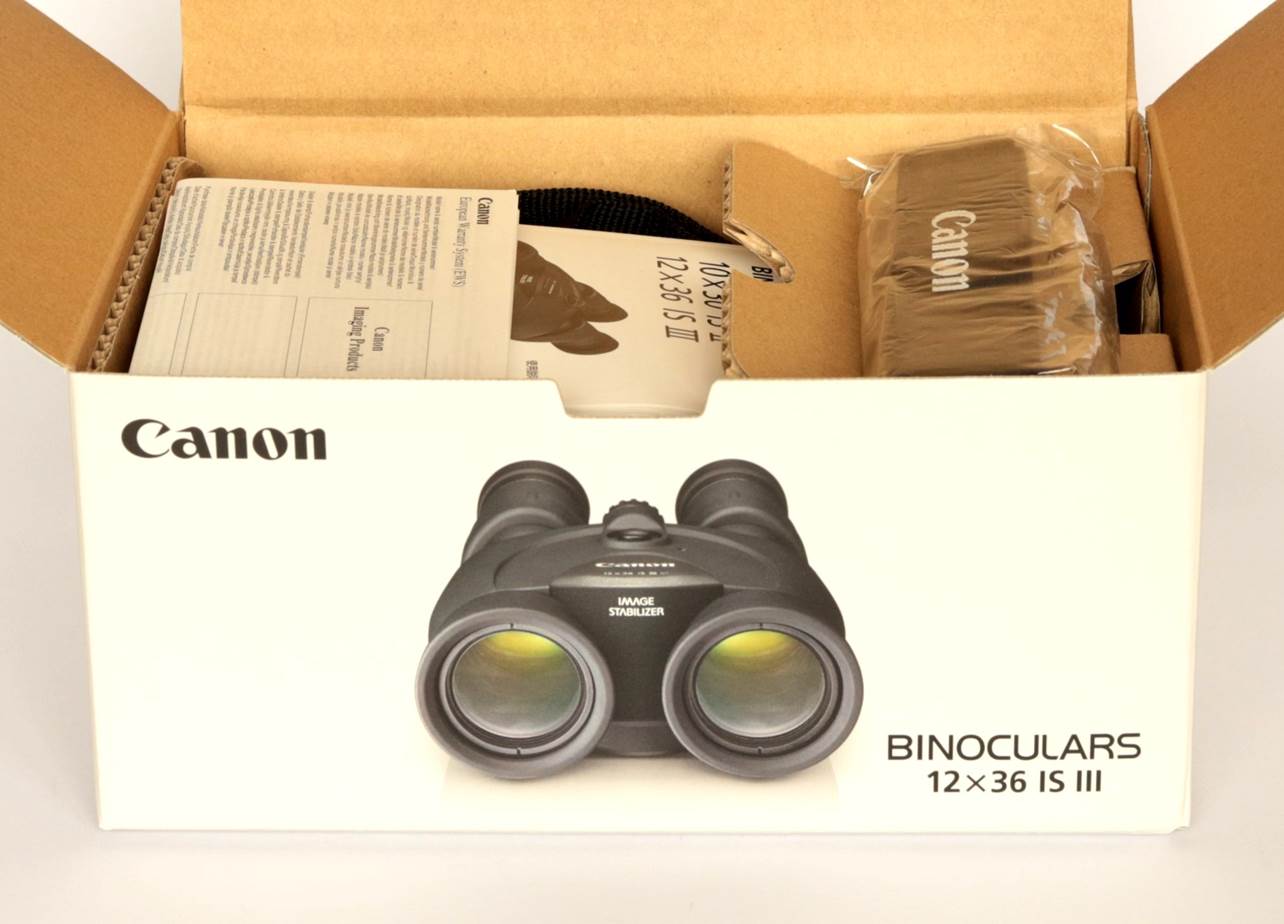 <![endif]>
<![if !vml]>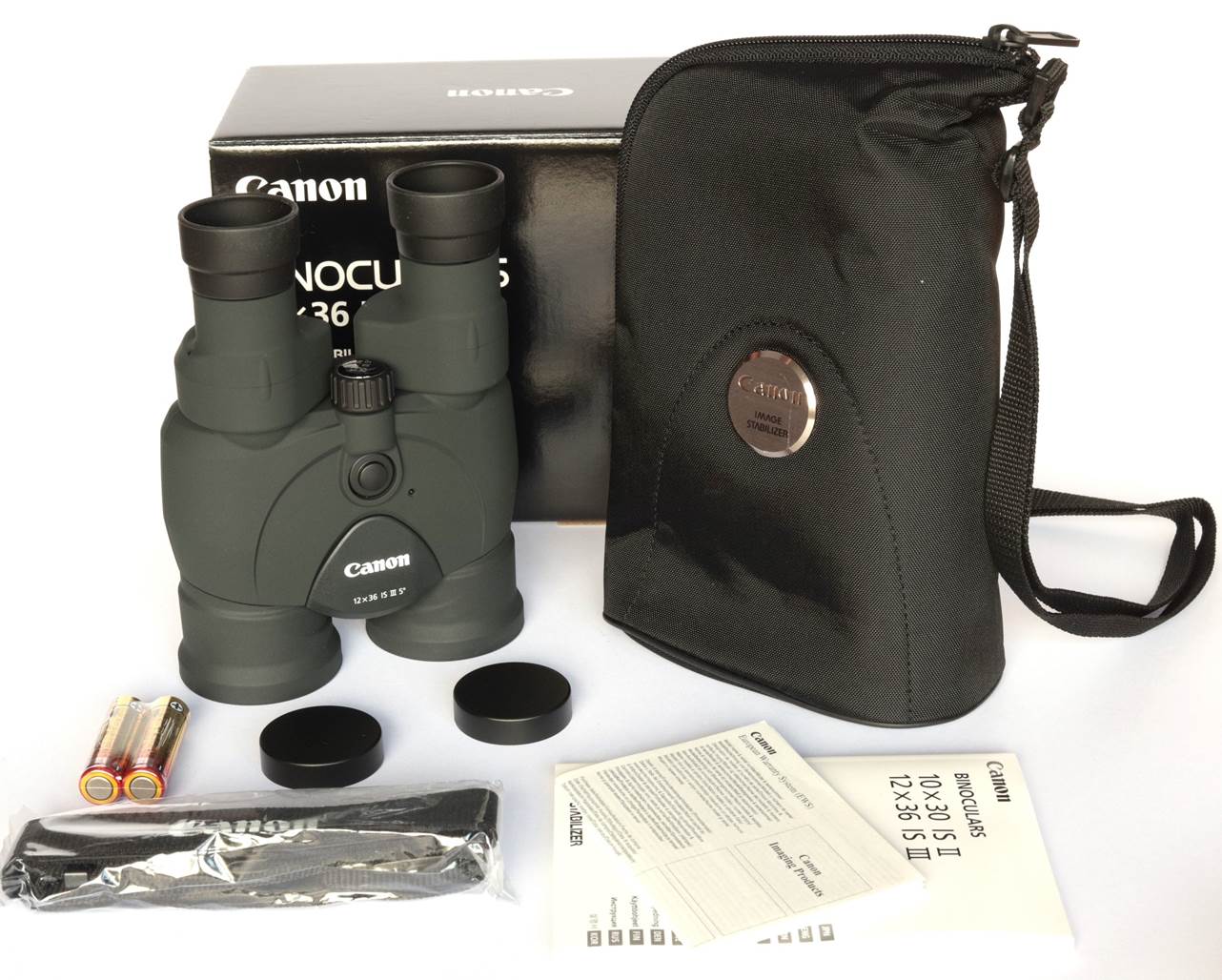 <![endif]>
Design and Build
The Canon IS range has no less than five different groups:
<![if !supportLists]>∑ <![endif]>8x25, 10x30 and the 12x36 on test here, which share a similar non-waterproof design, are light weight and fairly cheap
<![if !supportLists]>∑ <![endif]>Premium 10x42s which are fully waterproof, have special lenses and are mainly aimed at birders
<![if !supportLists]>∑ <![endif]>Larger, more expensive binoculars of semi-waterproof design, with ED lenses: 15x50 and 18x50
<![if !supportLists]>∑ <![endif]>Recent small and light-weight Ďpocketí binoculars in 8x20 and 10x20 sizes
<![if !supportLists]>∑ <![endif]>A new range of 32mm models featuring a different type of IS derived from their camera lenses
Both these and the 18x50s I reviewed a few years ago are still made in Japan; I donít know about the others.
It might sound as if Canon have parked the existing models and these 12x36s do look the same as my original pair almost a decade ago. But close examination reveals that these say ĎIS IIIí whereas the originals ĎIS IIí: there has been a whole new stabilisation release since my last pair. As we will see, the stabilisation on these is indeed much improved.
All Canonís original IS binoculars (like these) work on the same principle: a computer detects movement and alters the shape of a special flexible optical element to compensate and cancel the jiggling your hands induce. You activate this system by simply pushing a button. The most recent 32mm models have a different system derived from their cameras lenses that features a dual-action stabiliser with an ĎIS lightí option; I havenít tried them yet.
Body
All the Canon IS binoculars use a type of porro-prism (not the roof prisms more commonly found on high-end binos), but their design looks nothing like other porros, partly because these are Abbe-Porros (Porro II).
Not only do the Canon IS 12x36s look different from other porro-prism binoculars, they work differently too. Instead of the whole body pivoting to accommodate different eye spacing, just the eyepieces pivot. The hinge-less plastic body has the appearance of an electronic gadget rather than fine optics, more like a Canon camera in fact.
I weighed the 12x36s at just less than the claimed 660g dry (~700g with 2xAA batteries): a little heavier than the Canon 10x30s and about the same as Nikonís conventional 10x35 EIIs. This is in 32mm birding binoí territory and is a big plus point.
The 12x36s are some 24mm longer than the 10x30s, too Ė due to the longer objective housings to accommodate their longer focal length lenses. Nonetheless, like the 10x30s, these are a very compact binocular, as compact as many 10x42s.
Unlike the more expensive models, these donít offer any special sealing against water ingress (the 50mm models are basically splash-proof, the premium 10x42s fully waterproof). Their composite body is covered with a thin black rubbery armour that helps grip, but isnít a fluff-magnet like some.
The objective housings are rubber and so should offer good protection for the glass.
<![if !vml]>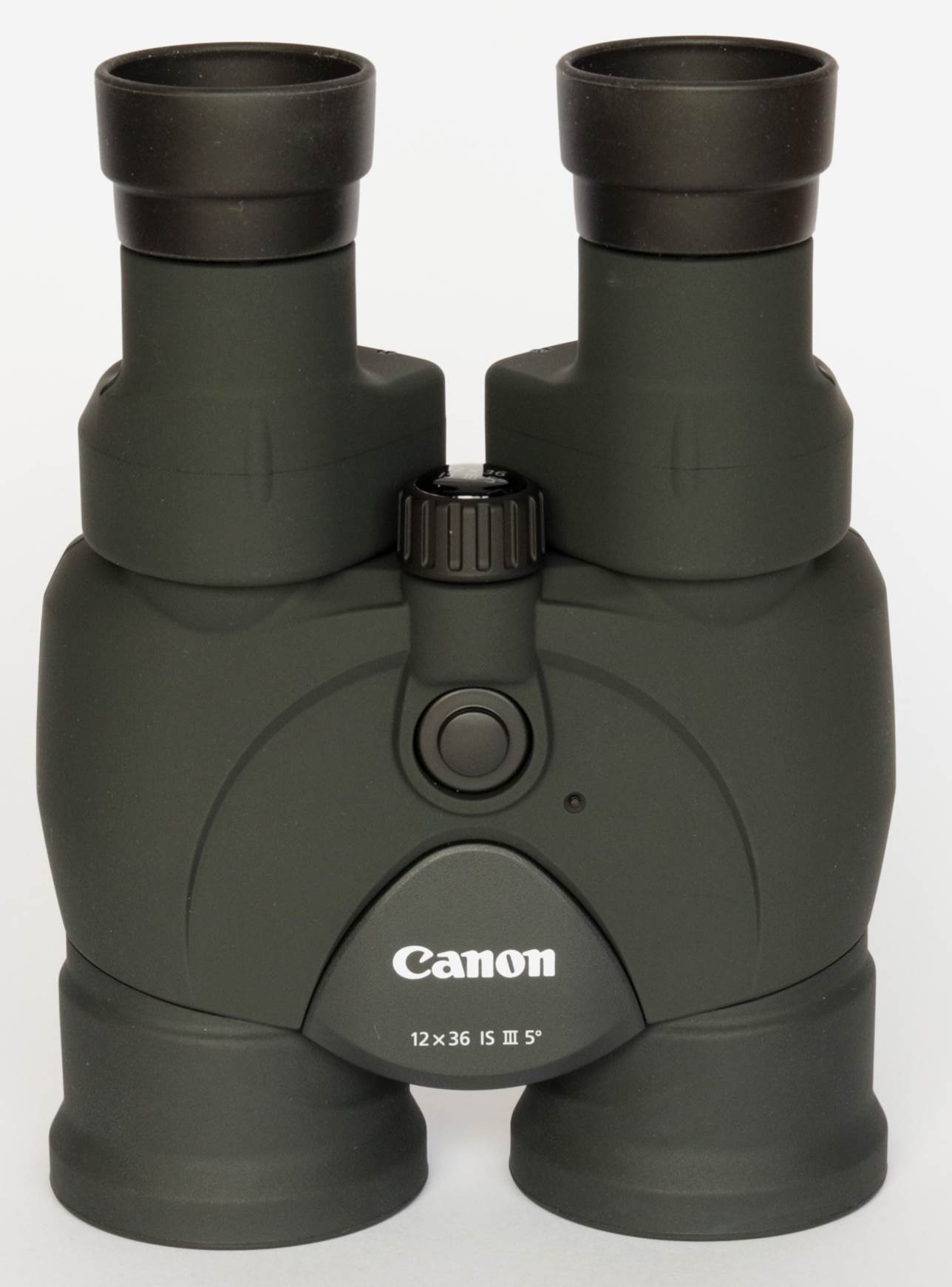 <![endif]>
<![if !vml]>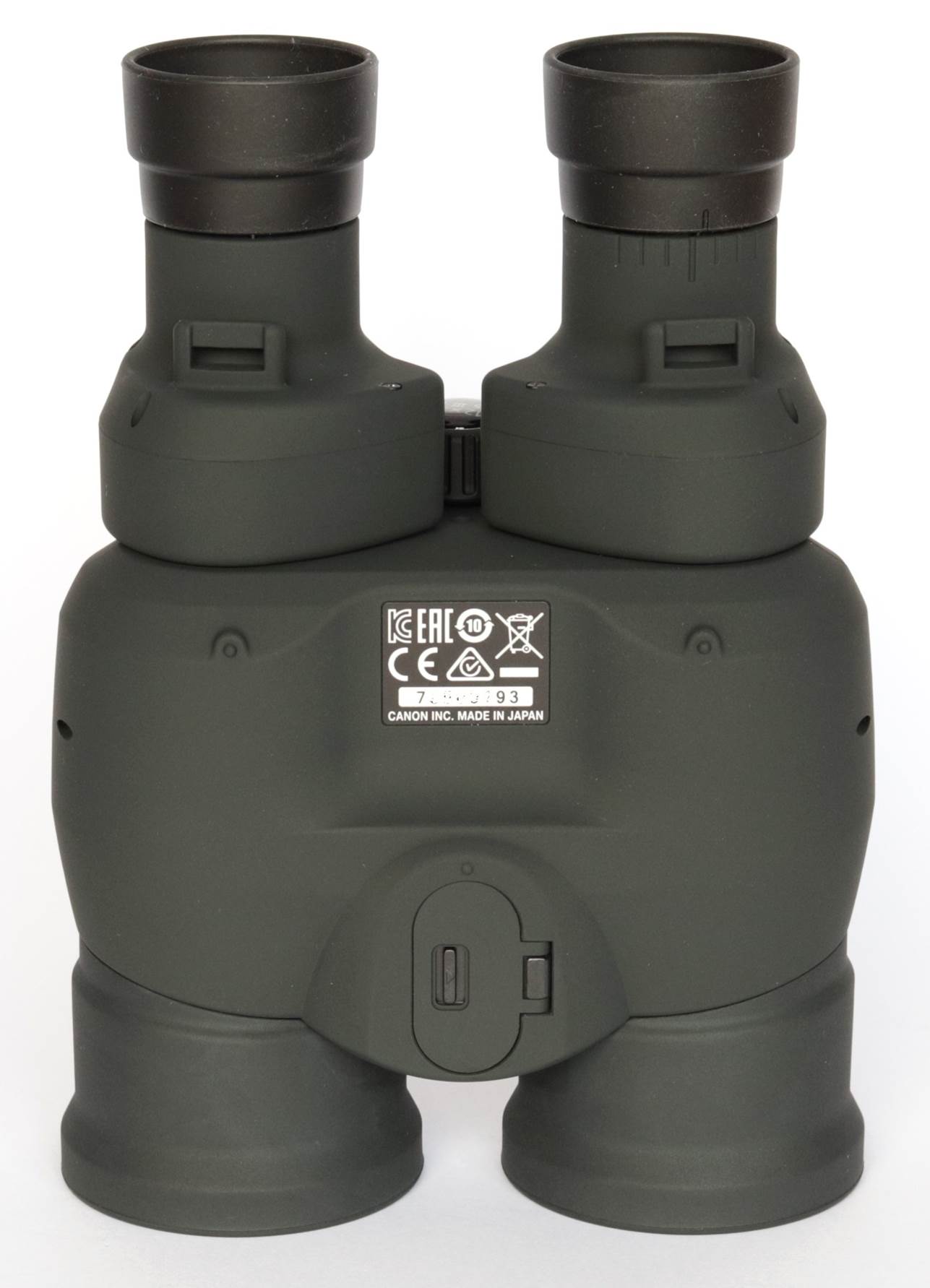 <![endif]>
<![if !vml]>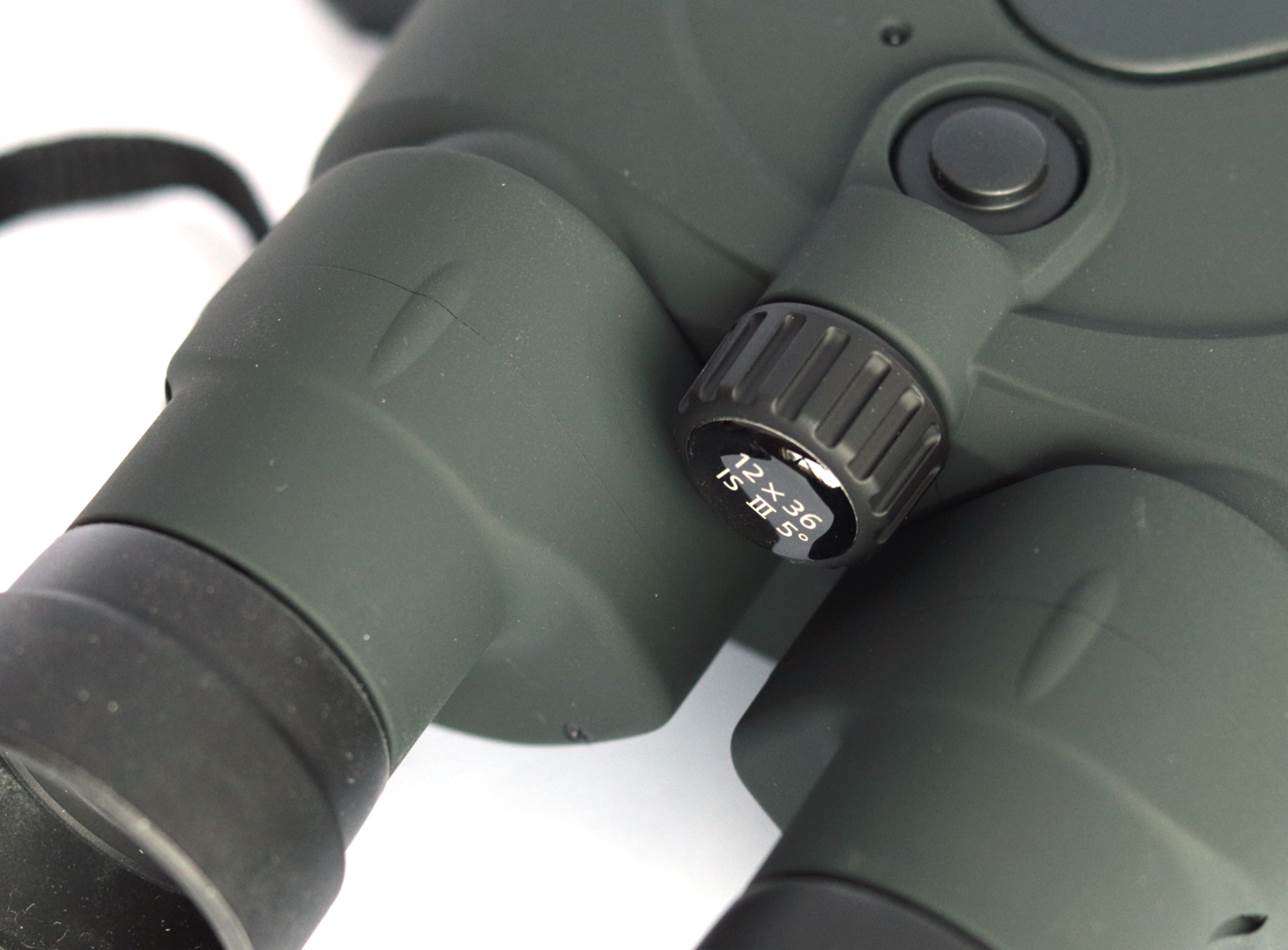 <![endif]>
<![if !vml]>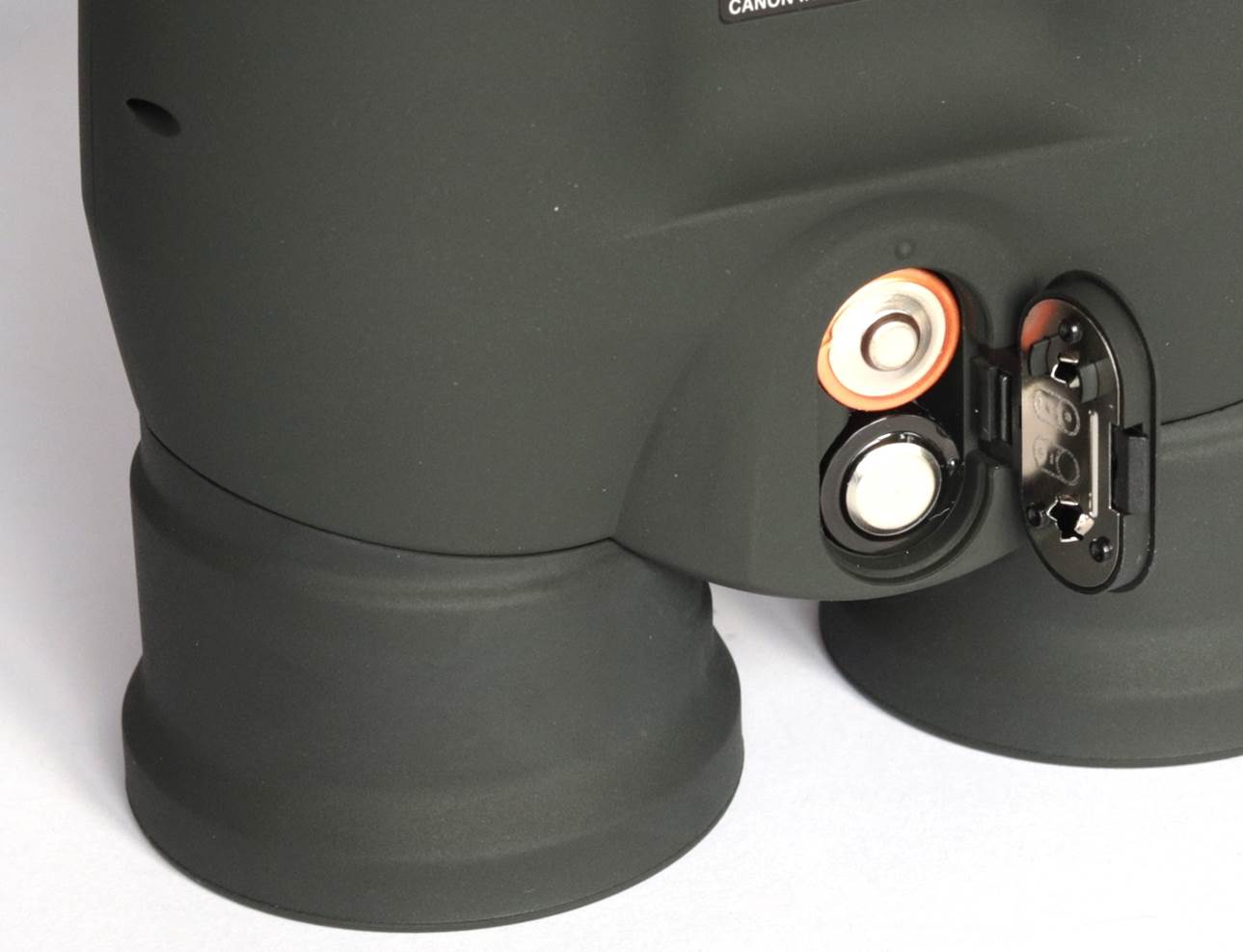 <![endif]>
Stabilisation is powered by two AA batteries which should last several hours of continuous use.
<![if !vml]>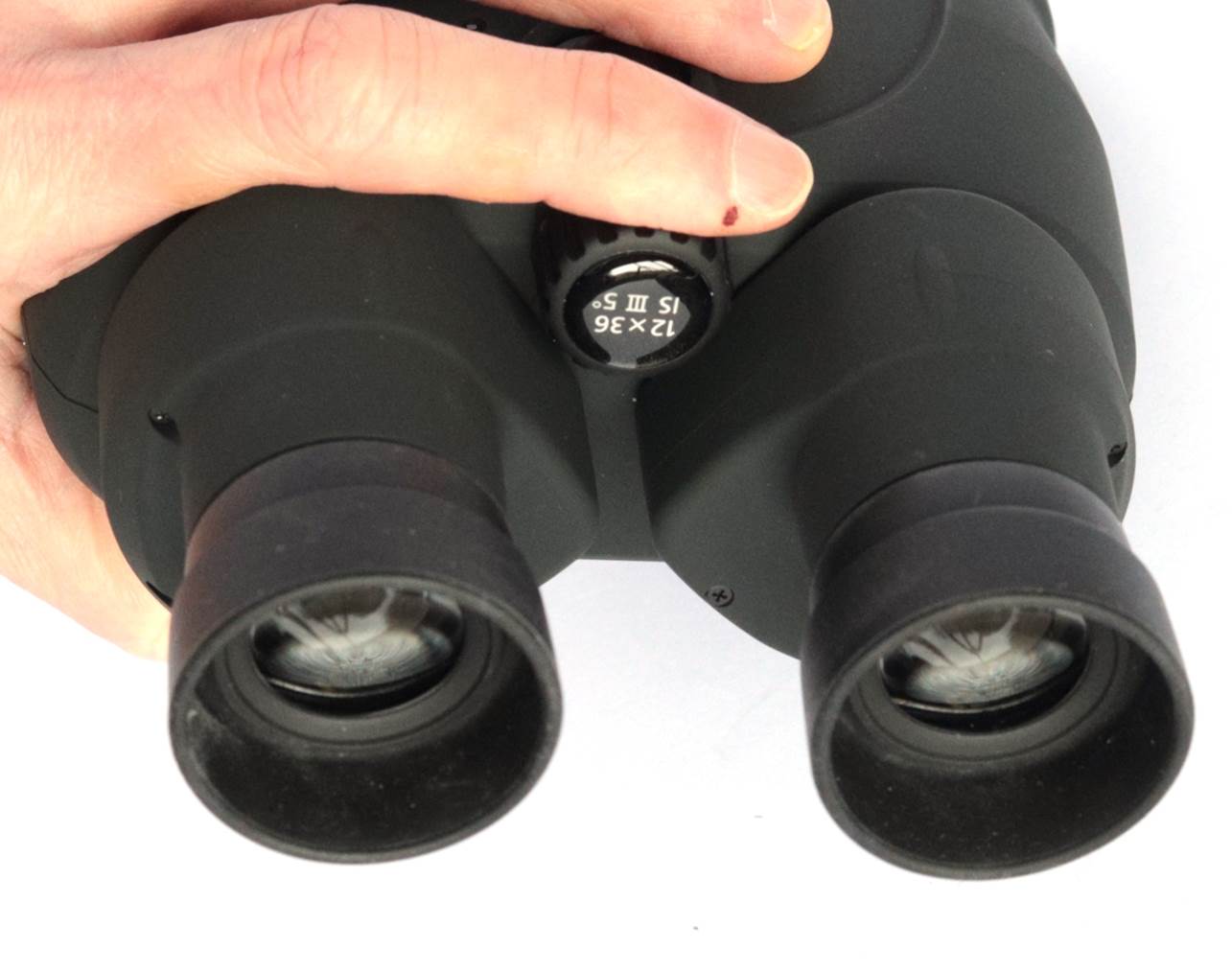 <![endif]>
Focuser is small, but smooth and fast!
<![if !vml]>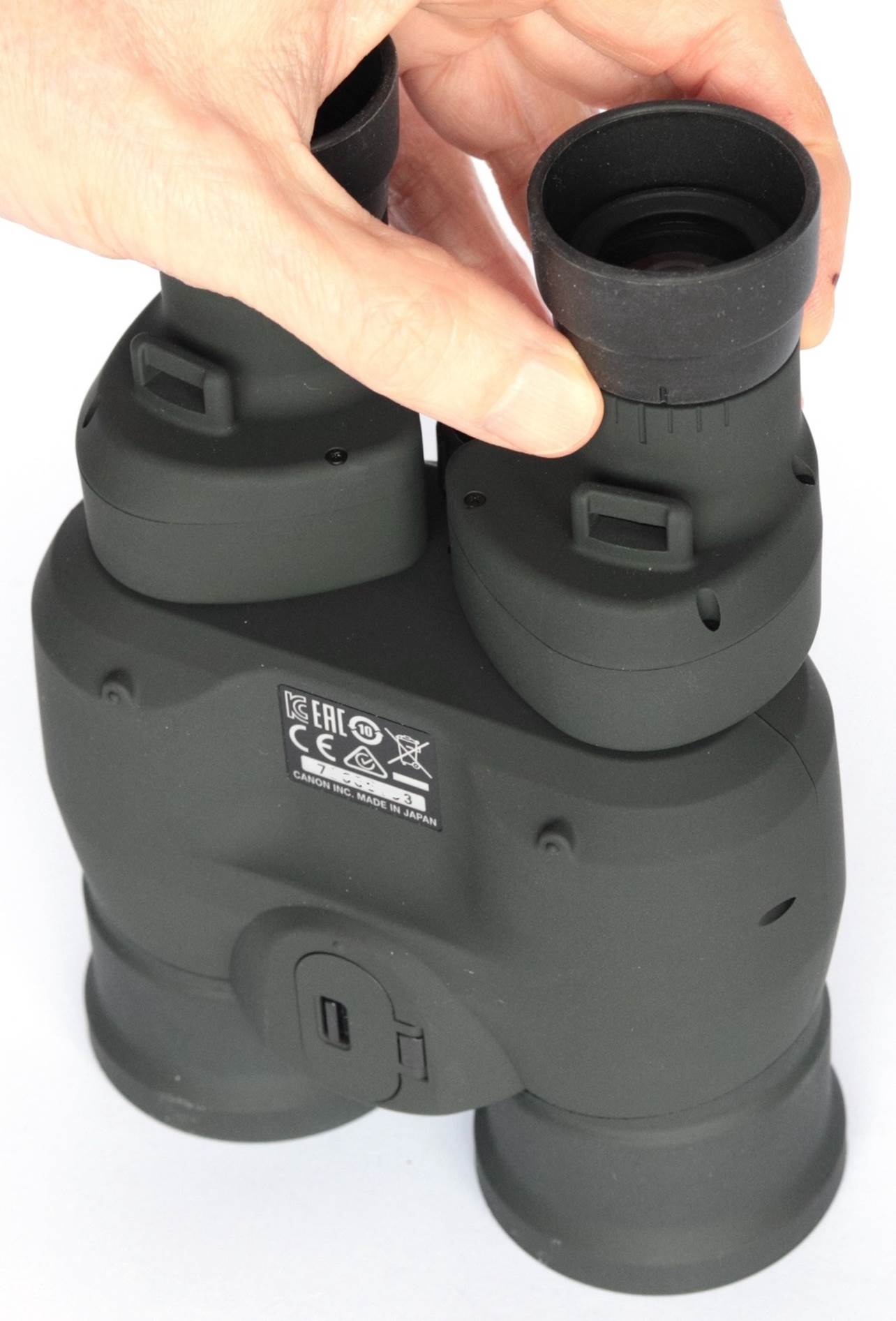 <![endif]>
Dioptre adjustment is simple but effective.
Focuser
Most porro-prism binoculars like these focus by means of moving eyepieces, but on these itís the objectives that move. The focusing action is super smooth, light and accurate, though: better than most binoculars, but not quite as fast as some birding roofs. There is plenty of travel past infinity too, to cater for diverse prescriptions.
Close focus is a real weak point at 4m or more. Thatís much more than almost any decent birding binoí. You wouldnít buy these for insects, flowers or watching birds at close range. However, close focus to infinity is much less than a turn.
To adjust dioptre, you just twist the right eyepiece, but it is (and has to be) quite stiff to avoid moving it by accident.
Optics - Prisms
As I have said, the Canon 12x36s use porro prisms, albeit with a slightly different geometry Canon refer to as ĎPorro IIí (aka Abbe-Porro). These are basically the type in your Grandadís old binosí, but they have serious advantages over the roof prisms found in most modern birding binoculars. For one thing, porro prisms donít need mirror coatings, so they transmit more (and scatter less) light. For another, porro prisms donít need special phase coatings to deliver high resolution. Thirdly, porros typically deliver tighter star images with fewer Ďspikesí than roofs.
Despite poorer coatings (see below), the Canons are actually brighter than Meoptaís 12x50 HDs during the day, due to those high-transmittance porro prisms.
Optics - Objectives
The objectives look to be conventional air-spaced doublets, with no special dispersion elements, combined with a focusing lens.
Canon boasts of its ĎSuper Spectraí coatings and this is supposed to be an area of upgrade over the old IS II model. The coatings Ė of a bluish green hue -† do deliver a cool, neutral tone to the view, but are simply more reflective than the best (see comparison with premium Meopta coatings below).
Behind those objectives, though, lies all the IS magic Ė the real-time-deformable lenses that work by altering the light path to provide image stabilising.
<![if !vml]>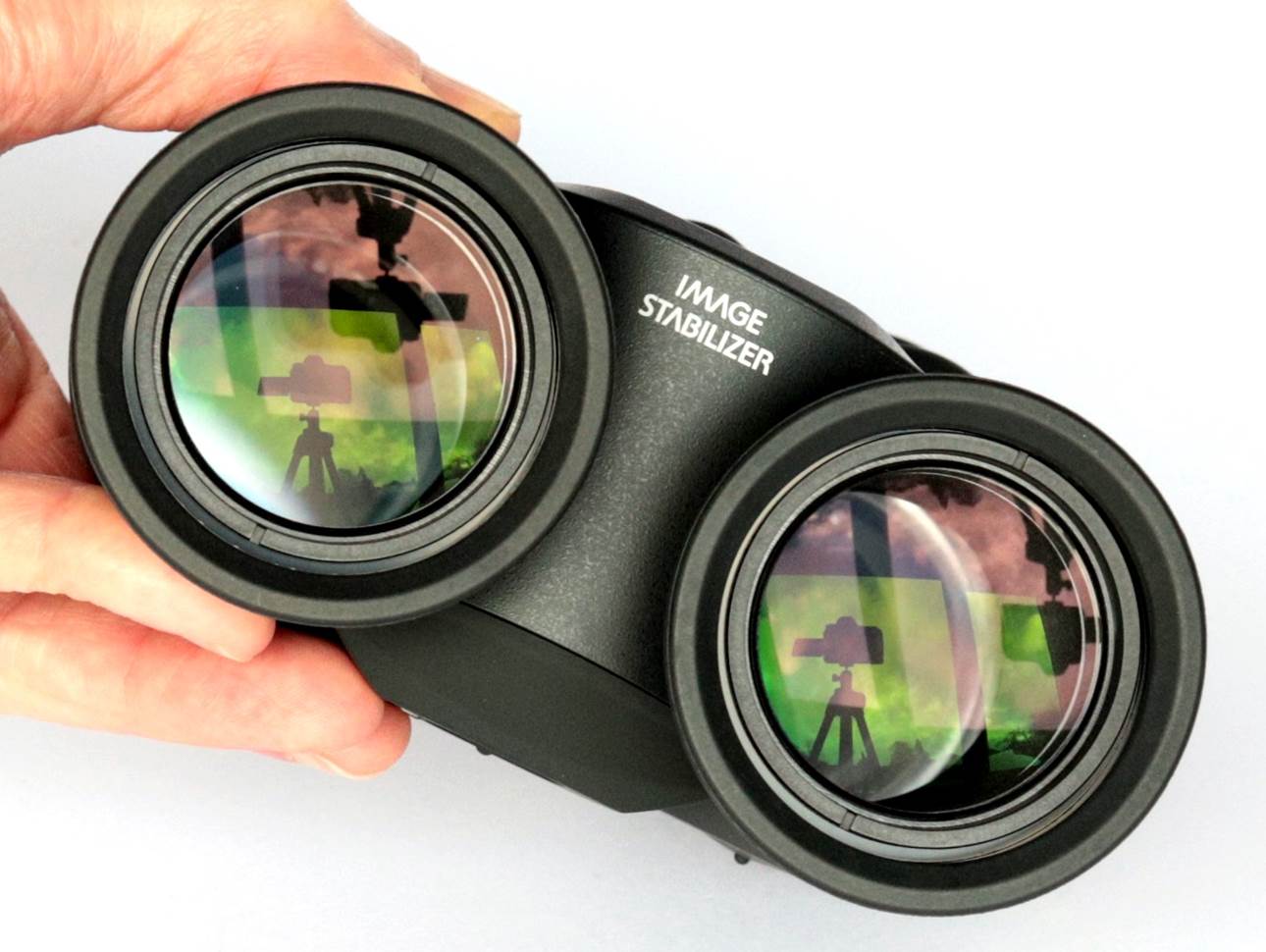 <![endif]>
<![if !vml]>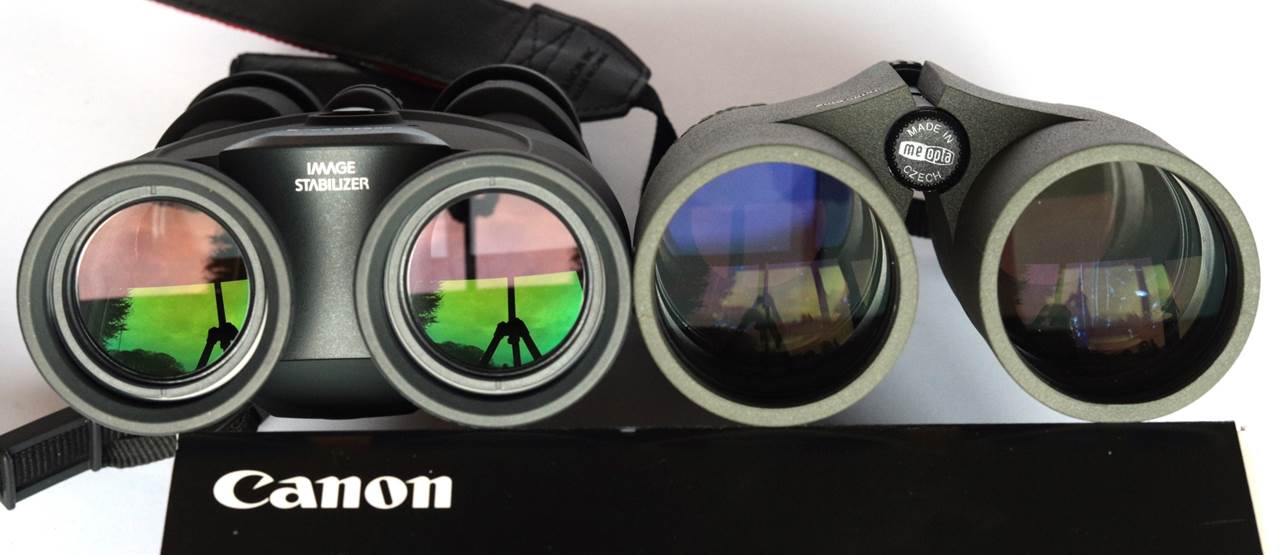 <![endif]>
Canonís ĎSuper Spectraí coatings look more reflective than the Meoptaís.
<![if !vml]>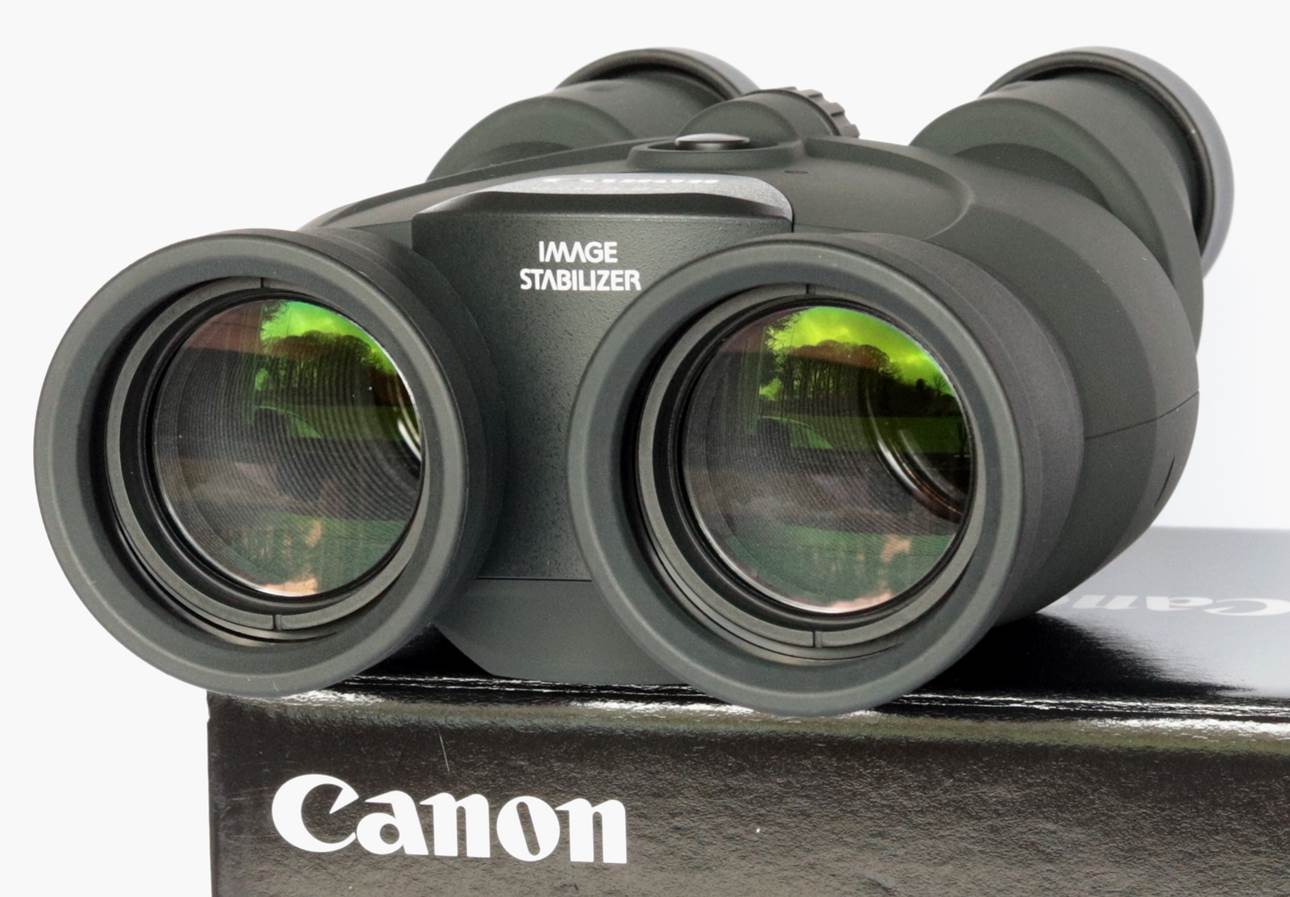 <![endif]>
Internals feature concentric ridges to provide baffling against stray light. No anti-flare baffles in front of the lens rings though.
Optics - Eyepieces
The eyepieces are a fairly simple design, but they do incorporate a doublet field-flattener. They have a pretty standard field of view of about 5į true, 55į apparent Ė same as Nikonís 12x50 SEs - but itís pretty flat and usable to the edge thanks to those flatteners. Premium birding 12x50s usually have about another half degree field width.
Eye relief is stated by Canon as 14.5mm, which is what I measured from the rim of the eyeguards. This is enough to make them quite comfortable if you view with specs on, but perhaps not enough for everyone to see the whole FOV with glasses.
Unfortunately, the fold-down rubber eyecups are less convenient for glasses-wearers than the click-stop type, especially if like me you share them with someone who doesnít wear glasses. They are also a magnet for fluff.
Those pivoting eyepieces may also be less accommodating for eye separation than more conventional designs. If you have a narrow IPD (inter-pupillary-distance) you should try before you buy.
<![if !vml]>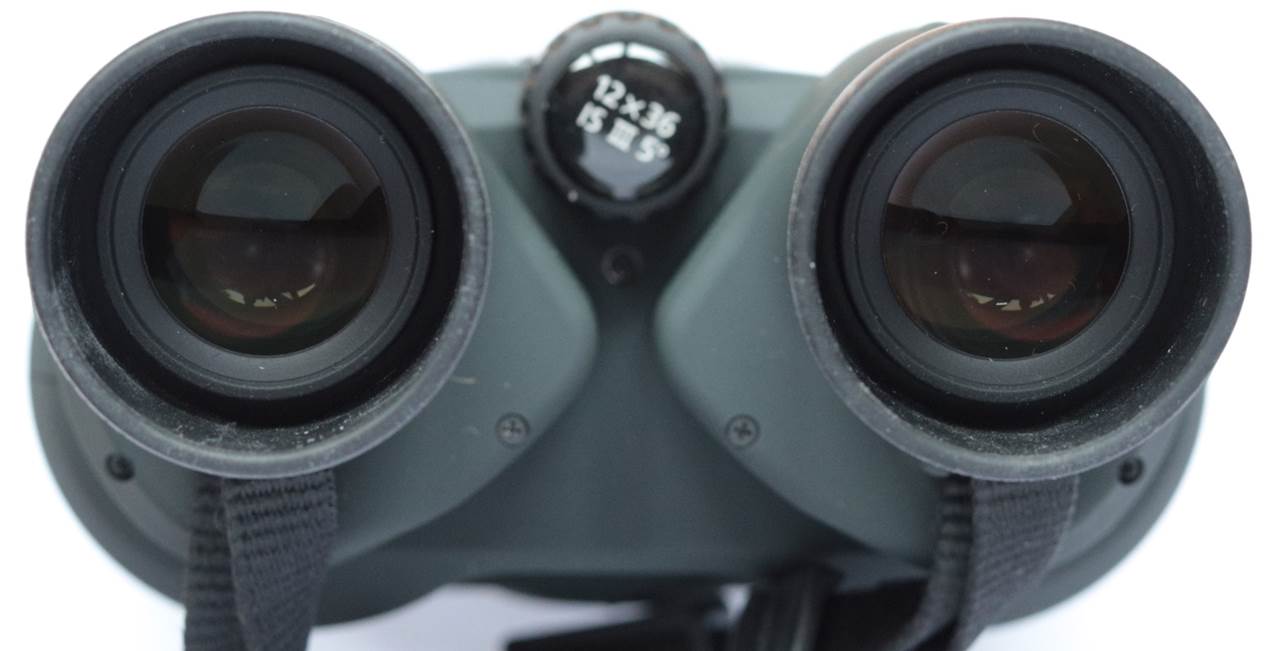 <![endif]>
<![if !vml]>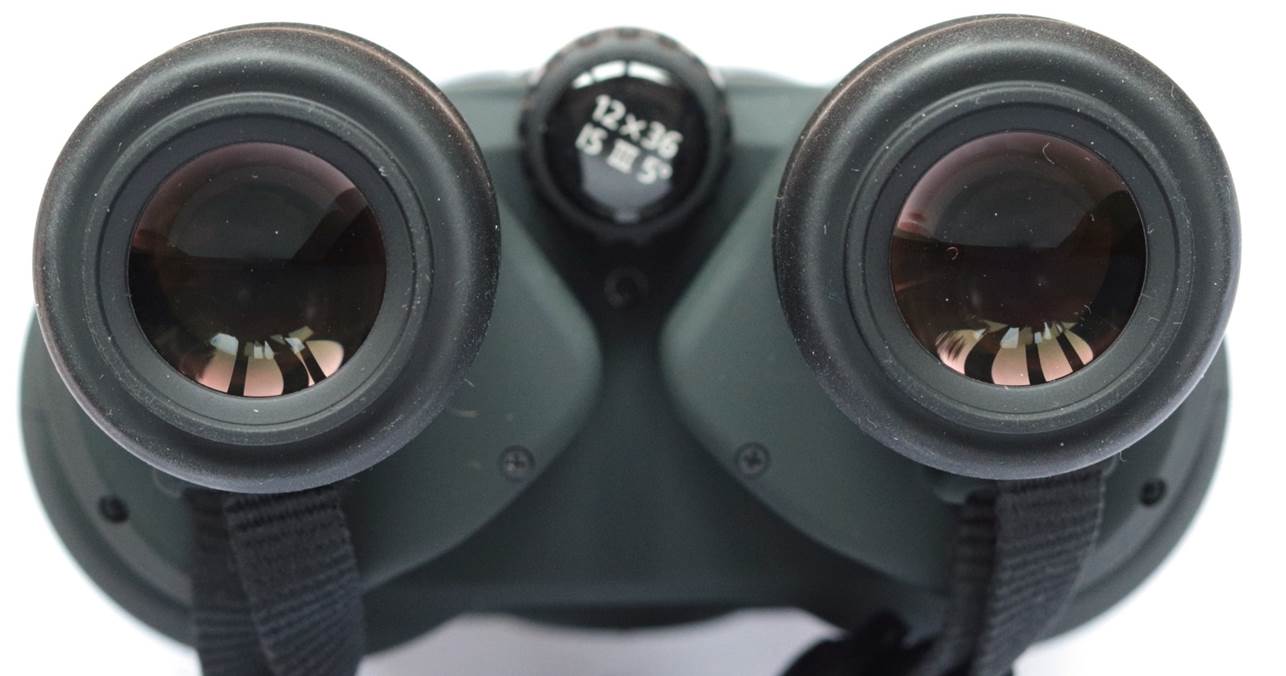 <![endif]>
Rubber eye cups are fiddly to fold, absolute magnets for fluff and dust.
Accessories
The 10x36 IS come with a decent zipped fabric case and a thinner-than-most strap. There are no objective caps, just individual ones for the eyepieces.
A couple of niggles. Those strap lugs making fitting the strap near impossible: I had to use medical tweezers in the end. Meanwhile, the strap for the case isnít removable at all.
The required two AA batteries are included and supposedly last about four hours in continual use.
<![if !vml]>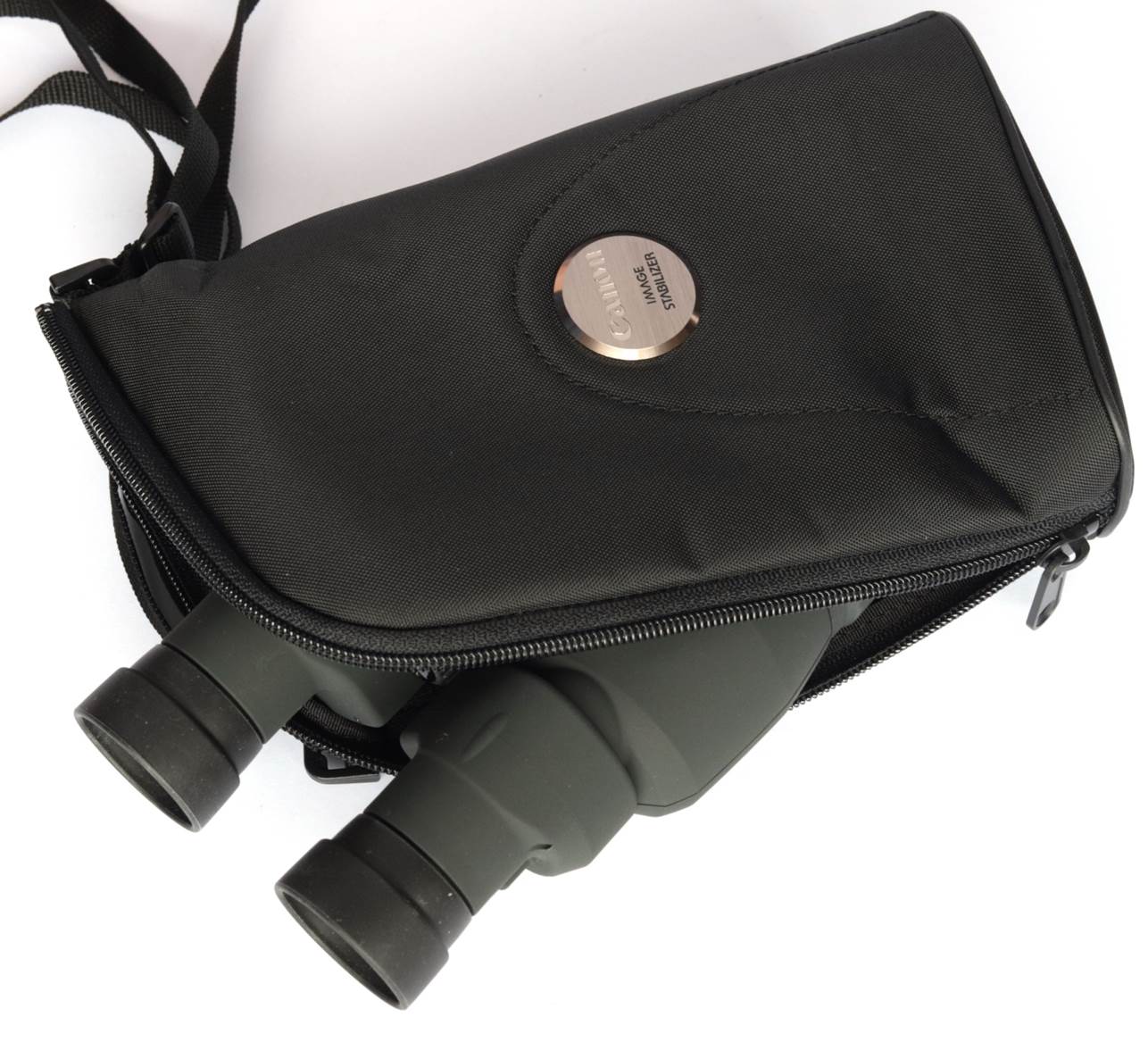 <![endif]>
<![if !vml]>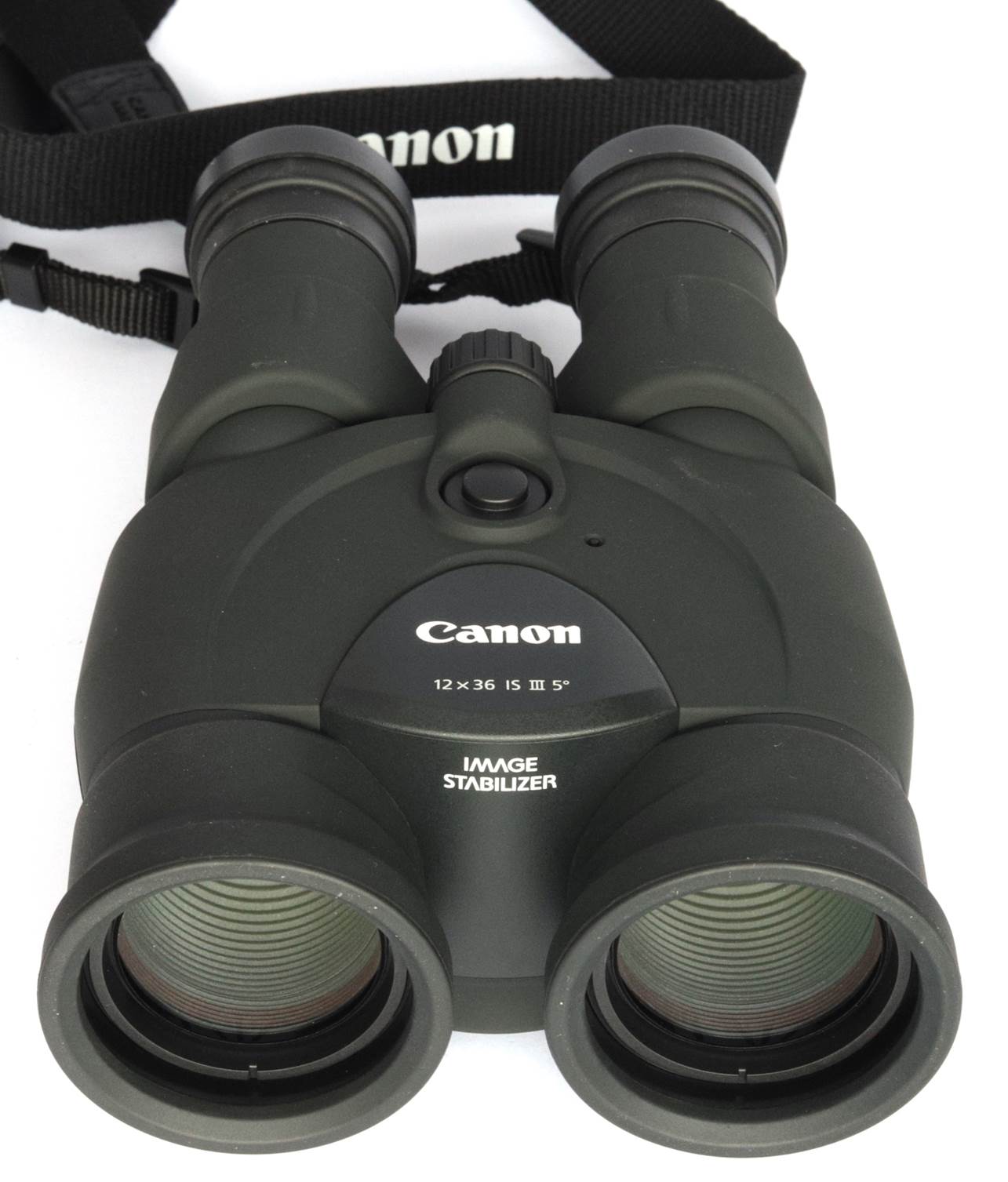 <![endif]>
Accessories are pretty basic at this price point.
In Use Ė Daytime
Ergonomics and Handling
The Canon 12x36s are surprisingly light weight and generally very easy to handle, once you get used to the unusual, all-in-one, body shape. I found them much easier and less tiring to use than the big and weighty 18x50s.
The focuser falls easily to finger and though the knob is quite small, the action is very smooth and fluid. Focusing is perfectly accurate with no slop or play, no nasty shifts when changing focus direction. Focus Ďsnapí is probably the most absolute Iíve ever experienced in a binocular Ė optical quality is supreme.
The binoculars are easy to hold and with the eyecups folded away they are comfortable for me with glasses on. Like many longer eye relief eyepieces, they are a bit sensitive to blackouts as you shift eye position, but not as bad as the Nikon SEs, for example.
These arenít a big pair of binoculars, but their black-plastic Sony Walkman looks arenít going to get you any compliments at the local hide.
The View
Initial impressions (before pressing the magic button) are pretty good: a sharp, bright, sufficiently wide, flat field of view with good contrast and excellent resolution, even without the IS. The view is narrower than my Meopta 12x50 HDs, but as good in most ways. Flare is well controlled, false colour less so.
Stabilisation
To activate stabilisation, you have to press a button on top and keep it pressed (some of the other models just need one press for on and another for off). It takes a few seconds for the stabilisation to really kick-in, itís not instant. Then, miraculously, all the micro-jiggling stops and you suddenly see more detail, lots of it.
Compared to the smaller 10x30 model, my previous 12x36s IS IIs took longer to settle after hitting the button. But this IS III stabilisation seems much less intrusive, certainly less noisy, than my original pair with IS II. Now the stabilisation settles within a second or two.
The original 12x36s didnít take well to being panned, making a chattering noise and giving a strange jerkiness to the edges of the view. Those faults have now been rectified. These are mostly silent, so much so that the stabilisation no longer gives an aural cue at all.
The previous version suffered from some fade in and out of focus and cyclical blurring, not these. Once settled, the stabilisation is close to perfect Ė magically itís like theyíre tripod mounted, theyíre that good. Only the occasional slow drift or click reveals the IS in action.
Those few remaining quirks are the price you pay, though, for much-improved resolution - beyond anything hand-held 12x binoculars would reveal without a support. Donít under estimate this: resolved detail improves dramatically when you push the button. You think youíre seeing all the detail, then when you hit the button you realise how much you were actually missing. Some examples:
A flock of Goldfinches in a tree 200mm away show all their plumage detail Ė orange heads and yellow wing bars Ė far more clearly even than with unstabilised binoís at 18x.
I can spot some birds way out on the bay sands and floating in the bright water. Theyíre at least 500m away and I canít make any kind of I.D. Hit the button and theyíre Pintail ducks.
A plane glides slowly past the crescent Moon in black silhouette against a twilit sky. Itís an aggressive delta in a steep turn, canted over. Looks like an old Saab Viggen. Love that plane. But really? No, I push the button and now I see the canards up front are small and the delta is a simple triangle without the Viggenís change of rake. So itís a Euro Fighter.
A plane flying in the airway at altitude overhead is a passenger jet of some sort, I can just see that. Hit the switch and the orange and white livery, big engines and wing shape clearly identifies it as an Easyjet Airbus.
Flat field?
The doublet field flattener means these do have a fairly flat field and the central sweet-spot is large, but the very edge does soften a bit after 70% as you can see below.
<![if !vml]>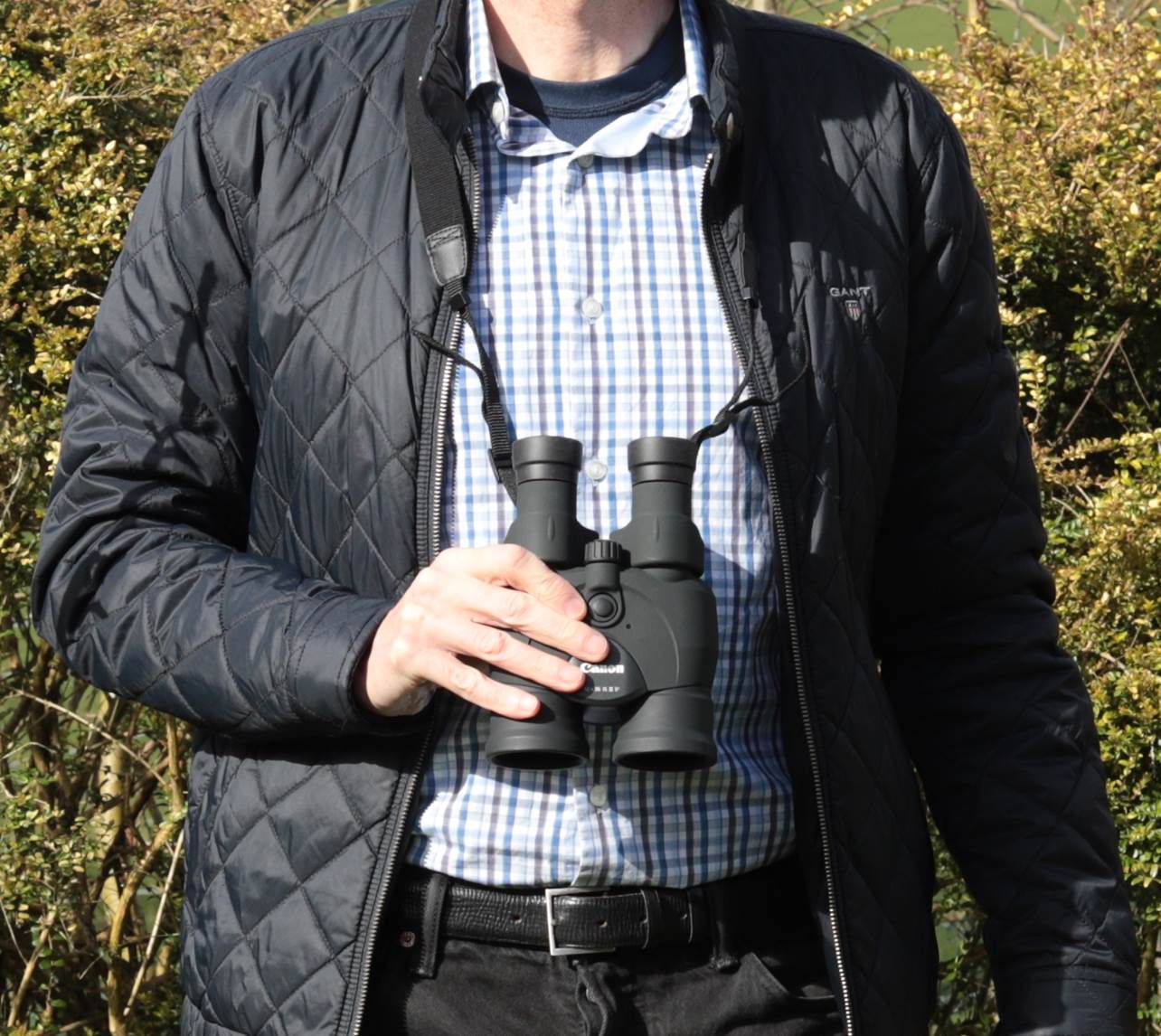 <![endif]>
Chromatic Aberration
There is some chromatic aberration (false colour around the edge of high-contrast subjects), more than the Nikon SEs, but quite typical for most non-HD binoculars. Itís mostly only visible when viewing things silhouetted against a bright sky (e.g. birds in high branches). The false colour comes from both the objectives and the eyepieces and seems a little worse with stabilisation active.
The high-end Canon IS models use ED elements to control chromatic aberration. The cheaper models like this one are not bad without it, though this 12x version may have a bit more than the 10x30s, as you would expect from scaling up the same optical design. It might trouble me for birding, but is a complete non-issue for nature viewing or astronomy.
In Use Ė The Night Sky
Despite their small aperture, Canonís 12x36s work amazingly well for astronomy. You expect them to be dim, but theyíre just not.
The flat field is great for extended objects and star fields. Stars do become distorted by astigmatism, but only from 80% field width and not before; even then the distortion is limited and asterisms are still recognisable at the field stop.
Compared to a premium pair of 12x50 birding binoís these are just gonna be so limited on deep sky, though, right? Uh uh. I carefully compared them with Meoptaís excellent Meostar HD 12x50s by looking for the faintest stars I could see in both the Pleiades and Orionís sword. In both cases, the Meoptaís went deeper with the Canonís IS off (though not by as much as I was expecting). But press the magic button and the 12x36 went every bit as deep, maybe Ö and hereís the thing Ö deeper.
The Moon
The 12x36s show more detail on the Moon than about any other hand-held binoculars I can think of. In some ways these show you more than premium 12x50 or even 15x56 birding/hunting binoculars, such as Leicaís 12x50 HDs or Zeissí Conquest 15x56 HDs. Resolution is way better, but so too is contrast. Mainly this is because the view is so much less jiggly, but donít discount the effect of the extremely sharp and high-res porro-prism optics.
One evening I viewed a three day old crescent setting in a bright twilight sky Ė a difficult phase. Still, the Canons gave me a stunningly sharp and detailed view that reminded me of about 20x magnification through the small telescope I had alongside. I could easily make out Petavius and Langrenus with their central peaks on the southern limb, the mountainous edge of Mare Crisium and Cleomedes next door, even Picard in the smooth mare. There were other craters readily visible too, lots of them. A few days later, I easily resolved the bright-rayed 27 km crater Menelaus. And unlike normal hand-helds, I didnít need careful breathing to do it. Honestly, the clarity and detail astonished me.
To be clear: the available detail was much more than with even the highest powered hand-held, non-IS binoculars and felt like much more than just 12x.
This is exciting stuff if you love the Moon, but live in a city, with nowhere to set up a telescope: head out to a quiet spot, find a dark corner and take your fill of Luna, exploring the highlights of each phase, even between clouds in crummy weather. Under such circumstances, these binoís will give you views youíll otherwise only get at star parties.
The Moon also surprised by showing almost no false colour on the limb, despite the chromatic aberration evident during daytime.
Planets
If you want to take an occasional peak at a planet with binoculars, Canonís 12x36 IS IIIs win over un-stabilised designs, even premium ones. You can make out Saturnís Galilean Ďhandlesí if not its actual rings, easily see Titan, follow Jupiterís Galilean moons and just about make out Venusí crescent phase (usually a tall order for binoculars).
The Canon 12x36 IS pass the ďJupiter testĒ with no significant flare or prism-spikes, ditto Venus.
Deep Sky
Theory suggests 36mm objectives are too small for deep sky, but even with the IS off the Canons did well, finding all the Messier objects Iíd expect to find with 12x50s. But with IS enabled, they were actually better than a conventional pair of high-end 12x50s in most cases, something that really surprised me.
The Auriga clusters and M35 nearby all showed their bursts of individual stars with direct vision, the Starfish revealing its unusual shape. The Double Cluster looked beautiful too. The 12x36s gave one of my best ever binocular views of the Great Nebula in Orion: the extending arms of nebulosity, the rear dark lane and the other patch of misty nebula around Nair al Saif. The Pleaides were full of stars, both bright and glittering, faint and shimmering. Stars are particularly point-like and intense.
Even the Andromeda Galaxy looked good and only its neighbour M33 was a bit dimmer and less distinct than through the 12x50s.
Overall, though, I preferred the Canon 12x36 IS IIIs to just about any other higher-powered hand-held binocular for astronomy. Say goodbye to shakes and trying to steady the view, say hello to rock-steady high-resolution views like a small telescope. And unlike the previous version, there just arenít the IS-downsides either.
Canon 12x36 IS III vs Meopta Meostar 12x50 HD
<![if !vml]>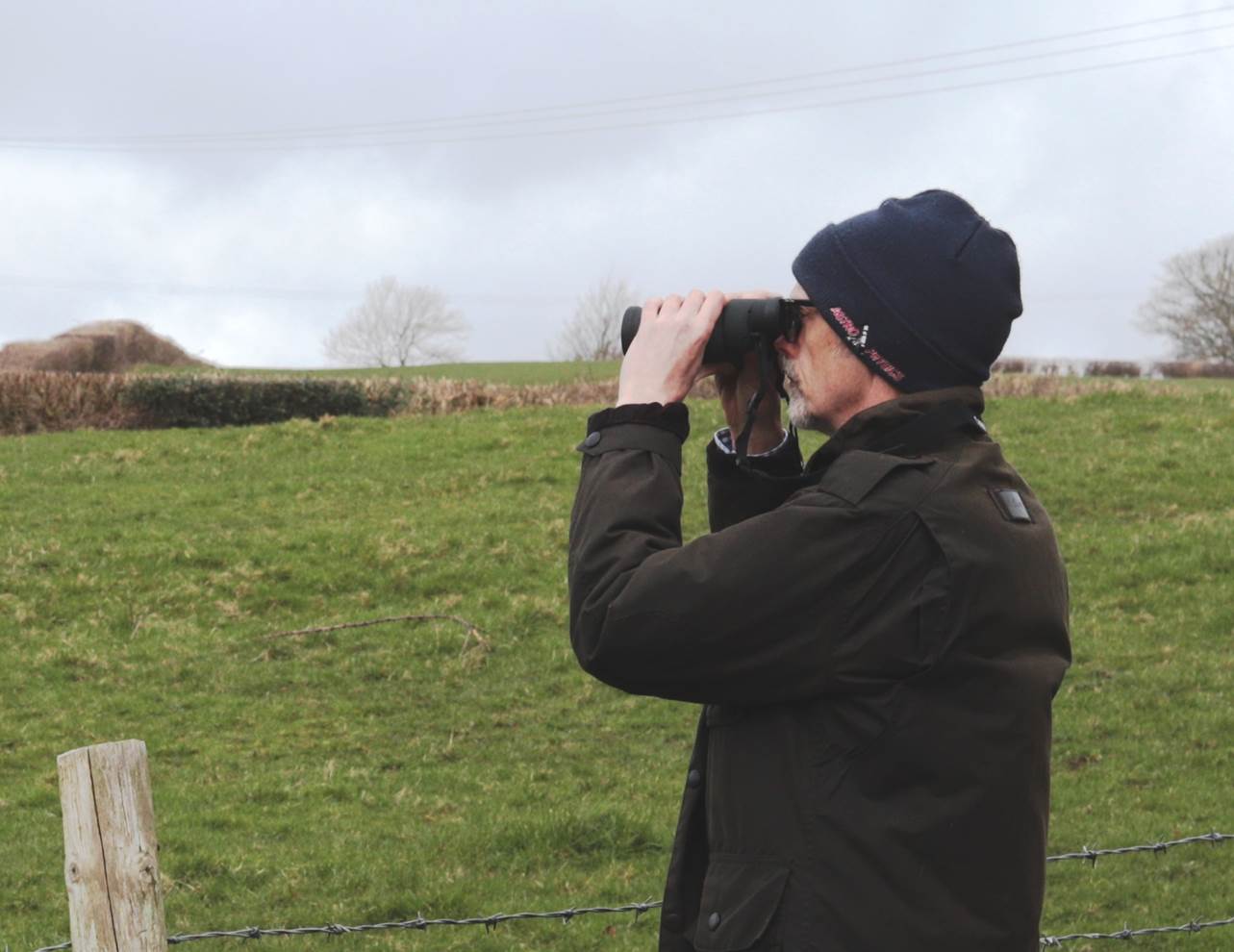 <![endif]>
The Meoptas are in some ways state of the art for high-power birding binoís and are close to the best in most areas. Comparisons with the Canons are surprising.
<![if !supportLists]>∑ <![endif]>The Canonsí field is narrower but flatter
<![if !supportLists]>∑ <![endif]>The Canons are a little brighter by day, probably due to the higher transmittance of their porro prisms (Canonís coatings appear worse)
<![if !supportLists]>∑ <![endif]>Resolution is equal without IS enabled. With IS enabled, hand-held resolution is enormously higher in the Canons
<![if !supportLists]>∑ <![endif]>The Canons have slightly too much false colour in some circumstances, the Meoptas almost none under any and all.
<![if !supportLists]>∑ <![endif]>The Meoptas focus much closer
<![if !supportLists]>∑ <![endif]>The Canons are about 430g lighter and shorter too
<![if !supportLists]>∑ <![endif]>The Meoptas are fully waterproof, the Canons are not
<![if !supportLists]>∑ <![endif]>The Meoptas offer a more conventionally lovely view by day and offer a macroscopic function the Canons canít
<![if !supportLists]>∑ <![endif]>The Meoptas have a 30 year transferable warranty. The Canons are an electronic appliance and have only two (but will reportedly take some 10 years of hard use)
For general birding and nature viewing, the Meoptas would likely be your choice. For long-range birding, wildlife, spotting and especially for astronomy, the IS gives such a giant advantage youíd choose the Canons.
Summary
The previous-version 12x36 IS IIs were an excellent binocular compromised by stabilisation that was sometimes slow, jerky, noisy and intrusive. Not this new IS III model. Now, the stabilisation is as subtle yet effective as the 10x30s, perhaps more so. Itís also completely silent in most cases. Activation is immediate and there is none of that intermittent fuzziness you used to get. It just works, seamlessly and near perfectly.
In terms of the basic optics, itís good news too: sharp, bright and very high-res, with good suppression of stray light. The only fault is a bit more false colour than the latest HD designs.
Handling is good too. They are light and very wieldy; the focuser is super-smooth and accurate. The eyepieces offer a reasonably wide flat field and plenty of eye relief, with the old-fashioned fold-down eyecups the main negative point.
I previously preferred the 10x30s, because their image-stabiliser was so unobtrusive. Now I much prefer these for the greater magnification and reach for little extra size and weight: these do reveal more than the 10x30s, both during the day and for astronomy too.
I think these 12x36 IS IIIs are now the best compromise between the slightly under-powered (for astronomy) 10x30s and the much heavier (and costlier) 50mm models with their clunkier stabilisation.
For birding I would be hesitant, despite their huge power to ID at distance. They arenít waterproof, donít focus close and have too much false colour for birds in high branches or on the wing.
But for astronomy (or spotting), they are simply outstanding. If I had to be without a telescope for an extended period again, as I was whilst living abroad, I would unquestionably rely on a pair of these for quick looks at the Moon and planets; surprisingly (given their modest aperture) for DSOs too.
The only troubling thing for me is just how unappealing the shakes are in normal binoís once youíre used to these.
I was so impressed I bought a pair for myself, mainly for travel, but for quick looks between the clouds too.
The Canon 12x36 IS IIIs get my very highest recommendation for outstanding ease of use and ability to see details. Make no mistake, no un-stabilised hand-held binoculars come as close to a telescope in reach and resolution. This makes a difference by day, but is an absolute killer-app for astronomy.
<![if !vml]>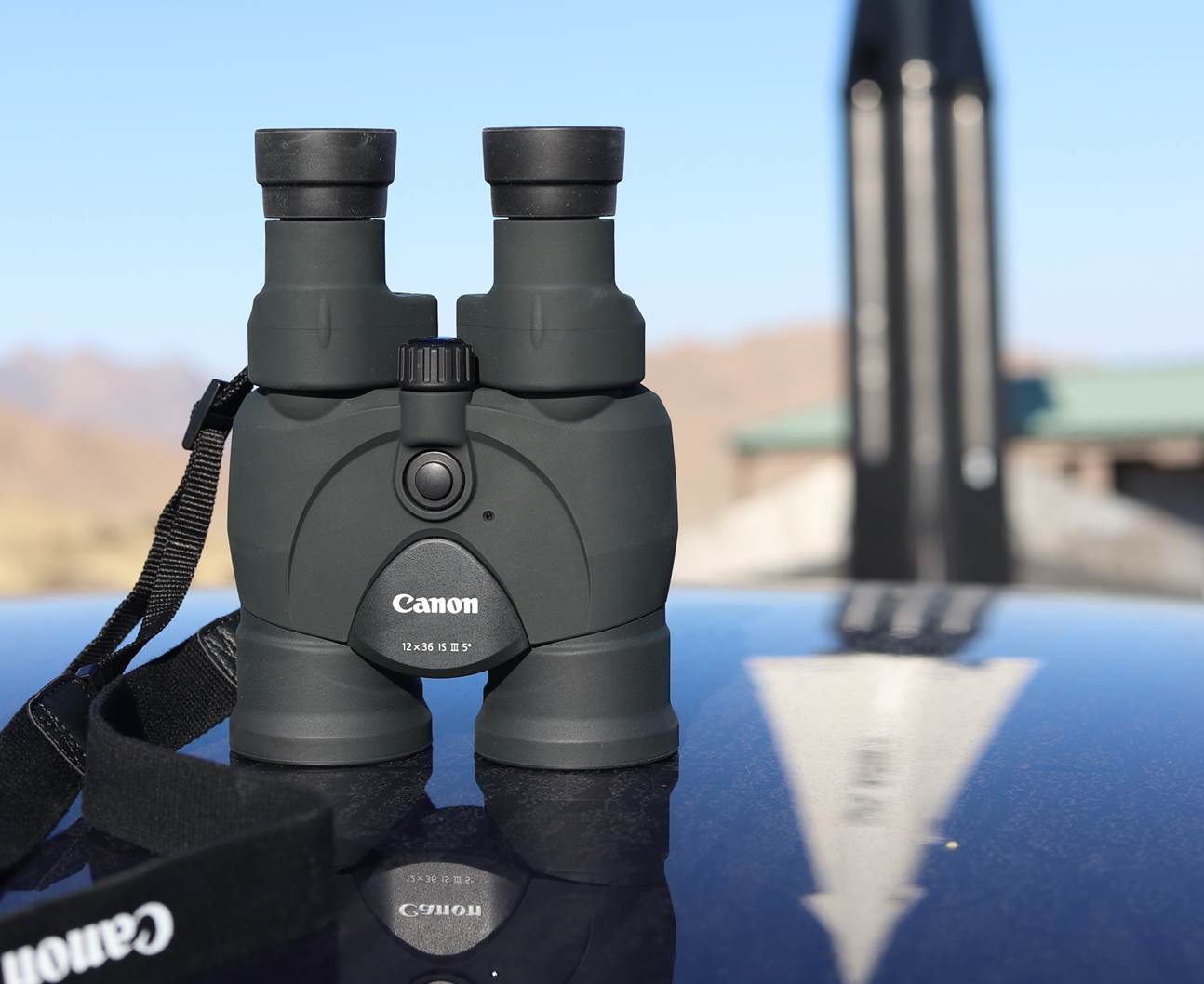 <![endif]>