Four-Inch APO Buyers' Guide
The clue is in the URL. This website represents my opinion, my view, on a range of astro-related gear and subjects. But I can state one thing as simple fact - if I personally had to own just one telescope it would be an APO in the four-inch class. A four-inch APO can be both highly portable and capable, attributes larger and smaller refractors struggle to combine. The following is a guide to some of the more commonly encountered and interesting examples.
I have expanded the list to include refractors between 90mm and 110mm, rather than strictly 4".
Please note that I have tried many, but not all, of the scopes listed here. Also, some of the photos are many years old and not great quality, whilst others are generic marketing images.
Table of Contents
Astro-Physics Stowaway 92mm F5 EDFS
Astro-Physics Stowaway 92mm F6.6 EDFS
Astro-Physics Stowaway 92mm F6.6 – New version (2017-22)
Sky Watcher Esprit 100 Triplet
Tele Vue Genesis / Renaissance
<![if !vml]>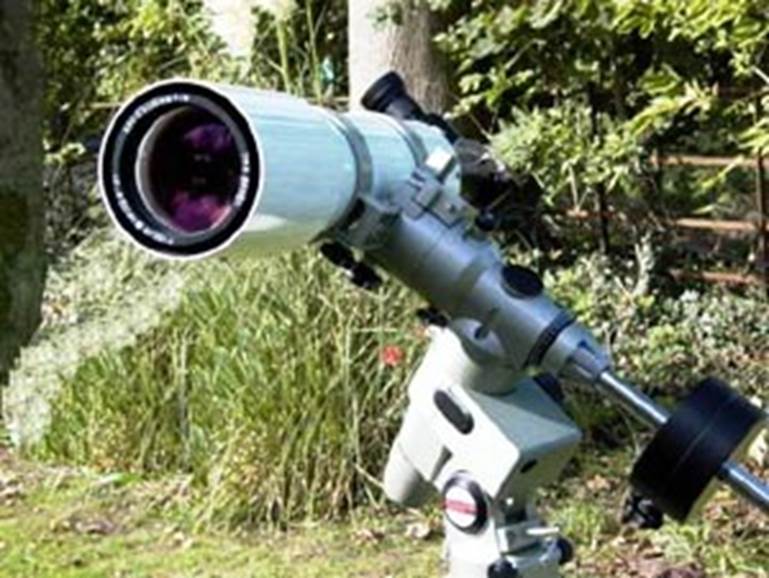 <![endif]>
| | |
| --- | --- |
| Lens Design | ED glass (OK4) Triplet |
| Aperture | 100mm |
| Focal Length | 800mm |
| Focal Ratio | F8 |
| Length | Minimum ~ 617mm (25") |
| Tube diameter | 135mm |
| Weight | 4.7 Kg incl rings |
The 100/800 is really a lens, made by the Russian ex-Zeiss contractor LZOS using its own ED glass (LZOS is a major optical fabricator). The 100/800 lens has been integrated into various tube assemblies by APM Telescopes. For this reason it is hard to be specific about the OTA design: the specs given are for the lightest, cheapest version. Most use the Starlight Instruments Feathertouch focuser – simply the best. The ultimate model has a very fine German-made CNC tube with particularly careful baffling and the particularly superb 3.5" rotatable version of the Feathertouch it shares with bigger LZOS refractors, like my 175. But for its weight of 7Kg+ I'd rate this version the purists' choice of 4" APOs: best tube, best lens, best focuser, period. Trouble is significantly larger apertures can be had for a similar size and weight (and cost!).
Portable versions of the 100/800 typically come in a shortened tube which uses a draw-tube arrangement for compactness. Personally I'd rather have a fixed tube, but the benefit is that some versions come close to airline portability at about 25" when packed-down. These draw-tube designs can be specified with various focusers, including 2", 2.5" or 3" FT focusers according to need and budget.
The 100/800 was my first 4" APO and remains the best I have tried in one single respect at least: it is the most perfectly colour-free refractor I have tested – visually zero false colour in or out of focus, any object, any power. Recent versions are guaranteed 98%+ Strehl with a test-certificate, which is simply as good as it gets. Like other LZOS lenses, the 100/800 offers supreme sharpness, a very flat field and the ability to transmit peerless planetary detail for its size. The only disadvantages are weight (it's a heavy lens) and slow cool-down.
APM telescopes typically have CNC rings with the Astro-Physics hole pattern that is very flexible and allows attachment to various plates (lighter version come with a Vixen plate as standard).
<![if !vml]>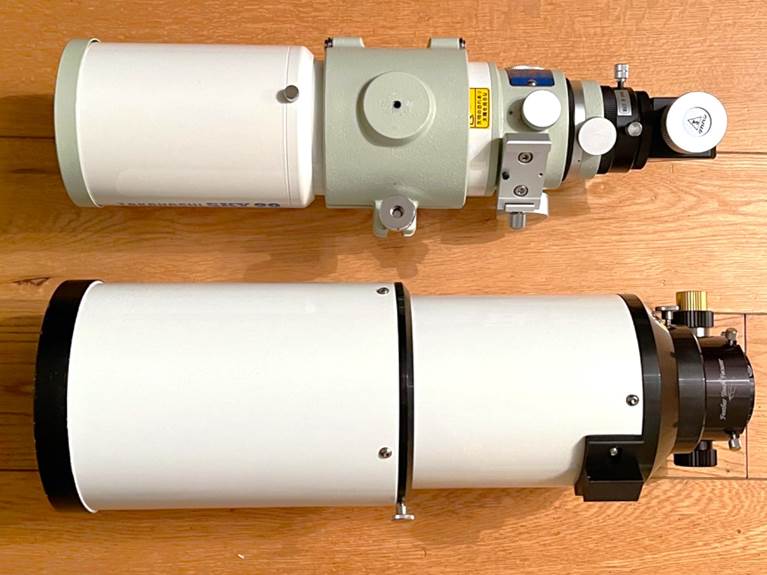 <![endif]>
| | |
| --- | --- |
| Lens Design | ED glass (OK4) Triplet |
| Aperture | 105mm |
| Focal Length | 650mm |
| Focal Ratio | F6.2 |
| Length | Minimum ~ 617mm (25") |
| Tube diameter | 135mm |
| Weight | 6.6 Kg incl rings |
Much the same comments apply as to the 100/800 – the same kinds of tubes and focuser options are available. This is a bigger, heavier lens though, with very steep surfaces. Lens quality isn't guaranteed to quite the same level as the 100/800, but still better than 95% Strehl with a test certificate to prove it. The big advantages of the 105/650 are the faster focal ratio for imaging that also means it's carry-on portable in some versions (only one of a handful of 4" refractors that are). Whether you choose the F8 or F6 LZOS models will depend on what you want mostly to do with it (costs are similar), planets or imaging, though both will do everything well.
<![if !vml]>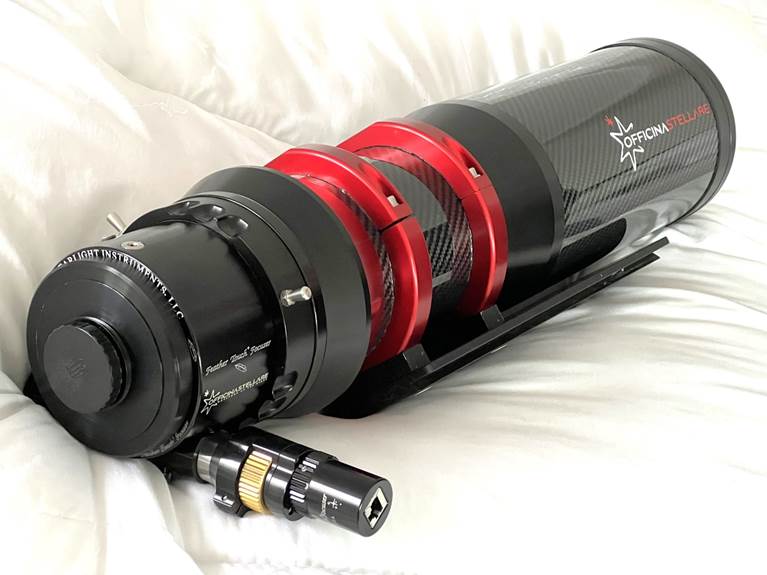 <![endif]>
Stock AP image.
| | |
| --- | --- |
| Lens Design | ED glass triplet (oil spaced) |
| Aperture | 92mm |
| Focal Length | 450mm |
| Focal Ratio | F4.9 |
| Length | 14" (356mm) |
| Tube diameter | 3.61" (91.7mm) |
| Weight | 3Kg |
This is a buyers' guide and since the chance of you buying an F5 Stowaway is effectively nil I'll keep this entry short – like the scope in fact!
Oh the F5 Stowaway. If ever there was a mythical telescope this is it. This, the first one AP made in a limited 1999 run, was a 92mm F4.9 and absolutely tiny with it. But to get a 92mm triplet to the required quality at such a fast ratio was allegedly a struggle. AP only made a few and they have become the kind of collector's item that lives in a bank vault. Ten years ago, one sold for $9000.
For anyone not familiar with AP gear it is worth pointing out the almost excessive attention to detail – I have an AP extension tube that's a micro-baffled work of art.
True to that, this original Stowaway is a beautiful little scope. With a flared CNC tube in white pebble, sliding dew-shield, those signature slim CNC rings and special 2" version of AP's own black-anodised dual-speed focuser, it has everything going for it. And it really is tiny: as in Sky-90 size and weight.
Roland's own notes on the AP website are all I've got to go on, but he reported double star performance to theoretical resolution and seeing albedo detail on Mars. In such a small package this is what we all want as a second scope, but no one has replicated the original Stowaway, not even AP.
"… this limited production run will become an heirloom for sure." – Roland Christen
<![if !vml]>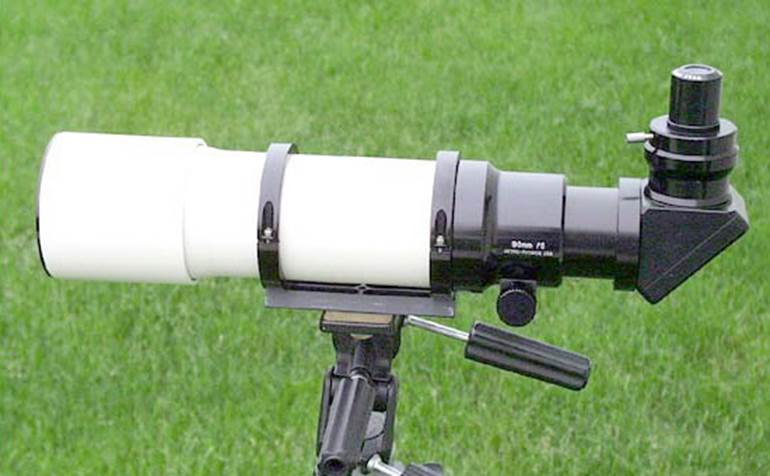 <![endif]>
Stock AP image.
| | |
| --- | --- |
| Lens Design | ED glass triplet (oil spaced) |
| Aperture | 92mm |
| Focal Length | 604mm |
| Focal Ratio | F6.6 |
| Length | 19" (483mm) |
| Tube diameter | 3.61" (91.7mm) |
| Weight | 3Kg |
Whether or not AP really struggled to make the tiny F5 Stowaway (they say it just didn't have enough focal length for many users), they soon switched to an F7 version which had a downsized Traveler lens and so was presumably an oil-spaced triplet with an ED centre element as well. Interestingly, though, it is not really much smaller than a Traveler (see next section) – almost the same length and just a kilo less in weight.
The F7 Stowaway is another beautiful AP: lots of anodised CNC, pebble coating and those slim rings. And back when they started producing it the wait list was supposedly a year or so (bitter laughter follows).
Like the Traveler and other AP scopes of the era, it had AP's own focuser but with Starlight dual-speed pinion. The AP focuser is different in feel from a Starlight, but not really worse – it is less fluid, but with a slightly more obvious rack-and-pinion feel, but superbly stable and precise.
This original F7 Stowaway was produced from 1999 to 2002.
<![if !vml]>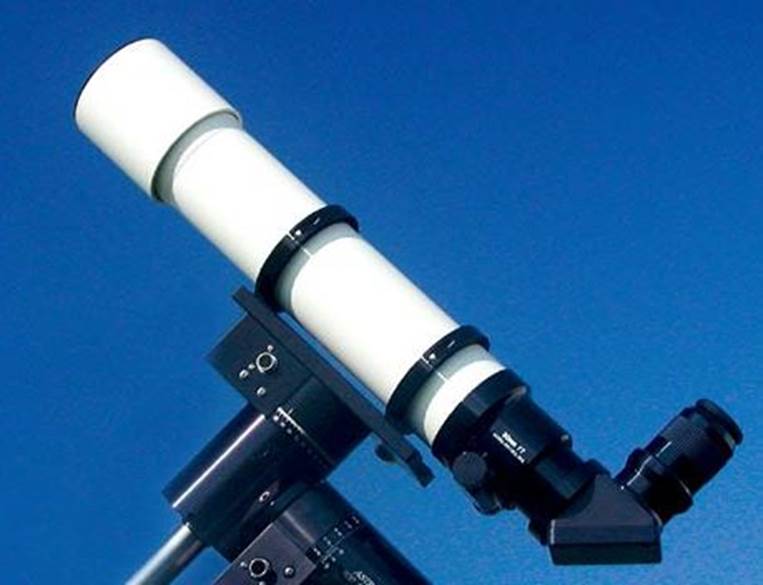 <![endif]>
| | |
| --- | --- |
| Lens Design | ED glass triplet (air spaced) |
| Aperture | 92mm |
| Focal Length | 612mm |
| Focal Ratio | F6.65 |
| Length | 19.5" (495mm) |
| Tube diameter | 3.62" (92mm) |
| Weight | 3.2Kg |
AP has a history of rebooting favourite products (they did it with the F8 130 EDT, for example) and in recent years they've done it with the Stowaway. Apparently, they were watching the 2017 solar eclipse with their own Stowaways from Wyoming (just a state east of me in Idaho) and enjoyed using them so much they decided to do another run … and then another; four in all so far. Deliveries were between 2018 and early 2022.
This new generation Stowaway looks much the same as the original but in detail it's quite different. It's now an air-spaced objective with the same aperture (92mm) but a slightly longer focal length.
AP has given in, like TEC before them, to using a 2.5" Starlight FeatherTouch focuser in place of their own. It reduces the distinct AP character a bit, but it's the perfect focuser for the job, including a rotator and a two-stage visual back to accommodate really big sensors. It's sufficiently heavy duty for bigger cameras or Bino's, but doesn't add too much weight.
The 2nd generation F6.6 Stowaway is slightly larger than the original, but it's still just tiny nestled into its standard Peli case – almost identical in size and weight to a TV-85, but with a useful 7mm extra aperture, a better focuser and a much more perfectly corrected objective.
Attention to detail is the usual AP near-obsessive, with clever features to make it light, easy to use and deliver the very highest contrast.
Standard equipment is generous, including that Peli case with custom dividers, super-thin CNC rings, an AP Vixen dovetail plate and all the visual back adapters. With that in mind the $3700 (£3700 once you've paid shipping and duties) isn't even that expensive.
For that most recent run fourth run in 2021, AP changed its frustrating wait-list strategy and had a draw instead (I'll post an article on the process soon). And for the first time in my life, I got lucky in a draw! My new Stowaway arrived before Christmas. First impressions are everything I'd hoped and more, with correction and quality in the very highest league.
<![if !vml]>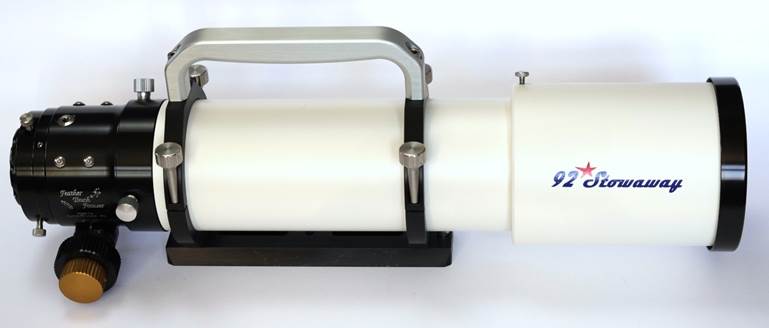 <![endif]>
| | |
| --- | --- |
| Lens Design | ED glass triplet (oil spaced) |
| Aperture | 105mm |
| Focal Length | 610mm |
| Focal Ratio | F5.8 |
| Length | Minimum 480mm (19") |
| Tube diameter | 108mm (4.3") |
| Weight | 4 Kg (5.6 Kg incl rings and plate) |
The Traveller is legend. Introduced in the early Nineties and discontinued about ten years later, AP made less than a thousand I've heard.
No small APO is made today that matches its combination of features. For though the Traveller is a true four-inch (just over in fact), its size and weight belong in the class below – it is 19" long (same as the Stowaway) and weighs just a kilo more at about 4Kg. Its CNC tube is also slim (just over the bare 4" for most of its length, flaring towards the objective).
Whilst being super small and light, the rest of the specs are top-drawer with lens quality amongst the very best, with minimal false-colour despite very challenging numbers – 105mm aperture with a 610mm focal length (F5.8). Even the equivalent LZOS lens adds 40mm to the focal length for the same aperture (and several kilos more weight for the OTA). In line with its intended use, the Traveler is reputedly extremely rugged and AP will still service them; accessories and focuser upgrades are still available too.
The Traveler is capable of both high powers on planets and stunning wide-angle deep sky images (with a suitable flattener).
I eventually owned a Traveler, but I'd had a few false starts over the years. When you find yourself (as I once did) negotiating for a telescope with an Italian art dealer who wants paying direct into his offshore account followed by a hand-over in Paris (yes, honestly), you know things are getting silly. Sadly the Traveller has stopped being an astronomical instrument and become a collectors' item, same as the Zeiss APQ.
The only downside (also an upside, because it means outstanding transmissivity) to the Traveller is that it has an oil-spaced objective. Oil spacing doesn't quite allow the same level of correction as air-spacing and some say you should store them horizontally if they are to perform properly! There is also (perhaps only theoretically) a miniscule risk of leaks.
With a rare and expensive telescope like the Traveler, it's really important to understand what you do (and don't) get for your money. The view is about as good as (but not better than) the very best of the rest in this guide. Optical quality is better than any, except perhaps for an unusually perfect LZOS. Build quality – because everything is made by AP – is at a higher level than almost anything else. Few other telescopes in this guide are as rugged. None without built-in reducers are as photographically fast.
But the thing you are really paying for is that supreme portability: no other refractor larger than 90mm comes close; you can put the Traveler in its little case and just walk on board, a priceless convenience for the peripatetic astronomer.
Now you might reasonably ask why no other telescope in this list combines all these features twenty years on. I just don't know. What's worse is that if AP ever produce another Traveler (and they might, after all they recently re-booted the smaller Stowaway) you won't be buying one unless – as for Eton College - you put your name on the waiting list at birth.
<![if !vml]>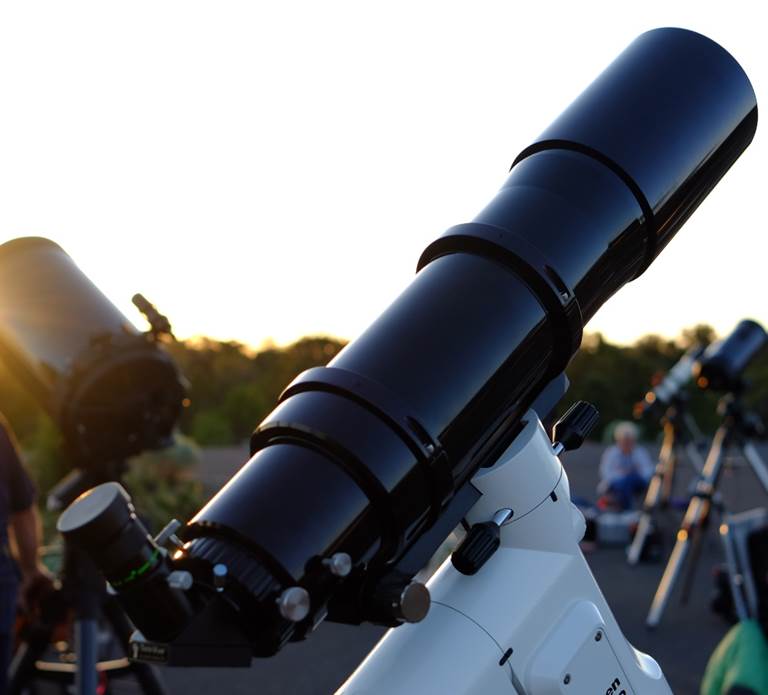 <![endif]>
Stock Baader image.
| | |
| --- | --- |
| Lens Design | Fluorite triplet (oil spaced) |
| Aperture | 95mm |
| Focal Length | 560mm |
| Focal Ratio | F5.9 |
| Length | 540mm/455mm (dew-shield ext/retr) |
| Tube diameter | 99mm |
| Weight | 3.1 Kg |
One of the reasons this guide interests me is that it encompasses the 'travel APO', that select breed of 90-110mm APOs short enough to lug onto a plane. Travel APOs are interesting in part because they have such a chequered history.
From the big Chinese firms there is only the TS 90/600 and relatives. LZOS don't really do a travel APO objective. Canon/Optron only have the Borg 90s and 107 and they may be hard to find. TEC discontinued the Eclipse after just a few hundred. The LOMO 95 is as rare (rarer actually) than the proverbial rocking horse dung.
It's over twenty years since you could buy a Traveler from AP (theoretically), but it's still amazingly difficult to just go out and buy a travel APO. But why? It seems that travel APOs are hard.
And then, a few years ago, Baader had a go, with this, the Travel Companion …
The Travel Companion is a 95/560 (F5.9) oil-spaced fluorite triplet (deja vue?) in a very compact OTA equipped with Baader's own Steeltrack focuser and a removable section for compactness and binoviewing. The whole thing is German made (yes, even the lens), with nods to Zeiss like the special mineral oil used in the objective. Reviews were overwhelmingly positive. Like the Traveler and the Eclipse, here was a tiny APO that did planets as well as deep sky. Excellent! At last you can go out and just buy a travel APO! Well no …
It's not like there's no market for travel APOs, as Baader discovered. Despite a steepish asking price of almost E4000, despite the Steeltrack (a decent focuser, but not my favourite), despite the TEC-like clip-lock tube rings (light but possibly insecure), the 200 they planned immediately sold out. Many who wanted didn't get. And they're not making any more, at least not any time soon (still waiting in early 2022). Presumably, as for TEC and the rest in the past, they just weren't making (enough) money on them.
I hear you ask, 'why can't Baader make a profit on a 4" travel APO costing thousands when Sky-Watcher seem to do fine making an excellent 4" APO (the ED100 – see below) for hundreds?' The answer isn't just German labour costs. Travel APOs need very short focal ratios to work with a 4"+ lens and that means steep curves, tight tolerances and expensive materials. After all, even F5.9 means a 95m APO with a focal length that's just at the carry-on maximum of 560mm. And even F5.9 is easy to make in a 60mm (Tak' FS-60) but hard by 95mm.
So, right now, if you want to buy a travel APO immediately you have just the Borg 90 or TS 90/600 to choose from – if you can still find one. Hope AP will do a fifth run of the Stowaway? Or keep waiting for Baader to do another run. Does this just seem like AP all over again?
<![if !vml]>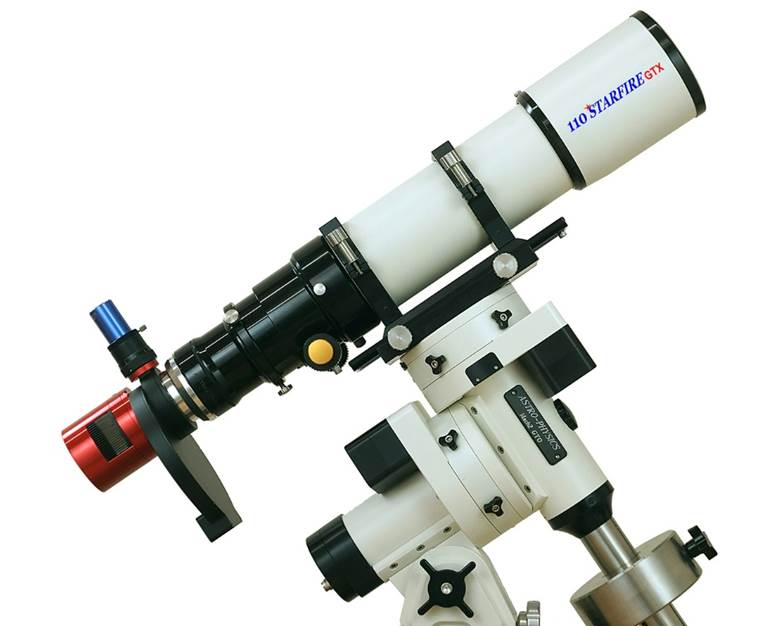 <![endif]>
| | |
| --- | --- |
| Lens Design | Fluorite doublet |
| Aperture | 90mm |
| Focal Length | 500mm |
| Focal Ratio | F5.6 |
| Length | ~380mm (15") without disassembly |
| Tube diameter | 80mm (3.2") |
| Weight | 1.5 Kg in basic visual config' shown |
The Borg 90FL is a very interesting telescope, even though it's not even quite a four-inch. Why? I'll explain …
One of the smallest and lightest four-inch-class refractors, with a nice fast focal ratio for wide-field imaging, was Takahashi's Sky-90 (see below). But the Sky-90 had a special lens design with a huge air-space and massive cell that was unfortunately prone to collimation issues – not good in a travel scope. This latest Borg 90FL replicates the Sky-90s advantageous numbers, but with a design more suited to travel.
Borgs have always been among the lightest, most portable and most adaptable of small refractors. Sadly, past Borgs have been a bit iffy in optical quality terms. Lately, though, they've been using premium Canon/Optron lenses made in Japan with a fluorite element, just like Takahashi.
The 90FL lens is a Fraunhofer doublet, using crystalline fluorite - just like the Sky-90. That means the fluorite is at the front, like older Takahashis. Interestingly, from what I can see from a laser test, the 90FL still has a larger-than-usual air space, which would allow for better correction of both false colour and field curvature in this fast lens. But the cell is much smaller, non-collimatable and hopefully more robust.
Front-surface fluorite lenses do have a small theoretical advantage over the Steinheil design that puts the mineral at the back – shallower curves which are easier to make and slightly higher light throughput since the fluorite is what the light hits first (and fluorite scatters less light than any glass).
I'd expected semi-APO levels of chromatic aberration, due to the very fast focal ratio, but it's generally very well corrected. The 90FL has similar false colour to the Sky-90, despite that small air-gap, and less than many 80mm ED doublets. It also seems pin-sharp at higher powers.
The tube is Borg's standard compact 80mm and the standard focuser will be a Borg helical, with or without a drawtube, but you could spec a Feathertouch if that's more your thing. Borg make loads of options too, including a special tube assembly to turn it into a proper camera lens, a quadruplet 0.72x reducer is that shortens the focal length to 363mm at F4, and a 1.4x extender for larger image scales. For urban guerrilla astronomers, all Borgs are now a stealthy satin black (that shows every finger print).
Crucially, like the Sky-90, the Borg 90FL is one of the very smallest and lightest APOs in the four-inch class and is easily carry-on portable: 15" long and with a weight of 1.5 Kg for a complete OTA minus ring. Alternatively, the objective unit is easily removed and comes with protective caps; it's only six inches long and weighs a kilo. So, if you're sick of our murky skies and want to head off to do some imaging on Mt Teide, this could be just the ticket. It's expensive though and may soon be discontinued.
A word of warning for imagers. The 90FL I had came with their super-reducer and I wasn't happy with the images so I sent it back. I later discovered that the reducer had been delivered configured for the 71FL. For the 90FL a small spacer needed removing. In general, very short F-numbers like this are very sensitive to reducer spacing.
Borg make various tube rings and mounting brackets for their 80mm OTAs, but Tak's 80mm tube rings fit too.
<![if !vml]>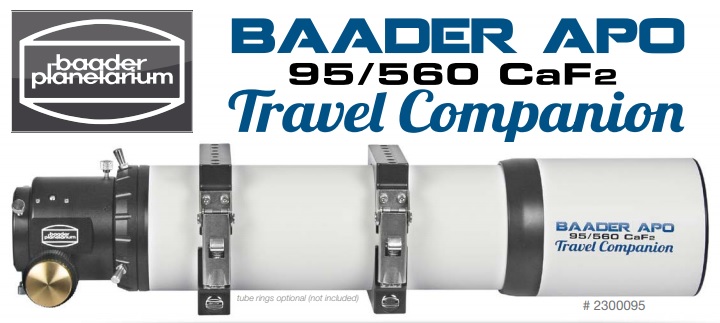 <![endif]>
Stock Borg image.
| | |
| --- | --- |
| Lens Design | Fluorite doublet |
| Aperture | 107mm |
| Focal Length | 600mm |
| Focal Ratio | F5.6 |
| Length | ~500mm (depends on focuser etc) |
| Tube diameter | 80mm (3.2") |
| Weight | 1.9Kg obj. cell, ~3 Kg in basic visual config' with 80mm tube. |
If anyone but Canon/Optron offered a 107mm F5.6 doublet, I'd brace myself for dodgy optics and lots of false colour. But their little Borg 67FL proved me wrong on that. No not a super-APO, but astonishingly good for it's crazy-extreme specs. So there's a good chance the 107FL will be similar and in fact it's claimed to have lower false colour on-axis than the 90FL.
In any case, it will be a front-surface fluorite doublet with a large air gap. The latter led to problems in the Sky-90 but the 90FL seems better and doubtless this 107mm will be the same. For more on the optical design, see the entry for the similar 90FL above.
So, curiously, it's not the optics I'm worried about but the mechanical design. In order to offer the 107FL as a direct OTA upgrade to owners of the 90FL with the 80mm tube set, it has a very unusual telescoping design (see above) and Borg recommend that you remove it from the OTA to extend or retract it or it might not work smoothly.
Even so, I am quite excited about the 107FL, because with the 90FL's tube set it would be ridiculously light and portable for such a (in this context) large aperture. Unfortunately, Borg in general are looking shaky at the moment with uncertain availability, so maybe get it while you can (travel-scope-itis strikes again). It is expensive, but well in line with the other 100mm plus travel APOs described in this guide.
<![if !vml]>
<![endif]>
Stock Pentax image.
| | |
| --- | --- |
| Lens Design | ED quadruplet |
| Aperture | 100mm |
| Focal Length | 400mm |
| Focal Ratio | F4 |
| Length | 497mm |
| Tube diameter | 115mm |
| Weight | 4.2 Kg |
The SDUF was the most refined (in version II form) of Pentax's long line of astrographs. Pentax were one of the first to produce telescopes optimised for imaging, originally with their own medium-format film cameras, and they have a great reputation.
The SDUF uses a four element design, much like an NP101 or Takahashi FSQ, but delivering an even faster F4 focal ratio. Given the original Pentax remit of covering a medium format film frame, you can be sure the field will be flat and well illuminated across the largest CCD chips. What's more, this is a very compact and relatively lightweight astrograph that you could use on a light mount and carry on-board to take to foreign dark skies.
Most Pentax astrographs have a massive helical focuser, with a big rubber focusing wheel rather than fiddly knobs, which I particularly like for its ease of use with cold or gloved hands. The visual back is very flexible too: the whole thing has been carefully thought-out for imagers.
Pentax sadly ceased production of their astrographs a few years back and very few come up used, which probably tells you all you need to know about how good they are. If you do find a good used SDUF and you're looking for a wide field imaging scope you won't need my encouragement to buy it! Alternatively, it seems Vixen may be producing a range of similar scopes in future, of which the VSD 100 is hopefully just the first.
<![if !vml]>
<![endif]>
Sky Watcher 100 ED Equinox
<![if !vml]>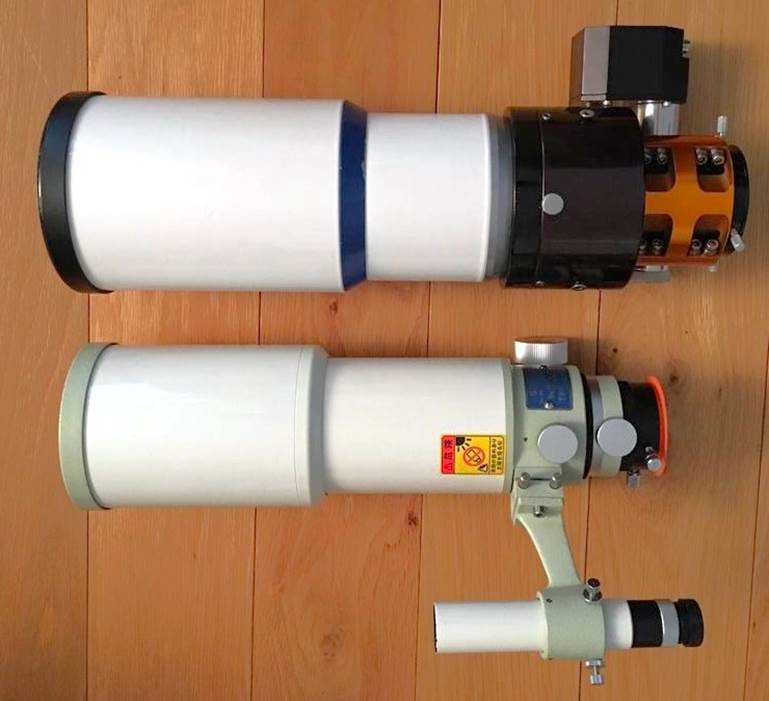 <![endif]>
Sky Watcher 100 ED Pro
| | |
| --- | --- |
| Aperture | 100mm |
| Lens design | ED glass doublet |
| Focal Length | 900mm |
| Focal Ratio | F9 |
| Length | Depends on model |
| Tube diameter | Depends on model |
| Weight | Depends on model |
This lens is and has been available in various tubes. The Equinox is the premium offering with a very shiny CNC tube and a quality dual-speed rotating focuser.
The cheaper ED Pro is lighter, but less compact (it has a fixed dewshield) and is a more conventional Sky-Watcher OTA, albeit with a (different) dual-speed Crayford focuser that is smooth and shift-free for visual use, but doesn't lock very well for astro-photography.
In either case, the lens is an ED doublet, apparently using top-quality Schott FPL-53 glass. Optical quality is likely to be good – typically diffraction-limited or a bit better. As with the TV-102, you shouldn't expect this to perform quite as well as a fluorite doublet – its residual chromatic aberration is a notch down from that level. Nonetheless, my experiences suggest it's a great all-round APO, with a flat field and low enough aberrations to give great views on all types of objects, low or high power, star fields or planets.
The Equinox 120ED has had some excellent reviews and I liked it a lot. Things seemed a little less rosy when a well-known tester found that it was really a 113mm scope … even so, it's a good lens for the price. I'd read that the 100ED offers no better correction for chromatic aberration than the 120ED, but that's not my experience. It may be that older versions used a cheaper ED glass. In any case, the 100ED in its latest form is a very sharp, low-CA APO with impressive performance for the price. Don't tell SW, but the 100ED is a screaming bargain!
The Equinox comes with CNC rings that have an Astro-Physics hole pattern (!). The ED Pro has conventional cast SW rings with ¼-20 threads on the base.
Both ED Pro and Equinox versions come in a quality hard case and the Pro version may throw in accessories such as a finder and a reducer to take it down to F7.65. The reducer didn't impress me, though. The standard 100ED has quite a flat field anyway and the reducer added quite a lot of violet bloat on O-A stars for less than one and a half F-stops.
<![if !vml]>
<![endif]>
Stock Sky-Watcher image
| | |
| --- | --- |
| Aperture | 100mm |
| Lens design | ED glass triplet |
| Focal Length | 550mm |
| Focal Ratio | F5.5 |
| Length | ~500mm |
| Tube diameter | 105mm |
| Weight | 6.3 Kg |
The esprit 4" APO is a slightly puzzling telescope, at least to me. It's a very fast triplet at F5.5, which suggests an ideal travel-to-dark-skies scope. But in fact, though it is just about carry-on compact, it is heavy and so will need a biggish mount for imaging, so isn't ideal as a travel scope.
I'm not convinced that a very fast triplet is ideal for astrophotography at the 100mm size: compared to quadruplet astrographs the lens will be heavy and have severe curves, yet it's not that fast and you'll absolutely need a reducer/flattener (though the SW reducer is very inexpensive). Then again, at just over £1500 it is astonishingly good value.
I can't comment on optical quality, but it's likely to be excellent. I would be interested to see whether the optics work well visually; if they do it might make most sense as a dual-purpose scope (most fast quadruplets aren't great for visual use). The tube is a traditional aluminium design with a long dew-shield; build quality looks very good indeed.
The Esprit range are fitted with heavy duty rotating crayford focusers that look similar to those found on SW's other models; I notice some vendors are also supplying them with (aftermarket?) 3" Feathertouch focusers.
I haven't tried an Esprit yet, but on paper at least I might be inclined to go for the 120mm model which isn't that much more expensive and needs a similarly beefy mount. For really wide-field imaging or as a travel scope, I'd be looking for something even faster or lighter-weight (or both). Interestingly, SW themselves soon came out with a quintuplet design with a surprisingly similar focal ratio and a modest price increase. It's a shame the triplet had to be so heavy. At ~4 Kg it might have been a Traveler alternative and I might have bought one.
<![if !vml]>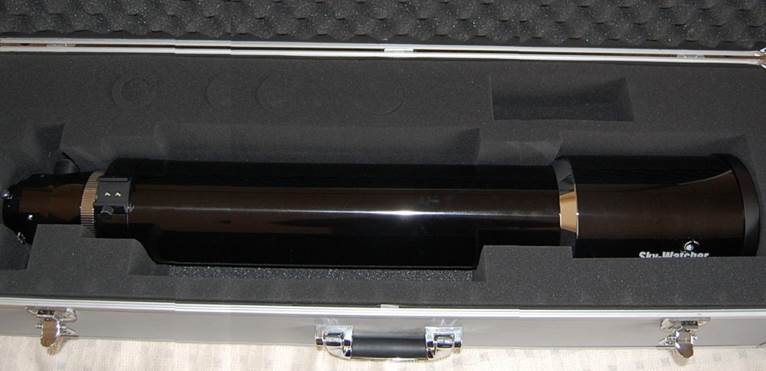 <![endif]>
| | |
| --- | --- |
| Aperture | 90mm |
| Lens design | Fluorite doublet |
| Focal Length | 560mm |
| Focal Ratio | F5.6 |
| Length | ~300mm (12") |
| Tube diameter | 95mm |
| Weight | 3.5 Kg |
The Sky-90 was a hugely popular scope for Tak', a departure for a company that had mostly made long-focus refractors. The reason it was popular was that it combined miniscule size (really, it's just tiny) for easy transport with a decent aperture and a fast focal ratio for imaging. It was, in fact, ideal for many astronomers' deep sky needs.
The Sky-90 was a front-surface fluorite doublet made by Canon/Optron, like Tak's other FS refractors. But whereas they were F8, the Sky-90 was F5.6 – very fast for a doublet. Consequently, the Sky-90 had a special lens design with a huge air-space and massive cell that was designed to deliver the best possible correction for its fast focal length. Unfortunately, that cell proved prone to collimation issues – not good in a travel scope. It also made the Sky-90 surprisingly heavy for its diminutive size.
The Sky-90 had a short 95mm diameter tube with a sliding dew-shield. The focuser was a version of Tak's classic cast focuser, but with a short body. When new this was a nice unit, very smooth and precise; but hanging heavy cameras off it could cause wear and image shift, especially as extension tubes were often needed due to the radically shortened OTA.
Even so, the Sky-90 was a handy little scope with excellent basic optical quality. The small amount of miscollimation on the one I reviewed was only noticeable at image scales greater than most imagers use anyway. And whilst other reviewers and testers have also noted miscollimation, I know of Sky-90s that are absolutely fine.
Today you might consider the Borg 90FL instead – it's essentially an updated version of the same scope, but with a more conventional cell design and a much lighter OTA. Alternatively, test thoroughly before you buy.
<![if !vml]>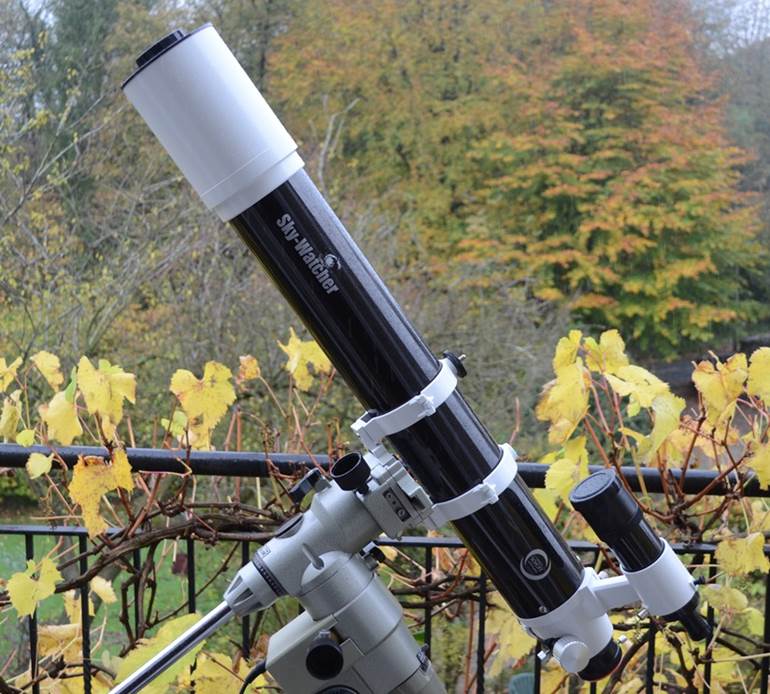 <![endif]>
2020 FC-100DZ (dewshield retracted) and FC-100 Classic from 1992.
| | |
| --- | --- |
| Aperture | 100mm |
| Lens design | Fluorite doublet (fluorite at back) |
| Focal Length | 800mm |
| Focal Ratio | F8 |
| Length | 800mm (31.5") w/o visual back |
| Tube diameter | 114mm |
| Weight | 4.2Kg (w/o ring and finder) |
This was the 'original' Takahashi F8 100mm fluorite doublet, produced from the 1980s into the early 1990s, when it was replaced by the FS-102 (below).
The OTA design is very similar to the FS-102's – a large, fully baffled tube 114mm in diameter, with a fixed dew-shield, a heavy-duty 2.7" focuser and a lens in a collimatable cell.
However, that lens has an unusual design, one that Takahashi have reverted to for their recent FC-100D and FC-76D models.
Both the original FC-100 and the FS-102 that followed it were F8 air-spaced doublets (made by Optron in Japan as always). However, their optical design was different. The FS-102 had its fluorite crown element at the front, making it a Fraunhofer type doublet (like most refractors). The original FC-100 was a Steinheil doublet with the fluorite positive convex element at the back. Takahashi did this because at the time fluorite couldn't be coated and was vulnerable (fluorite is soft and may deteriorate), so putting it at the back, out of the way of lens wipes and dew, made sense. That fluorite crown was partnered with a conventional flint containing heavy metals that wouldn't be used for environmental reasons today.
So most FC-100 Classics have an uncoated fluorite element at the back, which means they transmit a bit less light than later models. However, the FC-100 pictured dates from the last years of production, when some lenses with fully coated fluorite were fitted. These later lenses have a red capital 'F' engraved in the lens ring.
The original FC-100 was (and is) highly regarded and considered outstanding for high power planetary use. Whilst I can't speak for the earlier models, the F-lens is certainly an excellent optic. Not only does it have a near-perfect star test, but very low false colour levels. It does give excellent high-power views, including of Mars. Compared to the very latest FC-100DZ (pictured) which uses some sort of special dispersion flint, the classic FC-100 has a trace more false colour, but otherwise gives it a strong run for its money, including outstanding lunar, planetary and double-star performance. In fact, the main area it lags the newer models is for imaging – it's off-axis field is less well corrected.
So the original FC-100 does make a superb used buy if you like visual astronomy and especially for the Moon and planets.
Note that mounting is via the same clamshell as the FS-102 with its 35mm spaced M6 holes.
I'll say here that the FC-100 and all subsequent F8-F9 fluorite doublets from Tak' are better corrected than any ED glass doublets I have tested of similar aperture and focal length, suggesting fluorite does allow for a better corrected doublet.
<![if !vml]>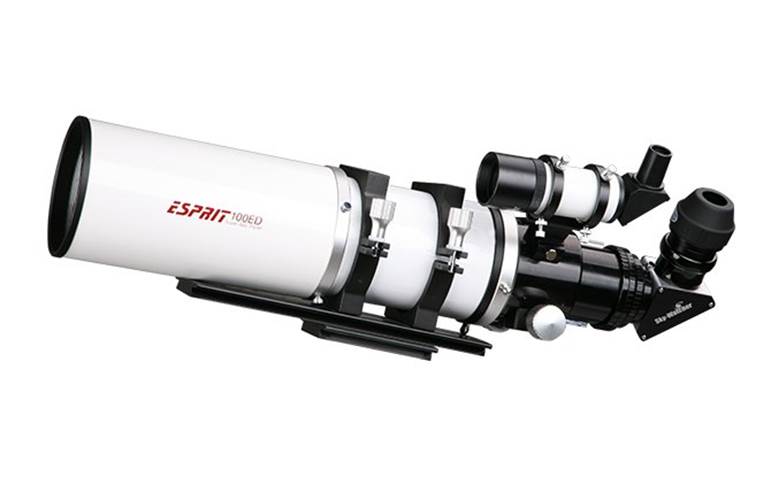 <![endif]>
| | |
| --- | --- |
| Aperture | 102mm |
| Lens design | Fluorite doublet (fluorite at front) |
| Focal Length | 820mm |
| Focal Ratio | F8.1 |
| Length | 930mm (37") |
| Tube diameter | 114mm |
| Weight | 5.3Kg |
The FS-102 may have been out of production for pushing a decade, but still come up for sale used and are an excellent choice. Most are the fixed dew-shield version (the FS-102N) which makes for a physically large scope, at almost a metre long (but quite light-weight at about 5.3Kg). A few later ones had a sliding dew-shield and so will be usefully more compact but slightly heavier. As shown above, it's on a Tak' EM-200 mount, a perfect if overkill match that once gave me a rock-steady view with the FS-102 in a howling gale.
The FS-102 has an F8.1 (820mm F.L.) doublet with crystalline fluorite as the front element. My experience, confirmed by independent tests, is that this superb, expensive and uncompromising design gives correction as good as most triplets but with quicker cool-down and (perhaps) a tiny contrast and brightness advantage. I'll say it yet again – don't think the FS-102 is inferior to the more modern FC-100 (see below for discussion).
I had the opportunity to compare an FS-102 with my AP Traveler at the Grand Canyon Star Party. The Tak' was every bit as good for visual use, except of course that it's about twice the size and much slower for imaging.
Like other Takahashis, the FS-102's Canon-made (Japan) lens is of very high quality – typically better than 1/6th PV (95% Strehl). The focuser is Tak's own, but is smooth, stable and virtually image-shift free. Overall quality is of course top-notch.
The FS-102, like other Taks, has a clamshell with two M8 holes at 35mm spacing.
NOTE 2019: Takahashi have just announced a new F8 4", the FC-100DZ. It's smaller and lighter than the FS-102 but promises to be every bit as good optically, so don't pay crazy money for an FS-102. Details below.
<![if !vml]>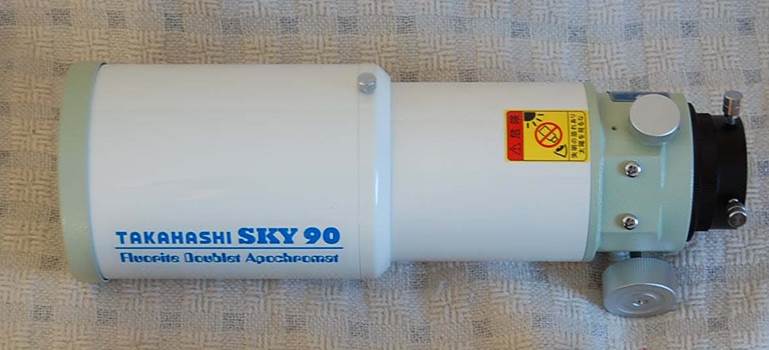 <![endif]>
| | |
| --- | --- |
| Lens Design | ED glass triplet (air spaced) |
| Aperture | 102mm |
| Focal Length | 816mm |
| Focal Ratio | F8 |
| Length | 890mm/790mm (minimum ~ 650mm, 25") |
| Tube diameter | 114mm |
| Weight | 5.4Kg |
The TSA-102 replaced the FS-102. As with the previous scope, there are two versions: the TSA-102N with fixed dew-shield and the TSA-102S with a sliding one. The fixed version is about 4" shorter than the FS-102N, but the TSA-102S is much shorter still. Tak's own claims are conservative: my TSA-102S will pack down to about 25" with the visual back removed and so is almost airline portable (same as the NP101 in fact). Weight is modest at a claimed 5.4Kg, but it still feels like quite a big and heavy scope compared to say a Traveller.
'TSA' stands for Triplet Super Apochromat, which is right because the TSA-102 has simply one of the best lenses in astro-world. The Japanese 102mm F8 (816mm F.L.) triplet is colour-free in any circumstances at any power, almost (but perhaps not quite) as perfectly free from chromatic aberration as the TMB 100/800. It doesn't stop there though, because my TSA had a perfect start test and cooled quickly for a triplet (probably due to careful design of the cell). Contrast is superb and the TSA-102 takes high-magnifications better than almost any other small refractor I have encountered.
The focuser is the home-grown 2.7" r&p unit from the FS-102, but again is very smooth, stable and virtually image-shift free. Build quality is again of the very highest.
The TSA-102, like other Taks, has a clamshell with two M8 holes at 35mm spacing.
<![if !vml]>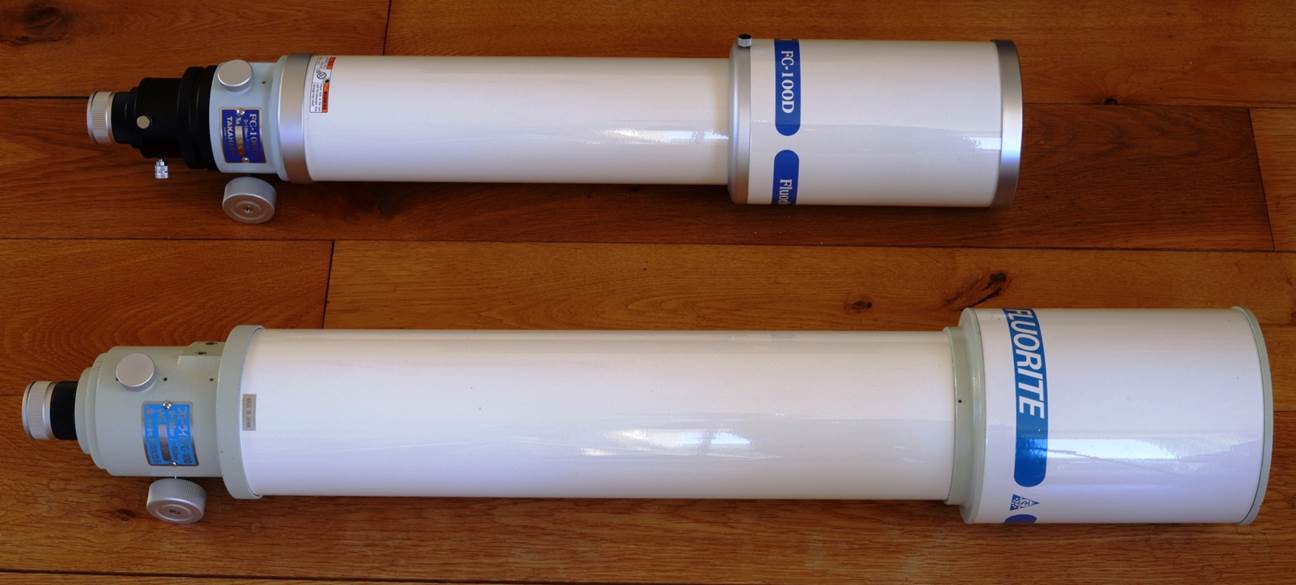 <![endif]>
FSQ-106 with FSQ-85.
| | |
| --- | --- |
| Lens Design | Quadruplet Petzval with 2 ED elements |
| Aperture | 106mm |
| Focal Length | 530mm |
| Focal Ratio | F5 |
| Length | 580mm (23") |
| Tube diameter | 125mm |
| Weight | 7Kg |
Like the VSD100, the FSQ is a dedicated astrograph. On the face of it, it's a very compact scope at just 23" long, but it is both chunky and heavy, with a massive dual-speed, rotating focuser.
The optical system, like the NP101, is a four-element Petzval. However, this one is even more sophisticated because it uses large air-spaces and two ED elements to achieve near perfect correction across a very wide field and an even faster F-ratio than the NP101 to boot, at F5.
I have heard from people who have been underwhelmed by FSQ's visual performance, but perhaps that's not surprising given its astrographic design. If you do want to use it for high-power planetary viewing, Takahashi sell a dedicated extender, tuned for the FSQ optical system, that sharpens it up. Collimation problems are also not unheard of (like most Petzvals it seems). A final thing to look for is signs of degradation of the front element which is soft ED glass and may be prone to damage if regularly left wet from dew.
The FSQ needs a bigger tube ring (125mm) than other Tak 4" refractors and the weight of the FSQ takes it beyond most small GEMs, especially for imaging - you'd need an EQ6 (or better still Tak's own superb-but-expensive EM200). It is very compact, though, as it's very short (hardly longer than the FSQ-85 'Baby Q' – see above).
<![if !vml]>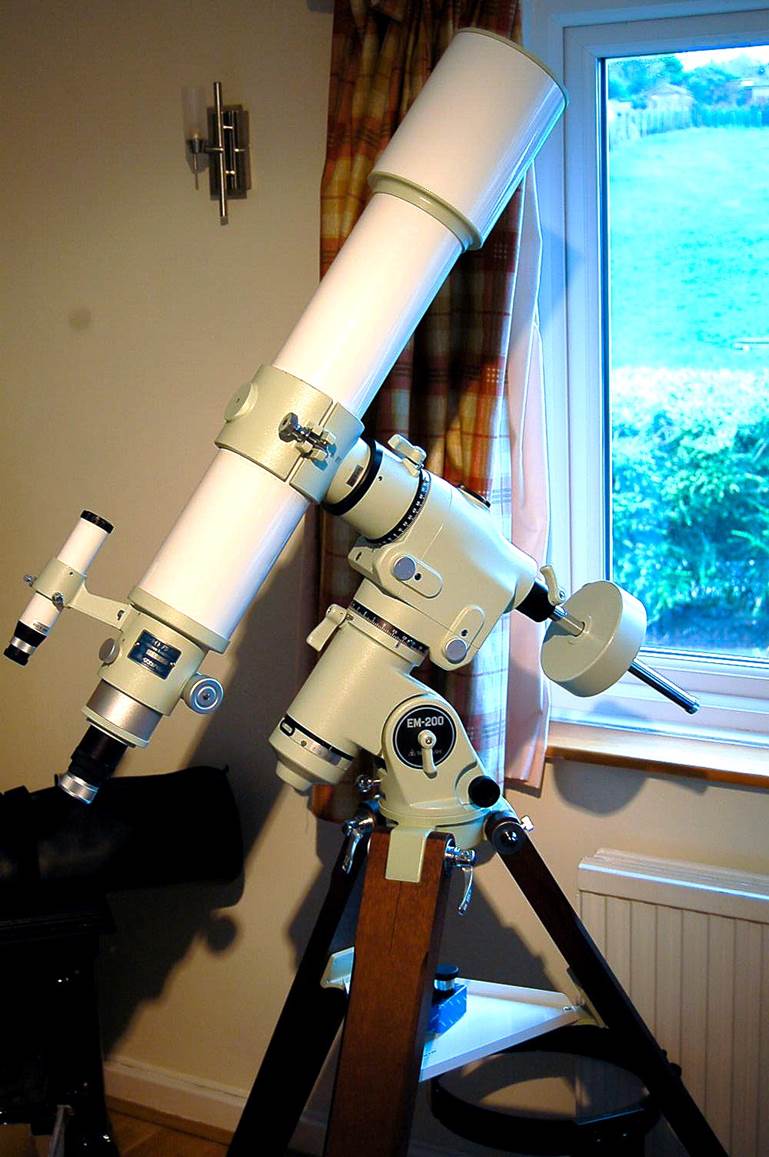 <![endif]>
| | |
| --- | --- |
| Lens Design | Fluorite doublet (Steinheil) |
| Aperture | 100mm |
| Focal Length | 740mm |
| Focal Ratio | F7.4 |
| Length | 815mm (FC-100DC) / 785mm (FC-100DF) |
| Tube diameter | 95mm |
| Weight | 2.8Kg (FC-100DC) / 3.5Kg (FC-100DF) |
To describe Takahashi's re-booted FC-100 I'll have to delve into the optical design of Tak's refractors for a few paragraphs. We've been here before, so please skip this bit if you're bored.
Before the FS-102 (see above), Takahashi made a slightly different fluorite doublet four inch APO – the now legendary original FC-100 (see above). Takahashi re-introduced the FC-100 in 2013, but it's actually a different design again. Confused? Read on …
Both the original FC-100 and the FS-102 that followed it were F8 air-spaced doublets made by Optron in Japan. However, their optical design was different. The FS-102 had its fluorite element at the front, making it a Fraunhofer type doublet (like most refractors). The original FC-100 was a Steinheil doublet with the fluorite positive convex element at the back. Urban myth would have it that the Steinheil lens of the FC-100 was better, but I doubt it. Here's why:
<![if !supportLists]>· <![endif]>Steinheil lenses in general have steeper curves (more difficult to make) and are "seldom used unless necessary" (Rutten and Van Venrooij).
<![if !supportLists]>· <![endif]>In the FS-102, the front-surface fluorite confers a slight advantage in transmissivity because the fluorite is the first thing the incoming light hits and fluorite transmits more light than glass … any glass.
The only real advantage of the Steinheil, as far as I can tell, is that putting the fragile fluorite at the back makes for a more robust optic.
But for whatever reason, Takahashi have chosen to re-introduce the FC-100. However, the FC-100 is now a slightly faster F7.4 (good news for astrophotographers). The objective is still made by Canon/Optron in Japan, but it's also likely to be a bit different behind the scenes. For one thing, the new lens will have a coated fluorite element for better transmissivity whereas the original FC-100 had an uncoated fluorite element (apart from the late 'F' lens version). For another, it uses eco-glass for the flint element (the original's was doubtless laced with heavy metals, like Lanthanum).
Thankfully that's the optical theory out of the way. Mechanically, the new FC-100D is pretty conventional Takahashi, which is a good thing. There are two versions. The FC-100DC (shown here) uses a version of the small focuser from the FS-60 and has a fixed dew shield. It's very compact and weighs just 2.8Kg. For purely visual use, this is probably the one you'd go for because it's cheaper and lighter. If you remove the focuser and dew-shield it's easily carry-on sized at 47cm/18.5" long.
The more expensive version is the FC-100DF aimed at imagers (but just as good for visual as the DC). This one uses the larger focuser from the Sky-90 that should cope better with heavy cameras, gives more in-focus travel and a slightly shorter packed length. The FC-100DF weighs a bit more though, at 3.5Kg.
Neither are carry-on portable unless you unscrew the dew-shield and or focuser.
The FC-100DC I saw was another highly desirable Takahashi refractor: compact and beautiful. Build quality and cosmetics seem typical Takahashi: lime green castings, beautiful white tube and with the recent silver (rather than green or blue) lens ring. The focuser was smooth and gave minimal image shift. The lens sits in a proper temperature-compensated cell and the coatings were as good as you will ever (hardly) see.
I have used an FC-100 (the DC version) quite a lot and the optical performance was excellent – much like the older Tak' fluorite doublets – with outstanding contrast and sharpness. A tad more chromatic aberration than the FS-102, due to the shorter focal length and eco-glass flint? I struggled to convince myself so: the FC-100DC was very close to the FC-100DL at high powers on the Moon and planets.
The FC-100D is another near-perfect small APO – great on the Moon and planets, but capable of stunning photography with a reducer or flattener.
The FC-100D has a 95mm diameter clamshell with two Tak-standard M8 holes at 35mm spacing, like the Sky-90 and old FS-78 (so clams for those scopes should also fit).
The light weight and short tube of the FC-100DC in particular mean it will work on almost any small mount, equatorial or alt-az. Vixen dovetail bars that fit Tak' clamshells are available. A huge range of dedicated accessories, such as reducers and extenders are marketed for the FC-100.
<![if !vml]>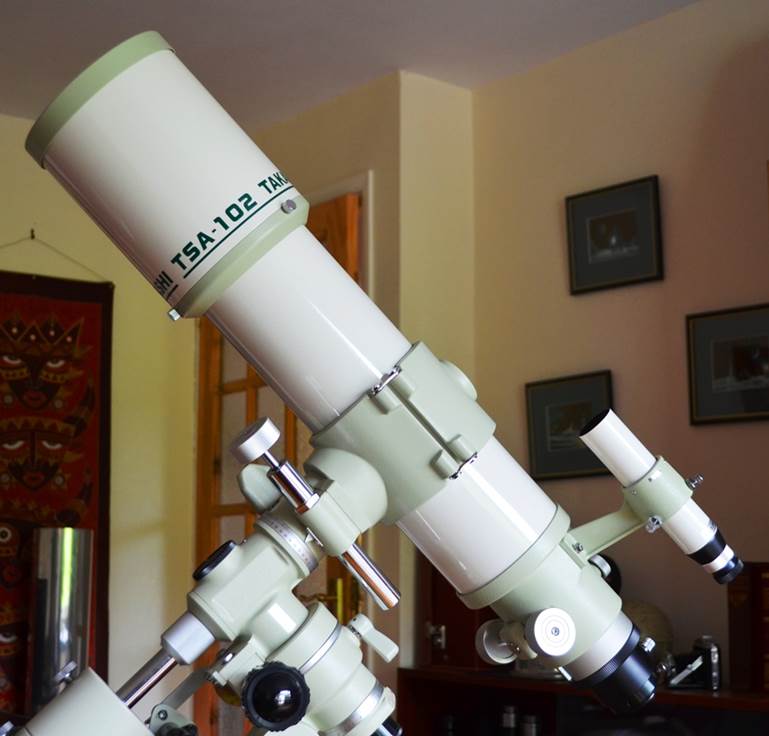 <![endif]>
| | |
| --- | --- |
| Lens Design | Fluorite doublet (Steinheil) |
| Aperture | 100mm |
| Focal Length | 900mm |
| Focal Ratio | F9 |
| Length | 940mm (782.5 w/o extensions??) |
| Tube diameter | 95mm |
| Weight | 3.8Kg |
This is where your author gets a bit over-excited. You see no-one makes scopes for planetary observers anymore … and then Tak' go and do just that, bless their little fluorite blanks.
The FC-100DL is a version of the newer fluorite-doublet FC-100 (see above) with a longer focal length of F9. What difference do those extra 1.5 F-stops make? They allow (so Tak' claim) near super-APO (i.e. TSA 102) levels of false colour correction whilst still being a light, quick-cool doublet. Does this matter? For critical planetary observing, especially on Mars (many doublets are poorly corrected in the red) it might.
The FC-100DL turns out to be startlingly long (near a metre) with its fixed dew shield, but still quite light at 3.8 Kg.
In other respects, it's like the DF, with its larger, heavier longer-travel focuser. The other radical (sarcasm alert) change was black enamel for the focuser for the first run (changing to the standard blue-green for the second).
Planetary observers in the North are in for a rough time over the next few years. Mars is about to have two close oppositions, but it's barely over the horizon; Jupiter and Saturn aren't great either. So if you're looking for a lightweight (so easy to mount) planetary refractor with super-sharp optics that you can shove in the back of the car and drive to Southern Europe (where Mars makes it to a more reasonable 20-30 degrees altitude), this may be your scope, but check out the new FC-100DZ below.
<![if !vml]>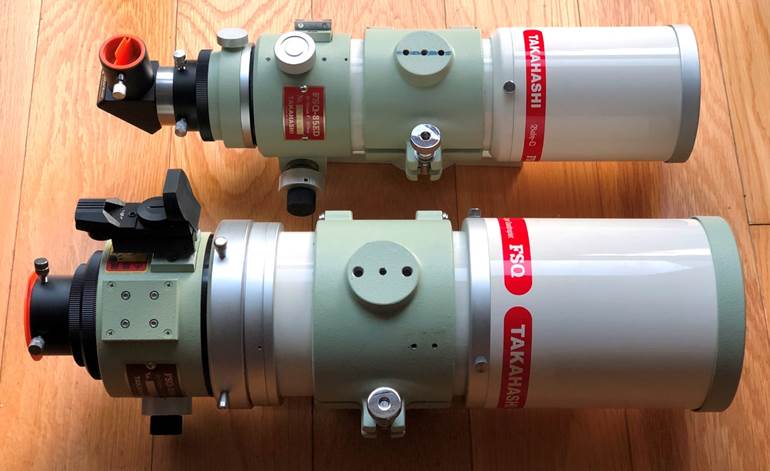 <![endif]>
| | |
| --- | --- |
| Lens Design | Fluorite doublet (Steinheil) with SD mating element |
| Aperture | 100mm |
| Focal Length | 800mm |
| Focal Ratio | F8 |
| Length | 770mm (595mm w/o visual back) |
| Tube diameter | 95mm |
| Weight | 3.9Kg (4.6Kg w/ ring and finder) |
When Takahashi introduced the FC-100DL, I thought that was it for FC-100D variants. I was wrong. The original F8 FC-100, first released in 1981, now commands high prices as a collectors' piece and perhaps that's why Tak' decided to re-launch it as this, the F8 version of the FC-100D, the FC-100DZ. You won't hear any complaints from me, because the F8 FS-102 is one of my all time favourite telescopes – F8 is a great focal ratio for a 4" refractor because it's a perfect compromise between portability, imaging speed and performance at high powers for planetary and Lunar.
Talking of the FS-102, as I have explained at length above, there are differences in lens configurations here. The FS-102 had a Fraunhofer lens arrangement that put the fluorite at the front: great for optical performance, but (theoretically) exposed to knocks and damp which soft-and-sensitive fluorite doesn't like. Meanwhile, the old FC-100 F8 had the fluorite at the back in a Steinheil arrangement like the modern FC-100D variants, but its fluorite was uncoated (up until very late models) and so transmitted a bit less light.
This new FC-100DZ puts its fluorite at the back too, but critically then mates it with a modern special-dispersion glass flint of some type up front for superior optical performance. If you're thinking that sounds familiar, you're right – the FOA-60 also uses a special dispersion mating element. In fact, I had rather hoped that Tak might bring out an FOA-100, but the FC-100DZ will have to do.
Now you might ask, 'what's the point', given that the FC-100DC and DF are nice and fast and compact at F7.4 and still work well at high powers, whilst the F9 FC-100DL is (or rather 'was' – it was a limited edition) optimised for high power lunar and planetary. Well, the answer seems to be that the DZ is taking over the role of the DL. The special mating element purportedly allows it better correction than the DL despite its shorter focal length. The spot diagrams and crossings published by Tak do seem to bear that thesis out. Crucially, the Strehl stays above 90% across the whole visible spectrum, avoiding the problems of many doublets which are blurry on Mars at the red end and bloat hot stars in the blue and violet for imaging.
Lens aside, the DZ has the 95mm tube common to all the FC-100D variants and the larger focuser like both the DL and DF. But in addition to the new F8 lens it also has a sliding dew-shield unlike any other FC-100D, meaning it packs shorter without unscrewing bits. It's about 23.5" (595mm) long with the shield retracted and the visual back removed, whilst without the focuser it makes it down to a carry-on portable ~21.5" (543mm to be exact).
Weight, meanwhile, is slightly more than the DL at 3.9 Kg (4.6 Kg with the ring and finder) because the shorter tube is lighter, but the sliding dew-shield heavier! Are you following all this?
So should you buy it? In reality, I found the FC-100DC (the original F7.4 FC-100D) actually very good for the Moon and planets (though I didn't try it on Mars which often tests the long-wavelength Strehl of doublets). The DZ is also quite a lot more expensive than the DC, though (about £500 more here in Blighty), and a bit more than the DF too (probably due to the sliding shield which Tak' always charges extra for).
But if you like your Moon and planets just as crisp and false-colour-free as can be, then the DZ is a fair bit more portable than the other FC-100D models with their fixed dew-shields. The DZ outperforms the DC/DF on Mars. Then again, for imaging F8 is noticeably faster than F9, whilst the DZ has just half the violet bloat of the DC/DF. So, all in all, yes, the DZ is probably worth it.
The DZ was released on my birthday (and just coincidentally on the 50th anniversary of Apollo 11), so of course I bought one. It must be karma …
Update: The DZ impresses - it is effectively false colour free, just a little better corrected than the original FC-100 and perhaps even better than the FS-102. Everything else is top-drawer too.
<![if !vml]>
<![endif]>
Stock image of Yuri with his Eclipse.
| | |
| --- | --- |
| Lens Design | Fluorite triplet (oil spaced) |
| Aperture | 110mm |
| Focal Length | 616mm |
| Focal Ratio | F5.6 |
| Length | Minimum ~ 482mm (19") |
| Tube diameter | 113mm |
| Weight | 4.5Kg incl ring |
The littlest TEC comes closest to the Traveller in terms of its size, weight and performance. It is the same length, a little heavier at 4.5Kg and a bit chunkier with wider tube and bigger dew-shield. Like the Traveller, optical quality is supposedly high and the numbers similarly extreme (110mm aperture/616mm F.L. giving F5.6). Make no mistake, F5.6 is fast for a 110mm triplet and this is achieved by using crystalline fluorite (not ED glass) as the central element. Again, though, it's an oil-spaced design with the possible disadvantages mentioned for the Traveller.
The 110FL has TEC's own large 2-speed rotatable focuser (not a Feathertouch) and a clamshell with a rather unhelpful configuration of holes that may mean you need to buy a dovetail from TEC.
Like the Traveller once was, the 110FL was sensibly priced new from TEC at $4500, but that's theoretical because the production runs are irregular and sell-out quickly. I did find a single new one in an Italian dealer for about £4700.
When I contacted TEC to buy an Eclipse direct, they didn't feel the need to reply and I believe it has since been discontinued.
<![if !vml]>
<![endif]>
| | |
| --- | --- |
| Lens Design | Petzval: ED doublet objective + doublet Petzval lens (reducer-flattener). |
| Aperture | 101mm |
| Focal Length | 540mm |
| Focal Ratio | F5.4 |
| Length | 650mm (26") |
| Tube diameter | 101mm (4") |
| Weight | ~4.5Kg |
The NP101 is Tele Vue's current offering in the 4" refractor market. They have been offering something similar for many years, but the NP101 is still different from most of the scopes in this roundup. The reason? It's a Petzval – a four element design that effectively has a built-in reducer-flattener. Unfortunately, the Petzval design doesn't reduce the OTA length as much as the focal length, so the NP101 is still just above the strict carry-on threshold at 26". Unlike most of the compact competition, though, it doesn't require mandatory extensions or screw-in sections. What's more the NP101 is light (at around 4.5Kg) and slim.
The Petzval design creates a very fast (F5.4) optical system with a natively flat field – great for star-fields and astrophotography. But the NP101's killer feature is that it's far from being a specialist astrograph and can take high powers and give sharp Solar System views too. What's more, its colour correction is at super-APO levels; the NP101 is effectively free from false colour.
Optical fabrication quality is excellent, but perhaps not quite at the level of the finest in this roundup, though you'd need a perfect night and very high powers to see any difference (and I concede that any small test-bench inferiority in Strehl or whatever may not be noticeable in use).
Build quality is first rate and these days the NP101 gets a quality focuser with a Feathertouch 2-speed pinion. It also comes with a very good hard case (which on recent versions is compact too). If you opt for the imaging system (i.s.) version, you get a bigger focuser with a tilt feature and larger rear element to give full coverage on a big CCD chip.
As with other Tele Vues, the clamshell fits straight on a Tele Vue Gibraltar (or even the smaller Panoramic) alt-azimuth mount and TV sell a Vixen dovetail for an easy fit on most small GEMs (German Equatorial Mounts – EQ5s etc).
<![if !vml]>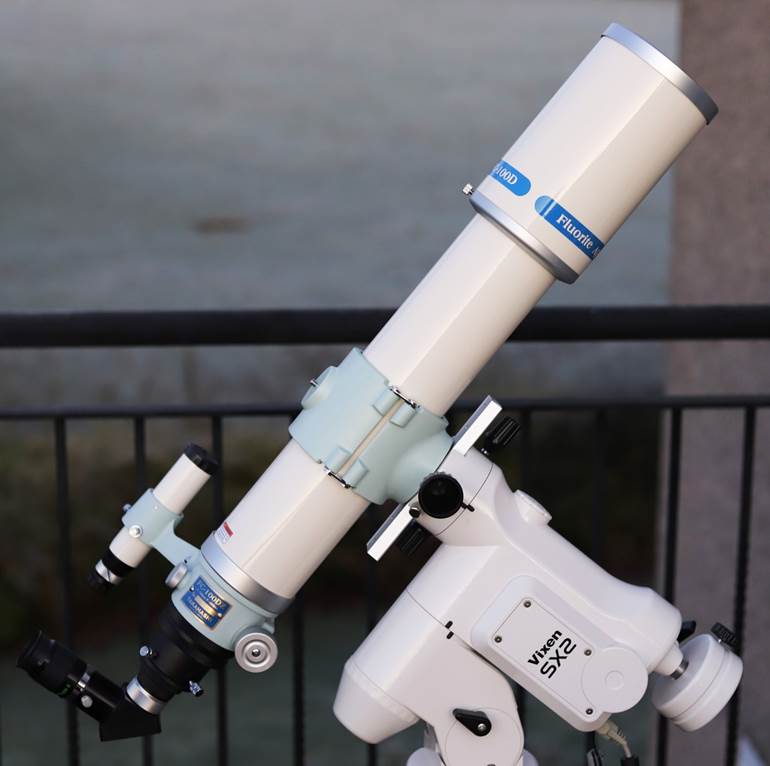 <![endif]>
| | |
| --- | --- |
| Lens Design | ED glass doublet (air spaced) |
| Aperture | 102mm |
| Focal Length | 880mm |
| Focal Ratio | F8.6 |
| Length | 787mm (32") |
| Tube diameter | 102mm (4") |
| Weight | 4.5Kg |
In most ways the TV-102 is just a scaled up TV-85: cream pebble finish tube; 'mag' wheels, slim clamshell; baffles-less, flocked interior; sliding dew-shield with screw-on metal cap. The black finish may be satin powder coat or a gloss black on older models.
Recent versions may have a dual-speed focuser as standard, in comparison to older models that have a single-speed, chrome draw-tube focuser. In all versions the long focal length means that the TV-102 is quite a long scope for a 4" refractor, yet very slim and also light for the class at just 4.5 Kg.
The lens is a 102mm aperture, 880mm F.L. (F8.6) air-spaced ED doublet. Now you might think that in comparison with an FS-102/FC-100 "ED F8.6 doublet vs fluorite F8 doublet – there's not going to be much in it." Unfortunately, nothing could be further from the truth. Whilst Tak' F8 fluorite doublets are effectively false-colour free, the TV-102 is described by optical-testing guru Wolfgang Rohr as "not quite an APO" – it suffers noticeable false colour. If critical imaging or high-magnification planetary viewing are your thing, this will make a difference.
If it sounds as if I'm damning the TV-102, far from it. In many ways it is a typical Tele Vue – high build quality with optical quality better than diffraction limited. It's just not a premium fluorite doublet and isn't as well corrected as one.
Owning the TV-102 will be easy - the design is simple and rugged and Tele Vue make numerous accessories. The clamshell fits straight on a Tele Vue Gibraltar alt-azimuth mount and TV sell a Vixen dovetail for an easy fit on most small GEMs.
Tele Vue have dropped the 102. Why? Honestly, I suspect, because it just can't compete with other slow ED doublet APOs from China on price.
<![if !vml]>
<![endif]>
<![if !vml]>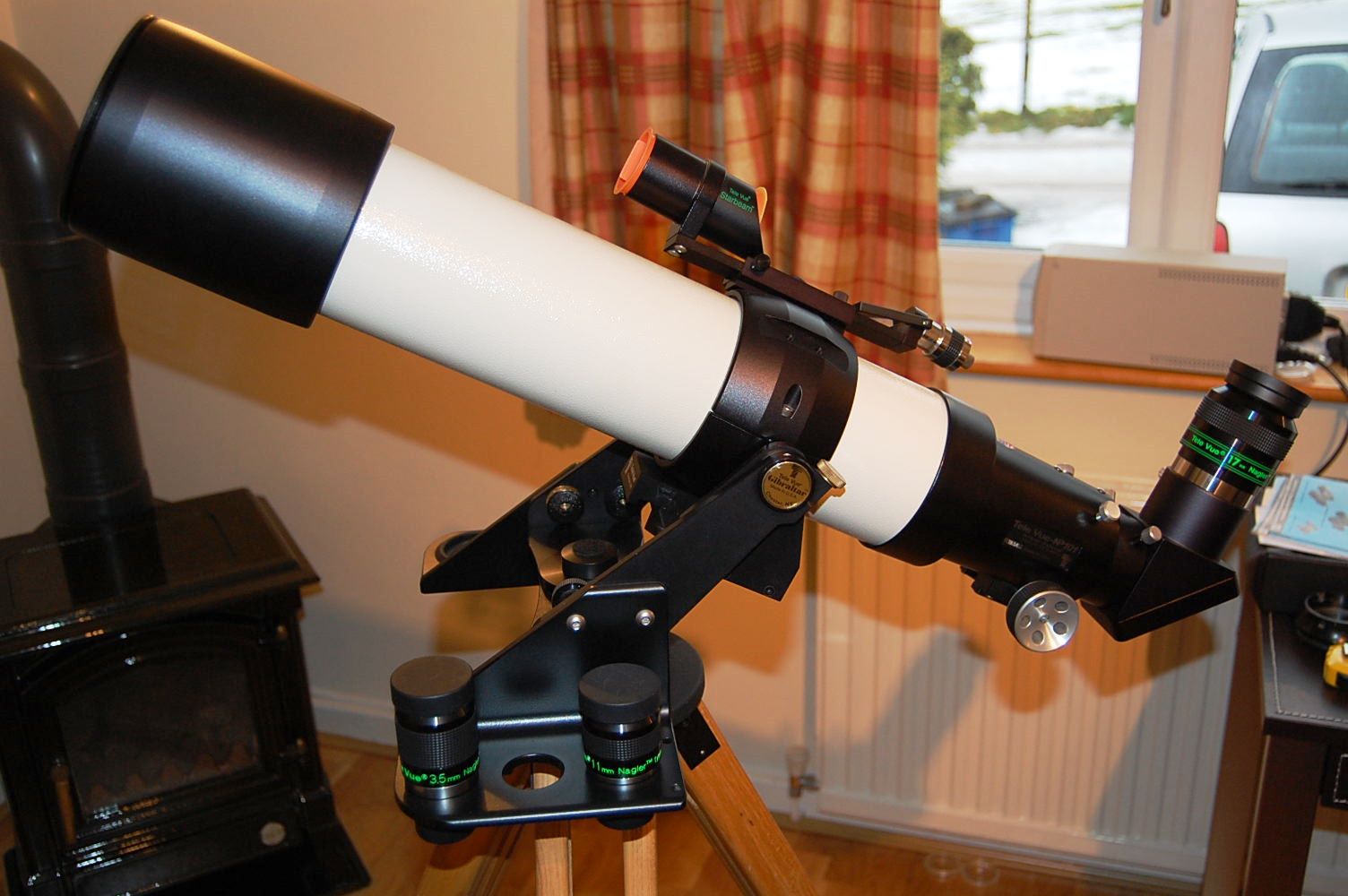 <![endif]>
This Genesis (top) is an F5 model, the Renaissance (bottom) F5.5.
| | |
| --- | --- |
| Lens Design | Petzval: achro doublet objective + doublet Petzval lens (reducer-flattener). |
| Aperture | 100mm |
| Focal Length | 500-550mm depending on model |
| Focal Ratio | F5-5.5 |
| Length | 640-710mm |
| Tube diameter | 102mm (4") |
| Weight | ~4.5Kg |
The Genesis was Tele Vue's forerunner to its current flat-field Petzval designs (see discussion of NP101 above). Like the NP101, the Genesis had a long focal length doublet up front with a field flattener/reducer at the back. The resulting focal length varied from model to model at between F5 and F5.5 – much the same as the NP101. Like the NP101, the field is very flat – great for both wide field viewing and imaging. And though it was clearly intended for low powers and wide fields, the optical quality was quite good enough for higher powers too. The focuser was a typically super-smooth Tele Vue single speed and the OTA very similar to modern TVs. So why pay big bucks for an NP101 when you can get a nice old Genesis for much less?
The big difference is that in the Genesis the front doublet was an ~F11 achromat, whereas the NP101's is an ED apochromat. This means that the Genesis (even 'SDF' versions that contained fluorite in the field flattener) has a lot more false colour than the NP101 - the Genesis is effectively a semi-APO.
'So, how much false colour?' you ask. My experience is that the F5 version has a lot, though less than most (i.e. F5-F8) achromats. The F5.5 version seems quite a lot better: false colour only becomes noticeable visually above 100x, so it gives very decent views of the Moon and planets, works well as a terrestrial scope and could be used for imaging too (perhaps with a bit of post-processing or a semi-APO filter to remove the inevitable violet bloat).
The only other thing to consider is that you will need some very short eyepieces for high powers (4-6mm) and flat field eyepieces at lower powers to get the most from that super-flat field. If you're thinking Tele Vue eyepieces, then of course that's the point - eyepieces like Naglers or Panoptics (Ethos if you can get one). Incidentally, early versions shipped with the TV 26mm Plossl, which was a really gorgeous EP.
All in all, I really like the Genesis. Back in 1999, Ed Ting wrote in his review that it had a more friendly, relaxed feel than other scopes and I completely agree. There is something singularly lovely about a scope intended for the useless and unscientific activity of sweeping the Milky Way on a balmy August evening, surrounded by late summer flowers and the smell of cut grass. And if that's your thing, there's honestly nothing better. Thanks Al'. It will be a sad day when every scope on sale is a soullessly efficient imaging machine.
The Renaissance? Early examples are just a Genesis made of brass – brass tube, focuser drawtube, knobs and even set screws. My daughter thinks all that polished golden metal is a bit tacky; personally, I love it. Later, the Renaissance became a TV-102 under the skin and lost some of its charm.
Both Renaissance and Genesis have standard Tele Vue features, including clamshells that fit straight on a Tele Vue Gibraltar or Panoramic alt-azimuth mount, whilst TV sell a Vixen dovetail for an easy fit on most small GEMs.
TS

Photoline

APO 90/600
<![if !vml]>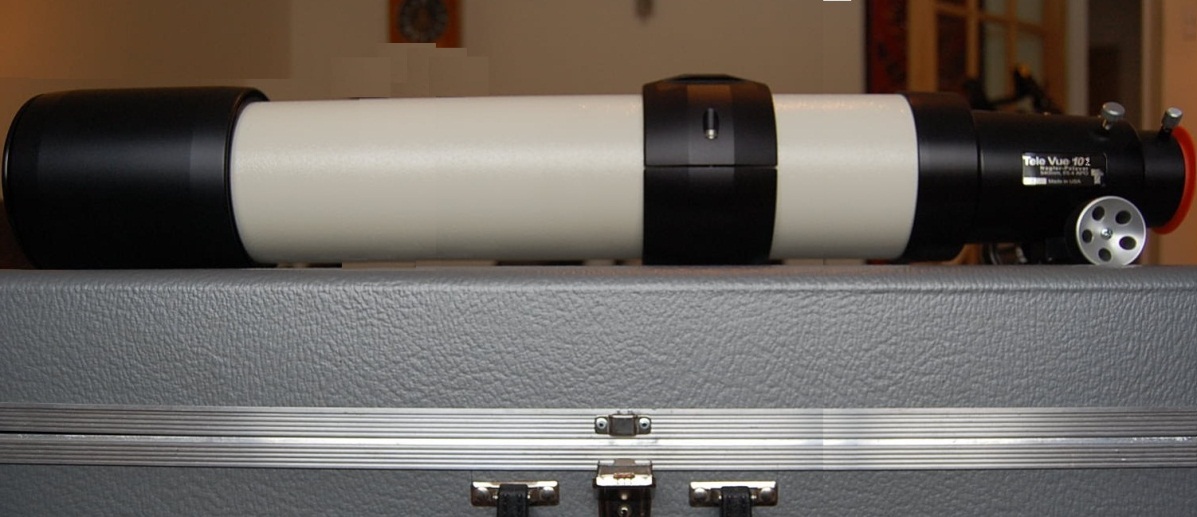 <![endif]>
Stock Image.
| | |
| --- | --- |
| Lens Design | FPL-53 Triplet |
| Aperture | 90mm |
| Focal Length | 600mm |
| Focal Ratio | F6.7 |
| Length | 450mm (18") w/o disassembly |
| Tube diameter | 90mm |
| Weight | ~4 Kg |
This is another very interesting 90mm APO, this time from the German company Teleskop Service (TS). Optically it's an FPL-53 (Ohara's best ED glass) triplet made in China or Taiwan with a focal ratio of F6.7. That may not sound all that exciting, but what makes this telescope worth considering is its outstanding optical quality. A renowned bench-tester found several examples to be completely free of false colour and of very high Strehl. This means the 90/600 is that rare thing – a scope that will do double duty as either a high power planetary scope or a fast astrograph when fitted with the Riccardi-designed F4.9 reducer.
If the 90/600 has noteworthy optics, the mechanical side is innovative too. Latest versions have a tube in four threaded sections for easy transport, or to provide loads of in-focus for imaging or binoviewing. Combine that with a 2.5" dual-speed CNC focuser and the 90/600 is a tempting travel scope, available either from TS, APM or other resellers.
(Note that previous versions of this scope had single-section carbon tubes and/or other focusers.)
The only issue? It's that ole devil called weight. The 90/600 is the same size and weight as an AP Traveler and much heavier than a TV-85.
<![if !vml]>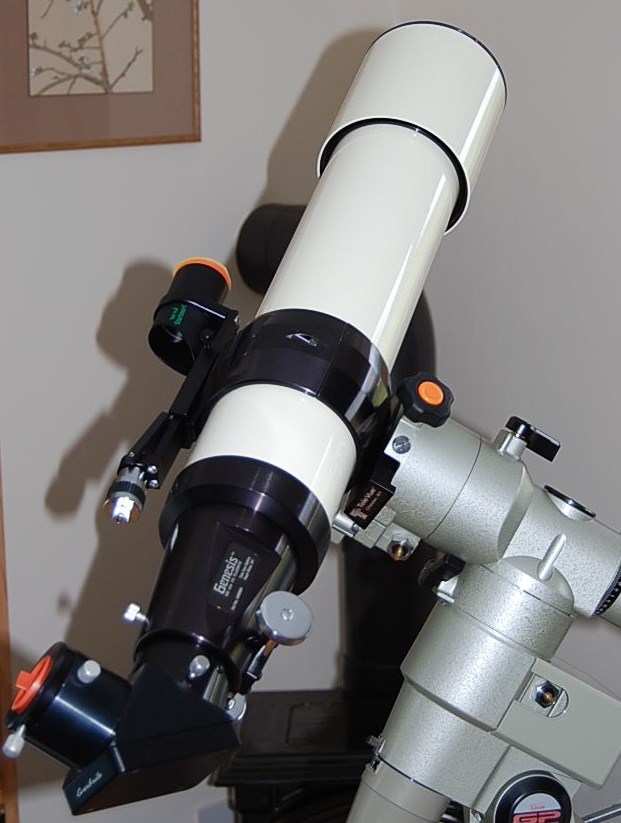 <![endif]>
| | |
| --- | --- |
| Lens Design | ED glass doublet (air spaced) |
| Aperture | 102mm |
| Focal Length | 650mm |
| Focal Ratio | F6.5 |
| Length | 675mm (27"), minimum 550mm (22") |
| Tube diameter | 115mm (4.5") |
| Weight | 3.3Kg without rings |
The Vixen ED102SS is quite a rare scope – the longer focal length ones are much more common. I've included it here because I was impressed with it – both in optical terms and because it is one of the lightest and most compact 4" APOs available this side of a Traveller.  The OTA is about 27" long, but remove that push-fit dewshield (no cross-threading risk like a Tak's) and you've got a genuine carry-on portable 4" at just 22" long, which is a rarity. What's more, despite being quite bulky (the 115mm tube is larger diameter than most Vixen/Synta 4" refractors), the Vixen is very light (among the lightest in this Buyers' Guide) at about 3.3Kg without rings.
At the time when the 102SS was in production (over a decade ago), most Vixen APOs were F8-9 fluorite doublets that compared well with Takahashis in optical terms. The 102SS was a departure - for a start it had a fast (F6.5) doublet and that doublet contained ED glass not fluorite. Such a fast focal ratio in a 4" ED doublet might make for chromatic aberration, but the one I saw was well corrected and took high powers to give very sharp, detailed and colour-free views of Jupiter.
The Mechanicals are typical Vixen. The 2.5" rack-and-pinion focuser is larger than similar-looking 2" units on other four-inch Vixen/Synta refractors, designed to be stable with a heavier camera. It is accurate and free from play, but not as smooth as the best. The light weight and standard Vixen dovetail plate make the 102SS an ideal fit on an EQ5 or GP, both of which handle it fine.
At the time these were available new I read some reports of poor optical quality, so be careful to test before you buy, but the one I tried was excellent. If you can find one and it tests well, snap it up!
<![if !vml]>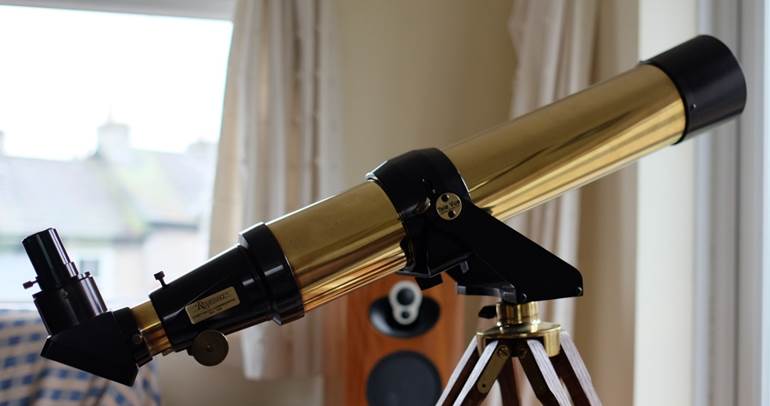 <![endif]>
| | |
| --- | --- |
| Lens Design | Fluorite Steinheil doublet (air spaced) |
| Aperture | 102mm |
| Focal Length | 902mm |
| Focal Ratio | F9 |
| Length | 970mm (38") |
| Tube diameter | 115mm (4.5") |
| Weight | 3.6Kg without rings |
In everything but its lens the 102FL is just like any other Vixen of the time and is pretty much identical to contemporary Vixen achromats. That means a large, but lightweight baffled tube with a fixed dewshield and a simple 2" rack and pinion focuser in a cast body that has widely been copied by Synta (Sky-Watcher and others). Vixen quality from this period was decent, but not in the Takahashi league in my opinion. However, the FL series were expensive new and are highly regarded now. The reason is the lens.
The Vixen 102 FL was one of the early doublet apochromats and was discontinued a decade ago. Does 'early' mean 'worse'? Not in this case. For the 102FL uses crystalline fluorite in a very high quality doublet made by Canon-Optron in Japan. A lot like the Takahashi FS-102, then? Well, yes, to a point. However, it's not the same lens. In fact, the Vixen lens is like the predecessor to the FS-102 – the FC-100. The difference? Most obviously the Vixen is an F9, not an F8 like the FS-102, but behind the scenes the Vixen uses another lens design altogether: it is a Steinheil doublet which puts the fluorite positive convex element at the back ('normal' doublets have the positive lens at the front). So which is better? Well urban myth would have it that the Steinheil is better, but I doubt it. Here's why:
<![if !supportLists]>1) <![endif]>Steinheil lenses in general have steeper curves (more difficult to make) and are "seldom used unless necessary" (Rutten and Van Venrooij).
<![if !supportLists]>2) <![endif]>The Fluorite element is uncoated – not so good for transmission.
<![if !supportLists]>3) <![endif]>In the FS-102, the front-surface fluorite confers a further advantage in transmissivity because the fluorite is the first thing the incoming light hits and fluorite transmits more light than glass … any glass.
I'll leave the subject with a quote from the Takahashi manual:
"When Takahashi first designed the fluorite apochromat refractor, they realised that the optimum design placed the fluorite element in front. Coating technology of the time did not permit this to be done."
Whichever design is really better, the Vixen FL lenses are excellent and a cut above a run-of-the-mill ED doublet. I have tried the 102 only briefly, but have tested some of the smaller FL models and found them to be among the finest small refractors. In particular you can expect a high-Strehl objective that is better than many triplets for chromatic aberration and is a particularly good choice for the Moon and planets.
Why did Vixen and others drop fluorite doublets if they were so good? Essentially because the glass for the negative element contained heavy metals – not the stuff of 'Eco glass'.
The Vixen 102FL comes with a Vixen dovetail and was originally sold on the GP (or GPDX) mount, which handle the long but light-weight tube well. The optical quality of these was uniformly high, so buy with confidence (though obviously caveat emptor). If you are looking for a planetary scope on a budget, this would be a good choice. Apparently they also make great solar scopes (see photo above).
<![if !vml]>

<![endif]>
| | |
| --- | --- |
| Lens Design | Five element air spaced |
| Aperture | 100mm |
| Focal Length | 380mm |
| Focal Ratio | F3.8 |
| Length | 497mm |
| Tube diameter | 115mm |
| Weight | 4.5 Kg |
Theoretically this latest Vixen 4" APO is a telescope, but more than any other 'telescope' listed here, it's really a dedicated camera lens. Yes you could put an eyepiece in the back, but even with the 1.58x extender it's likely to be a lacklustre experience. In any case, if you are prepared to pay around £5000 for a 4" APO, throwing in an extra 10% for an SW 100ED for visual use shouldn't break the bank, so why bother?
If my introduction sounds like I'm down on the VSD100, far from it. In fact it's a very exciting telescope (sorry, lens). A super-fast (for a telescope) F3.8 focal ratio and the ability to throw its wide field flat across the widest chips, makes the VSD100 unique at present. I haven't tried one, but the build quality on show at Astrofest was made-in-Japan impressive and (very) Pentax-like, with a massive and super-precise helical focuser that felt like it could handle the heaviest cameras with ease. The fact that it's carry-on portable, even in its supplied hard case, makes the VSD100 even more desirable: easy to transport to really dark skies.
So what about the technicalities? Well, the VSD100 continues the astrographic arms race by adding an extra lens compared to established Petzval designs like the Takahashi FSQ. From the published diagrams, it seems to have the same wide-spaced doublet up front that the FSQs (and Sky90) employ to obtain the best possible correction. The key difference is that extra element, placed in the corrector at the back, which allows tighter stellar images across the whole field.
Is it a Pentax? There was talk before its release that the VSD100 was just a re-badged Pentax 100 SDUF, but it isn't. The SDUF had four lens elements giving F4, the VSD five elements giving F3.8; the optical design looks generally different too, with the VSD 100 having a much larger air-space in the objective. Vixen make a big deal about specially annealing the glasses, checking everything on the latest Zygo interferometer and so forth, so I guess they must have taken the Pentax telescope works over when Pentax ceased production, but have since updated the design.
So should you buy one? The VSD100 seems expensive when compared against the other 4" APOs in this buyers' guide, but as I said it's not really a telescope. So if instead we compare it against similarly specc'd camera lenses, then the value looks good. Take the closely comparable Canon  EF 400mm F4 USM lens as an example. The optical spec' is almost identical and though the Canon lens adds photo-specific features like image stabilisation, it retails at a whopping £7000! The Vixen certainly looks beautifully Japanese made and a lot of care seems to have gone into its design and manufacture, so if wide-field imaging is your things it's probably worth it.
A brief warning for any wealthy newcomers to astronomy reading this: dedicated astrographs are usually very compromised for visual use. So please don't buy this thinking it's a luxury visual refractor - you will be disappointed!
Finally, is it worth paying for a dedicated fast astrograph like the VSD100, when you could achieve something similar with a cheaper, slower scope plus a reducer? Honestly, I am not sure. Reducers have improved. A built-in reducer is certainly convenient, but a quality bolt-on (from Takahashi, Borg, AP etc) can do a really fine job without compromising the scope for visual use. Meanwhile, though fast reducers are typically expensive, some companies make much cheaper flatteners that can still work well.
<![if !vml]>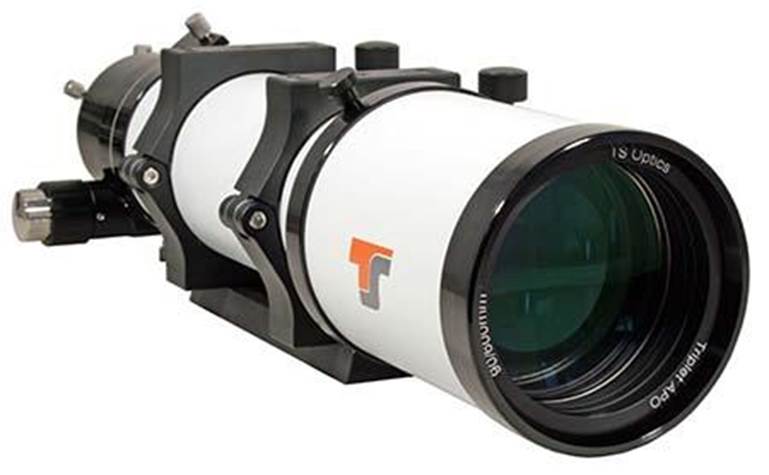 <![endif]>
Stock image.
| | |
| --- | --- |
| Lens Design | ED glass triplet |
| Aperture | 102mm |
| Focal Length | 770mm |
| Focal Ratio | F7 |
| Length | 625mm (25") |
| Tube diameter | 115mm (4.5") |
| Weight | 6Kg |
The FLT110 is certainly a beautiful thing to behold, with superb mechanical engineering and that white-gold finish. There are various models, but all have large two-speed imaging focusers and quality CNC tubes. However, the triplet and all that CNC do make for quite a heavy OTA.
Early FLT110s have a premium lens made by TEC (the Telescope Engineering Company), which gives them the best of both worlds – superb CNC tube and focuser with one of the finest APO lenses. These FLT110s are a very desirable 4" APO.
Unfortunately, later models with WO's own lenses are a very different animal. Independent tests suggest many of the larger WO triplets come in various fruit flavours – mostly citrus – and the FLT110 can be similarly lemony. Wolfgang Rohr tested three FLT132s in a row with severe overcorrection and the FLT110 didn't fare much better. Are they all like that? Presumably not, but one disadvantage of running ScopeViews by obtaining scopes for test as a private buyer is the risk of paying (my) good money for a real dud. That risk is just too high with the larger WO triplets, so I can't give you my own experiences of them.
So which one is best? As usual, no single answer.
<![if !supportLists]>· <![endif]>If you want the very best lens, perhaps for critical use on the planets– highest optical quality, sharpest at high powers, zero false colour etc – it's the triplet TSA-102 (discontinued), TMB 100/800 or Stowaway. The doublet FS-102 isn't far off as is the available-new FC-100DZ.
<![if !supportLists]>· <![endif]>For sheer value, the Sky Watcher 100ED wins hand down, at least in its latest versions. It's not very portable, but is light, easy to mount and performs astonishingly well for its price. It's an easy Best Buy for the rest of us who don't want to spend thousands on a small APO.
<![if !supportLists]>· <![endif]>If you want the most portable, it's got to be the AP Stowaway or Traveler. Both are difficult to find. Borg's larger FL models may be worth a look for full carry-on portability.
<![if !supportLists]>· <![endif]>The new Takahashi FC-100 models (DC/DF) are compact, lightweight and available (and the DC is carry-on portable with shield and focuser removed). Both will cool more quickly than a triplet for grab-and-go.
<![if !supportLists]>· <![endif]>The FSQ-106 remains highly rated by serious imagers and may be the best dedicated imaging machine.
<![if !supportLists]>· <![endif]>If you want a dual-purpose visual/imaging scope with no accessory-swapping required, then the Tele Vue NP101 remains a good all-rounder: it comes close to the best in optical terms, has an excellent focuser in the 'i.s.' version, is fairly light-weight and comes with a standard fast, flat field for imagers. Unfortunately, it isn't carry-on portable and is expensive now.
Buy a Stowaway or Traveller for ultimate portability or an FSQ-106 for imaging. On a sensible budget, an FC-100DC is small and light and does everything well. On a tighter budget, the Sky Watcher 100ED is unbeatable value. For the best corrected lens in a 4", a TMB 100/800 or Tak' FC-100DZ (or Stowaway again) would be your choice.