Volunteering at the Grand Canyon Star Party
<![if !vml]>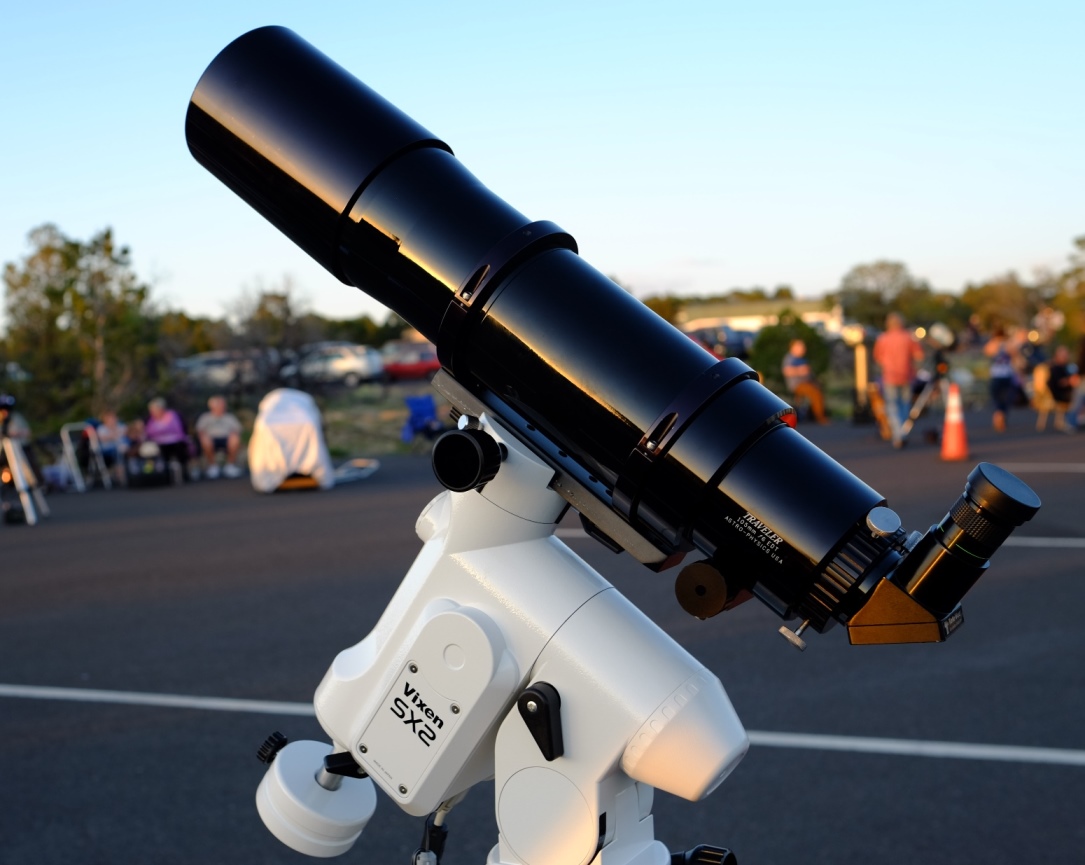 <![endif]>
I've done some volunteering at a field centre here in Britain, but it's mainly involved just giving talks huddled around a blazing fire in the sitting room. Why? The weather, of course. So, I thought I would try a bit of volunteering where the weather, at least, wouldn't spoil things. One of the biggest US star parties is the one held at the Grand Canyon every June (henceforth just the 'GCSP'), so I signed up last year as part of a bigger astronomy trip I was planning to the area. The Grand Canyon has – by British standards – almost guaranteed decent weather in June; in fact the biggest problem turned out to be that intense desert heat, but at least it made a change from hearing rain beat against the field centre windows when I'm supposed to be out showing visitors the night sky.
Why choose the GCSP?
The Grand Canyon is one of the world's great scenic wonders – you know this already. There's nothing quite like that initial view from the rim, but a walk on the rim trail or a hike deep into the canyon deepens the sense that this is a truly special place. So, obviously, the Grand Canyon is well worth a visit, despite the crowds of tourists (in summer anyway). But what's special about it from an astronomy point-of-view?
For one thing, the air is thin and dry: the canyon rim is basically part of the larger southwestern desert and so rainfall and humidity are low, whilst the south rim is at roughly 2000m and the north rim is even higher. This means that both seeing and transparency are often good to excellent. For me this meant really good conditions for high power viewing of planets, especially Mars just past opposition. I found the seeing conditions much better than at the Bryce Canyon Star Party a few days earlier, though this could have been coincidental. I ended up having some really memorable views of Mars at the GCSP, even with just my 4" refractor.
For most astronomers, though, the real draw is the darkness: The Grand Canyon has long been a national park and in 2016 (while I was there) it was awarded provisional Dark Sky Park status by the International Dark-Sky Association. What little light pollution remains is mainly from the Park's own lights and these are now being improved prior to getting the full-fat Dark Sky Park status. I can tell you that it's already really dark by European standards – the only town around is Flagstaff and it's about 100 miles away. The Milky Way is just astoundingly bright from the canyon rim. Worth noting that though June may not be your idea of dark skies at home, at this latitude it's completely dark from 9 pm or so.
Another reason to come to the GCSP is the location and the camaraderie. This is a big star party and a lot of people attend, both other volunteer astronomers and members of the public. The volunteers are a friendly bunch. I got an ovation as thanks for attending, which was a really kind touch. The visitors were great too – unfailingly engaged, enthusiastic and friendly. I found the kids in particular much more interested and respectful than a typical bunch of British kids (as a British parent myself, I'm sorry, but it's true), something that made the outreach work – demonstrating and explaining a variety of planets and DSOs - a real pleasure. Be warned, though, the queue ('line' in American) at your scope may get quite long at peak times and you'll have to work hard, interpreting what you're viewing to all those enthusiastic visitors! I found the demonstrating great fun, but I had to brush up my knowledge to answer all the questions! I was expecting that I wouldn't get much interest with my smallish scope, but not so.
A more selfish reason to enjoy the GCSP would be the huge variety of telescopes on display and in use. You can wander around and check out other volunteers' gear during lulls in the visitors. I was set up next to a C14 and had some fantastic views of Mars, Saturn and various DSOs through it (thanks, Lee!) that included structure in the DSOs I had never seen before. Elsewhere were all sorts of big Dobs and high-end refractors to enjoy.
It's also a great spot for some landscape astrophotography, if that's your thing, or to take some stunning deep sky frames during lulls and then stack them back home.
During the day, you could explore the park trails and nearby attractions, like the desert country to the north (Bryce and Zion canyons are reachable in a day). The GCSP organisers also put on some day-time activities, like visits to the Imax theatre.
<![if !vml]>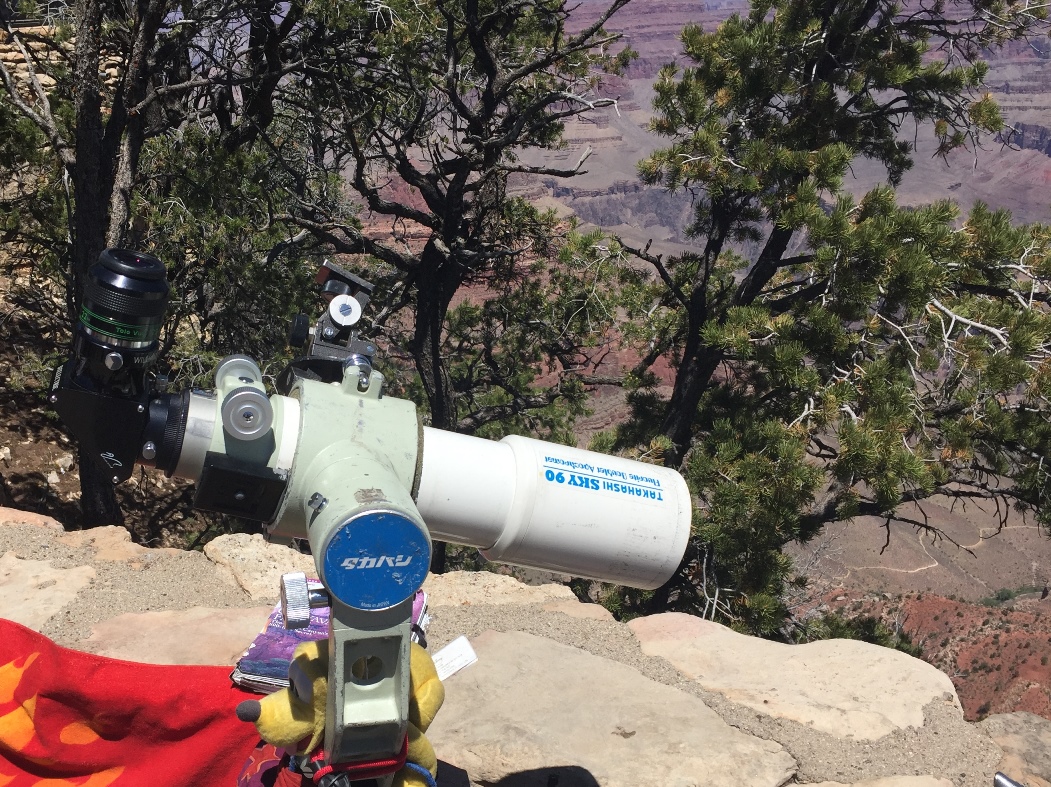 <![endif]>
Takahashi Sky90 set-up to view canyon rafters from the rim
<![if !vml]>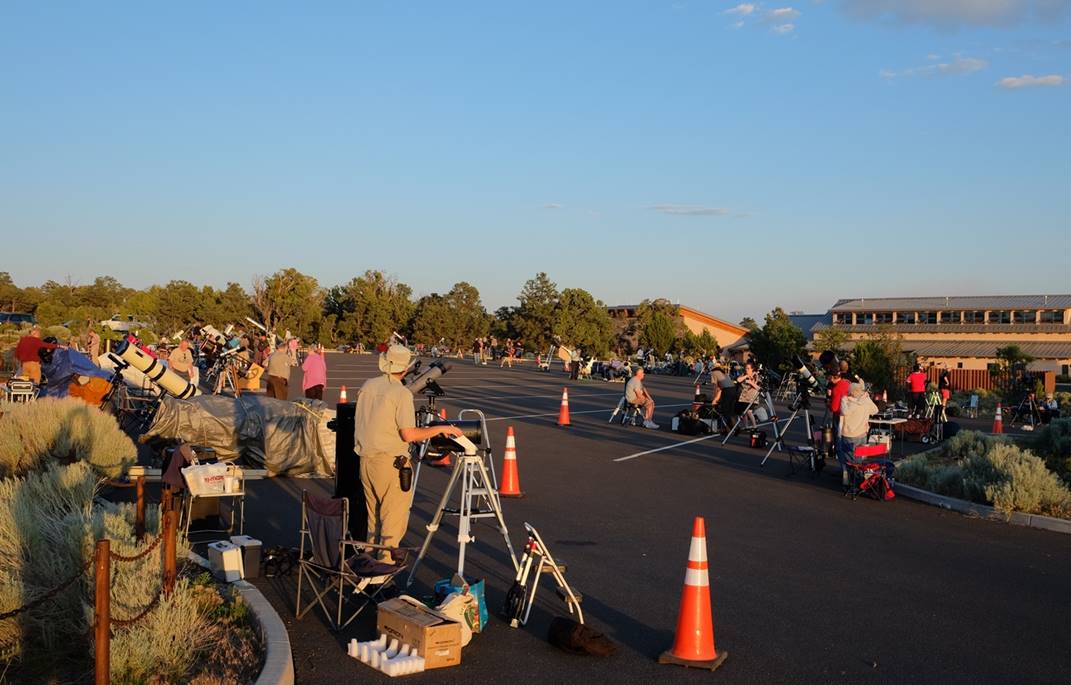 <![endif]>
Another clear night awaits telescopes large and small, at the GCSP
<![if !vml]>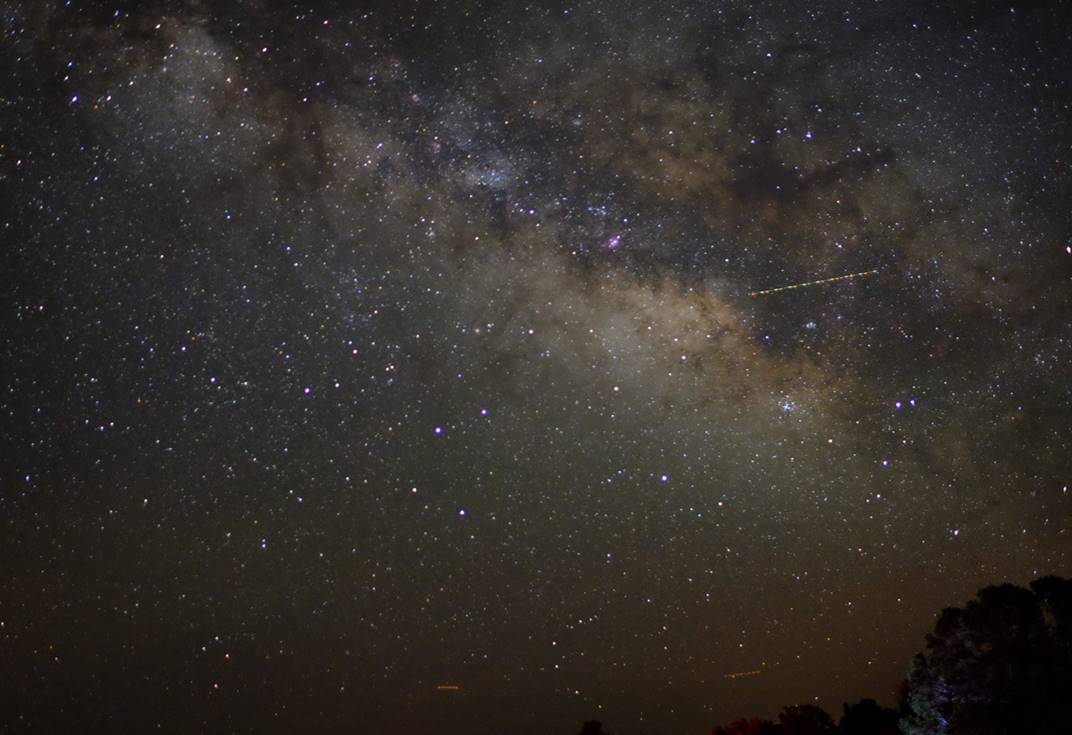 <![endif]>
Single frame of the Milky Way from the GCSP (23mm Fuji lens, 40mm full-frame equivalent, 13s, ISO 3200, F1.4)
What to expect
There are two parts to the GCSP - one on the South Rim, one on the North Rim. Both are held at the same time. The Saguaro Astronomy Club in Phoenix coordinates the North Rim, the Tucson Amateur Astronomy Association the South Rim. I only attended the larger (and easier to get to) South Rim event. The whole event lasts a week.
The main South Rim GCSP takes place at a big tarmac car park behind the Visitors' centre, though some volunteers set up small scopes to view the Sun and the inner canyon from the rim trail during the day (I had stunning views of rafters on the Colorado river a mile below through some guy's battered old Sky-90). The tarmac area has loads of space and rangers provide red-lit cones to help people navigate around in the pitch black later.
Every evening at around 6 pm, 50-70 astronomers set up their gear on the car park and then leave their vehicles at another nearby car park. There is a meeting and registration at 7 pm (with free ice lollies – yum) and then the observing and interpreting starts as visitors begin to arrive. For the first hour or two it's planets (and perhaps the Moon), then over to deep sky as the darkness thickens. A thousand or more visitors often turn up, so it's a hectic (but fun) night ahead.
Visitors dwindle from 1030 and people pack up and leave from perhaps 11 pm to Midnight, though some stay on longer.
Logistics
Signing up
You sign up just by letting the coordinator – currently the very friendly Tucson astronomer Jim O'Connor – know in plenty of time. Jim then sends out an information pack in late May. The pack includes all the instructions you need, but is quite heavy on forms to fill in (the park is a Federal facility and you will be a kind of employee whilst there). These forms will have to be given in at registration on your first night of volunteering. The upside is that you get free park entrance, and some free goodies when you register as well.
Accommodation
The thing to understand about accommodation is that it's hot at the Grand Canyon in June, so the obvious way to stay – camping at one of the nearby campgrounds – isn't much fun if you're not used to camping in the heat. It cools down nicely by bedtime, but gets hot uncomfortably quickly after sunrise.
If you commit to doing the six days or more as a volunteer, you may be entitled to a free campsite, otherwise you'll have to pay (currently about $20 per night at the nearby Mather campground). The sites are typical national park, i.e. big and clean, with a picnic table and a fire pit and a turnout big enough for any car. There are plenty of clean toilet blocks scattered about and showers near the entrance. However, you will need to book months in advance and the online booking system is currently pretty cumbersome: you will have to wade through all the numerous sites to find one that is free for all your dates. Use a campground map to choose one not too far from the entrance if you can – driving back late at night is a chore otherwise.
I rented a minivan with the intention of sleeping in that with the seats folded away, instead of bothering with a tent. It worked, up to a point, but the floor wasn't as flat as I'd have liked and I would struggle to recommend it. A campervan would obviously be a more comfortable (and costly) alternative if guy ropes and canvas aren't your thing. When I was there, quite a few folks had rented a type of lurid green mini-campervan from Jucy that looked easier to manoeuvre than a traditional Winebago.
The other way to stay is in 'luxury' at the Yavapai Lodge, which is handily located near the shops, the rim trail and reasonably close to the star party. Again, you will need to book well in advance, especially if you're planning to stay more than one or two nights, and it isn't cheap ($175 per night or more). For campers, the Yavapai Lodge offers a good restaurant and (perhaps more importantly) free WiFi in the lounges and … aircon' to cool off a bit! Lots of frazzled GCSP-ers were to be found hanging out there during the day and nobody seemed to mind.
There are other hotels around, both in the park (including the exclusive El Tovar resort on the rim) and in Tusayan, but these will inevitably mean lots more driving around late at night (when you're tired and the deer are roaming).
<![if !vml]>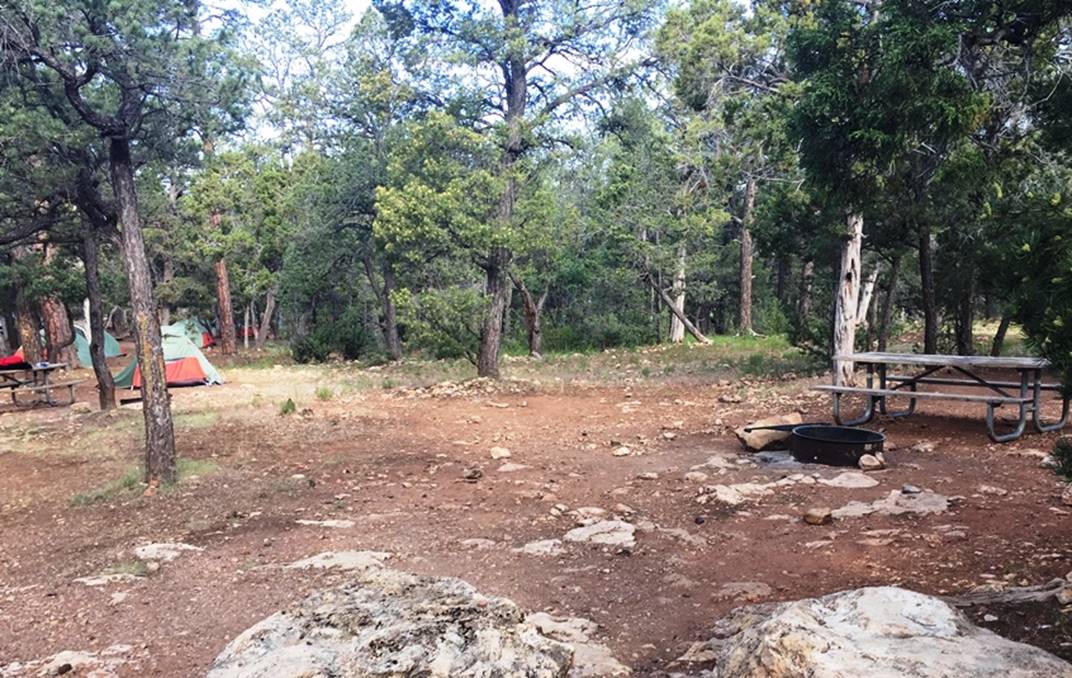 <![endif]>
Typical Mather Campground site at Grand Canyon
Transport
Public transport to and around the canyon is available, but you will struggle getting to and from your accommodation (whether the lodge or campsite) late at night with your gear. Note that it is possible, but definitely not recommended to leave your scope setup between nights - my neighbour's Dobsonian was knocked over and damaged, probably by the wind, possibly by a careless driver.
I would overwhelmingly recommend hiring a car, preferably one with plenty of luggage space. I went for a minivan to camp in and it worked a treat for hauling all my gear, with a cavernous load space and big doors. America is an easy place to drive, all rental cars are automatics and gas is still very cheap by European standards.
When driving out in the desert it's well worth always making sure you have lots of gas (i.e. petrol) and drinking water. The latter can be bought cheaply in gallon bottles everywhere. Distances between services can be very long in the desert and getting stranded could be nasty. Not only does it get very hot, but the high, dry air positively sucks the moisture out of your body. You will need plenty of drinking water for GCSP nights too and if you take a daytime hike down into the canyon be prepared to carry a gallon with you.
The cheapest international airport to fly into will probably be LAX. Driving out of LA isn't too bad and once you're in the desert it's a more-or-less straight drag on the interstate as far as Williams in Arizona and then a good road all the way to the Grand Canyon.
There are loads of things you could do on the way to break the journey. Whatever your views on the gambling (I just don't), everyone should see nearby Vegas once. I checked out the Space Shuttle in LA and spent a few days exploring the Extra-terrestrial Highway too. There are loads of famous observatories not far away, including Lowell down at Flagstaff (itself a much more interesting and attractive Western town than most).
<![if !vml]>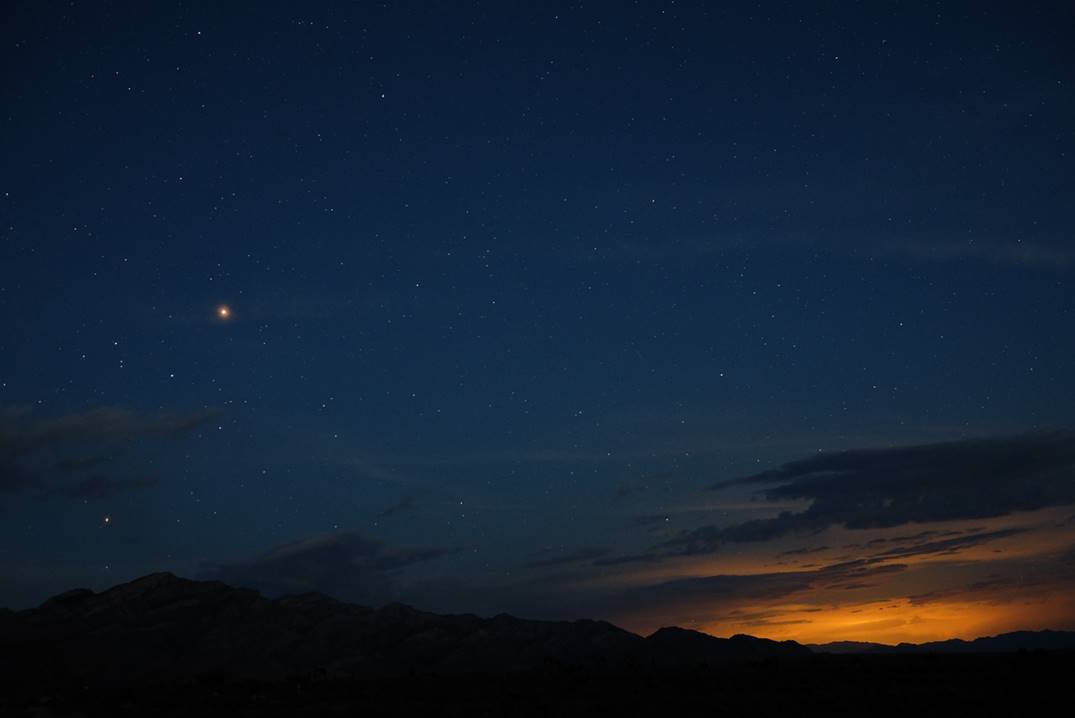 <![endif]>
Mars and the sky-glow of Vegas (90 miles distant) from the ET Highway south of Rachel, NV
What to bring
You will need to bring a telescope to volunteer, but space and weight will be at a premium if you're travelling from Europe, so it doesn't have to be a monster. Lots of people turn up with 3-4" refractors, smaller SCTs etc, which can be carried on board a plane. You would still have a lot of fun with, say, a little 3" APO, or a 5" SCT or Maksutov.
I took my Astro Physics Traveler and Vixen SX2 mount – both proved a great choice. The mount was easy to carry and quick to set-up, ran well for several nights on a single set of readily available (mine from Wal Mart) 'D' batteries. Meanwhile, the Traveler gave great views of the Moon and Planets at high power with a Nagler zoom (a good choice because it covers a range if magnifications in one compact eyepiece) and some nice views of brighter DSOs with a 25mm TV Plossl. I wished I'd had an intermediate power, and perhaps a 2" wide-field eyepiece, as well; but I just didn't have the space, really!
One thing you will definitely need is a red torch. It's strictly red lights after dark. Many astronomers also attach small red lights to their scope and mount to help avoid collisions in the dark. The small clip-on lights dog walkers use work well; others use disposable chemical light bands to good effect.
You could bring more gear – extra eyepieces, CCDs, binoculars etc - but you will probably need to pay for excess baggage and may struggle getting it around the airport if you are travelling on your own.
I strongly recommend a trial pack, including all your personal belongings, well in advance of your trip. My astro' gear took up a lot more weight and space than I had thought it would and shoe-horning it all in took ages. Camping gear takes up a lot of space too. I bought a lot of cheap stuff – camping mats, tableware and batteries, as well as most of my clothes - from WalMart and dumped it all at the end of my trip. It's a trick I've used before: less to carry, less time washing undies and cheaper than the excess baggage both ways.
Do remember that though it will be hot during the day, it can get cold at night, so you will need a few warm things to wear. At the start of the evening it's still roasting hot at the star party car park, even in shorts and T-shirt; they kindly dish-out ice lollies to all the volunteers. But by Midnight it can be quite cold – body warmer and long trousers cold, yes really.
Summary
The GCSP is a great experience and many astronomers volunteer year after year. I found the enthusiastic youngsters particularly rewarding – you might just end up inspiring the next Elon Musk! It's also a good way to enjoy some near-perfect observing (and or imaging) conditions.
You could plan to add it to your summer holiday, or make it part of a bigger astro'-themed trip; alternatively, a flight and car with a free campsite and camp food shouldn't prove too expensive if you commit to six days' of volunteering.
<![if !vml]>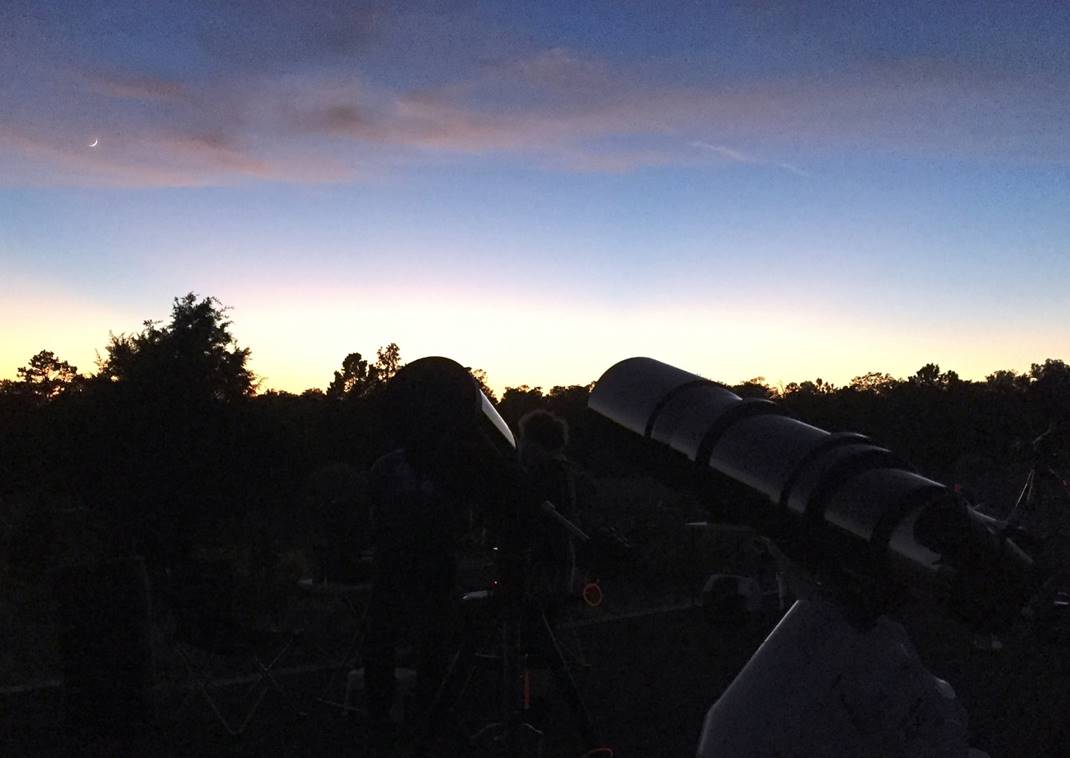 <![endif]>
First view of the evening at the GCSP – a crescent Moon