Kowa's Genesis 10.5x44 XDs are premium, Japanese-made binoculars with some special features. How do they compare to market leaders like Nikon and Swarovski?
Kowa Genesis 10.5x44 XD Review
<![if !vml]>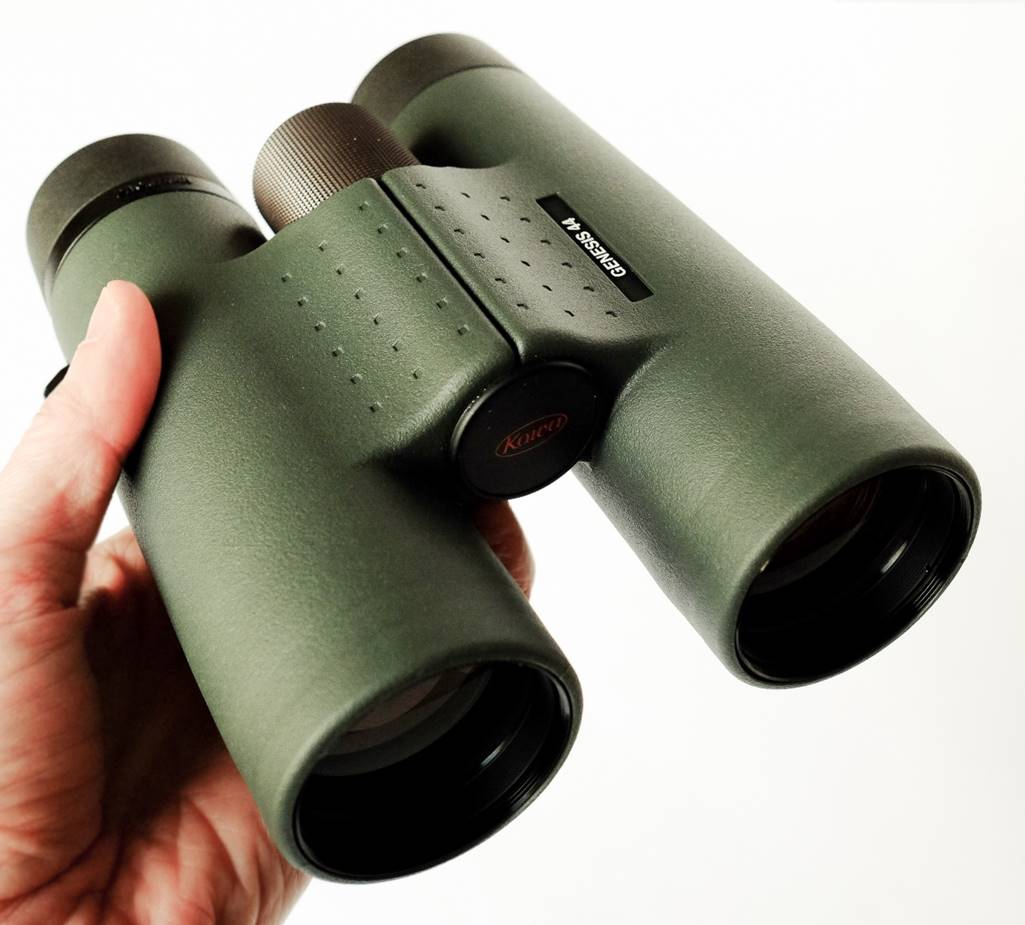 <![endif]>
Think about premium binoculars and Kowa doesn't spring to mind. No surprise, because Kowa market lots of cheaper Chinese-made optics. But Kowa does have a little-known range of really high-end binoculars – Genesis XD.
I reviewed the 8x33 Genesis XDs a couple of years ago and found a very well put together binocular with some good features, but real excellence in a couple of areas – false colour and resolution. Those attributes should make for a great birding/astronomy crossover glass in a larger size; let's find out if they do.
At A Glance
| | |
| --- | --- |
| Magnification | 10.5 |
| Objective Size | 44 |
| Eye Relief | 13mm (measured) |
| Actual Field of View | 6.2° (108.3m at 1000m) |
| Apparent field of view | ~60° |
| Close focus | ~2m |
| Transmissivity | 92% estimated |
| Length | 163mm |
| Weight | 970g measured |
Data from Me/Kowa
What's in the Box?
The Kowa XDs come in a white box in a green sleeve that looks a lot like older Swarovski packaging. No oil painting of a soaring Hawk here though.
<![if !vml]>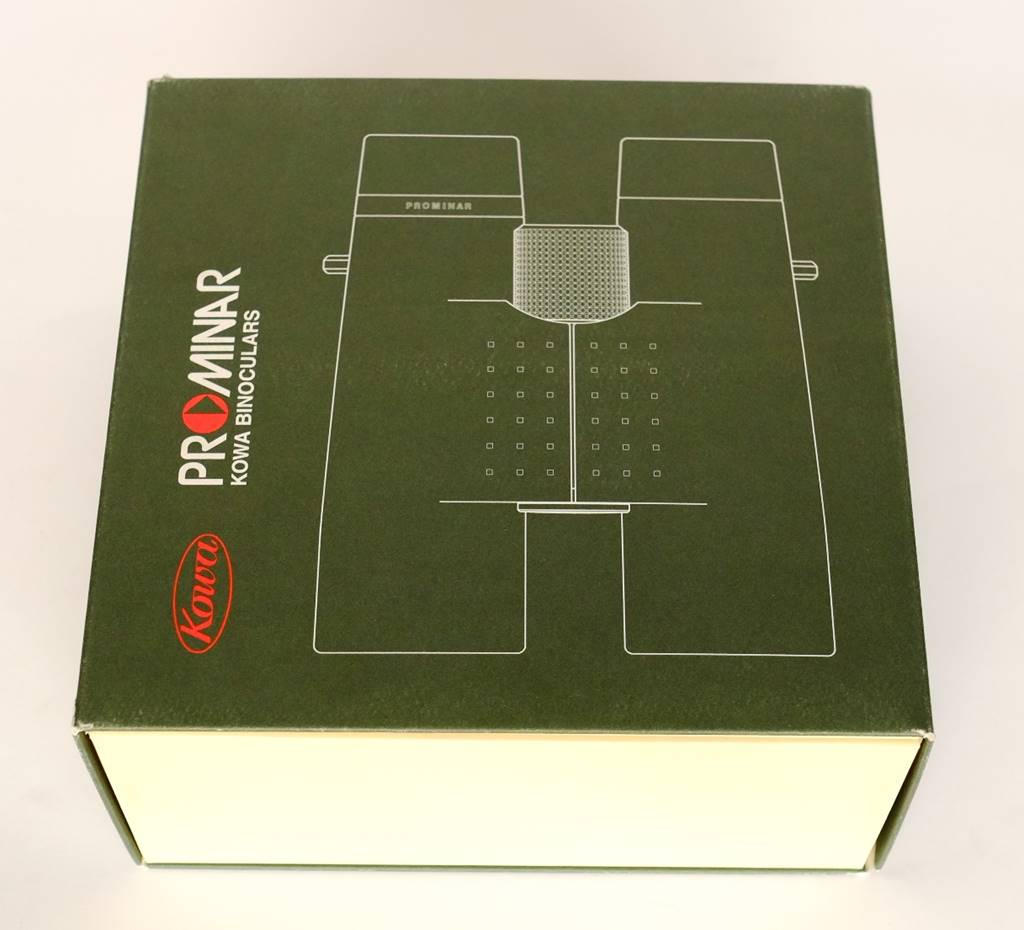 <![endif]>
<![if !vml]>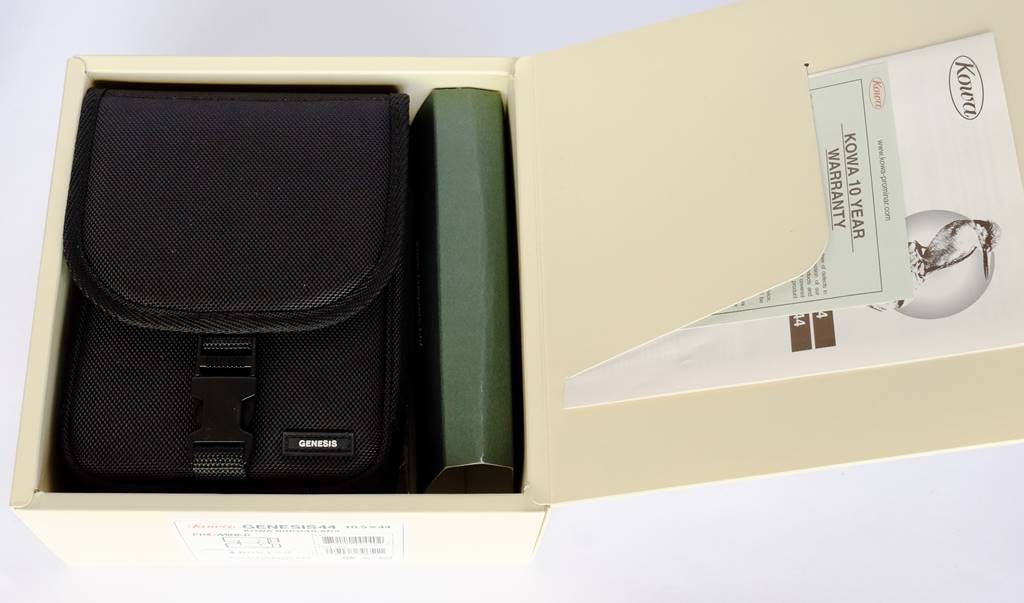 <![endif]>
<![if !vml]>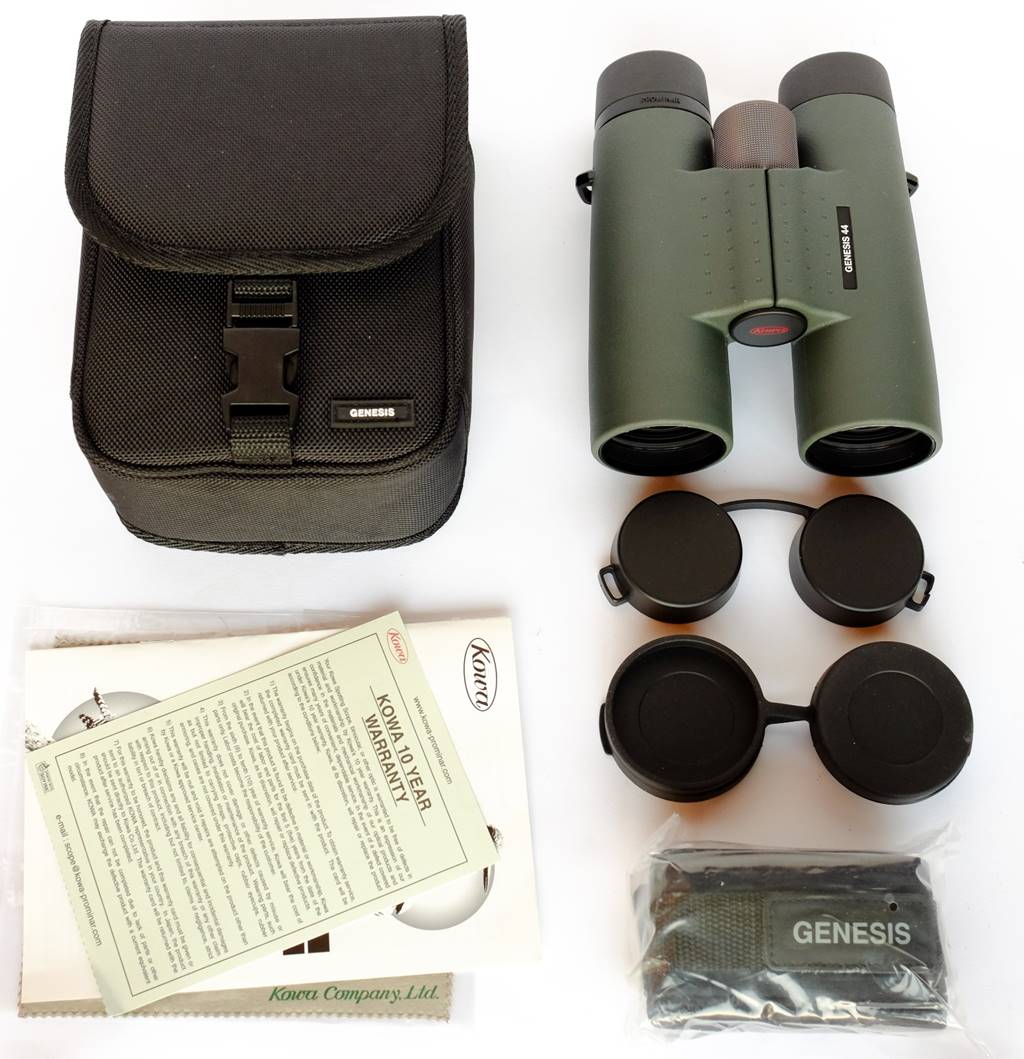 <![endif]>
Design and Build
The Kowa Genesis XD 10.5x44 binoculars on test here are one of just four high-end binocular models made by Kowa, the others being 8x3, 10x33 and 8x44.
Despite a reputation for quality scopes, Kowa's binoculars are mostly generic Chinese models, apparently re-branded versions of similar ones from the likes of Minox. These binoculars have a good-but-modest reputation in line with their price.
The four high-end Genesis XD models look a lot like their cheaper relatives. That's unfortunate, because these are very different binoculars - made in Japan to compete with the best and with lots of premium features, especially in their optics.
The slightly higher magnification and lenses sounds odd, but as we will see it really works.
Body
Plastic has been used to cut weight in a few areas, the focuser and dioptre wheels for example, but general build quality is very good. The body is made out of magnesium alloy, where most of the competition at this price use cheaper aluminium.
These feel like a classy binocular with excellent fit and finish and quality armour that is warm and grippy, but not rubbery smelling and fluff-attracting (like Zeiss' Conquests'). The armour has a dark, olive green colour (very similar to Swarovski's), not the brighter green that many photos erroneously show. The armour has shallow thumb cut outs on the back, but the body itself is not sculpted to fit the hand, like Nikon's HGs and EDGs or even Swarovski's ELs.
They are a fair bit larger and heavier than the smallest premium 10x42s – 200g heavier and 2cm longer than Swarovski's 10x42 SLC HDs, for example.
In case of doubt, it clearly says 'Made in Japan' next to the serial number: these are not run-of-the-mill Chinese Kowas.
Full waterproofing and nitrogen purging is claimed.
<![if !vml]>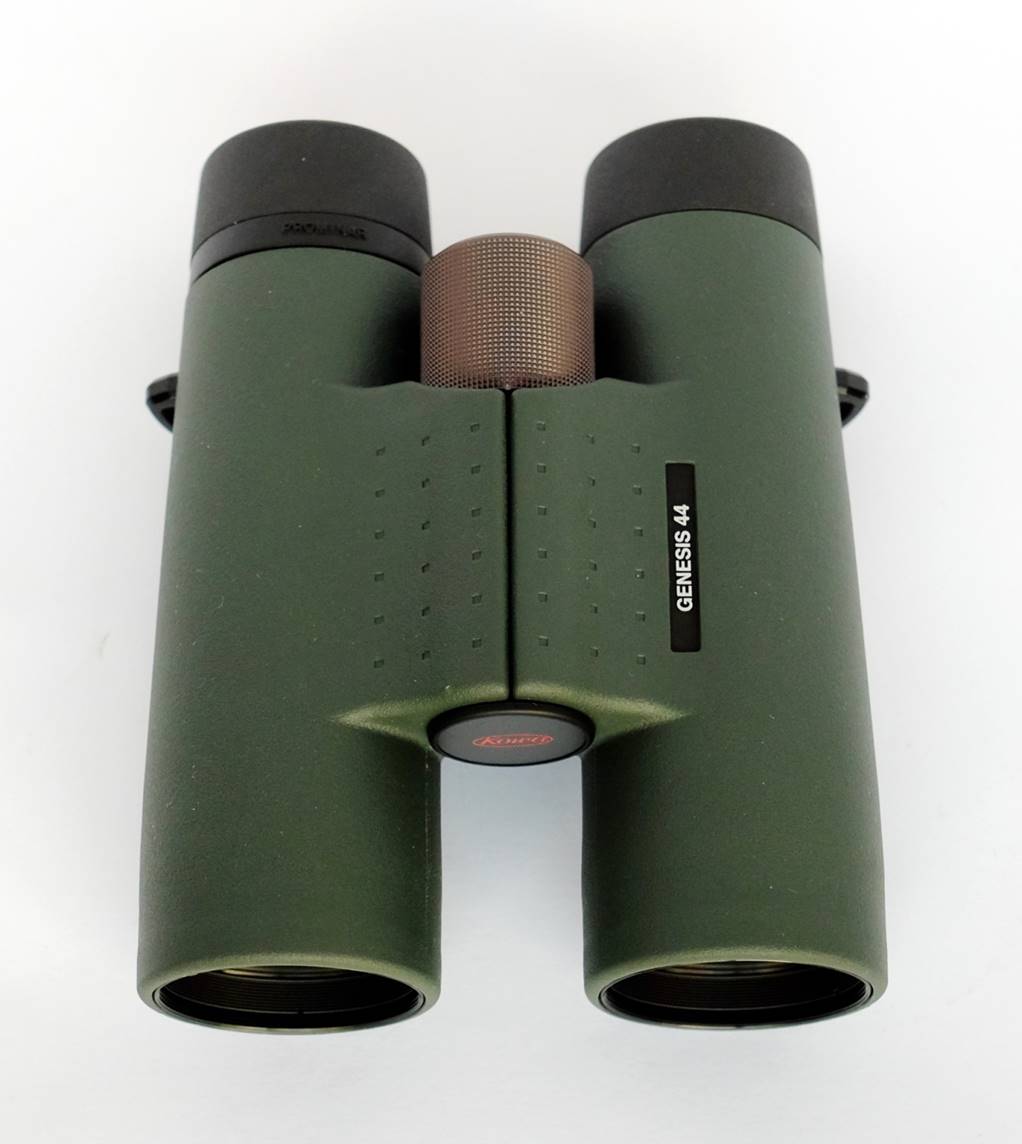 <![endif]>
<![if !vml]>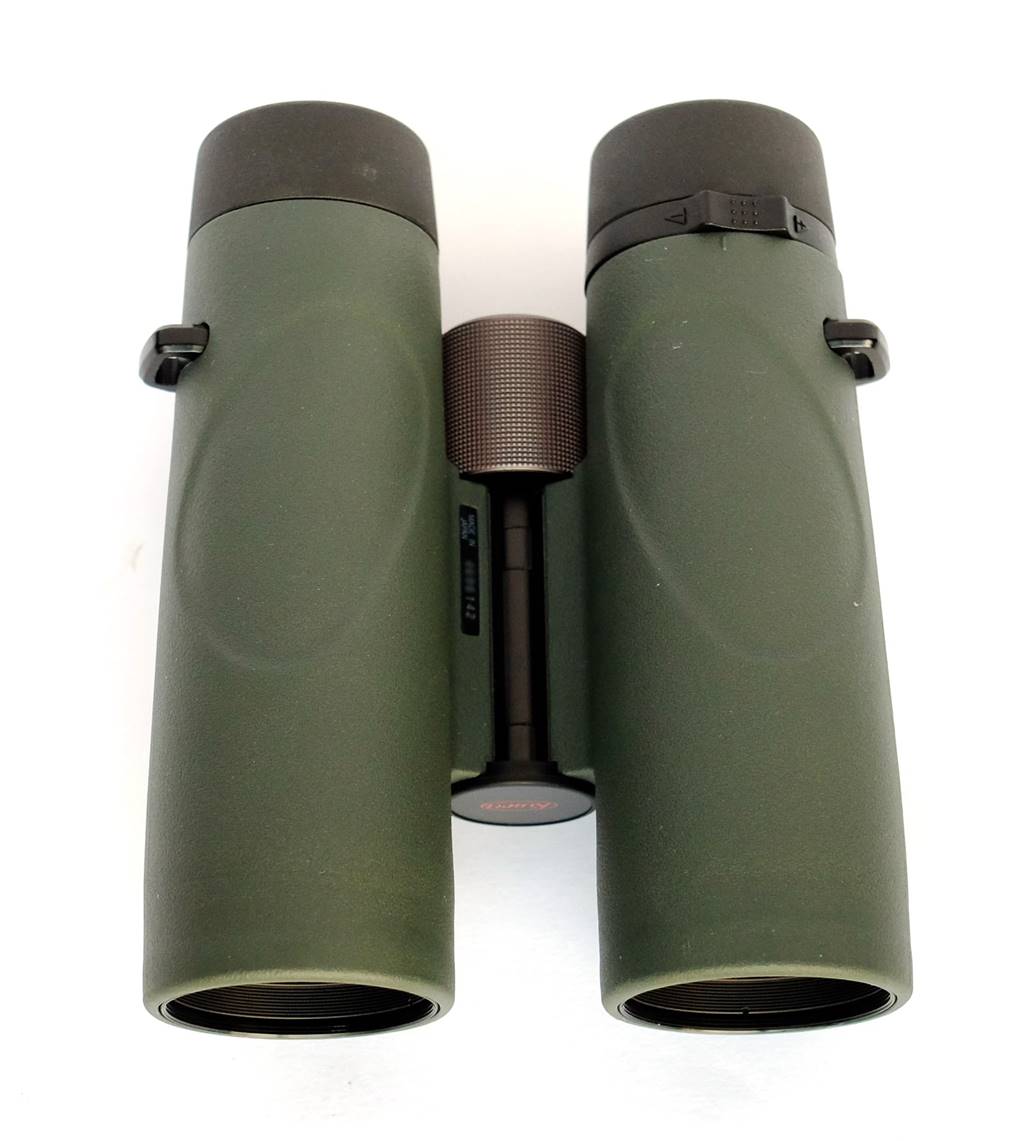 <![endif]>
<![if !vml]>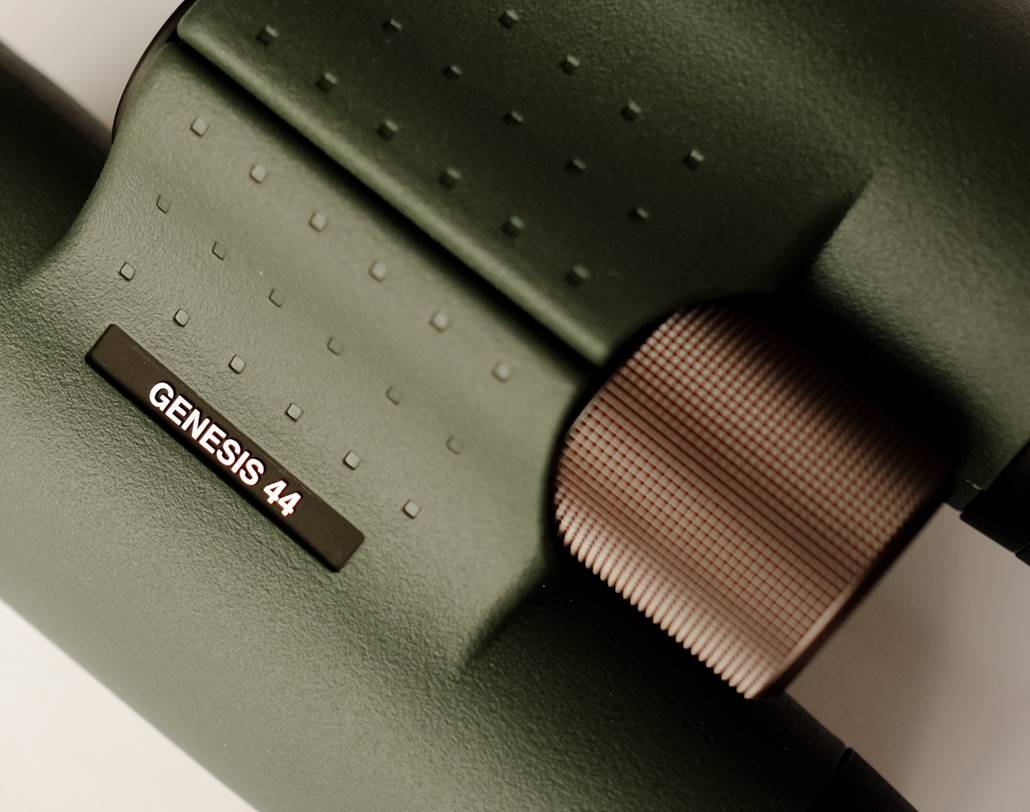 <![endif]>
<![if !vml]>
<![endif]>
Focuser
The focus wheel has a grippy knurled finish and looks like metal, but is made of engineering plastic to keep weight down. Its finish does collect dust.
Focus action is fast – just a turn from close focus (~2m) to infinity. But it's stiffer than I would like. The optics are so snappy that just the slightest nudge gets perfect focus. I found myself wanting a slightly slower focuser to get the fine adjustment required.
Dioptre adjustment is by the usual ring under the right eyepiece. Unlike many, though, the ring has to be lifted to turn and then locks when you push it back down. This is superior to the basic system - It allows a light and smooth action which would otherwise be too easy to move accidentally. The ring has a thumb detent to make adjustment even easier, but no Swarovski-like click stops.
Optics - Prisms
The Kowa Genesis XD range employs conventional Schmidt-Pechan roof prisms. Such prisms require mirror coatings and these have the premium type with multiple dielectric layers that give very high reflectance. Such coatings generally yield a brighter view than silver or aluminium coatings. Kowa call their dielectric coatings 'C3'.
Optics - Objectives
Despite being out for almost a decade, Kowa's Genesis XD models have an optical design that makes them a bit special, even today. What is it?
Once upon a time, binoculars had objectives made of conventional crown and flint glasses. These failed to bring all the colours to the same focus point. Result? High contrast parts of the view were fringed with false colours – purple on one side, green on the other. You'll have seen this effect in photos taken on a phone or compact camera.
Then along came 'HD' objectives with a single element of special high fluoride ('ED' or 'SD') glass allowing them to bring all colours to a better focus. But point a pair of such HD bino's at a Rook on a high branch and you'll still see colour fringing around the Rook's black feathers.
Kowa's Genesis models – both these 44mm and the smaller 33mm variants – have a triplet objective like many modern binoculars. But crucially two of those lens elements are made of high-fluoride glass. This should in theory give them almost complete freedom from false colour and so higher resolution as the result, hence the 'XD' tag. As far as I know, just one or two other binoculars have this feature (Some Zeiss' HT and perhaps some Swarovski SLC HDs too).
<![if !vml]>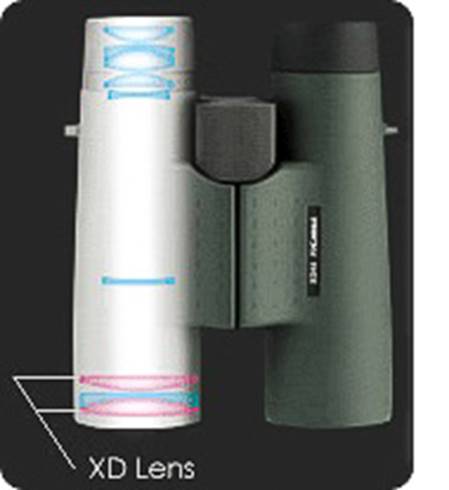 <![endif]>
XD optical design, courtesy of Kowa.
Kowa's Genesis objectives have premium multi-coatings with a very neutral, subdued greenish-purplish hue (not the bright green you get with many cheaper binoculars that could skew the colour balance). However, one bright reflection suggests an uncoated surface in there somewhere – hence ghosting is worse than the best, as we will see.
The barrels have ridged micro-baffling all the way through the focuser tube and at least three proper knife-edge baffles against stray light. The first baffle is notoriously engraved with 'Prominar' – Kowa's brand name for their premium lenses – but I could find no evidence that those (potentially reflective) letters caused a problem in use. Internal quality is some of the finest I have seen – like a fine camera lens in fact.
The objectives are held in by threaded rings. The threads serve as micro-baffles to help stop veiling flare, but can be used for filters, including (apparently) nebula filters for deep sky use!
<![if !vml]>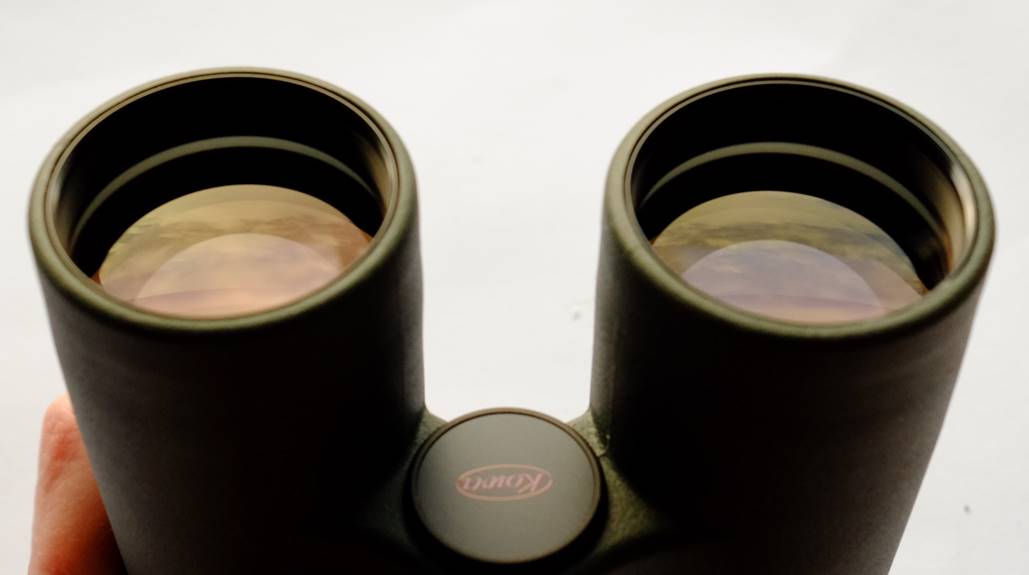 <![endif]>
<![if !vml]>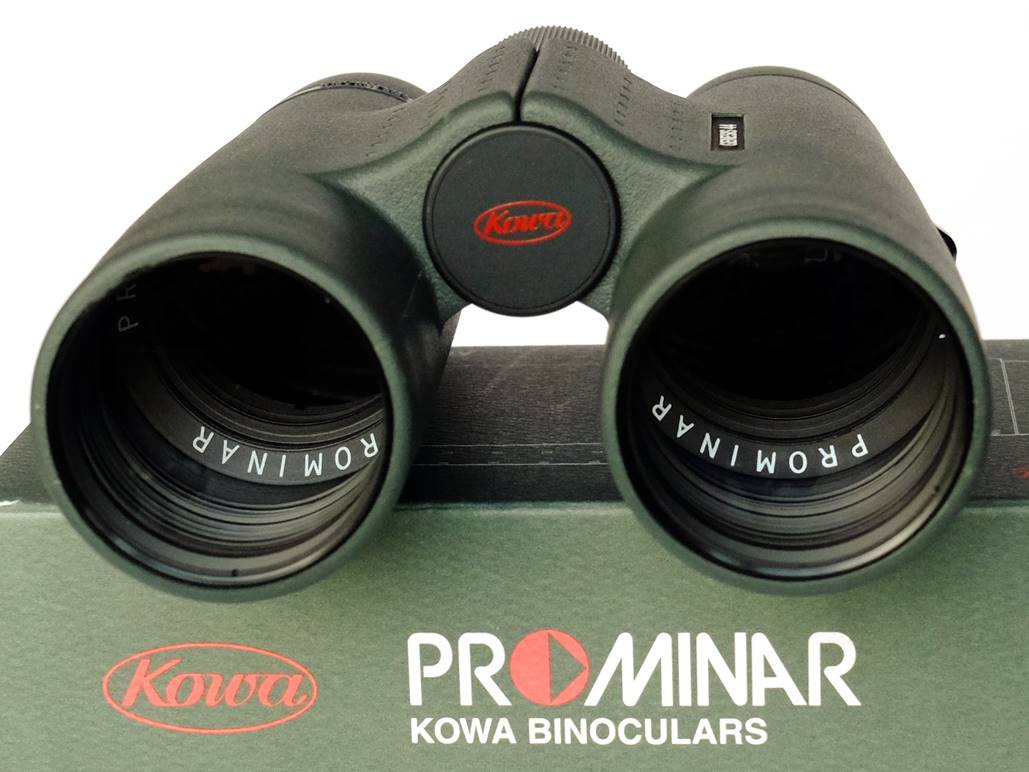 <![endif]>
<![if !vml]>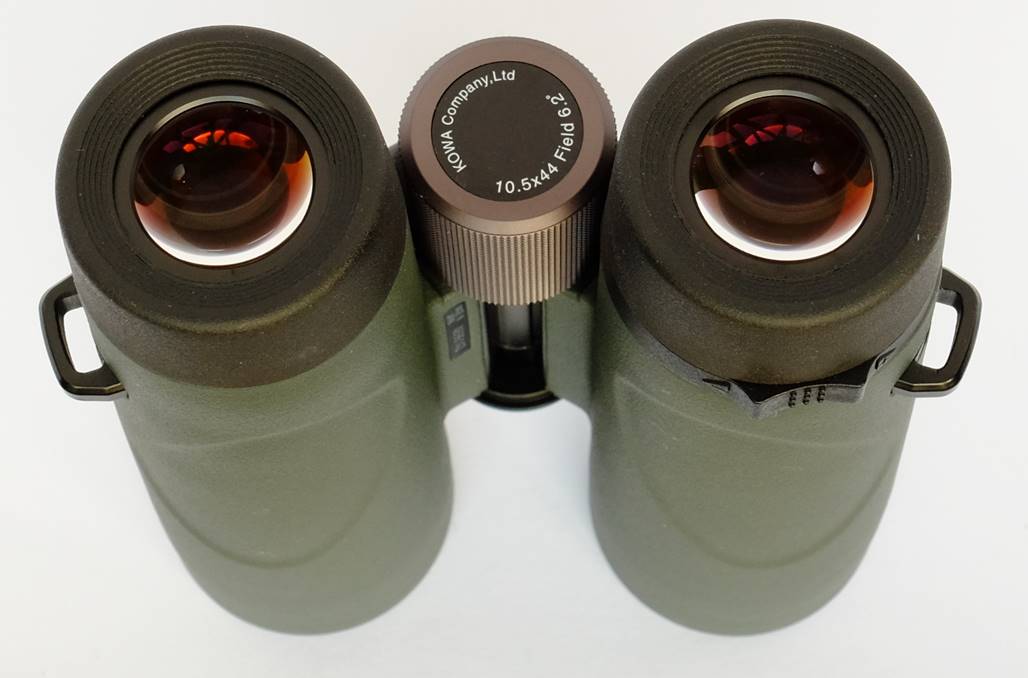 <![endif]>
Optics - Eyepieces
The eyepieces are a five-element design with large (24mm) eye lenses. They give a wide-field of view of 6.2 degrees true. That makes them competitive in terms of field width, especially since they have half an extra power; most of the field is quite well corrected and usable too.
Kowa claim eye relief of 16mm, but as usual that's measured from the surface of the eye lens (an unreliable way to do it, because the inset of the lens within the eye cup varies a lot between models and manufacturers). These have deeply inset eye lenses, so measured from the rim of the eye cup, eye relief is more like 12-13 mm.
This kind of eye relief is what binoculars used to have and it's not enough. These are just barely usable with glasses, but nowhere near the whole field is visible with my specs on.
Another slight negative is that these eyepieces suffer from minor 'kidney bean' blackout as you move your eye position (technically spherical aberration of the exit pupil). This used to be a common defect with wider field eyepieces, but Swarovski et al have largely done away with it.
The eye cups have three well-thought-out extended positions that proved ideal for me when viewing without glasses. The cups twist out smoothly and lock positively, but they are a bit chunky. Consequently, these are one of those binoculars that might not fit if you have a narrow IPD.
<![if !vml]>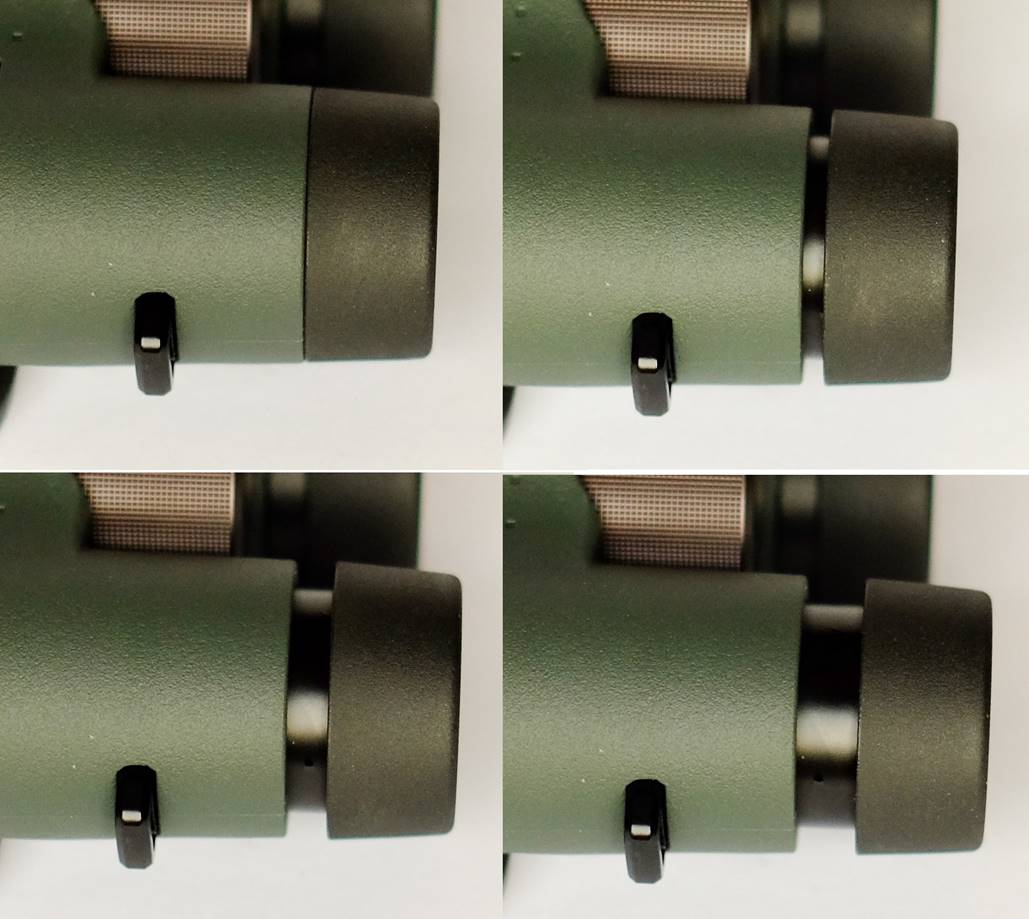 <![endif]>
Accessories
The Kowas have conventional strap and caps. Quality of these items is adequate, but a bit basic for a binocular of this price. Similarly, the case is a decent cordura item – very like the old Zeiss Victory case – but it's not up to the latest cases from the Alpha three.
<![if !vml]>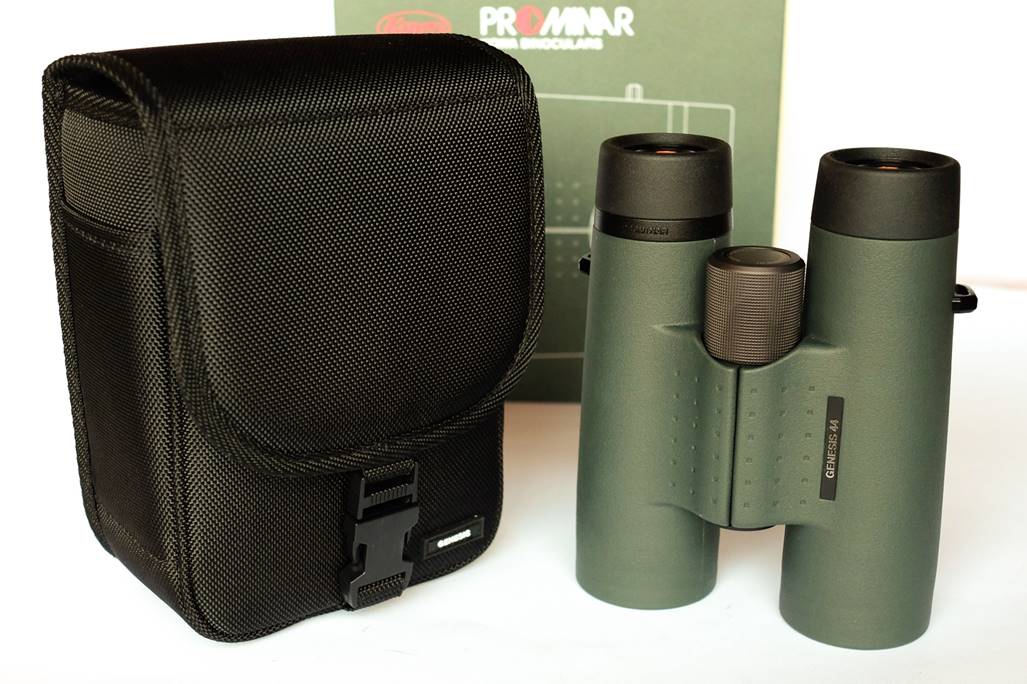 <![endif]>
<![if !vml]>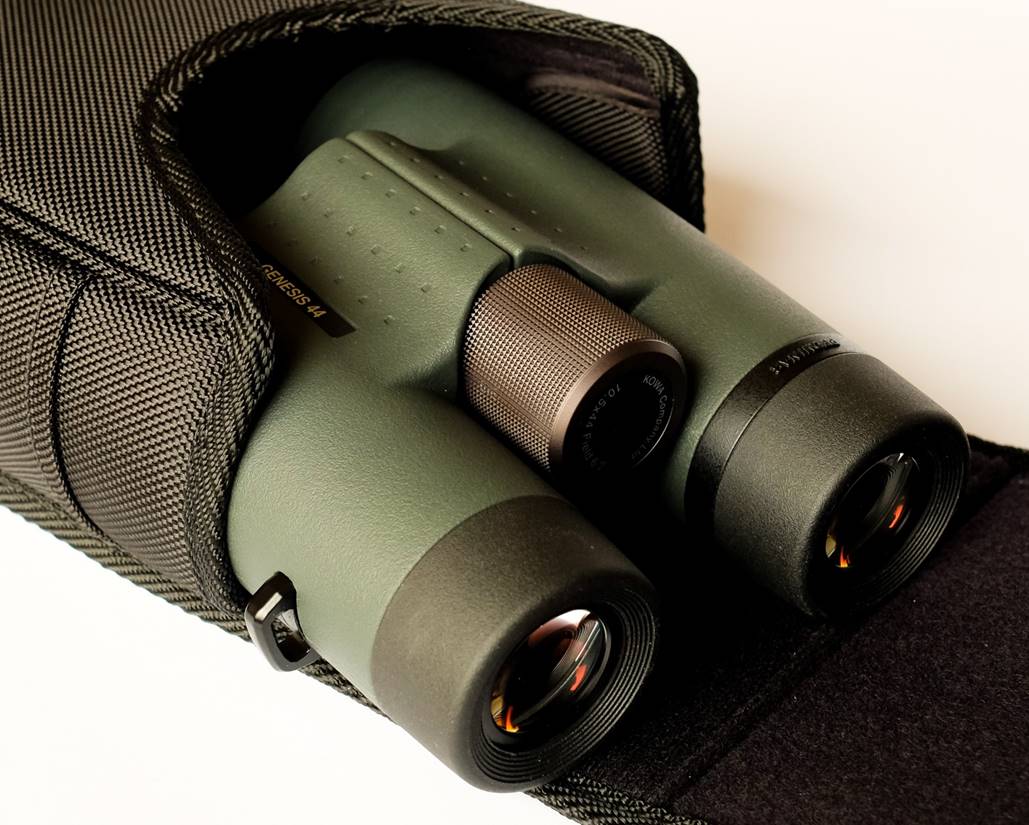 <![endif]>
<![if !vml]>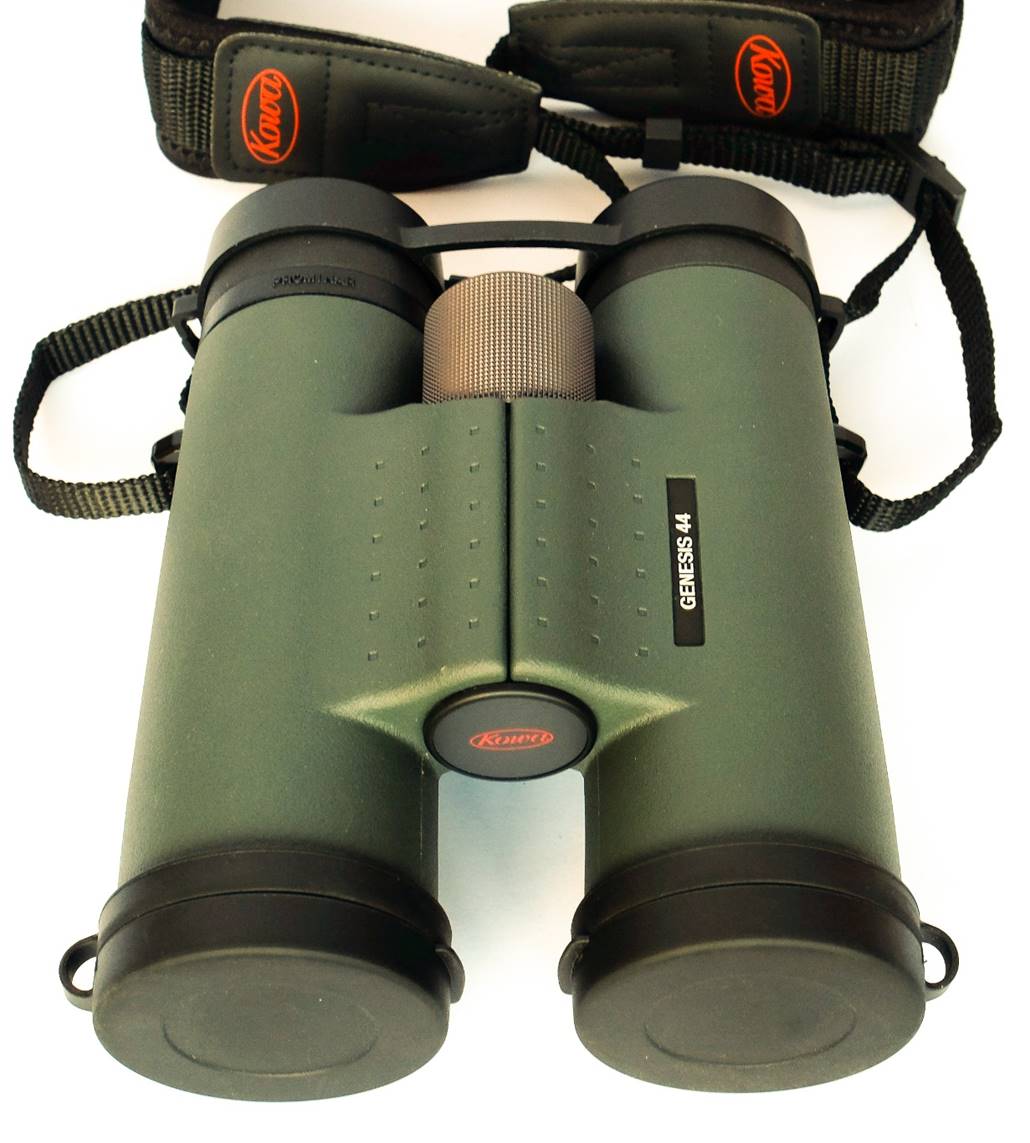 <![endif]>
In Use – Daytime
Ergonomics and Handling
The Kowa XDs have a conventional design but they are comfortable to hold and use. The armour is grippy and warm, but isn't the rubbery kind that smells of car tyres and attracts fluff. They don't feel unduly heavy, even though they are a bit heavier than many 10x42s.
The focuser falls nicely under my forefinger. As I noted, the optics are so sharply snappy that getting perfect focus with the fast focus mechanism takes a bit of practice. The focuser is fine, there's no slop or vagueness, but it lacks a bit of fluidity and control compared to the best. At first I though the optics were a bit soft, but no, I just hadn't quite got perfect focus.
The Kowa's look discreet and inoffensive to wear – contrast the rather (to me) blingy look of a pair of Nikon EDGs.
<![if !vml]>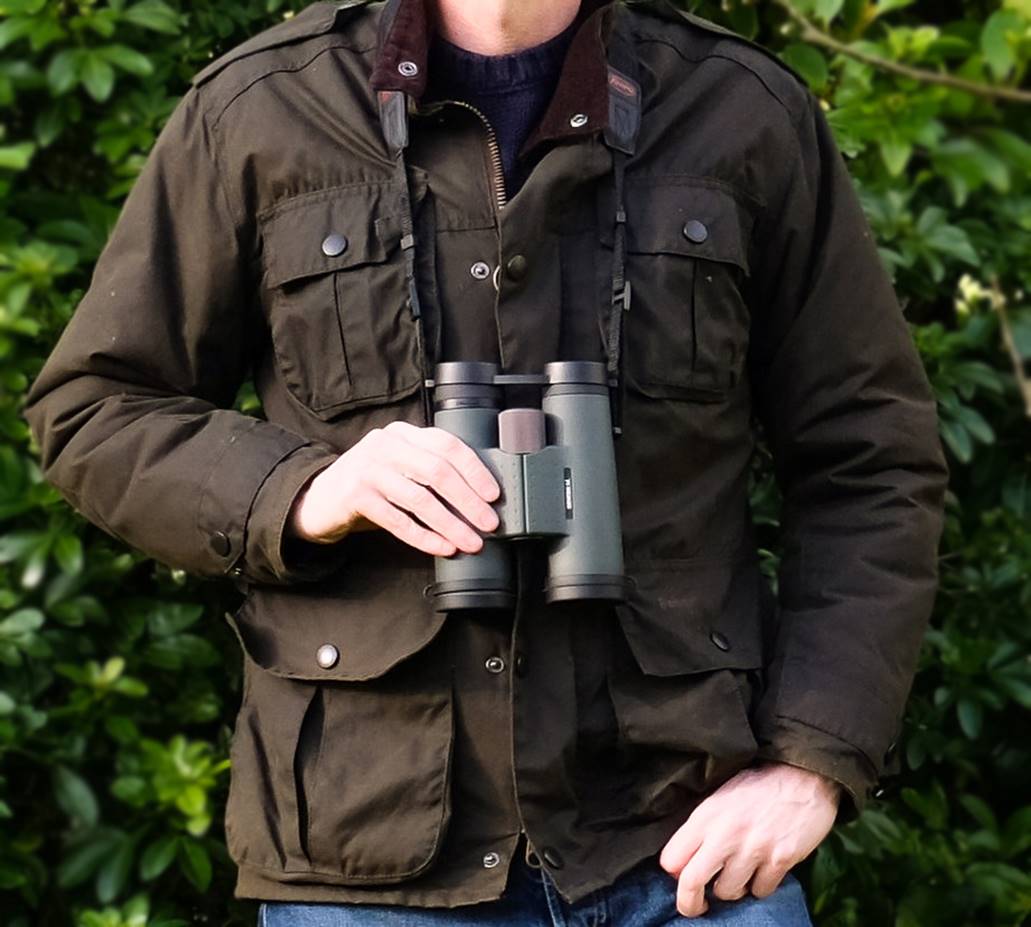 <![endif]>
<![if !vml]>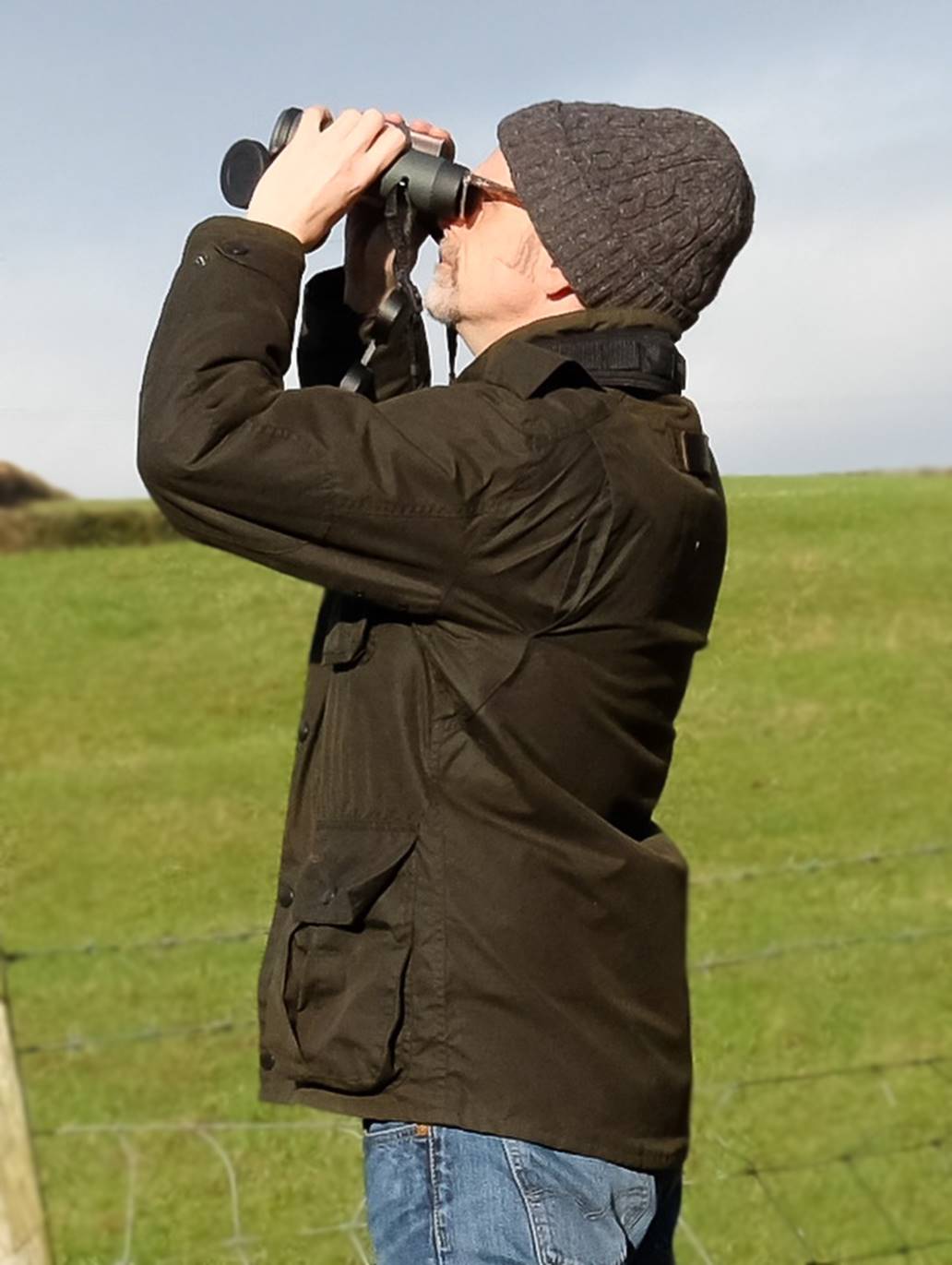 <![endif]>
The View
The view is excellent - sharp, full of vivid detail and very bright. I think you can notice that unusual extra half power.  On-axis sharpness and resolution are excellent. The complete absence of false colour makes for a higher resolution binocular, even higher than most 'HD' designs. Mostly, the Kowa's just get out of the way and encourage you to view, which is a good thing.
Despite the absolute and very fussy focus snap, depth of field is perfectly good.
Flat field?
At first the field seems quite flat, but in fact it curves off gradually in the last 40% and more severely in the last 10% or so, blurring the view around the field stop. Unlike some binoculars, though, this blurring is mostly pure curvature – you can focus it away. A trace of astigmatism creeps in progressively from about 30%, but re-focus them and these are quite sharp at the edge.
There is virtually no distortion, so these do give quite a strong rolling ball effect when panning.
Chromatic Aberration
I really struggled to force any false colour out of these at all. Branches silhouetted against a bright dusk sky are perfectly defined with no colourful edges. A crow's black plumage show no purple edging. Panning through high branches produces no jazzing colour. It's all most impressive – amongst the very best.
<![if !vml]>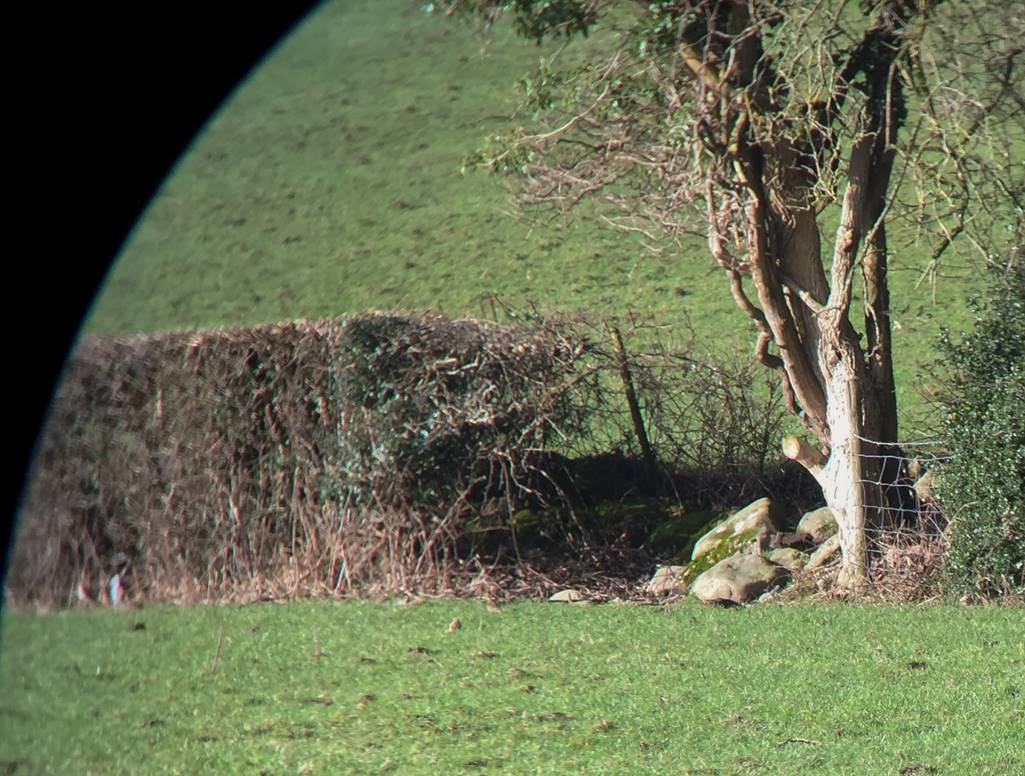 <![endif]>
Pin-sharp on-axis, the Kowa XD's field curves off progressively towards the edge.
In Use – Dusk
These are a bright binocular during the day (due to the high transmission coatings), but at dusk those big lenses add to the equation and these penetrate dusk shadows extremely well. They keep resolving in low light too -  I watched waders far out on the bay sands until deep twilight.
In the deepest dusk woodland shadows, the XD 10.5x44s noticeably outperformed Nikon's 10x42 SEs. How could this be? The Nikons probably transmit about 3-4% more of the light they gather, but the Kowa's 44mm lenses gather 10% more light. Job done.
If you regularly view at dusk, these could replace your older 10x50s.
The objectives are well recessed and the lens rings micro-baffled so these do not suffer from veiling flare at dusk.
In Use – The Night Sky
Use at night confirms that off-axis aberrations are almost entirely field curvature, with very little astigmatism or coma. The overall impression is of a well-corrected field. Stars distort somewhat from about 60-70% field width, but don't smear out as they do in some binoculars with off-axis astigmatism; you don't get that 'warp tunnel' effect that I so dislike with some Zeiss and Leica models (for example).
Stars in focus are nicely pin-point and free from false colour, so natural colours show up well and these reveal faint stars for their class.
Viewing a bright Moon did yield a couple of dim ghosts that the very best do not. Slightly more troubling were a couple of faint spikes that came and went with angle and position. Point the Kowa's at a security light though and you get a lot of not so faint ghosts and spikes. This is an area where the XDs are not in the Alpha league.
The Moon
Complete freedom from false colour and very sharp optics mean these give a perfect view of the Moon – hard and sharp, whites and greys. With optics this good a surprising amount of detail can be teased out if you hold them steady (or rest on something). Again, that extra half power helps too and is surprisingly noticeable.
On a 9-day first quarter Moon, I could easily spot the prominent formation of Ptolomaeus, Alphonsus and Arzachel on the terminator, including Arzachel's central peak. To the south, the crater chain in Clavius was just catching the sun; to the north were the arcing Apennine mountains and Archimedes in Mare Imbrium.
Jupiter
Jupiter is a stiff test for binoculars, but the Kowa XD 10.5x44s gave a perfect view with no flared light and the star-like pinpoints of the Galilean moons clearly visible into morning twilight.
Close by was Mars early in an opposition year. Mars showed as a perfect bright orange coal through the Kowa's, clearly a planet and not a star.
Deep Sky
Despite the field curvature off-axis, the Kowas gave excellent deep sky views for a binocular in the 10x42 class. Orion's Great Nebula was bright and well defined. The clusters running through Auriga easy to pick out as a frosting of stars. The Pleiades were pin-point and brilliant, with no flare or false colour.
In dark and clear morning skies, the bright globular clusters in Hercules – M13 and M92 – really stood out as big, bright fuzzy stars: brighter than with typical 10x42s.
Overall, the Kowa 10.5x44 XDs performed well for astronomy, among the best in this class, lagging only behind truly flat field models like Swarovski's ELs and really benefitting from their extra power and aperture.
The Kowa Genesis XD 10.5x44s work very well for astronomy.
Kowa Genesis XD 10.5x44 vs Nikon 10x42 SE
<![if !vml]>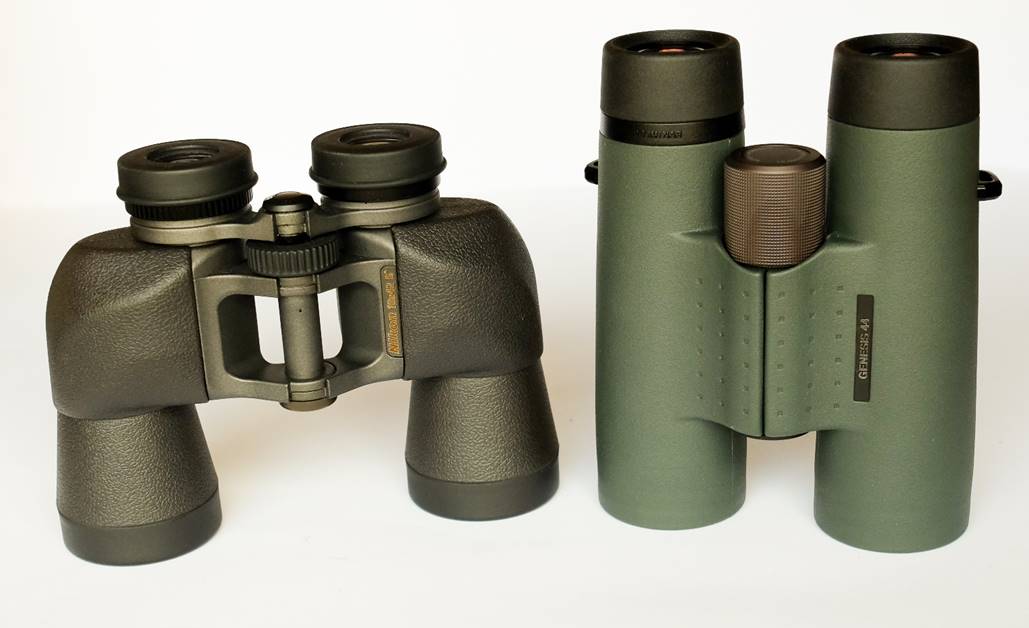 <![endif]>
For years Nikon's SE porro prism binoculars were my favourite 10x42s and had a similar list price to the Kowas. Let's compare them:
<![if !supportLists]>· <![endif]>The Nikon's are much lighter weight (about 250g lighter).
<![if !supportLists]>· <![endif]>The Nikon's have a more fluid focuser.
<![if !supportLists]>· <![endif]>The Nikons have a flatter but noticeably narrower field.
<![if !supportLists]>· <![endif]>The Nikons suppress ghosting better.
<![if !supportLists]>· <![endif]>The Nikons have much more eye relief.
<![if !supportLists]>· <![endif]>The Kowa XDs work even better in low light.
<![if !supportLists]>· <![endif]>The Kowa XDs are slightly sharper on axis and control false colour even better.
In some ways the Kowa XDs are as good as the Nikons, which were once state of the art, but overall I still just prefer the Nikon SEs. It's hard to make roof prism binoculars that match the best porros, unless you really throw expensive technology at them.
Summary
These Kowa XDs are hard to summarise. Build quality is top-notch, up with the Alpha makers in many ways. The view is superb centre field – sharp, bright, vivid and yet neutral. Optical quality and focus snap are right up there. False colour correction is among the very best I have ever tested and could be a big selling point for some. The focuser is fast and though it's a bit heavy it is smooth and accurate. Big objectives and premium coatings mean dusk performance is outstanding. Unlike some 10x42s (even premium ones) they work really well for astronomy and those filter threads suggest that might be design not accident.
And yet … they are (quite a lot) bigger and heavier than Swarovski's SLCs. The field is not flat, but curves off steadily, though astigmatism is well controlled. Ghosting is at a higher level than the best. The focuser is almost too fast for the ultra snappy optics – just the merest nudge gets best focus. The eyepieces are a touch more sensitive to positioning than the best and can cause mild kidney bean blackouts. The accessories are a bit mid-market for binoculars of this price. But really, the main issue is eye relief – it's just not enough for glasses wearers and is probably a deal breaker for those like me who view with specs on.
For everyone else it might come down to price. If the real world price difference between these and a pair of Swarovski 10x42 SLC HDs is large enough, they are well worth trying out.
Even more than the 8x33 model, these XD 10.5x44s are virtually an Alpha binocular. They are highly recommended for non-specs wearers, but only if sufficiently discounted compared to the premium brands.
Roger Vine Jan 2018
<![if !vml]>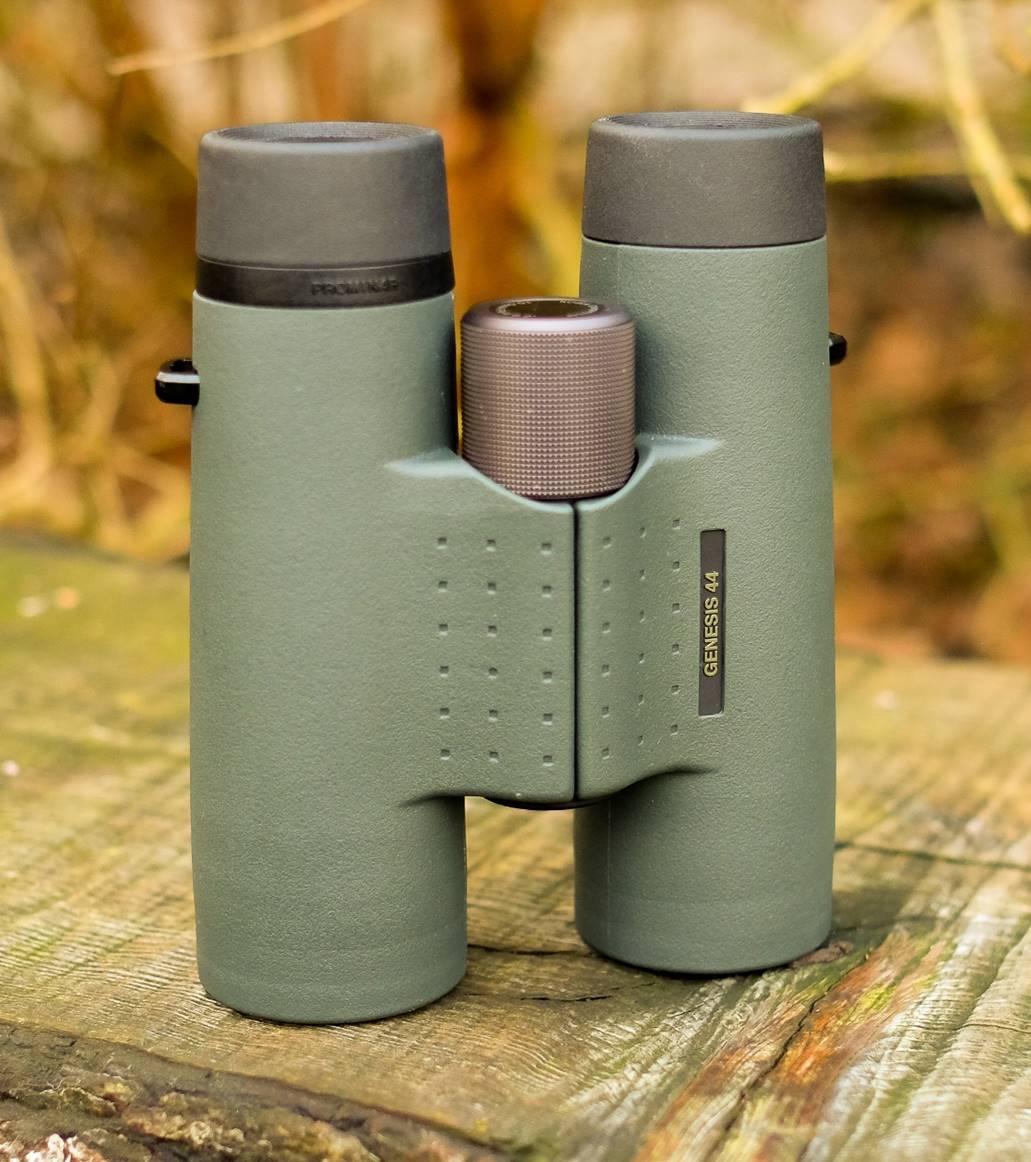 <![endif]>