Kowa's high-end Genesis 8x33 binoculars promise premium quality at mid-market cost. In this review, I find out if that makes them the ideal travel binocular, with a great view but a price that encourages you to take them with you wherever you go.
Kowa Genesis 8x33 XD Review
<![if !vml]>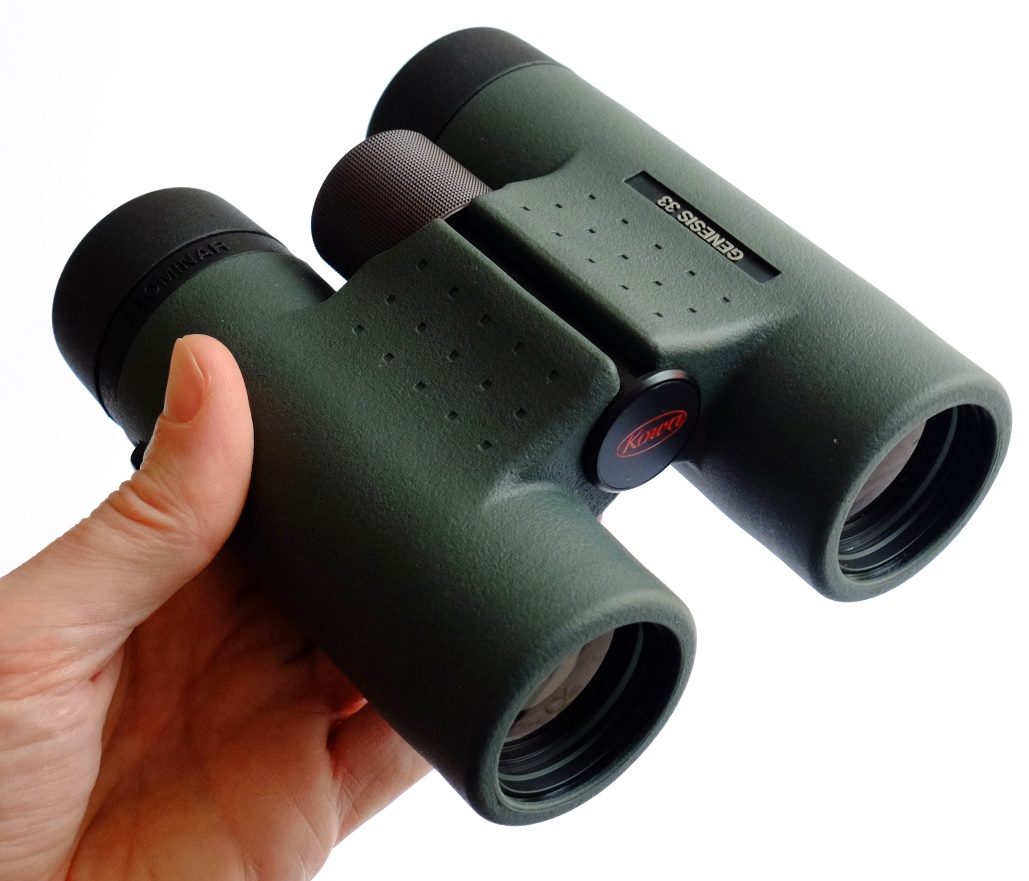 <![endif]>
Perhaps you, like many people, want a pair of binoculars for that special trip: a safari, polar expedition, trek or long overland journey. It's a difficult niche, because you want something really light and compact. Then again, you don't want binoculars that cost thousands (you may end up losing them at the airport, wrecking them or dropping them overboard, after all). But this is a once-in-lifetime opportunity, so you still want a great view – of Petra's red-rock columns, that whale breaching off Antarctica, or a Condor circling some Andean peak.
In circumstances like these, where you want it all, but you don't want to pay for it, I often suggest looking at the high-end of a 'wannabe' brand. Such manufacturers, looking to break into the exclusive premium market, have to try hard, but end up selling at a deep discount to attract sales. Kowa's XD range is a perfect example of this effect – cheaper than the premium brands to start with, they can be had at discounts that bring them into the mass market, yet they boast many high-end features.
At A Glance
| | |
| --- | --- |
| Magnification | 8x |
| Objective Size | 33mm |
| Eye Relief | 15mm |
| Actual Field of View | 8 degrees |
| Apparent field of view | 63 degrees |
| Close focus | 1.5m |
| Transmissivity | Est. ~ 88% |
| Length | 133mm (131mm measured) |
| Weight | 590g |
Data from Kowa
What's in the Box?
The unboxing experience matters in the premium market and Kowa have gone for restrained but classy packaging that owes a lot to Swarovski's.
<![if !vml]>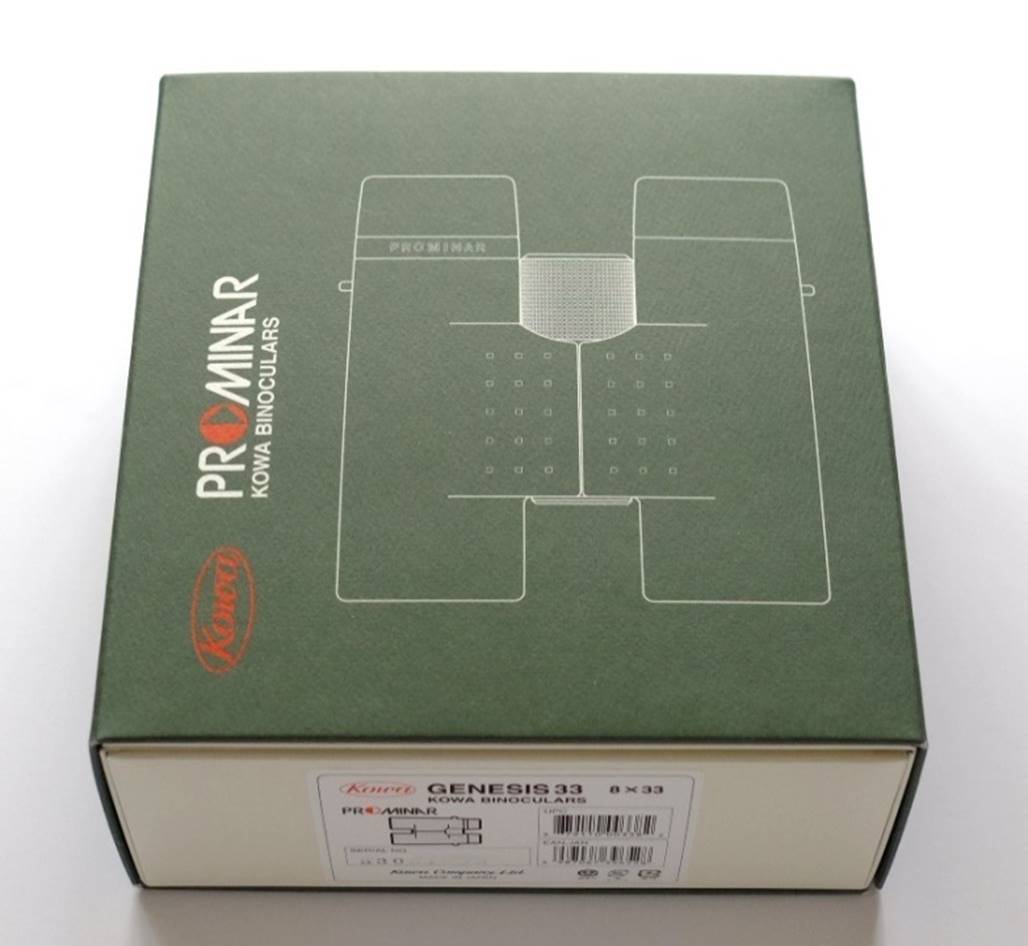 <![endif]>
<![if !vml]>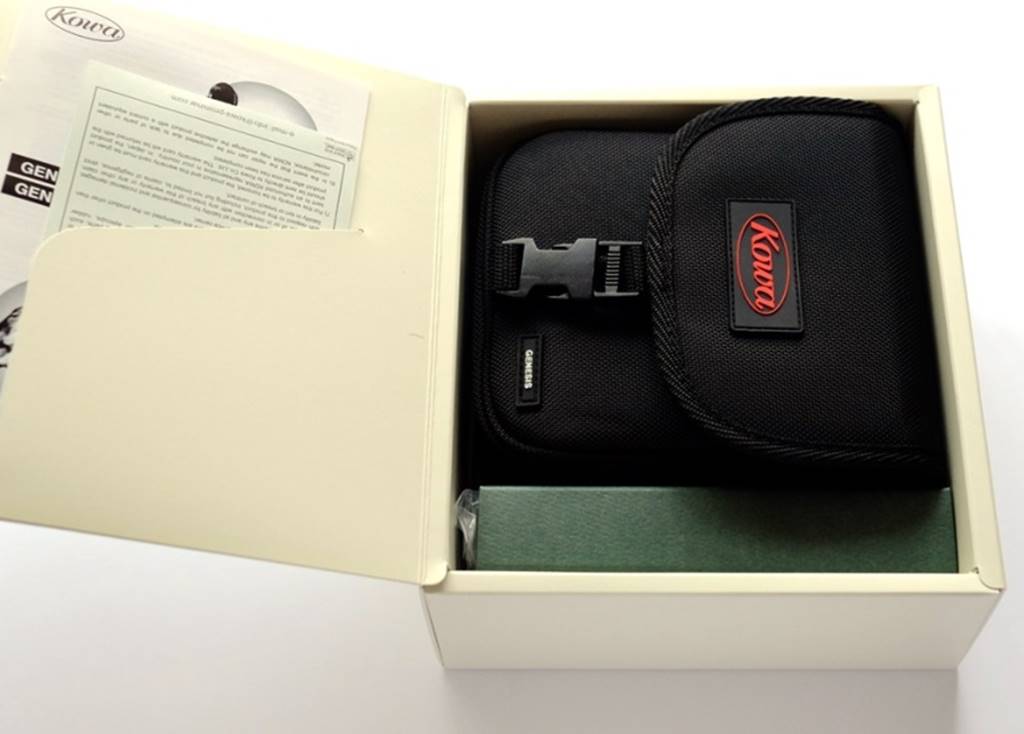 <![endif]>
<![if !vml]>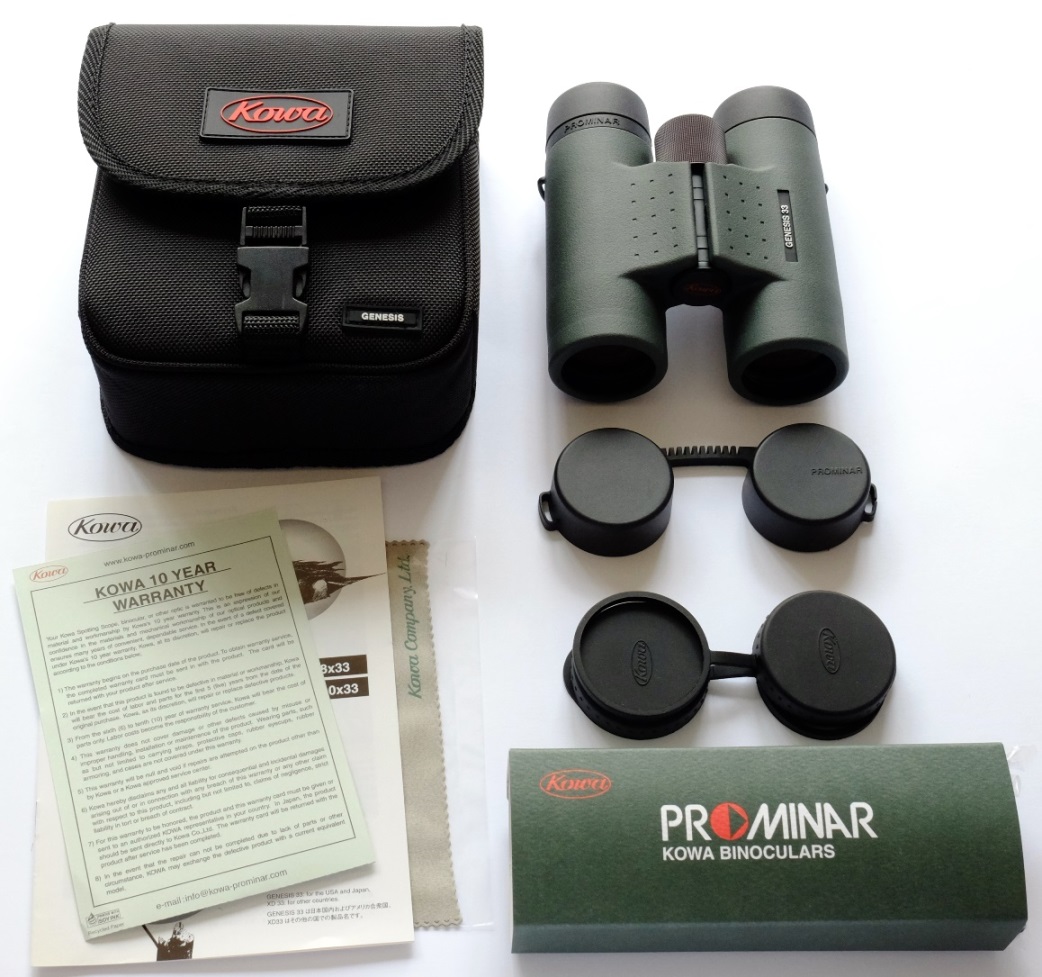 <![endif]>
Design and Build
The Kowa Genesis XD 8x33 binoculars on test here are one of just four high-end binocular models made by Kowa, the others being 10x33, 8x44 and 10.5x44.
Despite a strong reputation for quality scopes, Kowa's binoculars are mostly re-badged Chinese models that appear to be thinly disguised versions of similar ones from the likes of Minox. These binoculars have a good-but-modest reputation in line with their price.
Unhelpfully, the four high-end Genesis XD models share some marketing trademarks and design detailing with their cheaper relatives. That's unfortunate, because these are very different binoculars - made in Japan to compete with the best from Nikon and even the 'alpha' German brands too.
Body and Ergonomics
At 590g and 131mm long on my ruler (the brochure says 133mm), the Kowa Genesis 8x33 is a very compact and lightweight binocular – smaller than Swarovski's 8x32 EL, lighter than Zeiss' 8x32 Conquest and Nikon's 8x32 HG and EDG models. Among premium binoculars, only Zeiss' Victory FLs and Leica's Ultravids undercut these on size and weight, and then by just 10%.
Plastic has been used to cut weight in a few areas – the focuser and dioptre wheels for example – but general build quality is very good.
These feel like a classy binocular with excellent fit and finish and quality armour that is warm and grippy, but not rubbery smelling and fluff-attracting (like Zeiss' Conquests'). The armour has a dark, olive green colour, not the brighter green that many photos erroneously show. The armour has thumb cut outs on the back, but the body itself is not sculpted to fit the hand, like Nikon's HGs and EDGs for example.
In case of doubt, it clearly says 'Made in Japan' next to the serial number: these are not run-of-the-mill Chinese Kowas.
Full waterproofing and nitrogen purging is claimed.
<![if !vml]>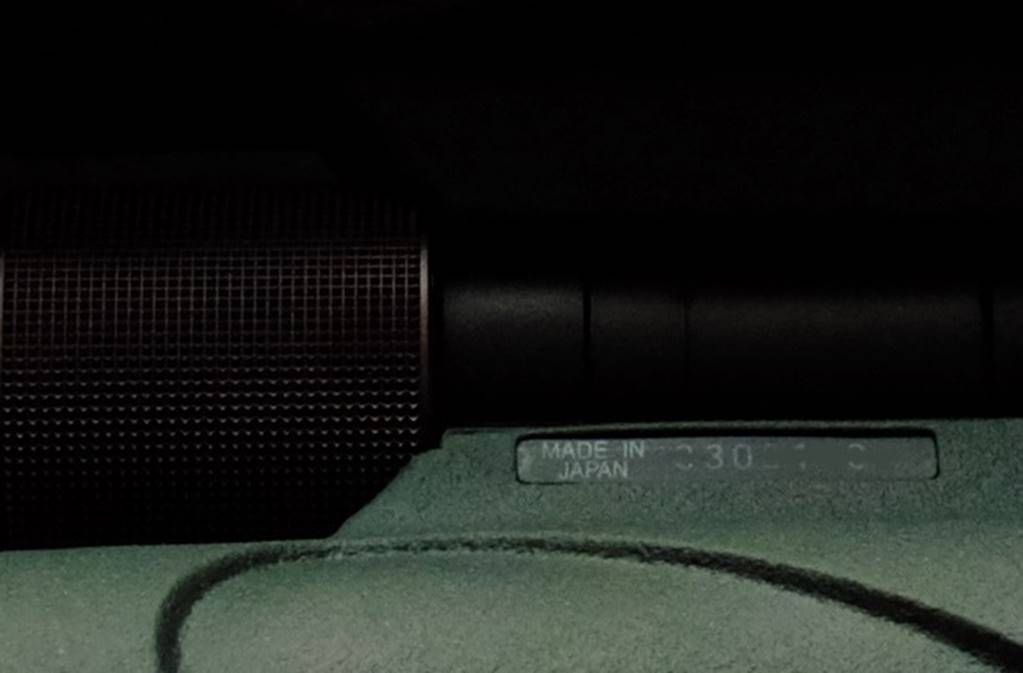 <![endif]>
The Kowa XD33s are made in Japan.
<![if !vml]>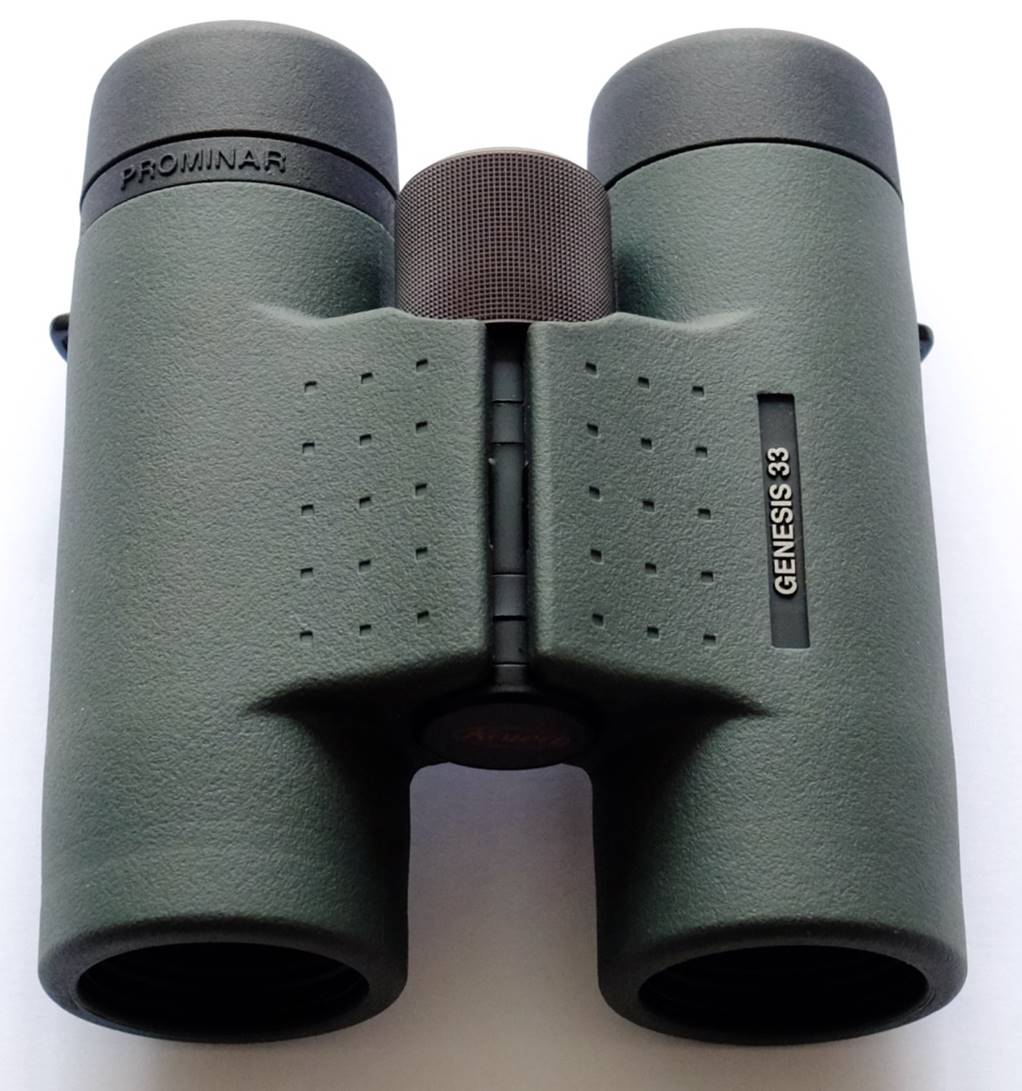 <![endif]>
<![if !vml]>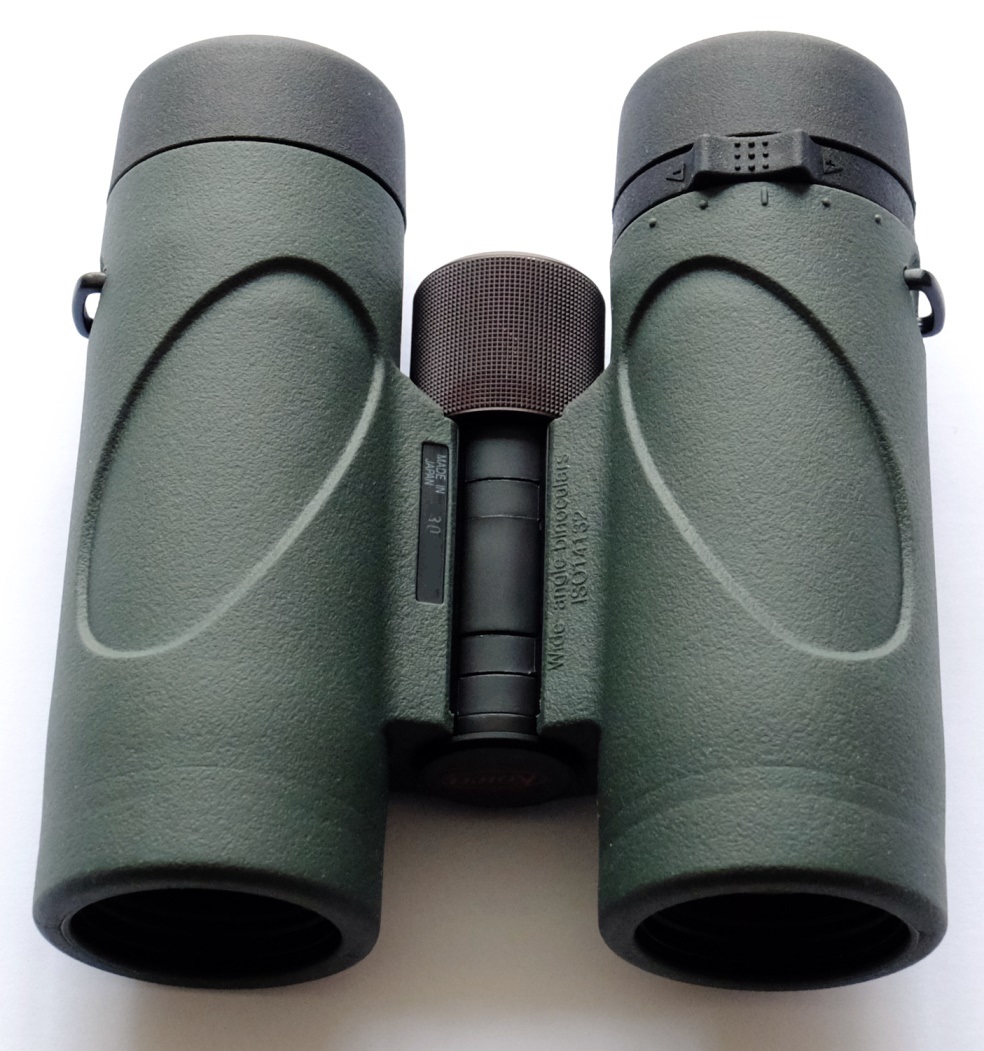 <![endif]>
Focuser
The focus wheel is quite small by premium standards. It has a grippy knurled finish and looks like metal, but is made of engineering plastic to keep weight down.
Focus action is fast – just less than a turn from close focus to infinity – but stiffer than I would like, which gives a less intuitive response than the best. The action is quite accurate though and it needs to be: these have fine optics with a very precise focus point.
Dioptre adjustment is by the usual ring under the right eyepiece. Unlike many, though, the ring has to be lifted to turn and then locks when you push it back down. This is a superior system that allows a light and smooth action which would otherwise be too easy to move accidentally. The ring has a thumb detent to make adjustment even easier.
Optics - Prisms
The Kowa Genesis XD range employs conventional Schmidt-Pechan roof prisms. Such prisms require mirror coatings and these have the premium variety with multiple dielectric layers that give very high reflectance. Such coatings generally yield a brighter view than silver or aluminium coatings. Kowa call their dielectric coatings 'C3'.
Optics – Objectives
Pay attention now, because this is where these Kowas get a little bit special.
Once upon a time, binoculars had objectives made of conventional crown and flint glasses. These failed to bring all the colours to the same focus point. Result? High contrast parts of the view were fringed with false colours – purple on one side, green on the other. You'll have seen this effect in photos taken on a phone or compact camera.
Then along came objectives containing one element made of a special glass, high in fluorides, which allowed the lens to bring all colours to a better, but still not perfect, focus. Such binoculars have much lower levels of false colour and have become more common in recent years.
Kowa's Genesis models – both these 33mm and the larger 44mm variants – have a triplet objective like many modern binoculars. But crucially two of those lens elements are made of high-fluoride glass. This should in theory give them almost complete freedom from false colour and so higher resolution as the result.
The objectives have modern multi-coatings with a very neutral, tobacco hue (not the bright green you get with many cheaper binoculars that could skew the colour balance).
The interior behind the objectives sports ridged micro-baffling and at least one proper knife-edge baffle against stray light. The latter is notoriously engraved with 'Prominar' – Kowa's brand name for these lenses – but I could find no evidence that those (potentially reflective) letters caused a problem in use.
<![if !vml]>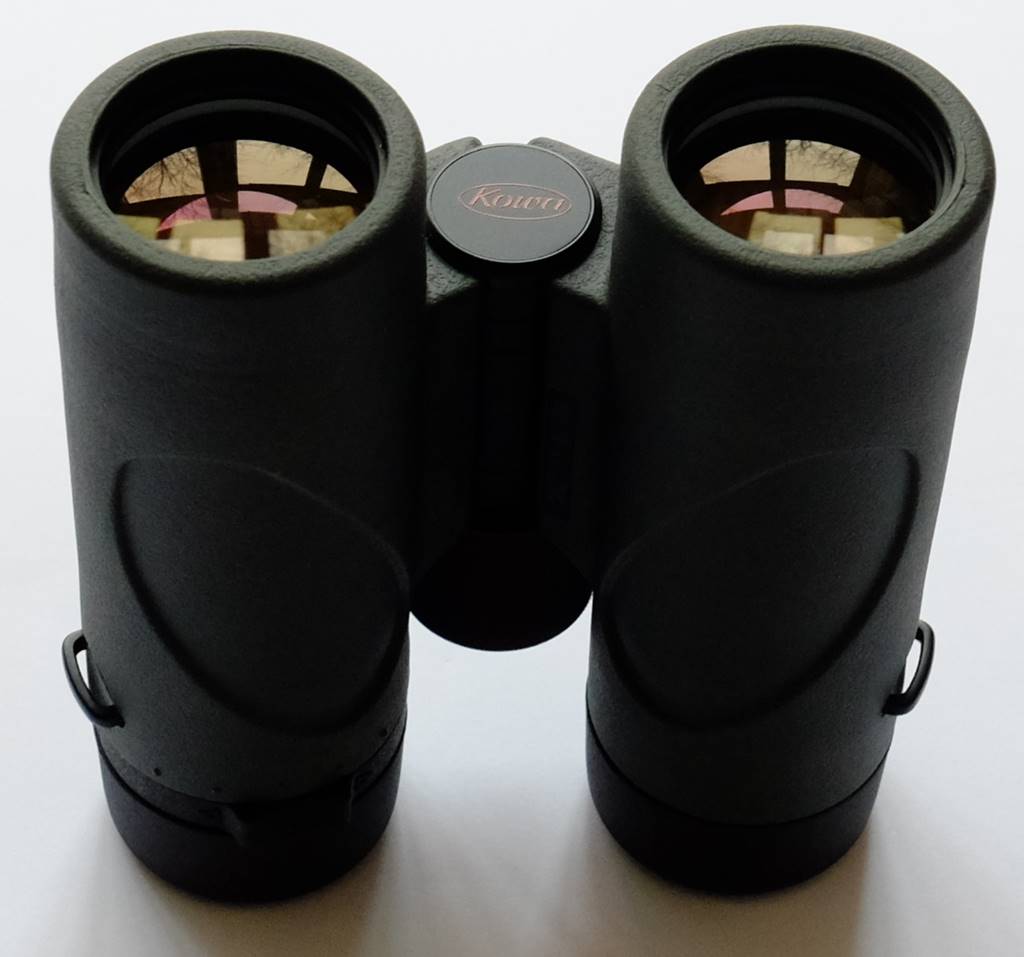 <![endif]>
Typical of some modern top-drawer coatings, these have a very neutral hue.
<![if !vml]>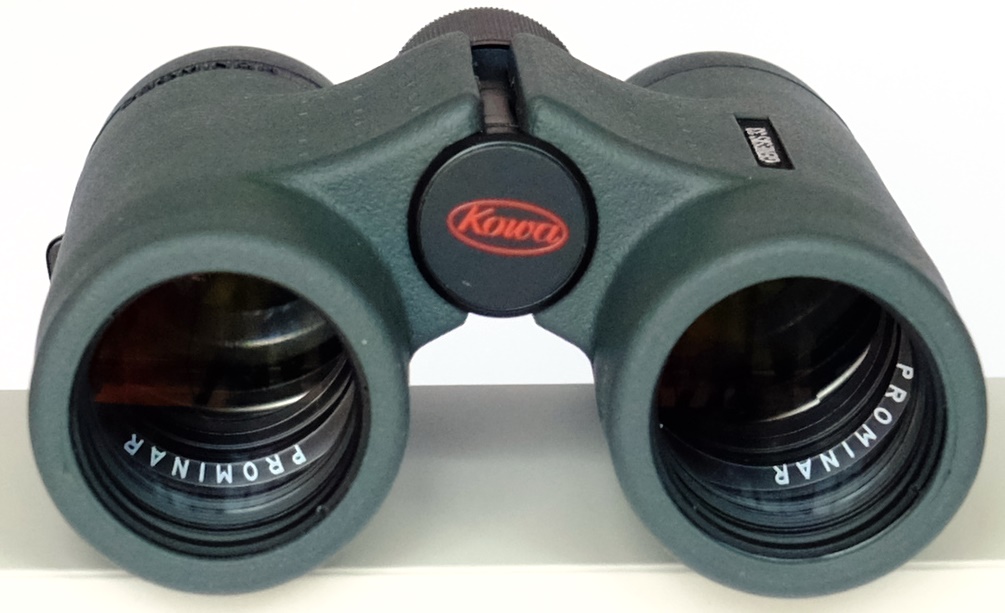 <![endif]>
Baffles famously have the Prominar brand writ large – not ideal, you'd think, but not a problem either.
Optics – Eyepieces
The eyepieces are a five-element design with large (22mm) eye lenses. They give a wide-field of view: 140m at 1000m, which equates to 8 degrees true and about sixty three degrees apparent. That makes them equal to, or better than, most of the competition.
Kowa claim eye relief of 15mm, but as usual that's measured from the surface of the eye lens (an unreliable way to do it, because the inset of the lens within the eye cup varies a lot between models and manufacturers). Measured from the rim of the eye cup, eye relief is more like 13-14mm.
"Tut-tut, you're splitting hairs!" I hear you say. No I'm not!
The difference between 13mm and 15mm is between discomfort and relative comfort for many peoples' spectacles. So these are usable, but not comfortable for me whilst wearing spec's.
I'm not criticising Kowa here. The optical limitations of compact binoculars mean getting good eye relief is difficult. Among premium compacts, only Nikon's HGs and EDGs and Swarovski's ELs have significantly more eye relief and it's no coincidence they are among the largest 8x32s.
The eye cups have three well-thought-out extended positions that proved ideal for me when viewing without glasses. The cups twist out smoothly and lock positively, but they are a bit chunky. Consequently, these are one of those binoculars that might not fit if you have a narrow IPD.
<![if !vml]>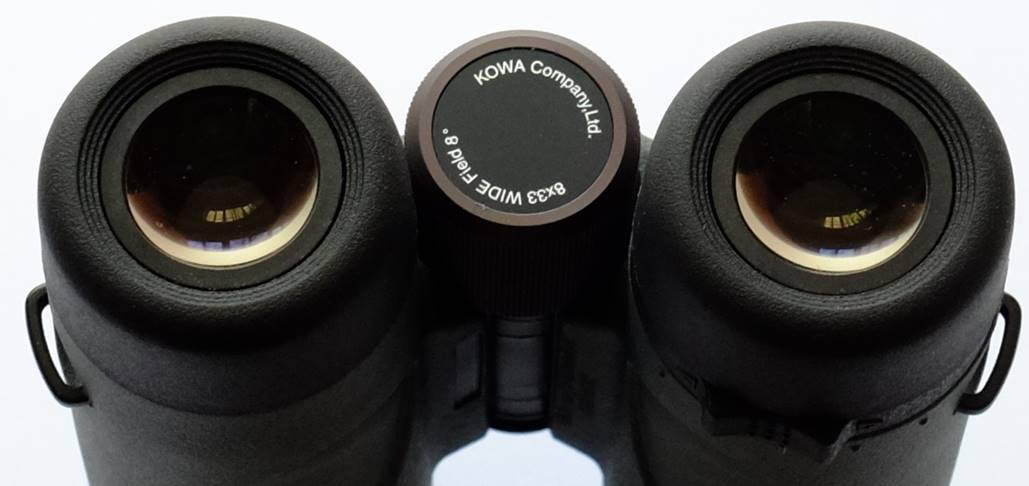 <![endif]>
<![if !vml]>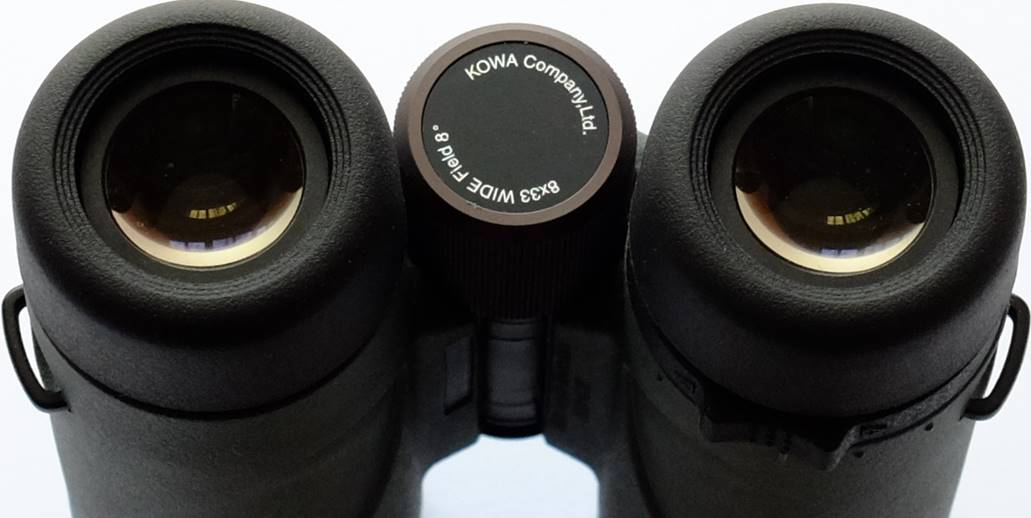 <![endif]>
<![if !vml]>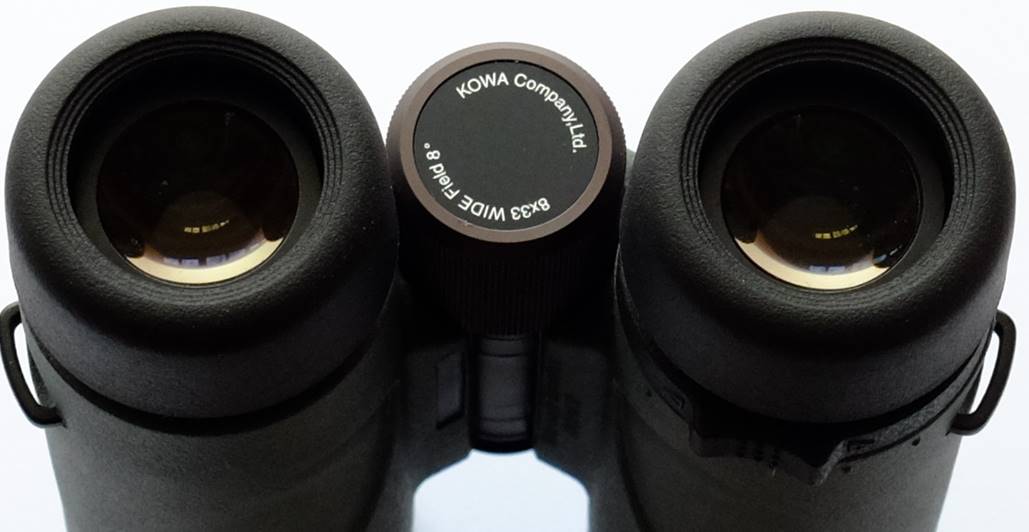 <![endif]>
<![if !vml]>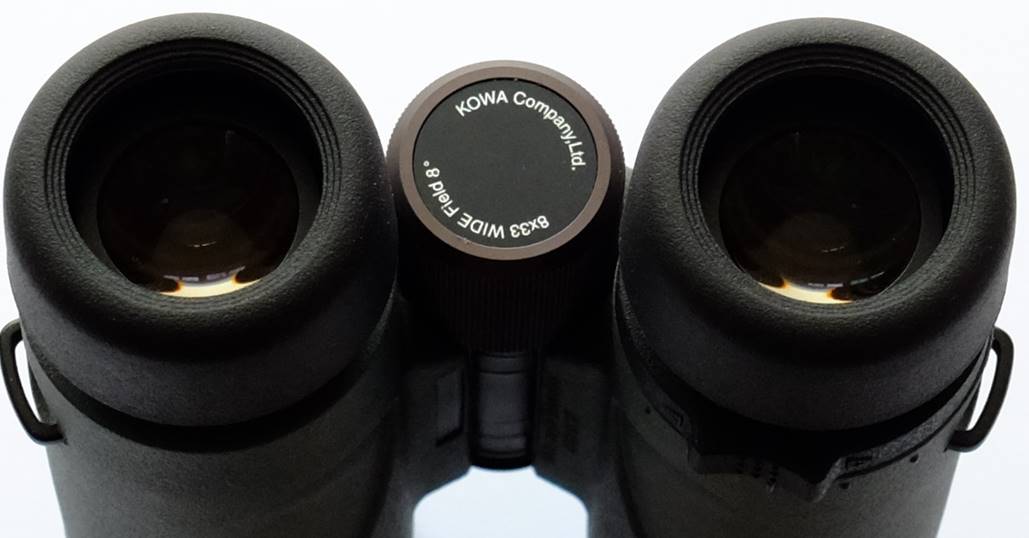 <![endif]>
<![if !vml]>

<![endif]>Pull up and twist to adjust dioptre.
Accessories
The Kowa Genesis 8x33s come with a quality felt-lined cordura case (that for once isn't too large for them), stay on caps that work properly (i.e. they stay on when you want them to) and a padded strap.
<![if !vml]>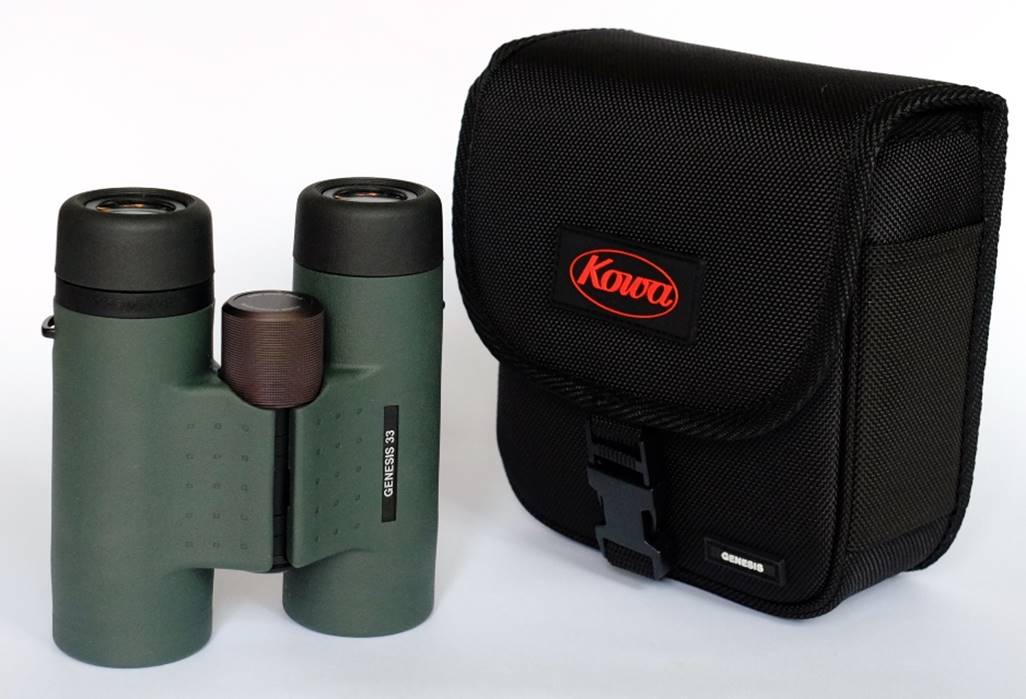 <![endif]>
<![if !vml]>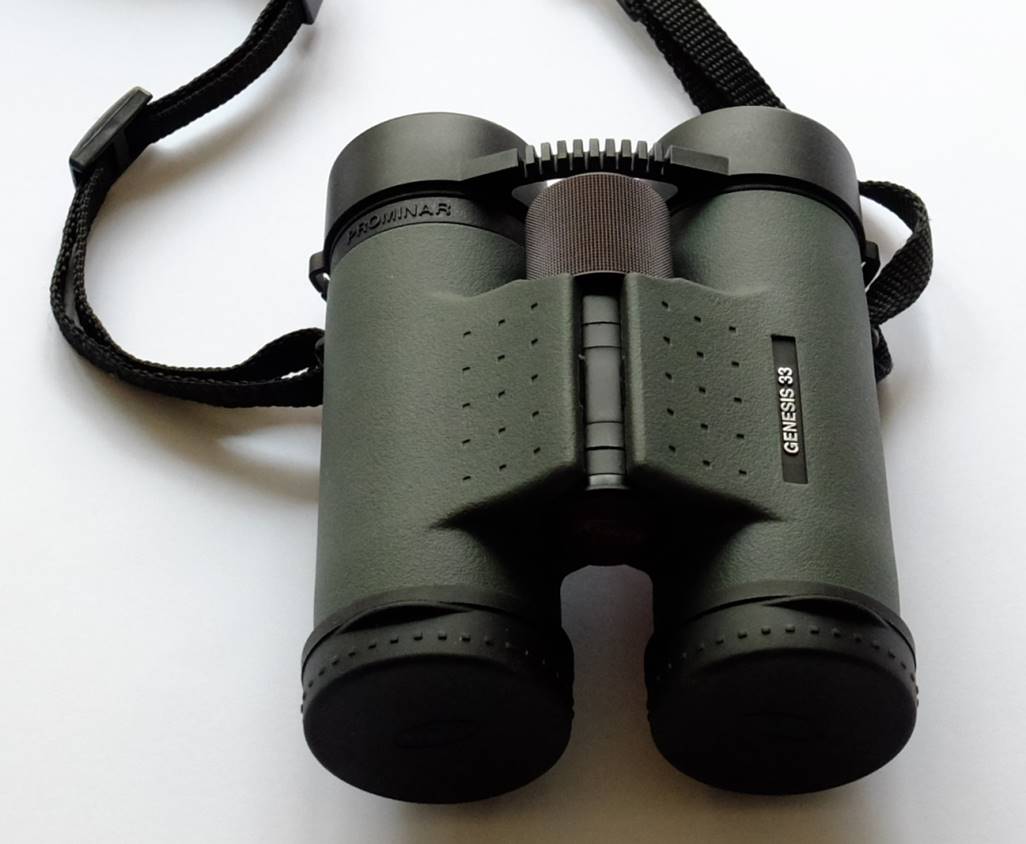 <![endif]>
In Use – Daytime
Ergonomics and Handling
The numbers say that Kowa's Genesis 8x33s are very compact binoculars and they feel that way in the hand – small and surprisingly light too. They remind you that only a couple of premium models are smaller and lighter.
Handling is just about perfect – well balanced and with the focuser in just the right place.
As I've said, eye relief is a millimetre or two insufficient to make them comfortable with my glasses and I lose a fair bit of field width as the result. Blackouts are extremely well suppressed, though, and the eye cups comfortable for those viewing without glasses.
The very sharp optics make any slight defocus blur very obvious and so perfect focus is a very finely defined point. The focuser isn't quite fluid enough to find that point quickly. I found myself wishing for some kind of micro-focuser to fine tune that absolutely precise perfect focus spot.
These are comfortably below a weight threshold where I can hike with them for an hour or two without neck strain. I can't say that of the Zeiss 7x42s I own which are just 150g more. So wearing the Kowa 8x33s is easy and they look unobtrusive for a spot of urban birding.
<![if !vml]>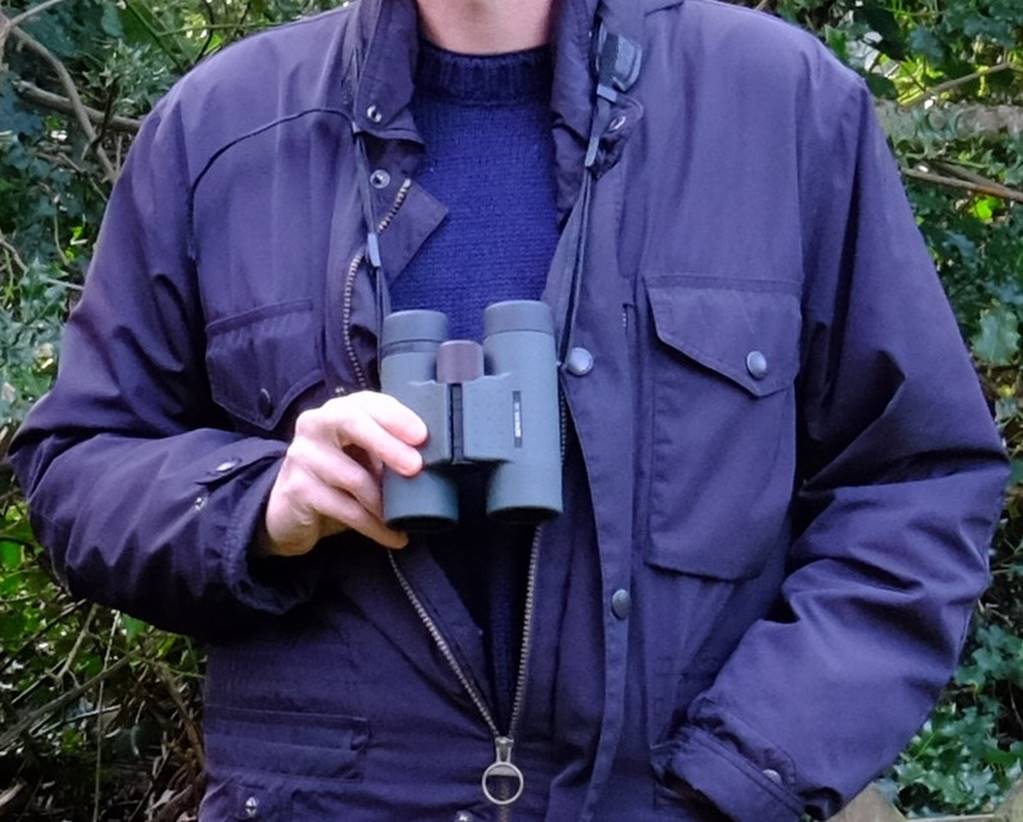 <![endif]>
The little Kowa XD33s are compact and unobtrusive, with plain but quite elegant styling.
The View
The view is basically very good: sharp and detailed with absolutely no softness centre field; it's also very wide and usable right to the edge (but see below). Colours are naturally rendered, but a bit less vivid than through a Swarovski or Zeiss. Brightness is good, but a notch down from the literally brilliant Zeiss Victory 8x32s.
Focus snap is, as I remarked earlier, extreme – perhaps due to the complete absence of chromatic aberration. Any defocus blur at all is immediately obvious. This has the downside of making depth of field seem shallower than it really is, an effect worsened by the small sweet spot.
Those crisp optics and lack of aberrations bring out every feather of a pair of jackdaws high in a tree in the local park and every hair in the bushy tail of a squirrel eyeing me beadily and chittering from a branch overhead. These are a high resolution binocular on-axis.
Flat field?
Field flatness is deceptive. At first glance it seems like a very flat field. But this is not the flat field of a Swarovski EL. Close inspection reveals that the field softens gradually from about 60% width. Furthermore, it is actually worse at about 80% than at the edge – a very strange effect noted by other reviewers and one that can't just be focused away. I think this makes the view overall seem less crisp than the very best.
Chromatic Aberration
The marketing claims are more than hype in this case. These Genesis 8x33s really do offer better correction for false colour than just about any other binocular. In normal use they seem CA-free. We are talking better than Swarovski's ELs here. And yes it makes a real difference to the view – no jazzing colours when panning through winter branches, no crows with purple-edged plumage.
Interestingly, I once believed binocular optics inherently incapable of correcting false colour this well.
In Use – Dusk
I found these to work surprisingly well into deep twilight. I could easily make out car number plates in an unlit car park at night in an urban setting and they penetrated twilight shadows better than the naked eye. Focus was easy in low light too. Low light is where a 'proper' binocular like these really excels over a pocket model (8x20 or 10x25).
In Use – The Night Sky
This size of binoculars is not ideal for astronomy. However, the bright view and good optics mean they work quite well. Contrast is excellent, making best use of the small aperture to show lots of faint stars.
Stray light suppression isn't the best. Veiling flare around streetlights or the full Moon isn't much of a problem, but bright lights do cause minor ghosts and spikes, the brightest security lights more severe ones.
The field curves gradually to the edge, but remains quite usable, confirmed at night when stars blur slightly, but remain stars and don't turn into lines the way they do with more severe astigmatism (like the field edge of Zeiss' Conquest 10x56s, for example).
The Moon
There is no visible chromatic aberration on the Moon, not on the limb, not even focusing through. That's a bit of a first and, despite the low magnification, the Moon is especially sharp and detailed through these as the result: all crisp, dazzling whites and hard greys. On a gibbous Moon, differing shades in the Maria were especially obvious and I was easily able to pick out larger craters such as Plato, Copernicus and Tycho.
The Moon was in Taurus on the night I was testing these and stars of the Hyades were easily visible very close to the Moon – an indication of minimal flare and good contrast.
The Moon did however generate faint, but quite long spikes in-field, something the very best avoid.
Jupiter
These Kowa 8x33s passed the Jupiter test to deliver a perfect disk with no flare or spiking. The Galilean moons were easy to spot too.
Deep Sky
The wide field is an advantage on deep sky. You can see the whole of Orion's belt and sword in the same field with room to spare and without the distorted stars you get in some binoculars with more off-axis aberrations.
Stars are very small and bright, an indication of the good optical quality. Consequently, star colours are vivid too.
You'll only see the brightest nebulae with this size of binocular, which don't cut through sky glow as well as bigger, higher power pairs. Nonetheless, I could easily enjoy the Orion Nebula and the clusters in Auriga in polluted urban skies.
If you're off on a trip down under then these should show you the southern-sky highlights where 8x20s or 10x25s just won't.
<![if !vml]>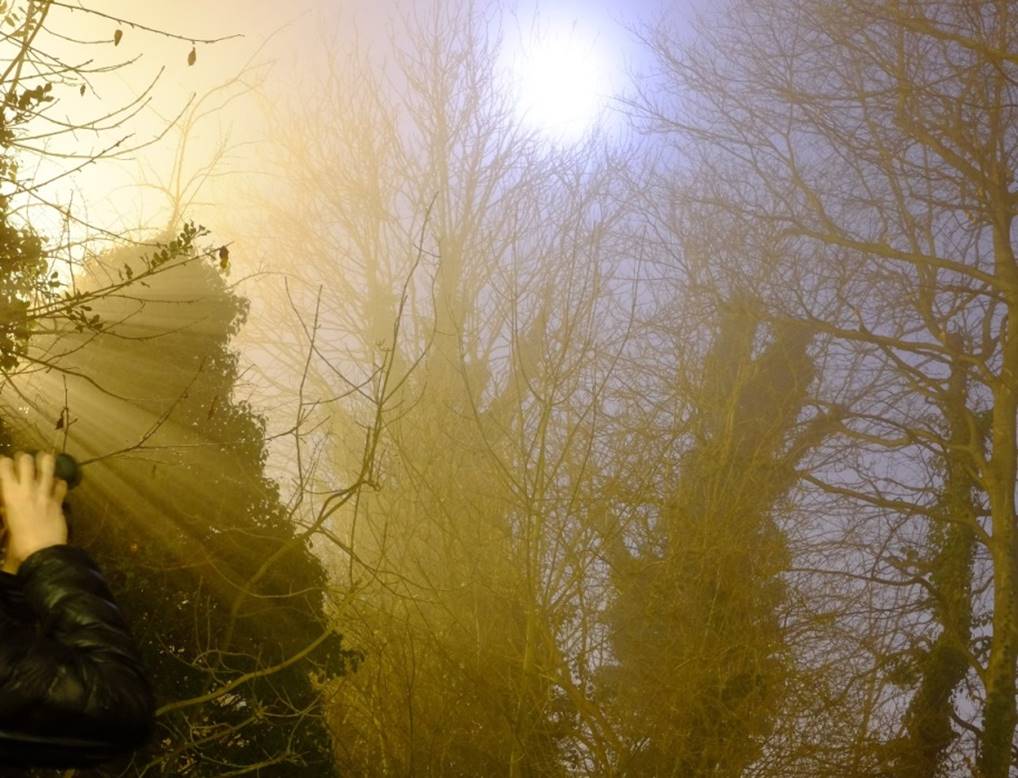 <![endif]>
Testing the Kowas at night under typically bright and polluted urban skies.
Kowa Genesis 8x33 vs Zeiss Victory 8x32 FL
 <![if !vml]>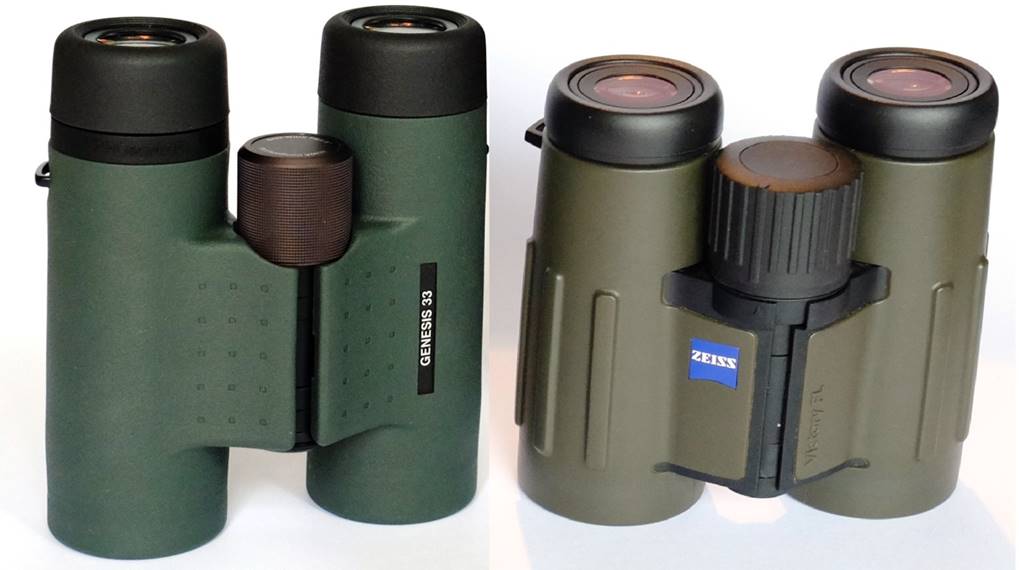 <![endif]>
Although an older model now, Zeiss' Victory 8x32 FLs are still on sale and are my favourite compact binoculars, so a comparison is in order here.
<![if !supportLists]>· <![endif]>The Zeiss Victorys are about 40g lighter and 15mm shorter.
<![if !supportLists]>· <![endif]>Field width is the same, but delivery different. The Zeiss' field tails off more sharply at the edge, but has a larger sweet spot that I prefer.
<![if !supportLists]>· <![endif]>The Victorys are a little brighter, day or night, even with 1mm less aperture. The view seems a little more vivid and sparkling, too.
<![if !supportLists]>· <![endif]>These Kowa 8x33s exhibit even less chromatic aberration (though the Victorys suppress false colour very well).
<![if !supportLists]>· <![endif]>The Victorys have a critical bit more real-world eye relief (just a millimetre or two) that makes them more comfortable with glasses.
<![if !supportLists]>· <![endif]>The Victorys' focuser is lighter and easier to use, the wheel larger and handier.
<![if !supportLists]>· <![endif]>Inevitably the Zeiss will hold their value better and be easier to get serviced down the line. The Victory range is famously tough too.
<![if !supportLists]>· <![endif]>At their most heavily discounted, these Kowa's can be had for less than half the minimum price I could find on the Victorys.
For a one-off trip I'd buy the Kowa XD33s, if sufficiently discounted. For regular use, I would go for the Zeiss 8x32 FLs.
Summary
Kowa's Genesis 8x33s are an excellent pair of compact binoculars. But in some ways the devil is in the detail. First glance suggests they are full-on alpha-class; close inspection reveals they're not – quite.
The view gives a little away to the very best. It is as wide as any in its class, super-sharp and full of contrast in the centre of the field. Correction of false colour is simply the finest. But whilst the field is quite flat overall, the perfect sweet spot is quite small. Ghosting suppression isn't state of the art, either.
If the view is mostly excellent, design and build aren't far behind. These Kowas are about 1.5cm taller and 40g heavier than the smallest and lightest premium 8x32 models, but are still light and compact by class standards – smaller than Swarovski's ELs, lighter than Zeiss' Conquests and Nikon's HGs and EDGs. Finish is very good, with nice armour and an overall look and feel of quality.
Downsides? Really just three: the focuser, eye relief and field flatness. The focuser could do with being more fluid to cope with the snappy optics and is a bit too stiff for quick focus changes. Eye relief is just too tight to be comfortable with glasses. That small sweet spot degrades the overall view a bit.
So should you buy a pair? Inevitably that comes down to price. At the full list price, I'd be tempted to stretch a few hundred pounds further to the Victory FLs or Swarovski ELs, which are better binoculars overall. But at commonly available discounts, the Genesis 8x33s are an unbeatable combination of a really good view and a mid-range price – the perfect travel bino', in fact.
Kowa's Genesis 8x33s are recommended, especially if you view without spectacles: they give a near-premium view at a mid-range price.