LOMO

Astele

70mm

Maksutov

Review
<![if !vml]>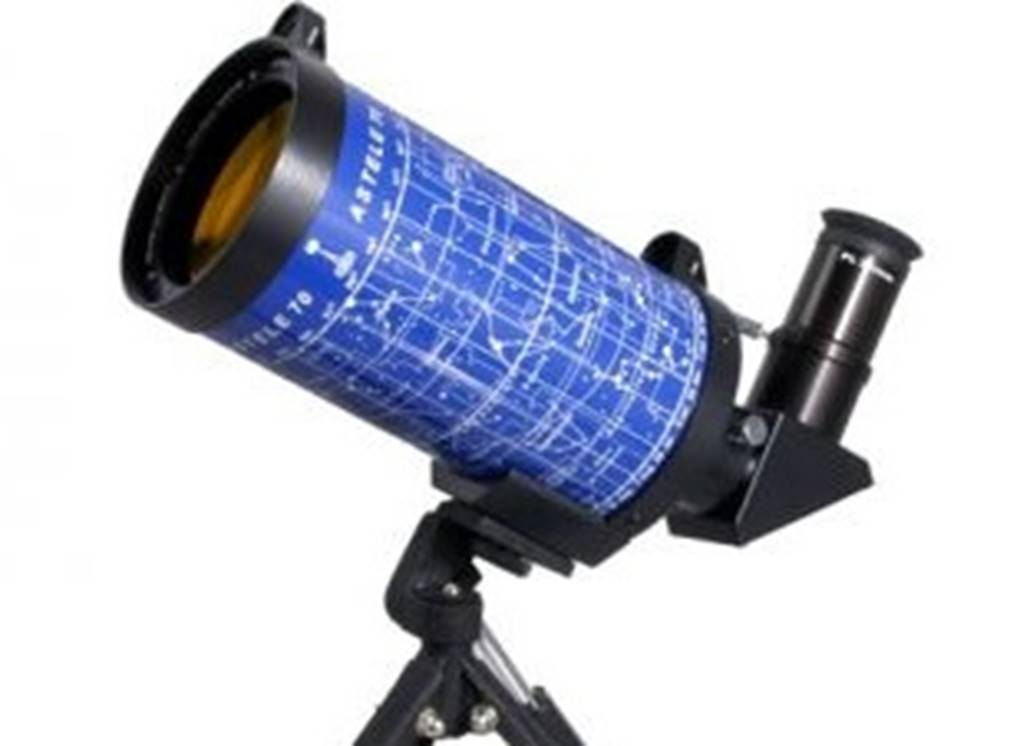 <![endif]>
I guess a lot of readers of this website travel for business and if you're away a lot, one of the many frustrations is that you can't observe, even when you get some free time. This is particularly annoying if it means missing some event like a solar or lunar eclipse, a transit, or an occultation. The answer, of course, is a tiny scope that can go with you. My experience is that if it's going to stand any chance of being lugged along with suits and laptop, a scope has to be really small and the Lomo 70 is just that: about eight inches long and a couple of pounds in weight.
LOMO are a long-established Russian maker of Maksutovs ranging all the way up to big semi-professional stuff. The 70mm is their second smallest (there's a 60mm as well) and probably the entry level for astronomy. It's a truly tiny scope, significantly smaller than a Tele Vue TV-60 (one of the very smallest refractors), and fits in a little case about the same size and shape as one for an electric shaver. Even the smallest photo tripod will carry it. On the face of it, then, an ideal travel scope for when there just isn't room for anything much bigger than bino's (i.e. most business trips).
At A Glance
| | |
| --- | --- |
| Telescope | LOMO 70mm Maksutov |
| Aperture | 70mm |
| Focal Length | 880mm |
| Focal Ratio | F12.5 |
| Central Obstruction (incl. holder/baffle) | 40% by diam |
| Length | ~200mm |
| Weight | ~1Kg |
Data from Me.
<![if !vml]>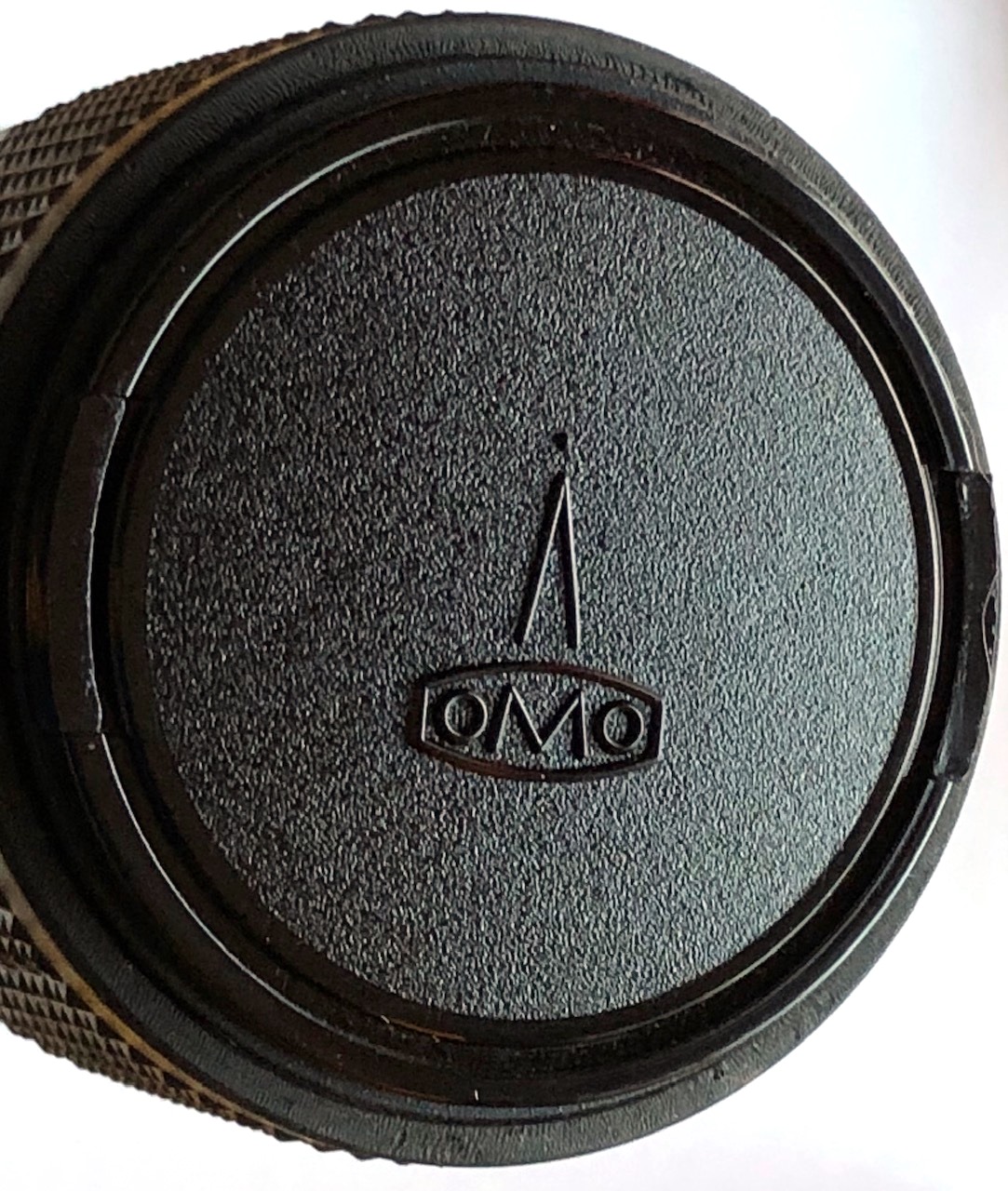 <![endif]>
Design and Build
There are two makes of Russian army truck you see everywhere in Siberia – Kamaz and Ural. These trucks are massively engineered in the nothing-fancy Soviet style and impressively rugged. The little Lomo is a bit like that, in spirit if not in size: I get the impression it was originally designed as an army spotting scope.
It's worth noting that a lot of the mil-spec optical devices made in the USSR for the military and hunters ended up sold to western consumers in the early years after the Wall fell. Many of these are like this LOMO – beautifully and ruggedly engineered, with decent optics that don't quite match the engineering. I have personally owned two folding telescopes and one monocular from this post-Soviet optical diaspora. The monocular was a close relative of this LOMO 70.
It's also worth noting that LOMO made the triplet objectives for two of the finest 80mm apochromats – the 'TMB' 80/480 and 80/600 once marketed by APM and also found in William Optics OTAs – so they certainly can make excellent optics.
Optics
The little LOMO is a conventional Gregorian Maksutov with the secondary mirror as a silver spot on the inside of the corrector plate. The secondary obstruction is on the high-side at 40% by diameter. Focal length is 880mm (F12.5). The integral visual back is 1.25" and you can't fit a 2". Focusing is by moving mirror. All just like a Questar, then!
Look in the front and the corrector appears properly multicoated and held in by a machined locking ring inscribed with the optical spec'. A long, very finely machined baffle tube protrudes from the main mirror: tapered to match the light cone and micro-ridged on the inside to further prevent scatter. Nice.
Tube
The body, including the visual back, is milled from a solid billet of aluminium. The whole OTA is coated in grey knobbly powder coat. Even the thread-on dew shield is aluminium and nicely coated with flat black on the inside. The metal focusing knob on the right side is metal too and its action is superbly smooth and precise. The dust cap is the only plastic item, but it's well made, clicks firmly into place and has a little Lomo logo in the middle.
Look into the visual back and you see only finely machined, anodised parts. The overall impression here is of a beautifully engineered little telescope.
The only let-down, if you can call it that, is the faux-Questar stick-on star map 'round the tube: it's of no practical use and looks tacky. Overall though, top marks for fit and finish. Rip off the star map, paint the tube lime green and you'd almost think it was a Takahashi. Someone has been to a lot of trouble over the construction of this telescope. If designed from scratch and built in the West, this level of quality would be expensive indeed.
Accessories
The scope comes with a cheap-but-ok mirror diagonal, a generic (Chinese?) 25mm eyepiece giving a mag' of 40x and a nice screw-on dewshield, all of which fit in the tiny case with the OTA.
The finder is a simple gunsight with holes you line-up and there is no shoe to mount a red dot (more on that later).
Mounting
There is an integral mounting plate on the bottom of the OTA with a ¼-20 threaded hole for a photo tripod. This little scope is obviously so light and short it will be reasonably stable on the lightest and flimsiest of photo tripods – a big advantage for easy travel.
In Use - Daytime
I first used the little Mak as a spotter, taking it up onto the hill behind the town where I live and scanning the villages across the Bay. I'm reminded of how small it is. Unlike a typical small refractor, there are no extension tubes to make it longer in use. Even so, the moving mirror system gives enough back-focus to use the Plossl straight through if you want.
Sighting onto things is quite easy in daytime by aligning the rings of the gunsight. The 25mm Plossl gives a mag' of 40x with lots of eye relief and reminds me that a long focus instrument like this can give good magnification with simple eyepieces. The daytime view is nice – crisp and sharp, better than many terrestrial spotters at this sort of magnification. I can read the name of a pub three miles away.
As I said before, I think this was designed as a spotting scope (with all that careful machining subsidised by the Russian military) and in that role it works well, but... read on.
 In Use – The Night Sky
General Observing Notes
At night everything changes. Now it's impossible to see the little rings you have to line up in the gunsight and finding things is made even harder because of the small field of view – the downside of F12.  This scope desperately needs a finder, but there is nowhere to put one. I tried sticking a red-dot finder to the back of the OTA, but it would never stay put on that knobbly paint for long. Finding anything apart from the Moon becomes a torture of sweeping back and forth. One possible fix I haven't tried is to paint the gunsight rings with luminous paint.
The Moon
Most tiny scopes end up mainly used on the Moon I reckon and an obvious use for this little Maksutov is eclipses, both lunar and solar.
Testing the Lomo on the Moon, I'm using it alongside a MiniBorg – a tiny 50mm achromat – and the contrast (literally) is amazing: at F5 the Borg needs no finder and using it is very easy compared to the Mak. What's more, now the views from the little Russian scope are less satisfying than during the day. The Moon just seems sharper and more contrasty in the refractor, with sharper edges and darker shadows. The Maksutov seems soft by comparison and offers no more detail, despite the larger aperture.
Planets
On other subjects the situation is worse. Try as I might I can't make out Saturn's Cassini division in the little LOMO. At least the view in the Borg is much sharper and more appealing.
In the end, the principal astronomical use I found for the LOMO was a bit of  "sidewalk astronomy" outside the office, watching both the recent Mercury and Venus transits using simple eyepiece projection, a purpose for which the long-F Mak is well suited (although finding the sun was a bit of a challenge). Quite a few colleagues gathered around and really enjoyed seeing that little black dot edge its way across the photosphere. In this respect the little Lomo did its job as a travel scope and reminded me of what could have been if its optics had been better.
<![if !vml]>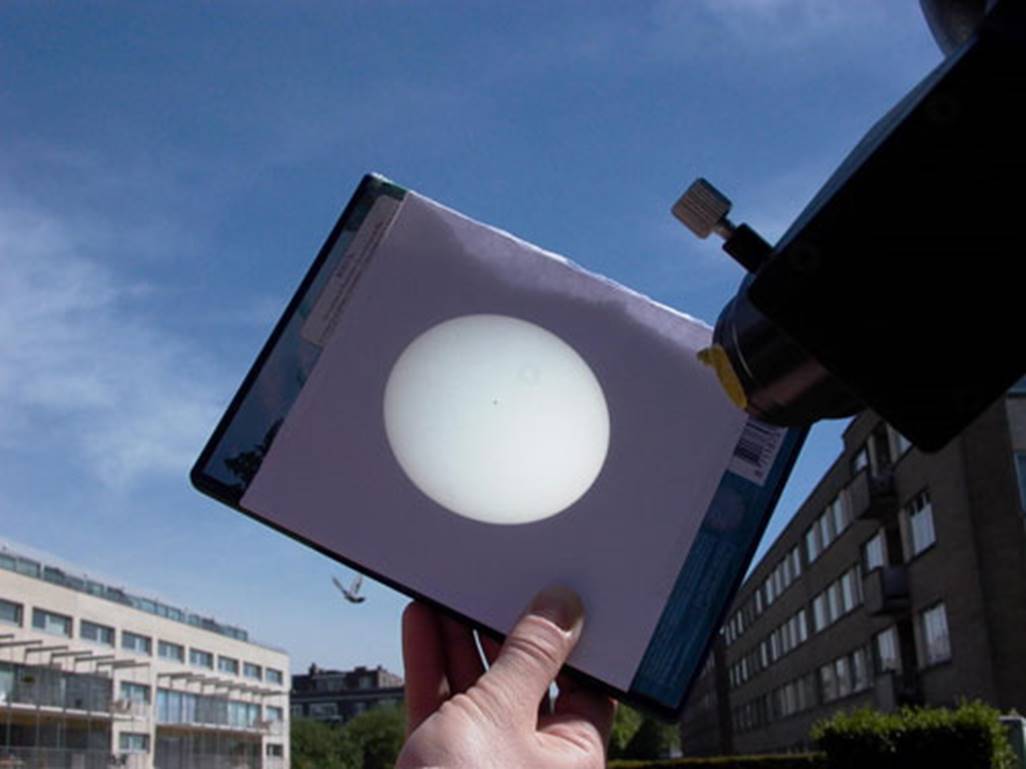 <![endif]>
Transit of Mercury in 2003, projected by the Lomo (outside my apartment block in Brussels).
Deep Sky
The only DSO I looked at was M42. Whereas the Orion Nebula is a beautiful mass of swirls under my dark skies in the Mini Borg, in the Mak it is dim and dull. I end up abandoning the Lomo and using the Borg for the rest of the night.
Star Test
A star test (when I eventually find one!) reveals the problem –the optics are miscollimated, not badly, but enough to spoil things a bit. There appears to be no way to adjust them (unlike the 95mm version) and an email I sent to Lomo's support address (translated into Russian) asking for collimation instructions never received a reply. As a result, this scope is of somewhat limited value for astronomy.
Summary
What a shame! This is one very nicely made scope and it seems crazy to lavish such care on its manufacture only to ruin it with badly aligned, non-adjustable optics and no after sales service. I'm pretty sure they are not all like that, though, and if you can find a good used one (they are no longer imported, I believe, though Lomo still makes them) then it could make a nice last-a-lifetime travel scope. However, carefully star-test it first and then be prepared to drill some holes to mount a finder!
Note: I have a smaller LOMO spotter that was clearly made in the same factory, with very similar styling and build. It too is a mechanical marvel spoiled by rotten optics.
Cautiously recommended, if only for its beautiful build quality, but only if you find a good one.