10x50 is the classic astronomy format and Leica's Ultravids have long been amongst the best 10x50s. How does the HD-Plus update compare with newer market leaders like Swarovski's 10x50 ELs?
Leica Ultravid 10x50 HD Plus Review
<![if !vml]>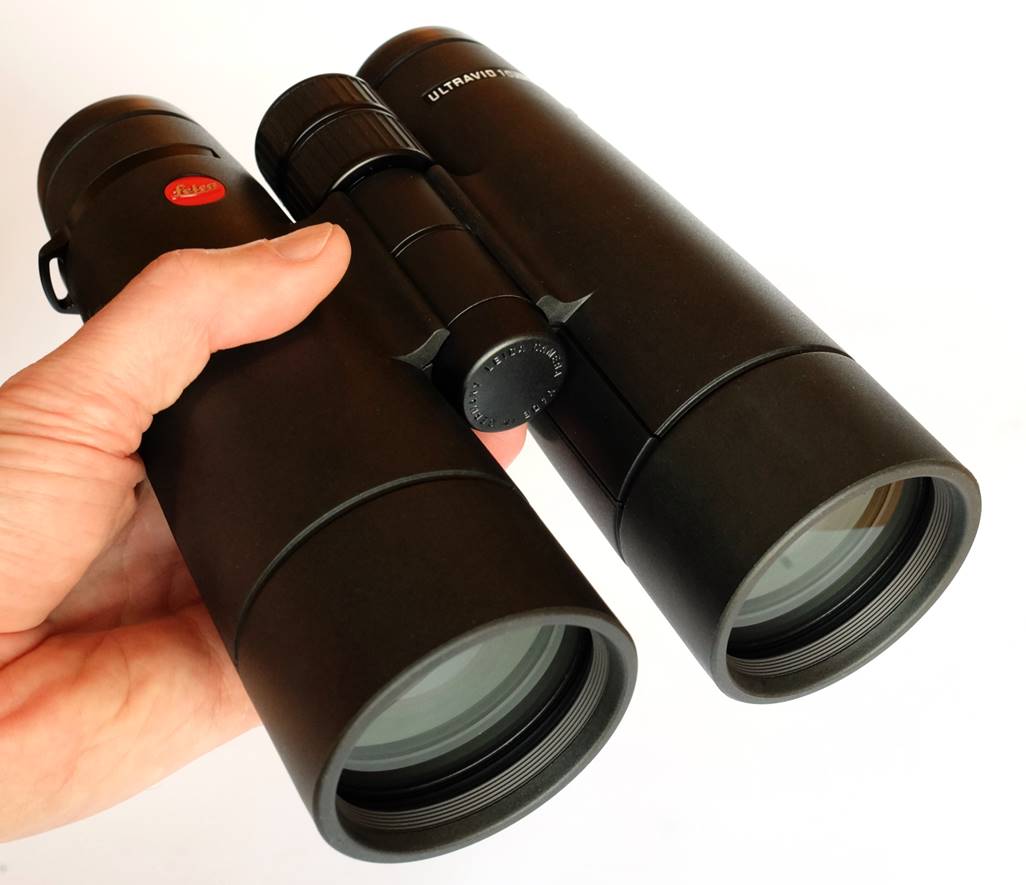 <![endif]>
If you want a single high-quality binocular that will do everything from nature viewing to astronomy, then you'll want to consider a pair of premium 10x50s. With enough light-gathering for finding fainter deep sky objects, but compact, light and stable enough for birding, the 10x50 size is a great all-rounder… but only if it's done well. And there's the problem.
For such a classic size, there are relatively few high-quality examples made now. My favourites have long been Swarovski's EL 10x50s, but now that Leica have released an HD-Plus update to their Ultravids, how do they compare? As always, let's find out…
At A Glance
| | |
| --- | --- |
| Magnification | 10x |
| Objective Size | 50mm |
| Eye Relief | 15mm claimed, ~14mm measured |
| Actual Field of View | 6.7° |
| Apparent field of view | ~63° |
| Close focus | ~2.5m |
| Transmissivity | ~92% |
| Length | 178mm |
| Weight | 1010g |
Data from Leica/Me.
What's in the Box?
<![if !vml]>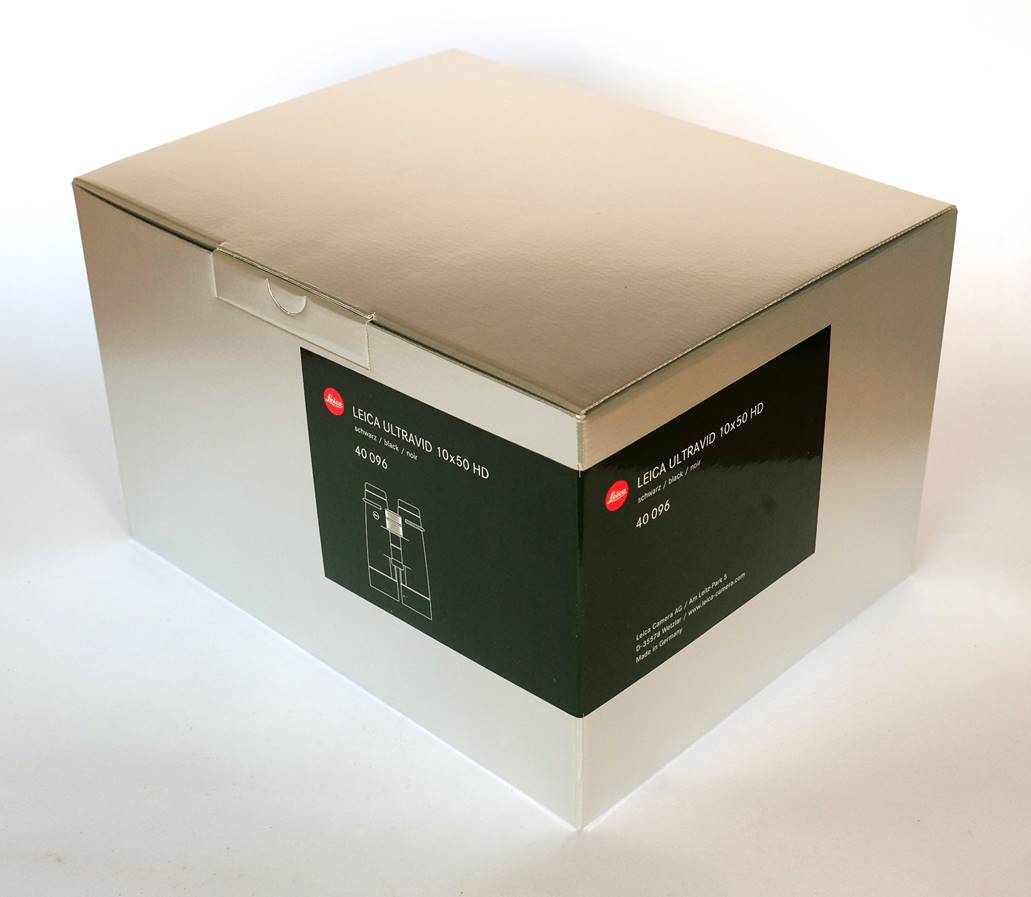 <![endif]>
<![if !vml]>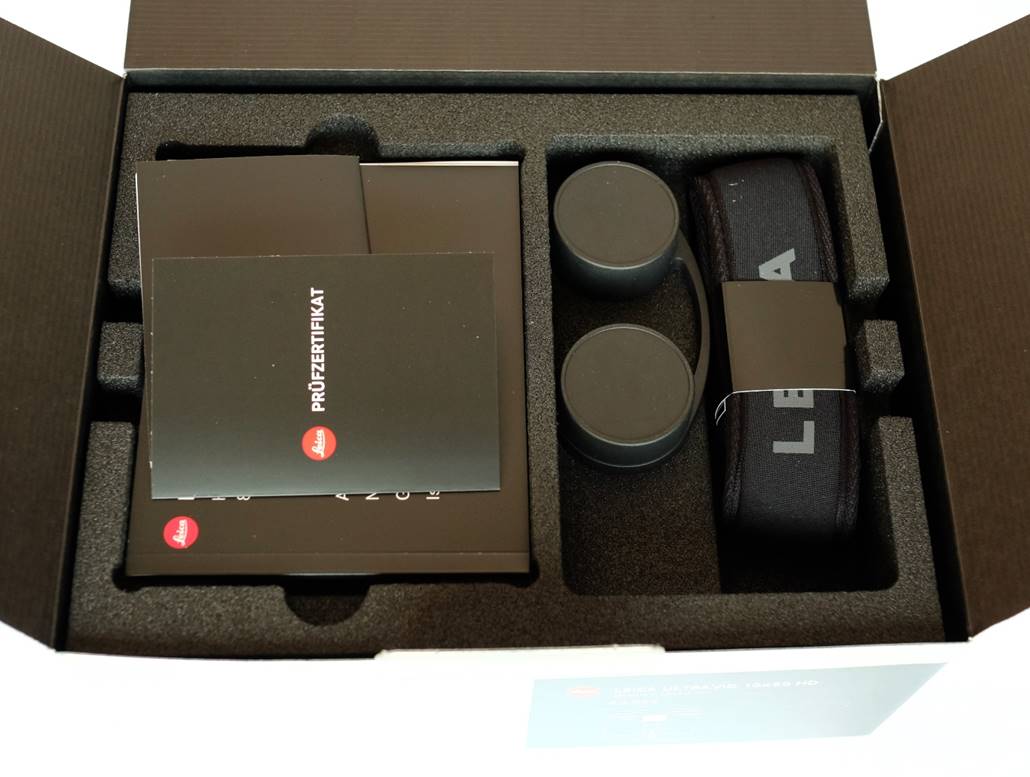 <![endif]>
<![if !vml]>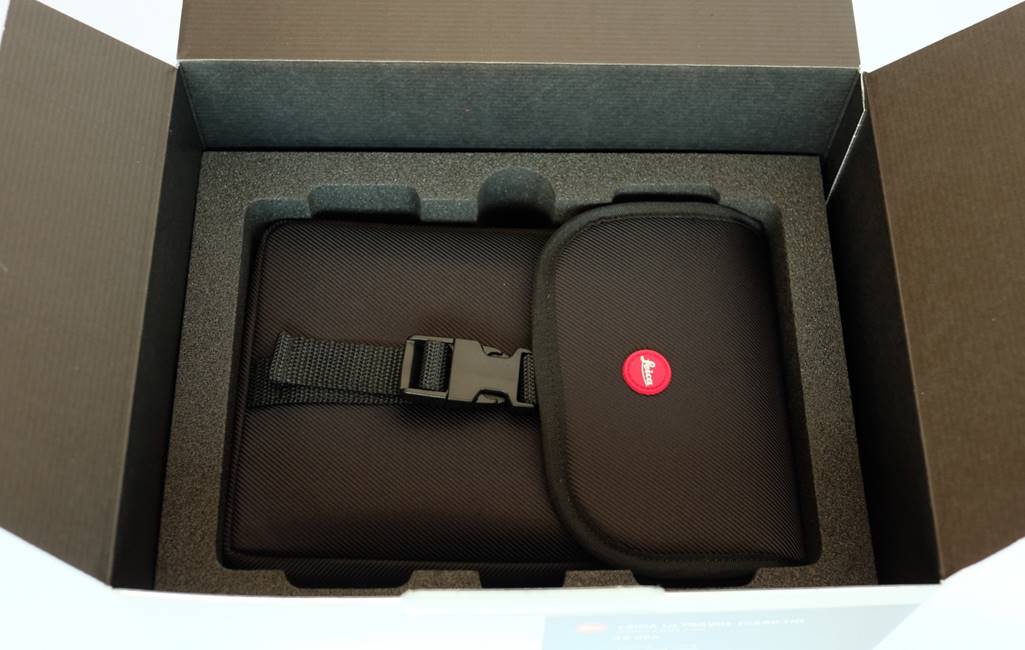 <![endif]>
<![if !vml]>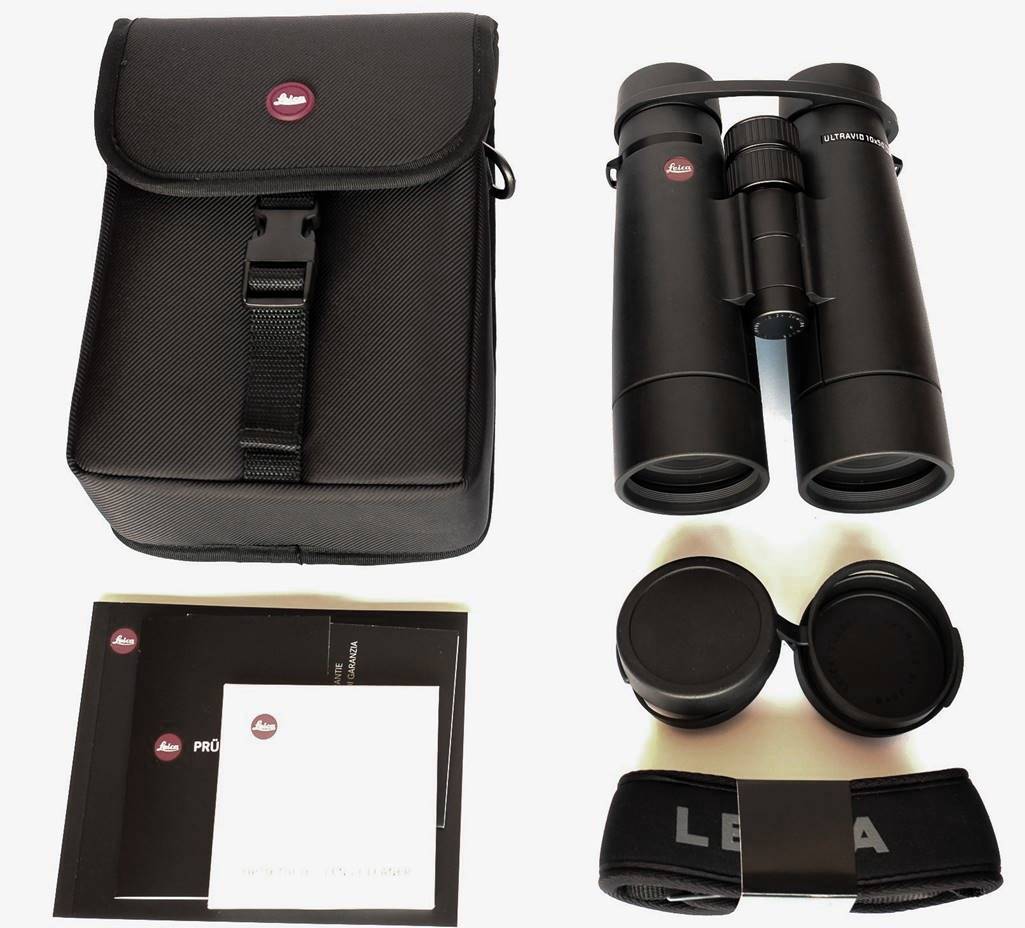 <![endif]>
Design and Build
Leica's Ultravid range have evolved over the years, rather than undergoing a revolution like Swarovski's ELs and SLCs. The previous HD version was a big step forwards in controlling false colour, though, and this HD Plus model updates it with tweaks and fixes. But much remains the same, from the long, elegant barrels to the dual focuser/dioptre knob and thin black armour. Confusingly, this latest HD Plus version is distinguished from the previous HD version by a red 'HD' etched in the model ring.
All the latest Ultravid 32mm and 42mm models now have that red 'HD Plus' label, with the most significant differences including improved focusing and the use of special high-transmission Schott glass.
The Ultravids are a 'conventional' binocular, unlike the latest Noctivid which has the open bridge pioneered by Swarovski, along with more eye relief and a flatter field. Just like Zeiss and Swarovski too, Leica now effectively have two parallel 'premium' ranges – one open bridge and flat-field, the other more conventional of both body and view.
Body
The Ultravids have a slim body and thin armour to give them (in my view) a more elegant and stylish look than the chunkier offerings from Zeiss and Swarovski. The body benefits from magnesium construction for light weight and ruggedness. They certainly look compact for a 10x50, but in fact weight at ~1Kg is the same as the equivalent Swarovski's 10x50 ELs.
That thin and elegant armour is also both more rubbery-smelling and fluff (and print) -attracting than Swarovski's synthetic armour.
Otherwise, external build quality is just as good as it gets and it's interesting to note that I haven't come across QA fails with Leica binoculars the way I have with some recent Zeiss. Incidentally, I prefer the styling of the Ultravids, with their classy double-focuser and exposed metal bands with etched serial number, to the simpler (and in some areas cheaper-looking) Noctivids.
Those tapering barrels have deep thumb-sculpts in the back, much closer to the eyepieces than the Swarovski equivalents. They tend to enforce a palms-up, rearward hold that works in the day but for astronomy not so much.
<![if !vml]>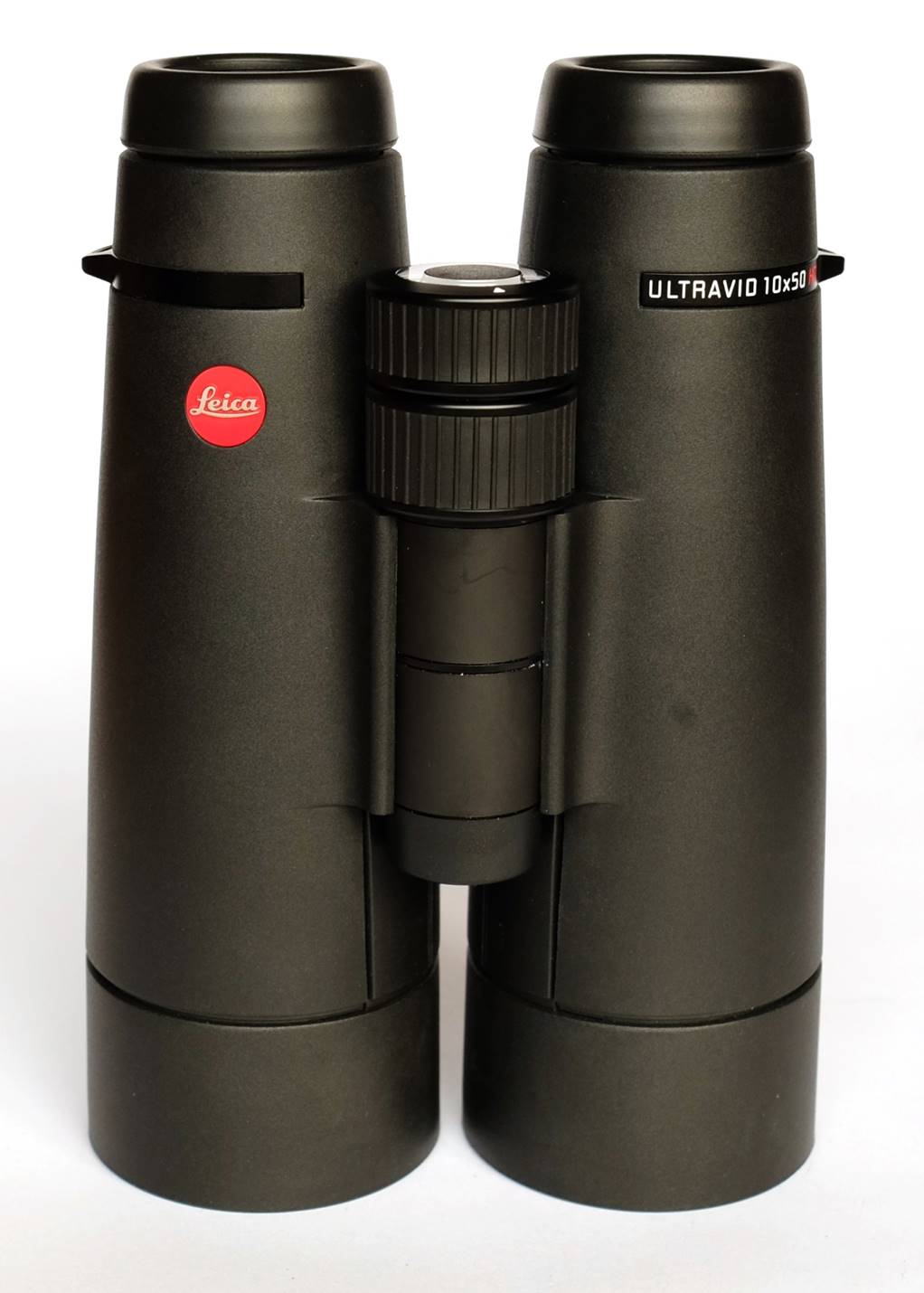 <![endif]>
<![if !vml]>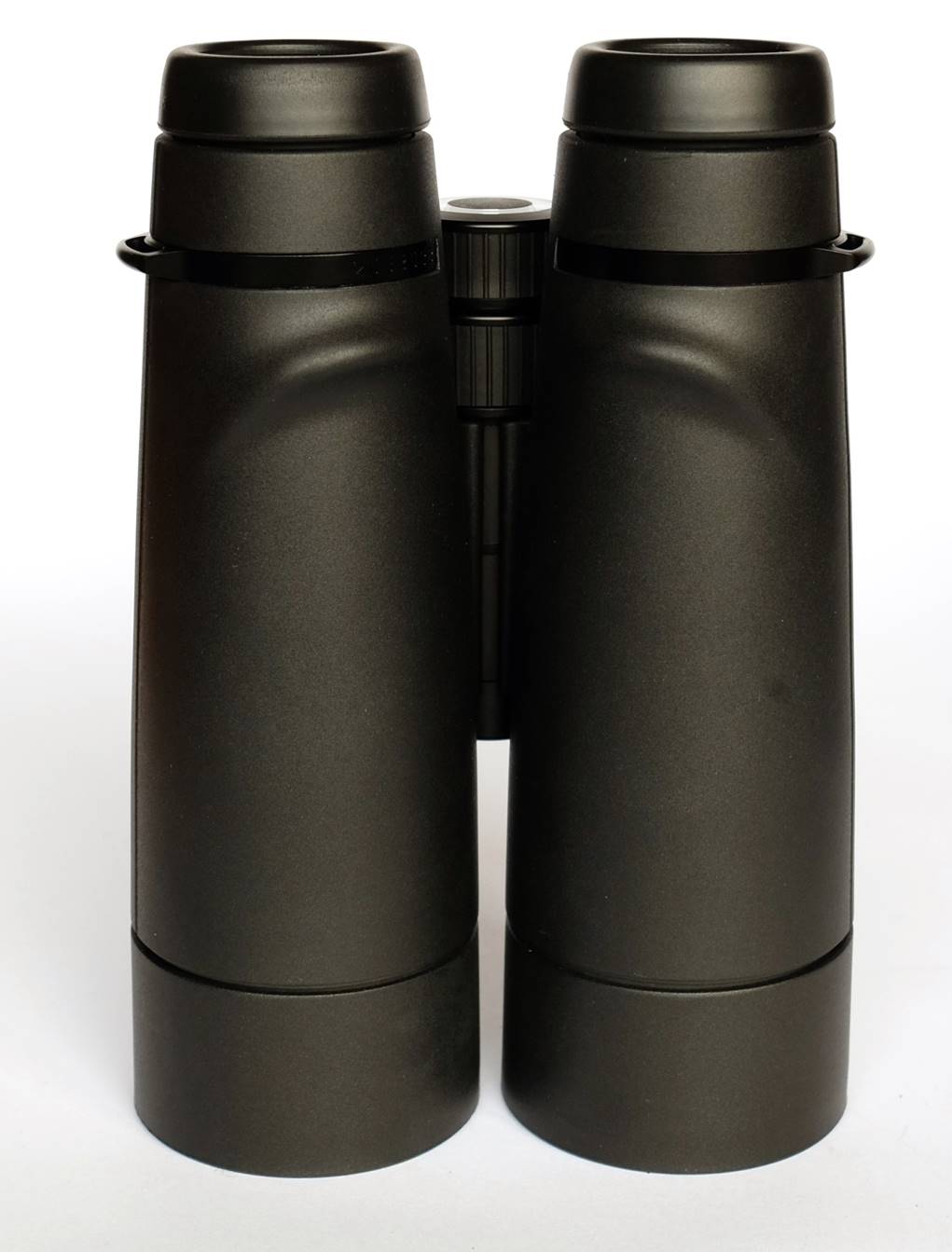 <![endif]>
<![if !vml]>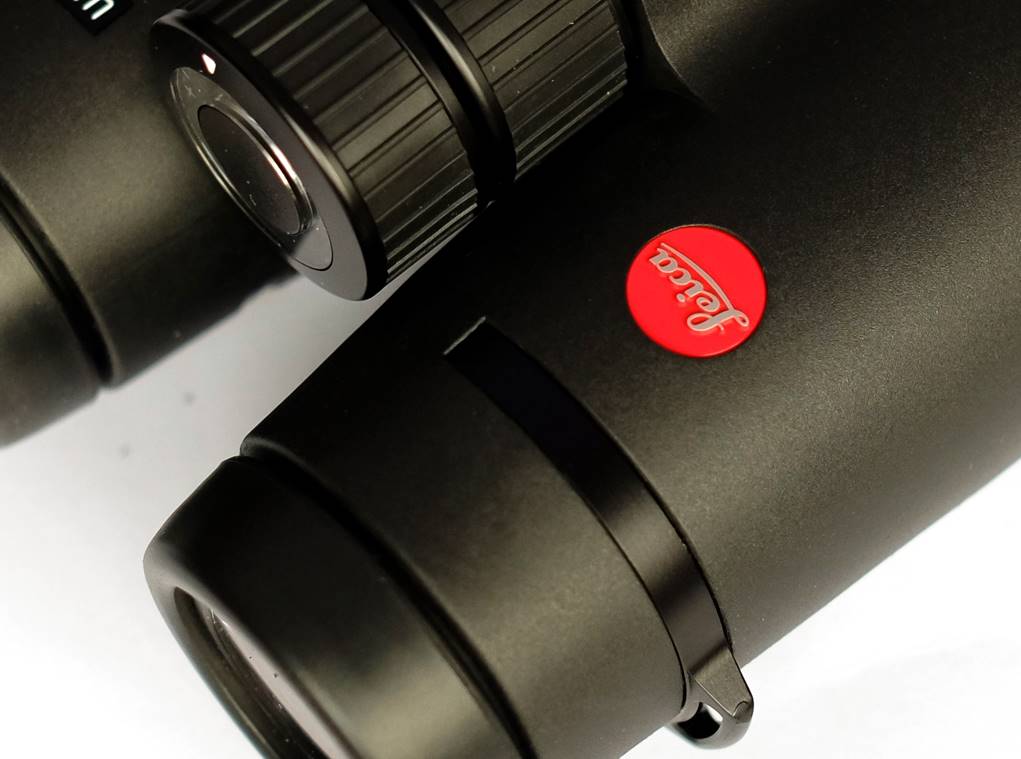 <![endif]>
<![if !vml]>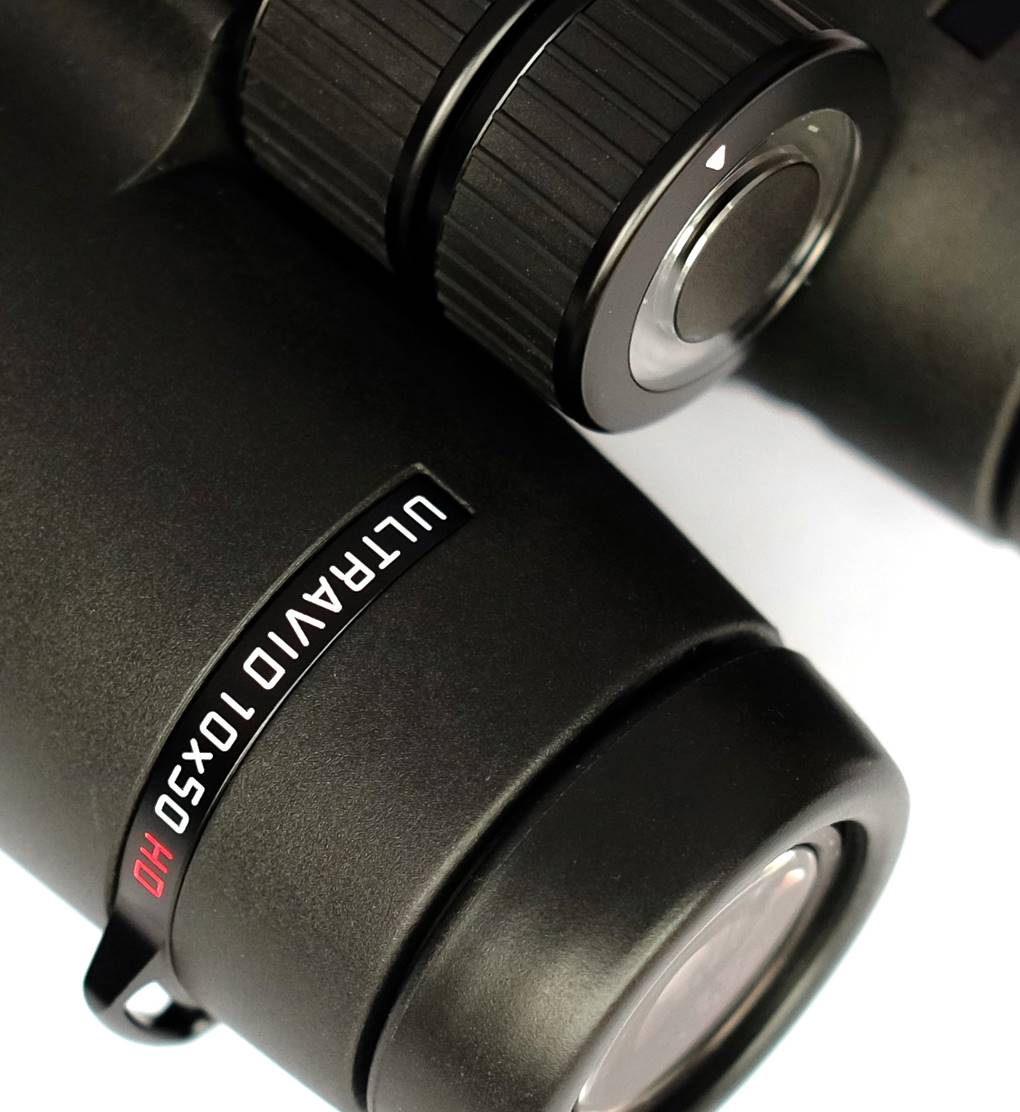 <![endif]>
Focuser
One of Leica's targeted improvements for HD-Plus is the focus action and it's worked. The focuser is smooth, light and precise. You can tell this is a greaseless focuser – it's not as oily smooth as Nikon EDG's for example – but it is every bit as good (if a little lighter than) a Swarovski focuser. The previous model's 'stiction' and dry feel is gone. Close focus of about 2.5m to infinity takes about one and a quarter turns – quite fast enough to follow birds on the wing.
Like earlier Ultravids, the eyepiece side of the two-part focuser snaps out to adjust dioptre. It's an excellent mechanism. The click-out is light but positive, adjustment very light and fluid but accurate. There are no click-stops, unlike Swarovski's ELs', but the focuser knob includes a handy scale.
<![if !vml]>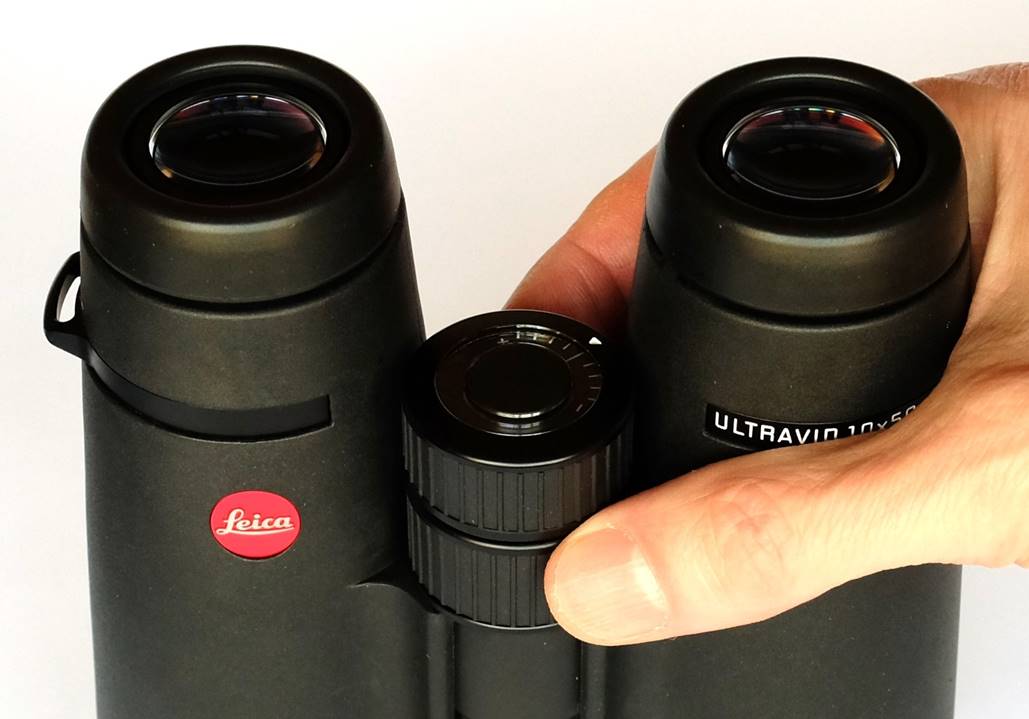 <![endif]>
<![if !vml]>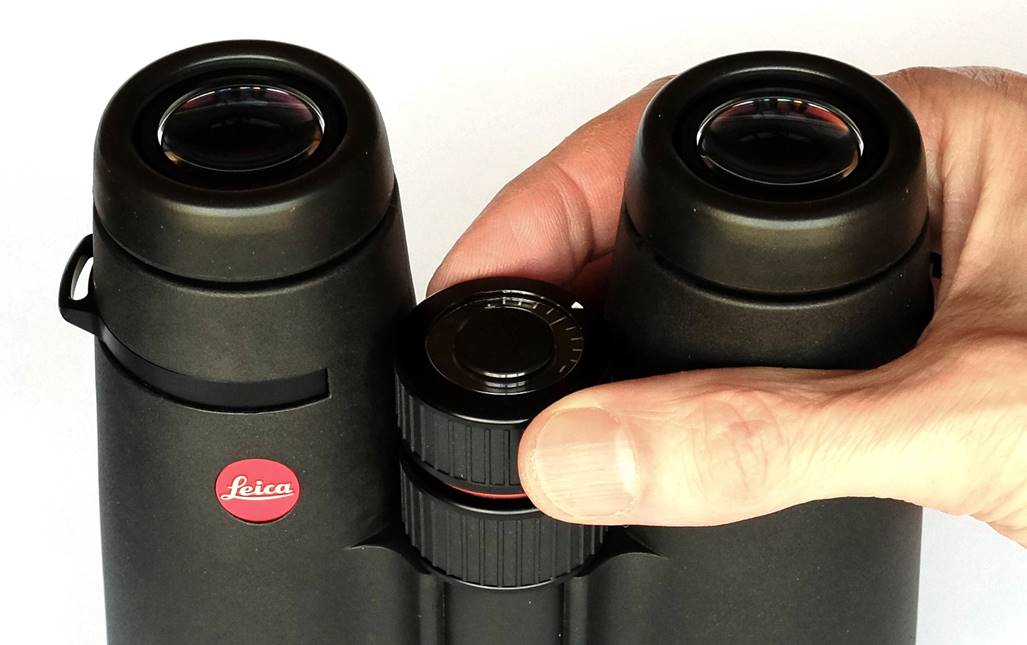 <![endif]>
Optics - Prisms
The Ultravids have the now-usual Schmidt-Pechan (a.k.a. Roof) prisms, not the mirror-less Abbe-König prisms found in Zeiss Victory HTs and some Swarovski SLCs. This means that, despite dielectric mirror coatings (Leica's 'HighLux-System HLS'TM), they lose a few percent of light transmission compared with those models.
Optics - Objectives
The HD-Plus Ultravids appear to have a triplet objective and a further focusing lens, just as before. Also like the previous HDs, they contain an element made of fluoride-rich ED glass to help control false colour fringing (chromatic aberration) – something that has always troubled higher-power, larger-objective binoculars. It is these ED glass elements that give modern binoculars their 'HD' tag – less colour fringing means a higher-definition view of high-contrast subjects. False colour correction seems improved over the HD model and it is possible that the HD Plus update adds a second ED element, but don't quote me on it.
The lens coatings are typical Leica – a muted pinkish green. They are a different hue to Swarovski's or Zeiss', but transmissivity looks as good if not slightly better. They have the scratch-resistant and water- and dirt-shedding properties common to coatings from all the premium brands nowadays; Leica call their version, 'AquaDuraTM'.
Internal build quality is as good as it gets, with several proper knife-edge baffles behind the objectives to control stray light and improve contrast, not just the machined-in ridges you get with cheaper models. All internal castings are flat-black painted and again quality looks outstanding.
<![if !vml]>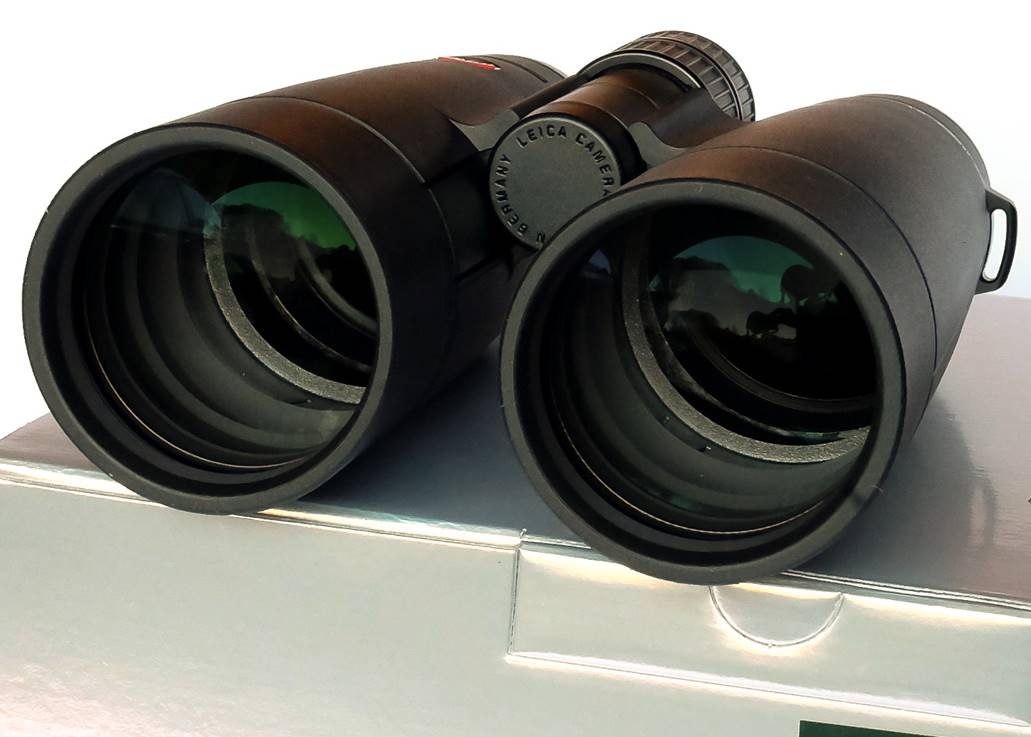 <![endif]>
Barrels are baffled against stray light.
<![if !vml]>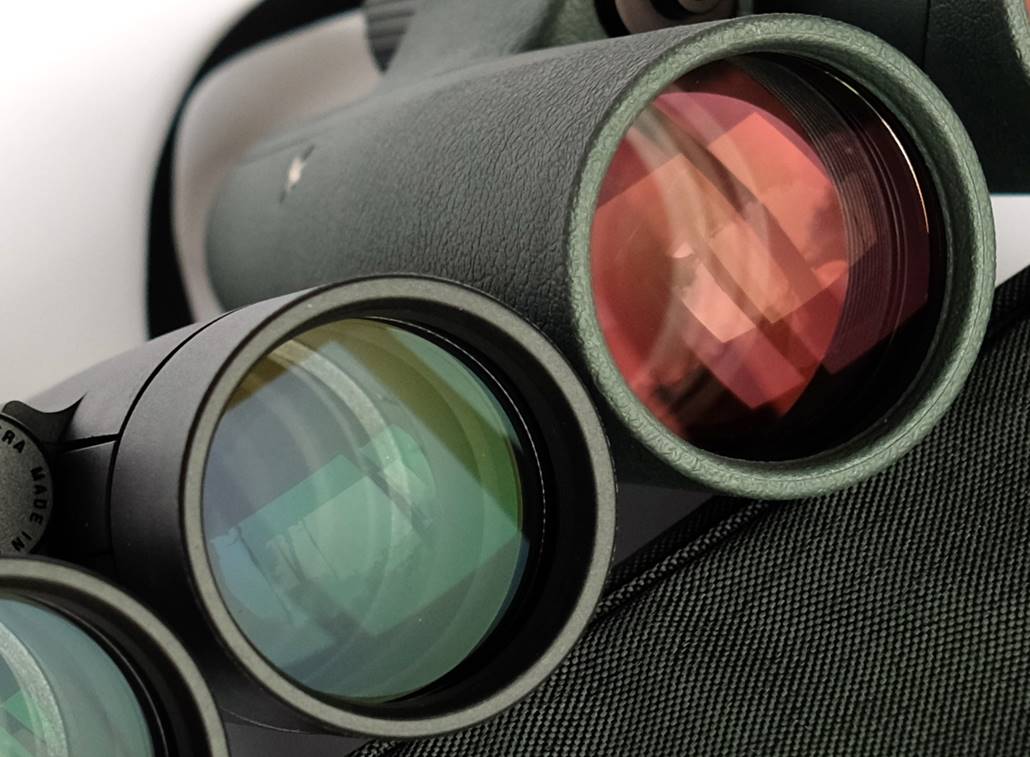 <![endif]>
Leica Ultravid HD Plus and Swarovski SLC HD coatings compared.
Optics - Eyepieces
The eye lenses are moderately large, but not the glass dinner plates you get with the Noctivids (Zeiss SFs and Swarovski's ELs too) and they are flat, not heavily dished like the ELs'.
Field of view is very good for a 10x binocular at 6.7° true (117m at 1000m), exactly the same as the 8x model and even slightly more than Swarovski's EL 10x50s (though the usable field is less due to off-axis aberrations as we will see).
Claimed eye relief, probably measured from the eye lens, is 15mm. Actual eye relief, measured from the rim of the eye cup, is slightly less.  That's too little for me to see the full field with my chunky-framed specs on, but quite usable, unlike the 12x50 model which has a very tight 12-13mm (that extra couple of millimetres makes quite a difference to comfort with specs).
The eyecups are stiffer and less slickly positive than typical Swarovskis', but better than the 12x50s' I reviewed a few years back. Still, they are too soft and tend to deform and re-seat incorrectly.
The eyepieces suffer a little more from kidney-bean blackouts (spherical aberration of the exit pupil) as you move your eye around than the very best.
<![if !vml]>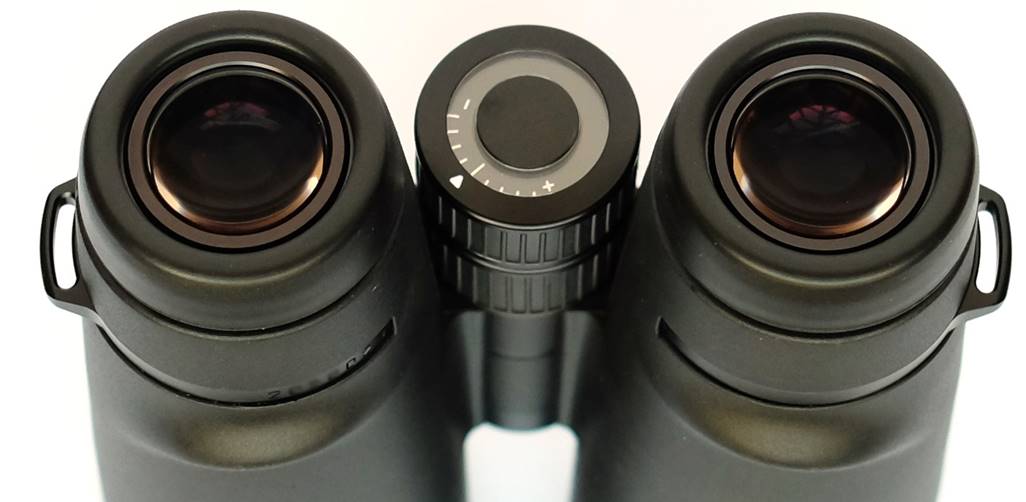 <![endif]>
<![if !vml]>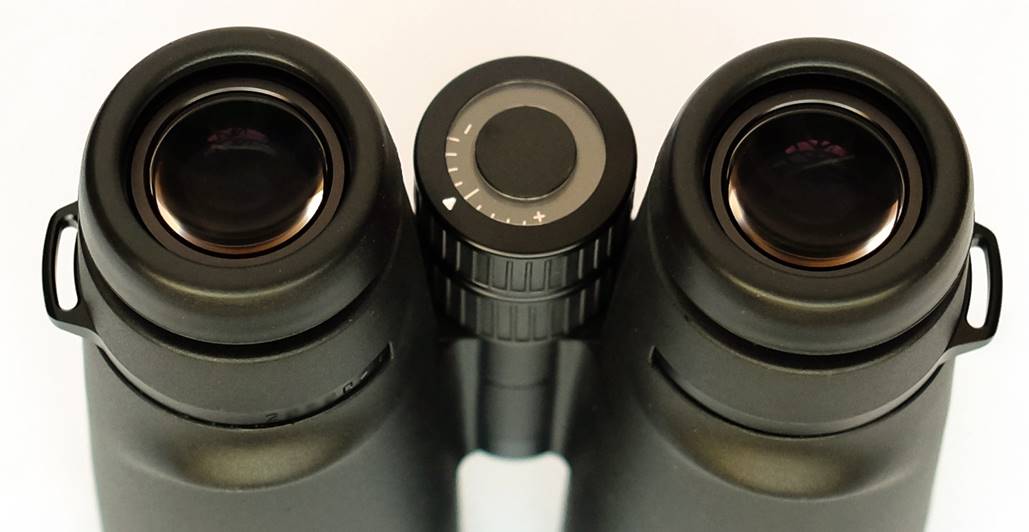 <![endif]>
<![if !vml]>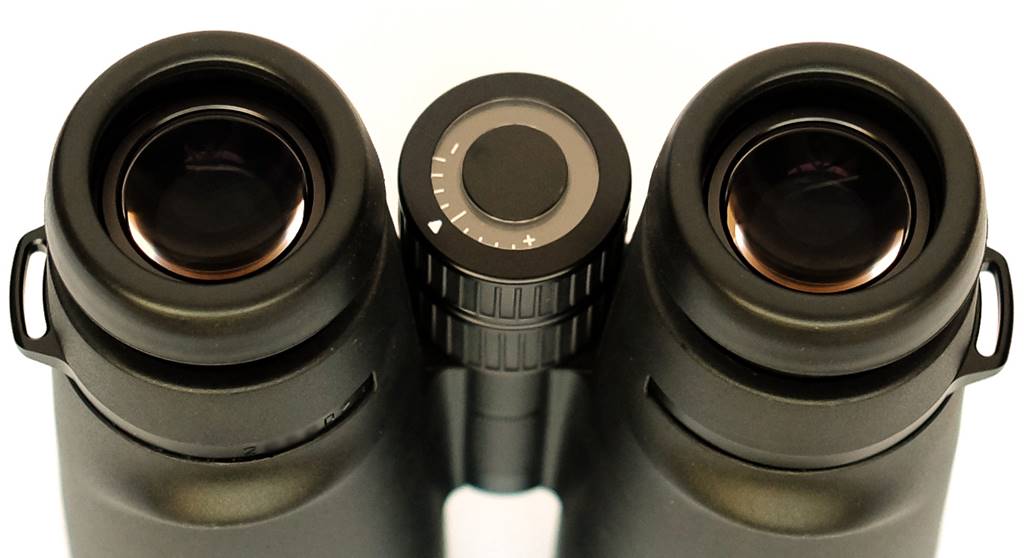 <![endif]>
<![if !vml]>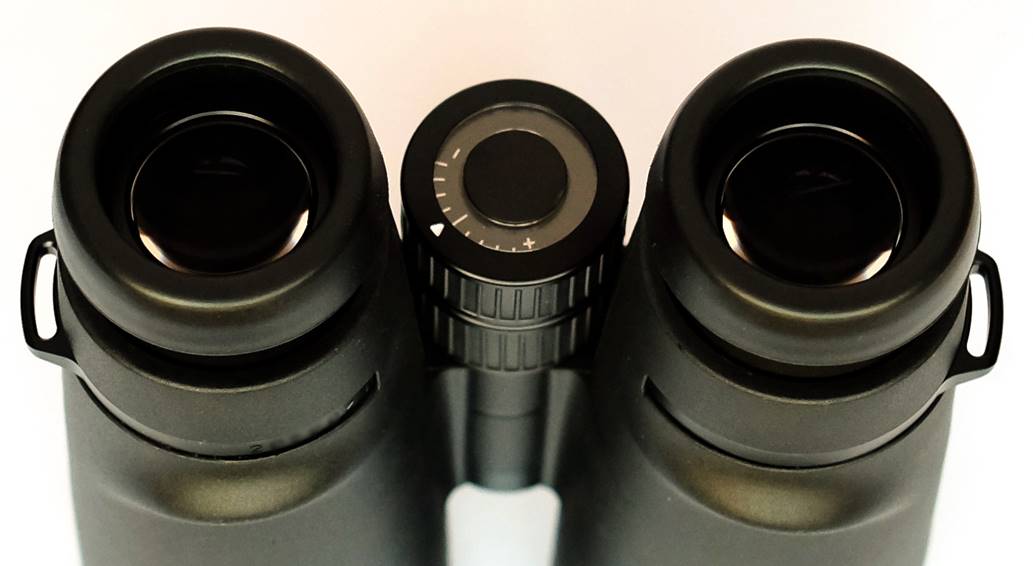 <![endif]>
Accessories
The Leica Ultravids have a rather cheap-looking cordura case that is exactly like Zeiss' old Victory FLs' and less luxurious than the Noctivids' slim and tapered case or the Duovids' leather one.
The strap is typical Leica, not the equivalent of Swarovski's easy-adjust 'Lift' strap or swivel-mounted premium 'FieldPro'.
Objective caps are again conventional band-on, not the integrated ones that some now offer.
<![if !vml]>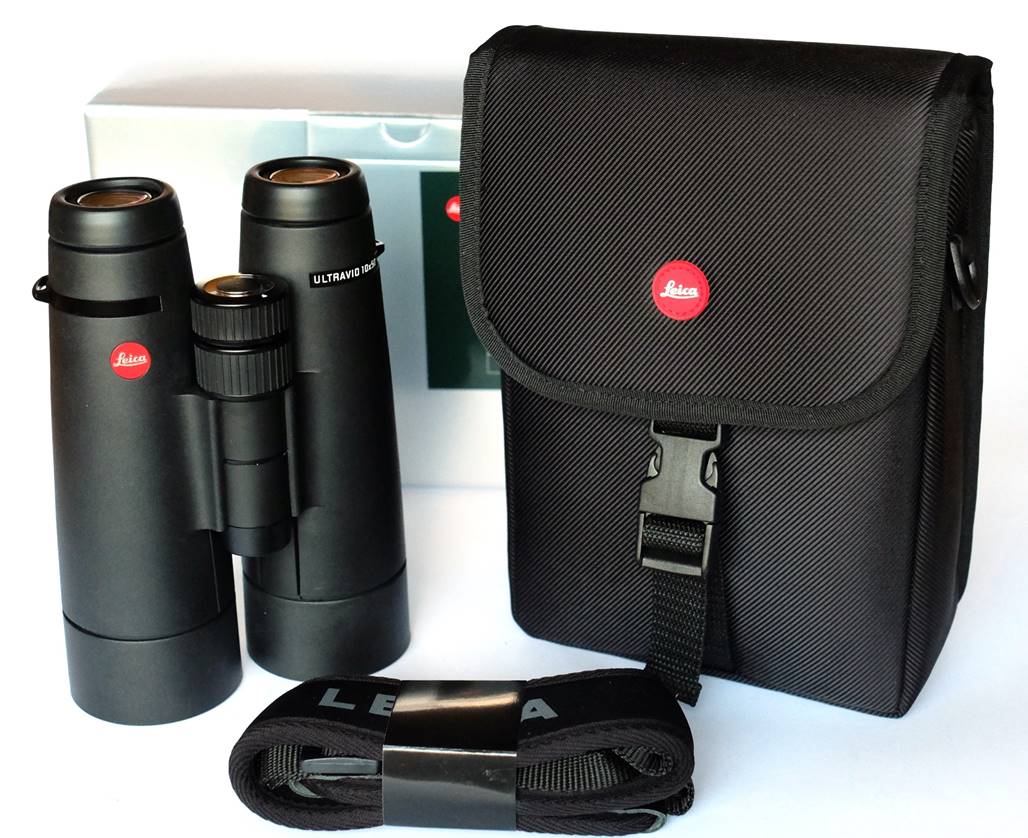 <![endif]>
<![if !vml]>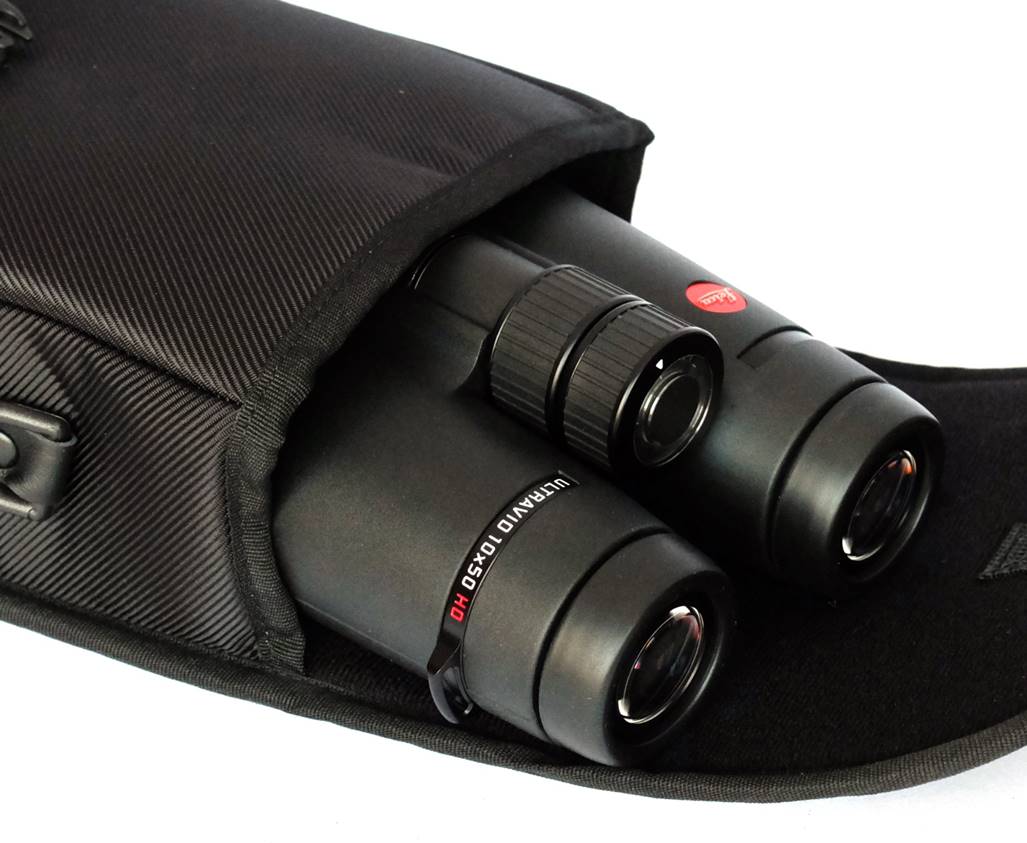 <![endif]>
<![if !vml]>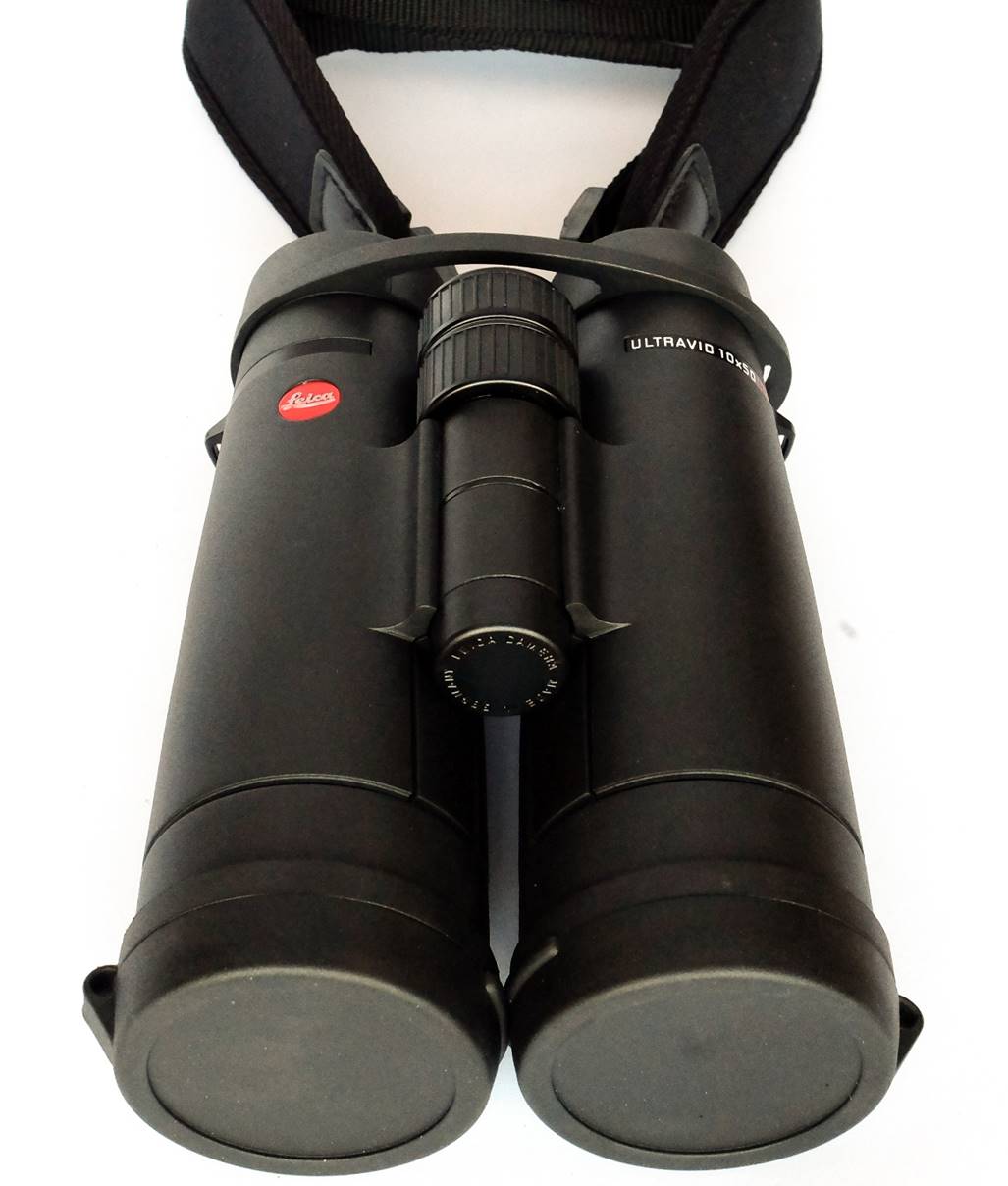 <![endif]>
In Use – Daytime
Ergonomics and Handling
Handling is excellent. They are not open bridge, but those deep sculpts, set close to the eyepiece give perfect comfort and balance for me. Held that way, with the Ultravids resting on my palms, the focuser comes easily under my finger and everything just feels right. It's a perfect daytime hold.
The Ultravids feel much lighter than my 56mm Swarovski SLCs, even though the scales reveal just 150g difference.
The focuser is generally good with a light and yet smooth, precise action. The peerless optical quality makes for very snappy focus and the action makes perfect focus easy to find.
Dioptre is very easy to adjust in use too, helped by the light and positive mechanism and again by the very snappy optics. Eye relief isn't enough for me; not a problem if you view without glasses, but there is still that mild kidney-beaning to contend with, causing brief blackouts as you change eye position.
At a claimed 3m (perhaps even slightly less), the Leicas focus very close for such a powerful glass, one of the benefits that tends to come with premium designs.
To my taste, Leica make the most elegant binoculars and these look classy to wear if that matters to you.
<![if !vml]>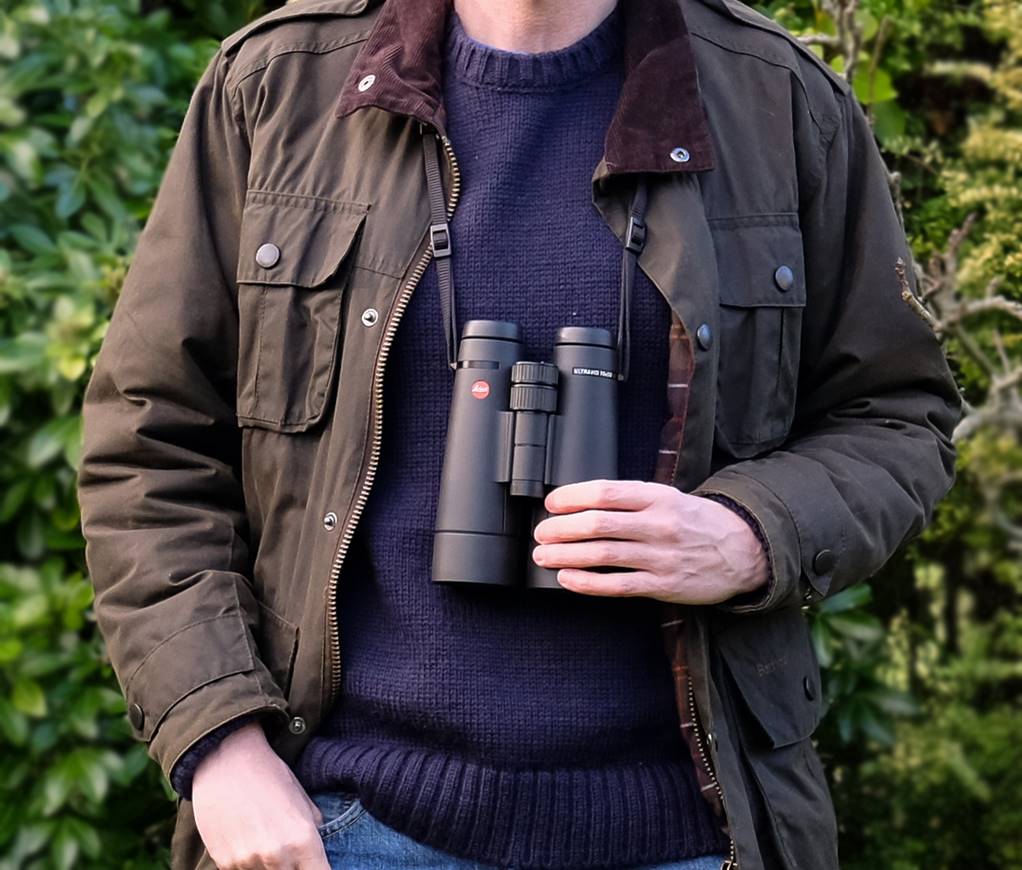 <![endif]>
<![if !vml]>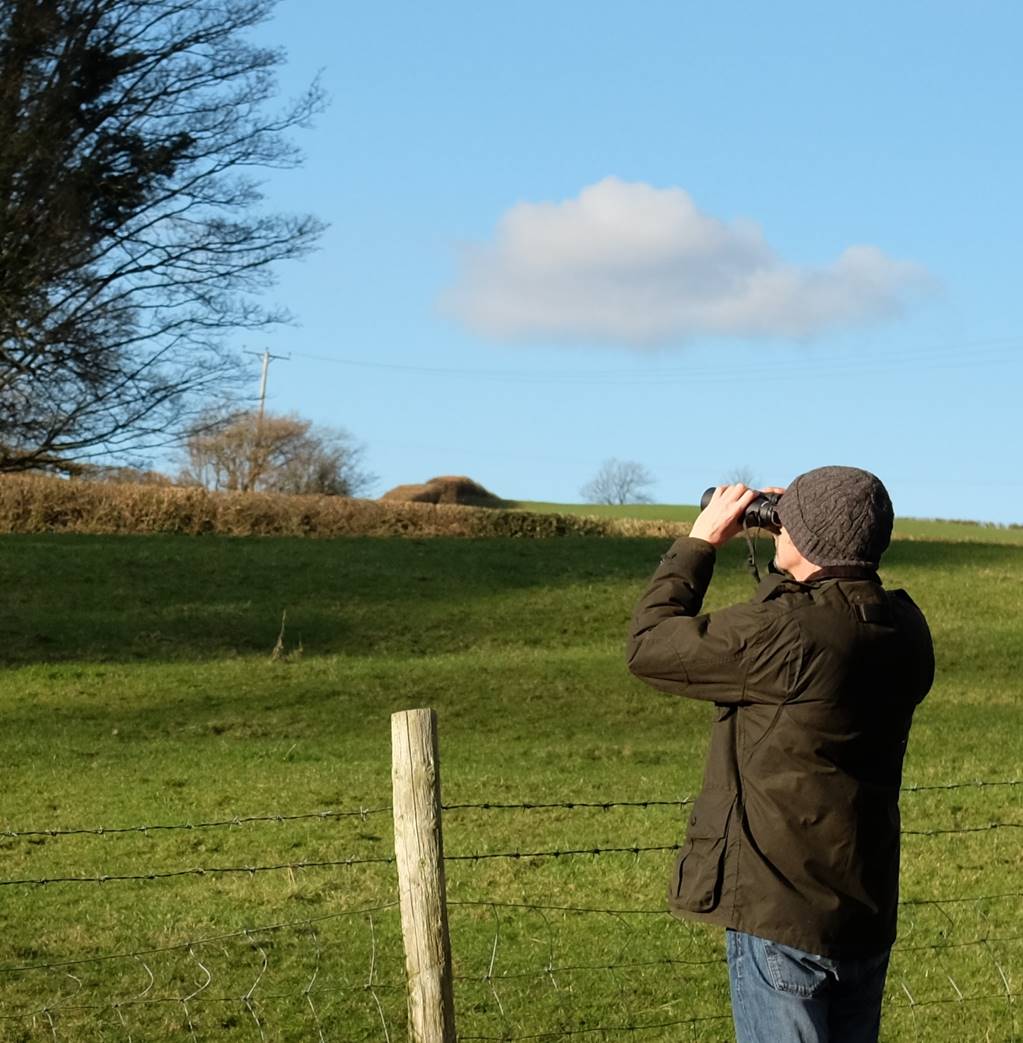 <![endif]>
The View
Oh the view! On-axis these are just sensationally good, giving nothing away to the very finest premium 10x42s. Sharp, bright, very high resolution with absolute focus snap, perfect colours and no chromatic aberration, these remind me just how good the best Alpha binoculars now are. I reviewed a pair of Kowa 10.5x44s recently and found them good, but not this good.
Those premium HD optics make a real difference. I watched a pair of Buzzards in the far distance, soaring on a thermal, set against a bright blue sky. Perfect focus snapped in and resolution was just outstanding, with no false colour to spoil it. The Ultravids revealed extraordinary detail on those soaring raptors hundreds of metres away.
Flat field?
Field quality drops off progressively from about 60% width, but the softness is only really noticeable in the last 20%. Some of this is just field curvature – you can focus it away. But stars reveal some astigmatism in the outer field too.
There is some pincushion distortion, something flat-field designs like Swarovski's ELs don't have, presumably for more comfortable panning.
<![if !vml]>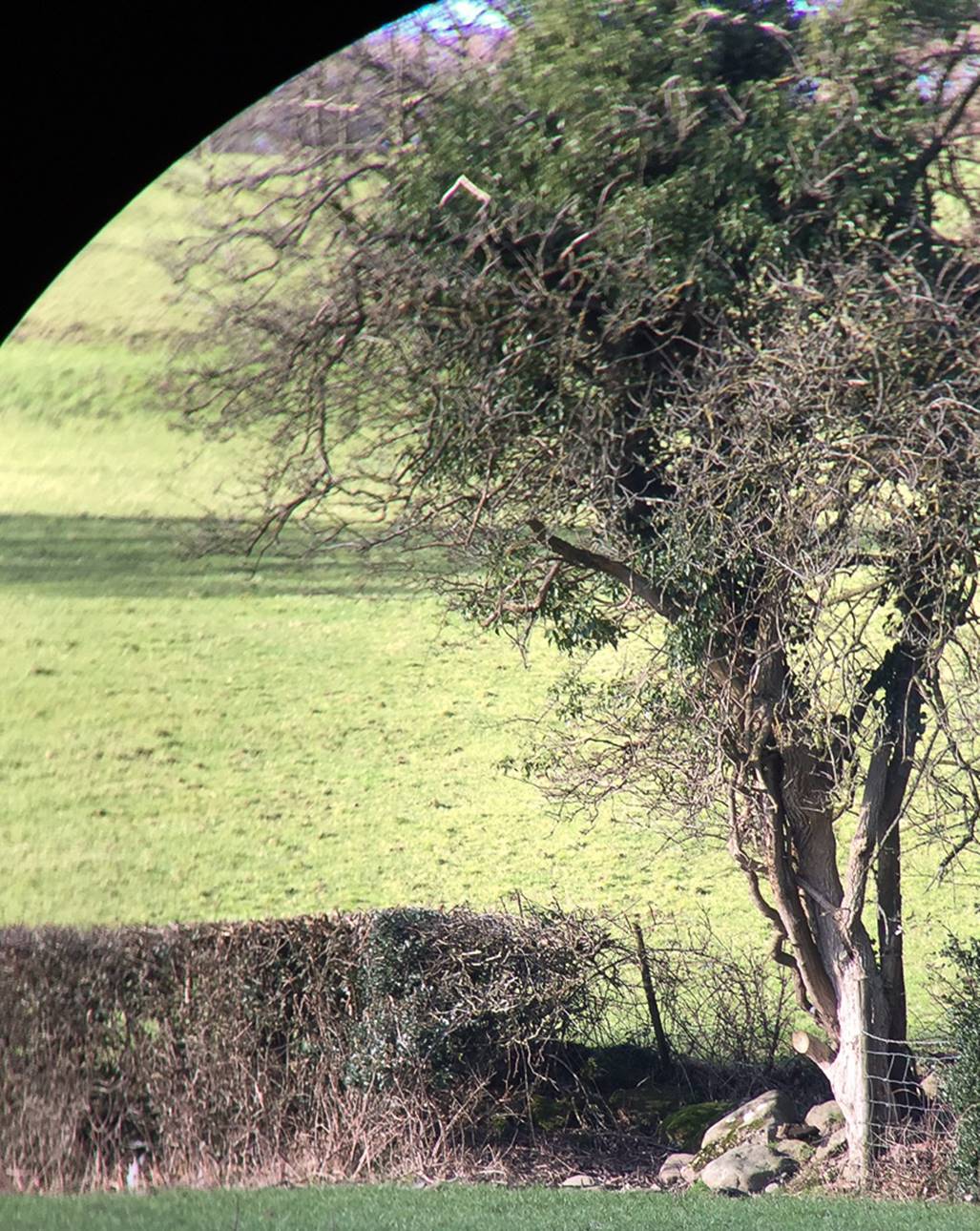 <![endif]>
Field curvature and astigmatism progressively mar the view off-axis.
Chromatic Aberration
False colour is at very low levels for terrestrial use, so low that I just didn't notice any in ordinary use. These 10x50 HD Plus Ultravids were an improvement over the 12x50 HDs I reviewed a few years ago.
In Use – Dusk
As you might expect, the large objectives and high transmissivity mean these give a proper light-intensifier effect at dusk. I used them to search for one of my noisy local owls who always gets unreasonably excited around full Moon.
In Use – The Night Sky
For astronomy, I tend to hold the Ultravids around the barrel ends to kill the shakes when held above my head, not around the sculpts close to the eyepieces, nonetheless they are comfortable to hold.
Stars are generally very sharply defined as brilliant pinpoints, but I noticed the very brightest stars showed a little spiky flare to their shape (not long prism spikes).
Off axis aberrations start from perhaps 60%, progressively smearing stars into lines at the field stop. Much of this is just field curvature – it can be focused away – but there is some astigmatism in there too. It's enough that, though the whole Orion sword and belt region fit in the field, nothing of interest is really sharp.
Don't think that the off-axis aberrations spoil these for astronomy, though. They don't. I had a really enjoyable deep sky session with the Ultravids and appreciated their richly populous, diamond-dust star fields. Yes, things deteriorate at the edge, but you don't get that 'warp tunnel' effect that ruins some binoculars for astronomy.
The HD optics deliver very strong true star colours on Albireo, Betelgeuse, La Superba.
Working around a nearly full Moon produced just the occasional touch of faint flare, with stars easily visible close by the limb. Likewise, a bright Moon in field generated the faintest trace of a ghost. There were no spikes or other stray light problems. In this respect, the Ultravids are among the very best, much better than the Kowa Genesis XDs I reviewed recently, for example.
The Moon
A gibbous waning Moon was superbly sharp, detailed and full of contrast with unusually little flare bleeding into the black space around. I could easily make out highlights like the Nectaris Basin and craters like Theophilus and Posidonius. There was just a touch of false colour around the limb that the very best avoid, but overall the Lunar view was among the finest at this magnification.
Planets
Jupiter showed a reasonably clean disk, with just a little more flare and gold false colour than the very best. The Galilean Moons were still easy to pick out. Similarly, Mars early in an opposition year looked like a brilliant amber coal, with no flare or false colour.
Deep Sky
I was lucky to have hours of clear, dark skies over several nights to test the deep-sky performance of the Ultravids, before clouds or Moonrise stopped the fun.
The Great Nebula in Orion was brightly nebulous. Orion's belt was packed with faint stars, though the outer stars were slightly distorted by field curvature/astigmatism.
The Auriga clusters, M36-38 and M35 below in Gemini, resolved nicely into their component diamond-dust stars and M38 showed its unique spreading arms (hence the 'Starfish' cluster). Craning my neck to get near the Zenith, the star field around and between the Heart Nebula and the Double Cluster was a mass of pin-point stars, some strikingly orange. The Pleaides (M45) in Taurus were sparkly white-blue and, again, surrounded by fainter stars.
I found Bode's Nebula easily and the two galaxies were obviously elongated and different shapes, whilst the Andromeda Galaxy (M31) showed its wide extent and bright core to good effect. M33, always just a big patch of smoke in binos, was easy to find.
Overall, I really liked the Ultravid 10x50s for astronomy – not the best 10x50 I've tested, but close enough to consider.
Leica Ultravid 10x50 HD Plus vs Swarovski 10x56 SLC HD
<![if !vml]>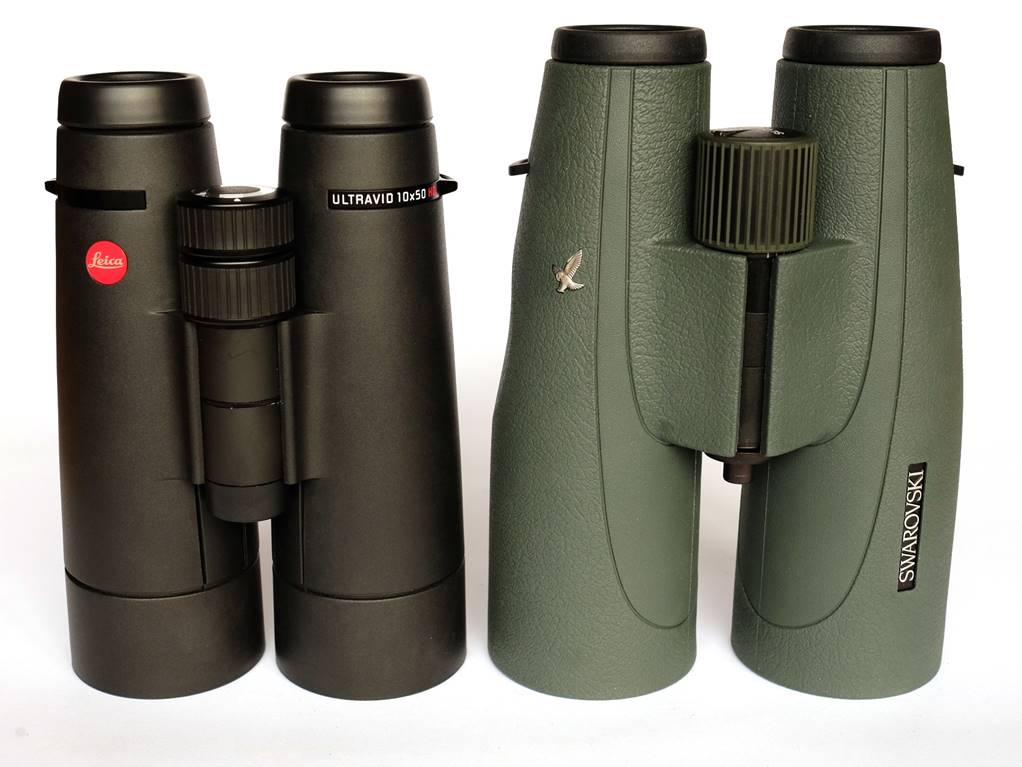 <![endif]>
The obvious comparison is with Swarovski's EL 10x50s, but I've discussed that model quite a lot already, so I'm going to compare the Ultravids with a different Swarovski you might not have considered: their latest SLC HD 10x56s. Let's split out their differences and similarities.
<![if !supportLists]>· <![endif]>Despite a considerable difference in size, weight difference is just 20%.
<![if !supportLists]>· <![endif]>The SLCs employ Abbe-König prisms for an even brighter daytime view.
<![if !supportLists]>· <![endif]>The SLCs have a narrower field but are a bit sharper off-axis.
<![if !supportLists]>· <![endif]>The Swaro's have much more eye relief. If you wear glasses to view this would be a clincher.
<![if !supportLists]>· <![endif]>HD optics mean a super sharp, high-resolution, low-false-colour view from either.
<![if !supportLists]>· <![endif]>The SLCs are better for astronomy thanks to a flatter field and bigger objectives.
<![if !supportLists]>· <![endif]>The SLCs have better (more protective, less rubbery, less fluff-attracting) armour.
<![if !supportLists]>· <![endif]>The Ultravids look more elegant and perhaps feel even more refined.
Summary
As with other Leica binoculars, the 10x50 Ultravid HD Plus are not the very best, but they are getting closer. The view centre-field is surely the equal of any, but compared with Swarovski's 10x50 ELs there is more off-axis softening due to field curvature and minor astigmatism. In other ways – brightness, clarity resolution, false colour and stray light – the optics compare favourably with the best.
If the optics are generally excellent, so are the Ultravids' fit and mechanicals. The focuser is smooth, precise and quite fast. The dioptre adjustment intuitive and easy to set. The internal and external finish and quality is outstanding.
Minor niggles include too little eye relief, eye cups that are too stiff to twist out yet too soft and armour that attracts dust and prints. The case, caps and straps are a bit sub-premium too.
Overall, though, I really liked the 10x50 Ultravids, as I did the 12x50s. What they lack in absolute perfection they make up for in elegance, character and a peerless on-axis view. They are also significantly cheaper than Swarovski's 10x50 ELs.
Leica's Ultravid 10x50s are gorgeous binoculars that you'll love owning, even if they are not as technically perfect as Swarovski's ELs. Highly recommended.
<![if !vml]>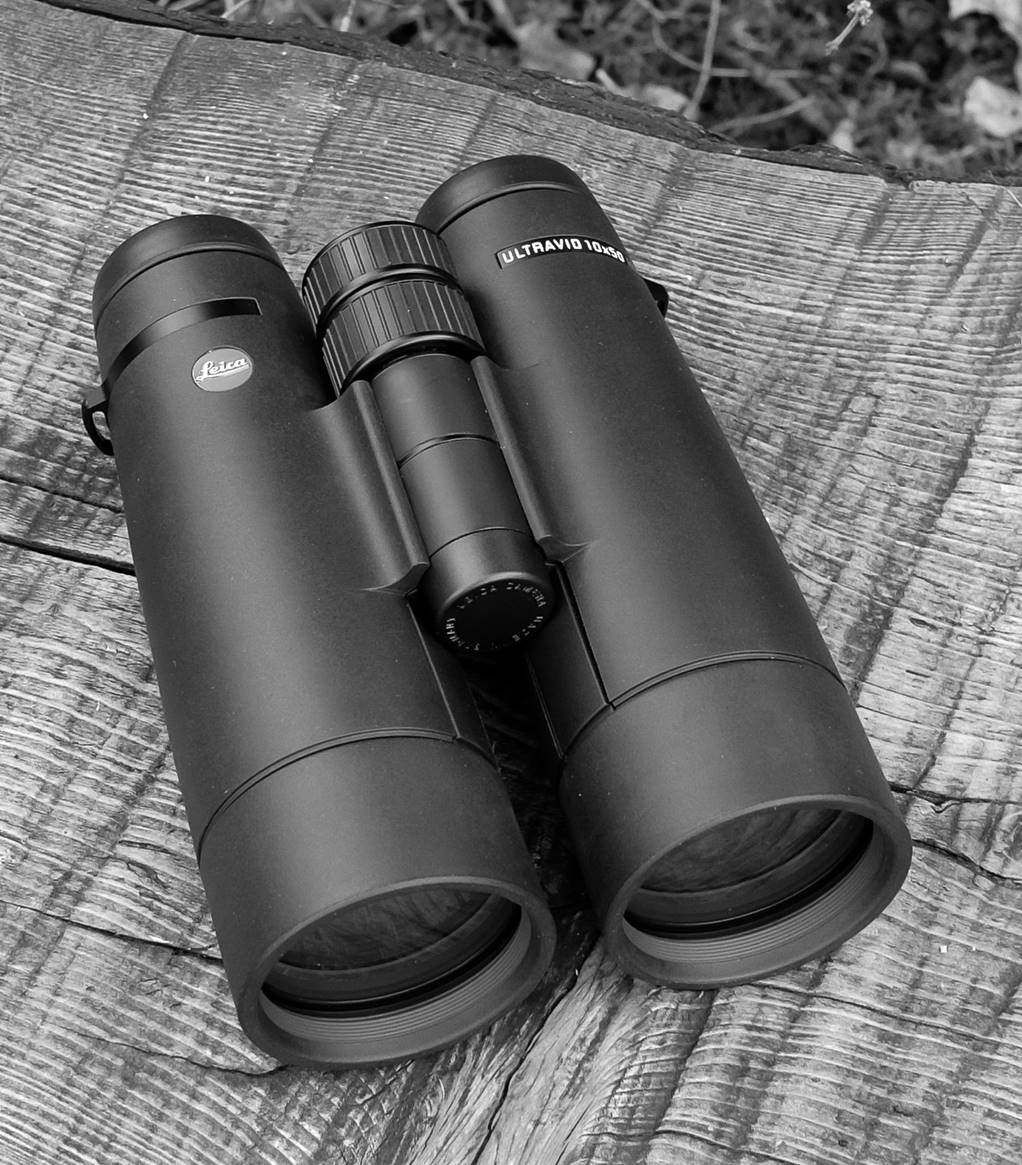 <![endif]>