Leica 7x42 Ultravid HD Review
<![if !vml]>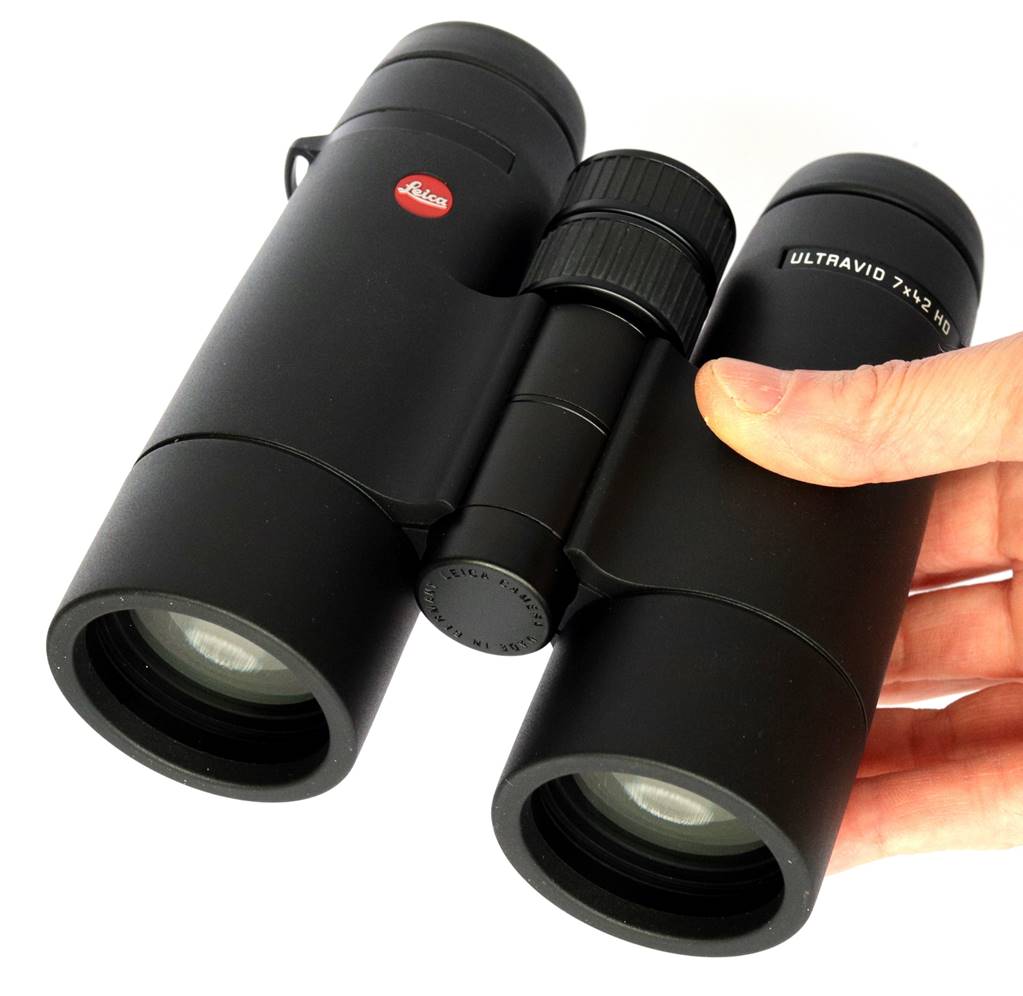 <![endif]>
7x42s are becoming a rarity and that's shame because I love 'em. Low power means a naturally wide and deep field for less panning and re-focusing, low false colour and lots of blackout-free eye relief. Bright and steady, a 7x42 is easy for novices and easy when you're tired. 7x42s are often the lightest of a range because the lower power permits fewer lens elements.
Now, though, the 7x42 format is being dropped in favour of higher powers, relying on more glass and technology to force an 8x42 or a 10x42 to do the things a 7x42 does natively.
But if you still want a premium 7x42 what are your options? The famous 7x42 Dialyt fetches high prices used, but Zeiss dropped the format years ago. Nikon theoretically make a 7x42 EDG, but good luck finding a new one, let alone used. Swarovski have long since dropped 7x42 from its premium roofs; they still make a 7x42 Habicht, but it's an odd throwback with a light-at-the-end-of-the-tunnel narrow view. Meopta? Maybe, but I can't find one to buy.
One of the very last top quality 7x42s lurk in Leica's traditional-premium Ultravid range ...
At A Glance
| | |
| --- | --- |
| Magnification | 7x |
| Objective Size | 42mm |
| Eye Relief | 17mm claimed and measured |
| Actual Field of View | 140m/1000m (7.4°) |
| Apparent field of view | ~56° |
| Close focus | 2.7m measured, 3.3m claimed |
| Transmissivity | ~90% |
| Length | 142mm measured |
| Weight | 770g claimed, 750g measured |
Data from Leica/Me.
What's in the Box?
All Leicas from the Monovid to the Noctivid share the same classy silver-and-green carton, cut grey foam:
<![if !vml]>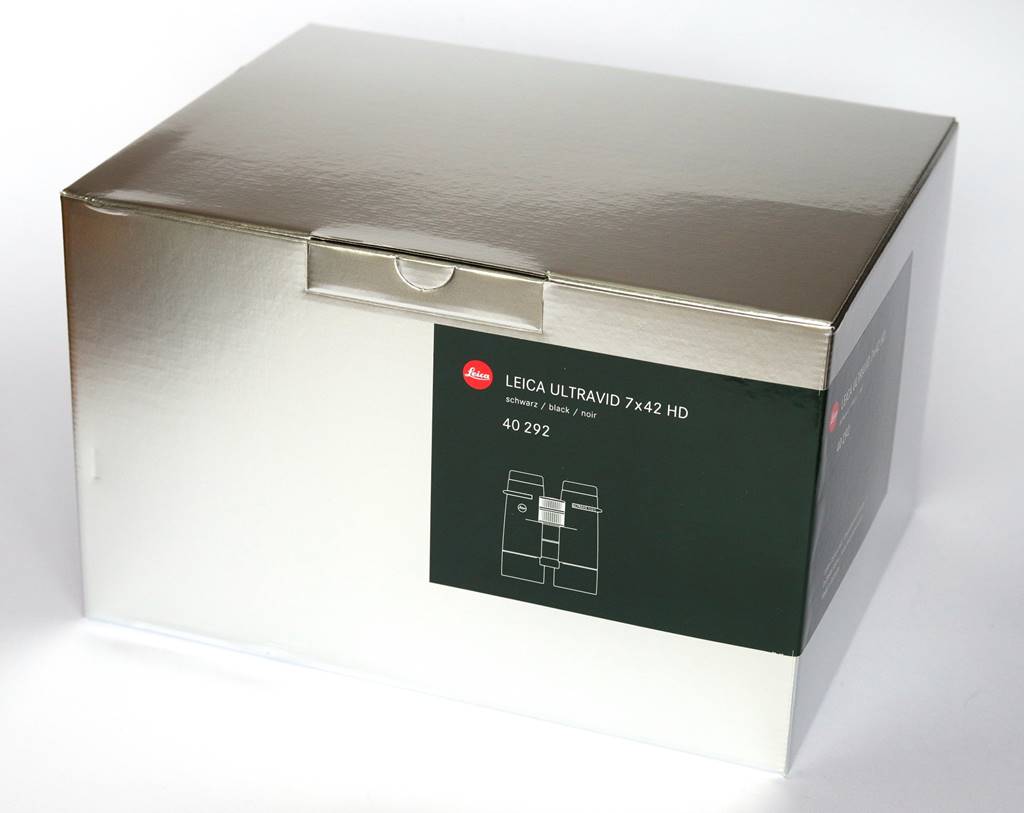 <![endif]>
<![if !vml]>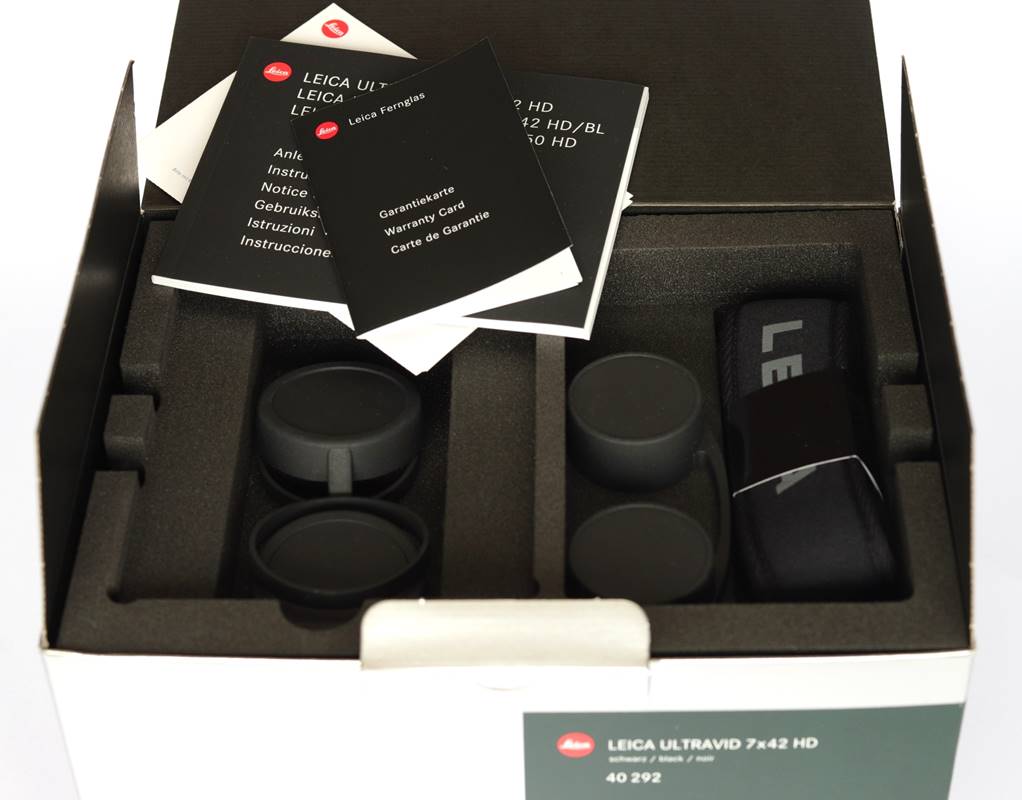 <![endif]>
<![if !vml]>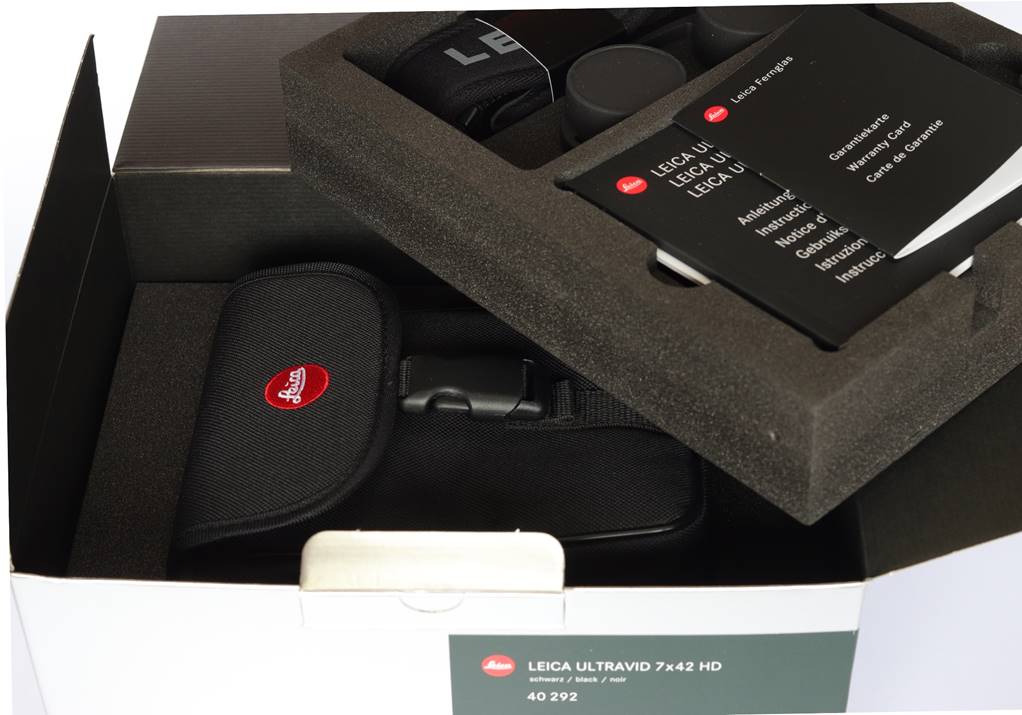 <![endif]>
<![if !vml]>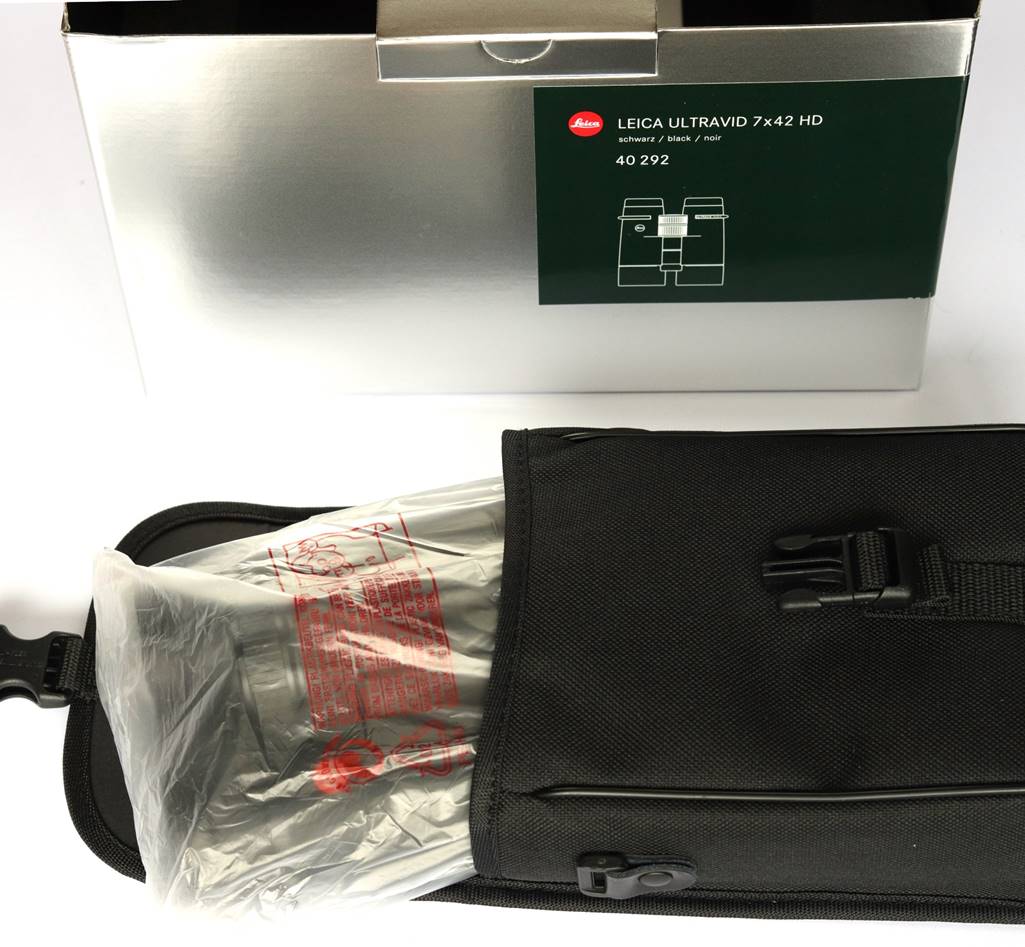 <![endif]>
<![if !vml]>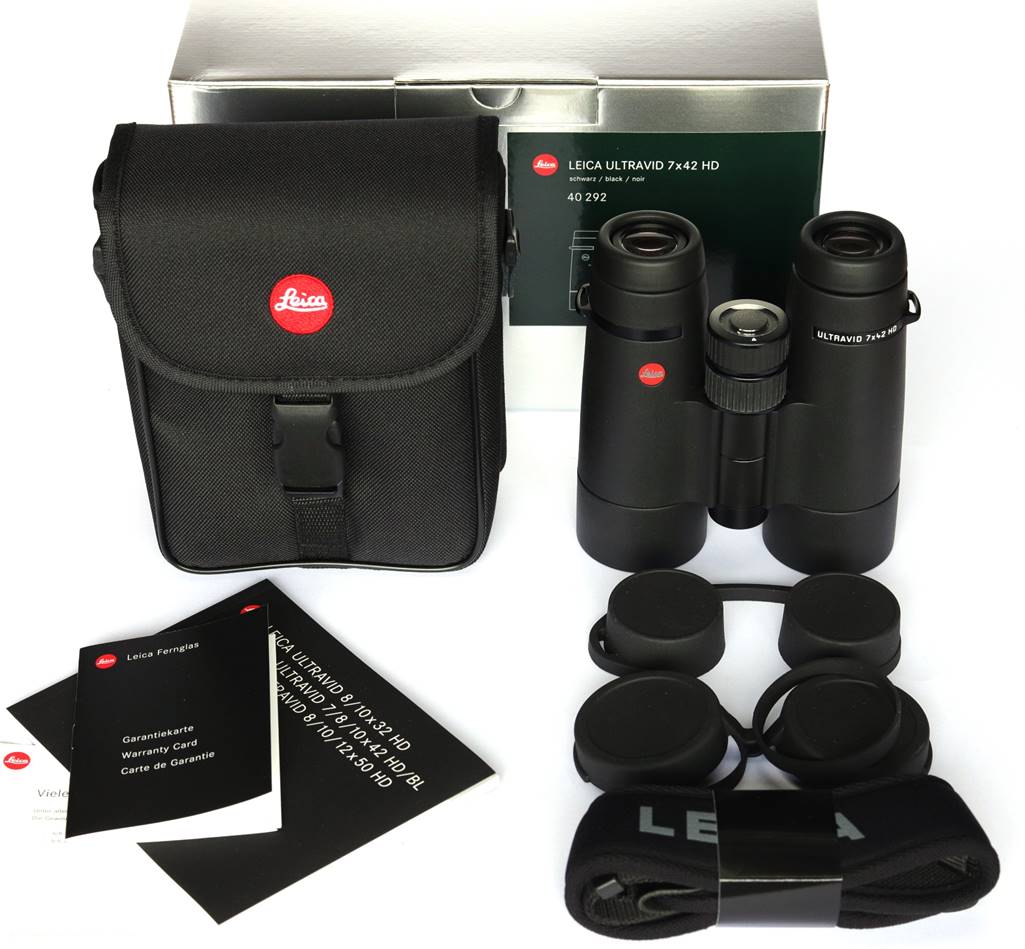 <![endif]>
Design and Build
The Ultravids were long Leica's top-of-the-line binocular, before they brought out the Noctivids to compete with Swarovski's ELs. Ultravid are a traditional binocular that includes a much wider range of models than the competition, all the way from an 8x32 to a 12x50.
The Ultravids were introduced pre-HD and those earliest models without ED glass hang on in the leather-clad Blackline and Silverline 8x42s and 10x42s.
All the latest Ultravid 32mm and 42mm models now have a red 'HD Plus' label, but the only significant difference seems to be the use of special high-transmission Schott glass.
<![if !vml]>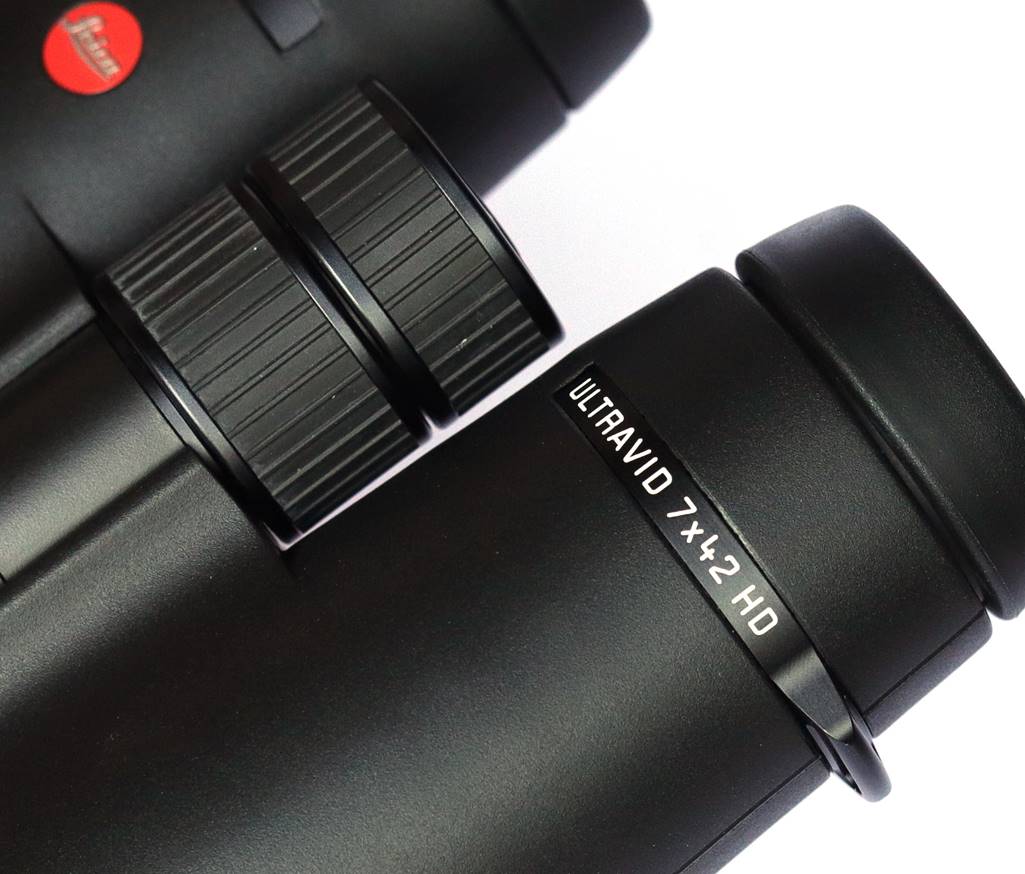 <![endif]>
<![if !vml]>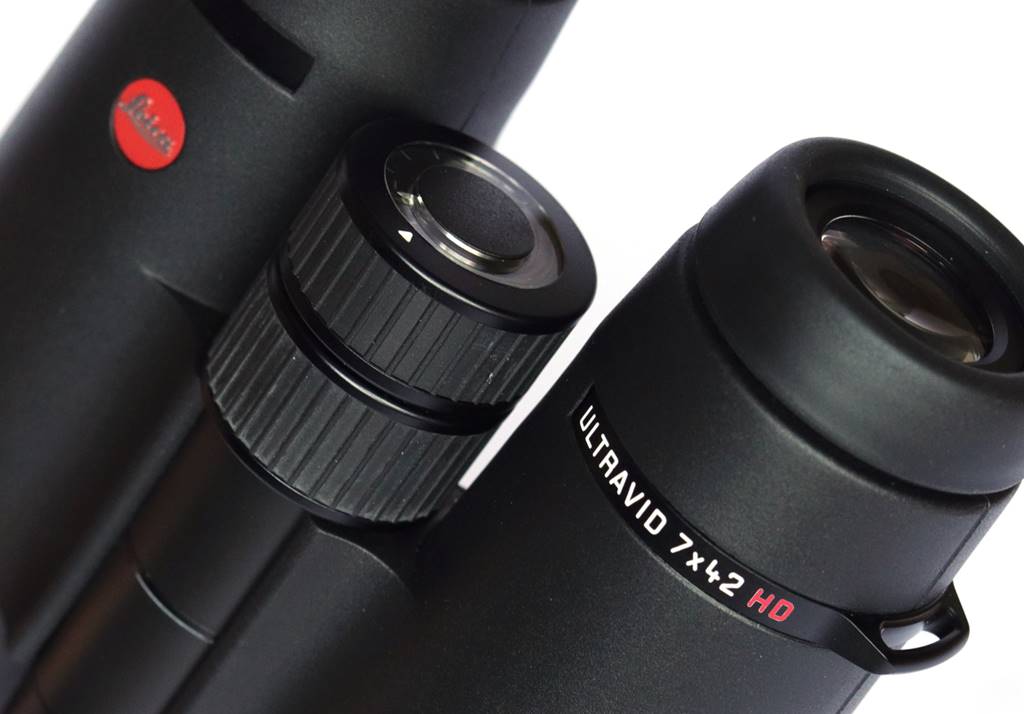 <![endif]>
Differences between HD and HD Plus seem to be an extra dab of red and Schott HT glass.
Body
The design of the Ultravid hasn't changed much over the years, with that unique cylindrical hinge-bridge and rearset focuser. Meanwhile, Zeiss and Swarovski have experimented with various different bridge and barrel designs in their top-line models.
These are a compact 42mm binocular:  very short at 142mm, with quite narrow and compact barrels too – the same size as many an 8x32. You can see just how much shorter they are than Zeiss' SFs in the photo below.
Leica's black armour is smoother than Swarovski's, looks classy, is very well-fitted with no visible seams and is neither rubbery smelling or over tacky and dust attracting. That doesn't mean it's overly thin or slippery though. For me Leica have got their armour just right. It's armour that most models share, with the exception of the leather-clad Blackline Ultravids and Trinovid Classics.
Weight is low for a 42mm armoured binocular. Leica claim 770g, but I measured just 750g on the same scales that typically measures Zeiss bino's spot-on and Swarovskis slightly over – go figure! That means these are lighter – noticeably so – than other Ultravids and the Alpha competition. Why? Partly it's the magnesium chassis, but as I said at the start: low power equals simpler equals lighter.
Waterproofing is Leica's standard 5m. Does that really make them more waterproof than Swarovski's 4m? No idea - not rich enough, and bathtub not deep enough, to find out.
These Ultravids were made in Germany. Build quality is excellent, but not outwardly any better than the Portugal-made Trinovids I've tested.
<![if !vml]>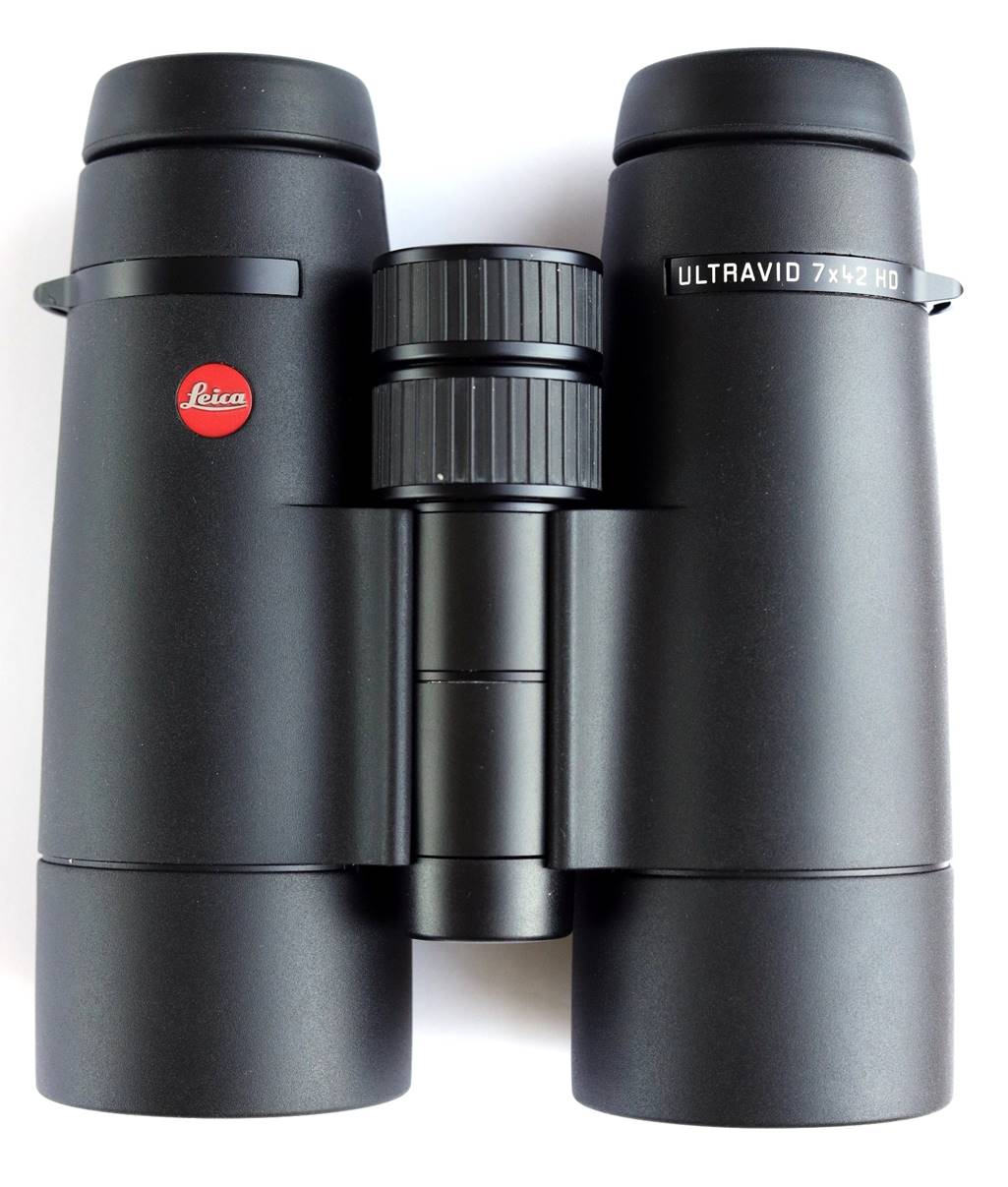 <![endif]>
<![if !vml]>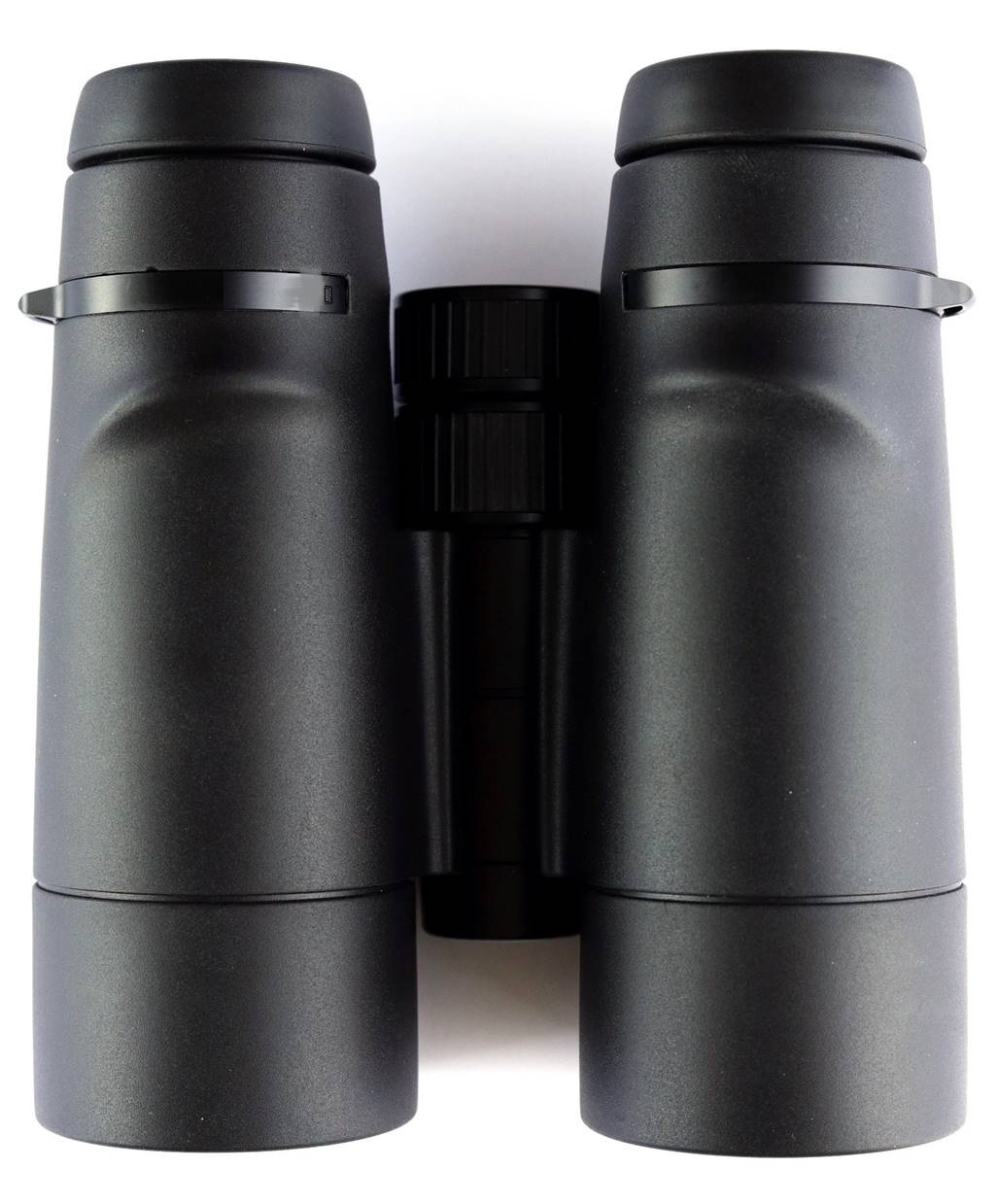 <![endif]>
Focuser
The focuser action is ok, but not up to the latest models from Zeiss and Swarovski – it's drier and stickier, stiffer too. This is one area where the HD-Plus update is an improvement, with a lighter more fluid feel.
You pull the knob at the back of the focuser to adjust dioptre against a scale behind an annular window on the back of the knob. It's a good system, but here the feel is overly light and loose feeling and there's no détente.
Close focus is about 2.7m – not as close as the latest top-line designs, but merge is very comfortable at that distance and it's actually better than the claimed 3.3m.
Close focus to infinity is a very fast single turn, but with less extra travel beyond infinity to accommodate diverse prescriptions than more modern designs.
<![if !vml]>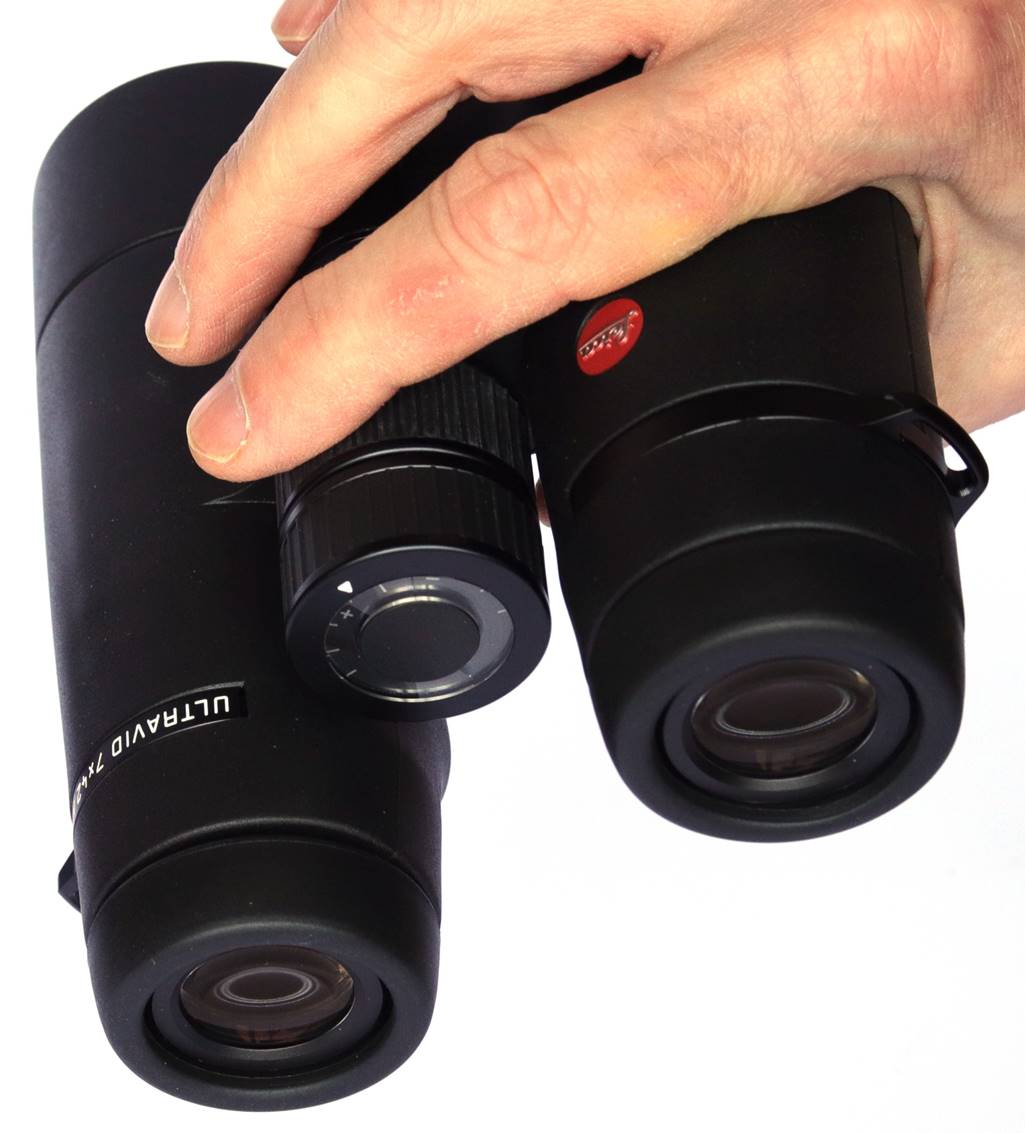 <![endif]>
<![if !vml]>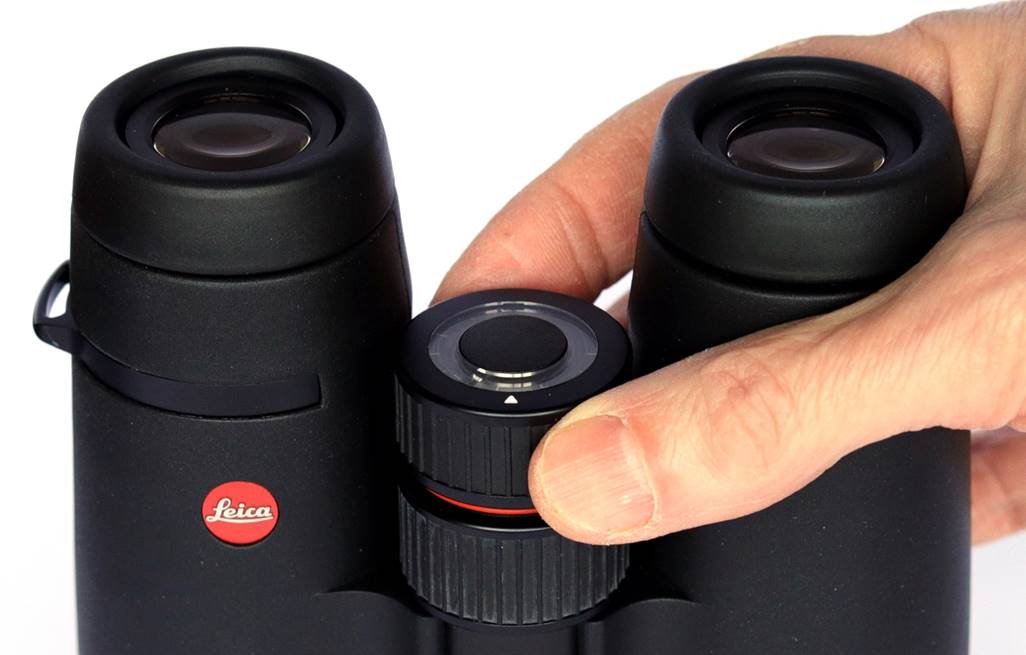 <![endif]>
Pull to adjust dioptre – a Leica feature for decades.
Optics - Prisms
The Ultravid range are a standard Schmidt-Pechan (a.k.a. Roof) prism binocular. The Ultravids were Leica's premier model for many years and so have Leica's best P40 and HLSTM coatings on prism mirrors and lenses for high overall transmission.
Optics - Objectives
Most Ultravids have a triplet tele-objective, but this lowest power model may even make do with a doublet, so the overall number of elements is one down (to just eight per side) on the rest of the range. The 'HD' tag indicates one element of ED glass to suppress false colour.
Coatings are a very different hue from Zeiss' famous T* coating, a dull greenish-tobacco vs Zeiss pink, just a little less dark and transparent: something I think you can see in the SFs' very slightly brighter, cooler toned view.
The coatings include Leica's AquaDuraTM water-repellent tech'.
The objectives are well recessed and have a knife-edge baffle behind to kill stray light. The focuser carriage has ridge-baffles, but there's no obvious internal blacking. Internal build quality looks very fine.
<![if !vml]>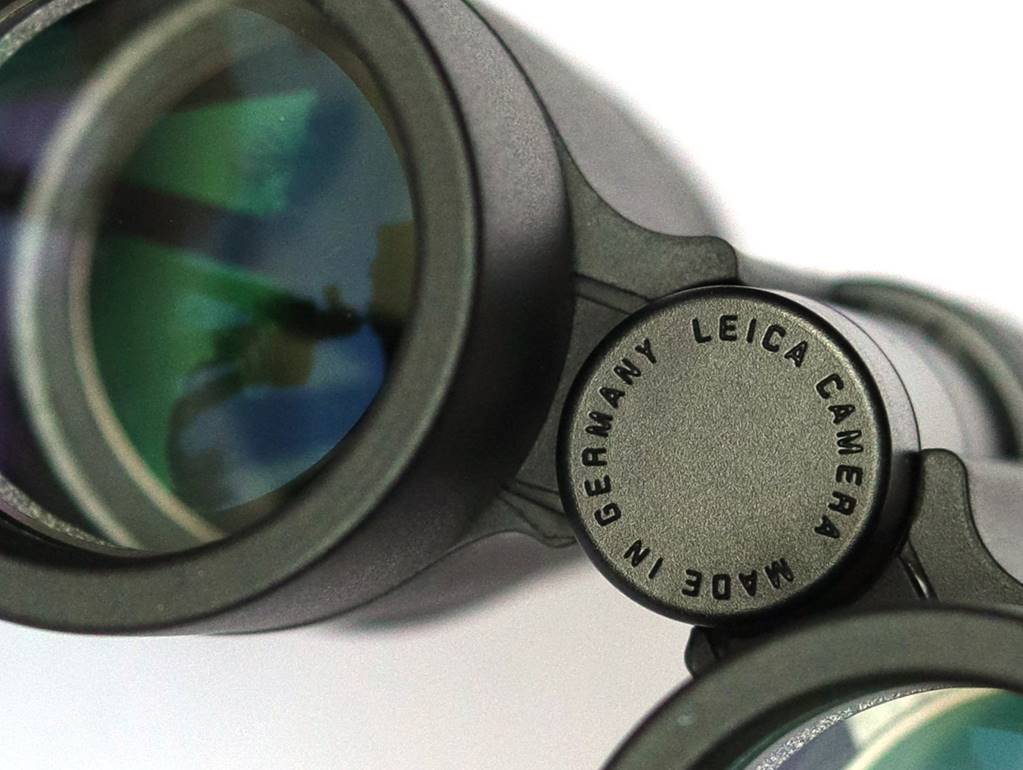 <![endif]>
<![if !vml]>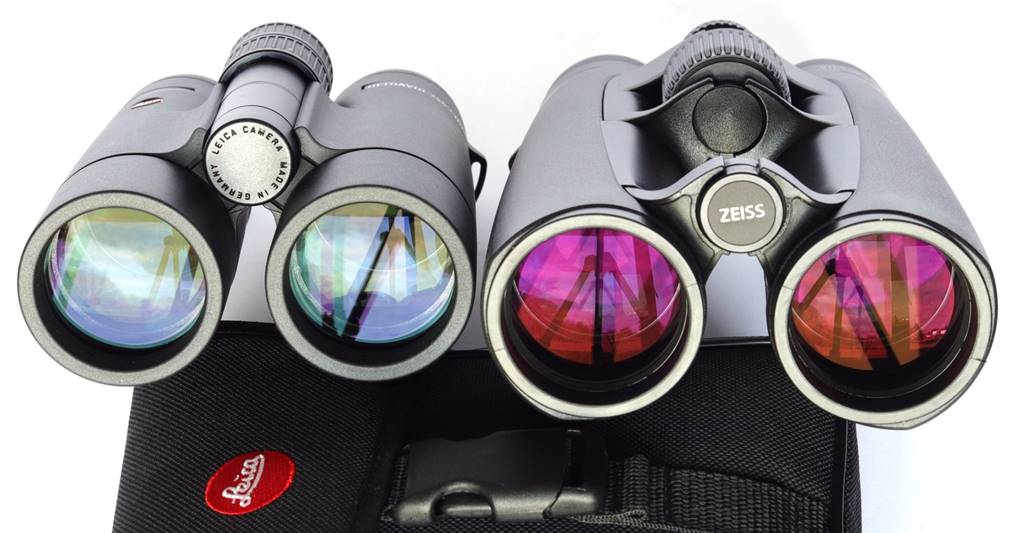 <![endif]>
Coatings are top quality, but perhaps slightly more reflective than Zeiss' top-line T*.
<![if !vml]>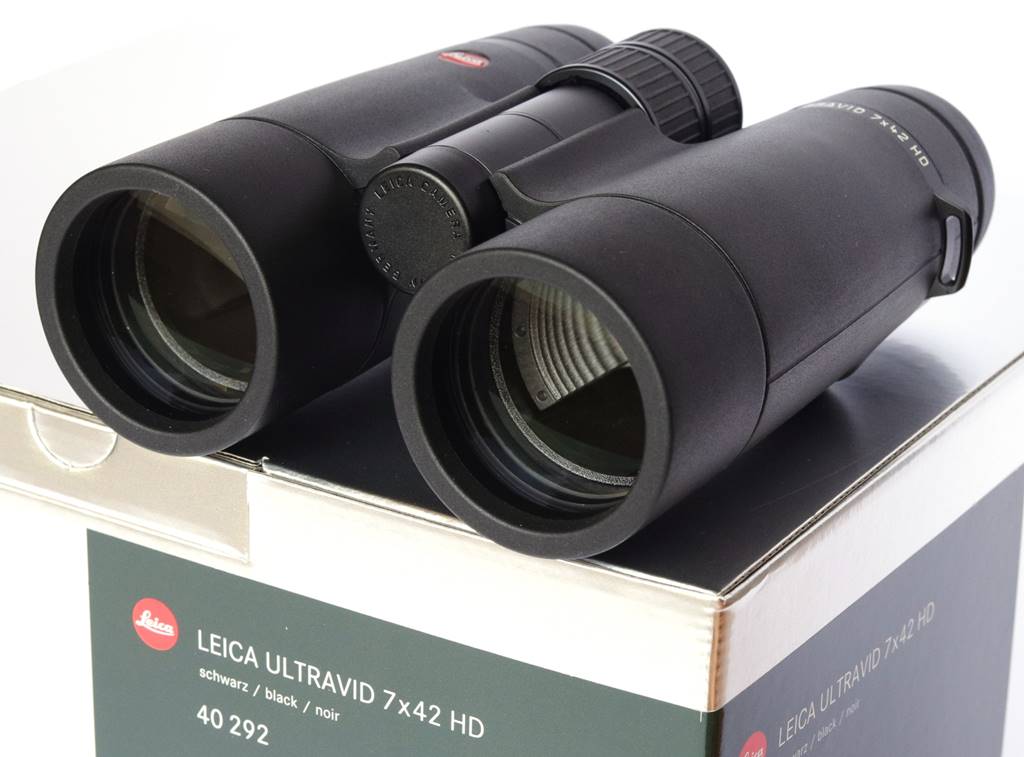 <![endif]>
Attention to baffling for superb suppression of stray light is a hidden luxury feature.
Optics - Eyepieces
The eyepieces are likely a four or five element design – simpler than some, given the modest apparent field of view of ~56°. That gives a true field of 140m/1000m or 8°, same as the 7x35 Trinovids, but a bit less than the defunct Zeiss 7x42 Victory FLs that I really liked.
Compared with a pair of 8x42 SW NL Pures or Zeiss SFs, both the apparent and true fields are a bit narrow, but typical of 7x binoculars where optical constraints make wide apparent fields hard to achieve.
The eye lenses are about 20mm in diameter and slightly convex, not the giant dishes you now get with SFs, ELs and NL Pures to name a few.
Traditionalist Leica are now lagging Swarovski and Zeiss on eye relief across much of their range, but 7x binoculars make lots of eye relief easy thanks to long focal length oculars.
The 32mm and 42mm Ultravids all have a short body, which means short focal length objectives and so a correspondingly shorter F.L. eyepiece than some. But whereas eye relief is now well below average for the 8x and 10x models, eye relief on these 7x42s is a comfy 17mm and exactly what I measured from the rim of the eye cup. It's not super-generous, but it's enough to see the whole field with my specs on.
The eye cups only have two extended positions, but they seem well chosen and their twist-and-click action is fine (unlike a pair of 12x50 Ultravids I tested some years ago).
<![if !vml]>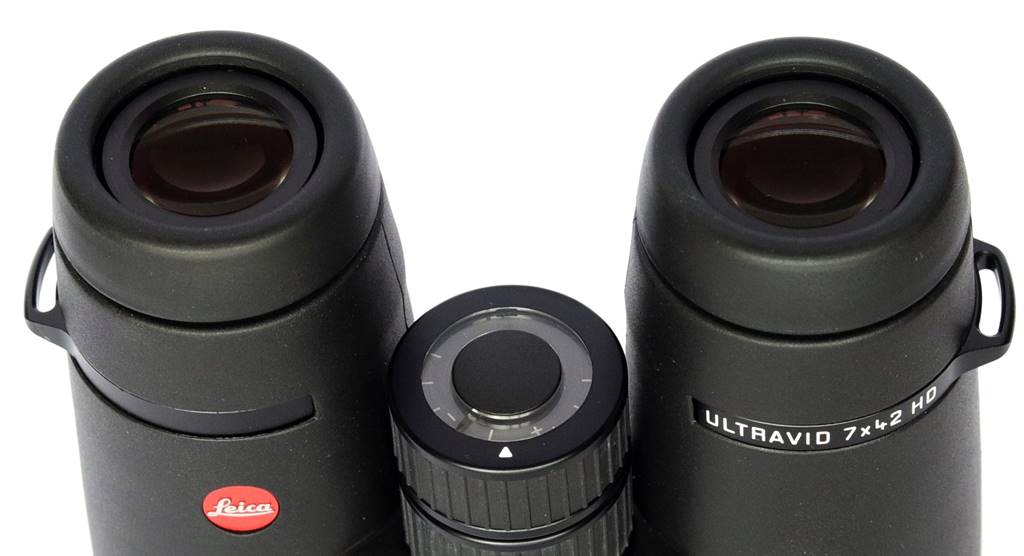 <![endif]>
<![if !vml]>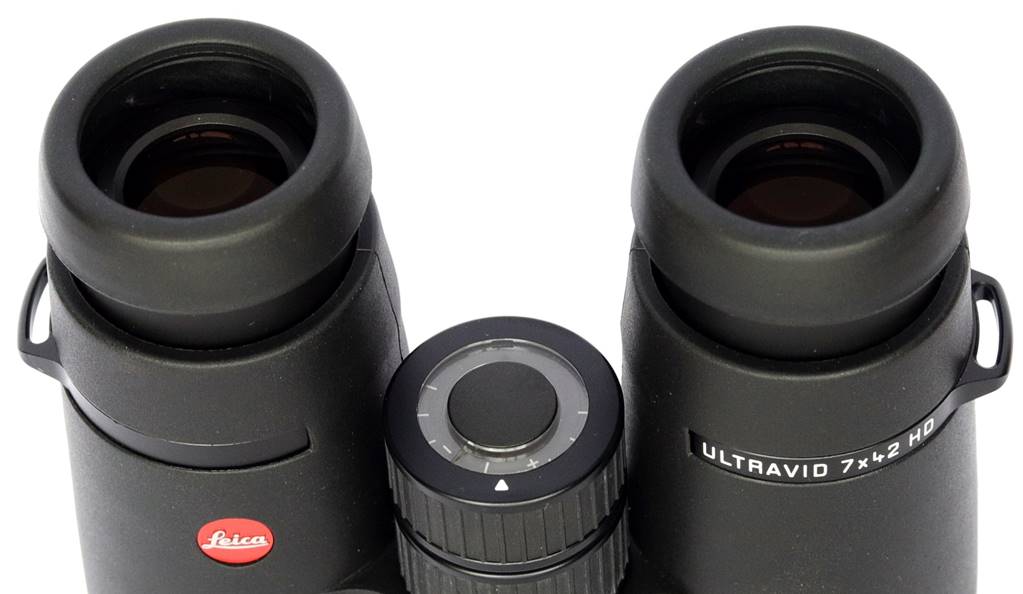 <![endif]>
There are actually two extended eye cup positions, but they're so close I've only shown the furthest.
Accessories
The case is a black Cordura item with click-buckle closure. It's just like the case you get with a pair of Zeiss Conquests, but at least it has a nicely embroidered Leica logo.
That basic-but functional theme extends to the neoprene strap and band-on eyepiece caps: nothin' fancy, but it all works just fine.
<![if !vml]>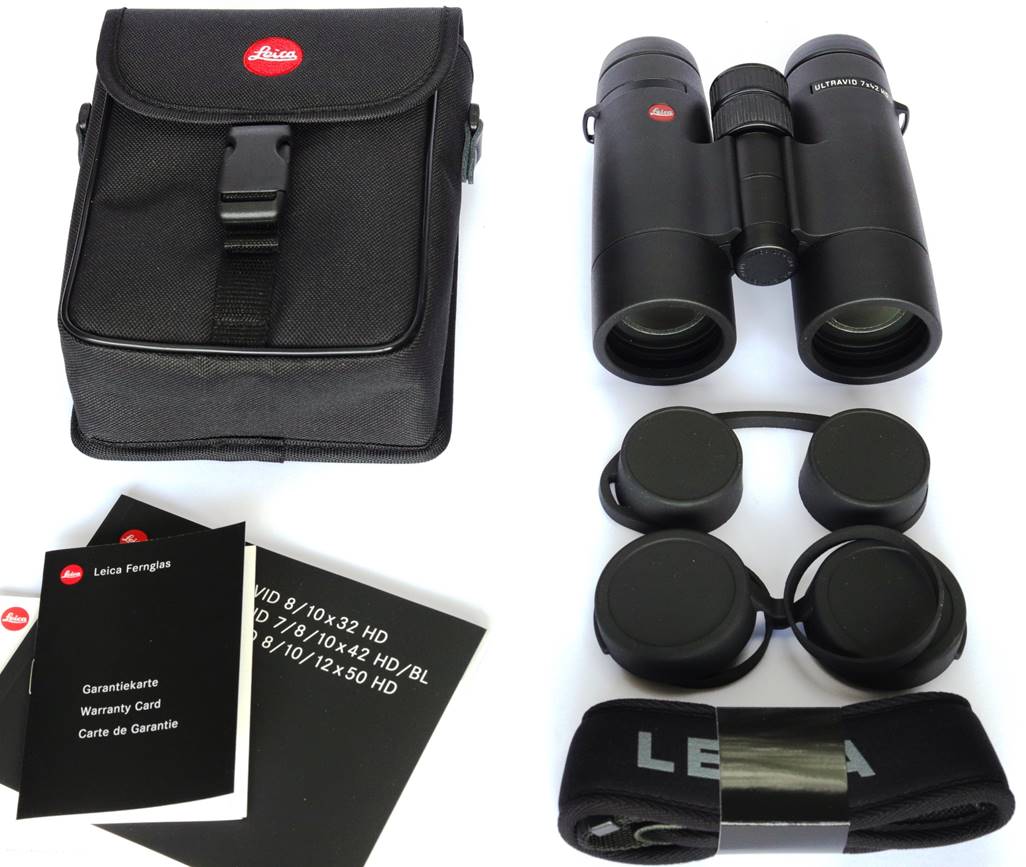 <![endif]>
<![if !vml]>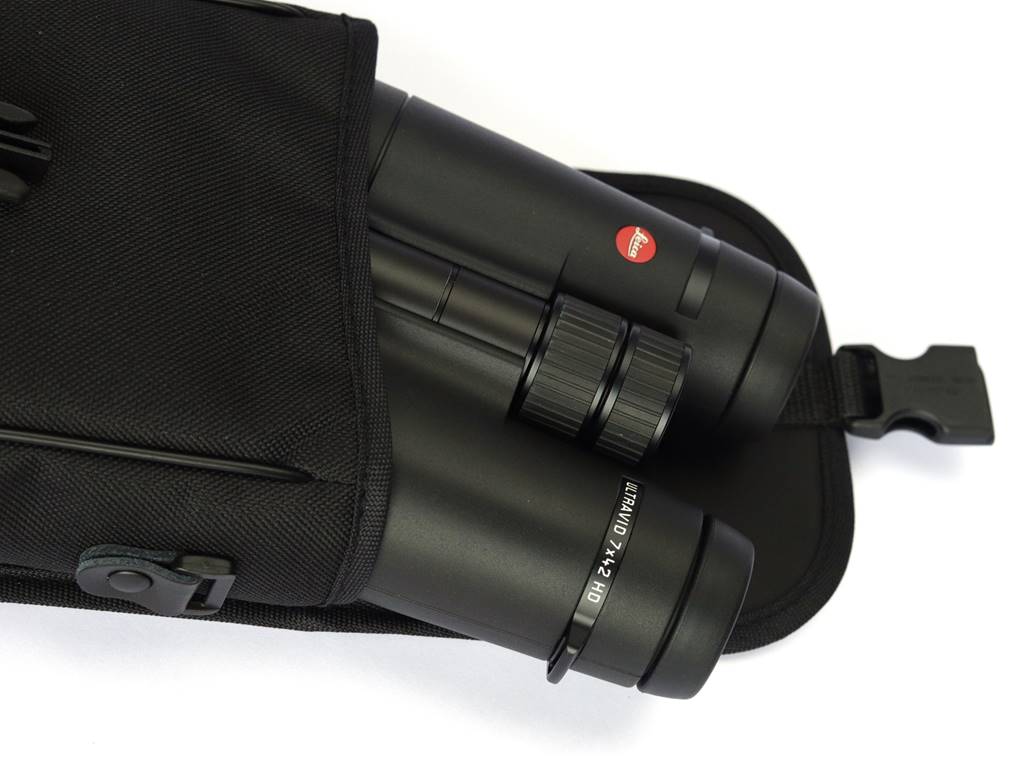 <![endif]>
<![if !vml]>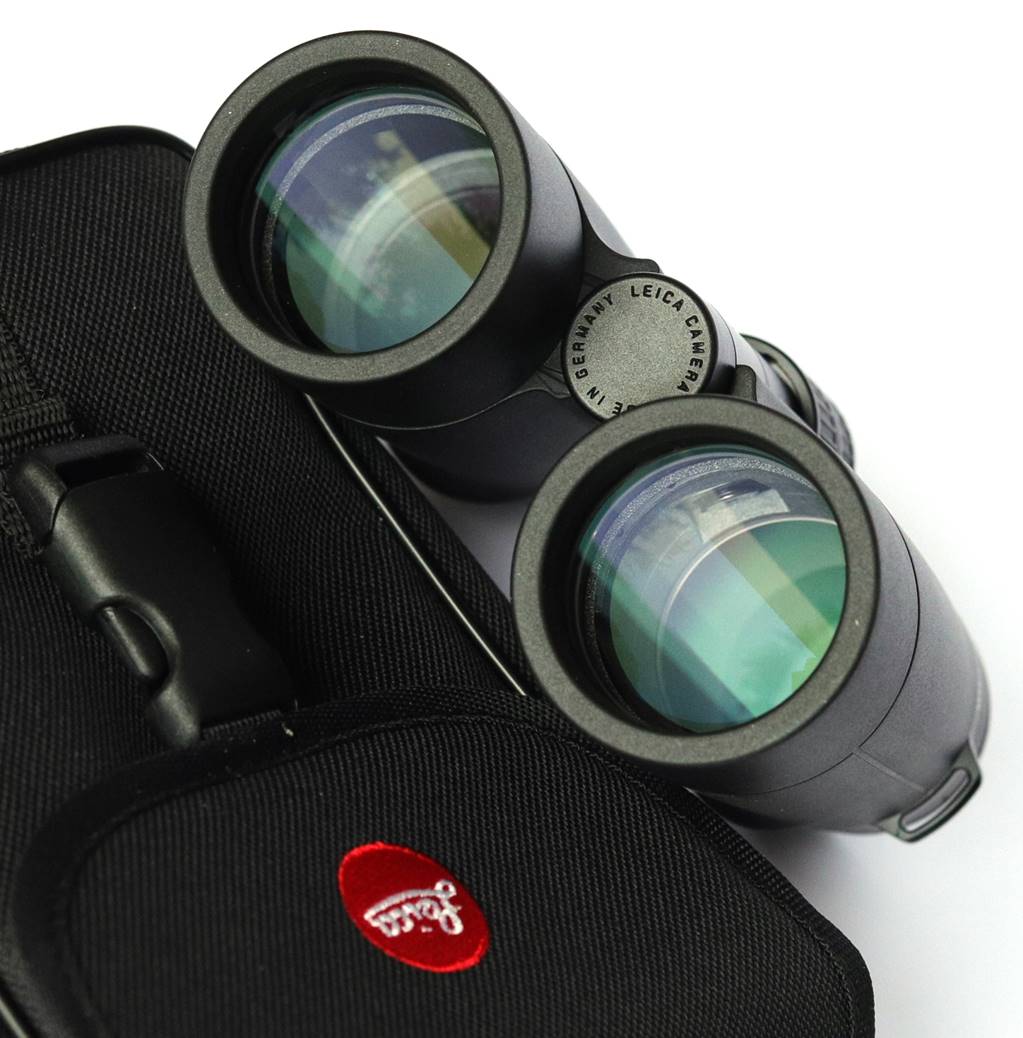 <![endif]>
<![if !vml]>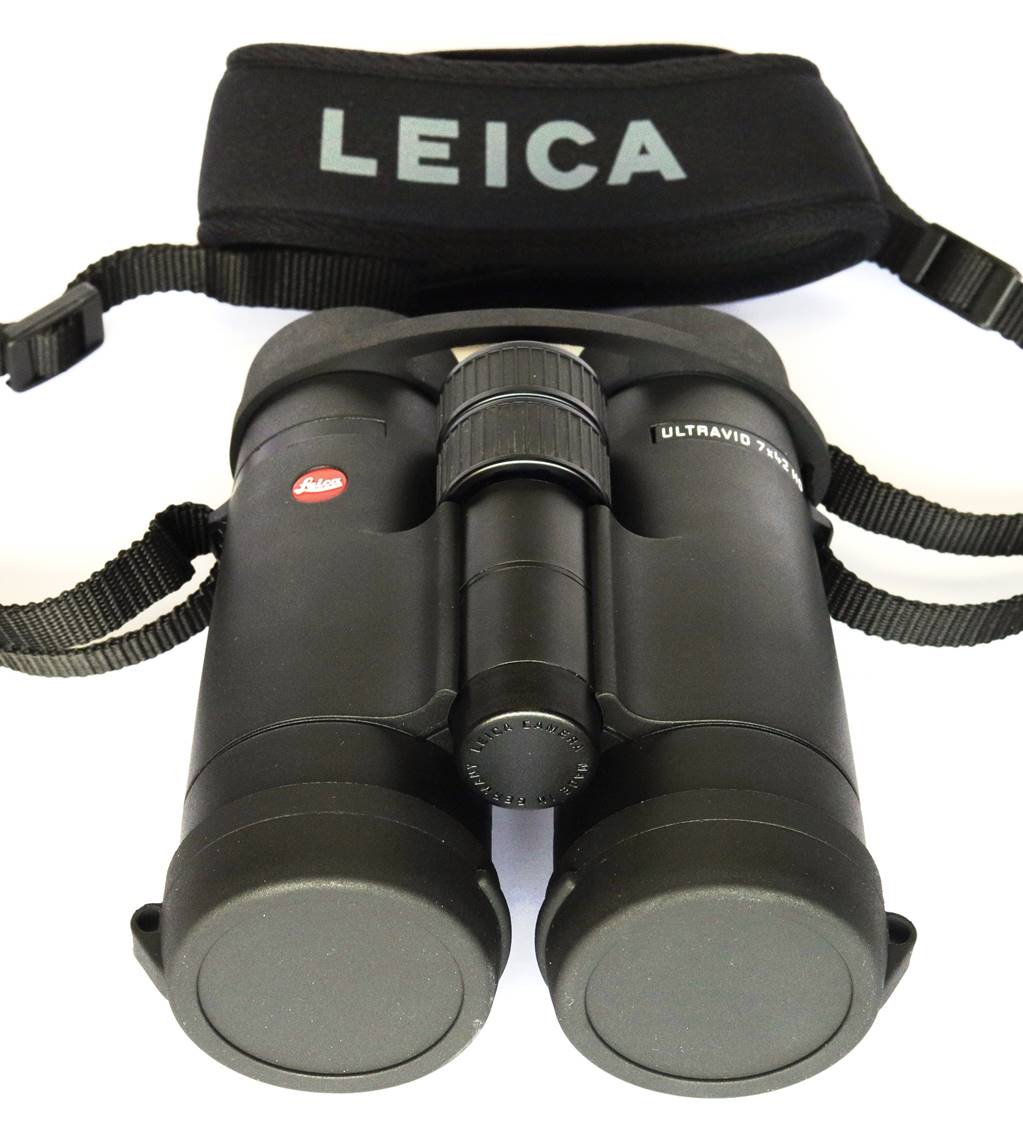 <![endif]>
In Use – Daytime
Ergonomics and Handling
Eyepiece comfort with glasses is very good, but not quite at the forget-about-it level of Zeiss' SFs, because these have just a critical millimetre or two less eye relief. There are only two extended cup positions very close to each other, but the inner one proved just right for my eyes minus my specs. Blackouts, when moving my eyes around the view or panning, are well controlled.
The light (maybe too light) and fluid central dioptre mechanism allows for adjustment without taking your eyes off the view, a big help to getting it spot on; the scale is a nice feature too. But I miss the central détente offered by other premium Alpha models.
The focuser is plenty fast for following birds on the wing, the knob well-placed and large enough for a gloved finger. But compared with the Zeiss SFs I'm testing alongside, it's drier and less fluid. Still, perfect focus is an absolute snap, finding it easy. The focuser didn't stiffen up, even after extended use in freezing conditions.
Shape wise, these are a compromise between the plain barrels typical of Zeiss and the sculpting adopted by Swarovski: here there is just a deep thumb ridge on the back. Combined with the fairly slim body, it makes for a comfy bridge hold in my smallish hands.
Most modern binocular trends are good, but a tendency towards bigger and heavier is not. These Leicas are notably small and light compared to most of the competition – something you'll appreciate carrying them all day; it's a feature shared by all the 42mm Ultravid models. Their small size and modest weight make these comfortable for a long day's walking up hill and down dale.
I still reckon Leica make the most elegant-looking bino's and these are exceptionally classy and unobtrusive for a 42mm.
<![if !vml]>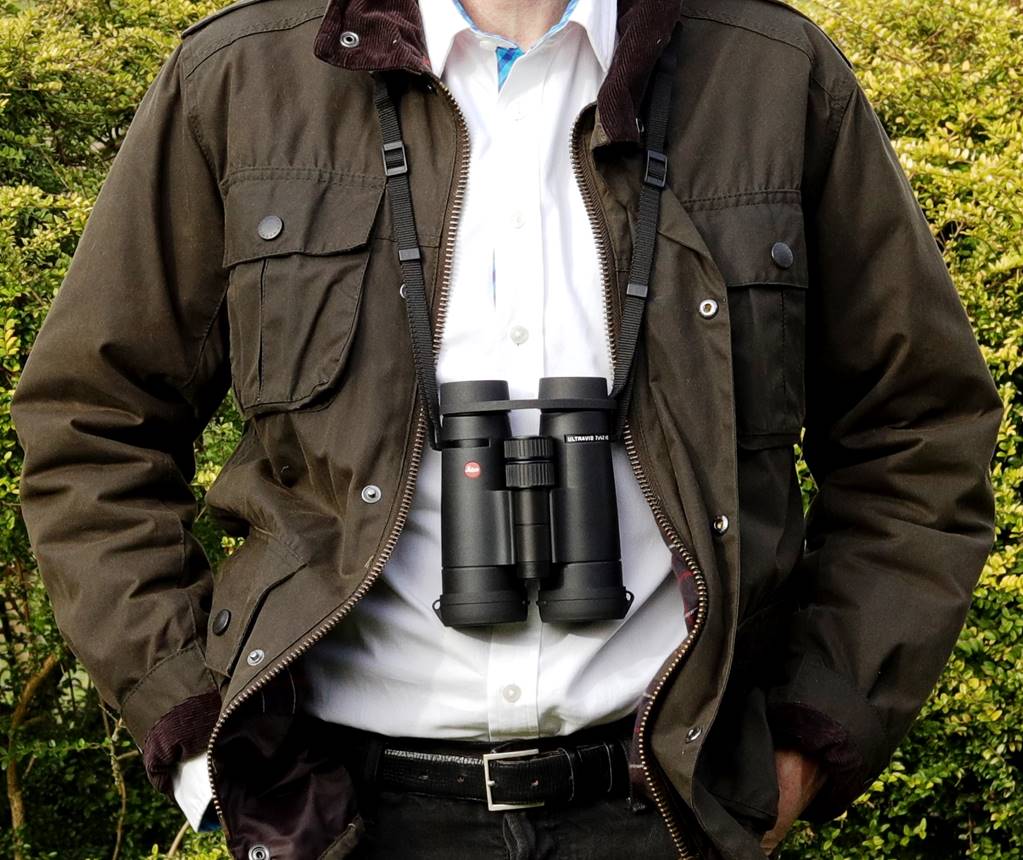 <![endif]>
<![if !vml]>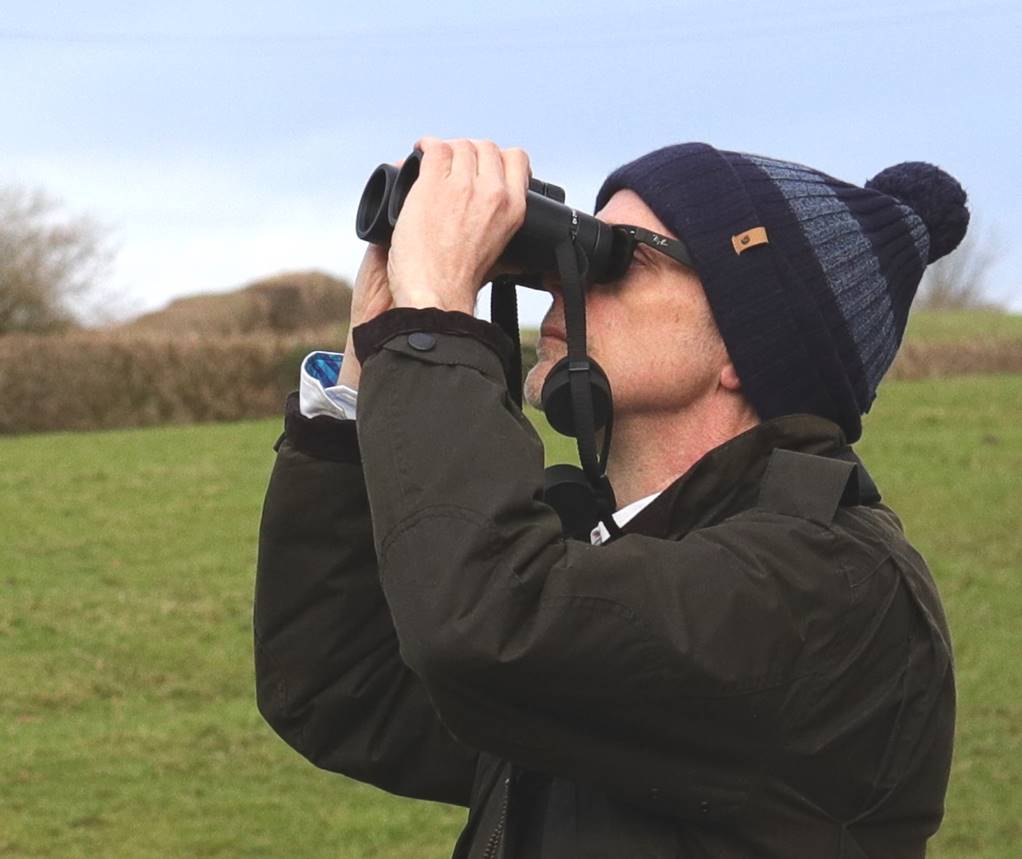 <![endif]>
The View
Centre-field sharpness, resolution and focus 'snap' are just superb, indicating good-as-it-gets optical quality. That quality is a real feature of these binoculars and delivers incredible detail in the delicately shaded plumage of Blue Tits and Coal Tits at my water bowl, or the beads of water on a Crow's glistening black feathers. The filigree branches of a winter forest is revealed with exceptional fidelity too. I identified waders, Curlews and Oyster Catchers, way out on the bay sands at the very limits of resolution.
As we'll see, false colour levels are low enough that you can view birds on the wing or roosting in high branches against a brilliant dusk sky with no loss of detail. Viewing into a low sun over bright water resulted in no veiling flare or ghosts or other nasty artefacts. Distortion and off-axis softening have been carefully adjusted to make panning extremely comfortable, but so that even the field edge is usable.
The low power means unequalled depth of field and so less need to re-focus, a further aid to enjoying fast moving birds in flight; or equally when panning across big countryside vistas where nearby woods, middle-distance villages and mountain backdrop are all in focus. The view is naturally steady too; combined with the low weight that means these are exceptionally relaxing for extended viewing.
Daytime brightness, whilst respectable, isn't as quite as good as the Zeiss 8x42 SFs I'm testing at the same time. I also think the SFs render colours with a slightly cooler tone, due to the dark pink hue of their coatings. This cooler tone adds to the sense of crispness and brightness.
Still, centre field, no binoculars really offer a significantly better view. Leica know how to do a traditional binocular supremely well.
One slight negative is, of course, apparent field of view. These Ultravids don't have the narrow FOV of SW's 7x42 Habichts, but the SFs' much wider apparent field made these feel shut-in, a little airless somehow by comparison. That's no surprise: the Zeiss actually have 8m/1000m more real FOV, despite their higher power. It's something I never used to notice, but the SFs (and NL Pures) do have an immersive picture-window feel to the view these Ultravids lack.
Viewing garden birds, I found that on-axis the sharpness, resolution and detail was indeed every bit equal to the Zeiss, but the SFs' picture window view and superb focuser meant I preferred them.
Flat field?
Typical of other Ultravid HDs I've tested, these do have some blurring towards the field edge. Viewing a ruler, I find that blur creeps in very progressively from about 65% - a mix of astigmatism and field curvature (you can focus some of it away). There's just a little distortion too. As I said, it's a perfect balance for comfortable panning. Much as I love the almost perfectly flat picture-window of the NL Pures, it does give some rolling ball effect when panning that the Ultravids avoid.
<![if !vml]>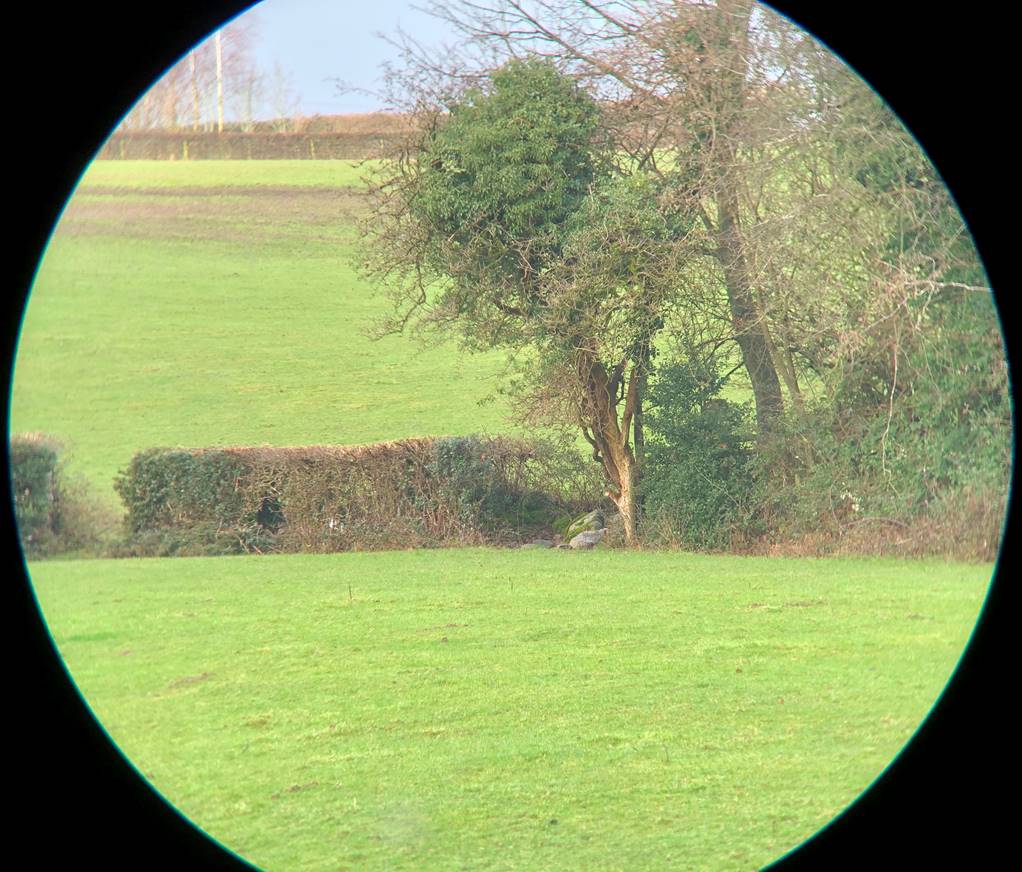 <![endif]>
Chromatic Aberration
HD optics in a low power mid-size binocular is a recipe for low false colour and these deliver on it: they are as false colour free as all but a few of the very best binoculars I've tested, so much so you just forget about it. There is just a trace of flashing colours panning through high branches, with a little more at the field edge, but it's mild even compared to say Zeiss' Conquest HDs.
In Use – Dusk
Penetration of dusk shadows is excellent with a real light-intensifying effect peering into my local copse in twilight. I did notice just a fleeting touch of veiling flare under a brilliantly clear dusk sky.
In Use – Observing the Night Sky
Stars become distorted from as little as 40-50% field width, but it doesn't become really noticeable until about 70%. Some of it is due to field curvature and can be focused away, but some is proper astigmatism.
Putting Orion's belt and sword into the same field (which fit with masses of room to spare) does result in the outer stars, Mintaka and Nair Al Saif, being slightly elongated. It is even possible to cram the whole constellation of Lyra into the field, but Vega becomes a brilliant blue-white arc.
A bright security light generated no ghosts and just a hint of a dim prism spike moving around. Though most stars were perfectly pinpoint, the very brightest (e.g. Vega) were shown as miniscule clusters of spikes, even centre field. This is normal with roof-prisms, whereas the best porro prism bino's show dazzling pinpoints.
The Moon
The Moon was a hard, sharp white ball through these in a way it only is with low-power bino's. Even a full Moon failed to create spikes or false colour and only the very faintest pair of ghosts in field. Viewing around a full Moon did produce some minor veiling flare.
Mars
Mars showed strong natural colour and no flare or spikes.
Deep Sky
Stars showed strong natural colour too. All but the brightest were perfectly pinpoint centre field, giving beautiful stardust-filled rich fields in the Milky Way up through Cygnus, something these bino's excel at. Those pinpoint stars meant Albireo was an easy split, despite the low power, showing the striking orange and blue colours of its components.
Bright open cluster M35 easily resolved with direct vision. The fainter clusters in Auriga – M37, M36 and M38 – fitted nicely into the field together and were picked out of the background by the excellent contrast these bino's deliver. Like bright patches of smoke, they needed some averted vison to fully resolve, though.
Other brighter open clusters looked great, with the double cluster region a mass of stars that included the nearby large Stock 2 cluster and tiny Tr 2 cluster.  I found nebulosity in the Heart and Soul nebulae and the large patch of nebulosity comprising the North American Nebula above Deneb was especially clear for this aperture.
Other extended objects like the galaxies M31 and M33 in Andromeda were easily encompassed by the well corrected part of the field.
The power is too low to show the Great Nebula in Orion (M42) to best effect, but the whole sword and belt regions were a mass of fainter stars, just beautiful.
The 7x42 Ultravids make a great way to sweep Milky Way star fields, finding clusters and enjoying larger and brighter DSOs.
<![if !vml]>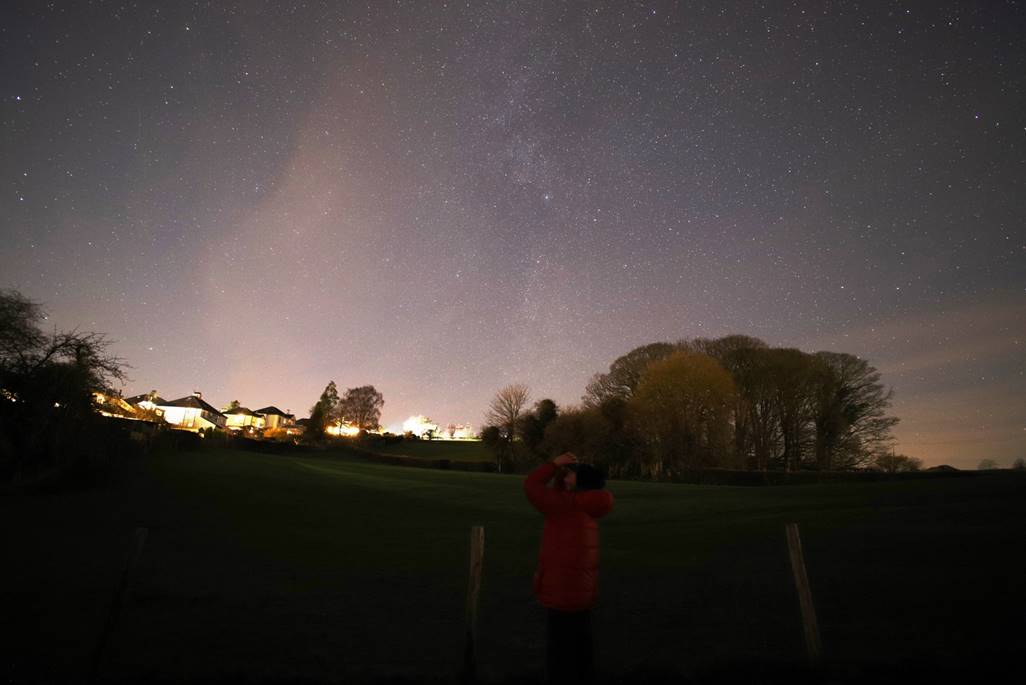 <![endif]>
Leica 7x42 Ultravid HD vs Zeiss 8x42 SF
<![if !vml]>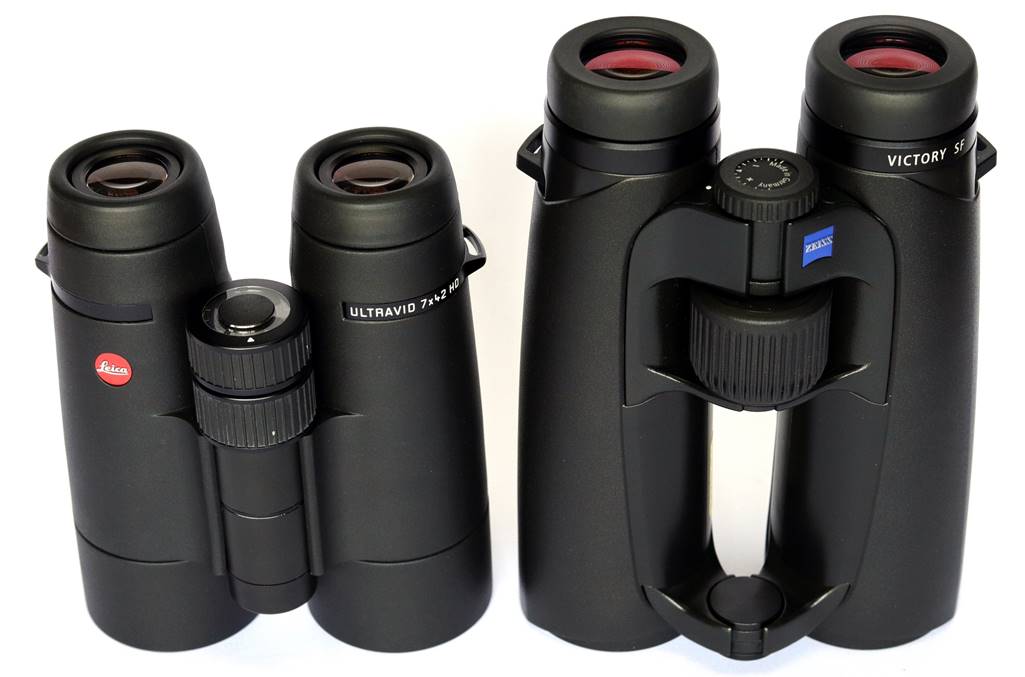 <![endif]>
I reviewed these at the same time. It's an interesting comparison because they offer almost the same true field of view and do very similar things, but the SFs are a much newer design.
<![if !supportLists]>· <![endif]>The SFs are the size of a 50mm Ultravid, but are just a little heavier than the 42mm
<![if !supportLists]>· <![endif]>Centre field quality of view is similar, but the SFs are a touch brighter have even less false colour
<![if !supportLists]>· <![endif]>The Zeiss' pink coatings give the view a very subtly cooler, crisper tone. In a sense that's a trick, but one I like
<![if !supportLists]>· <![endif]>Despite their higher power, the SFs have an even wider, better corrected true field
<![if !supportLists]>· <![endif]>A much wider apparent field give the SFs an airier, more immersive and less shut-in feel
<![if !supportLists]>· <![endif]>The extra power of the SFs is very noticeable and makes for a slightly different viewing experience
<![if !supportLists]>· <![endif]>The lower power of the Ultravids makes them steadier and gives a greater depth of field
<![if !supportLists]>· <![endif]>For astronomy, the Ultravids deliver richer Milky Way star-fields, but the SFs are better for DSOs
<![if !supportLists]>· <![endif]>The SFs have a better focuser – smoother and more intuitive – but the Ultravids' is perfectly adequate
<![if !supportLists]>· <![endif]>The SFs focus much closer
<![if !supportLists]>· <![endif]>The SFs have just a bit more eye relief for even greater comfort with specs, though the Ultravids are already very good
<![if !supportLists]>· <![endif]>Build quality is a narrow win for Leica, but the SFs are much better than early versions
<![if !supportLists]>· <![endif]>At real world prices the SFs are considerably more expensive, even than the latest HD-Plus version
The Ultravids are a great old-skool premium binocular, but progress is progress and the SFs are little better and more enjoyable in many ways. Still, the Leicas have an edge in terms of ease and ultimate relaxation thanks to their light weight, steady view and huge depth of field.
Summary
Imagine a truly premium European binocular with no fancy features – no ultra-wide apparent field, no special bridge design or ultra-fl' optics – just a supremely well executed workaday birding binocular with everything you really need and nothing you don't. That's these Ultravid 7x42s.
Zeiss' innovative SFs and Swarovski's NL Pures may be better in some ways, but the Ultravids offer a fabulously competent, sharp and comfortable viewing experience if you're not bothered about an old-fashioned mid-50° apparent field. Their very compact size, light weight, steady view and deep field make them especially relaxing for extended viewing or when conditions are bad and you're tired, your arms ache and your fingers are numb.
The only real issue for me is Leica's list price for the latest HD-Plus version, which is close to the Zeiss SFs. Nice though the Ultravids are, the SFs feature a lot of optical innovation and mechanical cleverness that the Ultravids lack.
These Ultravid 7x42s make a fabulously comfortable and practical everyday birding glass and are highly recommended. But the latest SFs, ELs, Noctivids and NL Pures do most things a little better, so price accordingly.
<![if !vml]>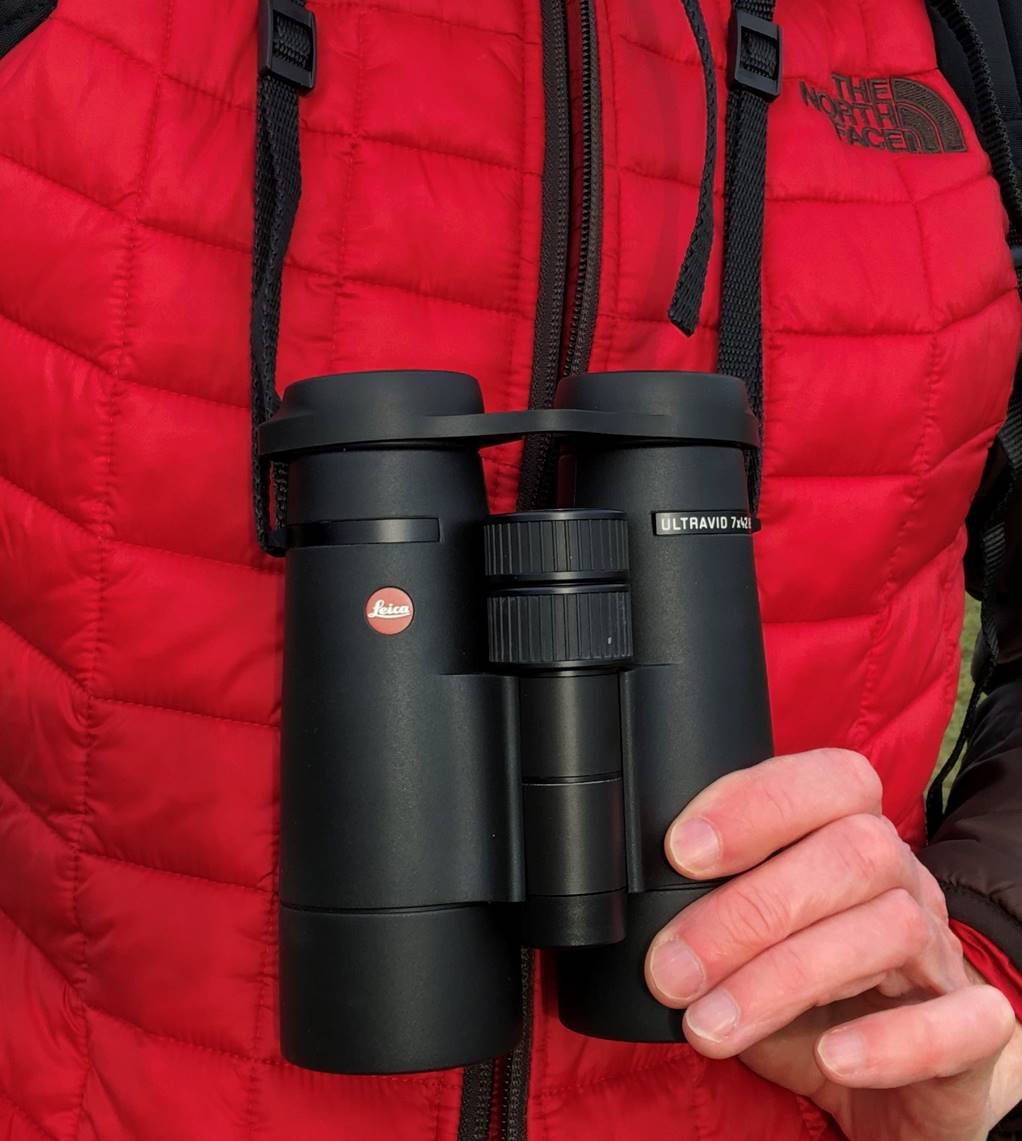 <![endif]>
Extra easy viewing, at the end of a long cold day in the field ...