Leica 8x20 Monovid Review
<![if !vml]>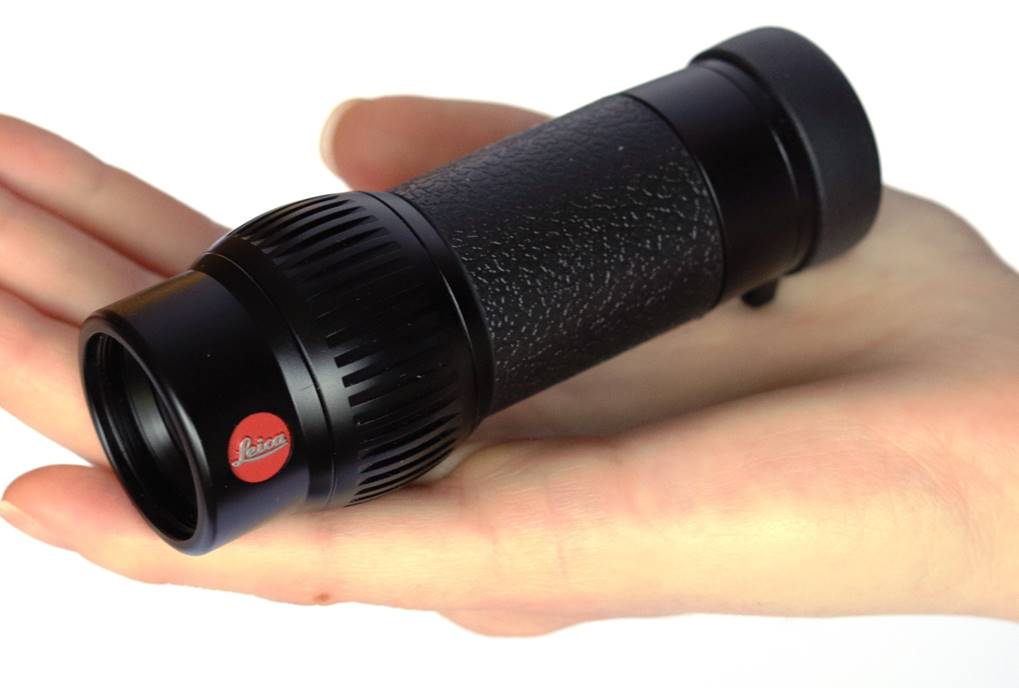 <![endif]>
If a tree falls in the forest with no one to hear, does it still make a sound? What is the sound of one hand clapping? Does Leicaís Monovid belong in the telescope or binocular section? Good questions, Zen master. But also, what is Monovid and is it any good?
Monovid is essentially half a pair of Leicaís premium pocket 8x20 Ultravids, so itís a really premium optic, arguably more so than rival high-end monoculars from Zeiss and Nikon. Whatís more, an aperture of 20mm is the absolute minimum for general purpose use: the likes of Nikonís 7x15 will be for bright conditions only.
I go walking in the hills and woods around here most days and the idea of a top-notch distance viewer that I could keep in a pocket is appealing Ė for views of raptors, low flying military planes (loads around here) and maybe the odd peek at a Moon rise.
However, it must be said that most monoculars are pretty cheap and nasty, so read on to find out if Leica can escape that norm.
At A Glance
| | |
| --- | --- |
| Magnification | 8x |
| Objective Size | 20mm |
| Eye Relief | 15mm claimed and measured |
| Actual Field of View | 110m/1000m, 6.3į |
| Apparent field of view | ~50į |
| Close focus | 1.8m (30cm with macro lens) |
| Transmissivity | ~90% |
| Length | 10cm |
| Weight | 112g |
Data from Leica/Me.
Whatís in the Box?
The Monovid gets a miniature version of the usual green and silver Leica box that I really like. The box and presentation of the accessories gives the Monovid real gift appeal and I reckon thatís why a lot of Monovids get sold.
<![if !vml]>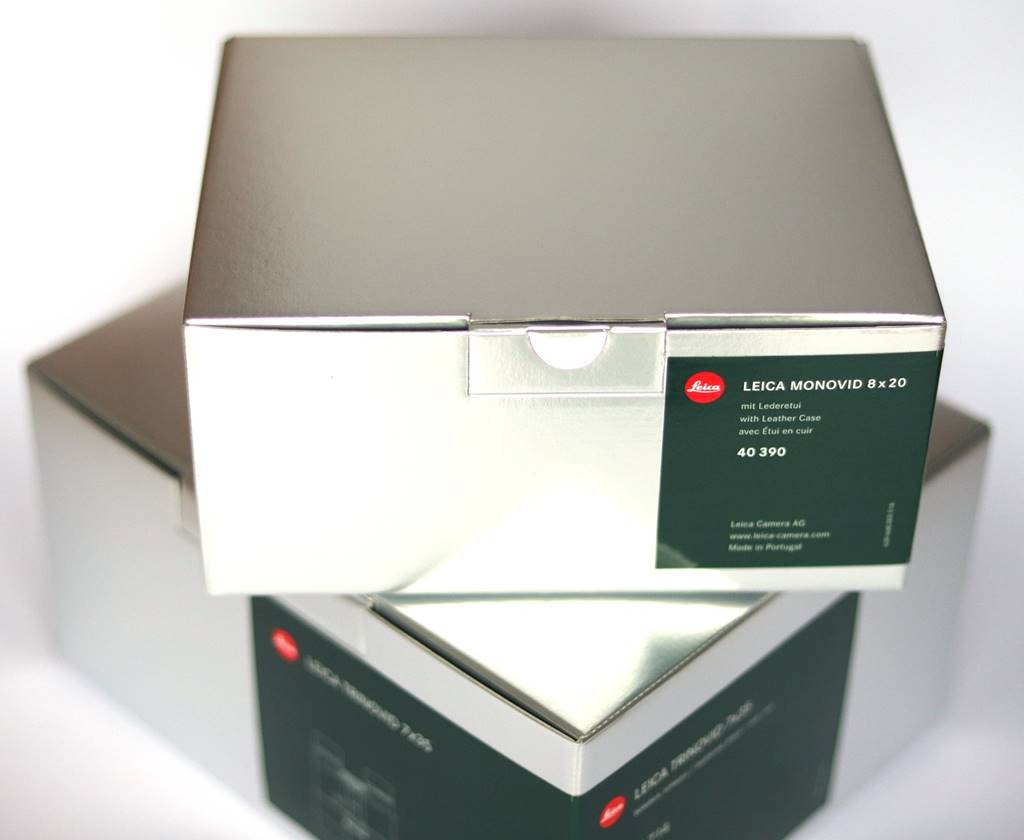 <![endif]>
<![if !vml]>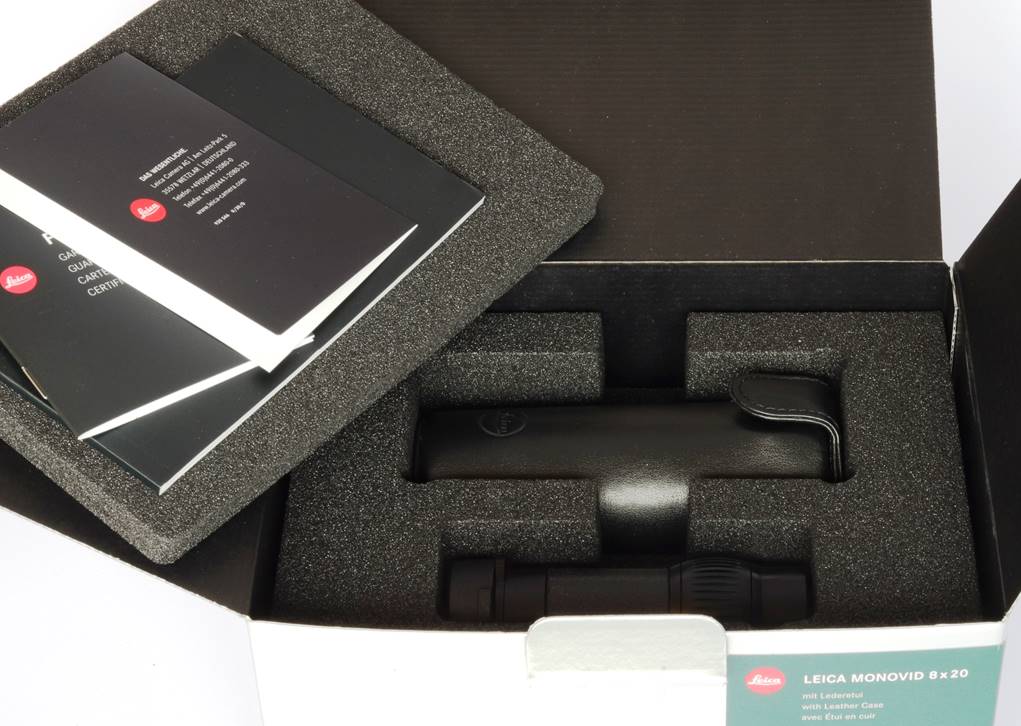 <![endif]>
<![if !vml]>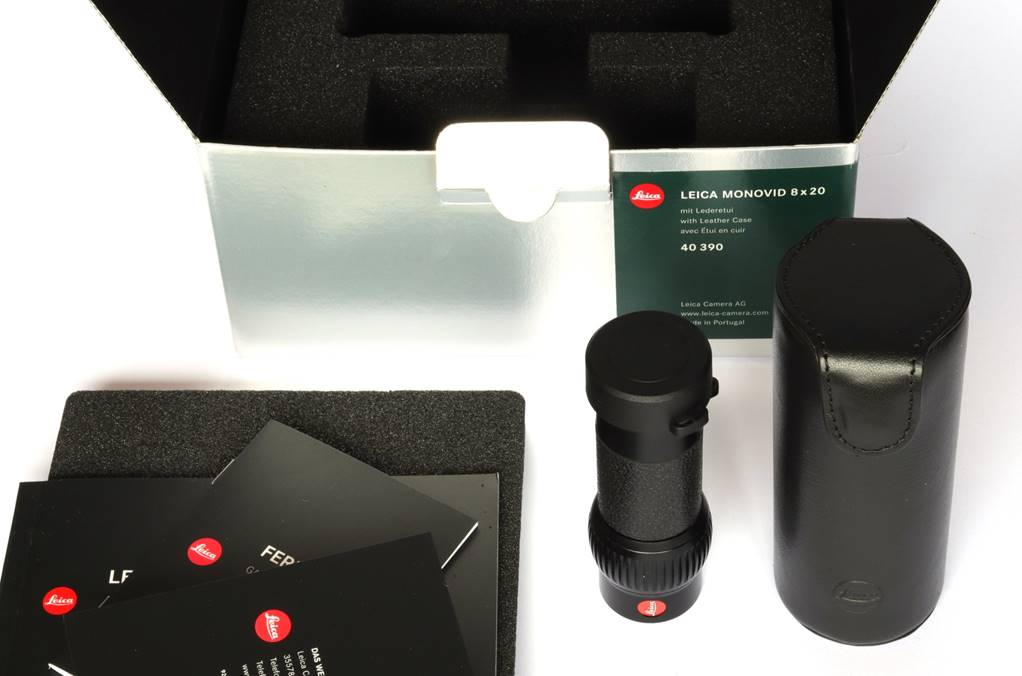 <![endif]>
Design and Build
The Monovid is based on the Ultravid 8x20 binoculars, not the more basic Trinovids, but obviously itís not just a half binocular because it needs a different focus mechanism. Still, the Monovid has many features from the Ultravids. Itís European made (in Portugal, but no issue there Ė my Trinovid 7x35s from that factory are superbly put together), has a metal construction covered in (real I think) leather that reminds of the BL version of the Ultravid 8x20s. Itís a premium product and should be for its substantial (£450 at the time of writing) list price.
Monovid comes in at least three leather clad colours Ė the black leather on review here, a black and silver livery from their Silverline binocular range and finally a red leathered version in collaboration with the Royal Opera House. My favourite is this one and itís classy and small enough to use at the opera anyway. As far as I know, unlike the Ultravids, the Monovid isnít available in a rubber armoured variant.
<![if !vml]>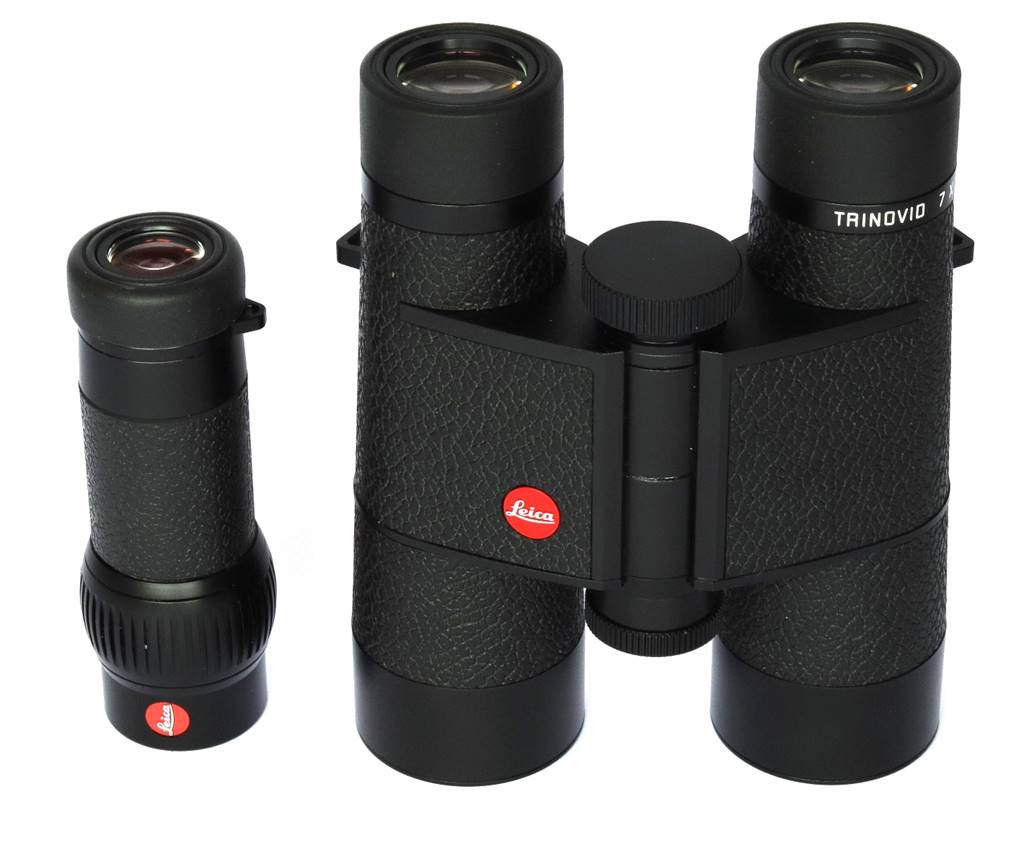 <![endif]>
The Monovid shares its finish with other classic Leicas, like these 7x35 Trinovids (new ĎRetrovidí model).
Body
The Monovid looks like a weighty Astroí eyepiece, but it really is very light at just 112g Ė much lighter than the solid metal build would suggest, much lighter than any binoculars. It is small too and would easily fit in a pocket for every walk, without weighing and swaying too much.
Did I mention the beautiful quality of the build and components? No plastic here. Said it before, but Leica excel in this regard. I absolutely love the anodised and leathered finish, but (as with my leathered Trinovids) I kinda know armour would be more practical. That said, the Monovid looks like itís built the same way as Leica binos, so Iím guessing Leica could service and repair it (little hope of that with Nikon or Vortex).
One advantage of the monocular format is robustness anyway. By comparison, this seems to be a problem with miniature binos: over the years, Iíve had three pairs of 8x20 binos from different brands go out of collimation from a light knock that didnít mark them.
Like Leica binos, the Monovid is fully sealed, nitrogen filled and waterproof to 5m.
<![if !vml]>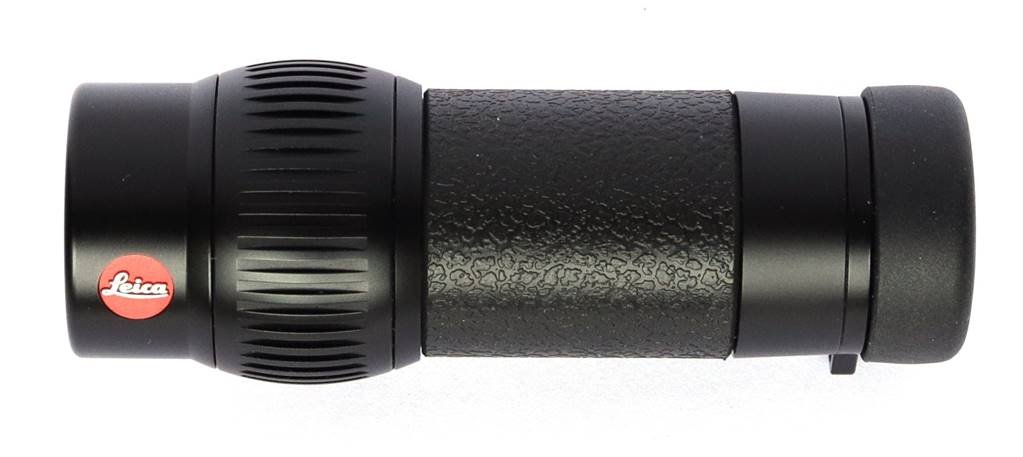 <![endif]>
Focuser
In appearance terms, the focuser is beautifully done Ė that big knurled and curved wheel behind the objective. However, I donít like the action: itís accurate and smooth, but very stiff. This is slightly problematic in use, as weíll see.
The Monovid focuses quite close: I measured under 2m, just as claimed. With the macro lens in place, itís much less Ė see below.
<![if !vml]>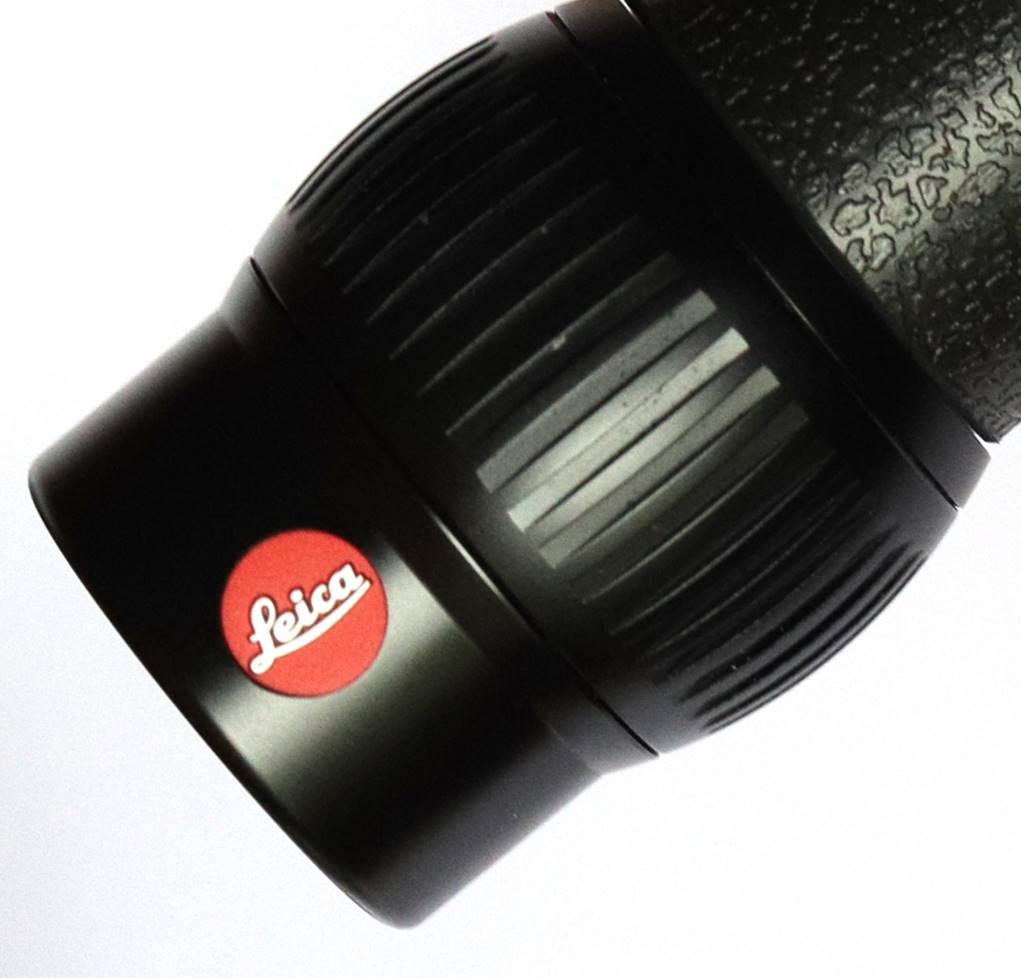 <![endif]>
Optics - Prisms
The Monovid uses a standard Schmidt-Pechan (a.k.a. Roof) prism to erect the image, complete with P40 phase contrast coating for optimum resolution.
Optics - Objectives
The 20mm objective is probably a triplet. In any case, itís treated to Leicaís premium greenish-tobacco coatings and (surprisingly) also the Aqua DuraTM water and dirt repelling techí from their Ultravid binoí range.
Internally, build quality looks outstanding and the focuser cage contains ridged baffles to combat stray light.
<![if !vml]>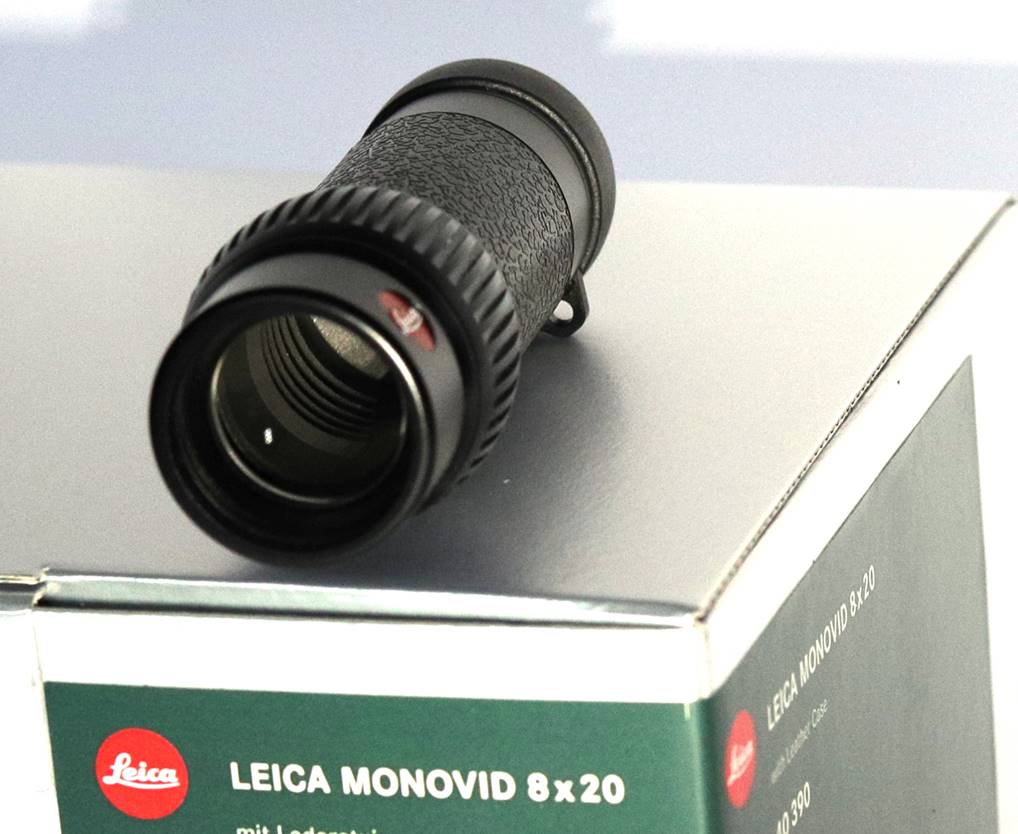 <![endif]>
Coatings are premium, internals well baffled.
Optics - Eyepieces
Field of view is nothing special at 110m/1000m, which is 6.3į true and about 50į apparent. Physical limitations make FOV a problem for very small optics, but the Ultravid 8x20 binoculars have slightly more, Zeissí 8x20 Victory binos more still.
Unusually for a monocular, and for Leica in general, the Monovid has ample eye relief for specs wearers like me. Leica claim 15mm and thatís what I measured, from the rim of the eye cup (not the lens which gives an inflated value). Itís enough to comfortably see the whole field with my glasses. Whatís more blackouts arenít a problem.
The eyecup clicks (not twists) out to allow for viewing without specs on. Thereís only one position, but it should work fine for most. Clicking the cup out reveals the serial number, by the way.
<![if !vml]>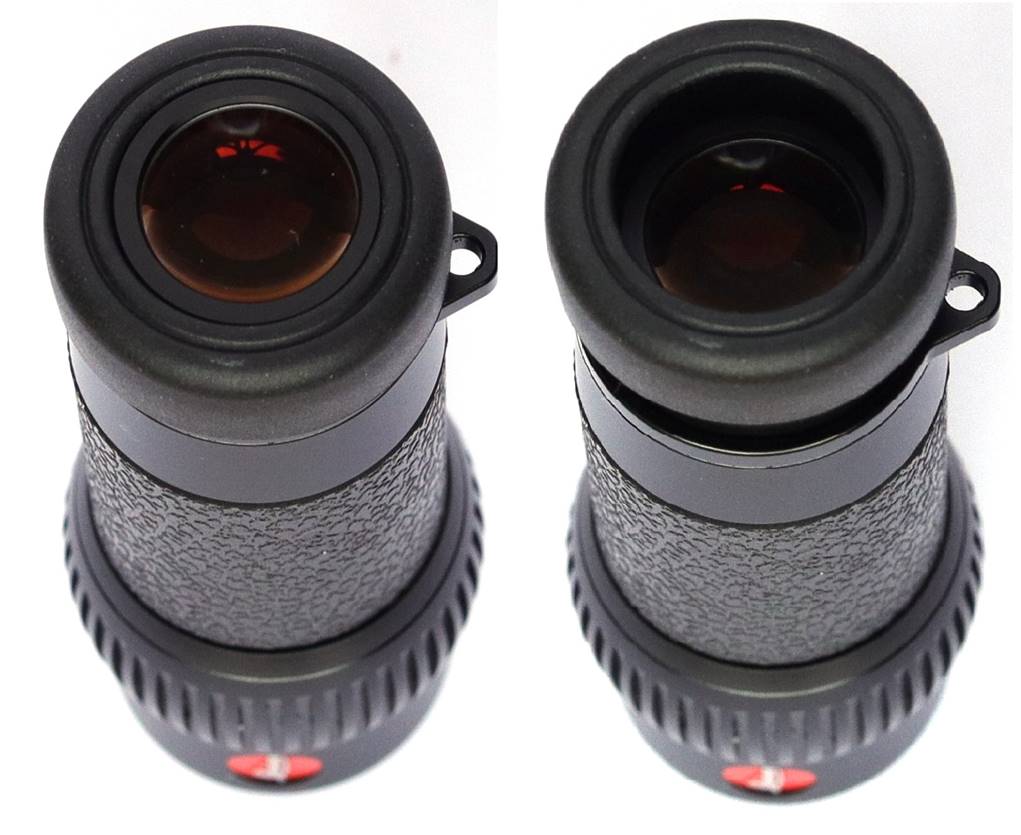 <![endif]>
<![if !vml]>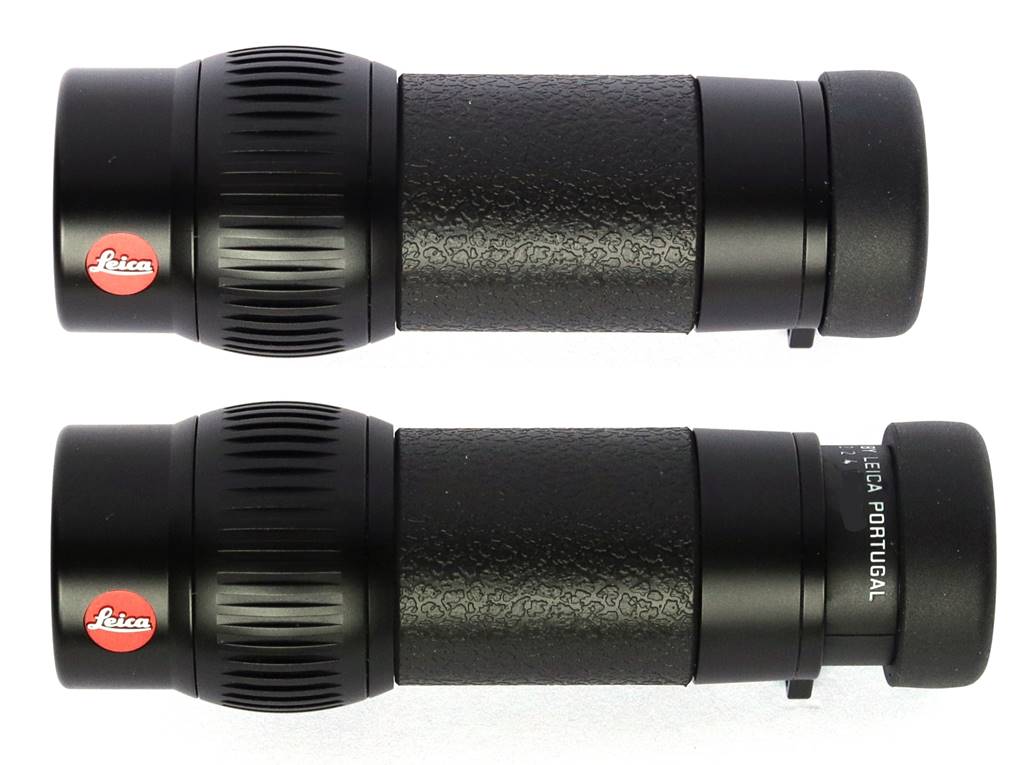 <![endif]>
Eye cup has one click-out position, reveals serial number.
Accessories
The premium vibe really continues with the accessories.
Thereís a little tubular hard case in thick black logo-embossed leather. The case includes a pair of felted lens covers fixed on webbing that help extract the monocular when you open the lid by pushing it up and out Ė clever!
The case lid also contains, on a screw thread for security, the most important Monovid accessory Ė a close focus lens that screws in front of the objective and gives the monocular impressive close viewing potential, somewhere between a hand lens and a full-on microscope.
A single lens cap is provided for the eyepiece. A wrist lanyard takes the place of a conventional bino strap.
<![if !vml]>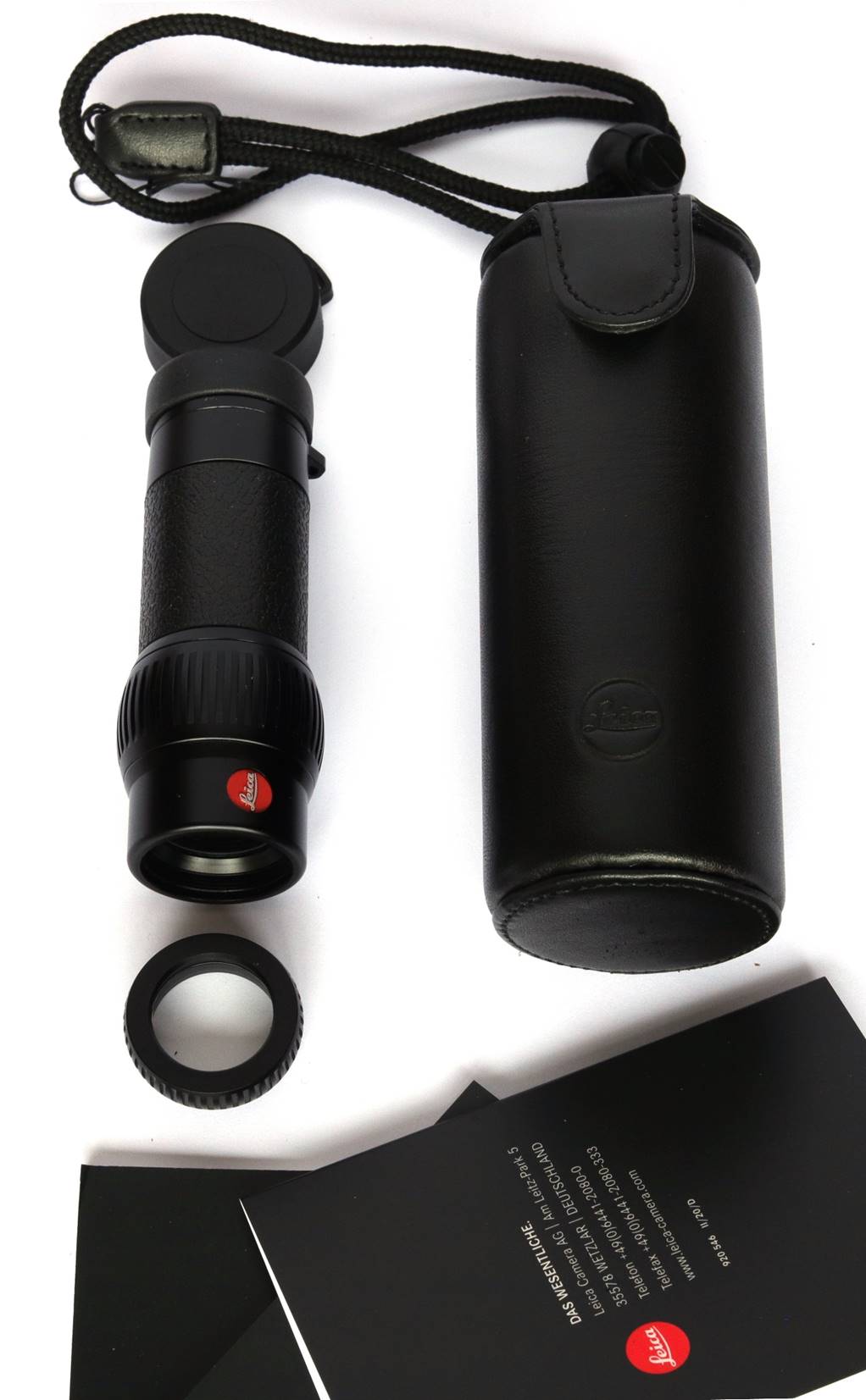 <![endif]>
<![if !vml]>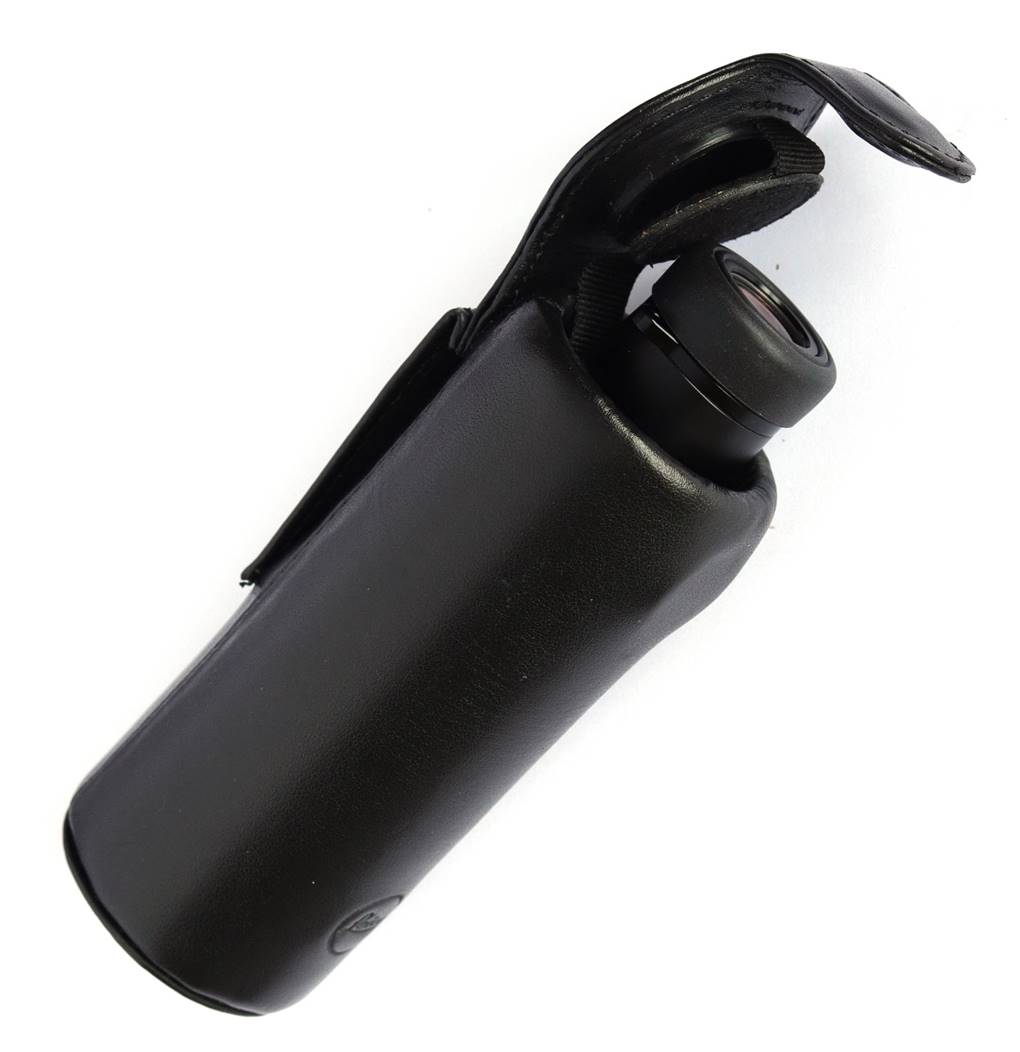 <![endif]>
In Use Ė Daytime
Ergonomics and Handling
The Monovid is very small and short and in some ways that actually counts against it. Itís great for carrying, but I found it harder to hold steady than a pair of 8x20s binos, harder than a longer monocular too.
The focuser is too stiff. Combined with the extremely snappy optics it can be really hard to find perfect focus, because focusing causes so much extra jiggling.
Eyepiece comfort, surprisingly for a monocular, is very good indeed Ė well up to the best small binocular standards.
The View
Lean on something to kill those shakes and you realise that the basic view is very good. Optical quality is excellent and the view is sharp, detailed and crisp. Colour rendition is state of the art, thanks to those premium Leica coatings. I had some excellent views of waders out in the bay and a Moonrise later, just by leaning on a fence post.
Trouble is, without anything to lean on those shakes make it hard to enjoy the premium optics. And I couldnít help noticing how much using only one eye degrades the Ďviewí. I should know this from using telescopes, but itís a shock. The view looks the same as a premium small binoís in the picí below, but your brain doesnít experience it that way.
Flat field?
The Monovidís field seems reasonably wide in use and itís usable to the edge (note the roosting pigeon!), where the sharpness tails off just a little from some field curvature and astigmatism.
<![if !vml]>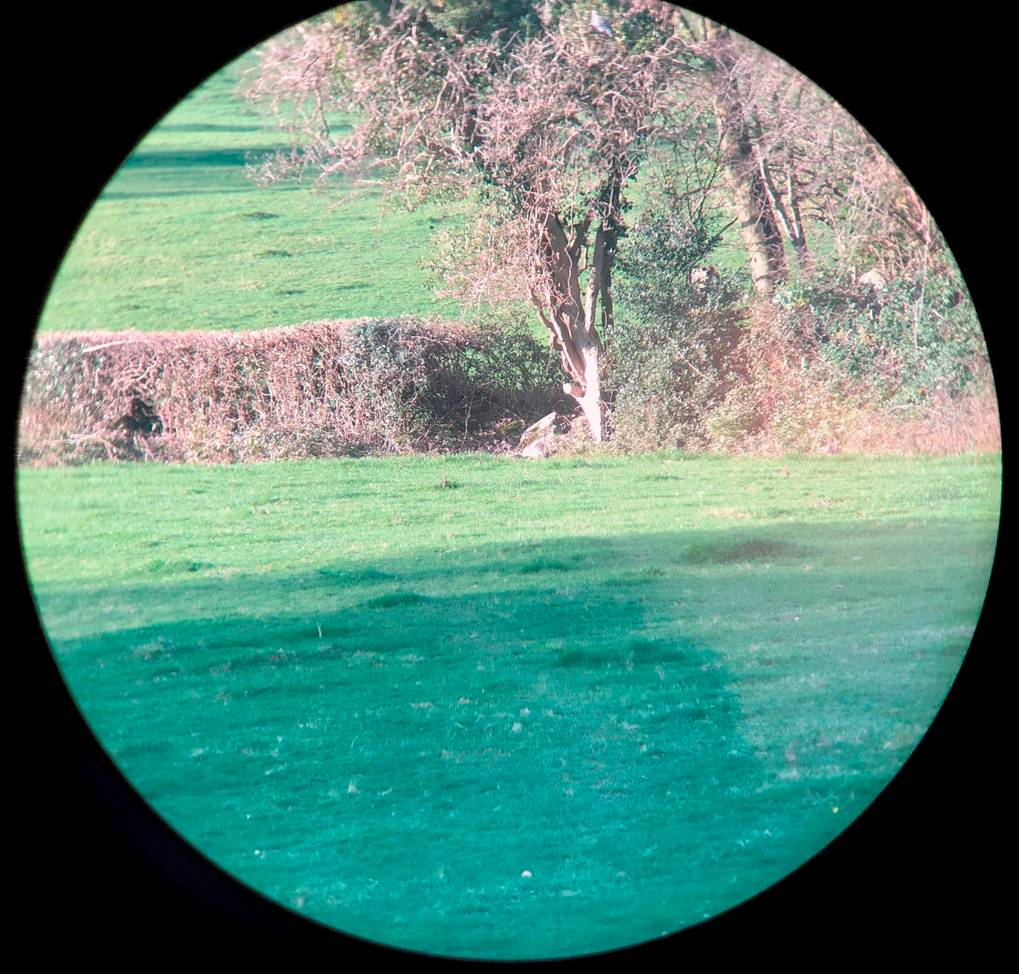 <![endif]>
Chromatic Aberration
The Monovid collects little light to start with and false colour fringing is never a problem Ė performance is like a good HD binocular is this regard.
In Use Ė Macro
Unthread the little macro lens from the case lid, screw it onto the front of the Monovidís objective and you have a macro viewer thatís substantially more powerful than a hand lens, but clear and sharp. I found it easiest to focus at a sensible distance (say 50cm) then move your head and the Monovid to get perfect focus on the object. I had some interestingly detailed views of a fossil fern with it.
Note: donít try to use it like a microscope Ė close focus is maybe 30cm.
I guess the macro could be of real utility to antiquarian book enthusiasts, art restorers, fossil collectors and coin/stamp collectors among others.
<![if !vml]>

<![endif]>
<![if !vml]>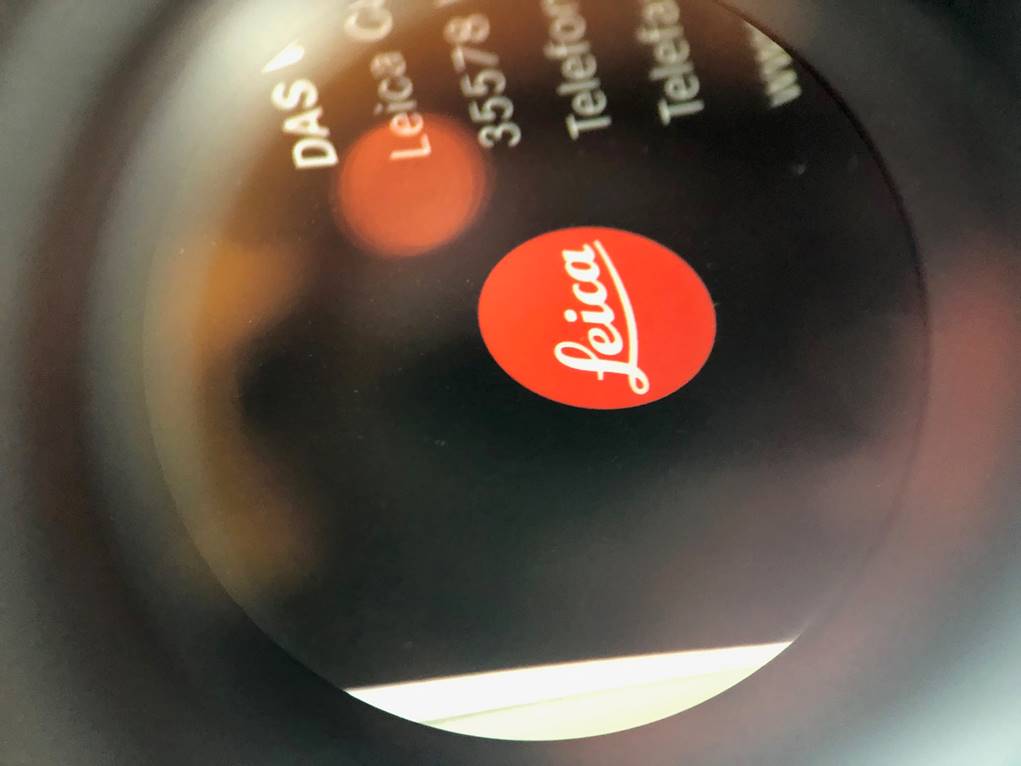 <![endif]>
Monovid with macro lens attached and a snap through it.
In Use Ė Dusk
The 8x20 monocular format means the Monovidís abilities fall off sharply in low light.
In Use Ė The Night Sky
Iíve used a pair of premium 8x20 binoculars very successfully on the Moon. When I lived in Switzerland, Alpine walks often ended in twilight with wonderful peeks at Luna with a pair of Nikon 8x20 HGs. And I found Zeissí 8x20s ideal for looking at the full Moon, giving a sharp, contrasty view, but not too bright.
Unfortunately, the Monovid didnít work so well. To really see anything, I had to lean on a support. And even then, the result seemed much less detailed and interesting. Whatís going on?
The problem here isnít Leicaís optics, but my brain. Human brains are designed for binocular visual processing and even astronomical telescopes benefit hugely from a binoviewer (even though in theory it adds nothing to the monocular optics, only detracts from it with extra glass in the way).
In general terms, though, the Monovid is fine Ė sharp optics, good suppression of stray light and a flattish field as well. The problem is simply that the small monocular format is very limited (but not useless) for astronomy. Letís break that down:
The Moon
I did get an enjoyable look at the rising Moon over the bay, but any decent binoculars would have revealed more with stereo vision. Still, I could make out the basics Ė the curving mountain rimmed bay of Sinus Iridium, the major craters like dark-floored Plato and bright Tycho with its Moon-crossing rays, huge Copernicus too.
The Moon produced no nasty flare or spikes, no false colour.
Planets
Jupiter surprised by yielding an obvious disk, again with no spikes or flare, likewise a bright orange Mars. Saturn revealed a saucer-shape and a creamier colour than Jupiter.
Deep Sky
I couldnít really get much deep sky from the Monovid. Even 8x20 binoculars struggle to reveal much and I generally reckon 8x30 to be the minimum for star fields, clusters and bright nebulae.
Summary
Most visual astronomers have come to a hard truth in recent years Ė even crummy eyepieces in a cheapo binoviewer show you more than a super-premium single eyepiece. This has nothing to do with the optical system, itís just that brains are wired to process and synthesize in stereo. And that really is the Monovidís problem. Optically itís just one barrel of a pair of Ultravids, but thatís not how it seems. The view seems less detailed, less vivid, less involving. Blame your brain.
Then there are the shakes. I struggled to hold this tiny object steady enough to get a good view. But rest on something and itís fine.
Finally, the stiff focuser makes finding perfect focus hard, again unless you rest on something.
I donít want to sound to down on the Monovid. Itís probably the best tiny monocular anyone could build. It is a beautiful thing, with thoughtful luxury accessories. It is super tiny and light weight. But unless you really need that extra pocketability, stick with binoculars.
One practical use I really could see for the Monovid, though, is as a super-powerful hand lens for various types of collectors and antiquarians. It could be a wonderful gift for someone with such interests.
Beautifully made and equipped though it is, fun toy though it is, the Monovid is really only useful as an Ďemergencyí distance viewer for when youíve left the binos behind. I didnít find it very useful for astronomy, even for quick looks at the Moon. However, the macro feature is a big step up from a hand lens and could be very useful.
<![if !vml]>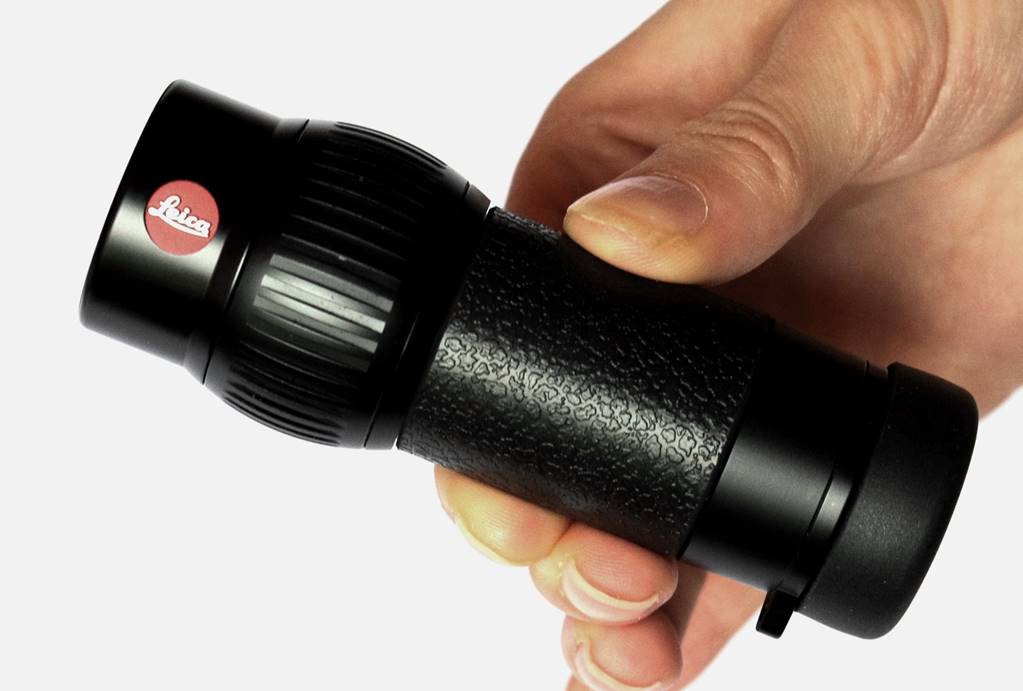 <![endif]>