The idea of two powers in one binocular is certainly attractive. But do the Duovids really deliver on the concept, or are they another horrid zoom in disguise? In this review I put them to the test, during the day and on the night sky, to find out.
Leica 10+15x50 Duovid Review
<![if !vml]>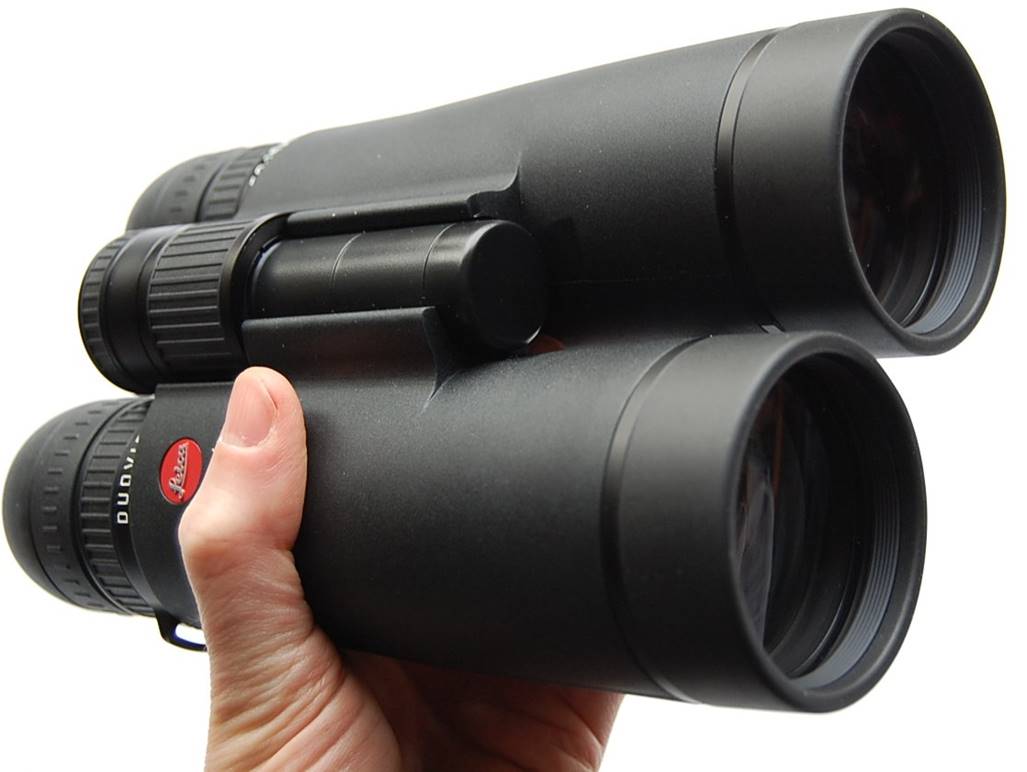 <![endif]>
Duovid is not zoom. Leica are very clear about that and no wonder. Why? Because zooms are a good idea, but zooms were always terrible in practice, at least until recently. Zoom binoculars in particular were almost all bad.
Then a few years ago, Tele Vue brought out their Nagler Zooms which were surprisingly … really good! Not long after, word of other good zoom eyepieces, including Leica's own, started to appear in the forums.
Duly fortified by a new confidence in zooms, I set out to find out if Leica's not zoom binoculars – the Duovids – were any good. I especially wanted to try the 10+15x50s which incorporate two of the best powers for astronomy.
At A Glance
| | |
| --- | --- |
| Magnification | 10x, 15x |
| Objective Size | 50mm |
| Eye Relief | 14.5mm |
| Actual Field of View | 5.3 degrees (10x), 4 degrees (15x) |
| Apparent field of view | 53 degrees (10x) 60 degrees (15x) estimated |
| Close focus | 3.8m |
| Transmissivity | Est. 90% |
| Length | 195mm |
| Weight | 1250g |
Data from Leica
What's in the Box?
Opening a brand new toy is always fun. Of all the premium bino' makers, I reckon Leica's packaging is the most attractive:
<![if !vml]>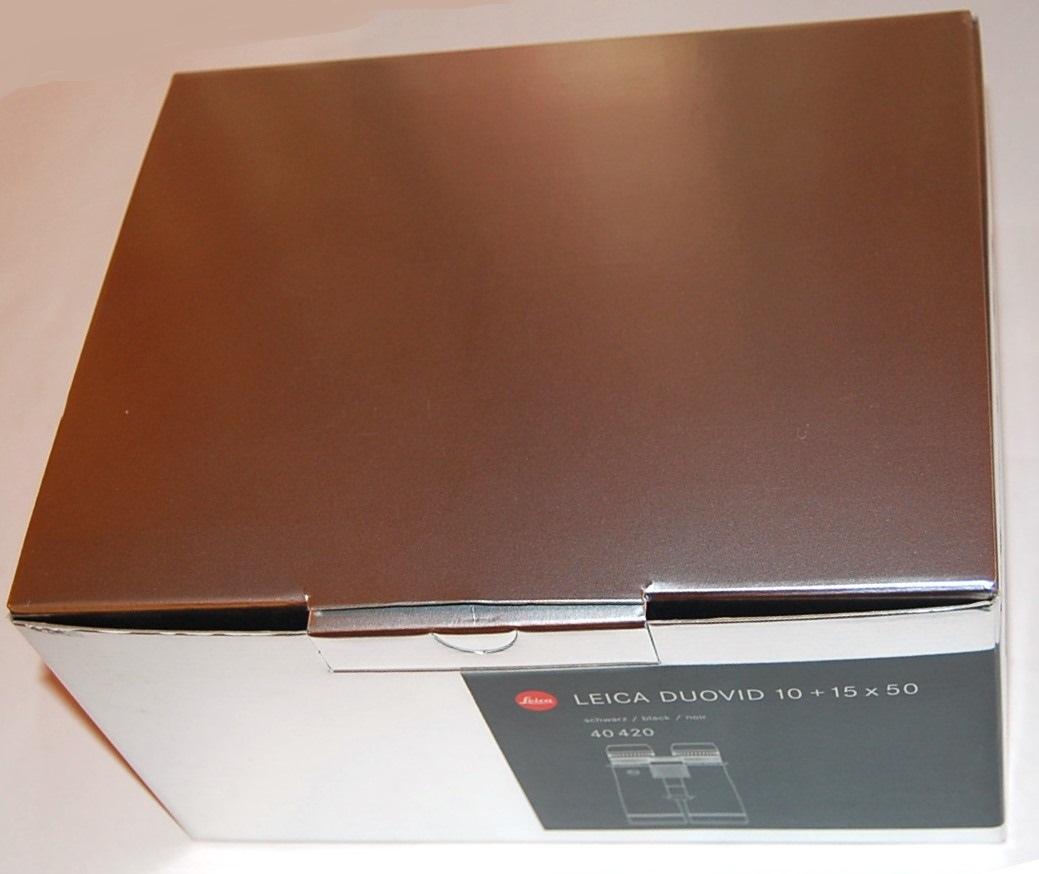 <![endif]>
<![if !vml]>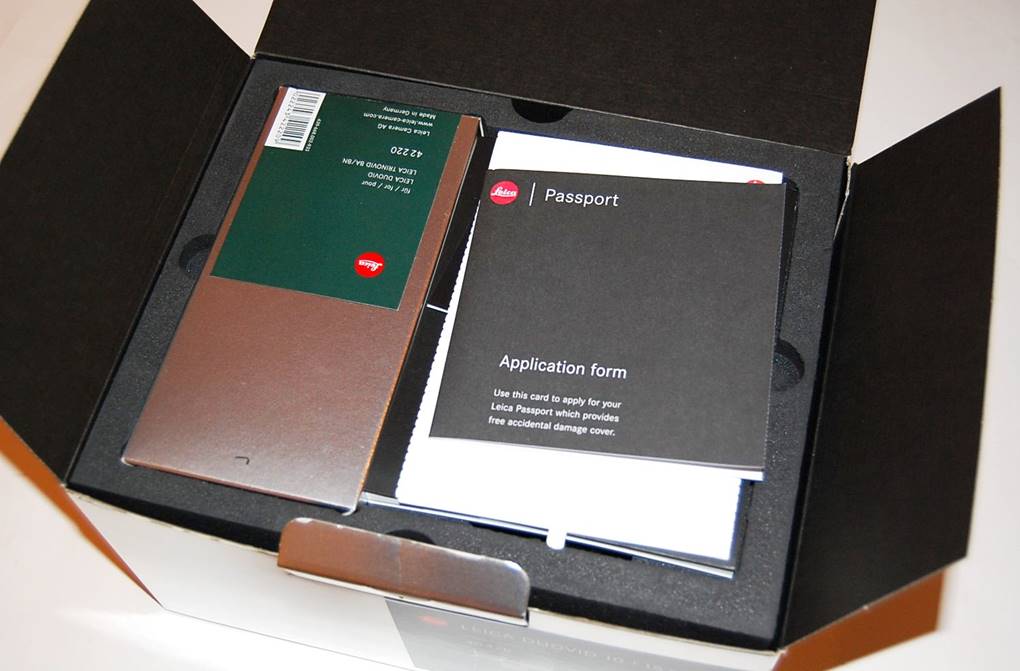 <![endif]>
<![if !vml]>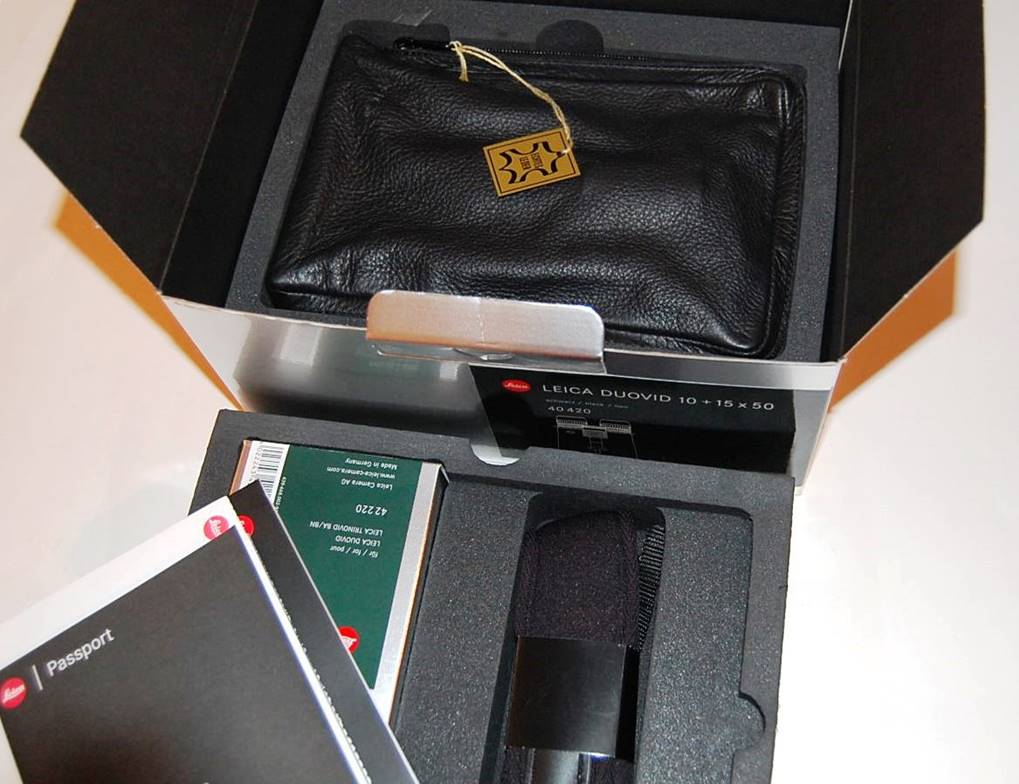 <![endif]>
<![if !vml]>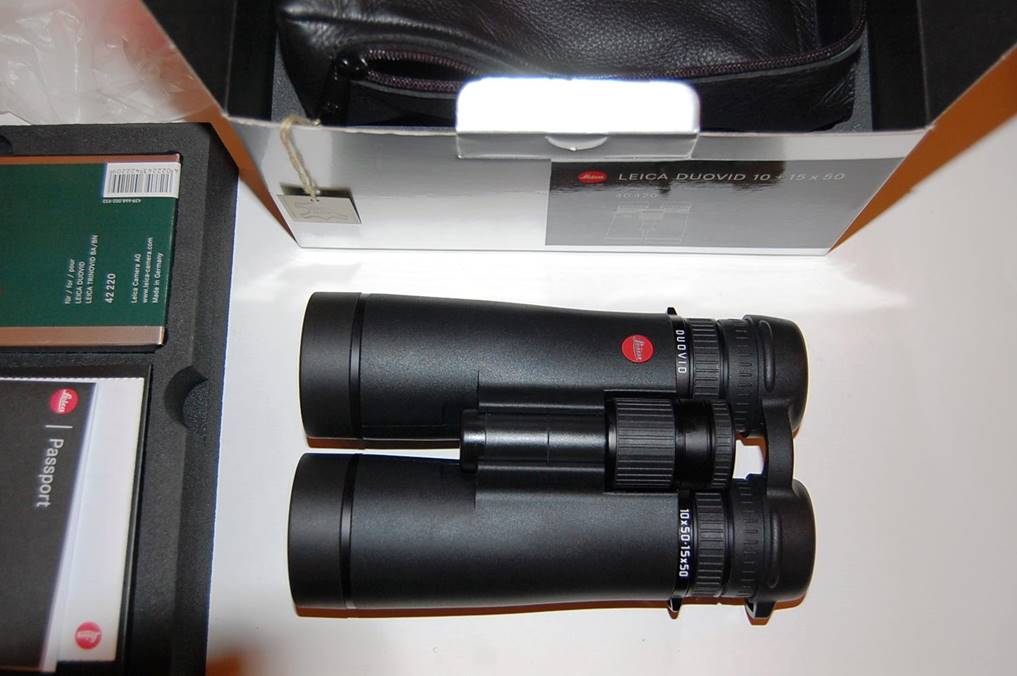 <![endif]>
Design and Build
Leica make two models of Duovid – the 8+12x42 and the 10+15x50 reviewed here.
Both models of Duovid belong to the previous generation of Leica's premium roof prism binoculars – the original Ultravids, not the newer Ultravid HDs. The Duovids are still a modern design, with dielectric prism mirror coatings to improve light transmission and phase coatings on the prisms. But compared to the newer HDs, the Duovids have been left behind in the following respects:
<![if !supportLists]>· <![endif]>The Duovids don't have the high-fluoride glass HD lenses that improve chromatic aberration considerably in Leica's HD range.
<![if !supportLists]>· <![endif]>The Duovids have a heavier aluminium body, where the HDs are magnesium (why is this, given that my old '70s Tascos were magnesium?).
<![if !supportLists]>· <![endif]>The Duovids have eyepieces from previous generations of Leicas, with less eye relief and a narrower field of view.
Body and Ergonomics
When you open the pretty silver Leica box, take out the black foam tray with the warranty papers and remove the binos from their leather case, the first thing you find yourself thinking is that they are rather heavy (1250g). That's as heavy as a premium 15x56 (think Swarovski SLC or Zeiss Conquest).
In other respects, the familiar Leica formula is repeated in the Duovids. This is an elegant, dare I say beautiful, binocular with thin, sculpted armour in black, a lens ring and strap lugs in finely machined metal and that little red logo. The barrels are attractively flared at the objective end in a way the Ultravids aren't. For my money, Leica binoculars are outwardly the most refined binoculars you can buy.
Build quality appears of the very highest and the Duovids are of course waterproof and nitrogen purged.
<![if !vml]>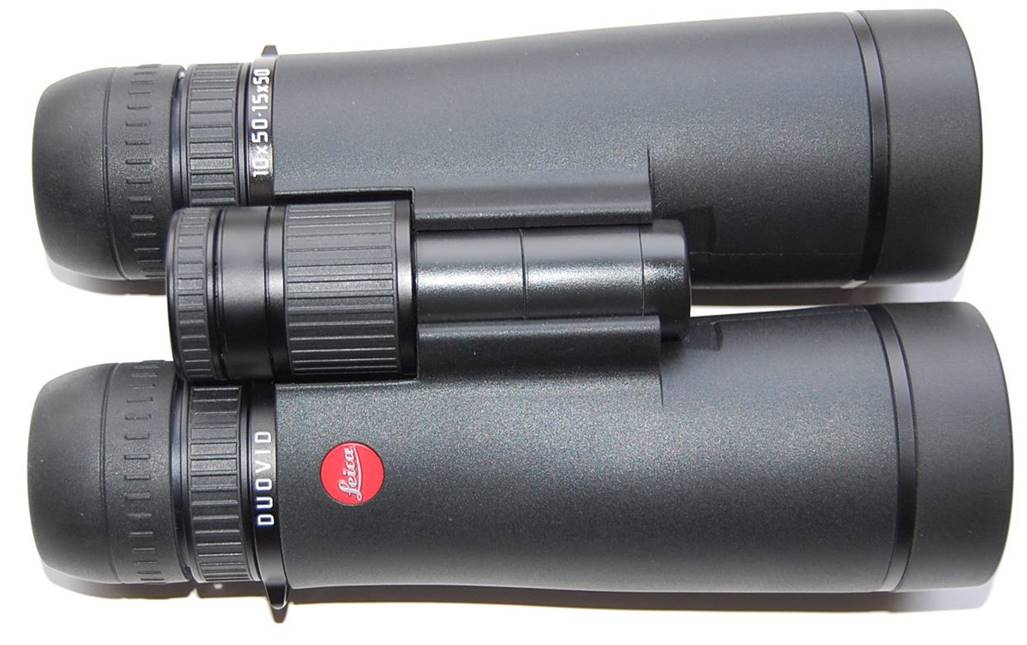 <![endif]>
Focuser
Focusing is smooth and easy with the big, chunky knob, but not quite as light and smooth as Nikon's HGs or Zeiss' Victory FLs (though it would probably free up with use).
Dioptre adjustment is by the separate knob in line with the focuser – a great mechanism that's easy to use and gloved-hand blunder proof.
<![if !vml]>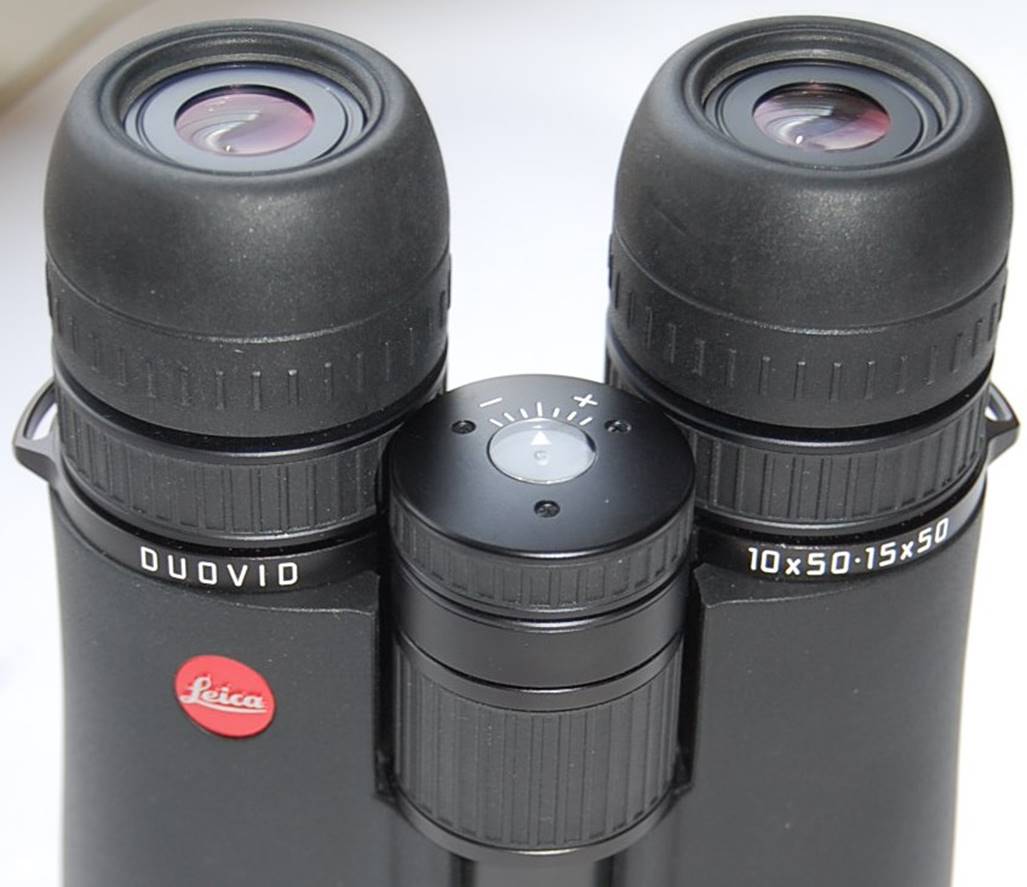 <![endif]>
Broad ring is focuser, thinner one the dioptre adjustment with gauge.
Optics - Prisms
The Duovids use conventional Schmidt-Pechan roof prisms with dielectric mirrors and the now mandatory phase coatings. Leica call these coatings by the trade names HighLux-System HLS™ and P40, respectively.
Optics – Objectives
From what I can find out these and most Trinovids/Ultravids have a triplet with one air-spaced element, a commonly found objective type in roofs. Leica make no claim to special dispersion ('HD') lenses for the Duovids. For reference, Zeiss use a four-element objective, with two ED/HD elements, to control aberrations in the 10x54 HTs, so we can't expect perfect false colour correction from the Duovids.
Coatings are good, but perhaps a little more reflective than the very best. They are an unusual tobacco colour, not the more usual blue, green or pink. Leica refer to these premium coatings as HDC™.
<![if !vml]>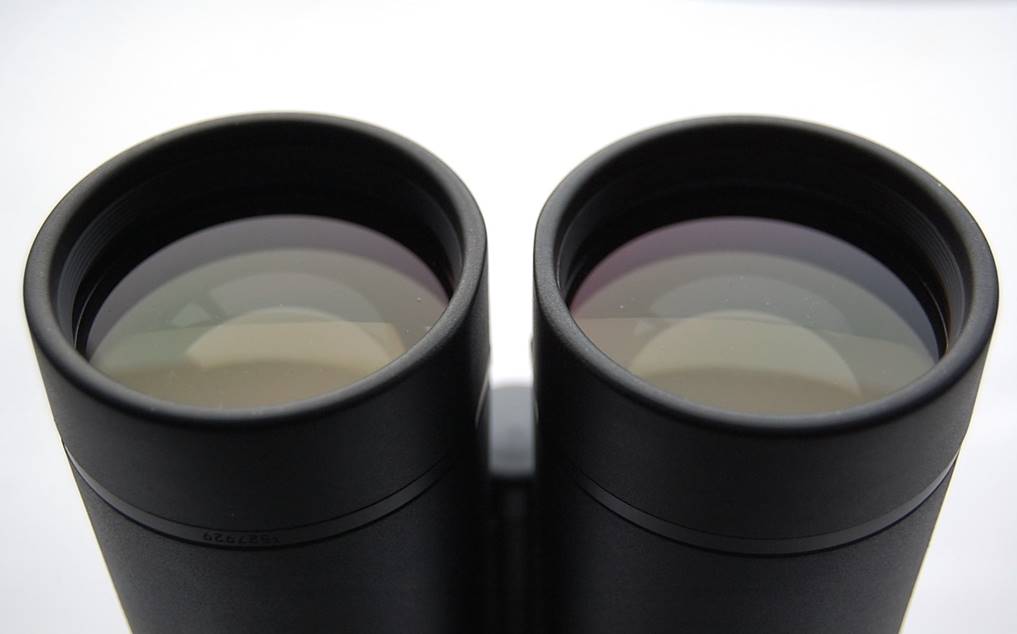 <![endif]>
Leica's HDC™ coatings are unusual neutral in colour – not the regular blue, green or pink.
<![if !vml]>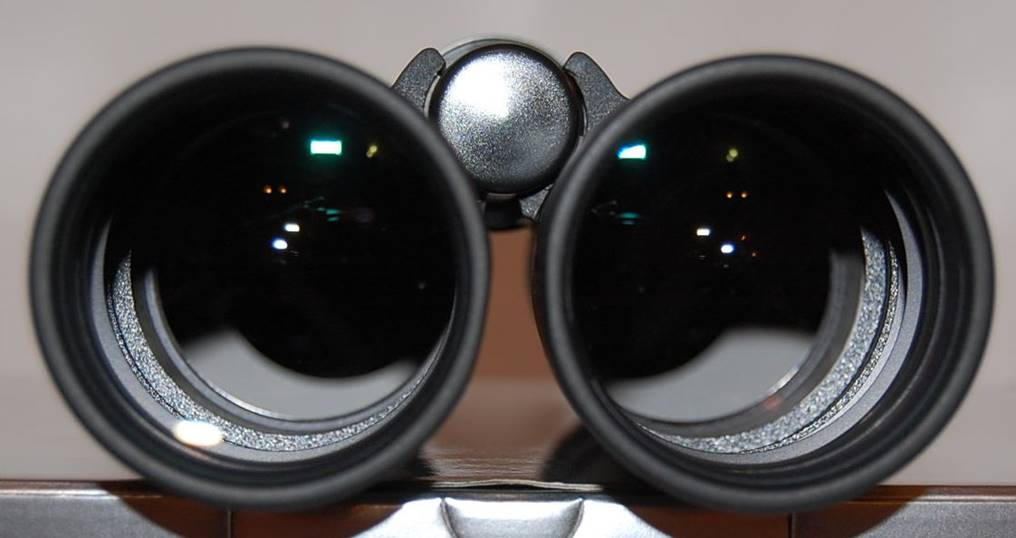 <![endif]>
Proper knife-edge baffles sit behind the objectives to control stray light.
Optics - Eyepieces
The eyepieces are probably a five or six element design, plus some sort of movable lens or lenses to effect the power switch.
The Duovids' dual-power mode work by having a collar under each eyepiece (see below) that you twist to change power; you have to do each barrel individually and it's not something you can do whilst viewing, as the collars are intentionally stiff. When you twist the left hand collar, the focuser moves to keep them parfocal – clever. The dioptre adjustment is also maintained when changing power.
I'm told with a bit of practice you can zoom them by carefully twisting each collar to the same intermediate position. Shhhhh! They're not zooms, remember!
Field of view is often a weak-spot of zoom type systems (regular Tele Vue Nagler astro' eyepieces have 82 degrees, Nagler zooms 55 degrees) and the Duovids are no exception. Stated field is 5.3 degrees at 10x. That compares with 6 degrees for the Nikon 10x42 SE, for example (not an especially wide field design). At the 15x setting it's a better at 4 degrees (cf. 4.1 degrees for Swarovski's 15x56 SLC Neu).
Eye relief is quoted at 14.5mm, but it's about 12-13mm from the surface of the eye lens. That's really tight and not nearly enough to see the whole field with my glasses on.
The older-style twist-up eyecups on the Duovids are actually better than the newer ones on the HDs, which are too soft and tend not to re-seat themselves properly when you retract them.
<![if !vml]>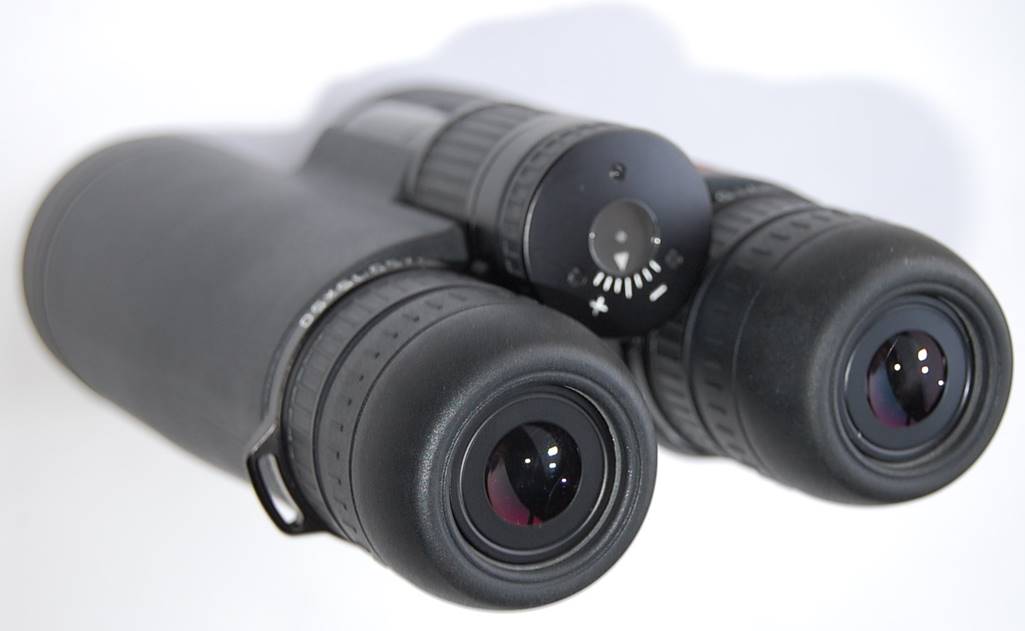 <![endif]>
<![if !vml]>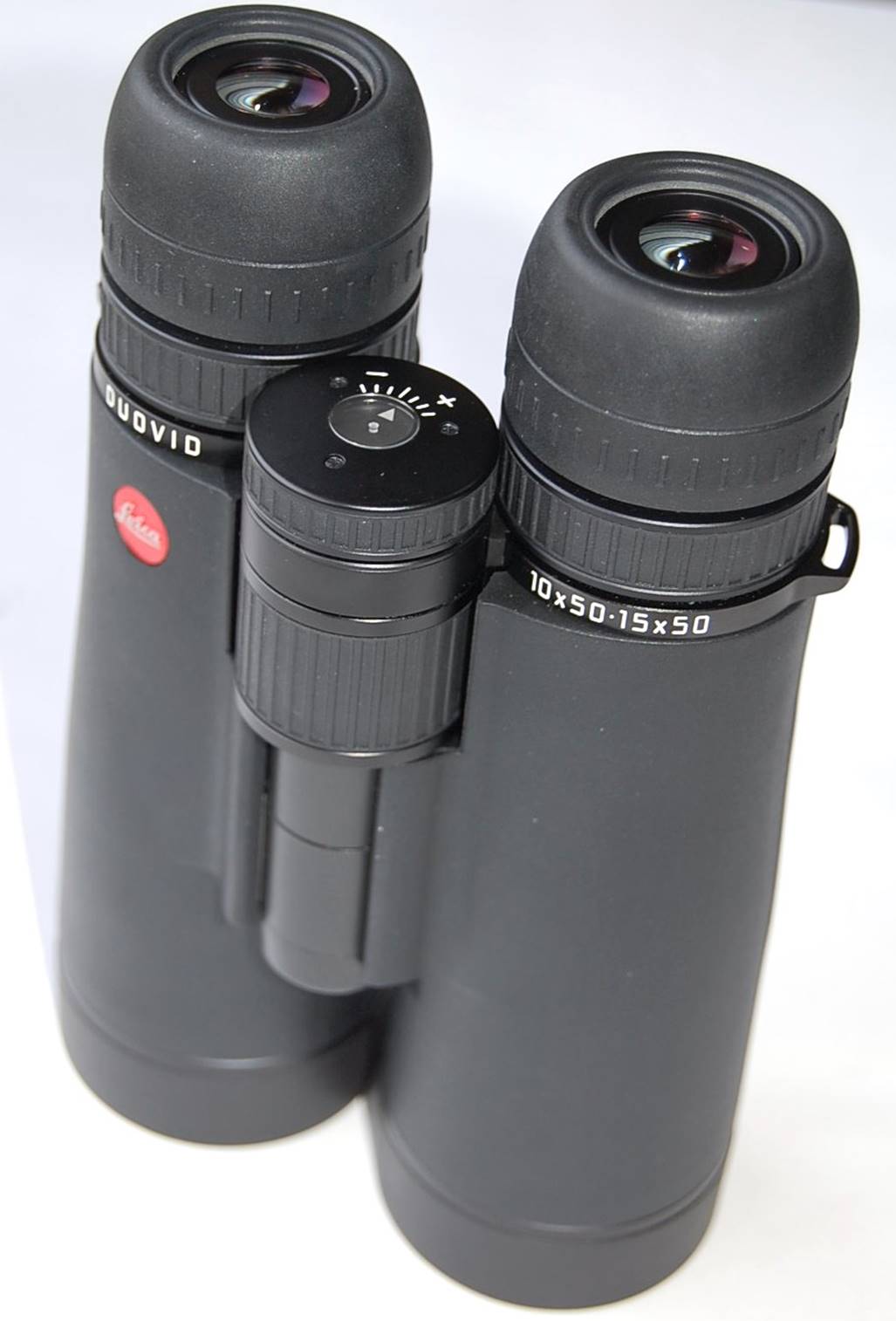 <![endif]>
Switch power by turning the knurled rings under each eyepiece.
Accessories
The leather case is certainly a classy and attractive item, but it's not padded so not very protective or practical. The Strap and caps are conventional.
The Duovids come with a tripod adapter, but compared with the tripod adapters from Zeiss and Swarovski it's a bit of a joke (perhaps that's why I forgot to take a photo of it) – a plate with elastic straps to hold the binoculars down. You can do better, Leica!
<![if !vml]>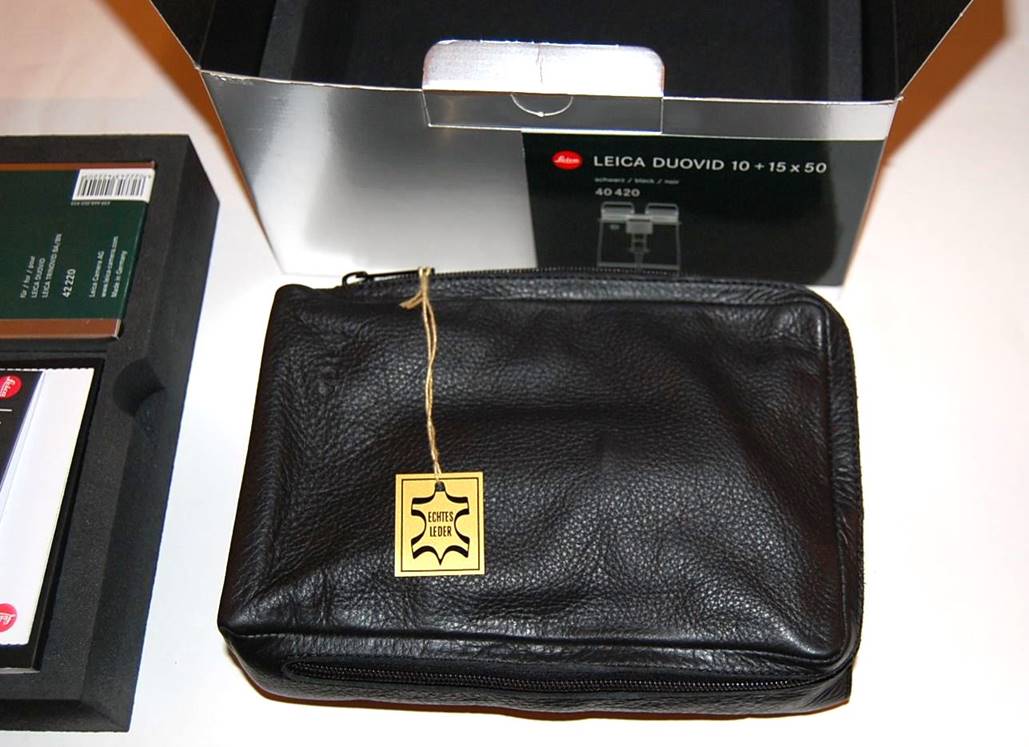 <![endif]>
Leather case is luxurious, but not particularly practical.
In Use – Daytime
Ergonomics and Handling
The Duovids fall very nicely to hand, but there's no avoiding the fact that these are heavy binoculars for their size. The 250g difference between these and the 12x50 HDs feels like quite a lot to me. I am no strongman and others may not find this a problem, but for me a kilo is about all I can hand-hold for any length of time. Leica should be building these with a Magnesium body.
Eye relief is insufficient to see the whole field with my specs on, but the cups work nicely for viewing without.
The focuser and dioptre mechanisms are typical Leica (i.e. excellent).
The View
The view is sharp and bright and full of natural colour and contrast. The binoculars snap to focus and are absolutely sharp at both powers (unlike the rather "soft" Minox 15x58s I reviewed). Optical fabrication quality appears very high.
However, that narrow field is noticeable, especially at 10x where the apparent field of view is worse than at 15x. In some ways having such a narrow field at 10x undermines the whole point of swapping to a lower power (consider that Zeiss' Conquest 15x56 HDs have just ~0.7 degrees less true field at 15x than the Duovids at 10x).
Flat field?
The Duovids are not a specifically flat-field design, like Swarovski's ELs for example, but that rather narrow field is very flat nonetheless.
Chromatic Aberration
Chromatic aberration is present and noticeable, especially at 15x, but is absolutely no worse than most pre-HD binoculars.
False colour does not spoil the Duovids' view, but is much stronger than in modern high-power designs with HD lenses - Swarovski's ELs and SLC HDs, Zeiss' Conquests and HTs.
Leica say the Duovids contain 11 lenses per side. But if all those lenses are not providing a wide field, lots of eye relief or perfect CA correction, what are they for??
In Use – Dusk
The 50mm lenses and modern full coatings mean that the Duovids perform very well at dusk, reaching deep into twilight shadows.
In Use – The Night Sky
So how do the Duovids work for astronomy? Very well, actually. Contrast is exceptional and stars are some of the most pinpoint I have seen in a binocular, with great colour as the result (all the light in a tiny point intensifies colour).
Chromatic aberration is only noticeable on the Moon and perhaps Venus.
Swapping from 10x to 15x is certainly a useful feature, when you need to relax a bit, or when there is no support, or if you need more FOV. If the 10x field was a bit wider it would be more useful still.
The other night it cleared (briefly) at dusk and a thin crescent Moon hung low in the trees behind my garden near to Jupiter. Neither object was in a position I could get a telescope onto, but with the Duovids I was able to walk around the garden until I got a tiny gap in the branches for great views of Earthshine and cratered terminator on the Moon, the Galilean satellites around Jupiter.
The Moon
The Moon is beautiful sight through these binoculars. At 15x you can see a lot more detail than at 10x (or at 12x in a different binocular) and the view is like that in a small telescope, with all the major craters and landmarks visible, especially if you can rest against a wall or a car roof. The absolute crispness of the Moon is very different from (better) than the soft, rather low-contrast one delivered by the big Minox 15x58s at the same power.
Jupiter
Hand held binos are clearly not planetary instruments, but Jupiter shows a very clean disk and when using the (provided as standard) tripod adapter I thought I could see a dark central band. One advantage of the clean disk is that you can see the Galilean moons even when close to the planet.
Deep Sky
The Duovids perform well on deep sky. The higher 15x power darkens any sky-glow and renders a lot more detail in the Orion Nebula (M42) than smaller, lower-power binoculars. Most of the other Messier objects are visible at 15x too, including The Ring and The Crab and The Dumbbell. The view is generally similar to a premium 15x56, albeit a bit dimmer.
Then if you get a bit tired of the high-power shakes, you can swap back to 10x and enjoy a cluster or two.
Overall, the Duovid 10+15x50s make a really excellent hand-held astronomy binocular.
Leica 8+12x42 Duovids
I haven't properly tested the smaller Duovids, but I did have the opportunity to try them recently. They are much smaller than the 10+15x ones reviewed here and have a different shape, but the view is very similar to the larger model in all respects. Comparing them to premium fixed-power binoculars I noticed the following:
<![if !supportLists]>· <![endif]>Build quality is superb, as with other Leicas (no surprise there).
<![if !supportLists]>· <![endif]>Sharpness and optical quality of the Duovids is right up there with the best fixed-power designs.
<![if !supportLists]>· <![endif]>The Duovids are less bright than the most recent "Alpha" models, such as the Swarovision ELs and Zeiss HTs.
<![if !supportLists]>· <![endif]>The Duovids show significantly more chromatic aberration than the latest models with high-fluoride lenses, even at the 8x setting.
<![if !supportLists]>· <![endif]>The Duovids have a narrower field and less eye relief than the latest designs, with ER particularly an issue for me at the 12x setting.
<![if !supportLists]>· <![endif]>Most modern premium 42mm binoculars are substantially lighter weight than the Duovids, though no smaller.
Summary
I ultimately found the Duovids annoying because that bi-power feature is incredibly useful, but they don't quite make the most of its potential.
They are beautifully made, both optically and mechanically. But despite sharp and high-resolution views and top performance (esp. for astronomy) they suffer from too little eye relief, insufficient field of view at 10x and a bit too much false colour as well. They are also too heavy for a 50mm binocular.
I find it curious that Leica should still be building binoculars with obvious design flaws for this kind of money. A shame really, because with another degree of field at the 10x setting, two millimetres more eye relief, modern HD lenses for better correction of CA and a lighter magnesium body, these could be the only binoculars you would ever need. And for over £2000 list, that doesn't seem like such a big ask.
The Duovids' bi-power feature is no gimmick. In many ways they are superb and desirable binoculars, so they're recommended. But they do have significant flaws, so not at the full list price.
<![if !vml]>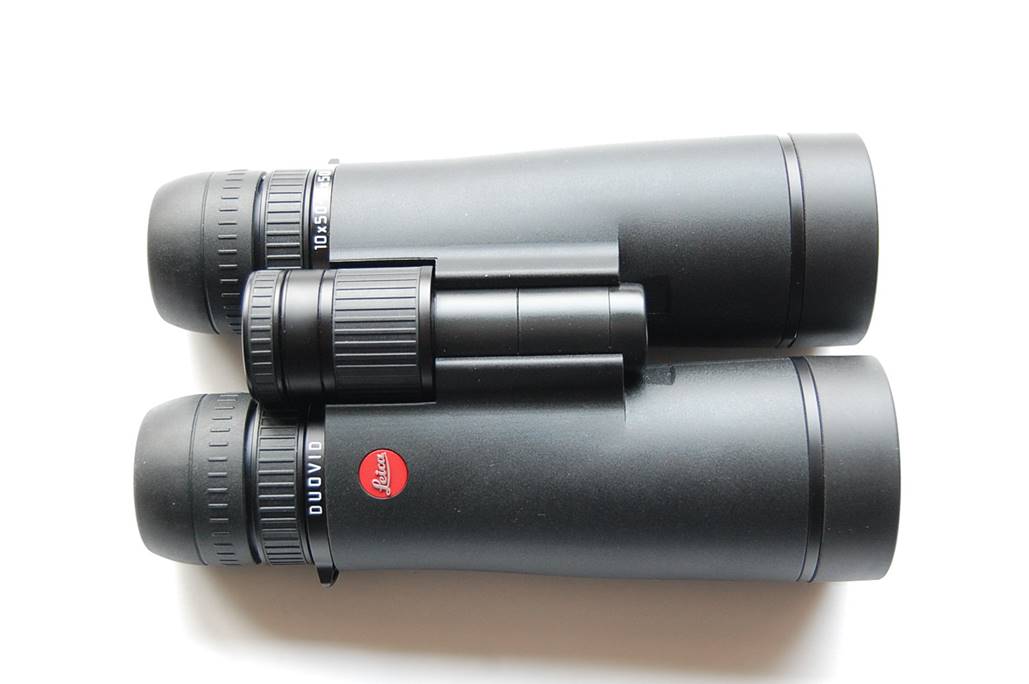 <![endif]>