Leitz 7x35B Trinovid Review
<![if !vml]>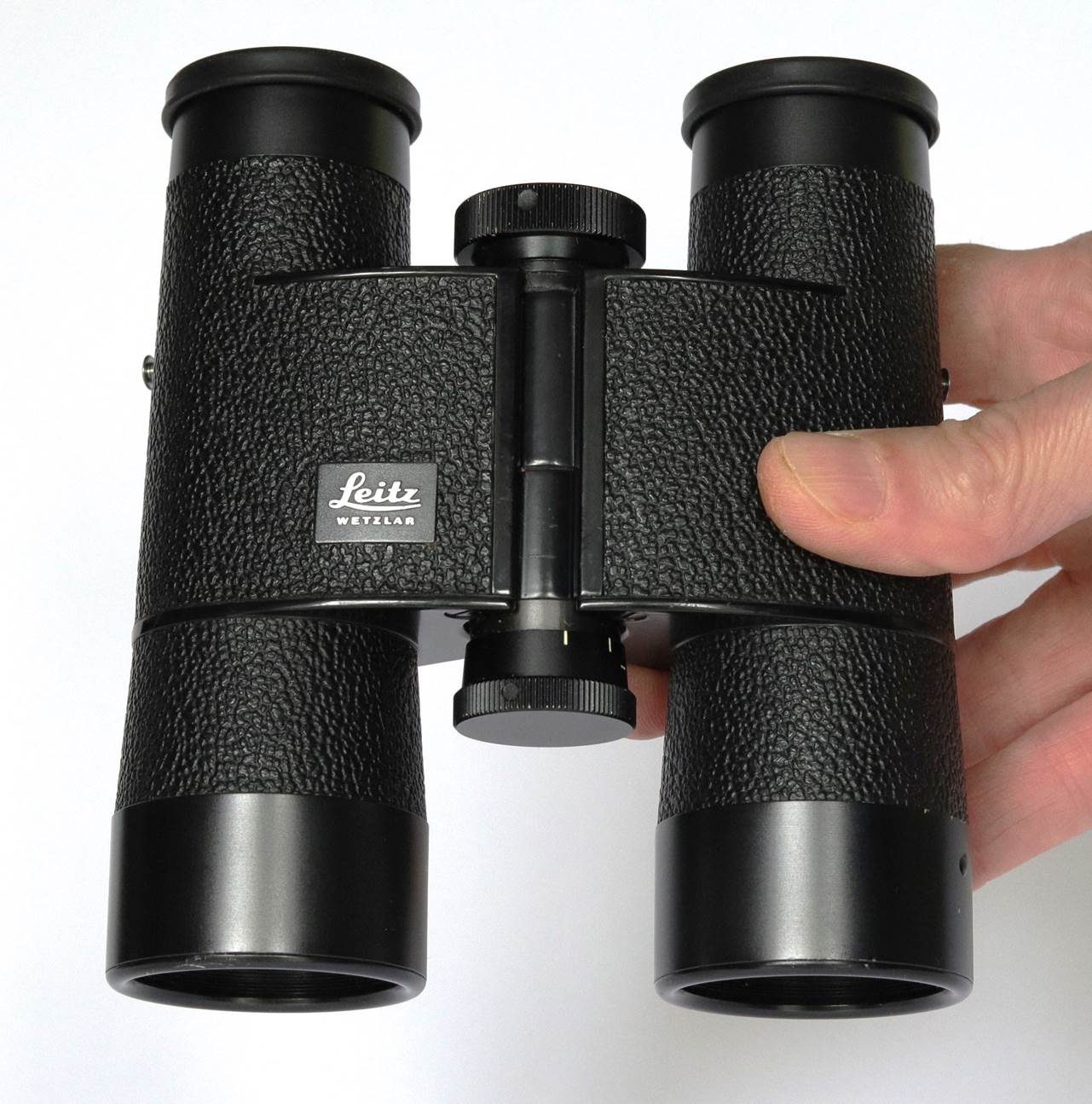 <![endif]>
First time I looked through a pair of recent Leica Trinovid Classics – the rebooted version of these original Leitz Trinovids – I was in the Leica store on Oxford Street. Perhaps it was the sales lady, who was both intelligent and glamorous, but I was impressed.
I've since owned and reviewed both the 7x35 and 8x40 Classics and liked them both a lot, even without the glamorous sales lady demonstrating. So I thought it would be interesting to try a pair of original Trinovids to see how they compare, as part of a series of reviews I've been doing on classic binoculars.
These are Leitz 7x35 Trinovids, probably from the early-mid 1980s, the last years before the Leica re-brand. They came from a small camera shop and have been well looked after, complete with their original case and strap. Outwardly, the new 'Classic' version is very similar, but let's find out how much the optics and mechanicals have (or have not) changed in thirty years.
At A Glance
| | |
| --- | --- |
| Magnification | 7x |
| Objective Size | 35mm |
| Eye Relief | ~15mm measured |
| Actual Field of View | 150m/1000m (~8.7°) |
| Apparent field of view | ~60° |
| Close focus | 4-5m measured |
| Transmissivity | 80%? |
| Length | 130mm eyecups folded |
| Weight | ~500g |
Data from Me.
<![if !vml]>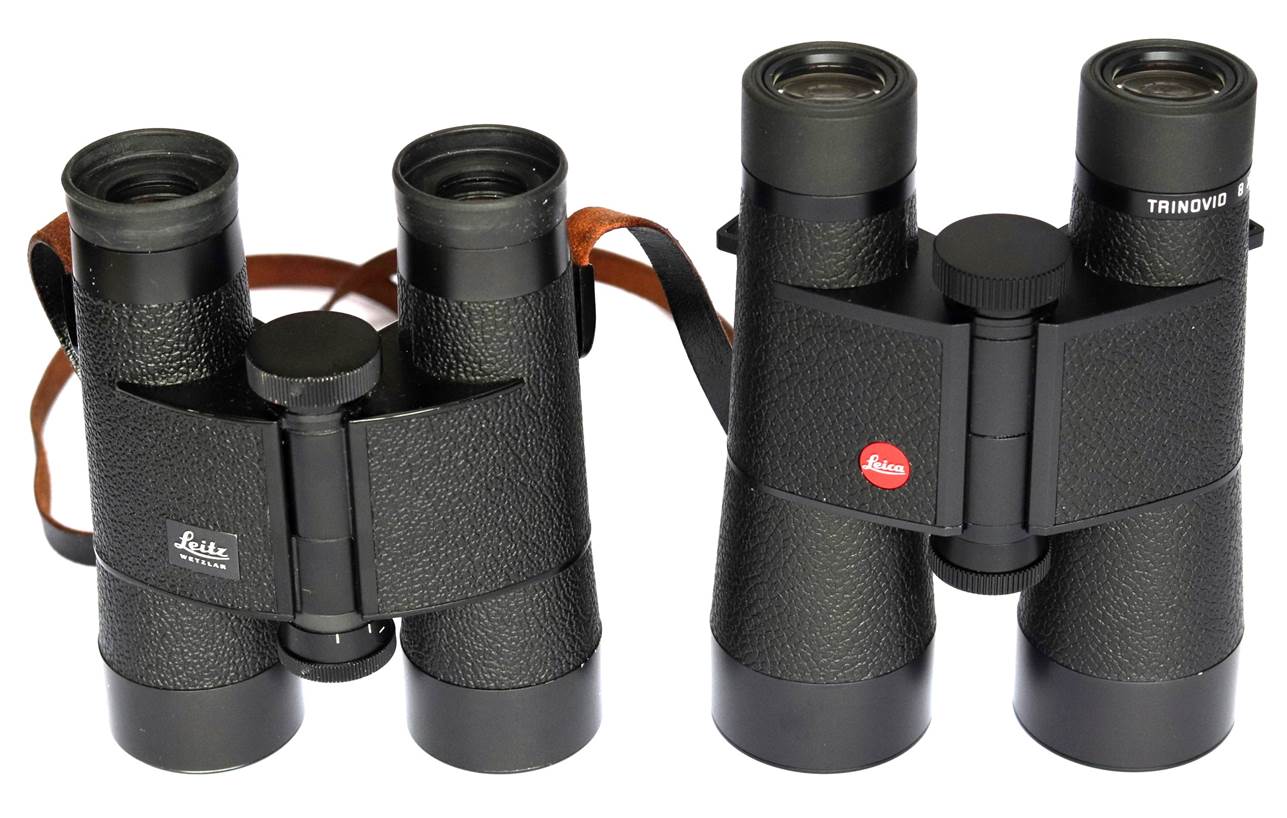 <![endif]>
Alongside a pair of recent 8x40 Leica Trinovid Classics.
Design and Build
This 7x35 is the most compact model from the Leitz range of Trinovid binoculars that were sold from the late Fifties into the 1980s, becoming Leicas from 1986. The range also included 8x40 and 10x40 models and a monocular version of the 10x40 famously went to the Moon on Apollo.
This is the leather covered model, but a rubber armoured version was also available at one time.
In the last few years Leica have released a version of the Trinovid that looks the almost identical externally, but that features slightly different optics to achieve a binocular that (as we will see) actually performs very like it. The modern version is made in Portugal; these were made in Germany, but build quality seems the same (outstanding).
To me, this is one of the most beautiful classic binocular designs ever, much more so than Zeiss' excellent but (IMO) rather fugly Dialyts.
<![if !vml]>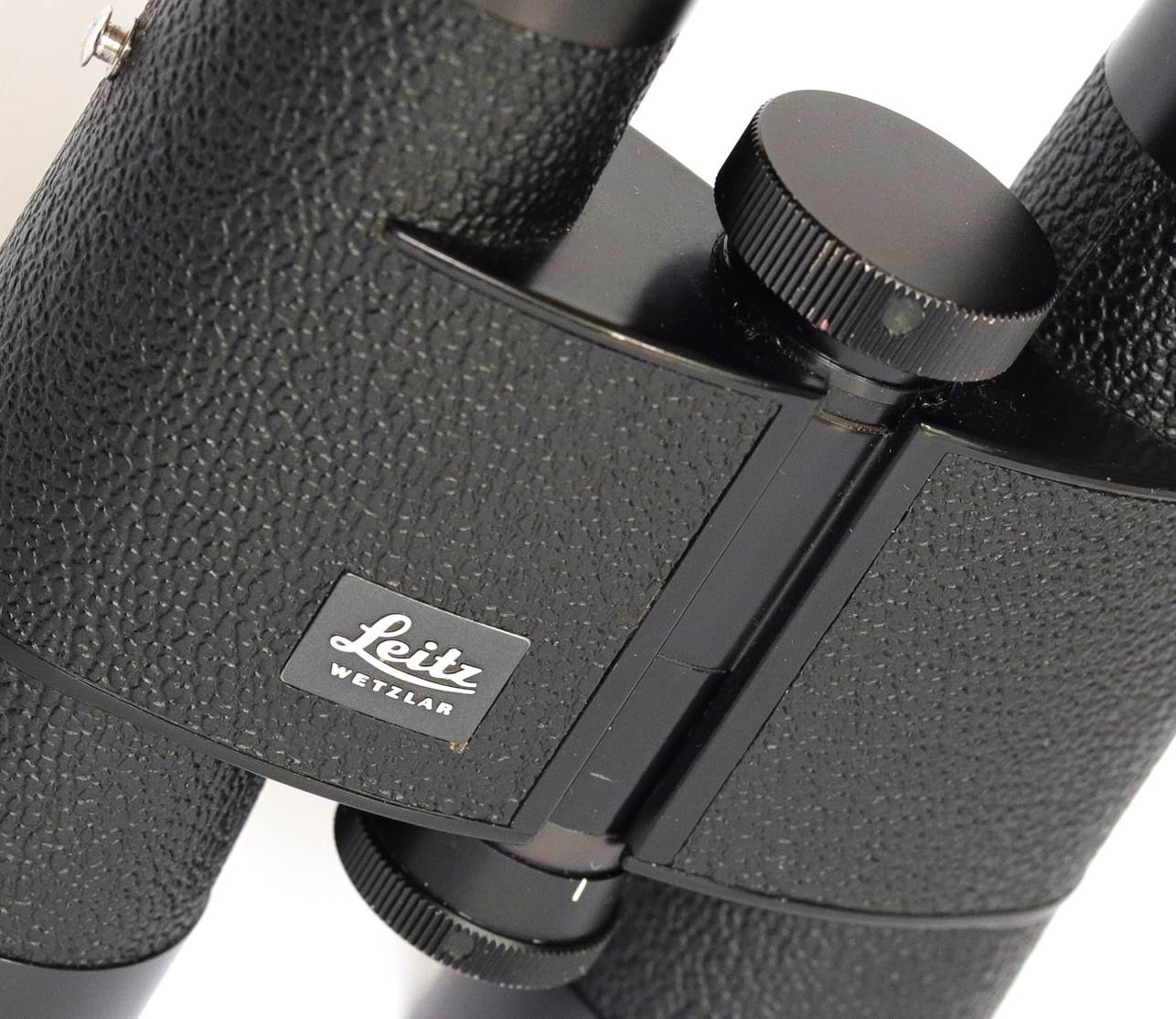 <![endif]>
<![if !vml]>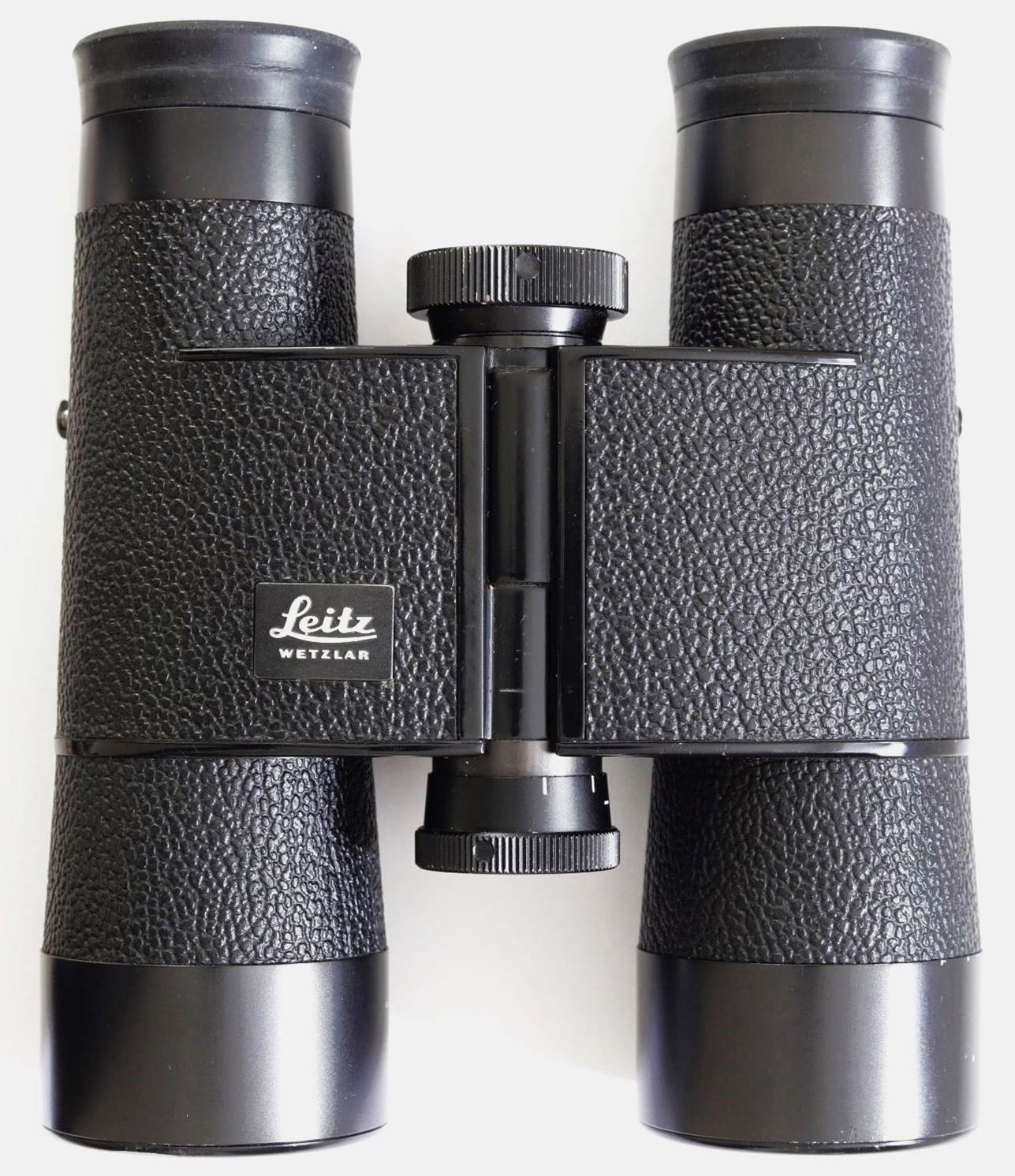 <![endif]>
<![if !vml]>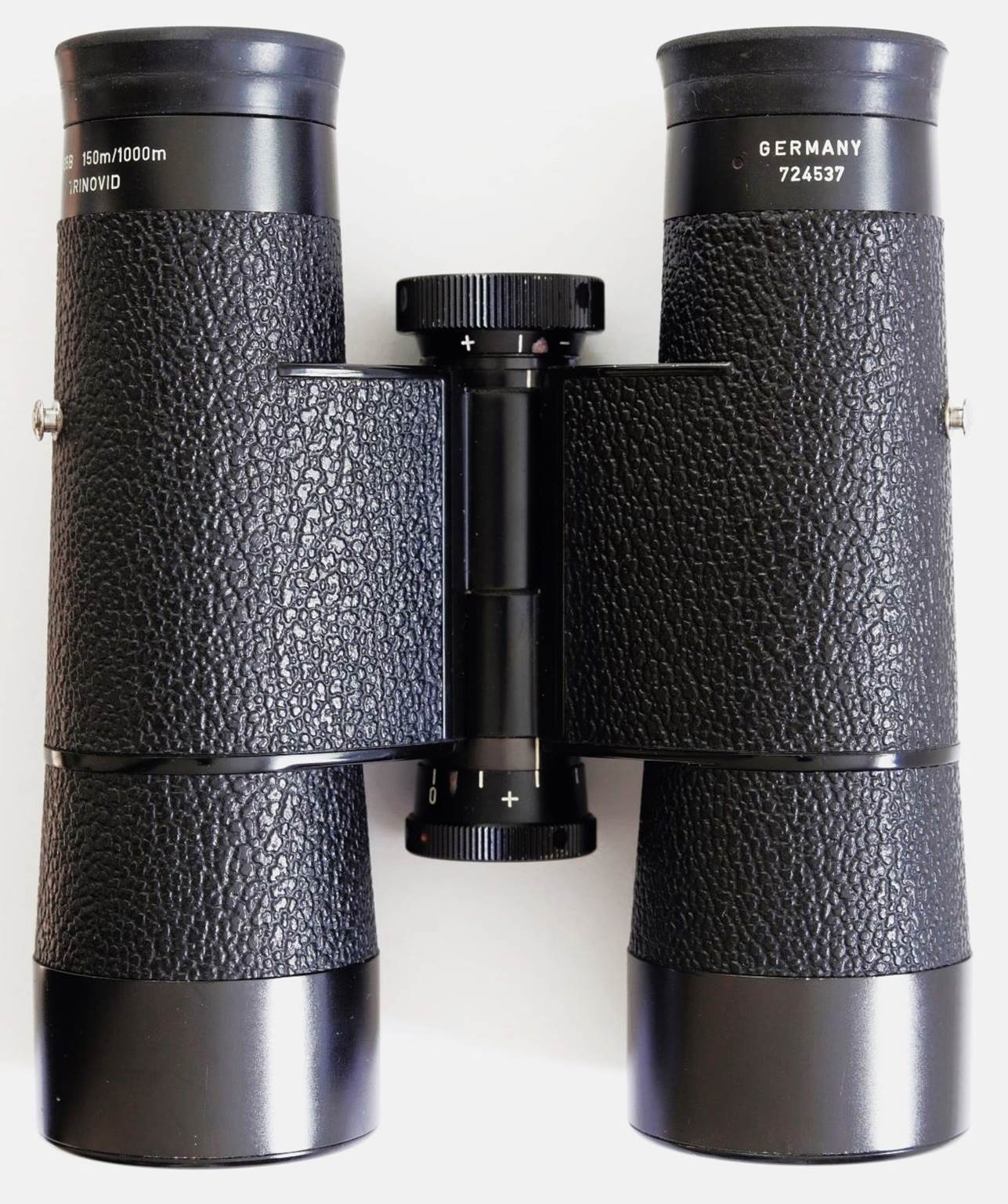 <![endif]>
Body
The Trinovids' body is black anodised aluminium and covered in real leather. There's no plastic or rubber anywhere but the eyecups – unlike a modern binocular, even the focus and dioptre knobs are machined metal. These original Trinovids are a couple of millimetres shorter and a little lighter than the modern version, perhaps due to their unusual prism system (see below).
It's an attractive, retro look and gives the Trinovids a premium feel, much like a Leica camera today. But of course, thin leather isn't as protective as rubber armour and these won't take brutal field use like a modern armoured design. And eventually the leather and anodising will rub and wear and won't be repairable, whereas rubber armour can be cut off and replaced to leave the bino's looking like new (you can find lots of older Trinovid BA and BN models on Ebay renewed like this).
Another downside is waterproofing. These are well sealed and 'splashproof', but likely won't resist really heavy rain, let alone immersion.
The lack of rubber armour does help to make these a small and light binocular, though. And it must be said that the leather on these shows no sign of wear or degradation.
Internal build quality looks high but lacks the foam-textured blackening of the Classic re-boots, with just flat paint and a single baffle to kill stray light.
Focuser
The focuser is heavier and less fluid than a modern premium binocular's and that knurled wheel is small compared to recent designs. But that doesn't mean it's a bad focuser: the action is very smooth and precise, close focus to infinity fast at just over a turn. But here close focus means 4-5m – not ideal for ultra-close viewing of butterflies or whatever.
One reason the focuser may feel a bit different is that these employ an unusual focusing system with a moveable focusing lens between the eyepiece and prism instead of between prism and objective.
Dioptre adjustment is via the second knurled wheel at the objective end of the bridge. The action is smooth and positive and has a central marker under the bridge. It's a system that's close to ideal for me.
Optics - Prisms
These original Trinovids have a rare prism system described as an 'Uppendahl' that employs three cemented prisms and allows an especially compact body. This system is more complex than Schmidt-Pechan roof prisms and has more surfaces (so lower transmittance) than an Abbe-Königs, so the modern Trinovids use ordinary roofs.
These likely don't have phase coatings. Phase coatings solve an optical problem with roof prisms (including the Uppendahl) that lowers resolution, but in practice they don't make a huge difference at low magnifications and this is borne out by testing.
Optics - Objectives
The objectives are probably a triplet with a cemented pair and a separate third biconvex element.
The objective coatings are a muted purplish hue and look like multi-coatings, something that surprised me in a bino' of this age.
<![if !vml]>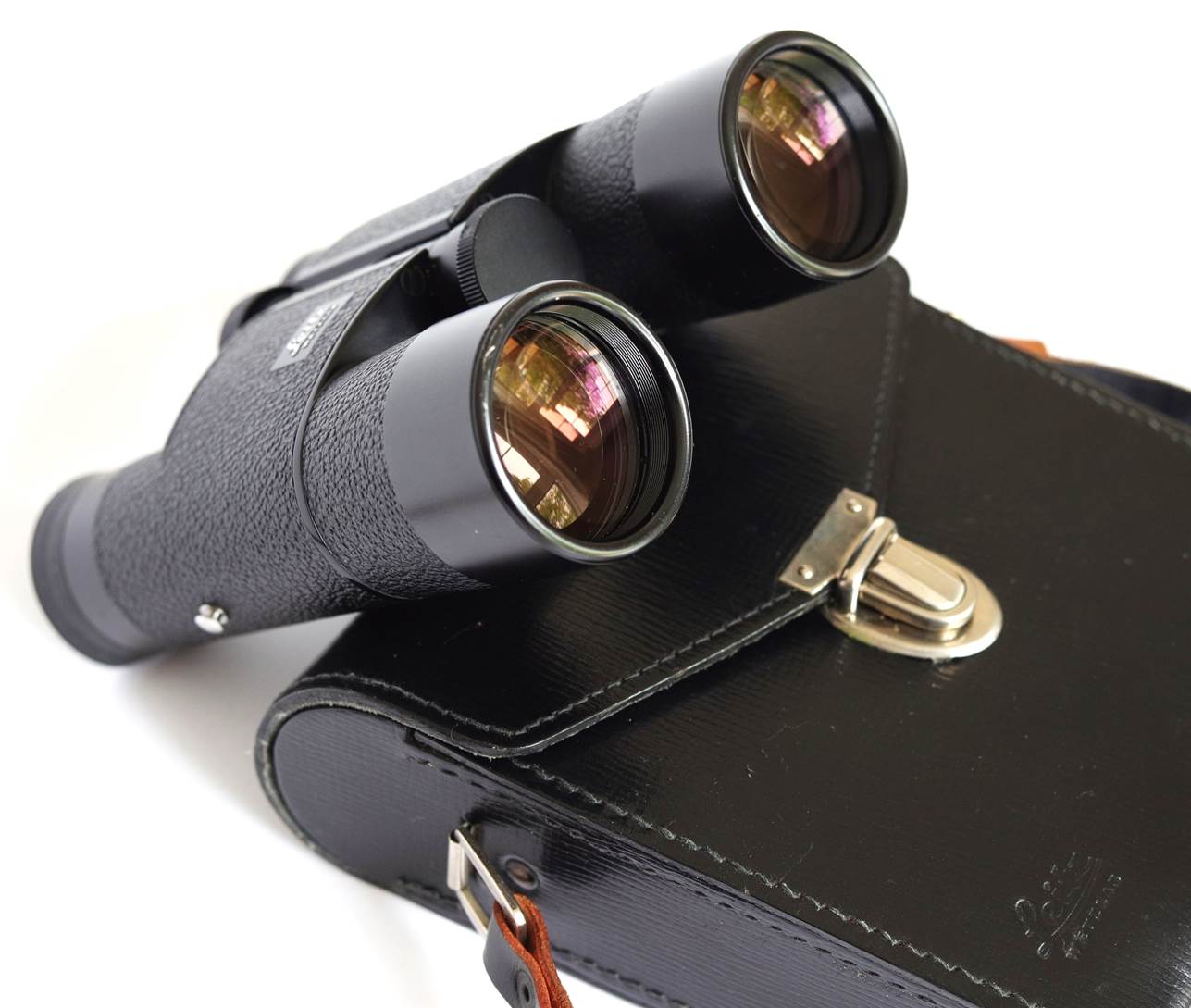 <![endif]>
Optics - Eyepieces
These eyepieces are not the simple three-element variety (often some type of Kellner) often found on classic bino's, but more likely a modified Erfle to give a wide field and good eye relief (indicated by the 'B' designation).
The true field of view at 150m/1000m (about 8.7°) is indeed very wide – a little wider than the rebooted Classic version and on a par with Zeiss' Dialyts from the same era.
As promised, eye relief is good, measuring about 15mm from the rim of the eyecups – much of that wide field is viewable with my glasses on. As noted below, blackouts from spherical aberration of the exit pupil are virtually non-existent.
Like most binoculars of this era, the eye cups are folding rubber (rather than the click-out ones on the modern Trinovid Classics). These fold quite easily and provide a good lip to rest your glasses on, but there's the risk that they will eventually split or degrade.
<![if !vml]>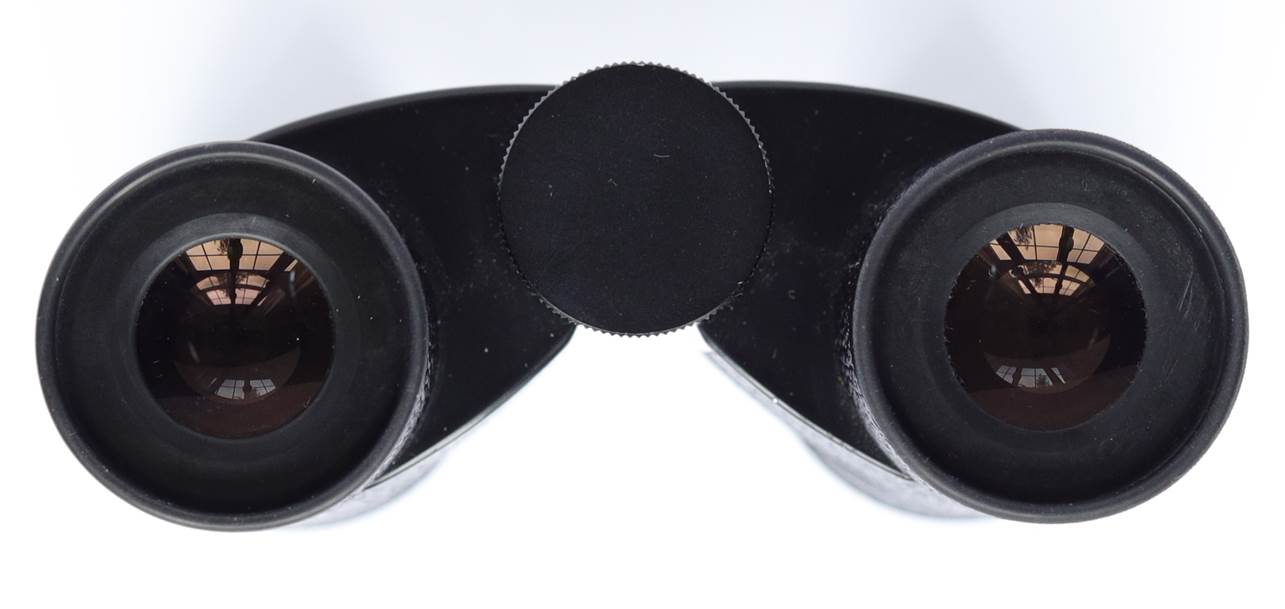 <![endif]>
<![if !vml]>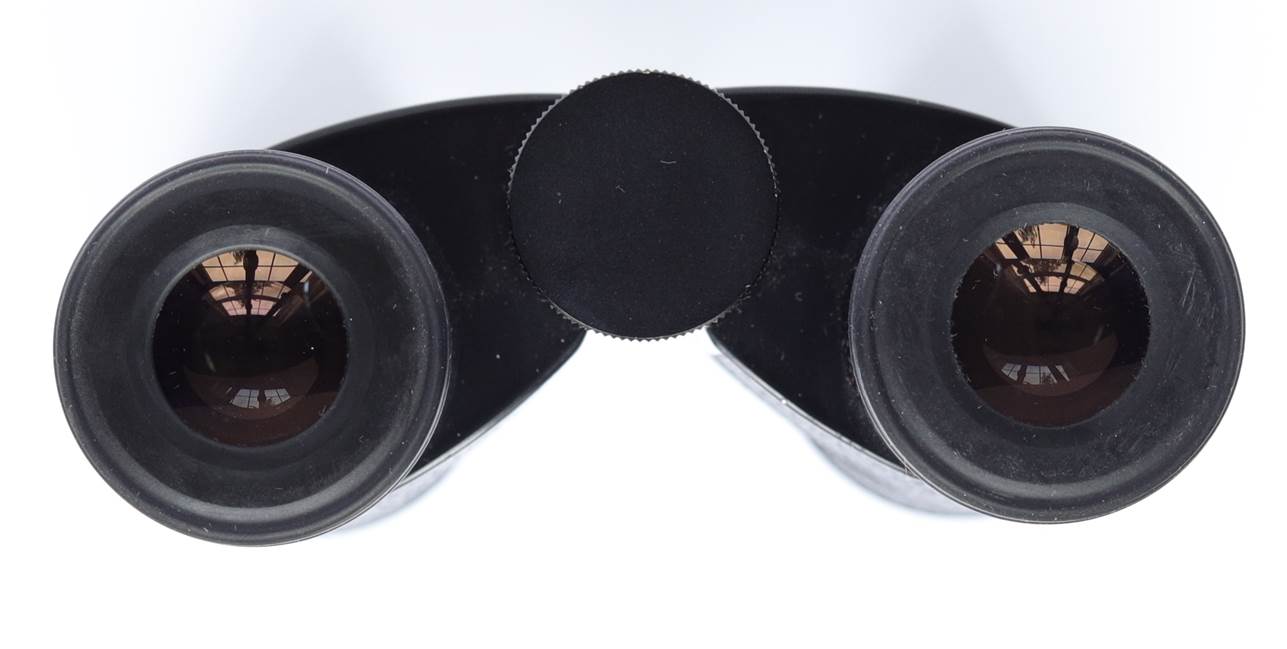 <![endif]>
Accessories
A big difference from the modern Trinovid Classics is the accessories.
Both have embossed leather cases, but these have a traditional, felt-lined rigid field case with a leather strap. The newer version's is also leather, but of the thin, soft, stay-on variety.
These Leitz Trinovids have a traditional thin leather strap fitted with metal clips that snaps into small metal lugs on the body. The recent version comes with a standard Leica neoprene strap. The leather looks classier and is less bulky, but it is less comfortable to wear for longer periods and will deteriorate if left wet (and there's no easy way to fit a modern strap either).
<![if !vml]>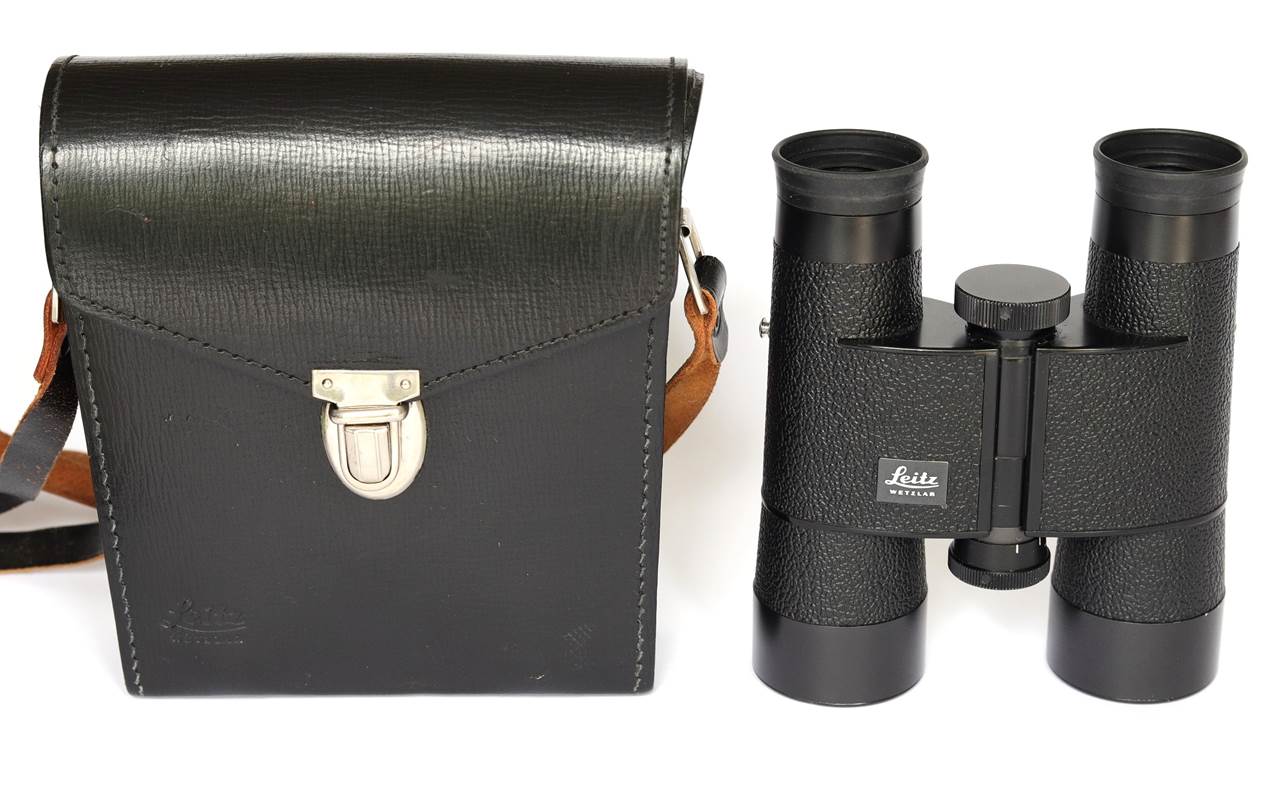 <![endif]>
<![if !vml]>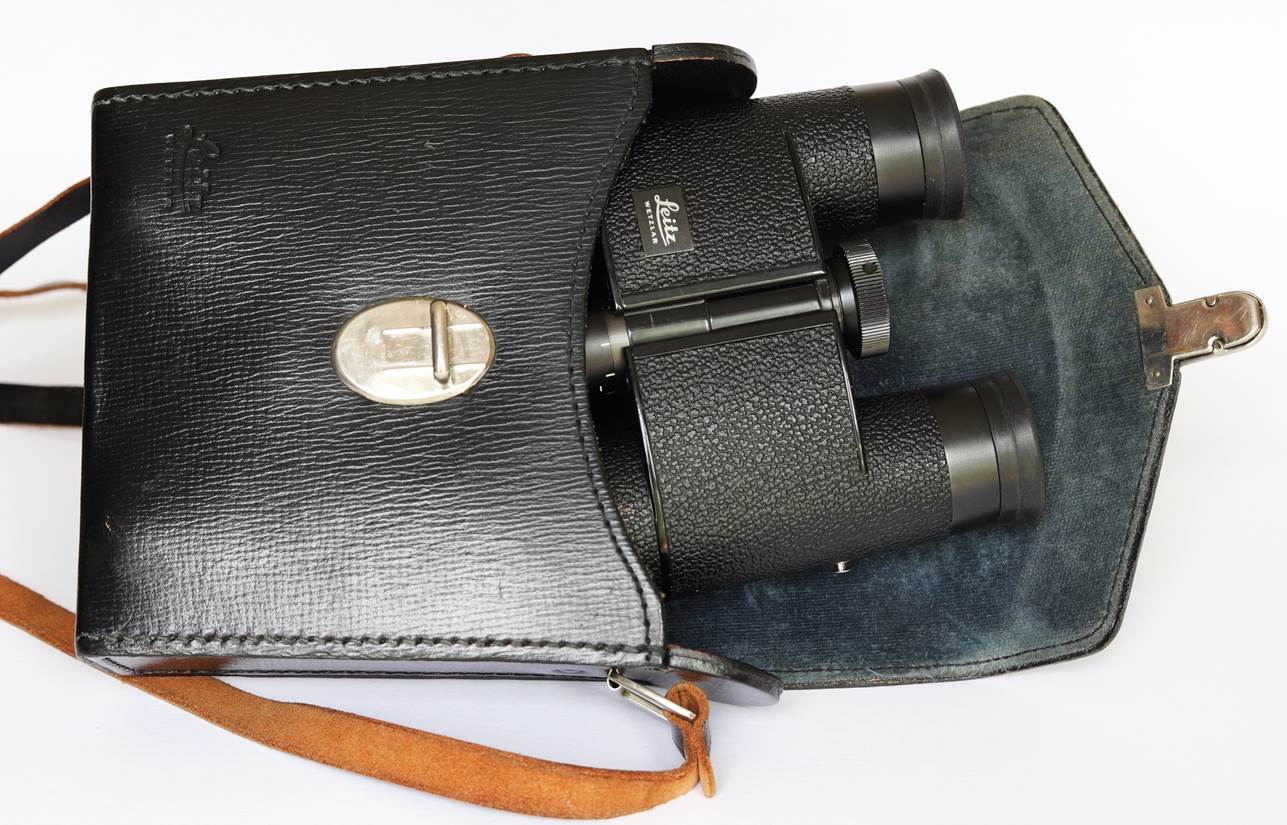 <![endif]>
<![if !vml]>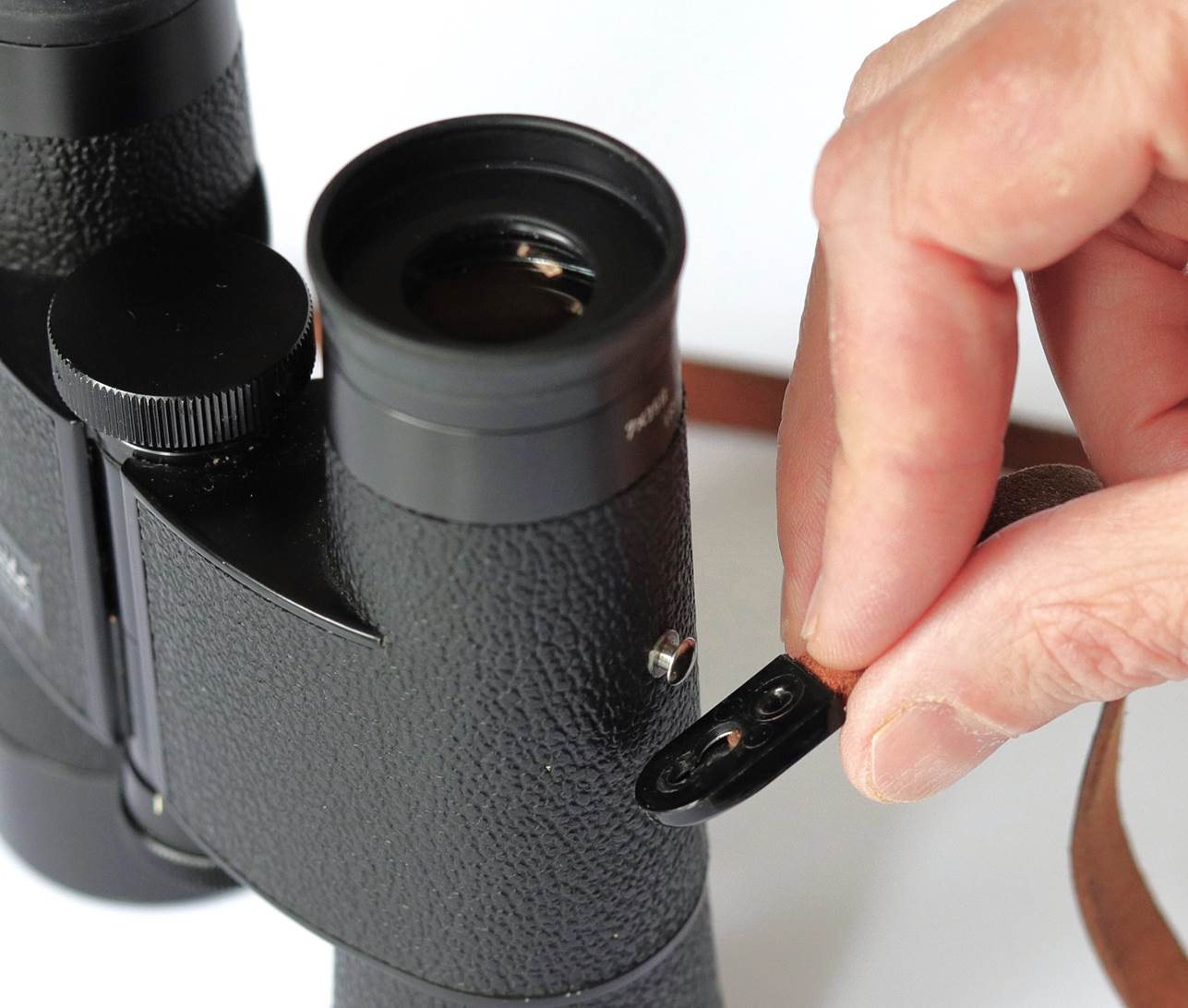 <![endif]>
Strap attachment via lugs and clips mean modern straps won't fit.
<![if !vml]>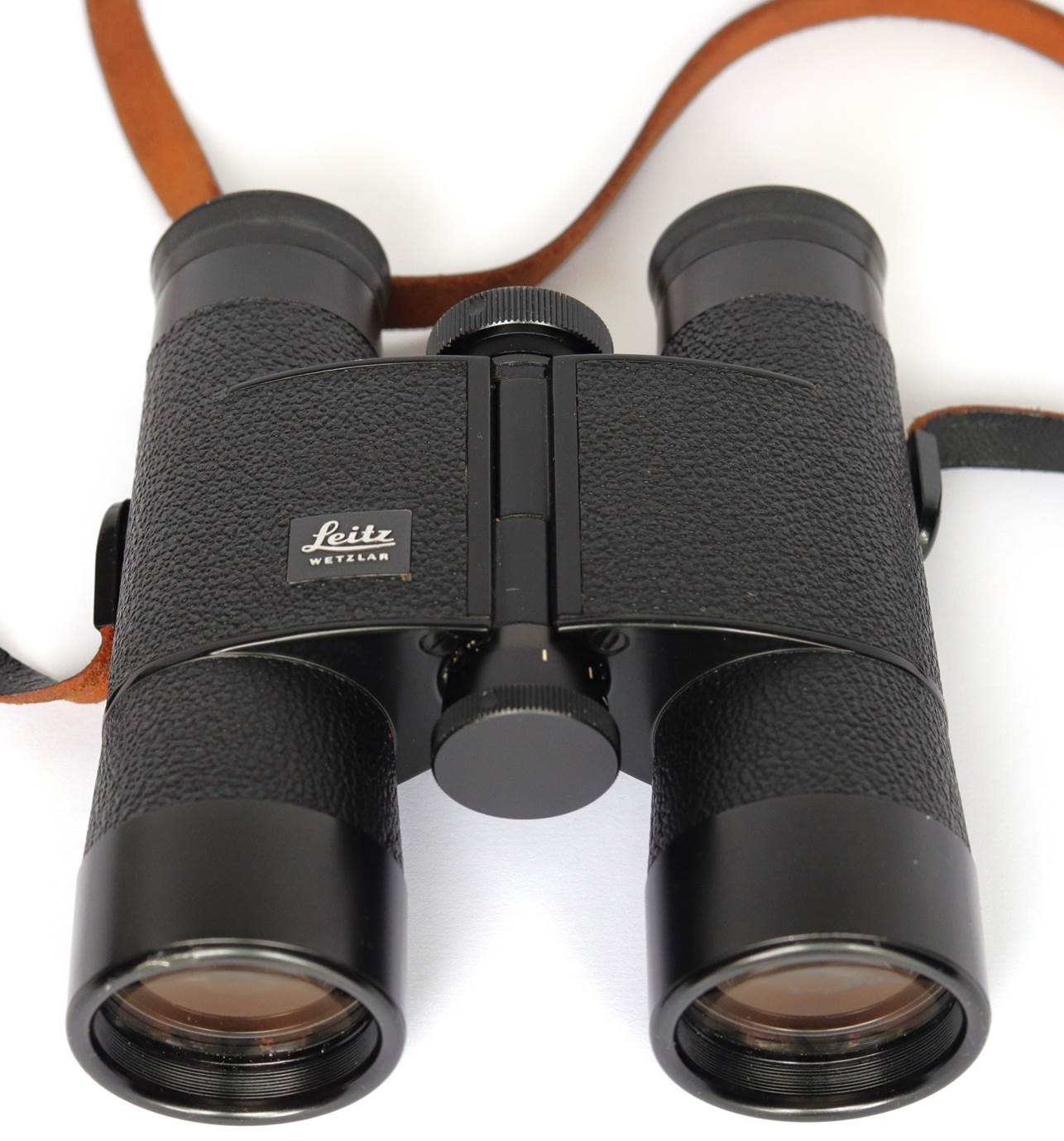 <![endif]>
In Use – Daytime
Ergonomics and Handling
Focus action is the same as a modern pair of Trinovid Classics, i.e. it's not as light and twirly as an alpha birding binocular and the knob is much smaller than most today, but it is very precise and oily-smooth with no play or backlash. Focus snap is superb, with none of the hunting for best focus you get with mediocre optics.
Unusually for a binocular of this era, eyepiece comfort is very good. There's enough eye relief for the Trinovids to be completely usable with spec's and there's no issue with blackouts as you move your eyes around either. Eye relief is slightly less than the rebooted Leica Classic version though, so the original's extra field is lost for glasses-wearers like me.
These are one of the smallest and lightest full-size (i.e. not 20mm 0r 25mm folding) binoculars – see the image alongside a tiny pair of Swarovski 7x21 Curios. That makes them great for extended walks and travel, but they might prove fiddly to use for people with big hands.
For what it's worth, I think these look very elegant to wear – you could almost get away with them at the opera!
<![if !vml]>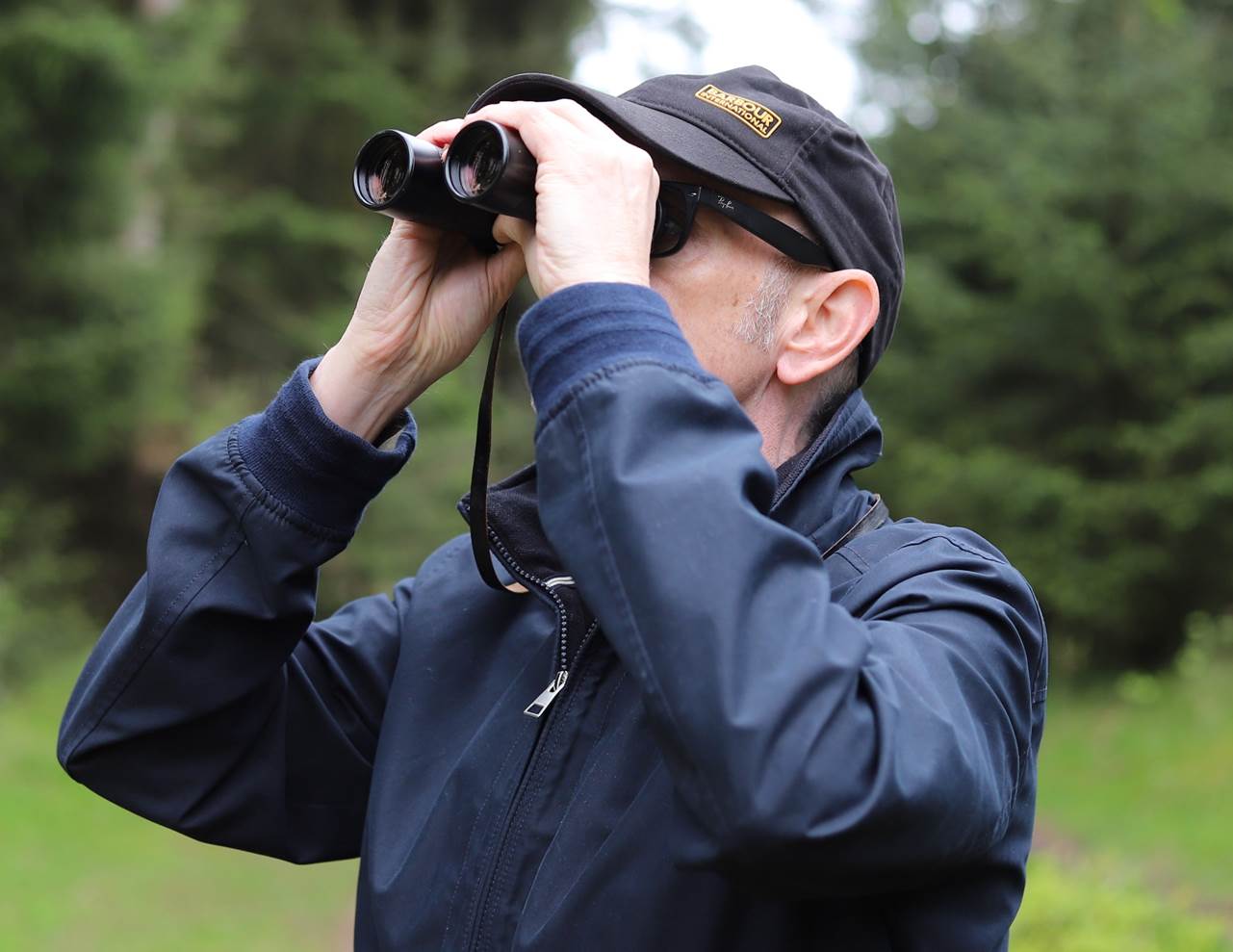 <![endif]>
<![if !vml]>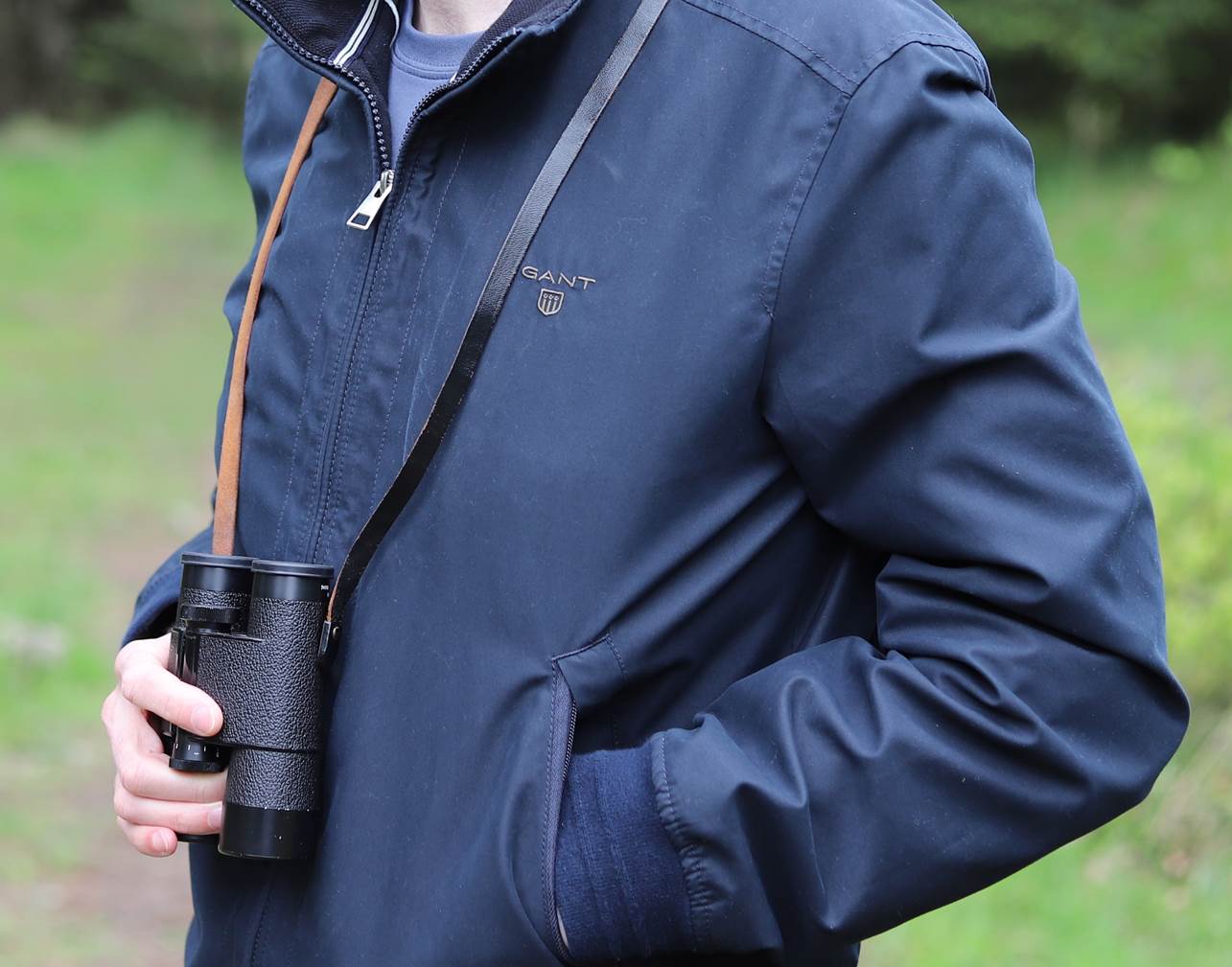 <![endif]>
The View
First impressions are that the view is surprisingly good, with few allowances for the fact that these are a 'classic' binocular. The view seems bright, wide, sharp and full of detail. Depth of field is excellent as usual for 7x.
So the Leitz Trinovids' view is among the very best 'classic' bino's I've tried, competitive with mid-price modern binoculars and needing few apologies for being an old design.
However, direct comparisons reveal that the tone is slightly less vivid than the modern 7x35 Classics, with the very slightly muted colours and yellow tint typical of older bino's. Brightness is noticeably a little down on the modern Classics too. In theory, lack of phase coatings mean they should have slightly less resolution too and that's how it feels, but it's a minor effect at this low power and I couldn't quantify it.
The field of view without spec's is very wide for a 7x design, wider than the modern version and at 150m/1000 roughly equal to Zeiss' 7x42 Dialyts. Interestingly though, the field here is usable (though not perfect) to the edge, giving these among the widest usable true fields of any.
Make no mistake, though, we're talking just minor differences from the modern pair here and these give a highly usable and enjoyable view. I rarely found myself wishing for the modern Trinovid Classics whilst using them.
<![if !vml]>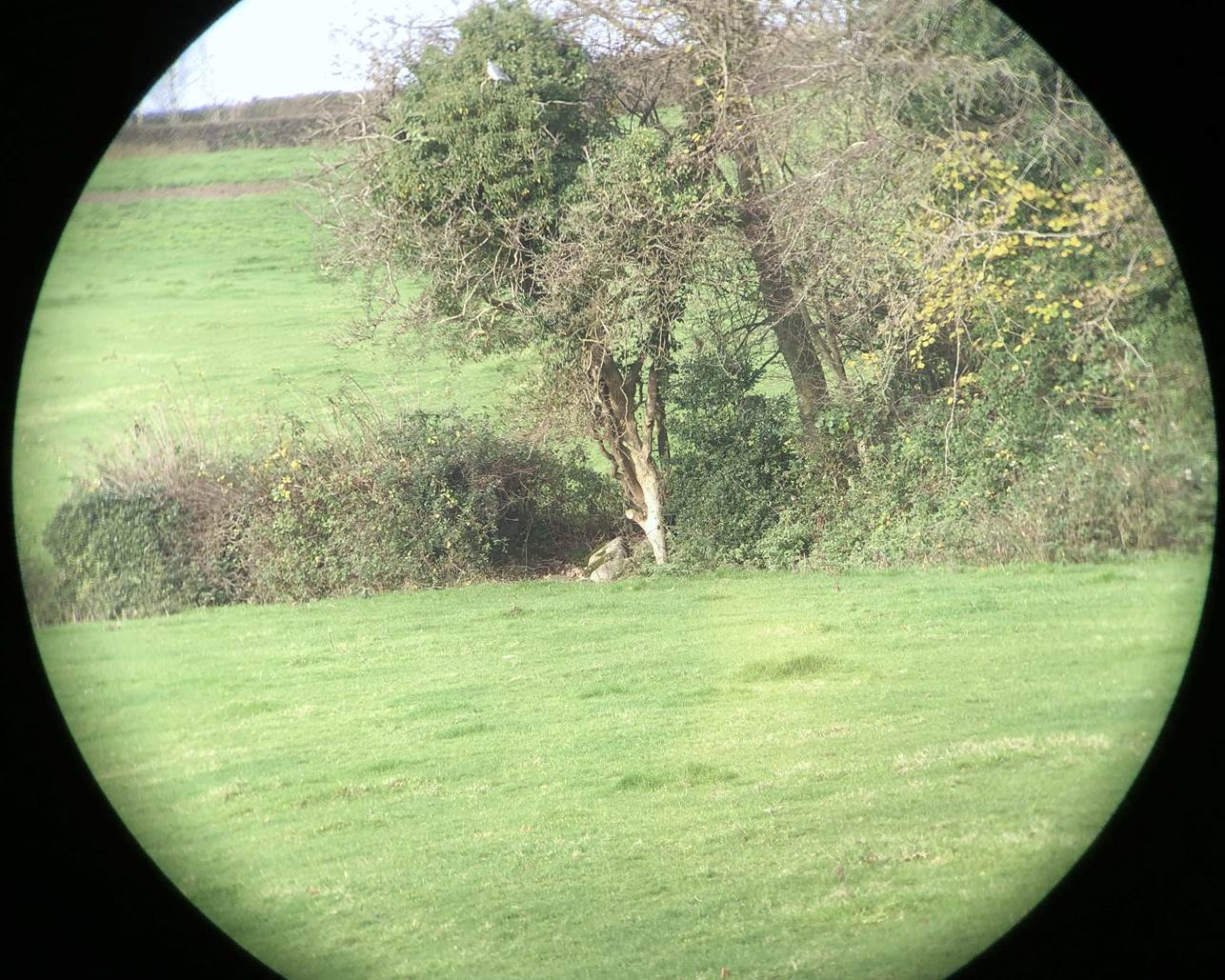 <![endif]>
Flat field?
Viewing a star-field (see below) or close inspection of the FOV snap above shows the field isn't perfectly sharp to the edge, but in normal daytime use you'd think it is – completely usable to the field stop. There's some distortion for more comfortable panning, but overall it's a great compromise for daytime use.
Chromatic Aberration
Some older bino's have big problems with false colour fringing around high contrast parts of the view, but not these. In fact, there is almost no chromatic aberration, even focusing through silhouetted branches. In this respect these Leitz Trinovids equal or better the modern Trinovid Classics.
Given that a focusing lens in the usual position between the prisms and objectives is known to contribute to false colour, the unusual focusing system here may help with the remarkably low false colour levels.
Stray Light and Ghosting
An old design with older coatings perhaps, but they resisted flare and ghosting well, even viewing bright lights at night, with just a trace of spiking from the prism corners.
In Use – Dusk
The 35mm objectives mean these penetrate dusk shadows about as well as a modern premium 8x32, but slightly less well than the current Classics.
In Use – Observing the Night Sky
Overall I found these a more useful astronomy binocular than I expected. Very light and so easy and untiring to use, they provide very decent views of the night sky.
The field looks almost perfectly corrected to the edge by day, but as usual the night sky proves a stiffer test: stars start to distort from 50% field width, mostly due to field curvature which can be focused away with a little astigmatism that cannot. Still, the field is so wide at 8° true that Orion's three belt stars all fit into the undistorted ~50%, as does the whole sword region. 
The Moon
I caught the Moon at the just-gibbous phase Galileo drew, with the huge shadow-filled crater on the terminator in the south. That crater is Clavius and the 7x35s pick it out perfectly. In fact, the Moon generally looks great through these, with excellent contrast and no softness, yellow tint or false colour – just a hard white marble hanging in a pinkish dusk winter sky.
Planets
Jupiter showed a tiny clean disk with the Galilean moons arrayed around it. Brilliant Venus showed four short very faint spikes from prism corners, but was very clean otherwise with no false colour.
Deep Sky
Views of brighter DSOs, like the Orion Nebula and The Pleiades, are surprisingly (for an older design without the most modern coatings) good through these – much like a modern premium 8x32.
I was able to find most of my usual clusters in the Milky Way south of Albireo and got a good view of Galaxies M31 and M33 with the wide field helping.
In January 2023 I successfully found comet C1/2022 E3 (ZTF): the 7x35s easily pulled it out of a bright suburban sky with a first quarter Moon.
The Leitz 7x35Bs are very usable for a bit of casual astronomy – something that sets them apart from most ultra-compact folding bino's…
Leitz 7x35B vs Swarovski 7x21 Curio
<![if !vml]>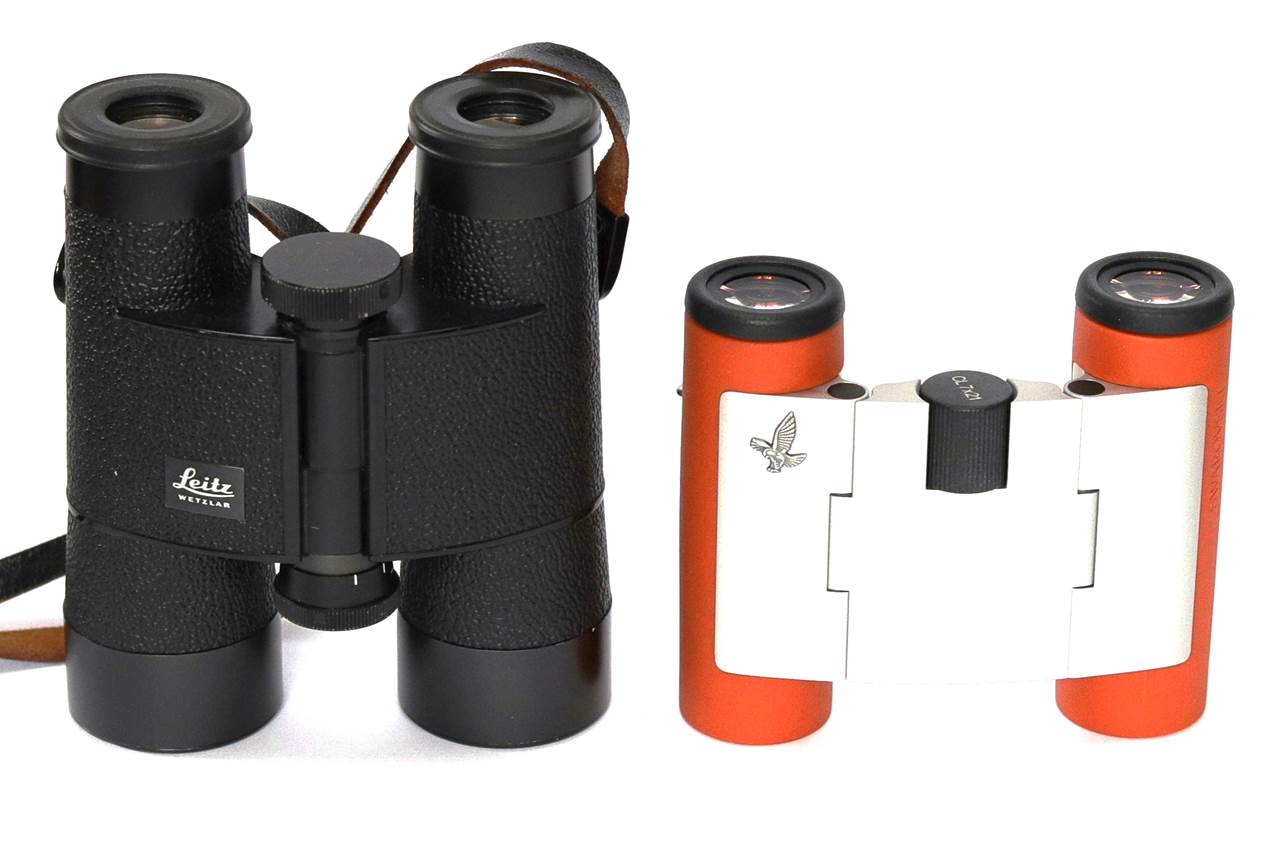 <![endif]>
The obvious comparison here is with the Leica 7x35 Trinovid Classics, but I've covered that throughout this review. So instead I'll take a look at a modern pair of binoculars that would cost about the same used, have the same 7x magnification and feel surprisingly similar for walking or travel.
<![if !supportLists]>· <![endif]>The Curios have a higher-resolution view, probably thanks to phase coatings
<![if !supportLists]>· <![endif]>The Curios have a sharper field edge, but narrower field
<![if !supportLists]>· <![endif]>Eye relief is the same
<![if !supportLists]>· <![endif]>The Curios are half the weight and shorter too, pack down smaller, but don't feel that different when carrying
<![if !supportLists]>· <![endif]>The Curios are fully waterproof
<![if !supportLists]>· <![endif]>The Trinovids are much better in low light and for astronomy – the Curios' higher transmittance doesn't compensate for much smaller objectives
<![if !supportLists]>· <![endif]>Experience suggests the Trinovids will be more rugged (I've had four pairs of folding bino's – not the Curios, yet - go out of collimation after minor knocks)
<![if !supportLists]>· <![endif]>Both are European made and should be readily serviceable/repairable
As dedicated travel or trekking bino's you would choose the Curios, but as all-rounders the Trinovids' big objectives still make them better binoculars, slightly dimmer and less sparkly-sharp view notwithstanding, simply because they work better in low light and for astronomy.
Summary
Now I know why Leica rebooted the Trinovid Classics – it was a great design all along, way ahead of most of the competition at the time in almost every way.
Even now, these are one of the most enjoyable and usable classic binoculars I've tested, for me right up there with Zeiss' Dialyts. They are compact and light, beautifully made, have a great view, good eyepiece comfort with or without glasses and a refined focuser.
Are they as good as the modern version then? No. Despite a slightly wider field and perhaps even less false colour, they aren't quite as nice just because the view is a little less sparkly bright and full of contrast and detail; but honestly the differences are pretty modest.
For many purposes these might be a better choice than a pair of modern premium folding binoculars – more rugged, better in low light and more likely to hold their value. And, yes, they do have an undeniable mid-century retro chic.
At perhaps a quarter of the price, the Leitz Trinovids make an excellent alternative to the modern Trinovid Classics; or indeed a pair of new mid-market 8x30 roofs – highly recommended.
<![if !vml]>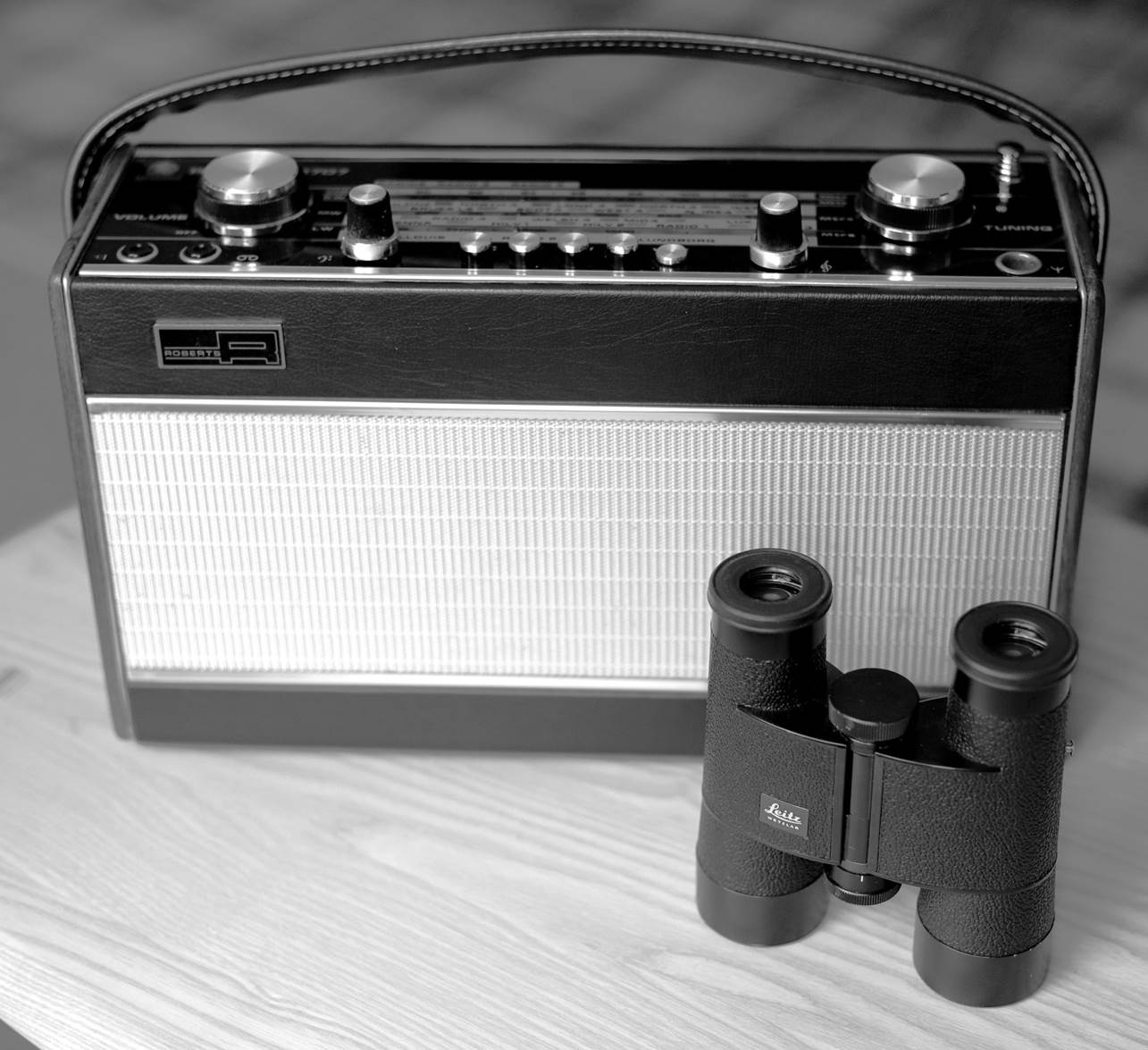 <![endif]>