A Visit to Lowell Observatory
<![if !vml]>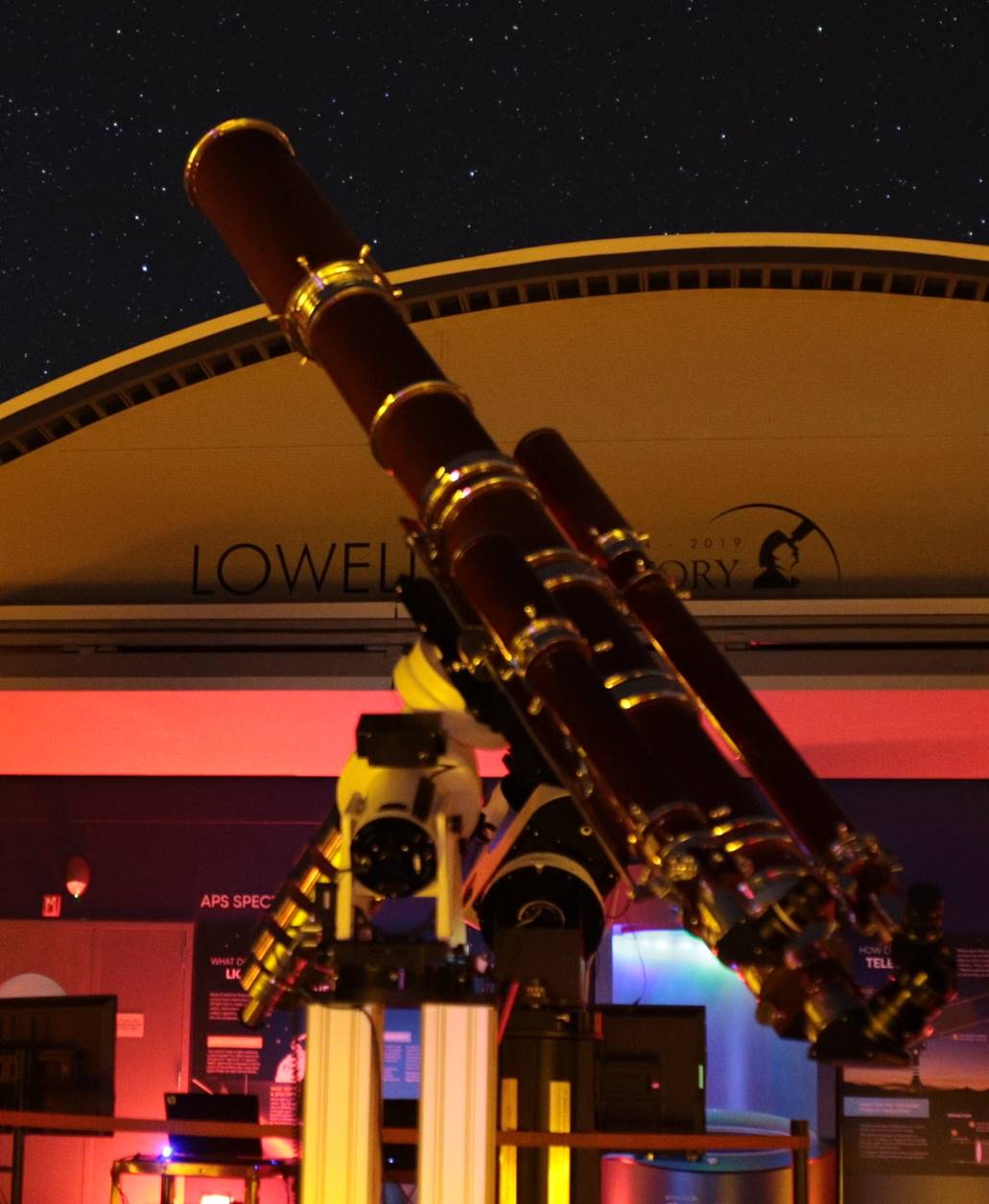 <![endif]>
A daytime visit to Lowell is a must-do for anyone with an interest in astronomy and is an exciting and educational day-out for the kids too. There are several historic telescopes to see, solar viewing and various interpretive tours and talks.
But if you like observing, it's the evening when Lowell really comes into its own. It wasn't always that way. When I visited Lowell for the first time in 1991, even the 24" Clark refractor was closed and I had to content myself with a brief view of dull brass in the gloom through the door glass. Back then, Lowell was a sleepy place with only basic interpretation and outreach. Now, though, Lowell is one of the very best places in America you can go to view the night sky through some fabulous and diverse equipment for a token cost; read on to find out why!
History
Percival Lowell, a Harvard graduate from a wealthy Boston family, is said to have developed an interest in astronomy from a young age when his mother bought him a telescope which he used from the roof of their mansion (called 'Sevenels' because there were seven in the Lowell family, including Percy's sister Amy Lowell who became a Pulitzer-winning Sapphic poet).
Lowell worked as a diplomat, orientalist and author until middle age, then developed a passion for Mars and the 'canals' 'discovered' by Schiaparelli. He ordered a 24" refractor from Alvan Clark and Sons (also from Boston) in 1895 and founded Lowell observatory on what is now Mars Hill the year after, specifically to study the Red Planet. After a brief spell trying for better weather in Mexico, but finding only worse seeing, Lowell spent the rest of his life observing from Mars Hill.
Lowell eventually wrote several popular and influential books based on his Mars observations and much fanciful extrapolation. Much of what Lowell wrote was basically fiction, but those romantic ideas (though he thought them scientific) about an advanced Martian civilisation dying on a parched planet kickstarted our modern obsession with life on Mars and aliens in general.
Lowell died in 1916 and is buried in a mausoleum at Mars Hill. The observatory went on to conduct less famous (but more scientific) research, including the discovery of Pluto by Clyde Tombaugh and other important discoveries and contributions by renowned 20th C. astronomers like Vesto Slipher.
Lowell's legacy continued to draw popular fame into the modern era. In the 1960s, the Apollo astronauts viewed the Moon with the 24" as part of their training and the big refractor was used for lunar mapping too. Numerous celebrities and VIPs have visited the observatory and been photographed with Lowell's great refractor.
Today, Lowell Observatory is still an important research centre, but most of its modern instruments are housed at a remote mesa site off limits to the public. Lowell's original observatory on Mars Hill above Flagstaff is still very much open for business though … now as a destination for outreach and interpretation.
<![if !vml]>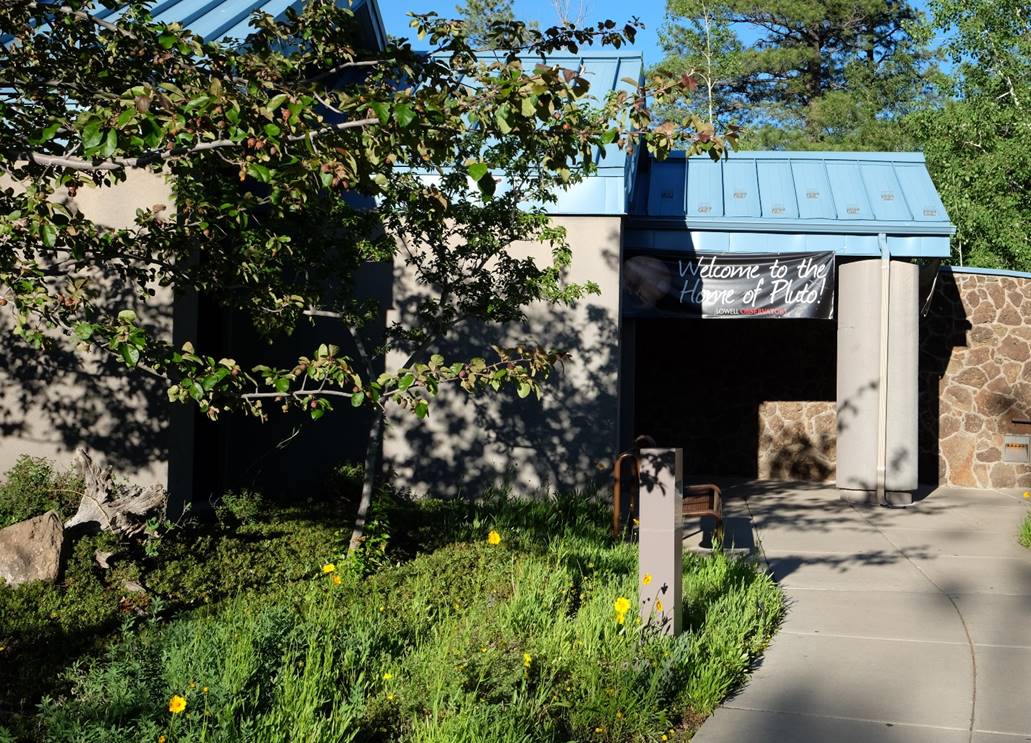 <![endif]>
Entrance to Lowell Observatory's historic Mars Hill site.
<![if !vml]>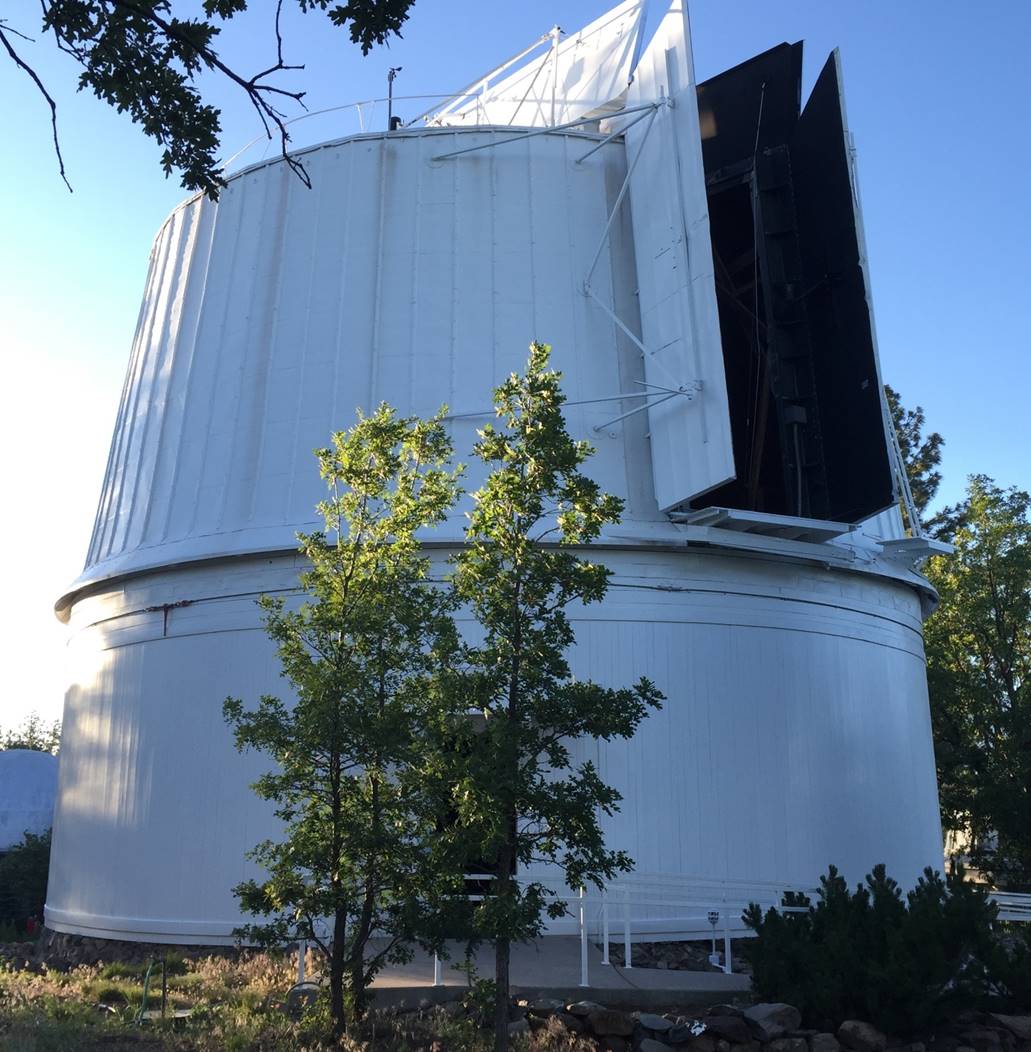 <![endif]>
19th C. dome for the 24" Alvan Clark refractor: built by two clever bicycle repairmen from Flagstaff, the Sykes brothers.
Getting There
Many famous observatories are remote and challenging to get to, but not Lowell. The observatory lies five minutes' drive beyond the edge of the town of Flagstaff in Arizona, atop a small mesa set amongst pine forest.
Simply take the main route through town, old Route 66, past the historic centre. Then, just before the road takes a sharp left turn and dives under an interstate bridge there is a turn-off on the right which leads straight out of town.
Keep right and follow the road as it twists and turns up the hill with occasional glimpses of the white dome of Lowell's great refractor intermittently through the trees. After a few minutes you arrive at the observatory gates. Parking is plentiful and free.
What to see
24" Alvan Clark Refractor
This is the observatory's most famous feature and perhaps the most famous telescope anywhere: Neil Armstrong has looked through it; Carl Sagan was photographed at the eyepiece. The reason is that this was Percival Lowell's own instrument, the one at which he spent countless long nights studying Mars and mapping its illusory canals.
Lowell initially had the telescope built and transported to Mexico, only later returning it to the makeshift 'upturned wooden pail' of an observatory – built by two local bicycle repairers, the Sykes brothers - where it has remained for more than a century. Nowadays the observatory for the 24" has the feel of a grand New England home, with its white boards and entrance porch. The telescope itself has been beautifully restored, probably to better than new, all silver enamel and polished brass.
Amazingly, despite its historic importance and magnificent condition, the 24" is open for public viewing most clear nights. All you have to do is pay your entrance fee ($22 when I visited for the fourth time in 2020) and amble the dark paths through the trees, up the steps through the oak door and into the dome (ignoring, if you're of a nervous disposition, the eternal presence of Percy in his Saturn-shaped mausoleum next door).
The interior of the dome is like no other observing space I have experienced. The phrase 'time capsule' gets over-used, but it feels like that. An old radio is gently playing Twenties tunes and everywhere is bare wood – floor, walls, beams and rafters. The wooden ladder up to the dome shutters is tied up with nautical ropes like something from a tall ship.
Then there is the Alvan Clark 24". Its gigantic tube, riveted like a ship's hull, sweeps upwards into the dim rafters away from the original brass focuser surrounded by brass-and-mahogany handwheels that click chains around to move the mount. Off season you might have the eyepiece to yourself, whilst at the height of the driving season the queue will extend right out to Percy's tomb.
When it's your turn at the eyepiece, you'll get a chance at a fabulous view, perhaps of the cratered Moon or Saturn's rings in close-up, perhaps of a star-burst globular cluster or the whorls and knots of Orion's Great Nebula. If you want to experience viewing through a giant Victorian-era refractor, this is the best opportunity I know of.
Soon after it was restored, the Lowell staff would move the Clark onto new targets several times in an evening session and you could just join the back of the line to see something new. Now, to preserve it, they tend to keep it set on and tracking a single target all evening. You can still go back as many times as you like, though.
You can read a full review of Lowell's historic instrument and viewing through it here.
<![if !vml]>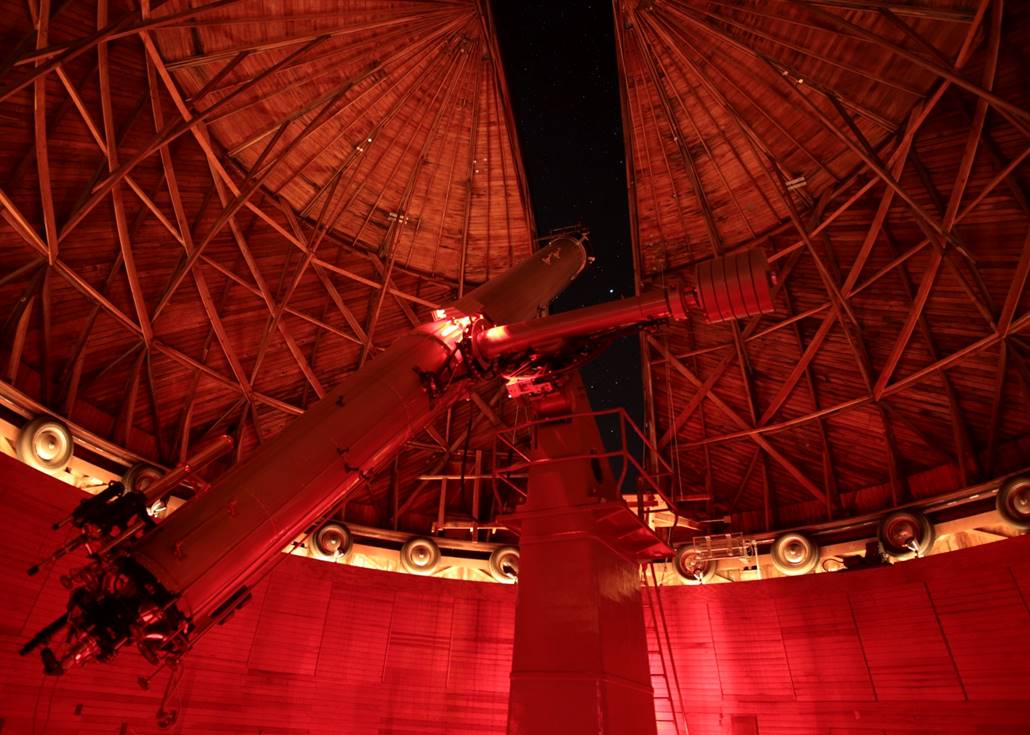 <![endif]>
<![if !vml]>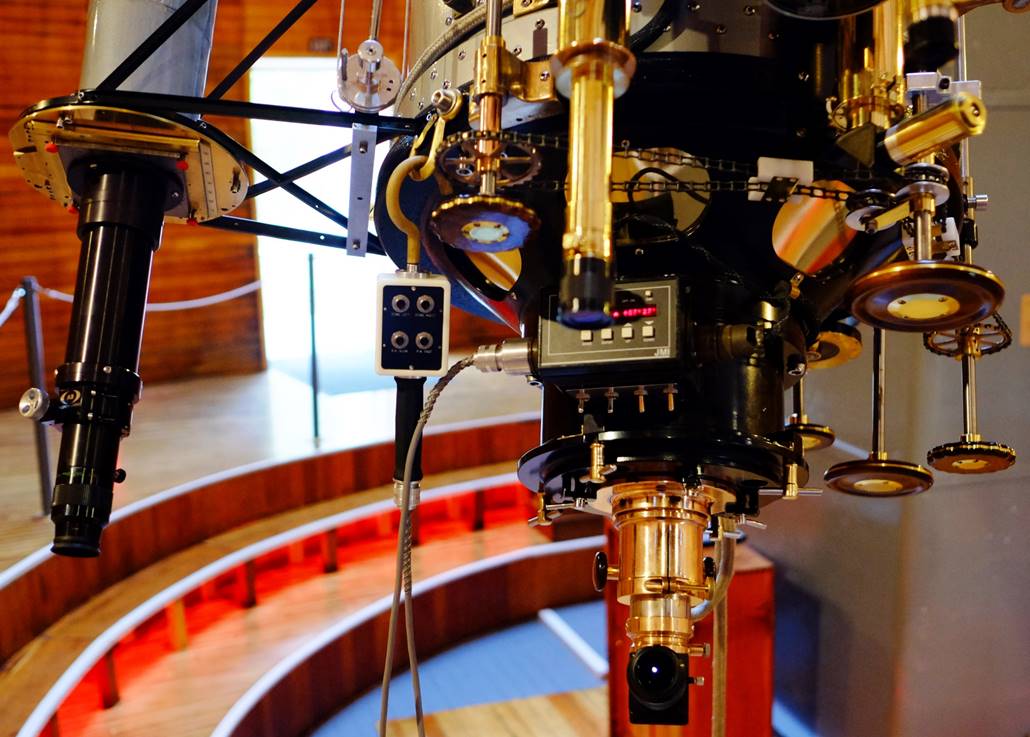 <![endif]>
Approaching the eyepiece of the 24" Clark …
Giovale Open Deck Observatory
There's no doubt that the restored 24" Clark is the highlight of a visit to Lowell at any time, but especially on a clear night. Now, though, it does have some competition from an exciting and newly opened attraction – the Giovale Open Deck Observatory, opened for their 125th Anniversary in 2019. It replaces the old star-party style collection of scopes they used to set up on the walkways around the site.
They describe the Giovale as 'Stargazing Reimagined' and suggest it has 'one of the finest collections of telescopes available for public observing'. They're not wrong.
<![if !vml]>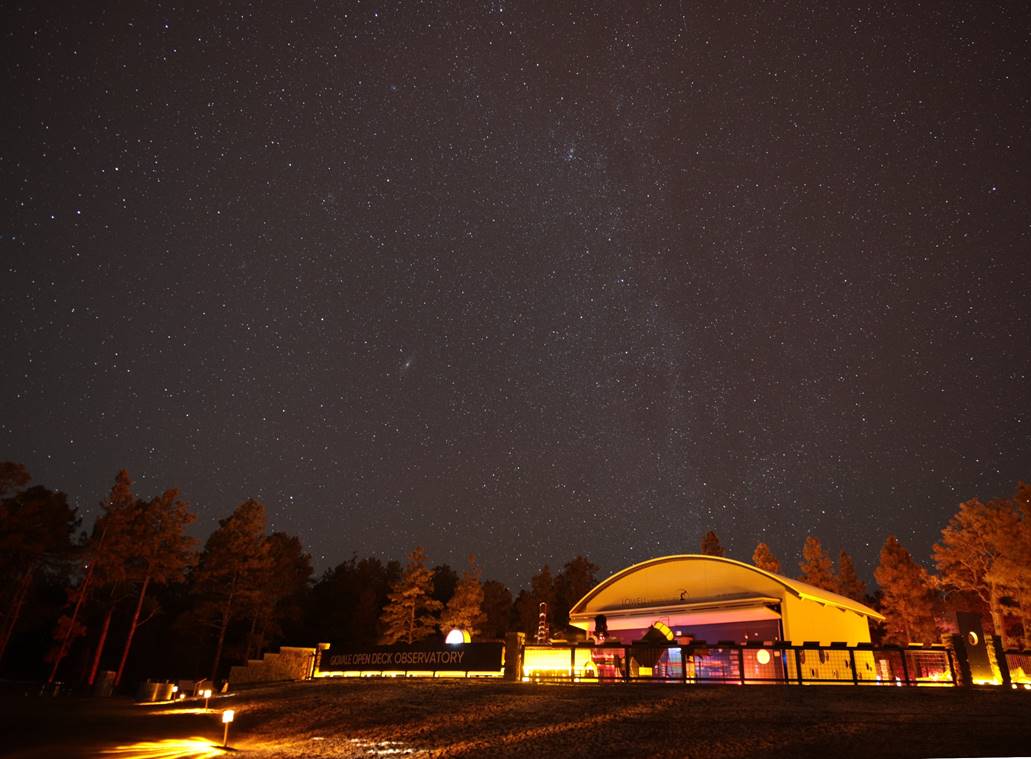 <![endif]>
This completely new outreach-only facility at Lowell is amazing and very cool. It's located up a long and dimly lit path at the back of the site among the pines in a very dark spot with outstanding all-sky views. True to the name it is an expansive raised, open deck, surrounded by lawns and set about with benches to just sit and gawp at the majestic dark skies if you're tired of eyepieces.
There are various interpretive displays at the Giovale too, gently lit at night. But if like me you're a scope fan, the main attraction is an array of permanently-mounted, large telescopes of various types to view through on every clear night. How is this possible? The telescopes live in a substantial arched-roof building by day, that simply rolls off at night.
The telescopes available for your enjoyment include the following:
The signature telescope, one included as a kind of Steam Punk homage to the 24" Clark, is a long-focal-length (F12) 8" achromat by the English brand Moonraker. The tube is all glossy candy red (burgundy at night) and polished alloy, set about with various finders and guidescopes. It really is a big and beautiful thing (so much larger than my own 7" refractor) and needs a sturdy Astro Physics 1600 mount to hold it steady.
Incidentally, Alvan Clark and Sons once made 8" achromats as a stepping stone between their transportable 6" models (Lowell started off with one) and the bigger observatory refractors. There is a beautifully restored example of an 8" Clark at Seagrave Observatory in Rhode Island.
The Moonraker 8" at Lowell is mainly intended for lunar and planetary viewing, but with no Moon or planets (most unfortunately) on the evening I was there, I had to 'make do' with a big bright and sparkling view of one of my favourite objects, the Double Cluster in Perseus, through a 31mm Nagler eyepiece.
A TEC 140FL on an Astro Physics 1100 mount gives great low power views with wide-field eyepieces. It gave me a spectacular full-width view of the Andromeda Galaxy (M31), brighter and clearer in the high dark skies than I'm used to back home.
A 16" Meade SCT on another AP 1600 mount (have they been spending big or what?) is described as their 'workhorse' instrument. It wasn't being used on the night I was there, perhaps because of the absence of planets and Moon.
A 32" Star Structure Dobsonian, with an F3 Lockwood quartz mirror, on a tracking platform, is in fact the largest aperture scope at Mars Hill. The big Dob' is actually surprisingly compact for such a large aperture and only needs a few steps to reach the eyepiece, but it still gives the expected big-scope view. I enjoyed views of M82 (the 'Cigar' galaxy): big and bright with the 'z' shaped central dark lane (actually part of a starburst region) especially well defined, along with hints of other darker zones.
If the 8" Moonraker is a nod to Victorian astronomy, the two scopes at the back of the group use the most up-to-date hardware. On the left is a 14" Plane Wave Corrected Dall-Kirkham fitted with a MallinCam integrating video camera that takes long exposures and automatically displays them on a big screen.
The MallinCam gives a viewing experience somewhere between eyepiece and CCD camera – slew to a new object, wait for thirty seconds and see an integrated view like a CCD image! It produced 'views' of the Great Orion, Flame and Running Man nebulae with structure and colour like an image but (almost) the immediacy of eyepiece viewing. Impressive.
The final instrument to the right of the 14" is another PlaneWave CDK, a 17" this time. It's equipped with a Shelyak spectrograph that can show spectra on a monitor in real time for demonstrations of the principle technique used by professionals these days.
<![if !vml]>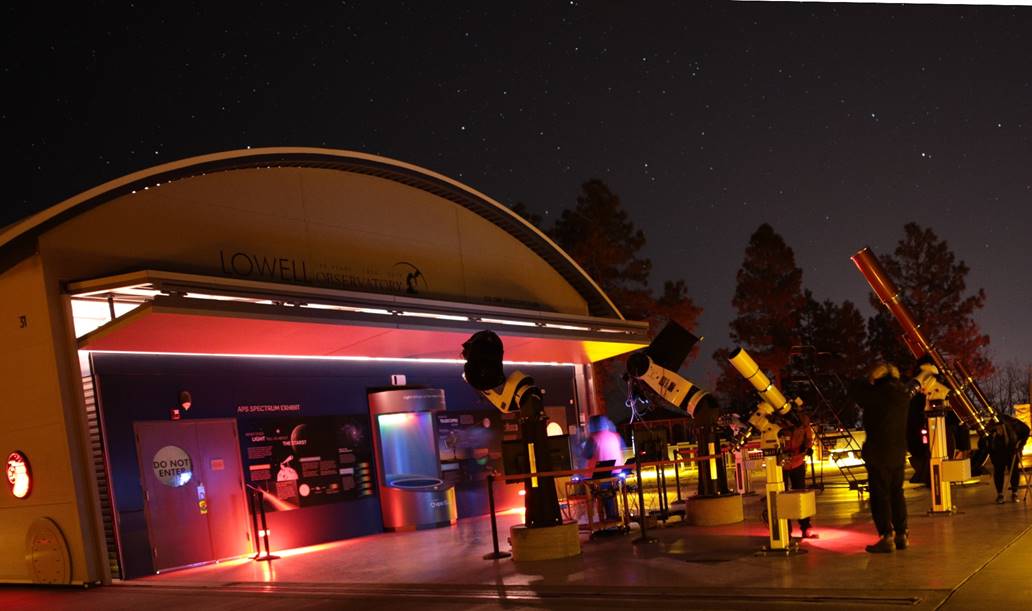 <![endif]>
<![if !vml]>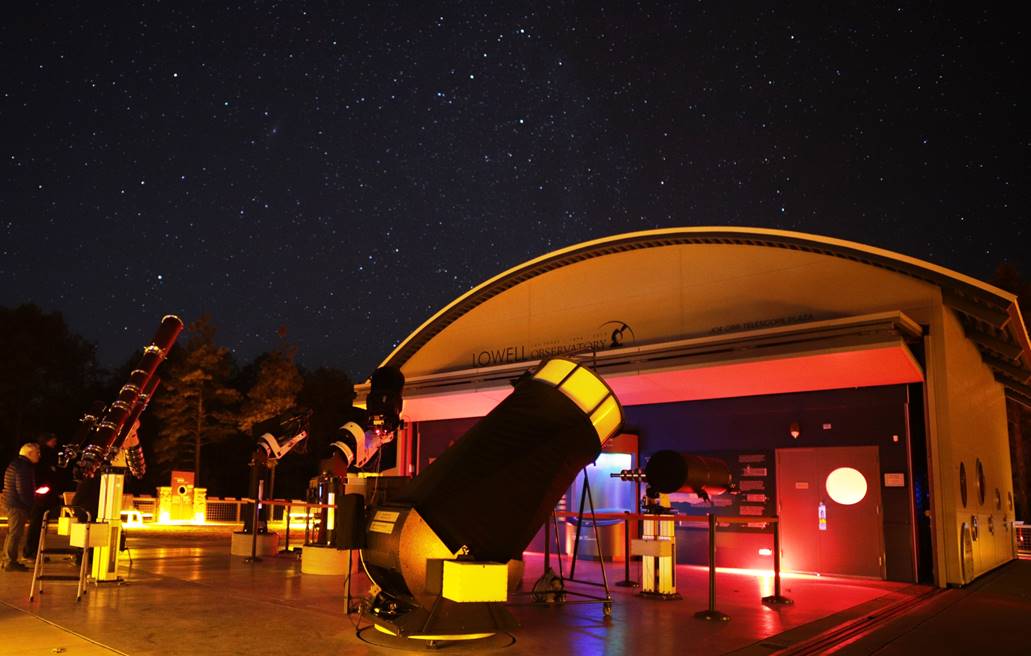 <![endif]>
<![if !vml]>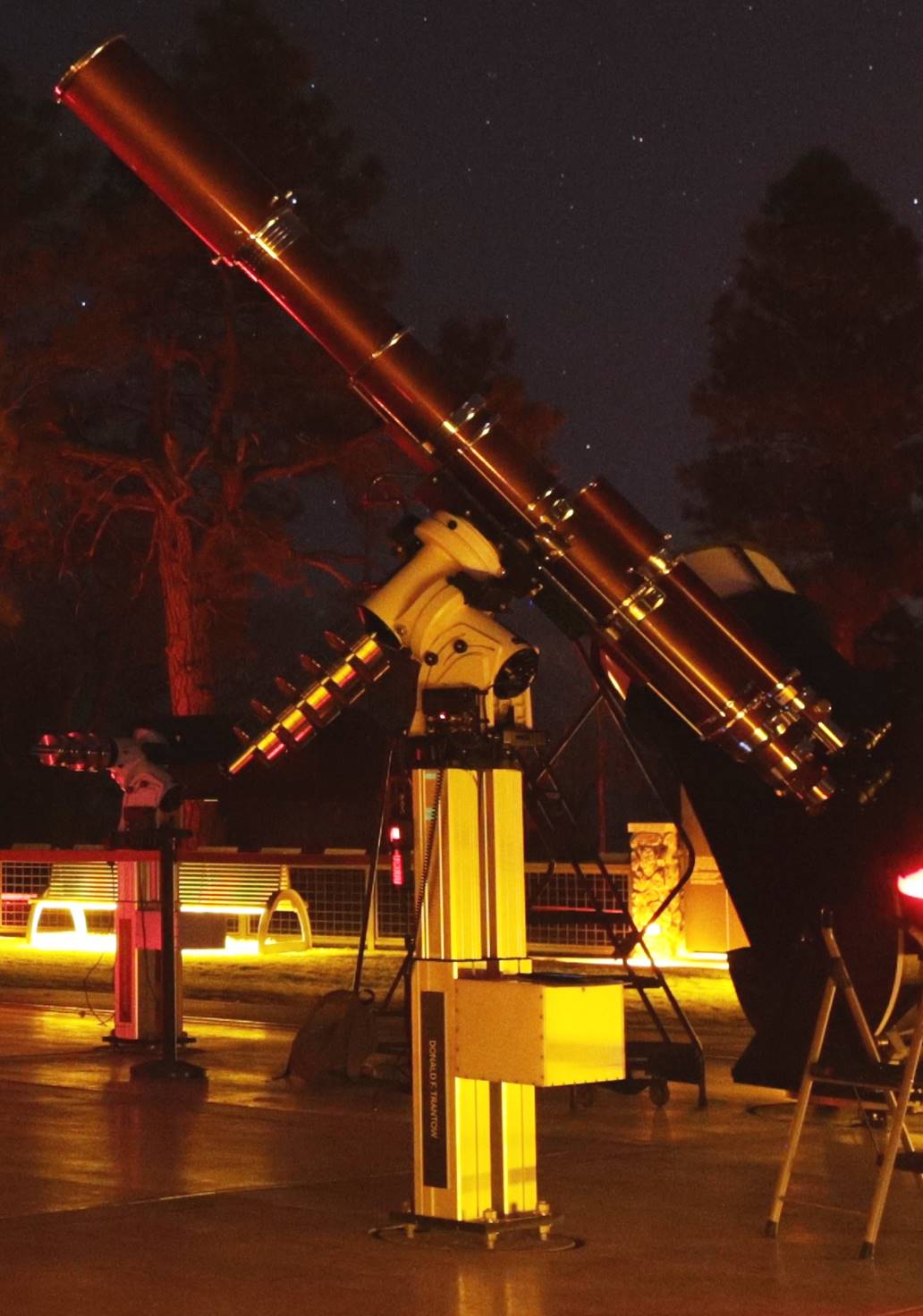 <![endif]>
Various lust-worthy instruments at Lowell's new Giovale Deck Observatory, including the 8" Moonraker.
<![if !vml]>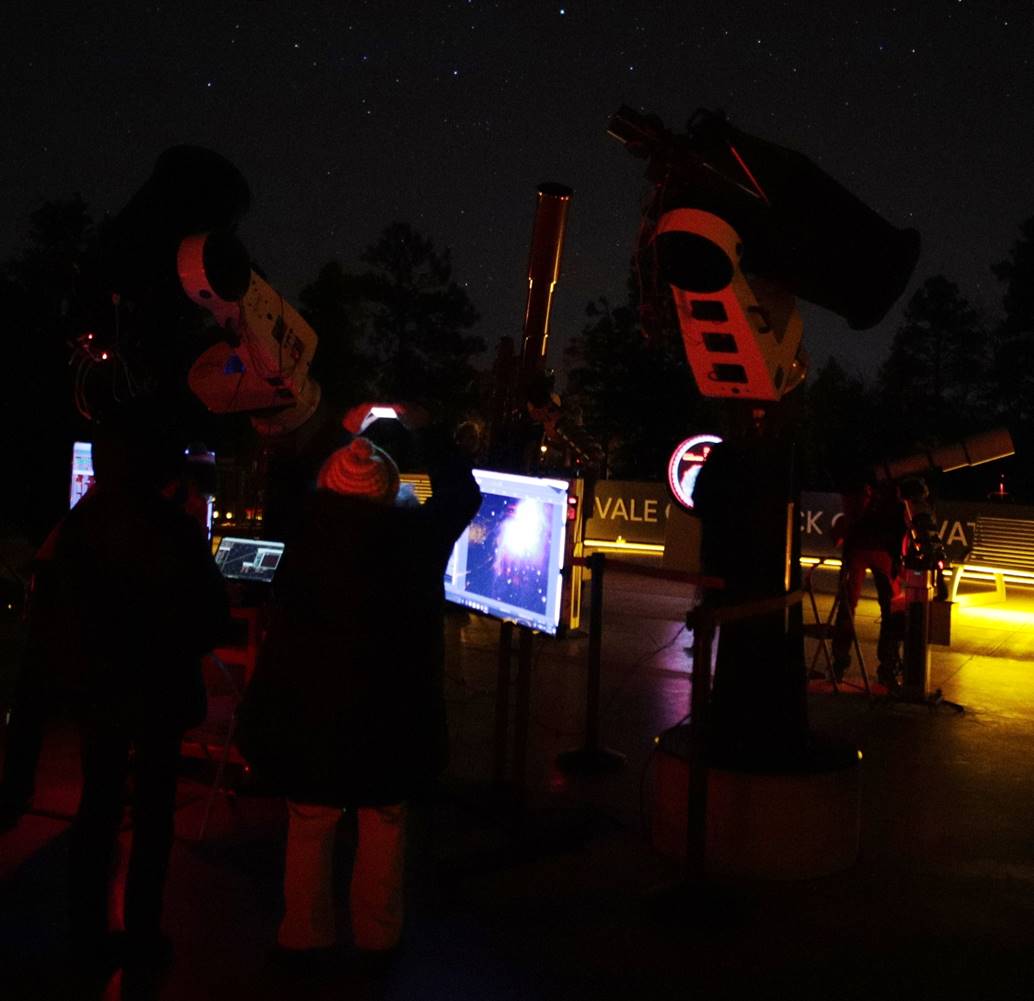 <![endif]>
Integrating video cam showing a semi-live view of Orion's nebula.
Beyond all those fantastic scopes, something extra that I really appreciated at the Giovale is all the space, deck and grass, where I could set up my tripod and camera for some long-exposure photos of the dark sky. It's a great facility all round and should be a huge success for Lowell.
13" 'Pluto' Astrograph
What with two visits to the 24" Clark and the Giovale Deck too, I'd already had a long and enjoyable evening at Lowell. Then I spotted another path up through the trees and followed it. What I discovered was that the astrograph used by Clyde Tombaugh to discover Pluto in 1930 has recently been restored to the same exquisite standard as the 24" and remains open for visits late into the evening (though you can't look through it – it's a giant plate camera!)
<![if !vml]>
<![endif]>
McAllister 16" Cassegrain
Lowell actually has another outreach telescope that they open up sometimes, a 16" F18 Classical Cassegrain built by Boller & Chivens in 1963. It has an unusual, cross-axis half yoke mount.
The long focal length of the 16" makes it suitable for planets and I have viewed (ironically) Mars through it, as well as Saturn. It's worth exploring to find it, especially in summer if the queues for the 24" are too long: it's behind the Clark 24", hidden away at the end of a path along the edge of the mesa.
<![if !vml]>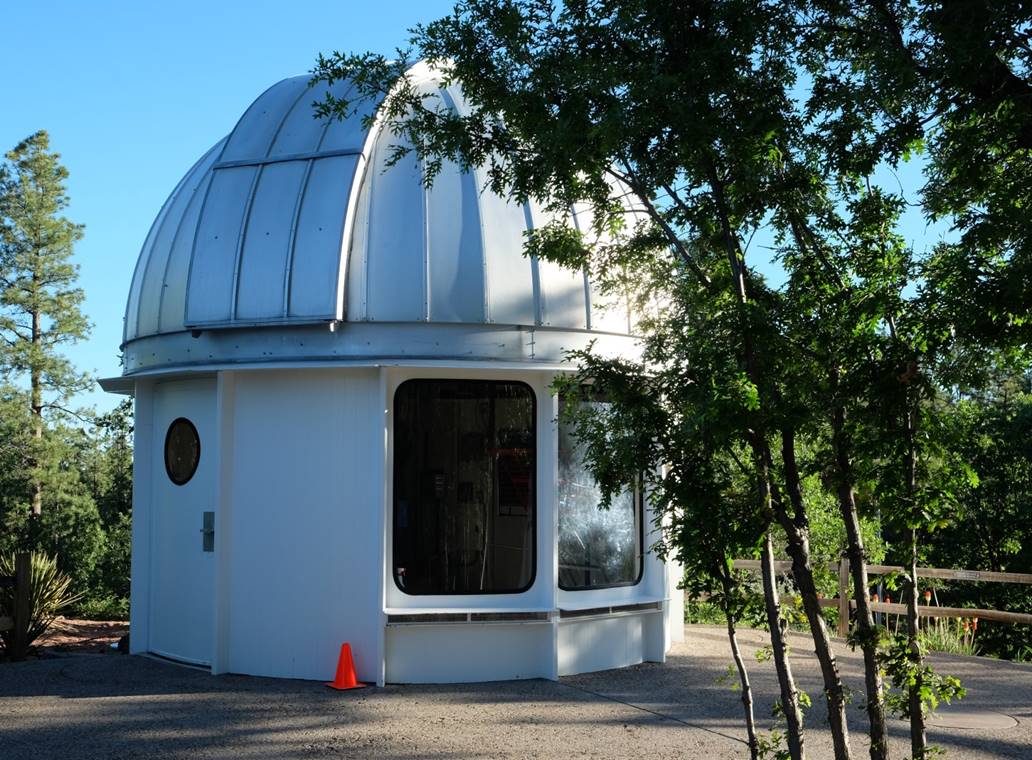 <![endif]>
<![if !vml]>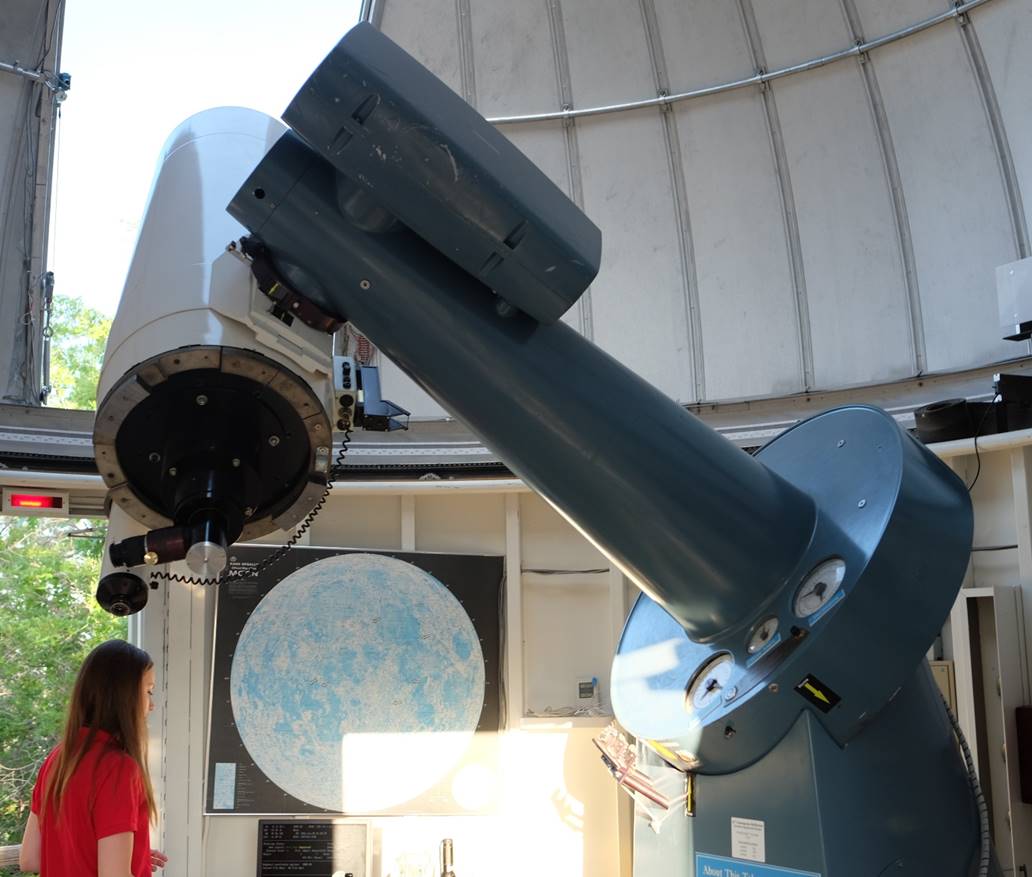 <![endif]>
16" F18 Boller and Chivens Cassegrain at Lowell.
Lowell's Mausoleum
Percival Lowell himself is of course interred at Mars Hill. You can find his eternity home just to the left of the telescope dome where he spent so many nights observing Mars through the 24" Clark and dreaming of giant canals. It's a peaceful spot, looking out at the view from the mesa.
His tomb was controversial though. It cost a fortune and the funds were embezzled from the observatory. His wife designed it to look like Saturn because that was her favourite planet. Nowadays it has a rather ugly roof over the special translucent tiles that give the interior a permanent wash of blue-pink dusk, Lowell's favourite time of day.
Either side of the doorway are poignant quotes from two of Lowell's books, 'Mars and its Canals' and 'The Evolution of Worlds':
<![if !vml]>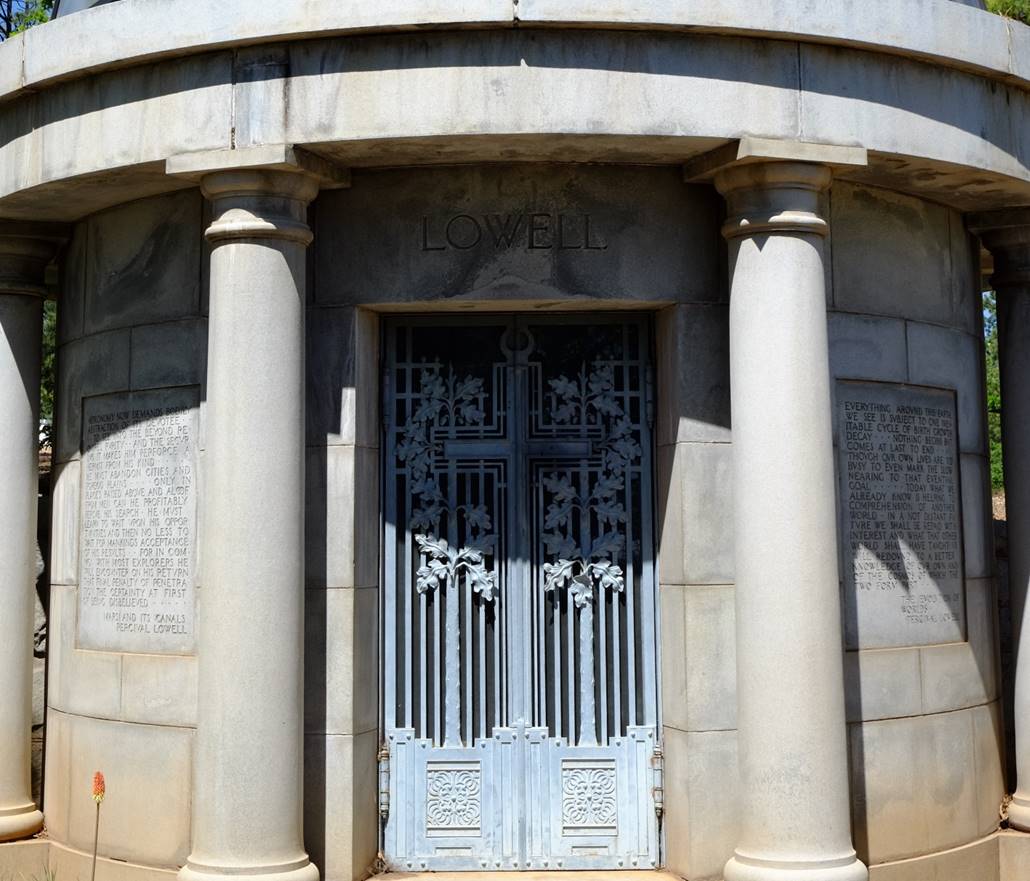 <![endif]>
<![if !vml]>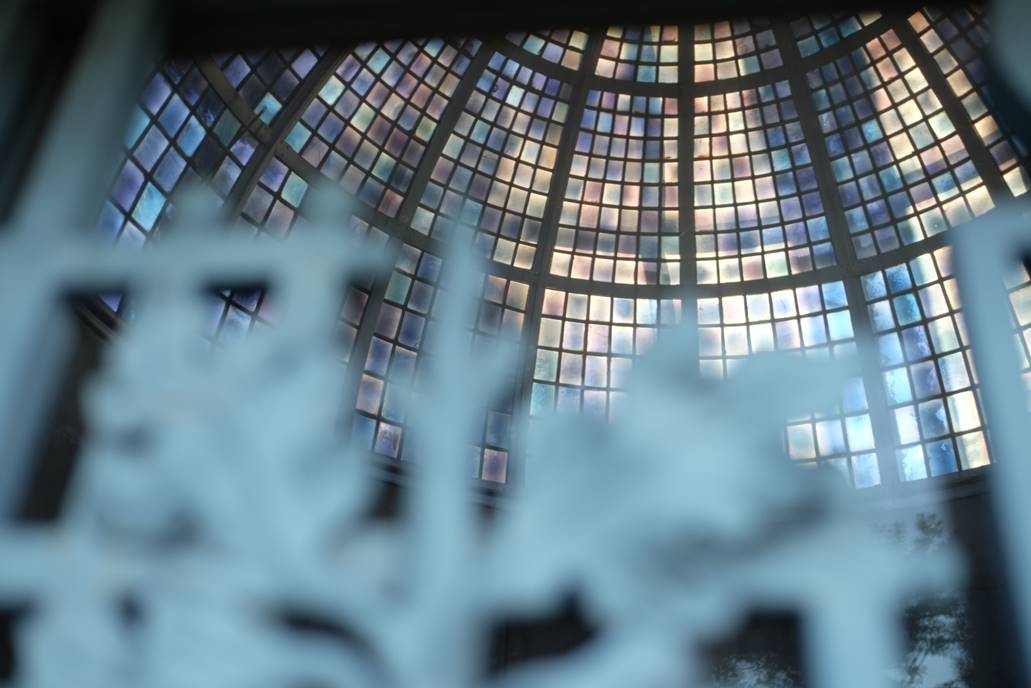 <![endif]>
Things to do at Lowell Observatory
The most obvious activities involve night-time viewing through Lowell's outstanding collection of telescopes, but there are others.
Solar Viewing
Most fine days, they set up solar scopes just outside the visitor centre, for free solar viewing sessions that will show you any sunspots and prominences on the Sun that day.
Daytime Talks at the Rotunda
The Rotunda building contains some interesting displays on Lowell and Mars and also hosts various daytime talks and presentations on the observatory and its history. Walking tours around the observatory also start off from here.
Night Sky Laser Pointer Presentation
Every clear night, Lowell offer a demonstration of the main highlights in the sky that night (changing throughout the year as the Earth moves in its orbit, of course) – planets, stars, constellations and deep sky objects - with a laser pointer. This is a really good opportunity to start learning your way around the night sky if you're new to astronomy and is educational for kids too.
<![if !vml]>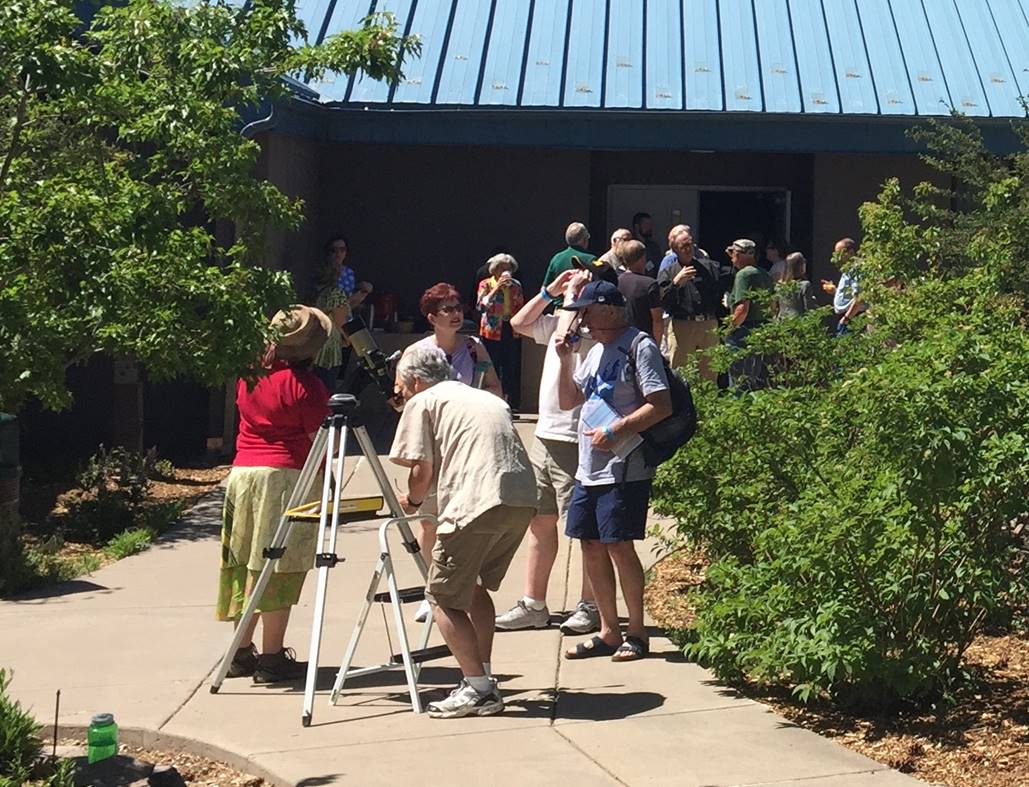 <![endif]>
Solar viewing at Lowell.
<![if !vml]>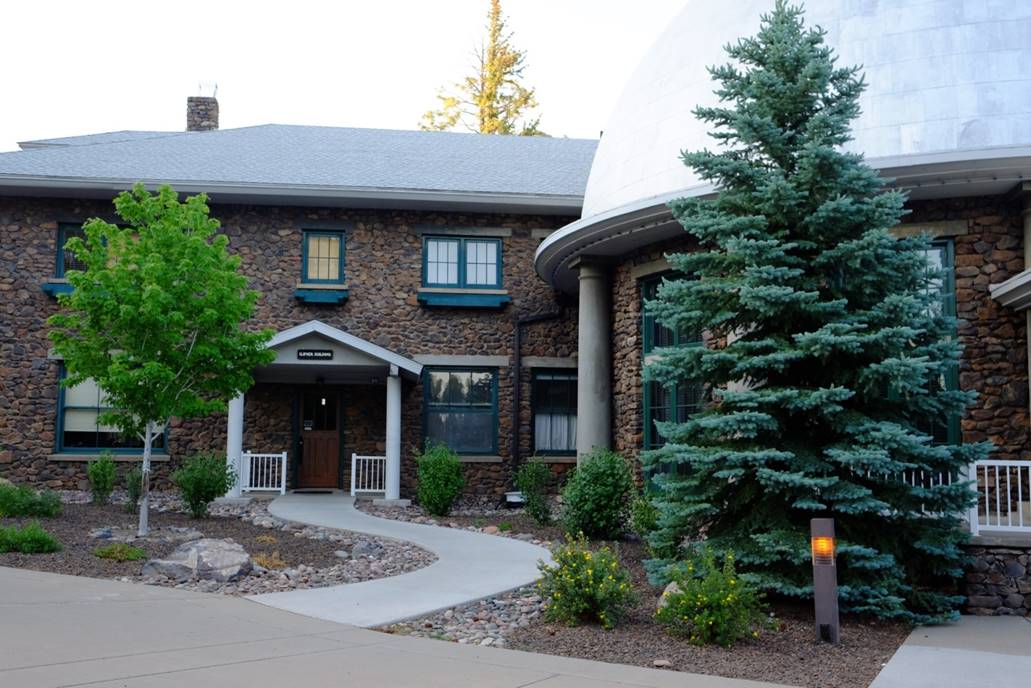 <![endif]>
Many of the observatory's interpretive programs start here at the Rotunda.
Summary
I've always enjoyed my time at Lowell, but on this most recent occasion much more so thanks to the Giovale Deck Observatory and a sense of better training amongst the interns and staff.
The observatory closed for the night at about 10:30 pm and I drove out and down the twists of Mars Hill into downtown Flagstaff. To get back to my motel, I had to turn right onto Route 66 and then under the interstate, then immediately make a U-turn in the parking lot for a gun store. It was a manoeuvre that I suddenly remembered from my first visit to Mars Hill in 1991.
That gun store hadn't changed much, but Lowell Observatory certainly has – even from my previous visit three years ago. I had a fantastic evening at Lowell this time and it must now rank among the very best destinations for outreach astronomy anywhere.
An evening's viewing at Lowell Observatory gets my highest recommendation for a great observing experience under clear and dark skies for a very modest price. The new Giovale Open Deck with its varied cluster of premium instruments is a resounding success.
<![if !vml]>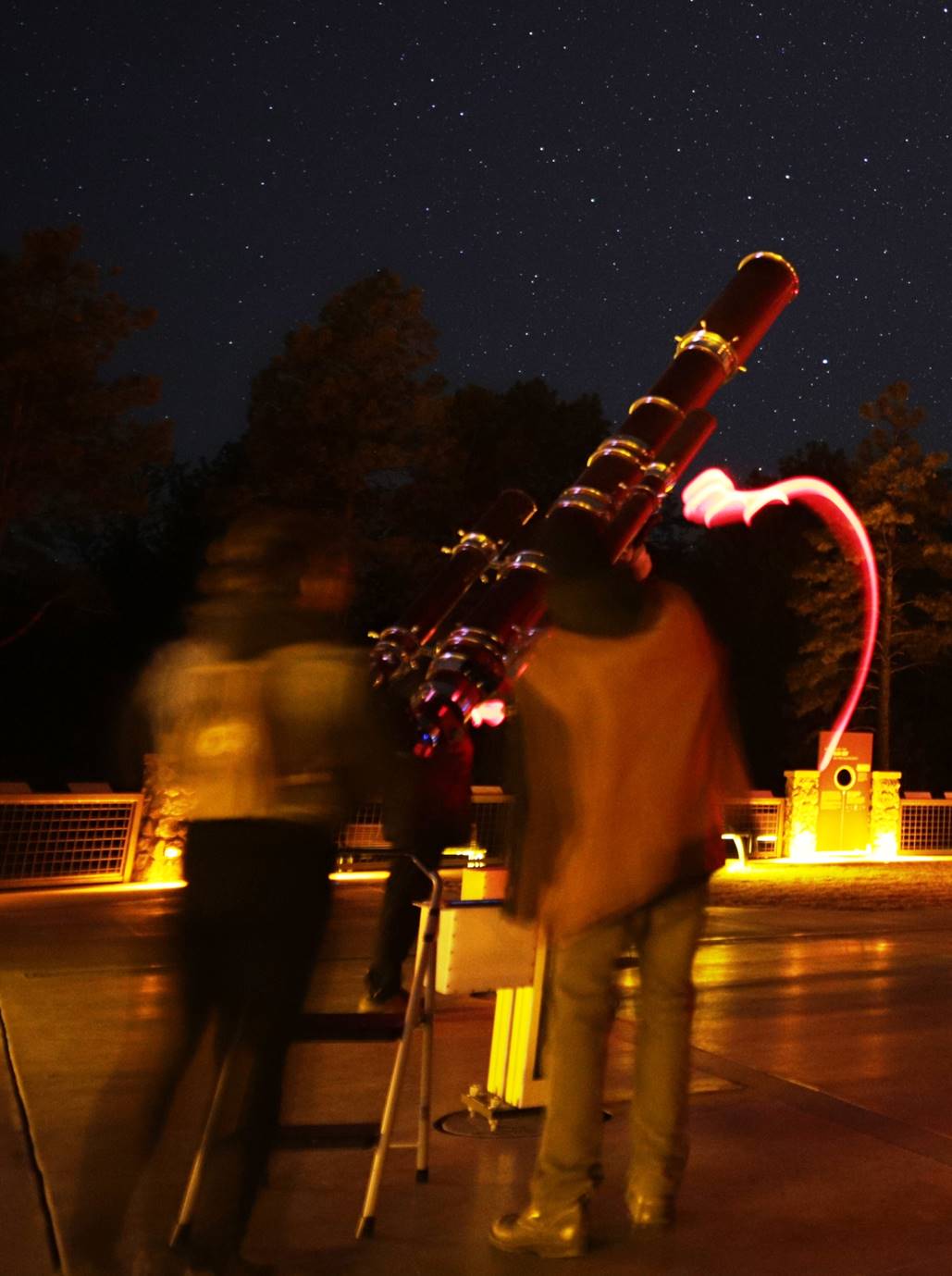 <![endif]>