I was really impressed with Meopta's 7x50s, but 12x50 is a much harder format to get right. In this review I find out if Meopta have.
Meopta Meostar B1 12x50 HD Review
<![if !vml]>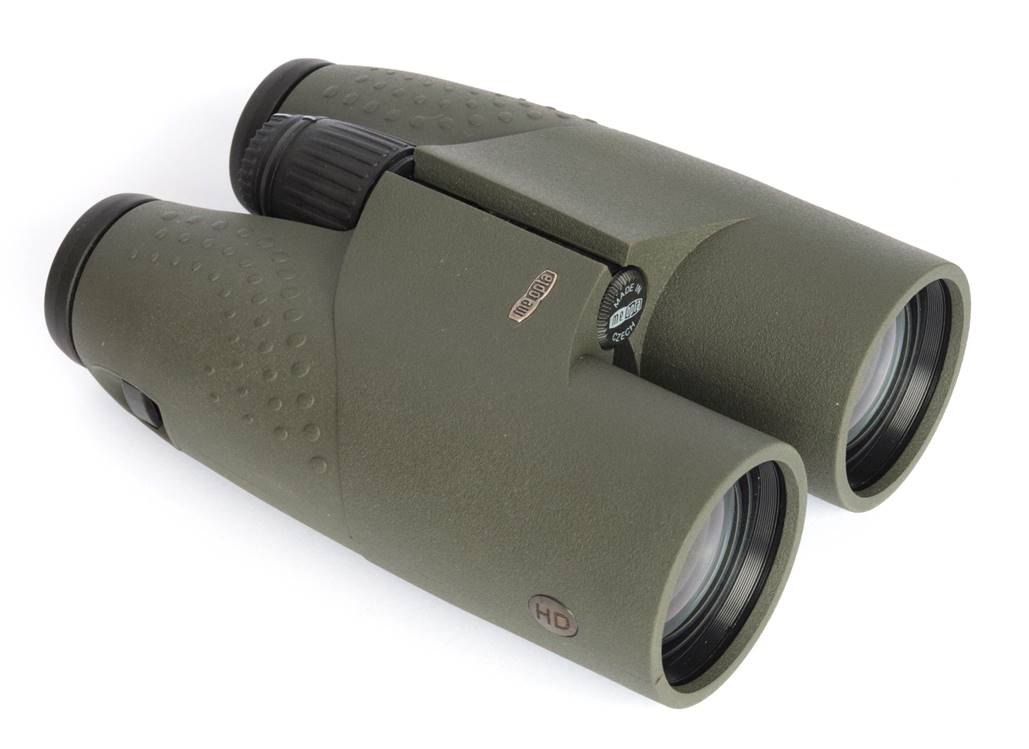 <![endif]>
For a mix of astronomy, nature viewing and birding, 10x50 is the standard size: just a bit heavier than a 10x42, but with lots more light gathering area (42% more) for finding those fainter fuzzies. But Iíd go one further and suggest trying a 12x50 if you want a more astronomy-biased glass. A 12x50 cuts through light pollution better, gives better views of smaller DSOs (and makes them easier to find) and last but not least (for me anyway) yields a more detailed binocular Moon.
Trouble is, there just arenít that many 12x50s out there to choose from. Nikonís 12x50 SE was a Scope Views best buy, but is long discontinued and is virtually unobtainium used now. I love Swarovskiís 12x50 ELs, but not their price. Vortexís new Japan-made Razor UHDs could be good, but I havenít tried them yet.
One other option, significantly less costly than either, are Meoptaís Meostar 12x50s, recently equipped with HD objectives. I just reviewed the Meostar 7x50s and really liked them, so letís find out if the 12x50s are as good.
<![if !vml]>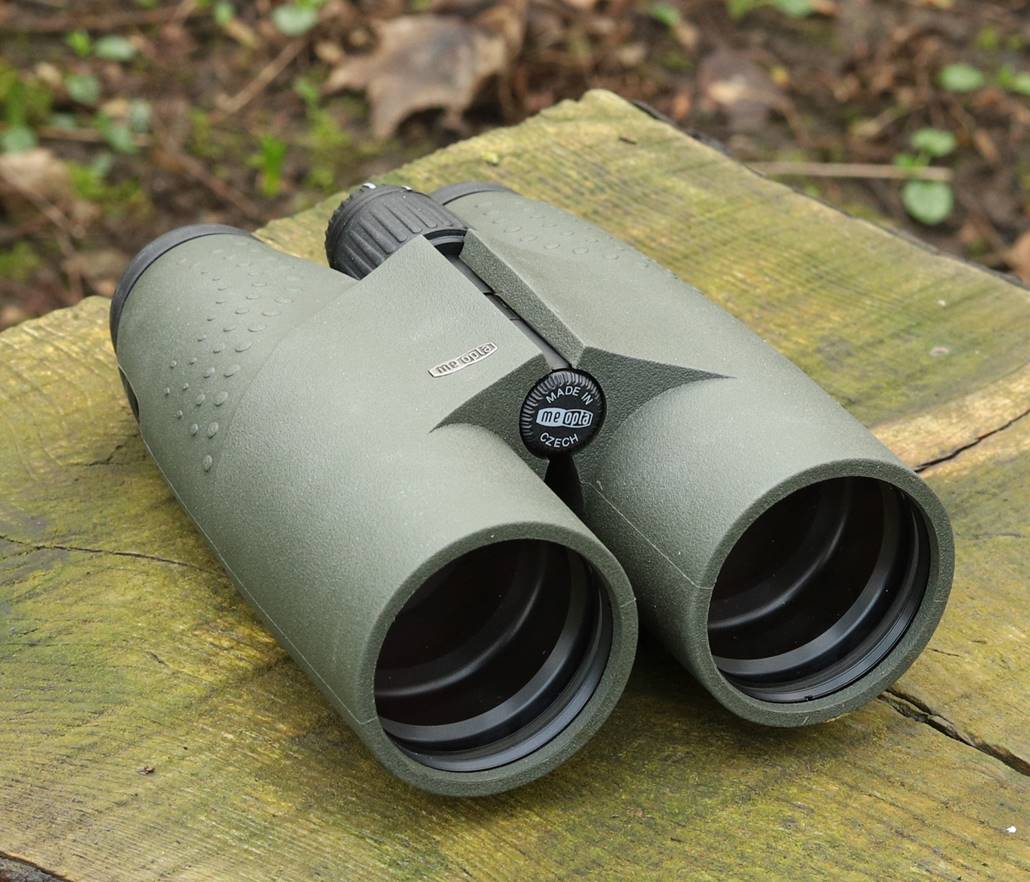 <![endif]>
At A Glance
| | |
| --- | --- |
| Magnification | 12x |
| Objective Size | 50mm |
| Eye Relief | 15 claimed, ~13mm measured |
| Actual Field of View | 5.32į |
| Apparent field of view | ~60į |
| Close focus | 3.2m measured |
| Transmissivity | 88% claimed |
| Length | 174mm |
| Weight | 1080g measured |
Data from Meopta/Me.
Whatís in the Box?
Swarovski and Zeiss both feature packaging designed by Ansel Adamís great-grandson, or so it seems. Meoptaís is more functional, but still smart:
<![if !vml]>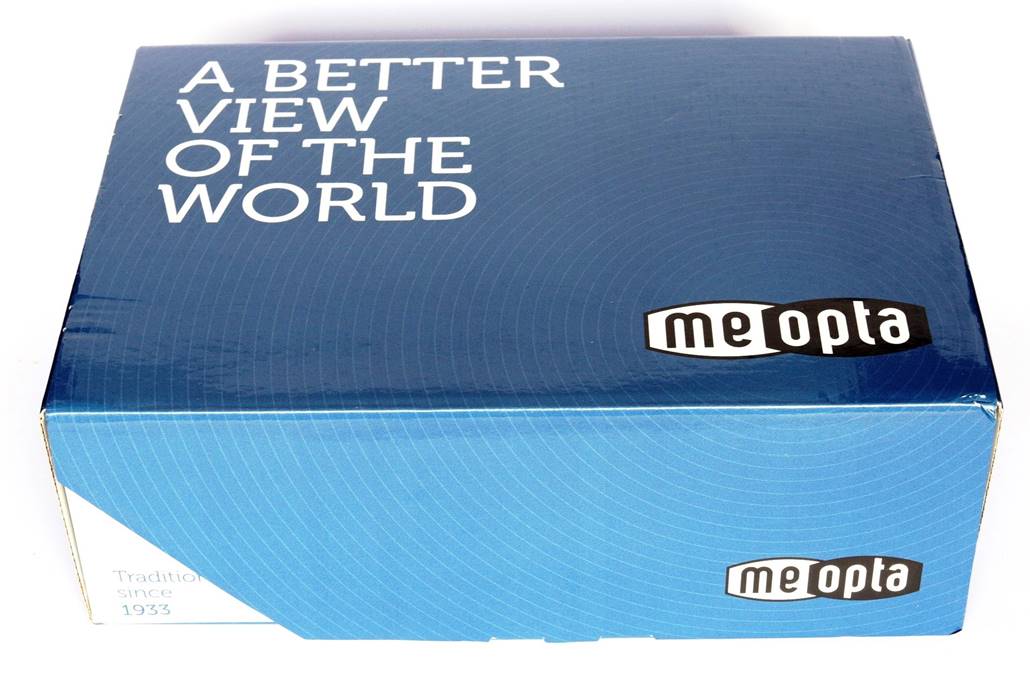 <![endif]>
<![if !vml]>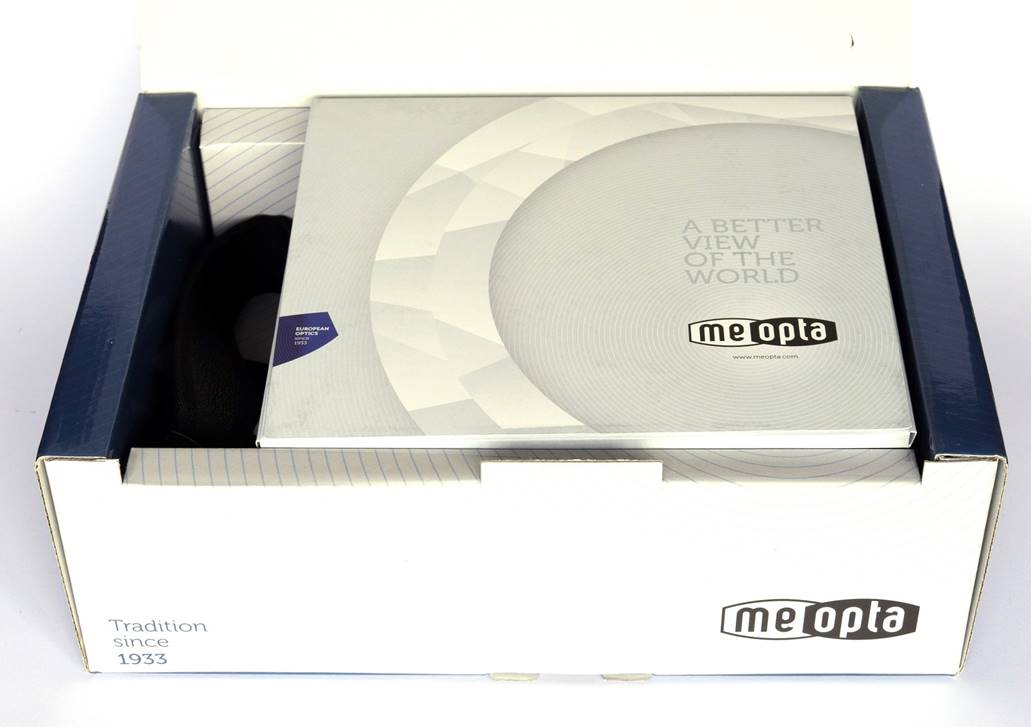 <![endif]>
<![if !vml]>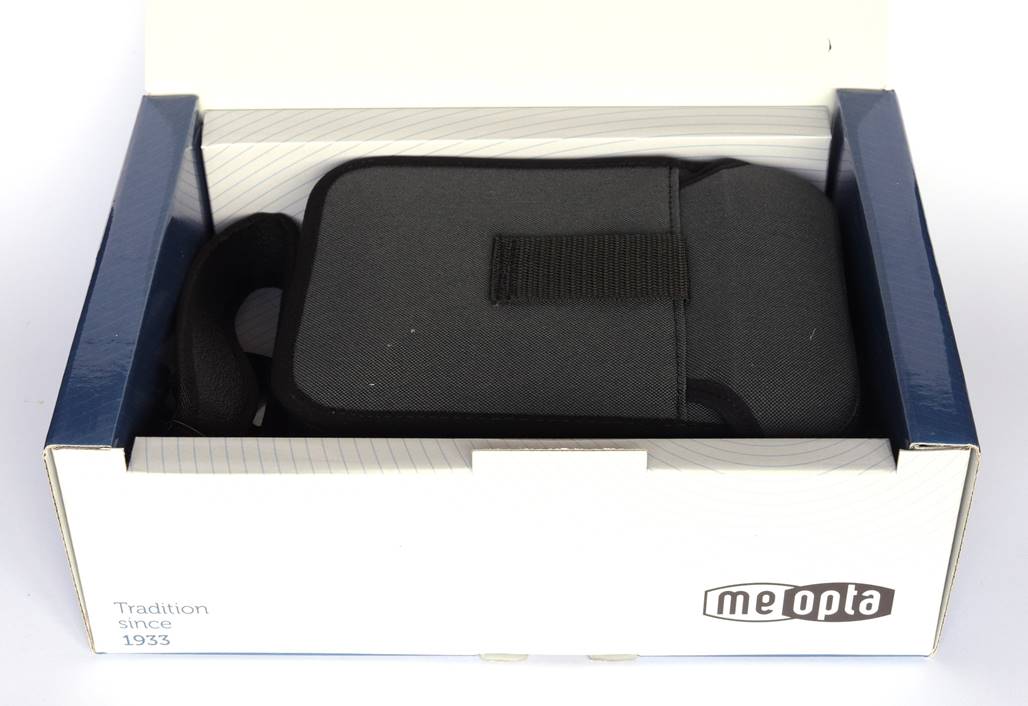 <![endif]>
<![if !vml]>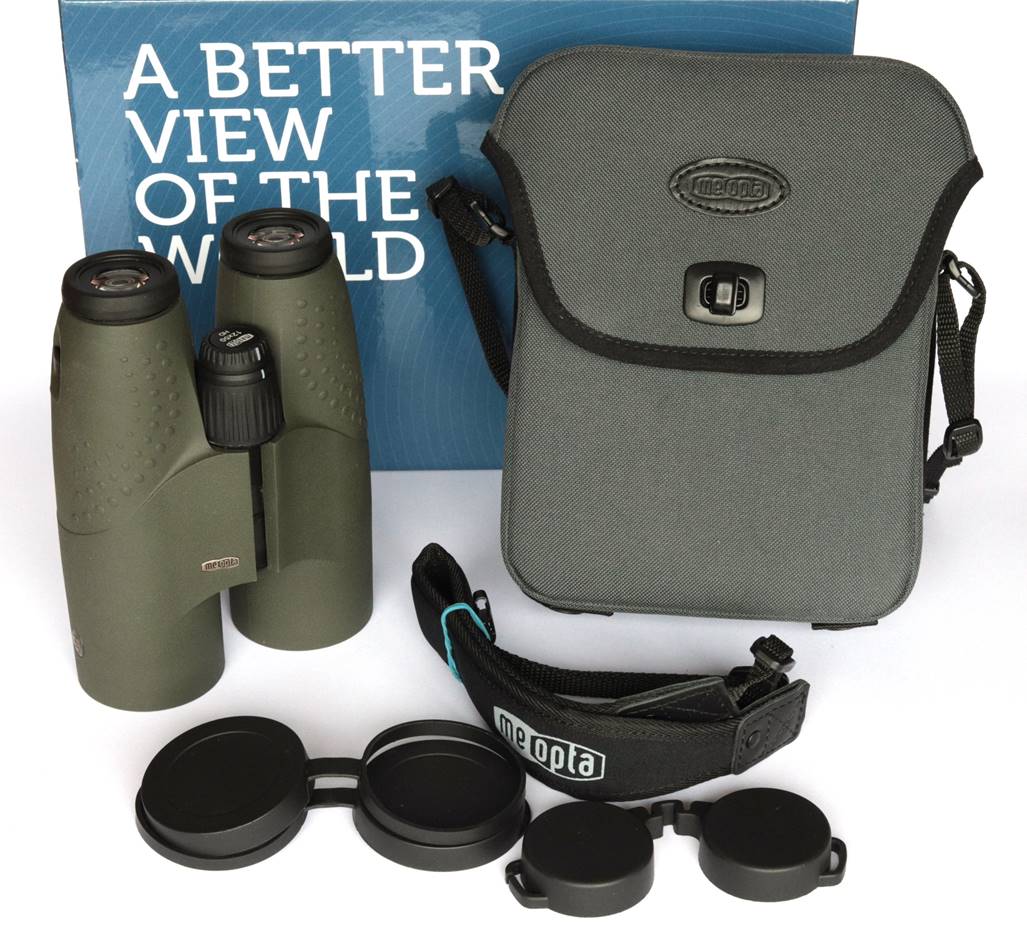 <![endif]>
Design and Build
The Meostar B1s are Meoptaís premium range and they are entirely Czech made (including the glass). They all look virtually identical, with only minor size differences. In fact, there are now two lines: older non-HD (8x32, 10x32, 8x42, 7x50, 10x50) and recent HD, including these 12x50s (10x42 and 15x56 too). Why didnít the 10x50s get HD optics? No idea. But be careful when you buy, because quite a lot of non-HD 12x50s are still on sale.
On the face of it, all are bog-standard roof prism binoculars: no Abbe-KŲnig prisms, no open bridge, no exposed anodising, no multiple ED elements. But thatís a bit deceptive, because Internal and external build quality appear virtually as good as Swarovski on this pair, just as on the 7x50s Ė flawless, if slightly utilitarian compared with the fancier looking, premium ELs. Me, I really like Meoptaís build and style.
Body
The body is machined from aluminium, not magnesium, but weight at just over a kilo is only 90g more than Swarovskiís 12x50mm ELs and competitive with other high-end 50mm models such as Leicaís 12x50mm Ultravid HDs and Vortexís 12x50mm UHD Razors. These are compact for a 50mm, too, something probably achieved by short focal length objectives: length is identical to the 12x50 ELs.
I really like Meoptaís armour. It looks and feels a lot like Swarovskis, but to me itís even more tactile. Itís a dark mossy green in colour (some images show it as a bright green) and has two different textures, both warm and grippy Ė smoother and thinner at the eyepiece end, more heavily textured and thicker near the objectives for a comfy hold, where itís also slightly squidgy and very warm even on freezing nights. Itís neither a magnet for fluff and prints like some, nor does it have a rubbery odour.
Iíll say again, fit and finish is first rate, with the look and feel of an Alpha binocular. Whatever else these give away to Swarovski it isnít the understated look and feel of artisanal quality.
Meopta claim the Meostars to be fully waterproof and fogproof, but donít seem to give an immersion depth.
<![if !vml]>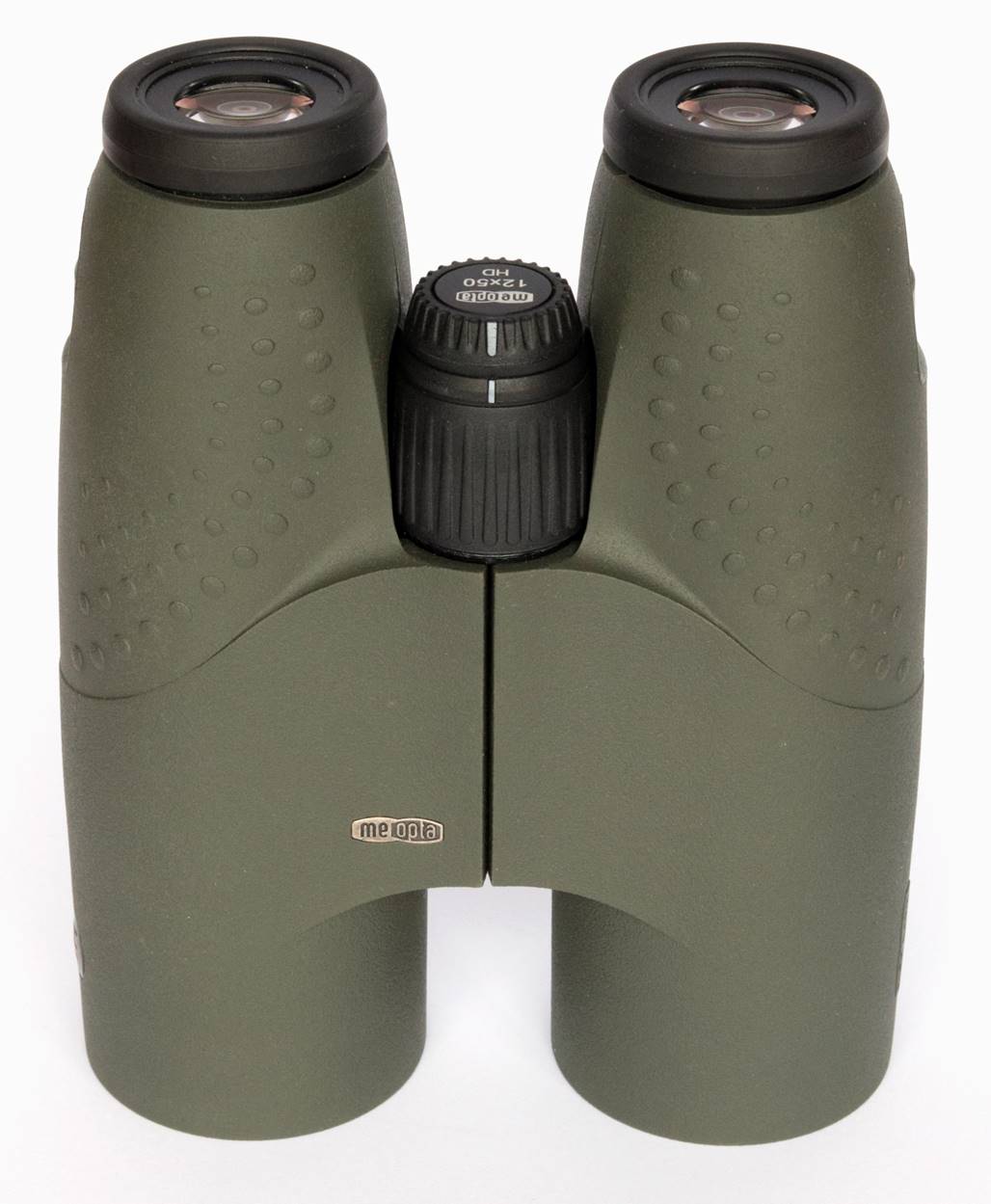 <![endif]>
<![if !vml]>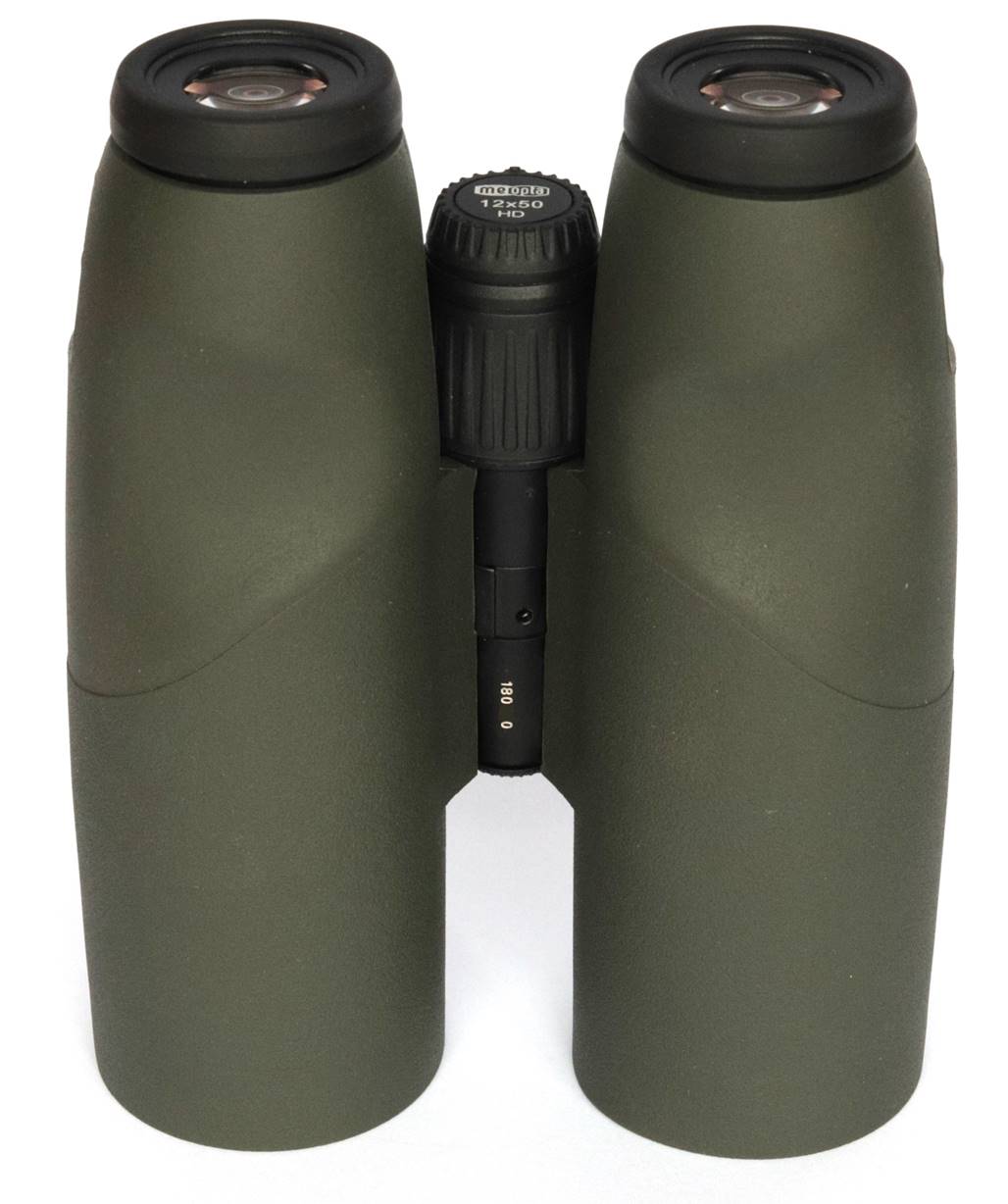 <![endif]>
<![if !vml]>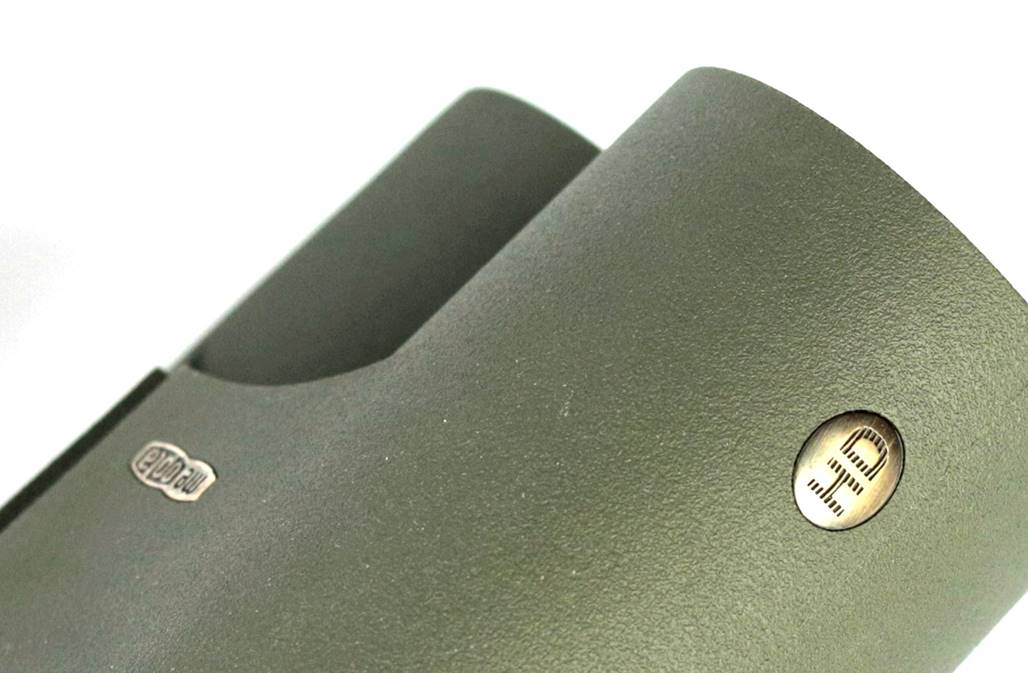 <![endif]>
<![if !vml]>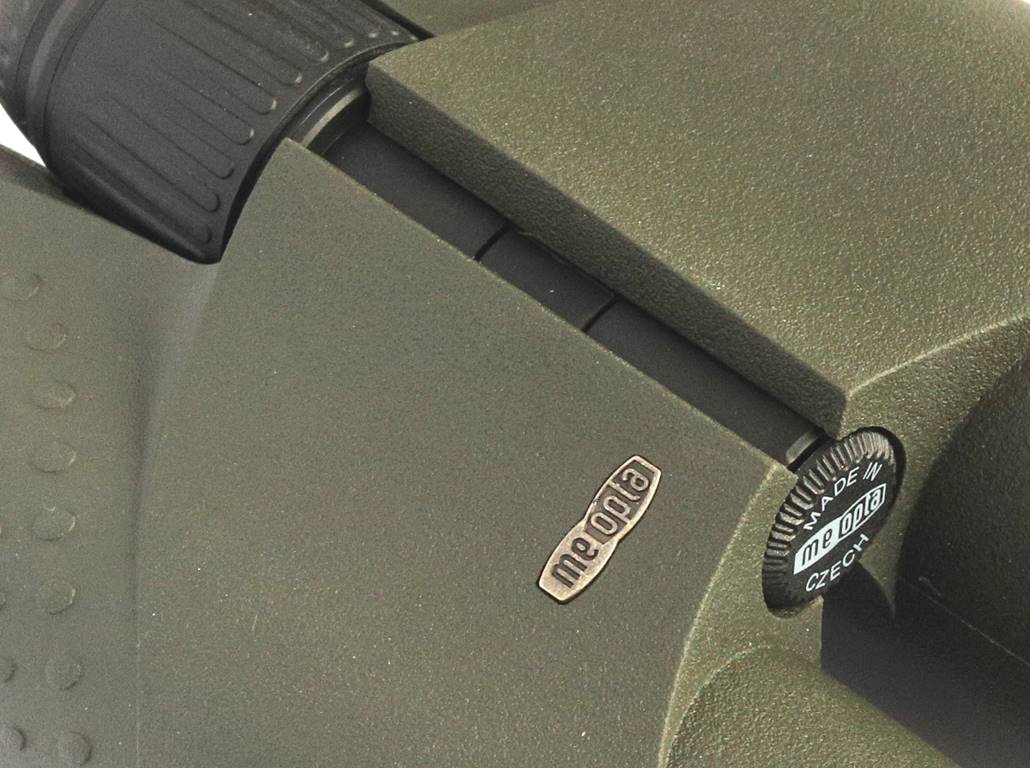 <![endif]>
Focuser
The focuser generally has good feel and weight, with the slightly dry action characteristic of all greaseless focusers. I noticed a very occasional intermittent vagueness, but generally itís super accurate and well up to keeping the snappy optics in perfect focus.
Close focus is just over 3m, but at that distance I can comfortably merge the image, something many binoculars struggle with (for my eyes at least). The Meostar 7x50s I tested were the same and this seems a Meopta strength.
Close focus to infinity is about one and a half turns Ė usefully speedy, but not so fast itís hard to get best focus.
The dioptre adjustment is by a secondary knob co-mounted at the back of the focuser Ė much like a Leica or Swarovski in fact. The dioptre action is heavy though and a little less refined than Leica or Swarovski.
<![if !vml]>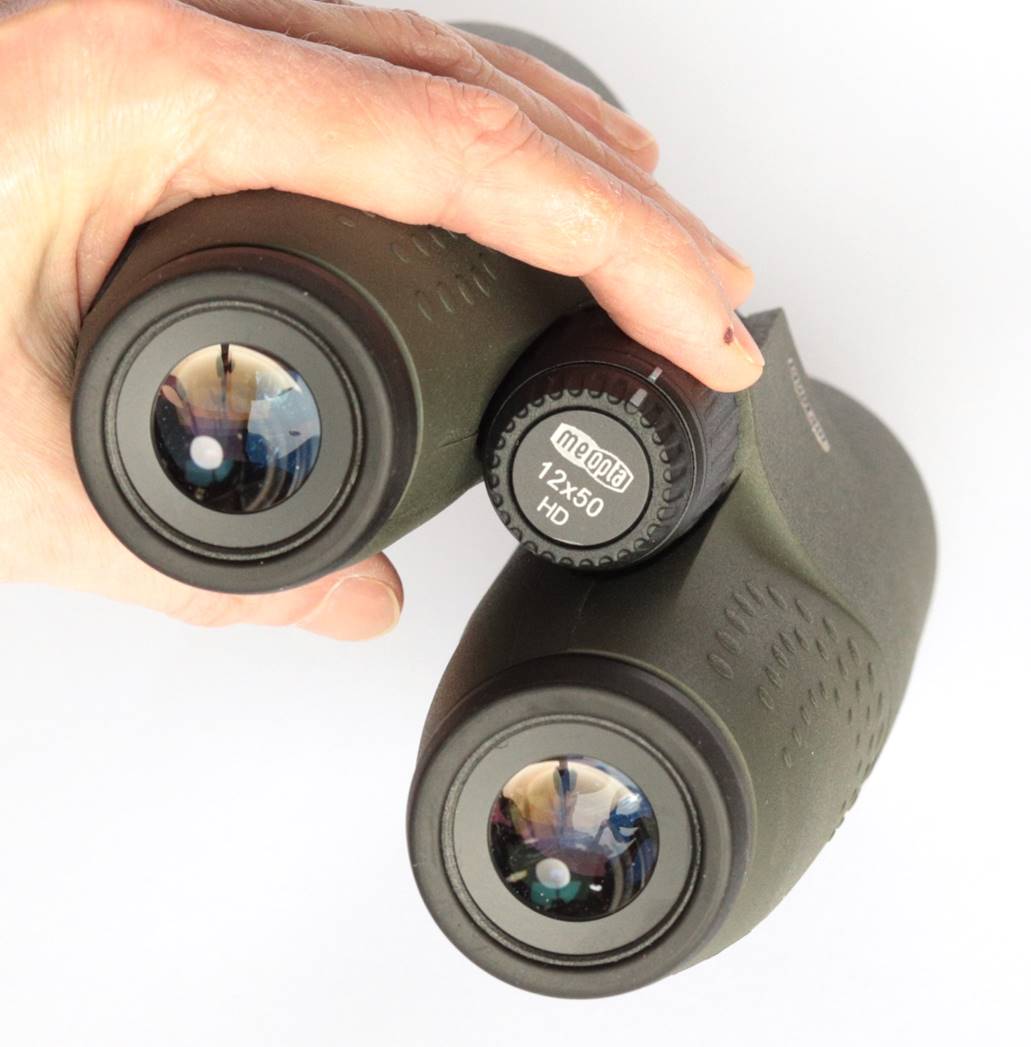 <![endif]>
Optics - Prisms
The prisms are conventional Schmidt-Pechan (a.k.a. Roof) prisms, not the Abbe-KŲnig prisms you get with the Vortex UHDs. That means these need mirror coatings and it seems that unlike most today they may be single-layer silver coatings rather than multi-layer dielectric.
Meopta quote a daytime transmittance of 88%, which is pretty mediocre by modern standards (many recent roof manage another 4-5%, like adding an extra few mm of aperture).
Optics - Objectives
Meoptaís higher-powered Meostar B1 models are mostly ĎHDí now, these included. Of course, ĎHDí can refer to all sorts of optical materials and configurations. Investigation with a laser pointer suggests that they are cemented doublets with doublet focusing lenses behind. That might imply just a single ED element, much like most HD binoculars. But as weíll see, these have the kind of near-perfect false colour correction reserved for a select few customers whose binoculars contain two ED elements per side (e.g. Kowaís XDs and Zeissí HTs).
Coatings are of high quality and look typical of other premium binoculars Iíve reviewed recently, with a very neutral muted greenish hue and outstanding transparency. They have a mil-spec abrasion resistant coating Meopta call MeoShieldTM.
<![if !vml]>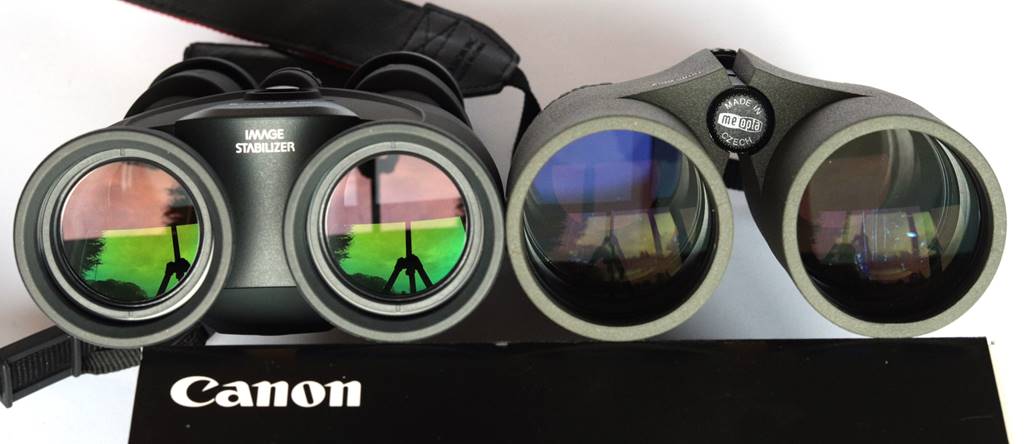 <![endif]>
Meoptaís coatings compared with the very latest ĎSpectraí offering from Canon.
<![if !vml]>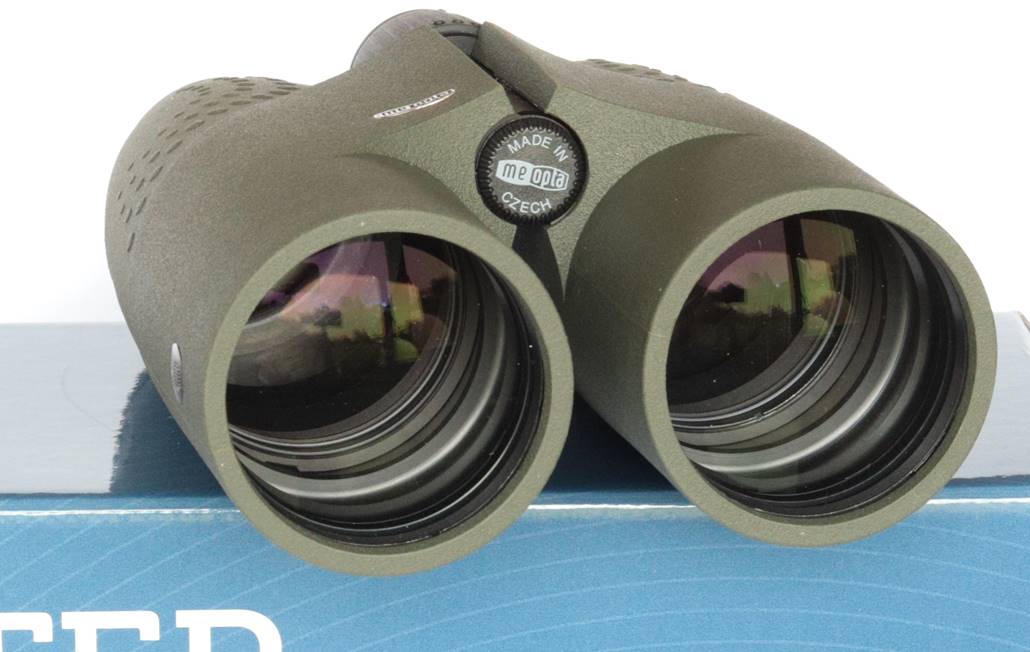 <![endif]>
Internal and external baffling is good.
Optics - Eyepieces
The eye lenses on these are a bit smaller than the ones on the Meostar 7x50s I tested, at 20mm rather than the 7x50ís 25mm.
Field of view at 5.3į is moderately wide: a bit more than Canonís 12x36s or Nikonís 12x50 SEs, but slightly less than Swarovskiís 12x50 ELs or Leicaís Ultravid 12x50 HD Pluses.
Eye relief is claimed to be 15mm, but as usual thatís from the glass. Measured from the rim of the eye cups itís about 13mm. That means these are reasonably comfy with specs, but I do lose the outer part of the field. These likely have eyepieces of around 15mm focal length; and a 15mm eyepiece with really generous eye relief and a sensible size is hard to do.
The eye cups are of the high-quality twist out variety, comprising a hard plastic chassis coated with rubber. They remind of Swarovskiís, not the squidgy affairs you sometimes get with Leica and Zeiss. These 12x50s have just one extended position (the 7x50s with their monster ER had two), but the twist-out mechanism is stiff enough that you can set any intermediate position. Itís a system that works well. Blackouts arenít a significant problem either.
<![if !vml]>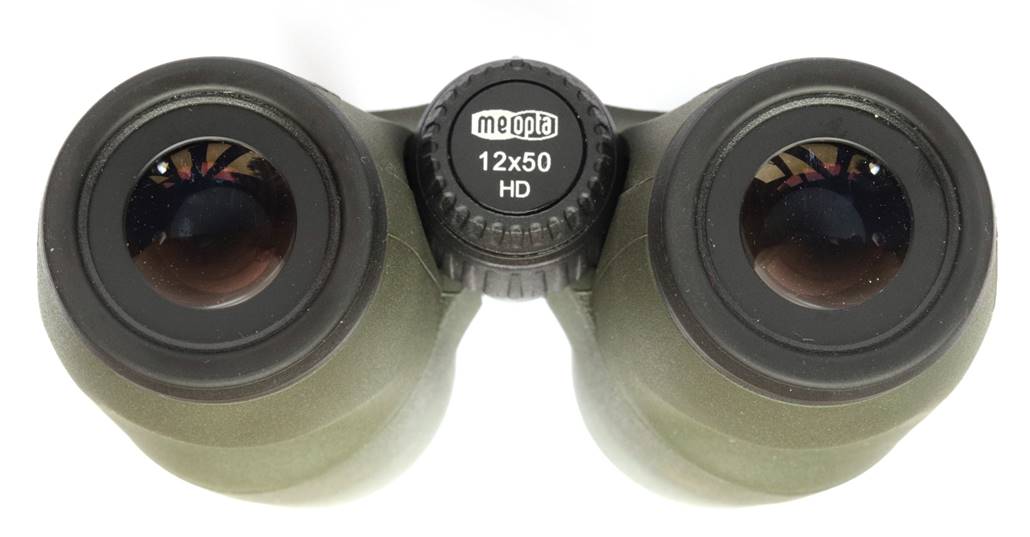 <![endif]>
<![if !vml]>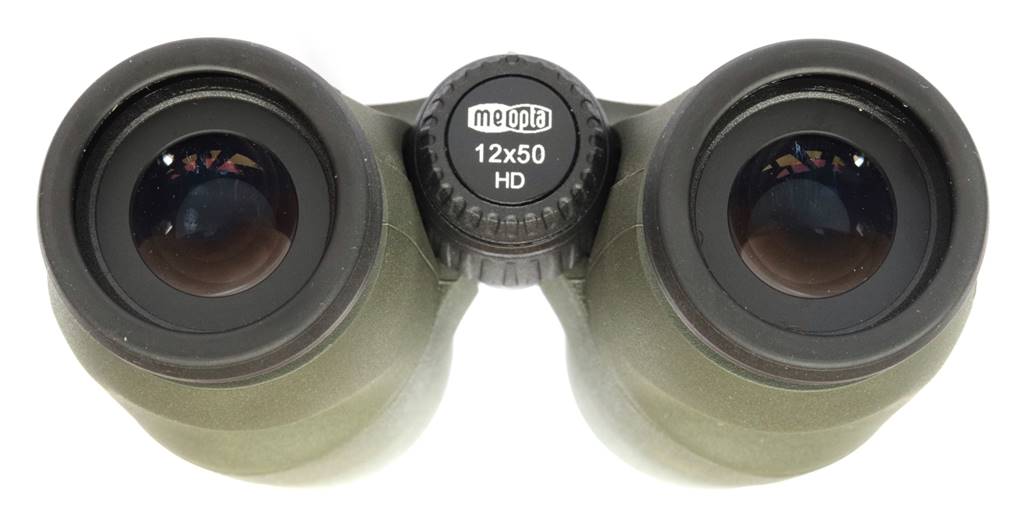 <![endif]>
Accessories
The stay-on rubber caps fit fine Ė tight enough to stay put, but not so you have to prize Ďem off. The strap is padded and logoed and I like the quick-release buckles, but the plastic buckles look low quality, brittle and likely to break.
The case is semi-rigid and of nice material, looks classy; but again, the plastic fittings seem cheap and brittle. The catch on the case for the 7x50s I bought had actually broken during delivery and I had to return them; Iíve heard reports of similar breakages from another Meopta user.
<![if !vml]>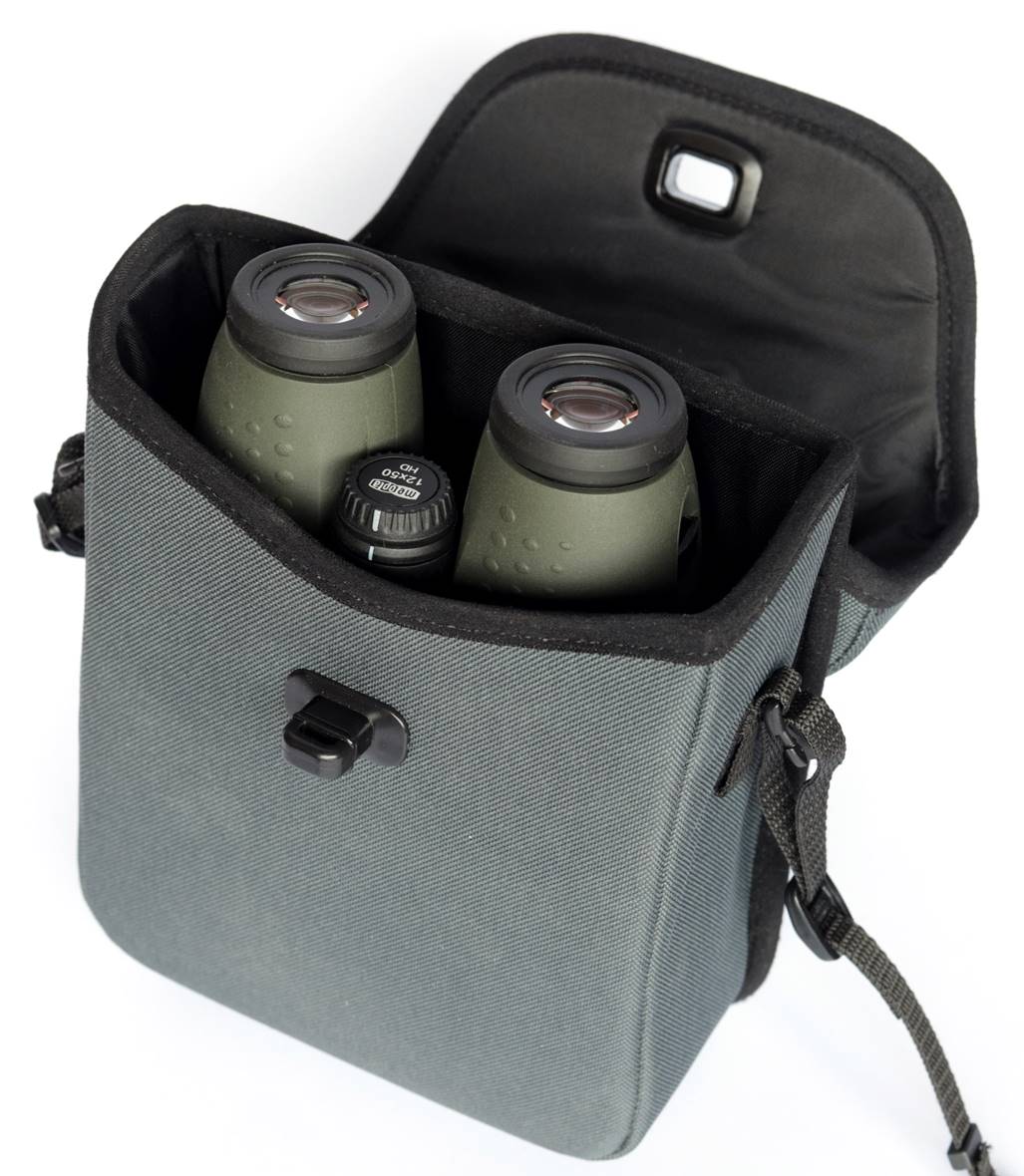 <![endif]>
<![if !vml]>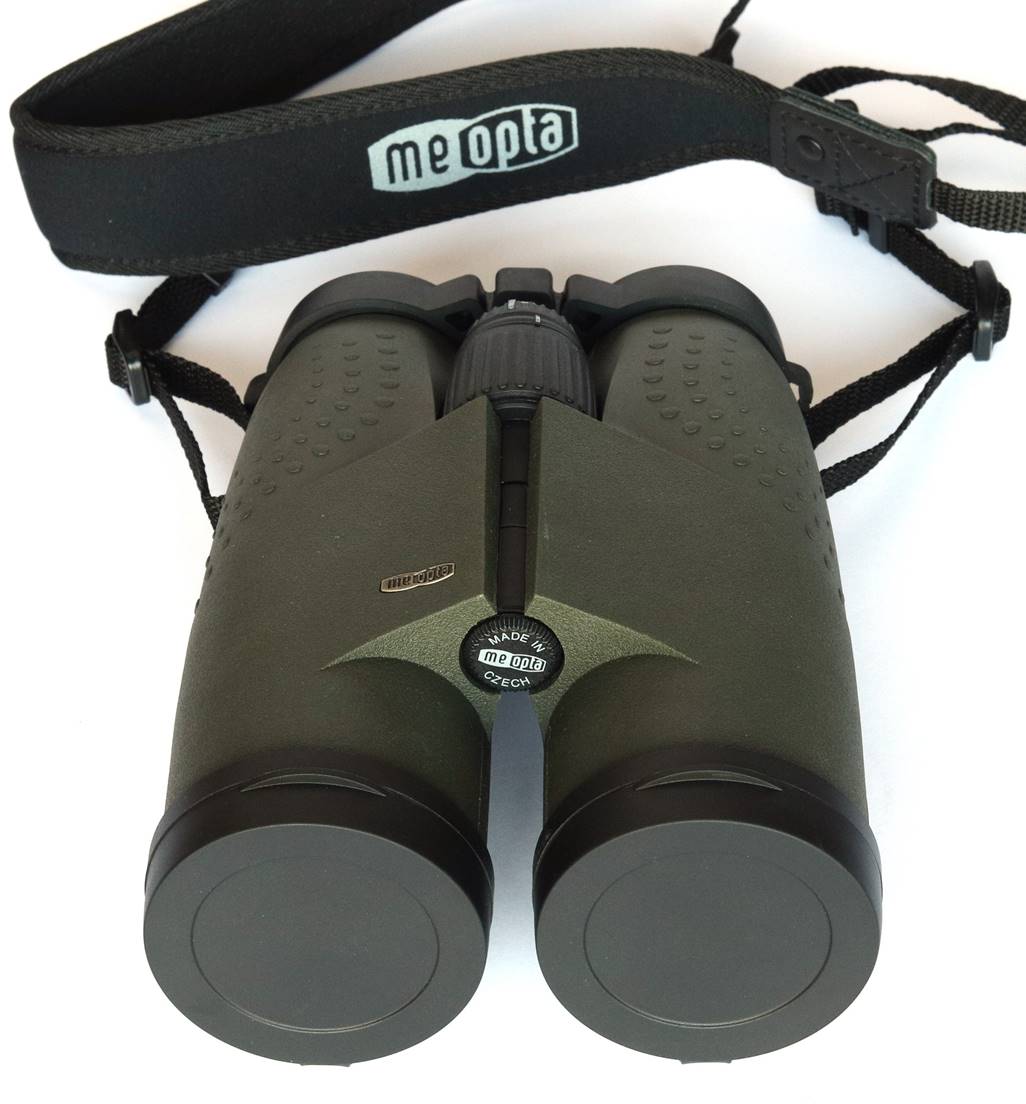 <![endif]>
In Use Ė Daytime
Ergonomics and Handling
Like the near-identical 7x50s, these Meostar 12x50s feel great in the hand somehow, to me anyway Ė really secure and just right, if a little heavy. The focuser falls nicely to hand and its smooth, fast action makes following birds on the wing as easy as with anything this side of a Nikon EDGís.
Eye relief isnít anywhere near as generous as the 7x50s, but thatís an optical reality thatís par for the course at this aperture and magnification. Swarovski may claim 20mm for the ELs, but thatís from the dished eye lens, so in reality the Meostars lose out just a little by comparison. Itís good and workable for specs wearers, but not as comfy as it could be.
The Meostar 12x50s arenít that much larger than a lot of 42mm binoculars and I think they look understated, classy and elegant to wear, but thatís just my view.
<![if !vml]>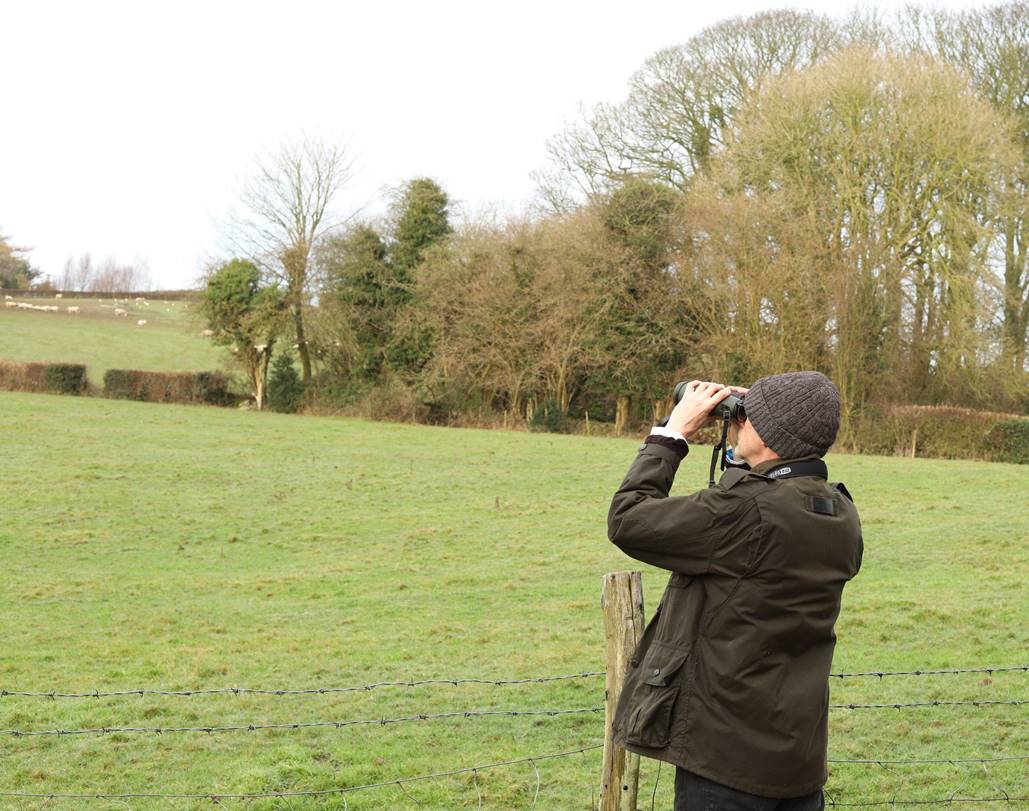 <![endif]>
<![if !vml]>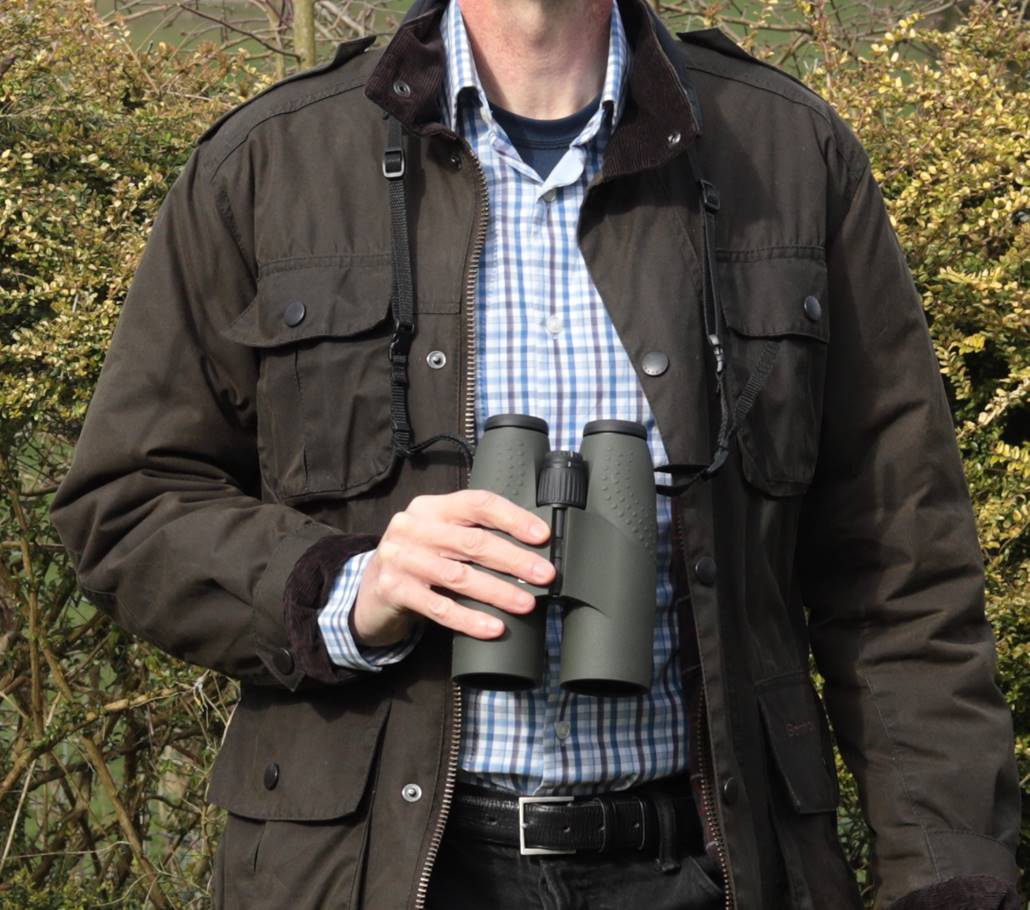 <![endif]>
The View
Part of the magic of an Alpha binocular (for the last decade or so anyway) is that the larger and more powerful models generally have a view as good as the smaller, lower powered ones. A leica Ultravid HD gives a brilliant, sharp view whether itís a 7x42 or a 12x50; same (even more so) for Swarovskiís SLCs or ELs. Thatís great because you can choose the format that suites your needs without worrying that youíll sacrifice the view.
It wasnít always like that. A pre-SV 8.4x42 EL had a wonderful daytime view; the contemporary 15x56 SLC Neu honestly didnít.
Fortunately, the 12x50 HDs give a view much like a premium 10x42 (doubtless much like a Meostar HD 10x42 in fact), but with more reach at the cost of a little extra weight and shakes. The view is sharp, flat, full of detail and quite wide. Compared to the 7x50 Meostars I just tested, it seems a bit less easy and sparkly, but thatís inevitable at this power, if only because of magnified shakes and a shallower field. Resolution in particular seems absolutely top-drawer; meanwhile brightness, whilst good, isnít.
Colours seem well delivered with just a little more warmth of tone than some recent HD designs.
I had fabulous close-in views of birds in flight with the razor-sharp, false-colour-free optics and fast, accurate focuser Ė these would be a great glass for raptors.
Flat field?
The casual impression is of a flat field, but closer inspection reveals that it does soften in the last ~25% or so as the vast majority do. This softening isnít so bad you couldnít recognise something at the edge, though.
<![if !vml]>

<![endif]>
Softening at the field edge is one of the Meostarís few real downsides.
Chromatic Aberration
These differ outwardly from the 7x50s only in having an ĎHDí logo near the right objective. That means ED glass and lowered false colour. In this case, false colour levels are very low indeed Ė among the lowest Iíve seen, an impressive achievement in a compact, high-power binocular.
Watching pigeons snoozing on high branches against a bright sky yields no fringing at all, on either feather or branch. I enjoy my local flock of twenty Goldfinches flitting about the trees opposite. Although theyíre silhouetted, I can still make out their orange heads and yellow wing flashes. Only a black Crowís feathers against bright clouds show the merest trace of a fringe and that from the eyepieces or prisms Ė focusing through shows none at all.
Lateral colour from the eyepieces Ė towards the field edge Ė is present as always, but only at a very low level.
These rival the very best Ė Kowaís Genesis XDs Ė for false colour correction, despite more power. Itís a really outstanding feature of the Meostar 12x50 HDs.
In Use Ė Dusk
In keeping with the daytime sense that these arenít an especially bright binocular, the dusk view didnít really impress. And in fact a 4mm exit pupil is less than the 5mm generally recommended for twilight. It wasnít a bad effort and there was nothing nasty like sky flare, it just wasnít as image-intensifying as some big-eye binoculars.
My local tawny owl was woo-wooing mellifluously somewhere in the trees and given that these ought to make a decent owling glass, I spent some time looking for him, but to no avail. In truth I generally struggle to find him, having managed it once by accident with an astronomical telescope (and one other time when he settled on a branch above my head in the garden, only for Tigger, my foolish Maine Coon, to immediately set about trying to climb the tree to catch him). Him? Yup Ė the female is much more screechy!
<![if !vml]>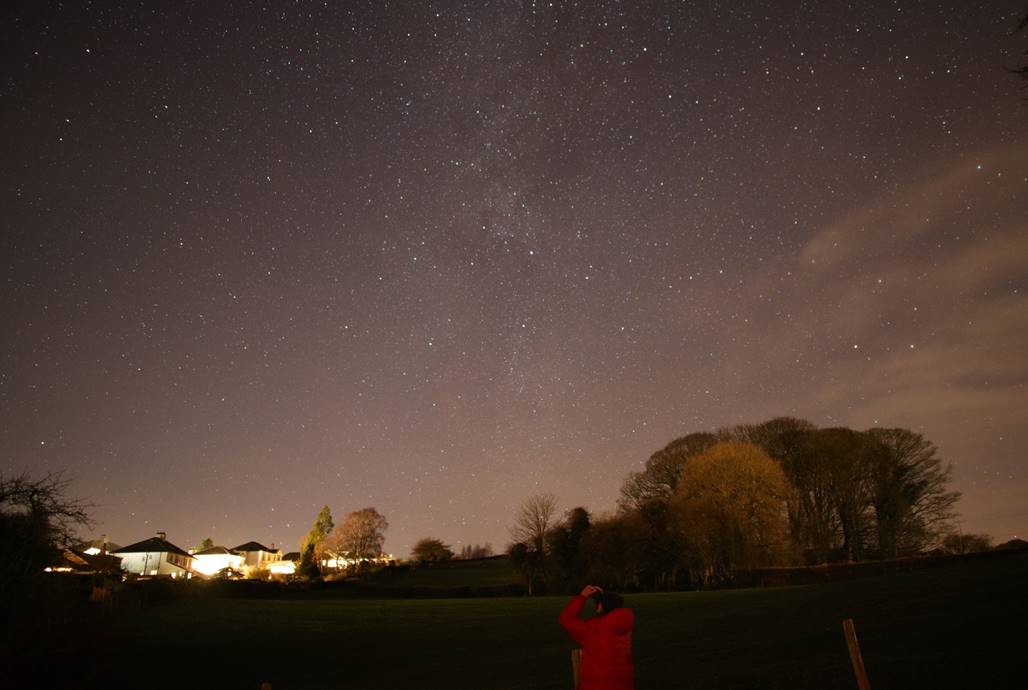 <![endif]>
In Use Ė The Night Sky
Viewing a brilliant security light produced a couple of dim ghosts and some dim but long spikes. On the same security light, Swarovskiís SLCs showed neither. In this respect, the Meostars are good, but not quite at the premium level. However, that stray light doesnít show itself on a bright Moon which reveals neither defect, just a perfectly clean view. Viewing around a bright Moon produced no significant flare either: I could comfortably view the Hyades just a few degrees away.
The daytime field-edge softening is explained by off-axis astigmatism when viewing stars at night: stars become progressively distorted from about 60% field width and you canít focus the distortion away. From 75%, stars turn linear.
The field-edge astigmatism is by no means a complete spoiler. The Meoptas have bit more field then the basic 5į served up by other 12x binoís and with the whole of Orionís belt in the field, both Mintaka and Alnitak remain reasonably point-like. However, it does blur star fields towards the edge, for more on which see below.
The Moon
A magnification of 12x is the gateway magí for some serious Lunar pleasure. On a low 2 Ĺ -day crescent the 12x50s delivered an apo-crisp Lunar image with no chromatic aberration and a lot of detail, including Langrenus and Petavius on the terminator and the eastern margins of Mare Crisium.
A few days later one of the most distinctive crater groupings, Theophilus, Cyrillus and Catherina, are on the terminator. I can easily see the central peaks in Theophillus and Cyrillus. Further north is flat-floored Posidonius and beyond it two deep craters east of Mare Frigoris, Hercules and Atlas. Leaning on my car, itís surprising how many landmarks are visible hand-held at just 12x: I can make out another distinctive crater with a peak south of Catherina Ė thatís Piccolimini.
Once again, I canít force any chromatic aberration out of the Meostars, even focusing through where almost every other binocular shows an amber fringe. Focus snap and sharpness are perfect. There is no ghosting and no spikes, no halo of unfocussed light. Itís a perfect binocular view of the Moon: brilliant, sharp and pure white and grey; beautiful, really.
Venus
A brilliant dusk-sky gibbous Venus yields no false colour at all, even focusing through, just a perfect white. Spikes and flare are well controlled too.
Deep Sky
Itís easy to forget how much more a 12x50 will show you than a 10x42, especially under reasonably dark skies. The Auriga clusters M36-M38 (among numerous smaller NGCs) are faint fuzzies with 10x42s and need averted vision to begin to resolve them. With these, they are starbursts with direct vision and the Starfish shows its arcing arms of stars. Nearby M35 is a lovely sight Ė full of stars, ditto the Double Cluster.
So smaller clusters look great, but so do larger ones. The Pleiades are sparkling and jewel-like and nicely framed with plenty of field around them. Putting the Seven Sisters on the field stop does yield distorted stars (see notes on astigmatism above), but the shape of the asterism isnít altered by distortion the way it is with many binoculars, a definite plus point.
The relatively large objectives and high power make finding smaller DSOs easy. I found the Crab Nebula (M1) with very little effort Ė standing out nicely from the dark background.
In other ways, these do deep sky very well, showing more nebular detail on a brighter M42 than even the best 10x42s can manage and giving a good clean split to a bright and colourful Albireo.
The only real loss of marks for astronomy come from that off-axis astigmatism: it means that the outer part of rich star fields like those around the Double Cluster become smeared into a haze, reducing the useful field and spoiling the view just a little.
Meoptaís 12x50 HDs make an excellent astronomy glass - for deep sky and the Moon - despite a bit too much off-axis astigmatism.
Meopta Meostar 12x50 HD vs Swarovski 12x50 EL
<![if !vml]>

<![endif]>
These two fine 12x50s are quite similar, letís sum that up point by point:
<![if !supportLists]>∑ <![endif]>They are the same length
<![if !supportLists]>∑ <![endif]>The ELs are about 90g lighter
<![if !supportLists]>∑ <![endif]>The ELís field remains well corrected to the edge, whereas the Meopta suffers from astigmatism in the last ~25%
<![if !supportLists]>∑ <![endif]>The ELs have a slightly brighter view
<![if !supportLists]>∑ <![endif]>The ELs have a slightly wider field (0.38į wider)
<![if !supportLists]>∑ <![endif]>The ELs have 2-3mm more real-world eye relief, which mean you can see the whole field with glasses on
<![if !supportLists]>∑ <![endif]>The Meostars suffer from even less false colour
<![if !supportLists]>∑ <![endif]>In other respects, the view and handling are very comparable
<![if !supportLists]>∑ <![endif]>The ELs cost at least twice as much, new or used
The Swarovski ELsí main advantage is less softening towards the edge of a field that is already a bit wider. For astronomy this matters and might be worth paying the extra for; for daytime use not so much.
Meopta Meostar 12x50 HD vs Canon 12x36 IS III
<![if !vml]>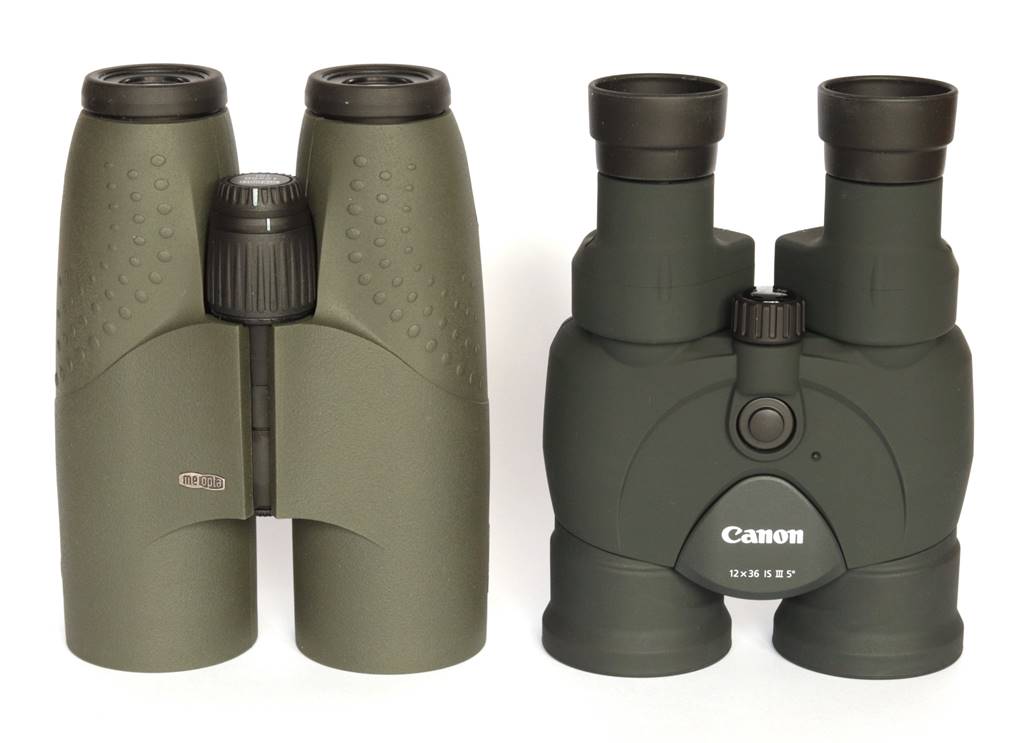 <![endif]>
You might think this would be an easy win for the Meostars and a decade ago, when I first reviewed the Canons, maybe it would have been. But Canon have upgraded things since then: better coatings and much improved IS. Itís an interesting comparison because they have the same magnification, but do things very differently:
<![if !supportLists]>∑ <![endif]>The Canonsí field is narrower but flatter
<![if !supportLists]>∑ <![endif]>The Canons are a little brighter by day, probably due to the higher transmittance of their porro prisms (Canonís coatings actually appear worse, see above)
<![if !supportLists]>∑ <![endif]>Resolution is equal without IS enabled. With IS enabled, hand-held resolution is enormously higher in the Canons
<![if !supportLists]>∑ <![endif]>The Canons have too much false colour in some circumstances, the Meoptas almost none under any and all
<![if !supportLists]>∑ <![endif]>The Meoptas focus much closer
<![if !supportLists]>∑ <![endif]>The Canons are about 430g lighter and shorter too
<![if !supportLists]>∑ <![endif]>The Meoptas are fully waterproof, the Canons are not
<![if !supportLists]>∑ <![endif]>The Meoptas offer a more conventionally lovely view by day and offer a macroscopic function the Canons canít
<![if !supportLists]>∑ <![endif]>The Meoptas have a 30 year transferable warranty. The Canons are an electronic appliance and have only two (but will reportedly survive some 10 years of hard use)
For general birding and nature viewing, the Meoptas would likely be your choice, especially if that viewing involves extreme contrast like snow or bright water. For long-range birding, wildlife, spotting and especially for astronomy, the IS gives such a giant advantage youíd choose the Canons, unless you just wonít entertain a serving of chips with your fine glassware.
Summary
Meoptaís Meostar 12x50 HDs are a binocular that rightfully belong in the Alpha class. They are European in fact and style and their quality, both optical and mechanical, is comparable to the top three. They give a little away to Swarovskiís ELs in most areas, but then so does everything else. Compared to Leicaís 50mm HD-plus models, only a slightly dimmer daytime view counts against the Meoptas, whilst even lower chromatic aberration swings it the other way.
That slight sense of being less sparkly bright than the best is the only thing that really counts against the Meostars during the day. Sharpness, resolution and rendition of colours seems up with the best.
At night, itís the off-axis astigmatism that spoils the context a little with linear stars towards the field stop. Nonetheless, pin-point stars on axis, excellent reach and resolution, good stray-light suppression and a pin-sharp high-resí Moon make them an excellent choice for hand-held astronomy.
Overall, the 12x50 HDs make a worthy successor to Nikonís defunct 12x50 SEs as a best-buy hand-held astronomy binocular; unless, that is, youíre willing to go image-stabilised, but thatís true of every other conventional binoí at this point.
The 12x50 HDs are another excellent Meopta with little to criticise and a view nearer to Alpha than any other higher-power contender from the mid-range.
<![if !vml]>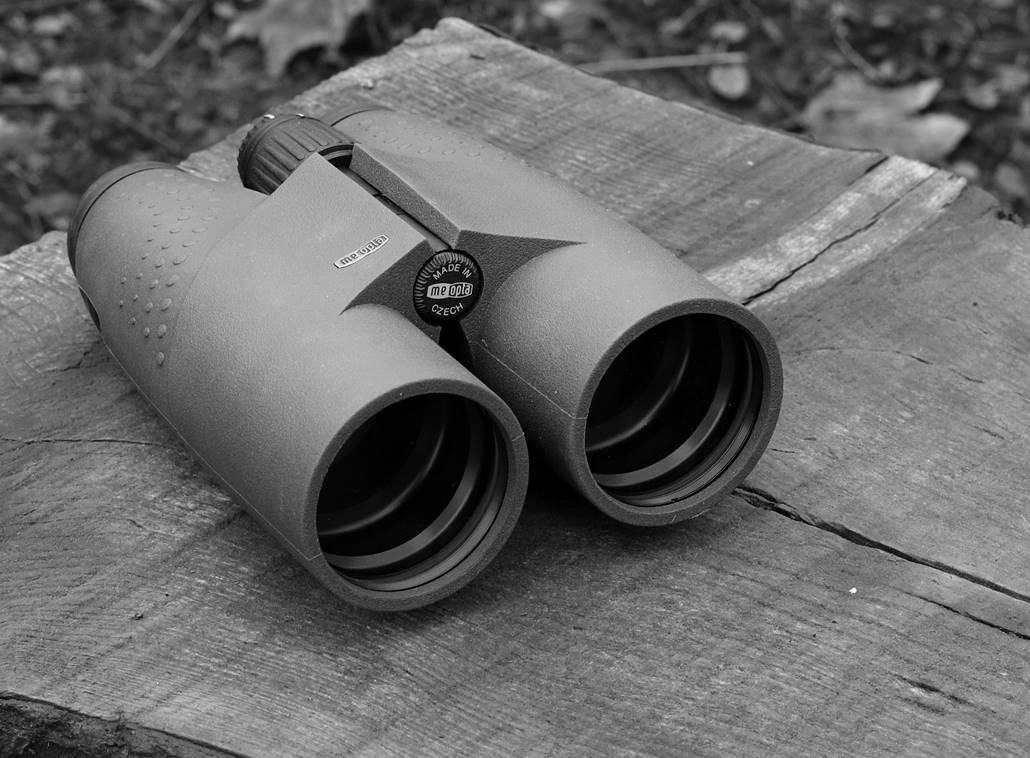 <![endif]>