Meopta's Czech-made Meostars look a lot like a Swarovski, but do they have a build and view like the famous Austrians'? In this review I find out. And the answer surprised me … a lot.
Meopta Meostar B1 7x50 Review
<![if !vml]>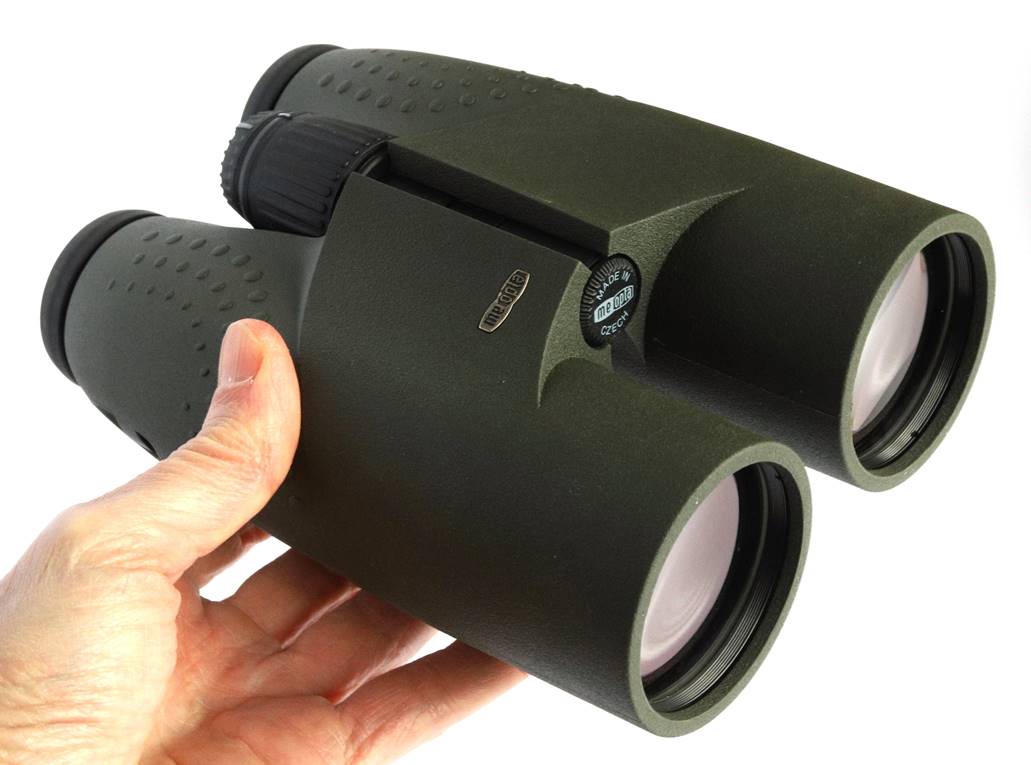 <![endif]>
My previous test was of the highest-magnification non-IS binoculars in the premium market, Vortex's Razor 18x56s; so I decided to follow up by reviewing a pair of low-power 7x50s – the original and classic astronomy binocular format.
Low power bino's are getting rarer, but I like them – for their steady view and depth of field. I've owned several, including Zeiss Dialyts, Victory FLs and Nikon Prostars. But it's been a while. So which to choose? Sure, I'd like to try some Nikon WX 7x50s, but my car's not worth that much.
I've had a few reader requests to review something by Meopta, a Czech maker of optics, mainly for hunting and the military. But until recently they were hard to obtain in the UK. So when the I got the chance to review a pair of Meostar 7x50s they were an obvious choice. And I was curious to see what this fully-European brand's take on a classic astronomy glass would be like.
<![if !vml]>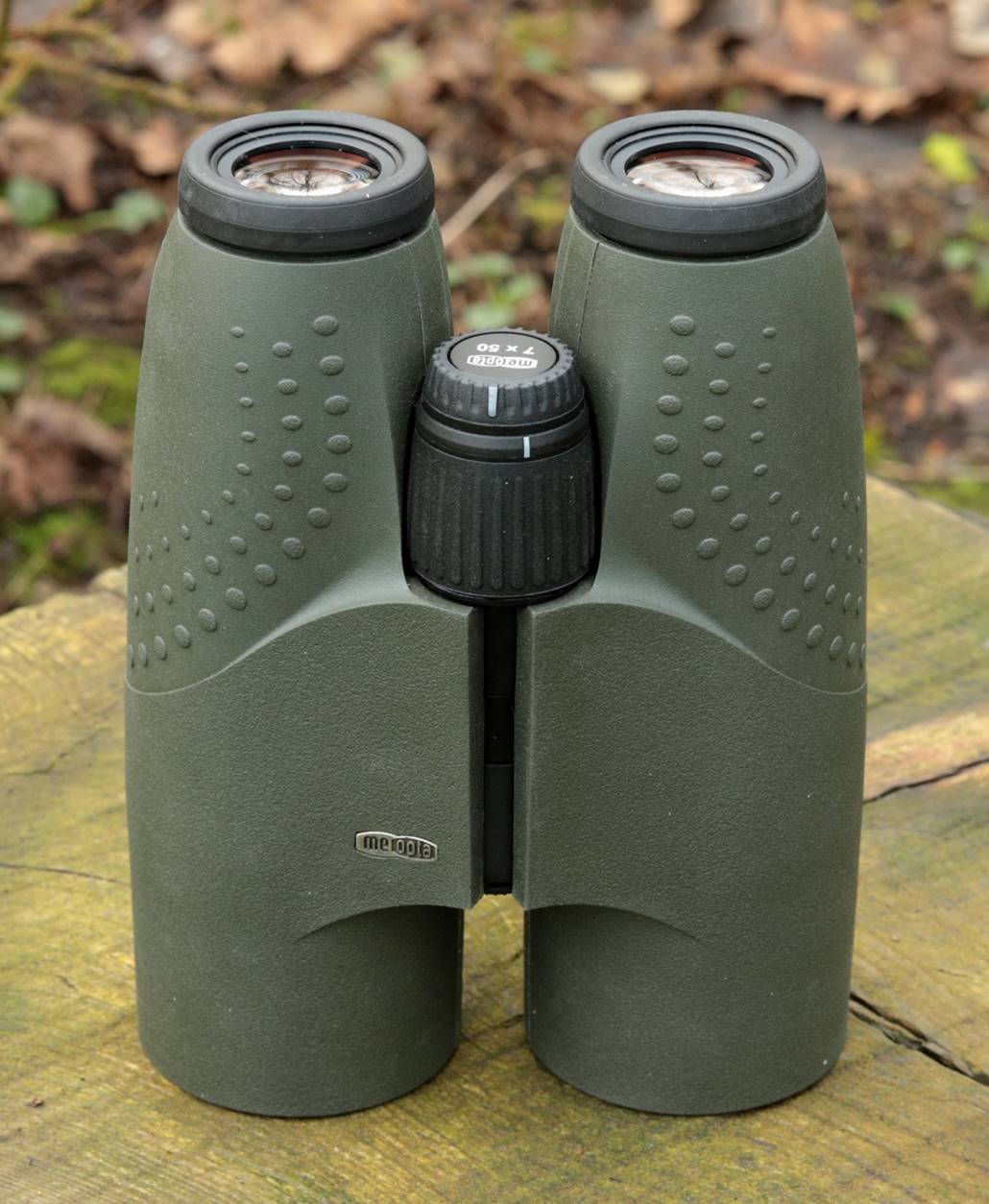 <![endif]>
At A Glance
| | |
| --- | --- |
| Magnification | 7x |
| Objective Size | 50 |
| Eye Relief | 22mm (measured) |
| Actual Field of View | 7.21° (126/1000m) |
| Apparent field of view | ~48° |
| Close focus | 4m (~3m measured) |
| Transmissivity | 88% |
| Length | 180mm |
| Weight | 987g (1010g measured) |
Data from Meopta/Me.
What's in the Box?
Meopta's packaging doesn't have the panache of Swarovski's or Zeiss'; or Leica's for that matter. But it's much less basic than Nikon's and a bit less in-yer-face than 'You Are Vortex Nation'.
<![if !vml]>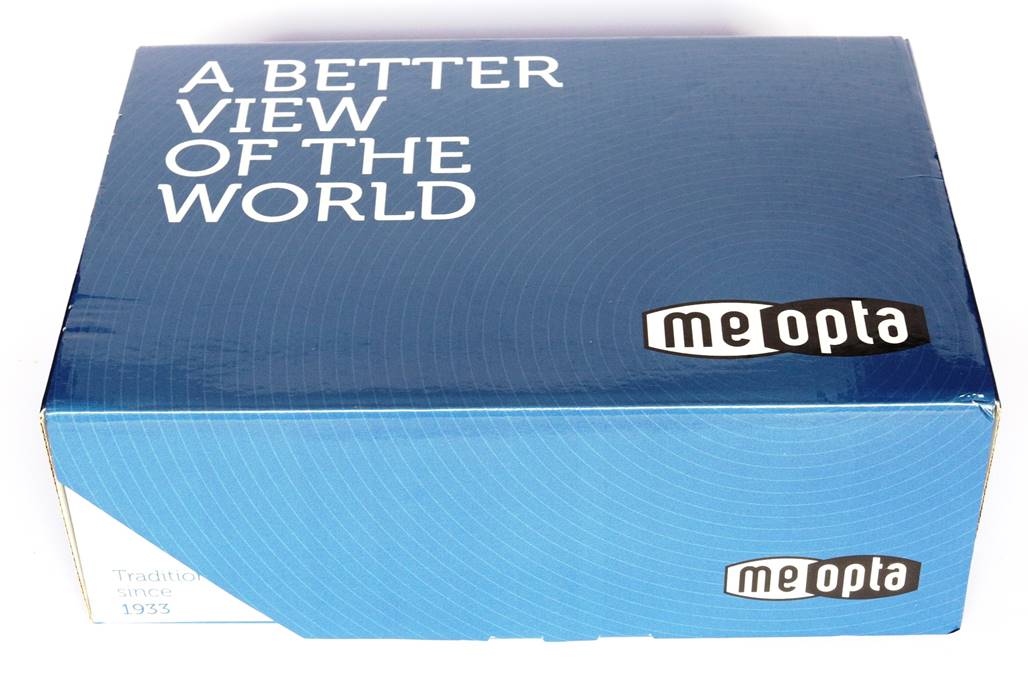 <![endif]>
<![if !vml]>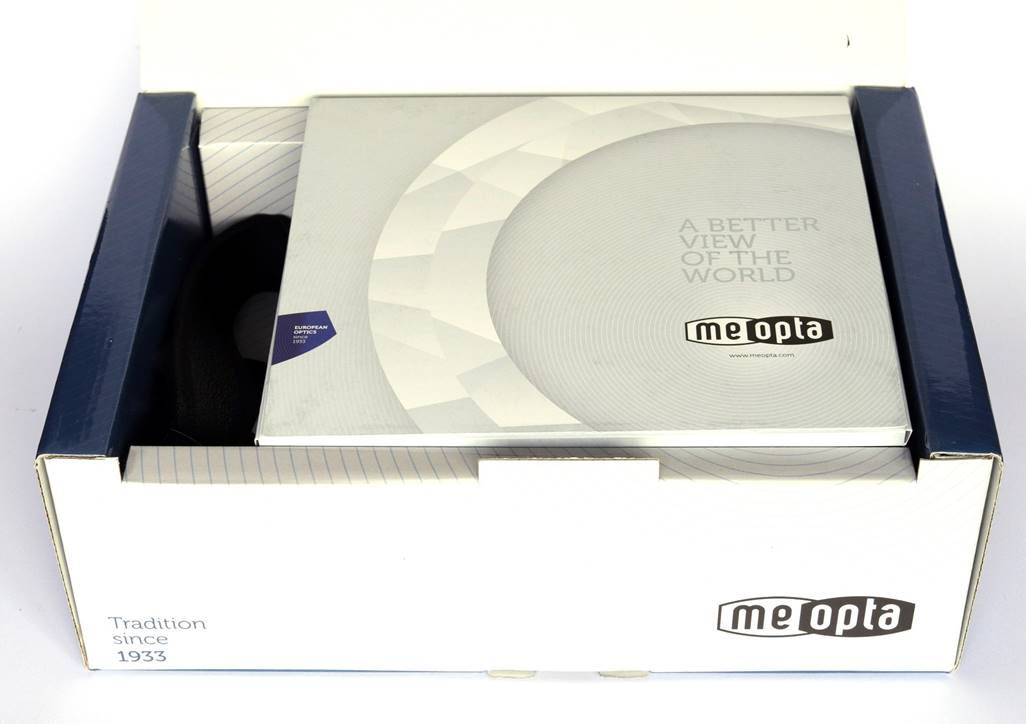 <![endif]>
<![if !vml]>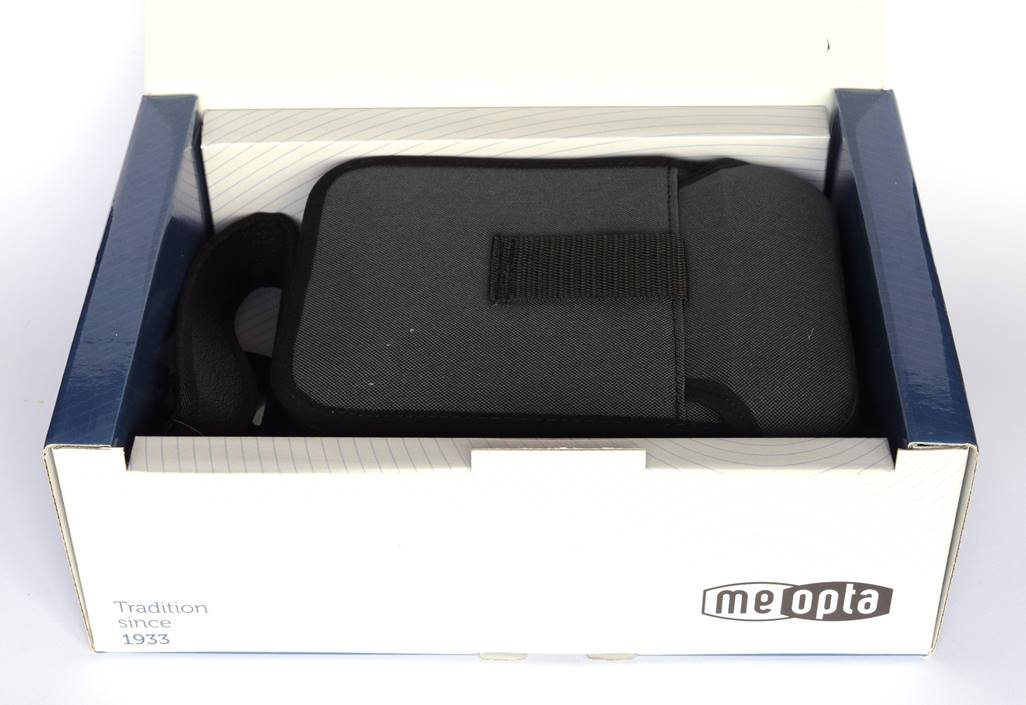 <![endif]>
<![if !vml]>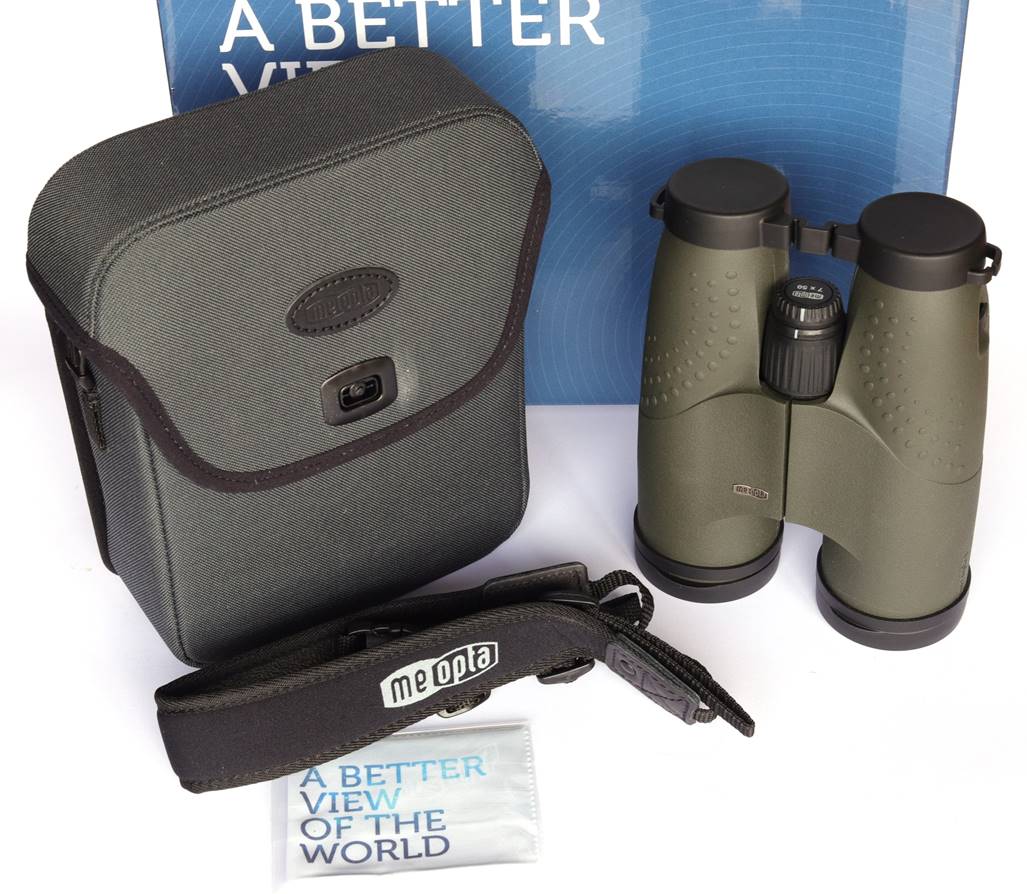 <![endif]>
Design and Build
The Meostar B1 range is Meopta's premium line and they are entirely Czech made (including the lenses). They all look virtually identical, with only size differences. In fact, there are now two lines: older non-HD (8x32, 10x32, 8x42, 7x50, 10x50) and recent HD (10x42, 12x50, 15x56). Why didn't the 10x50s get HD optics? No idea. But be careful when you buy, because the 12x50 used to be non-HD and there are still quite a lot of them for sale.
On the face of it, all are bog-standard roof prism binoculars: no Abbe-König prisms, no open bridge, no exposed anodising, no multiple ED elements. But that's a bit deceptive, because Internal and external build quality appear every bit as good as Swarovski on this pair – flawless in that slightly utilitarian European way that I really like (and compared with fancier looking premium models from say Nikon and Vortex).
Body
The body is machined from aluminium not the magnesium found in some premium bino's, but weight at just about a kilo is competitive with other high-end 50mm models: roughly the same as Swarovski's 50mm ELs, Leica's 50mm Ultravid HDs and Vortex's 50mm UHD Razors. These are compact for a 50mm, something likely achieved by short focal length objectives and that might have meant lots of aberrations; but not so, as we'll see.
Meopta's armour is excellent, some of the best I've tested. It looks and feels a lot like Swarovskis: it's a dark mossy green in colour (some images show it as a bright green) and has two different textures, both warm and grippy – smoother and thinner at the eyepiece end, more heavily textured, thicker and squidgier near the objectives for a comfy hold. It's neither a magnet for fluff and prints like some, nor does it have a rubbery odour.
I'll say again, fit and finish is exemplary, with the look and feel – not always easy to judge from photos – of a very high-class product and a real sense of no-nonsense ruggedness.
Meopta claim them to be fully waterproof and fogproof, but don't seem to give an immersion depth.
<![if !vml]>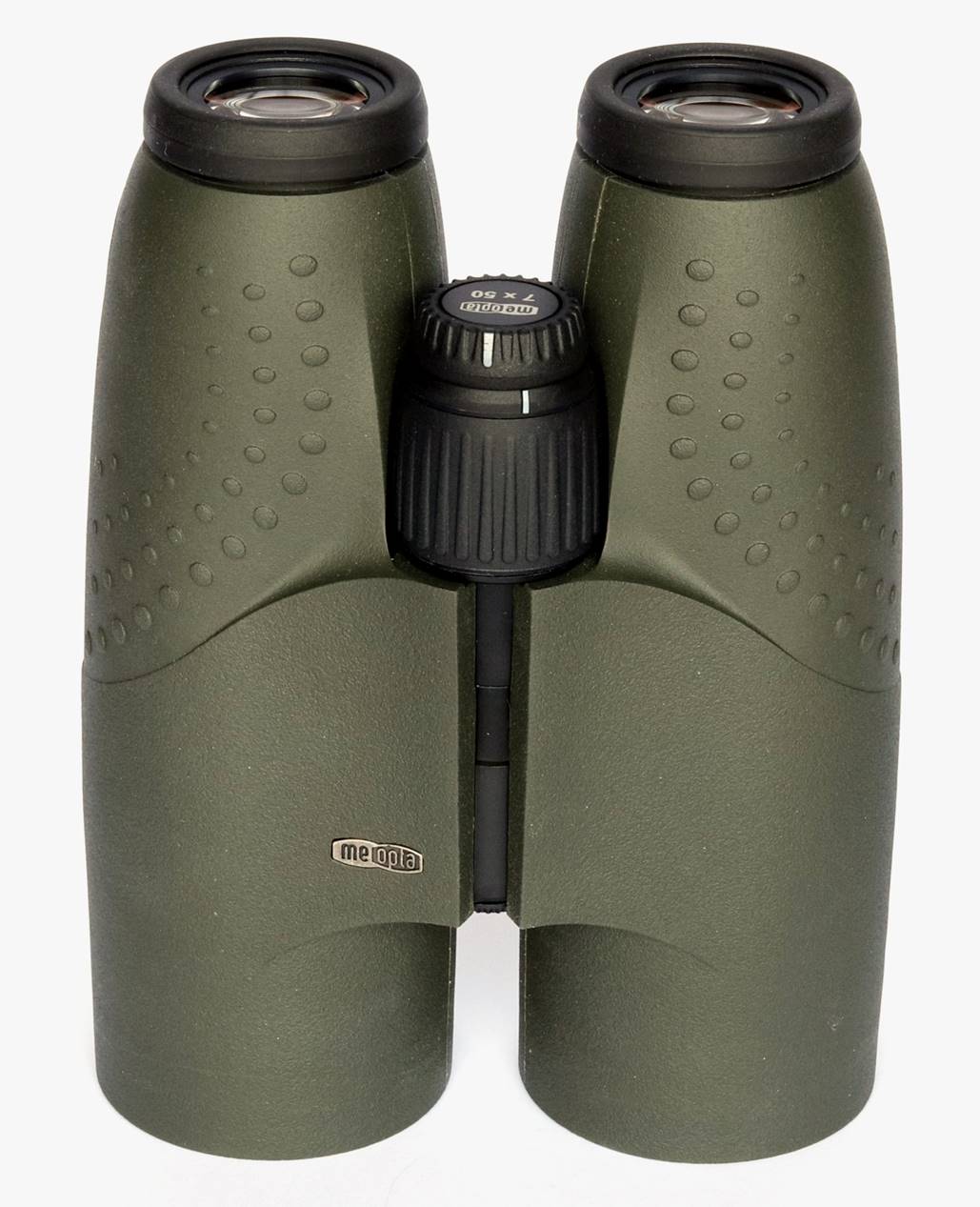 <![endif]>
<![if !vml]>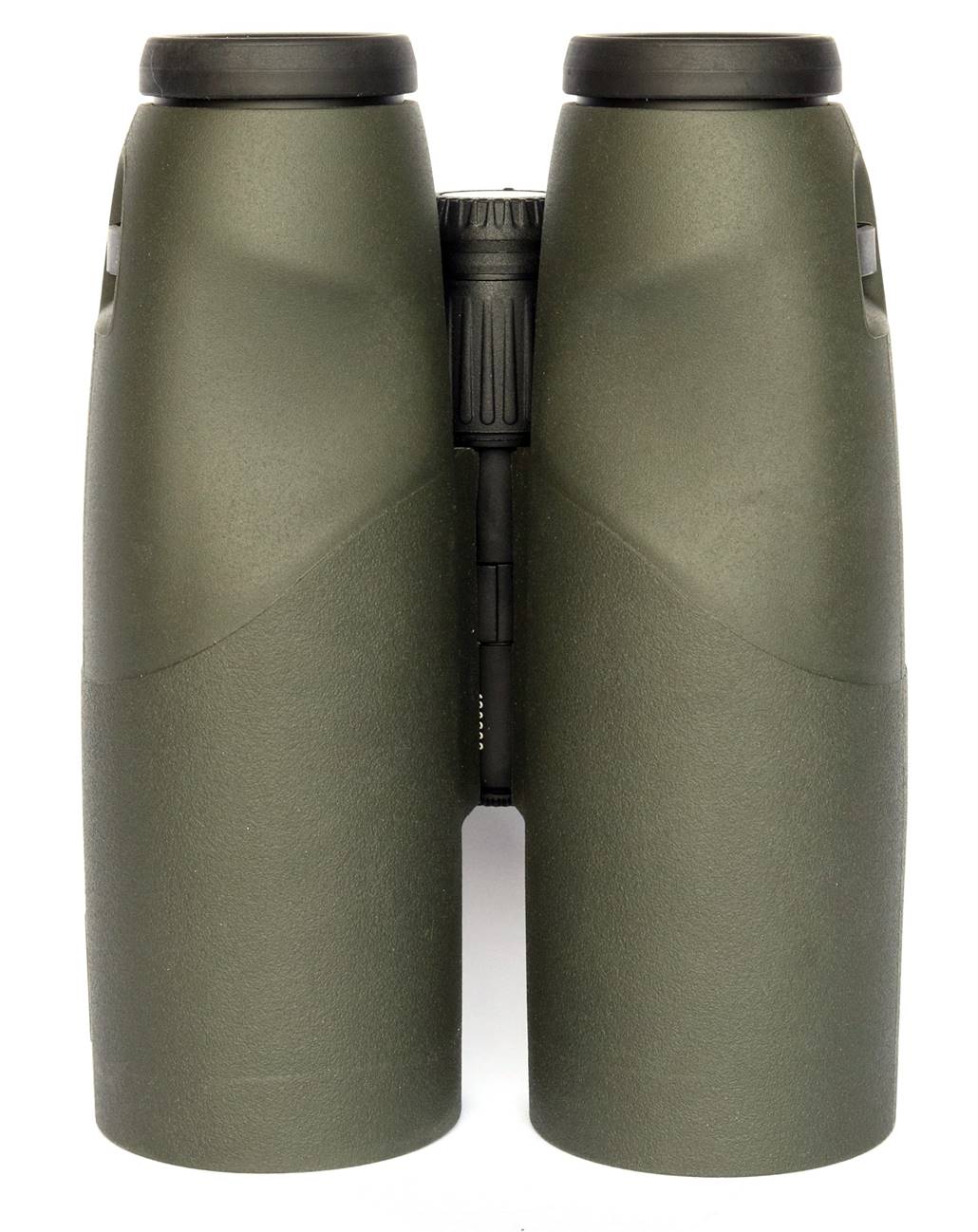 <![endif]>
<![if !vml]>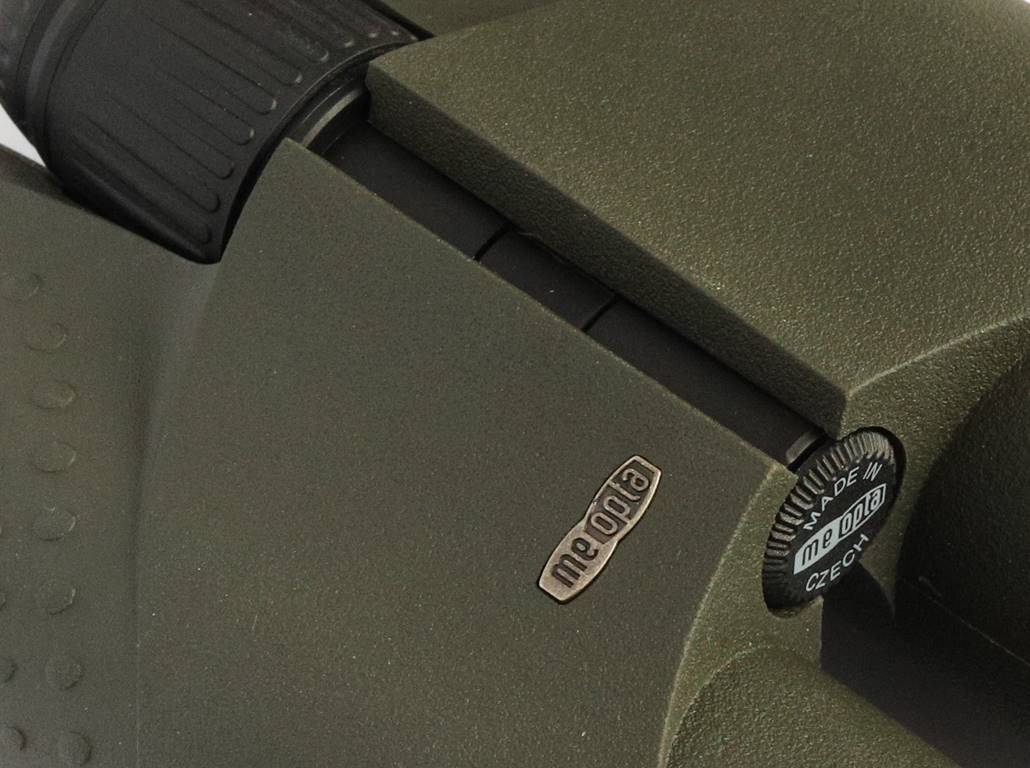 <![endif]>
<![if !vml]>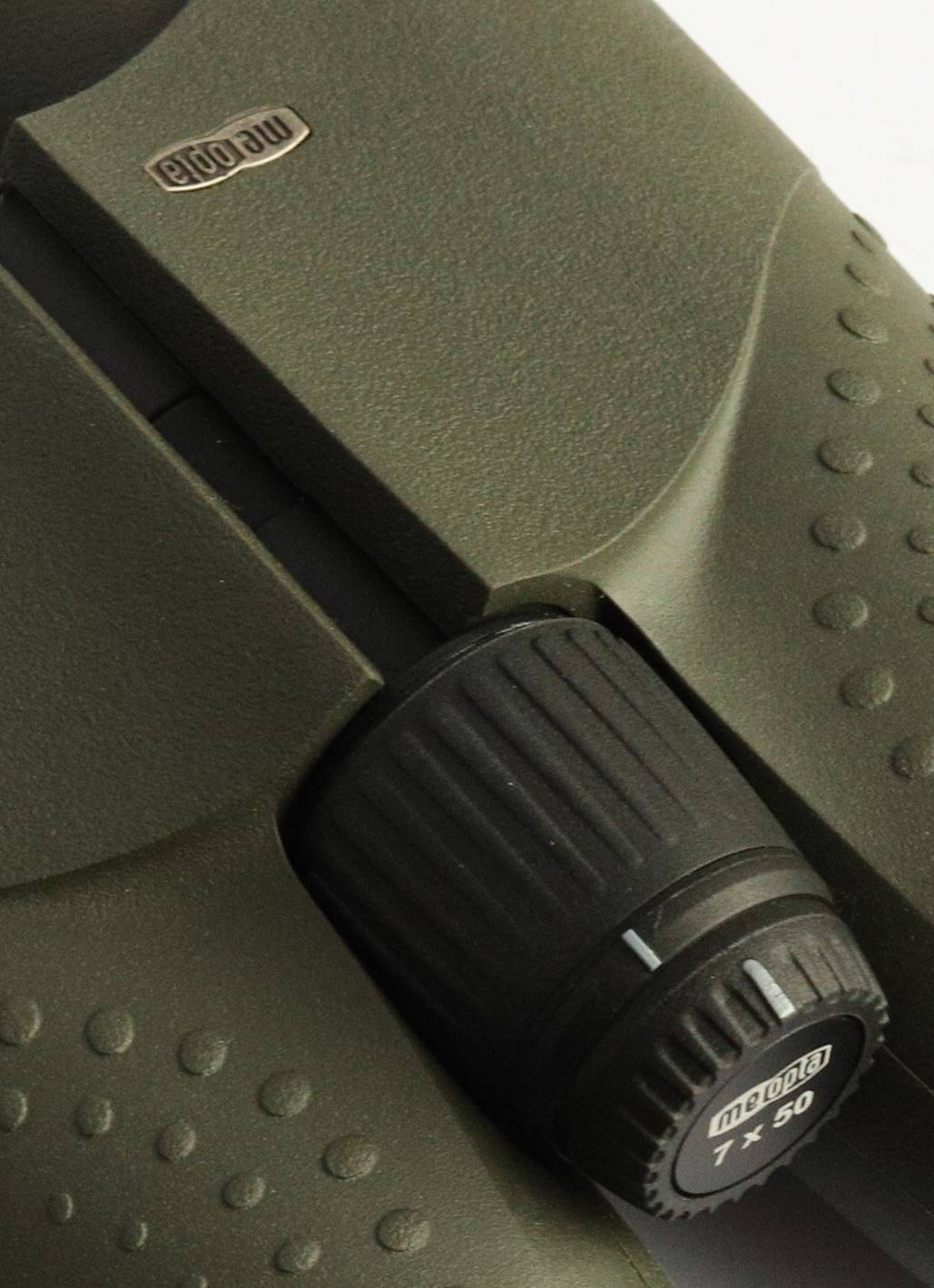 <![endif]>
<![if !vml]>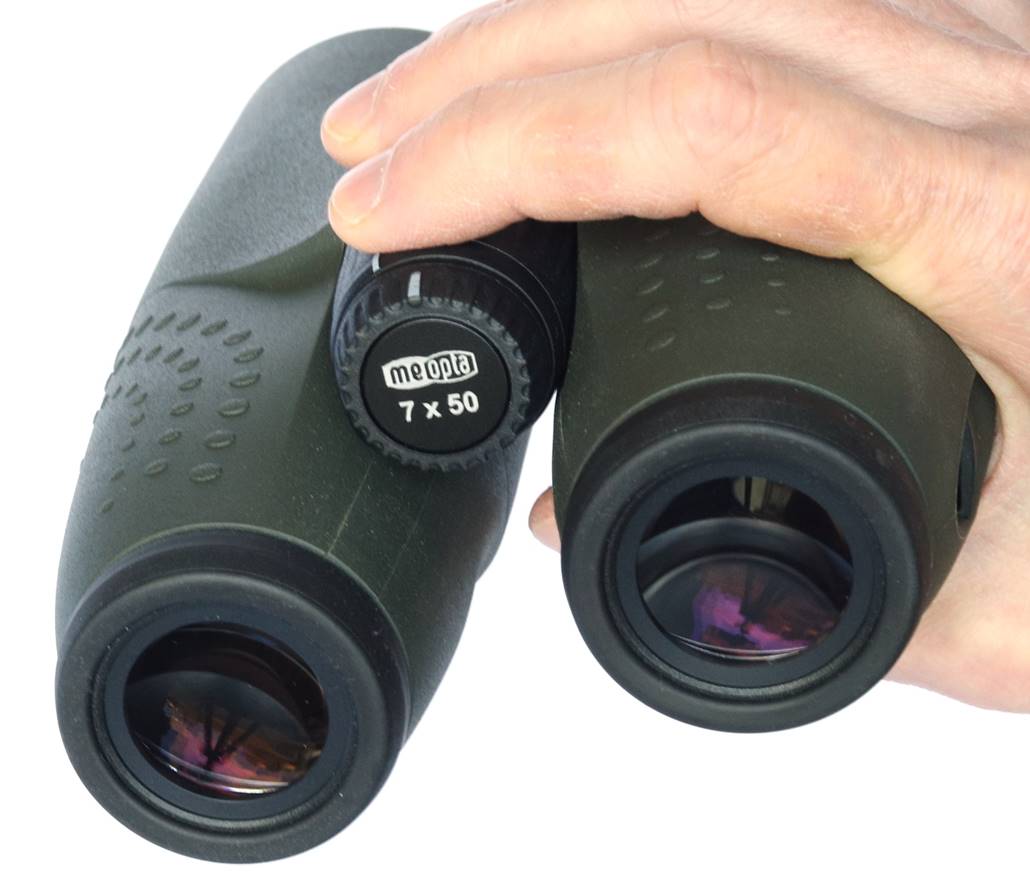 <![endif]>
Focuser
The focuser is in the conventional place at the back of the bridge. The rubber-coated knob is smaller than some, but the action is smooth and precise. Close focus is 3-4m and at that I can actually merge the image in comfort. Close focus to infinity is less than one and a quarter turns – fast.
Dioptre adjustment is by an integral knob at the rear of the focuser. It doesn't lock, but has click-stops and quite a lot of resistance. It's more convenient than the type with a ring below the right ocular, but has a cruder action than Swarovski's. This pair were bought new in 2020, but were made in 2018. Images on the Meopta website suggest the dioptre design may have changed slightly in the very latest production.
Optics - Prisms
The prisms are conventional Schmidt-Pechan (a.k.a. Roof) prisms, not Abbe-König prisms. That means these need mirror coatings and it seems that unlike most today they may be single-layer silver coatings rather than multi-layer dielectric.
There's been some debate in astronomy circles as to which is best for resolution. Perhaps tellingly, my first thought looking through these was that the view was like Nikon's old HGs' … which also had silvered mirrors. Coincidence?
Meopta quote a daytime transmittance of 88%, which is pretty mediocre by modern standards. Subjectively, though, these have a bright daytime view (daytime view is dependent on transmittance, not objective size).
Optics - Objectives
Meopta's higher-powered Meostar B1 models are mostly 'HD' (i.e. with objectives containing high-fluoride glass), but not these. Investigation with a laser pointer suggests that they are cemented doublets with doublet focusing lenses behind.
Coatings are of high quality and look typical of high-end binoculars I've reviewed recently, with a very neutral muted greenish hue and outstanding transparency. They have a mil-spec abrasion resistant coating Meopta call MeoShieldTM.
<![if !vml]>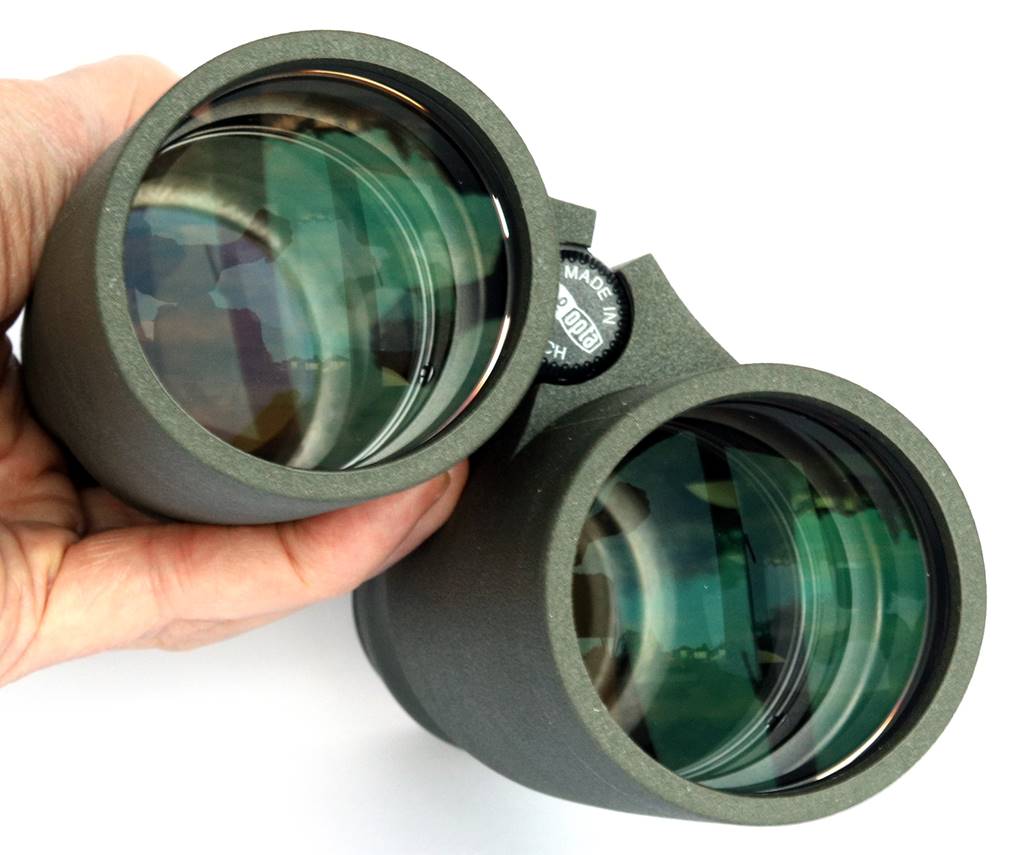 <![endif]>
<![if !vml]>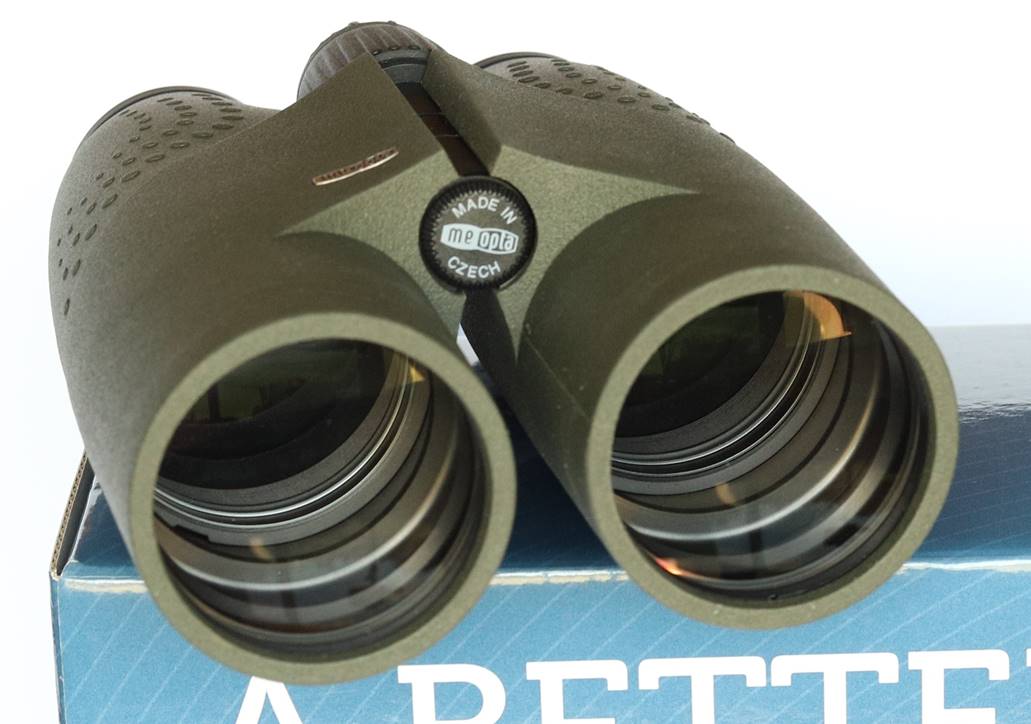 <![endif]>
Optics - Eyepieces
The eye lenses are flat, not concave, and large at ~23mm. Their coatings are very transparent, like the objectives'.
The actual field width of 7.2° is less than many 8x optics and the apparent field is narrow (less than 50°). This is typical for 7x50 binoculars, where the diameter of the eyepiece body limits the field (a 7x42 with shorter focal length objectives can manage more).
For once eye relief is every bit as much as Meopta's claimed 22.5mm – I measured about 22mm from the rim of the eye cup. That's a huge number compared with most binoculars. Large eye relief often comes with blackouts as you move your eye around and these are no exception, but it's well controlled and mostly not a problem.
The twist-out cups are excellent, made of hard plastic with a rubber rim. They thread on and are almost identical to Swarovski's, much better than the squishy Leica and Zeiss examples I've tested recently. The only issue is that there are only two click-stops, not really enough given the huge eye relief – Meopta could do with adding another much closer to the eye lens, which would reduce blackouts for spectacle wearers like me.
<![if !vml]>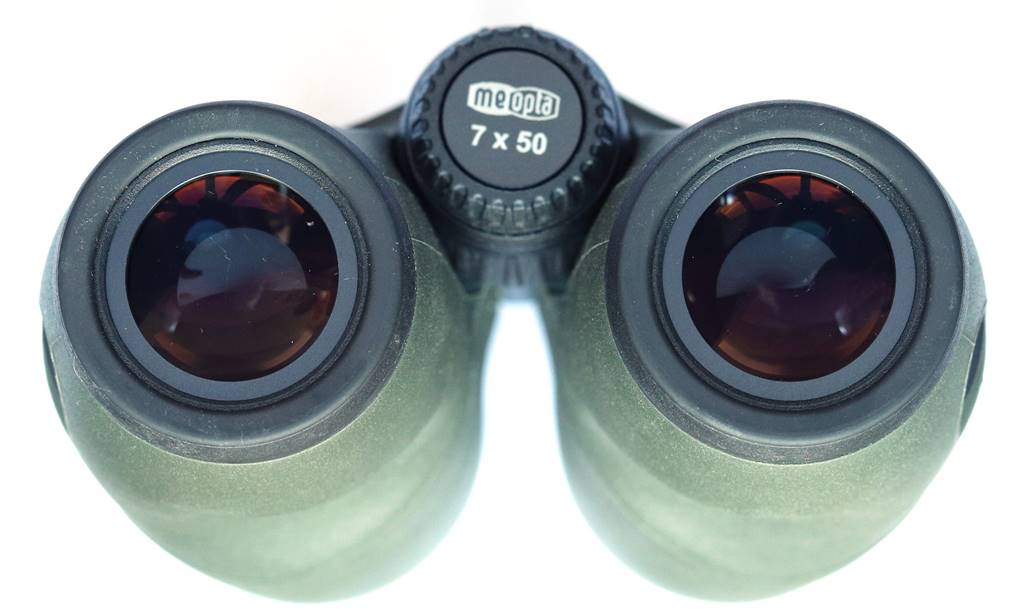 <![endif]>
<![if !vml]>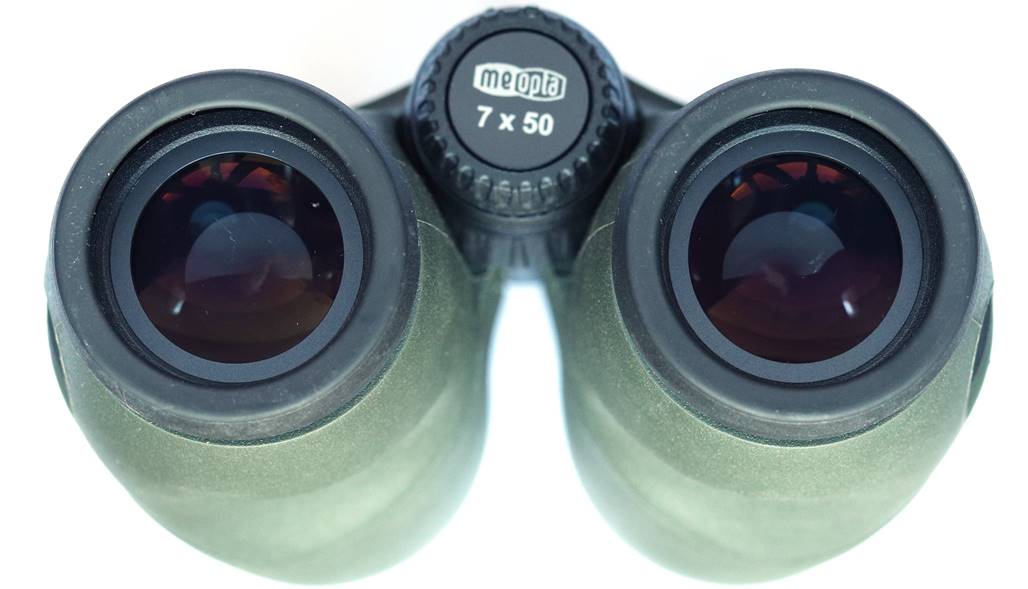 <![endif]>
<![if !vml]>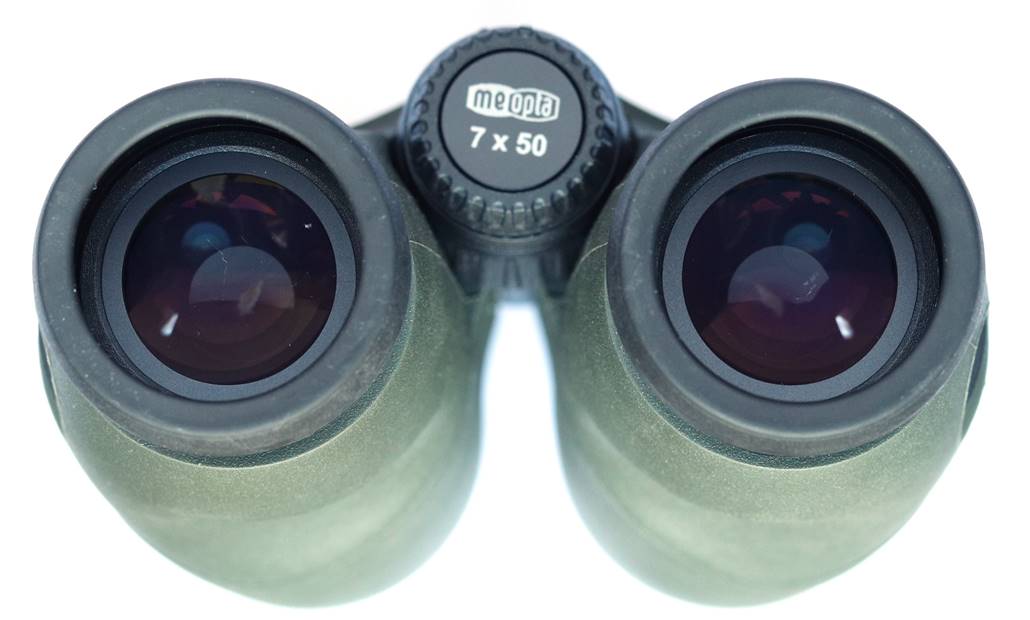 <![endif]>
Accessories
The stay-on rubber caps fit fine and work well. The strap is padded and logoed, but the plastic buckles look low quality, brittle and likely to break. Likewise, the webbing was already fraying from new.
The case is semi-rigid and of nice material, looks classy; but again, the plastic fittings seem cheap and brittle (the catch on the case had actually broken during delivery).
<![if !vml]>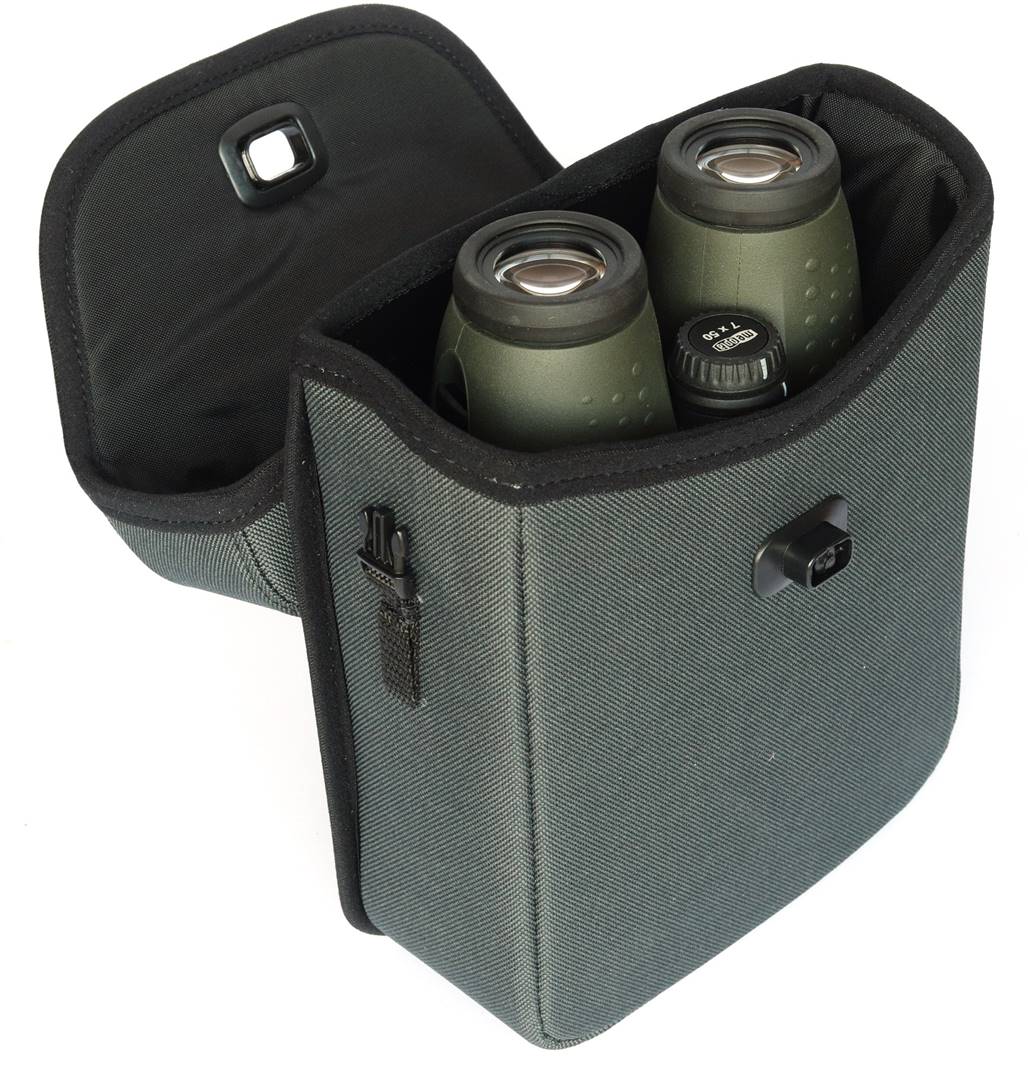 <![endif]>
<![if !vml]>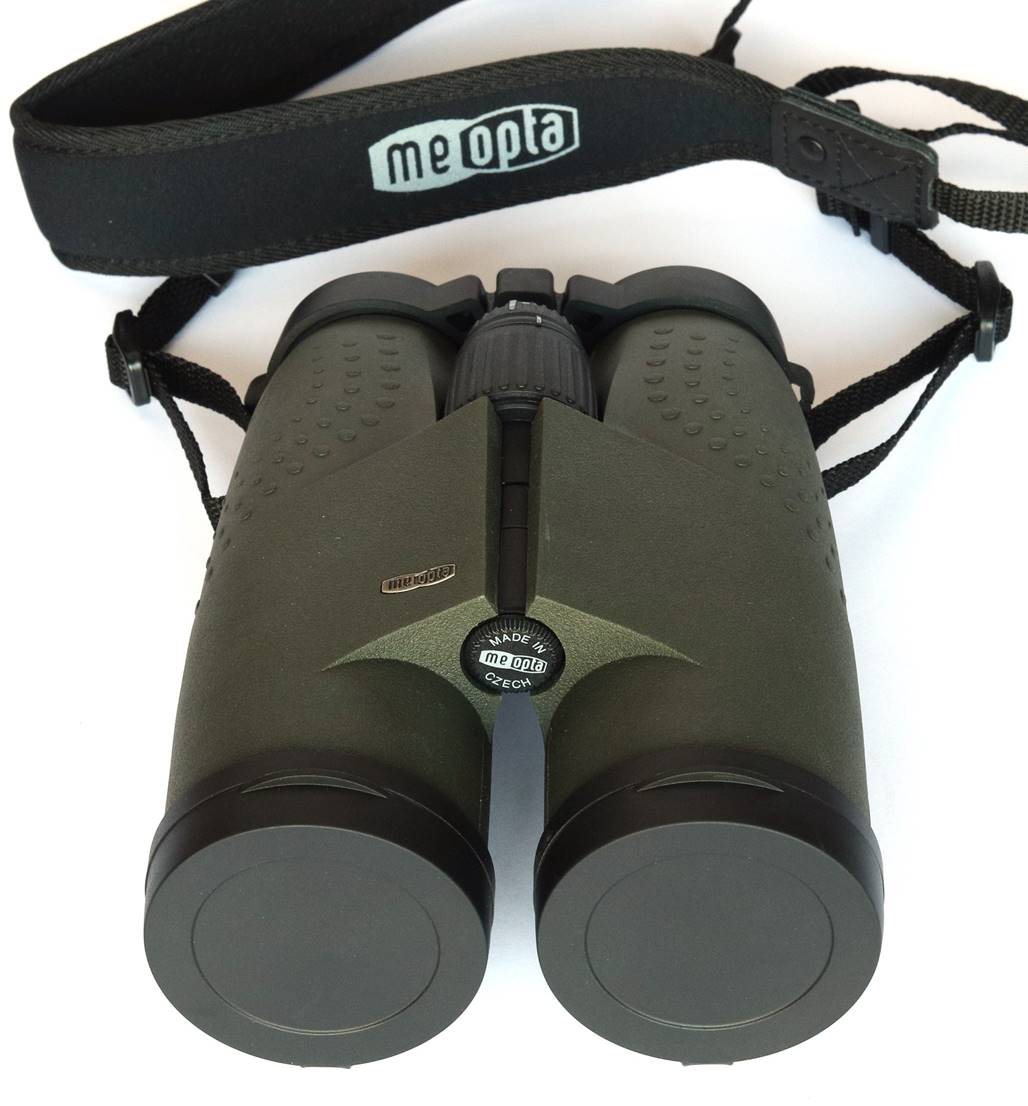 <![endif]>
In Use – Daytime
Ergonomics and Handling
The management summary is that handling is first rate. They feel heavy after my Nikon SEs, but just under a kilo is a standard for a premium 50mm roof. The armour is comfy and tactile. The thicker stuff around the objectives stays warm, even on an icy night. The cutouts are just right for me and the hold feels good and secure.
The focuser comes nicely under my finger and feels smooth, fast and accurate. Given the large depth of field, that fast focuser makes it super-easy to follow birds on the wing.
The central dioptre adjust would be very convenient, but it's just a bit too resistant for my liking. But I do like the fact you can instantly see how it's set.
The eyepiece comfort is very high with spectacles, but there are occasional blackouts as I move my eyes around. The eye cups could really do with even more outwards travel and another close-in stop, as discussed above.
The Meoptas are compact for a 50mm. To me they are a good-looking binocular, more so in the flesh than in brochure pics. They have an understated 'country' look and go nicely with my old Barbour.
<![if !vml]>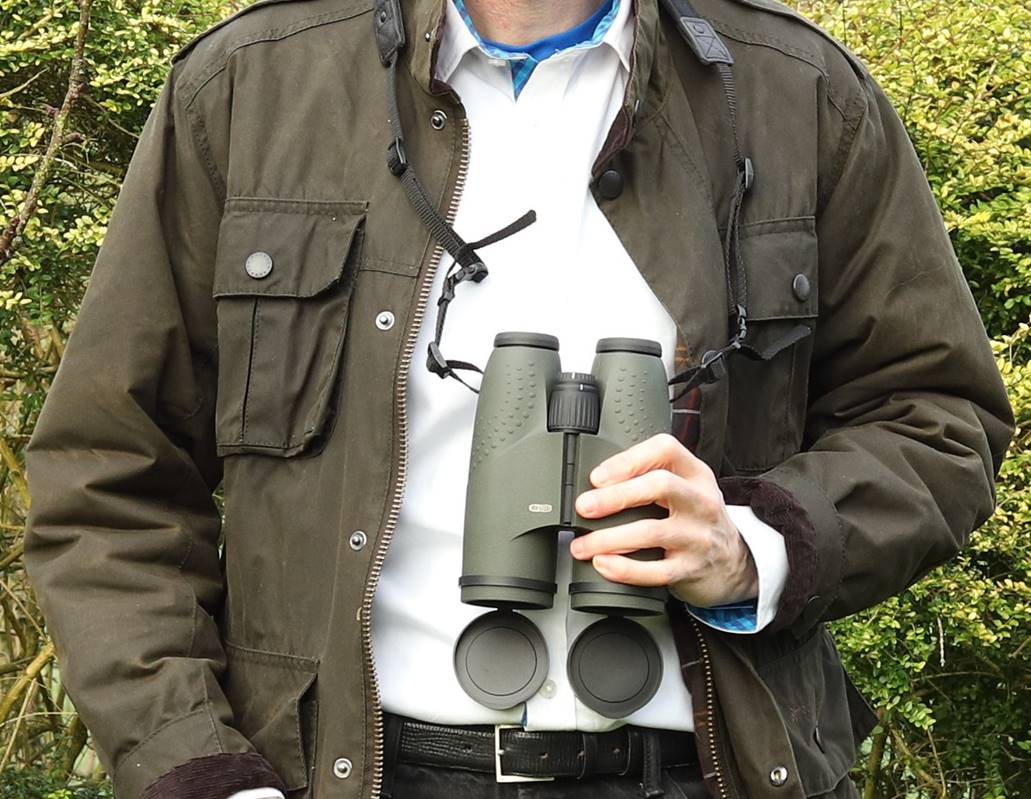 <![endif]>
<![if !vml]>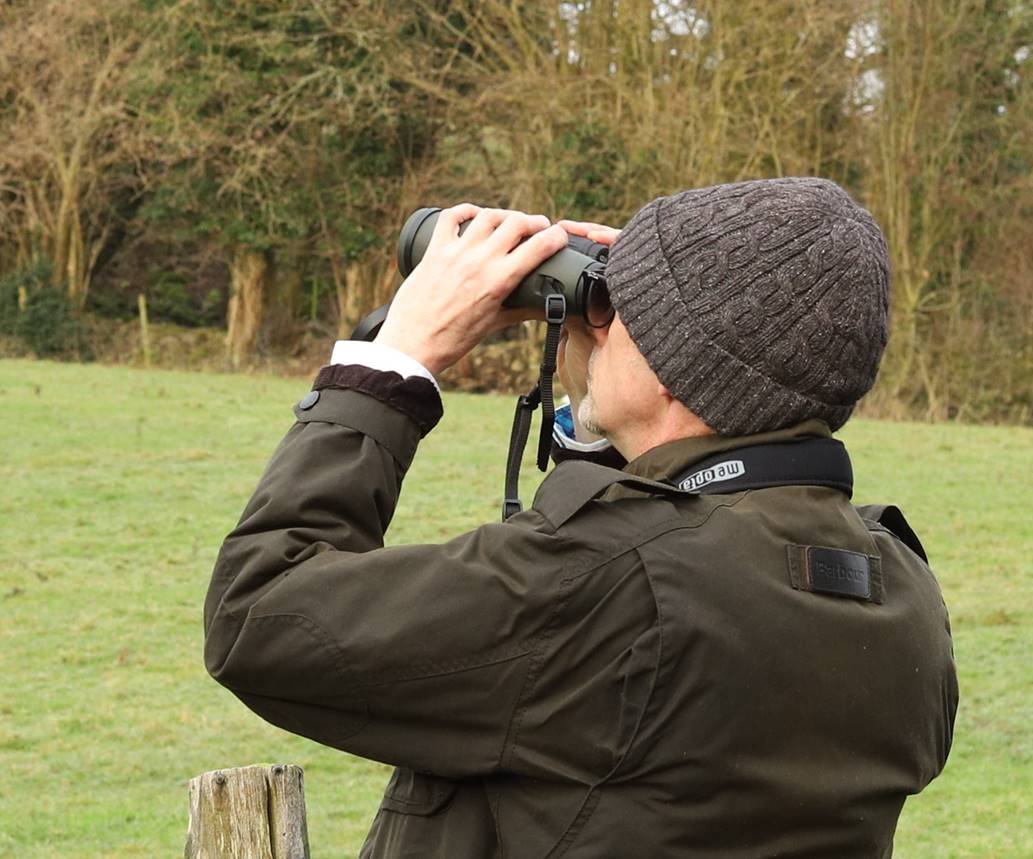 <![endif]>
The View
The view is, honestly, just fantastic – much better than I was expecting. One of those actual 'oh, wow!' moments. I sometimes don't like lower power bino's, but I really like these.
The huge eye relief, depth of field, good brightness and high resolution just give these an easy, comfy view like walking closer. It reminds me a bit of the original Nikon HG and is probably the best I've seen in a 7x binocular. Good brightness? Yes, despite the lacklustre transmission figure of 88%, these do have a bright view during the day (those big objectives only help brightness in very low light).
Focus snap is really excellent, especially given the low power and indicates top optical quality. Depth of field, typical of lower powers, is outstanding too. Colours are vivid and natural, without the excess warmth I'd been led to believe.
Close-up viewing is especially good. I watched a dunnock sitting ~4m away amid late winter buds with hyper-real clarity and resolution, every grey and buff details of plumage picked out with intense, vivid detail.
<![if !vml]>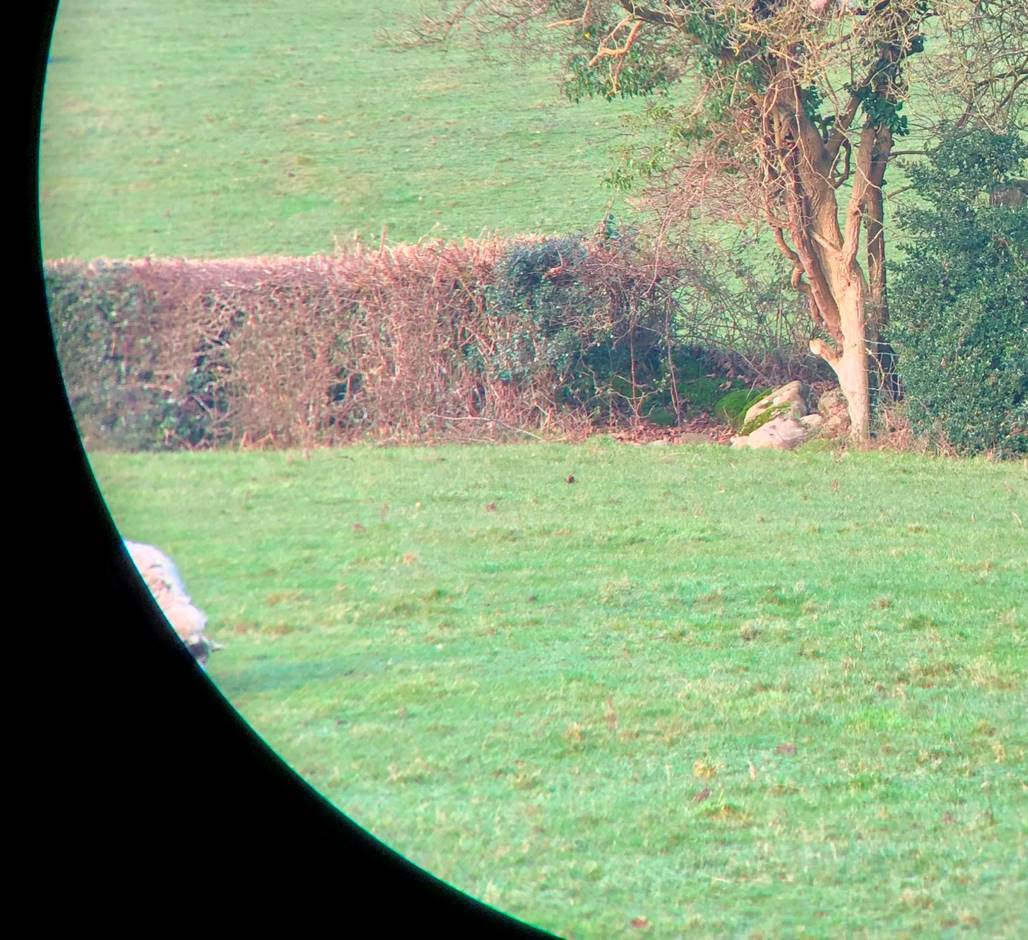 <![endif]>
Note: the light of Homer's 'rosy fingered dawn' gives this view naturally saturated colours.
Flat field?
The field isn't especially wide (wide fields are hard in a 7x50), but during the day it seems commendably flat to compensate - quite sharp almost to the edge where it softens just a little. Still, you could probably ID a bird (or a sheep – see above!) at the field stop. There is just some pin-cushion distortion for comfortable panning.
At night, though, careful focusing is required to avoid off-axis astigmatism which blurs stars into lines towards the field edge.
Chromatic Aberration
Meopta currently split their premium Meostar B1 range between HD and non-HD models. These 7x50s are one of the latter, so you might expect some false colour. In fact, they show almost none – less than two mid-price 'HD' binoculars I tested recently. That means no coloured fringing around birds on the wing, no flashing colours panning through high branches. Only on the highest contrast subjects did these reveal just a trace of violet and green fringing in focus.
There is a bit more false colour in the soft area towards the field edge, but that's typical, likely derives from the eyepieces and isn't intrusive.
In Use – Dusk
It's worth pointing out here that if like me you are past your youth, your eyes may not be able to get the most out of a pair of 7x50s like these in low light or at night. Many older pupils only open up to 5-6mm, vignetting the 7mm exit pupil and transforming a pair of 7x50s into 7x42s. Trouble is, individuals do vary with regards to maximum pupil size. According to a graph I found in a Swarovski publication, my dark adapted pupil should be 4.5mm at my age. In fact, just a minute after putting the lights out, I measured about 6mm (from an 8s selfie at ISO 6400); and I've had readers tell me the same.
Still, in my experience, 7x50s are especially good for use at dusk and the Meoptas are no exception. Higher powers may have a larger 'twilight factor', but lower powers are easier to focus in very low light. I was able to view right into night with these, pulling details from field and copse and hedgerow when the shadows had swallowed everything to the naked eye. Some binoculars suffer from veiling flare viewing under a bright dusk sky, but not these.
The night view was so good, I had a look for my local badger (heard him snuffling around somewhere out there) and the local Tawny owl too. The owl stayed mute, only to wake me in the small hours – never mind, I needed to check the Moon anyhow.
In Use – The Night Sky
Viewing an intensely bright halogen security light at night produced only fairly dim spikes of limited extent and a trace of ghosting – a decent result and better than several upper-mid price bino's I've reviewed of late. Still, my Nikon SE porro's do even better.
Stars distort progressively off-axis from about 50% field width, but significantly so only from about 70%, after which they become linear. This distortion is virtually all astigmatism – you can't focus it away and if you try, the stars become crosses then lines at 90°. With centre field in sharpest focus, the outer parts are noticeably blurred giving a goldfish-bowl-distortion look to star fields I dislike. But by just carefully focusing on a star away from centre field, the outer field flattens without stars in the centre looking out-of-focus – perfect.
Having done that. Orion's belt and sword all fitted the field with room to spare and without the outer stars - Mintaka and Nair Al Saif - suffering too much.
The Moon
Low power binoculars aren't really the thing for viewing the Moon. Nonetheless, one frosty morning, a broad 24-day crescent in a pre-dawn sky gave crisply excellent views through the Meostar 7x50s.
This is probably the phase Galileo drew, with crater Copernicus filled with black shadow on the terminator in the centre. On the rough southern terminator, south of Copernicus, Longomontanus and Clavius were very easy to spot. Out on the luminously grey plains of Oceanus Procellarum, I could see bright Aristarchus and Kepler with its rays, even at just 7x.
The Moon through the Meoptas was absolutely hard and sharp, with no flare and no detectable false colour. There was just a trace of a dim ghost.
Venus
A brilliant (mag. -4) Venus produced no ghosts or flare and no false colour, just a hint of spikes.
Deep Sky
I lucked out on a good, dark clear night and found all the usual deep sky suspects for the early New Year, even Bode's pair of galaxies which can be challenging with lower powers. I enjoyed galaxies M31 and M33 too. I even managed to split Albireo without problem and its flame colours were strong. Meanwhile, LA Superba was its usual stunning red.
But 7x binoculars aren't so much about searching out specific stars and DSOs, they're about sweeping and serendipity.
Scanning the Milky Way above Deneb, I spotted a misty patch of extended nebulosity: the North American Nebula! Moving from M37 to M36 and M38 in Auriga, I spotted a nebula off to the right below a trapezium of bright stars. I'd stumbled on cluster NGC 1893 and nebula IC410. Enjoying the Double Cluster embedded in star fields between Casseiopea and Perseus, I started finding numerous other clusters large and small, starting with M103 and then lots of NGCs leading me to the Heart and Soul nebulae.
That's very much the pleasure of a traditional 7x50 binocular on a properly dark sky – lots of stuff in one wide, steady field - which is why they are the traditional astronomy format. If that kind of astronomy is your thing, and you have the dark skies, these are wonderful. If you like individual DSOs (or suffer urban light pollution), maybe less so. Once again, a couple of examples.
The Orion Nebula (M42) and sword region showed less nebular detail, much less dramatic bright shape and structure than the high power big-eyes I tested last. I struggled to pull out globulars like M15. Smaller planetary nebulae likewise: The Crab (M1) maybe, the Ring (M57) no hope. Those three big clusters in Auriga all fitted into one field, but they were much less dramatic starbursts than you get with high powers and more aperture.
Larger clusters do look beautiful at 7x, though. Later that night, the Meoptas gave me a sparkly view of the Beehive cluster and expansive M35 in a very dark sky.
Given sufficiently dark skies, the Meopta 7x50s do make a super tool for sweeping star fields, a bit much off-axis astigmatism aside.
<![if !vml]>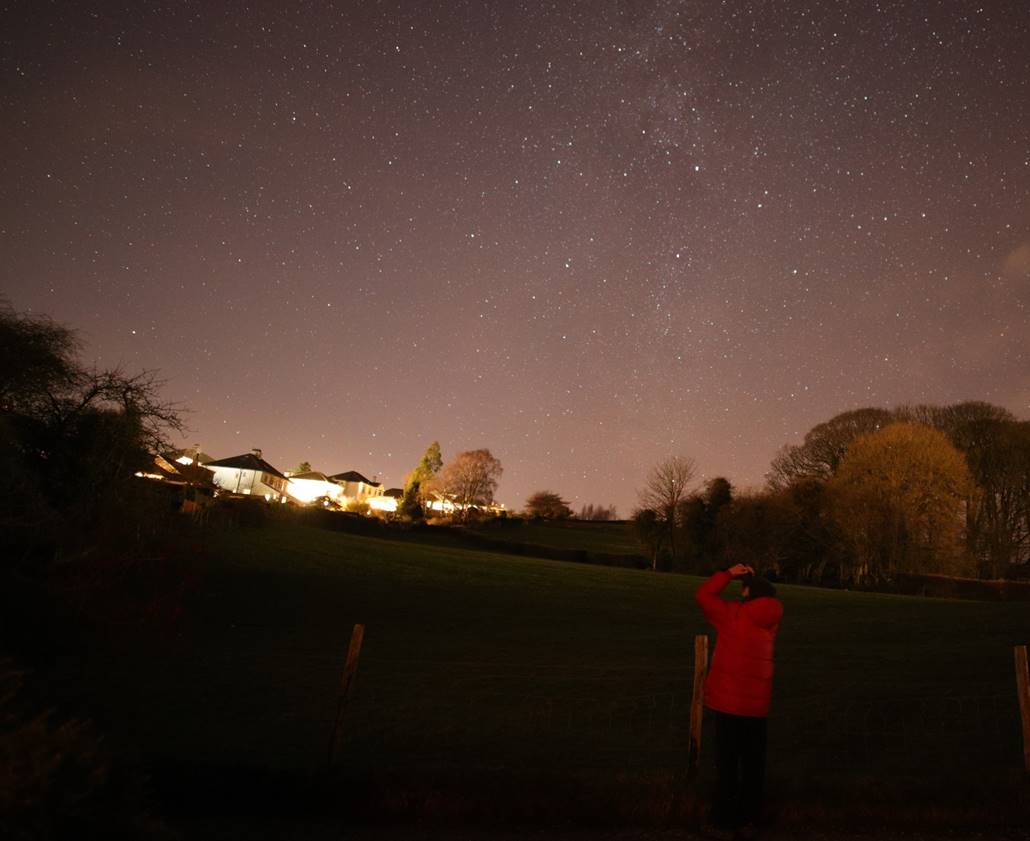 <![endif]>
The North American Nebula is a great target for 7x50s.
Meopta Meostar 7x50 vs Nikon IF WP SP 'Prostar' 7x50
<![if !vml]>

<![endif]>
Nikon's Prostars are an ancient design, but are one of the few other really high quality 7x50s you can still buy. They're a very different animal to these Meoptas, though, Let's compare them.
<![if !supportLists]>· <![endif]>The Nikons are a specialist astronomy binocular designed to give perfect views of star fields, are not suited to birding or nature viewing
<![if !supportLists]>· <![endif]>The Meoptas are an all-round binocular that does everything well
<![if !supportLists]>· <![endif]>The Nikons are a traditional Porro prism binocular with individual ('IF') ocular focusing: no following birds on the wing with the Prostars
<![if !supportLists]>· <![endif]>The Nikons are huge and weigh about 50% more than the Meoptas
<![if !supportLists]>· <![endif]>Both are nitrogen purged, waterproof ('WP') and fogproof (good for repeated use on frosty nights)
<![if !supportLists]>· <![endif]>The Nikons have field flatteners and so a very flat field, the Meoptas don't
<![if !supportLists]>· <![endif]>The Nikons have just sufficent eye relief, the Meoptas loads
<![if !supportLists]>· <![endif]>The porro design and special lens polish ('SP') Nikons give much tighter stars
<![if !supportLists]>· <![endif]>The field of view is the same, but the Meoptas somehow feel like they have a larger, brighter view
<![if !supportLists]>· <![endif]>The Meoptas have slightly less false colour
<![if !supportLists]>· <![endif]>Both are very rugged, but the Meoptas' thick armour is more suited to field use
<![if !supportLists]>· <![endif]>Real-world price is very similar
I just preferred the view through the Meoptas, though in theory the Nikons should give a much more perfect view. I can't explain why.
Summary
I use 'comfy' a lot in this review and that sums up the Meostar 7x50s for me. The hold is super comfy, the generous eye relief too. The view is comfy – bright and clear and with loads of depth of field so you don't have to focus too much. It feels like there's room to move about in that view, even though it's not actually that wide.
The focuser and dioptre adjust are both easy and comfortable to use too. The two-texture armour is warm and slightly squishy and also very comfy. That comfort means I'd choose these to take out in harsh conditions, maybe early on a frosty morning when my brain's still asleep and needs more coffee.
So the view is wonderful, the mechanicals all work very well and they are super-comfy to use. But the good stuff doesn't stop there because the fit and finish, the build quality on this pair (bought anonymously as usual) is absolutely first rate in every way. I expected a slightly rough-and-ready Eastern-block feel … but, absolutely not! We are talking Alpha class build here – in the materials, the armour, the coatings, the internals.
Downsides? Not really. The eyepieces black out a little more than the best and the (otherwise first rate) eye cups could do with another position or two. There is a little more off-axis astigmatism than I'd prefer for astronomy. Oh, and the plastic bits on the accessories seem flimsy. But that's it.
If these 7x50s are anything to go by, I'm very impressed by Meopta.
The Meostar 7x50s are among the best 7x bino's I've tested and are excellent in pretty much every way. For low-light birding or dark-skies astronomy they get my highest recommendation.
<![if !vml]>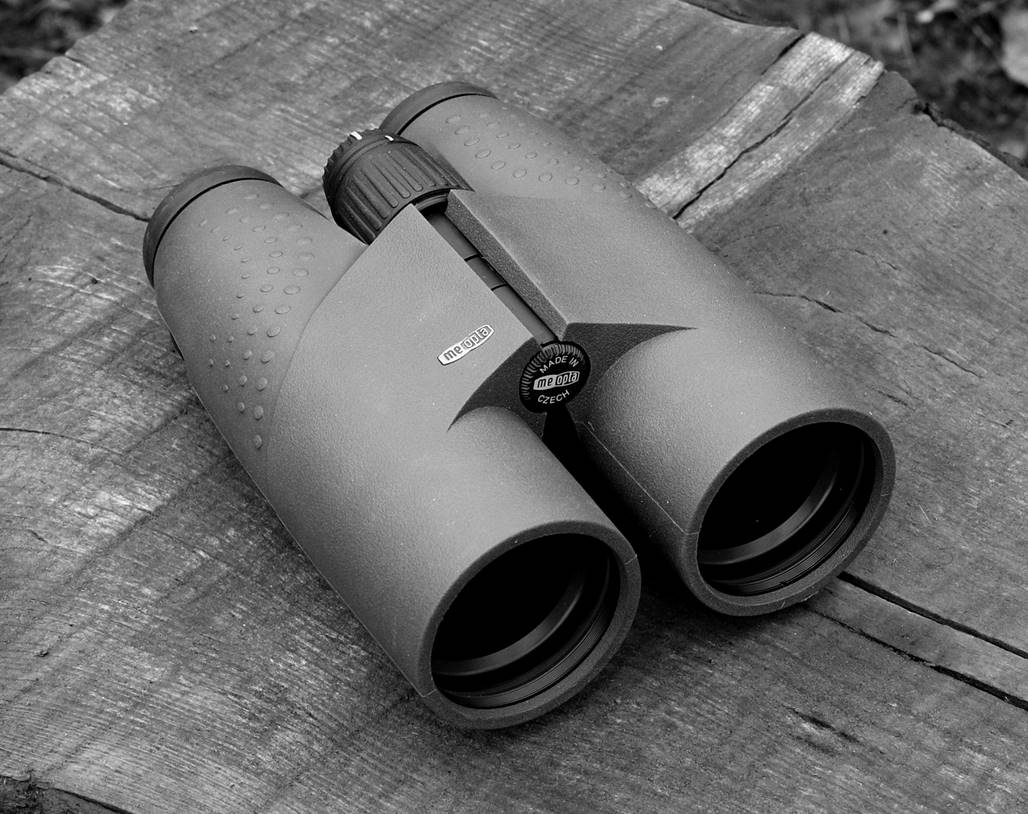 <![endif]>