Nikon 8x20 HG L Review
<![if !vml]>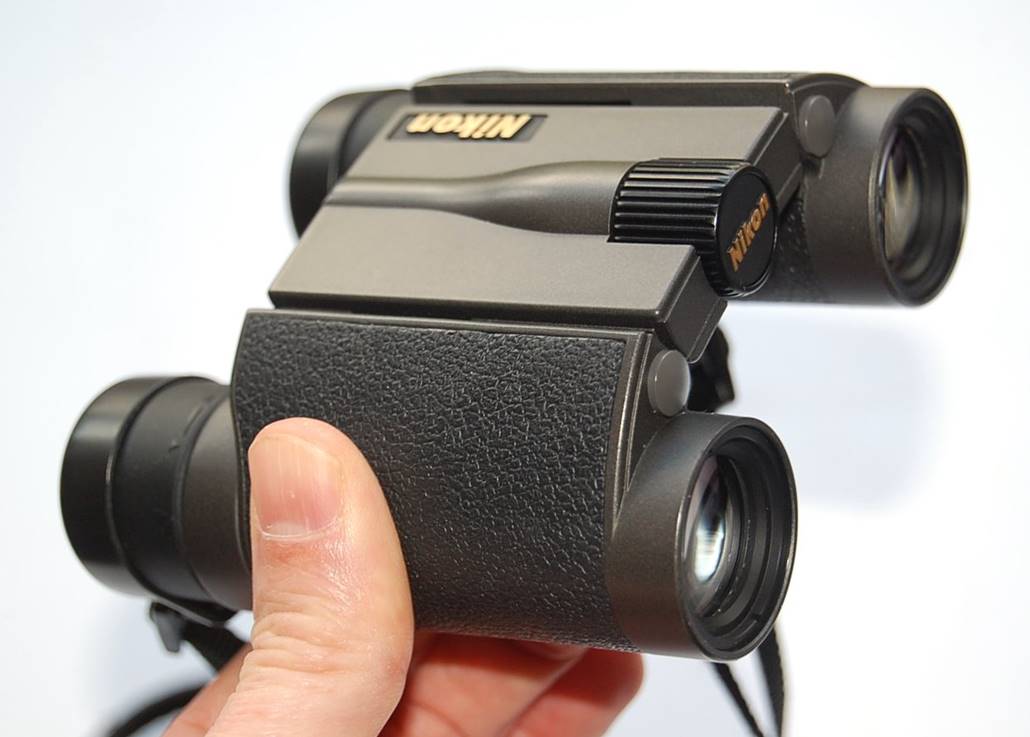 <![endif]>
I owned two pairs of the original 8x20 HGs, which look very similar to these. The first pair developed a fault with the dioptre adjustment after a knock and the second got left behind when we moved back from abroad.
So a few years ago, just before a holiday where I knew I would need some small binos, I went off looking to replace them (again). The two pairs of original 8x20 HGs had been Ok, but not up to the level of the larger Binos in the HG line, so I thought I would buy the best, really treat myself and get a pair of the latest Leica 8x20s instead.
So, with time to spare, I went into my local photo store and tried out the Leicas. They were bright and elegant and nicely made, small and light too. I was sold. I was already waving my credit card when the sales assistant said, "Don't you want to try out the competition?"
So out of the display cabinet came a pair of Swarovskis (not the latest design now). This was easy. Even the quickest look said they weren't a match for the Leicas: dimmer and less sharp, with a faintly yellow cast to the view. "You should try the new Nikon HGLs." said the guy. Well, I didn't have anything else to do ...
When he handed me the Nikons, I realised that they were slightly different from the original HGs. When I looked through them ... well the view was just plain better; better than my previous pairs, just slightly better even than the Leicas. They were cheaper too and come with a nice leather case. I was soon the proud owner of yet another pair of Nikons 8x20s.
At A Glance
| | |
| --- | --- |
| Magnification | 8x |
| Objective Size | 20mm |
| Eye Relief | 15mm (~13mm measured) |
| Actual Field of View | 6.8° |
| Apparent field of view | ~55° |
| Close focus | 2.4m |
| Transmissivity | ~88% (estimated) |
| Length | 96mm |
| Weight | 270g |
Data from Nikon/Me.
Design and Build
These HGLs look very similar to the original HGs, However, there are physical differences. For one thing, I think are slightly shorter and the body has a little flare that wasn't there before. The only other difference I can see is the focuser knob, which is larger and smoother operating.
The 10x25s are identical, but with larger objectives units stuck onto the tube ends. Both models are made in Japan.
These are tiny, jewel-like binoculars weighing just 270g. They measure 96 mm long and 65mm wide when folded (106mm when opened right out). Only Leica's Trinovid and Ultravid 8x20s are smaller and lighter; all the other premium competition are larger.
They fold up super-small and fit in a very small case for travelling or walking. The eye cups are the twist-up type that are especially convenient if you share with people who don't wear spec's.
<![if !vml]>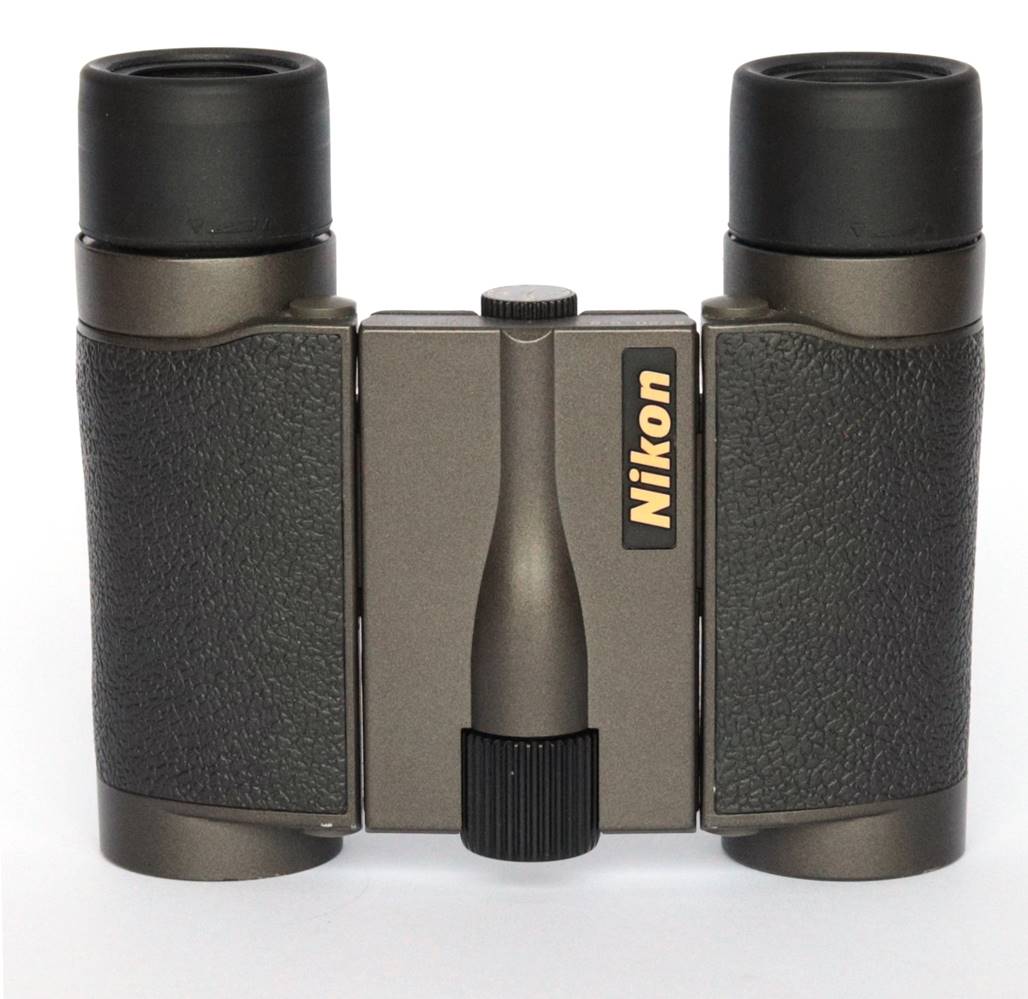 <![endif]>
<![if !vml]>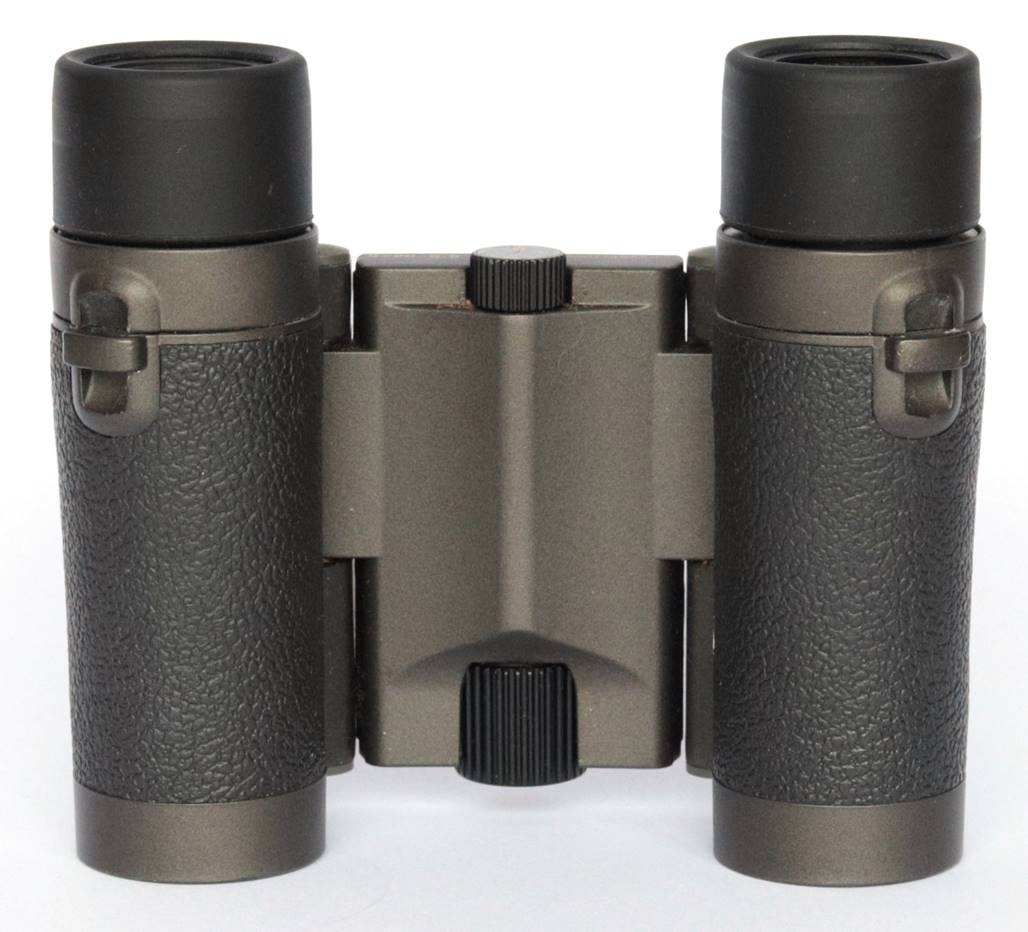 <![endif]>
Body
These smaller designs are completely different from the bigger HGs and HGLs, having the kind of double-hinged body common to most compact roofs. Unlike Leica, Nikon don't give you the option of rubber armour: these come in a sort of bronze anodising and leatherette that is attractive, but may not be as hard wearing as rubber and doesn't protect them as well from shocks.
Basic fit and finish is the very finest, again in keeping with larger HG models.
Note 2020: In fact, the leatherette has held up well, but the anodising has picked up a few chips and tiny signs of corrosion around the strap lugs.
Focuser
The focuser knob is an odd position at the front of the bridge, but its action is super smooth and accurate. Snap is absolute in both barrels. Close focus is just under 3m and getting from there to infinity takes slightly more than one turn.
The dioptre adjustment is at the other end of the bridge where the focuser usually is, but its effective and easier to set than the eyepiece ring type.
Optics – Prisms
Like the majority of modern binoculars, these employ Schmidt-Pechan (a.k.a. Roof) prisms with phase coatings and silver (not dielectric I believe) mirrors.
Optics – Objectives
The multi-coatings look identical to the larger HGs (i.e. they are first rate) with greenish tint.
<![if !vml]>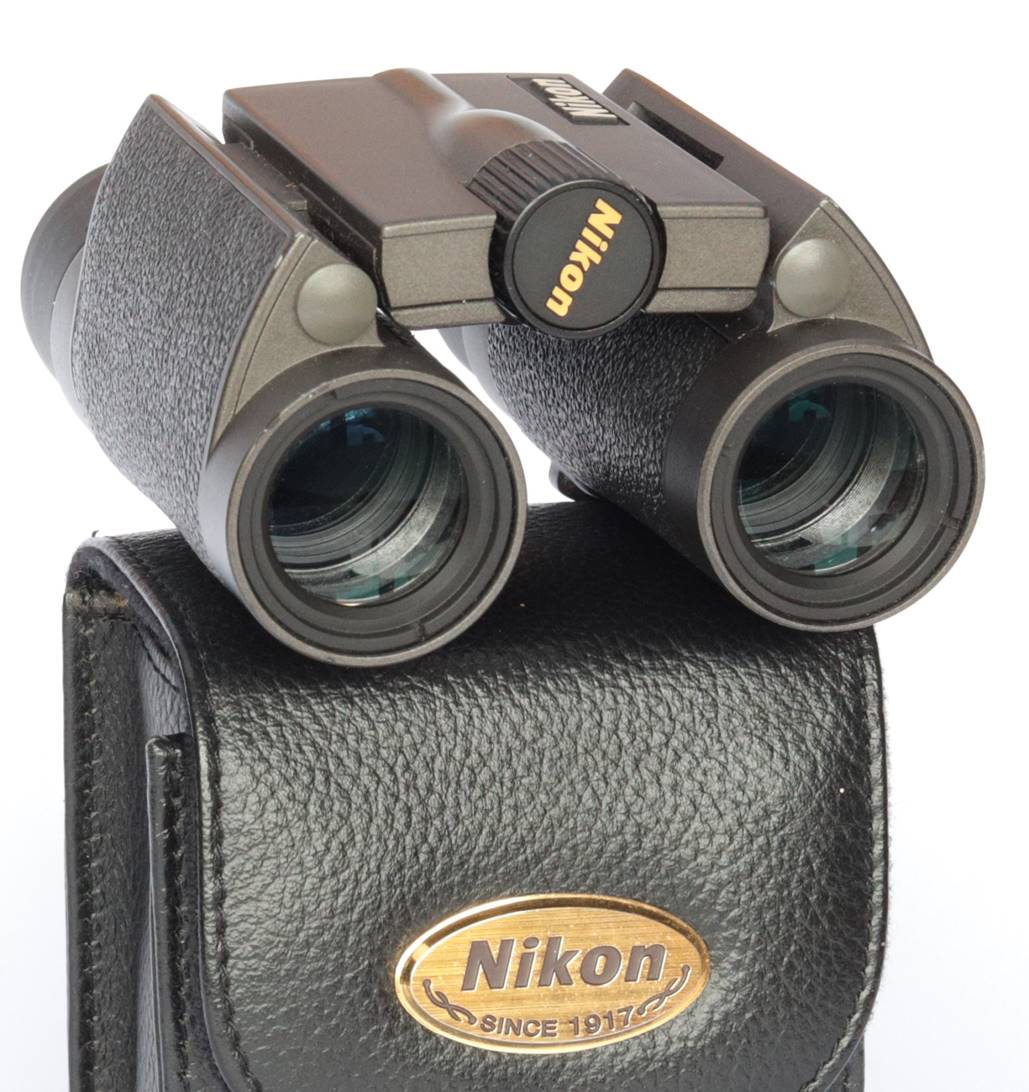 <![endif]>
Coatings and internal baffling are good.
<![if !vml]>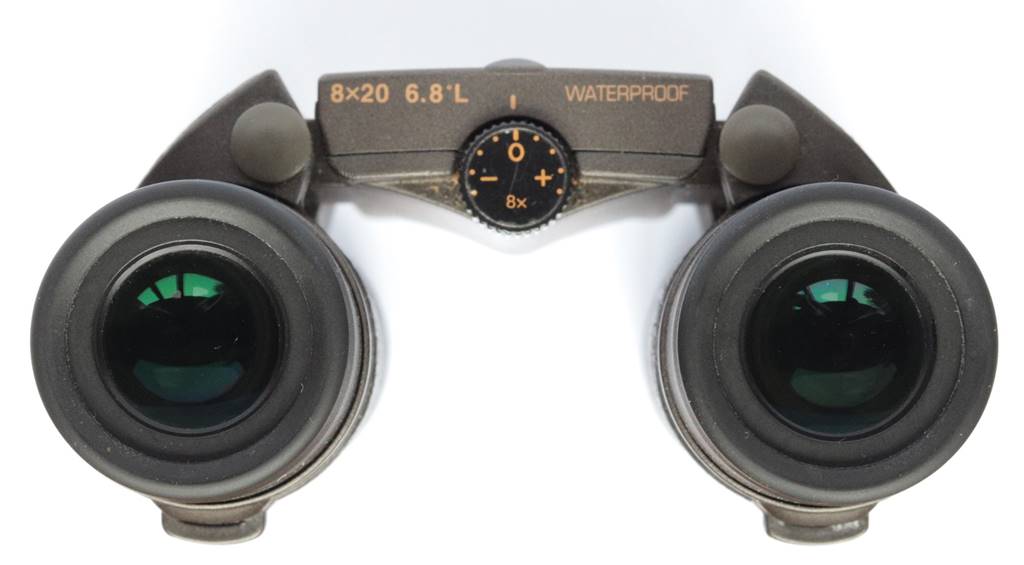 <![endif]>
<![if !vml]>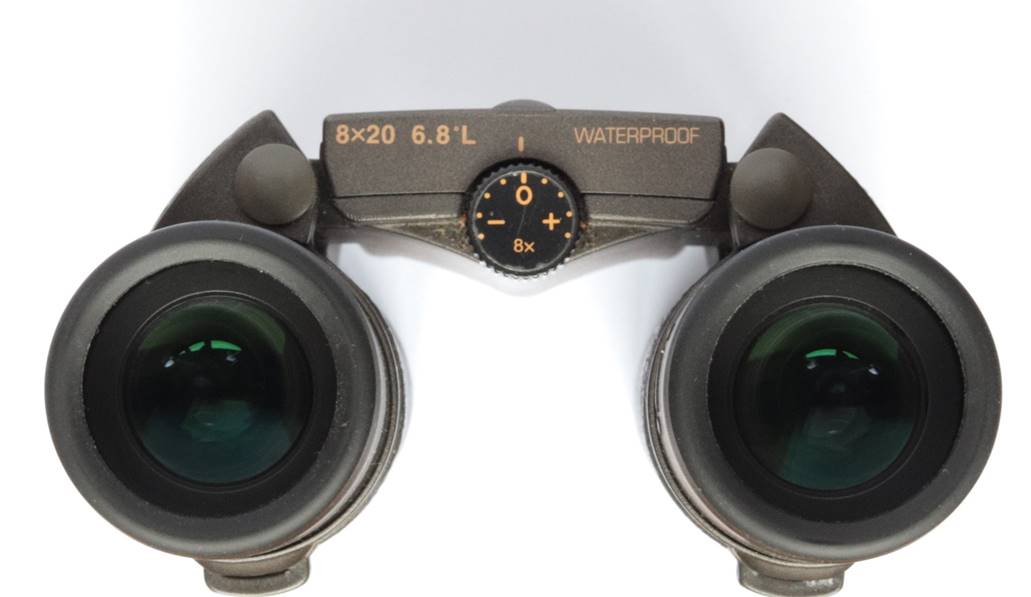 <![endif]>
Eye cups have just one twist-out position.
Optics – Eyepieces
Optically, they have a similar design of wide-field, high eye relief eyepieces as the bigger Nikon HGs. However, the eye relief is slightly tighter at 15mm claimed and ~13mm measured. The field a little less at 6.8 degrees than most larger 8x roofs, but typical of all pocket bino's except Zeiss' latest and very expensive 8x25s.
The eye cups are the twist up variety, but they only have one out position for use without spec's. Blackouts are not a problem with these eyepieces.
Accessories
The pocket HGLs come with one of the nicest leather cases you'll find this side of Leica's expensive BL version of their 8x20 Ultravids, but only individual caps for the eyepieces. I bought a separate protective case.
<![if !vml]>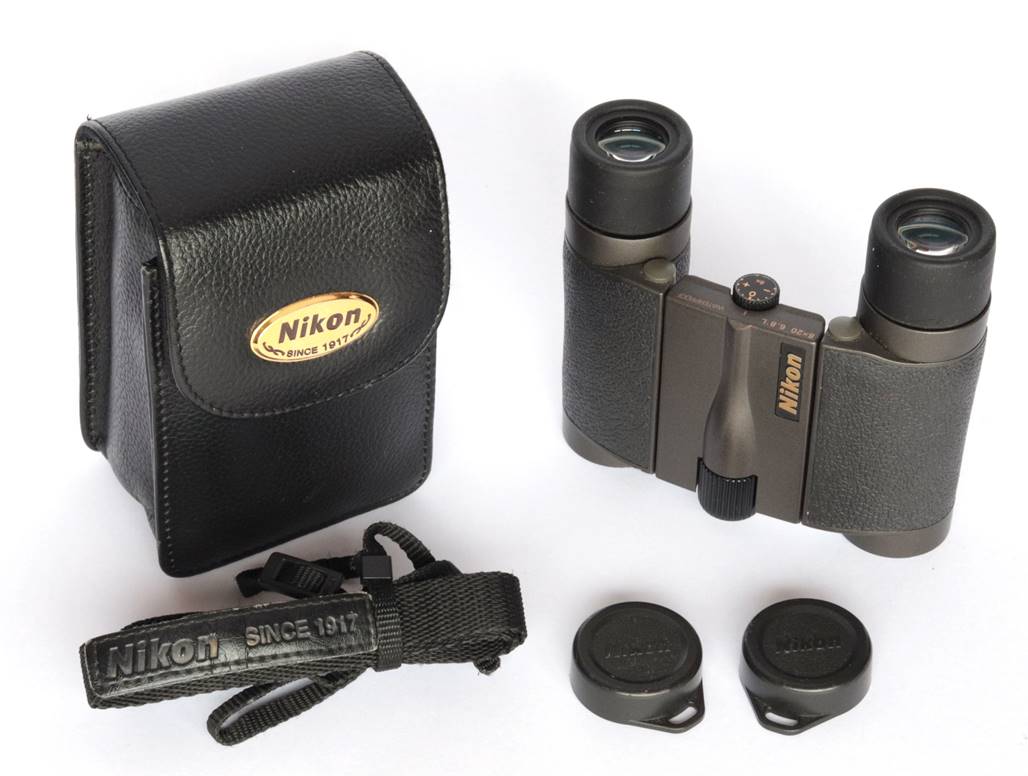 <![endif]>
<![if !vml]>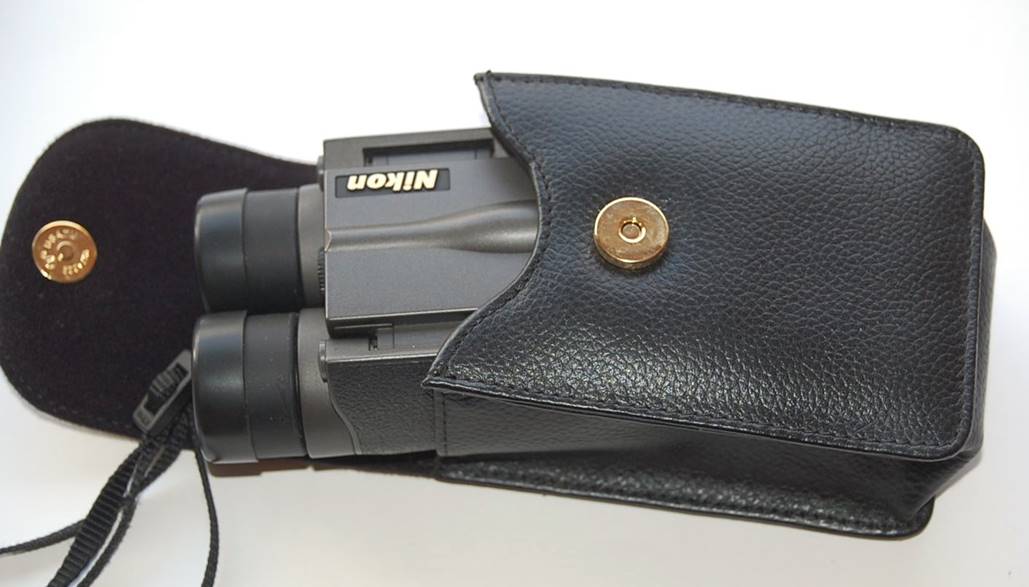 <![endif]>
<![if !vml]>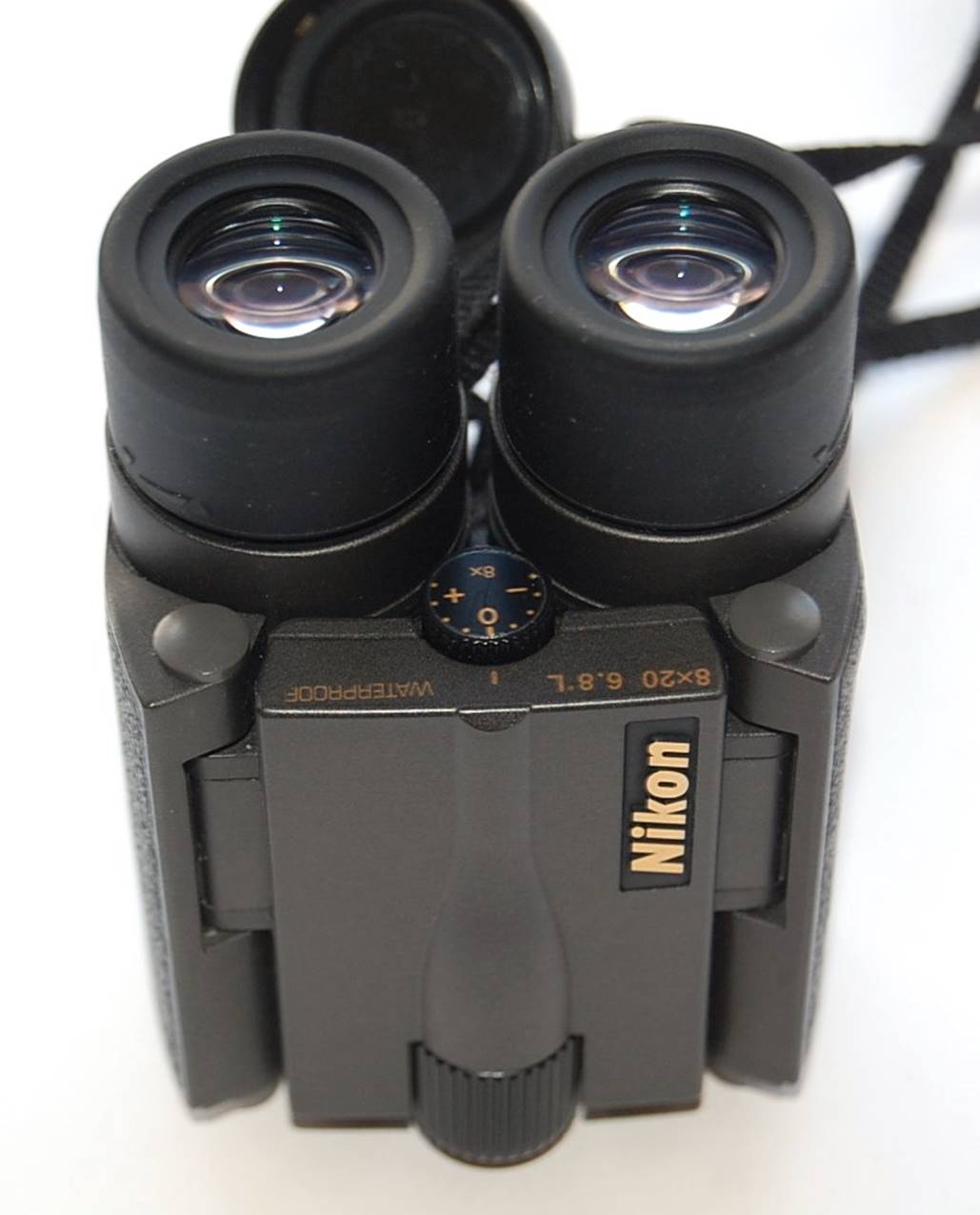 <![endif]>
In Use – Daytime
Ergonomics and Handling
As one of the very smallest binoculars you can buy, these are fiddly to hold, even for my smallish hands, but that's inevitable.
Some have criticised the position of the focuser wheel and it is in an unusual place at the front of the bridge. But it just means focusing naturally falls to the 3rd finger rather than the index and I don't find it a problem.
For miniature binoculars, eyepiece comfort is quite good with just about enough eye relief to see the whole field with my glasses on.
Of all the pocket bino's out there, these have the most elegant looks for me, apart from Leica's gorgeous-but-pricey, leather-covered Ultravid BLs. However, my experiences with the earlier pair suggest gentle handling is advised since these don't have rubber to protect them from knocks.
The View
These are a small binocular, limited by the size of objectives and eyepieces. Even so, the view is good. Not as wide as the larger HGs', it is nonetheless very flat and extremely sharp with minimal chromatic aberration. For such a small objective, the view is also surprisingly bright and they work well, though in low light – dusk or a very dull day - they show a flatter, dimmer image than larger pair of similar quality. Resolution, however, is as good as it gets.
In brighter daylight conditions, the detail in the view makes them able to pick out details in birds and landscape features that leave you with little need for a larger pair. Focusing is smooth and very accurate, with that real "snap" that fine optics have. Colour rendition is vivid and faithful. I can watch my local flock of Goldfinches on high branches with perfect clarity.
The only nit-pick I can find is that the eye relief is just slightly less than the larger HGs' and a bit less than I would prefer for maximum spec's-on comfort. That and the small eye lenses and narrow field do make them feel a bit 'cramped' and claustrophobic.
Flat field?
The field is quite narrow but extremely flat and sharp to the edge; these doubtless employ field flatteners like the larger HGLs. Fields this flat are very rare – mostly limited to a few Swarovski models.
Chromatic Aberration
No HD optics, unlike the latest Zeiss 8x25s, but they just don't need it – false colour is very well controlled at this tiny aperture and modest magnification. In line with the flat field, lateral colour from the eyepieces is minimal too.
In Use – Dusk
I reckon these give a similar low light and dusk view to the naked eye in terms of ability to penetrate dense shadows and to pick detail out of the gloom. In other words, they don't have the "light intensifying" quality of larger binoculars. That and the cramped view are their only serious limitations.
In Use – The Night Sky
Basic night-time characteristics are good, with good suppression of ghosting and flare.
You wouldn't expect these to be of any use for astronomy with their tiny objectives and it's true they won't reveal more than the brightest DSOs and clusters. 30mm objectives gather more than double the light. BUT... the 8x20 HGLs do give really excellent detail on the Moon!
The very high optical quality and sharpness makes it easy to pick out the main craters and features, even in bright daylight; the contrast delivery is that good. There is none of the softness and CA and ghosting that besets many binoculars when pointed at Luna.
Because I hike a lot, I often get opportunities to look at the Moon, especially early in a cycle, that I wouldn't otherwise. By the time I get home, the clouds have rolled in again, or it's already too low to get onto with a telescope. So this feature is important to me.
I recall many early evenings in Switzerland, whilst out snow shoeing or hiking, with sublime views of the Moon nestling amongst the mountains. I remember one especially lovely evening in late Autumn, yomping down from Sonloup into Les Avants to catch the train home. With a frost in the air, leaves crunching under foot and the peak of Rocher de Naye gradually darkening ahead, I stopped every hundred metres or so to enjoy the Moon with the 8X20s, which added hugely to the beauty and enjoyment of the walk.
<![if !vml]>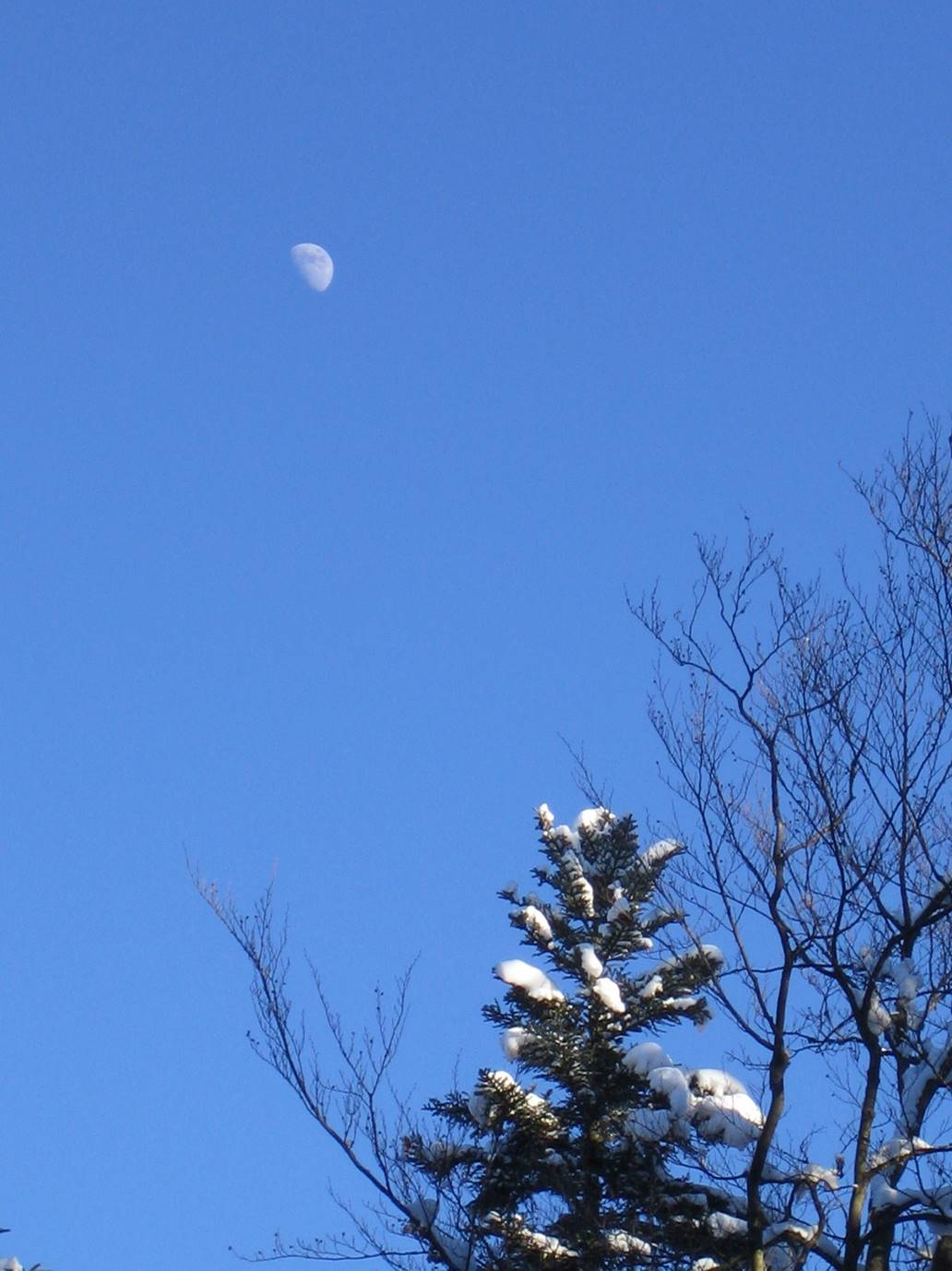 <![endif]>
Winter walks can offer great opportunities to enjoy Luna with compact binos like Nikon's 8x20 HGLs.
Summary
For the last few years, these binos have been with me on every holiday and many walks too. I've used them to watch snow banners off mount Ritter from the Pacific Crest Trail; a seal playing in the surf off Vik in Iceland; Plumes of steam rising from Avacha Volcano in Kamchatka; vistas of Florence from the top of the Duomo; and of course countless deer, buzzards and Egrets nearer home. They are so much lighter and smaller, even than my Zeiss 8x32s, that in practice I rarely hike with anything else. I have even used them at the opera, where their small size and elegant looks don't seem out of place.
I can find little to criticise, apart from the slightly tight eye relief (compared to other Nikons, but perfectly generous by Leica, Swaro, Zeiss standards), slightly narrow field and the low-light limitations of any small binocular. Their finish, whilst attractive, will also be less protective and robust than rubber armour.
My experience of other pocket binoculars is that only the Zeiss Victorys offer a better view, but for a higher price.
The Nikon 8x20 HGLs are recommended, but their lack of armour does mean you'll need to take extra care of them.