In this review I find out if Nikonís older 8x30 E model has the same wonderful view that makes almost every reviewer rave about its successor, the EII.
Nikon 8x30 E Review
<![if !vml]>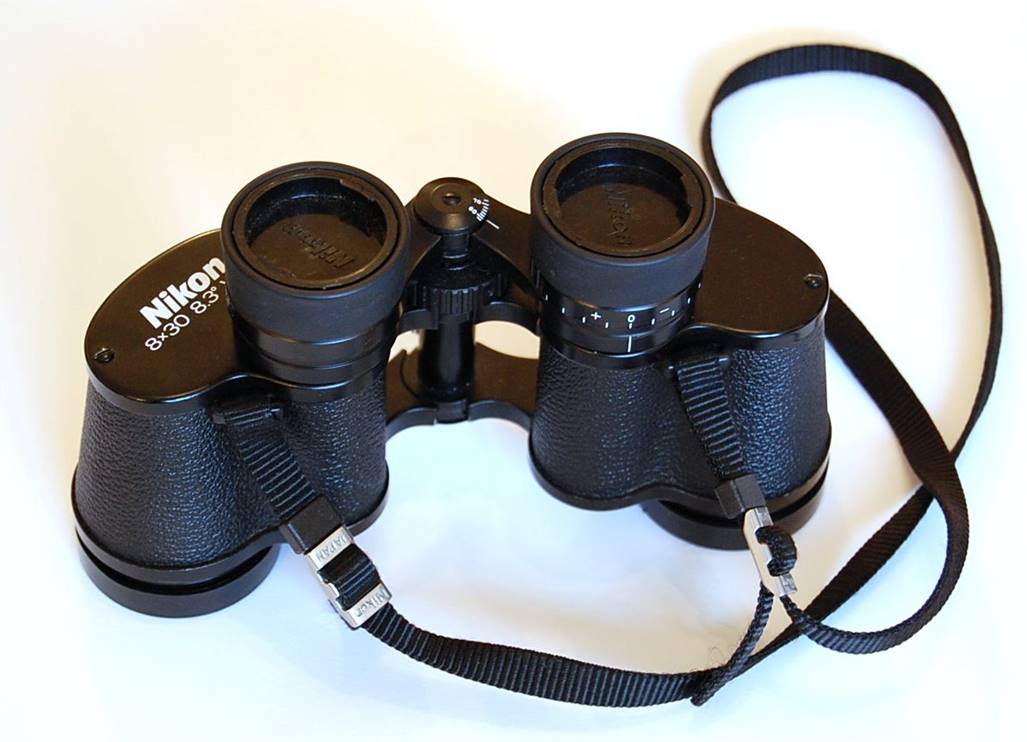 <![endif]>
At first glance the Nikon 8x30 E looks like the traditional leather-covered 8x30 porro-prism binoculars that were ubiquitous before the 1980s and are so deeply unfashionable for many serious birders today. Their loss is your gain, though, because these are in fact a top-line binocular Ė much better even than the apparently similar Zeiss 8x30 Jenoptem (see below).
This original E model is related to the current highly-regarded EII, but can often be picked up for much less (these cost £235 when new in 1993 and would likely cost that in good condition today). But how similar is the performance to the newer model? Letís find out.
<![if !vml]>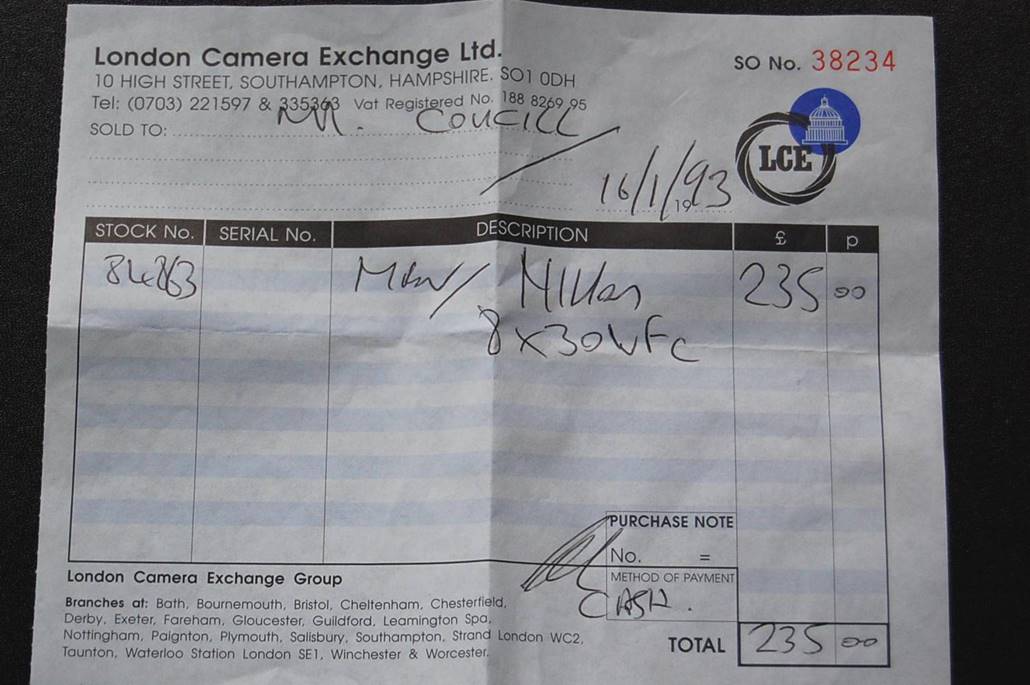 <![endif]>
Original sales receipt from 1993.
<![if !vml]>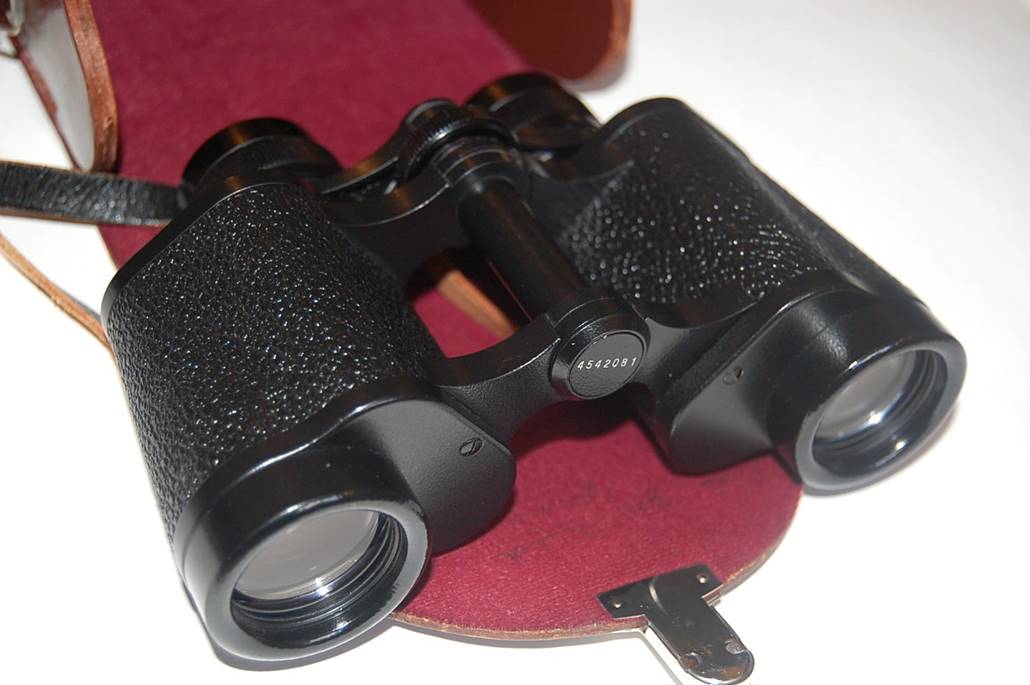 <![endif]>
<![if !vml]>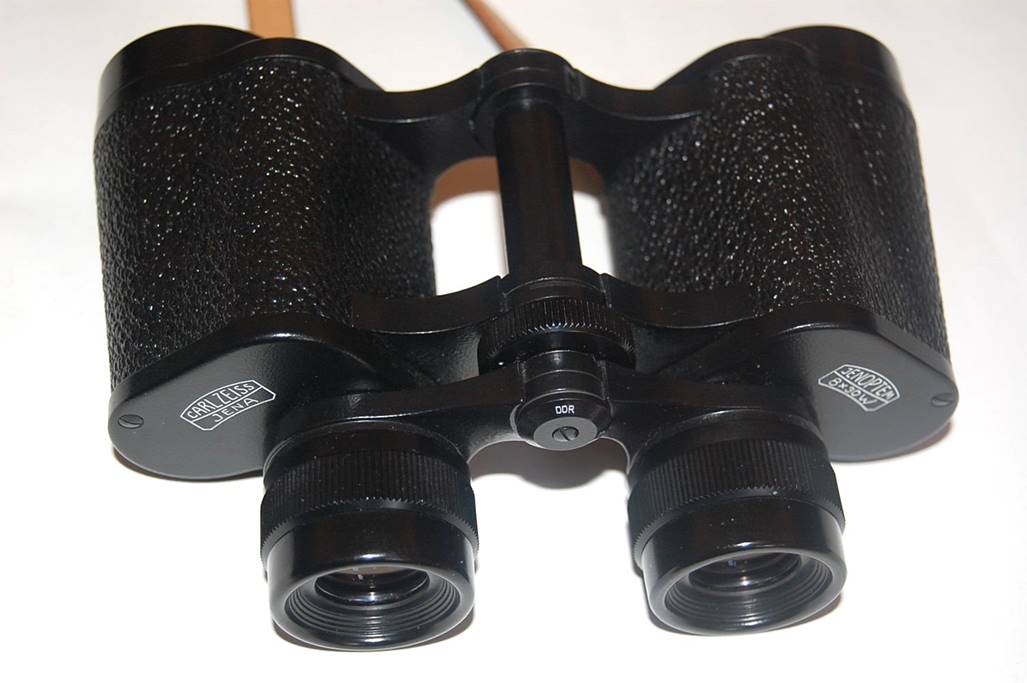 <![endif]>
Nikonís Es look a lot like these Zeiss Jenoptem 8x30s, but are vastly superior.
At A Glance
| | |
| --- | --- |
| Magnification | 8x |
| Objective Size | 30 |
| Eye Relief | 13-14 |
| Actual Field of View | 8.3 degrees |
| Apparent field of view | 65 degrees |
| Close focus | 3m |
| Transmissivity | 90% est. |
| Length | ~100mm |
| Weight | ~500g |
Data from Nikon.
Whatís in the Box?
<![if !vml]>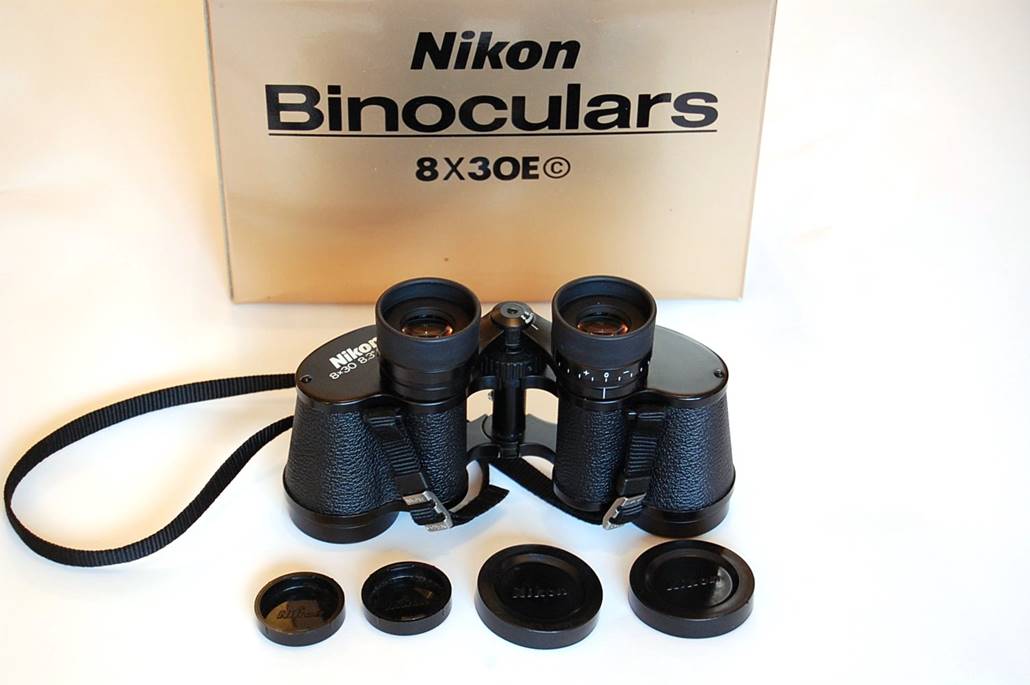 <![endif]>
The big gold box is similar to all recent Nikon Porrosí.
Design and Build
Originally, the E range included a 10x35 and a 7x35 as well and they both have an excellent reputation. At the time of writing, the 10x35 was still available in updated EII form, whilst the 7x35 has been discontinued.
I have heard the 8x30E described as ugly, but I really like the classic look of them. They are shorter and smaller than most old-style 8x30s. Iíve heard they were copied from an early Zeiss design, but with many improvements, including modern wide-field eyepieces.
These 8x30Es look very similar to the newer 8x30 EII, but I will summarise the main differences here:
<![if !supportLists]>∑ <![endif]>The EII has a more robust bridge derived from the SE model.
<![if !supportLists]>∑ <![endif]>The EII has a slightly different eyepiece and an even wider field of view (8.8 degrees).
<![if !supportLists]>∑ <![endif]>The EII has a slightly different body design with chamfered edges to the prism housings.
(Note: I was originally misinformed that the EIIs are made in Malaysia, but it seems they are made in Japan, like these Es).
A note of caution: before the early 1990s these were made with old-style single coatings and this makes a big difference to performance Ė only buy the newer multi-coated ones. Multi-coatings will be a dark green; single coatings a much lighter shade of blue-violet:
Body and Ergonomics
The Es were made in Japan and build quality is superb. The design is classic small porro, but the workmanship is first rate, with a magnesium body which gives a light weight of about 500g. The quality of materials and finish is very fine all round, but that leatherette (like any other) probably wouldnít hold up against a long life in the field the way rubber armour does.
Unlike Swarovskiís similarly classic-looking Habicht 8x30, the EIIs arenít waterproof and wouldnít even resist showers the way the rubber-armoured SEs would. However, I used these for walking in the Lakes for a season and they suffered no ill effects Ė when it rained I tucked them in my cagoule.
<![if !vml]>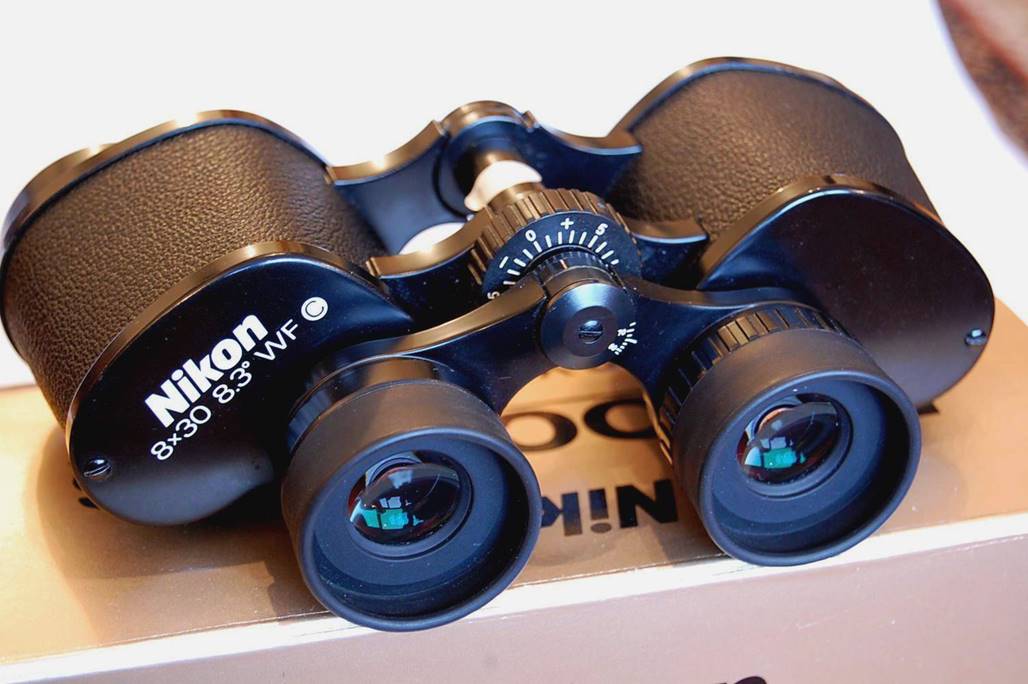 <![endif]>
Body is short and squat, but wide.
Focuser
The focuser is a conventional porro-style bridge focuser, but it has a nice large knob with a scale and a very smooth, light action. Dioptre adjustment is via a knurled ring below the right eyepiece Ė typical, but again well-weighted and smooth.
Optics - Prisms
These are a completely conventional porro-prism design, so no phase coatings or dielectric mirrors are required.
Optics - Objectives
The objectives are conventional cemented doublets, with a very short focal length to allow the squat design and wide field. The multi-coatings are like recent premium Nikonsí (but see the note above), though I have read that the very latest EIIs have improved them further.
<![if !vml]>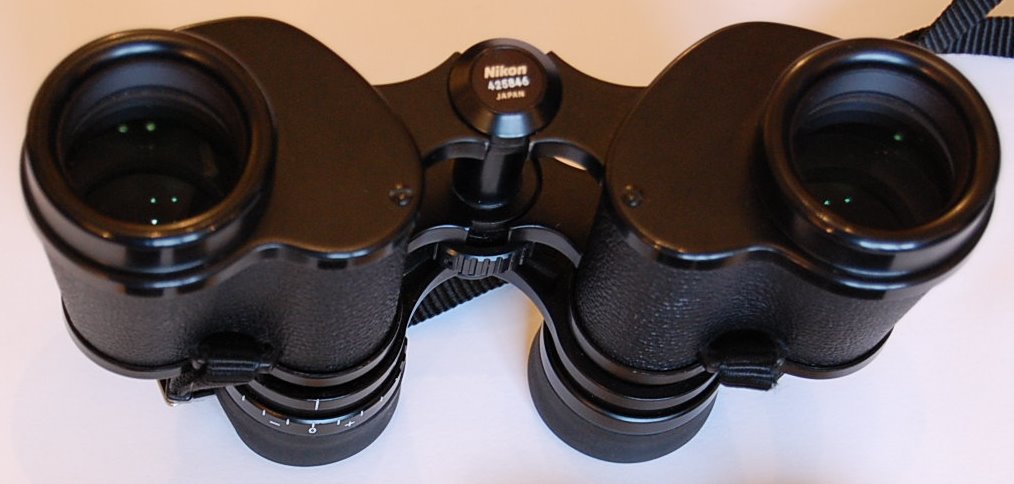 <![endif]>
Objectives are traditional cemented doublets.
Optics - Eyepieces
The eyepieces are a five element design and give an apparent field width of about 65 degrees (8.3 degrees true), which is very large by 8x binocular standards, but less than the EIIsí which manage 70į apparent Ė among the highest of any binocular.
Foldable rubber eyecups are provided because the eye relief is a decent 13mm-14mm, which means they are usable with glasses, but I canít see the whole of that wide field.
<![if !vml]>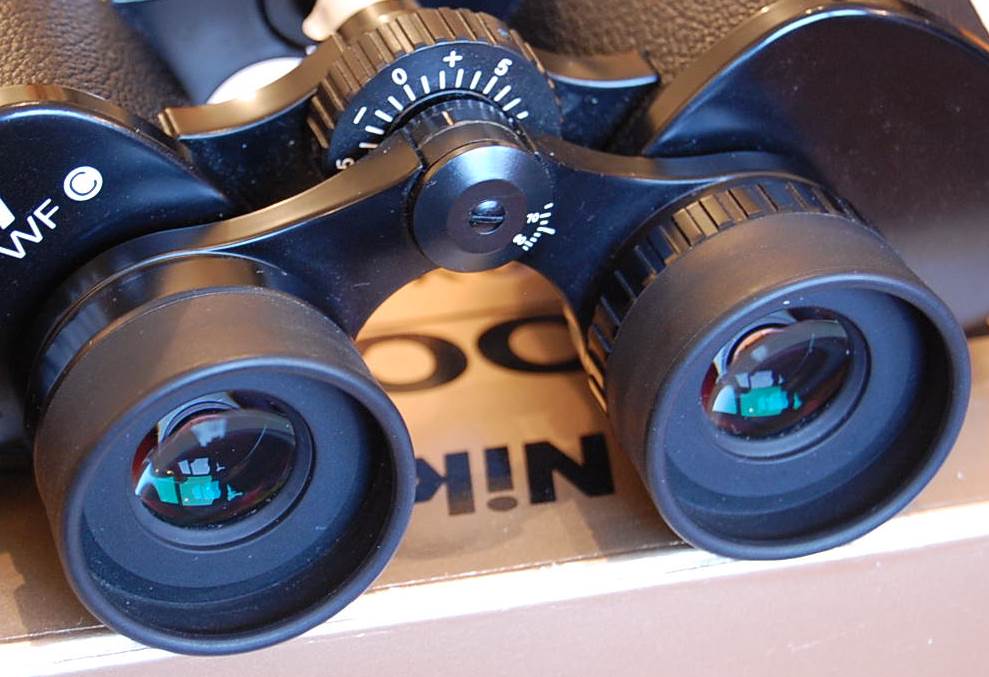 <![endif]>
Eyepieces are a 5-element design that gives decent eye relief and a wide field.
Accessories
The Es come in a leather hard case a bit like the one for my Questar and made in Japan like the binos. It was typical of Nikons from this era. They donít make cases like this anymore, sadly.
The strap is old-fashioned thin fabric. The caps are individual, not stay-ons.
<![if !vml]>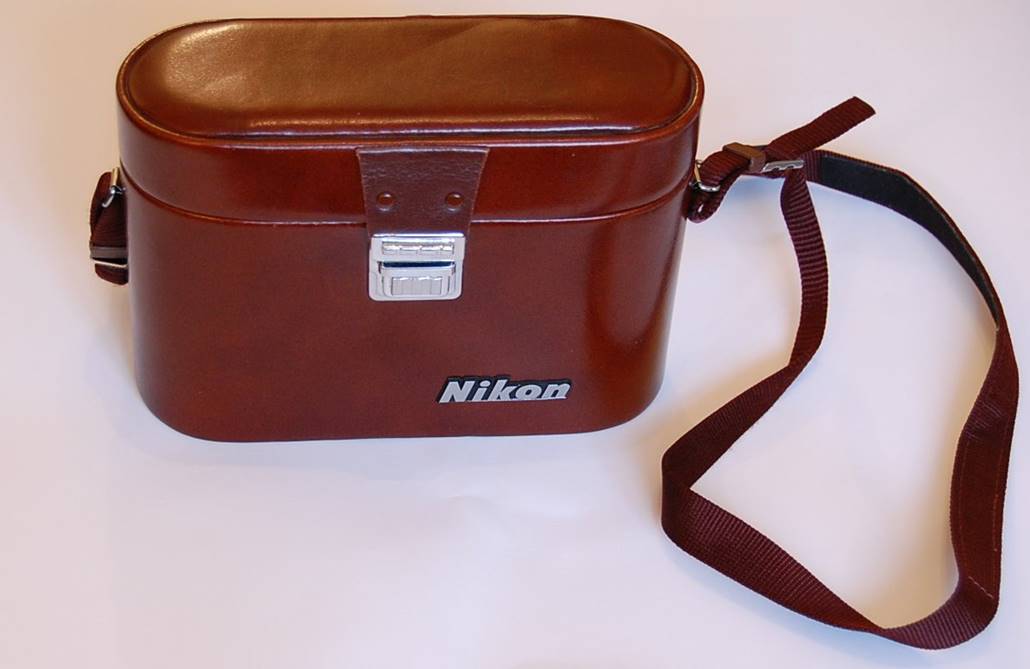 <![endif]>
<![if !vml]>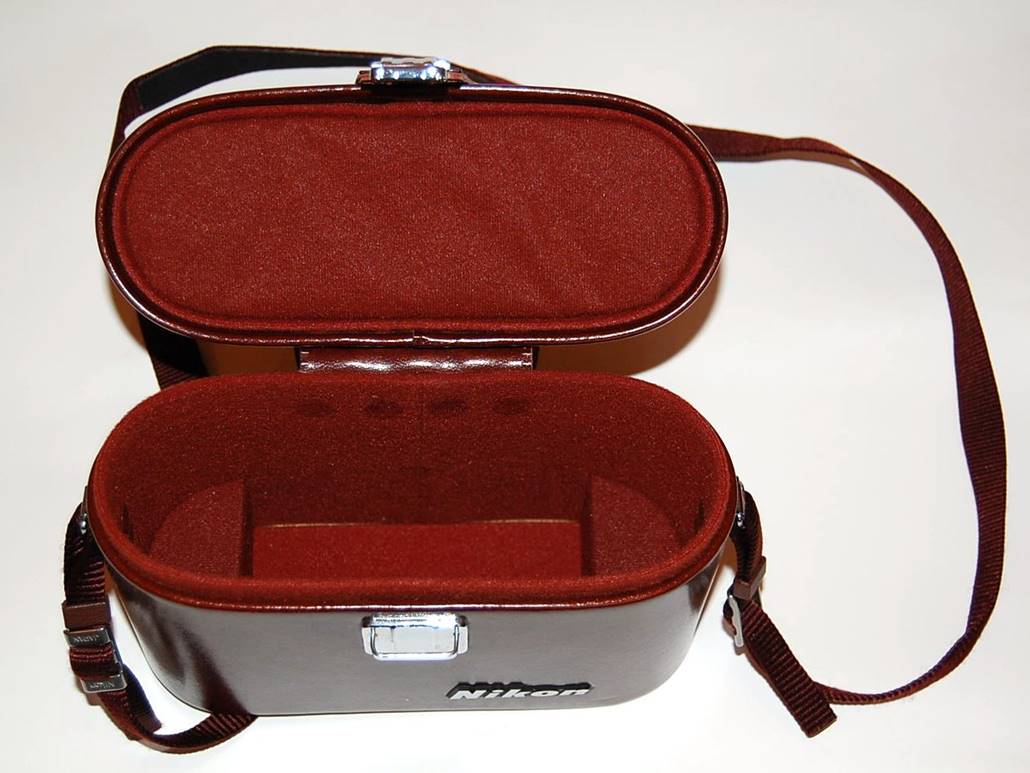 <![endif]>
<![if !vml]>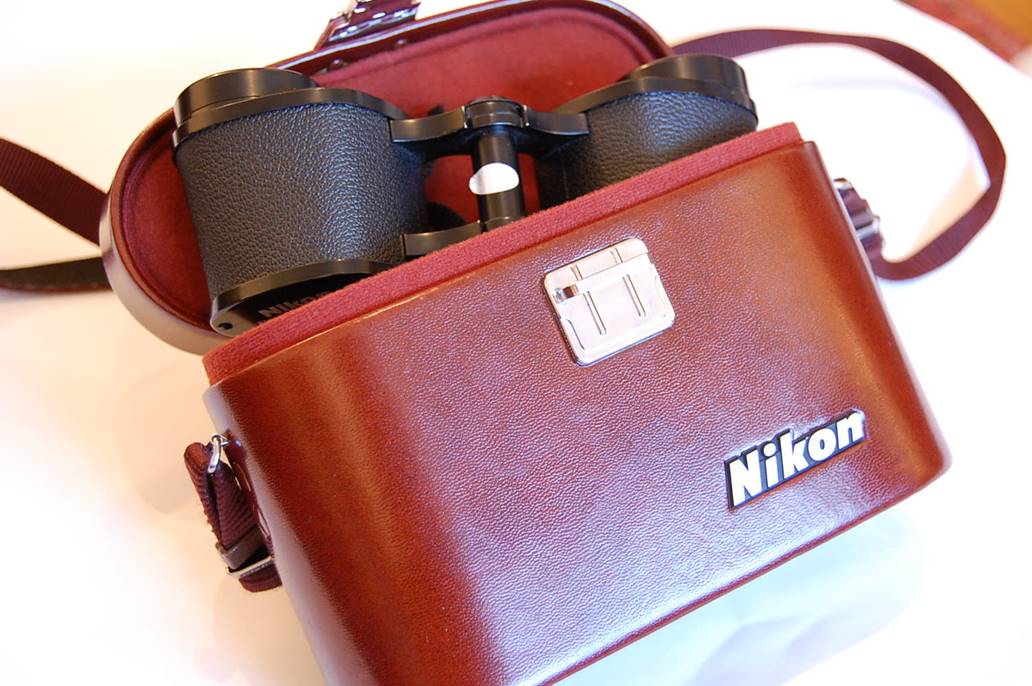 <![endif]>
<![if !vml]>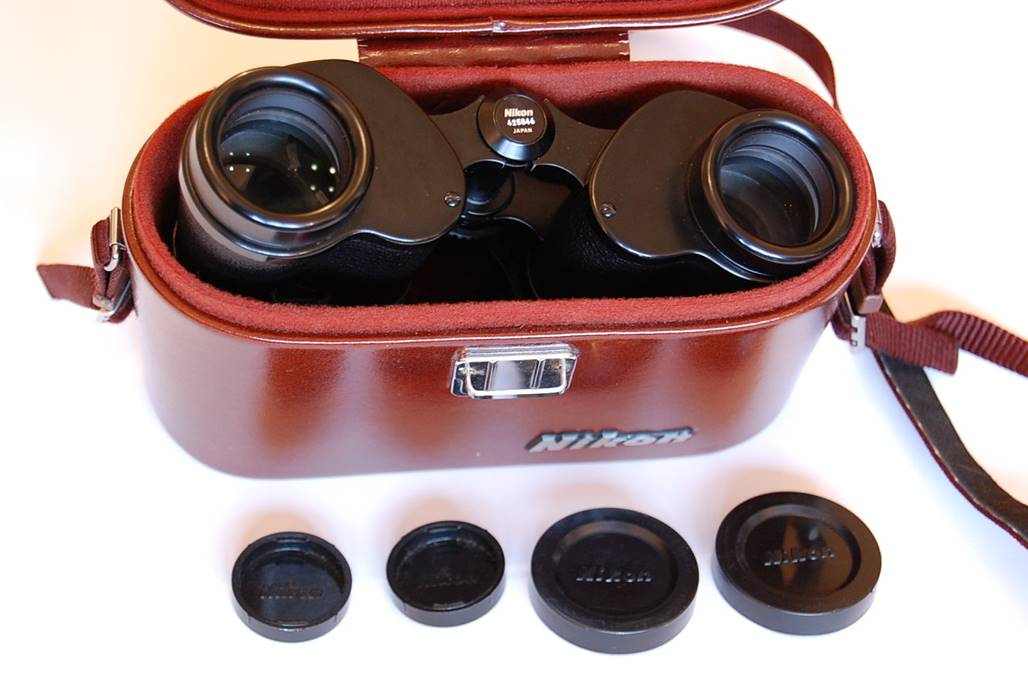 <![endif]>
Traditional leather case is a high quality item, quite different from the EIIís.
<![if !vml]>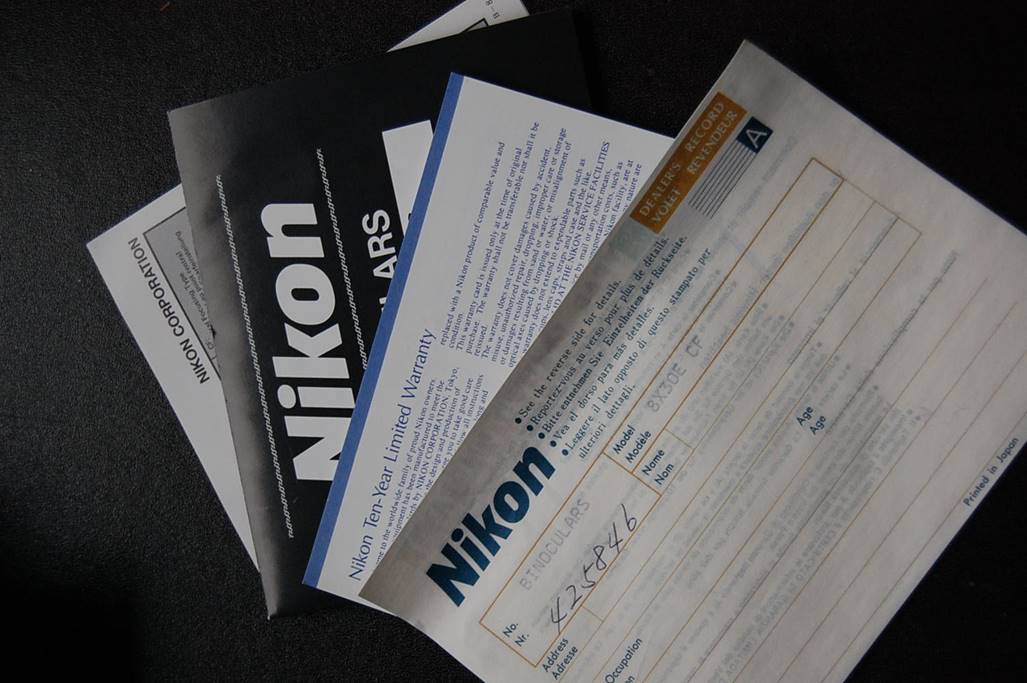 <![endif]>
Docs look just like Nikonís do today.
In Use Ė Daytime
Ergonomics and Handling
Handling is typical small porro Ė easy to hold and the focuser falls nicely under my finger. That light weight is really noticeable on walks; I took these hiking a lot.
The focus action is very smooth and precise and the dioptre adjustment, via that knurled metal ring below the right ocular, is just weighty enough to avoid accidental movement.
Eye relief is fine with glasses, or so you think, but in fact you do lose a little of that super-wide field.
The View
The perfect view of the HGs and SEs isnít quite there, but these old 8x30 Es have considerably more width of field and very good depth of field too. The view is very bright and crisp in both barrels.
Focus snap isnít quite as good as the best, but overall the field is sharp and detailed. Flare suppression is good and ghosting isnít a problem.
The daytime view is very good, like a much more expensive modern roof prism binocular but with more field width.
Flat field?
Field curvature is worse than with the HGs or SEs, with sharpness tapering off markedly in the outer 60-70%. But then the field is also much wider than those modelsí.
Chromatic Aberration
False colour is present on the brightest, highest contrast subjects like silhouetted birds roosting in high branches, but itís not that much worse than a basic modern ĎHDí roof-prism binocular.
In Use Ė Dusk
Full multi-coatings mean these work right into dusk, just like a modern pair. I should point out that proper multi-coatings can double a binocularís transmittance compared with no coatings at all, so once again donít be tempted to buy a pair without them (except as a curio).
In Use Ė The Night Sky
An 8x30 is not really an astronomy glass. The next size up, 42mm, collects 72% more light!
However, the modern coatings and good suppression of stray light mean these work well within the limitations of their small objectives. The Moon looks clean and detailed and sharp. Star fields are pleasing, stars pinpoint, bright and crisp. Itís quite possible to find and enjoy brighter DSOs and open clusters.
Summary
Overall these older Nikon E 8x30s are a real bargain as a birding/nature-viewing binocular, if you can find a good used pair: light, bright, solidly made and with a spectacularly wide field.
Make no mistake, your chances of finding a cheap pair of roofs with equivalent optical and build quality is nil. Whatís more, the Nikon 8x30 Es are slim and elegant and finely made in a way cheap porros today arenít. In fact, apart from Nikonís own EII, youíd have to go to Swarovski Habichts to get this quality in a porro-prism binocular now.
Unlike older roofs, you are quite safe buying a nice pair of these as long as they have multi-coatings, because unlike roofs there are no issues with mirrors and lack of phase-coating.
An added bonus is that the simple, traditional design means a local binocular repairer will be able to service them when the time comes.
Nikonís Es are highly recommended, as long as they are multi-coated; donít be tempted by Es with single coatings, the view will be much dimmer.
<![if !vml]>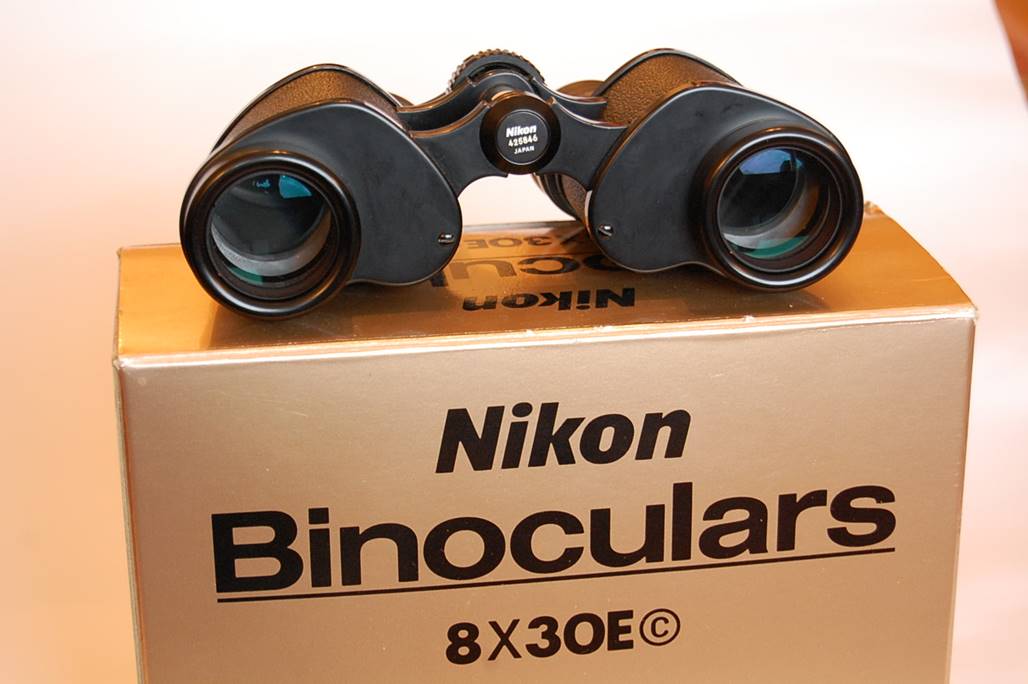 <![endif]>