Nikonís 8x32 HGs were one of my favourite binoculars. In this review I look at what makes them a bit special, even today.
Nikon 8x32 HG (Venturer LX) Review
<![if !vml]>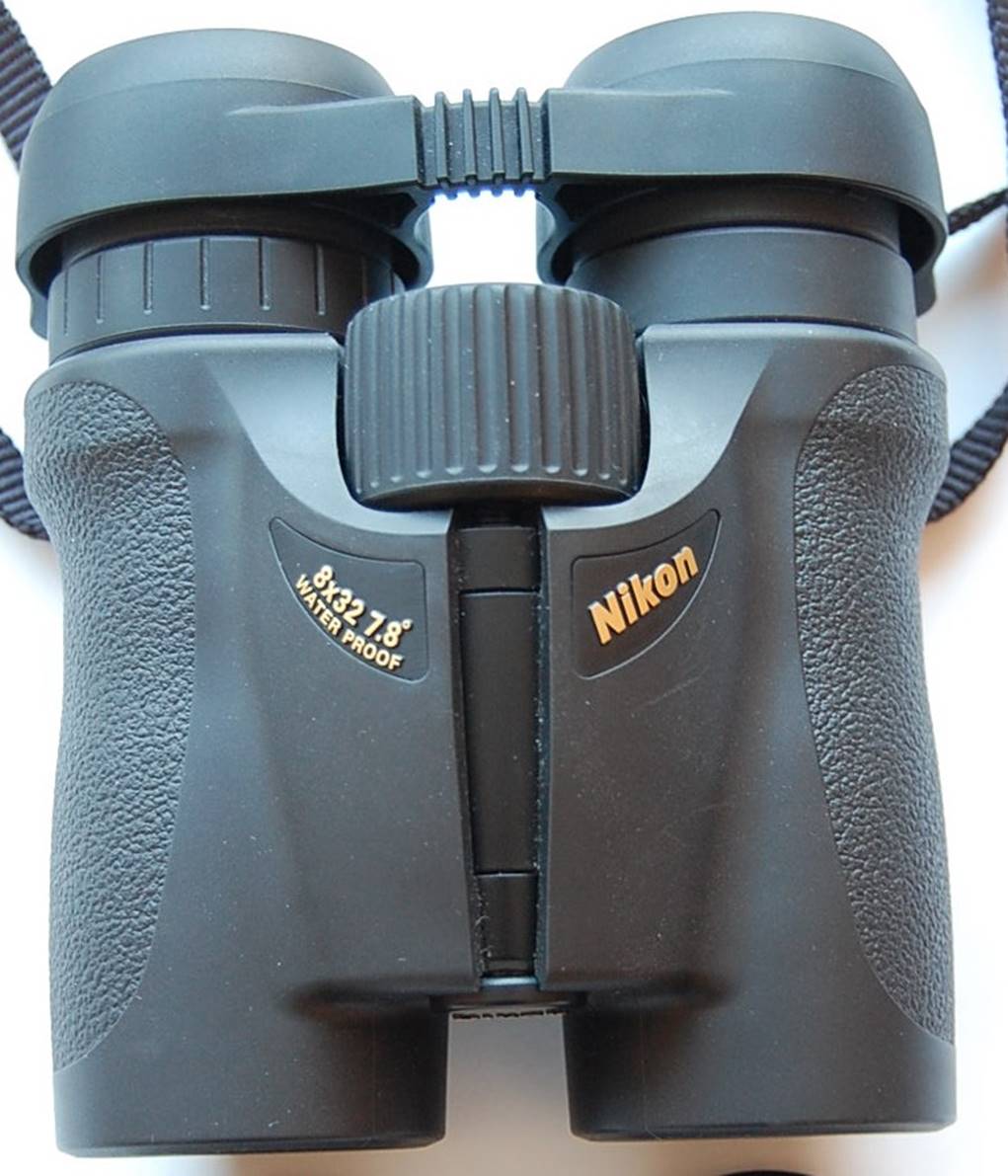 <![endif]>
When Nikonís High Grade (HG) range came out, they caused quite a stir. Why? Because many reviewers noticed the unfortunate truth that between these and their SE porro prism range, Nikon now produced the best birding binoculars in the world. Imagine Lexus producing a car to beat BMW, Mercedes and Porsche and you get the idea.
More than a decade later, the European ĎAlphaí manufacturers have caught up and then some, but the HGs still remain a wonderful binocular, still the very best in some areas.
At A Glance
| | |
| --- | --- |
| Magnification | 8X |
| Objective Size | 32mm |
| Eye Relief | 17mm |
| Actual Field of View | 7.8 degrees |
| Apparent field of view | 57.2 degrees |
| Close focus | 2.5m |
| Transmissivity | ~90% |
| Length | 129mm |
| Weight | ~800g (695g for the newer HGL version) |
Data from Nikon
Whatís in the Box?
<![if !vml]>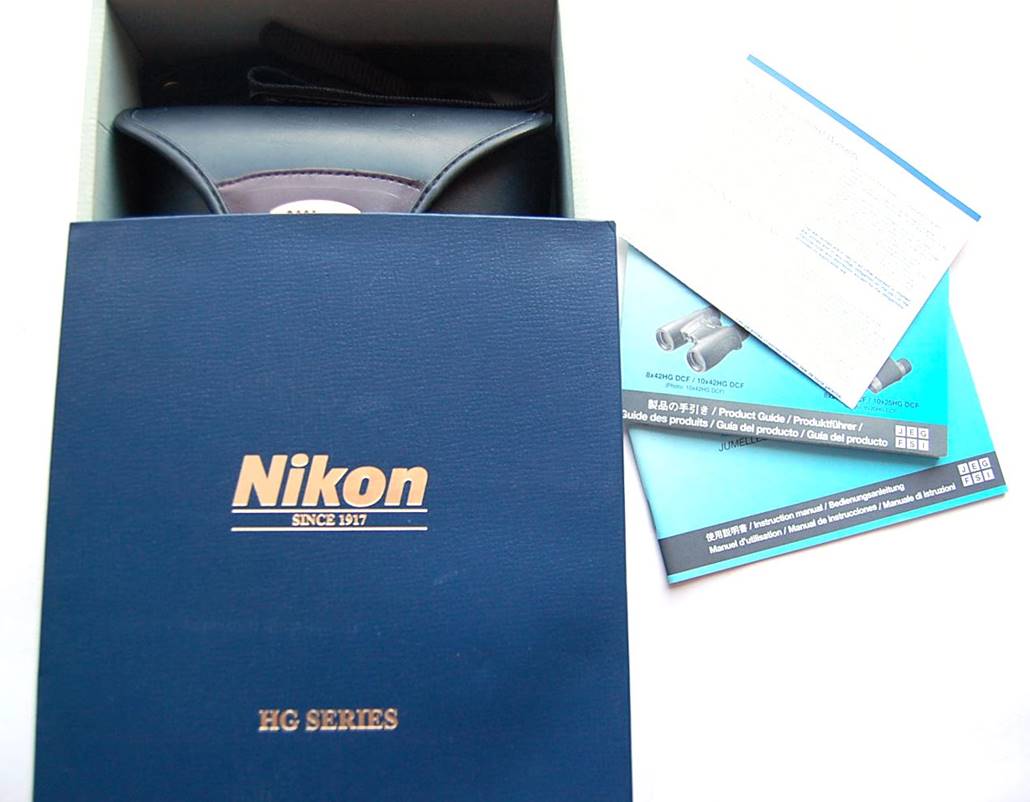 <![endif]>
Design and Build
Nikonís HGs were their first attempt to muscle in on the premium territory of the big three ďAlphaĒ manufacturers. They must have thrown a lot of R&D at these binoculars because for many years they were way ahead of any other roofs optically and mechanically.
The pair reviewed here are the older HG model, as opposed to the (still current as of 2016) HGL. The differences seem to amount to 100g less weight and eco-glass for the newer model.
The HG(L) line consists of 20mm, 32mm and 42mm sizes in 8x and 10x magnifications. All were once amongst the most expensive binoculars at list price, but can typically be had with deep discounts.
Body and Ergonomics
Build quality is outstandingly good. In terms of appearance these are not as elegant as Leicaís Ultravids, but build quality is every bit as good, maybe better. If anything, they seem over-engineered with thick armour and Iíd expect them to be very robust. They are of course fully waterproof.
The body is heavily sculpted, a shape which some dislike but I find absolutely perfect.
These 32mm HGs and the identical-looking HGLs are a reasonably compact binocular, but very heavy for their size (the 42mm models weigh little more and are much more competitive). The 8x32 HG model reviewed here weighs almost 800g; the new version is lighter at 695g. In either case, thatís 100-150g more than the Leica or Zeiss equivalents.
You might ask why these are heavier than competing models from Germany. Is it just lack of sophistication on Nikonís part? I donít think so. Whatís going on then?
For one thing, the bigger models have a magnesium body, but I think these use aluminium. The Leica 32mm models also use magnesium, whilst the FLs have a composite construction to keep weight down. But I reckon itís mostly those oversized eyepieces, which the 32mm models appear to share with their bigger siblings.
<![if !vml]>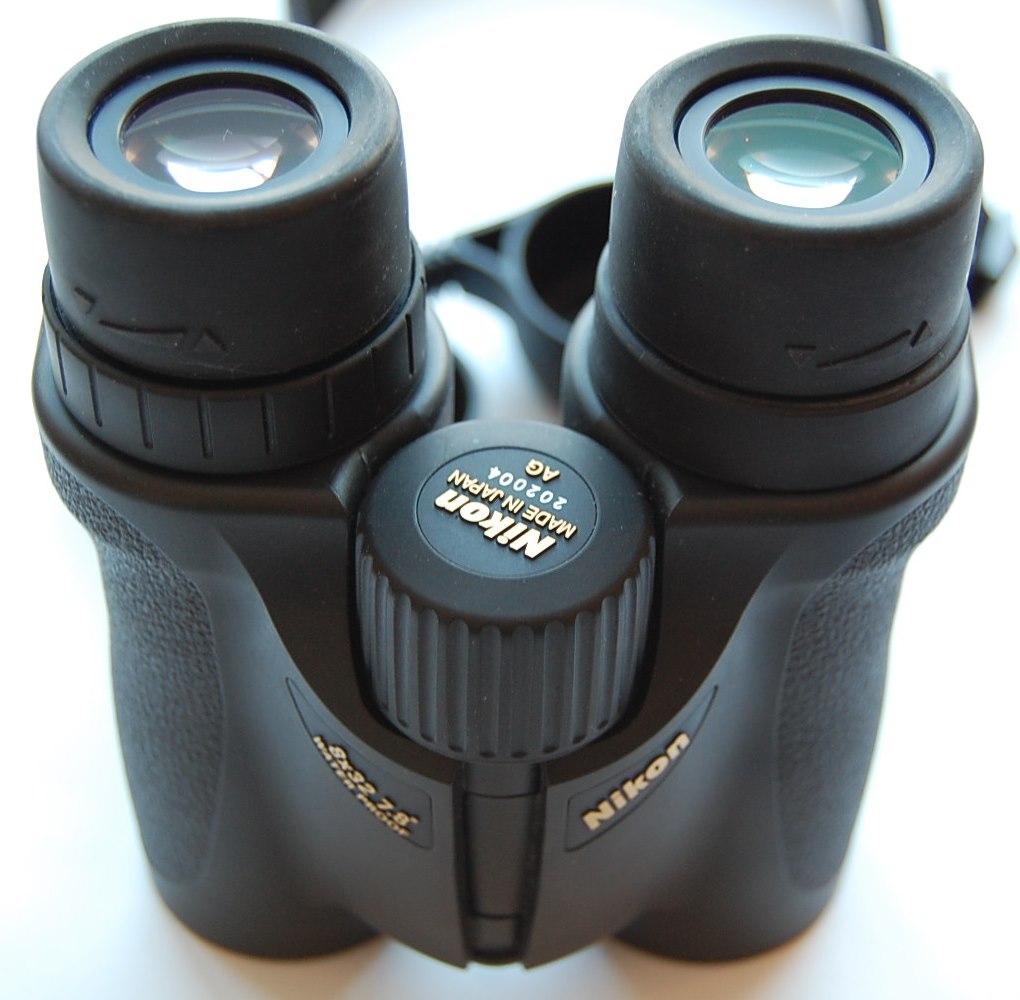 <![endif]>
<![if !vml]>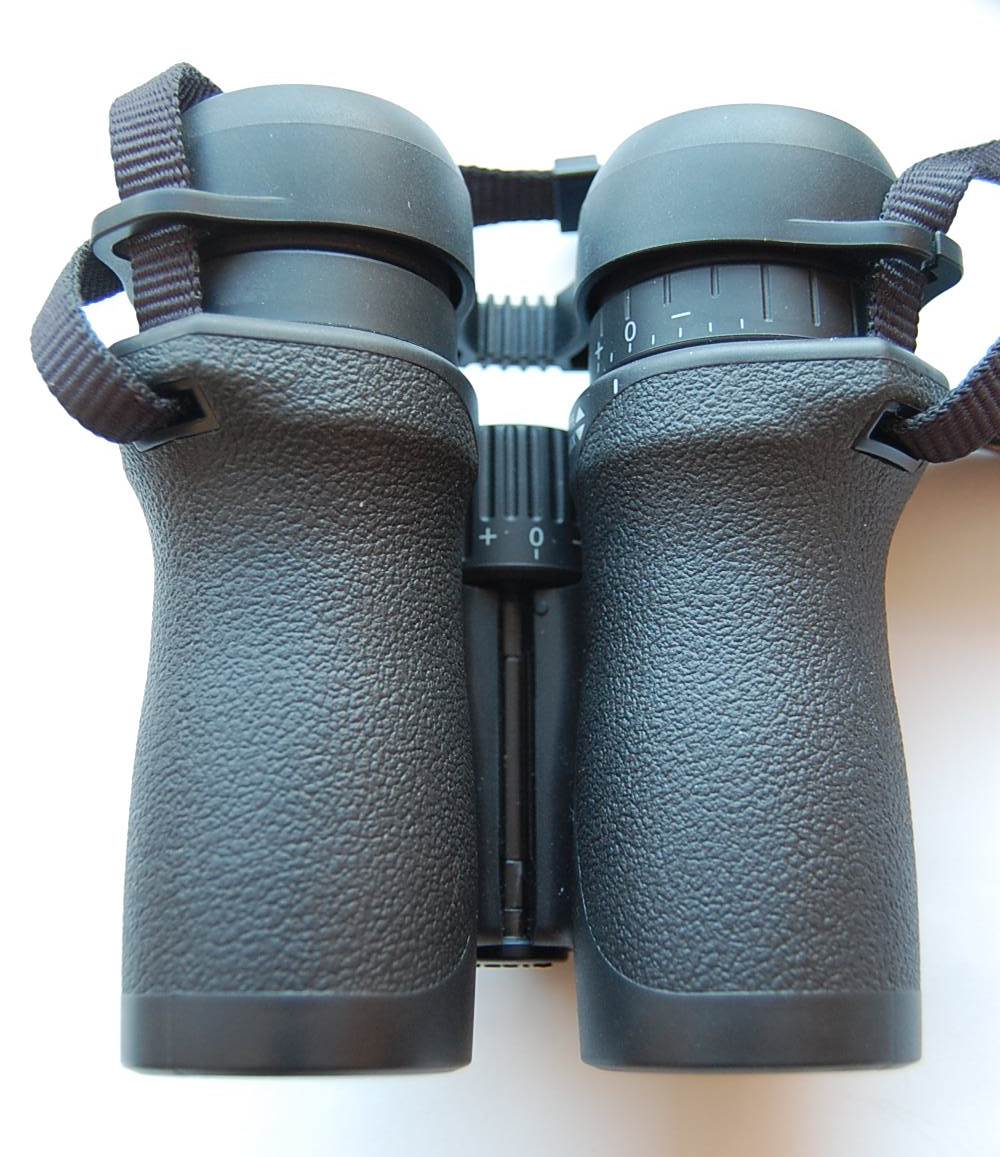 <![endif]>
Heavily sculpted body is comfortable to hold.
Focuser
Probably the most amazing thing about these binoculars, though, is the focuser. The focusing is just so smooth, fast (less than a turn from close focus to infinity) and precise that it feels completely intuitive after a while. Fifteen years after they were introduced, I still havenít experienced a better focuser.
The focuser may not be a greaseless design, but Nikon still claim these binoculars can be used down to -20 Centigrade.
The dioptre adjustment works well too, with a ring around the right eyepiece that you lift and twist to adjust. It is both intuitive and fool-proof.
Optics - Prisms
These are a conventional Schmidt-Pechan roof prism design. Unlike many modern roofs, they use silvering, not multi-layer dielectric coatings for the mirrors. Which is best? This argument has been going on for years in regard to diagonals for astroí telescopes and the consensus seems to be that dielectric are brighter but cause more scatter and so maybe a loss of resolution. These are both a bright (maximum transmission has been measured at 90%+ like the best roofs) and a high-resolution binocular, so who knows?
Optics - Objectives
The objectives appear to be a triplet or quadruplet design. They are deeply recessed and fronted by micro-ridge baffles to help cut stray light.
Coatings are dark, but have a green hue, whereas the latest tend to be pinkish to give better transmission in the green.
<![if !vml]>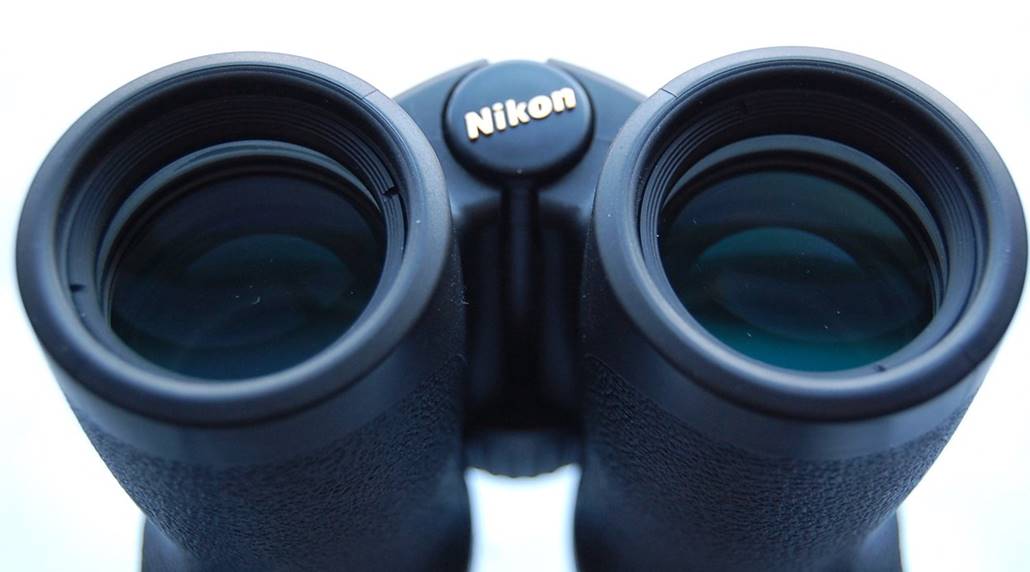 <![endif]>
Optics - Eyepieces
The slightly odd appearance of these binoculars is due to the very large eyepieces. These are doubtless necessary to get the combination of a wide (7.8 degree) flat field and excellent eye relief (17mm claimed, but feels more like 20mm) that still elude almost all other small binoculars (except perhaps for the Swarovski 8x32 ELs).
Eye relief is sufficient to allow me to see the whole field comfortably with chunky specs on, one of the few binoculars of any size for which that is true (regardless of the inflated figures often quoted in brochures). High eye relief can sometimes mean blackouts as you move your eye around, but not with these.
Make no mistake, this combination of a wide, flat field with high eye relief is a major achievement in a 32mm binocular. The reason is that, given the short focal length of the objectives, the eyepieces will need to have a very short focal length as well (perhaps 12-15mm), something that makes all those attributes much harder for the optical designer to achieve.
Unlike Nikonís SEs these have excellent twist-up eye cups.
<![if !vml]>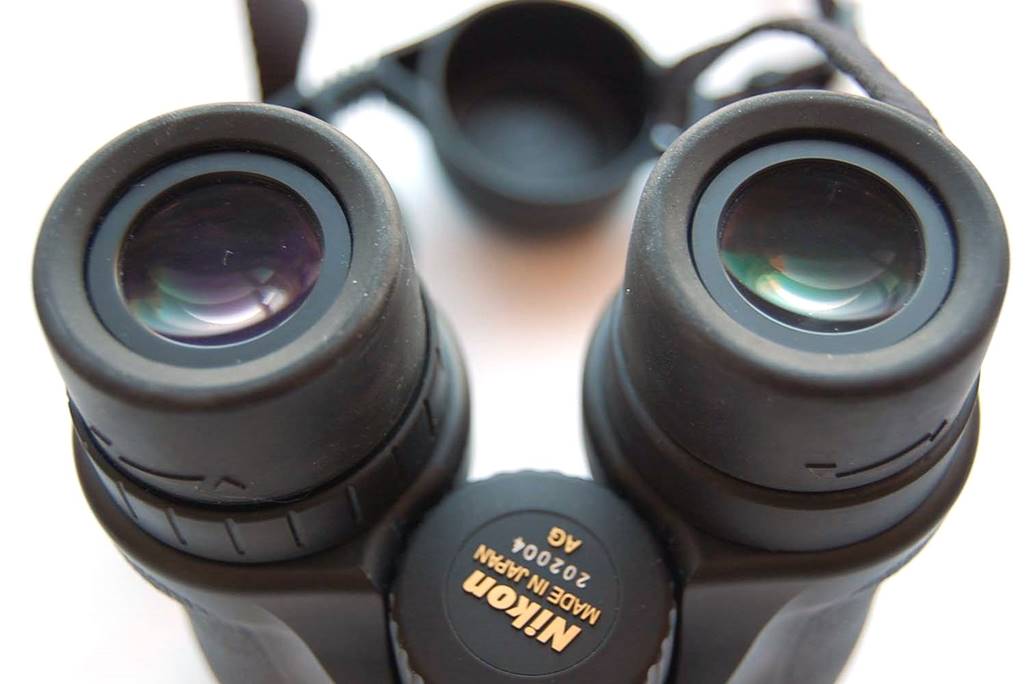 <![endif]>
Nikonís HGs have bigger, heavier eyepieces than the competition, allowing them more eye relief and a flatter field.
Accessories
In contrast to the rather low-rent cordura or plain nylon cases you get for your Zeiss, Leica or Swarovski, the HGs come with a quality leather case, just like the SEsí. More recent models have an even nicer leather case.
The caps are conventional and the strap is the usual Nikon product.
<![if !vml]>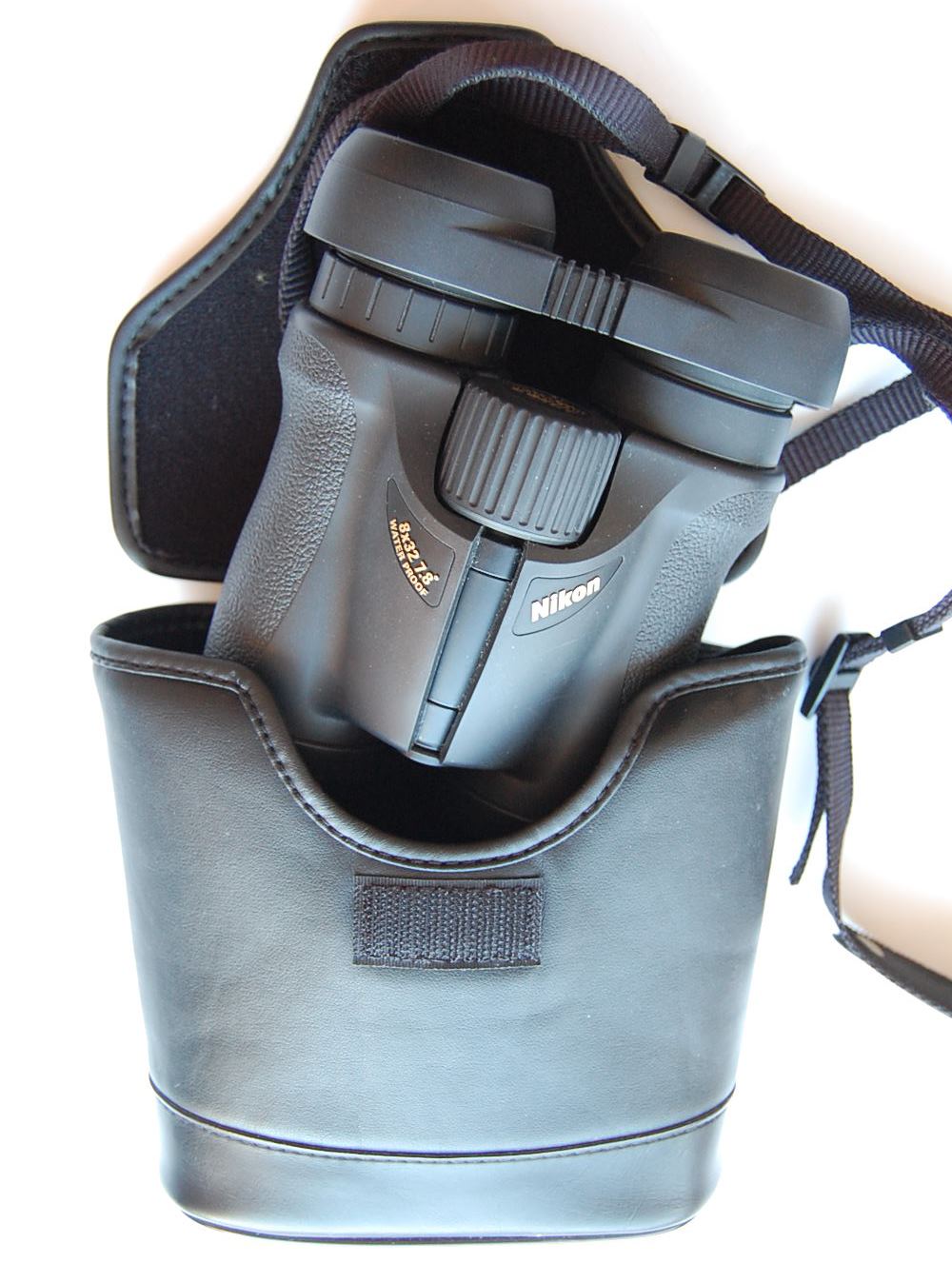 <![endif]>
These HGs come with a quality leather case; the HGLsí is even nicer.
<![if !vml]>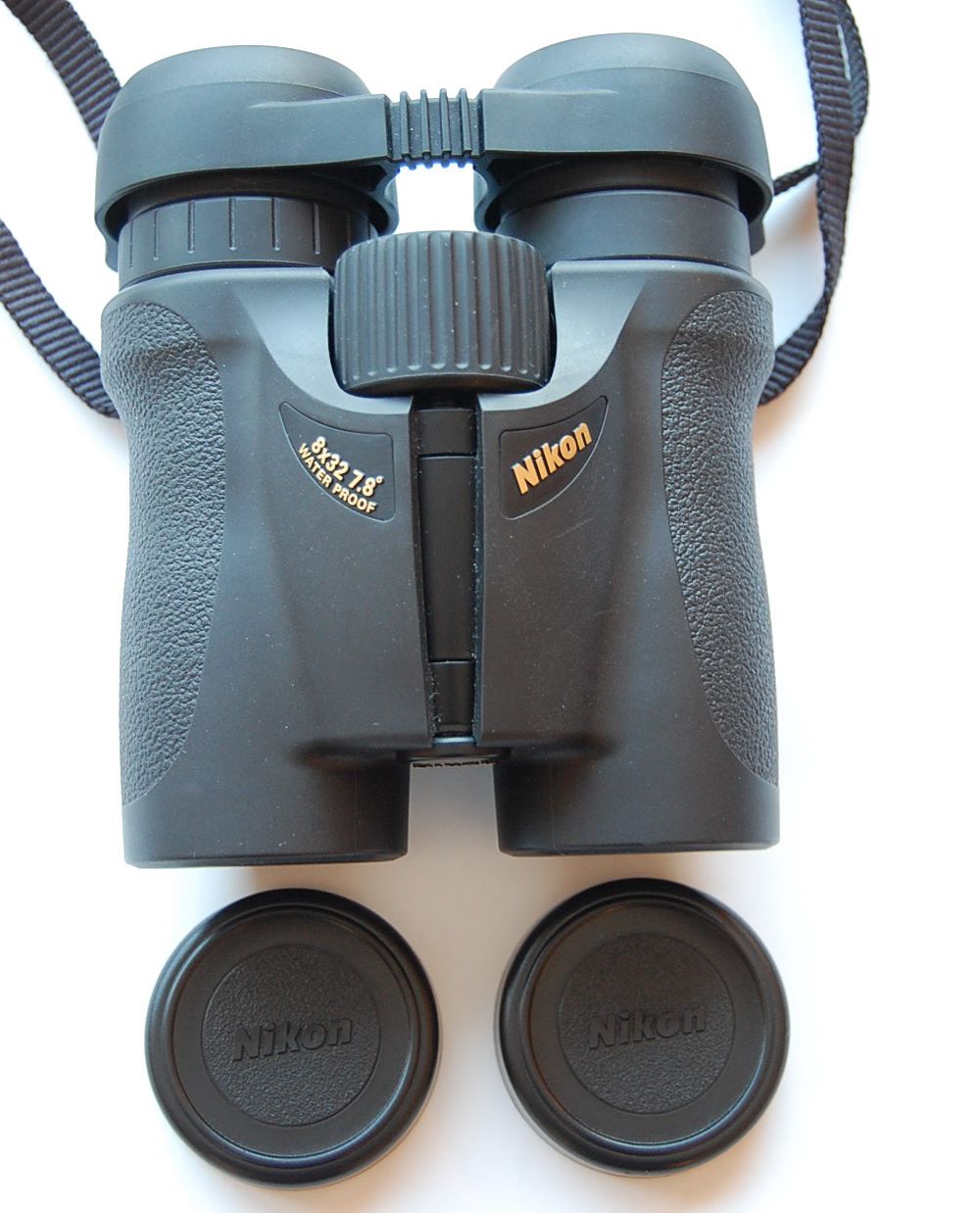 <![endif]>
In Use Ė Daytime
Ergonomics and Handling
The sculpted shape makes for supreme holding comfort for me, but I do have smallish hands. The armour is very comfortable and warm with a nicer, less rubbery feel (and smell!) than some premium stuff.
The super-smooth, super-quick focusing makes the Nikon HGs a fantastic birding binocular. Even birds on the wing can instantly be snapped into focus.
The eye relief is all that I need and the twist-up eyecups make them easy to share with a non-glasses wearer, such as my wife. Did I mention the amazingly quick and accurate focusing?
The only downside is of course the weight and itís a major problem for me. At 800g these are just too heavy for me to go on long hikes with Ė they become a pain in the neck, literally.
The View
With a brilliant, flat field and a picture-window wide and bright view, these binoculars almost disappear in-use, the first to ever give me that experience. Contrast and detail are simply stunning. Perfect focus is an obvious snap, no hunting around is required Ė they remind me of a premier APO refractor in this respect.
Depth of field isnít the very best, but with such effortless focusing that hardly matters.
Flat field?
These have an almost perfectly flat field.
Chromatic Aberration
Chromatic aberration is modest, but still present: a noticeable yellow fringe around very high contrast objects. False colour worsens off-axis and is the one area these really lag behind a modern HD design.
In Use Ė Dusk
With high-transmission optics these perform well at dusk, as well as any binocular of this size that Iíve tried.
In Use Ė The Night Sky
These 8x32s are great for birding, but convention says that you need more aperture for astronomy, right? Wrong. The Nikonís bright, wide field, fantastic contrast and accurate, sharp focus make them superb for astronomy as well. Stars are brilliant pinpoints with lovely colour and the Orion nebula shows up as well as in any small binocular. Other small (less than 40mm) binoculars seem dim and lifeless compared to these.
The perfect balance and comfort reduce shaking, which also makes them easier to use for astronomy than their small size might lead you to expect. Ideally you would want 10x42s or larger for astronomy, but if you want a compact birding binocular which will work for astronomy as well, these are worth considering.
Nikon 8x32 HG vs Zeiss Victory 8x32 FL
<![if !vml]>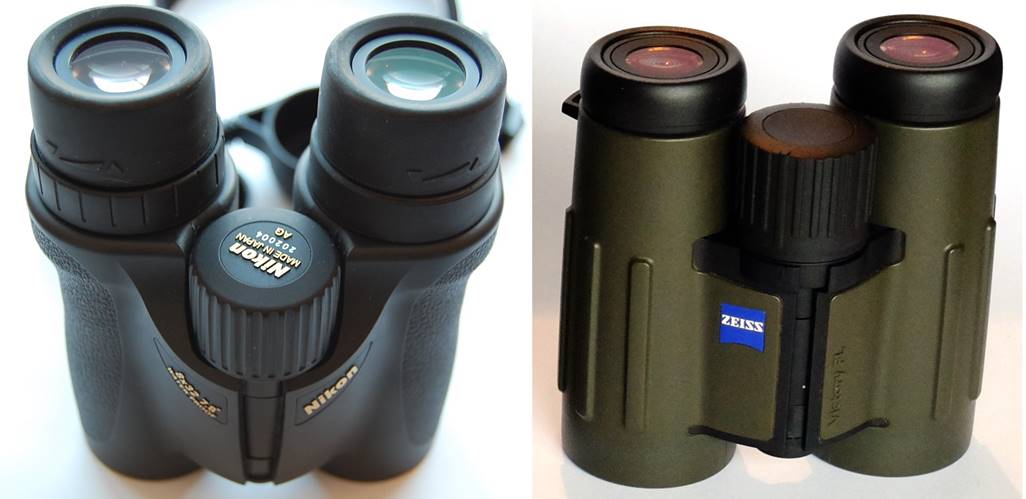 <![endif]>
I replaced the HGs with a pair of Zeiss Victory 8x32 FLs. Here is a summary of their relative merits.
<![if !supportLists]>∑ <![endif]>The Zeiss Victorys are much lighter and slightly more compact.
<![if !supportLists]>∑ <![endif]>They both have a wonderful view; I always felt the Nikonís slightly more immersive, but I canít quantify that.
<![if !supportLists]>∑ <![endif]>The Victorys have a wider field, but it drops off a lot more at the edge.
<![if !supportLists]>∑ <![endif]>The Victorys have lower levels of false colour due to their high-fluoride lenses.
<![if !supportLists]>∑ <![endif]>The Nikons have a palpably superior external build quality.
<![if !supportLists]>∑ <![endif]>The Nikons have more eye relief that makes them more comfortable for specs wearers.
<![if !supportLists]>∑ <![endif]>The Nikonsí focuser is even smoother than the Victoryís, but may not be greaseless (so might get stiff in very cold conditions).
<![if !supportLists]>∑ <![endif]>Street price for the Zeiss Victorys is about double at the time of writing.
The main advantage of the Victorys is their size and weight, which really matter in this market segment. They have much lower false colour, too.
Summary
Iím still not sure I have ever found a pair of binoculars with a view I like quite as much as these 8x32 HGsí and Iím not sure why. I sold my Zeiss BGATs because the view through these was so much better and when I eventually replaced the HGs with a pair of Zeiss Victory 8x32s, I never liked the Victorysí view quite as much. I definitely preferred Nikonís HGs to their SEs, though everyone told me I shouldnít.
So you can take it from me itís a wonderful view and the focuser is supreme too. Build quality is as good as it gets. The only downsides with these binoculars are weight and a bit too much chromatic aberration. But blame the weight on those eyepieces which give these a big-binocular view: you canít have it all, especially in a 32mm binocular.
These get my highest recommendation for everything but their weight and their worse-than-HD levels of false colour.