Sky-Watcher Evostar 120ED DS-Pro Review
<![if !vml]>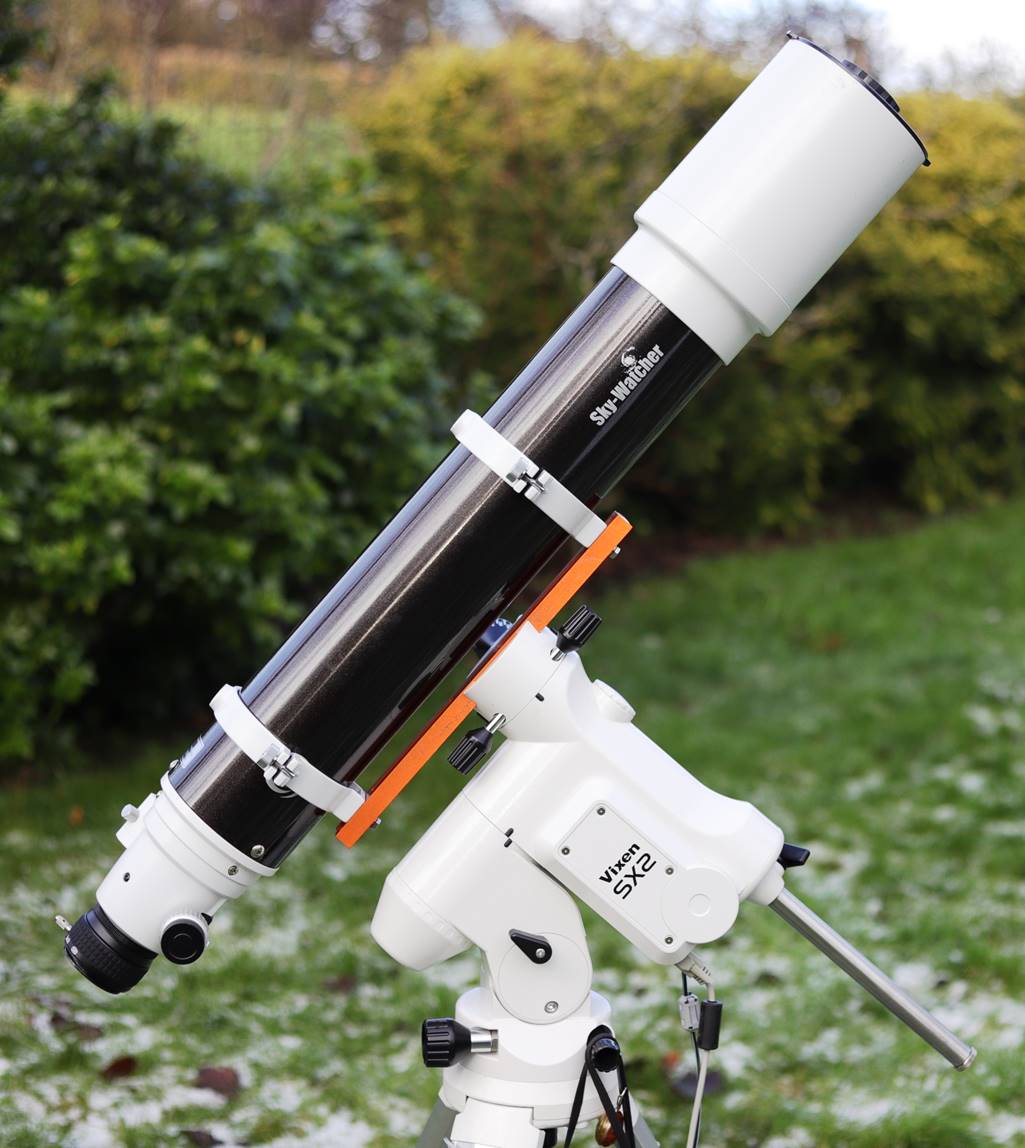 <![endif]>
When Sky-Watcher introduced the 120 ED it was something of a seismic shock to the industry. Here was a larger apochromat, made with premium glasses, for the price of a tiny premium refractor. Adding to the shock factor were optics of genuine quality.
I reviewed an early Equinox version and was really surprised by the big-scope performance on offer, with great high-power planetary views that smaller apertures can't give and good deep sky performance – imaging or visual – too.
Despite the 120 ED being available in this budget 'Evostar' version from the start, I never got around to reviewing one (even though friends had owned it and reported great results). Now, the cheaper and more basic Evostar 120 ED DS-Pro is the only model on sale, so I thought it was high time I tried one.
At A Glance
| | |
| --- | --- |
| Telescope | Sky-Watcher Evostar 120 ED DS-Pro |
| Aperture | 120mm |
| Focal Length | 900mm |
| Focal Ratio | F7.5 |
| Length | 92cm incl. visual back |
| Weight | ~5.5 Kg incl rings, dovetail |
Data from Me.
What's in the Box?
The Evostar DS-Pro series ship in an aluminium case:
<![if !vml]>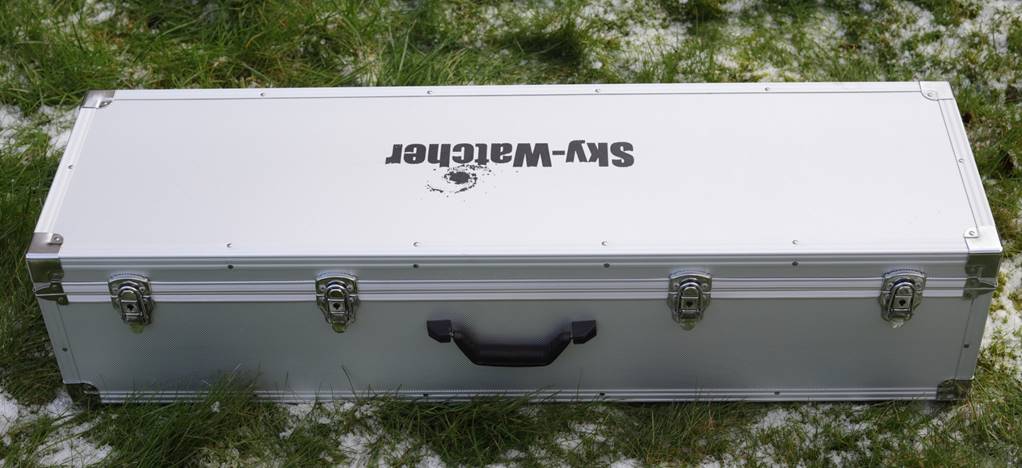 <![endif]>
<![if !vml]>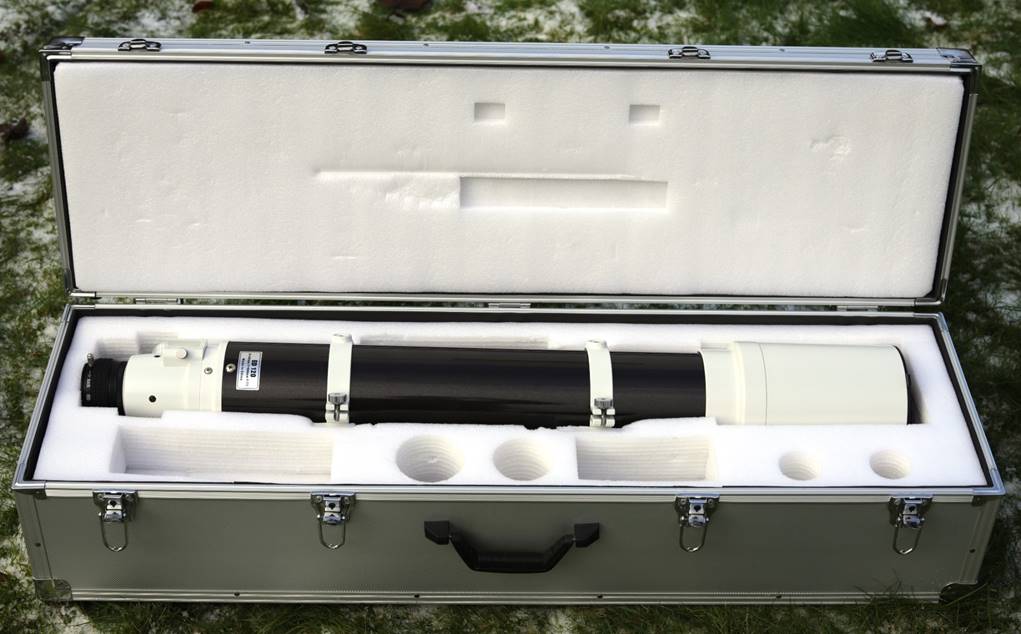 <![endif]>
<![if !vml]>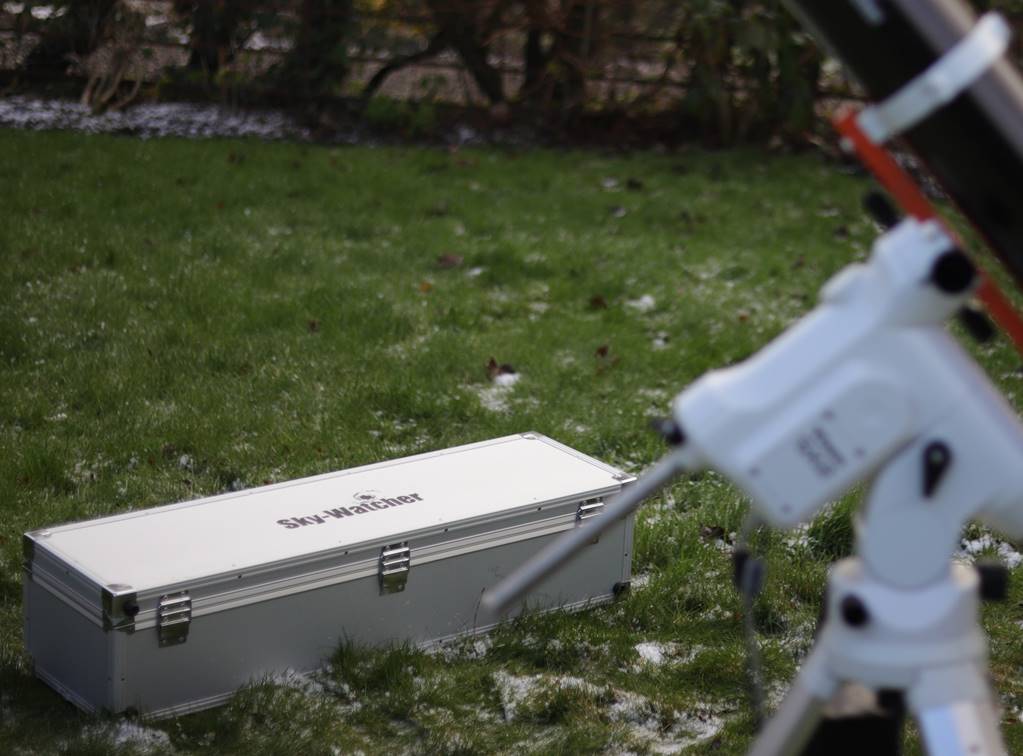 <![endif]>
Design and Build
The Evostar ED range looks just like the SW Evostar achromats, ED lens and dual-speed focuser aside, with the same build and finishes.
The more expensive 'Equinox' version of the 120ED (previously reviewed here) shares optics with this Evostar model, but had a CNC-machined tube, rings and focuser, a sliding dew-shield and a different finish in gloss piano black and chrome.
The Evostar ED range currently starts with a very reasonably priced 72mm F5.8. Moving up the line is a puzzlingly more costly 80mm F7.5 and a 100mm F9 (both of which I have also reviewed, the 80mm only in Equinox form). The 100mm is a Scope Views best buy, though its price has gone up in recent years.
<![if !vml]>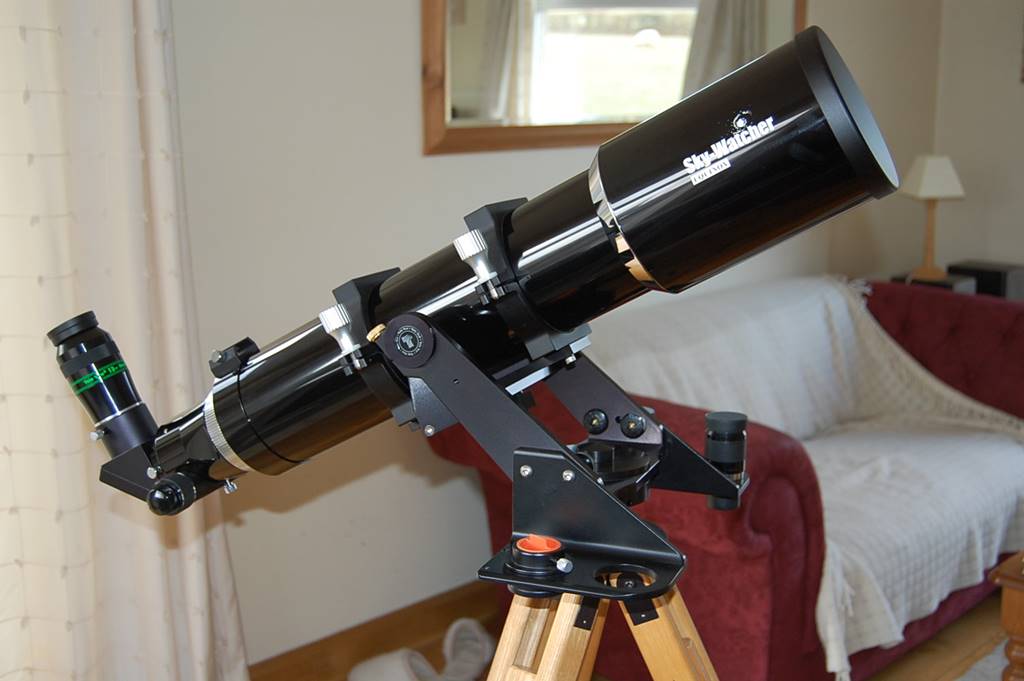 <![endif]>
Equinox version has a much fancier build and finish.
Optics
The 120mm lens is an ED glass doublet, containing quality glasses (Ohara FPL-53 for the crown and a Schott flint). It's actually air spaced with thin foil spacers, but these don't intrude into the lens and are hard to spot.
I had understood these lenses to be standard Fraunhofer (positive crown up front) layout, but a laser test casts that in doubt. ED crowns usually scatter less light than flints, but in this case the front element scatters much more than the rear (see below). What's more the rear element appears bi-convex, the front definitely thicker at the edges. Is this a Steinheil then, like Takahashi's FC range? It would seem so ...
Interestingly, that lens has very thick elements compared to the FC-100, despite being just slightly faster at F7.5 vs F8 for the Takahashi.
These lenses used to have the infamous 'China Green' coatings that weren't as transparent as the best, but this more recent example has different, bluer coatings that appear very transparent.
<![if !vml]>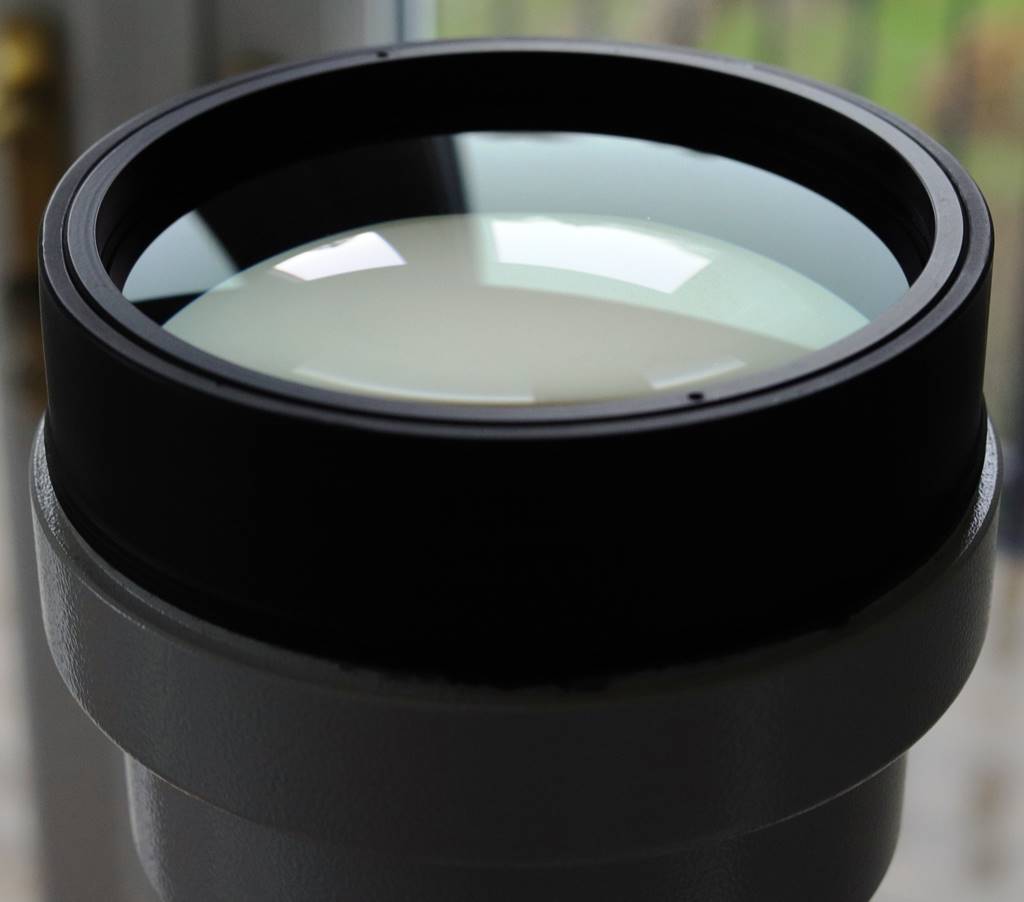 <![endif]>
<![if !vml]>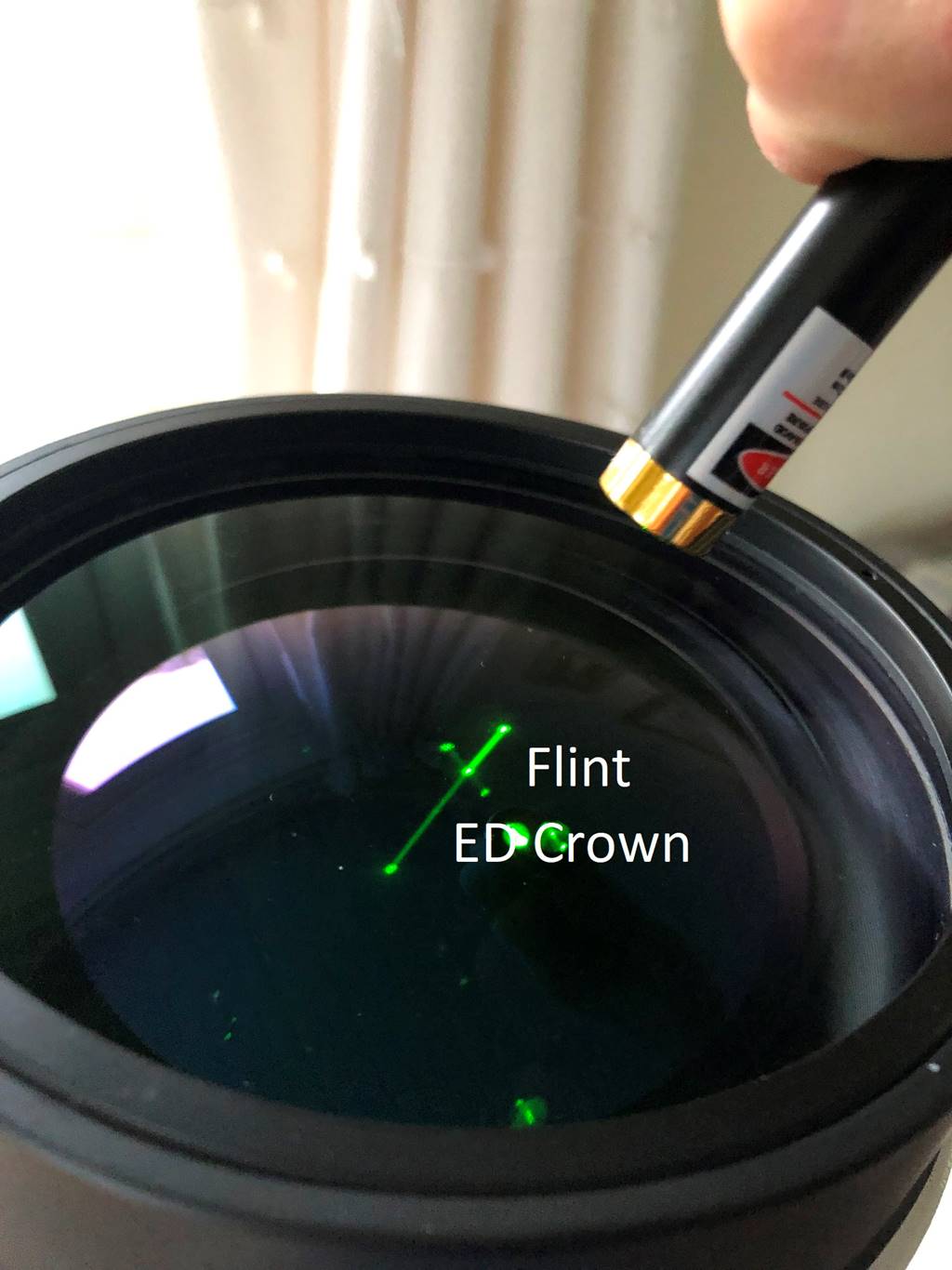 <![endif]>
The objective appears to be of the flint-first Steinheil design.
Tube
The Evostar range is finished in the current 'Black Diamond' finish, shared with numerous other SW products. It's a combination of shiny metallic black enamel for the tube and knobbly white powder coat for the cast parts.
It's a good looking OTA, with flawless paint and powder-coat. But ultimately it does have a more budget feel than the Equinox version, with cast parts and rings, rather than Equinox's CNC. The Equinox threaded together and had a finer level of finish (albeit a bit flashy in its glossy black-and-chrome livery, some of which didn't wear too well). Whilst Tele Vue and Takahashi also have cast parts, they are also a palpably finer build quality (as you'd expect for their premium price).
There is an upside to this basic build, though: this Evostar version is over a kilo lighter than the Equinox and so is stable on smaller mounts, at least for visual use.
The tube interior is properly flat-black painted and knife-edge baffled against stray-light, with no cut-corners.
<![if !vml]>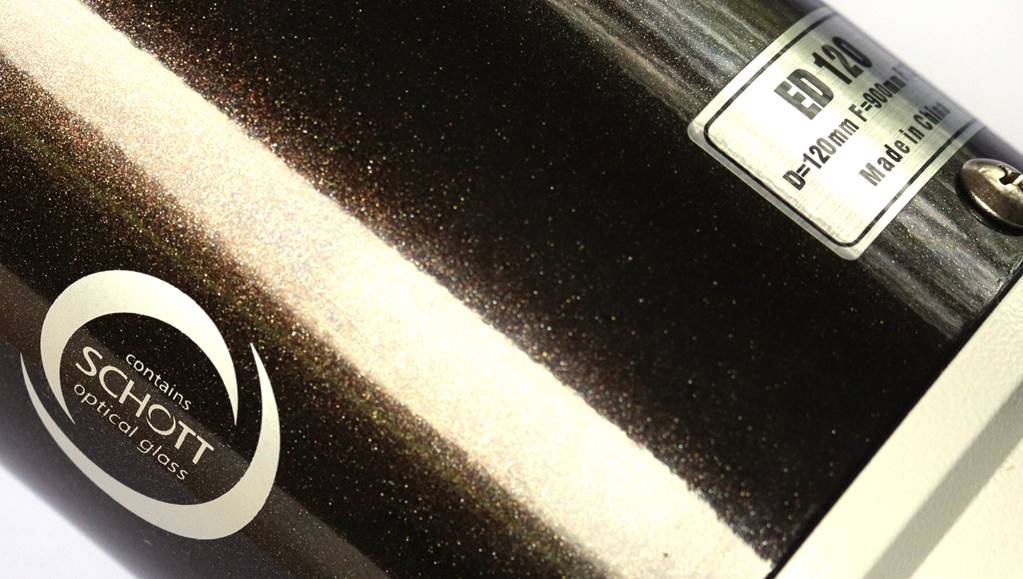 <![endif]>
<![if !vml]>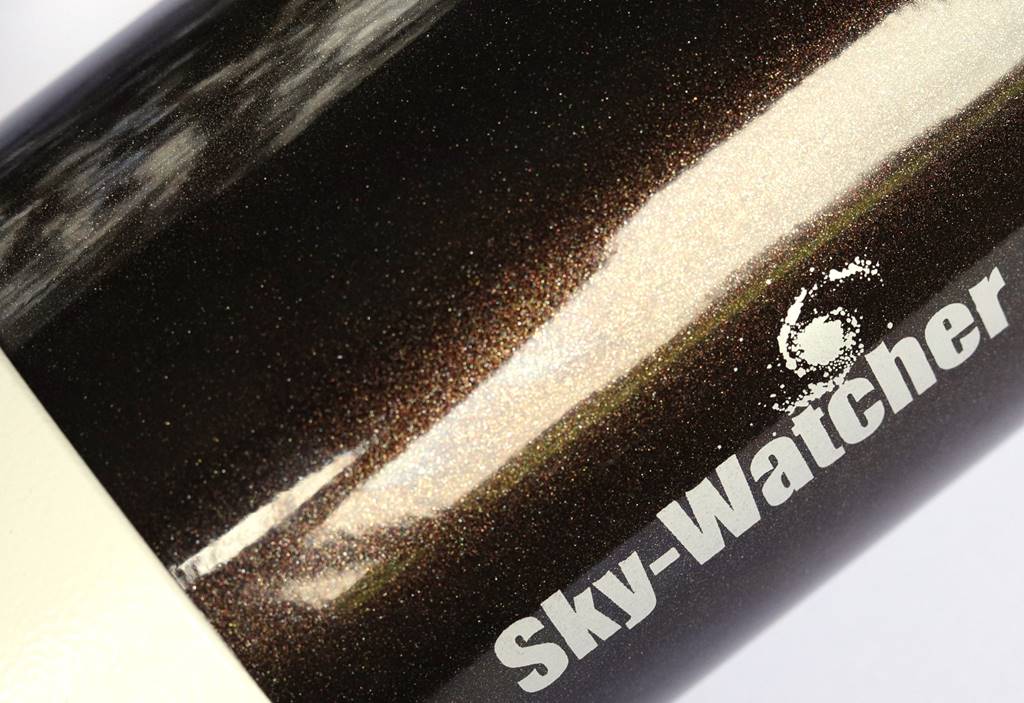 <![endif]>
<![if !vml]>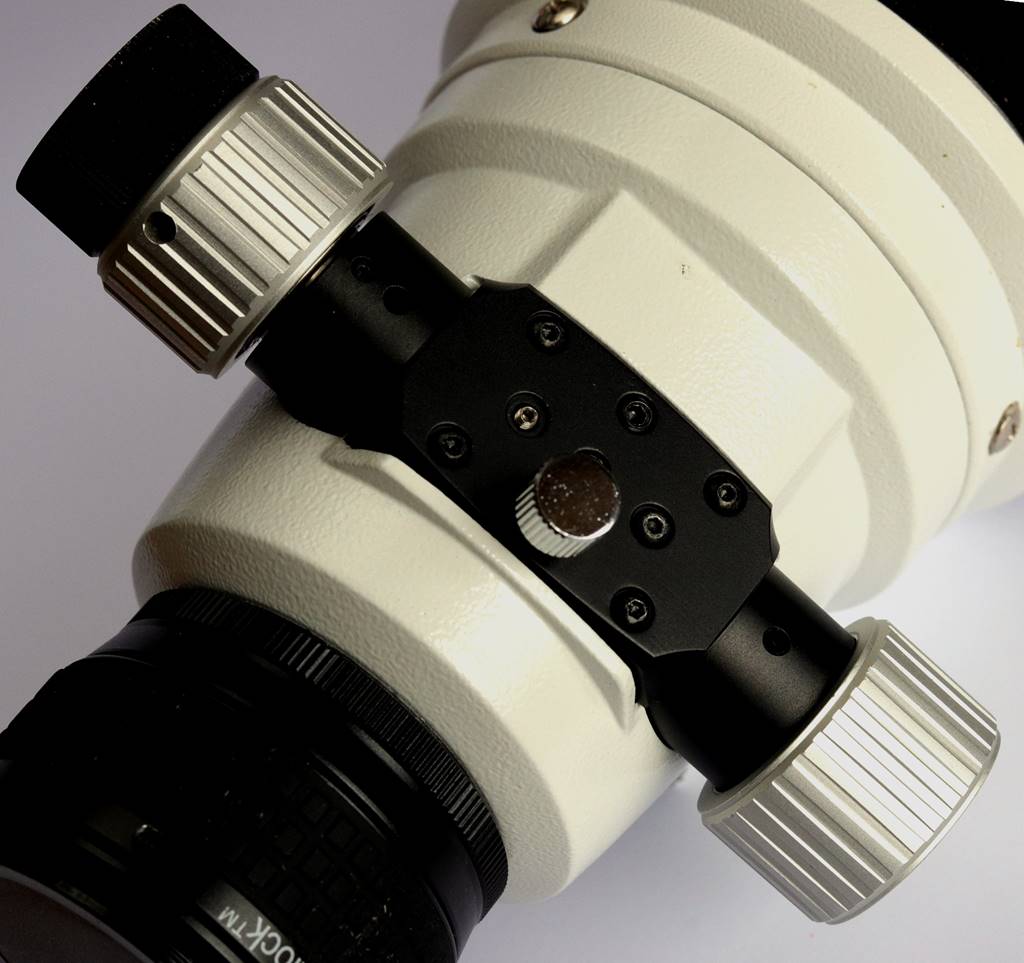 <![endif]>
Crayford focuser has a cast body and a locking dual-speed pinion.
Focuser
The Evostar models have a Crayford focuser with a cast body and drawtube, finished in off-white powder coat, unlike the Equinox models that had black CNC focusers. The Evostar DS-Pro focuser has a black inner fine focus knob on the right side as standard. The focuser attaches with a push fit and screws, a more basic approach than the thread-on focuser employed by the Equinox version (and many high-end scopes like Takahashis too).
The only lock is on the pinion and it is pretty ineffective –the focuser seems either locked up solid or free to rack out at will. I noted the same issue on the Evostar 100 ED.
The focuser has enormous travel, about 138mm. This is great for imaging, because you typically don't need an extension. However, it means that there is barely enough in-focus travel for a 2" diagonal and some eyepieces with long (or effectively long) focal lengths.
Early bench tests suggested that the long focuser tube effectively vignettes the lens to about 114mm aperture. I can't confirm this, but could believe it based on the length of that focuser tube and the scope's performance.
The focuser doesn't suffer from significant image shift when changing direction, but images suggest that the weight of a DSLR causes some droop in the focusing tube when extended (see below). What's more, the focuser can rack out on its own or lose traction under heavy loads – typical downsides of Crayford in general.
The fine focus is accurate, if a little spongy, but the black fine-focus knob is too close to the coarse-focus knob in size and makes the coarse-focus oddly hard to use on that side because your fingers constantly snag the fine-focus knob.
All in all, the focuser is fine for visual use with regular eyepieces like Plössls, but can lose grip with heavy wide-angle eyepieces or imaging gear. Lack of in-focus travel will also limit usability with some binoviewers.
<![if !vml]>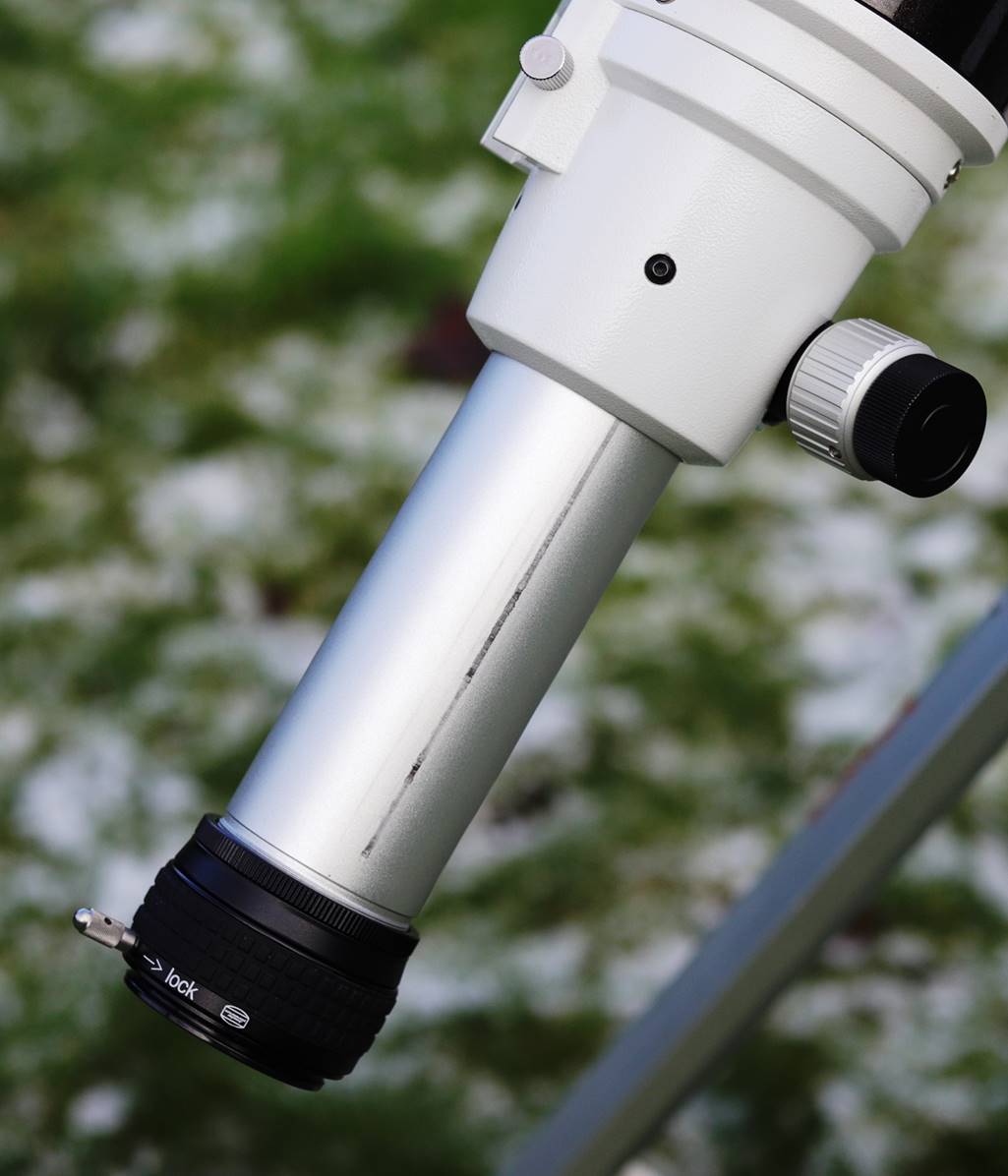 <![endif]>
Drawtube has very long travel: convenient but flawed (note: Baader Clicklock shown is not the standard visual back).
Mounting
One big advantage of this telescope is its relatively small size and low weight (see comparison below) for its aperture. In practice this means you can get away with a smaller mount than you would for many ~120mm refractors.
My Vixen SX2 balances the 120 ED with its lightest counterweight and once mounted it feels rock solid and vibes are low. Compare the WO-123 triplet, which needed more counterweights and felt quite close to what the SX2 would take when fully equipped.
SW supply a pair of lightweight rings with one threaded hole each, but note that these have metric threads, not the ¼-20 photo-threads that many use.
<![if !vml]>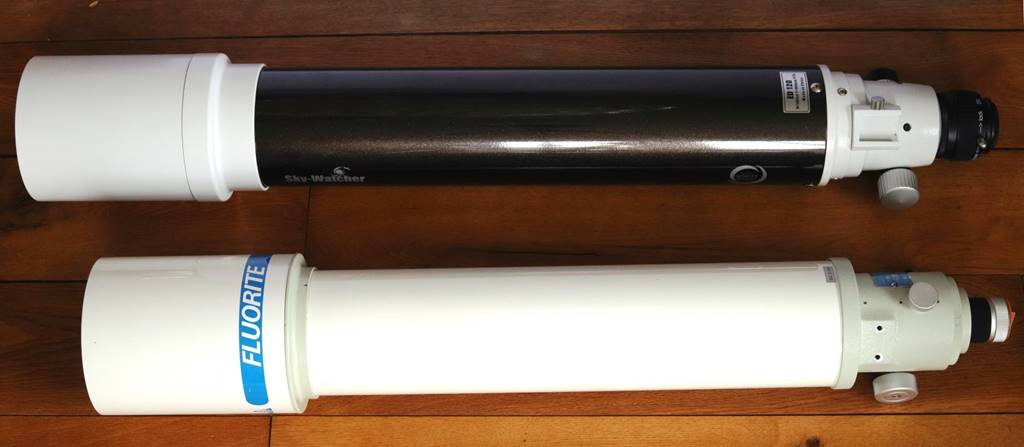 <![endif]>
Evostar 120ED isn't much larger than this 100mm Takahashi FC-100.
Accessories
Currently, the Evostar ED DS-Pro range ship with an accessory bundle containing:
<![if !supportLists]>· <![endif]>OTA
<![if !supportLists]>· <![endif]>Rings
<![if !supportLists]>· <![endif]>Vixen-pattern plate
<![if !supportLists]>· <![endif]>9x50 Finder
<![if !supportLists]>· <![endif]>2" Diagonal
<![if !supportLists]>· <![endif]>28mm Eyepiece
<![if !supportLists]>· <![endif]>Aluminium carry case
The 9x50 finder is the standard Sky-Watcher unit used on most of their telescopes. It has a narrower field and less eye relief than the best, but it is of good optical quality and is very usable, with a sharp bright field.
The 28mm LET eyepiece looks a bit like a rip-off Pentax XW. But … big surprise when you look through it – this is an excellent eyepiece. It's a simple three element design (modified Kellner), but is very sharp across 80% of the field and commendably free from chromatic aberration. As you'd expect from a simple design, it's bright too. With a wide 31mm field stop, top-notch coatings and a comfortable level of eye relief and no blackout problems, this is a very useful basic eyepiece.
The supplied 2" diagonal has a dielectric multi-layer mirror like expensive diagonals from Tele Vue and AP. Why does this matter? Dielectric mirrors are supposed to be more reflective and resistant to sleeks after cleaning. The only disadvantage with this SW diagonal is that the body is not milled from one block, so the thread-on barrel could unscrew with a heavy eyepiece: always securely lock your eyepiece with this kind of diagonal!
The aluminium carry case (see above) is the same pattern as other Sky-Watchers' and is a good quality hard case, lined with cut ethafoam. It's good looking and functional, but quite large and heavy.
Generous standard accessories really add value, especially for beginners who might not have many or all of these essential items.
One non-standard accessory you might want is the 0.85x reducer:
<![if !vml]>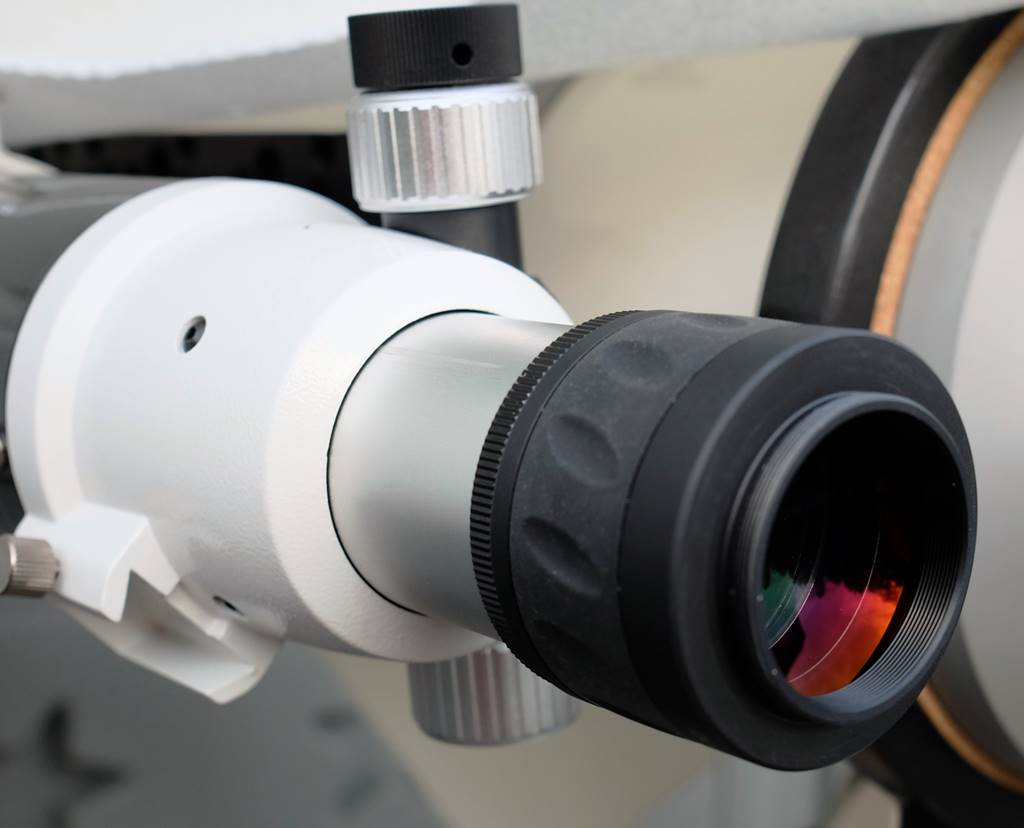 <![endif]>
In Use – Daytime
The 120 ED is obviously too large for spotting, but I find viewing silhouetted branches at 100x plus a very good way of judging visible false colour. Doing this reveals only traces of false colour in focus and just a tint of purple and green either side and prime focus images are the same. This is truly excellent performance for a large doublet.
Telephoto images show good coverage and field flatness on full frame. As usual, all images are straight from the camera, just reduced in size.
<![if !vml]>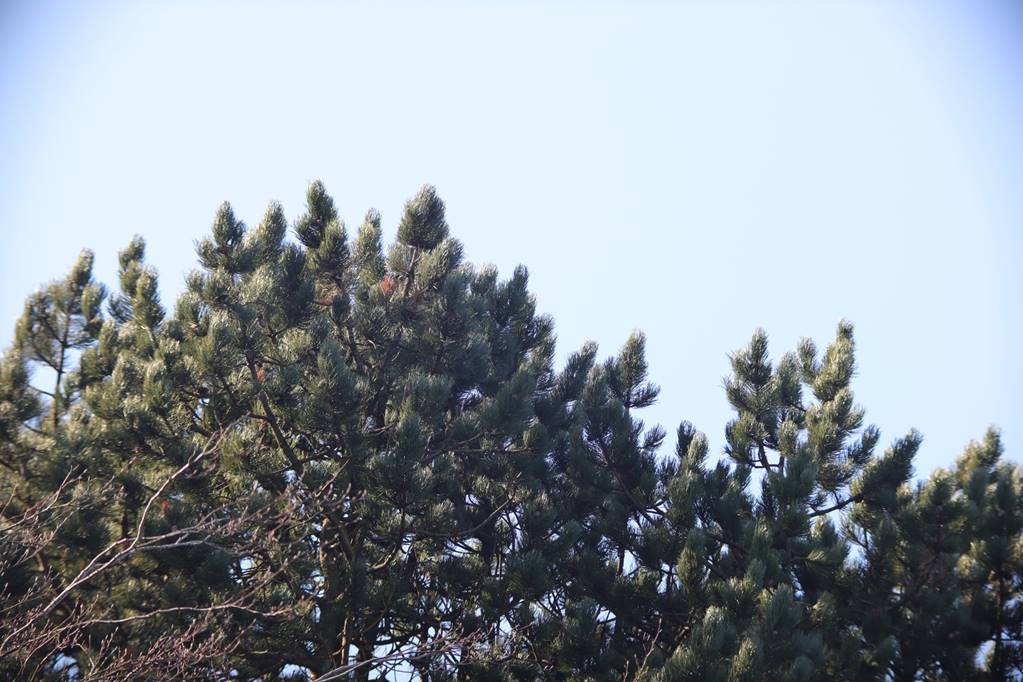 <![endif]>
<![if !vml]>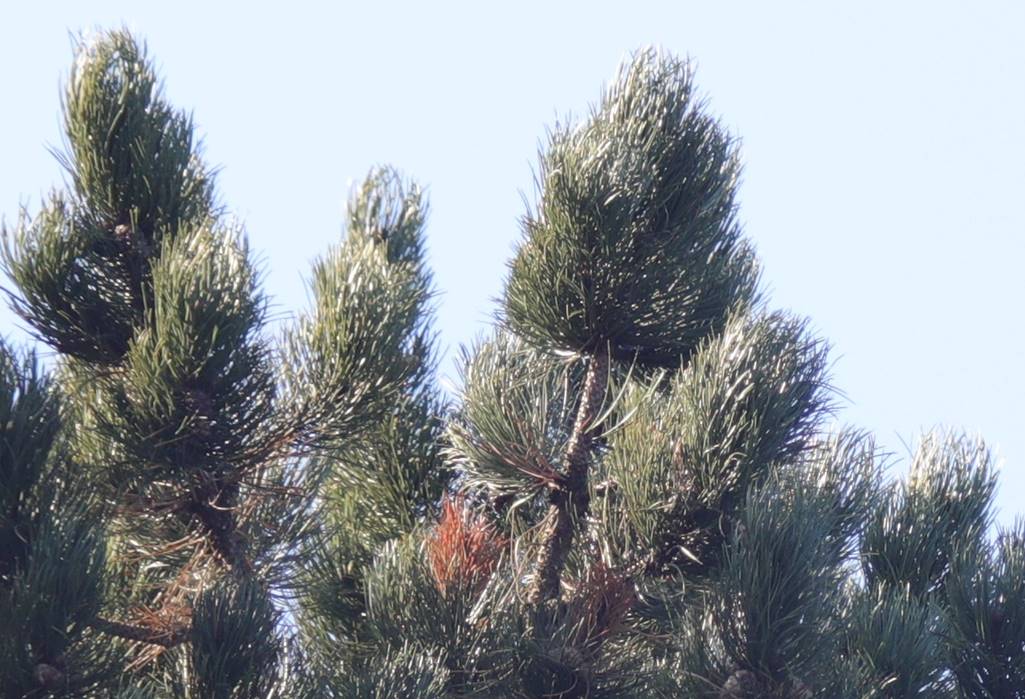 <![endif]>
100% crop of branches against a bright sky show modest false colour for a doublet of this size.
<![if !vml]>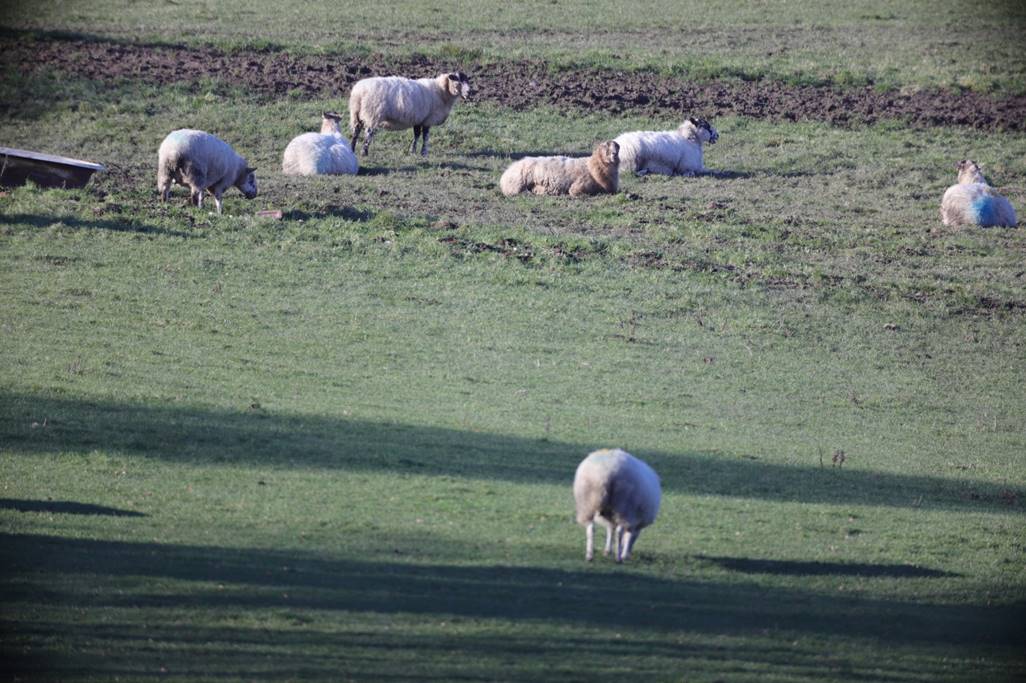 <![endif]>
Prime focus image with Canon EOS6D MkII full frame DSLR: coverage and flatness are good for a doublet.
In Use – Astrophotography
Good and bad here. On the good side, for APS-C sized chips at least, the 120ED has a natively flat field and good coverage for a doublet. Even at full-frame, coverage isn't bad and off-axis aberrations reasonable without a flattener. Violet bloat on O-A stars is well controlled, thanks to the low false colour levels noted earlier.
The Evostar 120 ED is easy to use for basic imaging too, because you don't even need an extension to reach focus with a DSLR. But as mentioned before, the focuser has too much slop (you can see this in the unequally distorted stars from top to bottom in the image below) and tends to lose traction with heavier cameras.
Experience with the Evostar 100 ED suggests the 0.85x reducer could yield excellent subs, but you'd need to use an extension to reduce focuser travel (and hence slop) and lock it solid to avoid slipping.
Like most good apochromatic refractors, the flat field and sharp optics of the 120ED produce great images of the Moon, with lots of detail limb-to-limb even though the image you see wasn't taken in the best seeing.
<![if !vml]>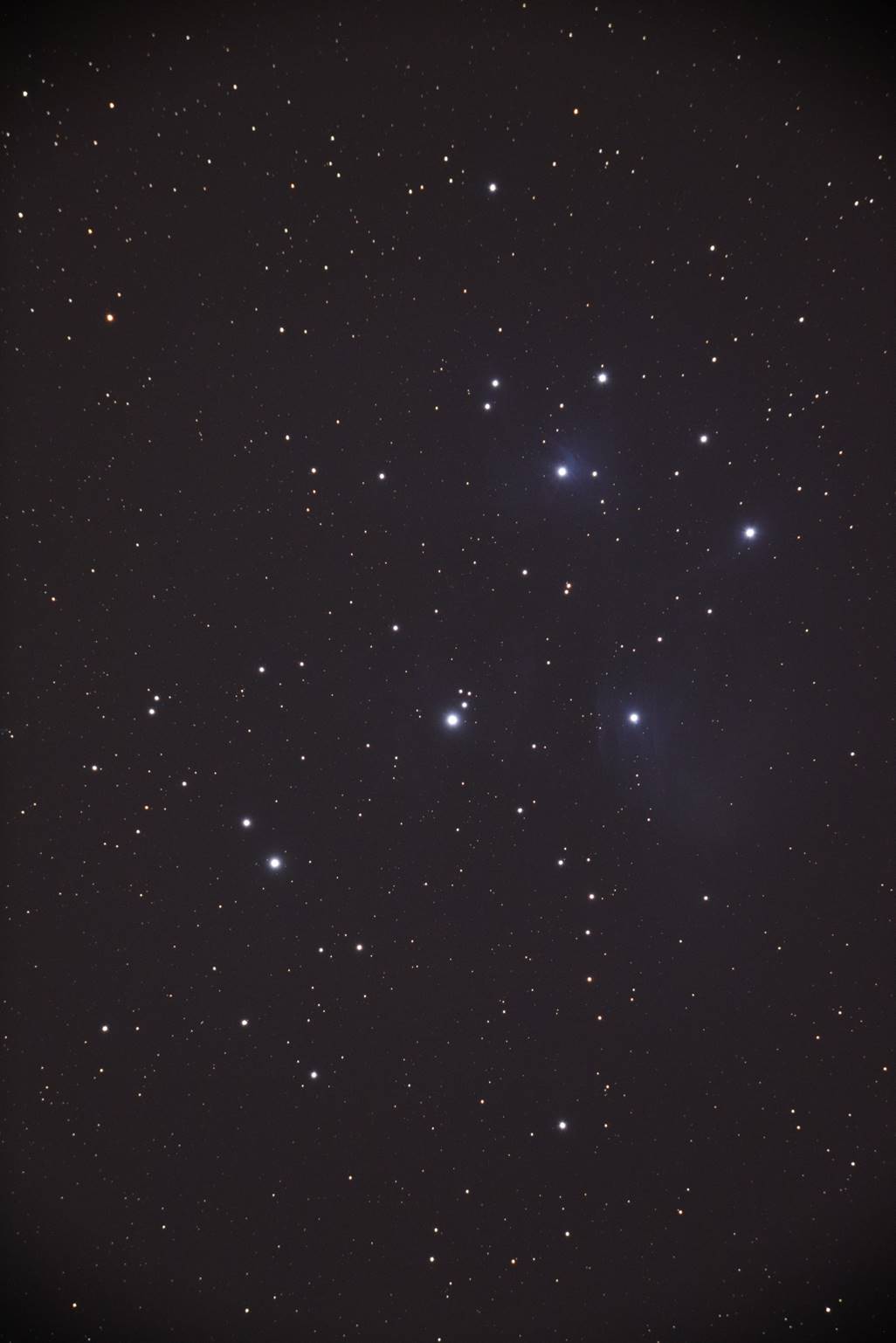 <![endif]>
Pleaides with Evostar 120ED, Canon EOS6D MkII 60s ISO 3200 – excellent coverage and flatness, but some focus tube droop evident.
<![if !vml]>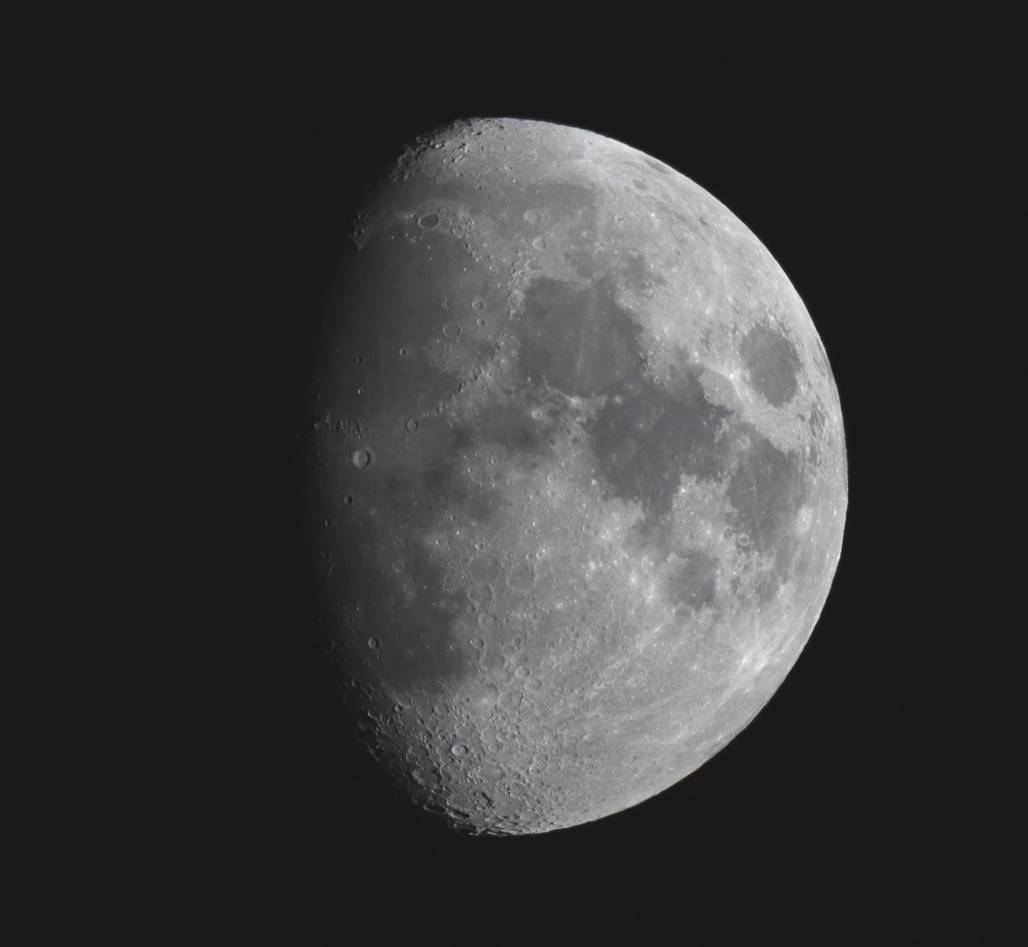 <![endif]>
In Use – Observing the Night Sky
General Observing Notes
Its compact size and light weight make the Evostar 120 ED easier to use than many refractors of this size (including Sky-Watcher's own Esprit 120 triplet) and mean reduced shakes on a smaller mount. No, it isn't a Takahashi FS-128 or AP 130 EDT, but it is quicker to mount up and needs less caution moving from object to object and swapping sides on the mount. Mounted on my Vixen SX2 it's no problem to deploy and move around as a unit, with no need to mess about with dovetail clamps or rings ... That's a big advantage in the real world, in the dark and cold with numb fingers when you're tired.
So the Evostar 120 ED combines much of the ease of use and universally good views that we all know and love from smaller apo's, but with a much broader range of capabilities, including smaller DSOs and real planetary and lunar detail.
Cool Down
The Evostar 120ED took ages to cool – over an hour - during which time there was substantial astigmatism in the star test, Mars was soft at high power and I struggled to split Rigel. Even leaving it in its open case didn't help much. Compare the Takahashi FC-100 Classic which cooled to produce a perfect star test in 20 minutes on the same night.
Partially this is just down to the greater volume of trapped air (obviously in cubic proportion to length and diameter) and the mass of the lens, which has very thick elements compared to the Takahashi. Indeed, after an hour warm air was still flowing from the visual back. But it could also be partially due to the lack of a temperature compensating lens cell, or even a quirk with this particular lens.
The slow cool-down would limit the 120ED Pro's usefulness for grab-n-go somewhat.
Star Test
Once fully cooled (but see note on cooldown above), the star test at 200x was excellent, with very similar, evenly illuminated diffraction rings either side of focus and not much false colour even on Rigel or Vega.
The Moon
Typical of larger refractors, the Moon showed a lot of detail but still with a wide enough field to fit in the whole disk, sharp from limb to limb (something reflective optics often do less well). This ability to view the whole Moon, but with a level of detail that reveals myriads of craterlets and fine rilles, might surprise a newcomer to a larger refractor – a real 'oh wow!' moment I've heard many times at star parties and outreach events.
I had great views with a 5mm Nagler T6 giving 180x. At that power, the 120 ED gave a slightly warmer toned image and with a little more false colour in shadows than the Takahashi fluorite doublet I was using alongside, but about the same level of false colour focusing through the limb (i.e. very little).
On a ten-day-old waxing gibbous Moon, I enjoyed exploring the southern highlands around Clavius in detail, the slumped walls and central peaks of Tycho and Copernicus. Plato's dark floor was peppered with tiny craterlets and the nearby Straight and Tenerife Ranges looked much more like smoothly-contoured lunar mountains than at lower resolution and magnification.
Mars
One reason I bought this Evostar 120 ED when I did was for quick looks at Mars late in an opposition year when its size had dropped below that where 4" refractors show much detail in the planet's subtle, low-contrast albedo markings.
Mars at 10.8" was very soft with a 5mm Nagler T6 until cooled (see above). But even after an hour and more, the orange planet sloughed off plumes of orange light in focus during poor seeing. Attempts at focusing this orange flare away make the planet itself appear soft and slightly out of focus. This focusing softness or vagueness on Mars is something I've seen with many other ED doublets and is one reason I prefer fluorite doublets and triplets for Mars (they don't do this), but it's worse than usual here, esp. when not quite fully cooled. I also found it harder to make out low contrast albedo detail than with a 100mm fluorite doublet on the same night.
My guess (and it's only that) is that the price you're paying for excellent correction (for a 120mm doublet) across much of the visible spectrum, is spherochromatism in the red – effectively the lens is below diffraction limited for spherical aberration at these longer visual wavelengths.
However, when fully cooled it happily took 300x with a 3mm Nagler Zoom to show a clean and sharp gibbous planet with some albedo markings, albeit still sloughing that orange flare.
Saturn
I had an excellent view of Saturn through the 120ED, with the greyish polar hood and Cassini Division clearly visible in a way they aren't through smaller refractors. On Saturn, false colour wasn't a problem, though I noted some minor colour either side of focus.
Deep Sky
Epsilon Lyrae (the Double Double) was a huge split at 180x, with yawning black chasm between the components of both doubles – aperture wins for resolution. Rigel was also an easy split, even low in turbulent seeing, with the much dimmer companion floating free and bright from the diffraction rings of the main star in a way you don't get with smaller apertures.
Viewing some of the numerous open clusters in Auriga with a 19mm Panoptic, I found myself enjoying tiny NGC 1907 next to the larger Starfish Cluster that I usually concentrate on. At this aperture, the smaller cluster was properly resolved where it's just a smudge in sub-100mm refractors.
I compared M42 to the view minutes earlier through a TV-85. The greater aperture really showed, with much more reach to the arcing 'arms' and more structure in the boxy inner nebula. That inner region was also of a noticeably whiter-bluer hue, the outer arms a darker tone (if not actually reddish, the way it is in images).
The Ring Nebula at 100x with a 9mm Nagler showed as a dense flattened smoke ring even with direct vision.
Puzzlingly, though, the Pleaides looked no different/better than through the smaller scope. In fact, if anything they scintillated less dazzlingly, perhaps because the less perfect optics of the bigger scope puts less starlight into the Airy disk and a bit more into the diffraction rings.
Summary
The Sky-Watcher Evostar 120 ED DS-Pro retains the near-unique status it had on introduction a decade ago – a big apochromat for a modest outlay. Unique, too, because it is so light and small for its aperture. The competition are mostly heavier, slower cooling triplets.
In many ways, performance is good. False colour just isn't the problem you expect it could be – levels are generally very low, similar to a 100mm fluorite doublet, thanks to the premium glasses in its objective.
It resolves lunar detail and double stars as well as the very finest 100mm apo's and the greater light gathering makes for more satisfying DSO views – more nebulosity, fainter stars, easier with direct vision. For imaging, coverage and field flatness are good for a doublet, even without a reducer. Violet bloat is well controlled for a doublet of this aperture too. All good then? Not quite ...
In fact, though I like the Evostar 120 ED, for various reasons I preferred the Equinox version I tested previously. Why? Partly, the CNC build quality of the Equinox; but I felt it performed slightly better too. This may suggest lens cherry picking for the Equinox, or just sample variation.
On planets the Evostar 120ED gave great views of Saturn but rather less so of Mars, especially in the mediocre seeing which is common here: often hard to get best focus, lacking a bit of contrast and bleeding scattered light into the turbulence. This is likely due to spherochromatism, the price for such excellent correction at shorter wavelengths for imaging. Dedicated planetary observers might consider the 100ED F9 version instead.
Though the star test was good, overall performance doesn't equal a premium optic like the similar-aperture WO-123, suggesting perhaps early reports of vignetting were correct. Vignetting could account for that performance difference, but for the exceptionally low false colour and off-axis aberrations too, if the outer part of the lens were effectively masked off.
Then there is the focuser: it has masses of travel but loses traction with heavy loads and lacks in focus. On this example, cool-down time was very long, possibly because of a basic lens cell.
Even if the aperture really is vignetted to something like 114mm F8, the Evostar 120 ED is still a great-value scope in many ways, but its price has increased since introduction (nearly doubled in fact), which leaves it closer to the price of the cheapest Takahashi FC-100DC. And though the 120 ED Pro does come with lots of accessories and offers better performance for many things, it cools much more slowly and is more compromised at high powers. Which you choose might depend on your use profile and preferences.
The Sky-Watcher Evostar 120 ED DS-Pro still offers big apochromat performance for a modest price and is still highly recommended, but it isn't the screaming bargain (new) it once was. And be prepared to upgrade the focuser for 'serious' imaging.
<![if !vml]>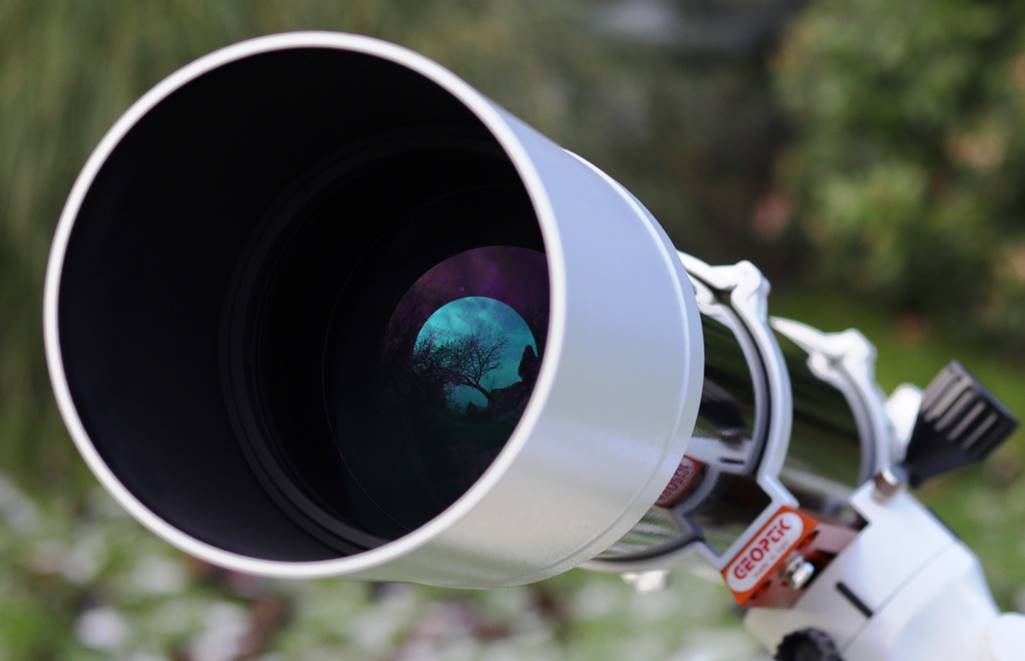 <![endif]>
Buy the 100mm F9 version, the Evostar-100ED DS-Pro, from Wex here:
<![if !vml]>

<![endif]>