How to see SpaceXís Falcon 9 Booster in Los Angeles
<![if !vml]>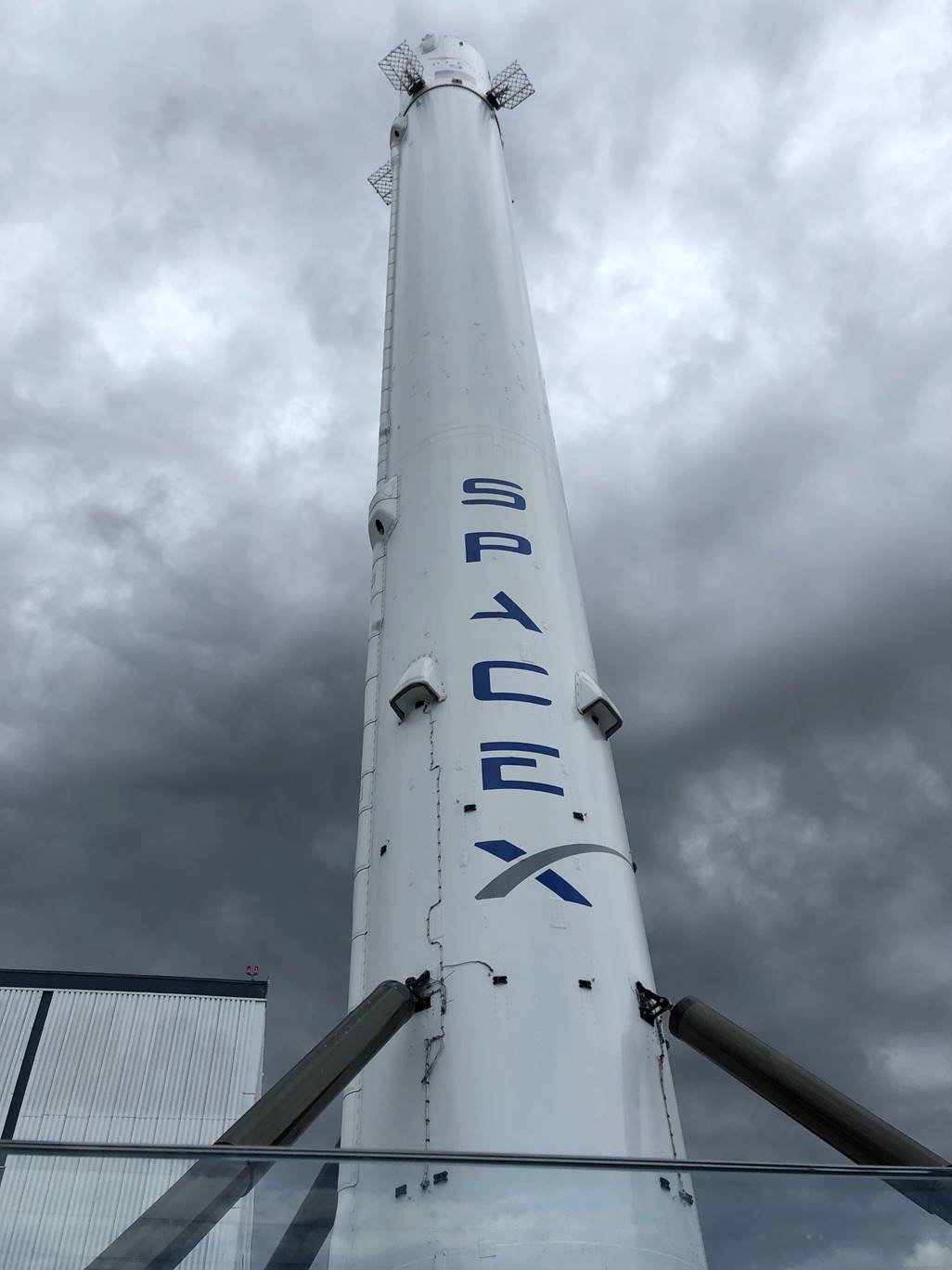 <![endif]>
Los Angeles is one of the most popular destinations in the USA, for tourists both domestic and international. Itís cheap to fly into and has lots of attractions nearby, from Hollywood and Disney through the beaches of of Malibu and the dramatic coastline north along Highway 1.
But if youíre a space fan and youíre going to LA for a holiday, thereís another attraction you shouldnít miss Ė the headquarters of SpaceX in the suburb of Hawthorne. The reason is that SpaceX has parked one of its giant Falcon 9 boosters there. These boosters regularly make an appearance on SpaceXís launch broadcasts, most spectacularly landing in pairs following launches of Falcon Heavy, but to really appreciate what an achievement that is, you need to see one close up; at Hawthorne you can do just that and for free! And the best thing of all is that SpaceX is near LAís main airport LAX, so you can take a quick detour there en route to almost anywhere else in SoCal.
I took the short detour from LAX recently, so thought Iíd share how to get there, where to park and what youíll see.
If you are picking up a rental car at LAX, you are likely to end up at one of the rental offices on the eastern side of LAX. To get to SpaceX in Hawthorne, find your way out onto Airport Boulevard (all the rental car offices are clustered around it) and drive south for a couple of miles. This takes you through a few lights and along the eastern edge of the LAX runways.
Next, make an easy left at the lights onto West 120th Street. Then drive three miles east (5 blocks), with the northern edge of Hawthorne Airport on your right. You can see across to the SpaceX hangars as you drive, with a tall white object already coming into view ahead and to the right, behind the buildings.
At the end of Hawthorne Airport, take a right onto busy and wide Crenshaw Boulevard. Almost immediately, you will notice the famous Monty Python watchtower of the Boring Company and a tunnelling machine across the road on the left, in front of a big multi-storey car park. Underneath a footbridge, youíll see SpaceX immediately on the right, with a huge sign on the front of their HQ. But that isnít what youíll be looking at.
On the very corner of Crenshaw and Jack Northrop Avenue, just past the SpaceX building is that Falcon 9 booster, set behind a high wall of clear Plexiglas panels. It towers above everything else around and is visible from all over this part of LA. The booster is a dramatic sight, so make sure to keep your eyes on the road!
One possibility might be to park in the car park across on the left side of Crenshaw, but I just turned right past the booster and found a spot on the street a short way down Jack Northrop Avenue. If youíre a just-landed foreign tourist like me, make sure you donít park where the curb is painted red or near a yellow fire hydrant!
The booster is an amazing thing. I was astonished at just how big it is - it looks quite small when you see it land on TV, but itís huge in real life. You can get right up close and see the landing legs, the nine expansion nozzles of the Merlin engines and the grid fins that stabilise the booster on re-entry high above. If you find reflections from the Plexiglas wall annoying, you can sneak your camera around a small gap around the far end of the wall on Crenshaw for some great pics of the engines and landing legs, reflection-free.
Getting away again is just as easy. Continue on down Jack Northrop, past a SpaceX testing tunnel on the left. Make a left on to Prairie Avenue and then right onto EL Segundo a block later. A mile further on is the entrance to I-405, with various places to eat or buy gas on the way.
<![if !vml]>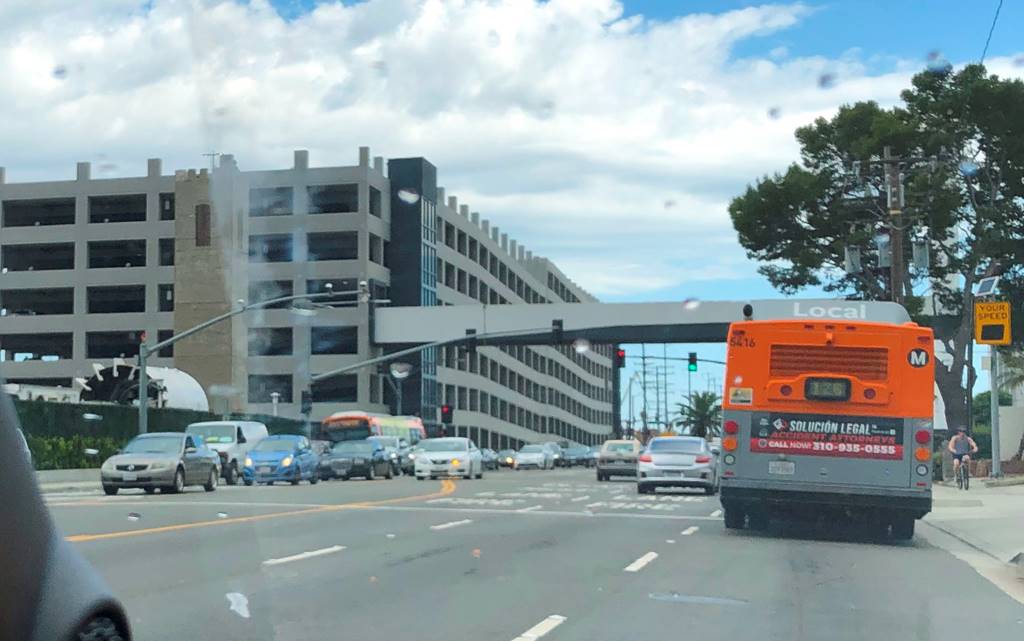 <![endif]>
Boring Company Watchtower and Tunnelling Machine on the right of Crenshaw Blvd
<![if !vml]>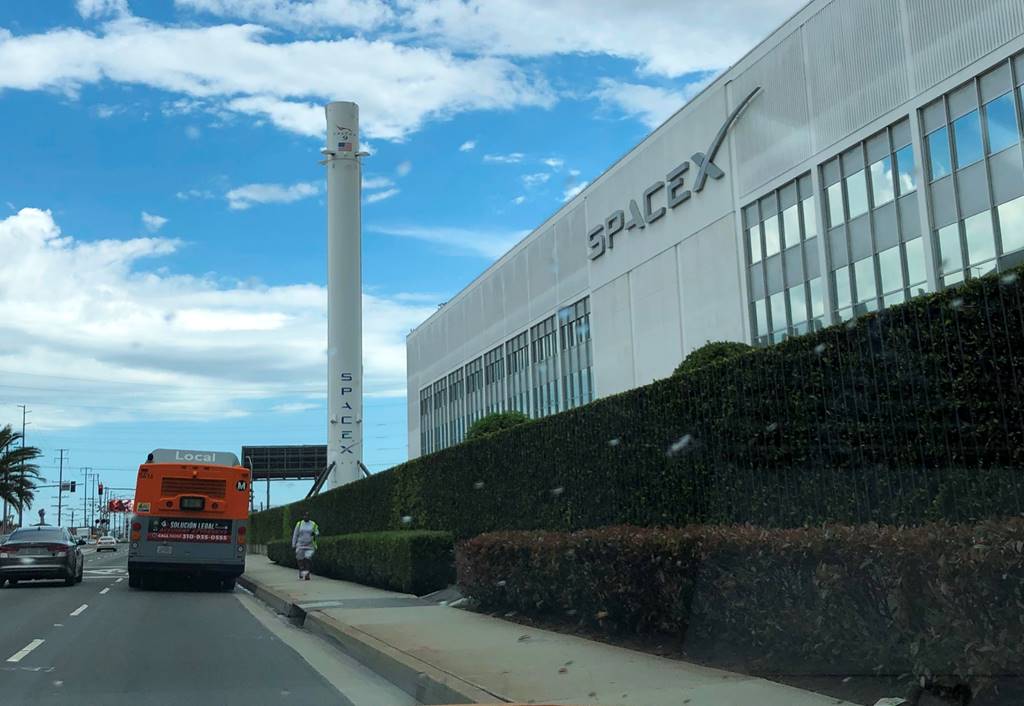 <![endif]>
SpaceX HQ and Falcon 9 Booster from Crenshaw Blvd
<![if !vml]>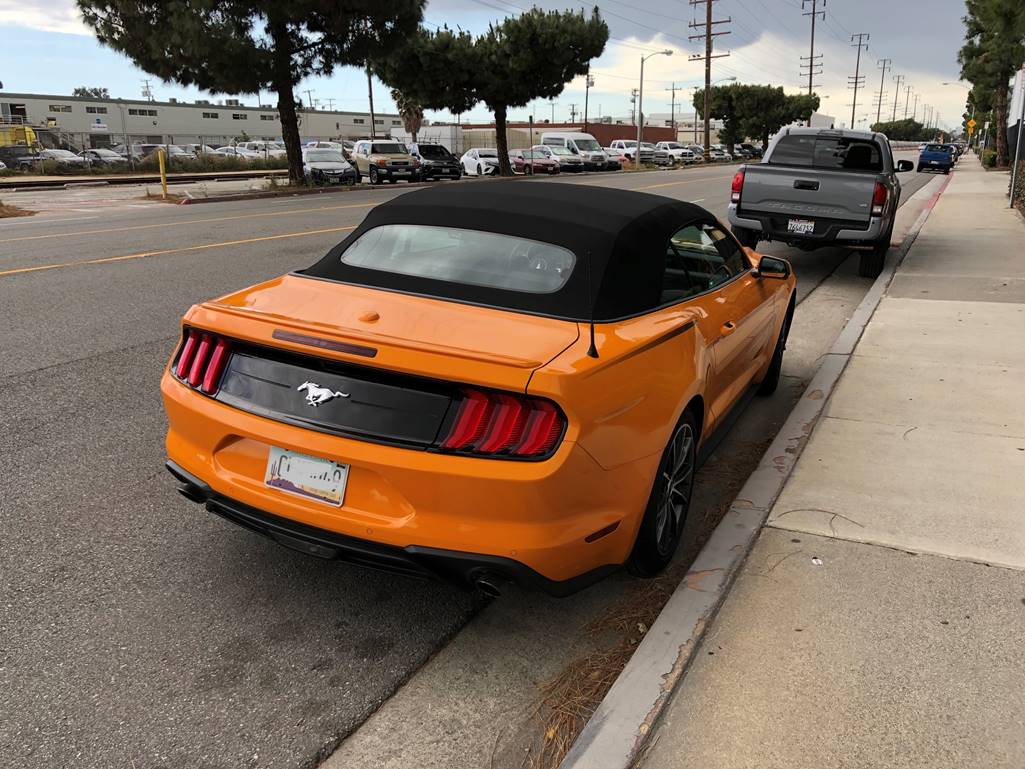 <![endif]>
My rental car (colour not my choice!) parked on Jack Northrop, just west of the Falcon booster
<![if !vml]>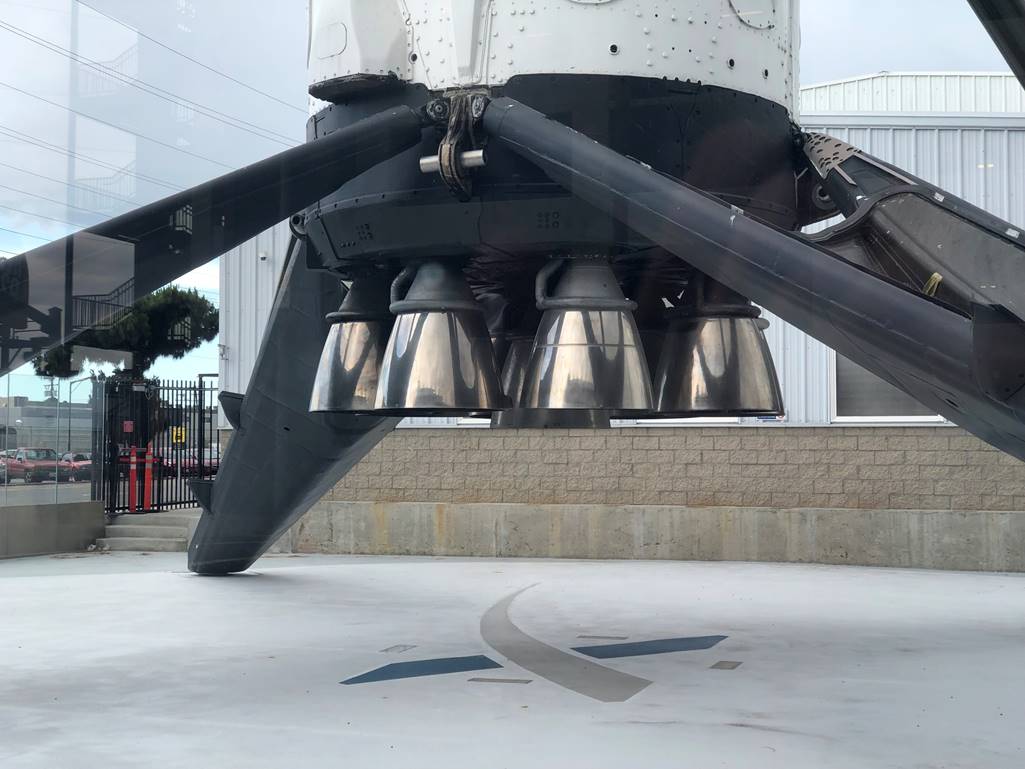 <![endif]>
<![if !vml]>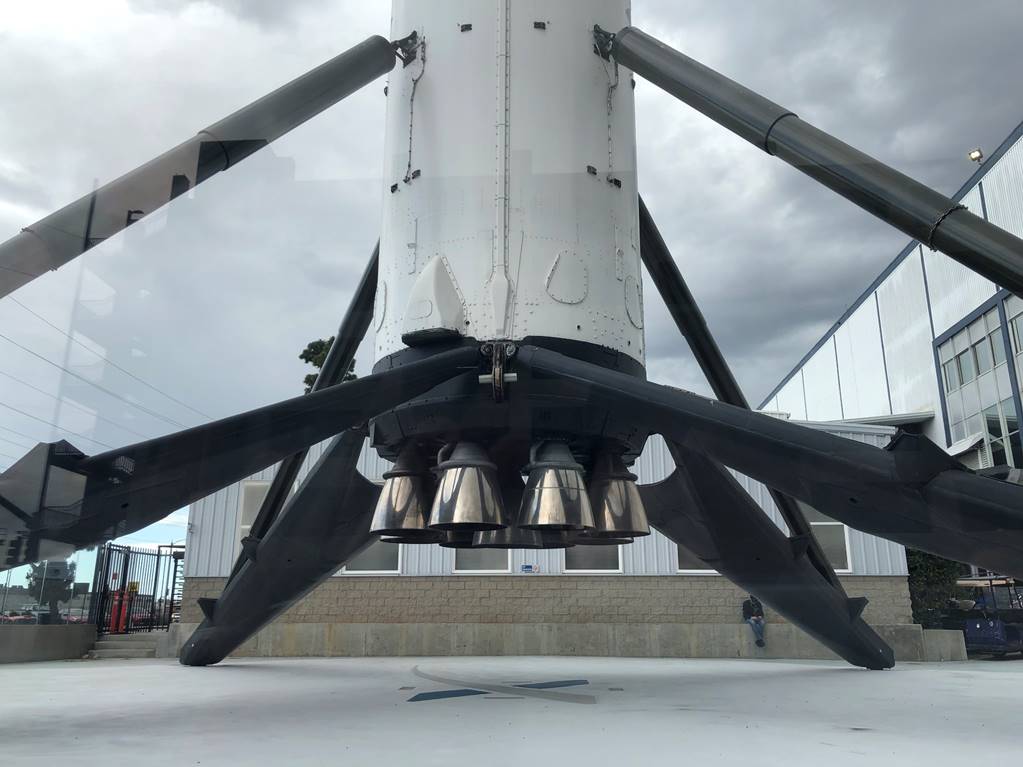 <![endif]>
Nine Merlins, seen through the Plexiglas wall surrounding the booster. Second photo shows the scale, with a SpaceX employ taking a break sitting on the wall behind
<![if !vml]>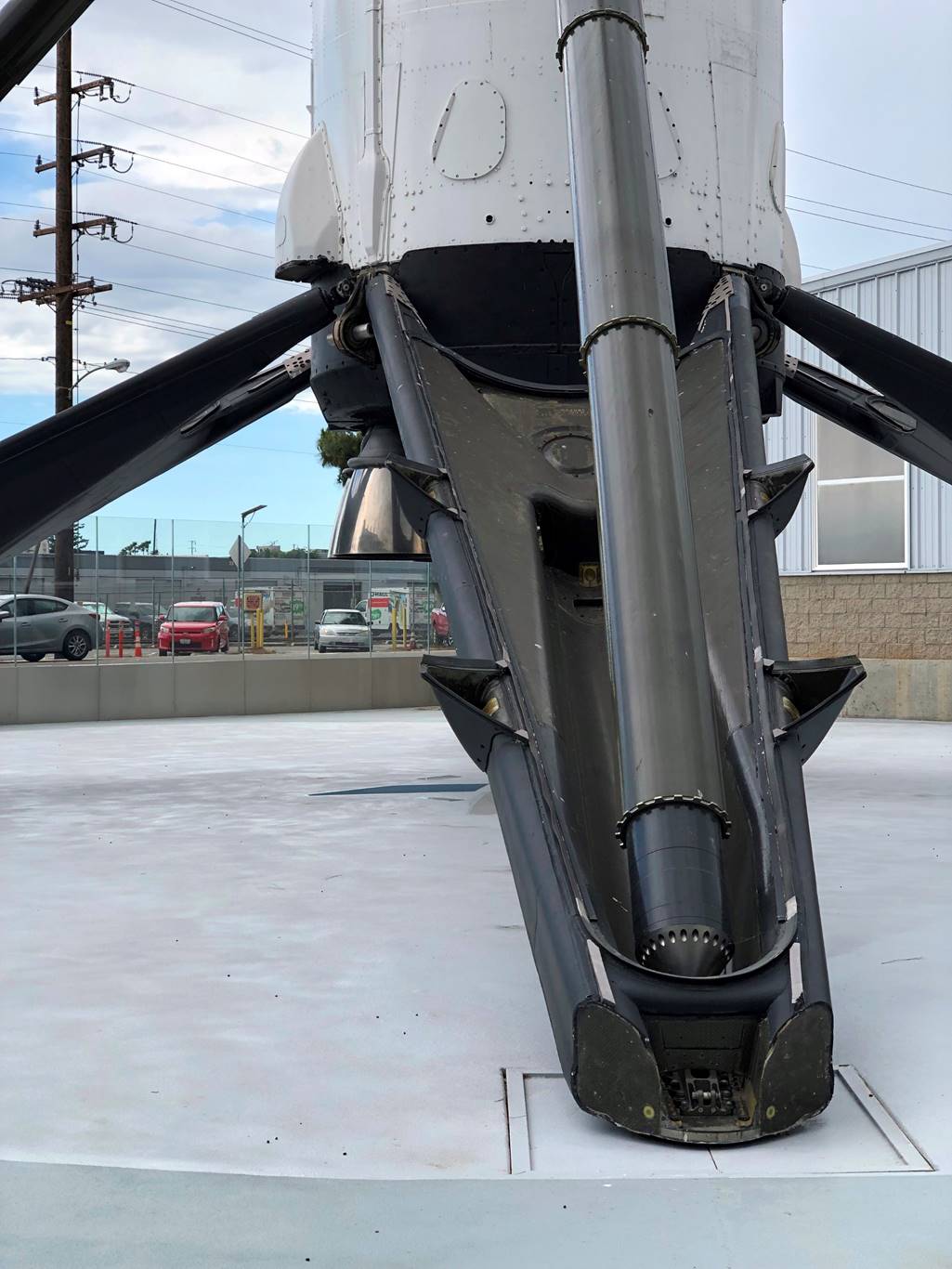 <![endif]>
<![if !vml]>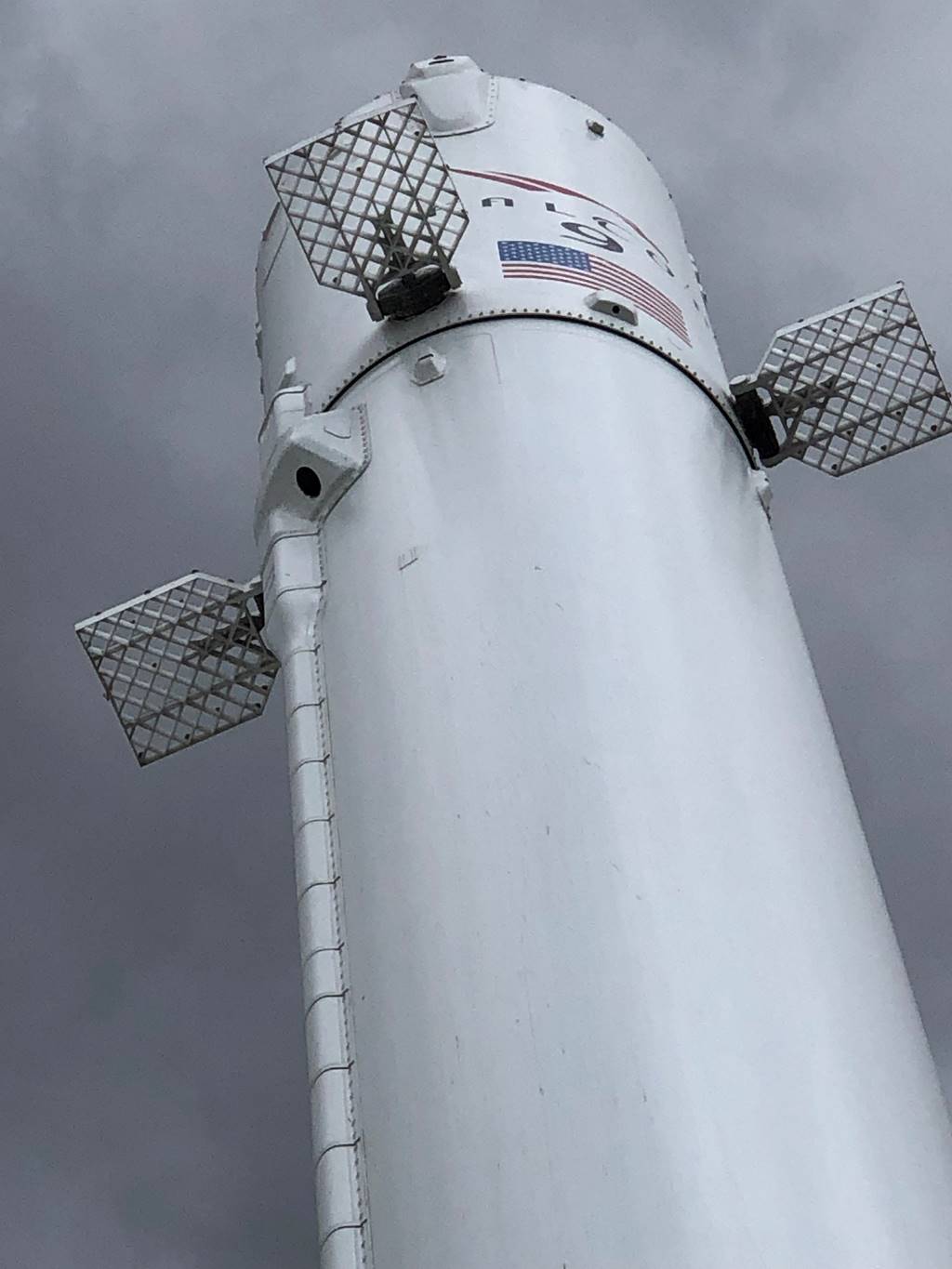 <![endif]>
Falcon detail
<![if !vml]>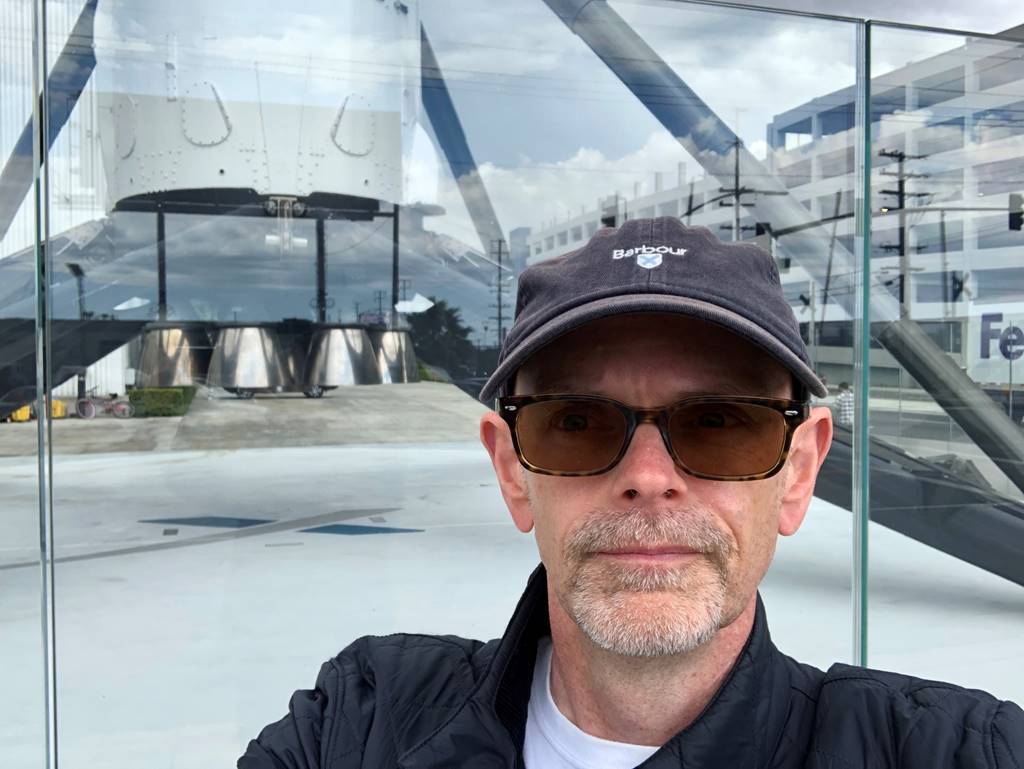 <![endif]>
Summary: A visit to the SpaceX falcon 9 booster at Hawthorne is a highly recommended detour on a trip to LA