A Visit to Spaceport America
<![if !vml]>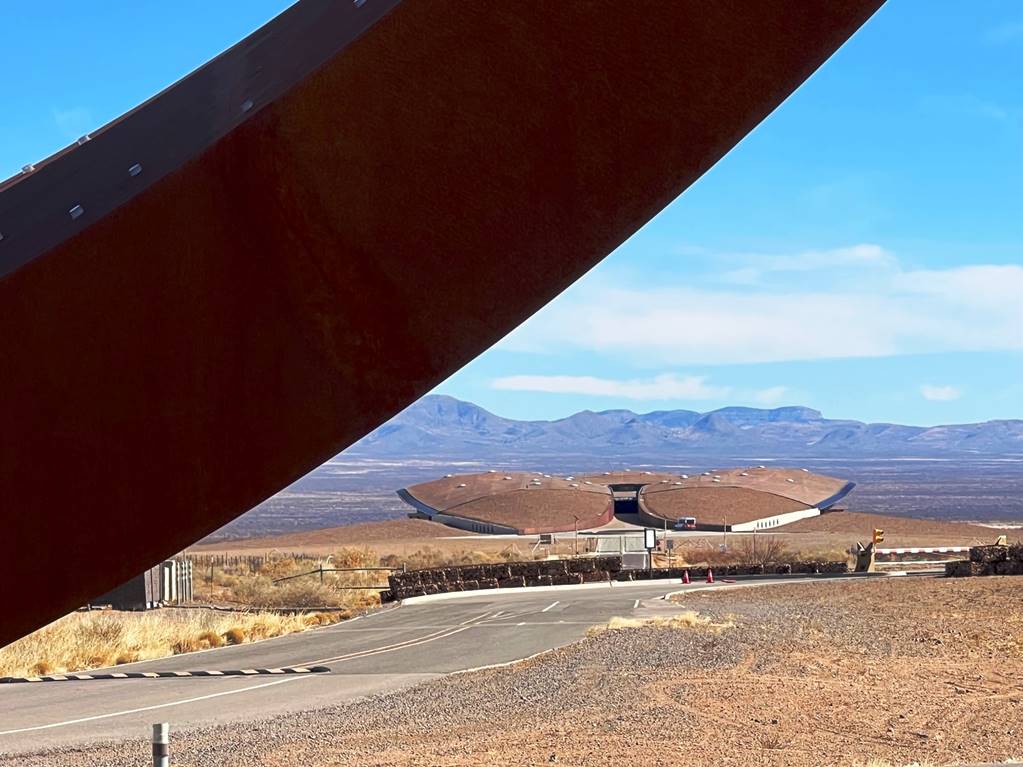 <![endif]>
Like many small boys who grew up in the '70s I wanted to be an astronaut. So when Virgin bought out the X-prize winning SpaceShip One project from Scaled Composites I seriously thought about saving hard and signing up, at a time when a reservation would have been <relatively> affordable.
Glad I didn't do it now. For one thing I've better things to do with that kind of money and for another I'll be getting a bit old by the time it starts taking passengers! That's how long it's been.
Now, a visit to Virgin Galactic's home at Spaceport America is doubtless as close as I'll ever get.
History
Spaceport America was largely funded by the state with the hope of creating a multi-function base for space operations, not just for its famous customer Virgin Galactic. Signed off in around 2006, for some years the 'Spaceport' was just a concrete pad for vertical launches of 'Up Aerospace'.
Spaceport America lies in a vast desert valley in eastern New Mexico, to the east of I-25. The desert here is named the Jornada Del Muerto after a wagon route from the days of the Camino Real. Just 50km north of here is Trinity Site – the place where Oppenheimer's Manhattan project came to fruition with the first atomic bomb test in 1945.
Over a range of desert mountains on the eastern horizon lies the White Sands Missile Range, a huge military test site which provides the Spaceport some services and airspace protections.
The iconic terminal hangar facility was designed by Norman Foster with environmental concerns at the forefront and was built between 2009 and 2014, with the interior only completed in 2018 by Virgin Galactic. Looking low and organic from a distance, the concrete and rusting steel walls have the appearance of a bunker close up.
Virgin suffered endless delays, but some test flights moved to the Spaceport in 2020 and Branson finally flew from here in July 2021 (with memorable promo shots of him arriving by bike).
As of 2022, Virgin customer flights from the Spaceport have yet to begin. Meanwhile, Up Aerospace have flown numerous paying passengers from the Spaceport... in the form of cremains. Those customers include astronaut Gordon Cooper.
Getting There
The closest town to the Spaceport is Truth or Consequences (named after a 1950s TV show), about 75 miles north of Las Cruces on I-25. T or C (as it's known locally) has plenty of lodging, not least because it's a spa town.
There is a small Spaceport visitor centre in the centre of T or C, but it may not always be open. Official tours start from the VC, but are operated by 3rd parties which seem to change from time to time.
At the time of writing, if you want to get in to the site and see inside the terminal building you still need to book on the tour, but that doesn't mean you can't just turn up and take a look independently, but if you do take bino's!
Both routes to the Spaceport described below are fully paved and easy in any car.
If you're driving north up I-25 from Las Cruces, turn off at Rincon onto minor road E073 that eventually turns into A013. It tracks north through the low desert buttes past some trailheads. The right turn-off to the Spaceport after about 28 miles is currently unsigned. The Spaceport is then just a couple of miles further.
If you're coming from the north, start in T or C by following signs to the Elephant Butte dam along Highway 51. It's a slow and twisty drive out into the desert to Engle where you turn right onto A013. The road to the Spaceport is then a left turn after about 13 miles. There is a short-cut from Highway 15 that avoids Engle, but it's unmetalled.
<![if !vml]>
<![endif]>
Spin Launch as it appears from Highway A013.
What to see
Spin Launch
Some 18 miles up E073/A013 from the Rincon turn-off you come across the first structure on the Spaceport. It's a weird looking thing – a silver disk with a chimney way out in the shimmering desert on the right. Stop and take a look with your binoculars, 'cos currently this object is unique. I say object because you won't figure out what it is by looking at it!
This bizarre structure is Spin Launch - a huge (it looks small from the highway, but it's not) centrifuge that literally hurls rockets towards orbit up that 'chimney'.
Parked SpaceShip Two
Just before you get to the Spaceport you'll find a parking area next to a parked Virgin SpaceShip Two. It's probably a mock-up, but looks convincing, is close by and great for Instagrammers.
Genesis Sculpture
At the end of the entrance road is a roundabout hosting a giant rusting horseshoe sculpture by Otto Rigan, studded with glass 'stars', called "Genesis". Another great spot for pics.
Terminal/Hanger
Just off the Genesis roundabout is the entrance checkpoint with uniformed guards. They'll turn you around here (very politely) if you ask to go further. Beyond you'll see the back of that terminal building designed by Norman Foster and designed with a dramatic look like part of an eye from above, but that blends in with the landscape at ground level.
Again, you can get a good sense of it with binoculars. To get closer you'll need to do the tour – see below.
Elephant Butte Dam
Whichever way you go to the Spaceport, you'll end up passing this 300ft high concrete dam on the Rio Grande just outside T or C. Built in 1916, it's an impressive structure, but the once-expansive reservoir behind it lies half empty in the ongoing drought.
There are overlooks to view the concrete dam wall and spillways off Highway 51.
<![if !vml]>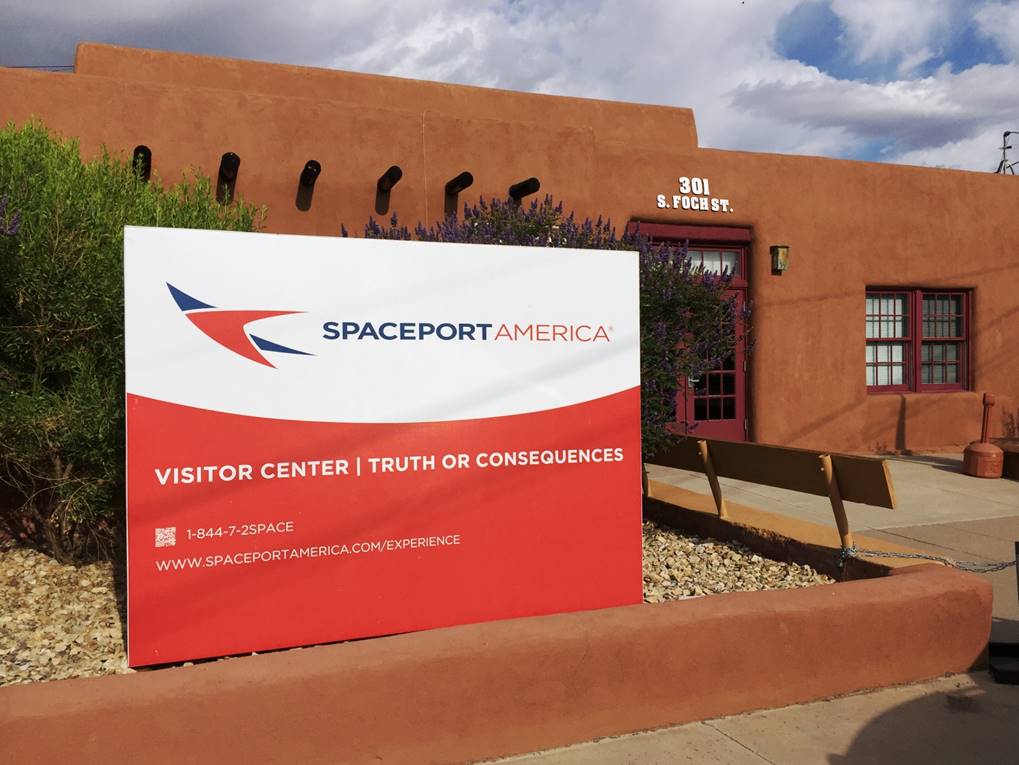 <![endif]>
<![if !vml]>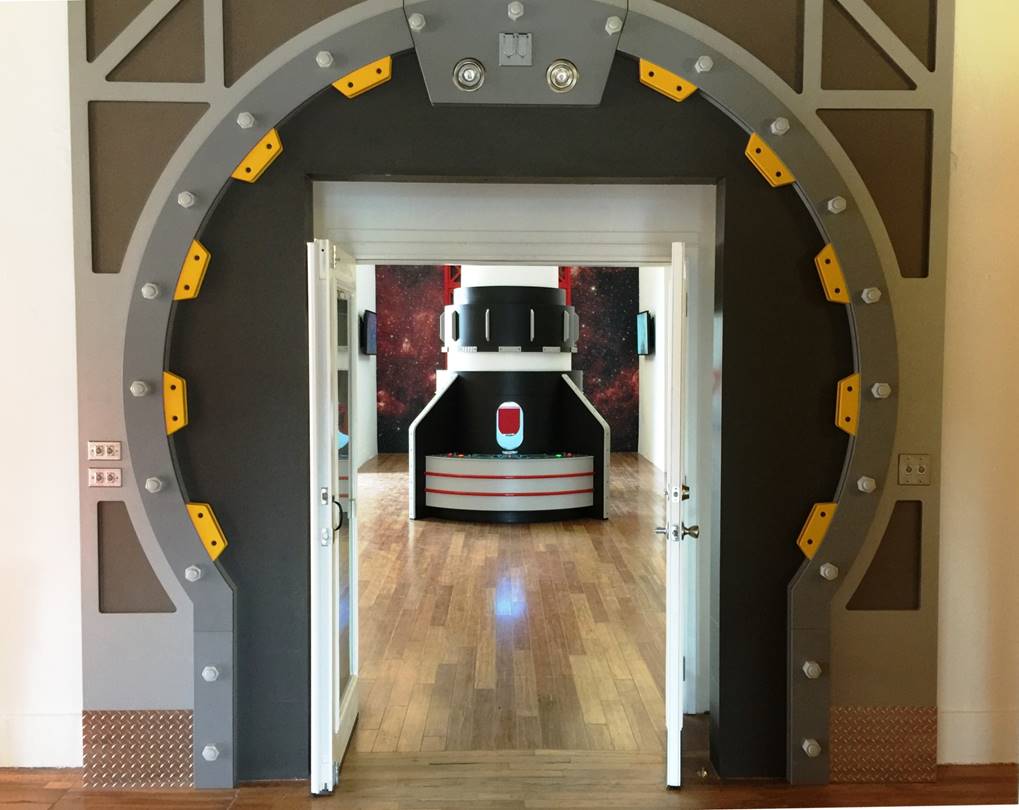 <![endif]>
The tour starts at this door in the T or C visitor centre.
<![if !vml]>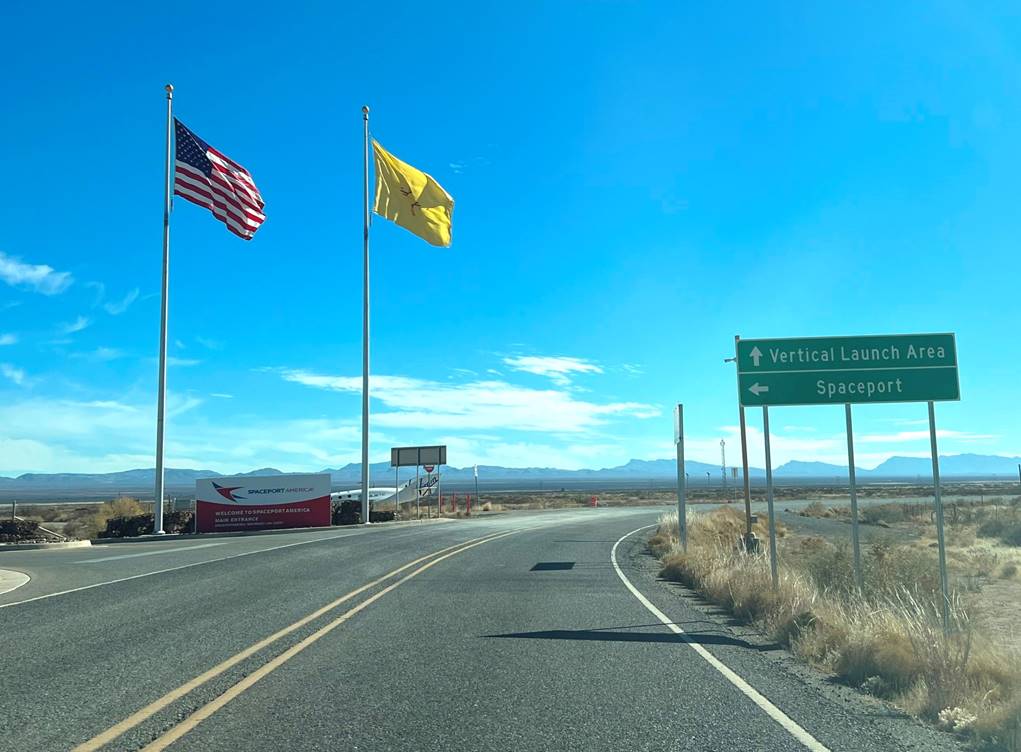 <![endif]>
<![if !vml]>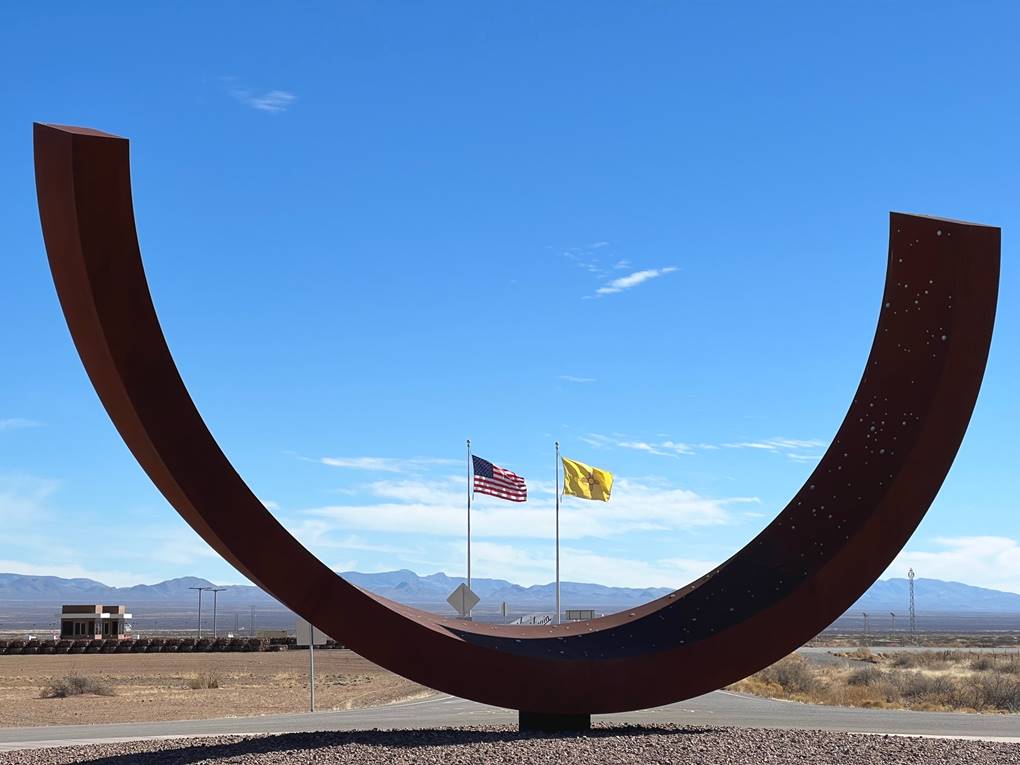 <![endif]>
<![if !vml]>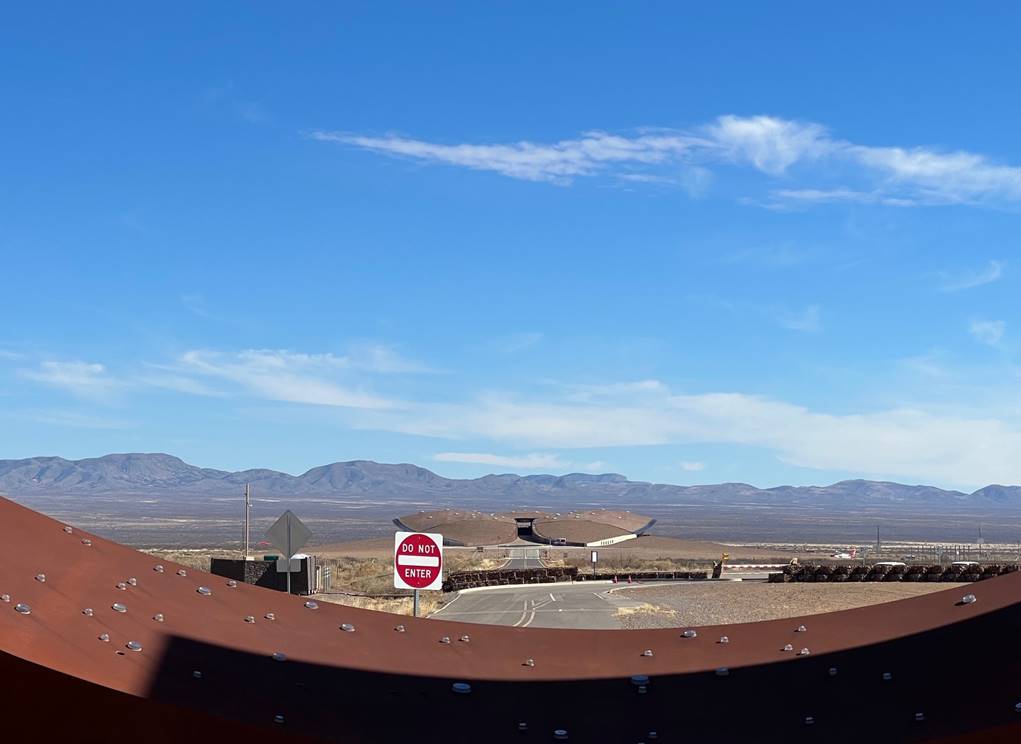 <![endif]>
<![if !vml]>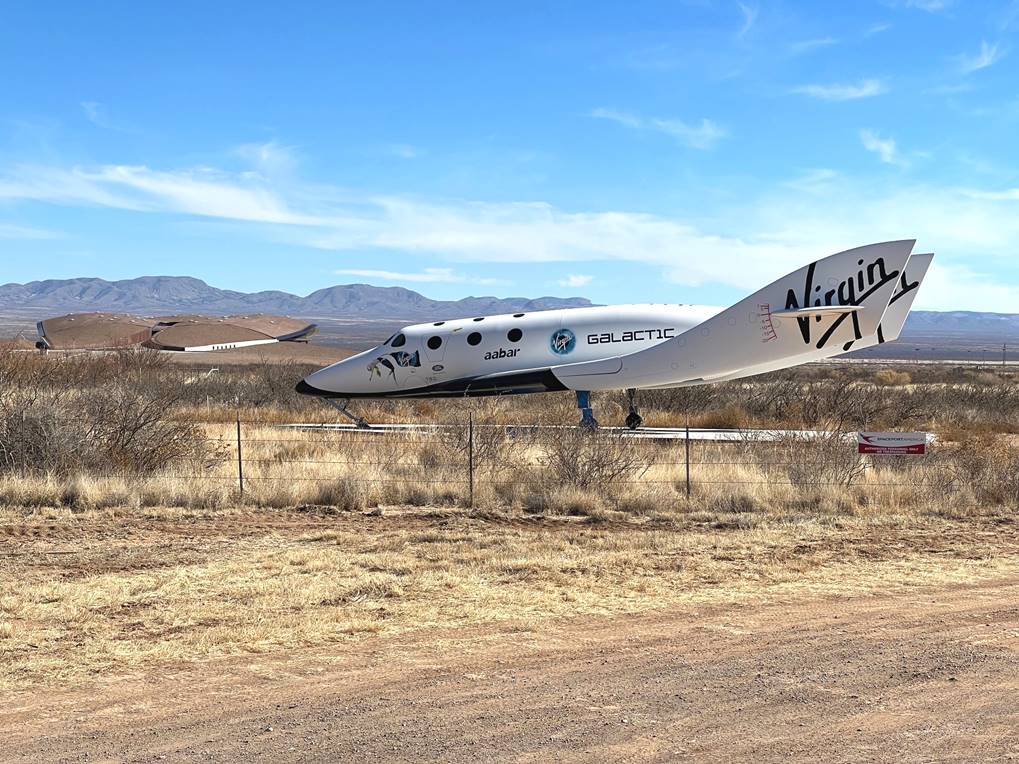 <![endif]>
<![if !vml]>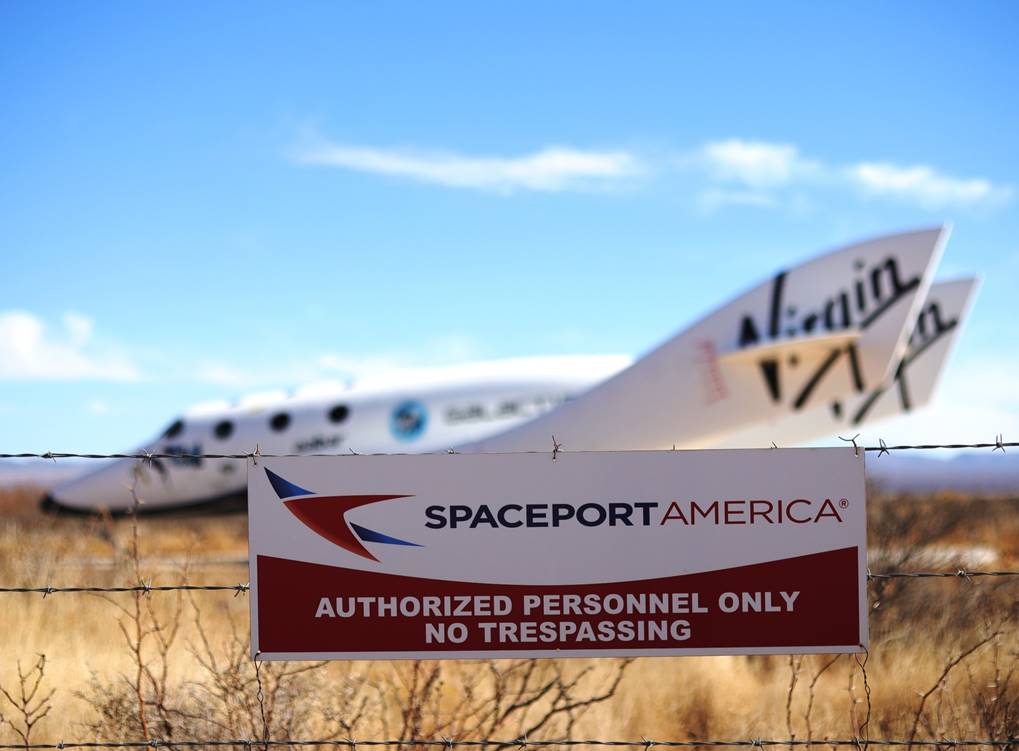 <![endif]>
<![if !vml]>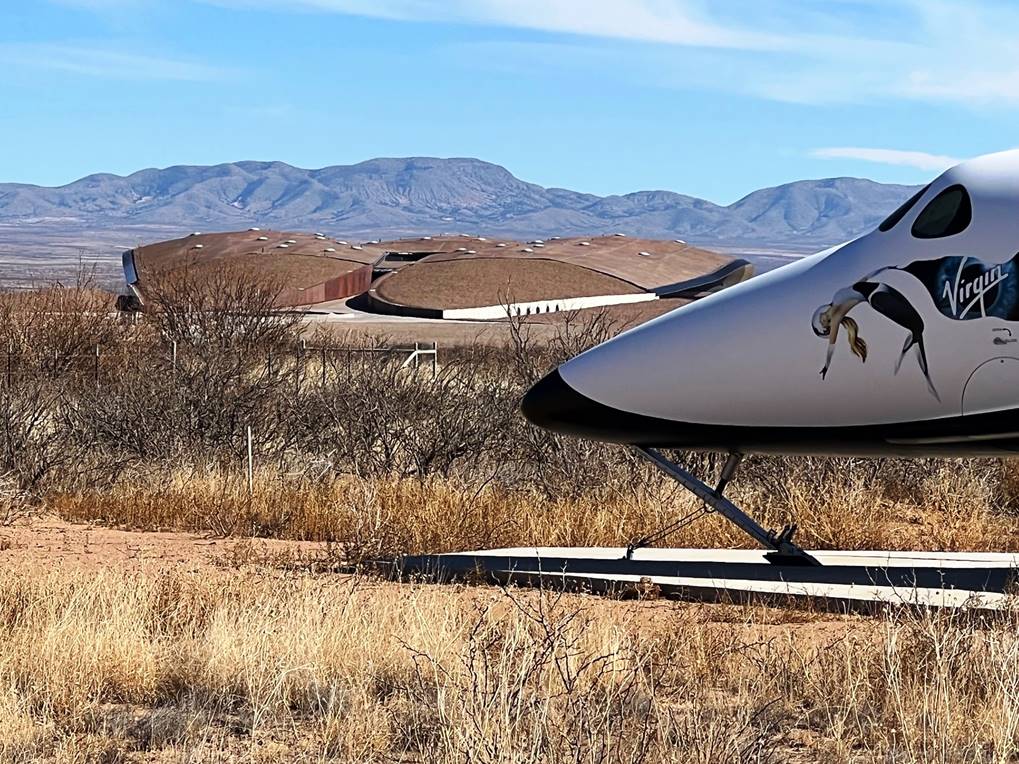 <![endif]>
Things to do
Official Tour (starting from the T or C visitor centre)
I did this a few years ago and it might be slightly different now (2022).
The tour starts in the VC in the centre of town on Foch St, which has a gift shop and café. The centre has been rather self-consciously outfitted with some Starship-interior themed décor. You're led out to a small bus by guides in Spaceport jump suites: pretty cool, once the place is operational that is. Now it all seems a bit forced.
The bus takes you out to the Spaceport via Engle with some generic (but still interesting) presentations about the history of the Jornada Del Muerto and on to the entry checkpoint.
The tour takes you past the booths and barriers where they turn private cars around.
There's a quick stop at the visitor's area in the terminal building, accessed through a door at the back between those curving, rusted steel walls. It has some displays and video loops and windows onto the huge space of the hangar, a G-Shock simulator for the kids.
Then you get driven around the front of the terminal building onto the expanse of cast-concrete apron and the runway where Virgin motherships will take off and land every day... one day.
Perhaps the most interesting part of my tour was the operations building, a thin dome with cutouts which looks like something from Tatooine. It was actually made by shotcreting an inflatable former, but looks very futuristic.
Inside the Ops building at the front, there are the air traffic control consoles looking over the apron. At the back, another large hangar contains the fire department and its equipment, including an awesome Oshkosh fire tender. The firemen were interesting to talk to, not least because some also served the WSMR and had undergone some very 'special' training.
<![if !vml]>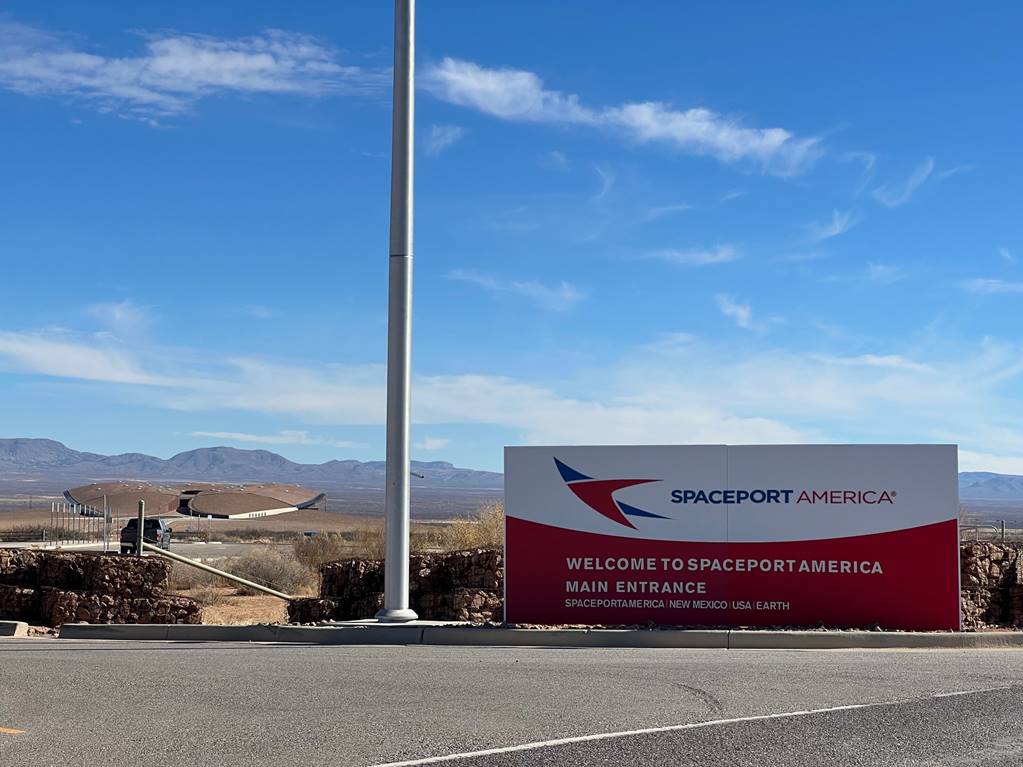 <![endif]>
<![if !vml]>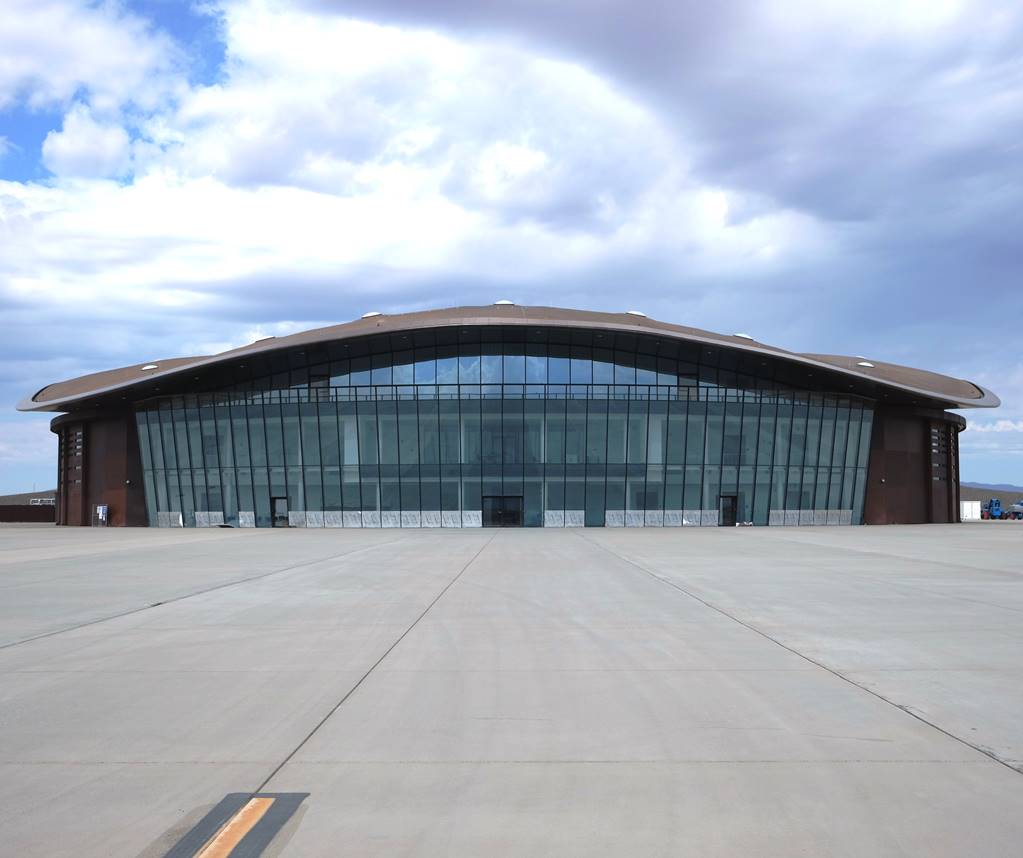 <![endif]>
<![if !vml]>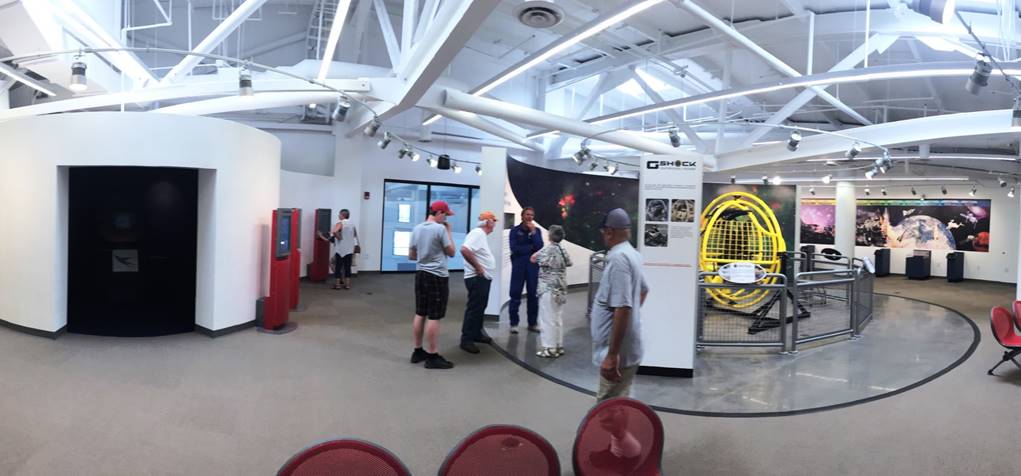 <![endif]>
<![if !vml]>

<![endif]>
<![if !vml]>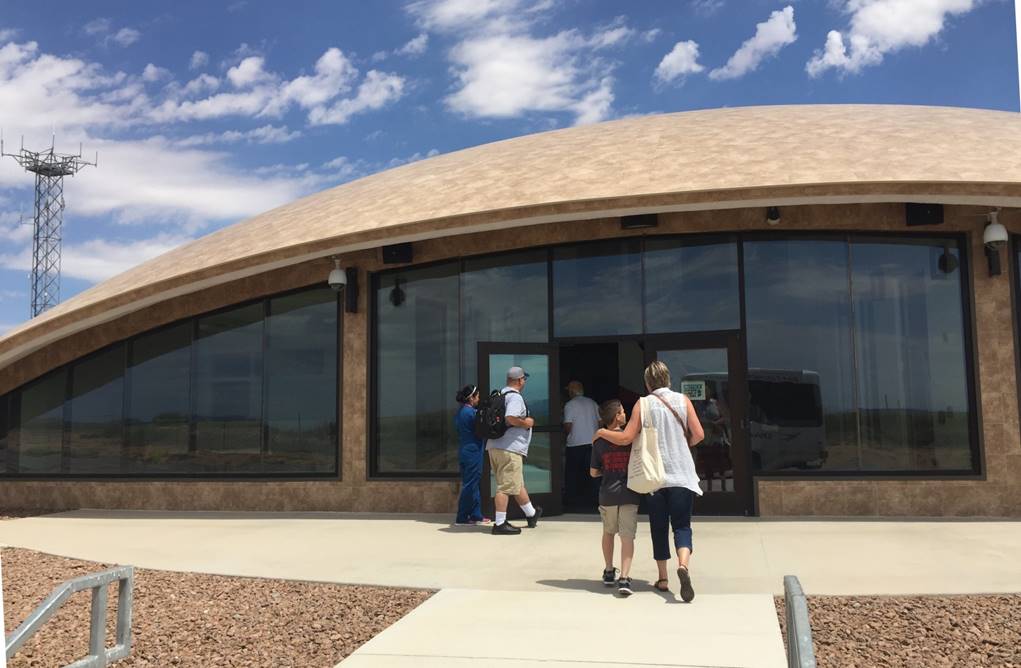 <![endif]>
Tourists entering the Operations building, home to the fire department.
<![if !vml]>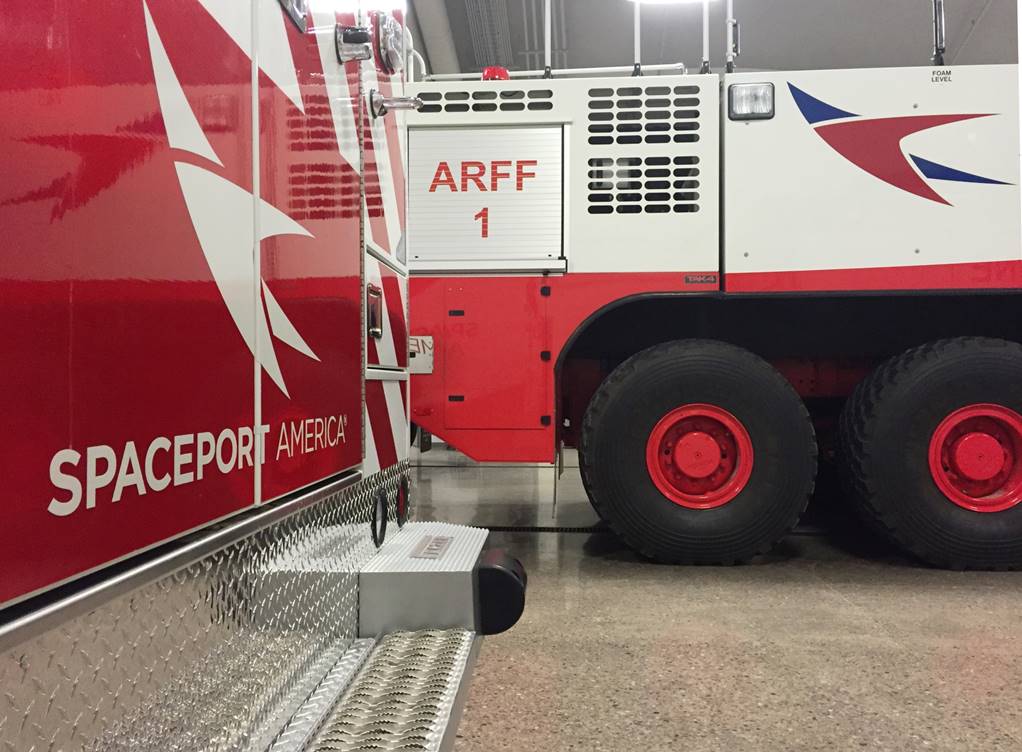 <![endif]>
<![if !vml]>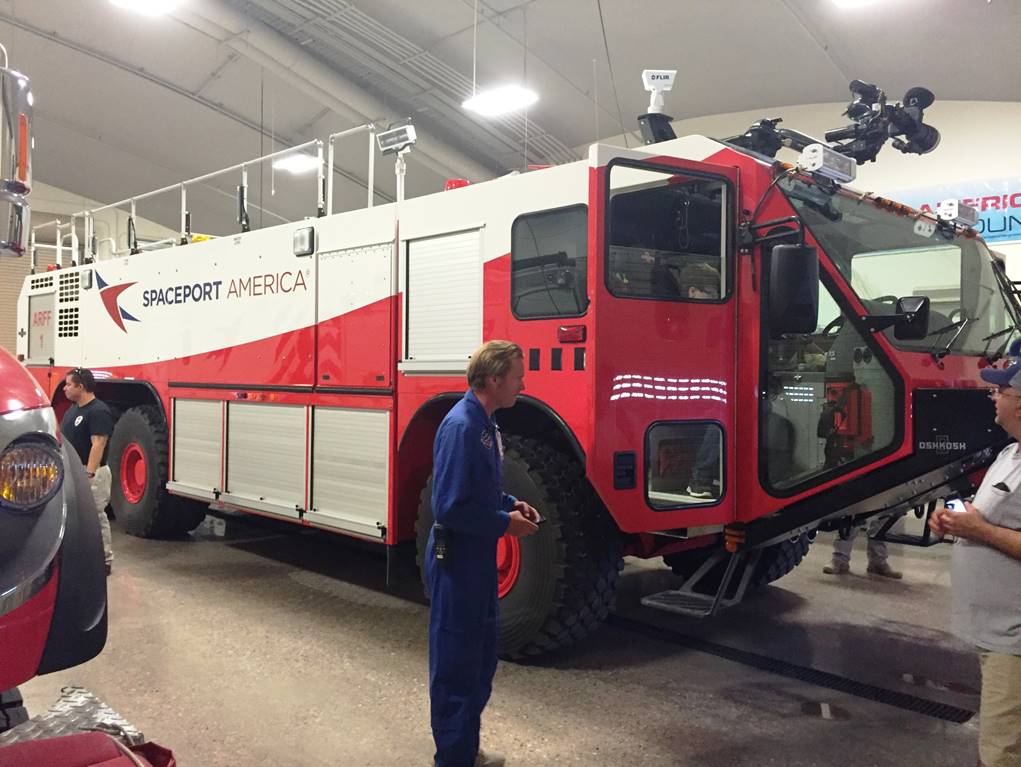 <![endif]>
Summary
The best way to visit the Spaceport is to get organised in advance and book on a tour. More likely, you'll just rock up when passing, in which case it's still a worthwhile side trip to see the Terminal Hangar building, the Genesis sculpture and the parked Spaceship Two.
One day, the Spaceport may become a real must-see destination, bustling with tourists going to and from space, with daily launches by Virgin and others. We're not there yet though.