I was underwhelmed by the original CL Companions and never reviewed them, preferring the older 30mm SLCs. But these new Companions are thoroughly revamped, so have they improved on the original's 'meh' view?
Swarovski 10x30 CL Companion Review
<![if !vml]>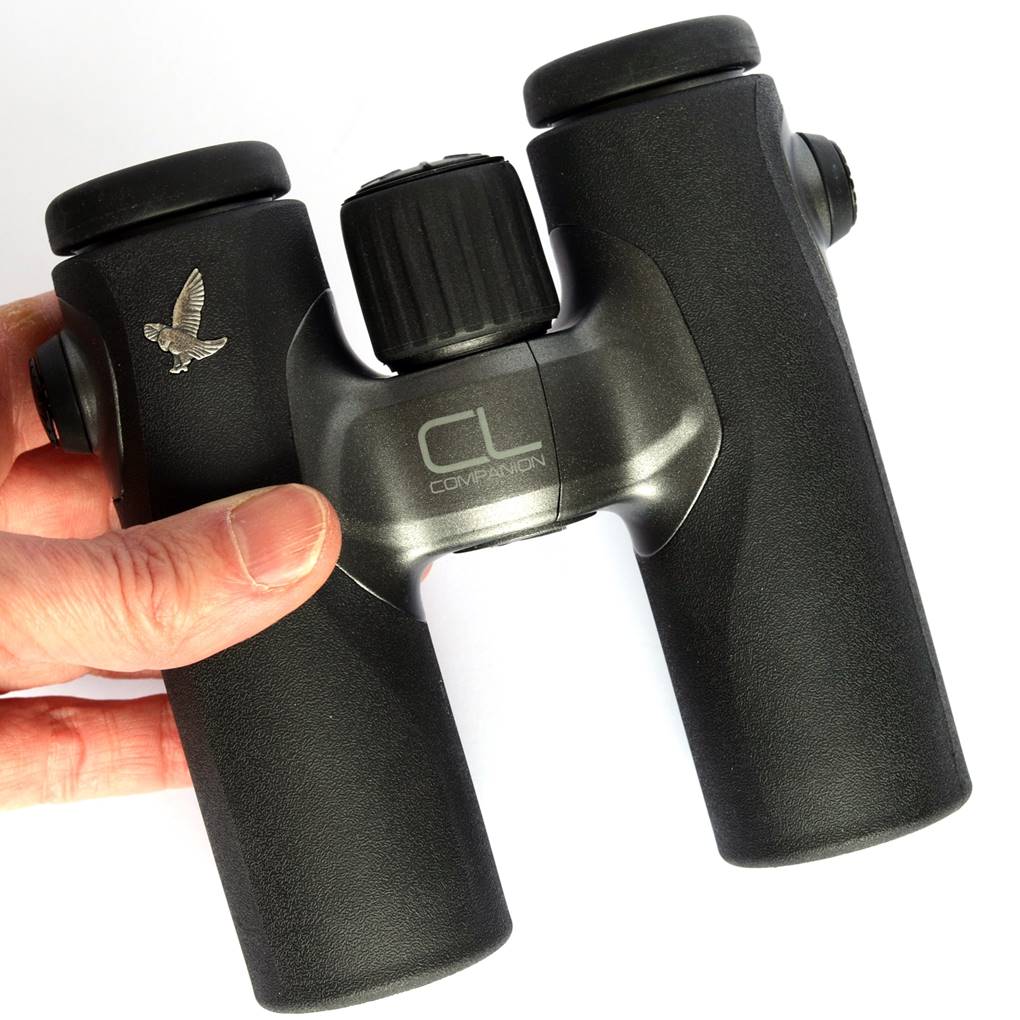 <![endif]>
When Swarovski first replaced the venerable 30mm SLC with an all-new model, the original CL Companions, I went into my local dealer all bright-eyed and eager. But I came out again all deflated and sad. Those original CLs weren't awful, they just weren't anything much – a bit dim, a bit tight of view, with too much false colour and not enough eye relief. For a third the price and labelled 'Nikon Monarch' they'd have been great. But for premium money I expect a more premium view and feel. I stuck with my SLCs and forgot the CLs.
Then, in moving to the Field Pro strap system, Swarovski launched an updated CL that seemed on paper to address some of my doubts about the original. Here I put a pair of the 10x30s through their paces to see if they finally live up to their potential – as a backup pair for traditional binocular users perhaps, but more importantly ideal for travel, something close to my own heart.
At A Glance
| | |
| --- | --- |
| Magnification | 10x |
| Objective Size | 30mm |
| Eye Relief | 15mm measured |
| Actual Field of View | 6.2° |
| Apparent field of view | 58° |
| Close focus | 2.5m |
| Transmissivity | 90% |
| Length | 125mm |
| Weight | 480g measured w/o strap and caps (500g claimed) |
Data from Me/SW.
What's in the Box?
With the CL Companions, you get the standard Swarovski unboxing experience doubled. The binoculars come in one box, the accessory set in another (I explain why below):
<![if !vml]>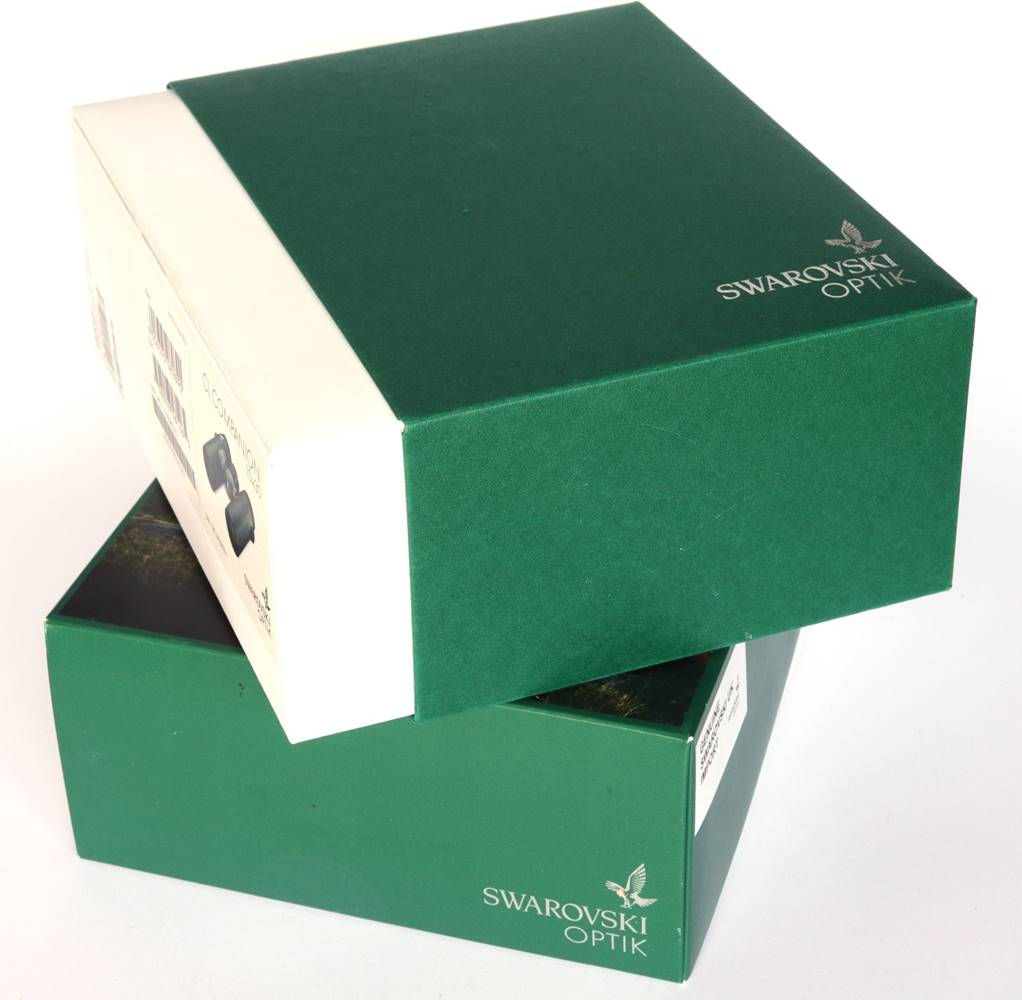 <![endif]>
<![if !vml]>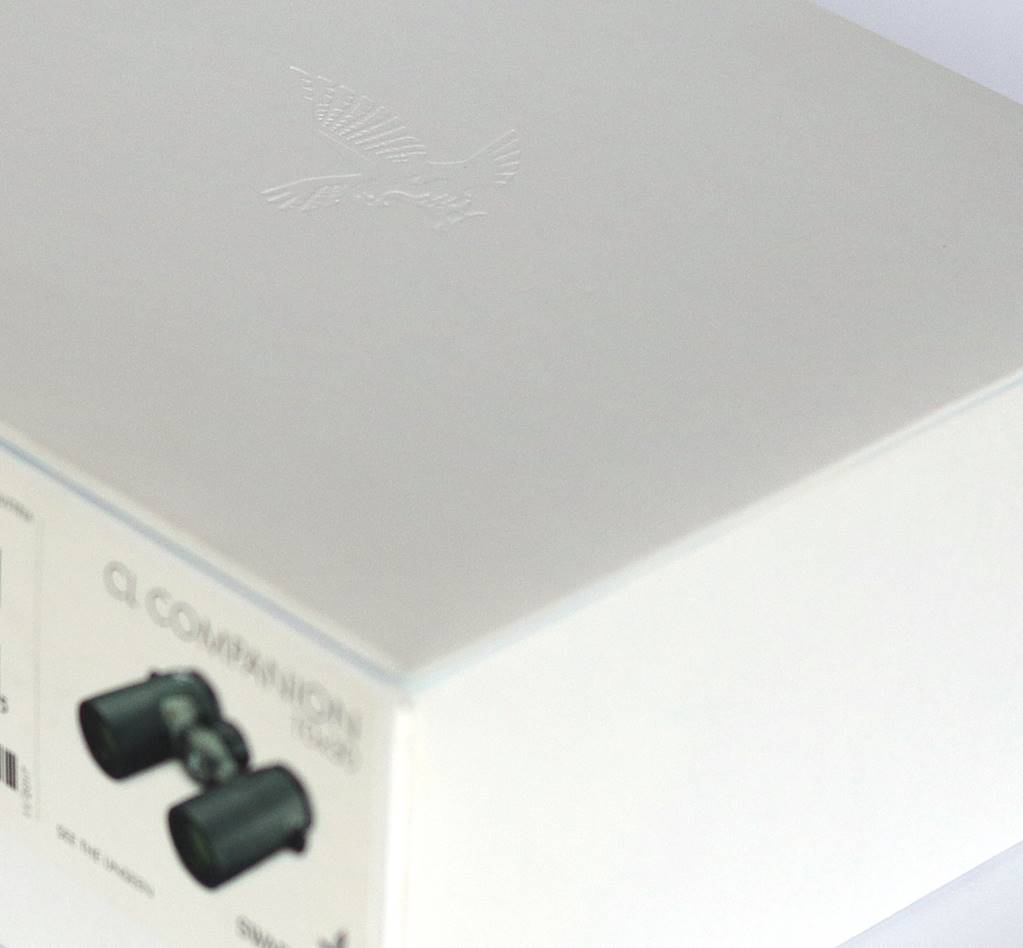 <![endif]>
<![if !vml]>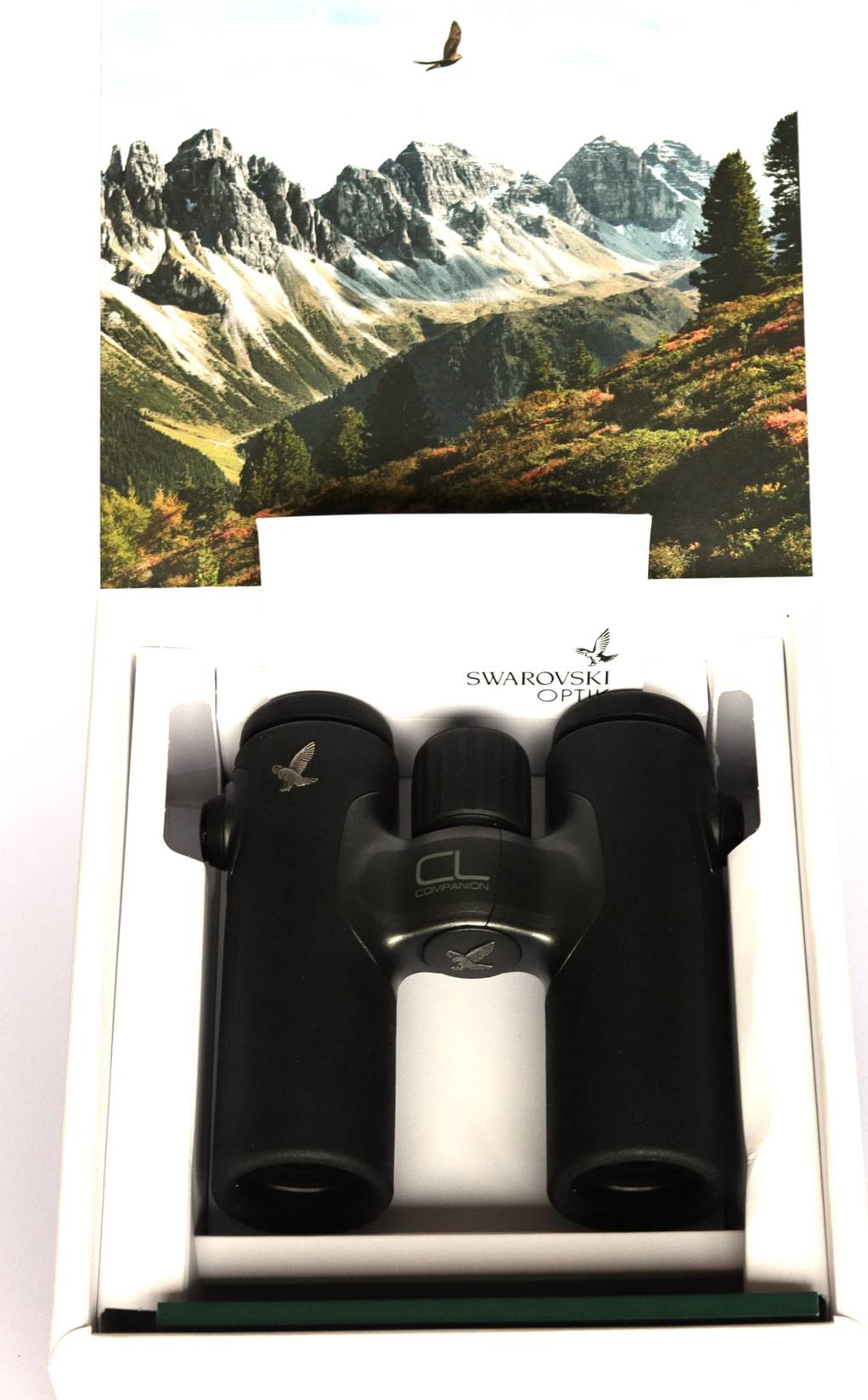 <![endif]>
<![if !vml]>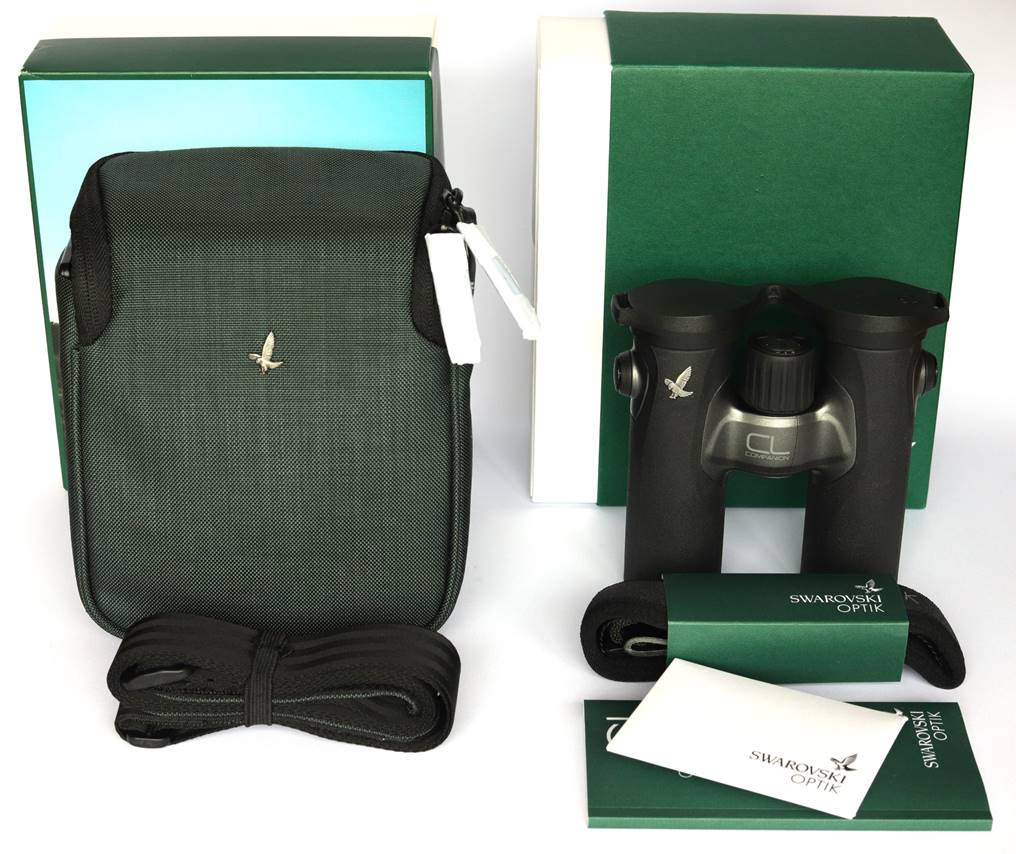 <![endif]>
Design and Build
This second version of the Companions retains the short-bridge design of the original, but otherwise looks different and has different specs. It's slightly lighter in weight, contains two more optical elements (20 vs 18), promises better eye relief and half a degree more true field. And of course, they now benefit from the Field Pro strap system.
Despite the upgrades, the CL Companions remain the cheapest binoculars in Swarovski's lineup. But they are not some cut-price, entry-level offering made in China. Instead, the Companions are real Swarovskis – built in the same way, with the same materials and in the same Austrian factory as the rest. And in some ways, that's reflected in the price, which is high even compared to Zeiss Conquests or Leica Trinovids.
The only other models in the CL line are the 25mm 'Pocket' models, but the Companions are not a folding binocular. Instead, SW have taken a conventional roof in a modern short-bridge design and made it as small as they can. The result is smaller and lighter than just about any 32mm bino', Swarovski's own 32mm ELs included. They may be just compact roofs, like the old SLCs, but the CLs are significantly smaller and about 20% lighter too.
The compact design of the Companions is similar to Nikon's mid-range Monarch 8x30s, but the none of the other 'Alpha' brands produce a premium model quite like it, one explicitly designed for travel.
Apart from colour and accessories, the only choice is 8x30 or 10x30. Here, I've gone for the 10x30 as ideal for multi-purpose travel use – some casual birding and nature viewing, but with a bit more power for a rocket launch, or quick looks at the Moon or dark sky highlights. You might prefer the steady view and wider true field of the 8x30s.
<![if !vml]>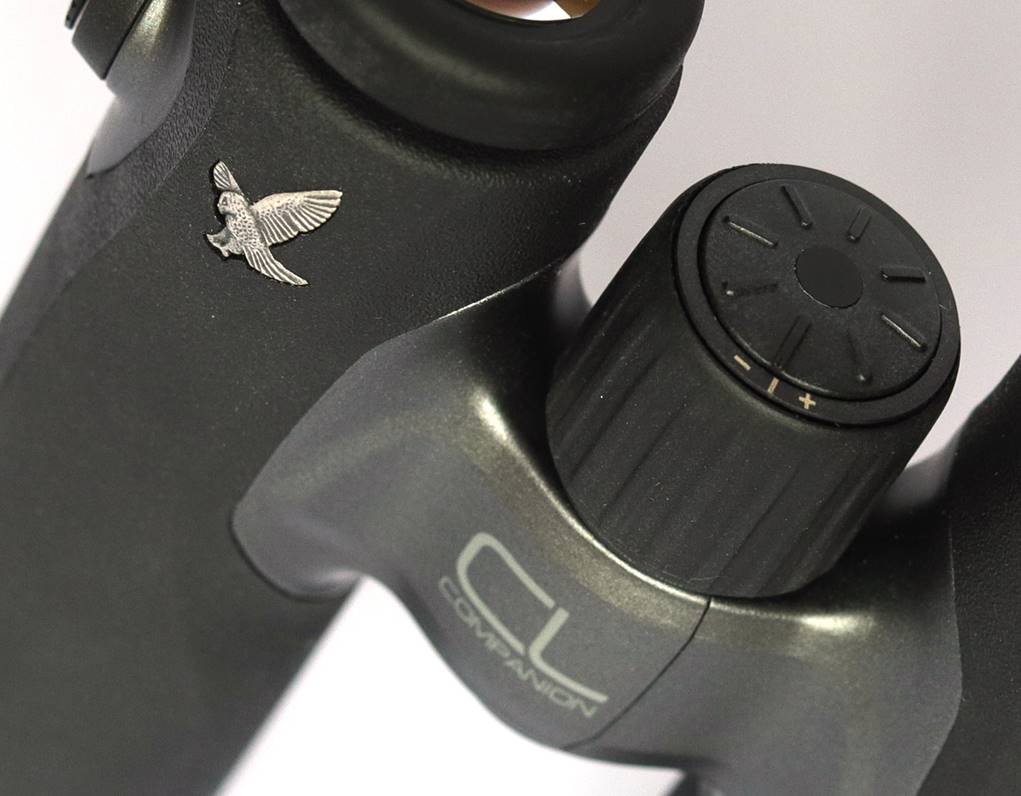 <![endif]>
<![if !vml]>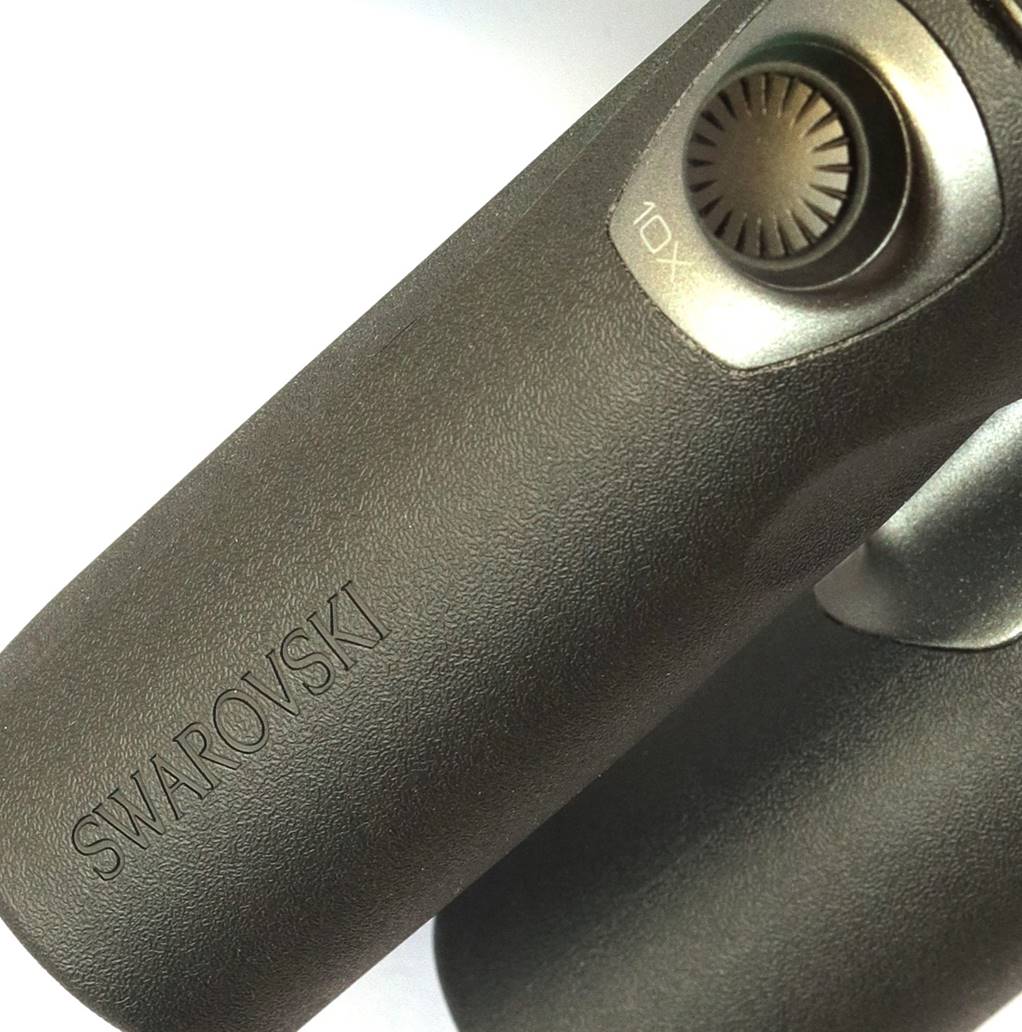 <![endif]>
Body
The body has long barrels, a small rear-set bridge and thumb indents on the back for added comfort.
The armour is standard SW, much like my old black 8x30 SLCs' (they call the finish 'Anthracite', but it's almost black). It's warm and grippy, doesn't smell rubbery and isn't too much of a fluff-magnet. But the dark colour shows up dust much more than green armour.
With the original CL Companions, Swarovski broadened their armour colours to include sand brown (for safaris) and blue (polar/cruising), along with black like the old SLC 8x30s and the usual SW green. These new models are still available in green, but the only other mainstream colour is the 'anthracite' on test. I say mainstream, because there is also a wildly expensive special edition 'Nomad' model that features hand-stitched leather and a presentation box ... at just twice the price (if you want leathered luxury, I'd buy Leica's retro Trinovid 7x35s instead).
Everything about the standard CLs seems typically premium Swarovski, but their dark grey armour and sculpted, metallic grey detailing gives a more stylish, urban look than typical Swarovskis – they'd blend in on holiday or at events. In this respect, they diverge from the more utilitarian look of the 8x30 SLCs and original CLs.
Considering they boast the hand-assembled quality of any Swarovskis, the CLs are remarkably light at just over 480g on my scales. They are very compact too, just 125mm long and about 110mm wide, fully folded but including the Field Pro strap lugs.
External and internal build quality appears top-drawer and these are waterproof to 4m like all Swarovskis.
<![if !vml]>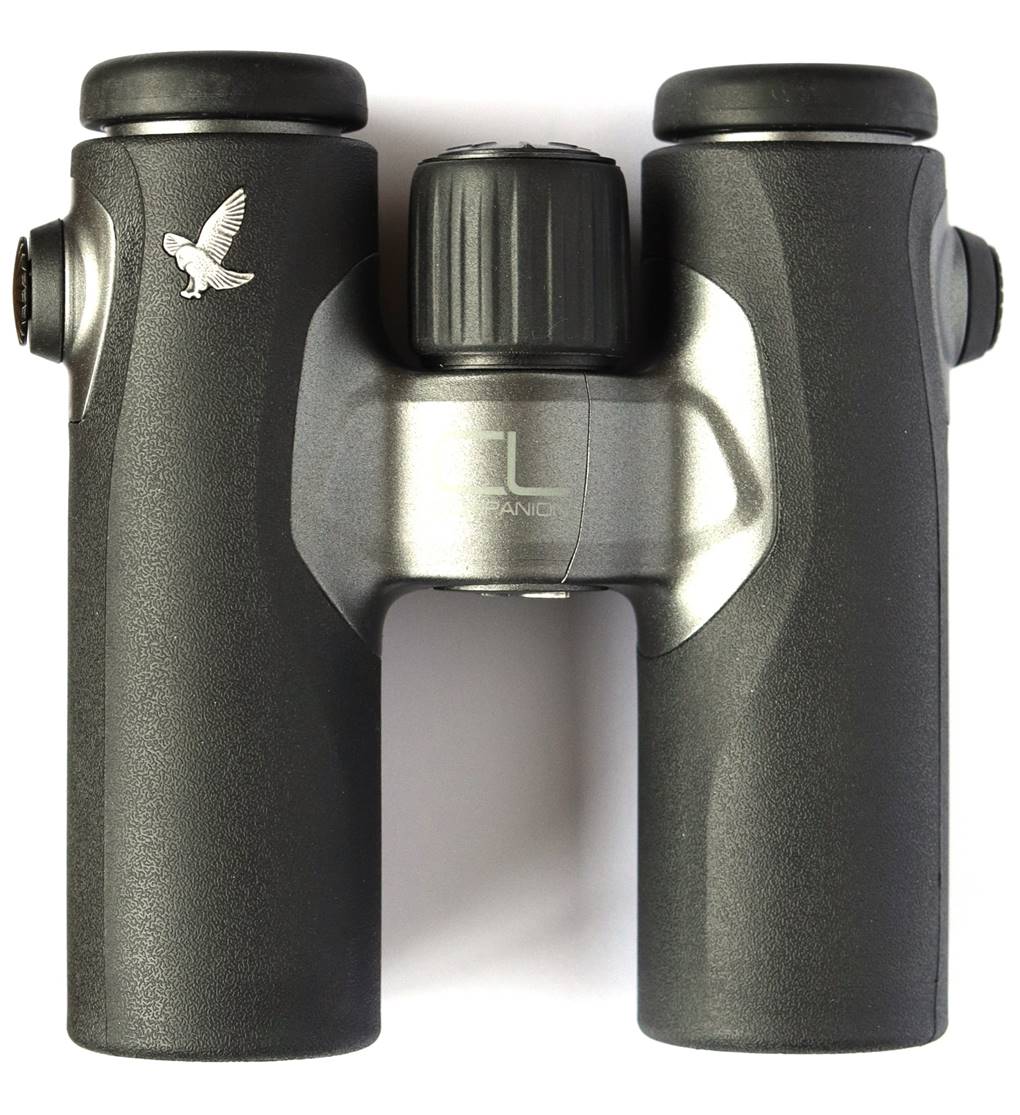 <![endif]>
<![if !vml]>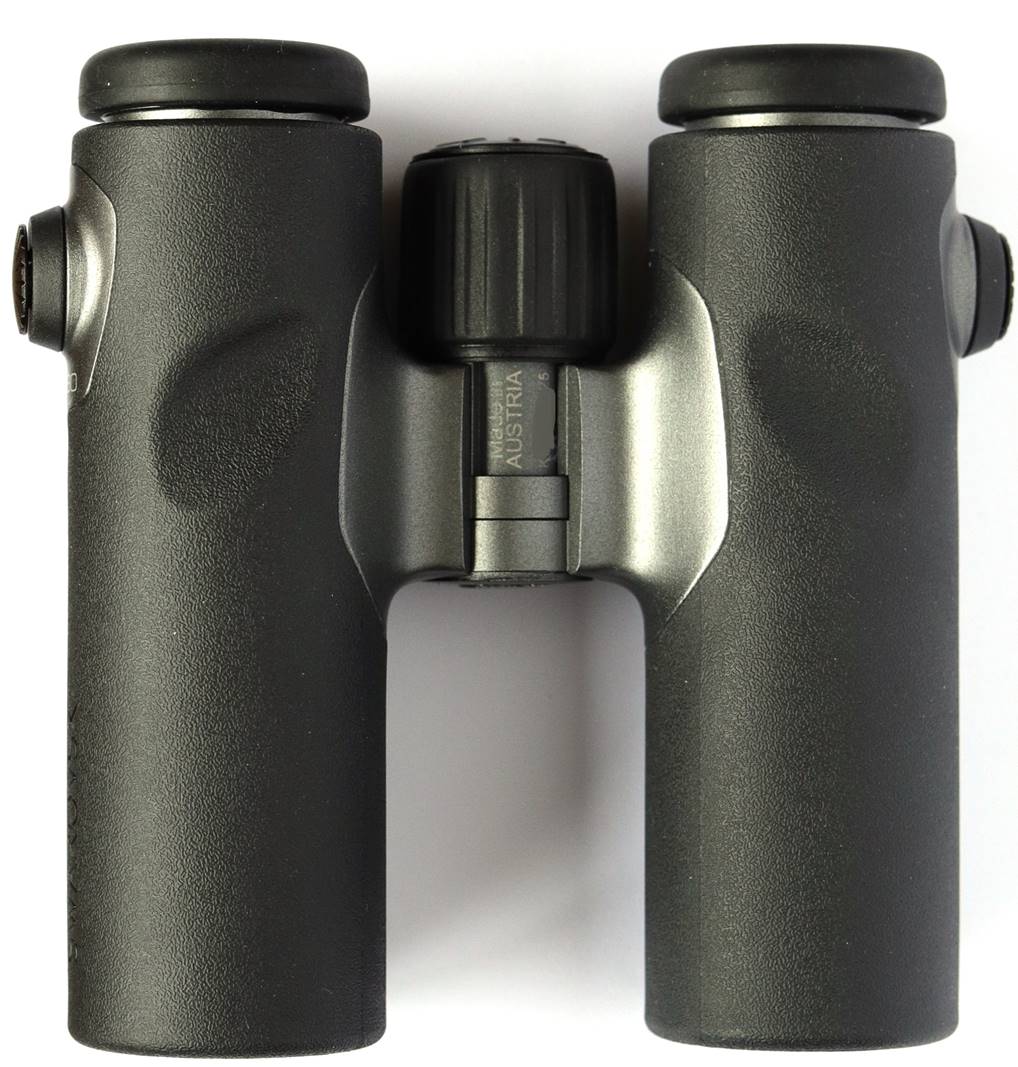 <![endif]>
Focuser
The focuser wheel is large for this size of binos and it's coated in soft rubber for grip with gloves or numb fingers. Action is well weighted, smooth and precise, with no variance focusing in and out – a sure sign of a quality focus mechanism. The feel is just a little 'drier' than the very most fluid, typical for greaseless focusers.
I measured close focus at about 2.5m, at which it's still quite easy to merge the image. That's fine for general use and birding, but not ideal for butterflies and other insects. Close focus to infinity is a fast 1 ¼ turns that leaves plenty of extra to cater for different prescriptions.
Dioptre adjustment is central. To adjust you push and twist the middle of the focus wheel. There are tiny +/- marks and one to show you where centre is, but the matching score mark on the adjustment disk is ridiculously small. The marks stay in the same place when focusing, and dioptre would be almost impossible to shift by mistake, which is all good. But I found the action a bit fiddly and there's no détente to let you know when you've found centre. You couldn't adjust dioptre in the dark or with gloves on.
<![if !vml]>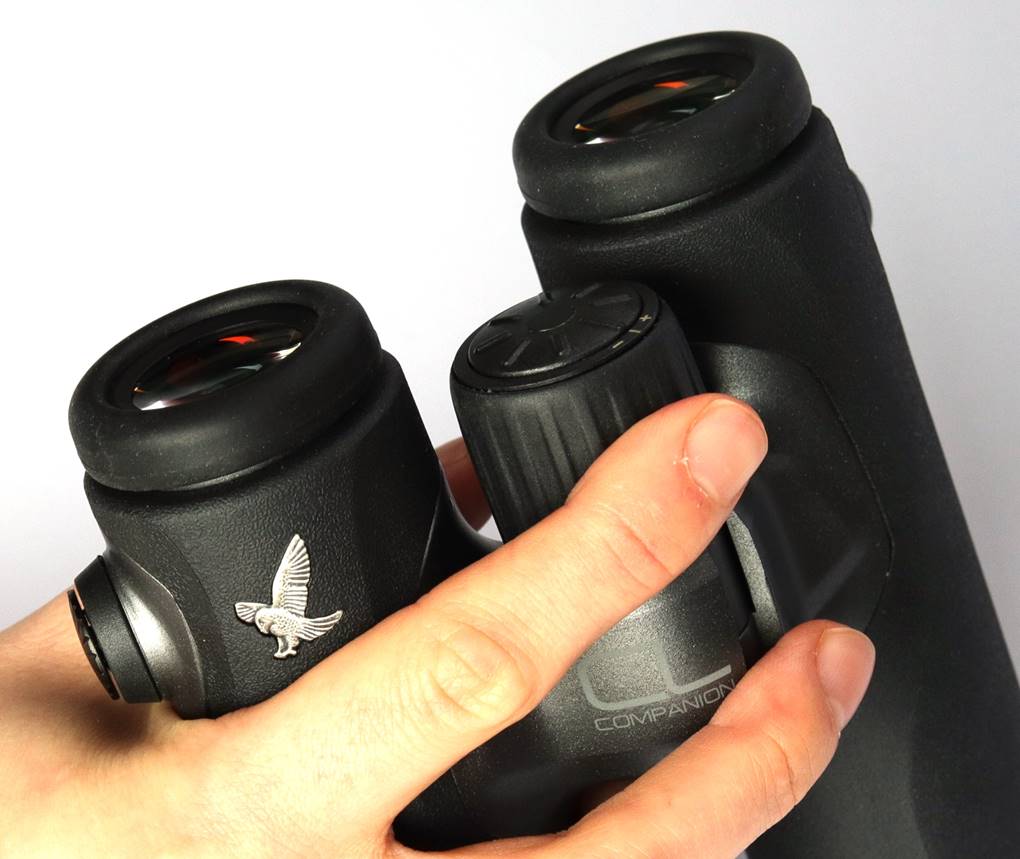 <![endif]>
<![if !vml]>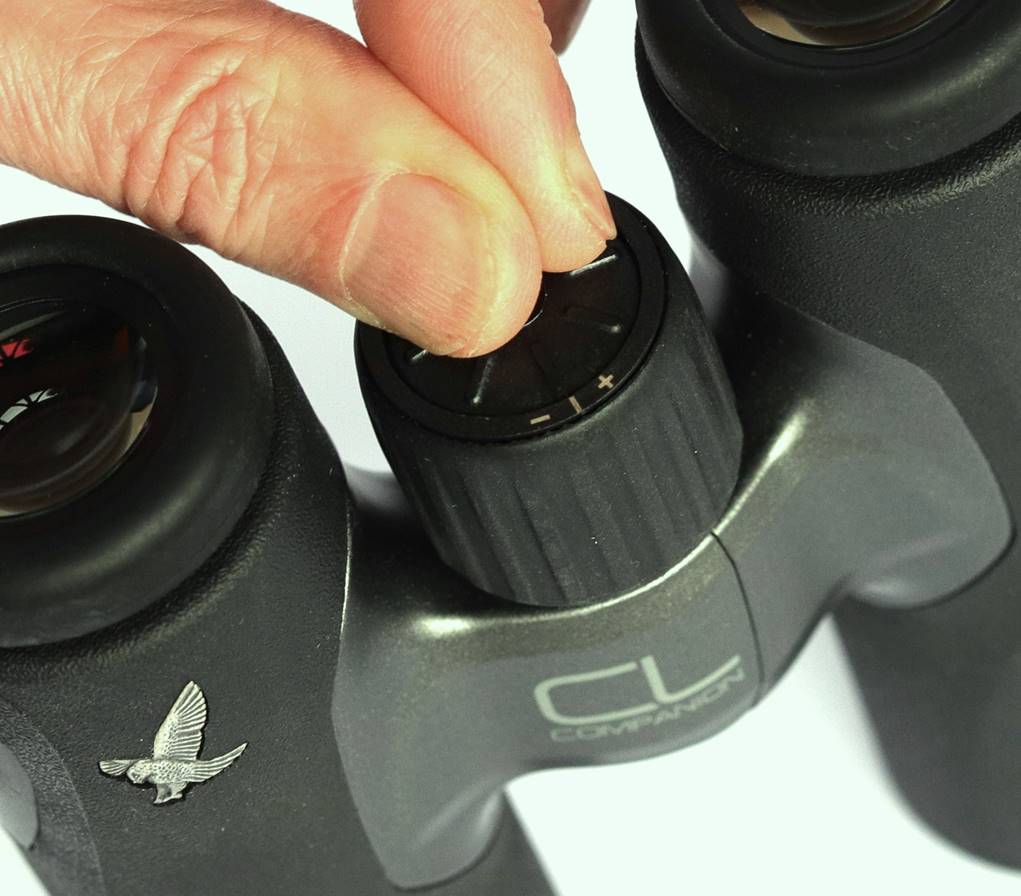 <![endif]>
Focuser wheel ideally placed, but dioptre adjustment is fiddly.
Optics - Prisms
These are a modern-standard Schmidt-Pechan (a.k.a. Roof) prism design. Swarovski quote an overall 90% transmission, which is good for roofs. One reason is that these benefit from Swarovski's SWAROBRIGHTTM dielectric mirror coatings on the prisms.
Optics - Objectives
The objectives are likely triplets and may be an 'HD' design that includes a high-fluoride SD (ED) element for good false colour correction: Swarovski don't mention this feature much anymore, even for their top-line models.
Interestingly, SW quote the 10x model as 10g heavier than the 8x. Why? They have the same number of optical elements and body style and size are identical. Could those extra 10g derive from a different optical configuration?
The specs claim both SWAROTOPTM and SWARODURTM coatings, like any modern SWs. That means premium multi-coatings on the glass: dark greenish tobacco in hue and very transparent, increasing light transmission of each glass surface to a claimed 99.8%.
The barrels have machined-in ridge baffles and the focuser carriages are also ridged to kill stray light, as is the lens ring.
<![if !vml]>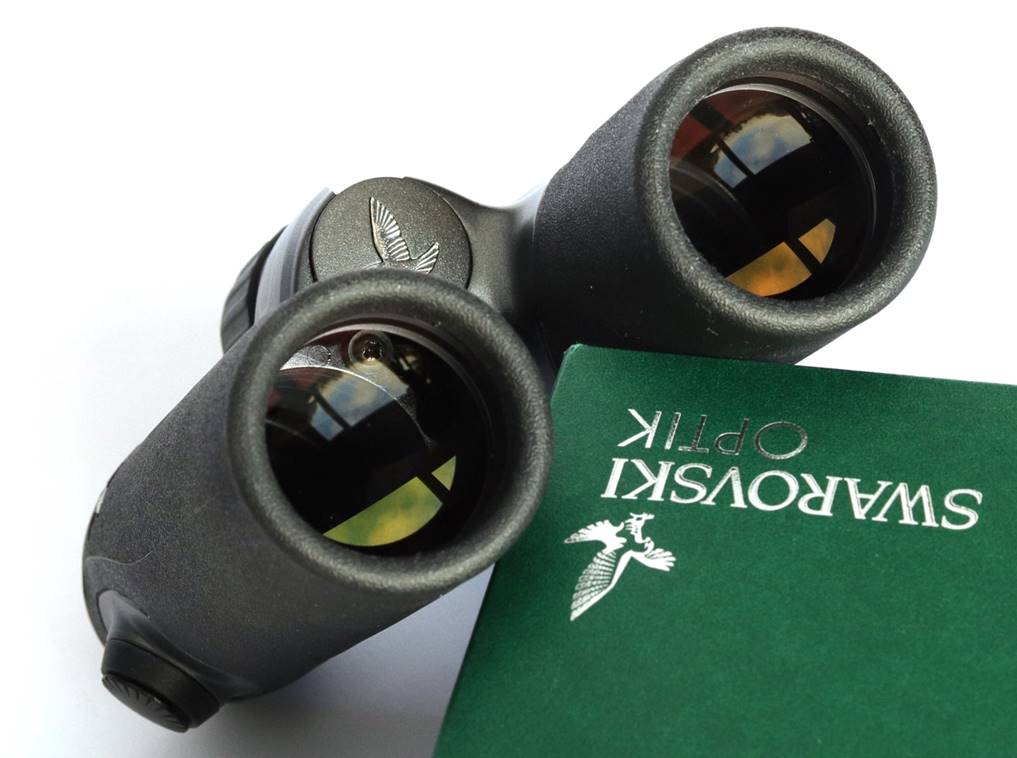 <![endif]>
<![if !vml]>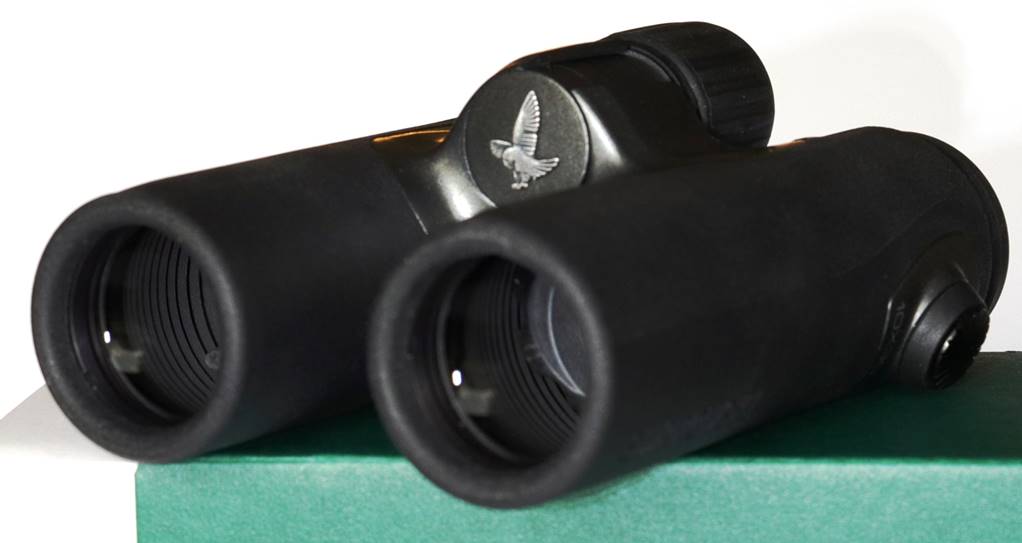 <![endif]>
Premium coatings, micro-baffled barrels to kill stray light and reflections.
Optics - Eyepieces
Swarovski quote 10 optical elements per side (up an element from the old model), suggesting a sophisticated five or six -element eyepiece design with scope for a flat, wide field and good eye relief.
Small binoculars often struggle to provide a wide field, due to the optical realities of physically small, simple oculars. But for the CLs, Swarovski have managed to get an apparent field of 58° (6.2°) apparent – competitive with most larger 10x models and half a degree more than the old Companions, if not a truly wide field. As we will see, that field is very flat too.
The eye lenses are quite large at ~21mm in diameter and lightly dished. They're quite well recessed for protection, but I still measured eye relief at 15mm from the eye cup. It's enough to be comfortable with glasses and I can see most of the field with my thick-rimmed specs on. It is a useful millimetre or two more than the original Companions (than the forerunner SLCs too).
The eye cups are typically solid and effective Swarovski items. They twist out and lock with oily smoothness and though there is only one clicked-out position, you could easily set intermediates. Extended, their barrels match the metallic grey finish of the bridge.
Spherical aberration of the exit pupil, which can cause blackouts as you move your eye around, isn't a problem.
<![if !vml]>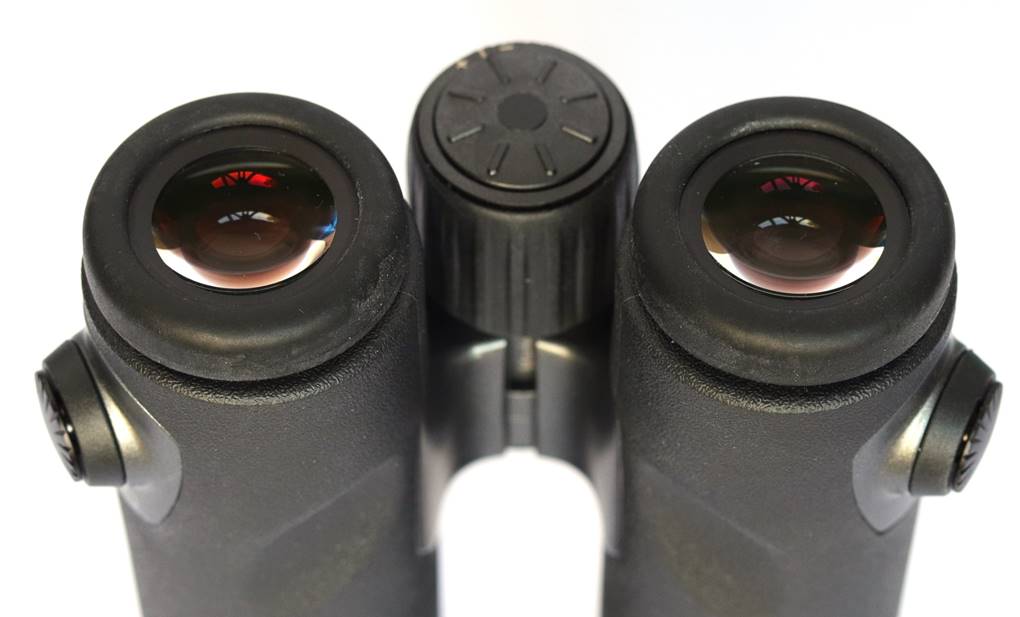 <![endif]>
<![if !vml]>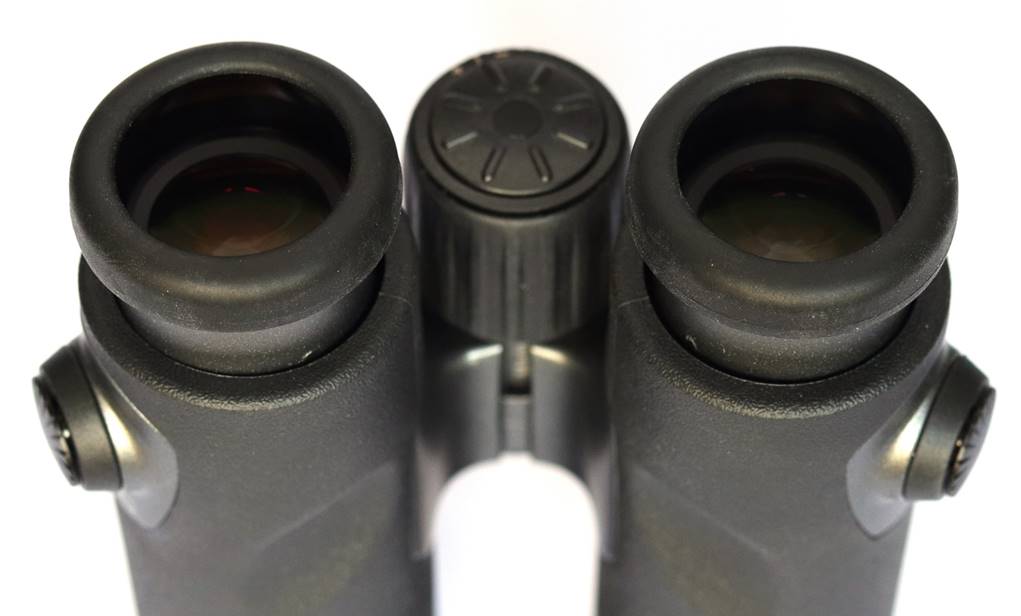 <![endif]>
Eye cups have only one click stop, but operation is super smooth and stable.
Accessories
This is where we finally get to grips with the dual box thing. The reason is that Swarovski offer three different accessory 'kits' to accompany either binocular colour.
The 'Wild Nature' kit you see here is basically Swarovski's standard case and strap. The 'Urban Jungle' kit features the regular strap, but a retro canvas bag in green. The 'Northern Lights' kit, meanwhile, has a grey soft case made of some kind of woollen fleece with a matching strap. It looks great but not so sure how well it would wear, perhaps it's best for left for urban use.
All the kits are the same price and you can buy them as after-market accessories if you fancy giving your Companions a change of look and style. I can only comment on the Wild Nature accessories shown here, which feature a quality padded case and a standard neoprene Field Pro strap.
Fitting the Field Pro strap feels a bit alien at first, needing a two-thumb twist for me. But I'm getting used to it and it is superior to old fashioned feed-through lugs in use.
The band-on objective caps and rubbery eye cap are again functional, standard Swarovski fare.
<![if !vml]>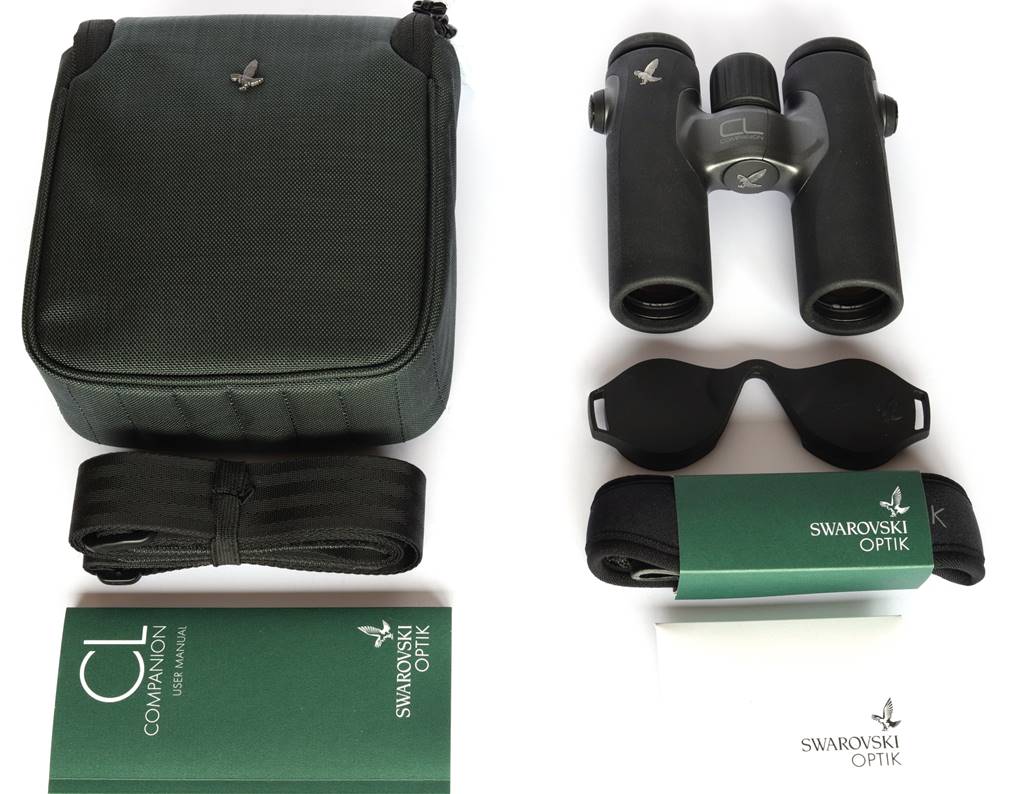 <![endif]>
<![if !vml]>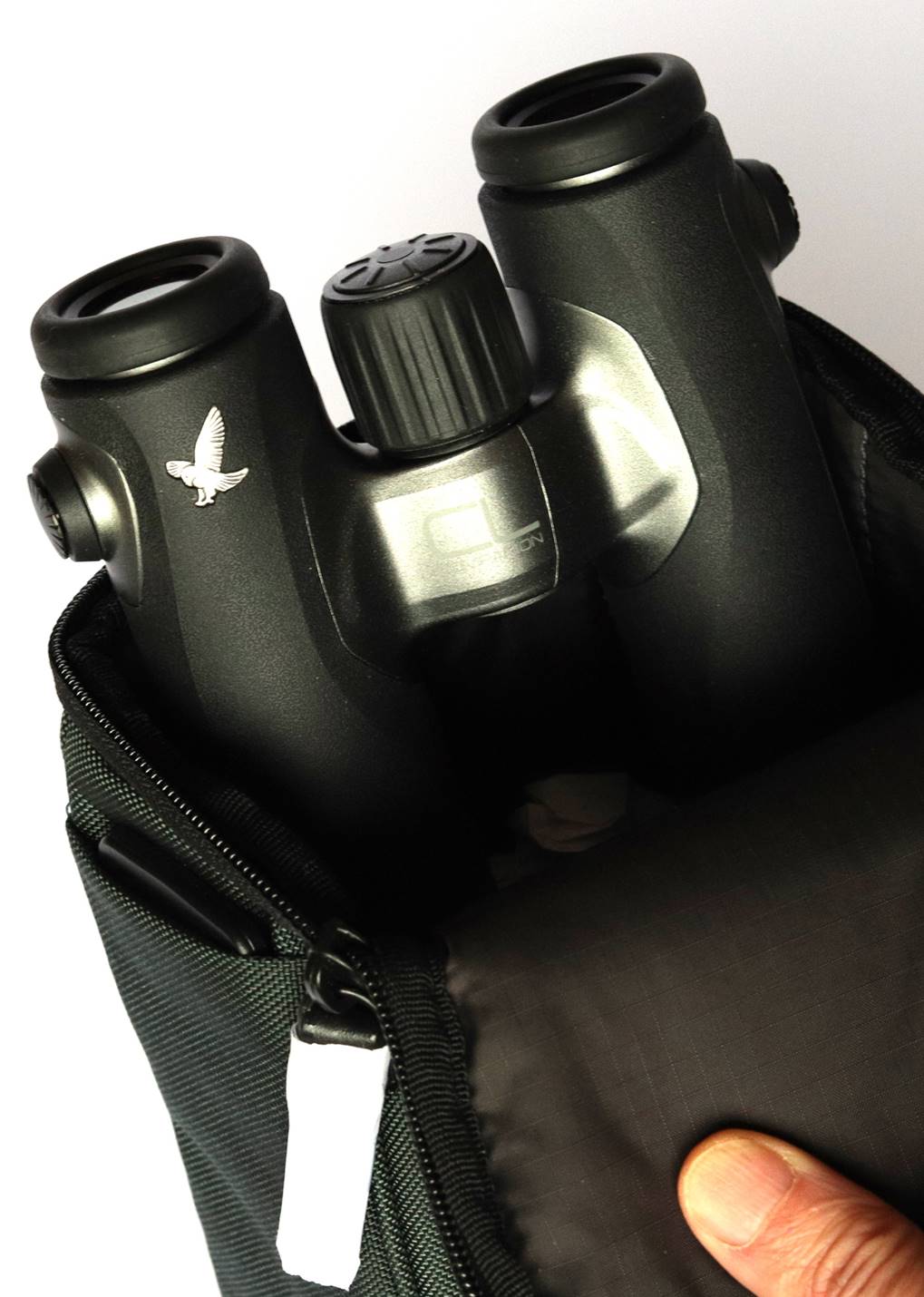 <![endif]>
<![if !vml]>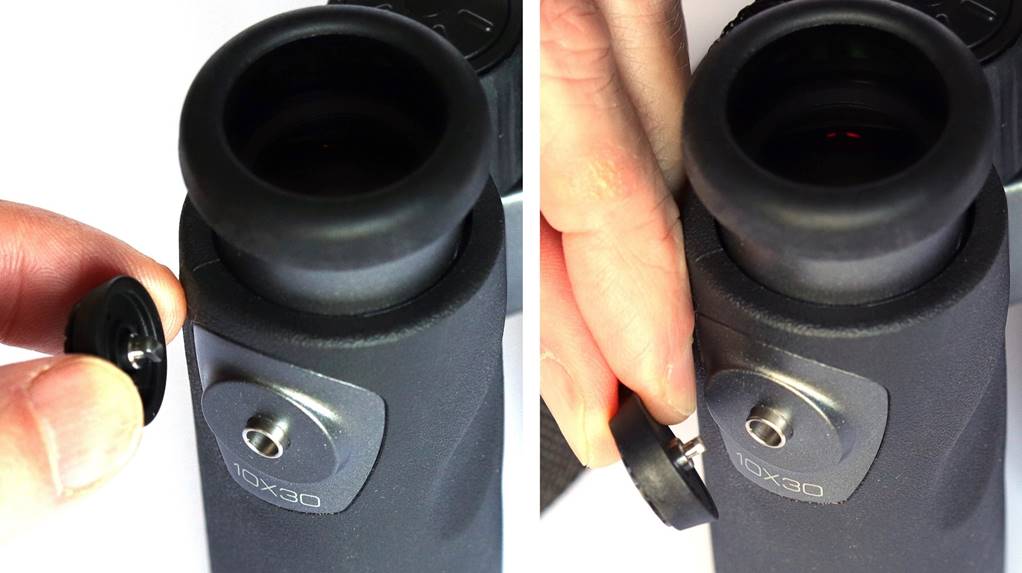 <![endif]>
Field Pro strap attachments take some getting used to, but work well once properly fitted.
<![if !vml]>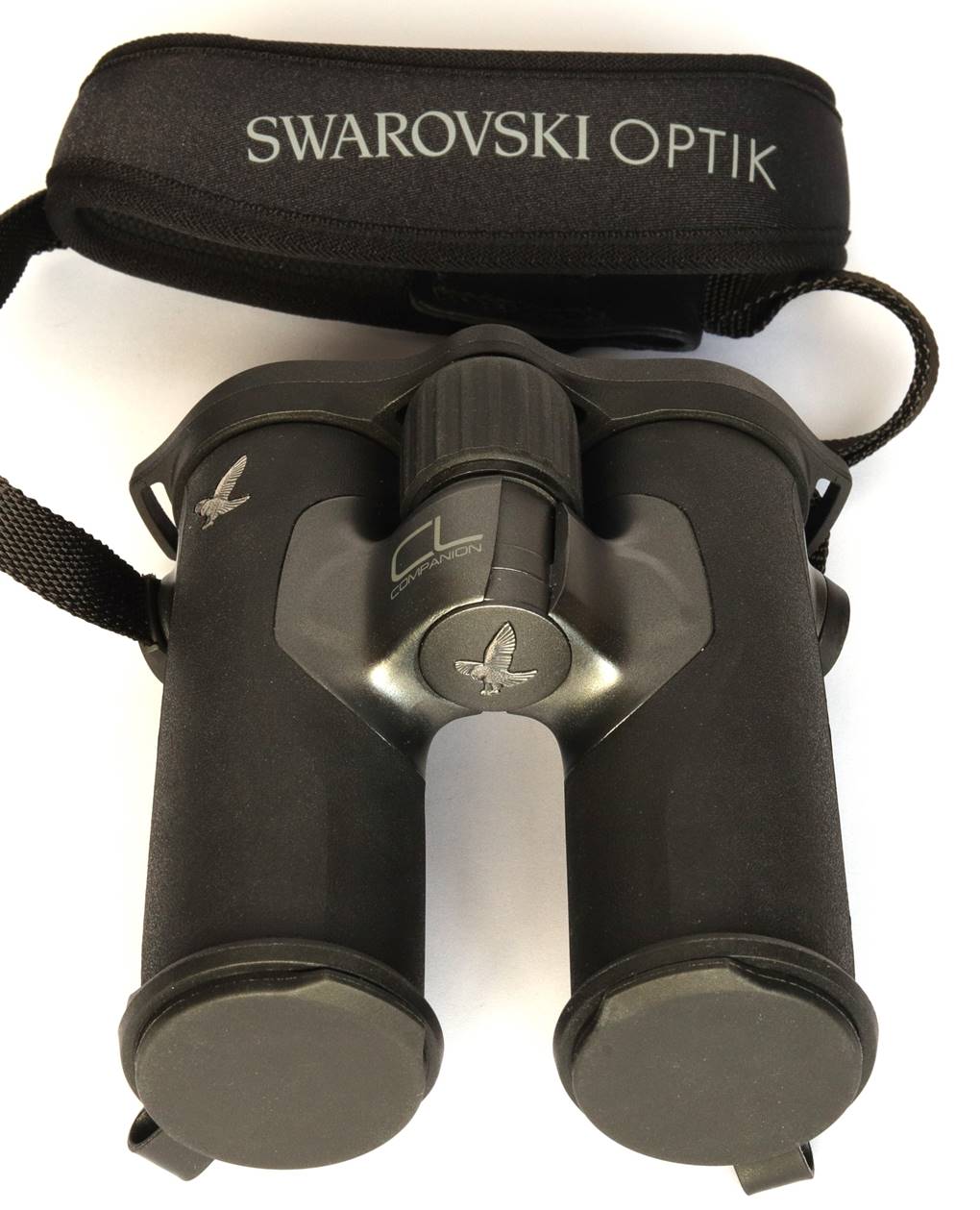 <![endif]>
In Use – Daytime
Ergonomics and Handling
Handling is mostly very good. These are a small binocular, but they feel very natural and comfortable in my (admittedly small) hands. Their long-barrelled design, together with those indents and rear-set bridge mean you can hold them securely around the barrel whilst focusing. They're easy to use one-handed too, something that trekkers and travellers might appreciate.
The large focuser falls very easily to finger and is usable with gloves. It's plenty fast enough for following my local crows jinking about on a winter wind. The focuser does have a slightly dry feel, but it's accurate and snappy. A key thing I notice with high-end optics like these is the way the focus point stays the same whilst focusing in and out and through, with no mush or vagueness. Again, that's important for following birds on the wing.
My only gripe is that dioptre adjustment. It's central which is good, but the push and twist mechanism is fiddly to use, has no neutral détente and the neutral mark almost needs a magnifier to find.
These are (by design, I'm sure) an unobtrusive and stylish binocular to wear, with a more urban vibe than most birding bino's. You'll look less of an optics nerd surveying Florence from the cupola of the Duomo.
<![if !vml]>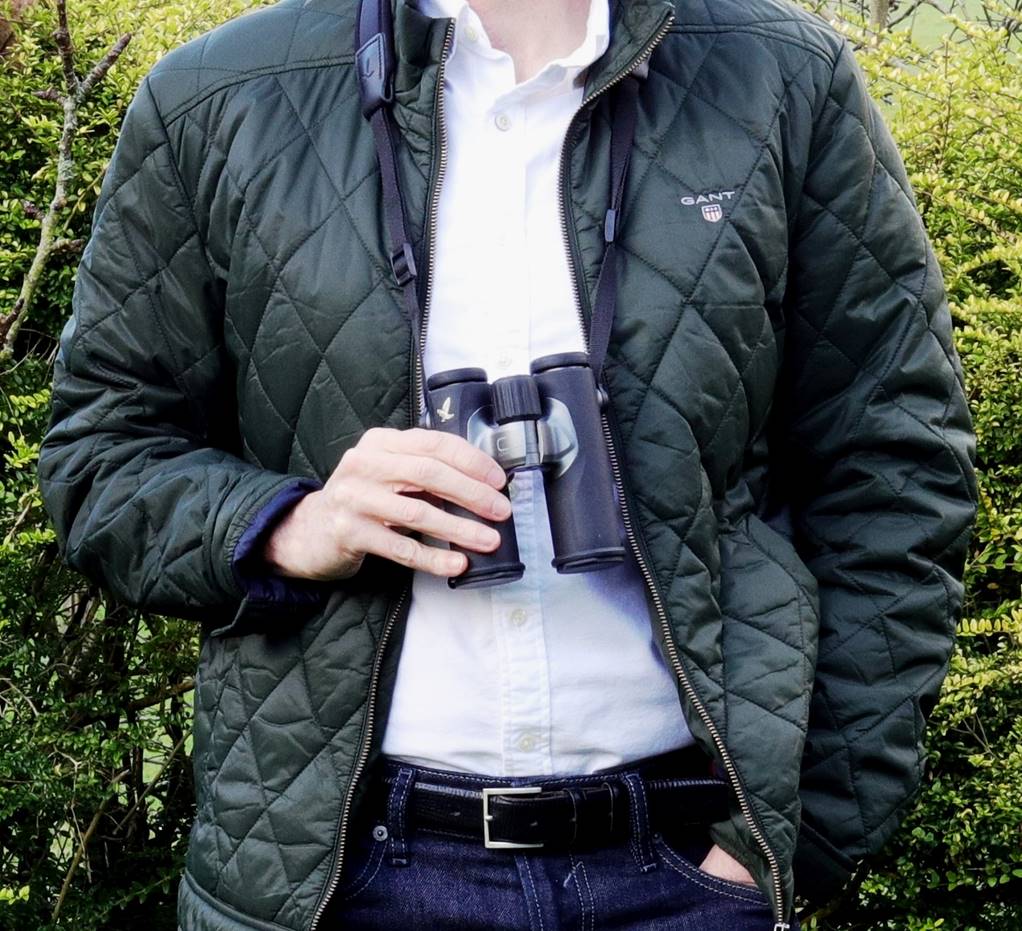 <![endif]>
<![if !vml]>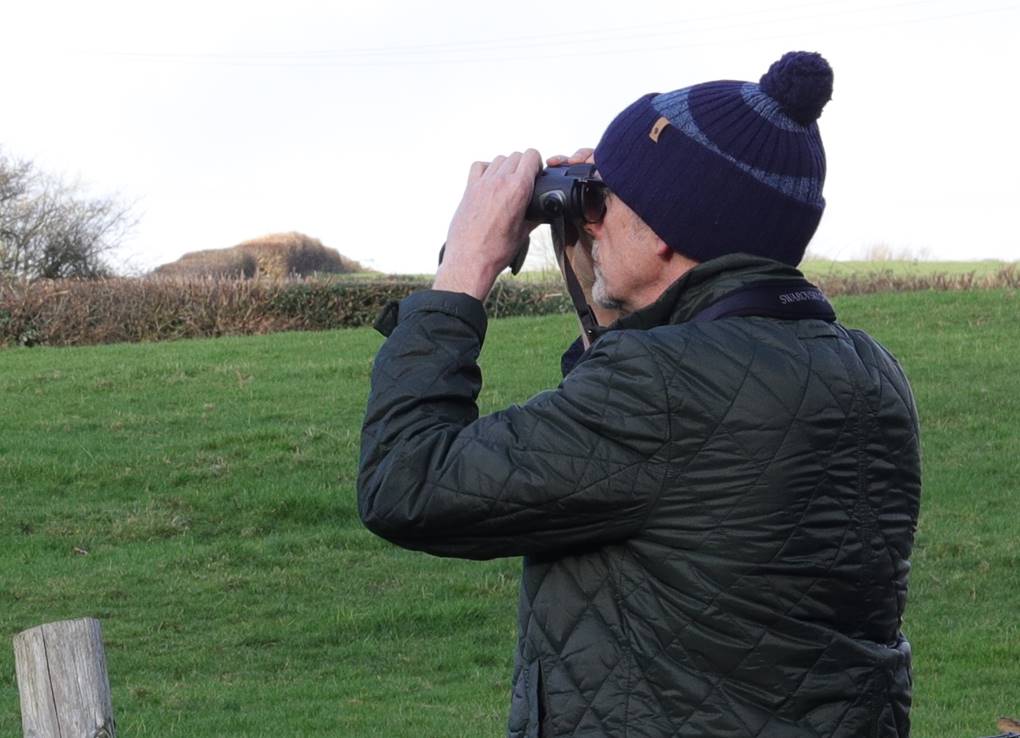 <![endif]>
The View
The view is excellent – sharp, bright, quite wide and flat. There's lots of crystal clarity and high resolution detail, with good natural colours (if a little warmer in tone than some). This is a view that at last makes few compromises for the bino's small size.
I enjoy following the antics of a mixed flock of Blue Tits, Coal Tits and even a Goldcrest, flitting about and grabbing the last bugs before winter sets in. The freedom from false colour makes a big difference watching my local crows and Jackdaws, with their dark plumage, too. These actually make a fine birding binocular, with high resolution, clarity, steady hold, good focuser and lack of false colour contributing to easy IDs.
A lot of small binoculars leave me quickly wanting a full-sized pair. These don't. If the view lacks that last photon of crystalline sparkle, brightness and supreme resolution you get with a premium full-size model, that's the extent of the price you pay for pocketability (in bright conditions at least).
Unlike the original CLs, there is nothing much here that diverges from Swarovski typical, i.e. all-round excellence.
Flat field?
Swarovski don't make a fuss about field flatness for the CLs, the way they do with the ELs and NL Pures, but in fact the field is really flat and sharp and usable to the very edge. Again, this is an area where Swarovski typically better Zeiss and Leica. Whether this is important to you is a different matter. Personally, I can overlook some Leica-style off-axis curvature and blurring, but I do prefer the flat field Swarovski now build into all its binoculars, especially for astronomy.
The field is flatter than either the old Companions' or the 30mm SLCs that preceded them.
<![if !vml]>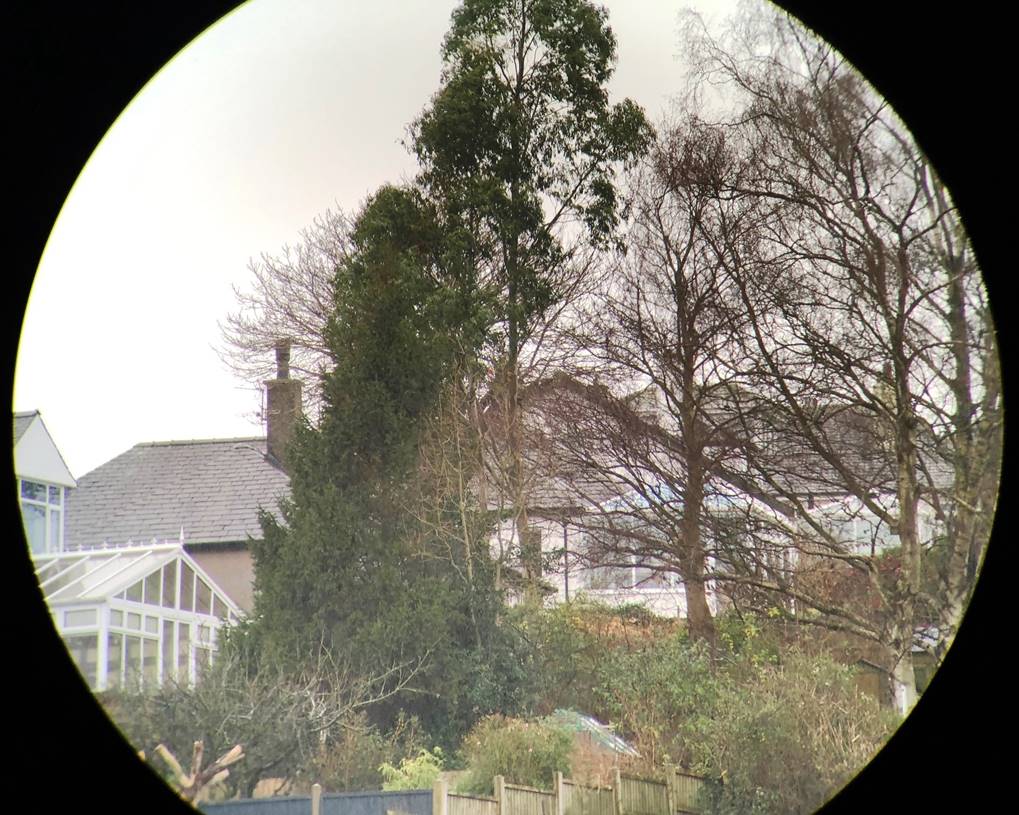 <![endif]>
Chromatic Aberration
Focusing or panning through winter branches, or viewing dark plumage in silhouette, does reveal some false colour: purple and green around branch and feather. But in general use these don't suffer from noticeable chromatic aberration, something I really appreciate. Performance in this respect is roughly on a par with most HD binoculars and these may well benefit from an SD element in their objectives.
This aspect of performance is much improved over the original Companions I tried.
In Use – Dusk
30mm objectives are really the minimum for usability in low light and indeed these don't penetrate dusk shadows (or woodlands on very dull winter days) the way 42mm binoculars (or even 32mms) do. This is just physics – even 32mm objectives have ~14% more light gathering area than 30mm.
In Use – The Night Sky
The same comments about aperture apply to astronomy, so we can't expect these to be Messier-monsters.
Still, it's easy to forget what a great feature a really flat field like the Companion's is for astronomy. There is a touch of astigmatism at the very edge, but that's it: no stringy stars or 'warp tunnel' effects here. Their light weight and handiness make them easy to hold high for long periods, too.
The Moon
A magnification of 10x gives more detailed views of Luna than 8x, starting to show a variety of larger craters as well as just the main Maria. The Companions give a very crisp view of the Moon with no significant flare, ghosts, spikes or false colour. On a 20 Day Moon, I was for example able to make out Tycho with its bright rays, the triple crater system of Ptolemaeus, Alphonsus and Arzachel just off the terminator and lots of other crater formations, including Maurolycus, in the rough southern highlands.
Planets
You're not going to see detail at 10x, but Jupiter was a clear disk and bright Mars and Venus showed no nasty false colour, flare or prism spikes.
Deep Sky
I tend to reckon 42mm objectives are the minimum for good deep sky views, but these showed that's not really true. I found galaxies M31 and M33 easily, along with smaller DSOs including the Dumbbell Nebula and the Hercules globular clusters M13 and M92. Albireo split cleanly into its component orange and blue stars and sweeping upwards from it through Cygnus, the star fields were beautifully displayed by the flat field. Likewise, the Double Cluster and rich star fields around it looked better than I expected, with the CL's relatively (for a compact bino') generous field width helping. The Companions displayed Orion's Great Nebula, its nebulosity and sweeping arms, much like a larger aperture would, albeit a little dimmer.
Open cluster M35 resolved into stars with averted vision, but the clusters in Auriga were just smoke smudges. Although the Pleiades looked good, they lacked the misty sparkle that larger apertures and magnifications give.
These CL Companions do work for finding and enjoying brighter DSOs and sweeping star fields. This makes them a much more complete travel binocular than 10x25s or 8x20s: they will add to your enjoyment of dark skies, whether from the deck of a fjord-bound cruise ship, or sitting around a desert camp fire on trek.
<![if !vml]>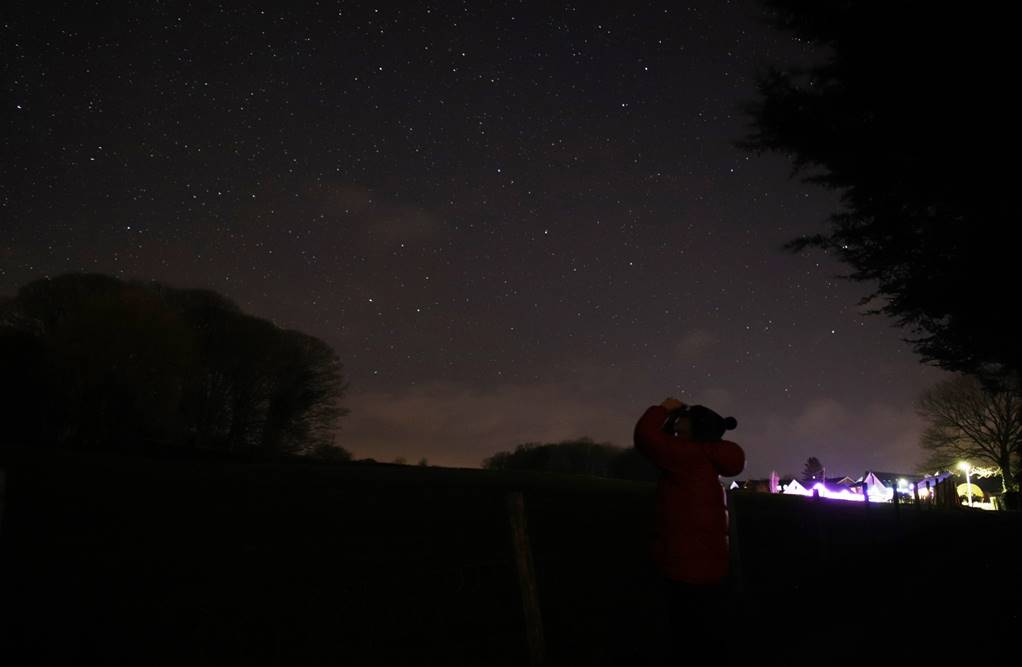 <![endif]>
Dodging the fairy lights to test the Companions just before Christmas.
Swarovski 10x30 Companion Field Pro vs Swarovski 8x30 SLC WB
<![if !vml]>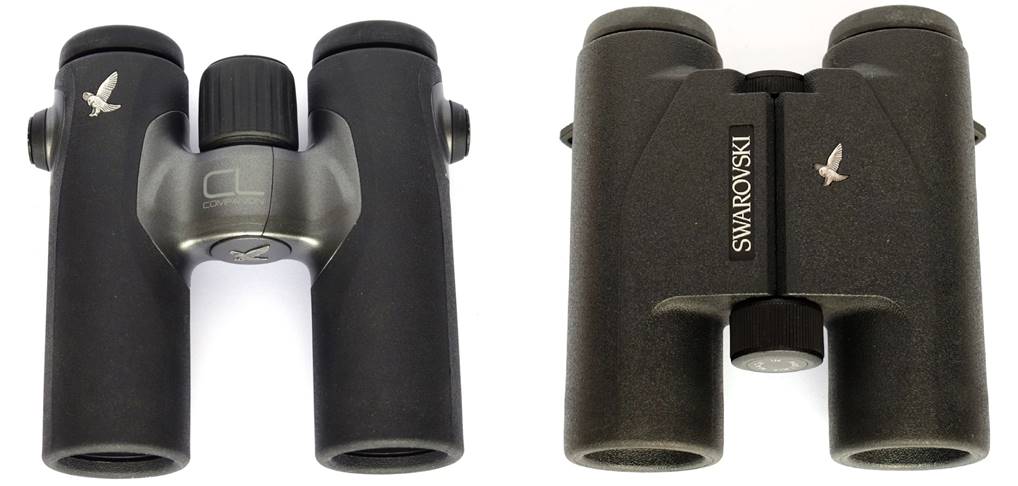 <![endif]>
I really like the old 8x30 SLCs. They weren't exceptional, but they had few weak points and were rugged and easy to use, gave a good view. Let's compare them with these newer CL Companions:
<![if !supportLists]>· <![endif]>The Companions are a bit smaller and about 20% lighter
<![if !supportLists]>· <![endif]>The Companions have just a little more eye relief
<![if !supportLists]>· <![endif]>The Companions suffer even less false colour
<![if !supportLists]>· <![endif]>Apparent field width is about the same, but the Companions' field is flatter and sharper to the edge
<![if !supportLists]>· <![endif]>I slightly prefer the hold of the Companions
<![if !supportLists]>· <![endif]>The Companions are a more stylish design
<![if !supportLists]>· <![endif]>The Companions have perhaps 5% higher transmission, so are little brighter
Differences aren't huge, but taken together and given the significantly more pocketable size and weight of the Companions, I now prefer them.
Note: This comparison refers to later (mark III and up) 8x30 SLCs with modern mirror and lens coatings.
Summary
Here they are – a really good pair of compact binoculars that make few compromises in handling or view. They may be Swarovski's cheapest model but they feel like a kind of EL-light, which is high praise.
Let's put some detail on that. The view is excellent, the field quite wide and bright and flat, sharp to the edge. There is minimal false colour. The focuser is swift and accurate, handling of the long-barrel design easy and comfortable. Eyepiece comfort is good, with or without specs. Build quality seems the same as any Swarovski.
They are exceptionally small and light for premium 'proper' binoculars, genuinely pocketable. And unlike most folding 25mm or 20mm bino's, they work well for everything – travel, nature, birding and even some casual astronomy.
Any negatives at all? The focuser has a slightly dry feel and the dioptre adjust is too fiddly. In truth, the view is a little dimmer, less sparkly and lower in resolution than a premium 10x42 when compared directly (even with Zeiss' excellent Conquest HDs), but that's the price for such compactness.
You might ask why I'd bother with these compared to, say, a pair of Nikon Monarch 8x30s? The answer is that these are real Swarovskis, designed and superbly made in Austria. If you damage them, Swarovski will most likely fix them quickly and cheaply and for the long term. That's good for me, for the environment and gives a real pride of ownership. Seen that way, and given the great view and ergonomics and their modest real-world price, the CLs are a bit of a bargain.
The revamped CL Companions are highly recommended: excellent all-rounders and typical Swarovskis. They're the cheapest SW, but there's nothing cut price about them. They're comfortable to use and give a great view that's not so far off a pair of 8x32 ELs'. Their compact size and light weight are a great feature and they are a new Scope Views best buy for travel.
<![if !vml]>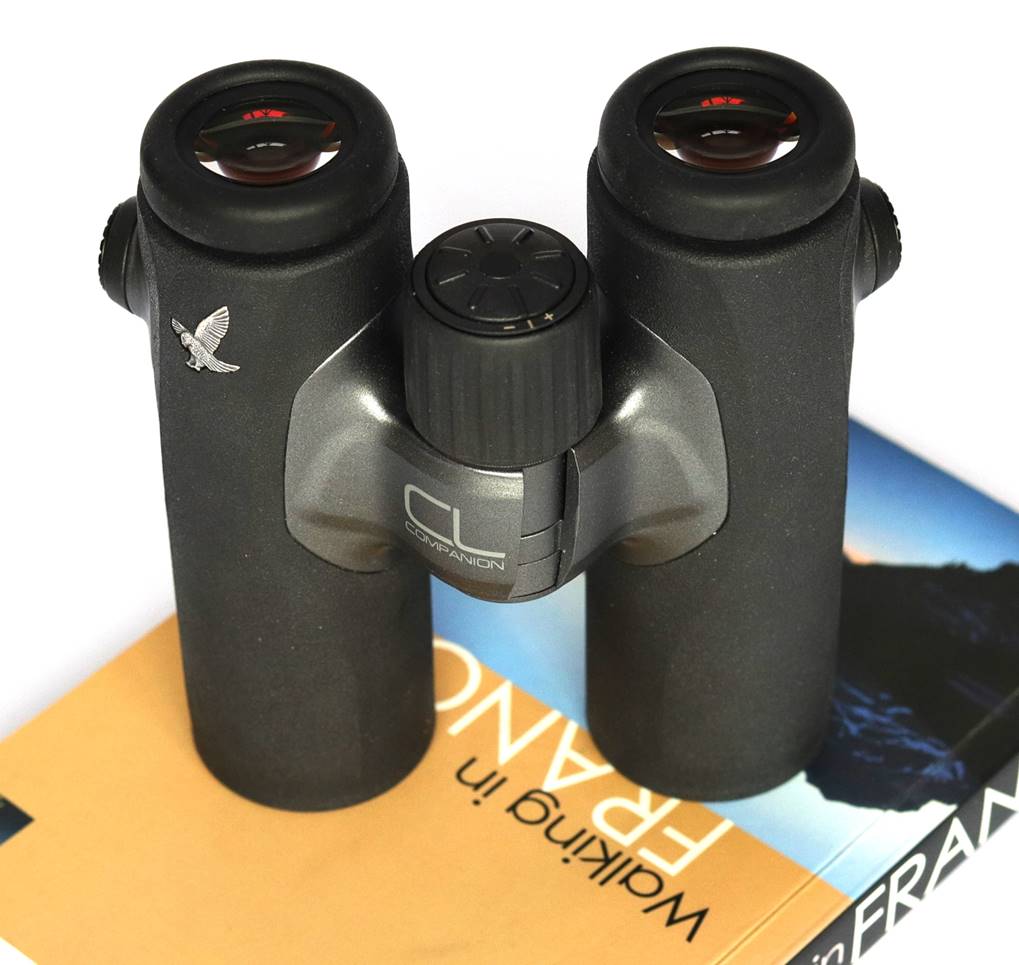 <![endif]>