Swarovski 15x56 SLC Neu Review
<![if !vml]>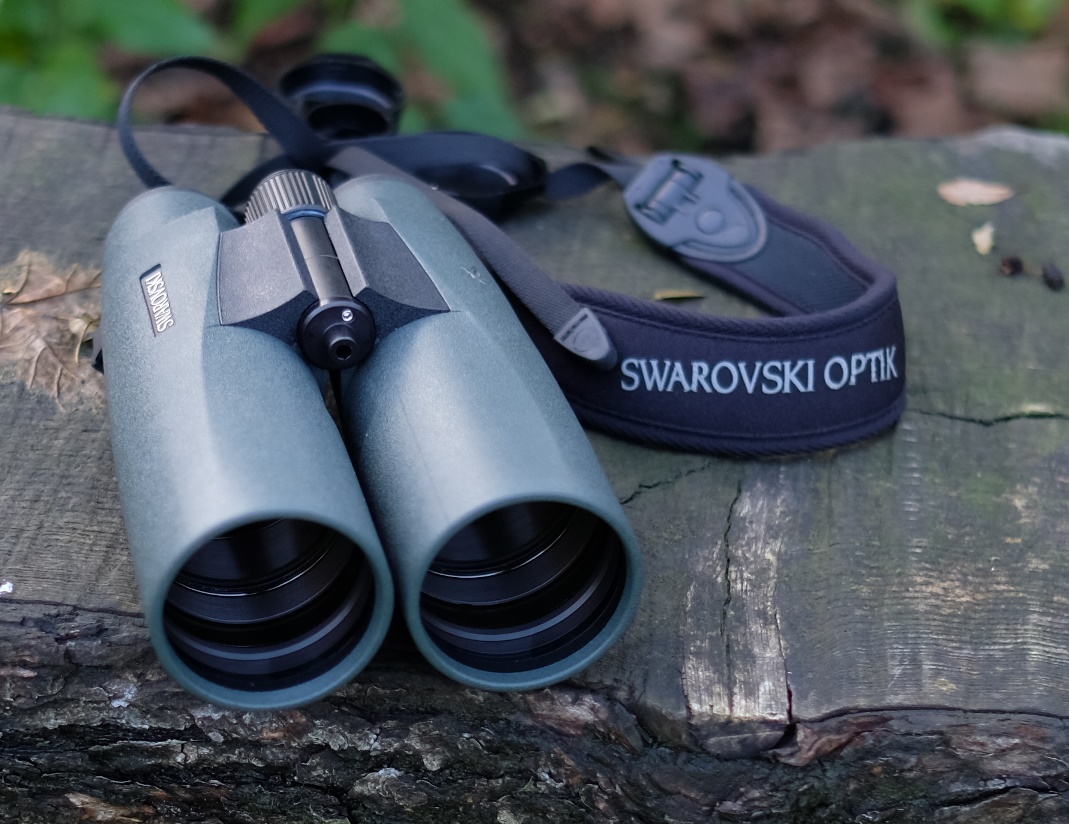 <![endif]>
A magnification of 15x is my favourite for astronomy. It gives a binocular almost telescopic abilities to find and see faint objects and detail. The problem is that the choice of hand-held binoculars at these magnifications is limited, because their market is mostly limited to hunters and plane spotters. Worse (for manufacturers) the high power puts a strain on the optics that lower powers don't, so high-power binoculars require particular care in design and construction to avoid unsharp optics and too much chromatic aberration (try a cheap pair of 12x50s and you'll see what I mean).
I have already reviewed two of the handful of quality 15x binoculars under 1.5kg: the Minox 15x58 and the Leica 10+15x50 Duovids. The obvious remaining premium contender in this category are the binoculars on test here – Swarovski's 15x56 SLCs (Habichts).
Note: This model has been superceded by an HD version that is smaller, brighter and has less chromatic aberration. I've reviewed it elsewhere on this site.
At A Glance
| | |
| --- | --- |
| Magnification | 15x |
| Objective Size | 56mm |
| Eye Relief | 13mm |
| Actual Field of View | 4.4° |
| Apparent field of view | 64° |
| Transmissivity | ~85-90% est. |
| Dimensions (L x W) | 205mm x 130mm |
| Weight | 1290g |
What's in the Box?
<![if !vml]>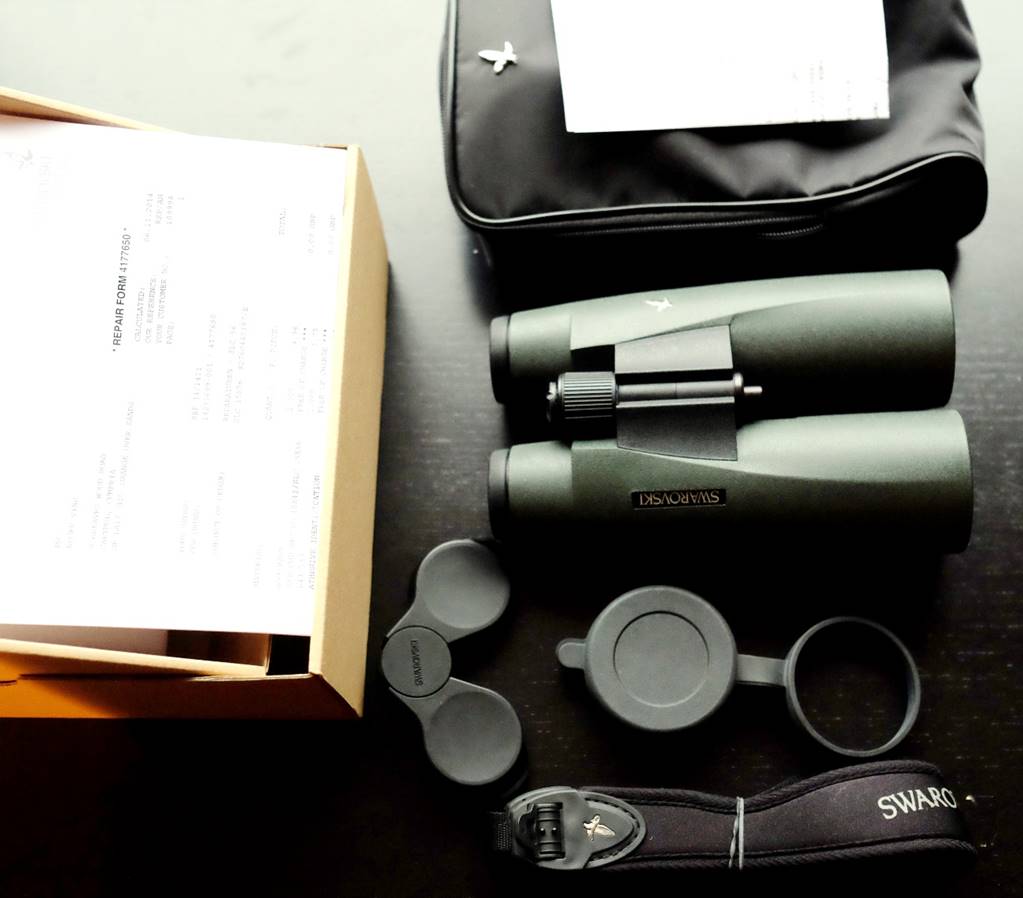 <![endif]>
The 15x56 SLCs as they came back from repair by Swarovski – like new!
Design and Build
Swarovski produce two ranges of roof-prism binoculars – the premium ELs and the second-rung SLCs (Habichts). The latter has a much bigger range of sizes, from 8x30 to their largest model, the 15x56, reviewed here, via various 8x42s, 7x50s etc. The SLC range was updated a few years ago to appear as the "SLC neu" ("neu" means "new" in German for those in doubt).
All the SLCs are conventional roof-prism binoculars with modern features such as dielectric prism mirrors for high light throughput and the best modern coatings. However, until recently none had the all-important HD lenses (containing high-fluoride glass) that the new ELs do. However, Swarovski recently launched an HD version of the SLC, but only in the two mainstream 42mm birding sizes. The rest of the SLC range still has to make do with outdated lens technology and no surprise there – one of the problems with high power binoculars is that they always lag behind the technology curve due to their small market.
Body and Ergonomics
The 15x56s are the largest SLCs and in photos they look just that: big. Now for me big is bad in binoculars. Indeed, the 15x58 Minox were too big, so that (if nothing else) they looked at the same time ridiculous, nerdy and slightly menacing hanging around my neck on a Sunday afternoon stroll. So imagine my surprise to find that the 15x56 SLCs are really quite small in comparison. The 15x56 SLCs are still much larger than say a 10x42. But though they are long, they are not much wider than a pair of ELs. They are quite heavy, but 1290g is modest for a 15x56, especially when you consider that these are all-aluminium, not lighter magnesium (ELs and Leica HDs) or composite (Zeiss FLs). The 15x56 SLCs are hand-holdable for me in a way that 1.5 Kg plus binoculars just aren't. Below are some photos of the big SLCs next to other binos for comparison.
Overall external quality of the SLCs is high – similar to the ELs in fact. There is nothing to suggest that these are a budget model (don't imagine that these are to the ELs what Nikon's Monarchs are to their HG or EDG ranges, for example). The dark green armour is also identical to the ELs and is quite attractive, though more functional-looking than a Leica (these aren't as pretty as the Duovids). The SLCs have deep thumb depressions on the back to help with holding, which is good, because there is a downside to the slimness Swarovski have achieved with these – there isn't enough space between the barrels in use (with my eye spacing anyhow) to get my fingers between those long barrels between the objectives and the bridge.
Other external features of the SLC include provision for a tripod adapter (more on that in a separate section later), single-position twist-up eyecups and a big central focuser knob (all things you would expect).
The SLCs are nitrogen filled and waterproof to 4m, as with any premium roof bino'.
Focuser
The focuser on the SLCs is swift and smooth, taking just over a turn lock-to-lock. A little stiffer than the EL's, the SLC mechanism doesn't suffer from occasional stickiness in the same way and I'm not sure I don't prefer it. Dioptre adjustment is different from the ELs too, by an inset knob on the front of the main one that you have to push-in to turn and it too works well.
<![if !vml]>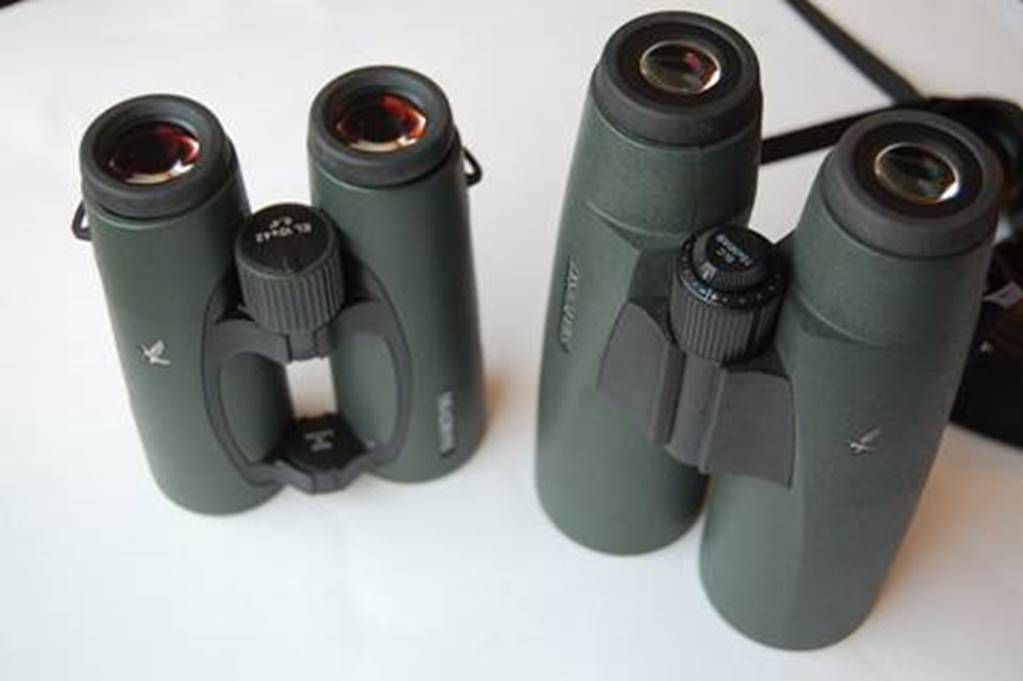 <![endif]>
Swarovski 15x56 SLCs alongside 10x42 ELs .
<![if !vml]>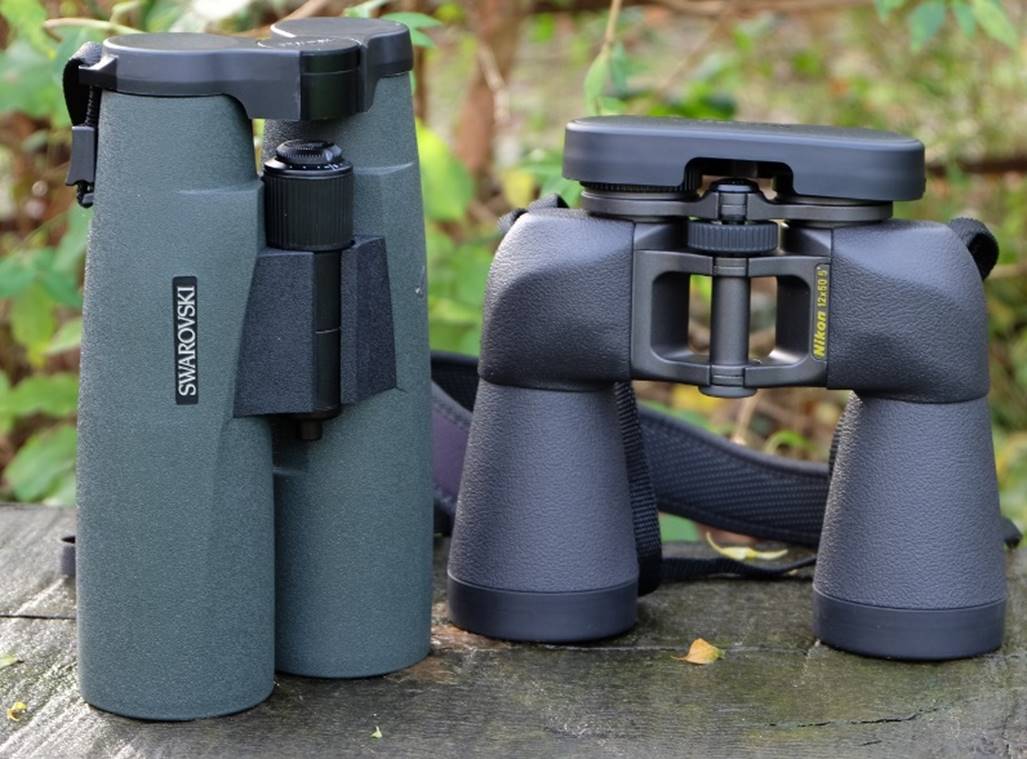 <![endif]>
Swarovski 15x56 SLCs next to Nikon 12x50 SEs
<![if !vml]>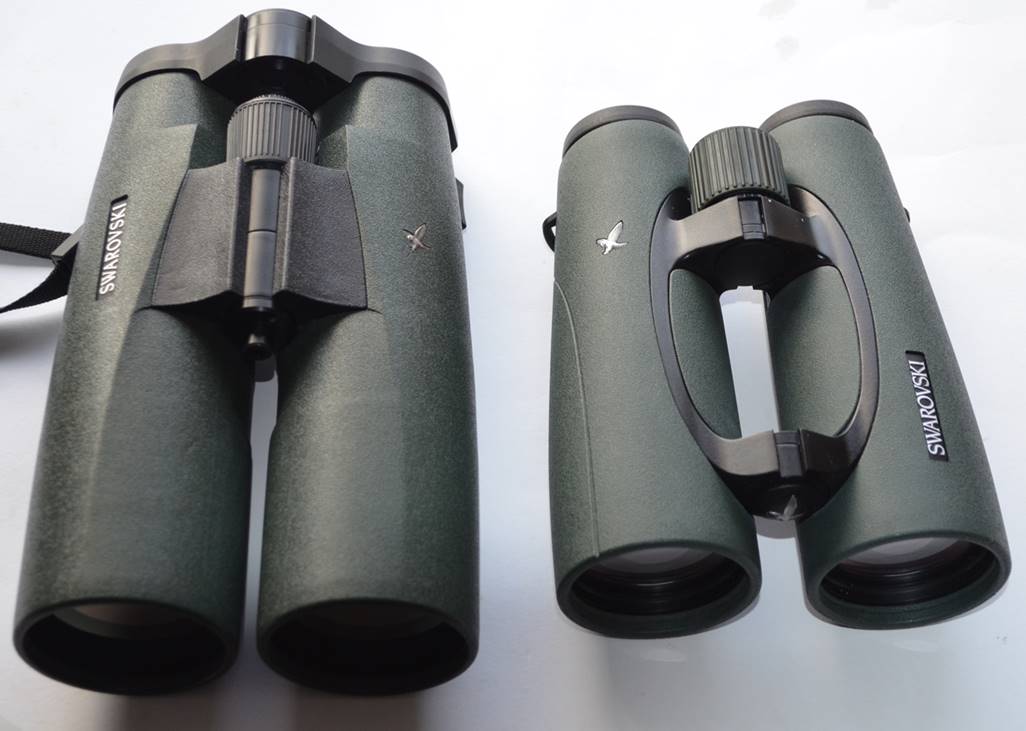 <![endif]>
Swarovski 15x56 SLCs and 12x50 ELs.
Optics
You could characterise the body of the SLCs as "high quality, but conventional" and the optics are much the same. The objectives are probably a triplet tele-objective design, but as I said at the start, they are not HD (i.e. they don't contain high-fluoride glasses to reduce chromatic aberration.) The coatings look good – much the same as the ELs. The lenses are well recessed and the internals show some evidence of baffling (but not the exquisite knife-edge baffles you get in a Leica). The prisms have phase coatings, as you would expect on a modern roof-prism and also have the latest dielectric prism coatings, so brightness should be good.
The 56mm objectives fill the barrels, which are barely 3mm thick including the armour. If you question whether 56mm objectives are a big deal over 50mm ones, consider that they give 25% more light gathering power. This won't be noticeable during the day, but certainly will for astronomy, owling, or night hunting.
<![if !vml]>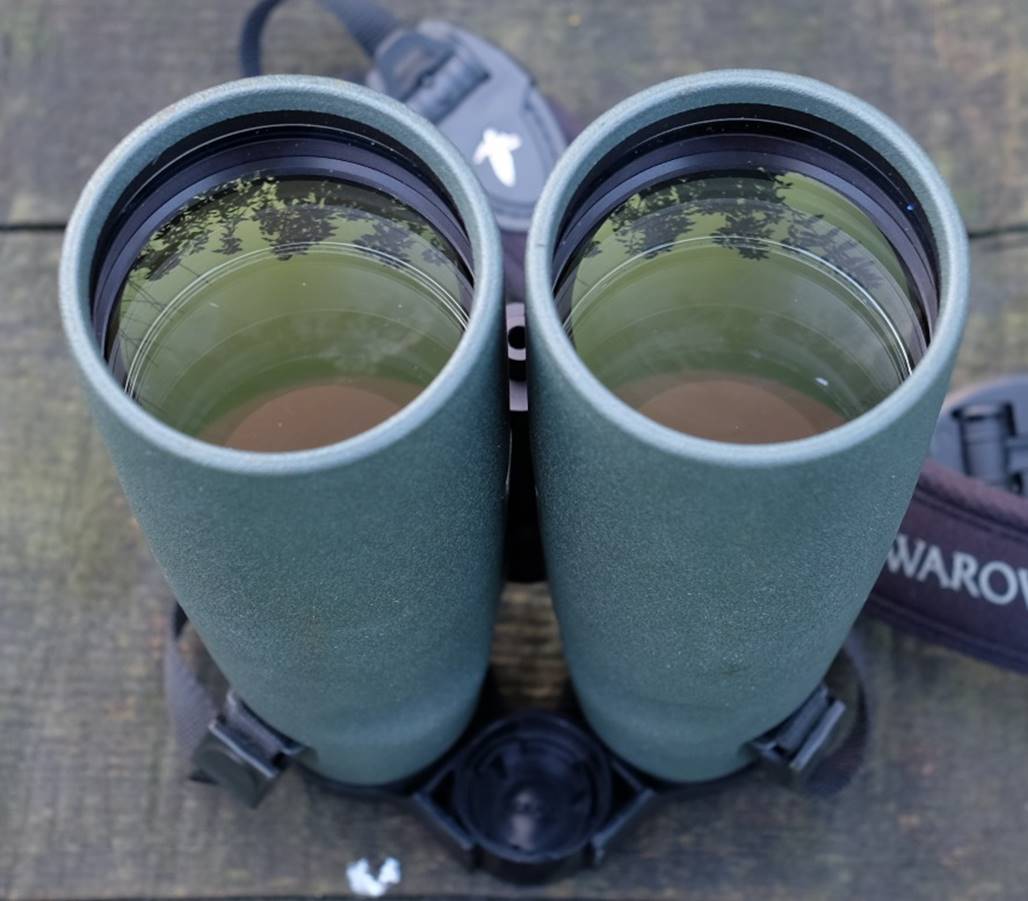 <![endif]>
Eyepieces
The eyepieces look conventional, with normal sized 18mm diameter eye-lenses, rather than the massive Nagler-like eye lenses on the new ELs. Eye relief is a rather tight 13mm from the eye-cup, just as claimed. Field of view for the 15x56s is 64° apparent translating to about 4.4° actual field width – both good for a high-power binocular.
The eye-cups are the usual top-quality Swarovski items with a single click-stop extension.
<![if !vml]>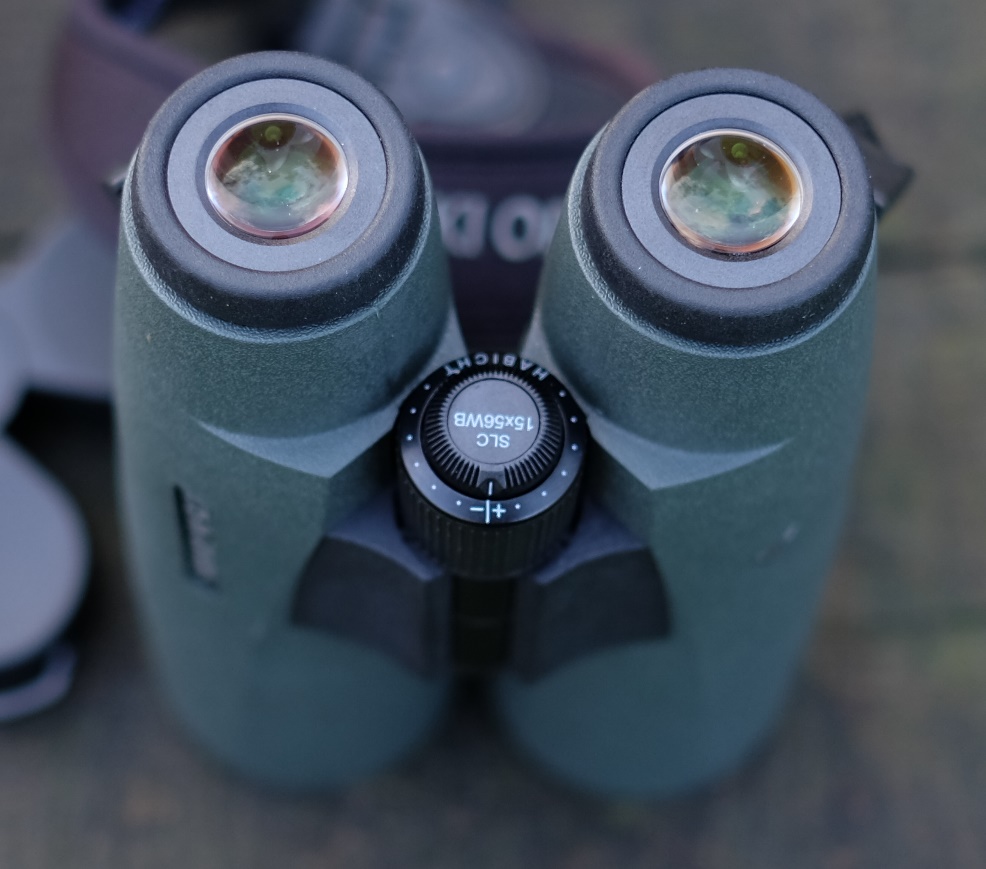 <![endif]>
Accessories
The 15x56 SLCs have a basic black cordura case with a hawk logo common with the rest of the range and with the Habichts too. These larger SLCs have the 'lift' padded strap that makes length adjustment a bit easier. A 2x booster is available for these 15x56s that screws in place of one of the eye cups (see separate review). The booster has a narrow field of view, but otherwise works well, turning these into a 30x scope of high optical quality.
Tripod Adapter
Instead of some contraption of bungy straps like the adapter for Leica's Duovids, Swarovski have developed a superb tripod adapter for the SLCs; it works like this: You remove the penny-sized cover at the front of the binocular hinge and replace it with a small lug that has an Allen bolt to secure it. This lug is unobtrusive and can be left in place permanently. The adapter is a slim and elegant pillar that slips between the barrels and mates with the lug. Tightening a clamp grips the lug securely from all sides and the binoculars are ready to mount on a photo tripod, either with a ¼-20 thread on the adapter base, or better by slipping the base of the adapter directly into the dovetail shoe.
<![if !vml]>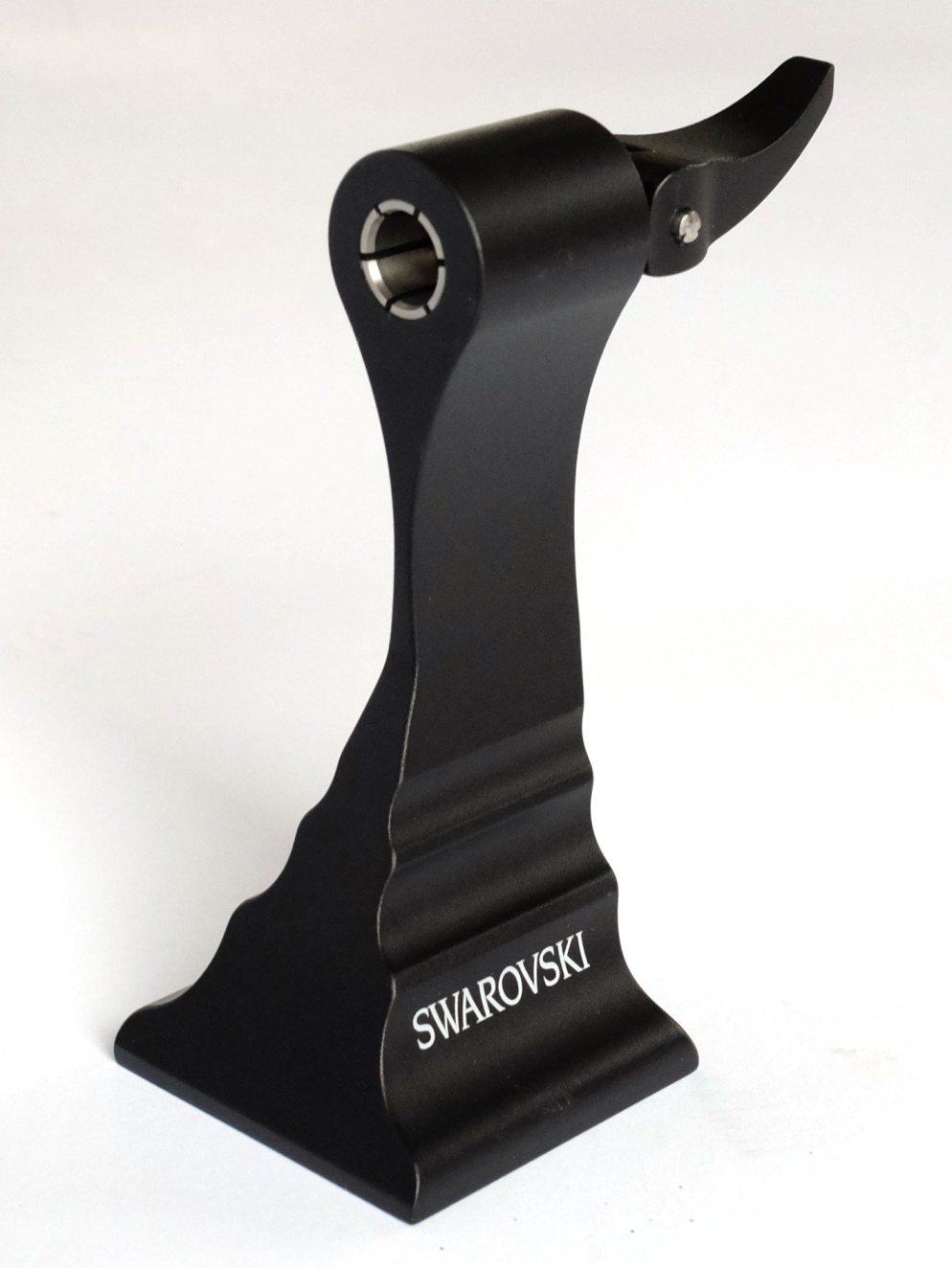 <![endif]>
<![if !vml]>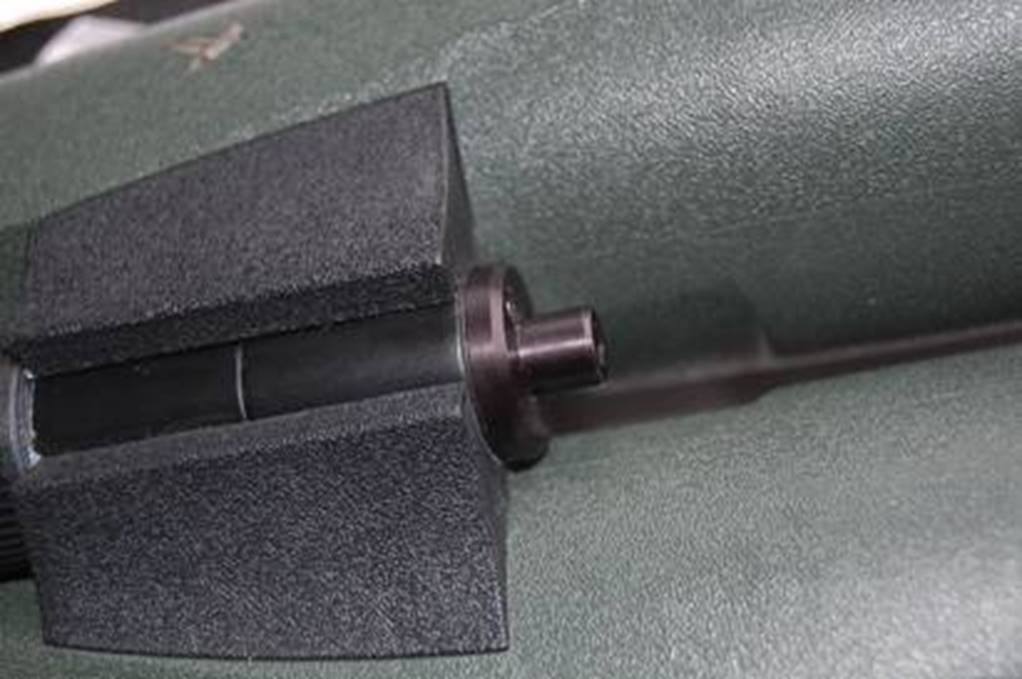 <![endif]>
<![if !vml]>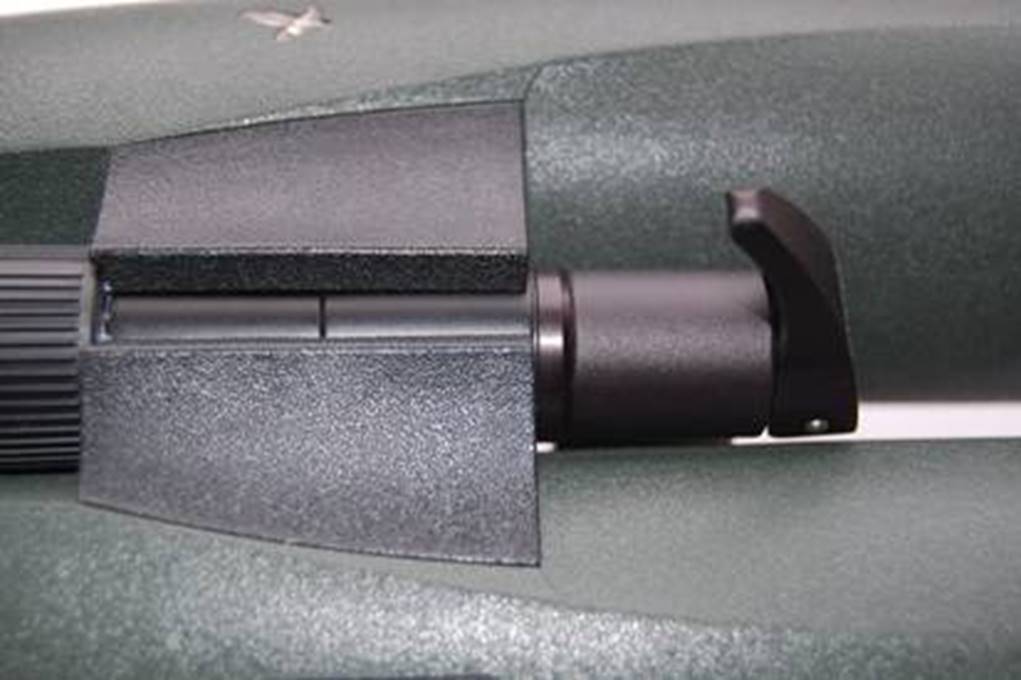 <![endif]>
<![if !vml]>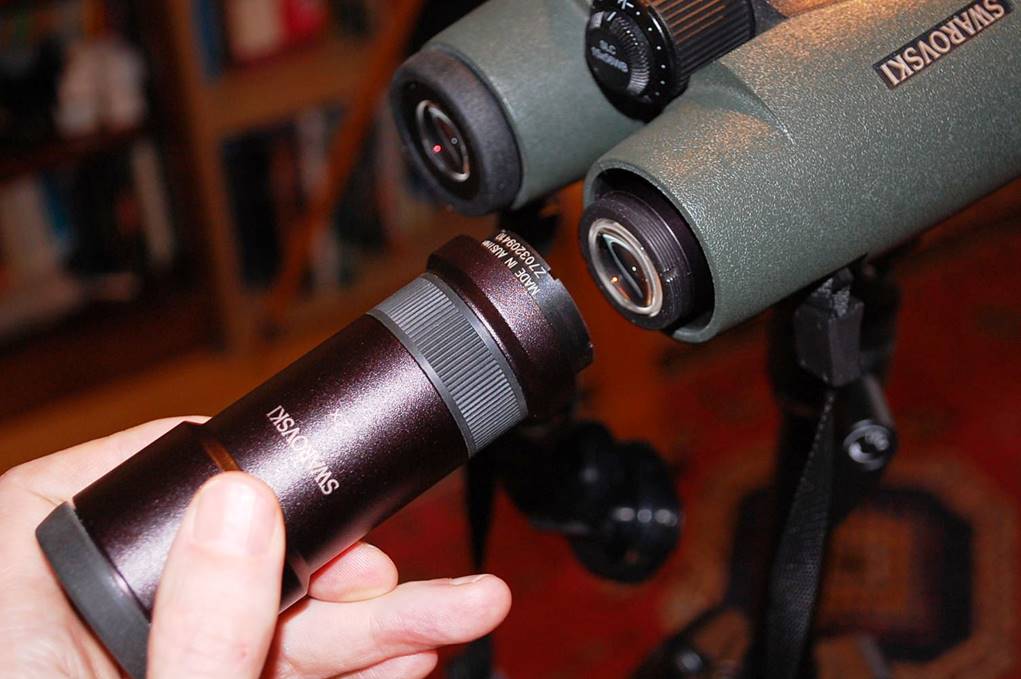 <![endif]>
Once mounted with the tripod adapter you can fit the 2x booster to make a 30x scope.
In Use – Daytime
Ergonomics
The SLCs are small and light enough to wear for an extended period and without looking too odd when out walking. That's the real benefit that you are paying for – you simply couldn't do that with many big-eye binoculars.
The slim design of the SLCs mean you can't wrap your fingers around the barrels, which makes my favourite way of holding high-power binos difficult to achieve comfortably. I like to hold around the barrels because this reduces shakes a bit and shakes are the big enemy of any hand-held high-power binoculars. The deep thumb recesses are a nice effort, but they mean you have to then rest the barrels on your palms with your elbows forwards – not a very comfortable choice for me.
The shortish eye relief means that without glasses the single position on the eyecups is too far away from the eye lens and I would prefer an intermediate position (Leica's 12x50 HD with the same 13mm ER has an intermediate position which works well).
The View
I looked through the SLCs for the first time straight after using the 10x42 ELs: big mistake. After the ELs, the most noticeable things about the SLCs were the short eye relief and the higher levels of chromatic aberration. Having got used to those things, the view started to look a lot better.
The main thing to say is that the 15x56 SLCs have none of the optical softness that spoiled the Minox 15x58s. Swarovski have clearly taken care to make all the lenses smooth and accurately figured, with fine assembly tolerances, as high-power binoculars require. For the view is in fact very sharp indeed, with excellent resolution across most of the wide field. These pull distant things really close and show a lot of fine detail. Often, you only remember you are using 15x when you pull them away from your eyes and the thing you were viewing disappears back into the far distance.
Best focus is a very precise point in both barrels and requires the smooth and accurate focus action to obtain it. No hunting for best focus is ever required and when found it applies across virtually the whole view. Another benefit of this optical precision is the ease with which you can exactly adjust the click-stop dioptre setting to perfectly match your eyes.
Brightness is good considering the high power, much better than the Minox 15x58s and on a par with the Leica Duovids, but not quite up to the best levels (i.e. Zeiss FLs). I should point out again here that daytime brightness with these is not helped by the 56mm lenses, because the eye's contracted pupil effectively stops them down to be something like 15x40s. Rather, daytime brightness is controlled by the transmissivity of the lenses and prisms.
The field of view with glasses on is narrow and not very comfortable. Swarovski state 3° when used with glasses and that's probably about right. It's amazing the difference between 13mm and 16mm of eye relief and I am again left wondering why customers with glasses should suffer this way for the sake of an extra 3mm, especially at the premium price. For those who view without glasses the news is good because the 15x56 SLCs have a generous apparent field with good flatness that delivers a very pleasant daytime view for such a high power.
When reviewing other premium binoculars with HD lenses, such as Zeiss FLs, Leica HDs etc, I have spoken about "residual chromatic aberration". I use this phrase because those binoculars control CA well (much better than most), but look at the same view at the same power through a small apochromatic astro' scope and you realise that CA is certainly still present in those binoculars if you go looking for it. Older, pre-HD designs like these SLCs, have significant chromatic aberration.
Update: When I first reviewed these binoculars their CA levels were excessive and I said so. However … a few years later I had to send them back because the seals had gone in one of the barrels. Swarovski re-built them and lo and behold, CA levels were now not nearly as bad as they had been.
Chromatic aberration is now at a similar level to other premium, non-HD binoculars, not much worse than Nikon's excellent 12x50 SEs for example. Yes, when looking at birds in tree branches on a bright overcast day you do get a thin purple or green edge around feather and branch that you don't see with the latest HD designs. But in general, even during daytime, chromatic aberration is no spoiler with these binoculars.
Overall, daytime performance for a high-power binocular is really excellent – sharp, wide and quite bright. These emphatically don't have the dim fuzzy views you often get with higher-power binos.
<![if !vml]>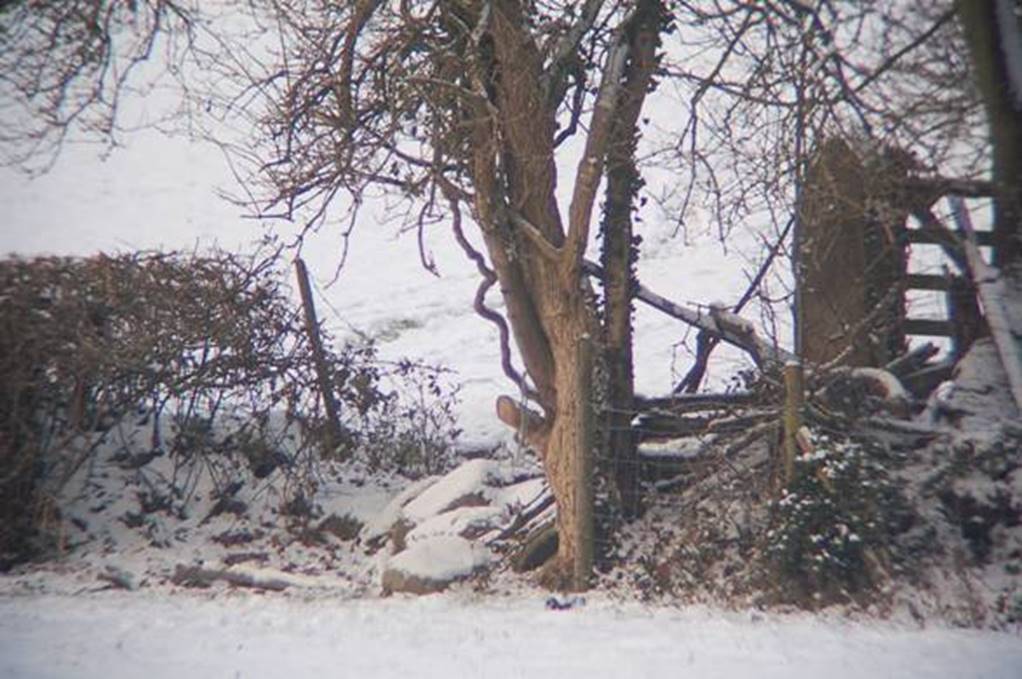 <![endif]>
This snapshot taken through the 15x56s gives an impression of the excellent centre-field sharpness, but also some chromatic aberration in these very bright conditions.
In Use – The Night Sky
The paradox of these binoculars is that they were undoubtedly designed for daytime use – primarily for hunting – yet they are at their very best when used for astronomy.
The combination of high power, high optical fabrication quality, good transmissivity and big objectives are a killer combination for astronomical use. The effect is very different from smaller, lower-power binoculars, even superb ones like the 10x42 ELs. That old saw "size matters" was never more appropriate. These show you a lot more.
However, a note of caution: these are still big heavy binoculars and combined with high-power accentuated shakes, they are more tiring to use than smaller, lower-powered models. The 15x56 SLCs are not a general purpose binocular in a way that 10x50 or 12x50s can be. Try before you buy!
The Moon
I like looking at the Moon with binoculars because you get more of a sense of the whole Moon and can enjoy the romance of watching it drifting through rainbow-coloured ice clouds or rising over a snowy winter forest. What's more, I can't see the Moon from my observatory before about Day 6 of a lunation. So I need binoculars that work well on the Moon and the big Swaro's do just that.
A magnification of 15x crosses some kind of threshold when viewing the Moon: you can see all the major craters and mountain chains in a way you can't with lower powers. You really need to rest against a wall or on a car roof at this power, but if you do the super-sharp optics deliver a sensational view. Buy a Moon atlas and you could use these to explore many of the features it contains. When tripod-mounted, the big SLCs really show off their optical quality with a view that is very similar to a good small refractor: perfectly sharp, detailed and contrasty with very good resolution. Some chromatic aberration is present, but it remains confined to the bright limb and doesn't spoil things.
The Full Moon is a good test of ghosting in-field and flare when just outside it. These are areas where "Alpha" binos often excel and the 15x56 SLCs are no exception. Both aberrations are almost perfectly controlled – a major bonus when working around streetlights too.
Deep Sky
Deep sky objects are where these big-eye binoculars really excel, though. The Dumbbell Nebula is easy to pick out, even in strong Moonlight and is clearly hour-glass shaped. The fainter clusters, like those in Auriga, resolve into masses of stars, patches of smoke no longer. Other more challenging binocular objects are an easy find: the Ring Nebula, the Crab, M56 and more.
Autumn globular clusters – M15 and M2 off the end of Pegasus, M13 and M92 in Hercules – look especially interesting and are clearly not just the 'faint fuzzy stars' most binoculars show.
But perhaps it is M42, the Orion Nebula, which really shows the 15x56s off best: big, bright and detailed with lots of nebulosity and the Trapesium resolved, but still with whole sword region and some of the belt for context. On a dark night, Orion has a real 'wow' factor through these.
There is still enough field width to enjoy star fields and The Pleiades look beautiful with pin-point stars across a flat field. The outstanding optical quality gives stars that are small, sparkling and natively colourful – Albireo shows off its colours through the 15x56 SLCs.
Planets
As with any prismatic optics, these are not planetary instruments! However, Jupiter's disk is perfectly round with no spiking whatever and when tripod-mounted I believe I can see a hint of the equatorial belts. The Galilean Moons are perfect pin-points and can be resolved even when very close to each other or just emerging from occultation. Venus is very bright and some unfocussed light spoils the view as it does with any and every binocular. Saturn shows a clear "handled" shape as Galileo drew it; move your eye around and you can just make out the rings.
All-in-all astronomical performance is simply outstanding for hand-held binoculars.
Summary
The 15x56 SLCs are a rarity amongst high-power binoculars: they give very sharp and high-resolution views across a wide field. Even brightness, often a bugbear with high power binos during the day, is good. Yes, they could do with more eye relief if you wear spec's; yes, they have more chromatic aberration than the latest HD designs. But overall daytime performance is excellent.
At night, however, the chromatic aberration isn't a problem. Instead the high optical quality and big-eye objectives give views that bridge the gap between binoculars and small refractors, but with none of the softness that beset the Minox 15x58s and with more reach (and a bigger field) than the Leica Duovid 15x50s. The optical quality is so good that these even do well on the planets (given the limitation of 15x, obviously).
On deep sky these just show you more ... even than Nikon's 12x50 SEs or Swarovski's own 12x50 ELs. Given their performance, (relatively) small size and light weight, and the fact that they are fully fog-proof, these make a great astronomy binocular, particularly if you like hunting down fainter members of Messier's list.
The Swarovski 15x56 SLCs are highly recommended for hand-held astronomy binoculars and should be great for their intended hunting and spotting market too. However, check you can live with their weight and shakes (and the tightish eye relief) before you buy.
<![if !vml]>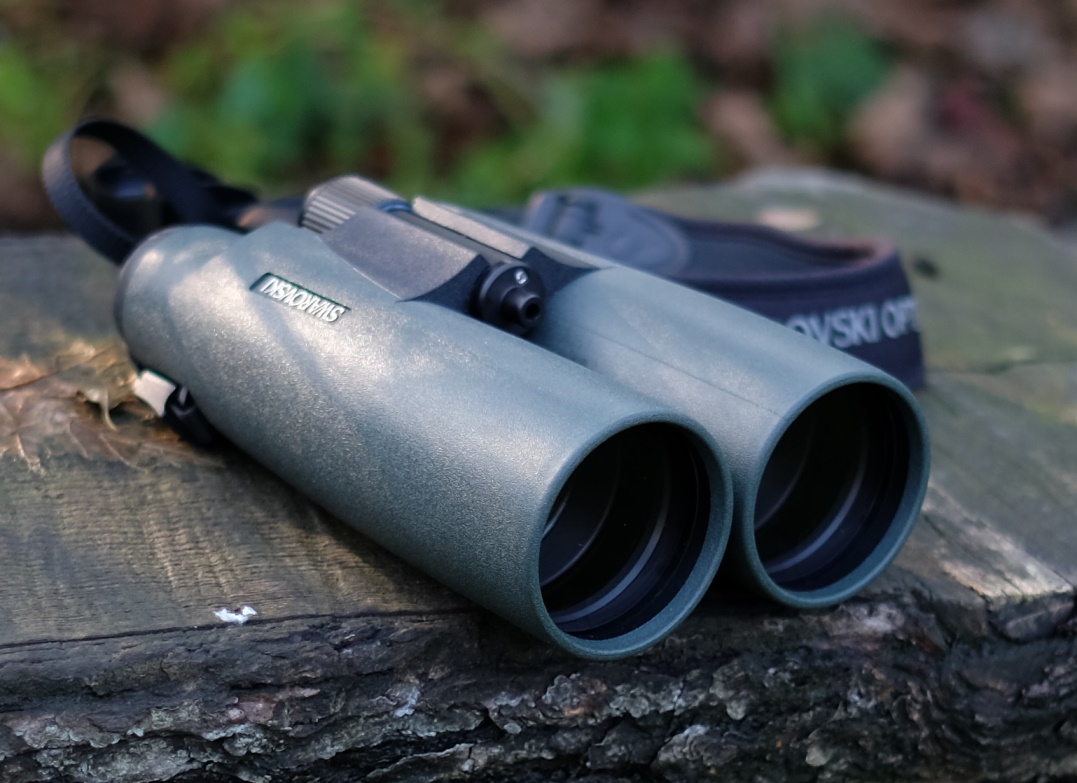 <![endif]>