Swarovski 7x21 Curio Review
<![if !vml]>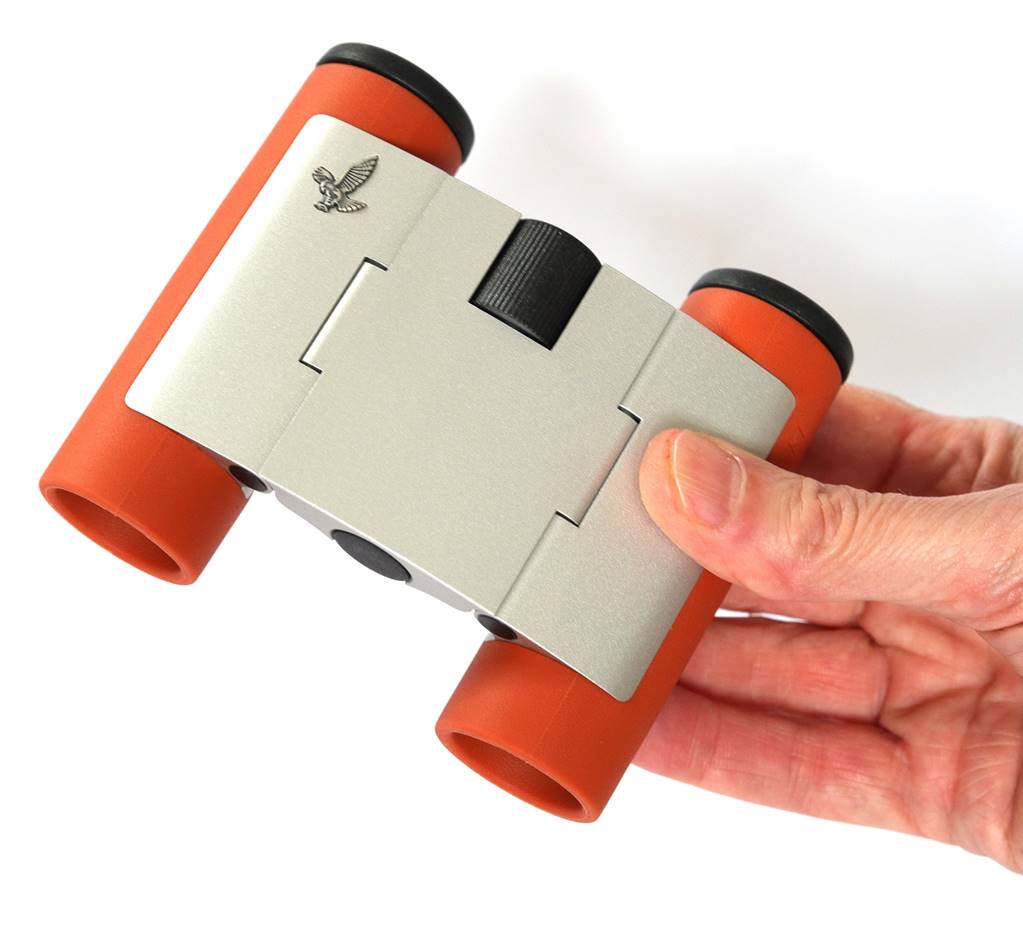 <![endif]>
Swarovski's Curios are well named for a variety of reasons. For one thing, their 7x21 format is indeed curious, with few new 7x binoculars in general released these days. For another, they're a curiosity in Swarovski's range: they undercut the existing 8x25 substantially in size, but not in price; they seem almost a new market segment, for SW at least. Finally, the OED defines 'Curio' as '... an object of art ... valued as a curiosity or rarity'; check.
You see, the Curios are a designer (in this case Mark Newson) item, with a feel of indulgent quality that goes beyond function in a way few Swarovskis (but more Leicas) do. Unfortunately, the price also reflects that.
So is this tiny, desirable, expensive designer object actually worth buying as a pair of binoculars? As usual, let's find out ...
At A Glance
| | |
| --- | --- |
| Magnification | 7x |
| Objective Size | 21mm |
| Eye Relief | 16mm claimed (15mm measured) |
| Actual Field of View | 135m/1000m |
| Apparent field of view | 7.7° |
| Close focus | 2.5m measured |
| Transmissivity | 90% |
| Length | 92mm |
| Weight | 250g |
Data from SW/Me.
What's in the Box?
The Curios get Swarovski's standard box with the soaring hawk print, but in a slightly smaller size.
<![if !vml]>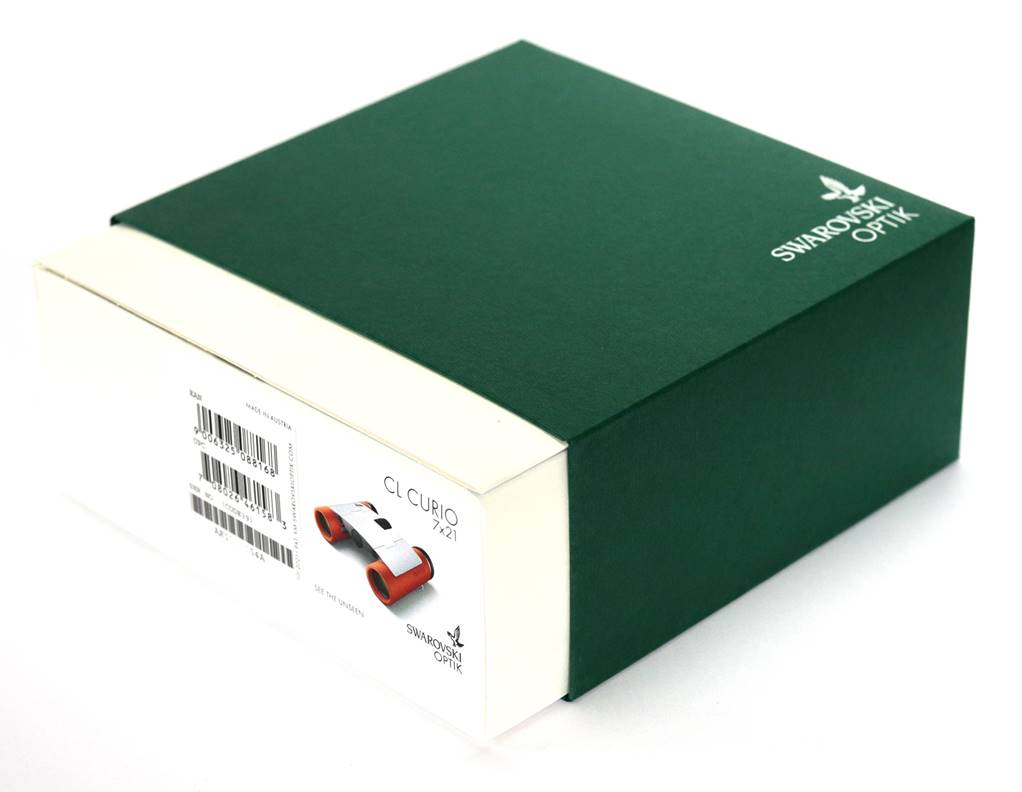 <![endif]>
<![if !vml]>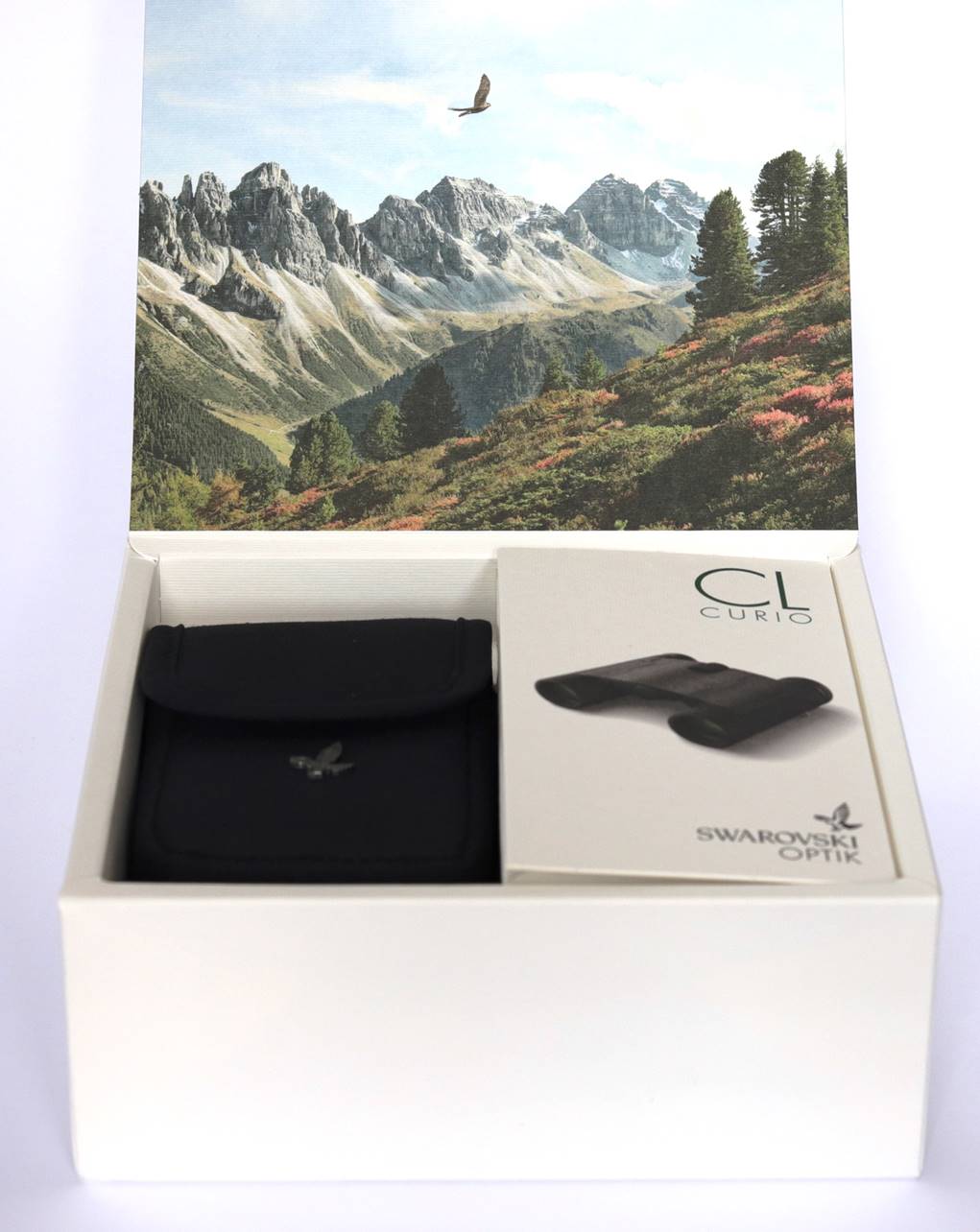 <![endif]>
<![if !vml]>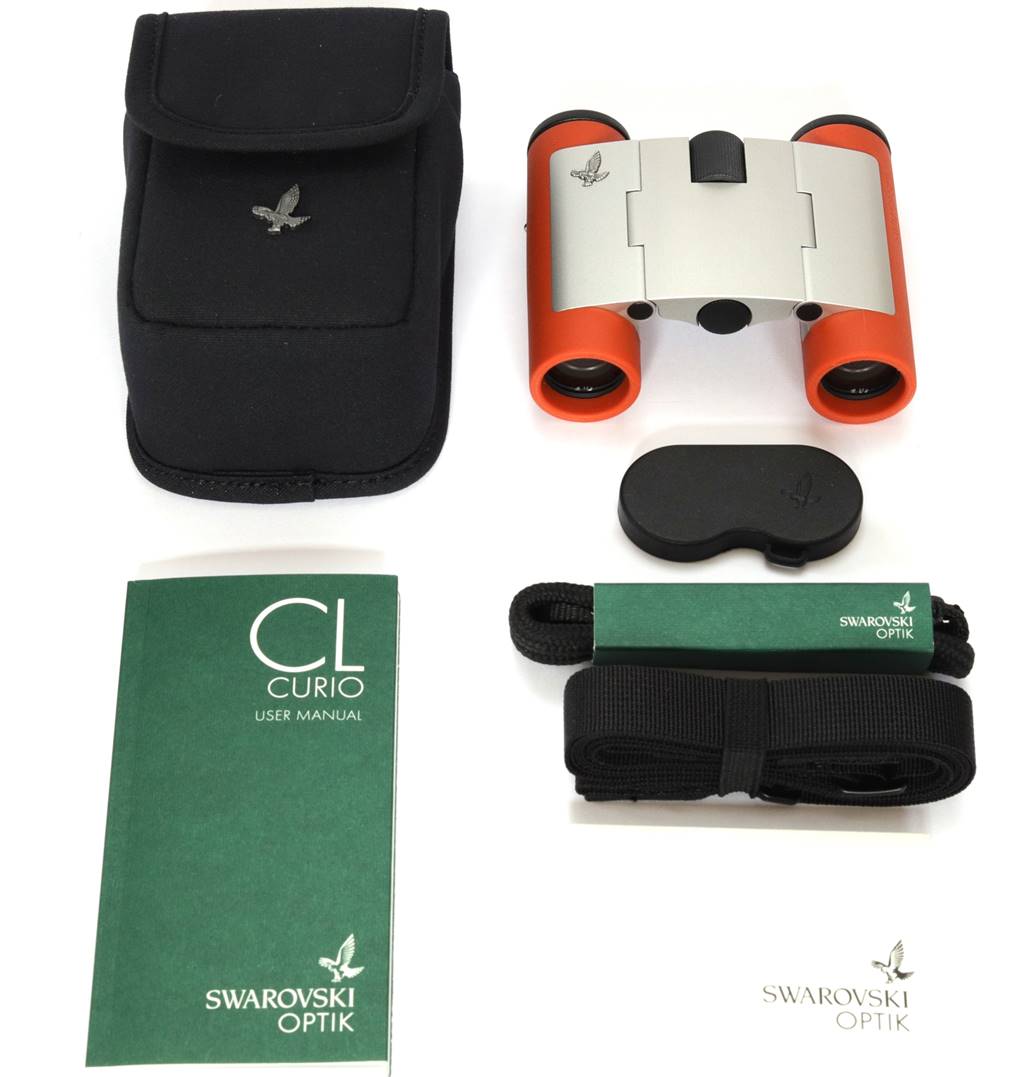 <![endif]>
Design and Build
The Curios are a conventional double-hinge design like almost all mini bino's except several generations of Zeiss's, but they have a different look to the 8x25 CL Pockets as befits a 'designer' model. No idea if this is a one-off or the start of a new designer line.
They do look better in person than in photos. If you're unsure about the look (as I was, honestly), I'd urge you to go and handle a pair.
The clue to the elephant in the room compared to other brands is engraved on the bottom of the bridge – 'Made in Austria'. As far as I can tell, these are like every other Swarovski binocular - proudly made from scratch in their super-modern factory in an alpine village and likely fully serviceable as the result. Does this matter? Yes!
Pocket binos spend a lot of time bumping around walkers' necks, in packs and yes pockets. They get a hard time. And pocket bino's are more fragile than larger models. So being able to send them back for service or repair at modest cost is a big advantage; good for sustainability too.
You should factor this repairability in when pricing the Curios against other brands. I sent back a pair of Zeiss 8x20s under warranty because they'd gone out of collimation. Zeiss just sent me a new pair. Out of warranty I'd have had to buy them again.
<![if !vml]>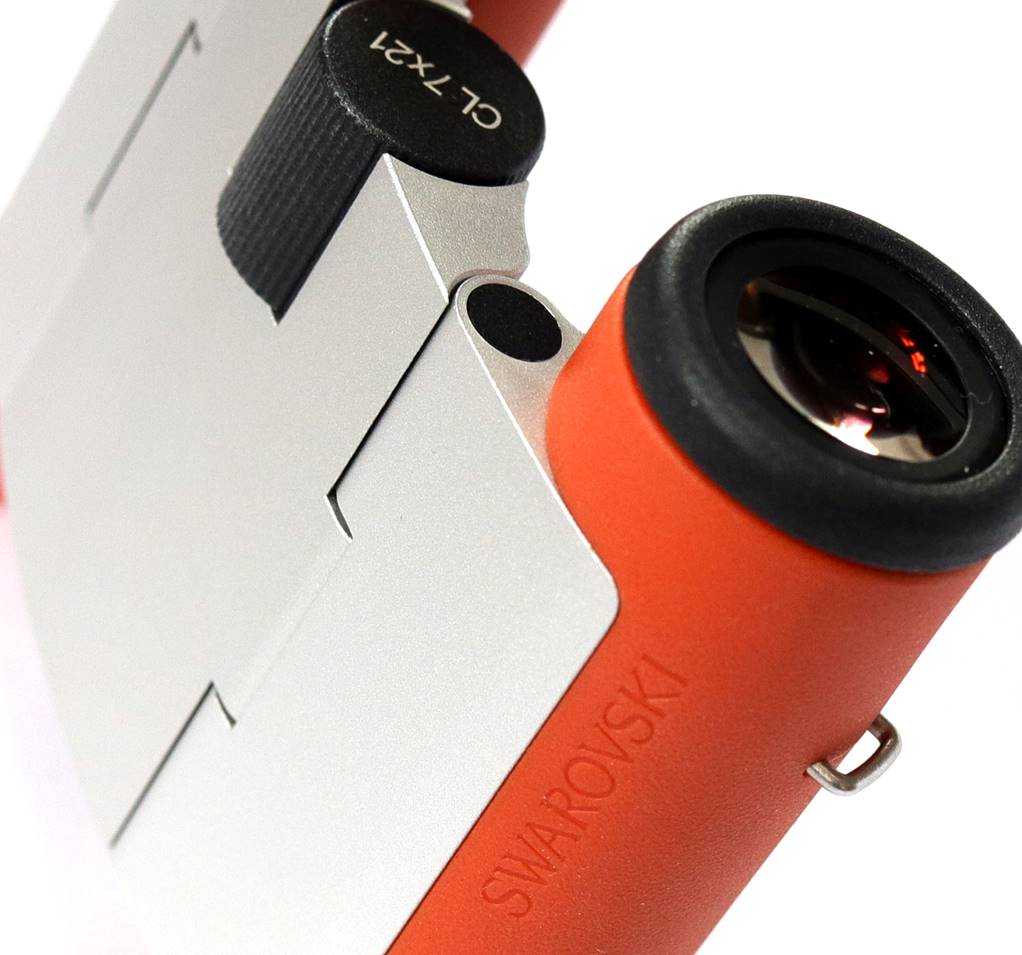 <![endif]>
<![if !vml]>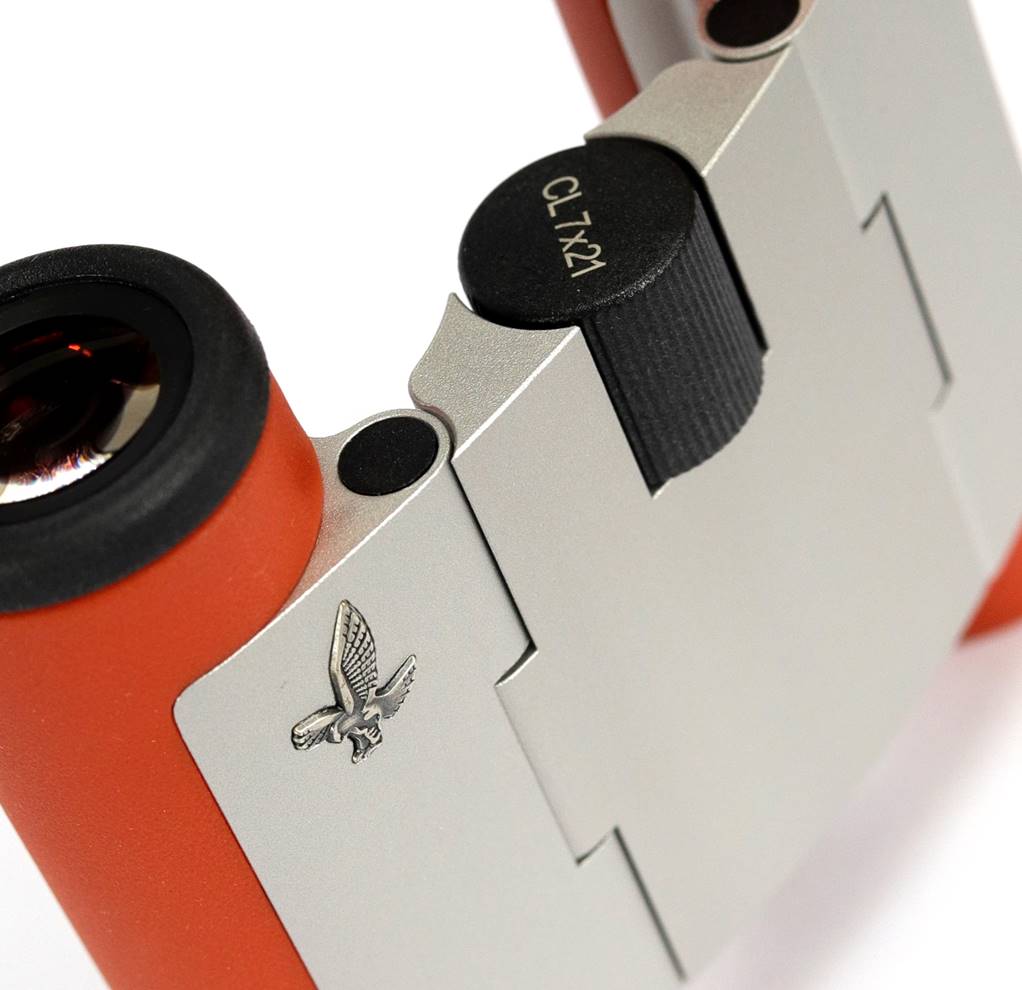 <![endif]>
<![if !vml]>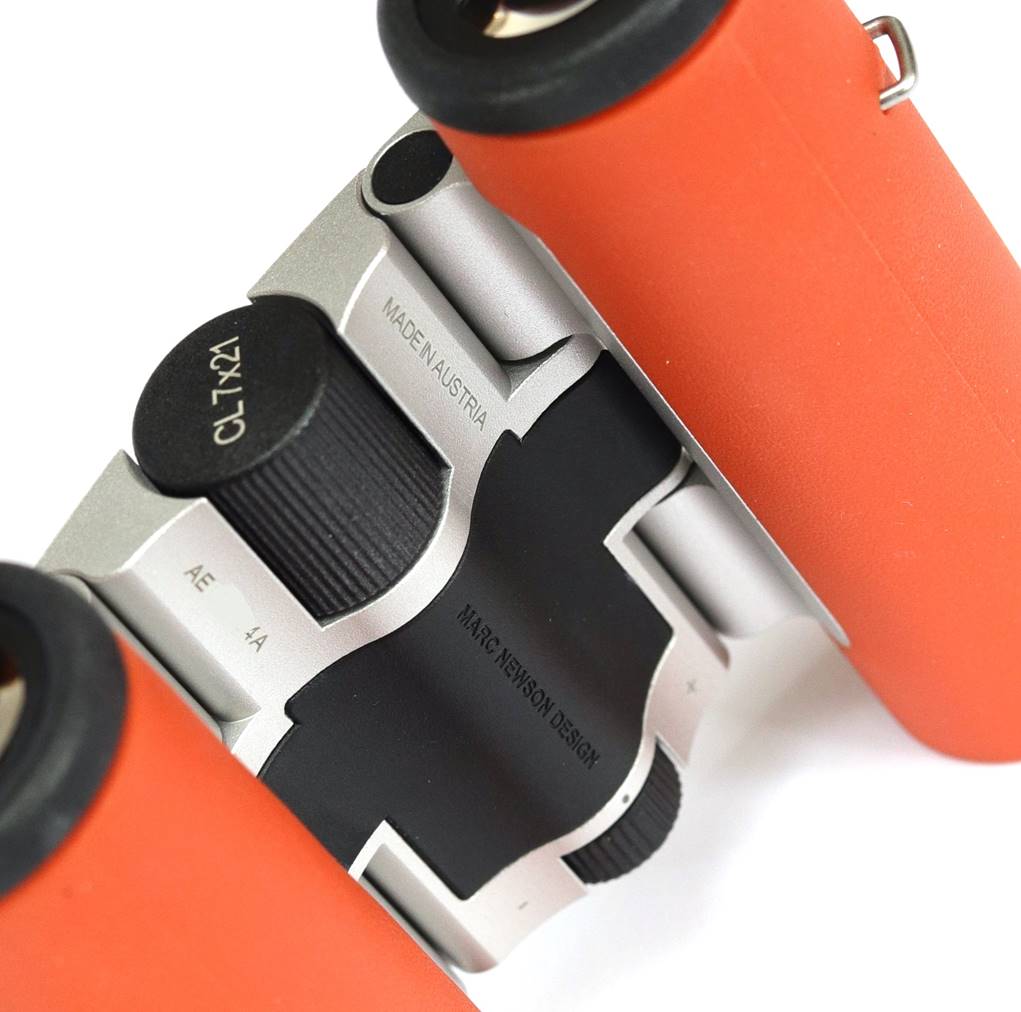 <![endif]>
Body
These really are tiny – just about the smallest binoculars I've ever seen. They are noticeably shorter but a little wider and marginally heavier than Leica's 8x20 Trinovids, but smaller and lighter than the rest.
Build quality is outstandingly high. That silver bridge can look a bit plasticky in photos; it isn't – in fact the bridge is solid anodised metal and looks like it's been CNC milled from one piece of aluminium rather than moulded: the finish is exactly like my high-end Linn music player (see end photo). The folding mechanism has a Swiss-watch quality to its action.
Only Leica's Ultravid pocket bino's have a similar artisanal build quality (the Trinovids are much more basic). I found some evidence of cost-cutting on the CL 8x30s, but not here.
At first the combination of anodised metal bridge and armoured barrels seems... well, curious. But in fact, it's sensible. My old Nikon HG 8x20s were all anodised metal, but it was the barrels that suffered from knocks and chips and then corrosion. Meanwhile, keeping the bridge un-armoured looks good and keeps weight and bulk down.
Finishes are either anodised silver/burnt orange or all-black. The orange/silver is unusual but again it looks better in reality than photos and would be my personal choice (and you'll more easily find them again if you leave them on a rock).
<![if !vml]>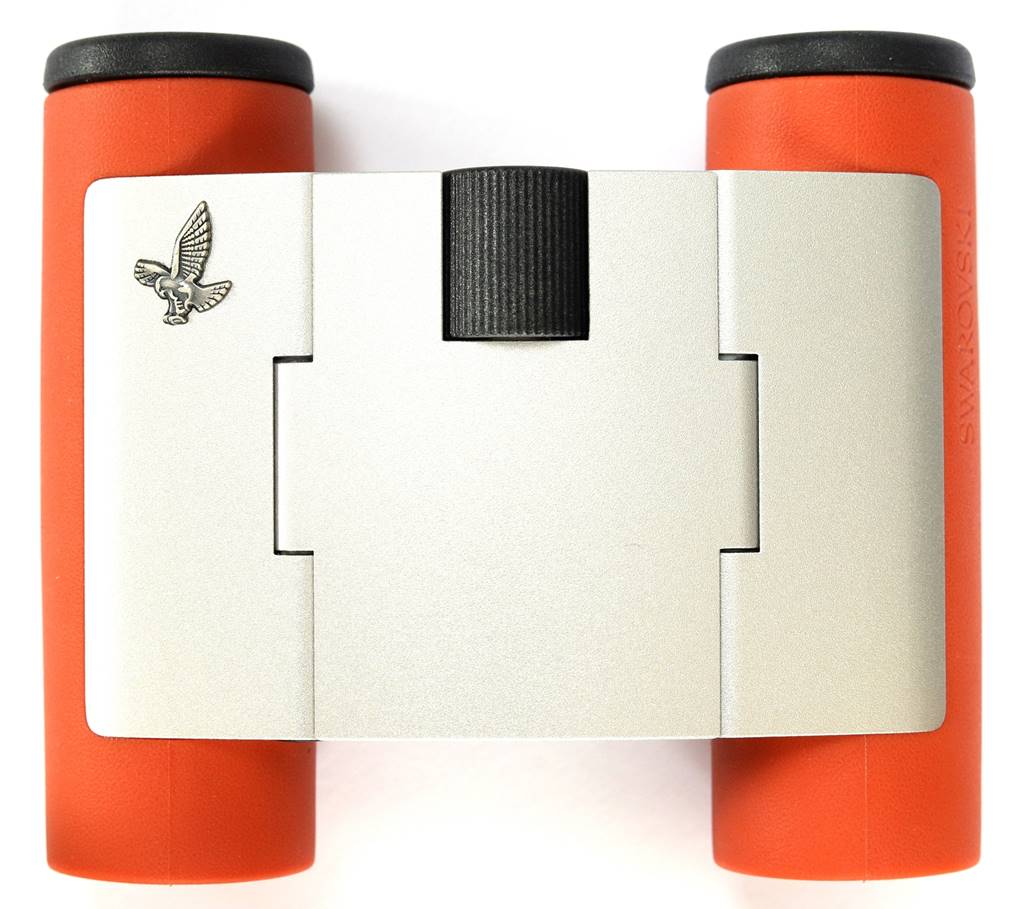 <![endif]>
<![if !vml]>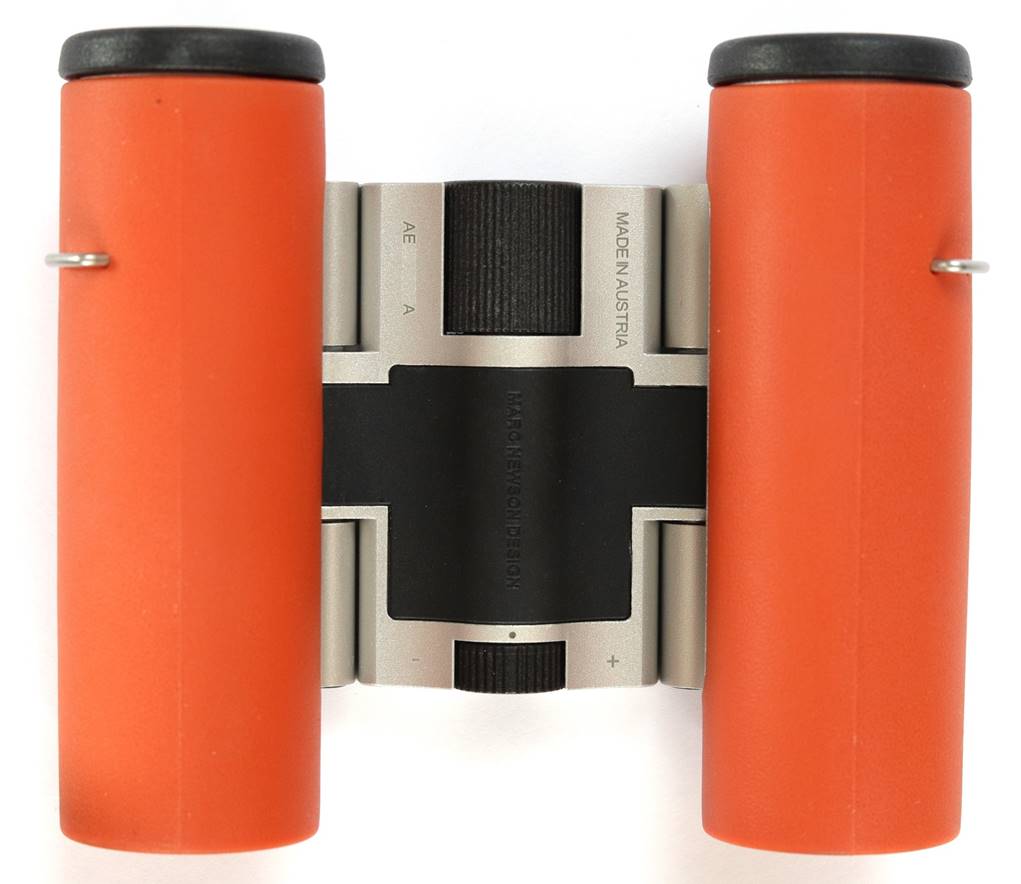 <![endif]>
Design of the folding bridge is typical, but beautifully executed here.
<![if !vml]>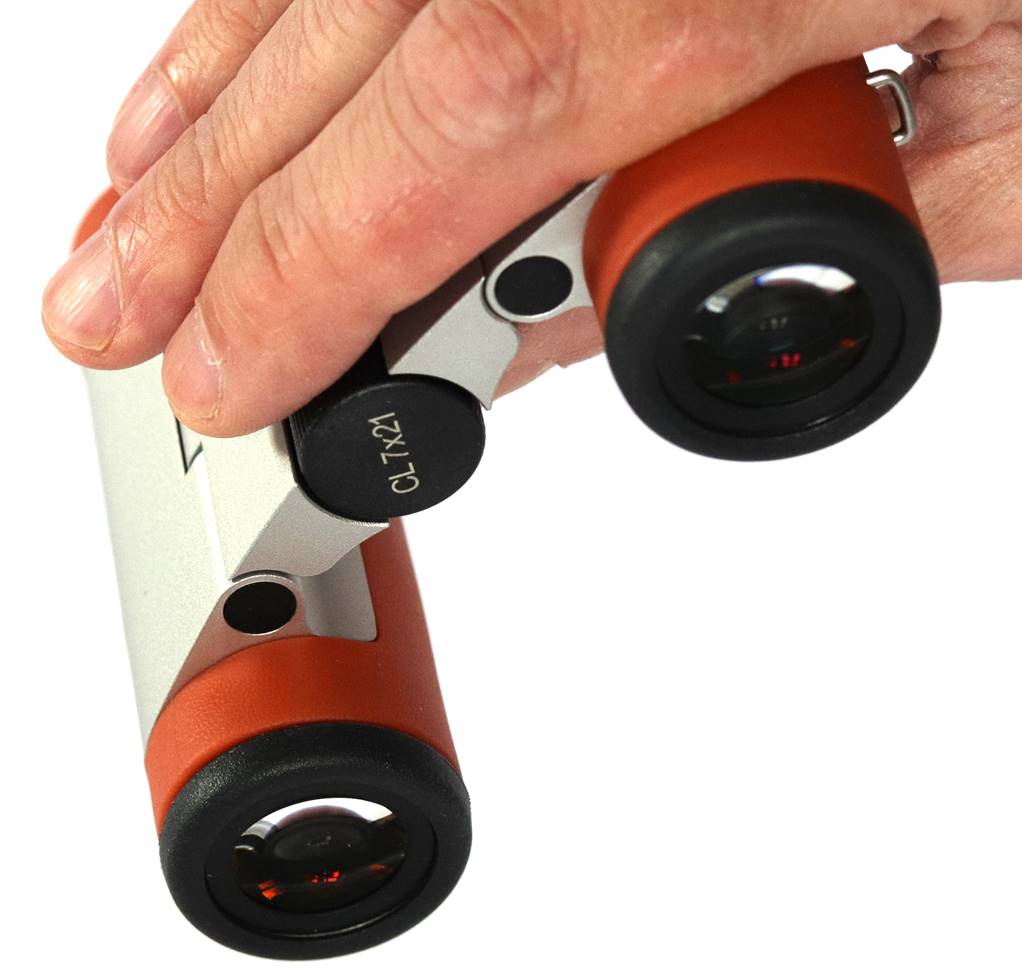 <![endif]>
<![if !vml]>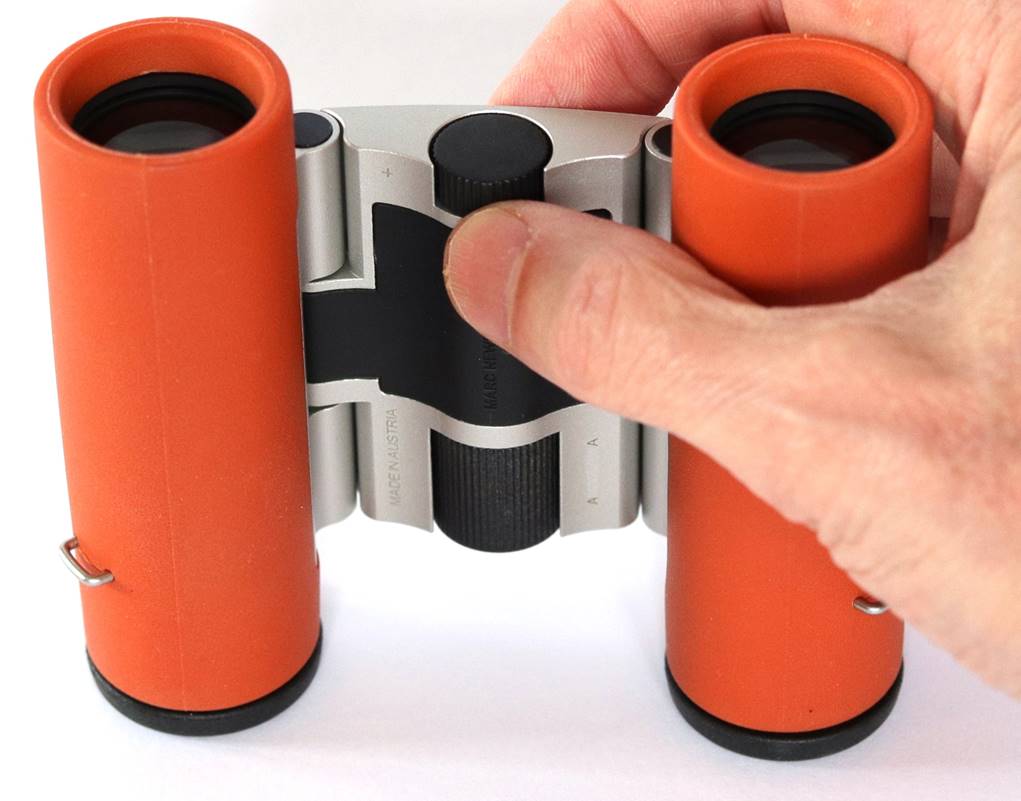 <![endif]>
Focuser and dioptre at either end of the bridge.
Focuser
Typically for this type of bino', the focuser isn't as twirly as a larger models', but the knob is chunkier than many and has a very precise and smooth action, with no play or backlash. Close focus to infinity takes 1 ¾ turns, which is slower than some.
Close focus is exactly the claimed 2.5m and what's more it's quite easy to merge the images at this distance. This means that the Curios work very well for butterflies, insects and culture (I used them to examine Galileo's tomb sculptures and other architectural details on a recent trip to Florence).
The dioptre knob at the front of the bridge is very small. It's perfectly weighted to avoid unintended movement, but only has +/- and neutral markings. I'd prefer a neutral détente as well.
Optics - Prisms
These are a conventional roof prism design, but manage a transmission of 90% - competitive with most full-size bino's and rather more than most compacts.
Optics - Objectives
At this size and magnification objectives can be simple and still perform well, so these are likely just fairly basic triplets without ED glass.
Coatings are excellent, contributing to the high (for folding bino's) 90% transmission. They have a neutral hue with muted tints of purple and green for a lifelike colour balance.
Internally, there is one large micro-ridged baffle and the objectives are well-recessed for resistance to veiling flare.
<![if !vml]>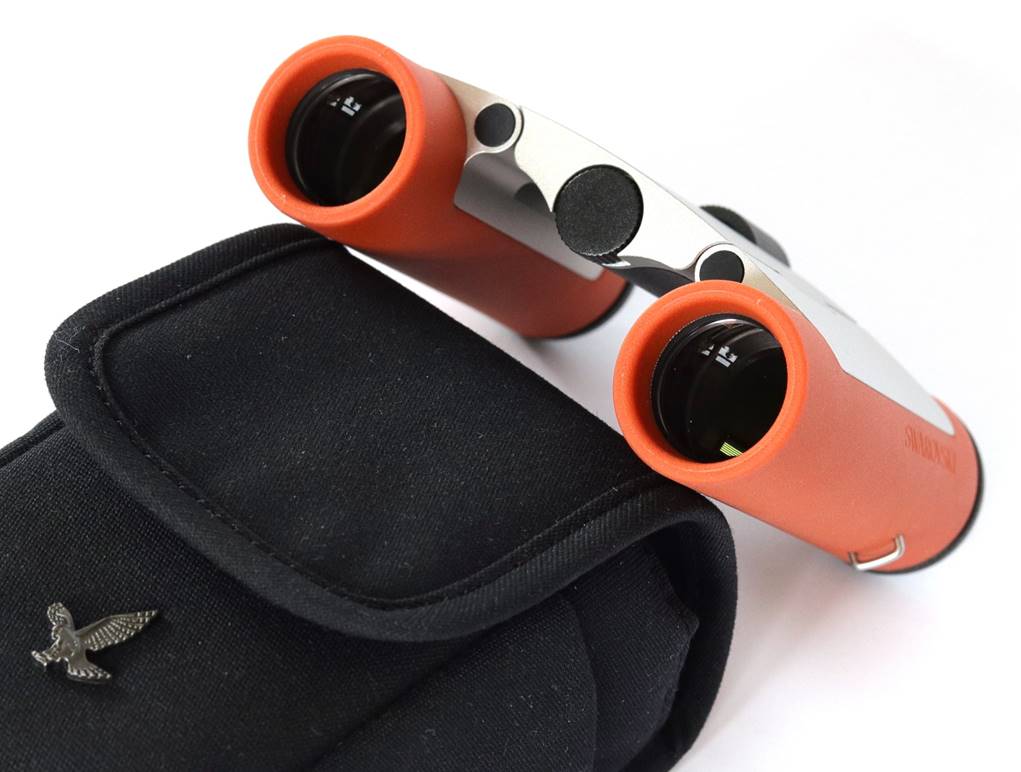 <![endif]>
Optics - Eyepieces
The optical realities of narrow tubes and very short focal length objectives make it hard for designers to squeeze all the best characteristics out of mini-bino' eyepieces, but Swarovski have done a great job with the Curios'. They have relatively large eye lenses at 12mm diameter and must be a complex design incorporating some kind of flattener.
7x binoculars generally have narrower apparent fields than higher-powered models, but the real field of view of 135m/1000m is about the same as most full-sized 7x bino's and wider than many with 8x. The usable real field is amongst the very widest, however, because it's sharp edge-to-edge.
Swarovski claim 16mm of eye relief. I measured more like 15mm, but it's enough to see the whole field with my glasses – an excellent result for such a miniature design.
The screw-out eye cups are solid and turn smoothly, seem a bit better than most of the competition as SW's usually do. They have no click-stops, but you can set intermediate positions to suit your eyes or spec's.
Blackouts as you move your eyes around are non-existent, with glasses or without, a really good feature.
<![if !vml]>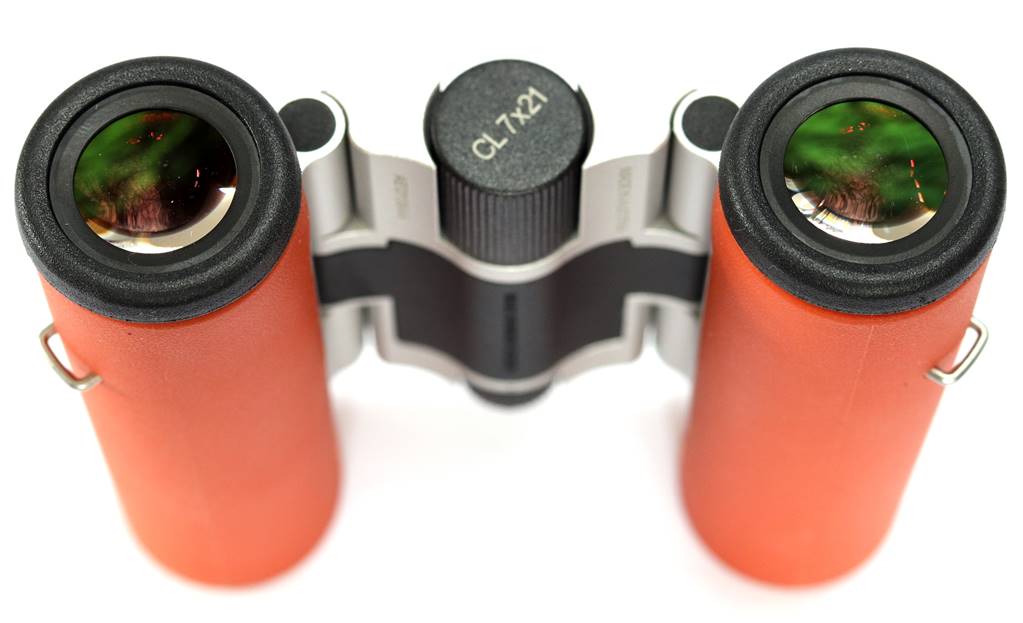 <![endif]>
<![if !vml]>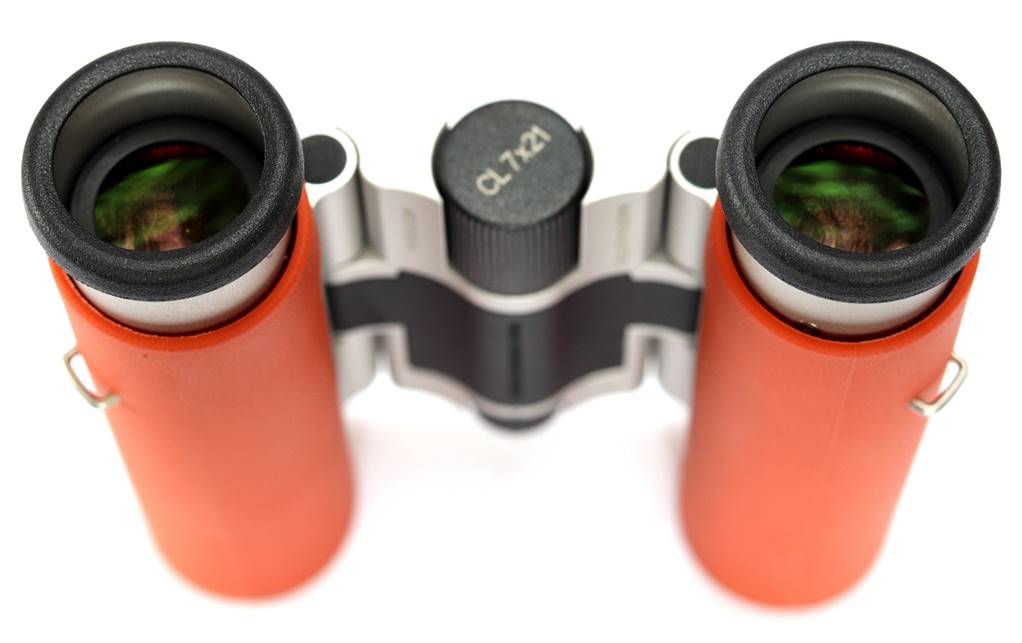 <![endif]>
Eye cups are continuously adjustable, no click-stops.
<![if !vml]>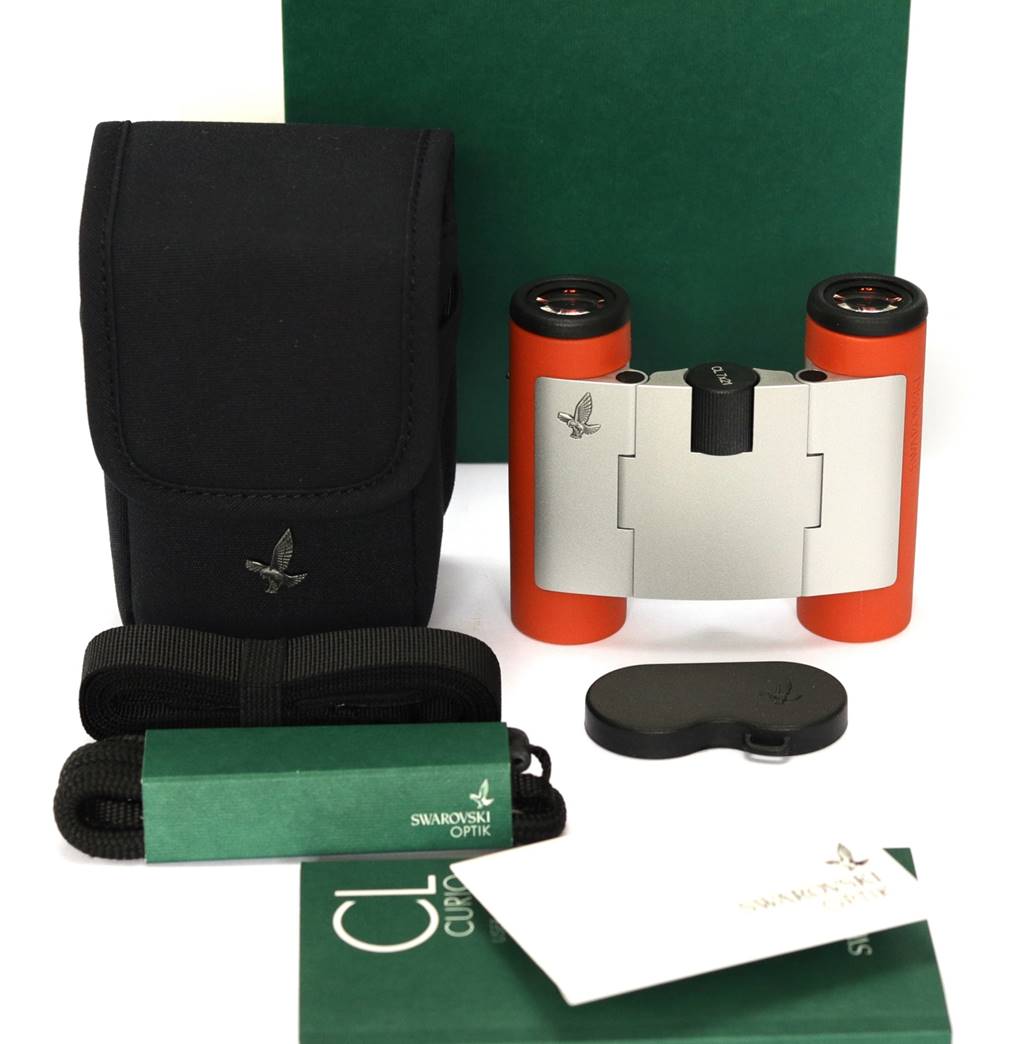 <![endif]>
<![if !vml]>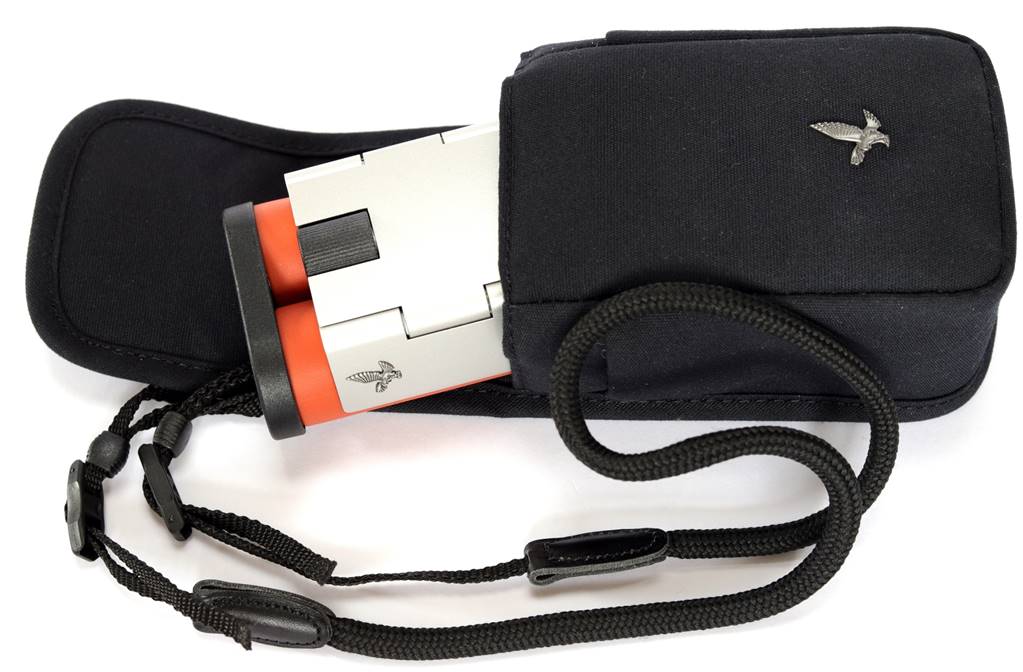 <![endif]>
<![if !vml]>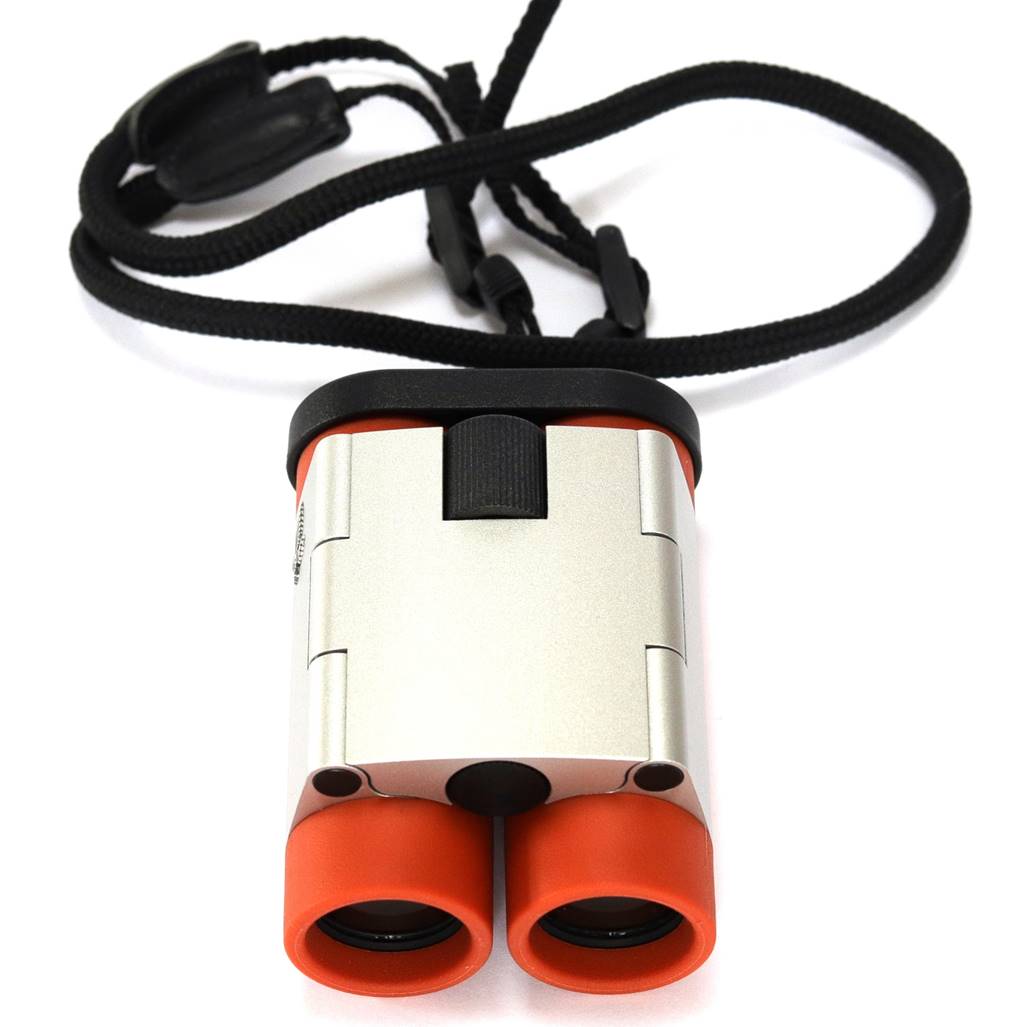 <![endif]>
Accessories are much like larger Swarovskis'.
Accessories
The case is a mini version of the Standard SW field case – padded and semi rigid with a magnetic clasp.
The strap is a narrow lanyard, the eyepiece cap very light and small; there are no objective caps (less to fall out of your pocket, right?)
In Use – Daytime
Ergonomics and Handling
These are inevitably so small that big hands might find them awkward. There's just no way to make folding bino's really ergonomic, but the large focuser falls nicely to finger and works intuitively.
Eyepiece comfort is a standout feature of the Curios, with plenty of eye relief and – most importantly – no blackouts at all as you move your eyes around.
The strap attachment points are cleverly positioned so that the binoculars lie against your chest at an angle with the effect that they swing much less readily when walking, something I've previously found troubling with folding bino's.
Overall, I found the Curios very comfortable and relaxing to use, more so than I recall of most mini bino's, thanks to the comfy eyepieces, excellent focuser and light weight, but as much as anything due to the steadiness of the low power. I often appreciate the ease of use of 7x binoculars and these are no different.
Tiny and elegant, I reckon you could even use these at the opera, especially given the kudos of that prominent Swarovski hawk badge.
<![if !vml]>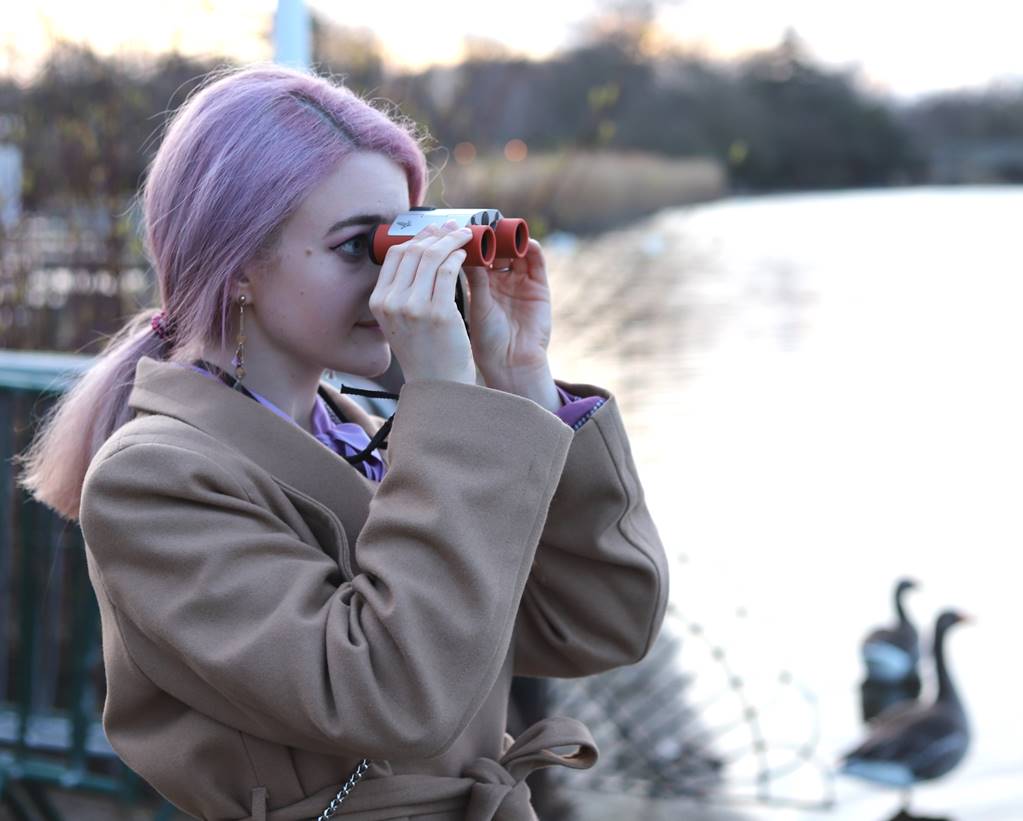 <![endif]>
The View
The Curios don't quite have the big binocular view of Zeiss' 8x25 Victorys', but compared to most compact bino's the view in bright daylight is a revelation and comes very close to premium big bino's standards: very bright, sharp, full of high-res' detail and vibrancy all the way across. The only way it lags the Zeiss is the apparent field width: if you're used to bino's with 60° or more then the Curio's 51° feels just a little boxed in.
Focus snap is superb and optical quality the highest. One big advantage of the 7x power is the usual one of ease and comfort, but part of that is simply the huge depth of field – for middling distances you just don't have to re-focus much. Following gulls wheeling over the bay sands was so easy. Meanwhile, their close-focus comes in very handy for museums and architecture.
Swarovski's claimed 90% transmission is high for a folding binocular and that does translate to excellent brightness in use. In normal daylight, these never feel dim or aperture limited, something few mini-bino's can claim.
Overall, I really like the Curio's view, despite its slightly constrained feel: I like 7x bino's anyway, but in a micro binocular it's compelling for most purposes. I use them a lot, a sure sign of a great bino's for me: after just a couple of months I've already taken them on holiday and numerous walks and day-trips.
Flat field?
A flat field, usable to the very edge, has become something of a Swarovski trade mark and the Curios conform. If there is a little softening at the edge due to a tiny bit of curvature, it's barely perceptible in use.
It's quite possible to read a ruler all the way across the field at closest focus: the field just looks perfectly sharp edge to edge, but in fact they've dialled in a little distortion for comfortable panning (note the railings in the snap below).
<![if !vml]>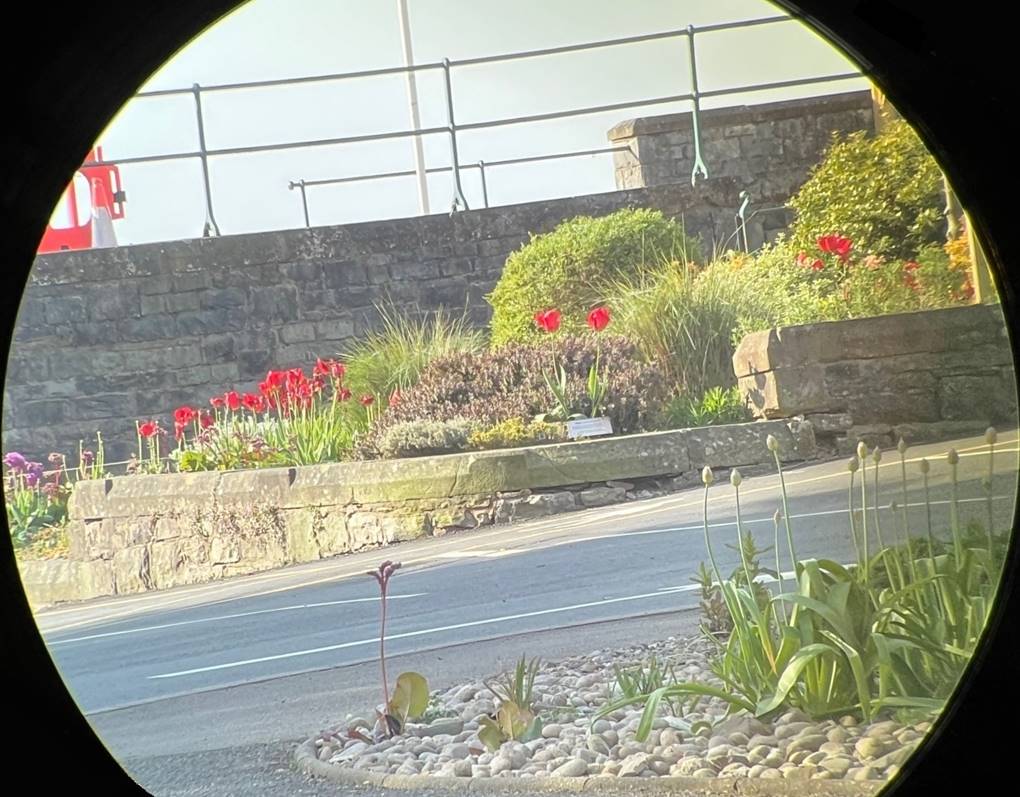 <![endif]>
The field is well corrected from edge to very edge.
Chromatic Aberration
Watching flocks of birds migrating against a bright sky at Cardigan Bay I noted a trace of false colour fringing, but it's not noticeable in general use and is never a problem. You can sweep through silhouetted branches without trouble from jazzing false colour.
Stray Light and Ghosting
I couldn't get much in the way of ghosts or veiling flare, but I did note four long spikes from the prisms when viewing a bright streetlight at night. This is an extreme test, but the very best pass it; the Curios don't – one of the few areas they aren't perfect.
In Use – Dusk
These are notably bright for compact bino's in full daylight – significantly better than my old reference standard, Nikon's 8x20 HGLs. Mostly that's due to the higher transmission optics, but the extra 1mm aperture actually gathers 10% more light too. Consequently, they do work better at dusk or in dim woodland than most 8x20s, but fall short of 8x25s or 8x30s in really low light.
In Use – Observing the Night Sky
Binoculars of less than 30mm aperture are pretty limited for use on the night sky, especially for deep sky, but the Curios give a lovely sharp and detailed view of the Moon and show Jupiter as a disk with its four Galilean moons about it, with no flare or ghosting.
Swarovski 7x21 Curio vs Zeiss 8x25 Victory Pocket
<![if !vml]>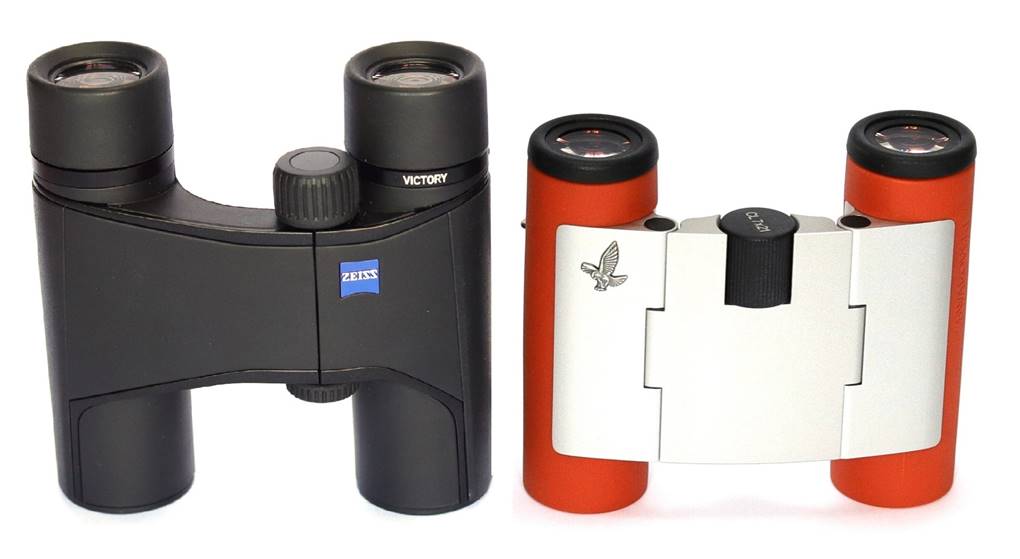 <![endif]>
These are the two current leaders in folding binoculars and readers have asked me to compare them, so I will. But in a way they aren't the natural competitors you would think. Before I delve into that, let's do a point-by-point comparison:
<![if !supportLists]>· <![endif]>The Curios are significantly smaller, especially when folded, and lighter too
<![if !supportLists]>· <![endif]>The Curios are made in Europe like other Swarovski binoculars; the Victorys' construction has been outsourced to Japan
<![if !supportLists]>· <![endif]>The build quality of the Curios feels to me on a higher level, more recognisably artisanal and 'high-end'
<![if !supportLists]>· <![endif]>The Zeiss have a much wider apparent view, which just gives them an airier more expansive feel, but it falls off a little at the edge in a way the Curios' does not
<![if !supportLists]>· <![endif]>Otherwise, the quality of view – daytime brightness, vividness, resolution – is very similar
<![if !supportLists]>· <![endif]>The Zeiss' extra aperture gives them an edge in low light, making them a more practical all-weather, all-day mini birding bino'
<![if !supportLists]>· <![endif]>The Zeiss' unusual single bridge makes them faster to unfold and use, but makes them less compact when folded away
<![if !supportLists]>· <![endif]>The Zeiss focus even closer
So which should you choose? This is where we find they're not really competitors after all.
The Curios' field lacks the apparent width and so wow factor of the Zeiss' and the Curios' smaller aperture means poorer performance in low light. But the Curios are better made and much more compact. Which you choose will depend on your use case.
As an ultra-compact birding bino' you would choose the Zeiss. For travel, trekking and general-purpose nature viewing the Curios, due to their compactness, designer build and repairability.
Summary
The Curios have many standout points, including compactness, build quality, eyepiece comfort and brightness, but even so they're more than the sum of those good points – just a really pleasurable and useful pair of binoculars that don't feel compromised by their tiny dimensions.
Another outstanding feature of the Curios (for a folding bino') is their superb made in Austria build that feels the same as larger SWs and should mean ready repairability if you drop them or wear them out. And that's something that reduces their real cost significantly.
If I had to find a negative it would be their apparent field width, but that's unavoidable and standard for 7x binoculars and the Curios make up for it with a field that's sharp from edge to edge. They produce prism spikes on streetlights at night, but that's unlikely to trouble most users.
Personally, I've started taking them pretty much everywhere, something their tiny size encourages. Unusually for me, I'm likely to keep them longer term.
Another winning Swarovski then? Indeed!
The Curios are one of those products that just gets it right – they get my highest recommendation for travel, trekking and general nature viewing.
<![if !vml]>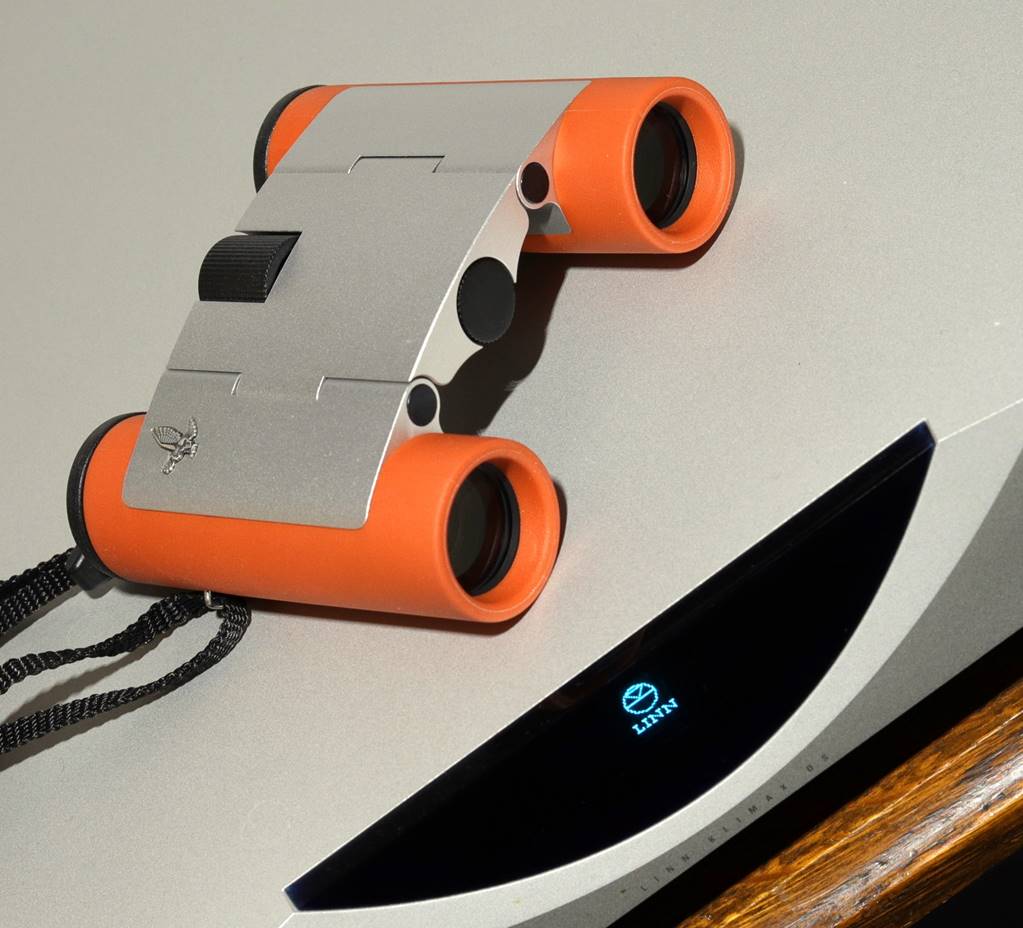 <![endif]>
Buy Swarovski Curio 7x21 in Burnt Orange from Wex here:
<![if !vml]>

<![endif]>
Buy Swarovski Curio 7x21 in Black from Wex here:
<![if !vml]>

<![endif]>