Swarovski's ELs were the best birding binoculars in the world, but then Zeiss' newer SFs bested them in some areas. The NL Pure is Swarovski's bid to take back that 'best of the best' crown. In this review I find out if they've succeeded.
Swarovski 8x42 NL Pure Review
<![if !vml]>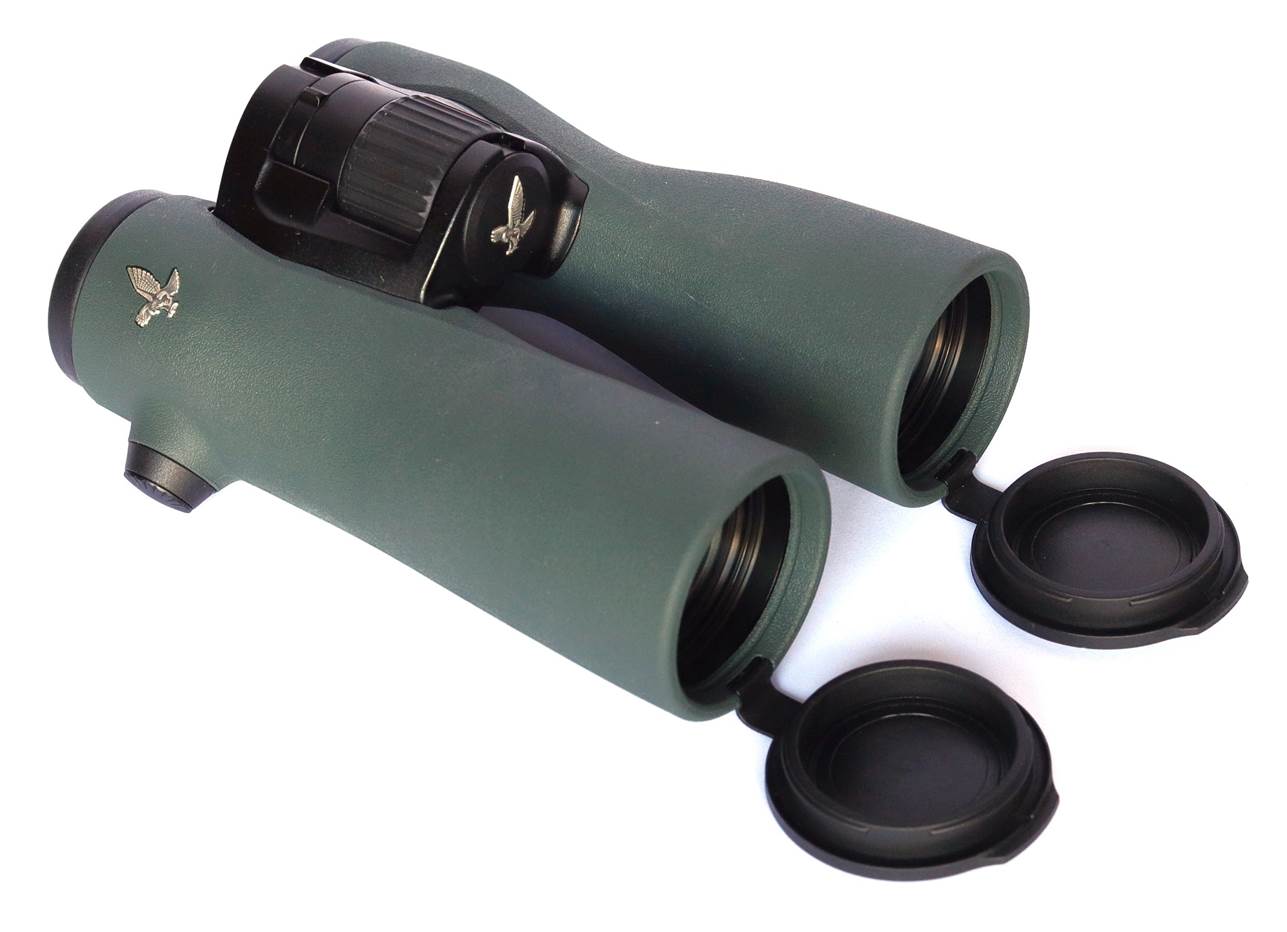 <![endif]>
Almost exactly a decade ago I published an open letter to the Alpha bino' makers, challenging them to deliver the following:
· No visible in-focus CA
· An apparent field of 70° or more
· A field which is sharp, flat, bright and coma-free to the edge
· Eye relief of at least 16 mm
· Minimal blackouts
· A focuser as smooth, fast and accurate as Nikon's HG range
· All the usual features, such as waterproofing, twist-up eyecups, etc
Not long after, Swarovski launched the Swarovision ELs which featured most of these things, except for the field of view. What we got was ~60° - an improvement of just a few degrees on the best of the rest.
Now 60° is pretty yawn in the world of astronomical eyepieces, the entry level for Tele Vue's range. Back then they'd just launched the Ethos with 100° (although even I admitted they'd struggle fitting two of those optical grenades in a pair of ELs). Still, a quick play with Tele Vue's eyepiece calculator suggested a ~70° field should be possible with a more compact eyepiece design, like the 68° Panoptic.
So I waited, expectantly, hopefully, for a 70° EL. And I waited ... and waited.
Eventually, we got the Zeiss SF with a few degrees more than the EL, but still not 70° and not really as flat as I'd like for astronomy either. Leica's Noctivid was no better. I am no optics designer and I assumed I'd missed some optical limitation.  Maybe a 70° flat field in a birding bino' just wasn't possible after all.
Then, when I'd basically given up, Swarovski launched the NL Pure with that 70° field at last, giving a whopping 9.1° true field in the 8x model – the maximum of any current binocular that I know of. So I had to review a pair. I wanted to know how that field worked for birding, but also for expansive views of starry skies.
Read on to find out if the NL Pure really does move the Alpha arms race on to the next level.
<![if !vml]>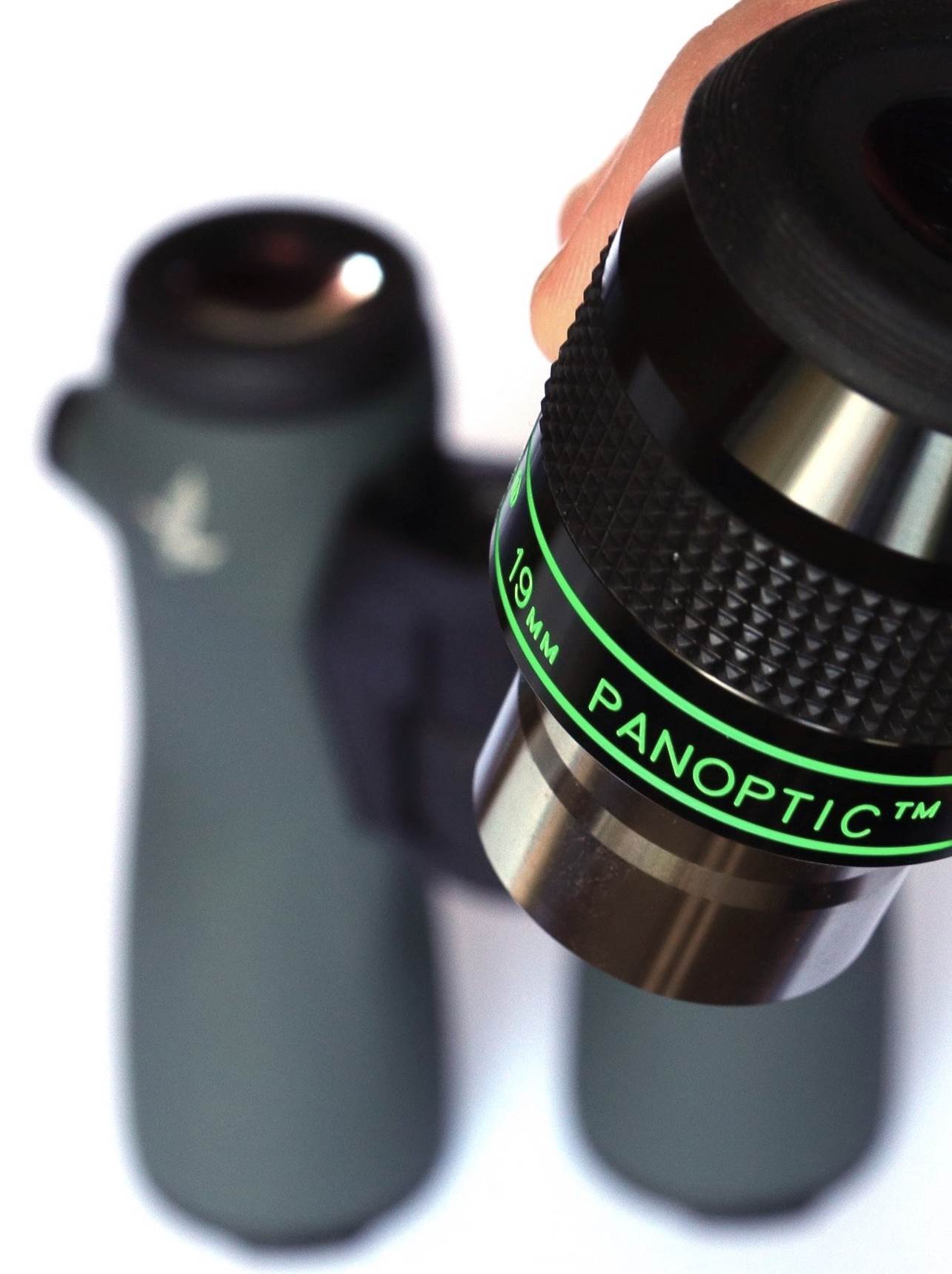 <![endif]>
A decade ago, I dreamed of a binocular with the same apparent field as Tele Vue's venerable panoptic eyepiece.
At A Glance
| | |
| --- | --- |
| Magnification | 8x |
| Objective Size | 42mm |
| Eye Relief | 18mm claimed and measured |
| Actual Field of View | 9.1° |
| Apparent field of view | 69° |
| Close focus | ~1.8m measured |
| Transmissivity | 91% |
| Length | 158mm |
| Weight | 840g (870g measured) |
Data from Me/Swaro.
What's in the Box?
Swarovski's big green box got a bit bigger for the NL Pure, but its' much the same premium unboxing experience complete with Alpine water colour.
<![if !vml]>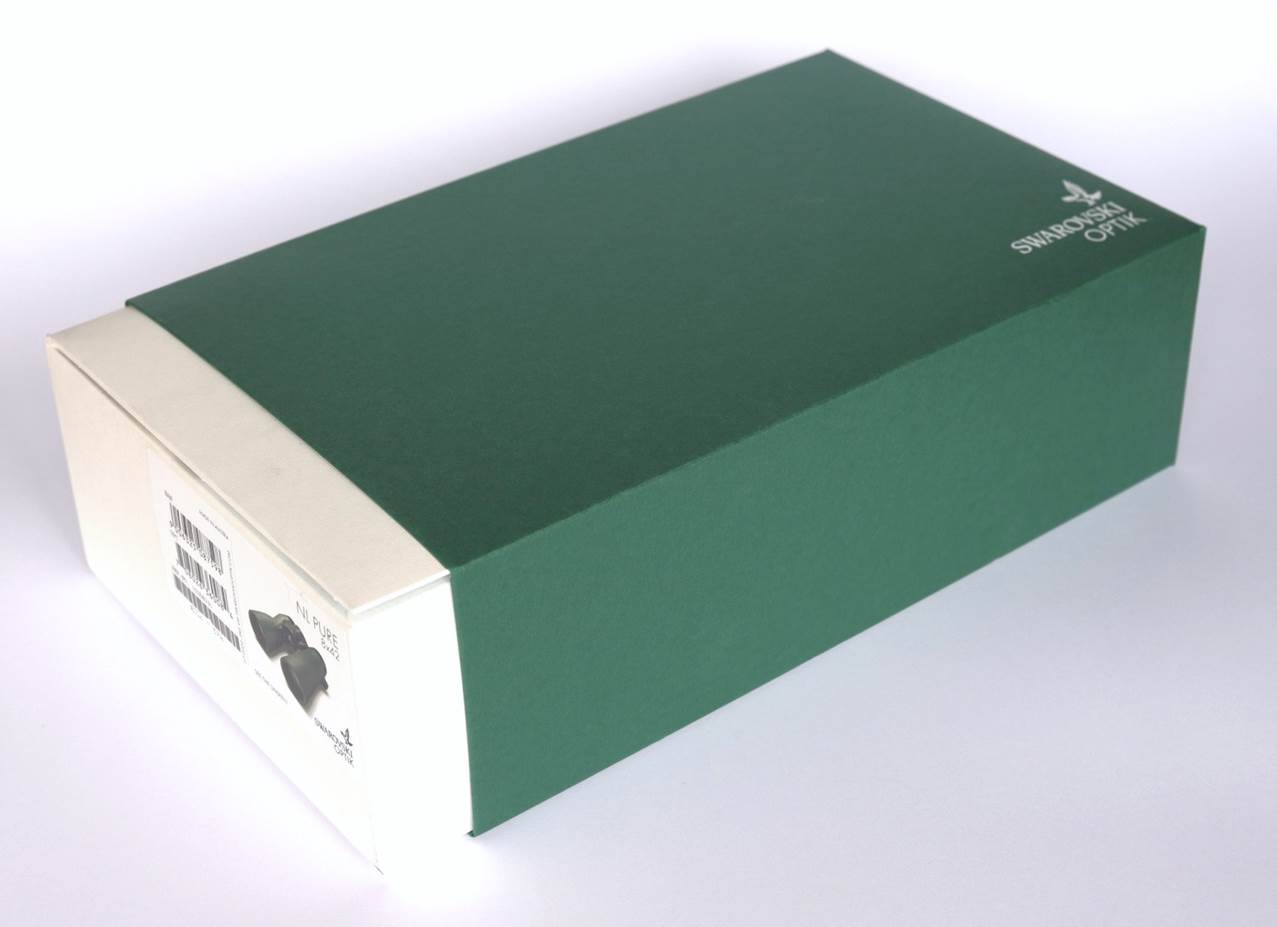 <![endif]>
<![if !vml]>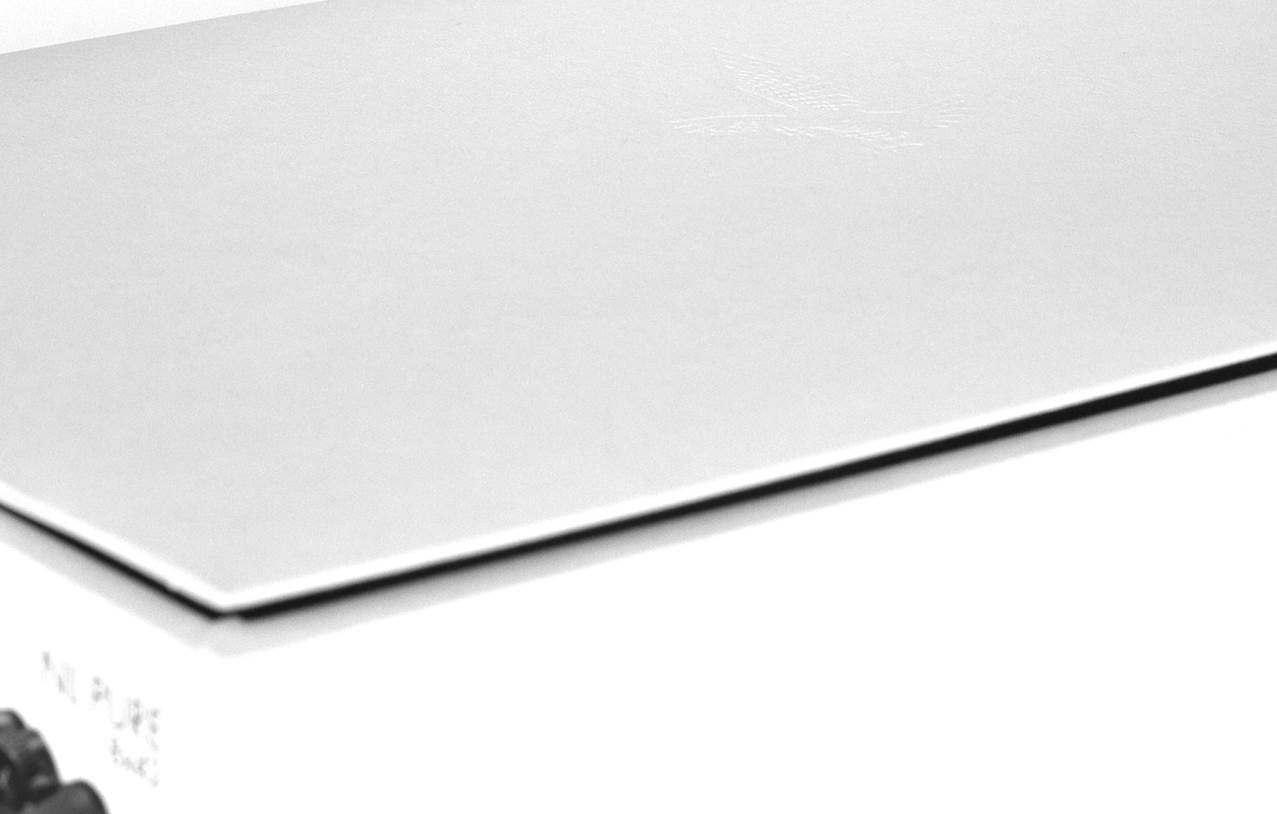 <![endif]>
<![if !vml]>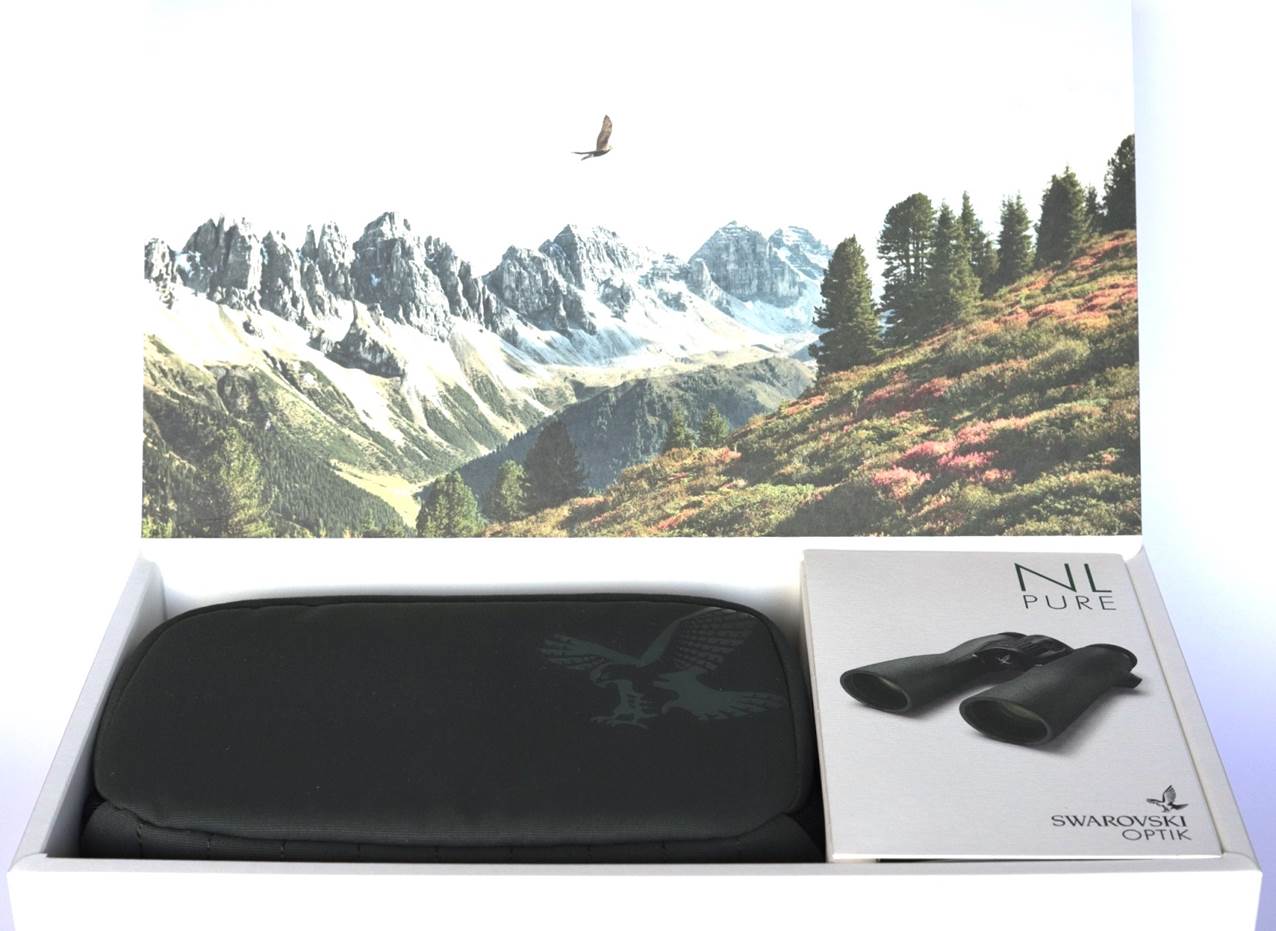 <![endif]>
<![if !vml]>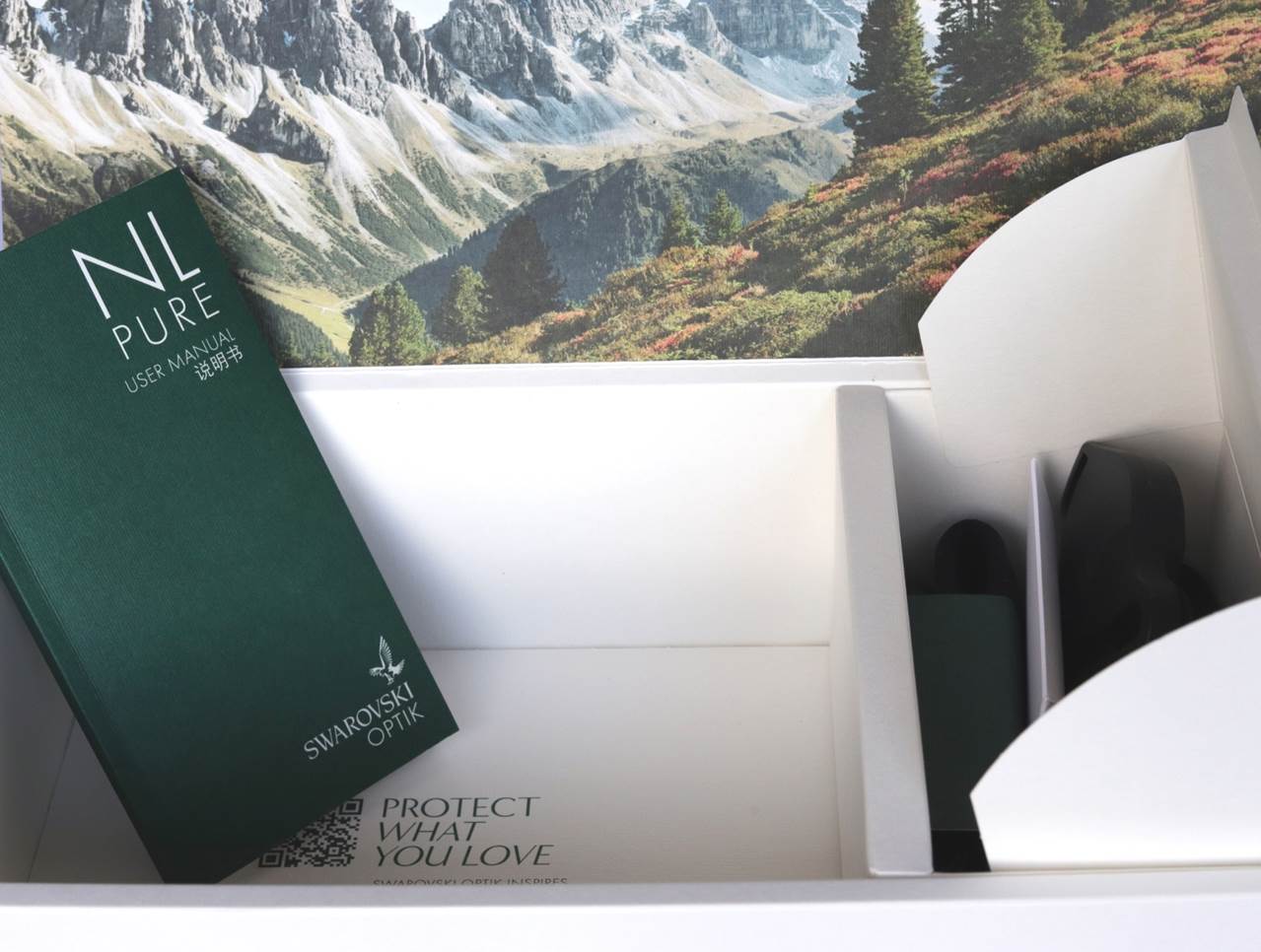 <![endif]>
<![if !vml]>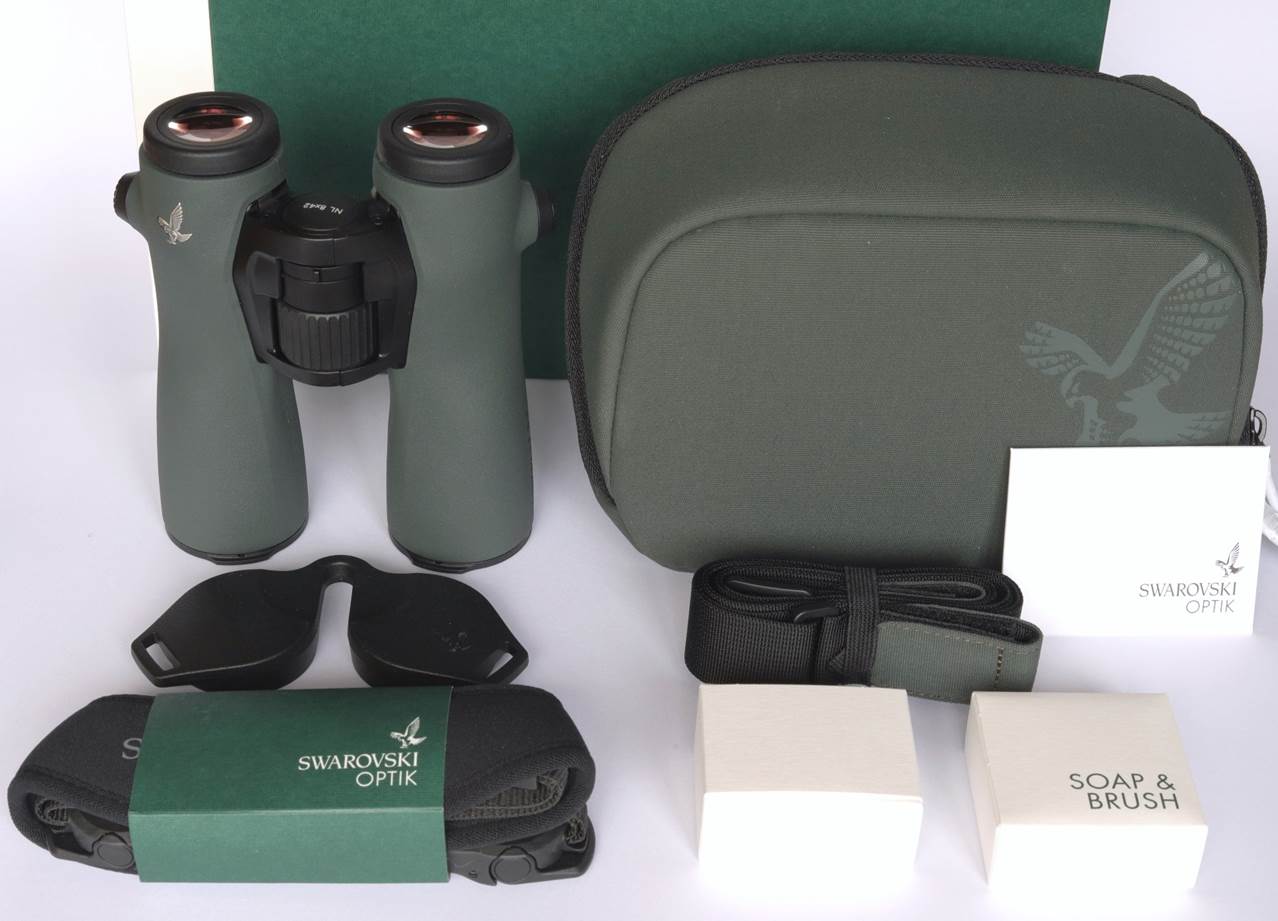 <![endif]>
Design and Build
Swarovski's previous ranging-topping birding glass, the Swarovision EL, has been around for the best part of a decade. Still an excellent binocular, it has been bettered in a few areas by Zeiss' SFs. So in the perpetual game of Alpha leapfrog, Swarovski were always going to try to take back the 'Best Birding Bino' crown and the NL Pure is the result.
It's interesting that now other manufacturers have adopted the EL body style with its open bridge, so the NL Pure gets a new body style to go with its new name. The decision not to update the venerable EL, and thereby retain its brand cachet, may raise a few eyebrows among loyal and picky Swarovski owners.
Interesting, too, that SW have gone back to a conventional 8x, dropping the 8.5x model long a feature of the ELs. Less conventional is inclusion of a 12x magnification, previously reserved for the 50mm ELs (and perhaps indicating that the NL Pure won't be available in a 50mm?)
Swarovski seem to have put huge effort into really improving on the already good EL, with upped specs and performance in most areas to go with the new higher price. Compare Nikon's patchy attempts to update the HGs with models – the EDG and Monarch HG - that in some ways actually seem less premium and innovative, less 'bird-worthy' too.
<![if !vml]>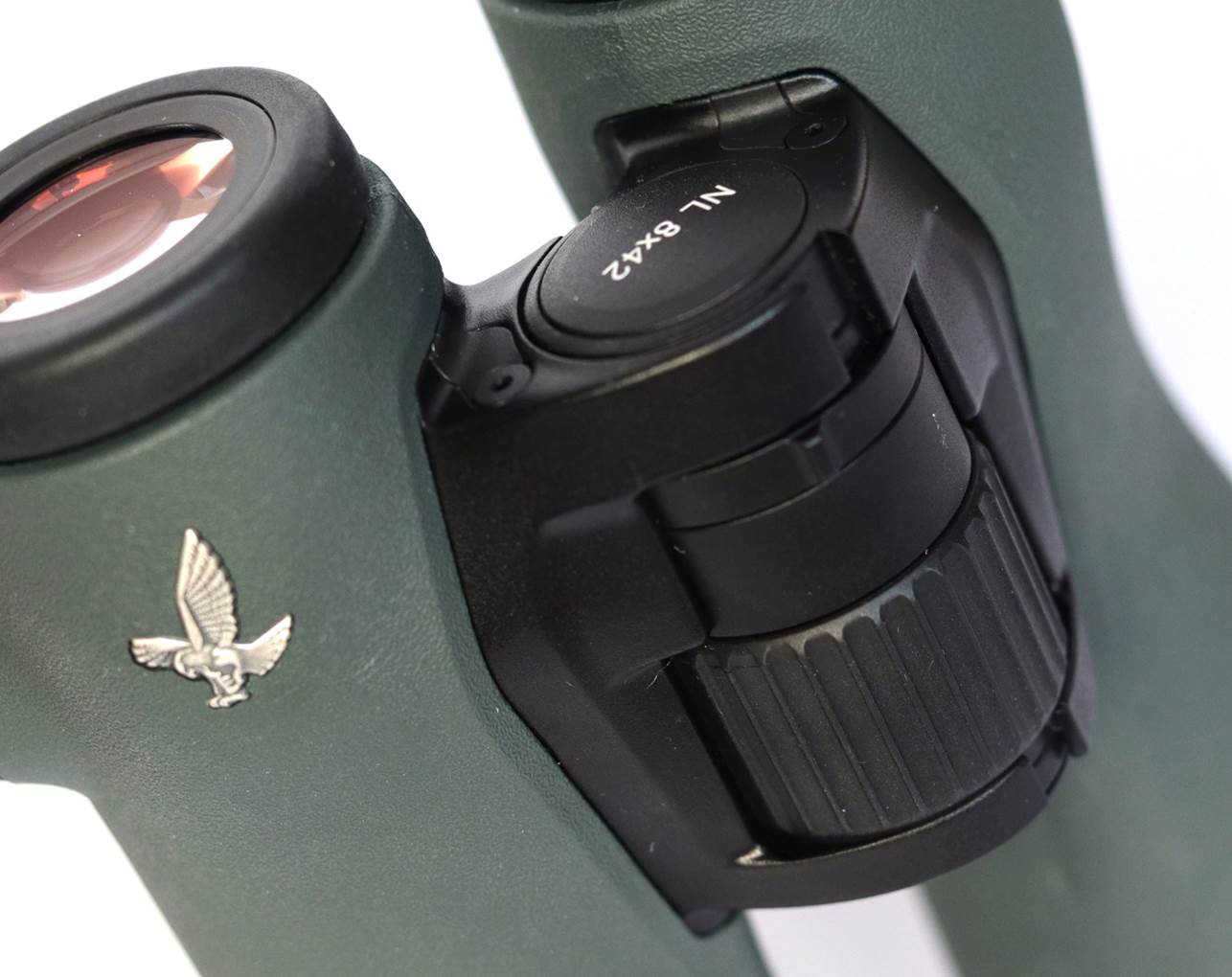 <![endif]>
<![if !vml]>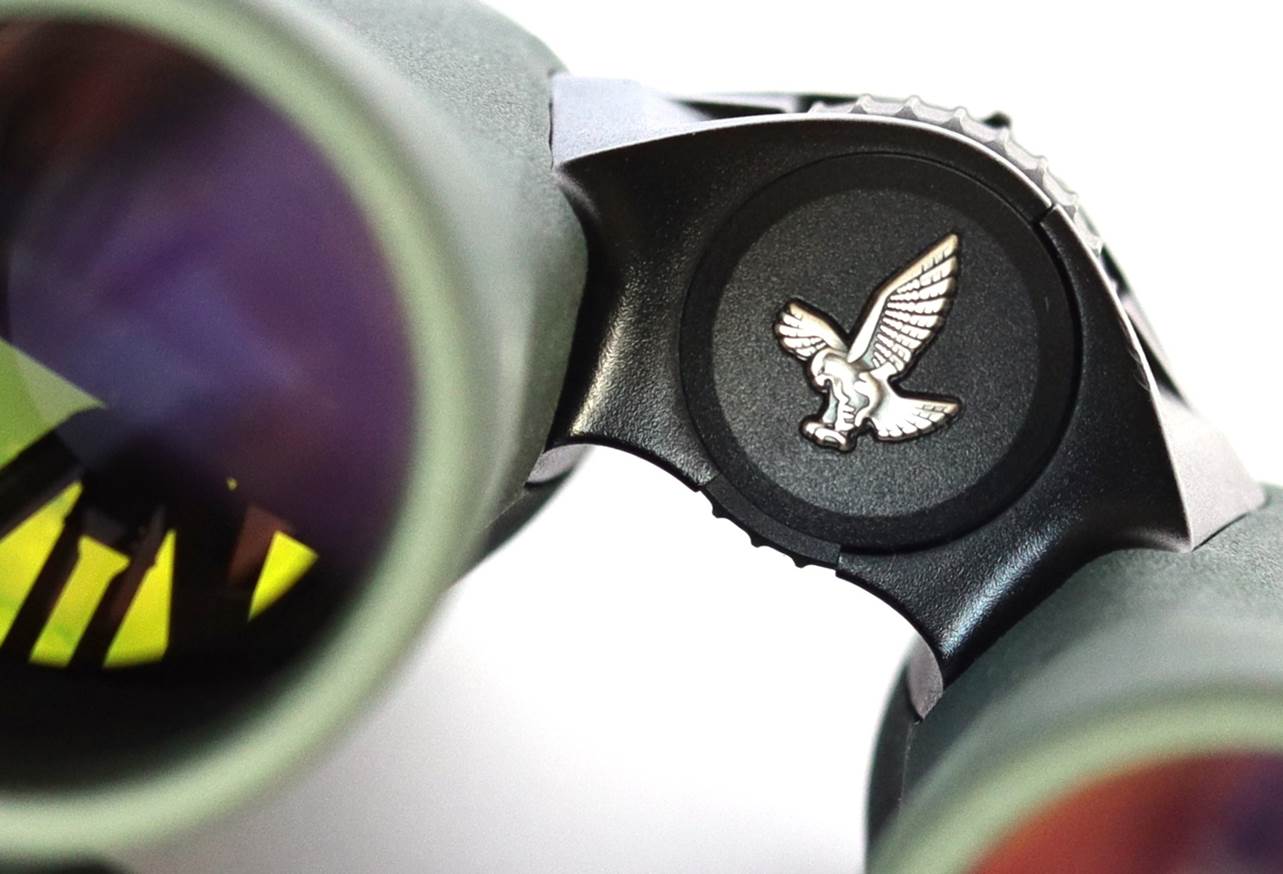 <![endif]>
<![if !vml]>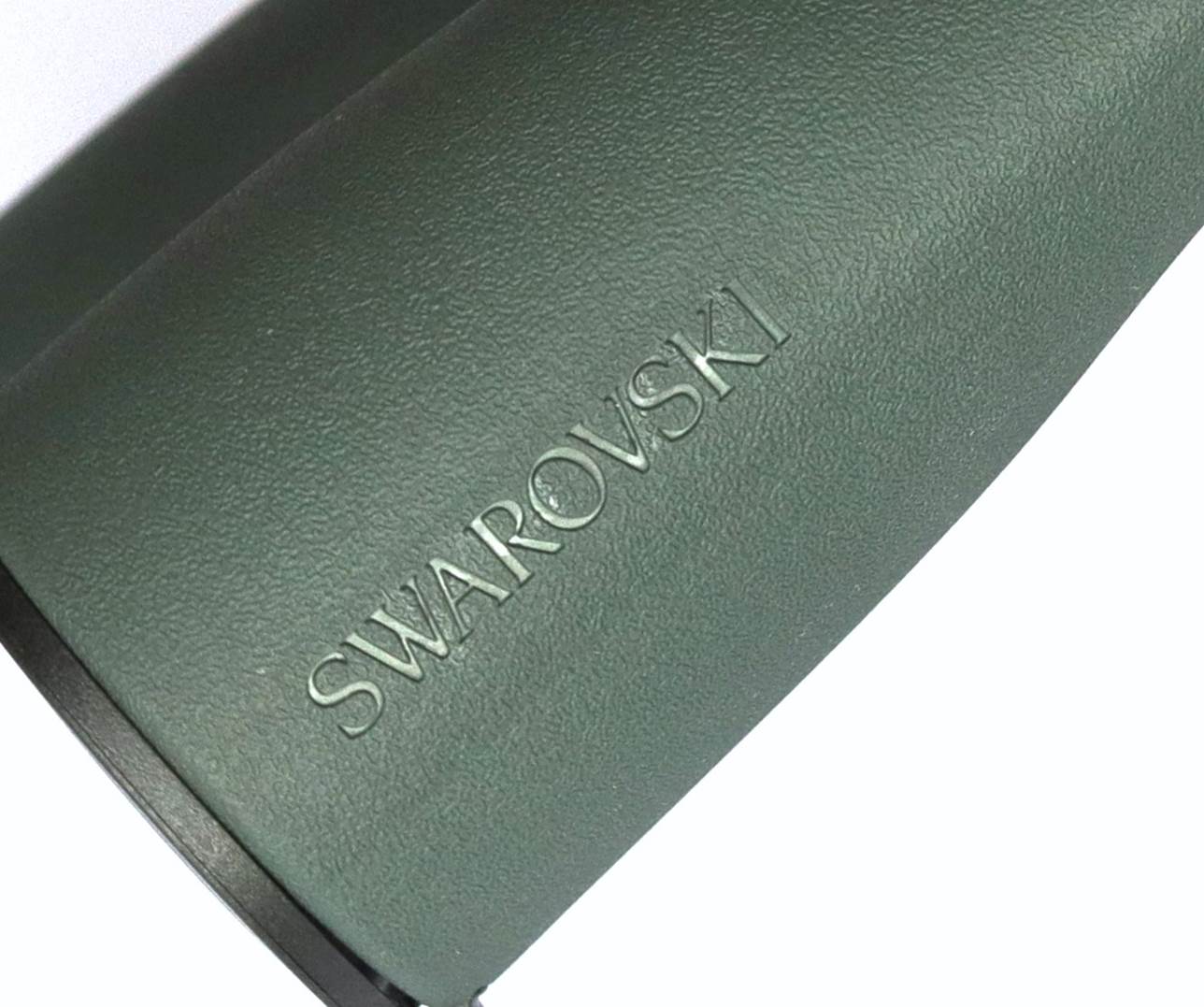 <![endif]>
Body
The NL Pure has returned to narrow single bridge design with long barrels to distance itself from the SFs and Leica Noctivids. It's a route previously trodden by Nikon and Vortex, though the NL Pure's bridge has a much more sophisticated built-in focus wheel and dioptre adjust. The body is sculpted to fit better, too, a bit like Nikon's HGs.
Meanwhile, the armour is standard Swarovski - warm, grippy, doesn't smell rubbery and not too much of a dust magnet.
These are claimed waterproof to SW's usual 4m standard.
Claimed weight of 840g is almost identical to the EL's, but I measured ~870g. Perhaps the claimed figure is without the objective caps. Size is very similar to the outgoing model too: at 158mm, NL Pure is actually 2mm shorter than the 42mm EL, even though it looks longer.
<![if !vml]>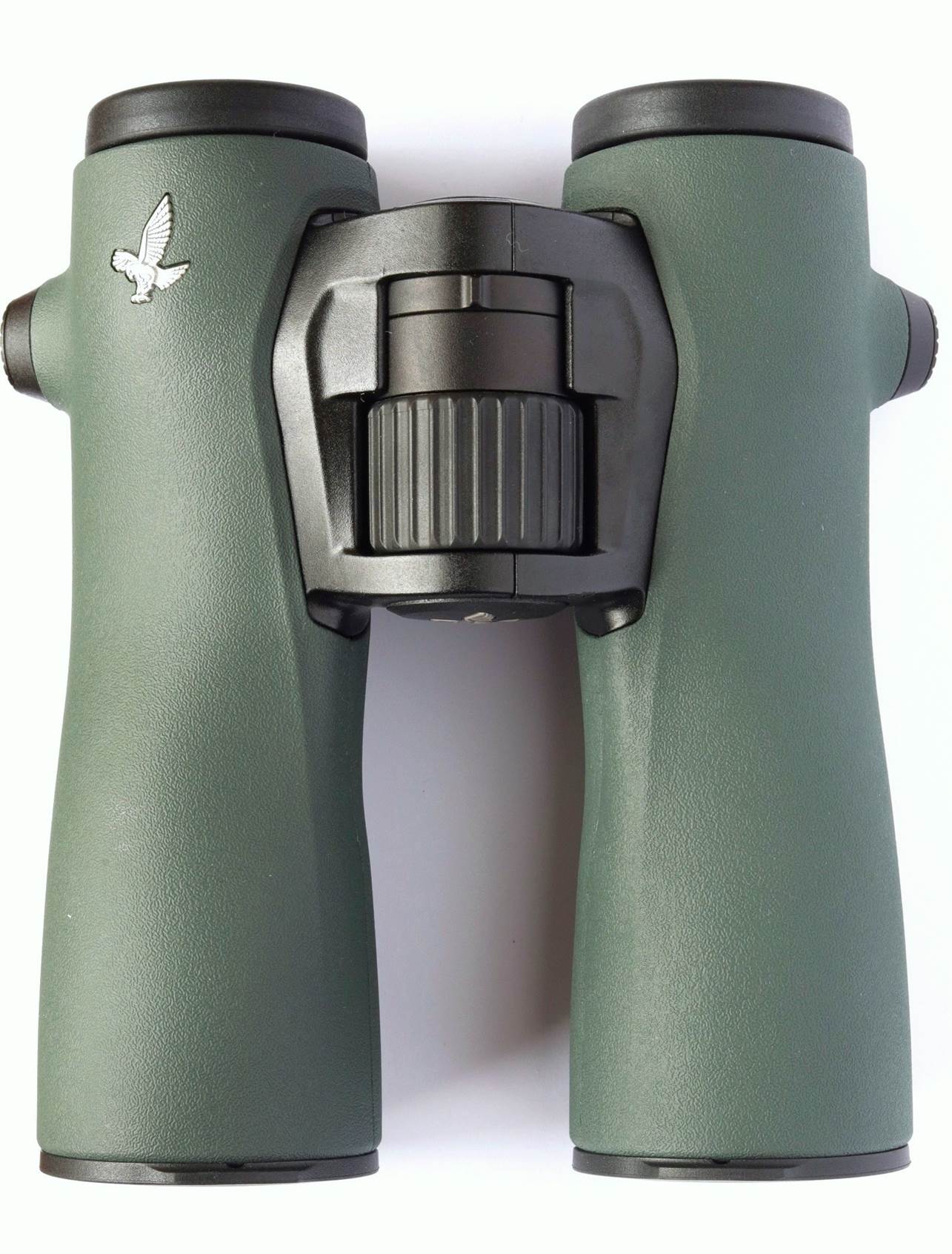 <![endif]>
<![if !vml]>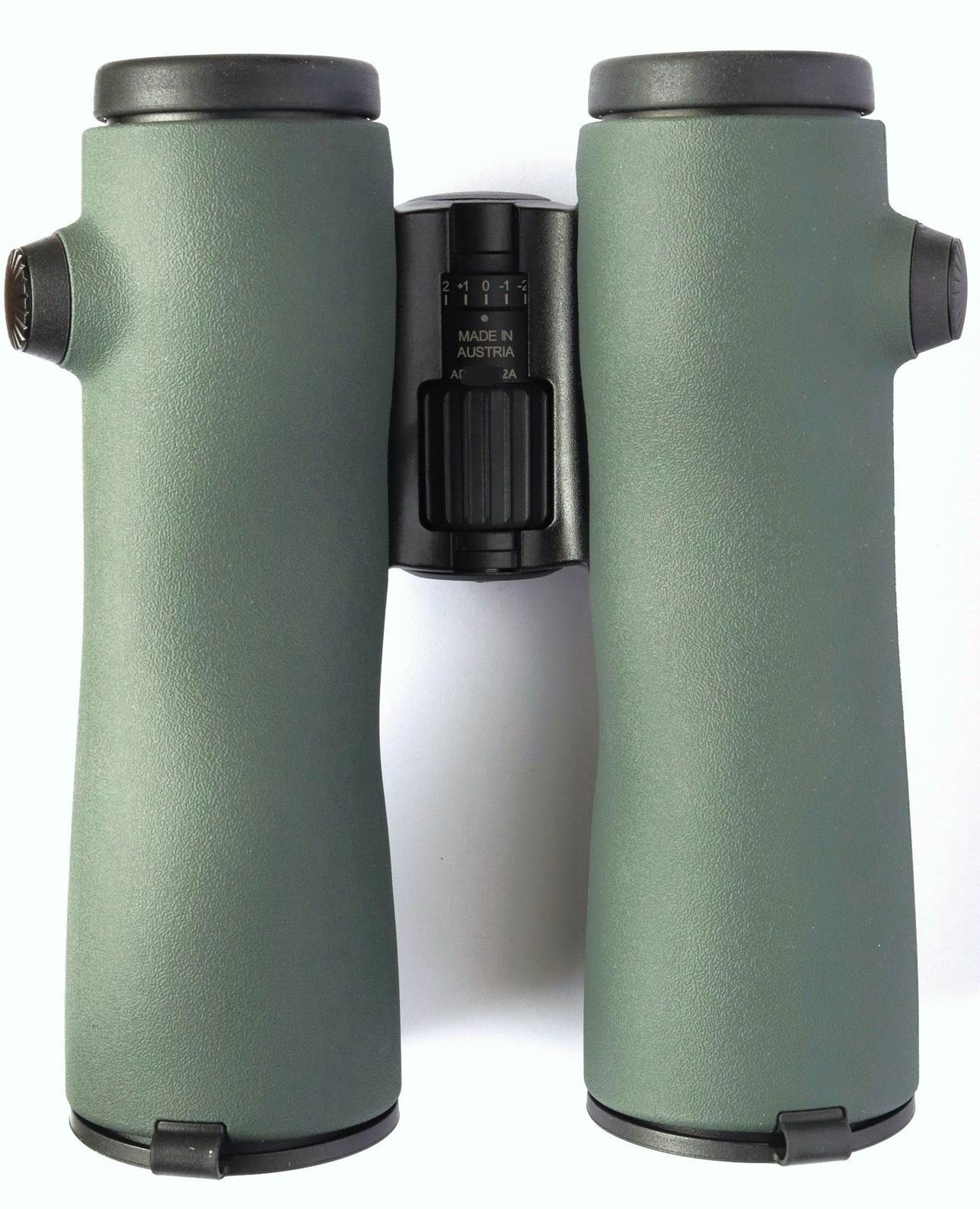 <![endif]>
Focuser
The focus action is superbly fluid and accurate: lighter and with less stiction than the last pair of ELs I tried. This might just be the best focuser I've ever used.
I measure close focus at well under the claimed 2m, at which distance merging remains easy and text viewed close up is sharp across the whole field.
Close focus to infinity is about 1 ¾ turns. There is plenty of focus travel beyond infinity to cater for just about any prescription.
Dioptre adjustment is different from the ELs', where you pull out the focus wheel to reveal a scale. Here there is a rotary lever behind the focuser. It's well weighted, has a détente for neutral and is easy to use with a gloved hand without taking your eyes of that view. At first I thought no dioptre scale, but in fact it's hidden underneath the bridge – clever!
<![if !vml]>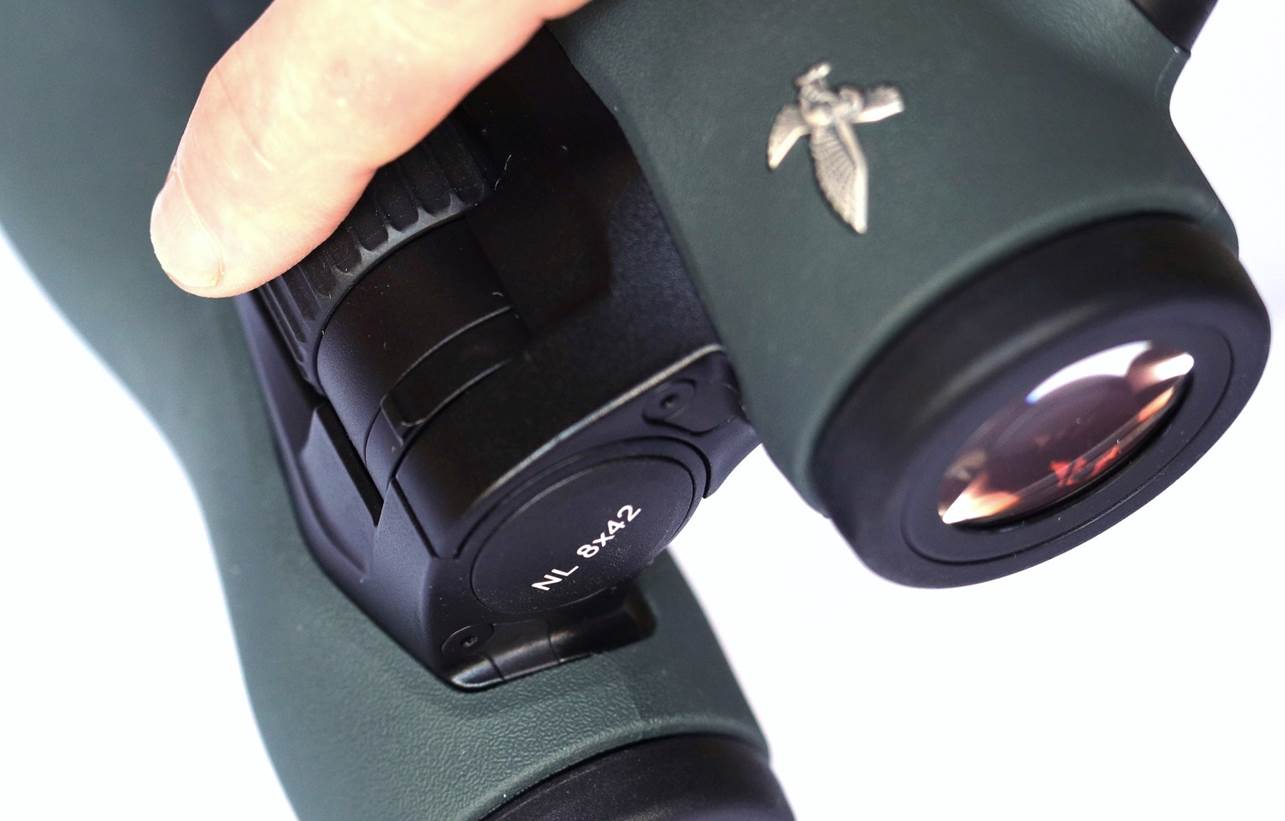 <![endif]>
<![if !vml]>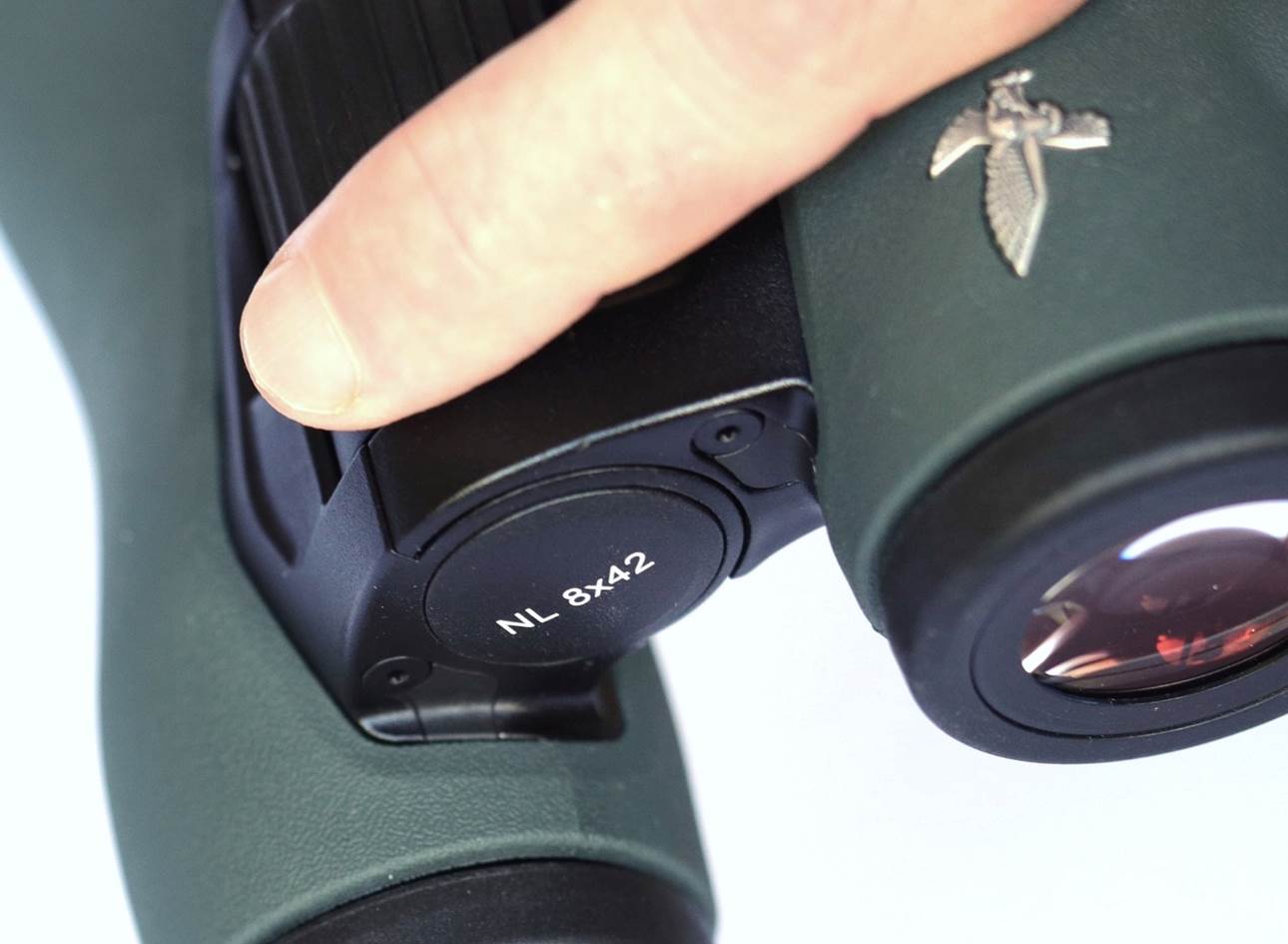 <![endif]>
Dioptre adjustment is just behind the focuser for quick access.
Optics - Prisms
The NL Pure employ conventional Schmidt-Pechan (a.k.a. Roof) prisms, but still manage a highly respectable transmission of over 90%.
Optics - Objectives
The objectives appear to be a triplet with two special dispersion elements (plus focusing element). Coatings are current state of the art, as you'd expect.
Some binoculars feature ridges inside the barrels to kill stray light, but here there are knife-edge baffles behind the objectives – the way fine astro' telescopes do it.
<![if !vml]>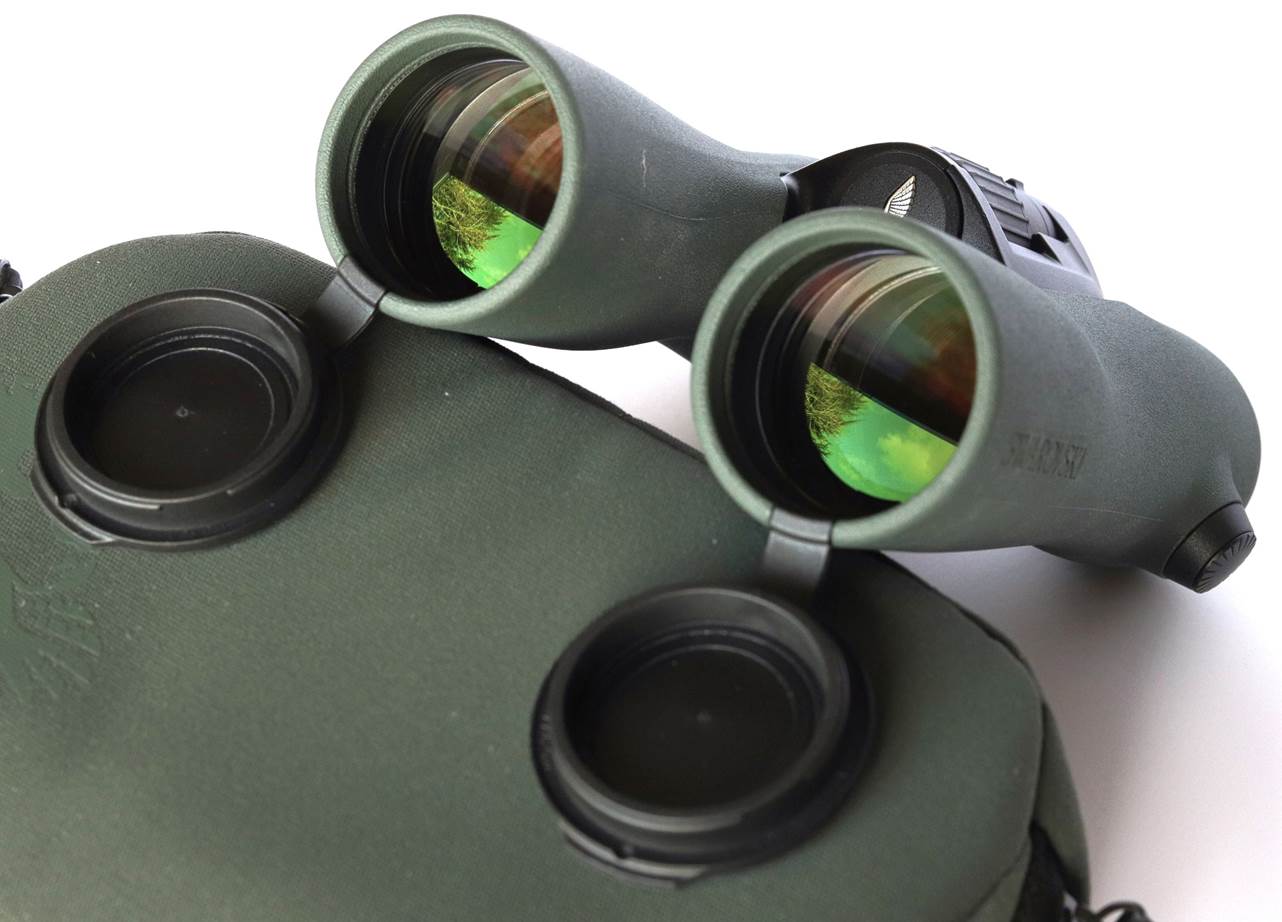 <![endif]>
<![if !vml]>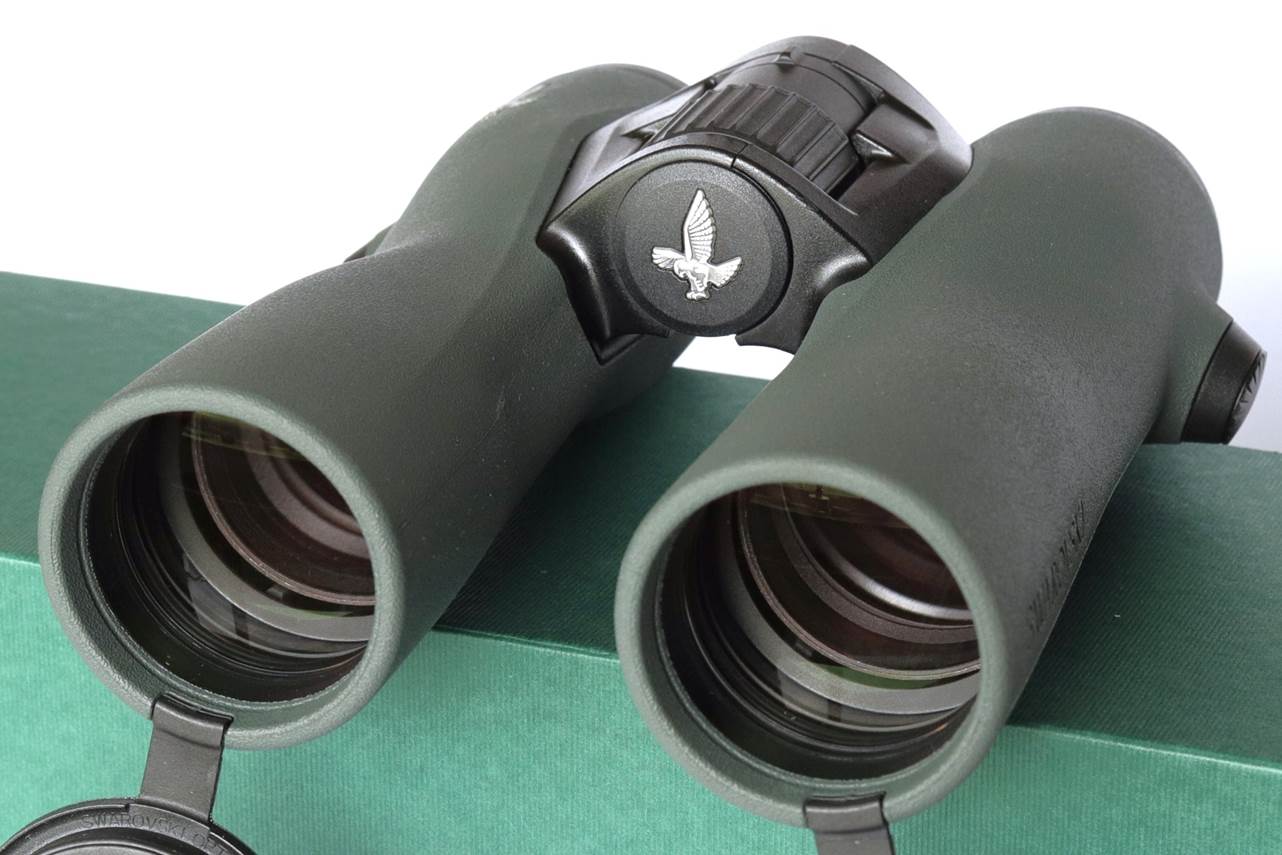 <![endif]>
Barrels feature a knife-edge baffle in front of the focuser.
Optics - Eyepieces
The doubtless optically-sophisticated eyepieces have huge 25mm eye lenses which are gently dished.
It's those big eyepieces that are responsible for the class-leading field of view. At 69° the apparent field is a little less than the higher-powered models, but the 8x42 NL Pures' 9.1° true field is simply unrivalled. Not only is 9.1° more than the nearest 8x42 competition (Zeiss' 8x42 SFs at 8.6°), it's more than the widest modern 7x42 as well. And as we will see, this isn't the highly curved and astigmatic view of traditional wide-field bino's, either.
Eye relief: it says 18mm in the brochure and 18mm is what I measured, from the rim of the eye cup. That's actually more than the ELs I tested (though they claim 20mm)! It's plenty. I can comfortably enjoy that whole big field. But note that it's a millimetre or two less than I measured for Zeiss' 8x42 SFs
and so perhaps a touch less comfortable as the result.
As usual, Swaro's twist-and-click eye cups are the best. With four clicked-out positions (and intermediates possible), there's enough adjustment for anyone. The only negative point for you might be the sheer size of the eye cups. If you have very deep and/or narrow eye sockets, they might prove uncomfortable – try before you buy.
<![if !vml]>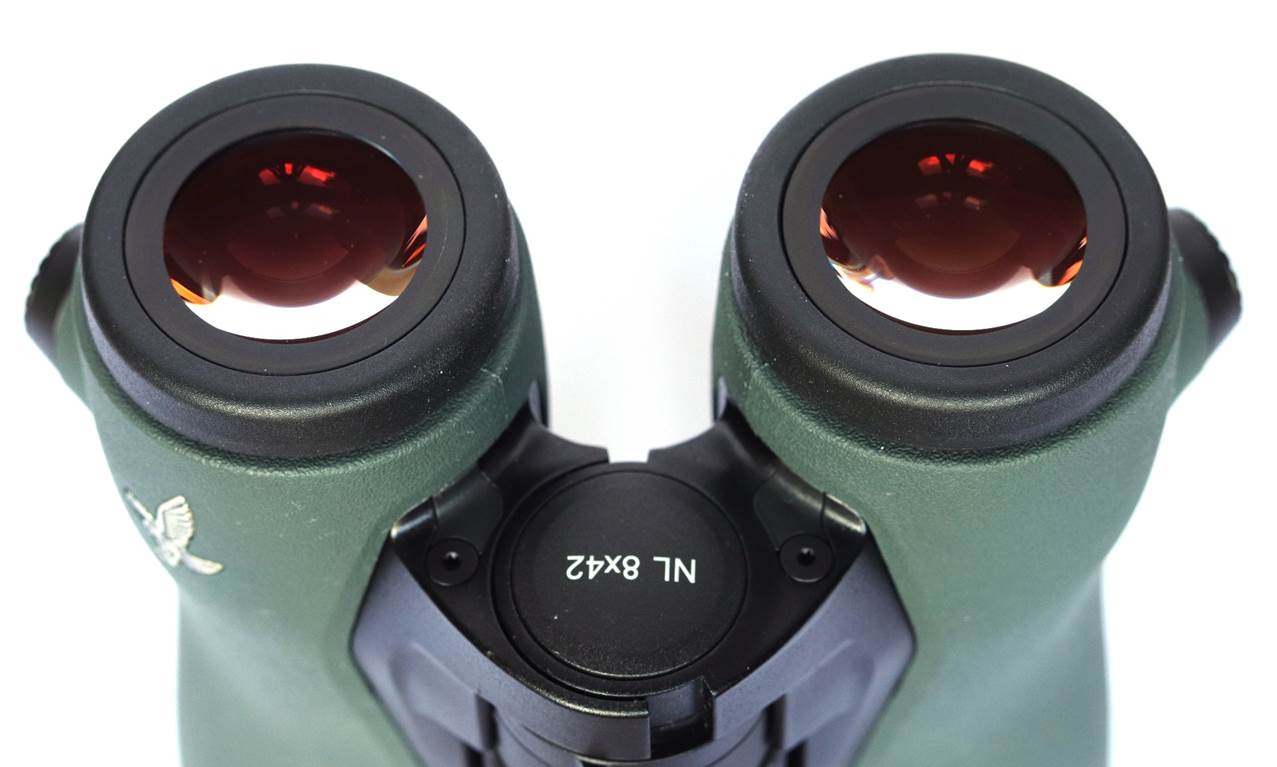 <![endif]>
<![if !vml]>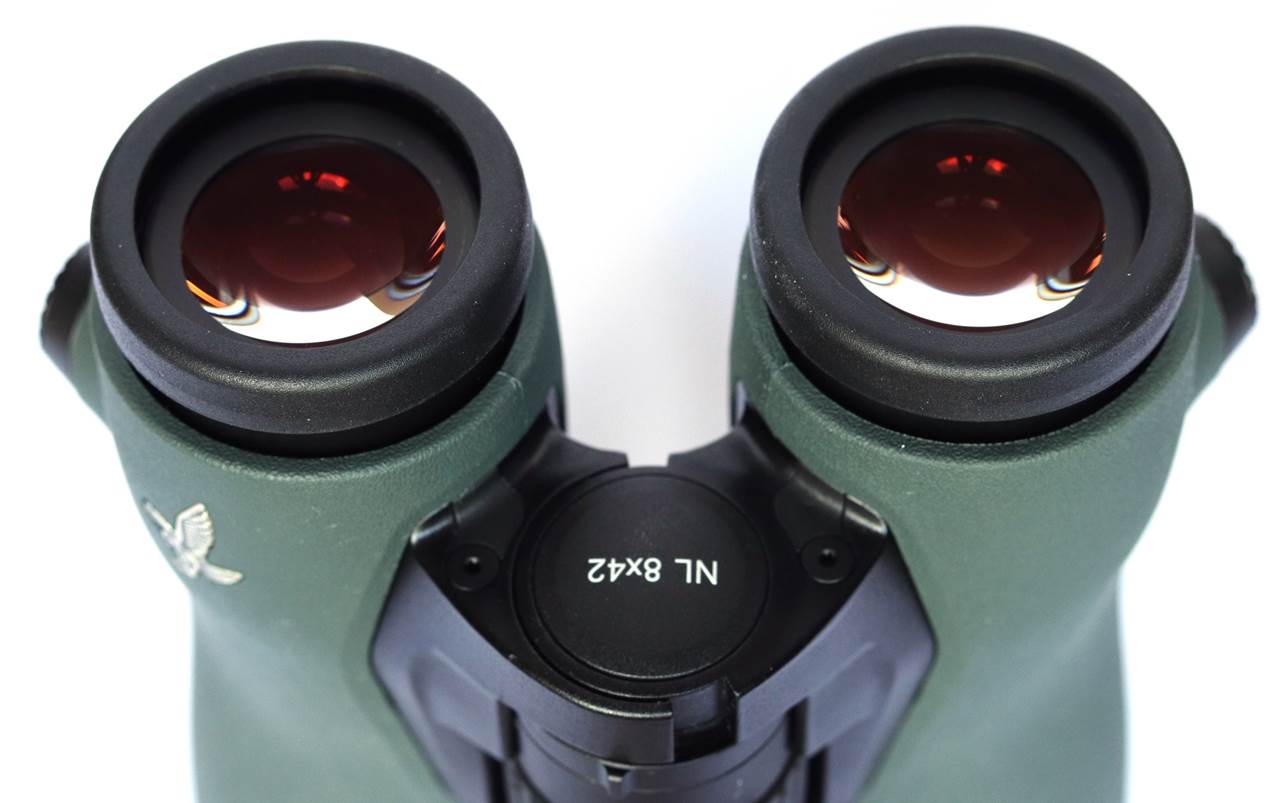 <![endif]>
<![if !vml]>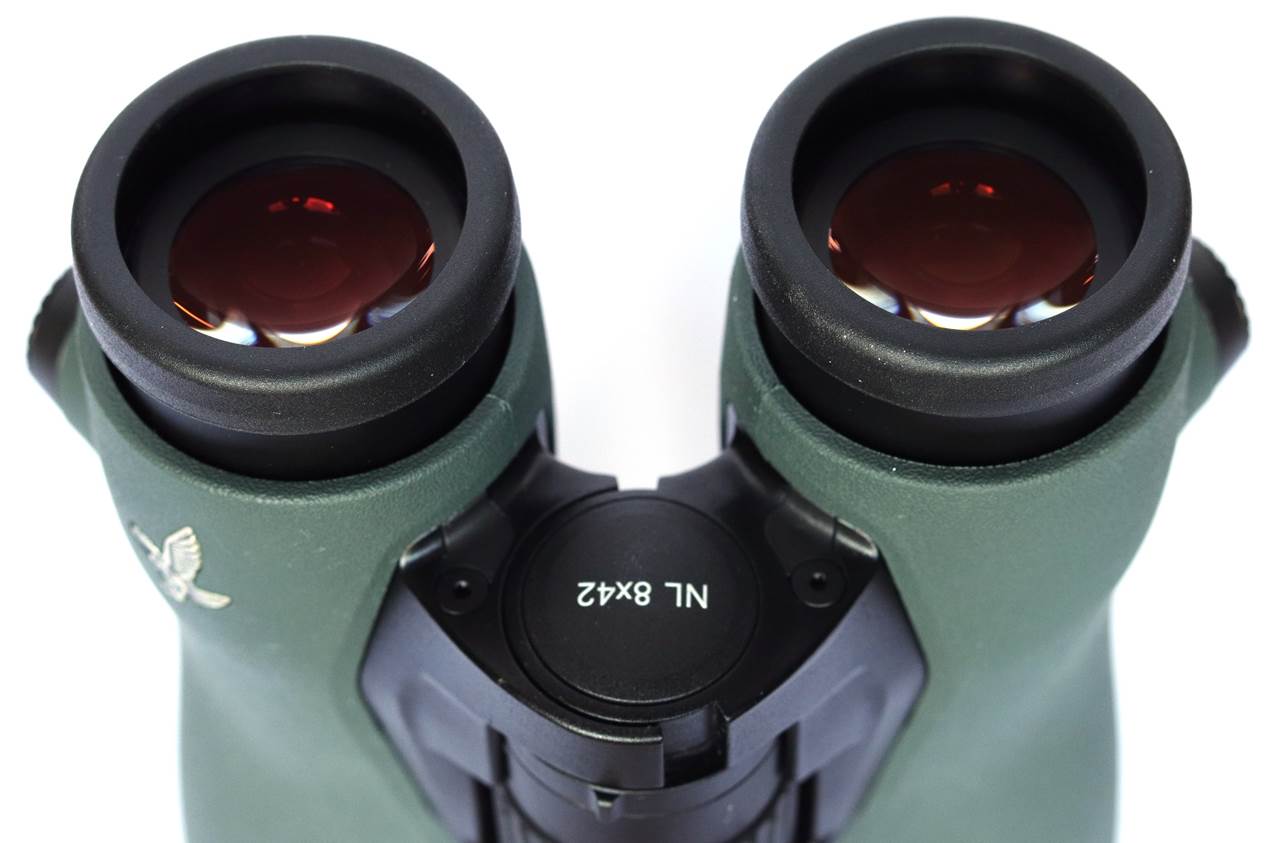 <![endif]>
<![if !vml]>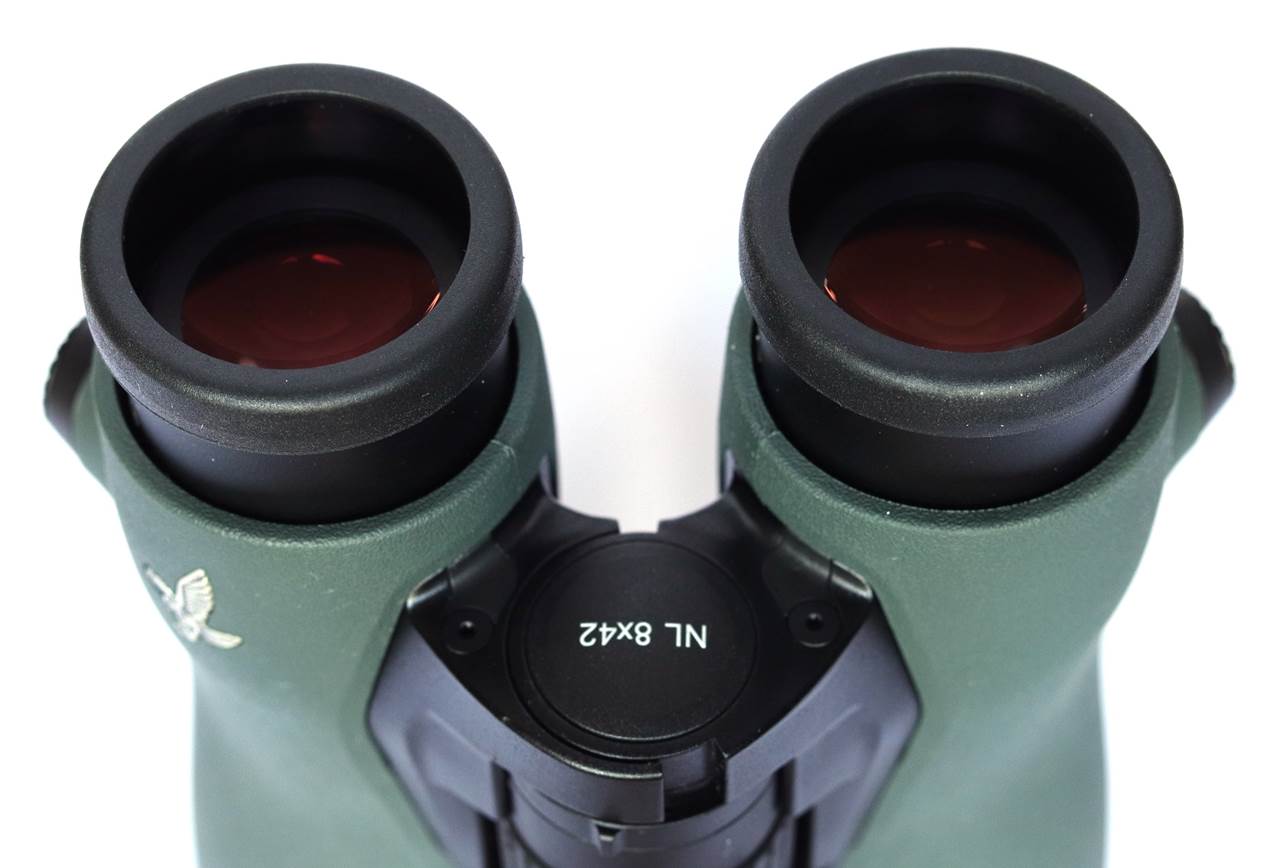 <![endif]>
Accessories
These have yet another new style of Swarovski case, but I actually prefer the field case you get with SLCs.
I really struggled with the Field Pro strap on these at first. They key is to click the lug as far as it will go through the strap, then insert and give it a firm push whilst twisting to lock. I found I needed both thumbs to grip and turn the lug until it locked.
In another first, Swarovski give you a tiny bar of special soap and a brush to clean the armour – SW really are going the extra mile for the user experience! The only problem is that 'NL Pure Soap' does sound a bit too Neste Dante.
Swarovski have gone from the band-on push-over caps to the push-in variety that are integral to the armour. It's a neater solution if you want caps, but they can spring back out if you don't get them right in.
The new-style eyepiece cover is rubberier than before, but still a quality item compared to most. It's slightly harder to squeeze on than the previous harder plastic one, but stays in place securely.
<![if !vml]>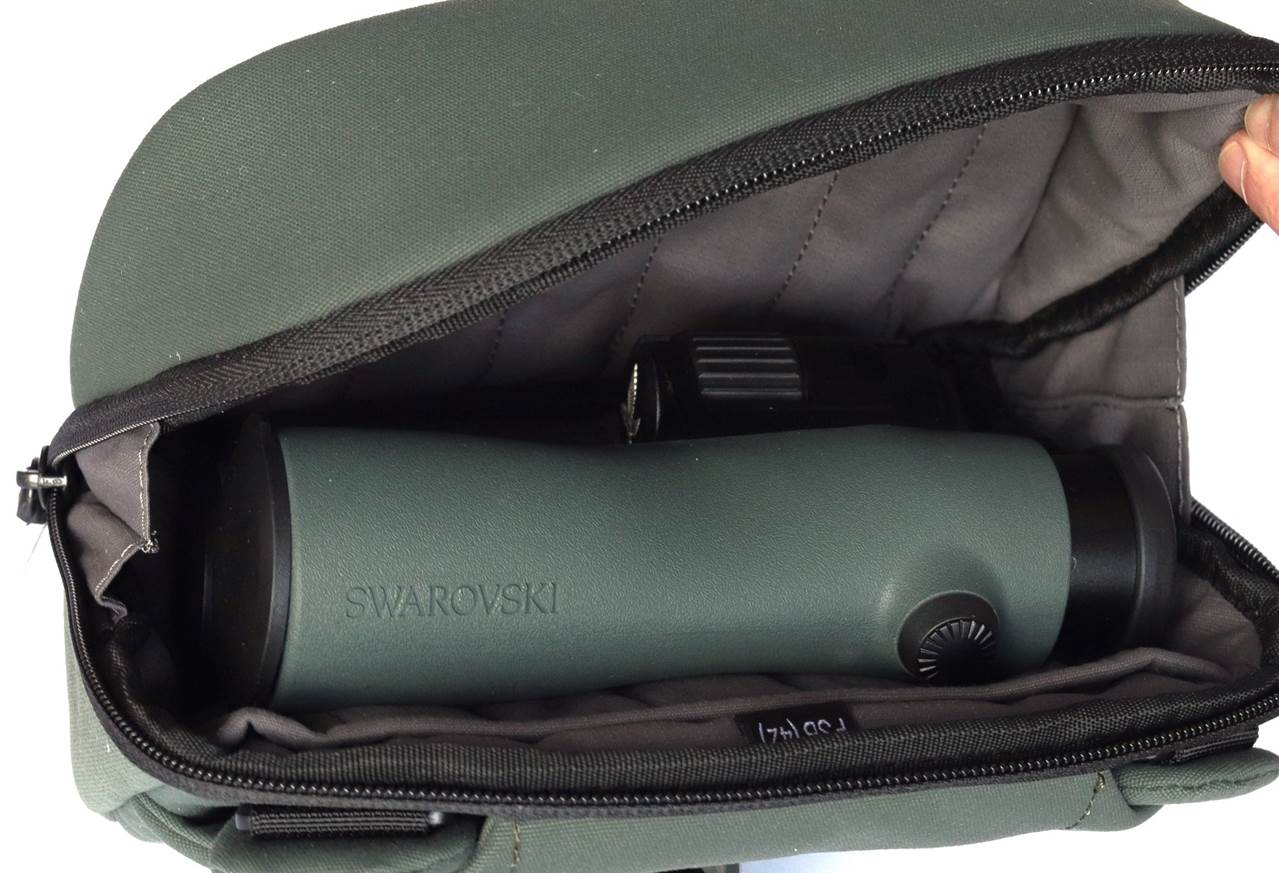 <![endif]>
NL Pures nestling in their padded case.
<![if !vml]>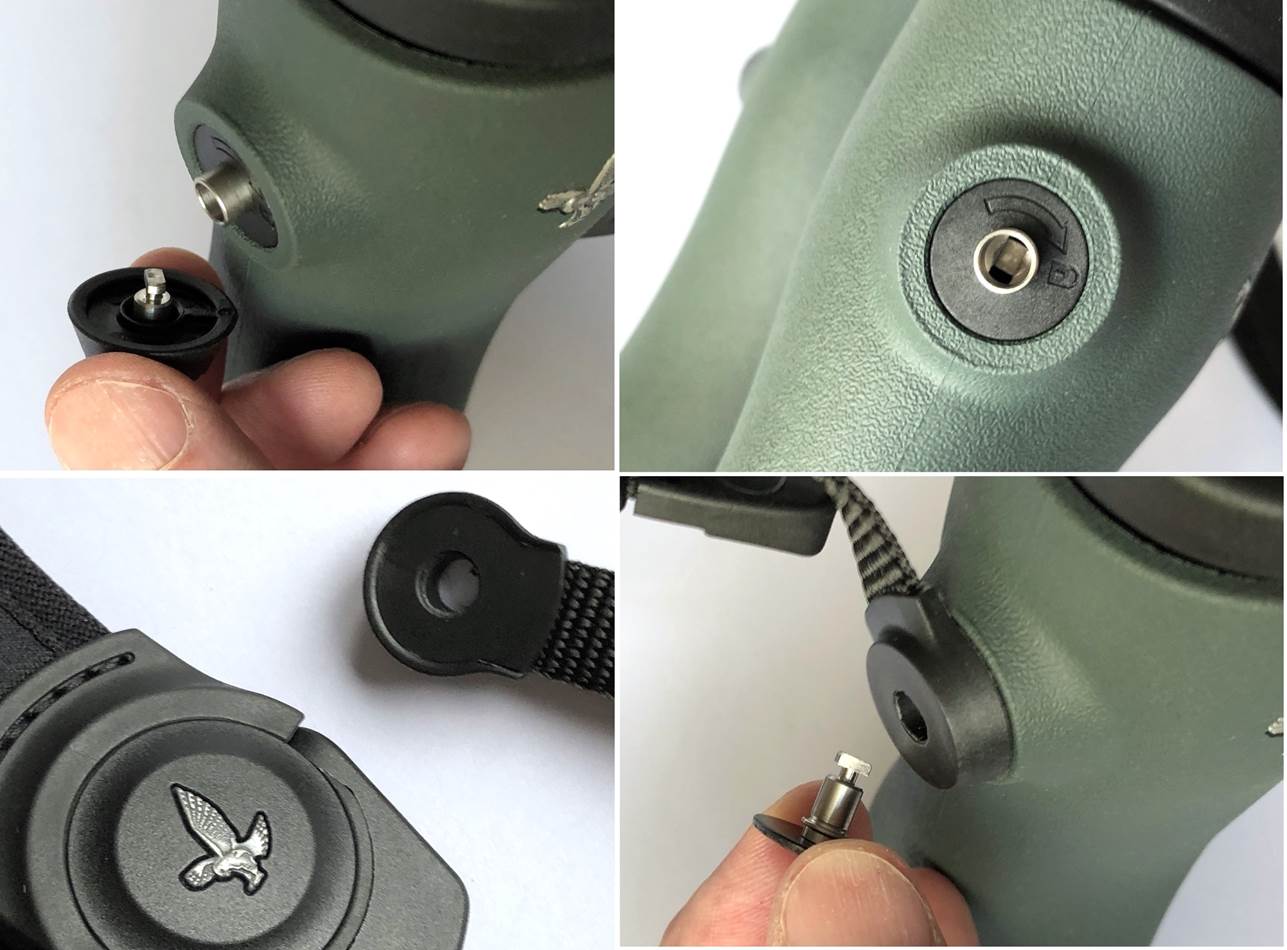 <![endif]>
Fitting the FieldPro strap.
<![if !vml]>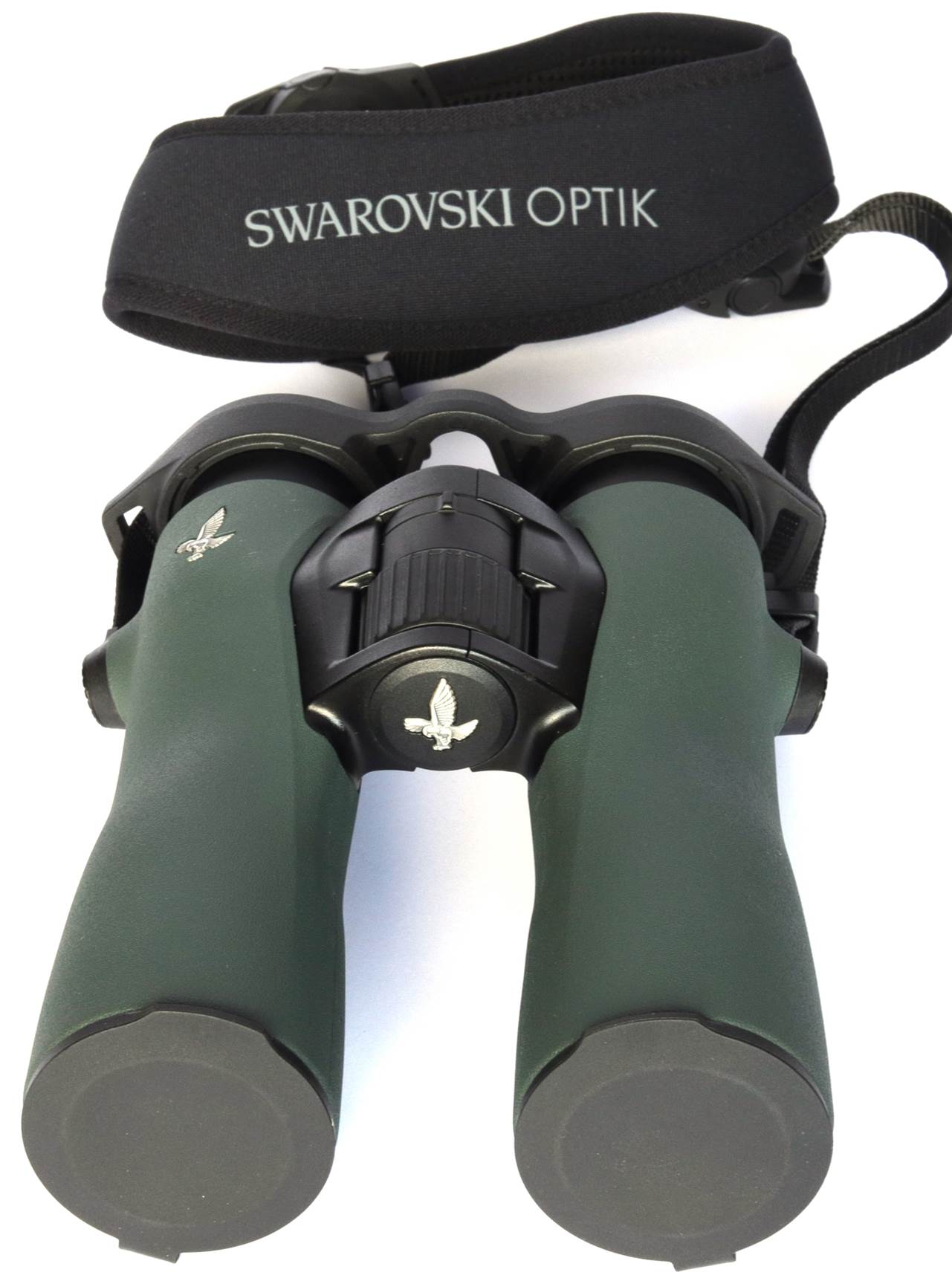 <![endif]>
In Use – Daytime
Ergonomics and Handling
These re-invent the wasp-wasted shape of Nikon's original HGs. For holding around the bridge with finger on focuser, it worked for me then and it still does. But these have long barrels, Zeiss SF style, so alternatively I can hold them around the barrel ends for minimum shakes on static subjects.
The focuser is perhaps the best I've ever tried. Not the fastest, but plenty fast enough at usual birding distance. The killer thing is the smoothness and precision. It's the most precise bino' focuser – the optics deliver an absolute focus point and the focuser allow you to find it instantly, every time: no backlash, no stiction, no variance focusing forward and back. Perfect: for the first time, like a fine astro' refractor with a premium micro-focuser.
I liked the ELs' dioptre a lot, but here it is much easier to adjust without taking your eyes off the view and the scale is still there if you want to use/read it.
The eyepieces are state of the art too. Super wide of field, they actually have more real eye relief than the last pair of ELs I tried and as much as Zeiss' SFs. So, great for spec's wearers. Meanwhile, for everyone else there's loads of cup positions. And with no bothersome blackouts, it's all good.
Weight is basically the same as the ELs - competitive with most premium 8x42s, but noticeably heavier than the SFs.
Build quality, even on this early sample, is flawless. They have the Swaro' cachet, but for me they're slightly odd looking. You'd say, 'that's irrelevant!' and you'd be right.
<![if !vml]>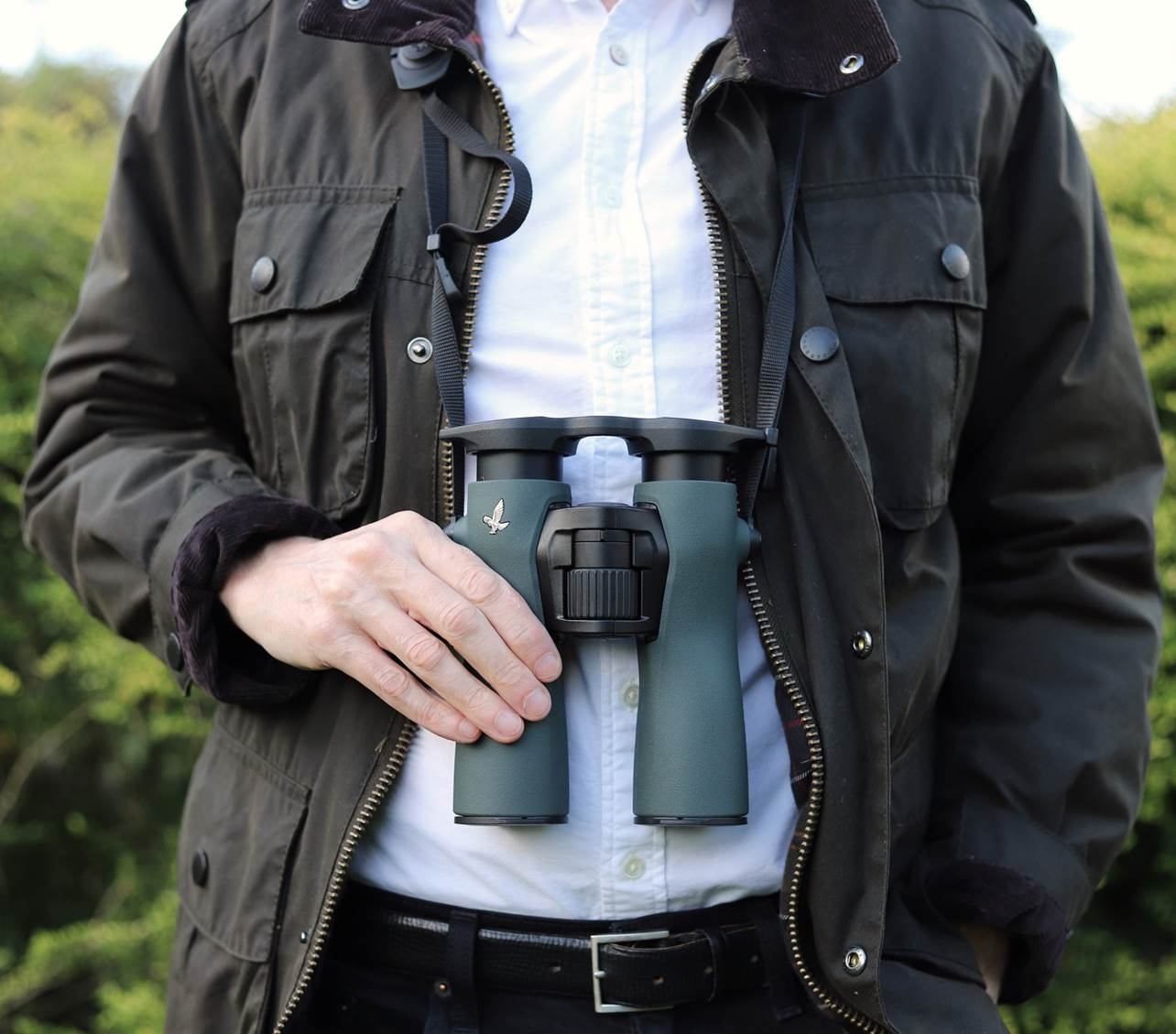 <![endif]>
<![if !vml]>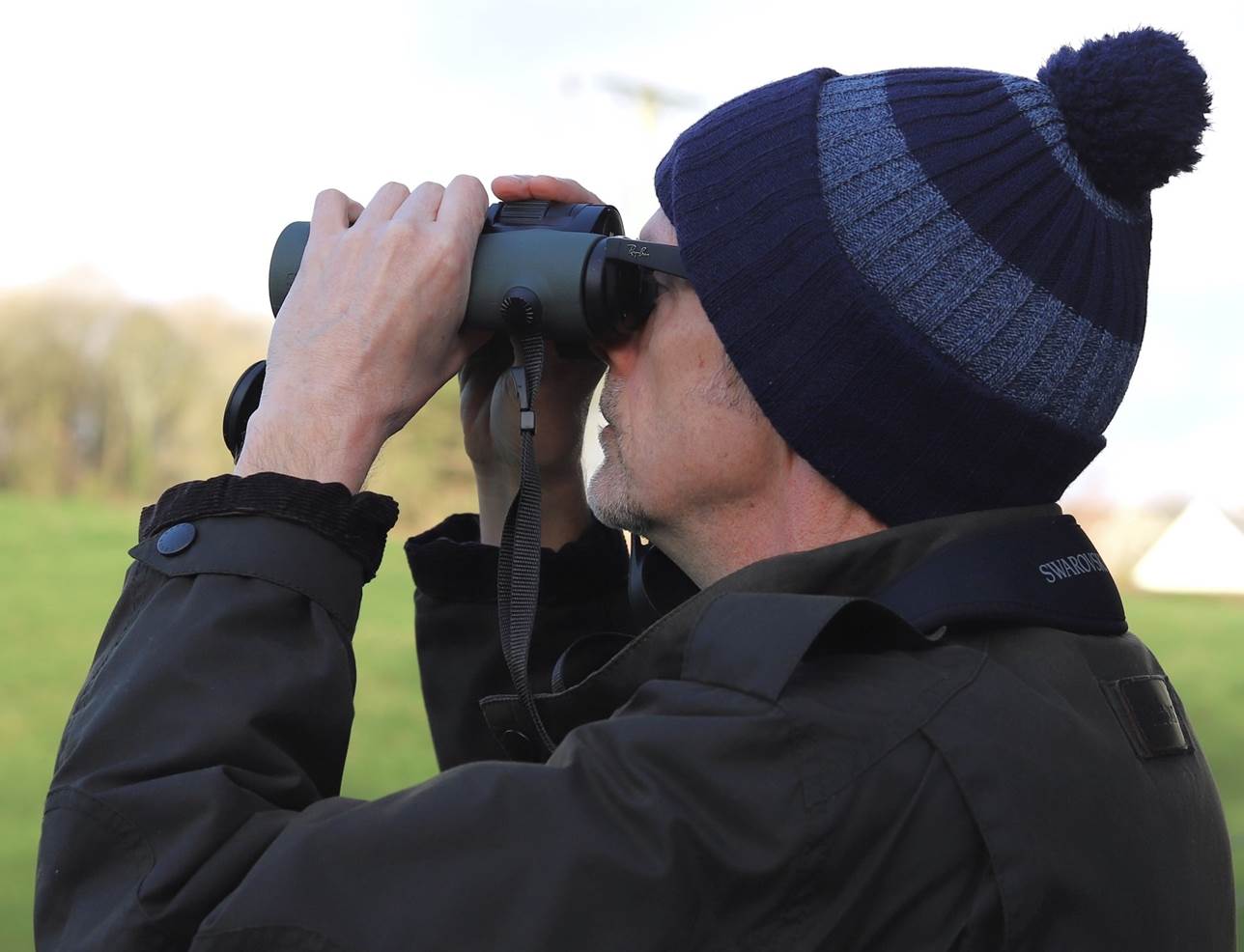 <![endif]>
The View
Wow! You knew it. Gorgeous. Bright, incredibly sharp, super wide, crystal clear, so much resolution I'm not wishing for more mag'. Natural colours, but vivid. A 69° apparent field is properly wide and you do start to get that extra immersion I've long loved with Tele Vue (and other) eyepieces: the field stop starts to recede into the background, putting you in the view.
Focus is the snappiest, the 3D effect superb. Depth of field is exceptional – focus on middle distance and you're good for most birding without re-focusing. This, the wide sharp field, steady hold and zero false colour make these probably my favourite ever for birds on the wing. I just spent so much time watching my local jackdaws jinking about when I was supposed to be reviewing and writing.
Much as I love the very wide field, the absolutely zero false colour and super precise focuser are as important for my overall enjoyment of these wonderful binoculars. Watching birds in flight or in high branches now gives the same view as watching them at ground level, without the distracting fringes you get from most binos, even 'HD' ones today.
Close-in image merge for viewing garden birds at the feeder is really excellent too. I watch Coal Tits and Great Tits skirmishing with my local Robin and Dunnock and tossing away the millet seed they don't like. It's such an involving view, with every tiny feather perfectly resolved.
I gave these to my daughter to try. She's no expert, but as an art professional she has a fine eye for aesthetics. She wants me to buy a pair. 'Nuff said.
Flat field?
Like a pair of ELs, the field is quite sharp at the very edge, but there is something slightly odd going on. It's least sharp at about 75%, then sharpens again towards the stop. I've seen this effect before, but here it's very mild (I can still read a metre ruler all the way across). You can just see this effect in the field photo below (look at the left end of the hedge).
That residual off-axis softness is a combination of a bit of field curvature and a trace of astigmatism.
There's very mild pincushion distortion to make panning more comfortable too, but I still noticed a strong rolling-ball effect from the flat field when panning at close range – the price you pay for that picture window view, made even stronger by such a wide apparent field.
<![if !vml]>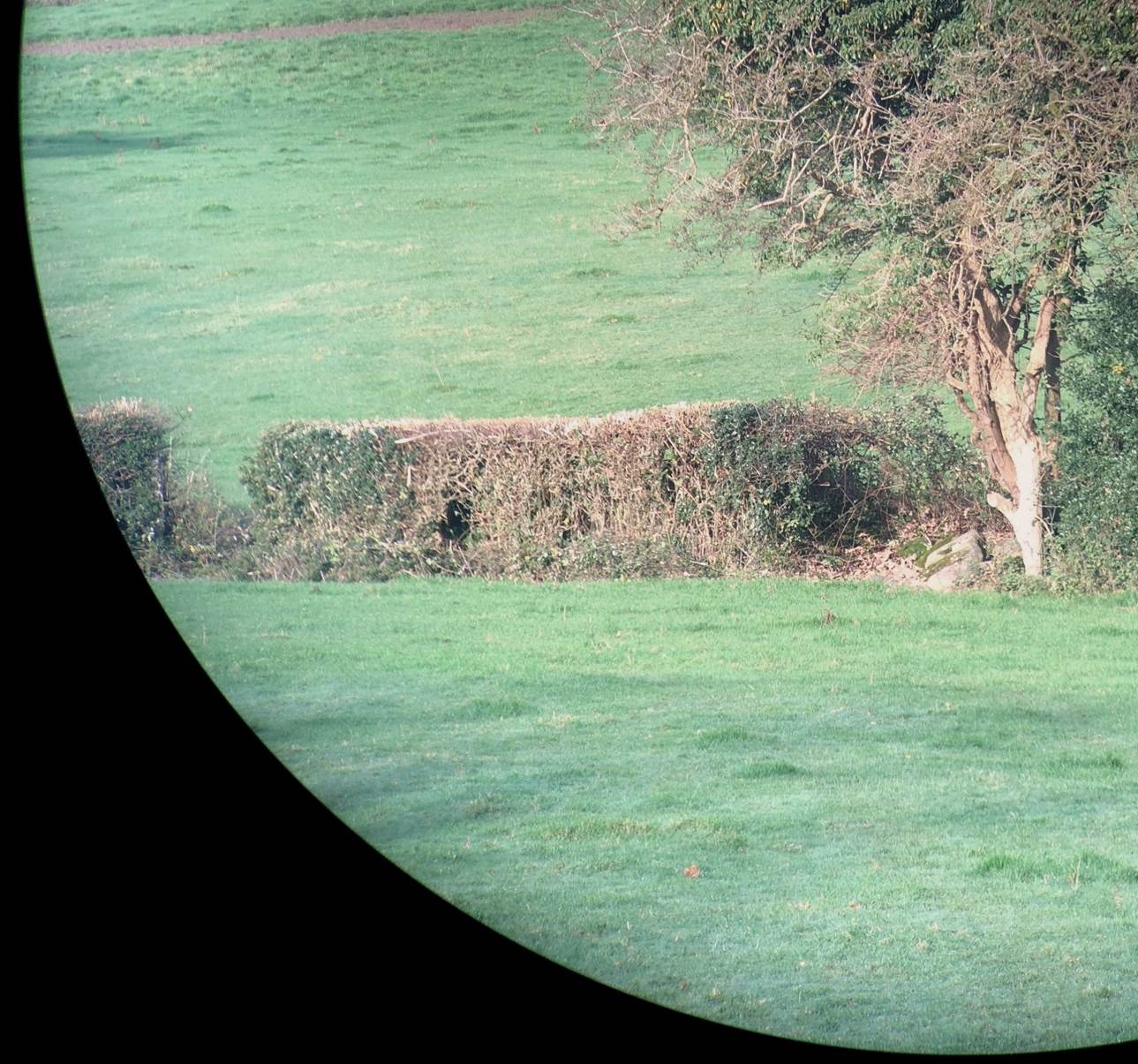 <![endif]>
The field is usable to the very edge.
Chromatic Aberration
None, the end. No, really, I struggled to get any false colour out of these, except for a trace at the field edges from the eyepieces. Even winter branches silhouetted against a brilliant dusk sky fail to produce any, ditto a pair of black crows swooping in to roost, followed with a flick of the focuser (I'd been observing Saturn). This complete lack of fringing does make a significant difference to IDing birds on the wing or in high branches.
Interestingly, Swarovski don't even mention HD lens elements or chromatic aberration in their sales literature: not an issue any more, the world has moved on.
In Use – Dusk
The bright optics mean that these do work surprisingly well into deep dusk. I can still see into the understory of my local copse and peer into my darkening lane when I can't see anything with my naked eyes. You can spot roosting birds until the very last of the light has gone. These aren't a night glass, but I even tried looking for my local Tawny owl, who was hooting mournfully as usual. I continued to hunt the treetops in the copse opposite, right into full darkness, something easily possible with these.
I had stunning dusk views of the lights winking on across the silvery dusk bay sands too. The only negative is just a little veiling flare under a bright dusk sky.
In Use – The Night Sky
Light weight and an easy hold around the barrels make the NL Pure comfortable for astronomy. The generous eye relief and lack of blackouts are appreciated too.
That minor mid-field softness I noticed testing doesn't amount to anything at night. Stars remain stars right to the edge, just defocused slightly and with a trace of astigmatism. But there's none of the stretching bright stars and blurring faint ones into mist that you get with most Leicas and Zeiss, none of that 'warp tunnel' effect I dislike.
These, like 7x binos, are all about wide rich fields and they may just be the richest field binos of all, but you do need dark skies to really appreciate them.
It's odd because you quickly take the huge field for granted, especially for me because this is how astro' scopes have been for years. But after these, 'normal' 55-60° fields seem narrow and constricting when they didn't before.
Stray light protection is generally as good as it gets. Even the very the brightest security lights produce no stray light artefacts in field at all, no spikes, flare or even significant ghosts. But there is that touch of veiling flare working around bright lights or the Moon.
The Moon
These delivered an intense and brilliantly sharp first quarter Moon with no false colour, even focusing through. There was no ghosting and minimal flare into dark space around. I was easily able to make out the distinctive crater formation of Theophillus, Cyrillus and Catherina (a favourite from childhood) just off the terminator, despite the low magnification.
Planets
I was able to catch Mars, Jupiter and Saturn. Jupiter surprised with a clearly discernible disc, Saturn its UFO shape and creamy, almost pink, colour. Mars, well past opposition, just looked intensely orange. No nasty flare or prism spikes.
<![if !vml]>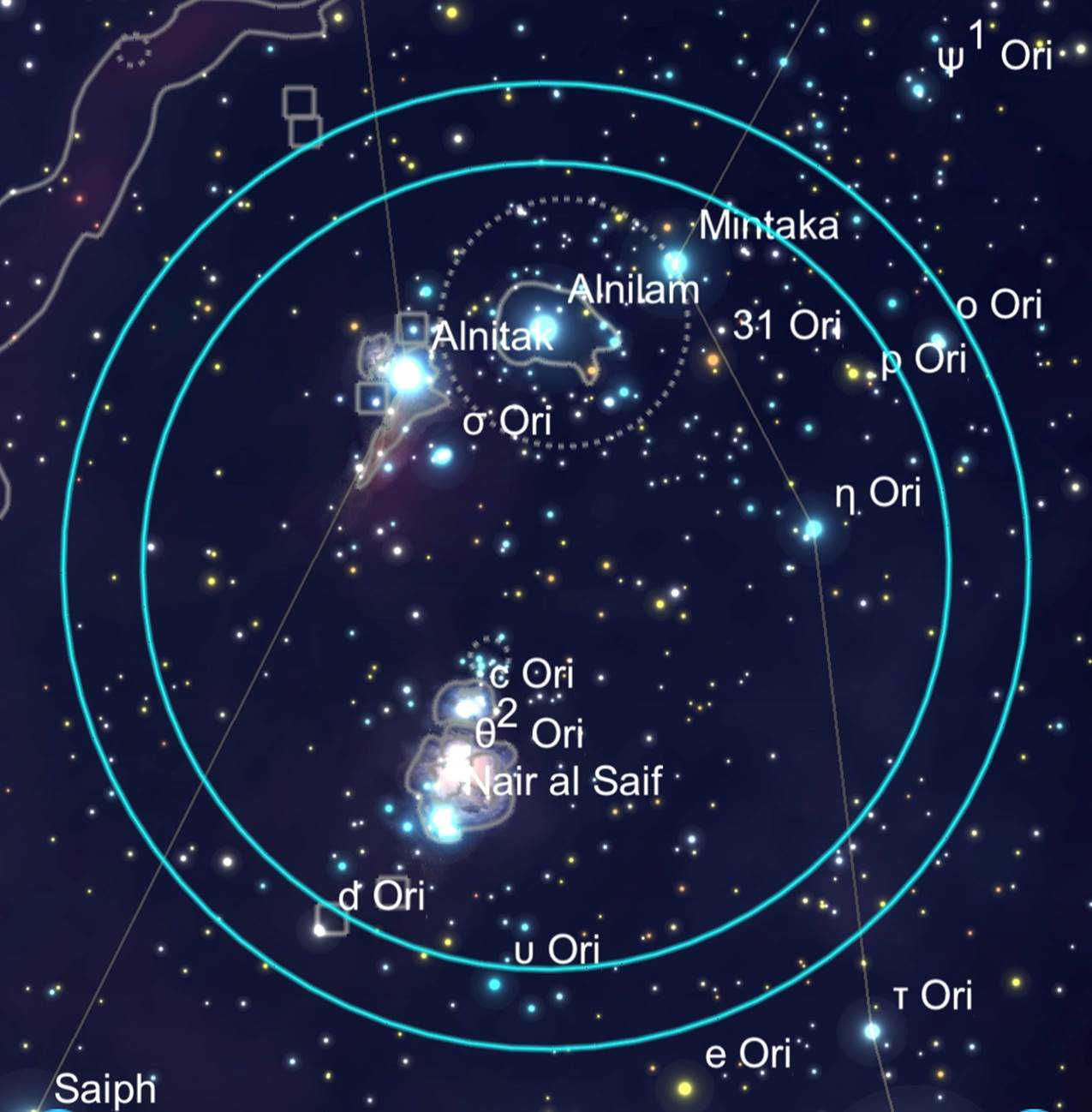 <![endif]>
SW EL 7.6° field vs NL Pure 9.1° field.
Deep Sky
Late one November evening, the sky cleared, the Moon set and I had a superb deep sky session with the NL Pures.
That 9.1° field can fit the whole of Orion's sword and belt with undistorted stars for once, a fabulous sight. Other things I can cram in include the whole of the main asterism in Lyra, the O-A association in Perseus and the chain of open clusters – M37, M36 and M38 and several more besides – in Auriga. M35 was easily resolvable into a myriad stars and I was enjoying it when a brilliant silver meteor shot through the view.
The bright optics and 42mm objectives do pick dimmer objects out of a dark sky and go noticeably deeper than my 7x35 Leicas, but they are still essentially about star fields, not finding and identifying individual DSOs. I can find the Dumbbell nebula easily, even in the last of the moonlight, but it's a tiny smudge lost in a vast star field. Bode's nebula was the same. Even the Pleiades get lost in that huge area of night sky.
But the largest DSOs - like galaxies M31 and M33 either side of Mirach - looked great, showing off the Swaro's outstanding contrast.
Star colours are intense, given the pinpoint star images. Albireo in Cygnus is easily and beautifully split into its orange and blue components.
But it was the Milky Way above Cygnus that really showed why you might buy these for astronomy – a giant field stuffed with stars and clusters.
The NL Pure 8x42s are among the best ways I know of to sweep a dark starry sky and it's a beautiful way to do it. Bright optics and great contrast mean you can find most binocular DSOs easily enough, but I wouldn't choose 8x for Messier marathons.
<![if !vml]>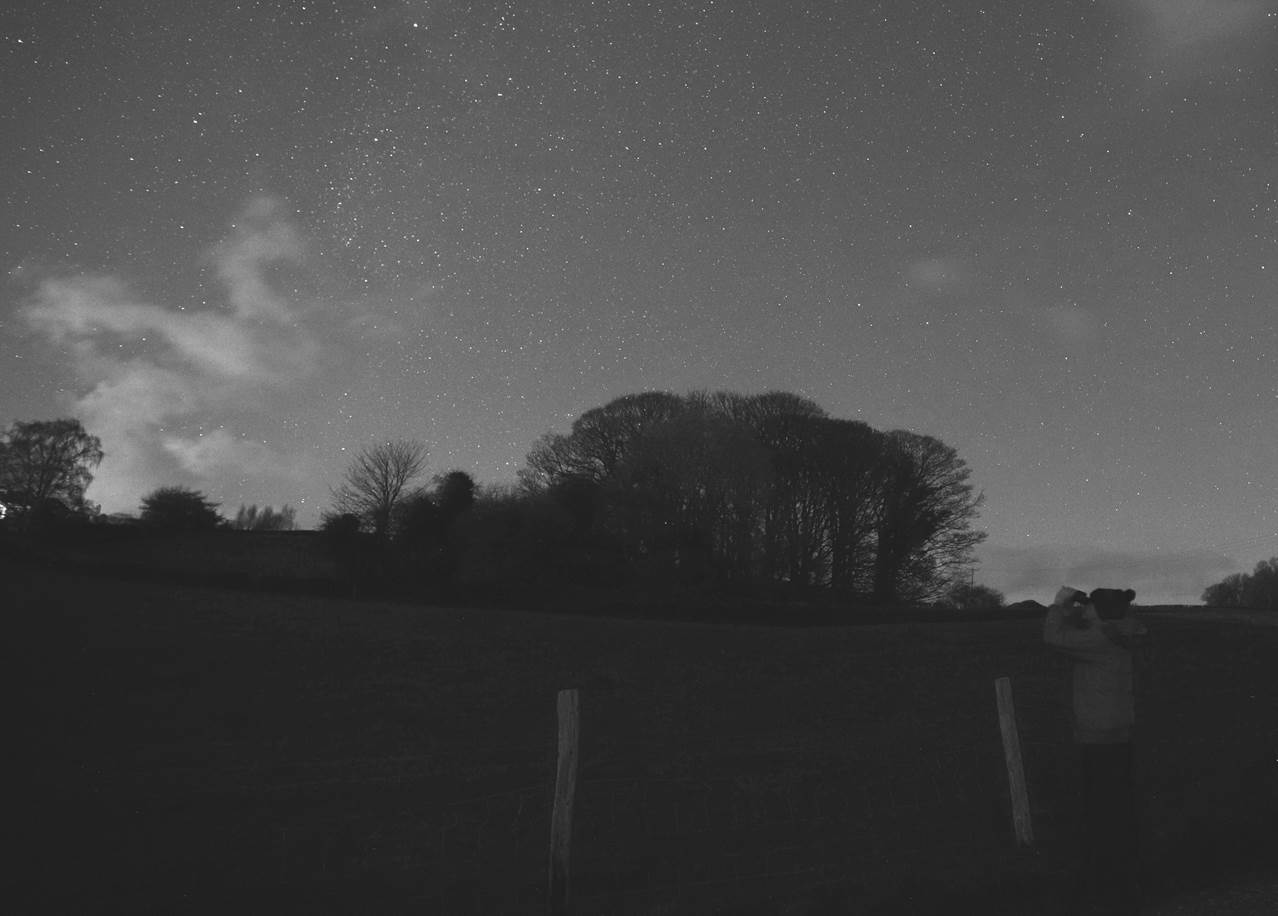 <![endif]>
Testing the NL Pures from my dark lane.
SW NL Pure vs SW EL Swarovision
<![if !vml]>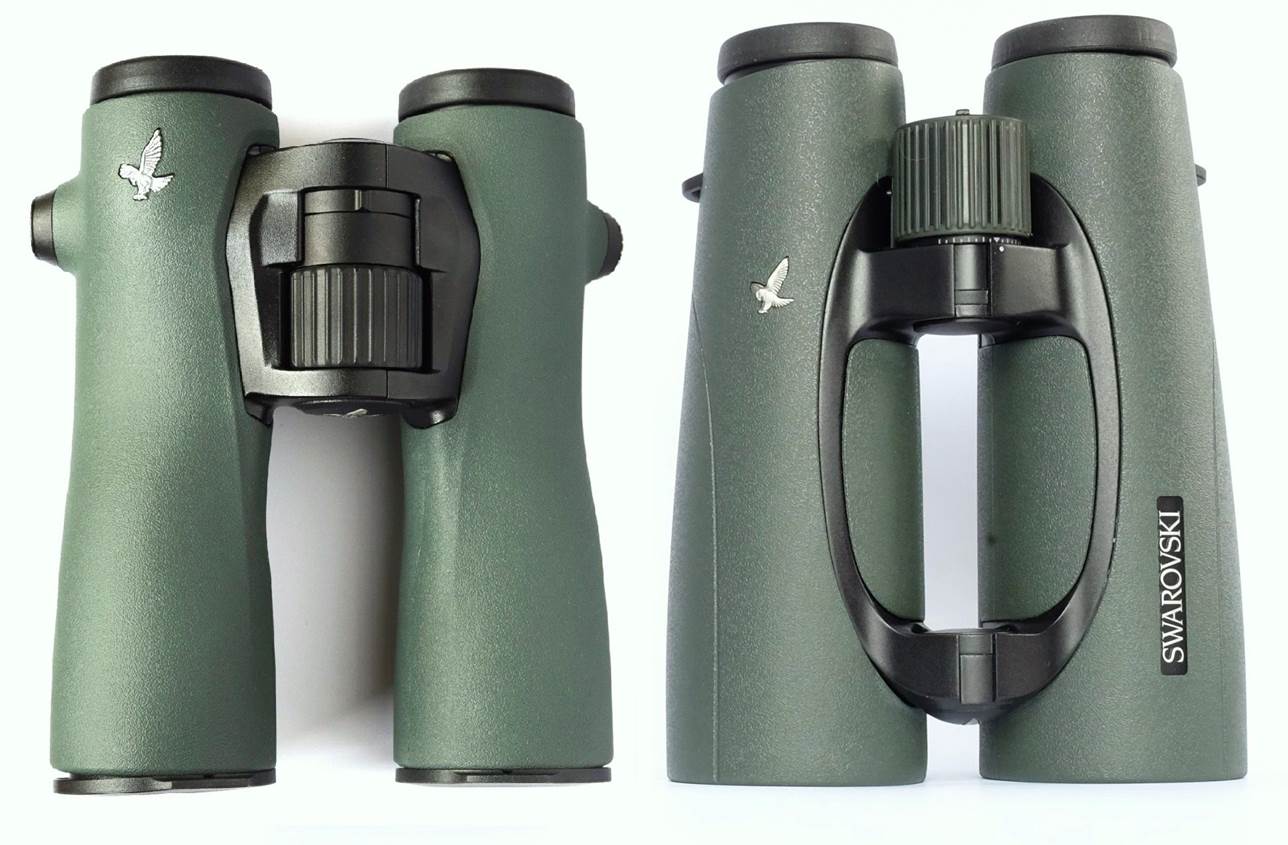 <![endif]>
SW NL Pure 42mm and EL 50mm.
The NL Pure is clearly an extension of the EL ethos, but exceeds it in most ways:
<![if !supportLists]>· <![endif]>The NL Pure has ten percent more apparent field
<![if !supportLists]>· <![endif]>The NL Pure has even less false colour
<![if !supportLists]>· <![endif]>The NL Pure has slightly more eye relief in the real world (though not on paper)
<![if !supportLists]>· <![endif]>The Focuser and dioptre are notably superior on the NL Pure
<![if !supportLists]>· <![endif]>Stray light performance of the NL Pure is generally as good or better
<![if !supportLists]>· <![endif]>Weight is about the same
<![if !supportLists]>· <![endif]>The NL Pure has superior hold and ergonomics, for me anyway
<![if !supportLists]>· <![endif]>The NL Pure's integrated objective caps are an improvement
<![if !supportLists]>· <![endif]>Veiling flare is the only area where the NL Pure may be a little worse than the ELs (TBC once I've reviewed the very latest ELs)
<![if !supportLists]>· <![endif]>The NL Pure is almost £1000 more at the time of launch
The question is whether you should upgrade? Probably. But personally, if I was happy with my ELs, I'd wait for the NL Pure to drop a bit in price ...
Summary
If you're a keen birder you'll be wanting to know if these are now the finest birding binoculars in the world? Probably. They are an evolution of the ELs, but better in almost every way, equal to or better than the previous best (Zeiss' 8x42 SFs) by a small margin in most areas except weight (and perhaps eye relief).
Centre field is just so bright, sharp, full of contrast and clarity and vivid natural colour. But that's true of most top-of-the-range Alpha binos these days. One differentiator is that huge, flat field. No, it's not necessary for IDing, but it helps the binoculars to disappear in use, the highest compliment you can give in my view.
As important for me is the absolute ease and precision of focus that again helps them disappear – you just don't think about it. Another key thing is the literally zero (as far as I can tell) false colour. Again, this means you just concentrate on the view, even in the highest contrast situations.
Do they have any faults at all then? Just one that I could find – a touch of veiling flare under a very bright sky. Otherwise stray light and ghosting resistance are state of the art too.
So they're a peerless birding binocular. But what about astronomy? The low power and modest aperture mean you wouldn't buy these for DSO hunting. What they do, better than almost anything, is the job Patrick Moore might have advised 7x50s for – sweeping dark, star filled skies. For that, they are unbeatable - perhaps the richest field binos of all.
But are they worth the money? That depends. As an addition to your optics trophy case, no. If you will be out using them every weekend, yes.
NL Pure is a significant step forward from EL, making it the world's best birding bino'. It's outstanding in almost every way except resistance to veiling flare. If you're looking for a birding bino and you want the very best view and handling, you just found it. Likewise, if you love sweeping the Milky Way under dark skies.
<![if !vml]>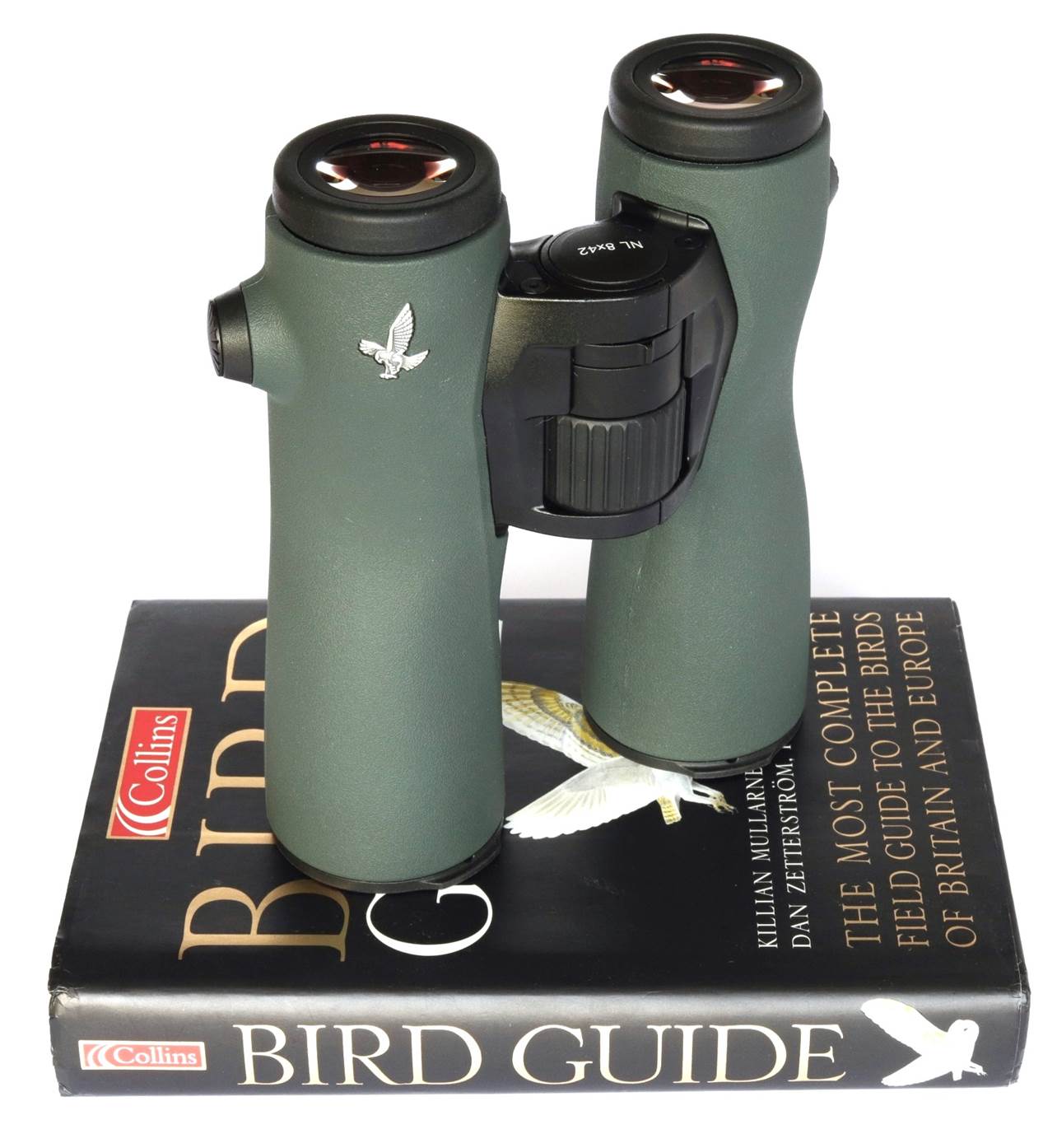 <![endif]>
Buy Swarovski 8x42 NL Pure from Wex here:
<![if !vml]>

<![endif]>