Sending Swarovski Binoculars back for Repair
<![if !vml]>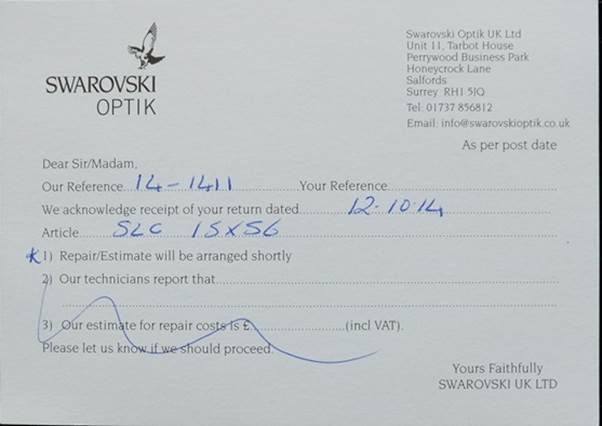 <![endif]>
A pair of Swarovski 15x56 SLCs are my long-term astronomy binos. I've owned them for a few years, but they have rarely left the garden and never been wet. Imagine my surprise, then, to find that a few spots had developed on the internal lenses. I wasn't sure if these were re-condensed oil or fungal spots; in either case they shouldn't have been there. So I decided to test out Swarovski's return process and report back on how I fared.
Swarovskis are generally amongst my favourite binoculars, but let's face it one of the reason people pay their prices is for their renowned customer service, so does it work in practice? Would they fix the binoculars for free or charge me? How long would it all take? Let's find out …
Note that I didn't purchase the binos new and had never registered them. They didn't ask for a receipt either, so the warranty would appear to be fully transferable with no quibbles – nice!
12th October – Initial contact
I initially emailed Swarovski on 12th October, briefly outlining the problem with the binoculars. I emailed their central customer services: customerservice@swarovskioptik.com
13th October – Reply by email from Swarovski
The next day (the 13th Oct) I received a very courteous reply from Sara at Swarovski in Austria, asking me to fill in a return form and send it to their UK subsidiary, along with the SLCs. An image of the form is shown below.
<![if !vml]>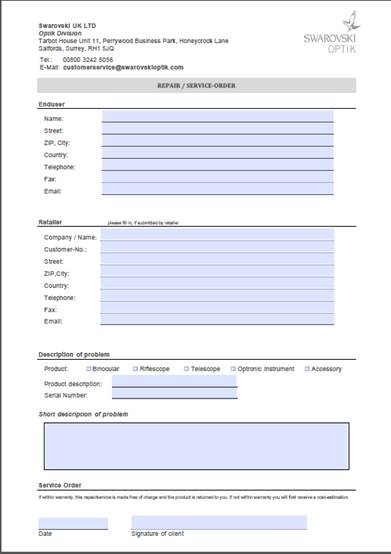 <![endif]>
13th October – Binos posted by me
I duly printed the form, filled it in and sent it with the binos to the UK address at the top. I sent them via Special Delivery, which turned out to be the only cost (£10-15).
19th October – Swarovski UK send courtesy card acknowledging receipt
A few days later, I received a card through the mail acknowledging receipt of the binos. You can see an image of it at the top of this article; interestingly they dated it from my initial contact email.
After receiving the card, I called Swarovski UK and they explained that further contact would be direct from Austria.
They also explained that Swarovski Austria would only contact me if I was going to have to pay for repair; if the repairs were free I would just receive the binoculars back in due course.
11th November – Binoculars returned, repaired free of charge
Almost a month to the day after my initial contact, the 15x56 SLCs arrived back from repair at Swarovski. The binoculars came carefully double boxed, but the boxes were plain brown, so don't expect a replacement for your green/white display carton if you lost it.
<![if !vml]>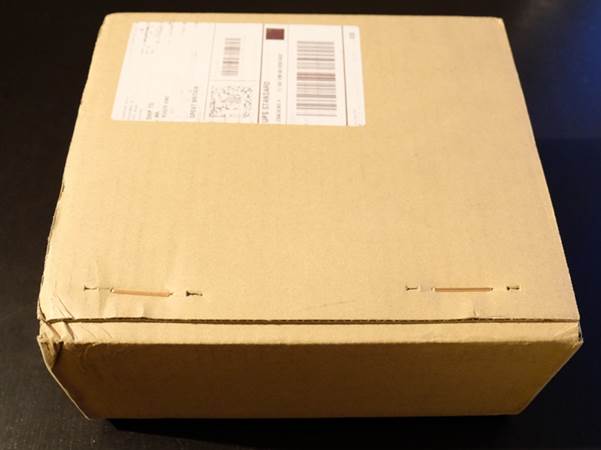 <![endif]>
Free UPS shipping direct from Swarovski Austria: carefully packed and double boxed.
A full breakdown of the repairs and parts was enclosed, although they charged me nothing. Images of the box and the null invoice are shown for interest below. A few points to note:
<![if !supportLists]>· <![endif]>The body and armour were replaced, along with the eyecups.
<![if !supportLists]>· <![endif]>The tripod mount lug was replaced, even though only very slightly worn.
<![if !supportLists]>· <![endif]>Though they cleaned the optics, they were not replaced or re-coated as far as I can tell.
<![if !supportLists]>· <![endif]>I omitted the straps and caps when sending them and I didn't get any back.
<![if !supportLists]>· <![endif]>The binoculars work perfectly, the problem was fixed and they seem essentially as new.
<![if !vml]>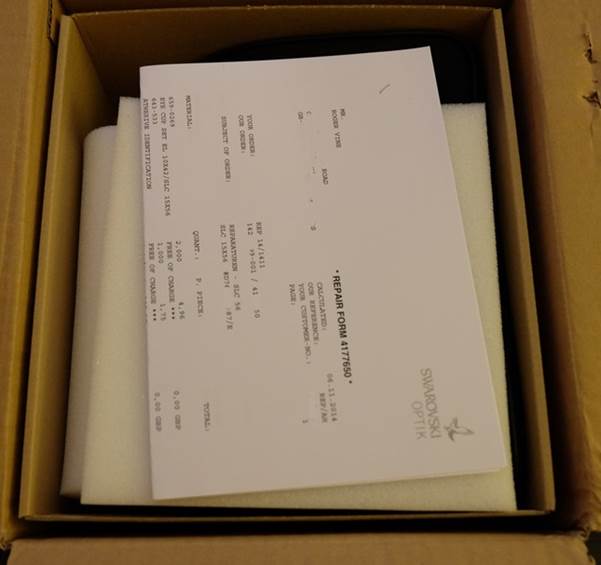 <![endif]>
Swarovski provided a detailed, costed invoice of the repairs carried out, even though they were free of charge!
Conclusion
Swarovski's famed warranty has contracted a bit in recent years, with just ten years parts and five years' parts and labour on offer now (I suspect heavy users were viewing the warranty as a kind of 'unlimited refills' deal, which obviously wouldn't work for Swarovski).
However this experience shows that the Swarovski warranty is genuine and transferable. The process works smoothly, is prompt, comprehensive, and offers a high standard of service and repair and includes free return shipping. All in all, full marks for Swarovski customer service!