Swift 77mm Model 831 (1966) Review
<![if !vml]>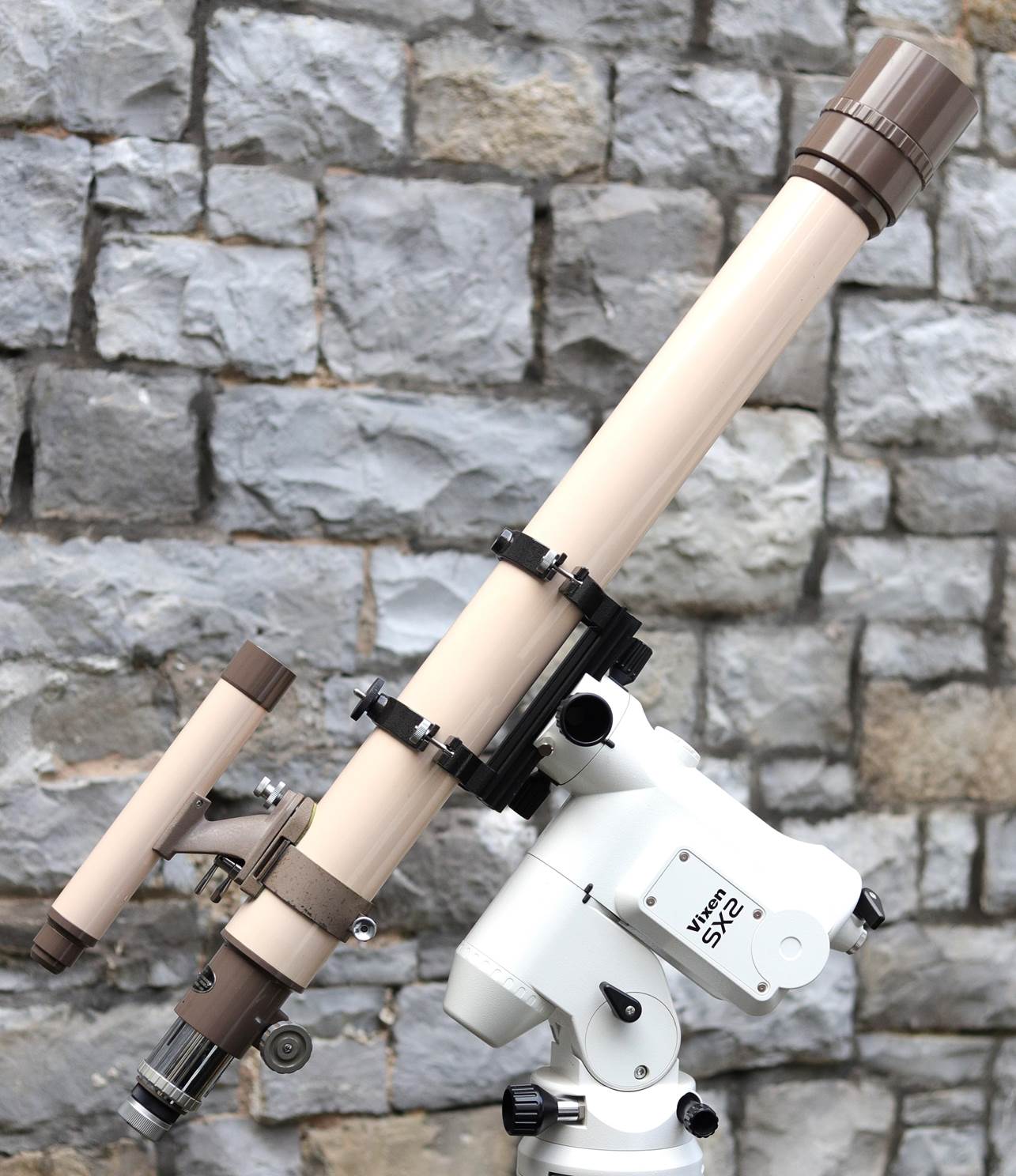 <![endif]>
I love the Mid-Century Space Race era for its optimistic futurism and design aesthetic, but honestly most things were just worse back then, optics included.
Unitrons are mechanically good and look fantastic but were optically a bit hit-or-miss. My 1964 Questar, with its English saddle-leather case and silk-screened star and Moon map, looks beautiful; but optically it's not as good as a new one. The 3" Tasco achromat that expensively replaced my childhood 3" Tasco Newtonian actually gave a worse view.
So I was honestly astounded by the optical quality of the 50mm aperture Swift Model 838 I previously reviewed here. Still, small achromatic lenses are easy to make well and I was interested to see what a larger Swift was like. Trouble is, Swift refractors aren't exactly common so I've not been able to indulge my nostalgic curiosity… until now, thanks to a kind loan from a friend.
At 77mm aperture, the Swift Model 831 on review is indeed larger and more capable than the little Model 838. With a premium finish much like the Model 838, it would have been an expensive luxury instrument back when it was made in 1966. But does it share the Model 838's Takahashi-like mechanical and optical goodness? Let's investigate…
<![if !vml]>
<![endif]>
Sixties bookshelf.
At A Glance
| | |
| --- | --- |
| Telescope | Swift Model 831 77mm achromat |
| Aperture | 77mm (vignetted from 79mm) |
| Focal Length | 1000mm |
| Focal Ratio | F13 |
| Length | ~850mm |
| Weight | ~3 Kg |
Data from Swift/Me.
<![if !vml]>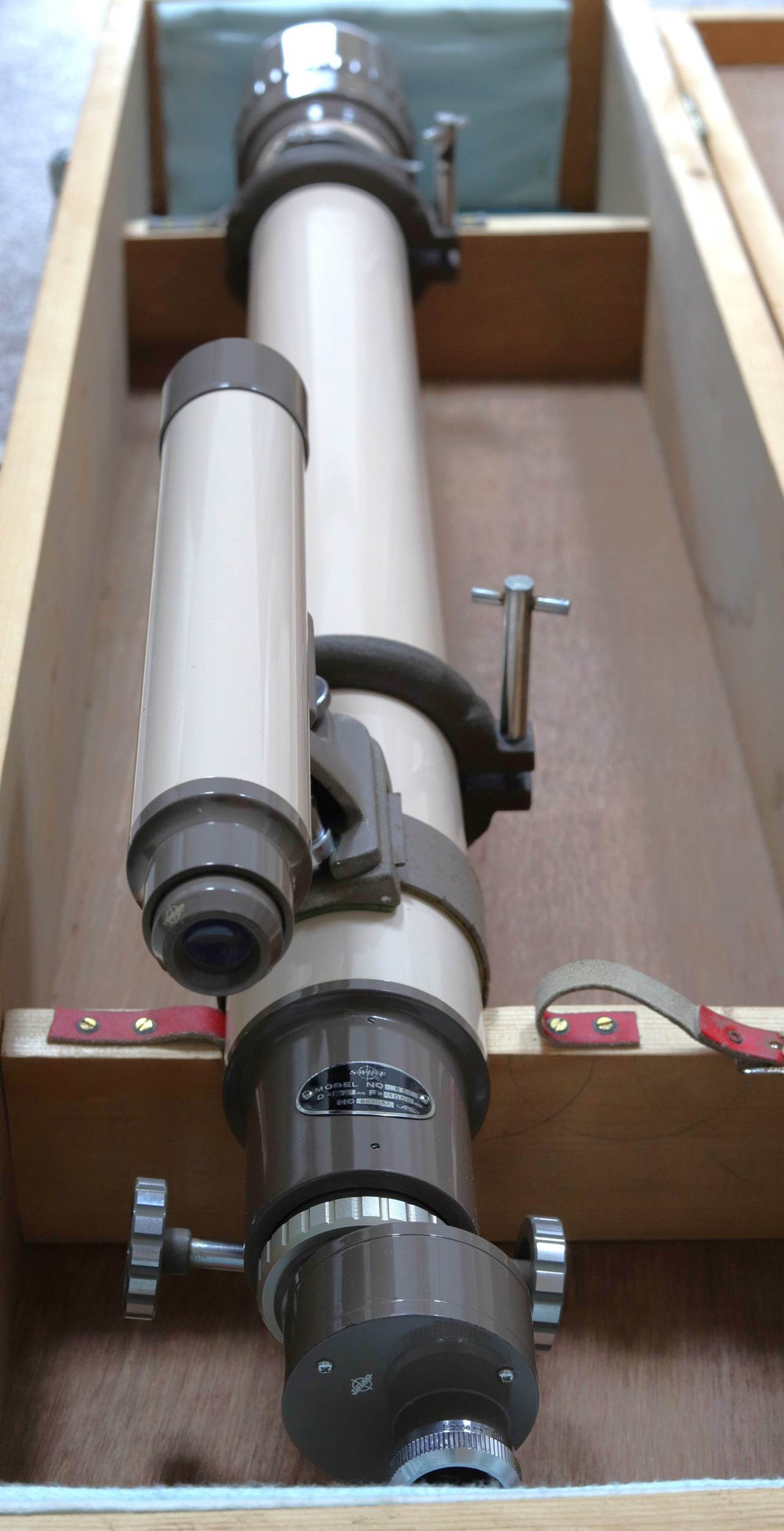 <![endif]>
What's in the Box?
The wooden case may or may not be the original, but it's certainly very like the (definitely original) one that the Model 838 shipped in and similar to many refractors from that era, including the 3" Tasco my Mum bought from the local camera shop in Welwyn (but imported from the US) a decade later.
Design and Build
The Swift instruction booklet lists three similar small refractors available in the 1960s:
<![if !supportLists]>1) <![endif]>50mm Model 838
<![if !supportLists]>2) <![endif]>60mm Model 839
<![if !supportLists]>3) <![endif]>77mm Model 831 on review here
All these refractors share a common look and finish – finely made cast parts, coated in shiny coffee enamel; a lighter coffee tone for the tube; brown typewriter crinkle for the mounts and some accessories. Everything is very well made and reminds of later Takahashis, though whether that's more than coincidence is moot.
As for the Model 838, the manual is a useful and fun document that helps frame the Model 831 in its mid-Sixties context, from a time when much less was known about the Solar System, when Mars could have had plant life and Venus even dinosaurs. I've copied some pages below.
<![if !vml]>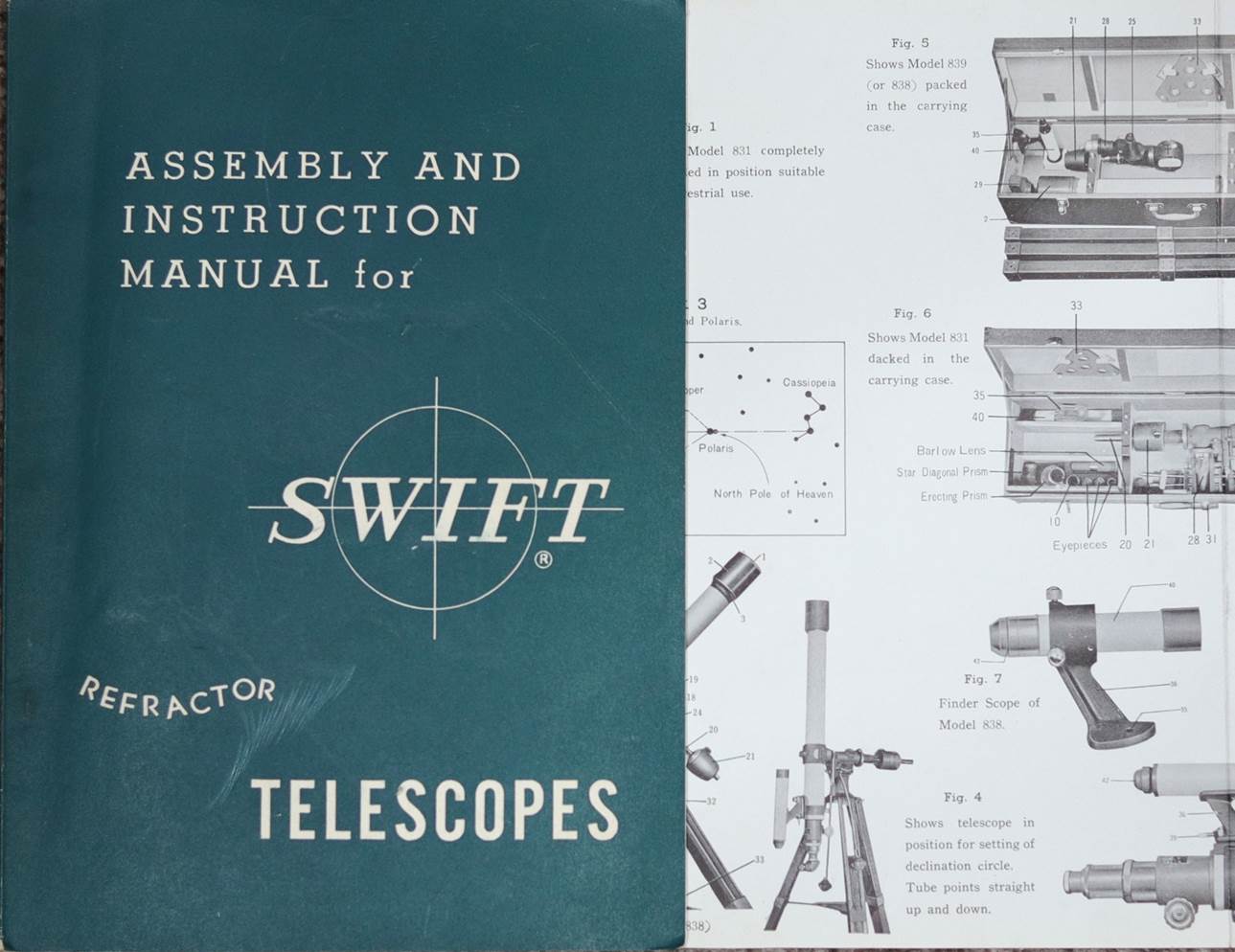 <![endif]>
<![if !vml]>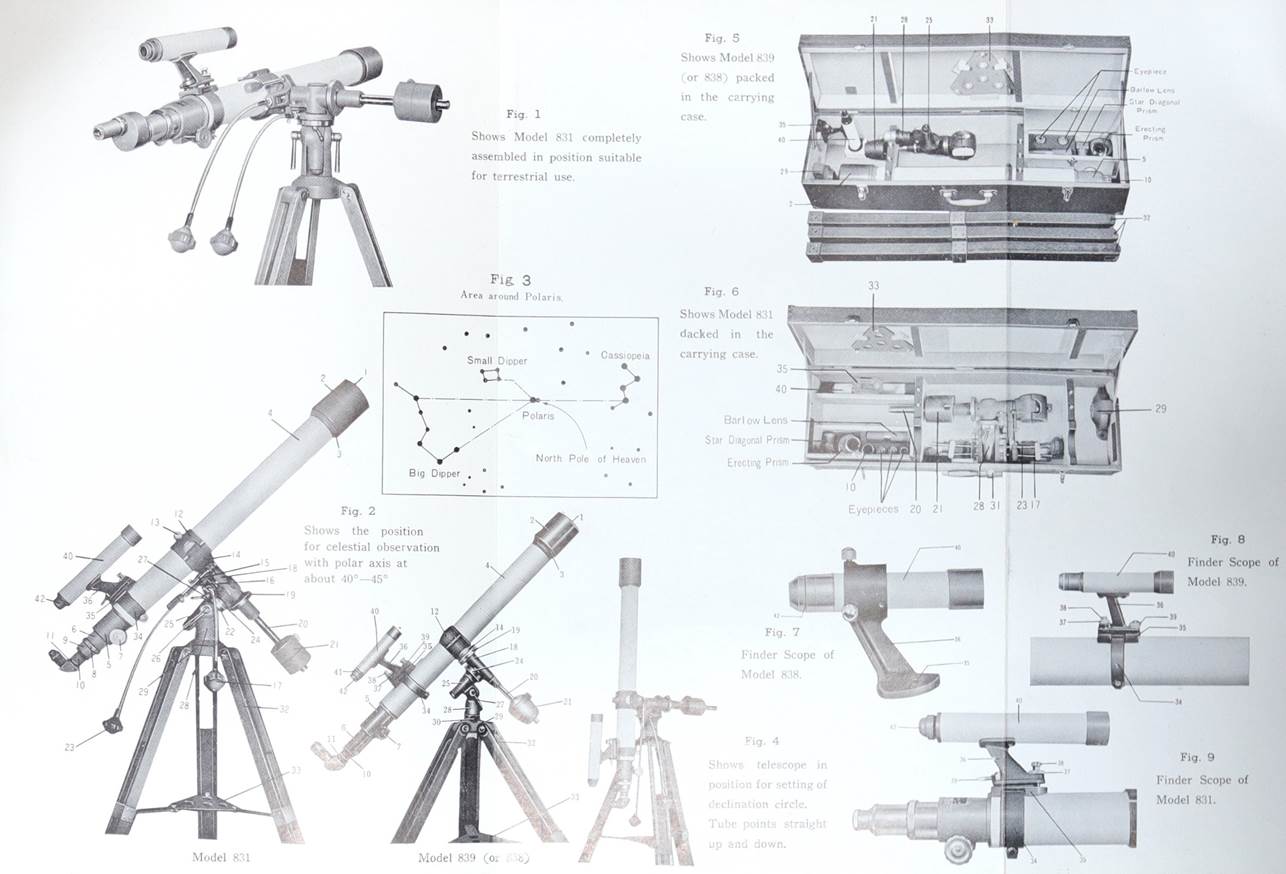 <![endif]>
<![if !vml]>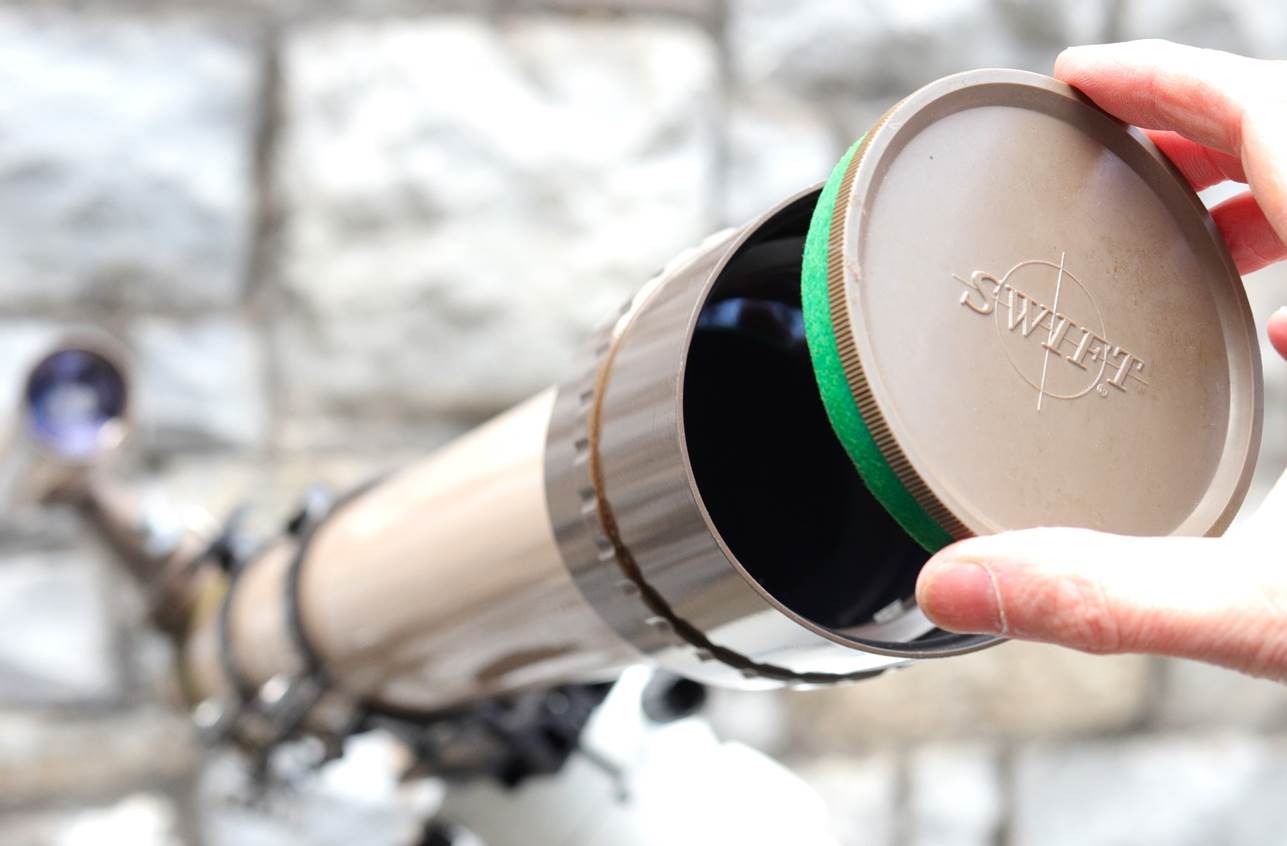 <![endif]>
<![if !vml]>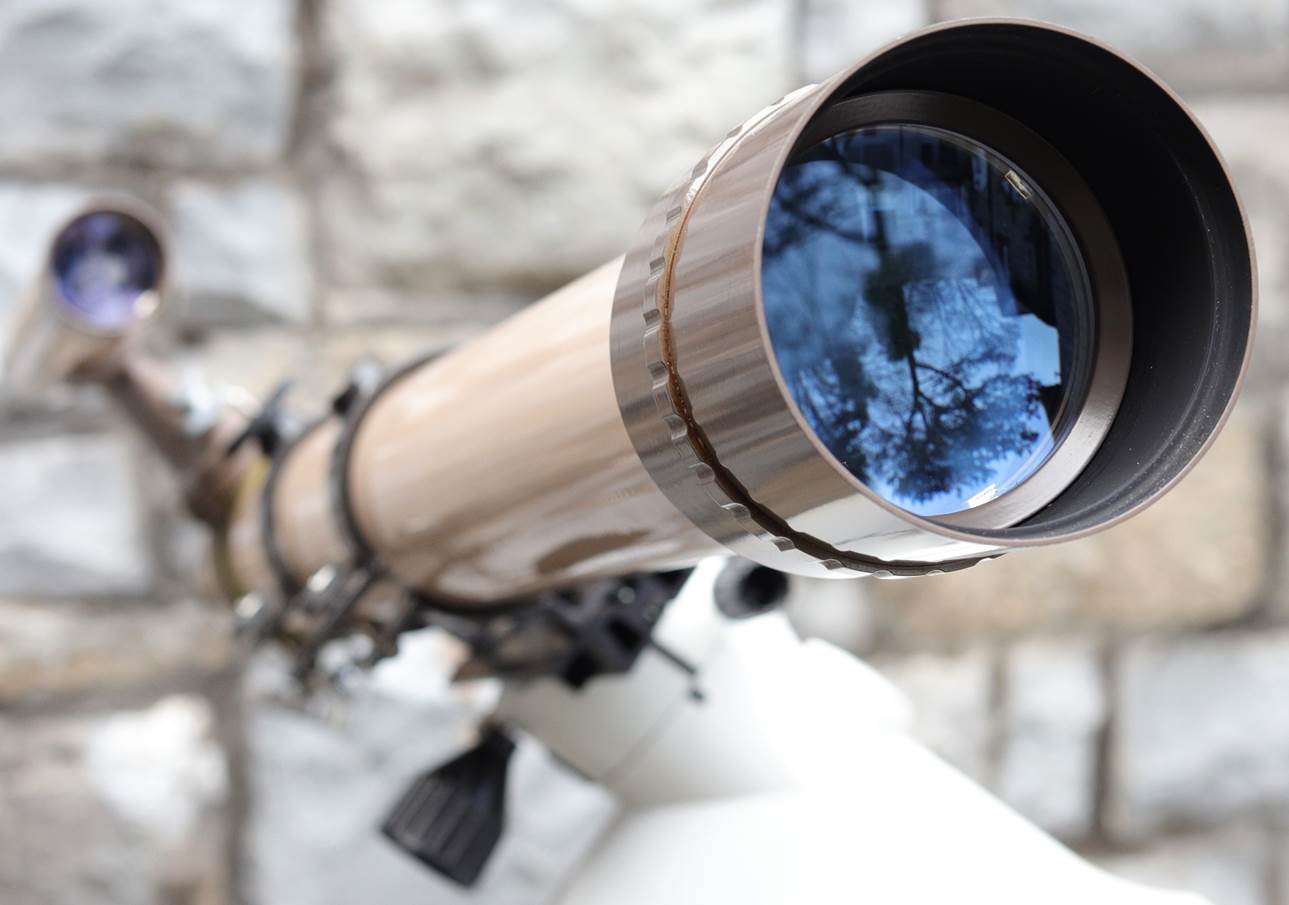 <![endif]>
79mm objective is an air-spaced achromat, vignetted to 77mm. Note high-quality single coating.
Optics
The objective is an air-spaced Fraunhofer achromat with foil spacers, just like almost every other refractor of the day, a time when triplets were rare and Fluorite/ED glass not yet available (in amateur gear anyway).
The lens is almost 80mm, but (according to the tech spec's) it is vignetted to 77mm. It looks well coated – unusually so for the mid-Sixties – with a dark blue tint, but it's probably still a single coating. The focal length is a nice roundly-metric 1000mm, giving an F-ratio of 13. That's a bit faster than the standard F15 or F16 of most its 3" refractor peers, my childhood 3" Tasco included.
The objective is protected by a logoed plastic cap, that's much more effective than most from the time and still achieves a perfect push fit on green felt.
Tube
The brown enamelled 75mm diameter tube is long at pushing a meter, but lighter than it looks at ~3 Kg. Both the lens cell and focuser attach on threads – an unusually high-end feature. The enamel finish is thick and flawless.
The dewshield is another beautifully engineered feature – twist the knurled ring and it extends on a helical thread:
<![if !vml]>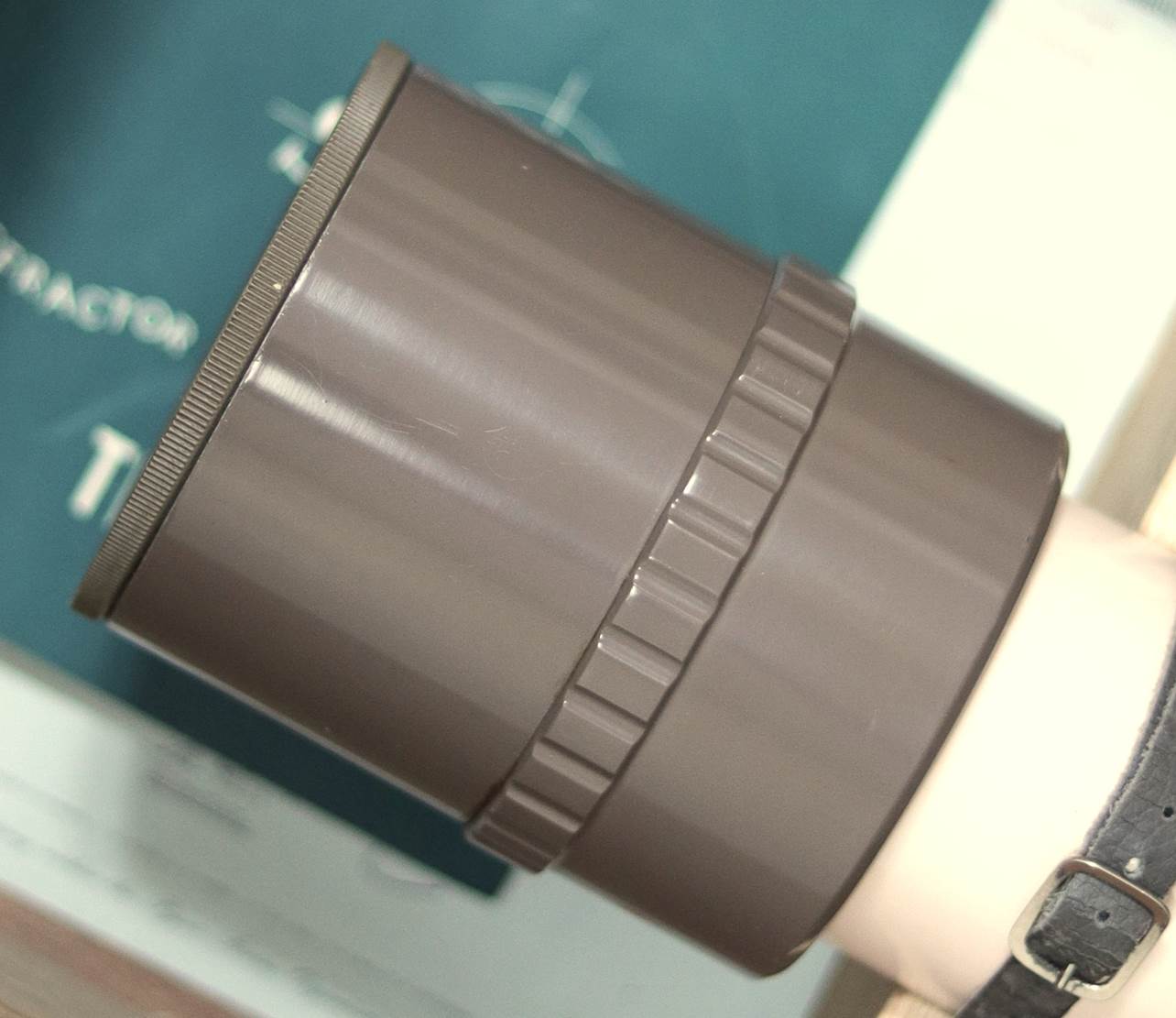 <![endif]>
<![if !vml]>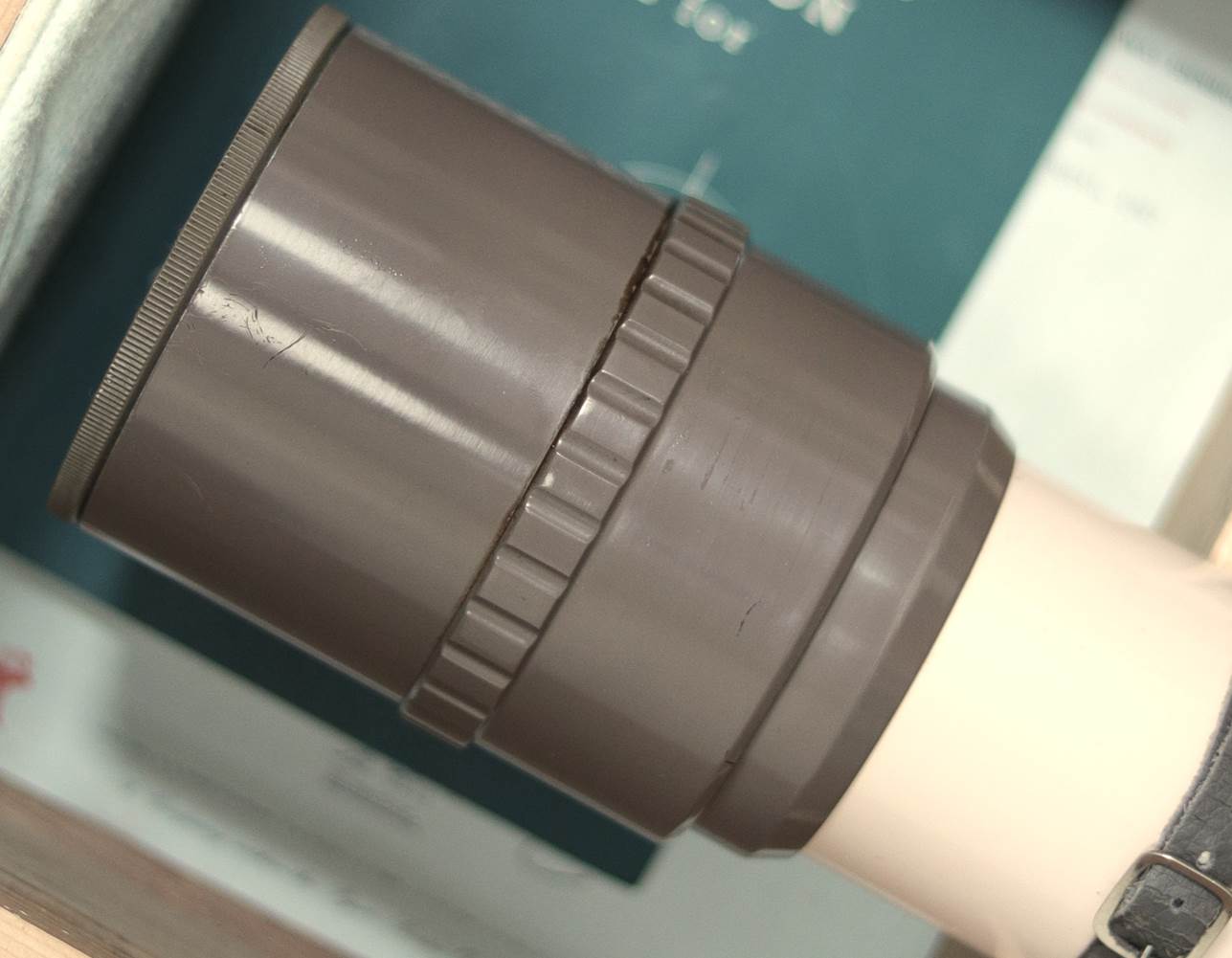 <![endif]>
Focuser
The focuser, with its chrome drawtube and cast body, is of very high quality and is very smooth and free of image shift. It looks a lot like the smaller Model 838's, but here the main rack-and-pinion drawtube is wider (50mm) and has more limited travel, but is then supplemented with a second drawtube that has 14cm of travel – enough to accommodate any eyepiece/diagonal or camera. That second drawtube has a scale and is secured by a knurled twist-ring.
The focuser body features factory-sealed adjustment set screws, thick enamel finish and cast wheels. It like bears an individual serial plate like a Takahashi.
You could of course use the standard 0.965" eyepieces and diagonal (see below), or modern 0.965" Orthoscopics such as Takahashi's. But if you want to use 1.25" eyepieces, the focuser drawtube comes with a Swift M36.4 adapter that accepts the erecting prism or 1.25" eyepieces holders of various brands, including the Takahashi twist-lock example you see in the photos.
<![if !vml]>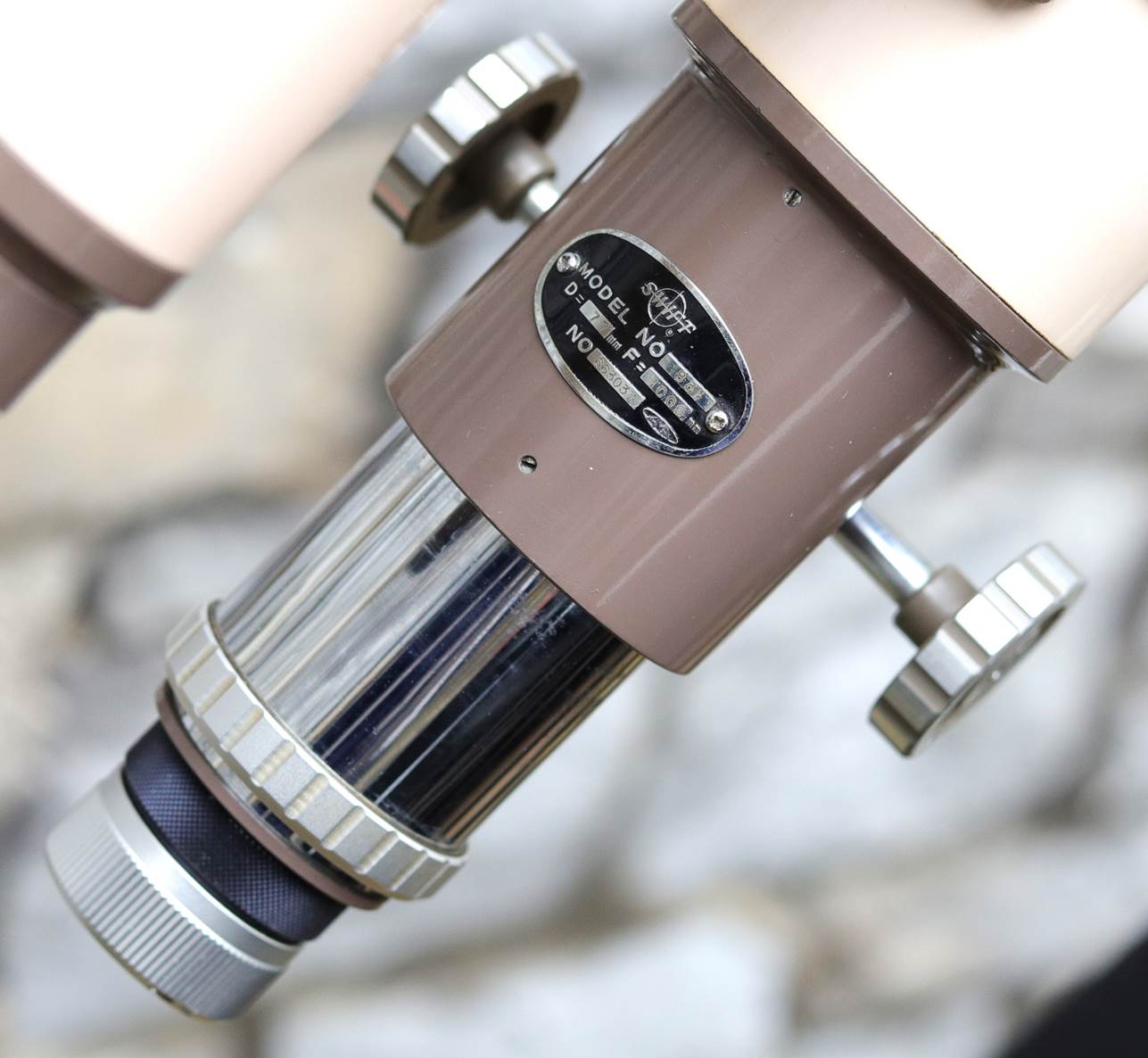 <![endif]>
<![if !vml]>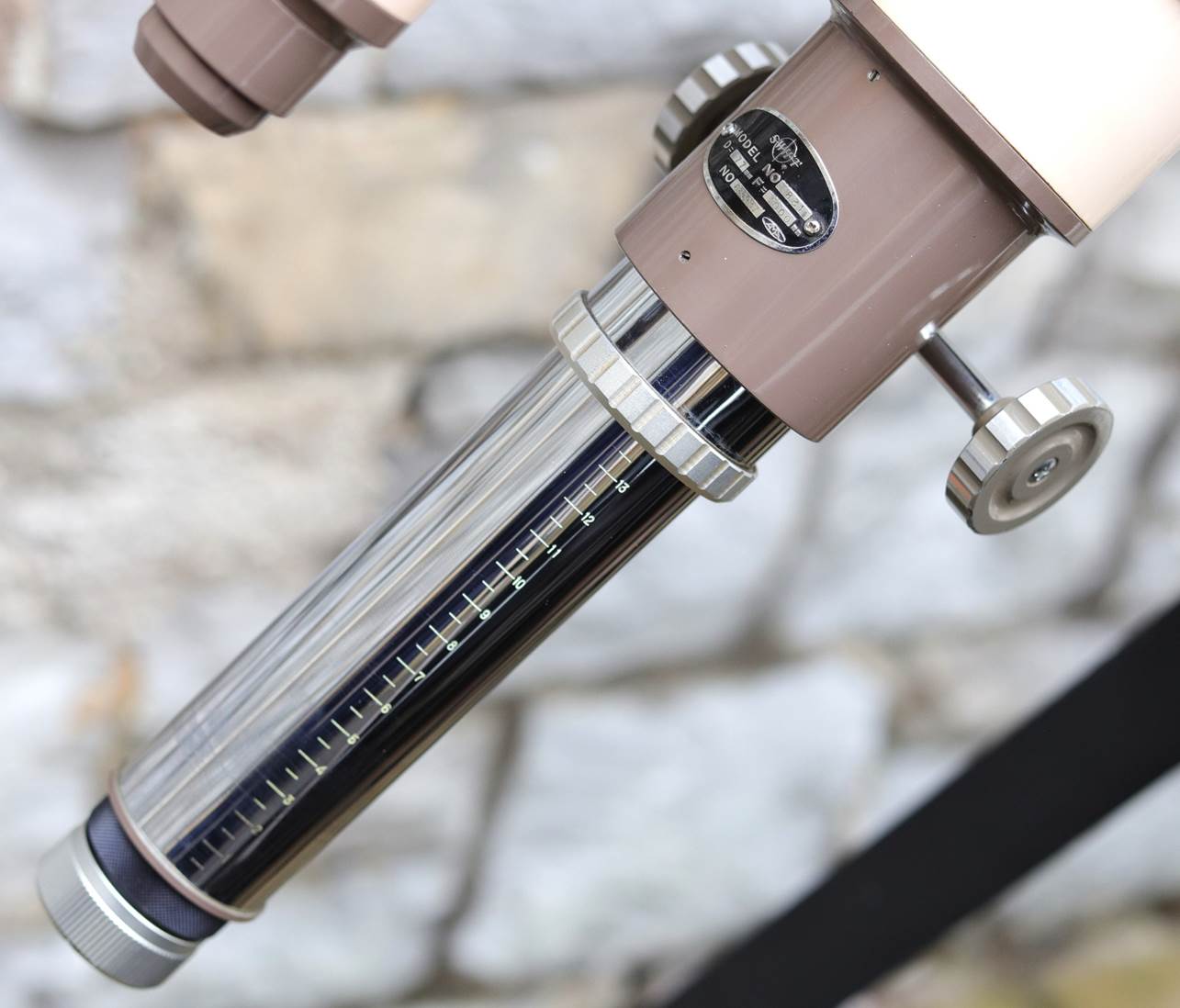 <![endif]>
Note the modern Takahashi eyepiece holder that fits into a Swift M36.4 adapter.
Mounting
This scope came as an OTA only. The owner believes it was originally sold by the importer, Charles Frank of Glasgow, in this form, equipped with one of Frank's own (rather agricultural) small equatorials.
From the photos in the manual, it appears that the Model 831 – like the smaller Model 838 – shipped in some markets with a Swift equatorial mount on a wooden tripod, finished to match the scope and rings; but this wasn't present and there wasn't space for it in the case either.
The heavy cast rings you see in the photos, finished in typewriter brown crinkle, were attached to a heavy plate that didn't fit any standard modern dovetail, but were perhaps made for the Charles Frank mount.
Fortunately, the tube's metric 75mm diameter matches a pair of standard Synta tube rings. With a Vixen-fit plate, the OTA then worked well on my Vixen SX2 and would go fine on an EQ5 or similar.
You can get an idea of the style and quality of the Swift mount from the Model 838's:
<![if !vml]>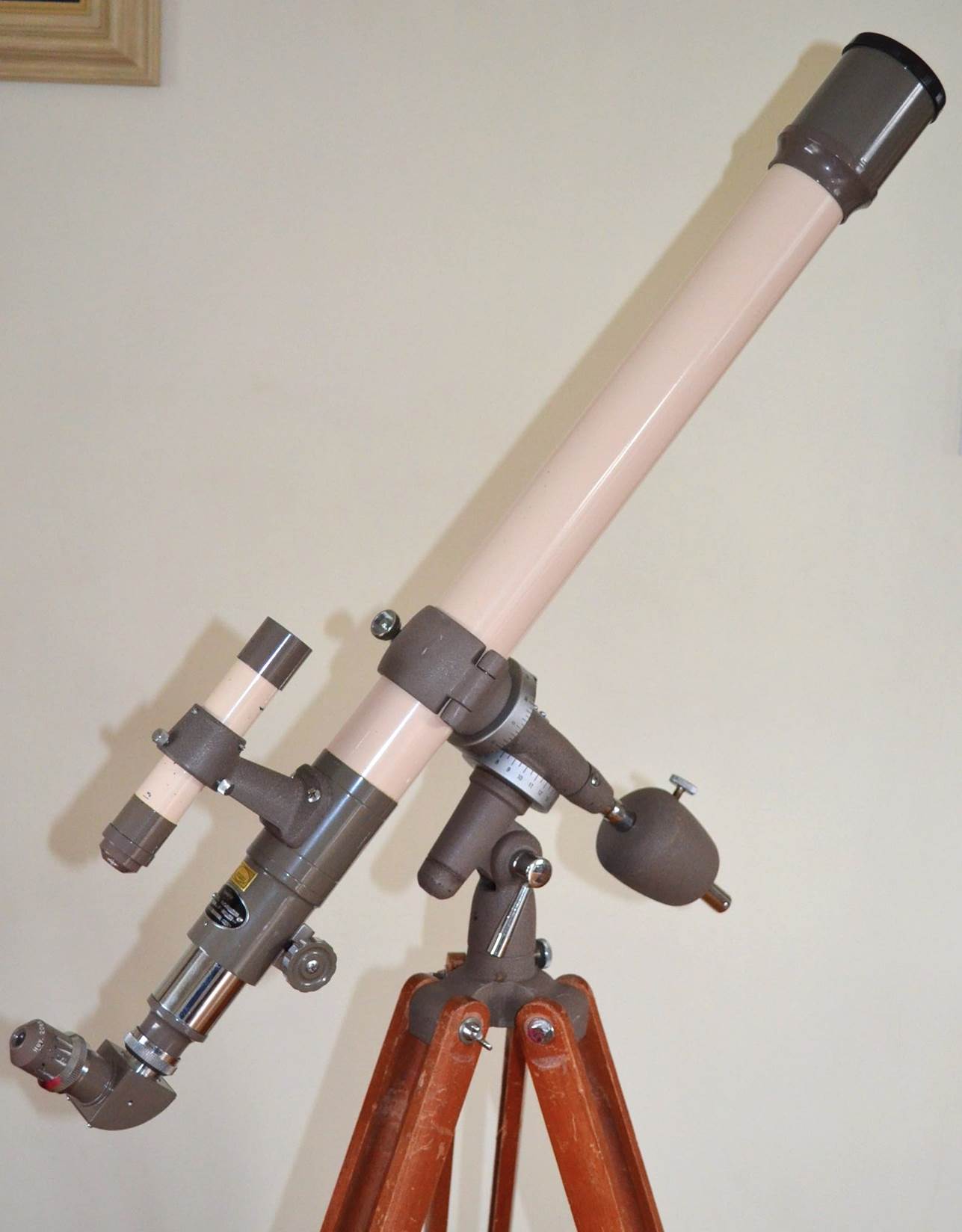 <![endif]>
Accessories
The Swift came with (again pretty standard for the time) a comprehensive set of accessories, all you needed to get going and observe. These included a 0.965" prism diagonal that's identical to the Takahashi equivalent apart from the colour, a barlow and three Swift branded eyepieces, chosen from a range  of at least eight Swift offered at the time (see below).
From the manual it seems the Model 831 would have shipped with three eyepieces: a Huygenian 40mm, a Sym 9mm (not shown in the manual) and a Triplane 6mm. All three would have been of fine quality, but their conical tops and lack of any rubber eye guard make for an unpleasant poke in the eye in the dark if you're not careful.
The high-quality erecting prism might seem an odd accessory, but in fact the standard mount was also designed to have the RA axis pointed vertically to become an alta-az for terrestrial viewing.
The strap-on finder mount seems oddly utilitarian on such a finely made OTA, but the 40mm finder - larger than the ones fitted to the Model 838 and 839 - has proper coated glass optics and works very well. That unusual adjustment system works well too and avoids set-screw marks (below).
<![if !vml]>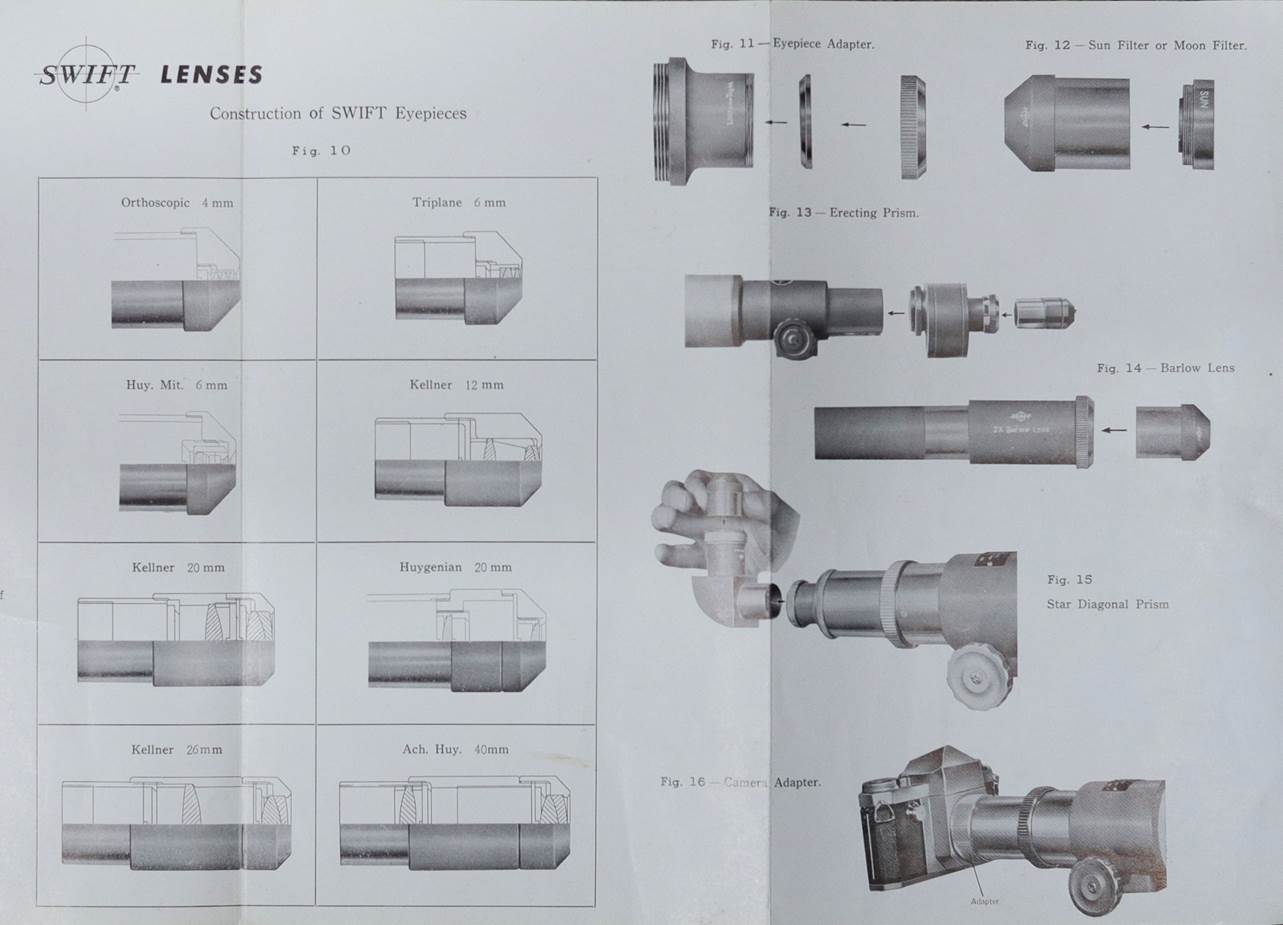 <![endif]>
<![if !vml]>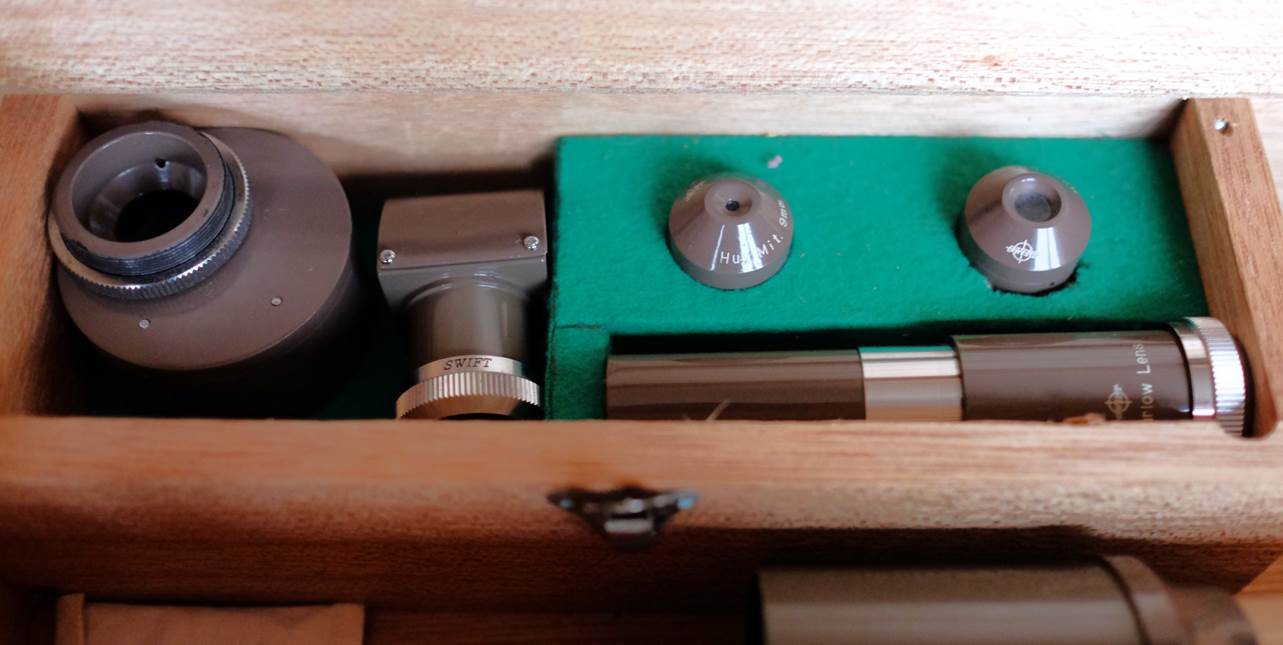 <![endif]>
Swift accessories (shown from the Model 838).
<![if !vml]>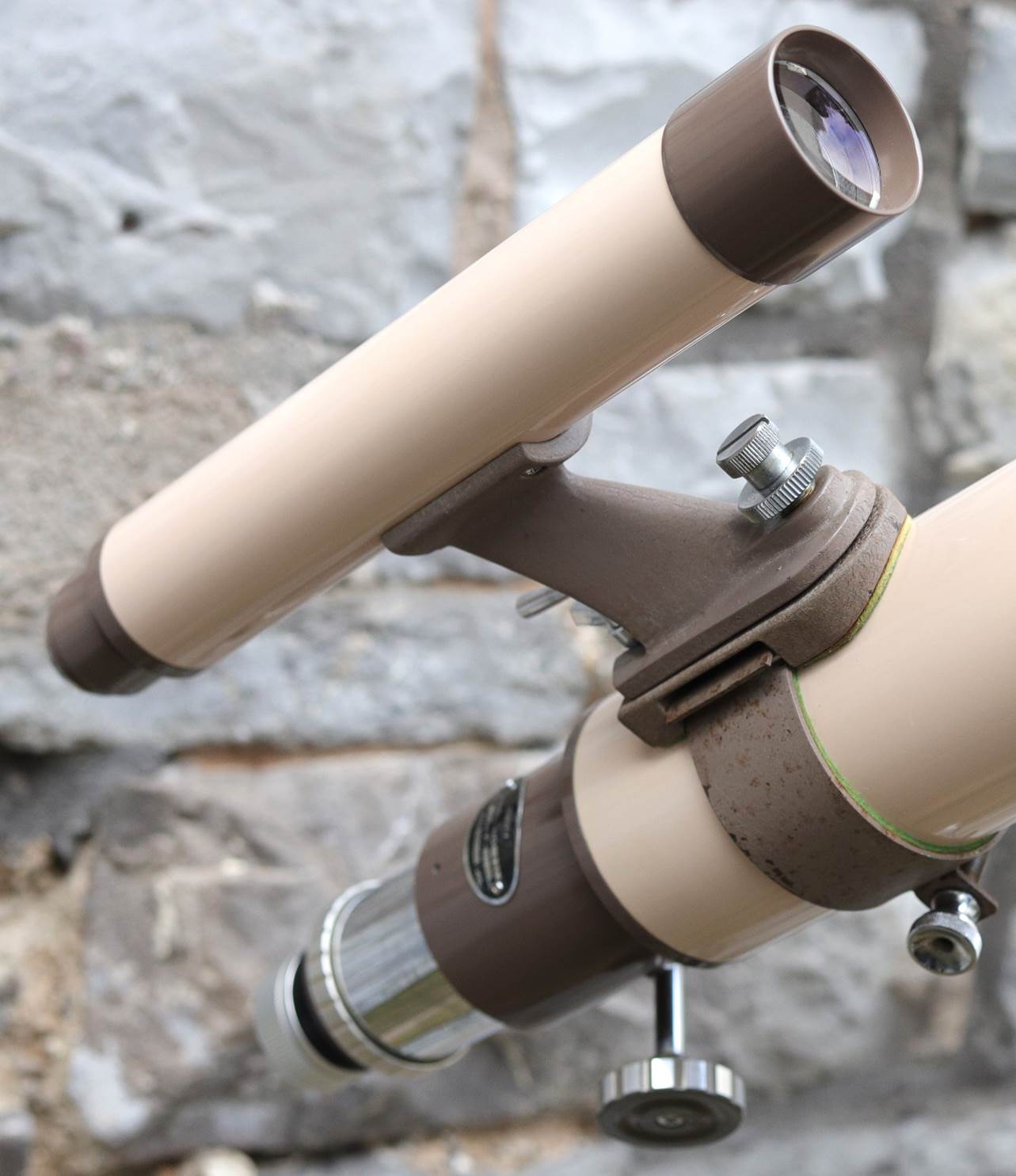 <![endif]>
Top-of-the-range Model 831 got a bigger finder than the others, with metal body and proper coated optics.
In Use – Daytime
As noted, the erecting prism and alt-az mode possible for the original mount suggest Swift intended the Model 831 could be used terrestrially, something the manual confirms.
My usual test of silhouetted branches is unusually sharp and shows little CA in the photo, but a bit more at high power with an eyepiece as you'd expect from an achromat.
So, the Model 831 would indeed make a great terrestrial spotter, even though I might get some funny looks taking a metre-long scope to the hide at my local nature reserve!
In Use – Astrophotography
The 1.25" only eyepiece holder, long focal length and achromatic lens mean the Model 831 isn't really suited to deep sky imaging. On the other hand, it's super-sharp optics and longish focal length produce outstanding snaps of the Moon. All images below are unprocessed, just reduced in size, as usual.
<![if !vml]>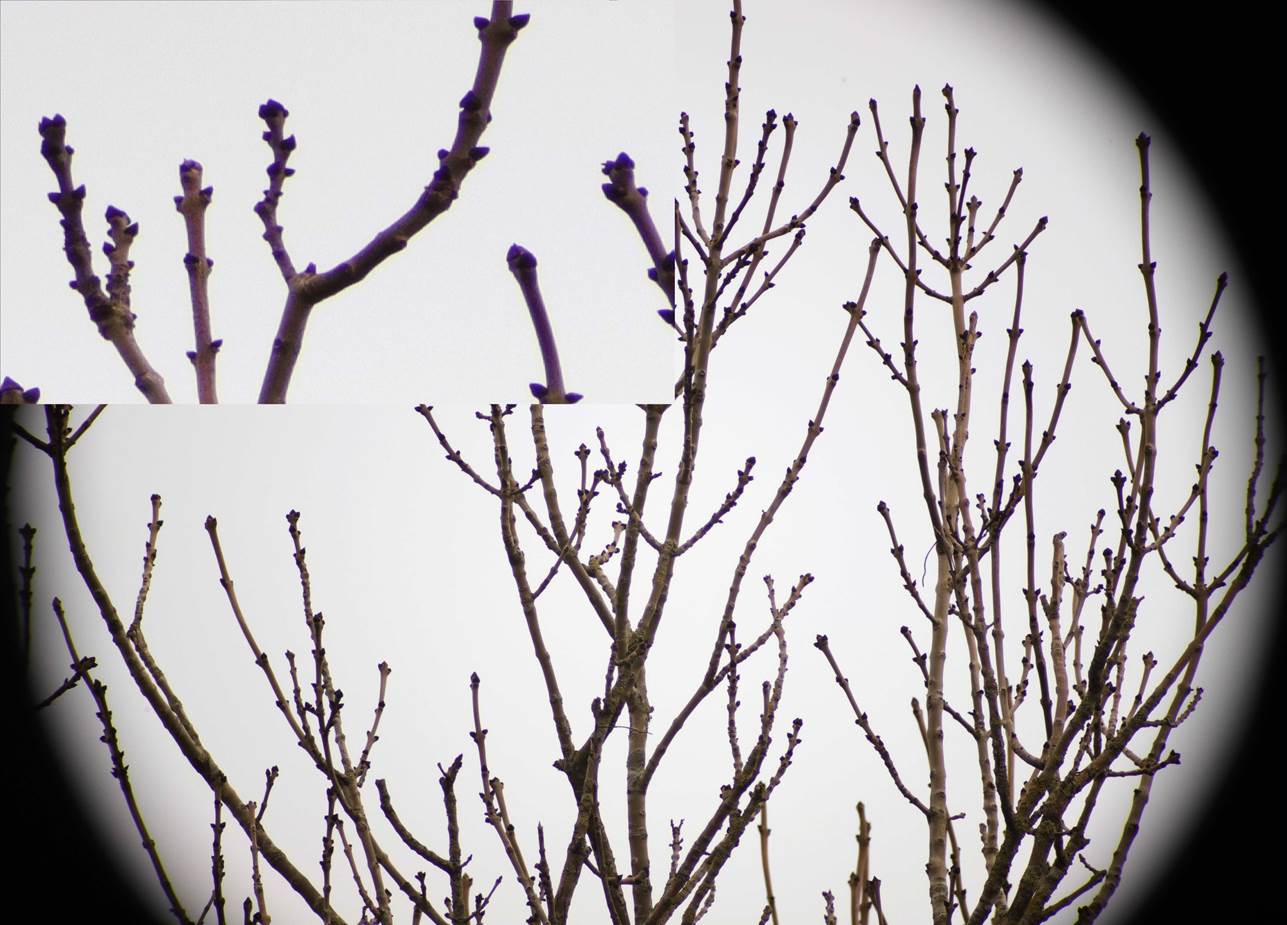 <![endif]>
Branches with 100% crop inserted to show modest false colour.
<![if !vml]>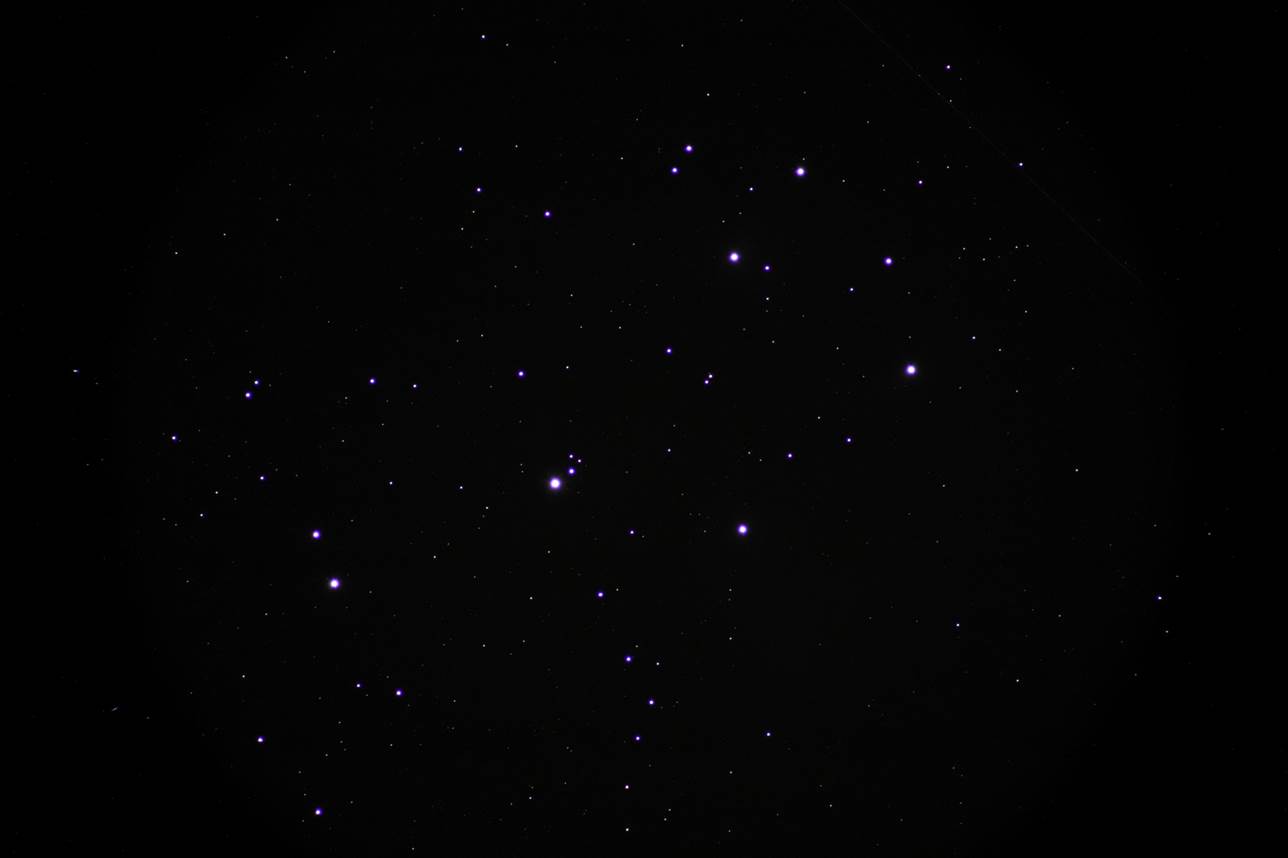 <![endif]>
Pleiades: 30s ISO 3200, Canon EOS 6D MkII.
<![if !vml]>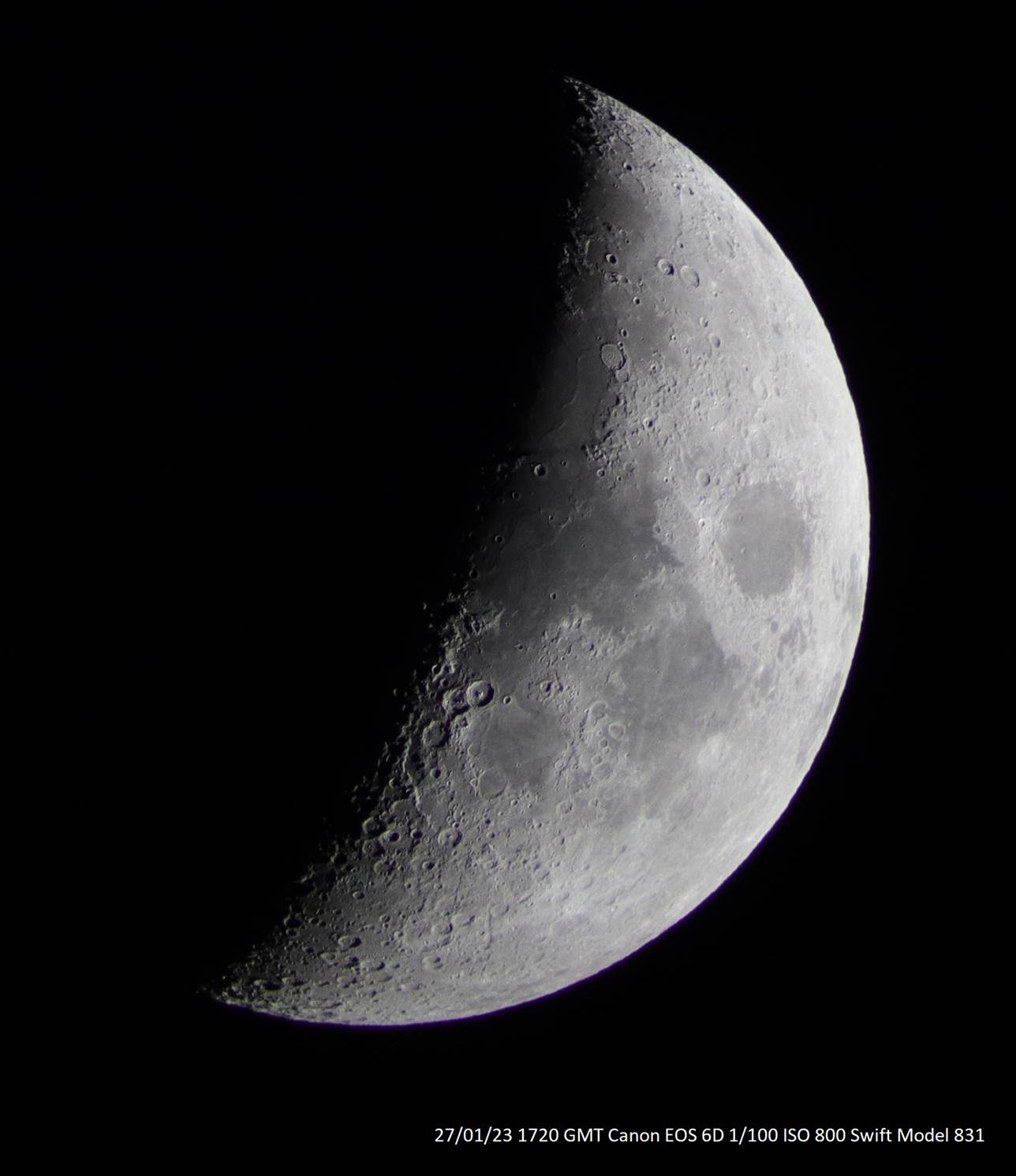 <![endif]>
In Use – Observing the Night Sky
General Observing Notes
The Model 831 was very easy to use, especially for an old scope (which often aren't).
The focuser proved very smooth and precise, very Takahashi-like with plenty of travel from the drawtube - no need for extensions to swap in a camera.
Changing out the 0.965" original accessories for modern ones just required threading an M36.4 eyepiece holder into the supplied adapter.
Cool Down
With a small air-spaced objective and a light tube, cooldown was very rapid.
Star Test
Simply excellent, with near identical Fresnel rings either side and nice in-focus first ring.
The Moon
With the manual predicting 20,000 craters on view and 'crevices' down to a width of only 360 yards to discover, I was excited by the prospect of the Model 831's pre-Apollo Moon and I wasn't disappointed.
Joking aside, the Model 831 excelled, with a view every bit as good as a modern apochromat: a super sharp and contrasty Moon with lots of detail and just a trace of false colour on the limb to distinguish it from something like a Takahashi FC-76.
A 6-day crescent waxing towards first quarter is an evocative phase for me. On the terminator are one of my favourite formations from childhood sessions with a 3" Tasco, perhaps only a decade or so after the Model 831 saw first light: Theophilus, Cyrillus and Catherina, a magnificent trio of craters named after Alexandrian saints.
With a 9mm Nagler at 111x, the Model 831 gave crisp and detailed views of Theophillus' fist-like central peak and complex walls, the even more chaotic terrains of Cyrillus and ruined Catherina to the south. I even made out rille Hypatia to the north – an interesting 'crevice' (per the manual) named after a fascinating Late Classical character: the Neoplatonist philosopher and noted beauty Hypatia of Alexandria, who was murdered under the same saintly Cyril whose crater lies to the south.
Mars
The manual suggests I might see 'principal patterns and variation of the polar cap'. Well no. But Mars at 11.4" a month after opposition revealed some albedo detail with a 9mm Nagler giving 111x and even more at 142x with a 7mm: the double stripe of the Solis Lacus region in the south and a dark patch in the north that is Mare Acidalium.
The planet was perfectly sharp with no in-focus false colour to spoil the view, a nice rich orange colour.
Deep Sky
Slow old achromats often aren't great for deep sky. But the Model 831 has more aperture and a faster focal ratio than many, better coatings too. It performed like a modern 3". I didn't need the unusual technique for spotting DSOs suggested in the manual – 'jogging the telescope lightly so that it trembles'.
The Pleiades were brilliant and sparkly, embedded in blue nebulosity with a 32mm Plossl giving 31x. With the same eyepiece, the open clusters in Auriga were nicely framed. M37 was particularly impressive with a 19mm Panoptic giving 52x – resolved into fine stardust strewn across a wide and flat field.
Slotting in a 9mm T6 Nagler giving 111x easily pulled the Crab Nebula – remnant of a super nova in 1054 – out of the star field north of Zeta Tauri and gave more impression of its shape and structure than I was expecting.
Long focus achromats are a classic choice for splitting doubles and both Castor and the Double Double one winter morning proved easy for the Model 831.
Summary
The Swift Model 831 is a beautifully made refractor from the Space Race era that has a unique look and quality of finish that sets it apart from the run-of-the-mill Tascos, Towas and yes even Unitrons.
A nostalgia scope for 'period re-enactment viewing' the Model 831 may be to some, but you could just as well view it as a highly usable long focus refractor for the Moon, planets and doubles: a kind of Japanese Telementor. That's because – atypically for such an old scope - there's nothing old-fashioned about the way it performs.
The objective is very fine – well figured and polished to take high mags and with only modest false colour for visual. It's even well coated, so deep sky views are unusually good for its age and type.
The focuser is a very high quality example, even by today's standards – much like a smaller Takahashi focuser at its best; and the drawtube with its engraved scale means its quick and easy to swap in a camera for snaps of the Moon (which turn out truly excellent). Even the finder is a good 'un.
The Model 831 should be easy to own. The light weight tube, metric for modern rings, make it simple to mount. The supplied M36.4 adaptor make it easy to use with your existing diagonal and eyepieces too.
If you're in the market for a purely visual small refractor for the Solar System, a Model 831 would be a great choice; it looks classic, but still performs superbly today.
<![if !vml]>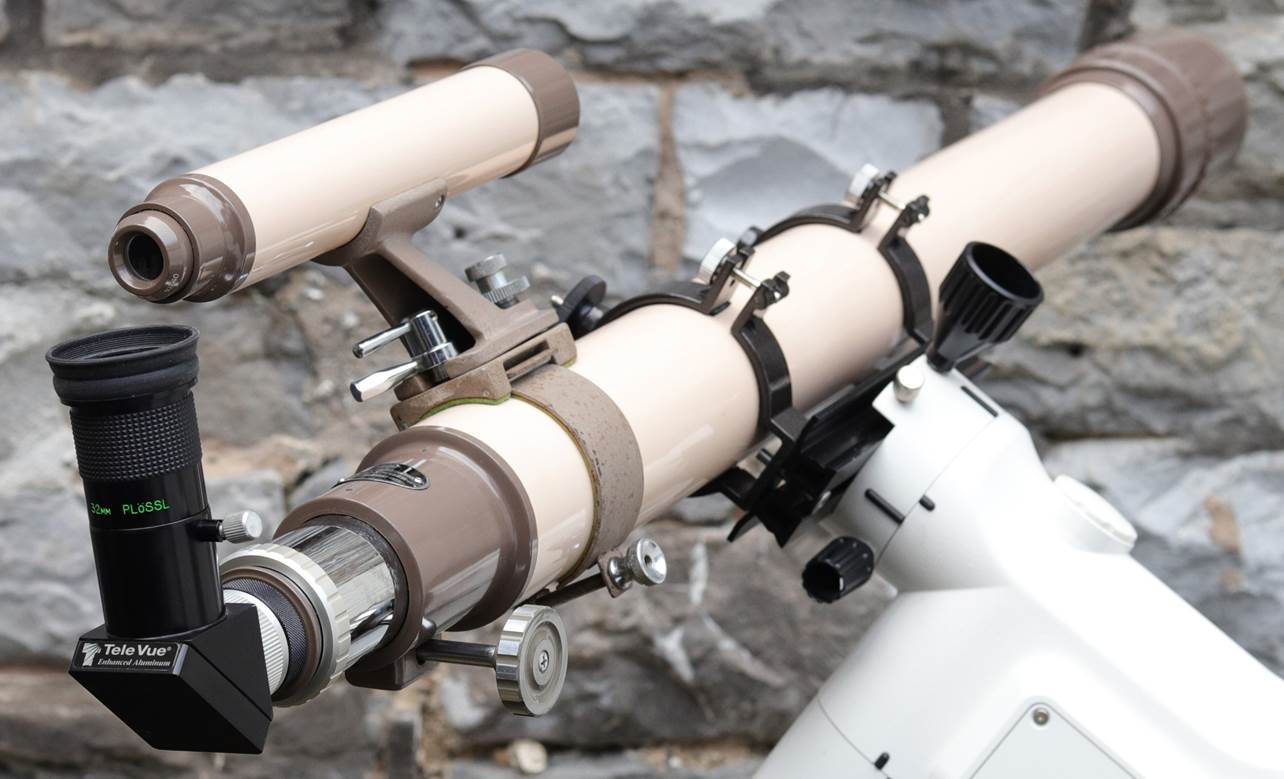 <![endif]>