TEC APO140ED/FL Mini Review
<![if !vml]>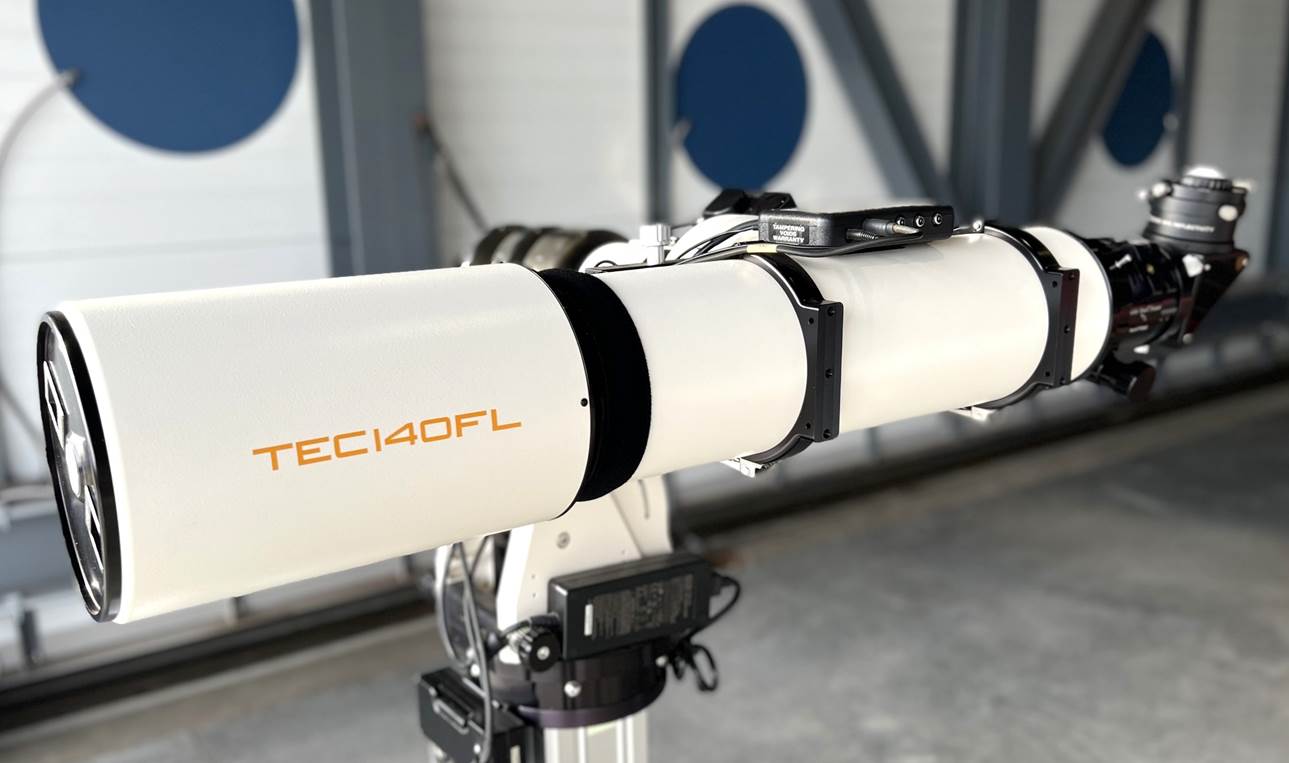 <![endif]>
Telescope Engineering Company's 140 triplet apochromat is quite a famous (if you can use that word) scope with a strong reputation for both quality and sheer multi-purpose usefulness.
This is the latest in a series of mini reviews where I've spent lots of time with a scope and formed a strong opinion of it, but haven't been able to put it through the full photo-visual review process.
Note: the photos in this review are all of the APO140FL at Lowell's Giovale Deck Observatory.
At A Glance
| | |
| --- | --- |
| Telescope | TEC APO140ED/FL |
| Aperture | 140mm |
| Focal Length | 980mm |
| Focal Ratio | F7 |
| Length | 840mm dew-shield retracted, 1050mm extended |
| Weight | 8.2Kg OTA (9.5 Kg incl rings, plate, finder and handle) |
Data from TEC.
<![if !vml]>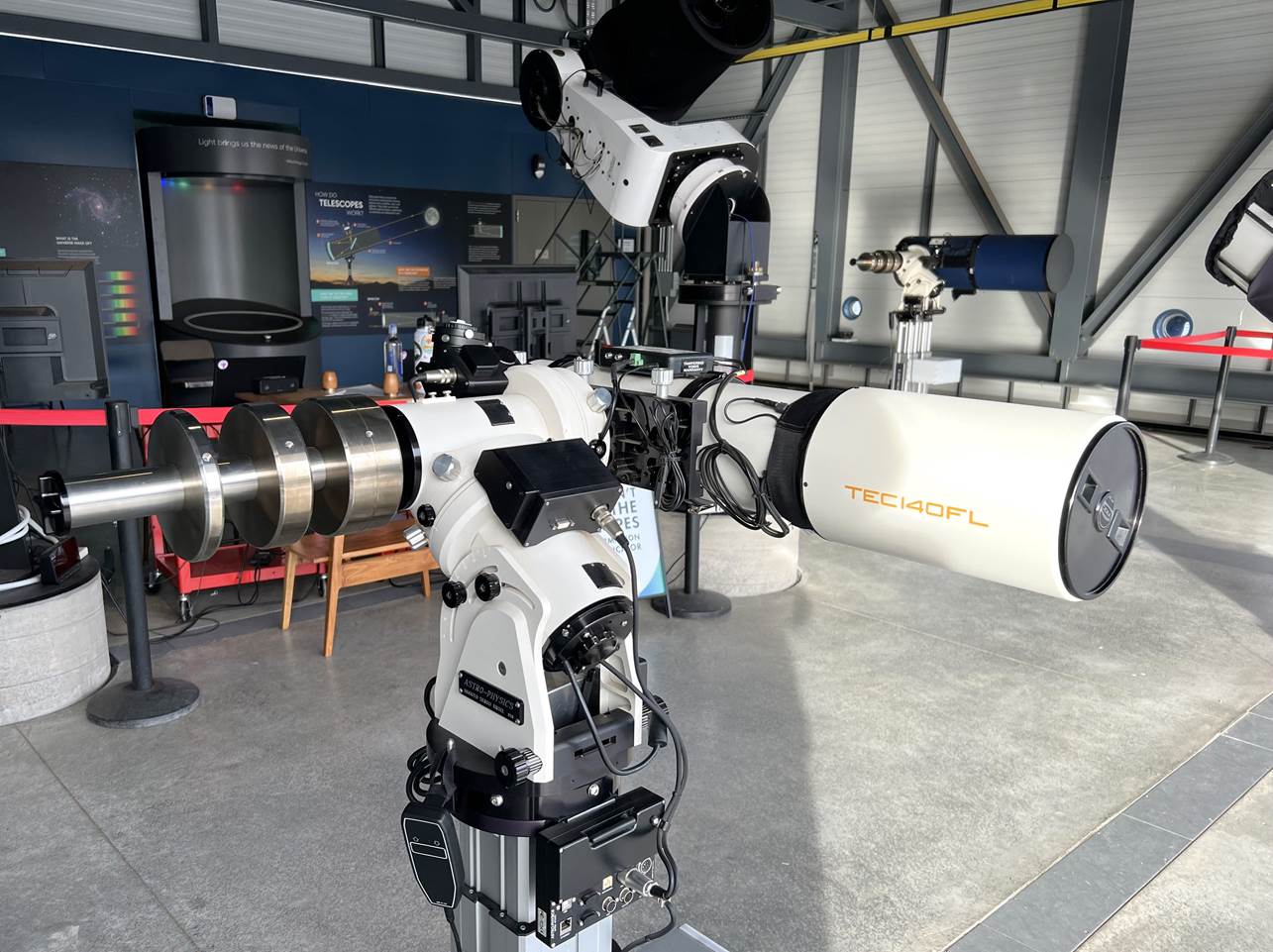 <![endif]>
The TEC APO140FL at Lowell's Giovale Deck Observatory.
Design and Build
Yuri Petrunin's Telescope Engineering Company started in Kiev distributing optical products from the Russian optical contractors LOMO and LZOS.
Having moved to Golden Colorado, they started with a range of high-quality Maksutovs and then in the late 1990s started to get in on the burgeoning market for apochromatic refractors, making their own lenses tubes and focusers.
TEC currently offer a range of larger triplet apochromats up to 250mm (10"), of which the 140 is the smallest since the 110FL was discontinued.
The 140 is by far their most popular product, perhaps partly because 140mm is an unusual aperture but also a very useful one – close to the big-refractor performance point of a six-inch, but not much larger or heavier than something like a Takahashi TSA-120.
<![if !vml]>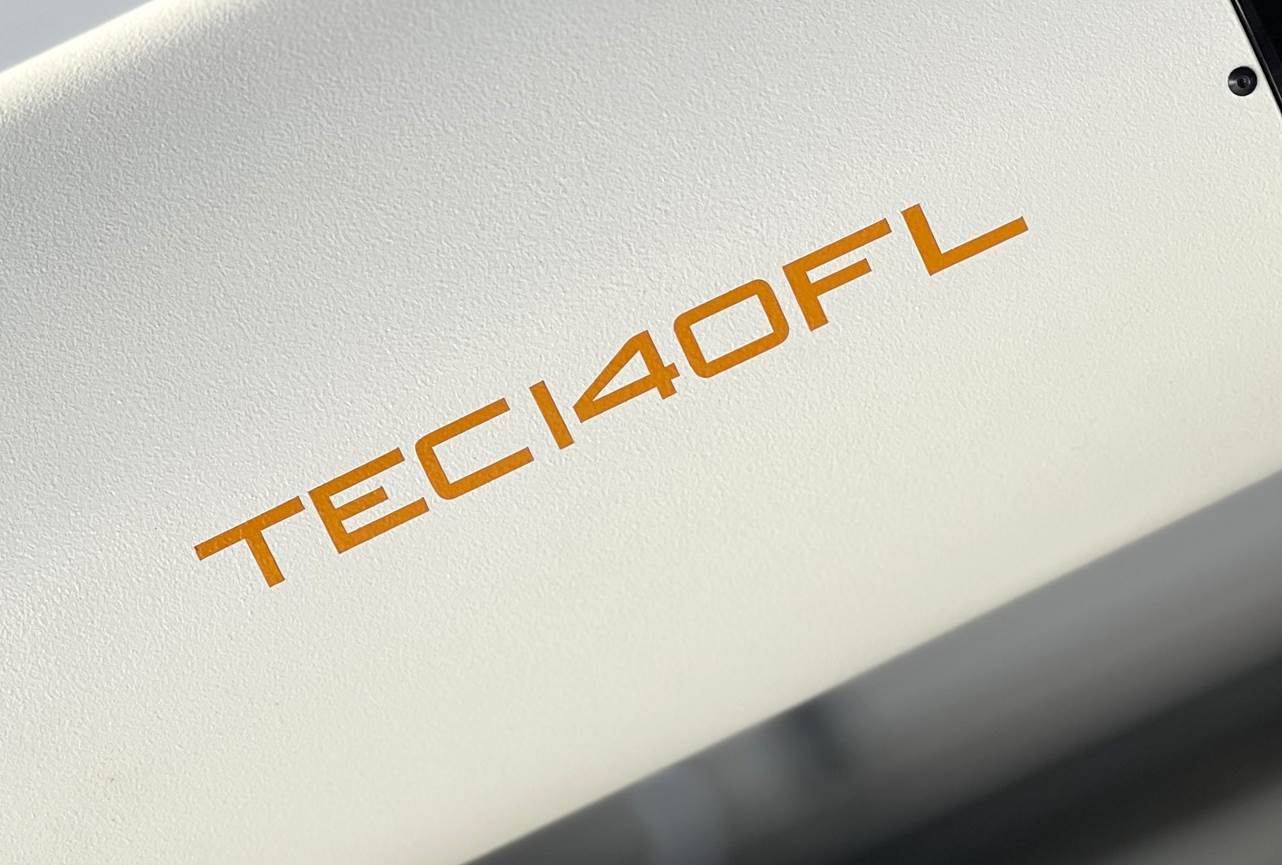 <![endif]>
<![if !vml]>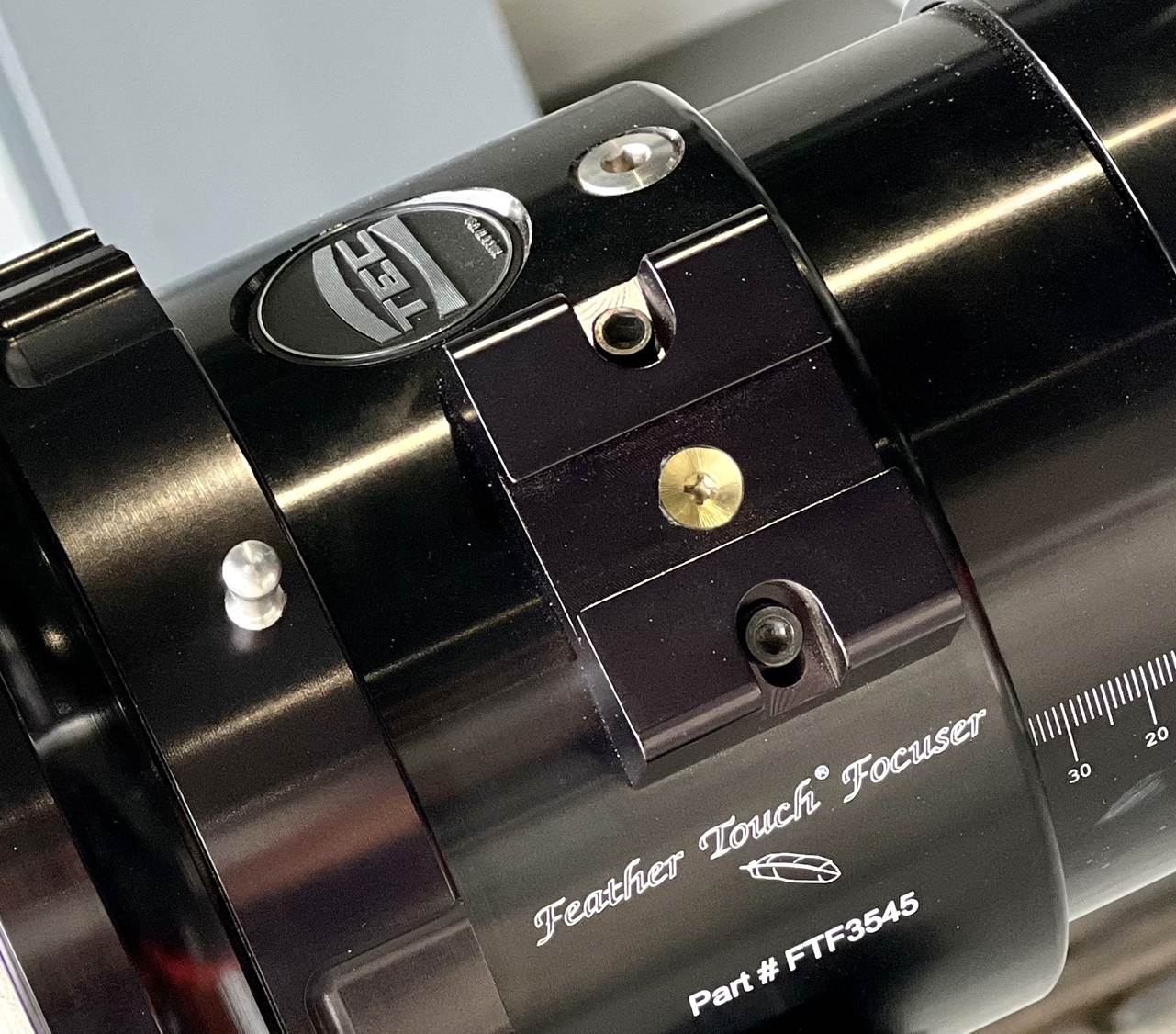 <![endif]>
Optics
The original TEC APO140ED had an F7 oil-spaced triplet with an ED glass centre element. A focal ratio of F7 is ideal for APOs in this size range, allowing near-perfect chromatic correction with a natively flattish field and still reasonably fast for imaging.
The original APO140ED had a great reputation, but still suffered from some residual chromatic aberrations – false colour fringing and spherochromatism. So when TEC updated the design in 2017, they swapped to a fluorite centre element for the triplet. Interestingly, though, they stuck with the oil-spaced design even as AP were moving away from it.
So what does 'oil-spaced' mean anyway?
Instead of spacing the elements out with air gaps like most refractors, oiled lenses fill the space with, well… oil: not just any oil, but one with a chosen refractive index to match the glass. One advantage is that the inner surfaces don't have to be as perfectly polished – oil fills scratches – but there are others. Moisture can't get into the gaps and cause mould and fungus or deterioration of the glass. Some believe oil-spaced objectives cool faster as one mass rather than three: good for quick looks but also when temperatures are falling fast.
But oil spaced designs can't use the air-gaps like an extra element to help with correction and the optical surfaces have to match so can't be aspherised. So oil-spaced lenses are typically less well corrected. And there is the possibility of leaks. Some even claim that oiled objectives should be stored flat to settle into perfect alignment.
Which is better overall, air-spaced or oil? I have had great experiences with both, so I honestly don't know. Does it affect the user experience, reliability? TEC have been making oiled lenses for a long time so my guess is no.
TEC 'rigorously test' during production, including with an interferometer. Optical quality should be very high, as you'd expect. Like AP, but unlike LZOS, you don't get a test certificate though.
All optical surfaces are broadband multi-coated.
Collimation is fixed at the factory.
<![if !vml]>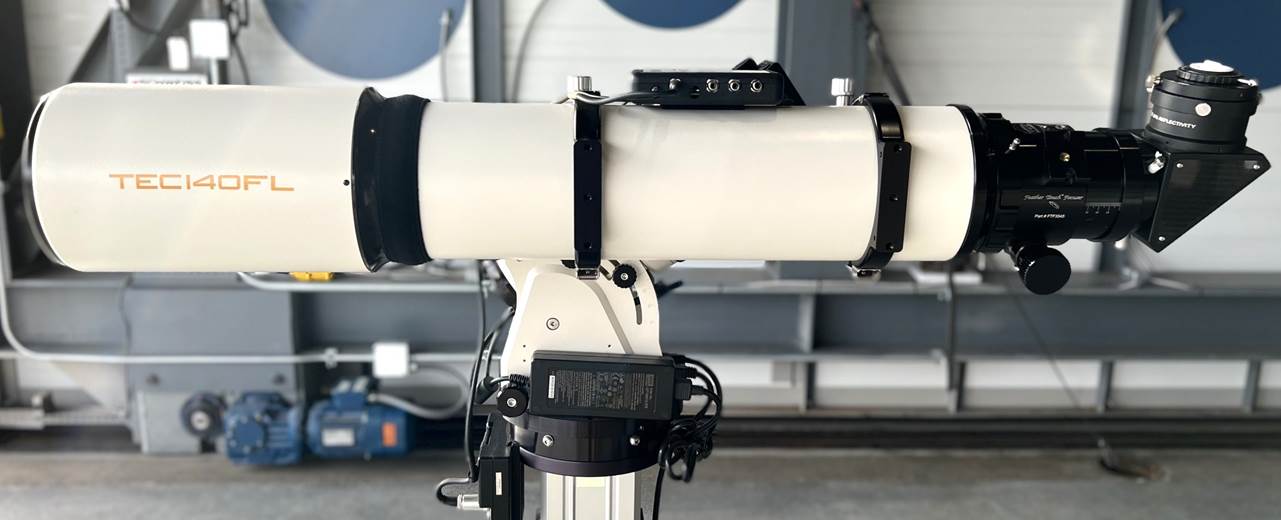 <![endif]>
<![if !vml]>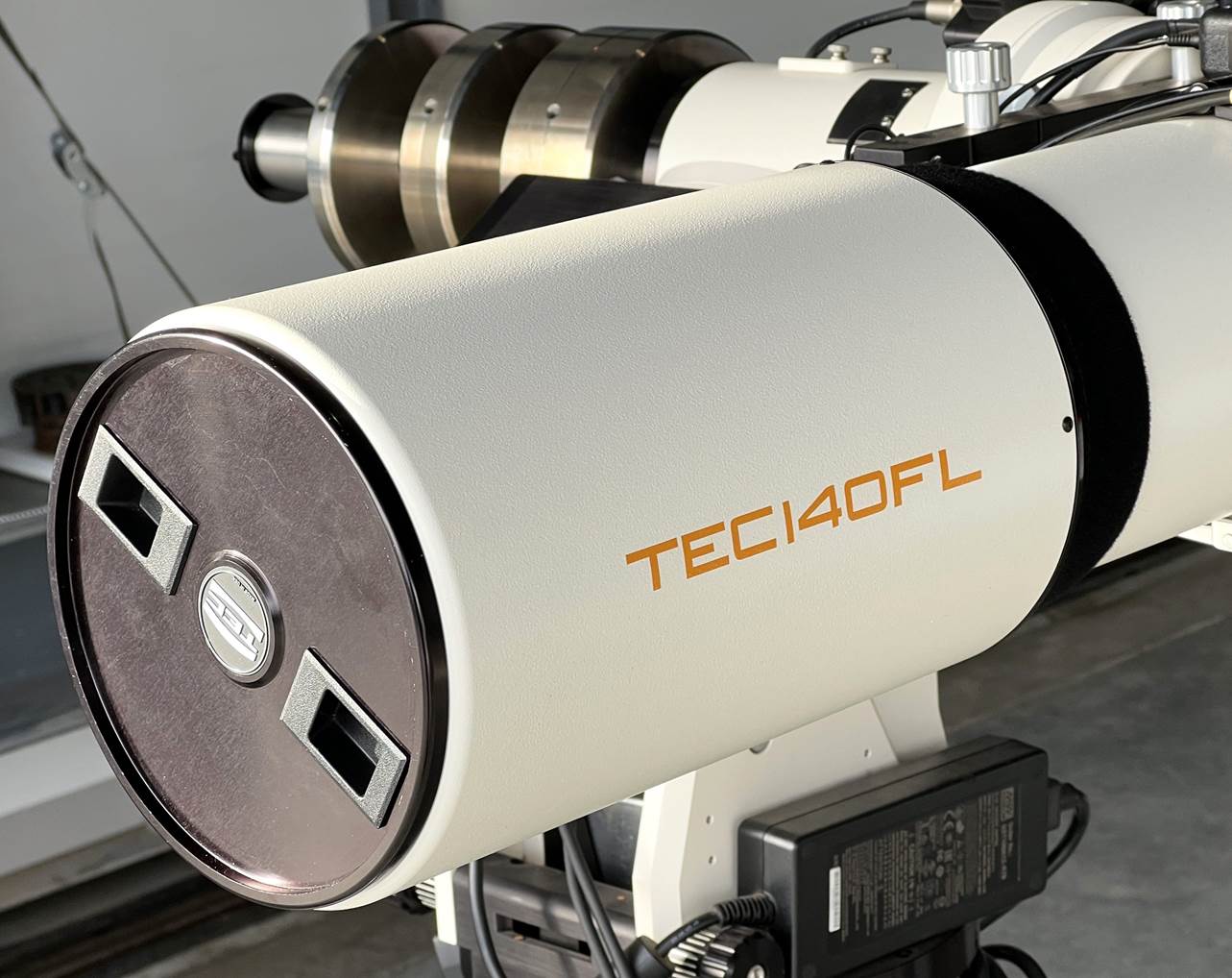 <![endif]>
Tube
The tube is in lightweight aluminium with a sliding dew-shield. It's nicely finished in light cream textured powder coat that resembles a modern Astro-Physics. Internally, there are several knife-edge baffles to kill stray light (though not the fancy multiple baffles you get with an AP).
With the dew shield retracted, the OTA is 840mm long, 150mm diameter and weighs 8.2 Kg. That's just a little larger than a Takahashi TSA-120 (an F7.5 120mm triplet) and about 1.5Kg heavier. It's a light and compact scope for the aperture.
Focuser
Some early 140s may have had a TEC focuser, but most ship with the 3.5" FTF3545 Starlight Instruments Feather Touch that I know well because I owned one for 15 years attached to a TMB 175!
The FTF3545 is a great focuser – made in hard stainless, with a 3.5" diameter/4.5" travel drawtube that features a wide, low-profile rack with ultra-fine teeth, a 9:1 fine focus knob and an engraved millimetre scale.
The focuser attaches to the tube via a capstan-wheel assembly that allows you to rotate the whole focuser when loosened, either to change the camera angle when imaging or the eyepiece position for visual.
In my experience the FTF3545, Starlight's largest focuser, is super-stable under heavy loads and rarely needs the tension screw to avoid racking out. Precision is excellent with minimal image shift. The only downside is that loosening the capstan wheel to rotate the focuser body, though very secure and convenient, does shift the image a bit at higher powers.
The 140FL's FT is customised with an inset TEC badge, but otherwise seems standard.
<![if !vml]>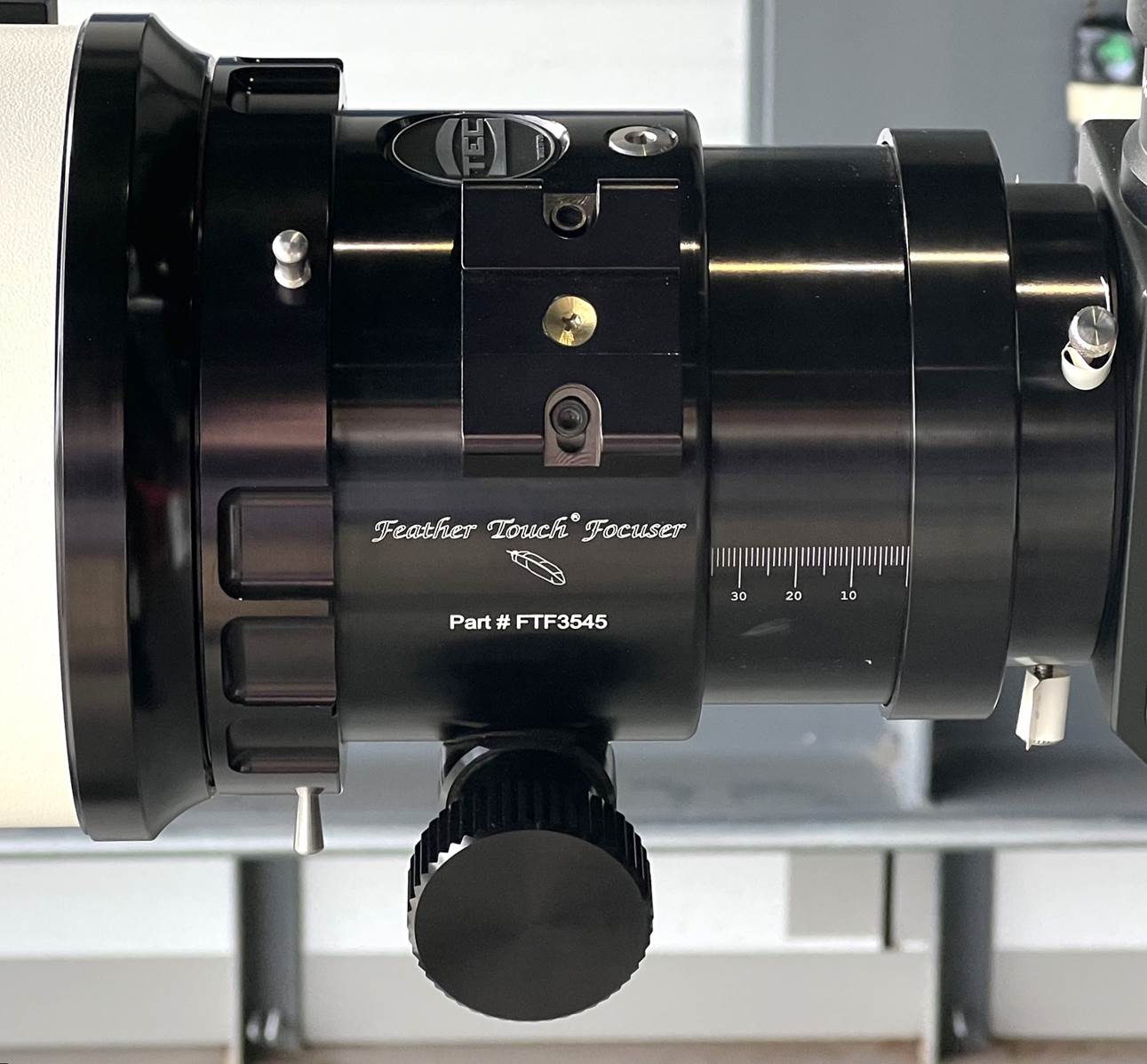 <![endif]>
<![if !vml]>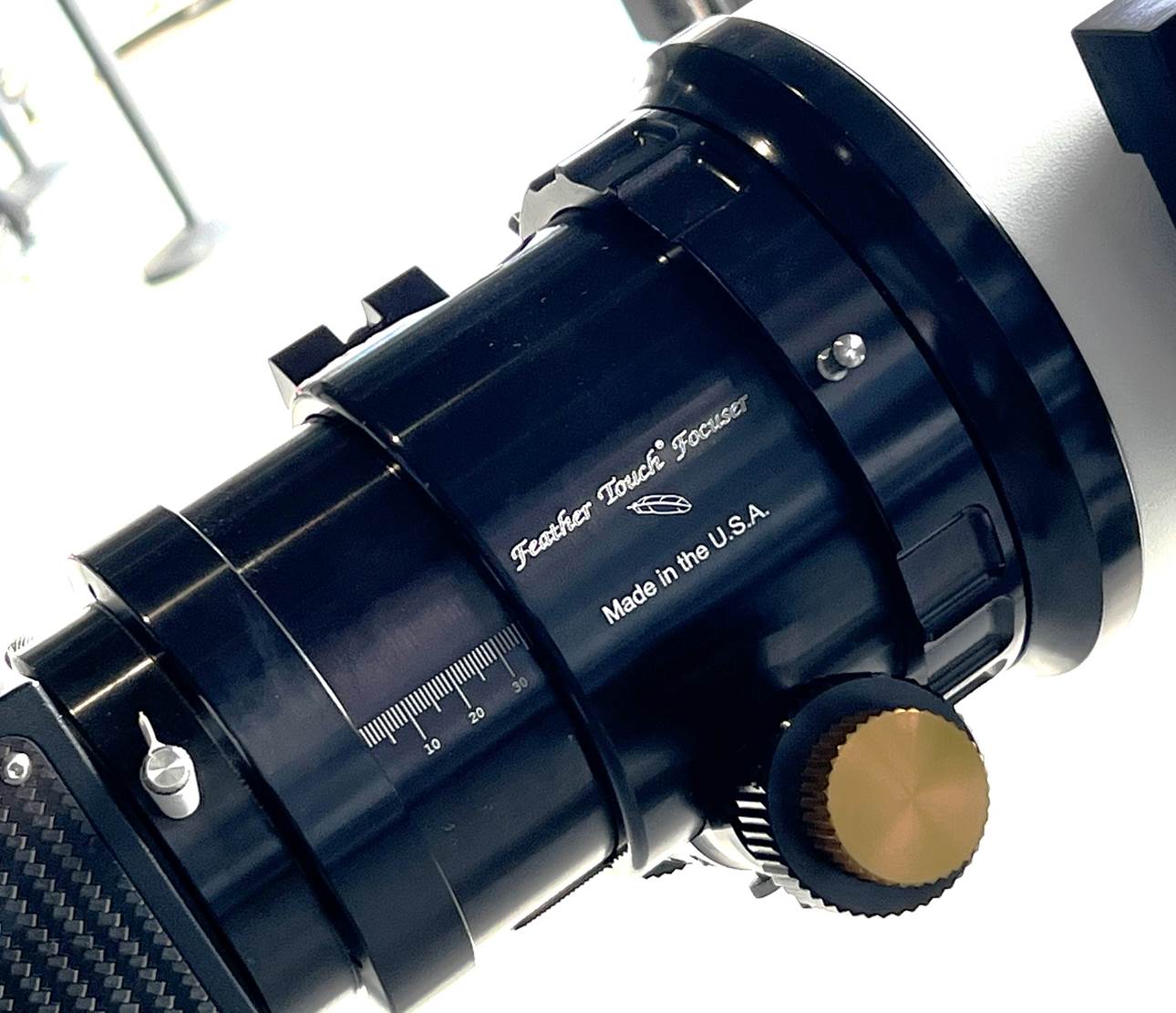 <![endif]>
Mounting
At Kitt Peak, the 140ED was piggy-backed on a Paramount atop a 16" RCOS in a roll-off observatory.
At Lowell, the 140FL is mounted on a new AP1100 mount complete with the latest control box that permits external wireless control (from an iPad in this case). It is located in the Giovale Deck observatory, alongside a range of other larger scopes.
At under 10 Kg all-in, the 140FL should mount on any medium sized mount, perhaps just about on something as light as a Vixen SX2 or an HEQ5.
<![if !vml]>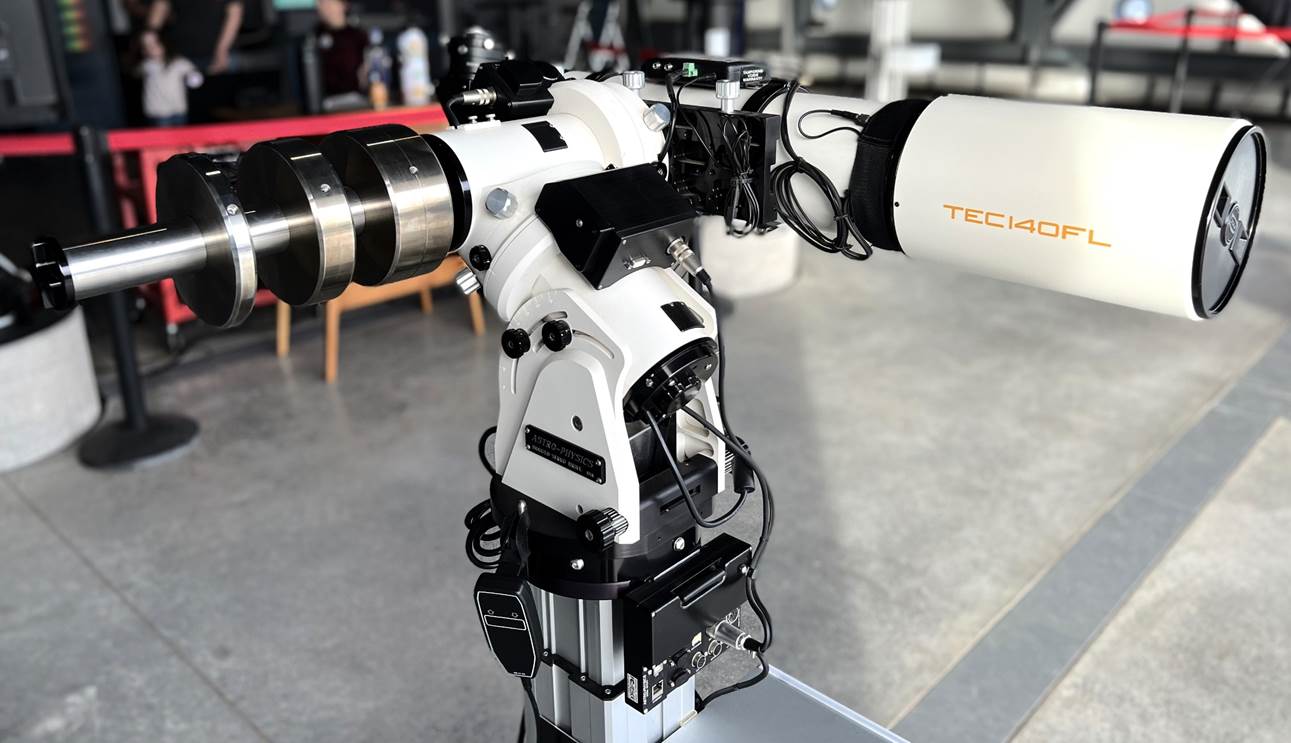 <![endif]>
TEC APO140FL on an Astro Physics AP1100 mount.
Accessories
TEC offer a range of accessories, including a case and the lightweight CNC rings you see in the photos. All are optional extras – something to factor in when considering the price.
In Use – Astrophotography
I haven't had the opportunity to try imaging with the TEC140. I'll update this review if I do. It has a good reputation for imaging, with pinpoint bloat-free stars across a wide field.
In Use – Observing the Night Sky
General Observing Notes
The notes below derive mainly from two extended viewing sessions at different times and places. The deep sky views were had with an APO140ED at Kitt Peak under very dark, clear and stable skies. The planetary views were with a recent APO140FL at Lowell Observatory under hazy skies but with good to excellent seeing and I have used the Lowell 140FL on other objects in the past.
On the night I did most of my viewing with the 140FL, hardly anyone was about due to an approaching snow storm so I got loads of eyepiece time. Tellingly, I thought, the other scopes stayed parked.
All the viewing at both locations was through Tele Vue eyepieces: low power Naglers and Panoptics at Kitt Peak, higher power Delos at Lowell.
Cool Down
Both scopes were stored in unheated observatories, but kept up with falling temperatures well during both sessions.
Star Test
The star test on the 140FL was excellent; I didn't get to test the 140ED.
Mars
The final object viewed was Mars, with a 4.5mm Tele Vue Delos giving 218x.
In steady moments, the 140FL gave a very crisp view of the slightly gibbous planet, 12.9" across a month after opposition, showing some albedo detail in north and south: the dark stripe of Mare Cimmerium and Sirenum in the south; another dark strip of Mare Boreum in the far north, perhaps a trace of bright limb cloud.
Focusing in and out there was no red blur visible at all: out of focus, the blur colour was identical to in-focus: just the pale orange of the planet itself. This ranks the 140FL with the finest apochromats (the LZOS 115/805 – also an F7 triplet, albeit with an ED centre element - gives a trace of red blur out of focus, for example).
Jupiter
My viewing session at Lowell started at dusk on Jupiter at 123x with an 8mm TV Delos eyepiece. It was a good view and I noted that the Delos suited the 140FL especially well – sharp and comfortable with lots of eye relief and no blackouts, but seeing was unstable at first and so detail limited.
Later, they set the 140FL back on Jupiter in much better seeing after dark and upped the power to 218x with the 4.5mm Delos.
Now a lot of cloud belt detail was visible on the 37.8" diameter disk, the image very sharp. I noted lots of NEB and SEB features: little knots and changes in colour, density and thickness. The grey polar hood really stood out with good contrast, showing hints of fine banding. Other belts appeared in moments of extra steadiness.
The four Galilean moons were visible at once in the 0.3° true field at 218x: proper little disks of varying brightness and colour, with Callisto at the very edge showing off the TEC's flat and well-corrected field.
Saturn
Saturn was small and low and only visible at dusk. Still, it was a good view that made the best of the conditions, with the rings and shadow, polar hood and a hint of the Cassini Division clearly visible along with its pinkish hue unsullied by false colour.
Deep Sky
The 140ED gave some wonderful deep-sky views in very dark and still conditions at Kitt Peak.
I noted spectacular low-powered views of open clusters M41 and M37: sprays of fine stars.
Mag. 5.3 orange giant Eta-Cancri really showed off its natural colour as a sparklingly brilliant pinpoint in-focus at moderate power, throwing all the light into its tiny Airy disk – a sure sign of good optical figure.
Globular clusters M79 and NGC 2419 looked great and were starting to resolve in their outer regions.
Galaxy M81 in Bode's Nebula really surprised by revealing its spiral arms under the dark conditions and with long dark-adapted vision in the observatory.
The 140ED easily split Castor, even at quite low power.
Summary
The TEC140 is typical of the finest highly-evolved apochromats: surprisingly compact, virtually perfect optically and mechanically.
The objective is of very high quality and the recent fluorite version (the 140FL) produced no false colour under any circumstances visually, gave hyper-sharp planetary views. Meanwhile, its high-power view of Mars suggested that it is very well-corrected even into the red (APOs often aren't and produce a deep red blur).
The 140 isn't just a planetary specialist. The aperture is bigger than most compact apochromats and so gave more involved deep sky views under the dark skies at Kitt Peak, including the spiral arms of M81 which I'd never seen in an amateur scope.
If the optics are great, so is the other end of the 140, with the 3.5" Feather Touch one of the finest available: precise and stable, even under heavy loads and with lots of travel.
Finally, build quality looked really good too. The only downsides might be the usual ones of price and availability: the 140FL has a long waiting list and the price is quite high, a little higher than Takahashi, though comparable with AP and LZOS.
The TEC140FL is a wonderful premium refractor, with superb optics and a larger than usual aperture for its compact size to do everything well.
<![if !vml]>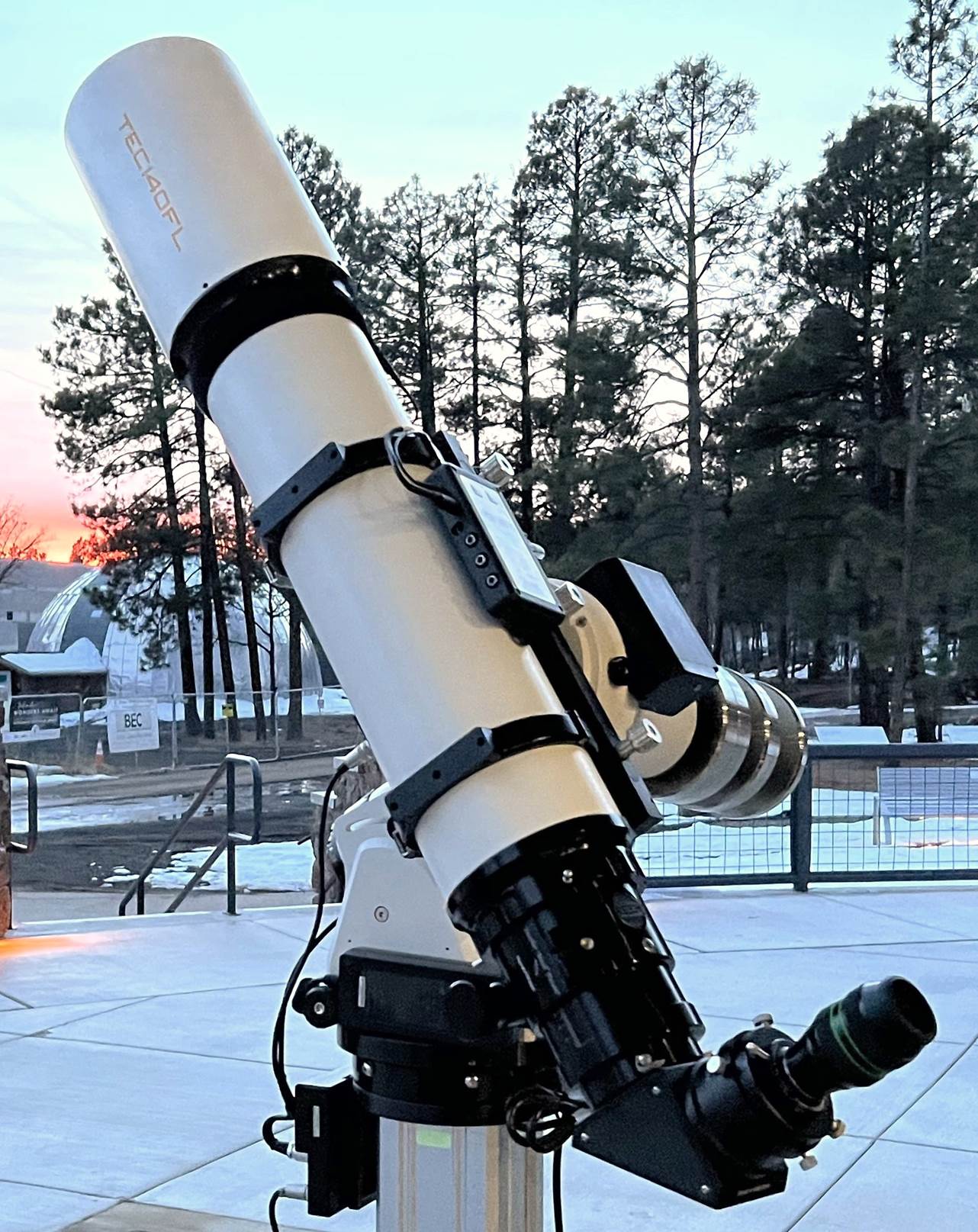 <![endif]>