Takahashi FC-50 Review
<![if !vml]>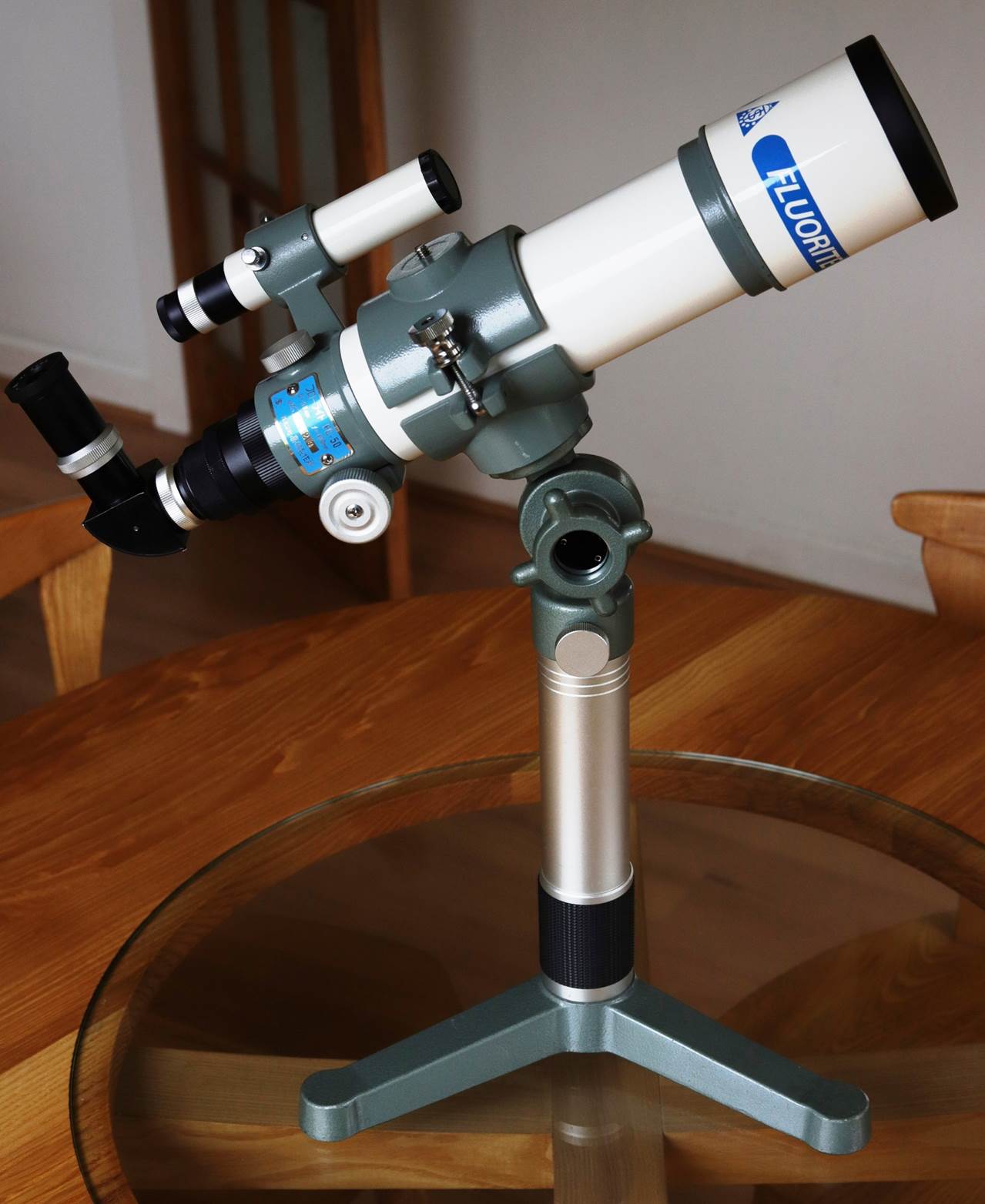 <![endif]>
Takahashi FC-50 with table mount and standard accessories.
The Takahashi FC-50 must be one of the most sought-after small refractors on the second hand market, often selling within hours on Astromart. It's one of the few relatively modern telescopes that is already a real 'classic'.
To ask why is to question our fascination with miniatures in general, because the FC-50 is just that – a Takahashi fluorite doublet in perfect miniature. And unlike its larger and later relative the FC-60, the FC-50 makes no compromises to lower the cost.
Another reason for the FC-50's sought-after status is simple rarity. There were far less FC-50s imported into western markets than its larger siblings.
Personally, I came across the FC-50 on Ed' Ting's website twenty or more years ago and immediately wanted one. But in the end, I had to import one direct from Japan.
History and Advertising
I've added this new section to give some brief history on the FC-50, but mostly to share some evocative period advertising images. You can find most of this on Takahashi's Japanese website, but who knows for how long ...
The FC-50 was introduced in around 1982. It was Takahashi's first and only scope at this aperture since the 1970's TS-50. The image of the TS-50 below is from their 1976 catalogue, but it had been around since at least 1971. Unlike the FC-50, though, the forerunner TS-50 was much more typical of other Japanese small refractors of the era, with identical optical specs (a F.L. of 700mm at F15) to the Swift Model 838 for example.
The FC-50 seems to have been launched with a complete range of FC-series F8 models, including the FC-65 (the FC-60 was introduced later – see last image below). As you can see from the ads, the FC-50 was always intended for both birding (on its alt-az mount and a tripod) and astronomy and for terrestrial and astro' photography with a film camera.
<![if !vml]>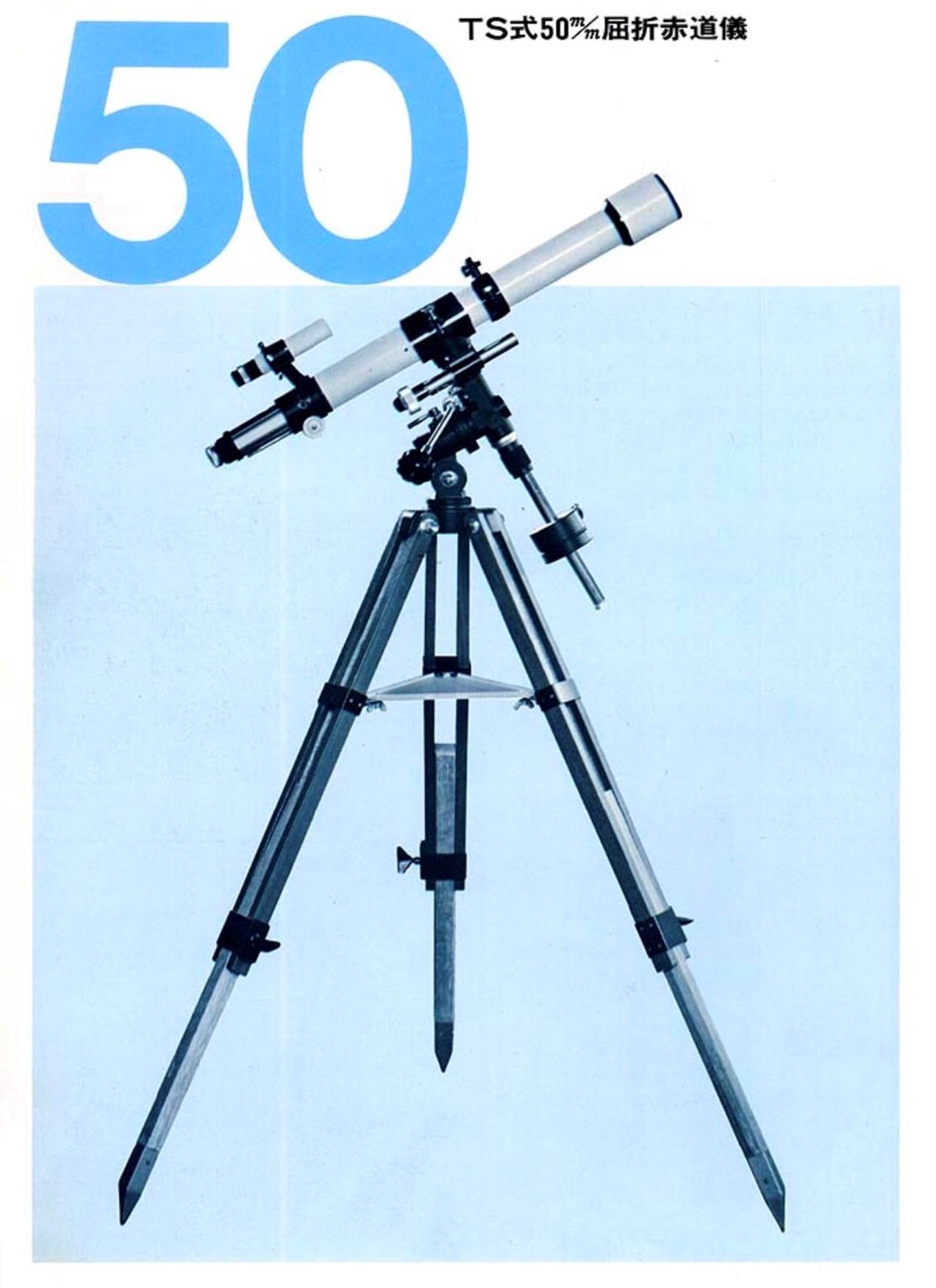 <![endif]>
1970s TS-50 was the forerunner of the FC-50.
<![if !vml]>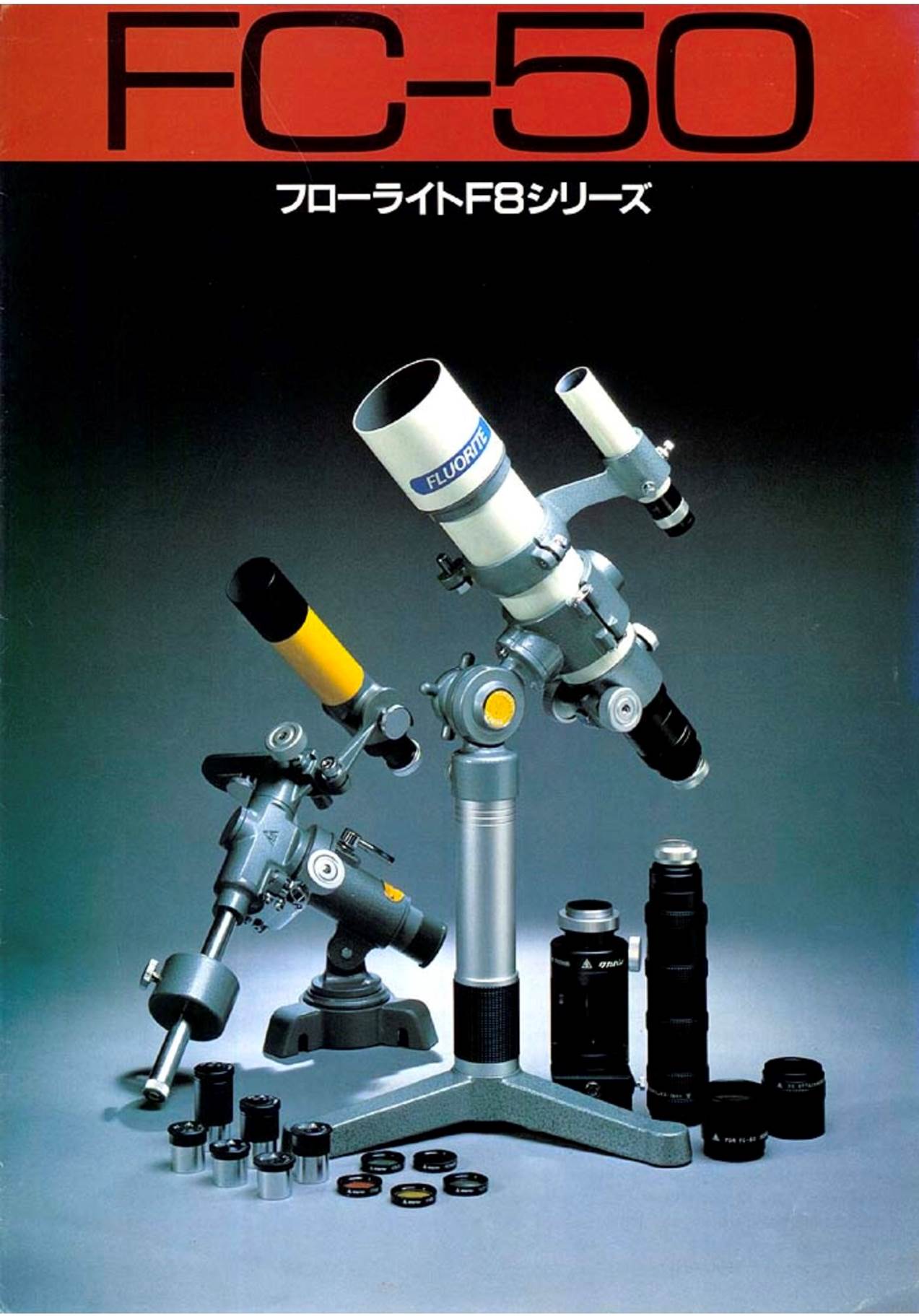 <![endif]>
<![if !vml]>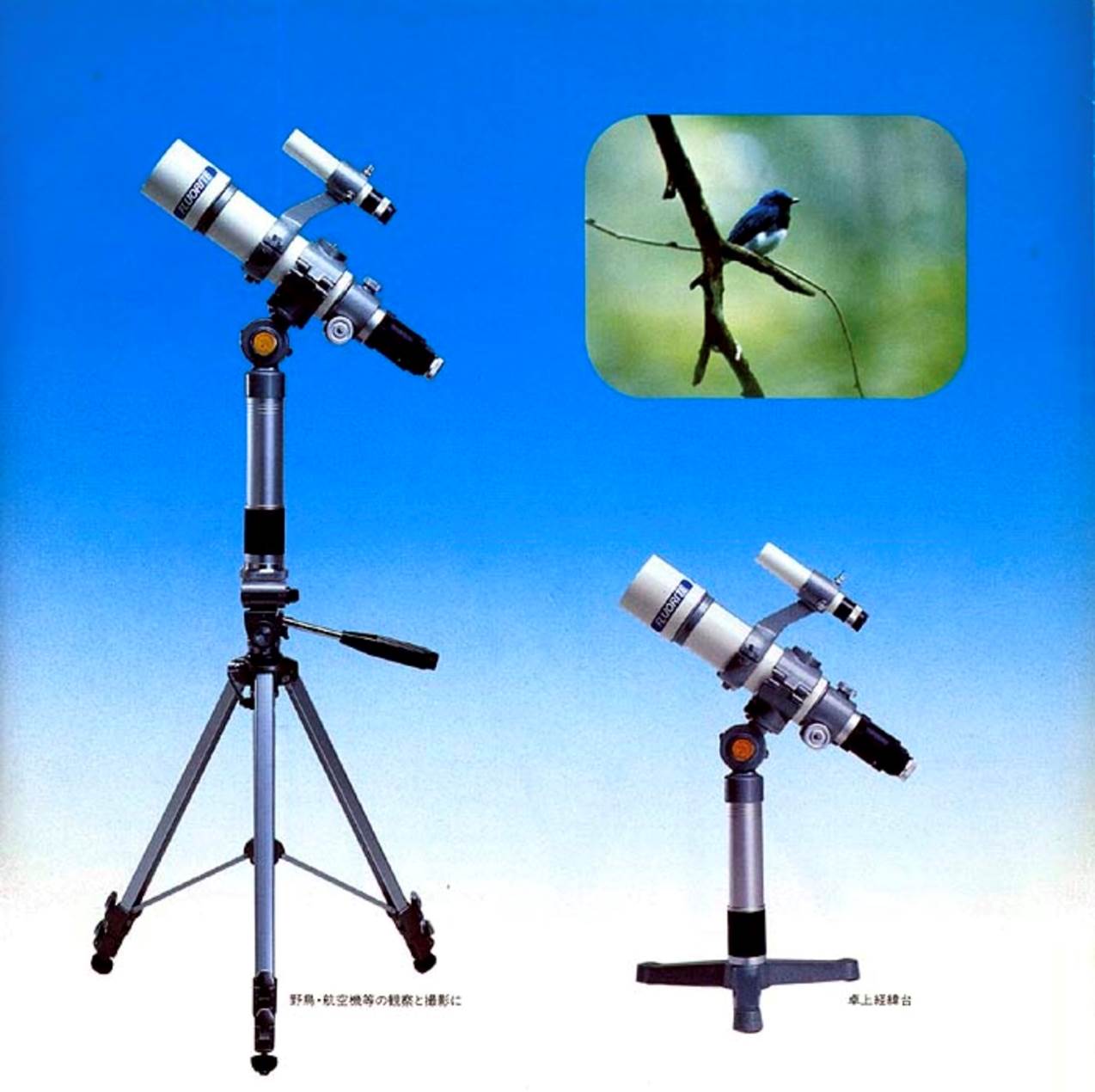 <![endif]>
<![if !vml]>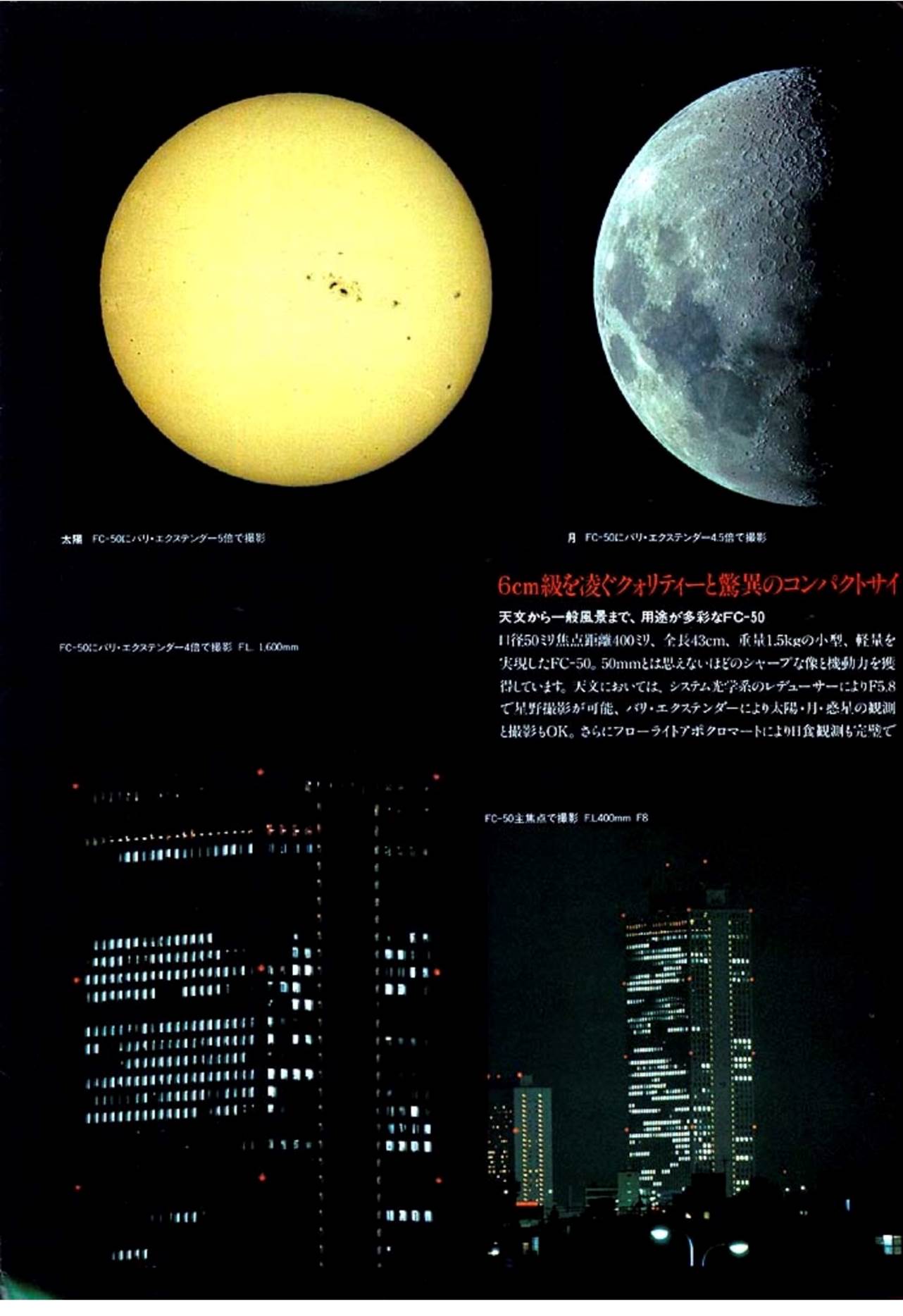 <![endif]>
<![if !vml]>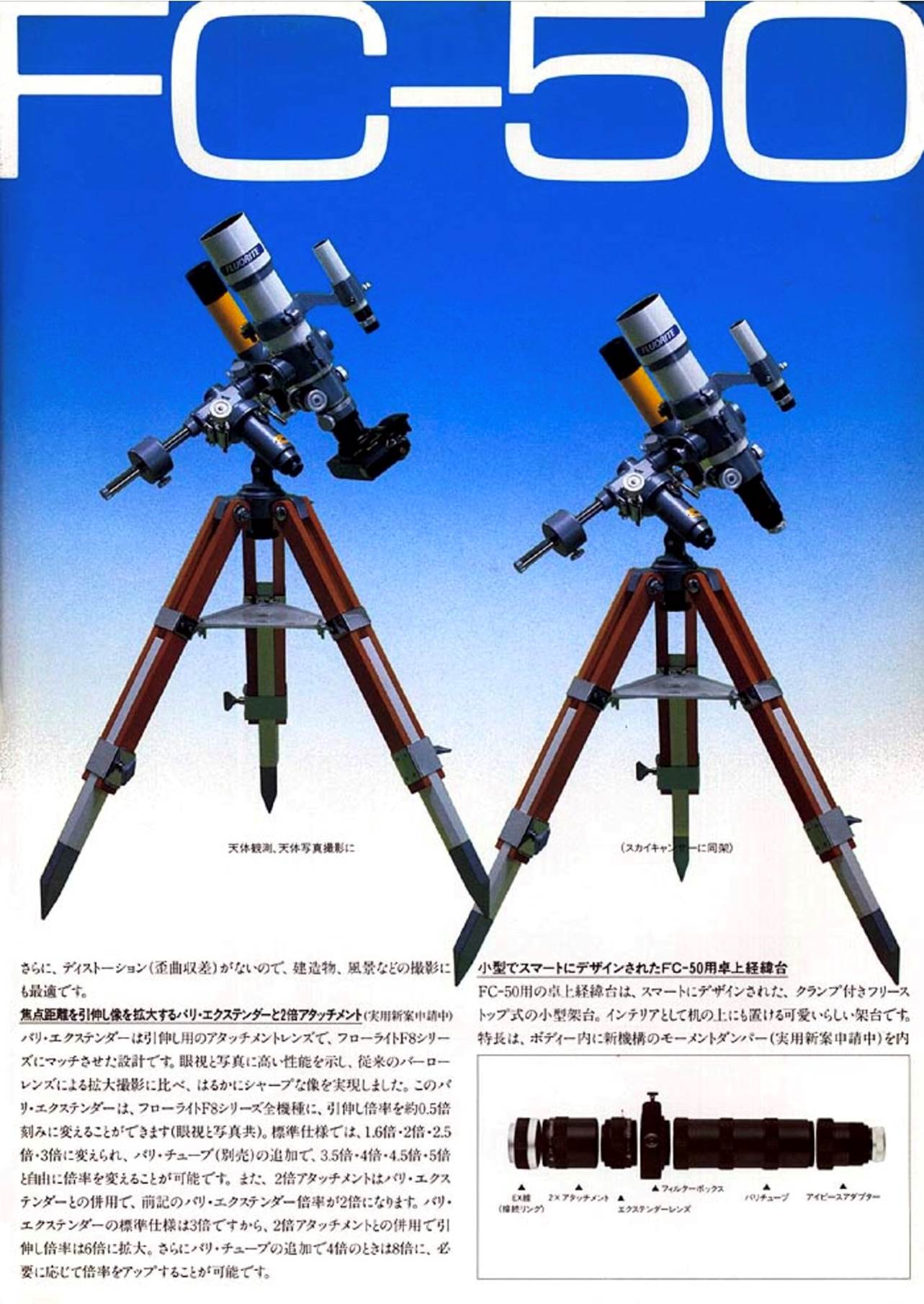 <![endif]>
<![if !vml]>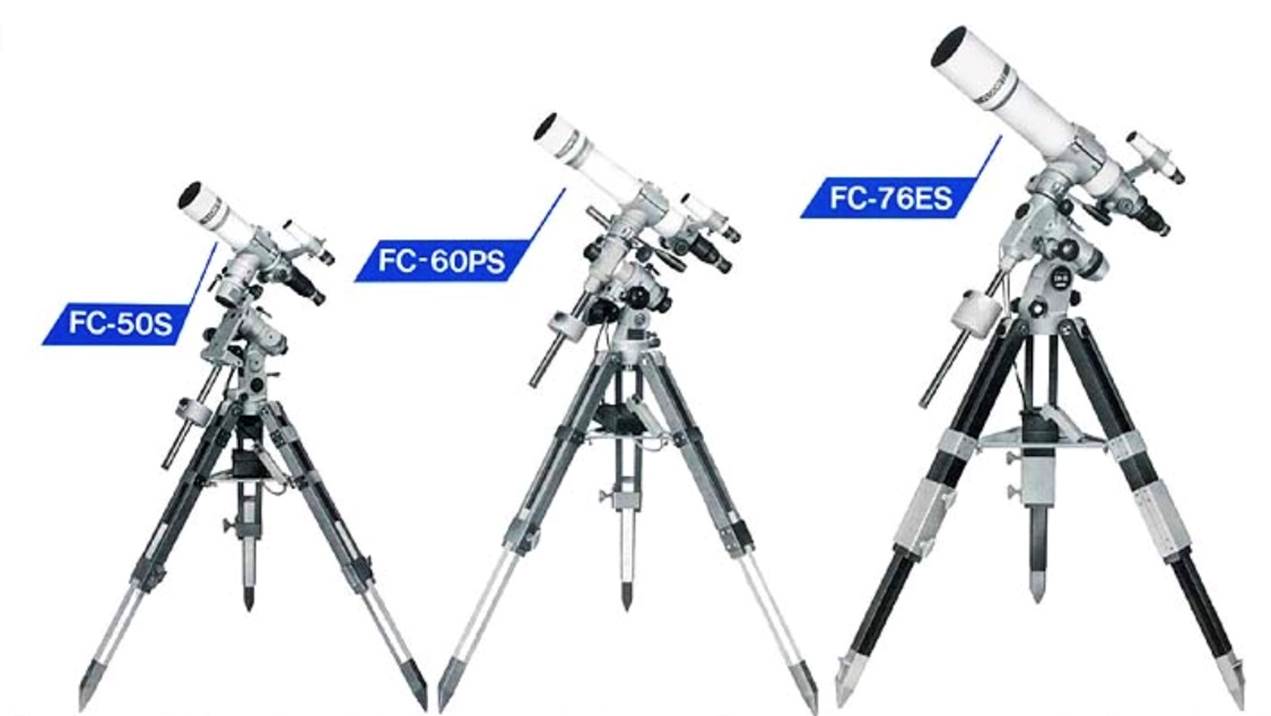 <![endif]>
At A Glance
| | |
| --- | --- |
| Telescope | Takahashi FC-50 |
| Aperture | 50mm |
| Focal Length | 400mm |
| Focal Ratio | F8 |
| Length | 385mm w/ visual back |
| Weight | ~1200g without finder |
Data from Me.
Design and Build
The FC-50 is typical of Takahashi fluorite doublets from the 1980s through the 1990s, but its details changed over a long product life. Early examples have a ring-mounted finder and look a lot like a contemporary FC-65 (see image below). Mid-life versions, like the one reviewed here, have the same blue-grey enamel, but a focuser machined for a finder mount. The latest examples look like an FC-60, with lime green powder coat for the focuser and lens ring.
The FC-50 is less of a budget scope than an FC-60 or FS-60, as we will see, with some premium features borrowed from the larger models in the classic FC range that once went up to the delectable FC-125.
Why did Takahashi lavish such care, such premium design and craftsmanship on a tiny scope more usually found as a plastic toy? No idea! That's part of the FC-50's unique charm.
An interesting addendum is that Takahashi once made an FC-50 version as part of a kit for solar viewing. It looks much the same, but lacks the usual green writing around the lens cell. Again, no idea on the back story.
<![if !vml]>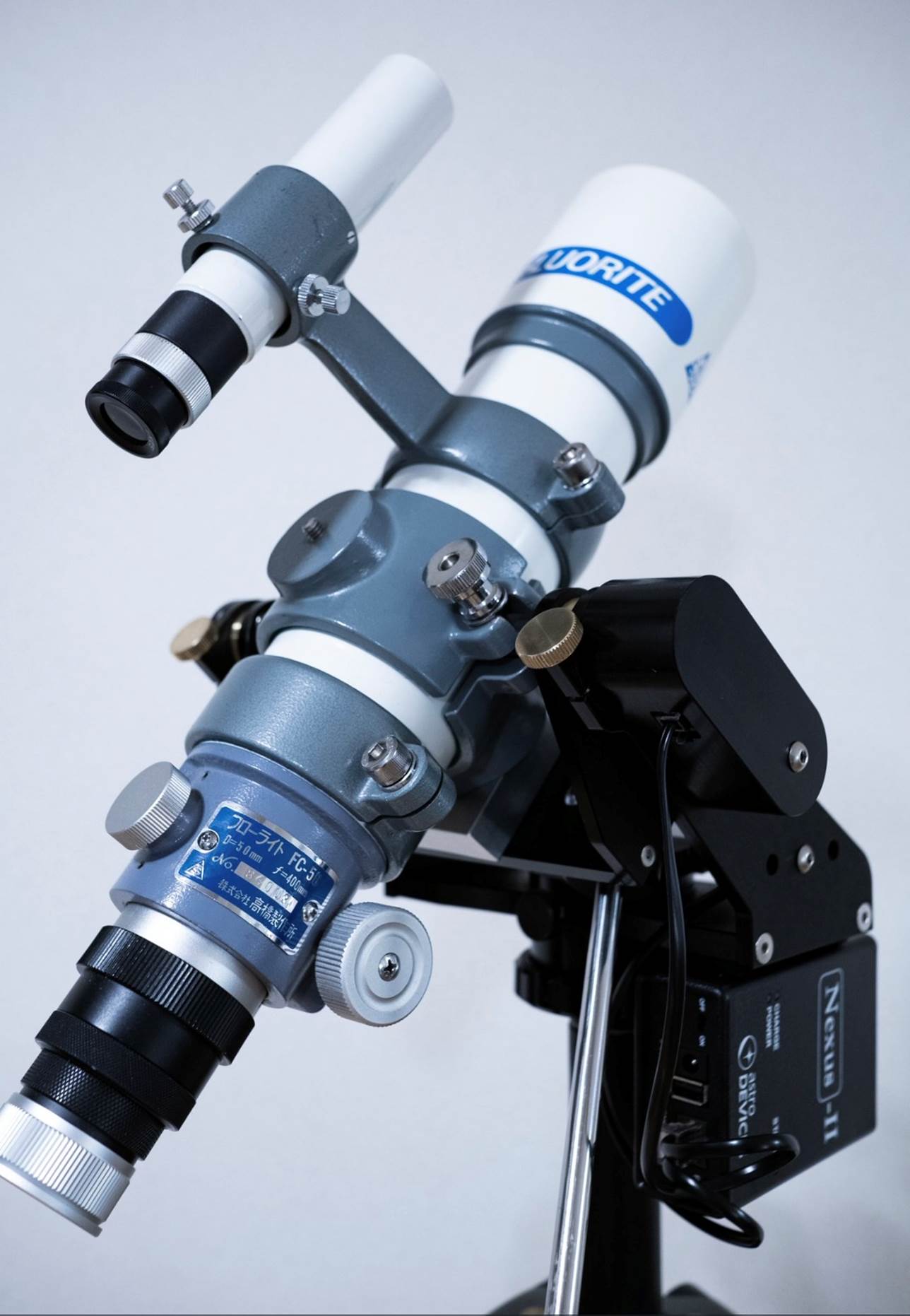 <![endif]>
Fine example of an early FC-50 with a ring-mounted finder (image credit with thanks: @mitu0715).
Optics
As with all modern Takahashis, the lens was made by Canon/Optron. Optical quality is very high, as we will see, in keeping with the idea that the FC-50 was intended as a small scope for a well-endowed wallet.
The lens is an F8 Steinheil fluorite doublet with foil spacers, typical of the FC series, that places the fluorite crown element in a protected position at the back. The focal length is 400mm, making the FC-50 exactly F8, unlike the FC-60 which is slightly slower at F8.1 to keep the focal length to a nice round 500mm.
Unlike the recently rebooted Steinheil FC-100 and FC-76, though, here the fluorite element is uncoated due to technological limitations thirty years ago. The front element is fully multi-coated, confirmed by the 'MC' engraved into the lens ring.
I believe that some early examples may not have a multi-coated flint element and so may suffer the same hazing as the FC-65 if stored in damp conditions.
The glass and fluorite sit in a proper cell with three pairs of push-pull collimation screws, just like an old FC-125 and unlike the FC-60 or FS-60C.
It is worth mentioning the only other 50mm F8 fluorite doublet I am aware of: Borg's 50FL (you can find a review on this site). Both were made by Optron and feature the same specs, but the Borg has a different design: it's a front-surface fluorite doublet in a non-adjustable cell with all elements multi-coated and a larger air gap -  see below. Despite expectations (and being 25 years more recent), the Borg lens I sampled wasn't as high quality as the FC-50, but that could have been individual variation.
<![if !vml]>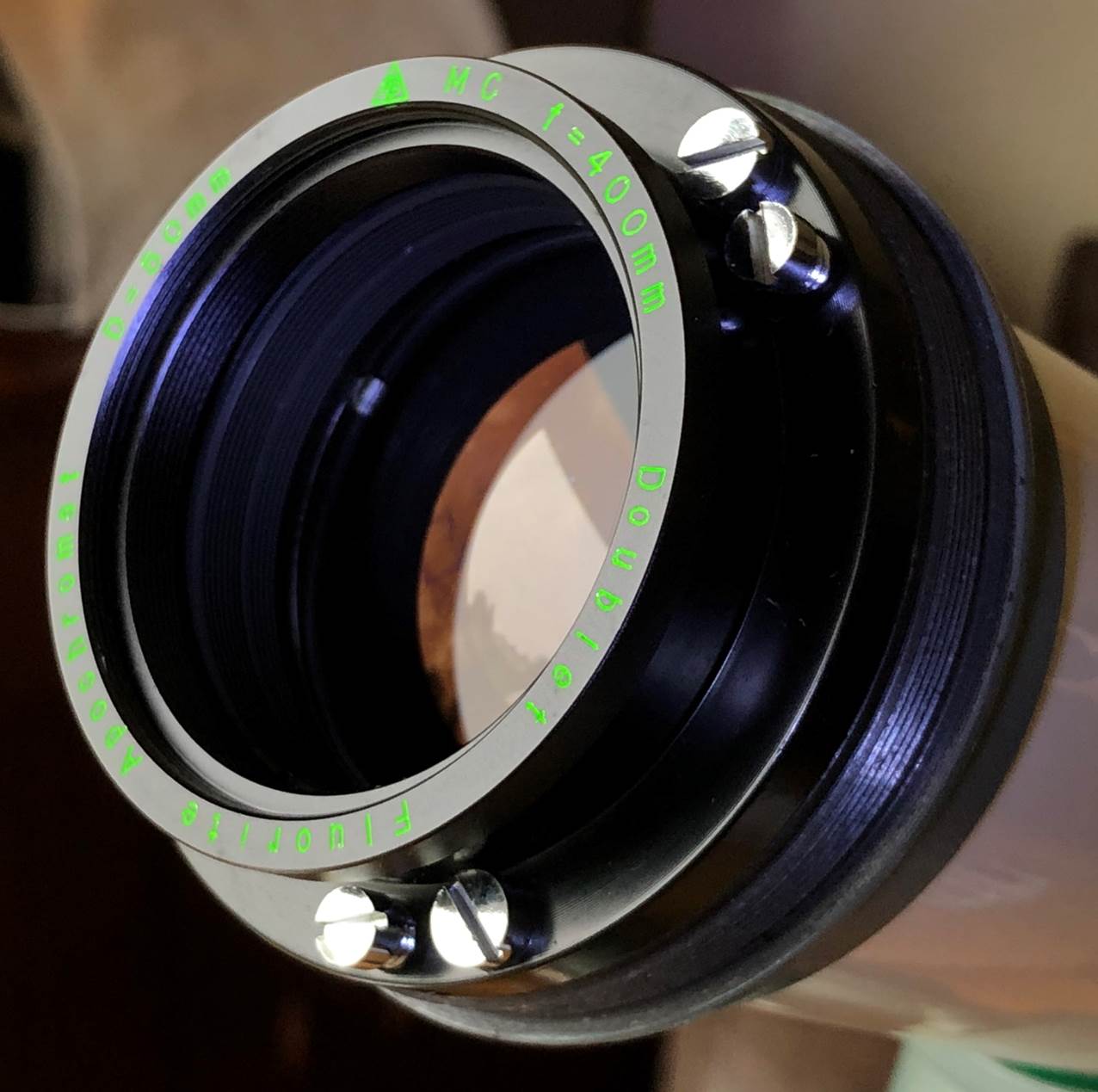 <![endif]>
<![if !vml]>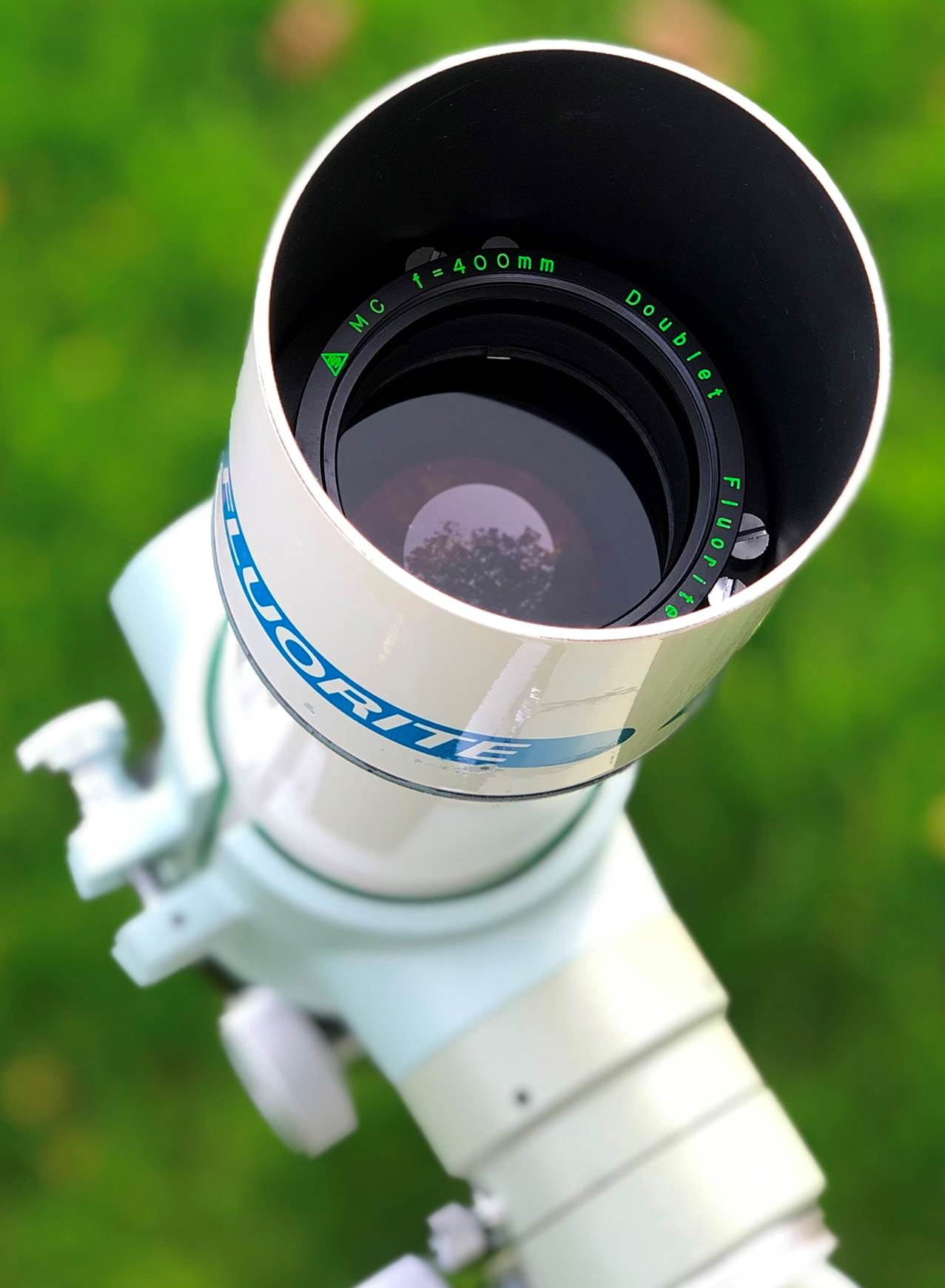 <![endif]>
FC-50 Objective has a cell with collimation screws, unlike the FC-65 and FC-60. Note that 'MC' means 'multi coated'.
<![if !vml]>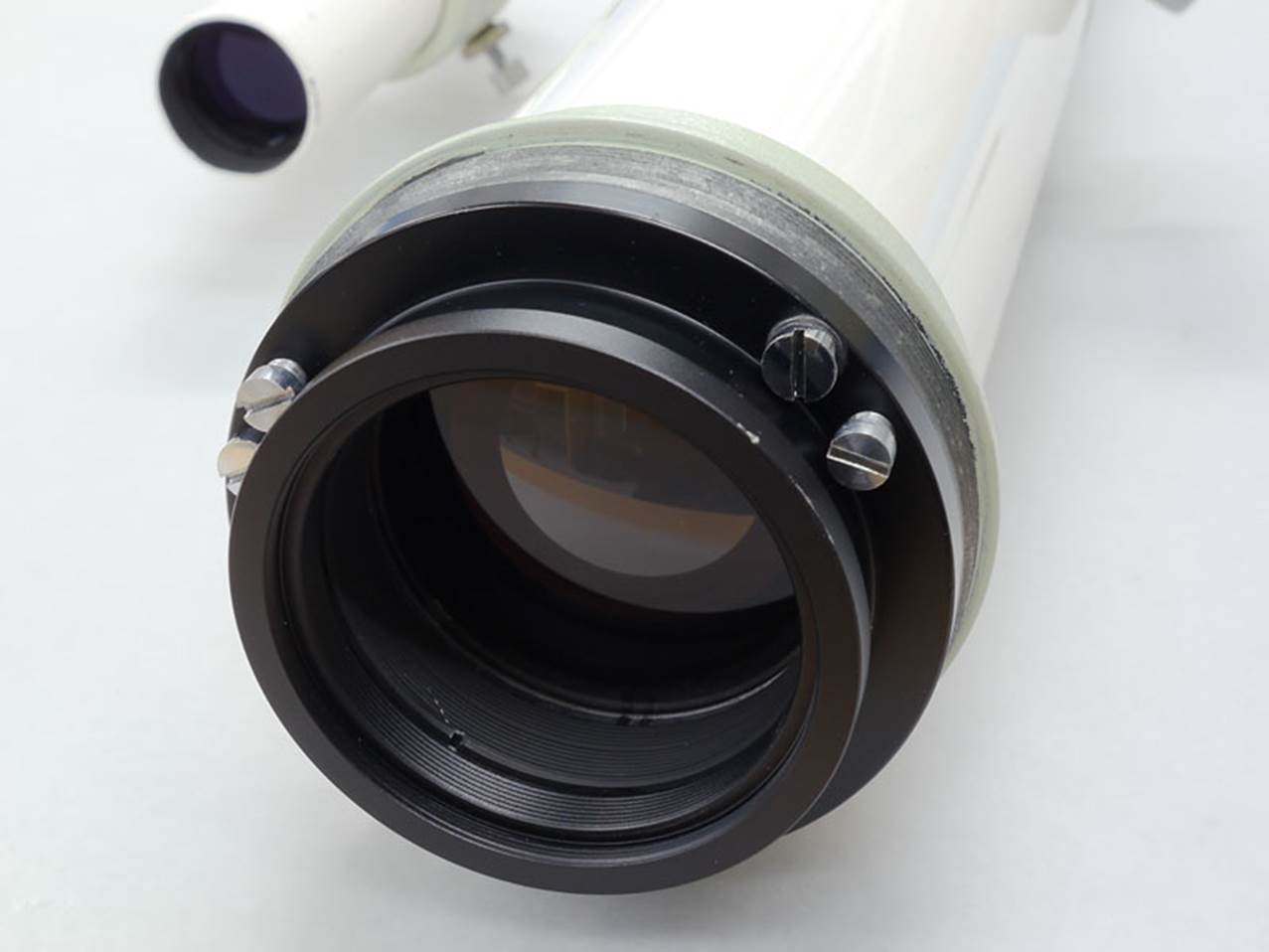 <![endif]>
Solar Kit version has no markings.
<![if !vml]>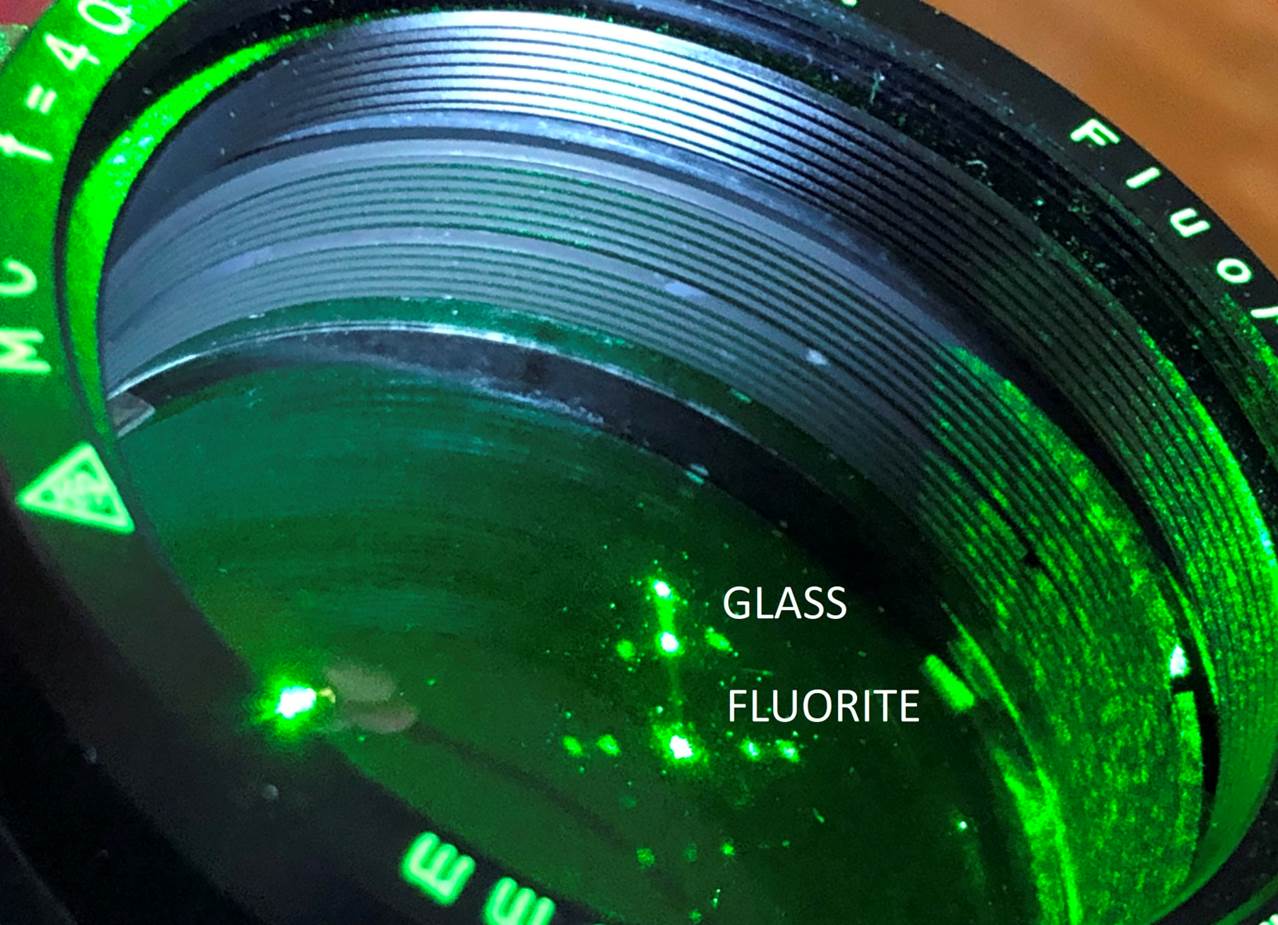 <![endif]>
FC-50 Lens has fluorite at the back (laser almost vanishes) and a foil-spaced air gap. Bright spots are scatter from surfaces.
<![if !vml]>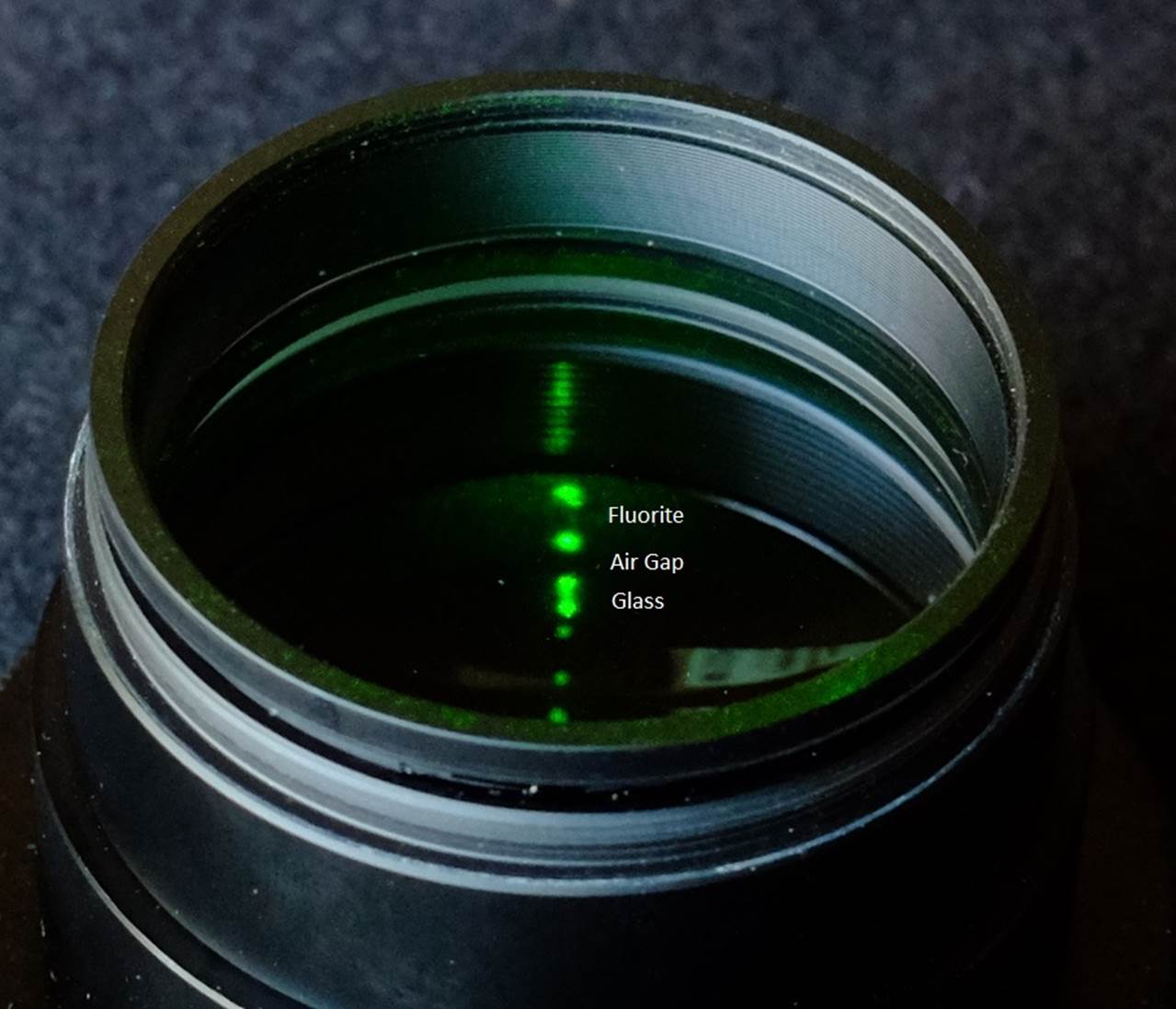 <![endif]>
Borg's 50mm F8 fluorite doublet, also by Optron, is different – it has larger air gap and fluorite at the front.
Tube
The aluminium tube is again just like other classic FCs. It is oversized and fitted with proper knife-edge baffles for contrast, but that makes it surprisingly large for a 50mm scope – slightly longer (but narrower at 68mm vs 80mm) than an FS-60C. It's the same tube as an FC-60 but ~100mm shorter and with a thinner lens ring. The dew-shield is fixed, identical to and interchangeable with the FC-60's. The only cheap item is the plastic lens cap, which it shares with the FC-60.
Even so, the FC-50 is very compact. Just don't expect a truly pocket scope like a Mini Borg. It weighs less than any other Takahashi refractor I know of (save maybe the rare 40mm), at just over a kilo bare.
The tube is finished in the usual Takahashi creamy white, but the cast parts on this one are enamelled in dark blue-grey, with a smoother, glossier finish than the later lime powder coat. This grey enamel was the original finish and matches the little table mount. Later ones have the same finish as the FC-60 shown below. The latest blue-green finish shown on the FS-60 below was introduced in about 2017 - long after the FC-50 ceased production.
<![if !vml]>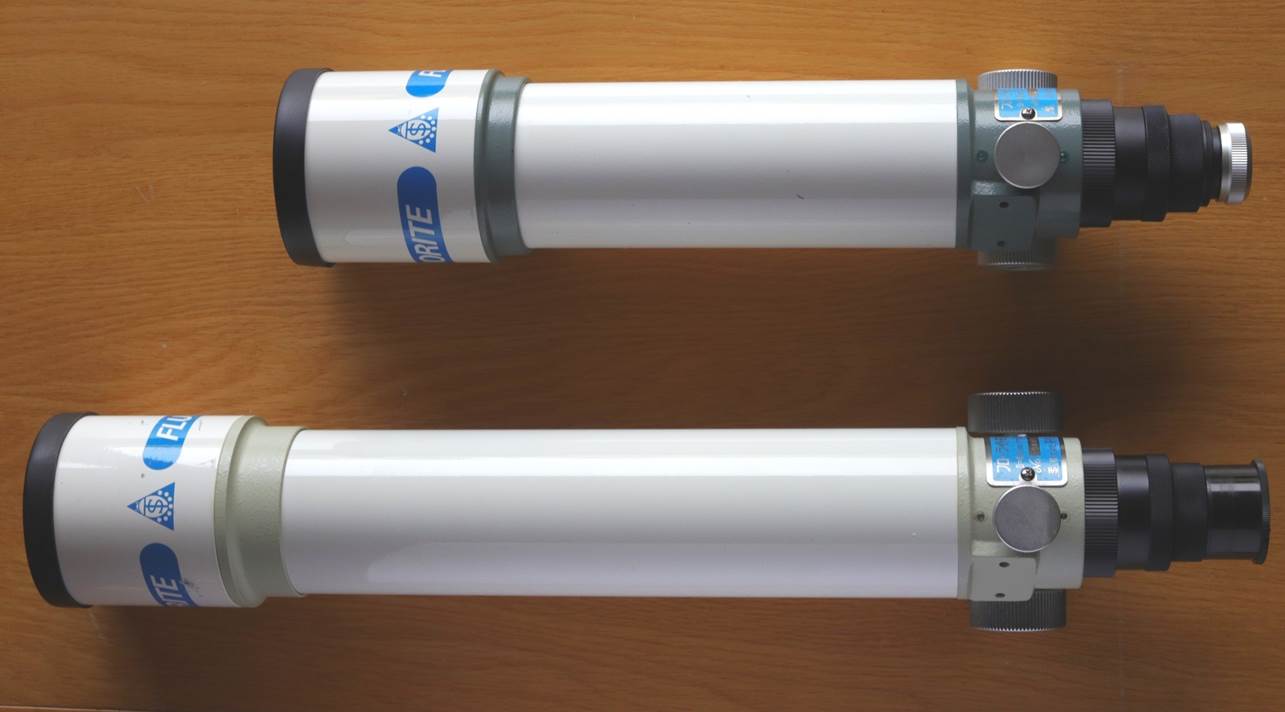 <![endif]>
FC-50 next to the FC-60.
<![if !vml]>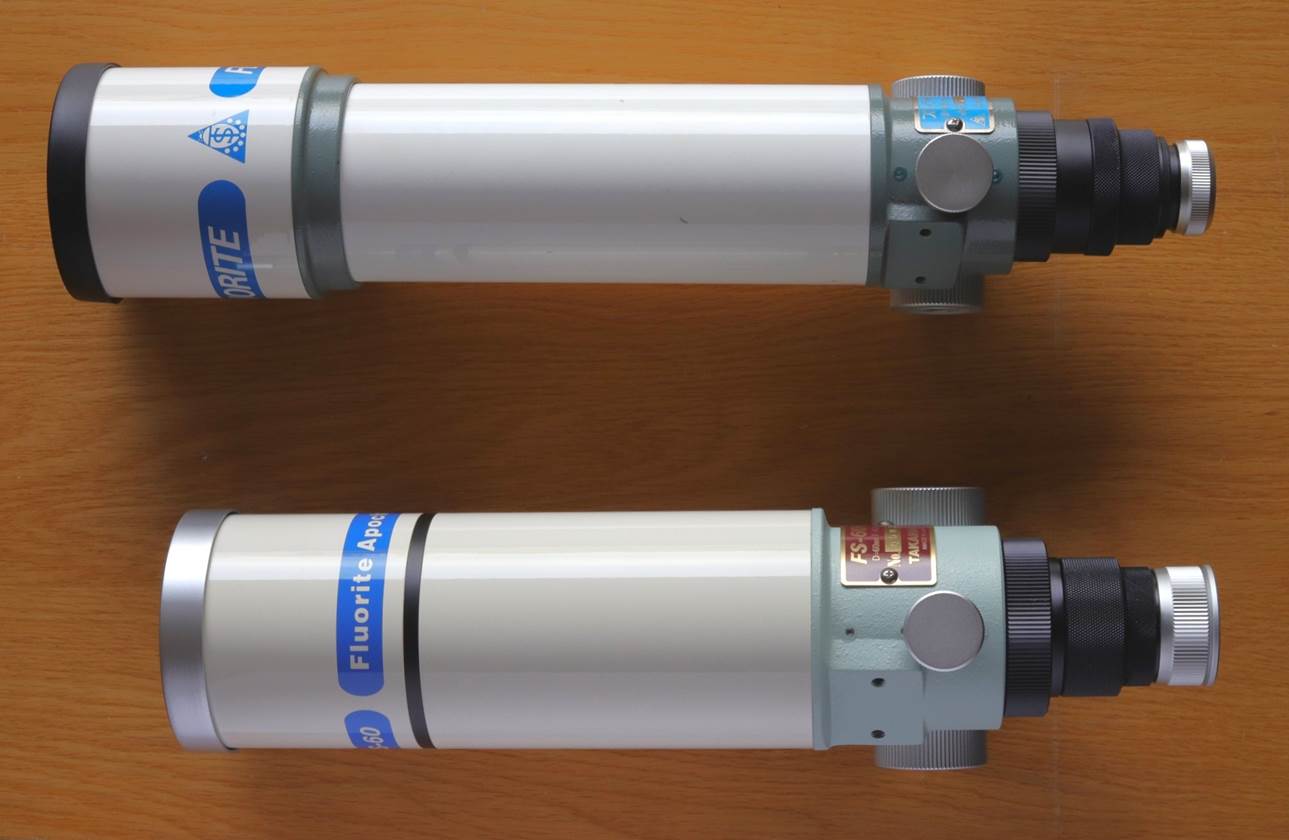 <![endif]>
FC-50 alongside Tak's modern mini-apo, the FS-60C.
Focuser
The FC-50 has the smallest version of Tak's cast focuser, with a drawtube just 2" in diameter. It features the classic silver Tak' knobs, but scaled-down to suit it better than the full-size wheels on say an FC-60 or FS-60. No cheap plastic imitations here, either – these knobs are proper anodised castings like Tak's premium models get.
I'm guessing this focuser hasn't had much use, because if anything it's still a little tight and shows no signs of wear. Precision is excellent and there is none of the slop I've seen with some FS-60C focusers. It also has masses of travel – 85mm - to accommodate most eyepieces and either 0.965" or 1.25" visual backs; so much travel that for DSLR imaging no extensions are required.
<![if !vml]>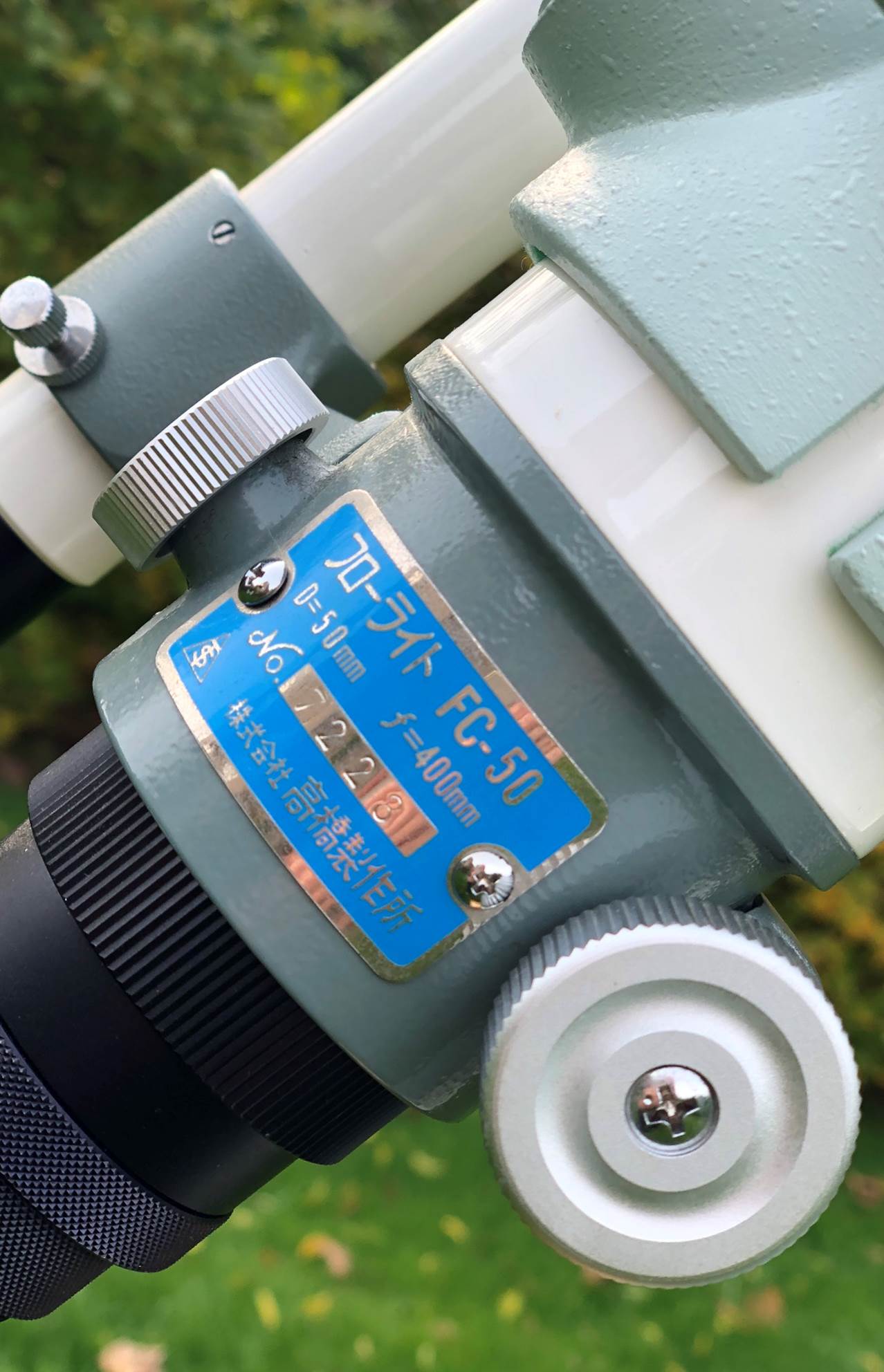 <![endif]>
<![if !vml]>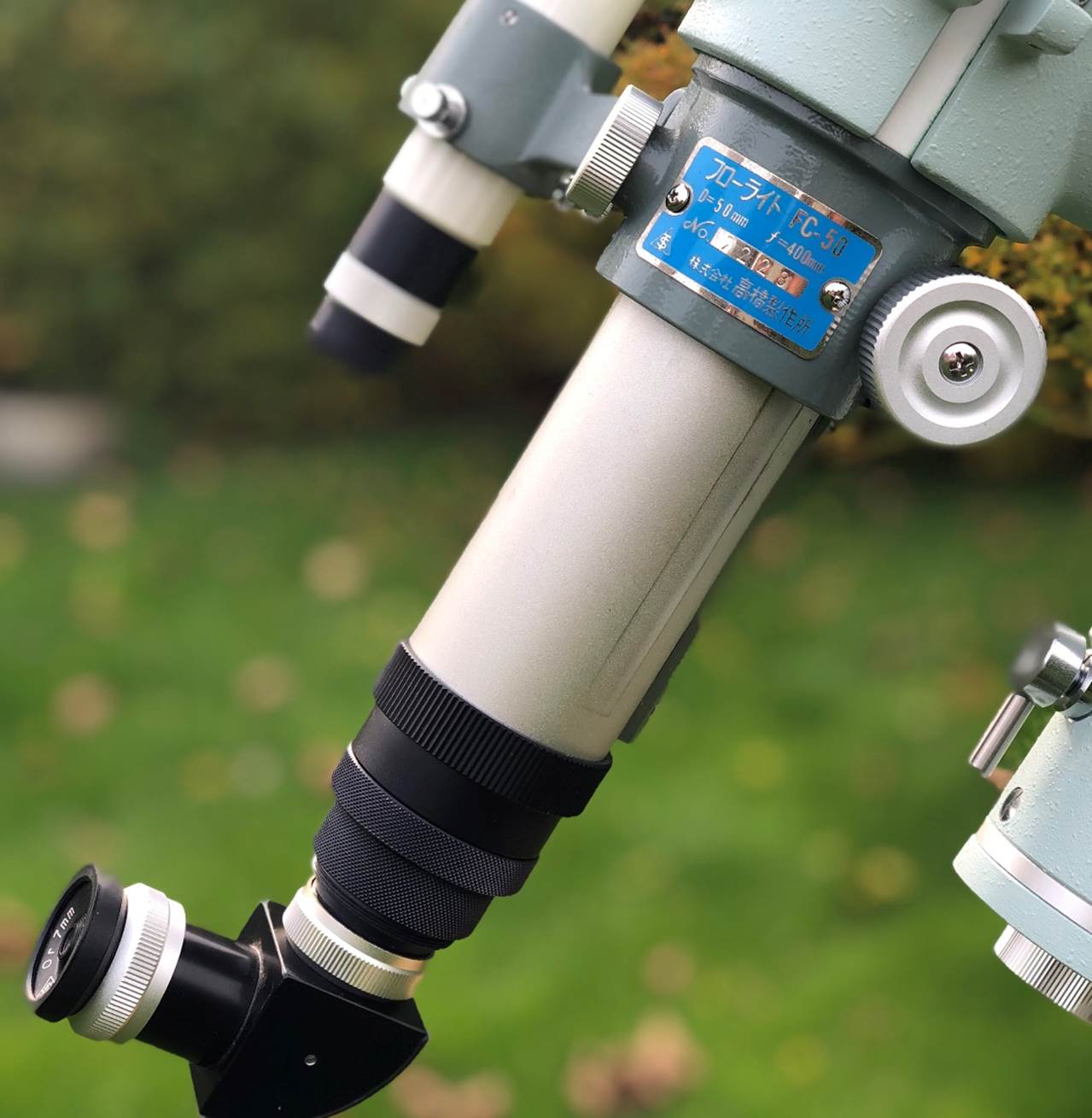 <![endif]>
FC-50 focuser at full extension: enough travel for most eyepieces and cameras (note standard 0.965" visual back, prism diagonal and MC Ortho' 7mm).
<![if !vml]>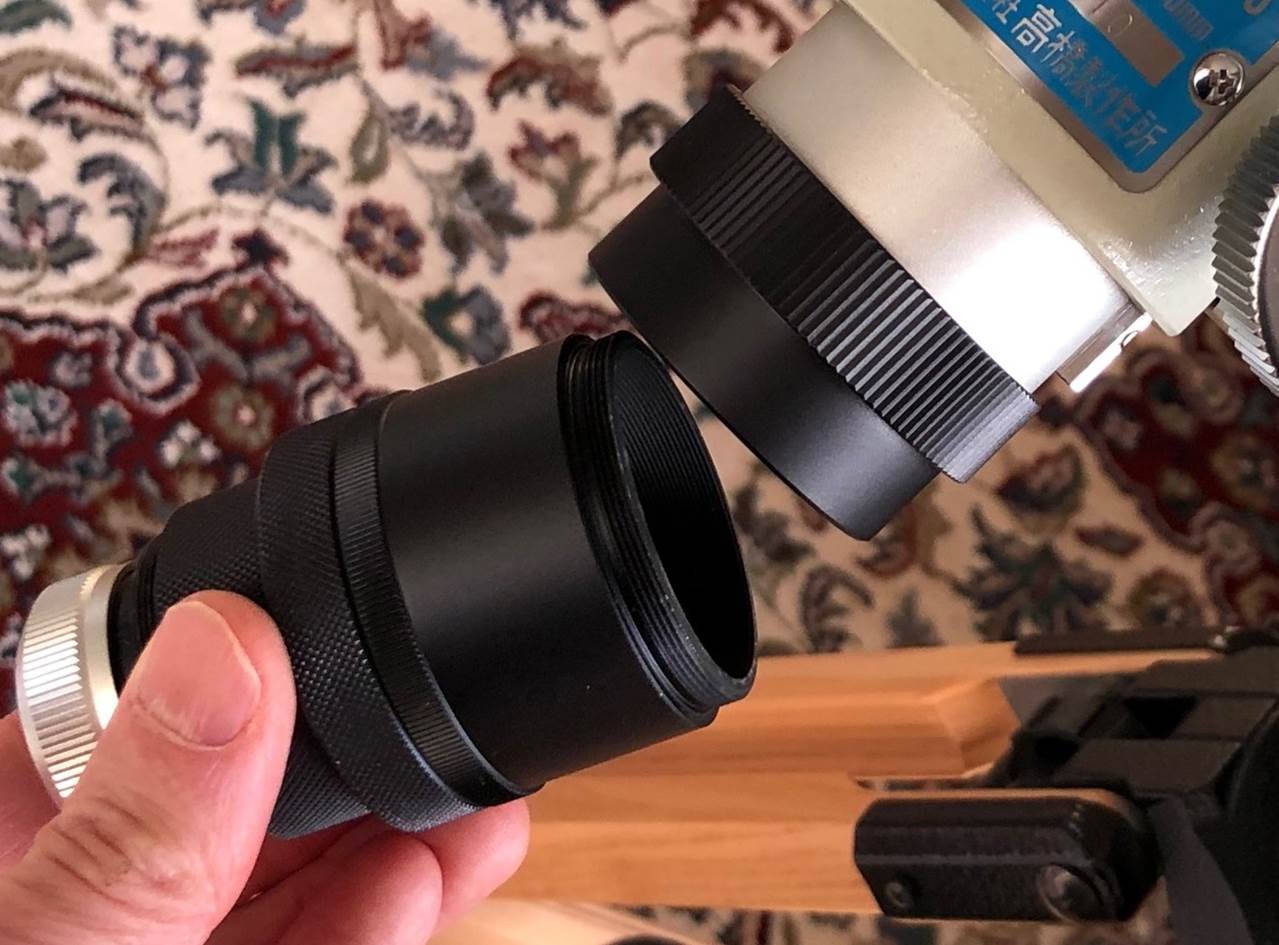 <![endif]>
<![if !vml]>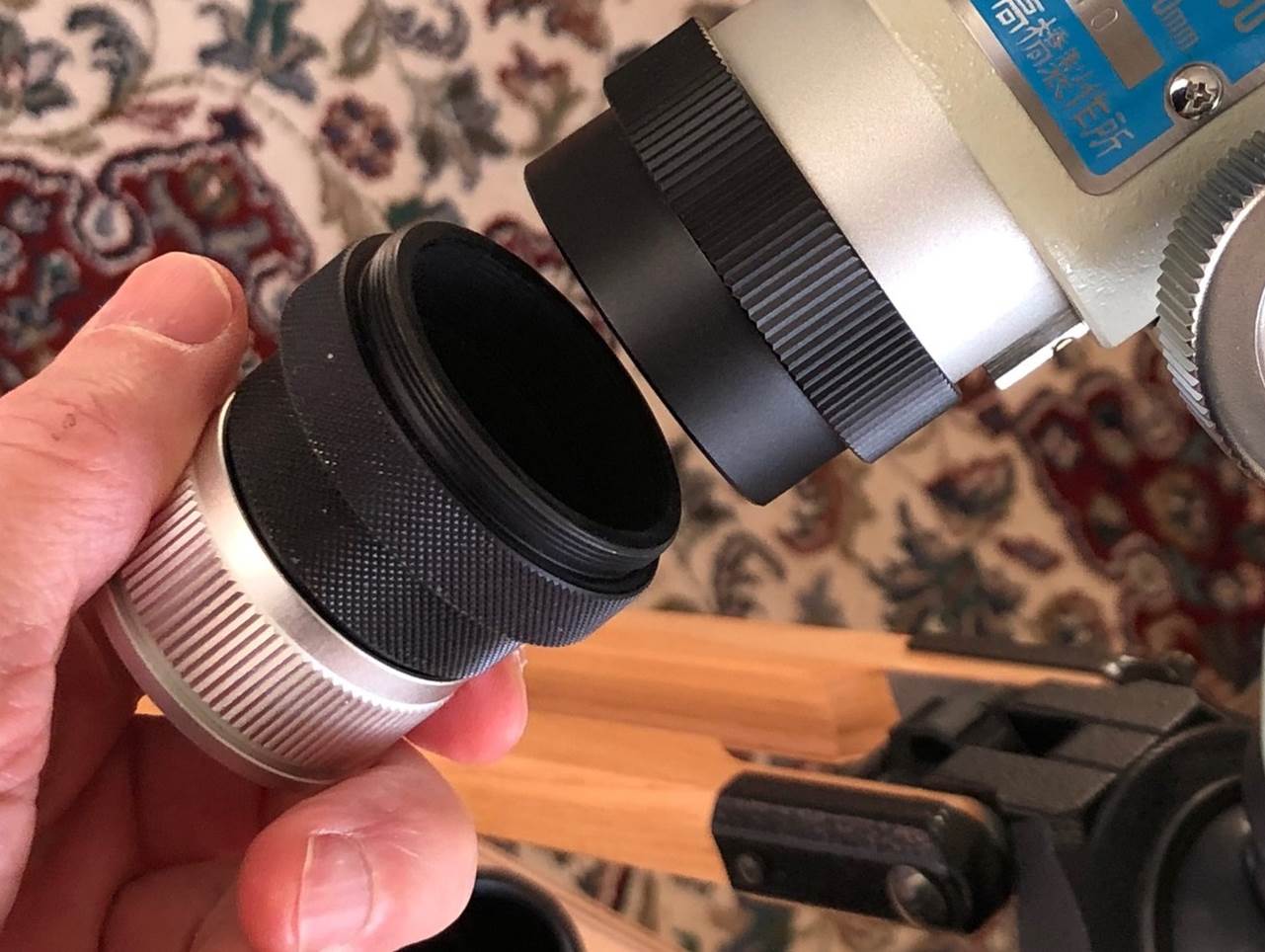 <![endif]>
A Takahashi 1.25" visual back threads straight on in place of the 0.965" one (extension no longer required due to the longer light path through the larger diagonal).
Mounting
The 68mm diameter tube needs a smaller clamshell than the 80mm FS-60C, but the ones for the FC-60 and recent FOA-60 fit too.
The clamshell has a ¼-20 thread on the bottom as usual, so it fits fine on a basic photo head which will take the short and light FC-50 with ease.
If you want an equatorial, Takahashi's mini Sky Patrol mounts are ideal – the clam bolts straight on.
Alternatively, Takahashi made the rare alt-az table-top mount you see in the title photo. The table mount takes clamshells with the standard Takahashi mounting bolt spacing, so could be used with an FS-60, but it is labelled specifically for the FC-50 (oddly it's called a 'Theodolite', but I have no reason to think it's meant to be used for surveying).
The table mount has some kind of damping in altitude to prevent slop and it works well with the heavy cast legs to make it good and stable. Alternatively, you can use the adapter provided (knurled to match the focuser wheels) to mount the pillar and head on a photo tripod. For me, the table mount is great for early morning views of a waning Moon through my study window.
<![if !vml]>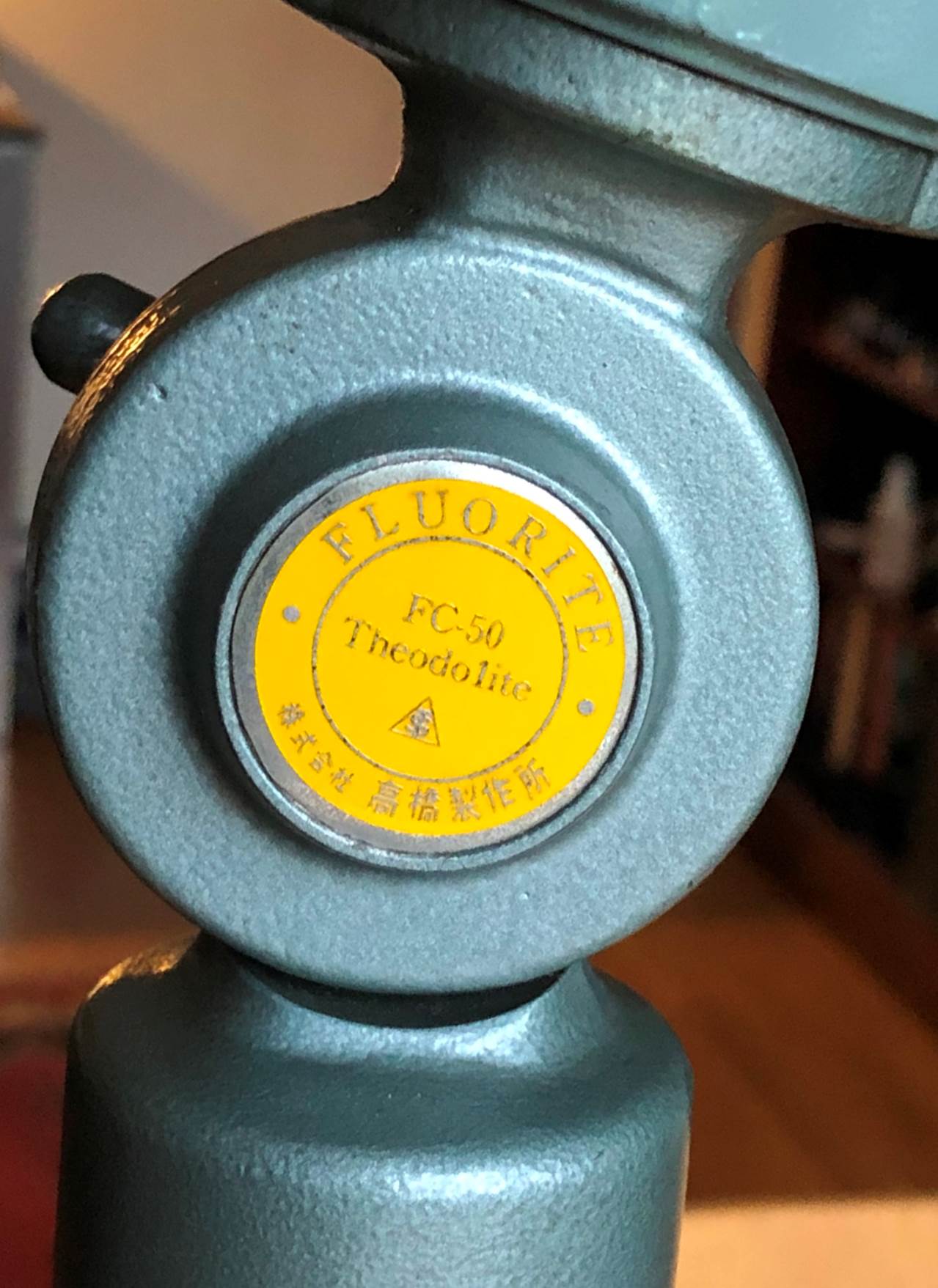 <![endif]>
<![if !vml]>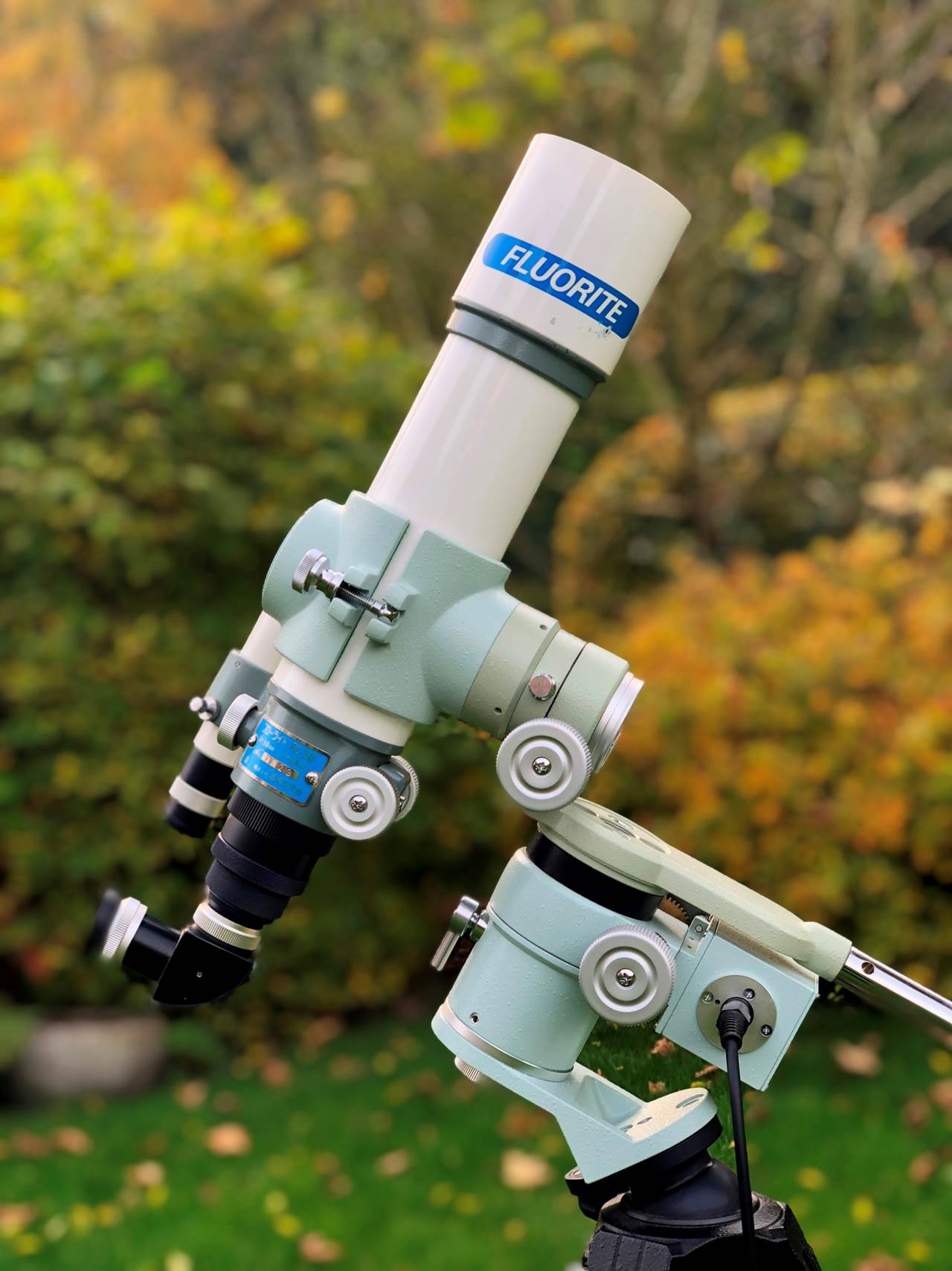 <![endif]>
FC-50 on a PM-SP mount (note three different Takahashi enamel colours in this setup!)
Accessories
The FC-50 came with a 0.965" visual back and a matching 0.965" prism diagonal and a couple of nice MC (multi coated) Takahashi Orthoscopic eyepieces, 18mm and 7mm. Mine also came with a finder and a matching table mount. I believe all these were standard, depending on the package you bought.
Takahashi's MC Ortho's are some of the finer ortho's out there, but fortunately don't cost Zeiss Abbe money. The standard 18mm MC Ortho' works particularly well, as does the 25mm. The shorter focal lengths are good too and don't suffer the extremely tight eye relief of Plossls. However, there is a slight problem. With a focal length of 400mm, the FC-50 gives just 80x with the shortest of the standard MC Ortho's – the 5mm. To get higher mags (and the FC-50 performs well at 100x plus) you would need the rare and expensive Hi-Ortho variants which come in at 4mm and 2.8mm.
For a wider choice of standard 1.25" eyepieces, giving wider fields or higher powers, you can simply swap the visual back for one from an FS-60C. There are then various Tele Vue (among other) eyepiece options below 5mm for higher powers.
The FC-50 came with the classic Takahashi 5X25 finder. Like the larger and more common 6x30 unit, it's one of the very best with a sharp view, loads of eye relief and a wide field. Note that though a bracket to fit the 5x25 finder to an FS-60C is available, it won't fit the FC-50: the foot is too wide. Note too that modern Tak' finder brackets are held on with Allen bolts; the FC-50 used domed Phillips screws with a smaller thread. Earlier FC-50s had no finder shoe mount on the focuser – the finder mounted on a separate tube ring (see the period adverts at the top) with a special finder mount.
A camera rotator, a dedicated F5.8 (290mm F.L.) reducer/flattener (see below) and an extender too, were once available as accessories to fit this focuser. Again, also see the ads section above.
The current Takahashi 1.04x multi-flattener originally had an adapter ring available for the FC-50 (the 'CA Ring 50'), but this has been discontinued (late 2022).
<![if !vml]>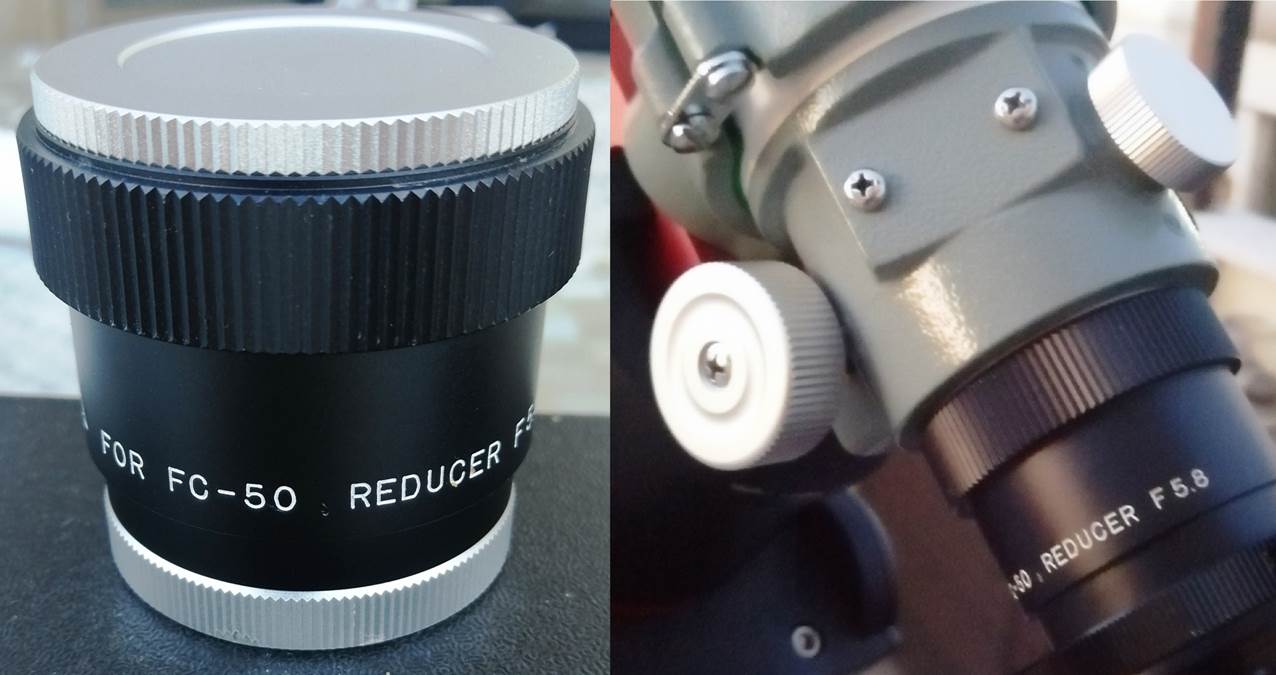 <![endif]>
Dedicated F5.8 reducer for FC-50 (image credit, with thanks: Christian Cammoranesi).
<![if !vml]>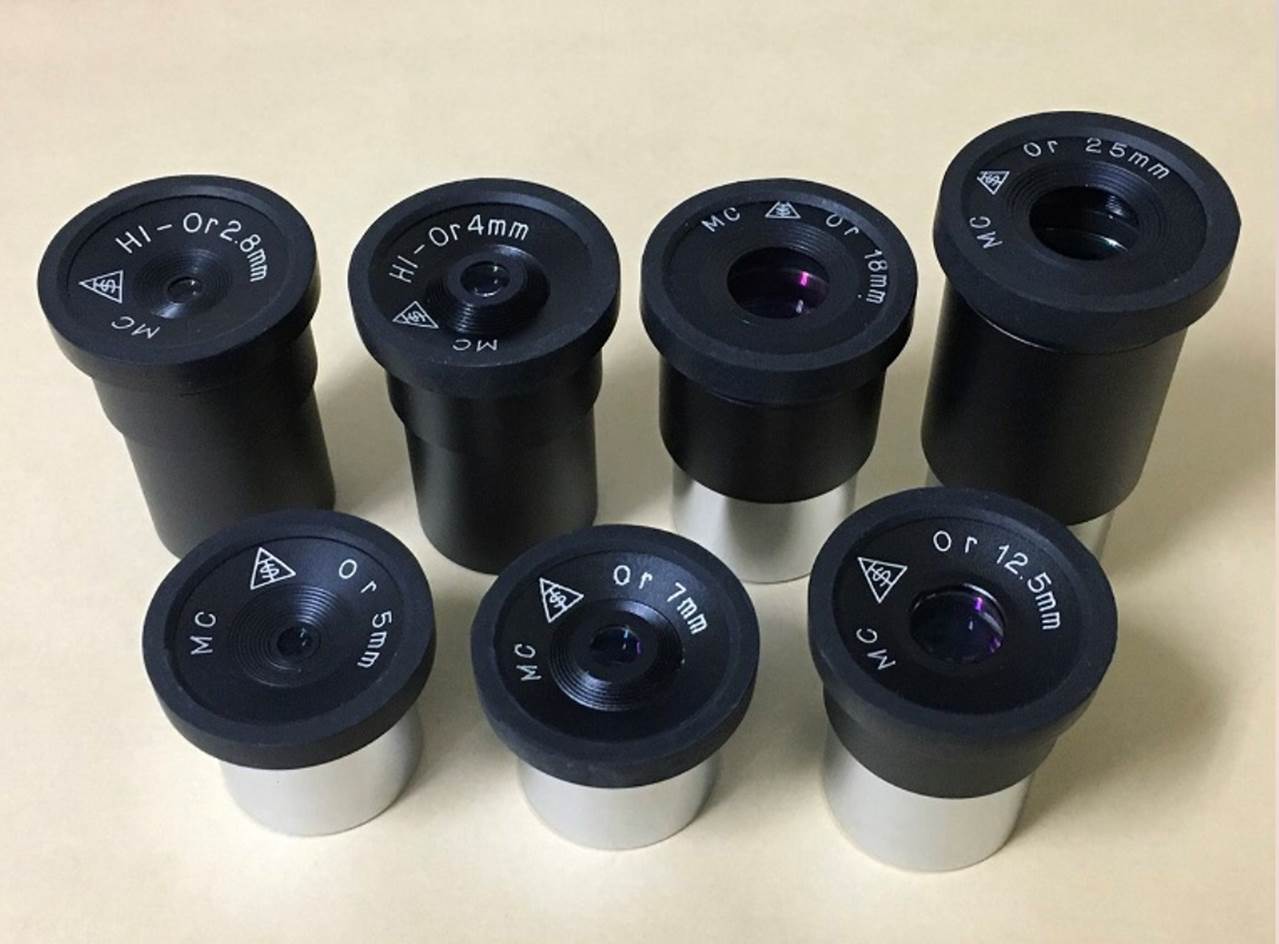 <![endif]>
Takahashi's MC Ortho's only go down to 5mm, but rare Hi-Ortho's are one way to get higher powers with the FC-50.
<![if !vml]>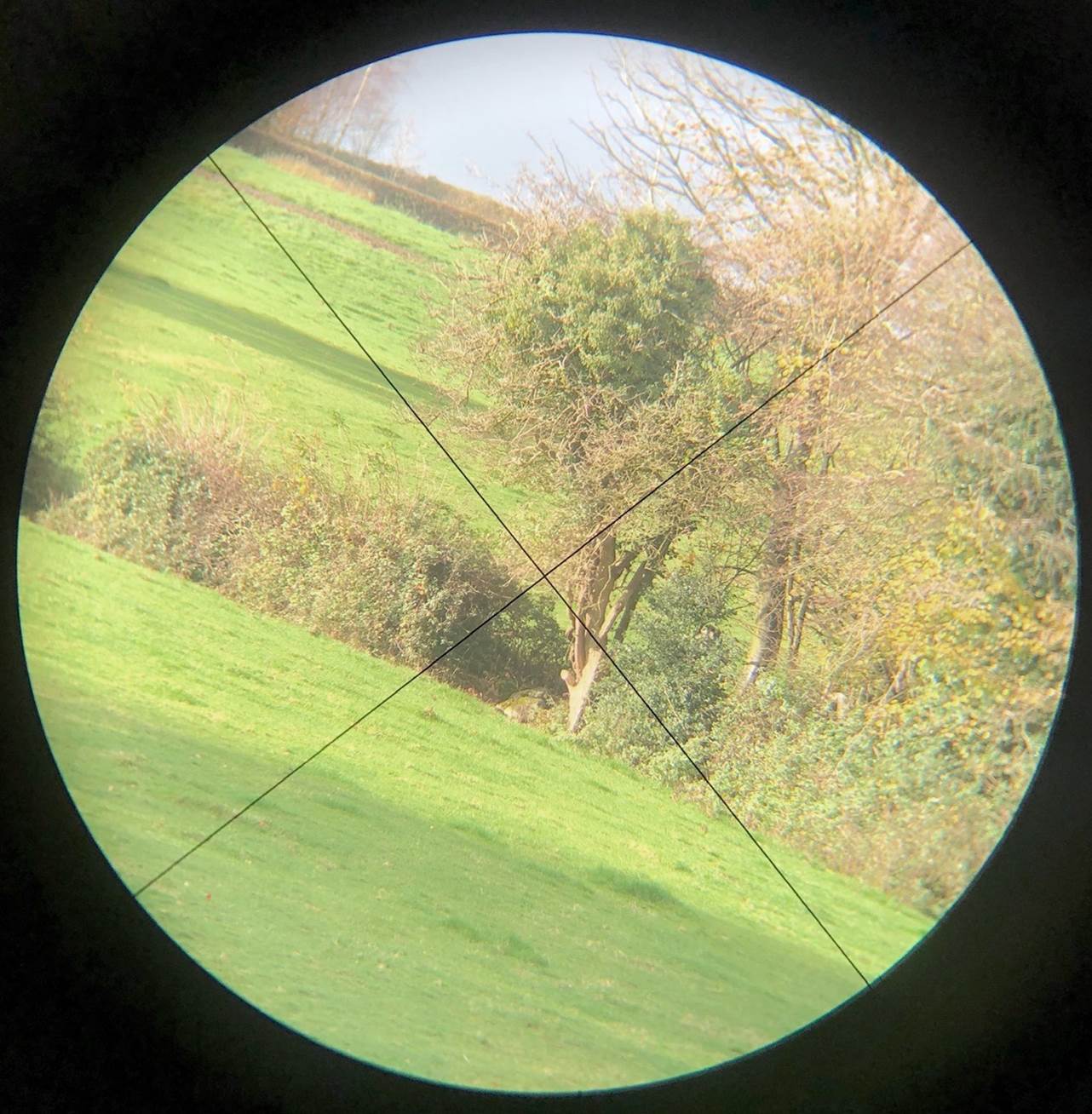 <![endif]>
View through the 5x25 finder.
In Use – Daytime
My standard test for chromatic aberration – viewing branches silhouetted against a bright but cloudy sky at 100x – yields a sharp view with no apparent false colour, in or out of focus. That's an excellent result few refractors and almost no other doublets can match. Visually (and photographically, as we'll see) the FC-50 is effectively a super-apochromat.
Likewise, prime focus daytime photographs are sharp and show no false colour even at extreme contrast. The field is quite flat, too.
<![if !vml]>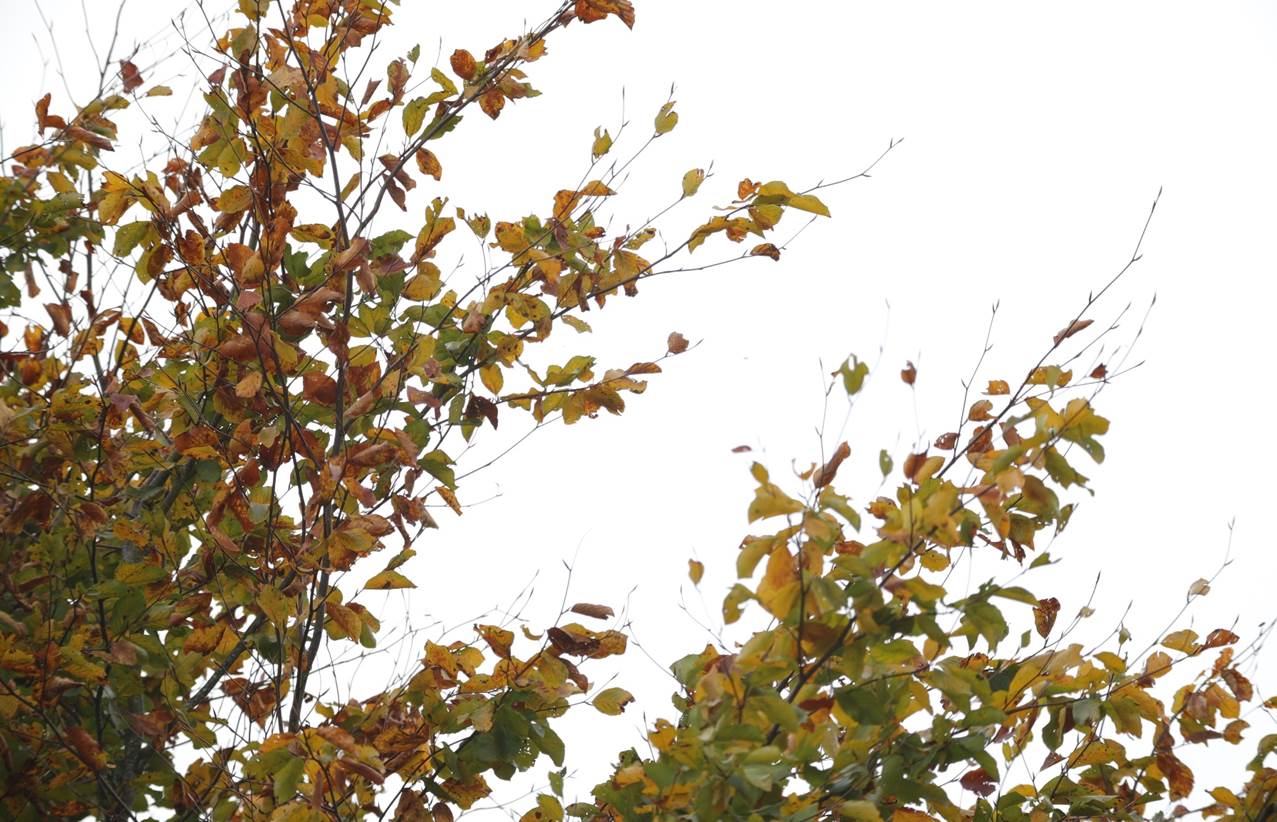 <![endif]>
This central portion of a full frame image of branches through the FC-50 is ~APS-C size.
In Use – Astrophotography
Typically for Tak's of the period, the FC-50 was designed mainly for visual use on the Moon and planets. But though digital imaging wasn't even a thing when this lens was designed, imaging accessories were produced for it. So it's not surprising that the FC-50 takes a very decent image. Given that I haven't got (can't fit?) a 2" visual back, a full-frame image shows vignetting as you would expect and comatic stars in the corners. But there is still a wide central portion of the image that shows pin-point stars across a huge swathe of sky and very low levels of violet bloat.
As noted in the accessories section, the current 1.04x multi-flattener was available with an adapter for the FC-50. I haven't tried it.
The short focal length that gives such wide star fields limits image scale for snaps of the Moon, but crop and zoom in and the Moon images well through the FC-50.
<![if !vml]>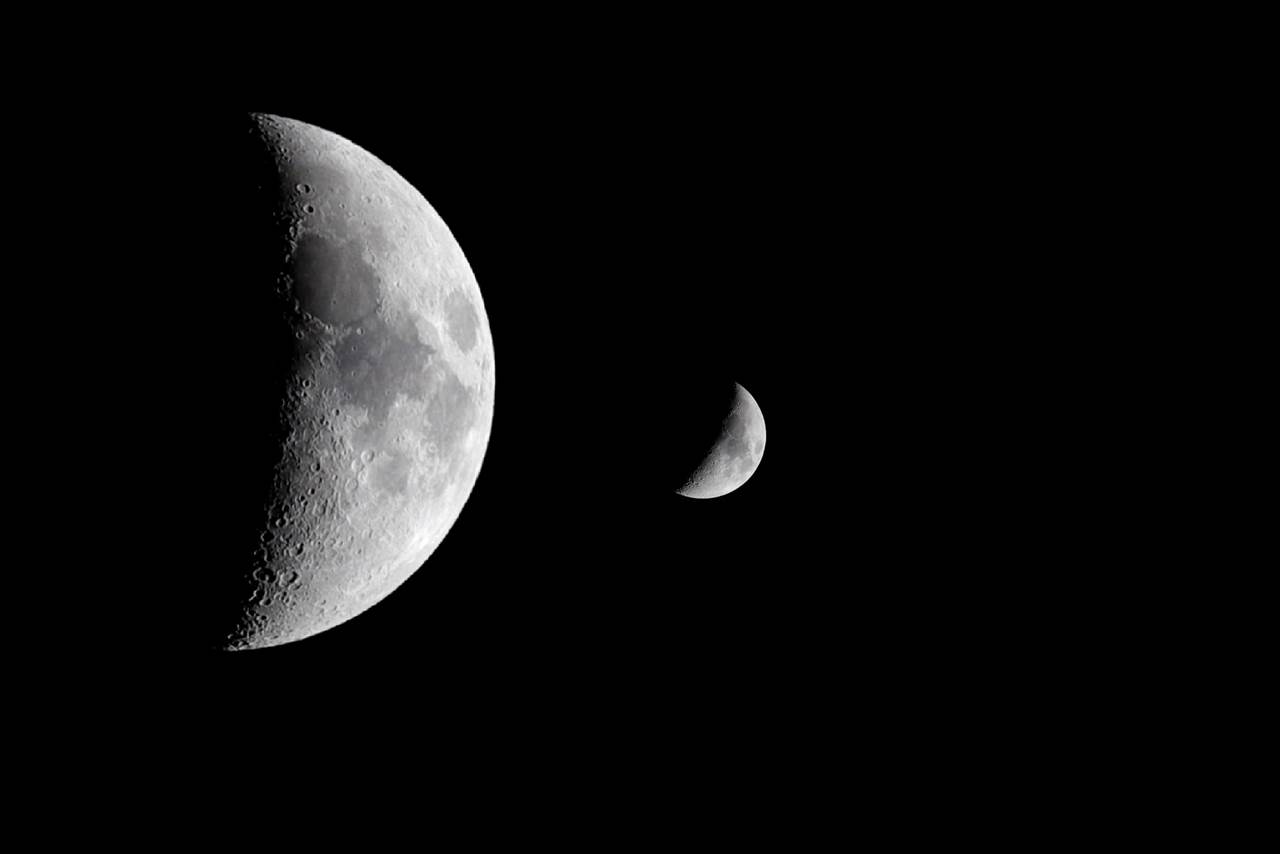 <![endif]>
Moon through the FC-50: actual full frame prime focus image is tiny, but lots of detail (see inset crop).
<![if !vml]>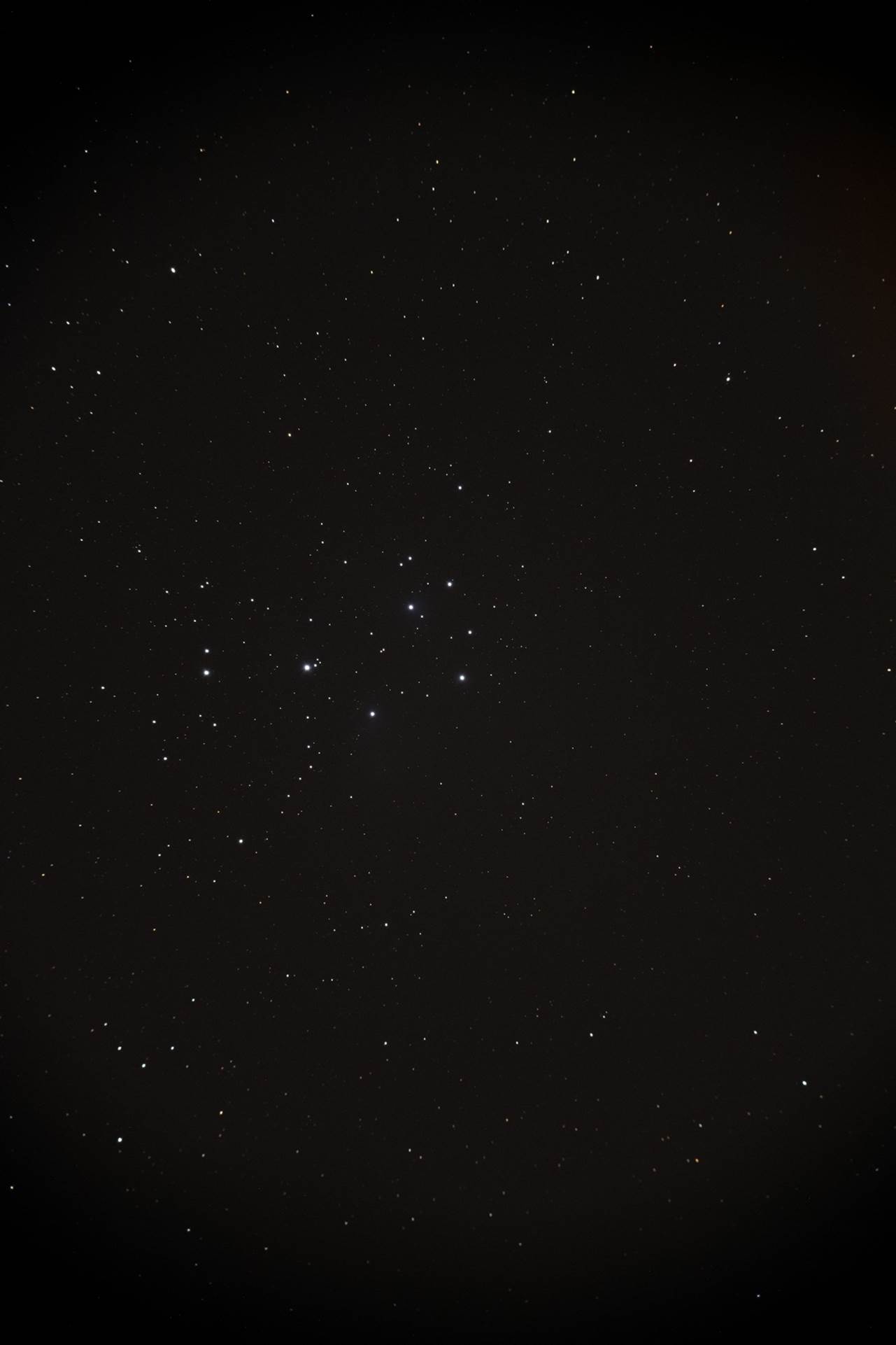 <![endif]>
Full-frame (Canon EOS 6D MkII) of Pleiades through the FC-50: lots of vignetting as expected, but minimal violet bloat.
In Use – The Night Sky
General Observing Notes
It's an unfortunate truth that bigger scopes are more hassle to use unless permanently mounted. On that basis, scopes don't get easier to use than the FC-50 – it's tiny, light, cools instantly and makes a perfect quick look scope. In fact, for Takahashi fans, that's probably what you'll do with it – super quick looks when you just don't have the time for anything else except binos.
The finder-sized aperture is tiny but perfect, the most perfect 50mm I have tried. On the Moon, the wonderful Zeiss 50/540 runs it very close, but for Venus and Mars or a deep-sky image, the full-apochromat performance of the FC-50 is noticeable.
Cool Down
The FC-50 has a proper lens cell and it shows. Cool down is unbeatable for quick looks: you never have to wait longer than it takes to grab a hat and eyepieces.
Star Test
The star test is perfect: identical sets of sharp rings either side of focus.
The Moon
I like Takahashi's 0.965" MC orthoscopics, but they feel constricted and short of eye relief for the Moon. Swap to a standard 1.25" visual back though and you can use wide field eyepieces like Naglers for that coveted 'porthole' effect: 80x with a 5mm Nagler T6 and even 114x with the 3.5mm both give an immersive whole-Moon view.
A 4-day crescent revealed most of the features I expect, but wait until a night of stable seeing and a still-crescent Moon approaching first quarter really surprised me. Here was a view of the Moon that might astound many owners of bigger scopes with 50mm finders.
At 114x, the Moon filled the field and was sharp and full of contrast from limb to limb. There was no hint of false colour anywhere, not even focusing through the bright limb. But the really arresting thing was the detail, including – and this really surprised me – Hyginus and its rille system and the adjacent Rima Ariadeus stretching out into Mare Tranquillitatis. Now admittedly those two are about the easiest rilles, but seeing the string-of-pearls craterlets along Hyginus and the full extent of Ariaedeus usually needs a 3" refractor.
Elsewhere, the detail, contrast and general quality of the view completely belied the tiny aperture. I spent time enjoying the view of Bessel far out in Mare Serenitatis, dark lava wrinkle ridges around, but a bright ray passing directly over it and out towards crater Luther and Lacus Somniorum beyond.
For quick looks at the Moon like this - the FC-50 gave perfect views almost at once - tiny perfect apochromats are in a class of their own.
Planets
The FC-50 is a planetary apochromat in miniature, so I will spend a bit of extra time looking at how it performs in some detail.
Venus
A small, gibbous and intensely bright (magnitude -4.2) Venus is an object many small, fast 'apochromatic' refractors mess up extravagantly. But the FC-50 shows a perfectly clean, white gibbous orb in focus and just the faintest tint of gold focusing through at high power. This is an instance of where the fluorite element in the FC-50 gives a meaningful upgrade over the glass in the Zeiss 50/540.
Mars
Just a few days after the 2020 opposition, with a modern 1.25" visual back and diagonal, a 4mm Zeiss Abbe Ortho' and a Nagler Zoom at 4mm, both giving 100x, revealed the tiny summer southern polar cap and a broad swathe of dark albedo markings in the southern hemisphere. I could just resolve the distinctive dark Solis Lacus area along with contrasting lighter areas around and dark Mare Sirenum. Martian detail with a 50mm?! Oh yes.
Even upping the magnification to an unreasonable 133x with the zoom's 3mm setting still gave a crisp image.
With Mars at 16.9" near the 2022 opposition, near transit at 57° Altitude in fine seeing, I could make out Syrtis Major just off centre and Meridiani Planum on the limb at 100x with the original 0.965" visual back and prism diagonal with a classic 0.965" 4mm Takahashi Hi-Ortho eyepiece, a combination that gave superb contrast for the aperture. I noted no false colour, no red blur, in or out of focus and no flare or bleed. The FC-50 gave a better view than the TV-60 on the same night.
Jupiter
Jupiter was low and the seeing only just above average. Still, at 100x with the 4mm setting on a Nagler Zoom, the tiny Tak' showed all the major Jovian features – Northern and Southern Equatorial Belts, both revealing variations in width and colour, the NEB broader and darker than the buff coloured SEB. The greyish polar regions were obvious too and I was surprised to easily make out the Great Red Spot, albeit a milky coffee colour at this aperture. The image was completely sharp and false colour free, the little scope again taking 50x per inch with ease.
Saturn
On an early October evening, Saturn was low in the south, but stable dusk seeing gave a much better view than I was expecting. At 100x with that 4mm setting on the Nagler Zoom again, Saturn was a proper 3D planet, with distinct rings, a hint of the Cassini Division, a central belt on the planet itself and the darker polar hood discernible. I could just make out the shadow of the planet on the rings; Titan too. I tried upping the power to 133x and was surprised to find the image held up – dimmer, but still an excellent view, not the 'fuzzy blob with handles' the smallest scopes often show.
The FC-50 is a beguiling lunar and planetary scope in true classic Tak' fashion – you plain forget it's a 50mm. This could easily be your quick look scope, if the solar system is your thing.
Deep Sky
This, remember, is a 50mm doublet with an uncoated fluorite element at the back. Deep sky performance is inevitably modest. But having said that, views are much as you'd expect from a binocular-sized aperture. Set your expectations and those views are rewarding.
Yes, even a 60mm or 70mm gathers a lot more light and so you would expect to need lower powers and much more averted vision in the FC-50. And you do. But most Messier objects are still recognisable and – dare I say it – enjoyable (and I'd just come back from a dark skies trip enjoying some big scopes).
The Orion Nebula shows its sweeping banks of nebulosity (well their bright roots anyway) and dark lane, bright central core with traces of structure. Open cluster M37 resolves to its core with averted vision and you can clearly see M38's starry starfish 'arms'. Castor splits beautifully into two fat white Airy disks. Globulars, though, remain just dim fuzzy stars.
Summary
The FC-50 is a crazy extravagance – it is anything but cheap now; it never was. That you could get way more scope for your money goes without saying. Even the FC-60 and more recent FS-60C are cheaper, more practical too: fifty millimetres, even perfect ones, are only really good for the Moon and for the planets when close and large.
Still, given those limitations, the FC-50 gives amazing views of the solar system. And its special miniature Takahashi wheels and the collimatable cell give it a premium feel the FC-60 lacks. What's more you can be pretty sure no one will ever make a 50mm apochromat of this quality again.
Surprisingly, if equipped with a flattener or reducer, the FC-50 could make a fine imaging scope - with a wide field and unusually low violet bloat on OA stars.
I've seen reviews of the 'other' perfect 50mm classic lens, the Zeiss 50/540, that says they perform the same. That's not true. On Venus, Mars or images of O-A stars, the fluorite element in the FC-50 makes a significant difference. For those things, the FC-50 outperforms the larger-but-faster FS-60C too. Meanwhile, optical quality is higher than the Borg 50FL I sampled.
If you want the very smallest aperture apochromat which is actually useful, the FC-50 remains in a class of one – the only one that will show albedo marking on Mars.
The FC-50 is a Tak' enthusiast's collector scope. But it works amazingly well for the Moon and planets – one of the best mini scopes I've ever tested. If you simply must have one, go ahead - you'll love it!
<![if !vml]>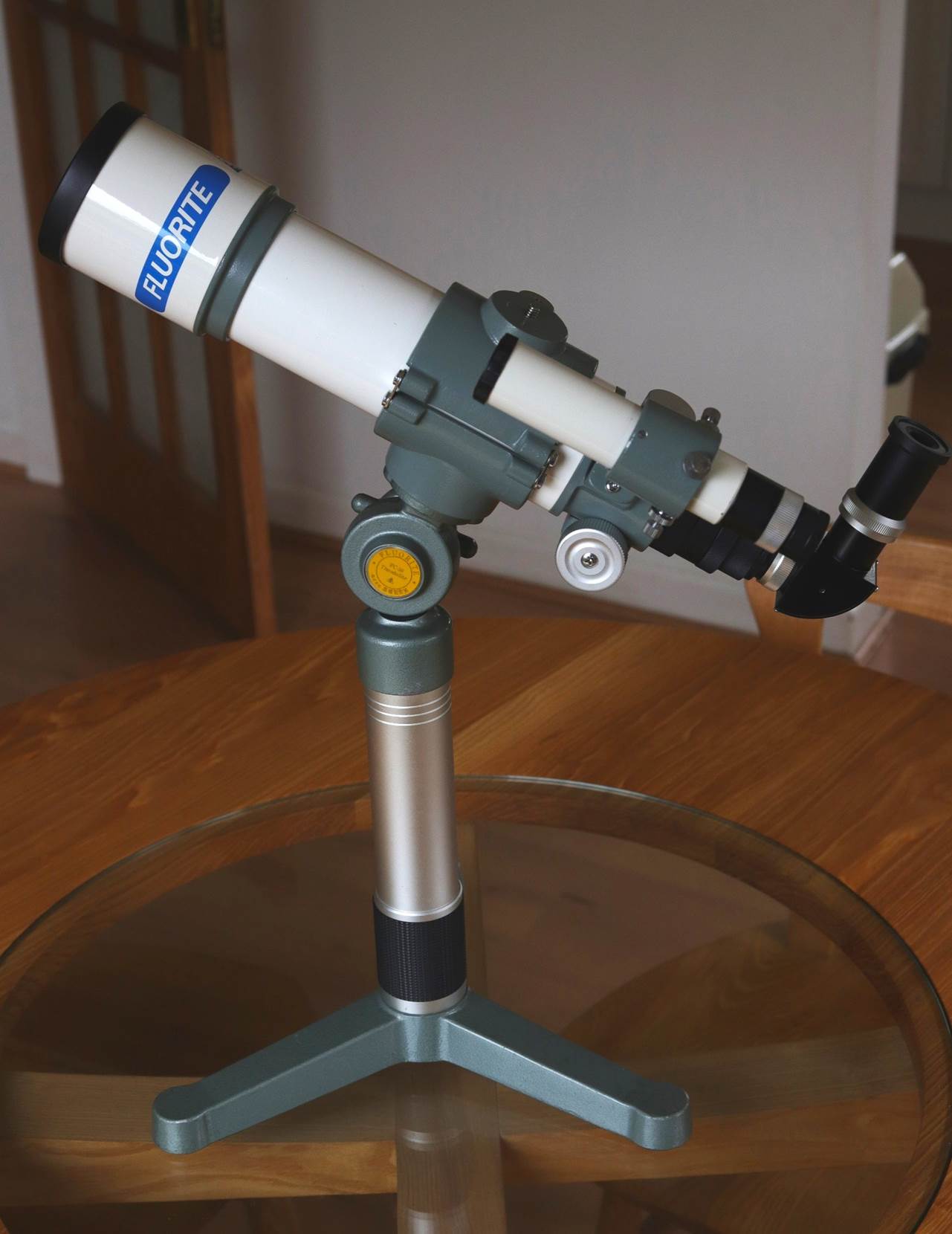 <![endif]>