Takahashi FC-100DC Review
<![if !vml]>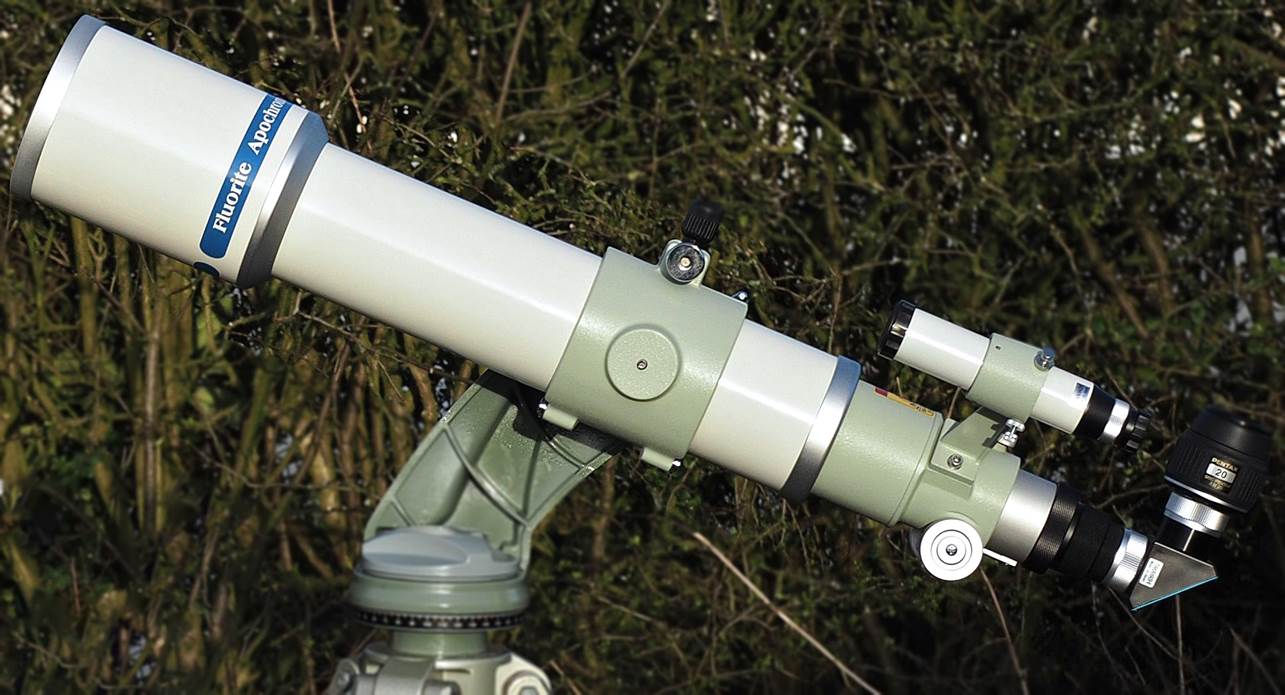 <![endif]>
Takahashi's FC-100DC is the lightest and cheapest of their range of 100mm fluorite doublets. Promising the usual sharp and well-corrected views with better digital imaging characteristics and a faster focal ratio than its predecessors, its price point makes it something of a bargain in Tak's range.
I originally posted a combined mini review of both the FC-100DC and FC-100DL, having had the opportunity to view through both with friends and at star parties. But I was recently able to borrow an FC-100DC to complete this full review.
A big thanks to Richard and to Mike Hezzlewood and Paul Yates, for letting me play with their toys and for allowing me to use their photos and sketches.
At A Glance
| | |
| --- | --- |
| Telescope | Takahashi FC-100DC |
| Aperture | 100mm |
| Focal Length | 740mm |
| Focal Ratio | F 7.4 |
| Length | 815mm |
| Weight | 2.8 Kg |
Data from Takahashi.
What's in the Box?
The FC-100DC comes in a thick logoed cardboard crate (shown here the one for an FC-100DZ):
<![if !vml]>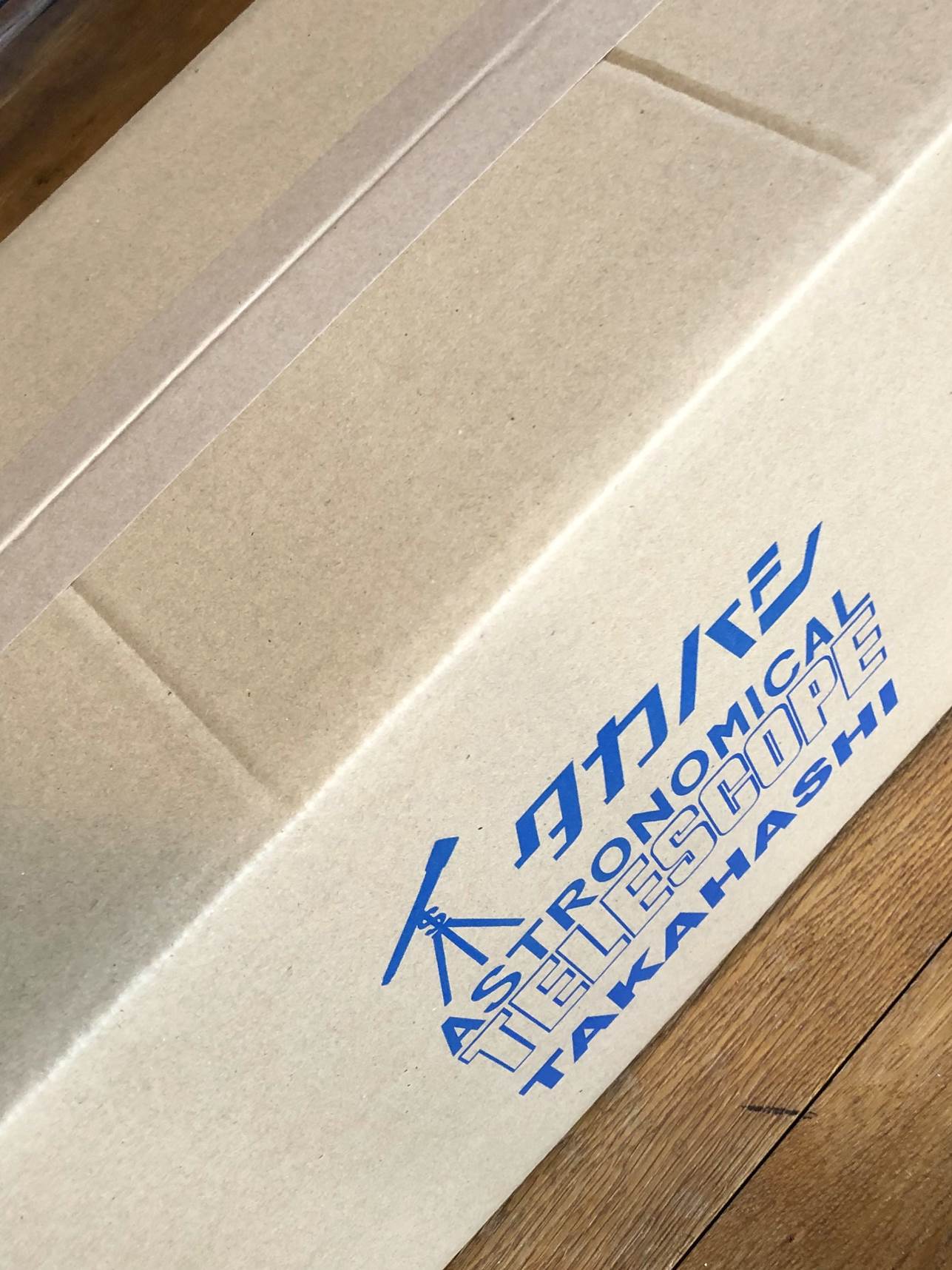 <![endif]>
<![if !vml]>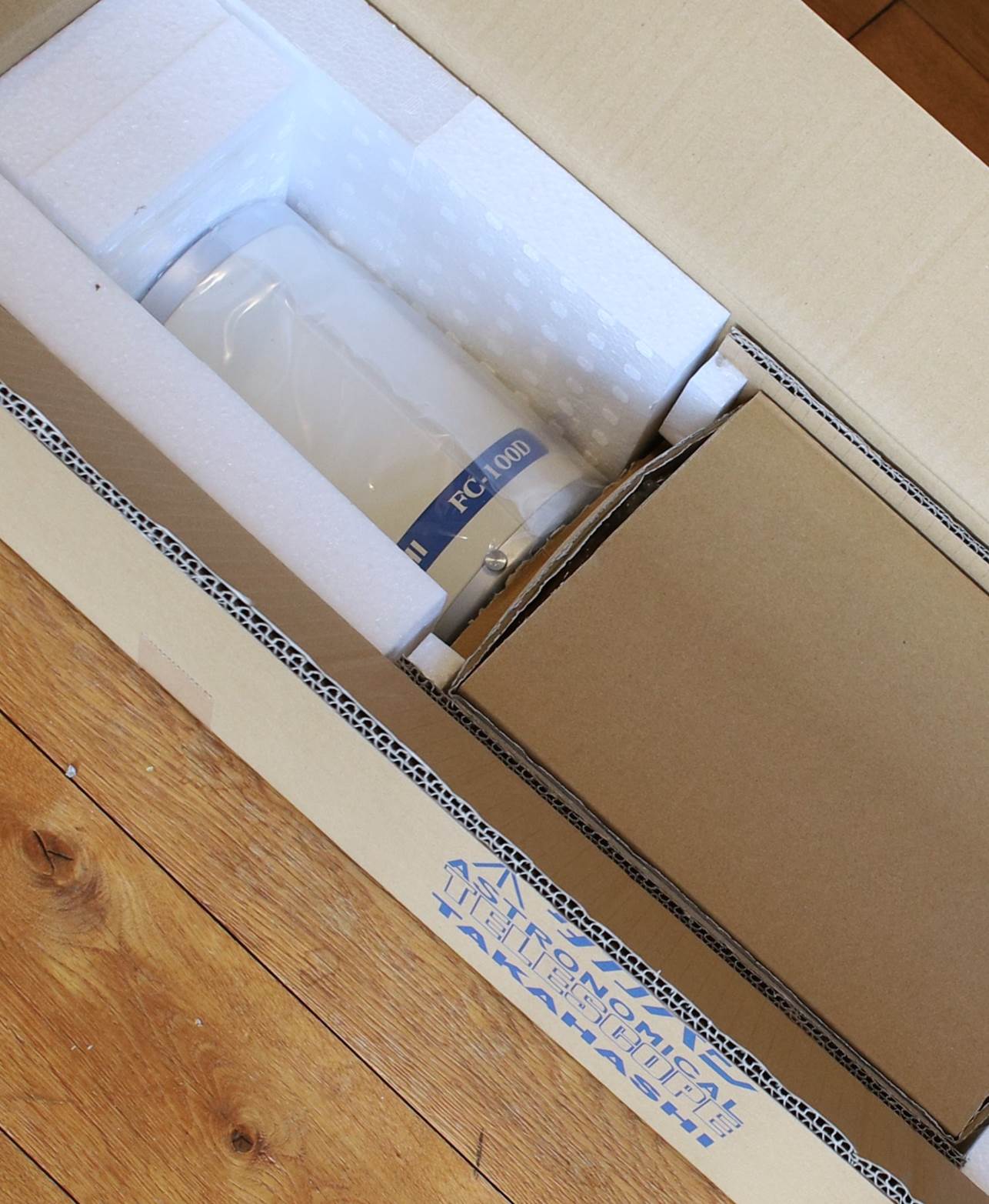 <![endif]>
Design and Build
Takahashi make (or have made) four different FC-100D variants over the years.
The F7.4 FC-100D objective is found in two different models, the FC-100DC on review here and the FC-100DF. The FC-100DC has a fixed dew shield and a small focuser, but it's a kilo lighter and cheaper too.
Takahashi also made an FC-100DL in two brief runs and the FC-100DZ (reviewed here). I discuss and compare these models below.
<![if !vml]>
<![endif]>
FC-100DL and FC-100DC.
<![if !vml]>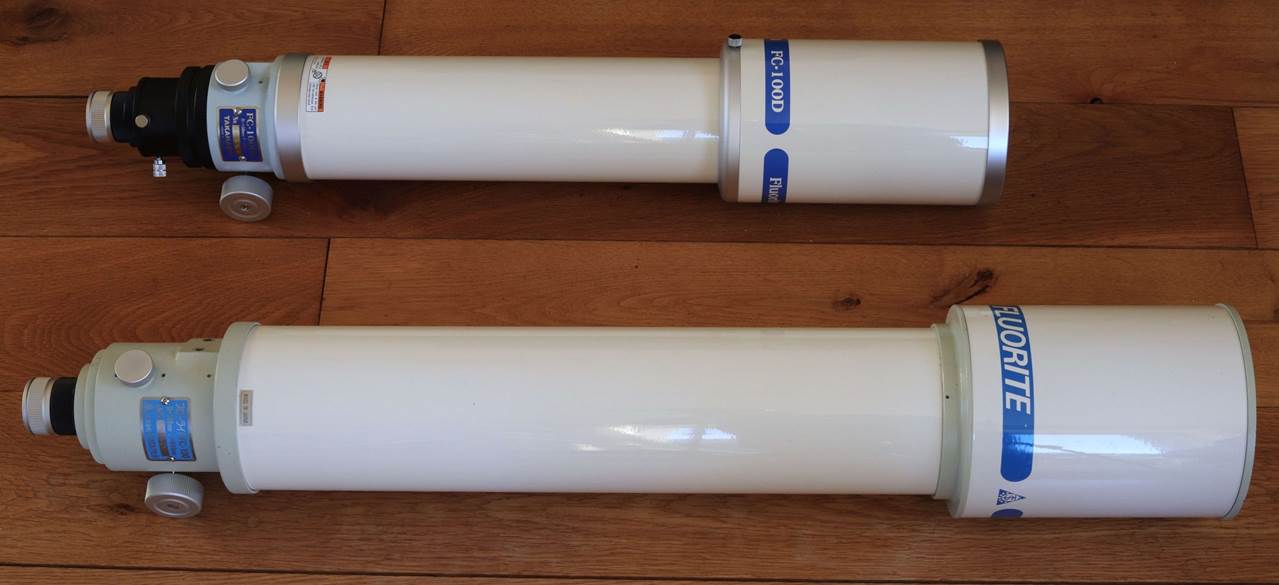 <![endif]>
The F8 FC-100DZ with an original FC-100. Note the FC-100DZ's retracted dew-shield (other FC-100Ds' are fixed).
<![if !vml]>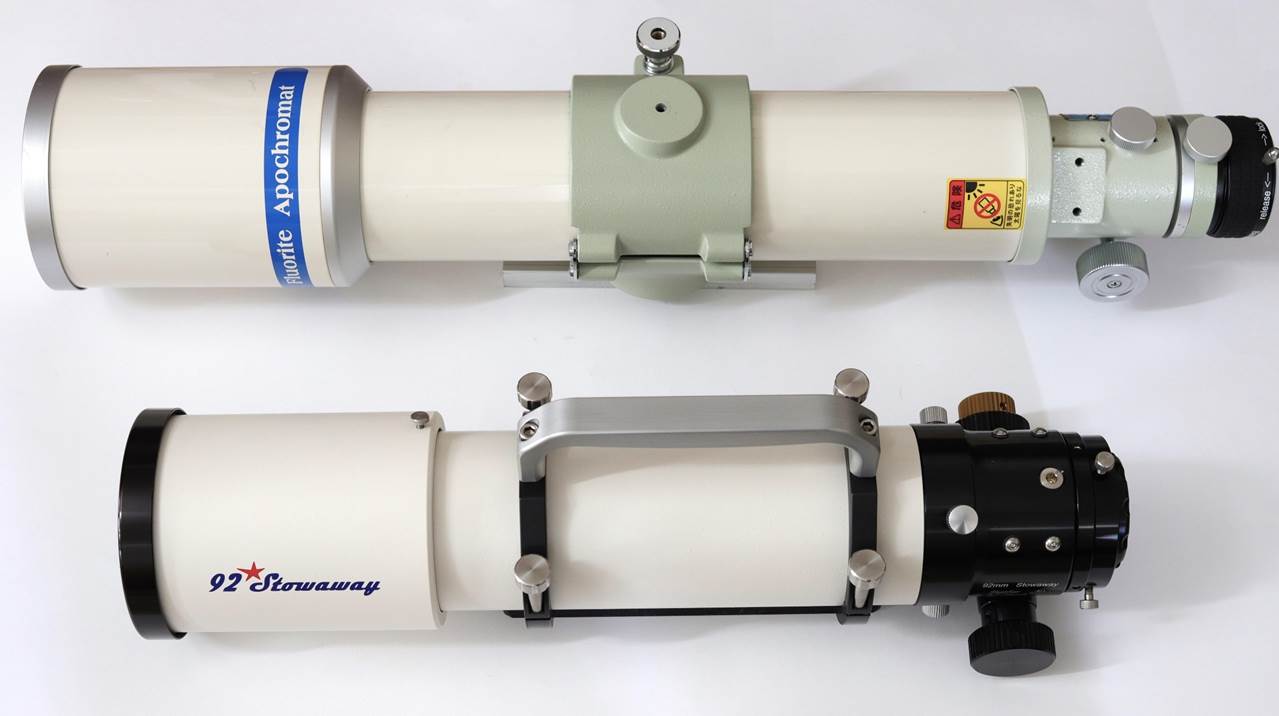 <![endif]>
FC-100DC (with FC-76 focuser) and AP Stowaway.
<![if !vml]>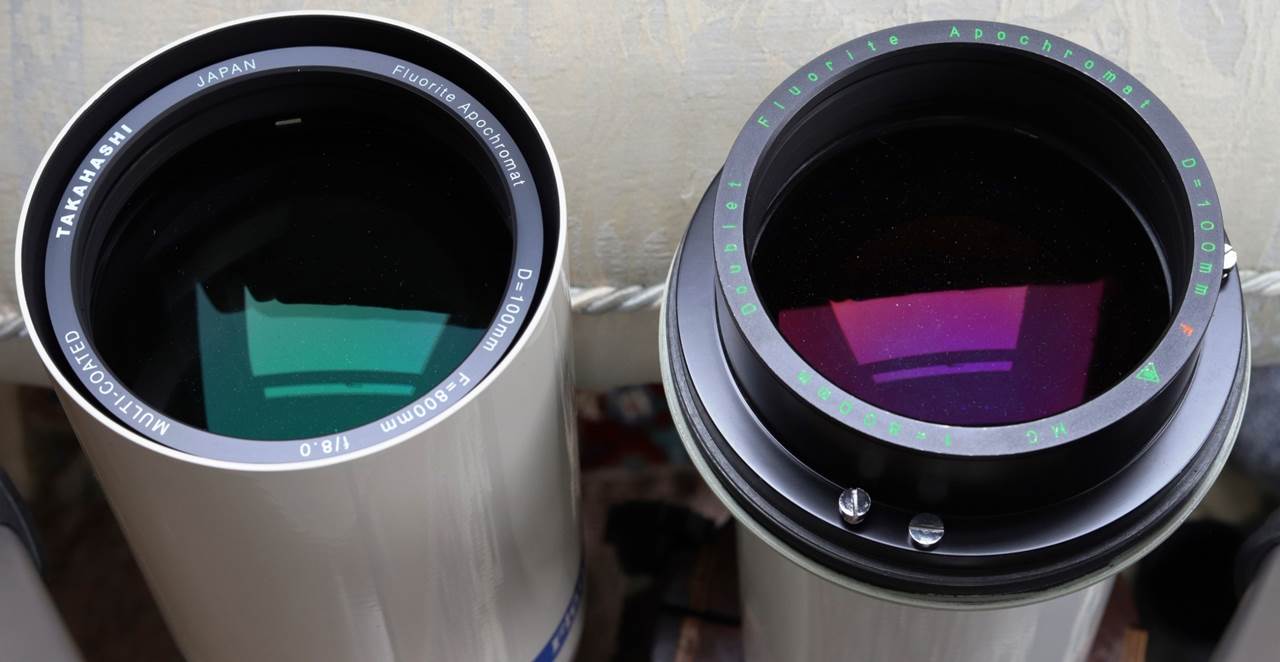 <![endif]>
FC-100DZ objective alongside (fully coated) original FC-100 for comparison.
<![if !vml]>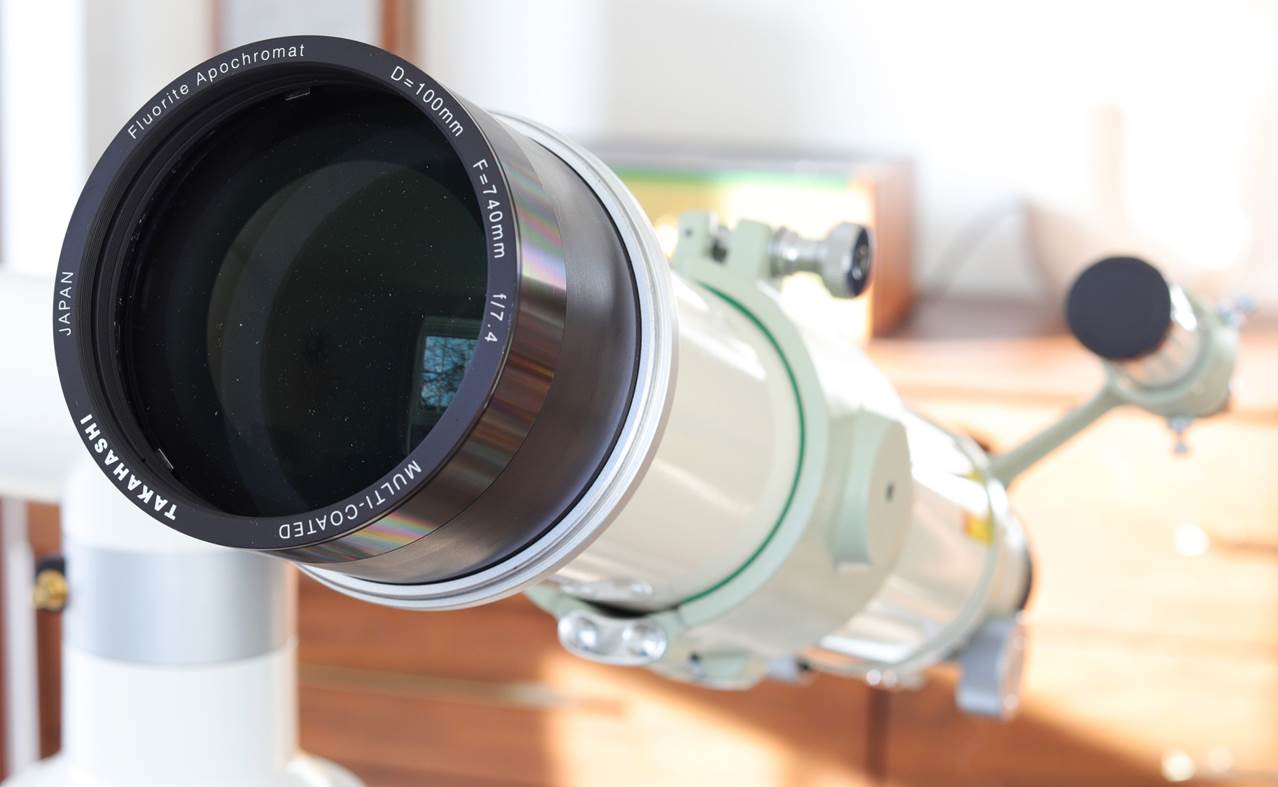 <![endif]>
<![if !vml]>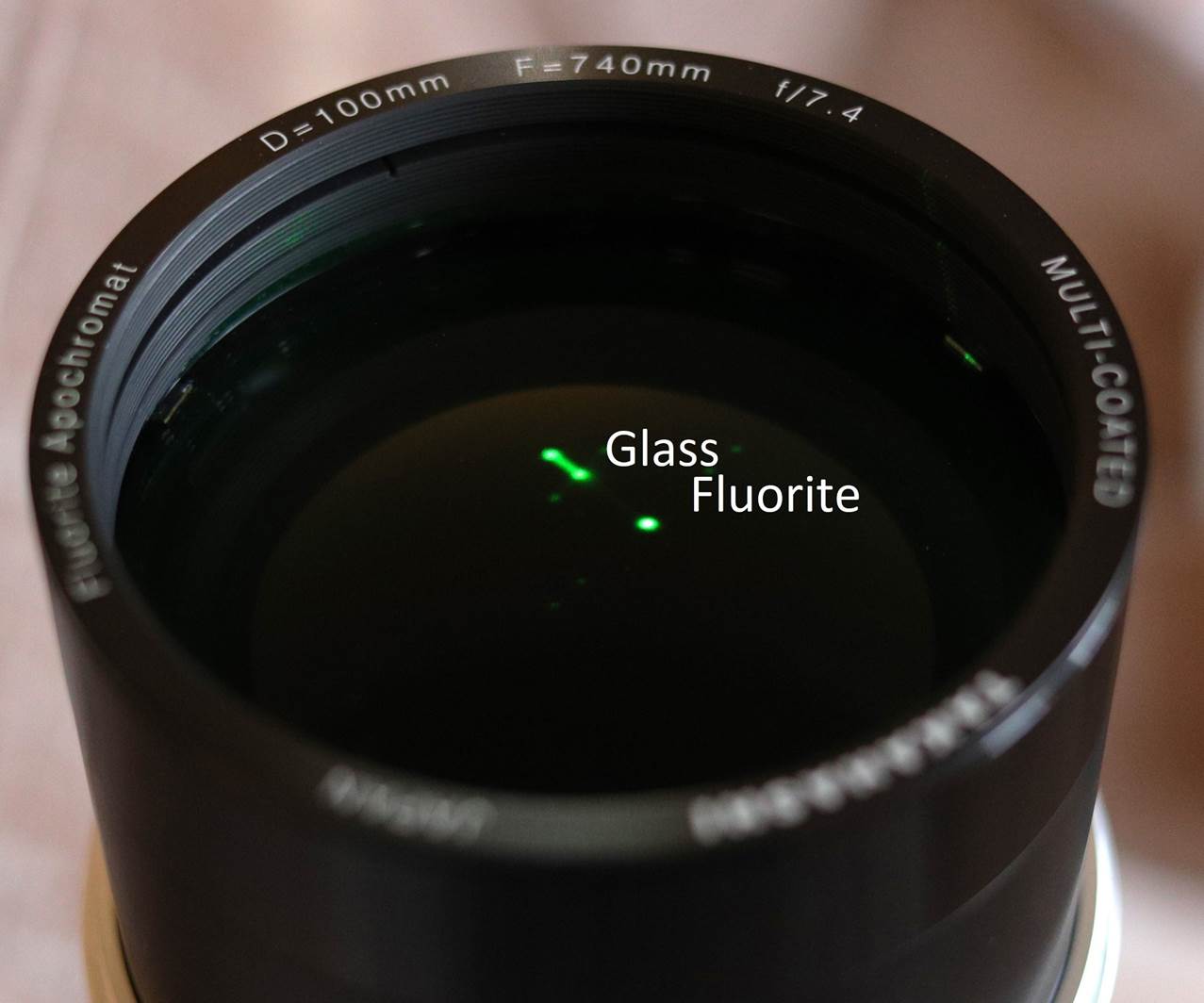 <![endif]>
Laser test confirms that this is a Steinheil doublet with the fluorite element at the back (fluorite doesn't scatter the laser, glass does).
Optics
The FC-100DC, like most smaller Takahashi refractors, has a fluorite doublet objective with a foil-spaced air gap, made by Canon/Optron, in a fixed thread-on cell.
Fluorite doublets are found in some of my favourite scopes. Fluorite is a mineral and scatters less light than any glass (which is why anti-reflection coatings are made of fluorides). Fluorite allows for a very well corrected doublet at this aperture, with the advantage of lighter weight and faster cooling than a triplet.
Takahashi have produced a lot of variations on the theme of 4" fluorite doublet over the years. The current FC-100D is quite different from the original FC-100 (reviewed here) and the FS-102 (reviewed here) that was produced between the two.
Just like the original, the current FC-100D is a Steinheil design that put its fluorite in a protected position at the back, compared with the FS-102 which was a Fraunhofer configuration with its fluorite up front.
But whereas the original FC-100 was an F8 primarily intended for visual use with some film photography thrown in, the current version is squarely aimed at the digital (hence 'D') imager, with a faster focal ratio of F7.4 (the difference doesn't sound much but reduces exposure times significantly) and a better corrected field.
As I mentioned above, there are two other FC-100D variants that have different objectives again. The current FC-100DZ reverts to the classic F8 focal length and uses an exotic glass mating element to achieve correction that's up with most 100mm triplets for critical high-power viewing. The FC-100DL was even slower at F9 and was also aimed at planetary viewing, but was only produced in two small runs.
Given that Takahashi made these two FC-100D variants specifically for high-power planetary viewing, you might think that the basic FC-100DC on test is a bit compromised in that department, but as we will see it really is not – differences from the F8 and F9 versions are very small.
Tube
The FC-100DC has a simple off-white-enamelled 95mm-diameter aluminium tube with a fixed dew-shield and a silver lens ring, matching silver pressed-tin dew-cap (gone is the cast manhole cover from the original FC-100). Finish is excellent as always.
Internal quality is flawless too: there are two knife-edge baffles and everything is coated in the blackest camera paint.
The original FC-100 (and the FS-102 too) had fatter tubes and larger dew-shields, so the FC-100DC is substantially more compact than either. It's much lighter than its forebears too, at just 2.8 Kg – one of the lightest in its class (no heavier than the AP Stowaway, even with its clamshell).
Thread-off the focuser and dew-shield and the FC-100DC is carry-on portable at under 19" - see below where it's fitted into the same Peli Air 1525 case as my AP Stowaway. You might think this risks cross-threading, but the threads are large enough that the risk is minimal if you're careful (and always mate the threads horizontally).
For reference, note that the FC-100DL is 12.5cm longer and a kilo heavier than the DC. Meanwhile, the FC-100DZ is the only current variant with a retracting dew-shield (the previous FS-102 did come in a sliding dew-shield version too).
<![if !vml]>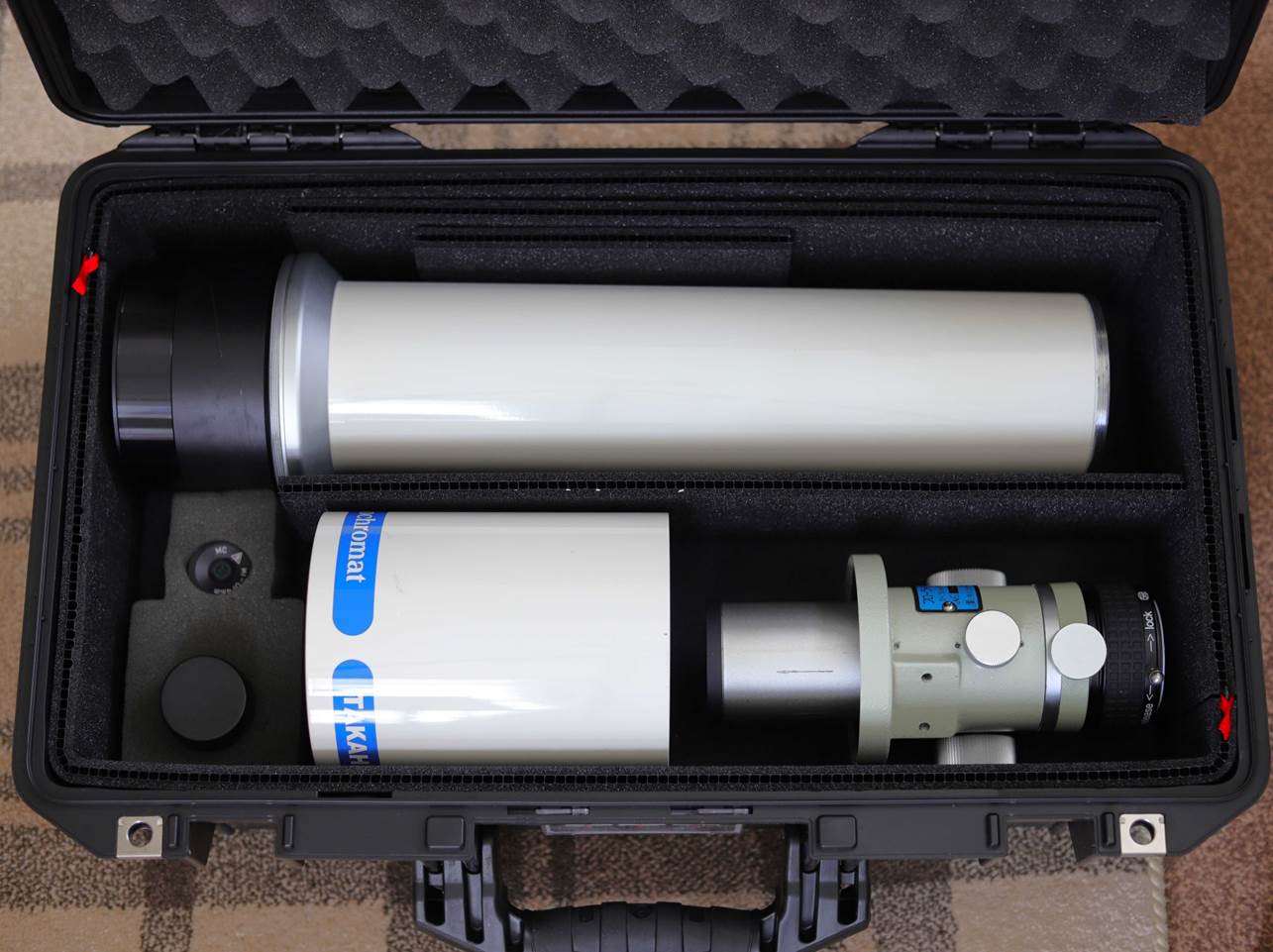 <![endif]>
FC-100DC broken down into a carry-on Peli 1525 Air case, with room to spare for a couple of eyepieces.
Focuser
The FC-100DC's focuser is based on the focuser from the FS-60C: it's very compact, has a 2" diameter drawtube and limited travel. The focuser is attached to the tube by a cast extension finished in the same Takahashi green or blue powder coat as the focuser.
By comparison, the other three FC-100D variants use a larger 2.7" drawtube focuser derived from the old Sky-90, that has more travel and is better suited to heavier cameras or binoviewers, but that adds to the OTA weight.
Note that the FC-100DC in some of the photos is not standard – it has had its focuser replaced with one from an original FC-76 (not the recent FC-76D) that has a 2.7" drawtube with more travel and a longer body. This hack is an improvement in many ways, but does then need a downstream extension to focus with some diagonals and eyepieces.
As standard, the FC-100DC has the plastic focuser knobs found on the FS-60 and FC-76, in place of the cast items found on the more expensive models (in this shot they've been upgraded by the owner).
<![if !vml]>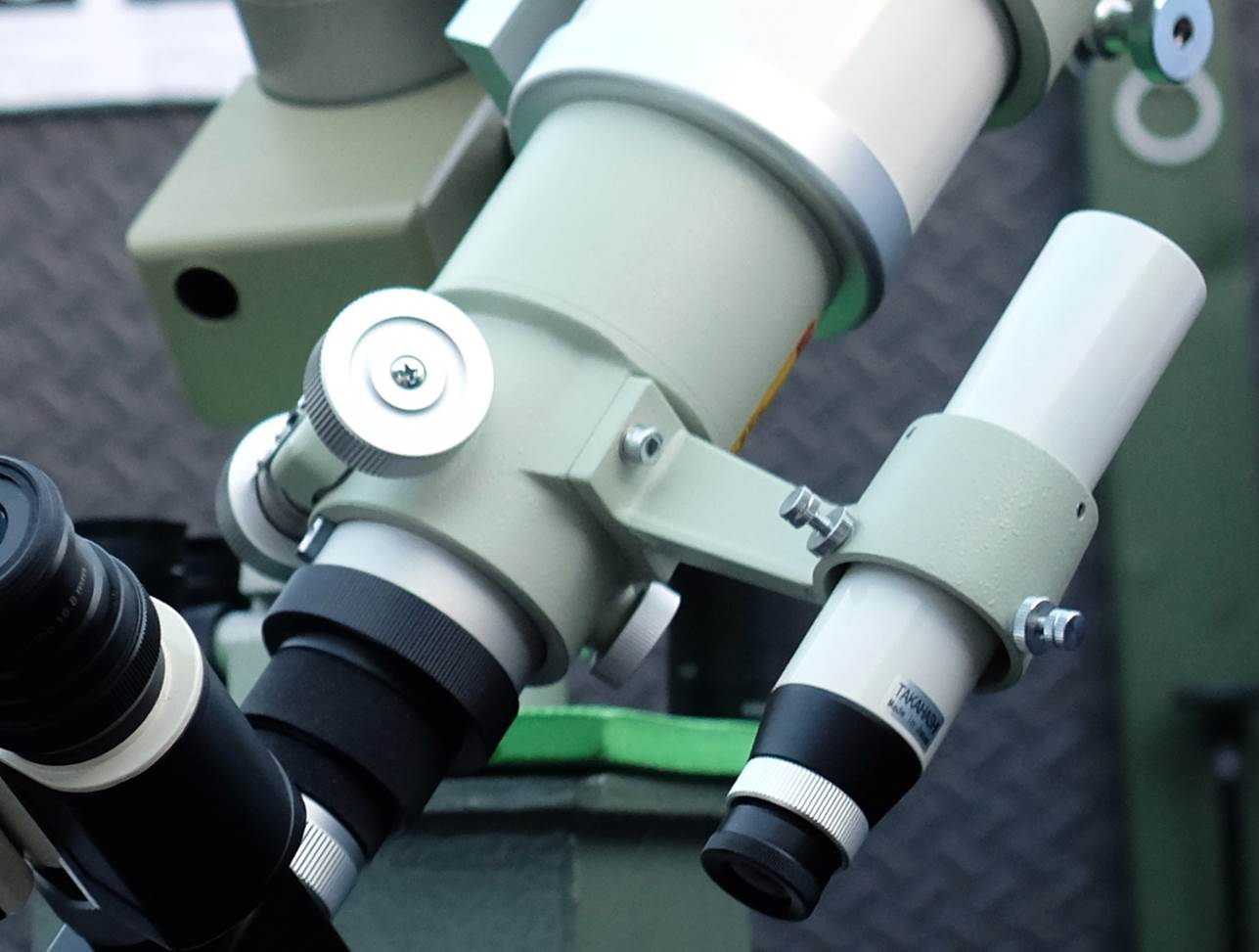 <![endif]>
FC-100DC focuser, based on the FS-60C unit.
<![if !vml]>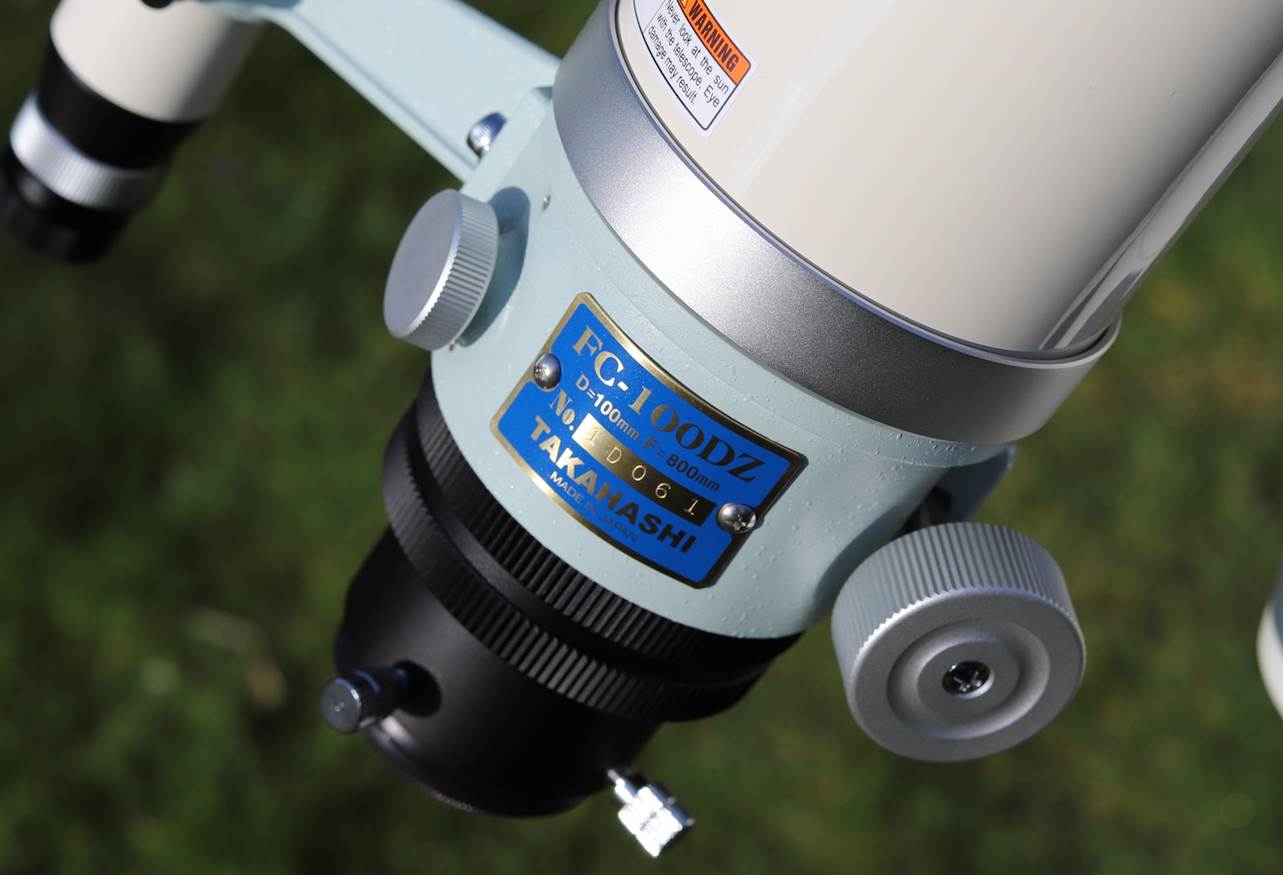 <![endif]>
FC-100DZ Focuser, based on the Sky-90's. FC-100DF is similar.
Mounting
The FC-100DC is short and light enough for a smaller equatorial mount like an EQ5, or the Vixen GP in some of the photos (or a more recent AP). I also mounted the FC-100DC on a small Vixen APZ alt-az which proved very stable, better than the basic AZ-4 you see in the photos.
For Vixen-compatible mounts, Takahashi make a dovetail bar (intended for the Mewlon-210) with two threaded M8 holes at 35mm spacing to match Takahashi clamshells.
Accessories
Like most Takahashi refractors, the FC-100DC comes with a clamshell-type ring that has two M8 holes at 35mm spacing. The standard finder is Takahashi's 6x30 unit that goes in a Tak's own proprietary ring.
In keeping with the 'D for digital' tag, various reducers, flatteners and extenders are available for imaging. The most cost-effective option is the multi-flattener that fits various Tak' doublets and needs only a dedicated spacer ring for the FC-100D.
<![if !vml]>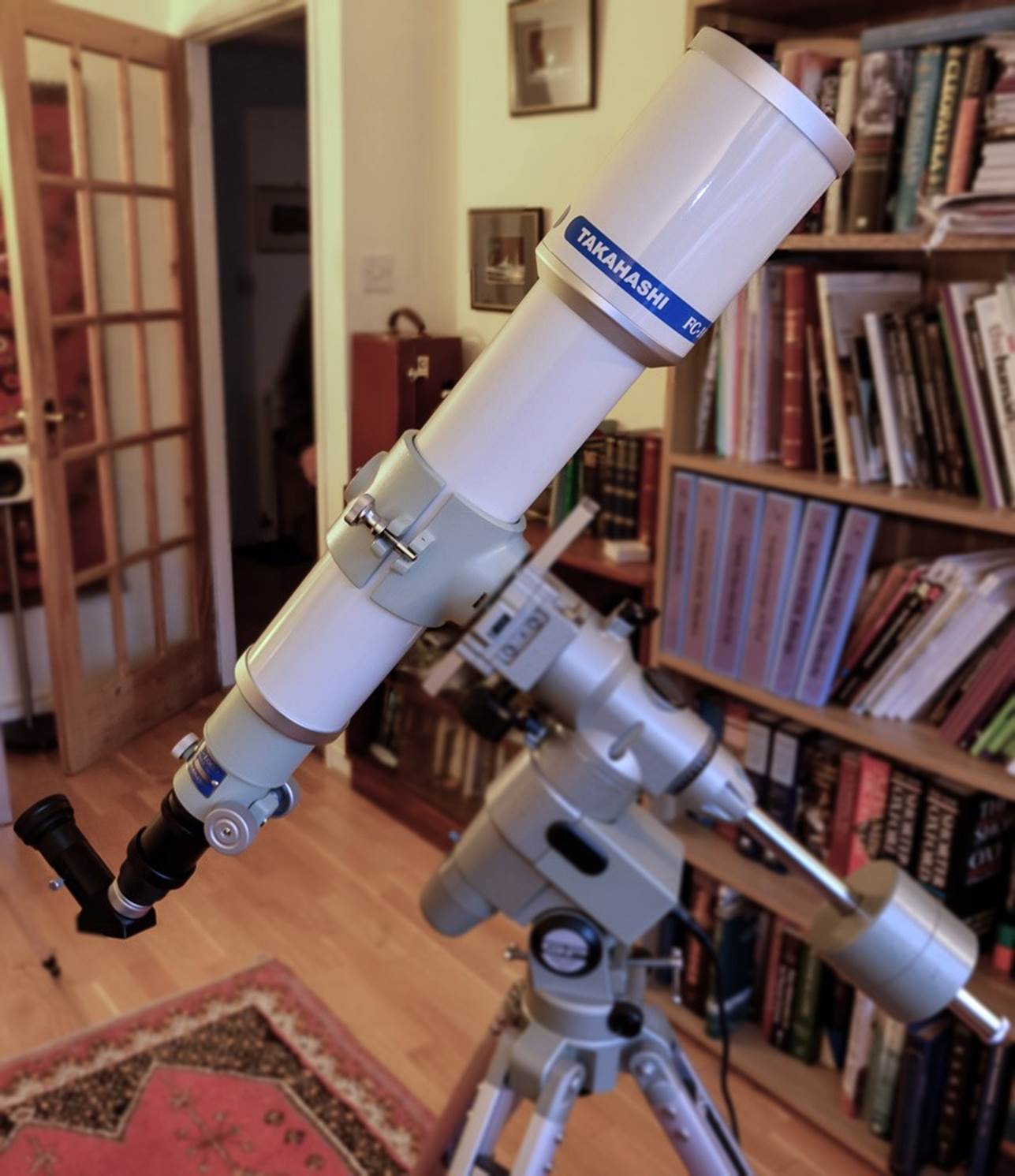 <![endif]>
FC-100DC mounted on a Vixen GP with the Mewlon-210 dovetail bar.
<![if !vml]>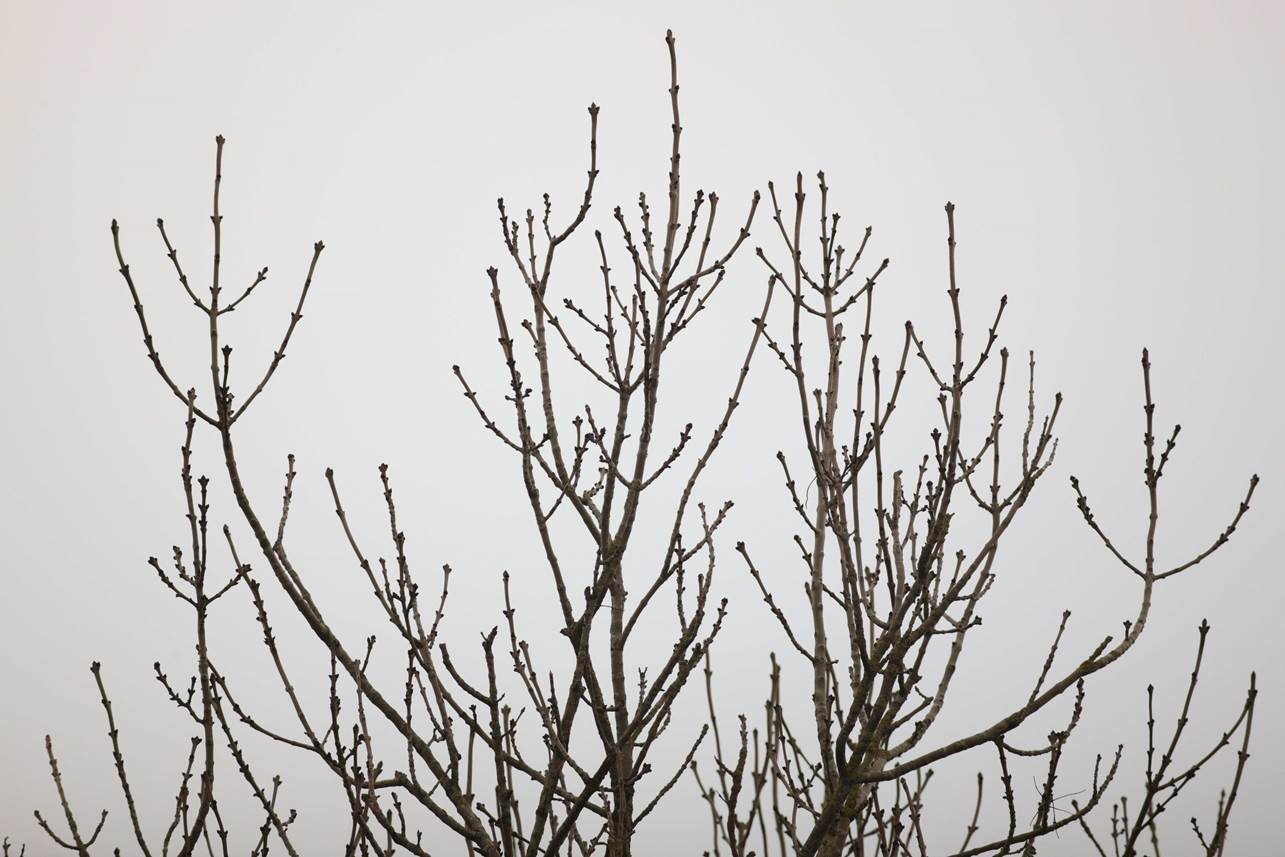 <![endif]>
Silhouetted branches are sharp and free from false colour.
In Use – Daytime
My standard test for chromatic aberration – viewing silhouetted branches at 100x – showed just the merest hint of false colour fringing out of focus. The difference between this and the most perfectly corrected refractors in this test is so small as to be academic.
In Use – Astrophotography
As the full-frame images straight from the camera below reveal, D-for-digital is no idle claim. Violet bloating on the blue-white stars of the Pleiades is very well controlled. Vignetting at full-frame is very modest and stars aren't too comatic except in the very corners. With some cropping you could start off imaging without a flattener.
I've lined up frames of the central Pleaides, taken with the FC-100DC and the F8 FC-100DZ, side by side to compare. The images are both straight from the same camera with the same exposure and ISO. As you can see, the DZ version does have slightly less violet bloat as expected, but the difference is modest.
The cropped snap of the Moon shows excellent sharpness and detail, no false colour.
<![if !vml]>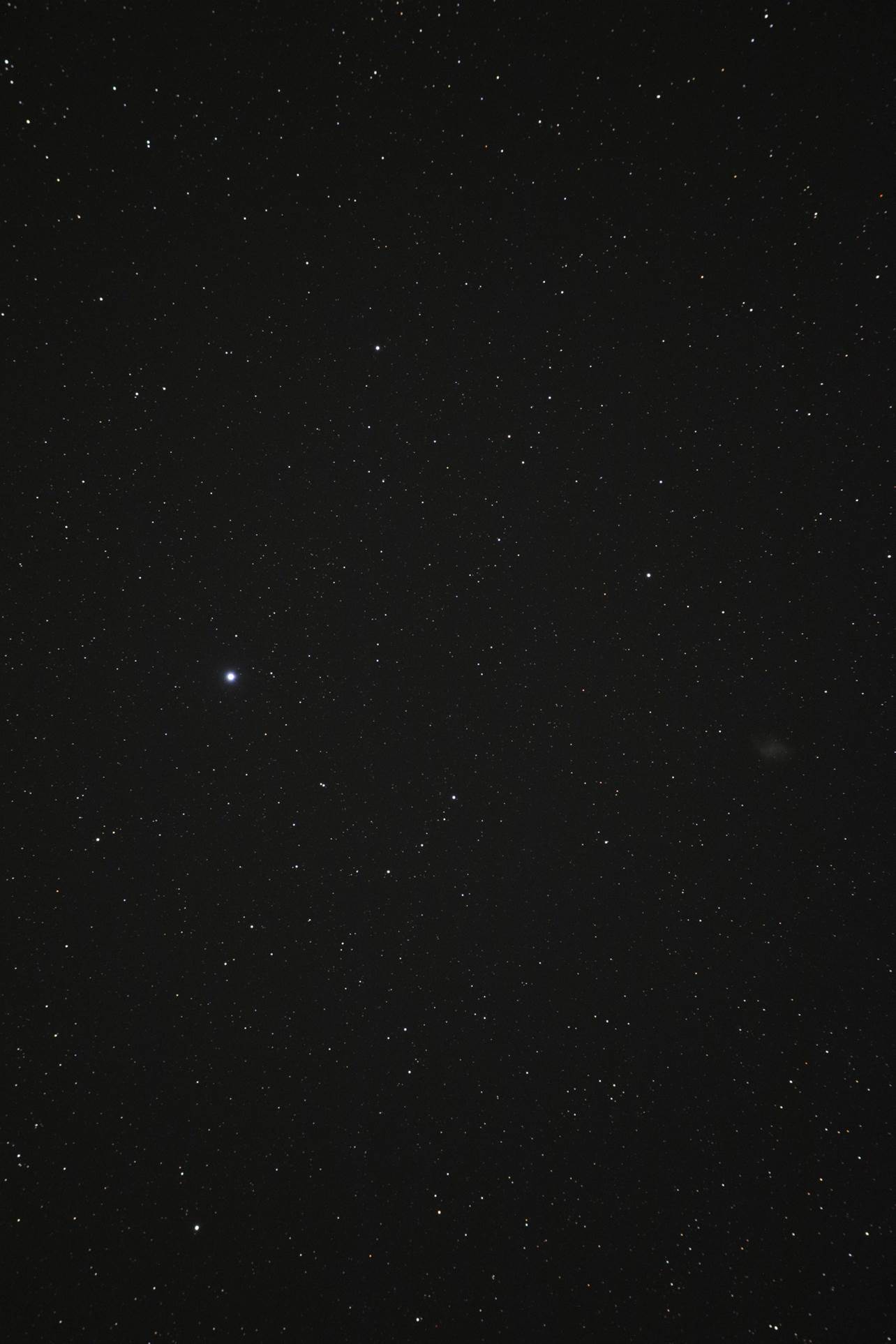 <![endif]>
The Crab Nebula (M1) region: 30s at ISO 3200, Canon EOS 6D MkII, straight from the camera but reduced size (not cropped).
<![if !vml]>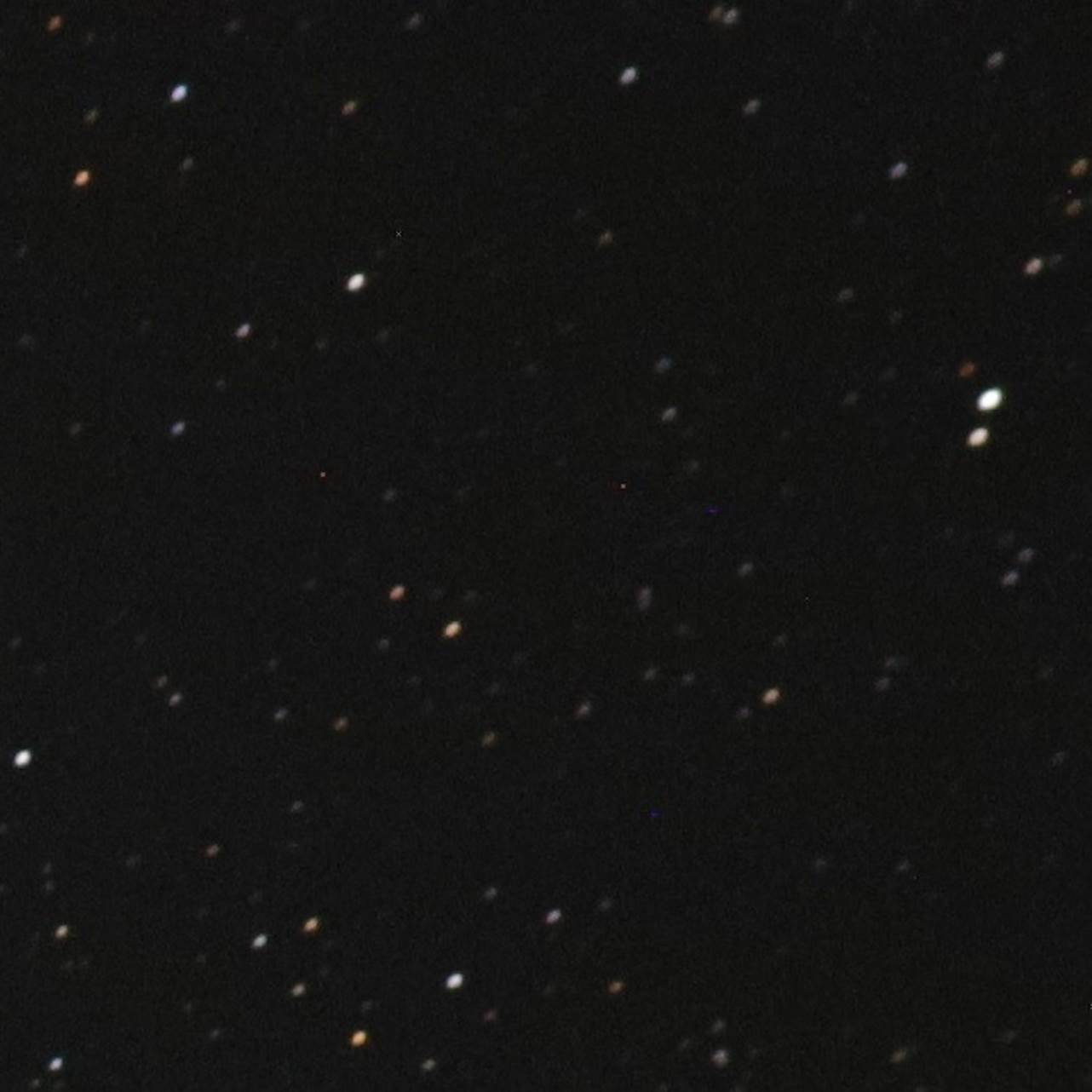 <![endif]>
Crop of the top right corner.
<![if !vml]>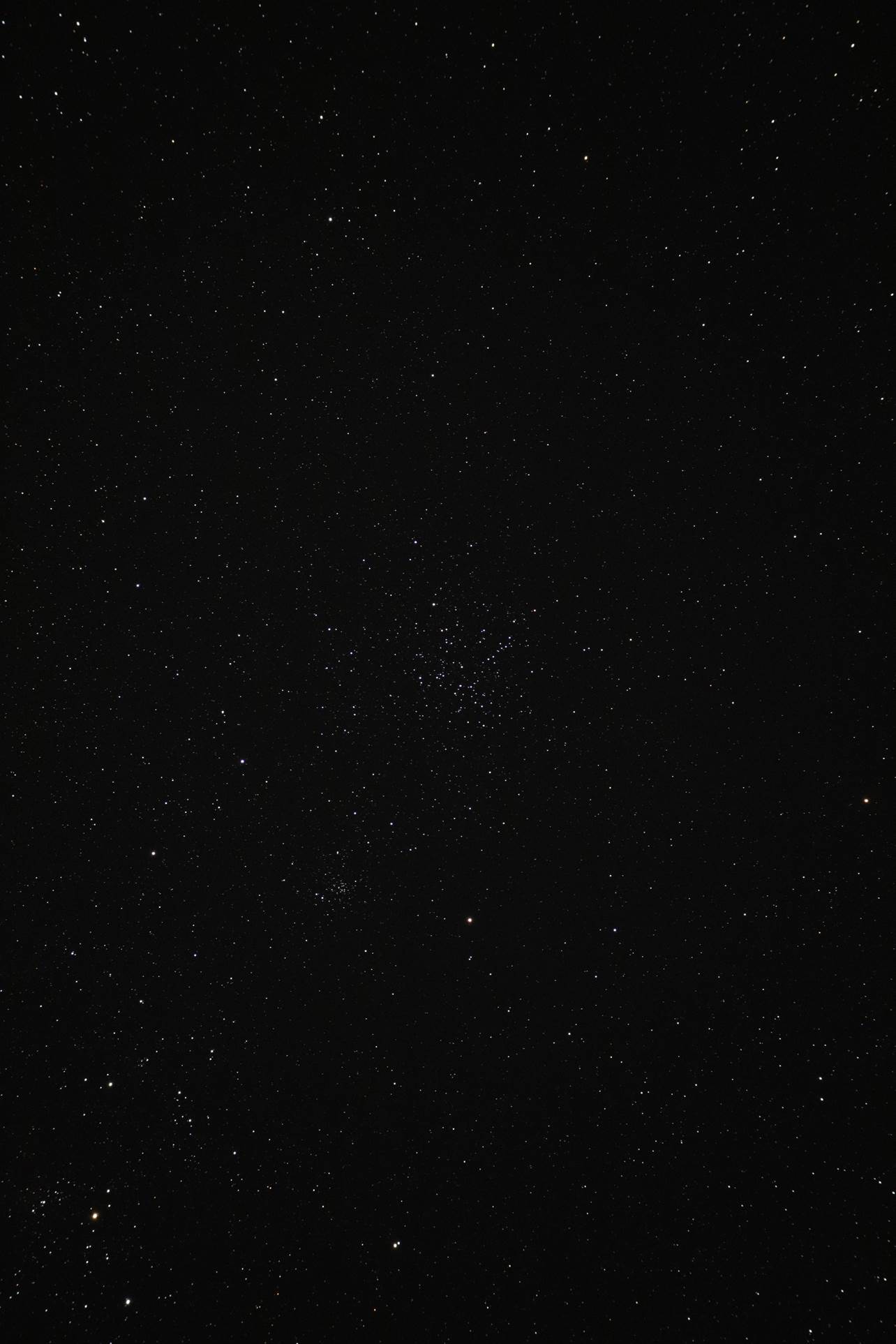 <![endif]>
M38 and NGC 1907: 30s at ISO 3200, Canon EOS 6D MkII, straight from the camera but reduced size (not cropped).
<![if !vml]>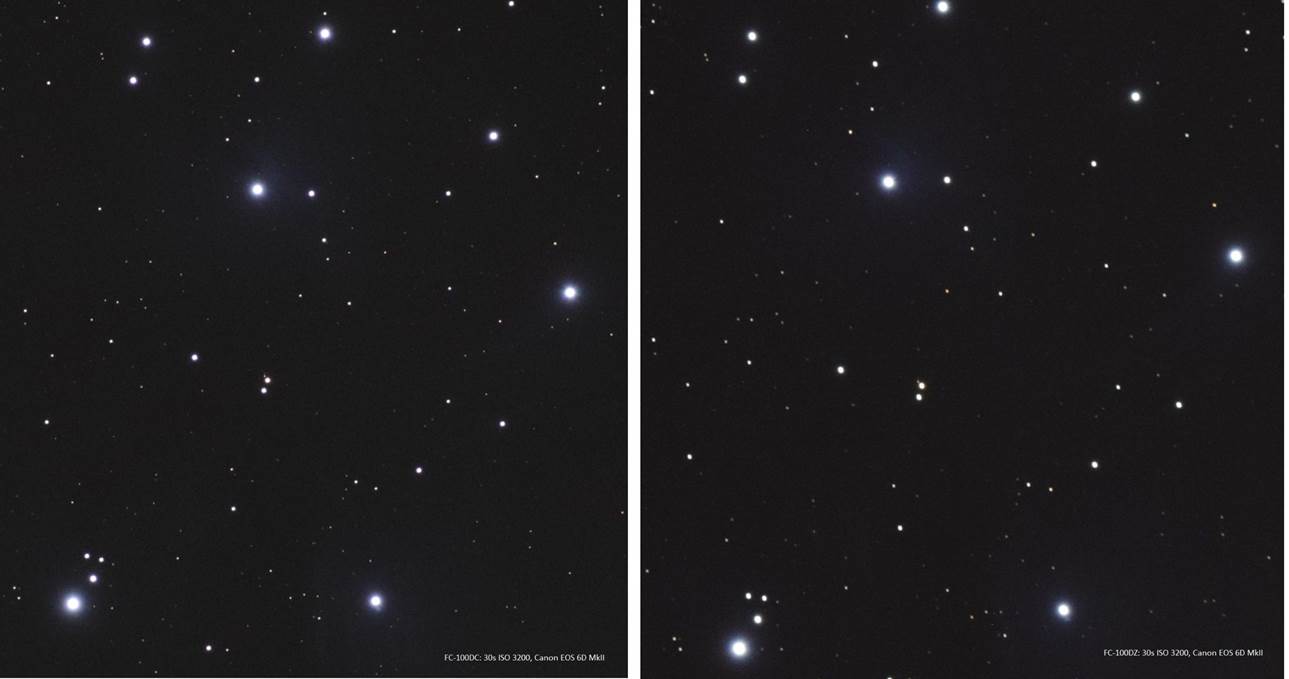 <![endif]>
Pleiades (M45) through FC-100DC left and FC-100DZ right: 30s at ISO 3200, Canon EOS 6D MkII, straight from the camera.
<![if !vml]>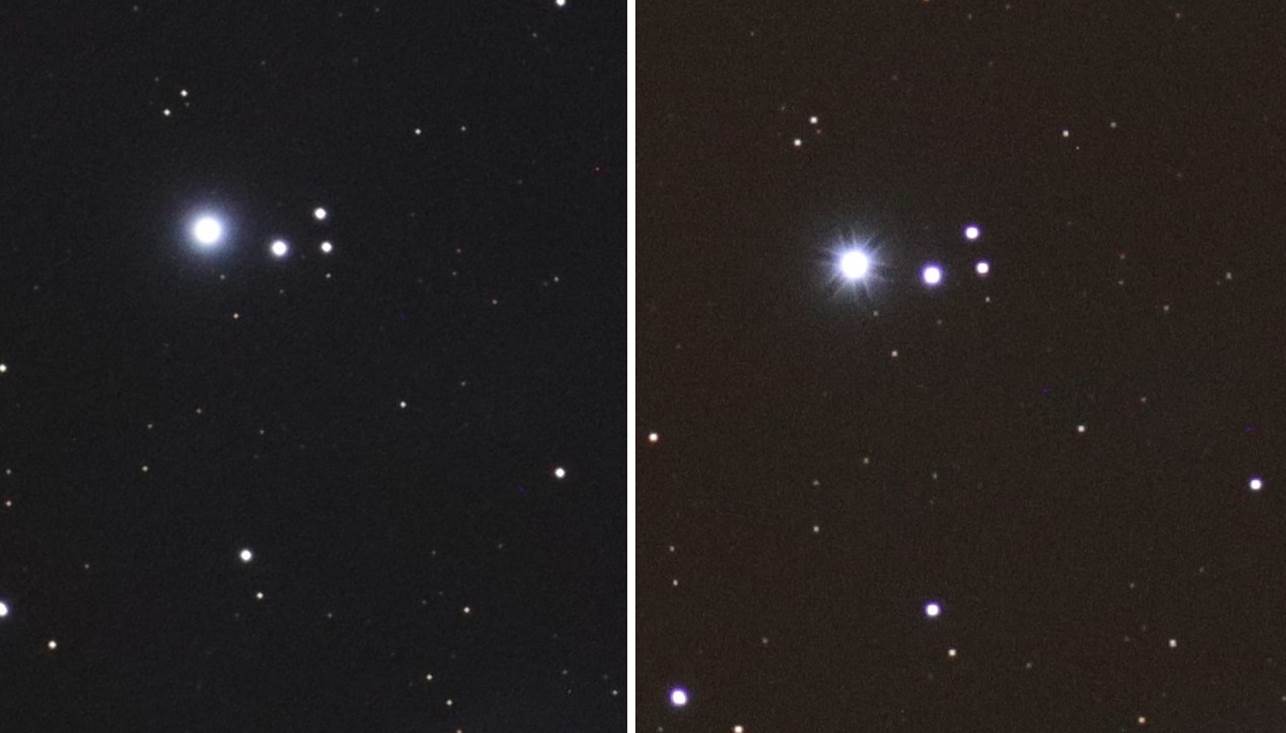 <![endif]>
In Use – The Night Sky
General Observing Notes
I found the FC-100DC very easy to use. Its light weight and compact size make it painless to get mounted into the dovetail and the quick cool-down (see below) means minimal waiting to get going. This may be the 'basic' version of the FC-100D, but correction is outstanding, without the residual false colour that most ED doublets suffer.
Cool Down
The FC-100DC cools fast and benignly, without the slight pinching some have noted with the FC-100DZ variant. This is a major advantage over a triplet too, one that was very apparent on one viewing night over the Mars opposition, when the temperature dropped over the session and the larger triplets struggled to keep up.
Star Test
The FC-100DC I've viewed with more recently had a sensibly perfect star test.
The Moon
I got an extended viewing session on a 6-day-old Moon between crescent and first quarter with lots of interesting craters and formations on the terminator. Most of the viewing was done with bino'd ~17mm Plossls giving between 150x-200x and critical high-power views with a 5mm Super Monocentric giving 148x.
The FC-100DC revealed reveal stunning lunar detail at a level highly comparable with the F8 and F9 models.
Theophillus, Cyrillus and Catherina are a triplet of large craters and a favourite since childhood. To the north of Theophilus lies Sinus Asperitatis and an area of extraordinarily rough terrain – hummocks and craterlets and blocks – presumably ejecta from Theophilus.
Nearby lie rilles Hypatia and Gutenberg and the Crater Mädler (a German astronomer who with Beer compiled the first proper Mars map), source of a bright ray that sweeps out across Mare Nectaris and seems to have deposited a bright patch in lava-flooded Daguerre.
Other highlights included Posidonius, its rille system clearly picked with details smaller scopes miss; strange keyhole-shaped Torricelli, floor in inky darkness, walls of the surrounding ghost crater picked out in the low sun; Plinius (after Pliny the Elder, who died in the eruption of Vesuvius that destroyed Pompeii) and its unusual cratered central peak.
Mars
On a recent session comparing various scopes on Mars at opposition and some other extended sessions here and in the US, the FC-100DC gave excellent views of Mars with no false colour, softness or the red blur often found with ED doublets, just excellent contrast and albedo-marking detail.
Of all the scopes we used during the comparison session, the FC-100DC gave the best views. We speculated this was because the temperature was dropping fast and the larger telescopes with their larger glass masses and cells – A Tak' FSQ-106 and Mewlon 210 alongside an LZOS 123/780 – couldn't keep up. I mention this because smaller doublets often make the best of tough conditions.
On that night, Mars was 17.1" in size and well placed at an altitude of 20°; seeing was good. At 160x with the 4mm setting of a Nagler Zoom, the dark stripe comprising Mare Sirenum and Mare Erythraeum was clearly visible, with the paler Solis Lacus region betwixt (Solis Lacus isn't really visible in its true 'Eye of Mars' form at this aperture) and the dark square of Mare Acidalium reaching down in the north east.
The owner of the FC-100DC in my original test, Mike Hezzlewood, specialises in the Moon and planets and like me is particularly interested in Mars. Unlike me, though, Mike is a very accomplished sketcher and has made the following outstanding map of Mars by transferring his eyepiece sketches onto a cylindrical projection. This map says much more about the FC-100's ability to reveal fine planetary contrast than I can convey in words, so I'll shut up and let Mike's drawing skills speak for it.
<![if !vml]>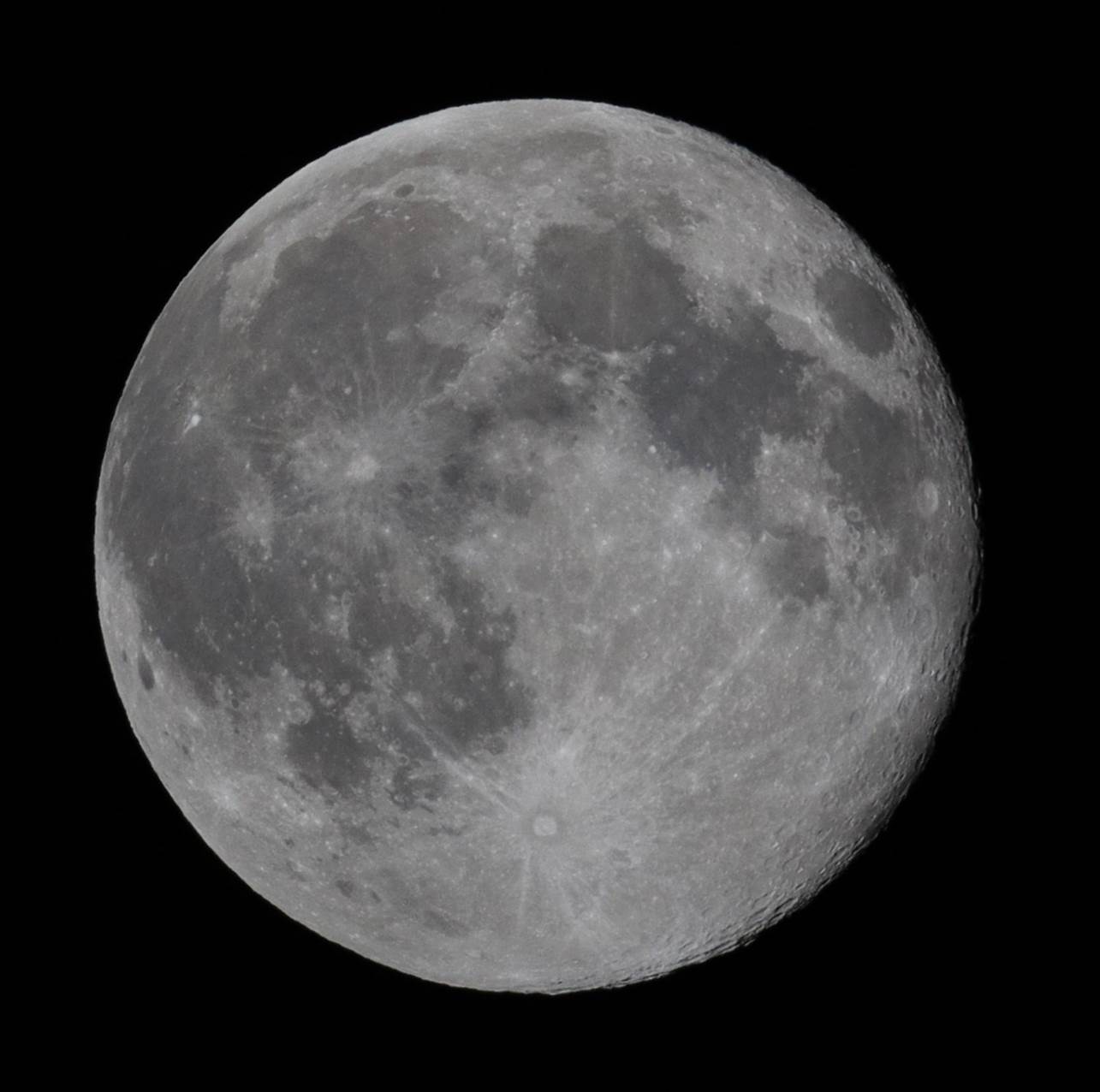 <![endif]>
Jupiter
During a recent session comparing various scopes, an FC-100DC gave the best Jovian views of the night, with perfect sharpness and loads of cloud belt detail on Jupiter at 160x with the 4mm setting of a Nagler Zoom.
Deep Sky
The outstanding contrast of the fluorite doublet makes for a better visual deep sky scope than you might expect, given its modest aperture. With a well-corrected eyepiece, the FC-100DC shows pinpoint stars all the way across the field, helped by high optical quality that throws all the starlight into the Airy disk and first diffraction ring.
I had superb views of open clusters M37, M38 and NGC1907, with both fully resolved into masses of fainter stars. At 39x with a 19mm Tele Vue Panoptic, the Pleiades glittered icily brilliant, embedded in faintly blue nebulosity – the way only a fine small refractor shows them.
The Crab Nebula supernova remnant was easy to pick out of the background and revealed more of its shape than smaller apertures or ones that transmit less contrast.
The FC-100DC gave a perfect split of the Double Double at 160x, with bright and sharply defined Airy disks, black space between.
Summary
The FC-100DC is that rare thing – a high performance 4" apochromat that is also very portable (even carry-on sized, if you unthread the dewshield and focuser). It is super-sharp, delivers outstanding contrast and is very well corrected for both imaging and visual use. It gave stunning views of everything I pointed it at. Its light weight and fast cool-down make it very user-friendly and great for quick looks.
For digital imaging, the 'D' design brief has produced a doublet that's well corrected for violet bloat and delivers surprisingly pin-point stars across a wide field. Compared with the 'better corrected' FC-100DL and FC-100DZ, differences are truly tiny. The FC-100DC doesn't have the weak spots in its correction that most ED doublets do.
However, serious imagers might prefer the same lens with the bigger focuser that is the DF version.
So, by the standards of high-end telescopes, with its Canon Fluorite objective, the FC-100DC seems almost cheap. Equipped with a few good eyepieces and the multi-flattener for imaging, it could be a satisfying only scope.
The FC-100DC is a user-friendly, do-anything bargain and one of my very favourite four-inch APOs. It's a Scope Views Best Buy.
<![if !vml]>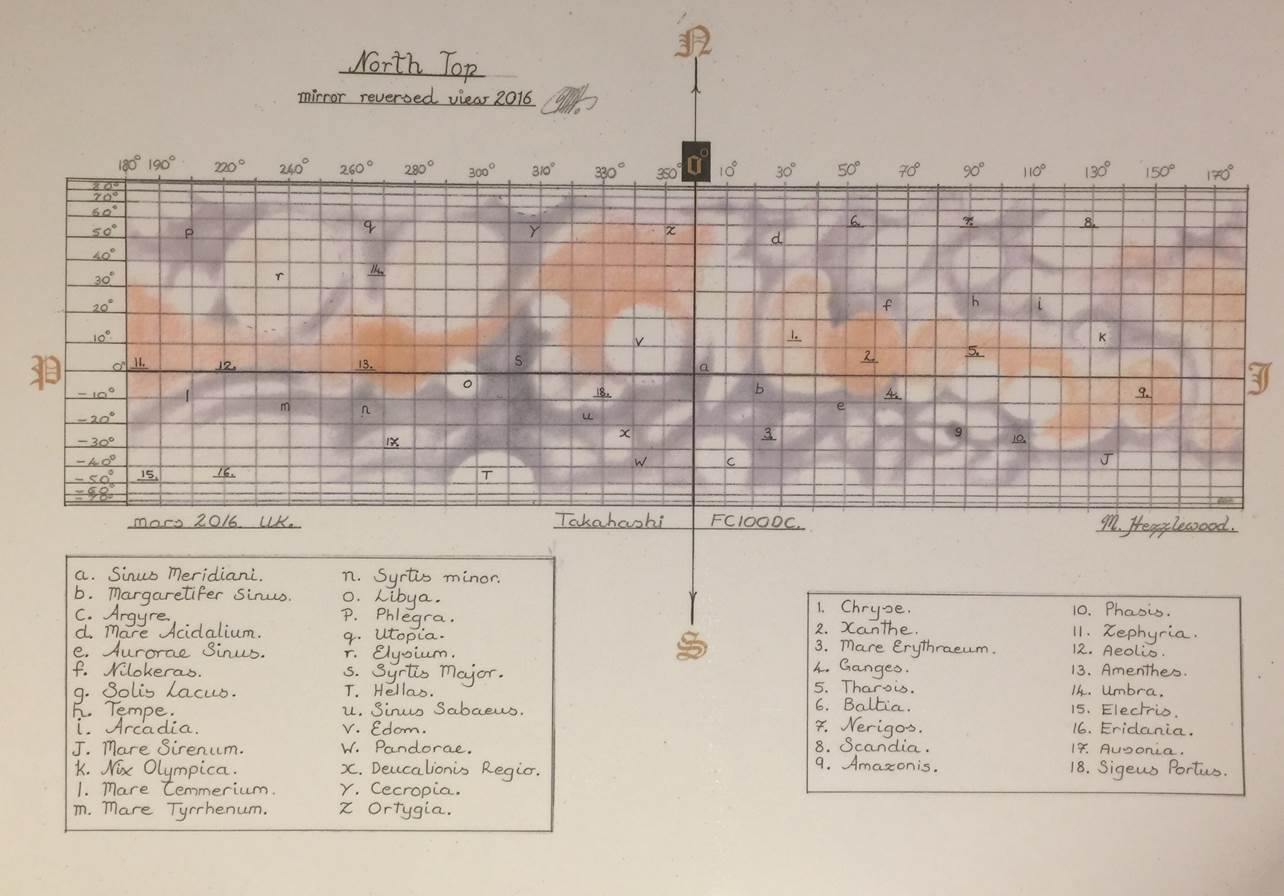 <![endif]>