Takahashi FS-78 Review
<![if !vml]>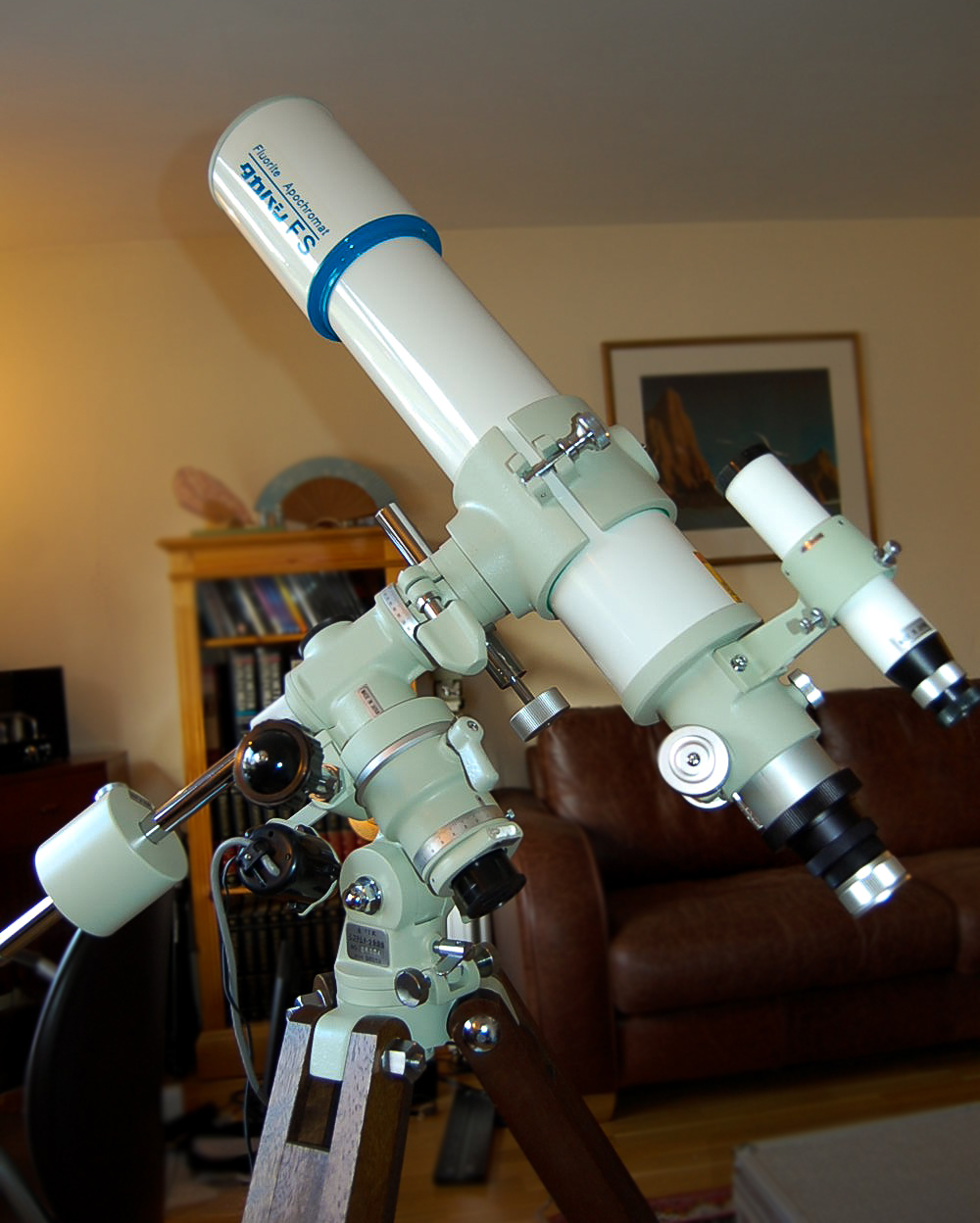 <![endif]>
The FS-78 was the smallest in a scaled line of Takahashi refractors that have been out of production for over a decade. Nonetheless, the FS-78 was one of the best 3" refractors ever made, something confirmed in bench tests that suggest it has outstandingly good correction for a doublet. That makes it still relevant today – as a great used buy, but as benchmark for just how well corrected a doublet can be. How was that outstanding correction achieved? It's all about the crown and where you put it …
At A Glance
| | |
| --- | --- |
| Telescope | Takahashi FS-78 |
| Aperture | 78mm |
| Focal Length | 630mm |
| Focal Ratio | F8.1 |
| Length | 740mm |
| Weight | 2.6 Kg |
Data from FS Series manual.
What's in the Box?
<![if !vml]>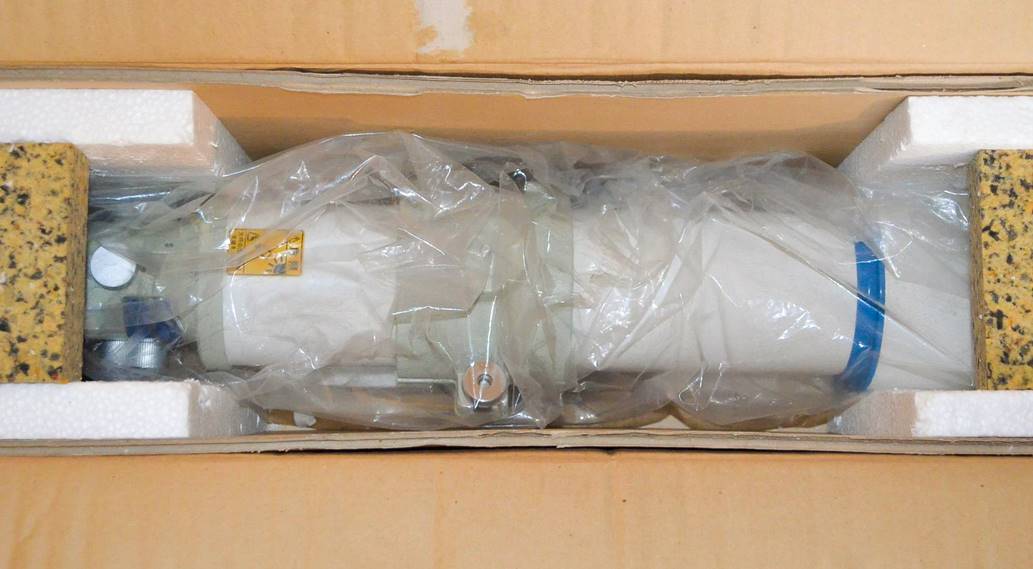 <![endif]>
<![if !vml]>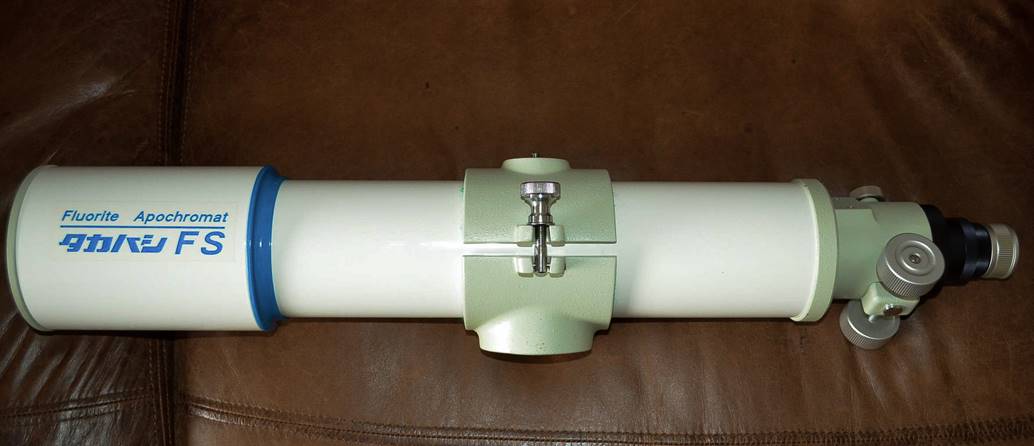 <![endif]>
Design and Build
The FS range of refractors included 78mm, 102mm, 128mm and 152mm models, all with F8 fluorite doublets. The odd one out is the FS-60 which is an F6 and the only one still in production.
As well as a shared optical design, the F8 models all had a similar tube and focuser and family 'look'. Most had fixed dew-shields, all were bulky for their aperture.
Optics
The FS-78 objective is 78mm aperture, 630mm FL (F8.1 to be exact). It has superb coatings and a high quality, collimatable, temperature compensating cell. The lenses for the FS series were made by Canon-Optron to Takahashi spec's, like other Takahashi objectives.
The FS-78 shares the same lens design and cell with its larger and smaller siblings, all of which are ~F8 fluorite doublets with the positive fluorite element on the front (hence the 'FS' – Front Surface – moniker). This means the lens is a conventional 'Fraunhofer' doublet, like a basic achromat, but with fluorite as the crown.
In recent years, Takahashi have brought back a fluorite doublet at this size, the FC-76D, but it's rather different with a fluorite-at-the-back Steinheil design, faster f-ratio (F7.5) and optimised for imaging (hence the 'D' for digital tag), as well as having a much more compact tube.
Does fluorite offer a genuine advantage over high-fluoride glass like Ohara's FPL53? Possibly. Fluorite is not a glass, it's a crystalline mineral and it has optical properties that no glass can quite match, including very high transmissivity and low scatter. The FS manual has this to say:
"… the use of multi-coatings further increases light transmission over any ED glass. This makes any fluorite objective brighter than any comparable glass objective …"
Does putting the fluorite at the front make for a worse optic, as some have claimed? I believe not. Check-out the excerpt from the FS manual below. Independent tests have found the FS-78 to be a true apochromat, whereas ED doublets often aren't. And it's not surprising the FS-78 corrects false colour so well, after all the FS-128 and even FS-152 are very well corrected too, even though false colour increases substantially at larger apertures for a given design.
Don't think of the FS-78 as inferior to a triplet, or 'old-fashioned' compared to the Steihnheil FC-76D. Instead think of it as being optimised for visual use, offering razor-sharpness and maximum contrast for the Moon and planets.
<![if !vml]>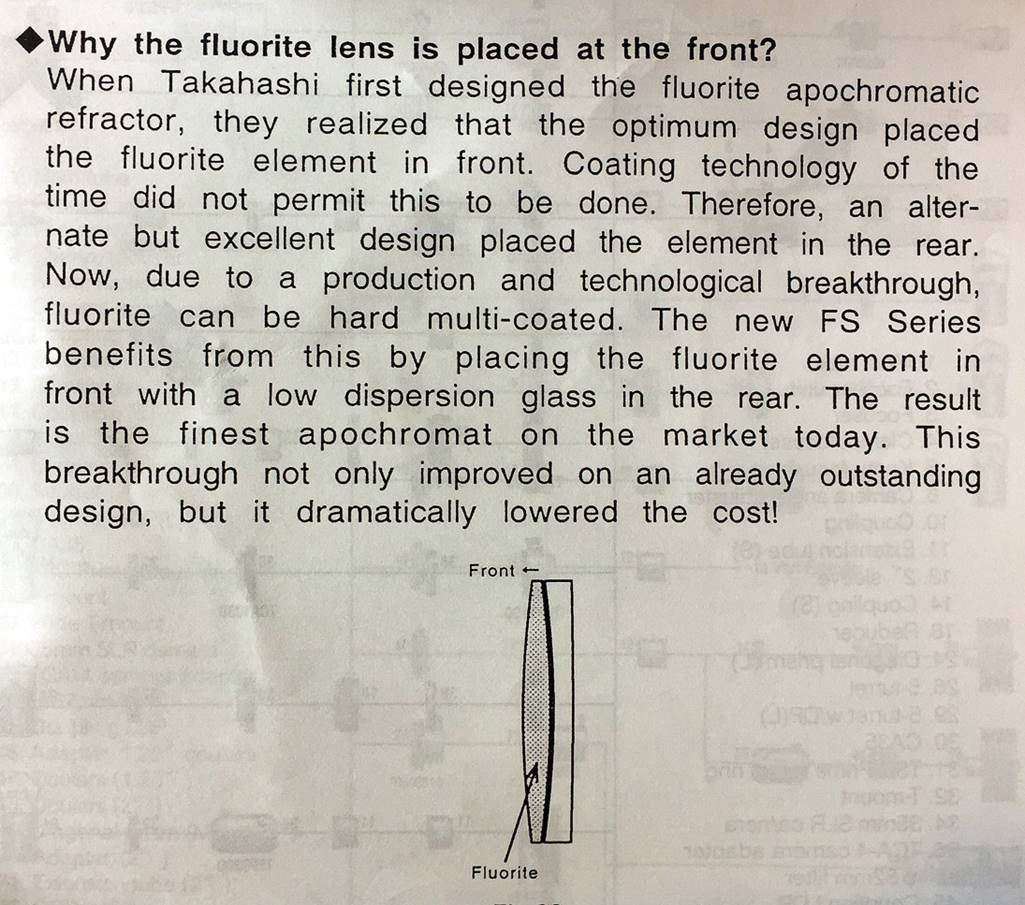 <![endif]>
<![if !vml]>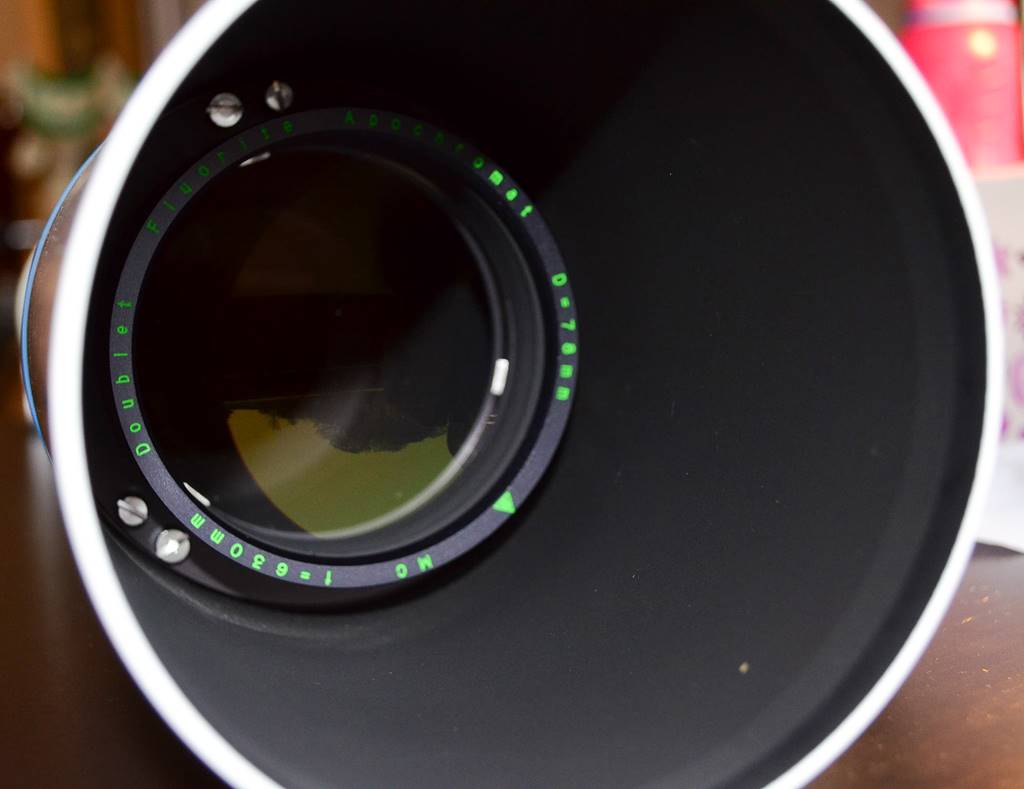 <![endif]>
Tube
The FS-78 looks just like its larger siblings (a friend who owns an FS-128, just said "Ahhh", the way you might about a cute kitten, when he saw it). So, like the others, the FS-78 has a long, glossy white tube with a fixed dewshield and a blue lens ring. To cap it off is a cast "manhole cover" which slides into the dewshield with a perfect fit and which has a 50mm port for solar viewing.
Takahashi started off as a specialist casting firm, so the focuser, lens ring and that dew cap are high-quality castings; no CNC here. The castings are finished in the traditional (and to me, beautiful) lime green enamel. As with the larger FS models, the FS-78 is not a compact instrument for its aperture:  at 740mm (almost 30") it is longer than many 4" refractors and has a 95mm diameter tube. Below are photos of the FS-78 next to a Takahashi Sky-90 and a Tele Vue TV-76 so you can see what a big OTA the FS-78 is.
Compared to a triplet it is light at 2.6 kg and well balanced, but still 800g heavier than the fixed-dewshield version of the FC-76D. In size and weight terms, the FS-78 is surprisingly similar to the newer FC-100D [sic].
The OTA contains a number of knife-edge baffles in super-matt black (no flocking paper here) to kill stray light and help with contrast, which in part explains its bulk.
<![if !vml]>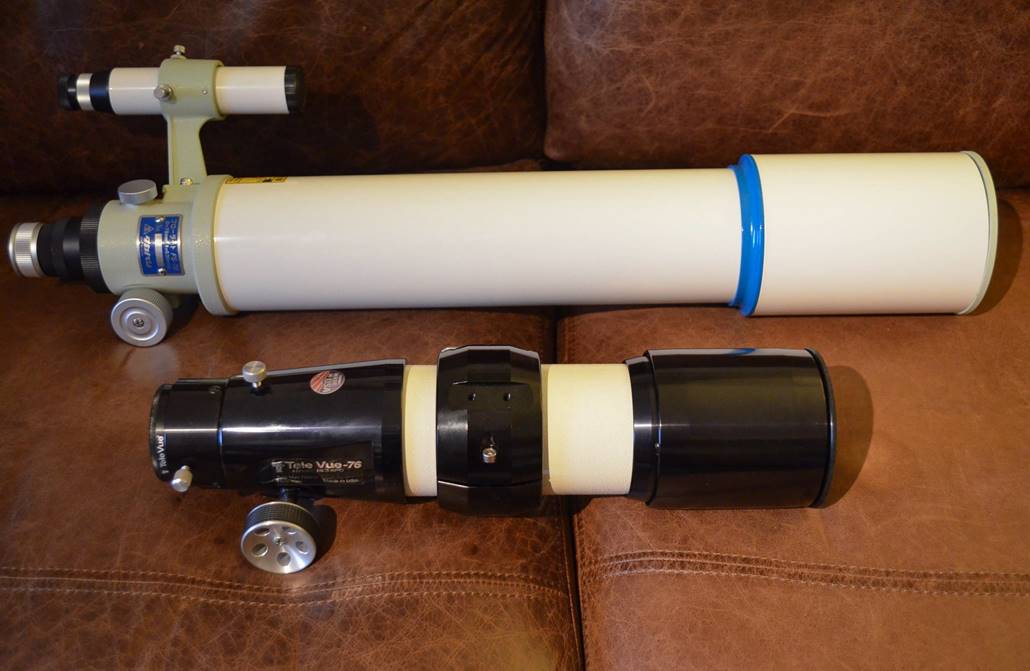 <![endif]>
<![if !vml]>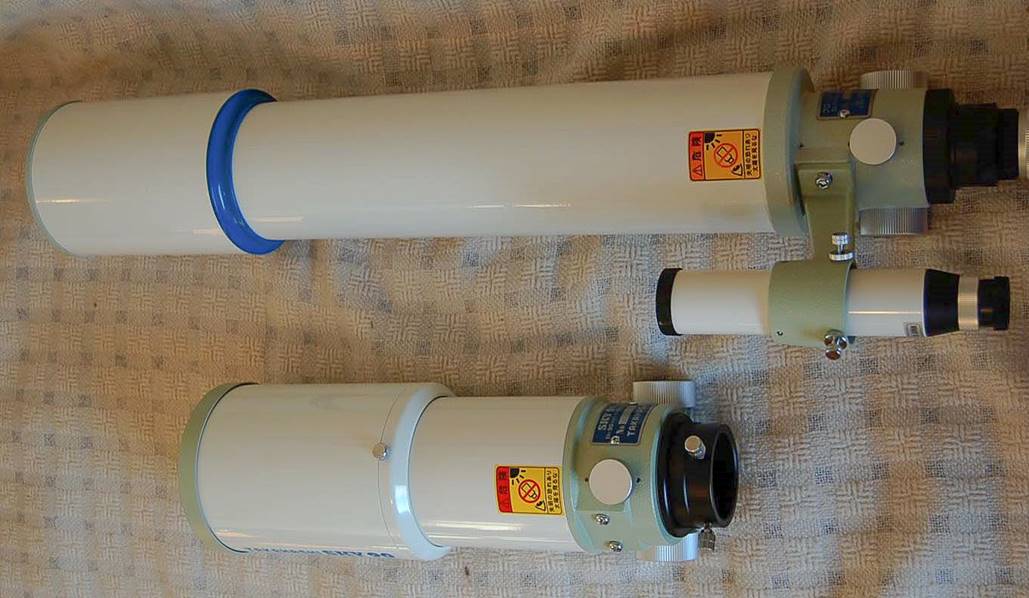 <![endif]>
Focuser
The focuser is a heavy duty rack and pinion unit with a single speed and long travel, with a single big tensioning knob on top – typical of the FS series and Takahashis in general. However, the FS-78 has a 2-inch focuser, not the 2.7-inch or 4-inch models found on the bigger scopes.
Fortunately, the action is every bit as creamy smooth and precise as the larger focusers. The only down-side was a bit of image shift at high power. This seems to be a problem with some Takahashi 2-inch focusers (much less so on the larger focusers), but emphatically not all of them. I believe this may be because folks are wont to hang big CCDs and DSLRs off them and eventually the bushings wear. The 2-inch focuser on my FS-60, owned from new, remains perfect.
One sign of cost-cutting, on this the bottom of the FS range, are the focuser knobs. These are a Takahashi trademark (perhaps even literally) and are usually heavy anodised metal, but in the FS78 they are cheap plastic imitations. I replaced them with proper FS-102 knobs.
Takahashi sell a 2" visual back (you can see it below on an FS-60 and on the Sky-90 pictured above).
<![if !vml]>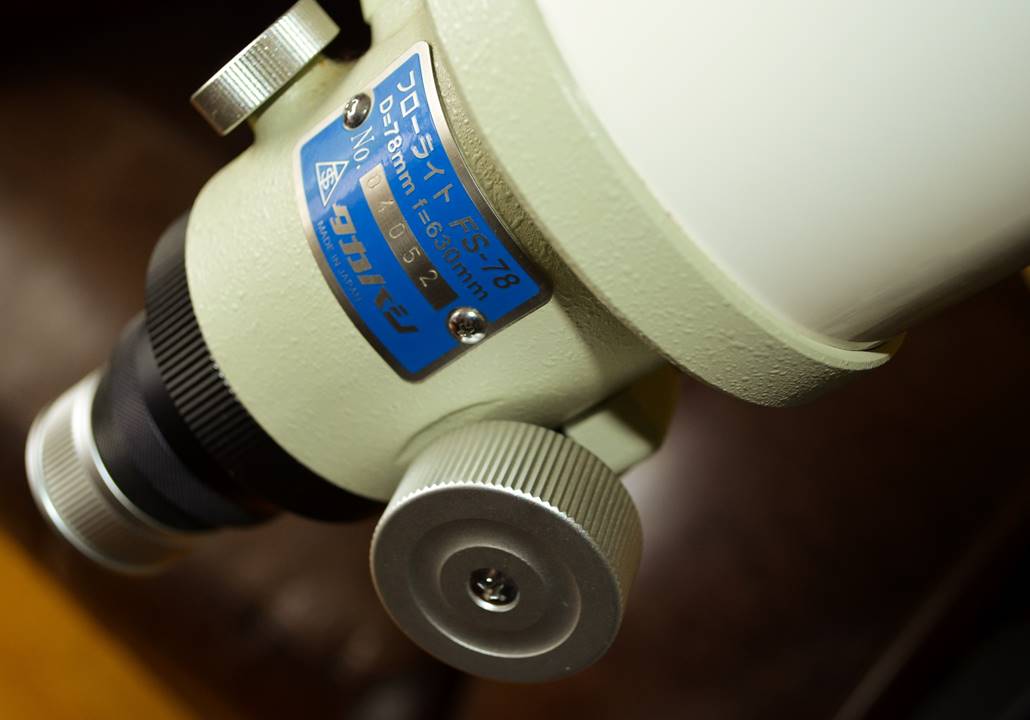 <![endif]>
<![if !vml]>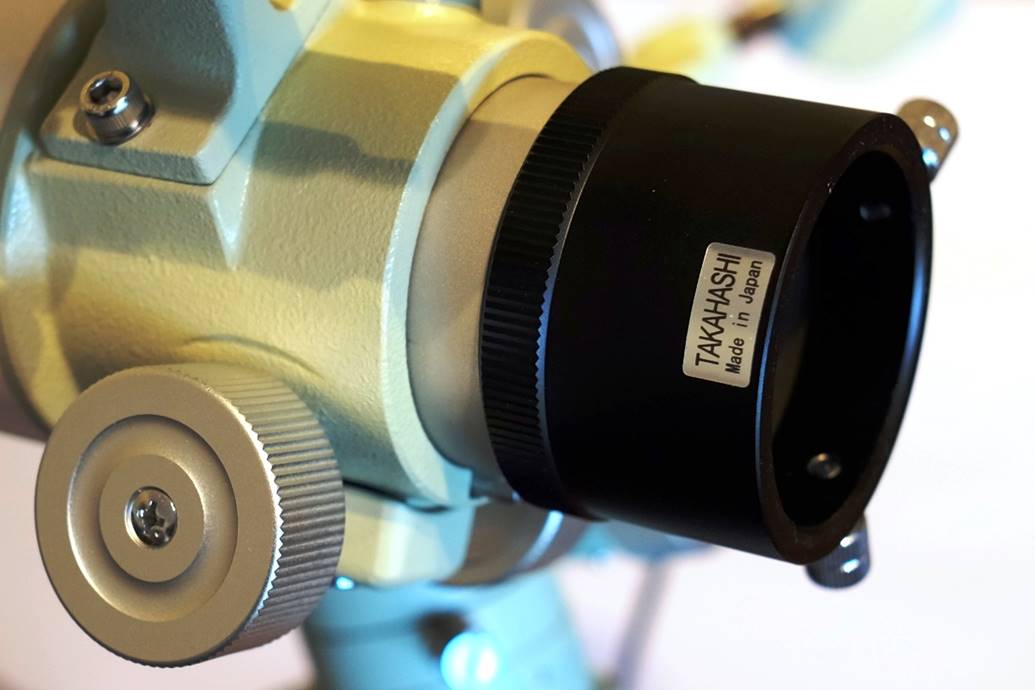 <![endif]>
Mounting
The tube-ring is another typical Takahashi item. It has a very easy-to-use double-hinge design and is lined in thick snooker-beize-green felt. It has both the standard pair of 35mm-separated M8 bolt-holes for Tak' mounts as well as a central ¼-20 thread. Takahashi make a narrow plate with matching M8 threads that fits Vixen/CG5 dovetails. The central thread is meant for photo tripods (optimistically I would have thought given the size of the FS-78).
I mostly used the FS-78 on Takahashi's own little German equatorial, the P2Z; occasionally atop the AP1200 in my dome. I am reminded of what a pleasure it is to use a driven mount for high powers: you can just relax and gaze without constantly having to shift the image, an important factor in seeing detail.
By way of comparison, I used a TV-76 (another 3" APO) mounted on a TeleVue Panoramic mount – a simple push-pull alt-az mount, a kind of Dobsonian for refractors. At low powers, the Panoramic is ideal for sweeping star fields, but at high powers it's a pain. The alt-az mount requires constant pushing and jiggling to keep up with the Earth's rotation; frequently you lose the object altogether and have to scan frantically or swap back to low power to get it back.
Superb views of Jupiter with the FS-78 mounted in my observatory reminded me how important a good mount is for high-power viewing of planets – I had never before seen so much detail with the FS-78.
Accessories
The FS-78 as shown is fitted with the 6x30 finder - one of the very best finders available, with loads of eye relief and a wide sharp field. It's an expensive option in the UK; but in Japan, Takahashi list it as a point-of-sale upgrade for just Y8000 (about £55) in their catalogue.
Takahashi made both a 1.6x extender and a 0.74x reducer for the FS Series refractors. The FS reducer was a premium product that delivered a 470mm focal length and a 42mm image circle, but it was an expensive option.
<![if !vml]>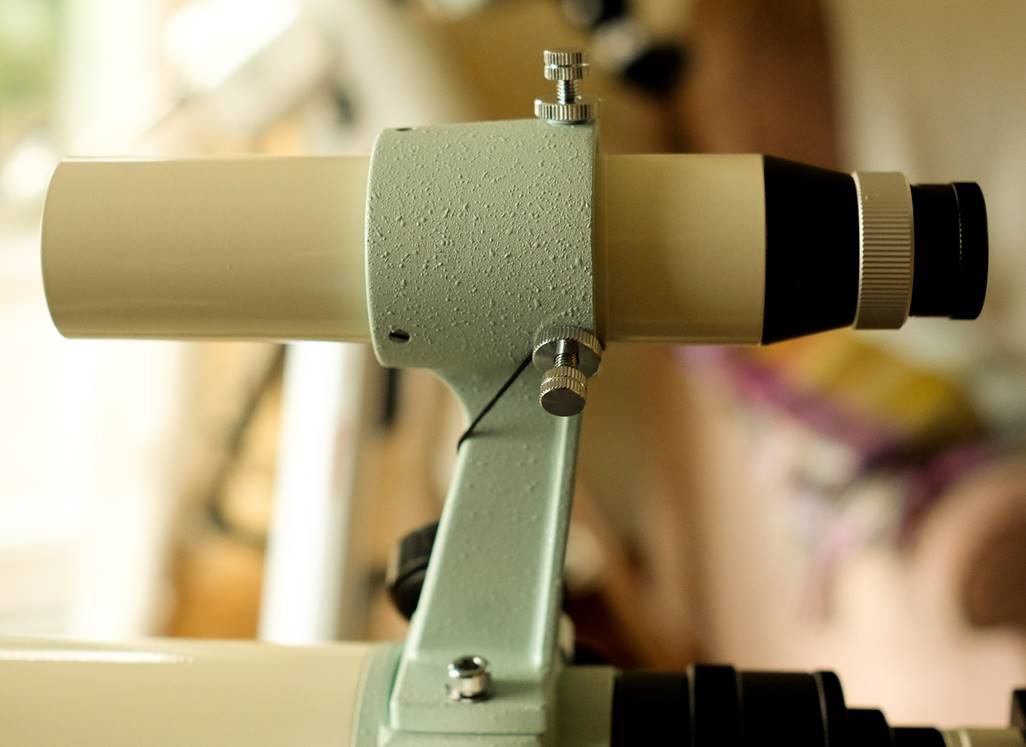 <![endif]>
<![if !vml]>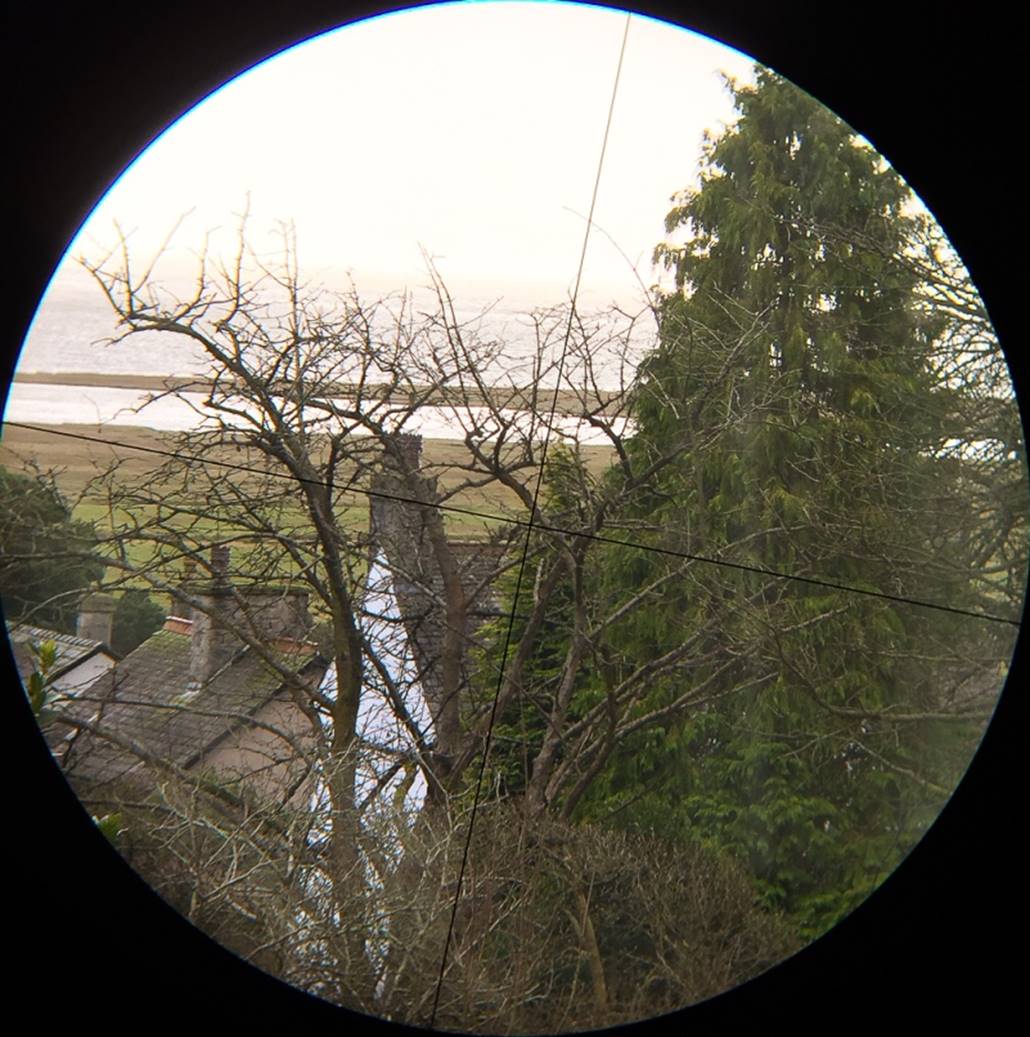 <![endif]>
Takahashi's excellent 6x30 finder and the view through it.
In Use – Daytime
The FS-78 is just too big and bulky for use as a daytime spotter, the way you can with a Tele Vue TV-76, but it delivers sparkling high-power terrestrial views. In daytime use there is no false colour in focus and just a trace either side. This confirms bench test results.
In Use – Astrophotography
Before the FC-76D was introduced, the FS-78 was widely used for imaging, but not by me. My only experience of imaging with the FS-78 is on the Moon with a DSLR. Unlike many scopes, where you struggle to get a really sharp Lunar images that will stand enlargement, the FS-78 makes this task easy with its absolute sharpness and snappy focus. Lunar images are among the best I have taken with a small scope. This sharpness, combined with its flat field and reasonably short F.L. make the FS-78 great for snapping conjunctions like this one (be sure to check out Jupiter - it actually shows the NEB and SEB).
<![if !vml]>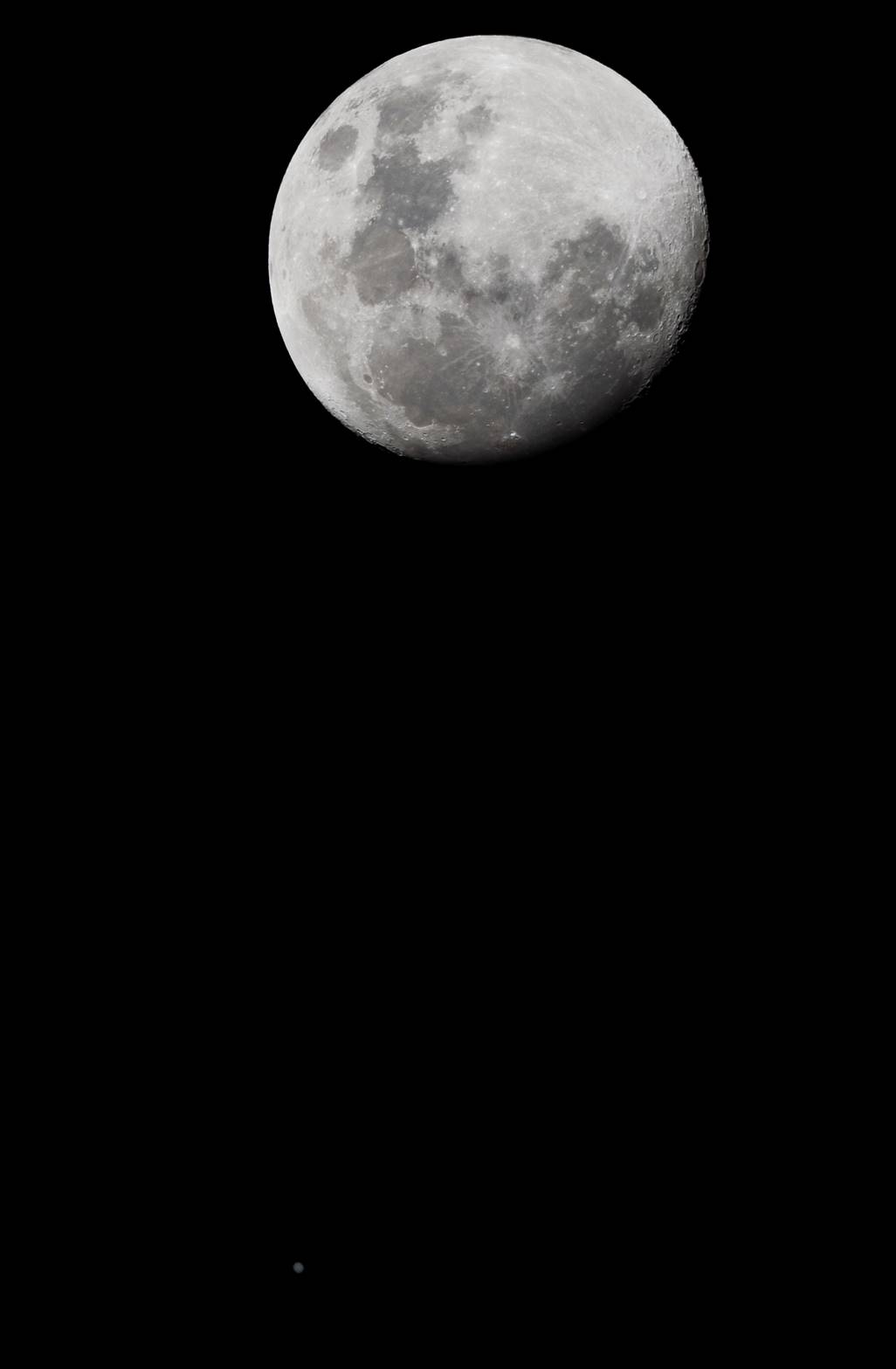 <![endif]>
In Use – The Night Sky
General Observing Notes
In action the FS-78 delivers on the fluorite doublet promise. It's all about contrast, contrast, contrast.
The FS-78 has a modest aperture considering it's an F8 fluorite doublet and you would expect minimal false colour; you'd be right. the same is true on bright white stars at high power.
Perfect focus on the FS-78 is a precise point, an absolute snap; fortunately the super-precise focuser is up to the task.
Cool Down
Cool down is very rapid, great for a quick-look scope.
Star Test
The star test is good, but both the FS-128 and two FS-102s I've owned had slightly better star tests: they were effectively perfect whilst the FS-78 shows slight under-correction. This is academic: the FS-78 works superbly in focus, as I've said.
The Moon
The moon is just pure blacks and whites and greys through the FS-78. One of the things which the FS series do better than any other 'scopes I have tried is picking out features on the very limb of the moon, where the bright disk meets black space. In many 'scopes this area is a bit fuzzy from scattered light, but through the FS-78 you see mountains in stark silhouette against space.
This telescope surprises in how much detail it shows for such a small aperture and how much magnification it can take without loss of sharpness. A 4mm eyepiece (I tried both a 3-6 Nagler zoom and a 4mm Takahashi Hi-ortho) gives 157x, which seems ideal for Lunar and planetary detail. To my surprise, the FS-78 still gave a very pleasingly sharp, contrast-filled image at 225x with the 2.8mm Hi-ortho, a magnification way over what I would normally use with a three inch scope.
Mars
To quote the FS manual again, "The FS refractors are particularly suited for planetary observation. Their ultra high contrast, sharp images will reveal a wealth of detail."
On Mars, I was surprised to see significant detail, despite the fact that the planet was still a month from an unfavourable opposition (2010) and so still pretty small. Normally I reckon a 4 inch refractor is the minimum for seeing detail on Mars, but the FS-78 faithfully showed me Syrtis Major, the bright region of Hellas and the north polar cap. Incidentally, at the same time I used the Nagler zoom to look at Mars with a Televue TV-76 (the 3mm setting giving virtually the same magnification as the 4mm setting in the FS-78). The image in the TeleVue was noticeably fuzzier and lacked the contrast of the FS-78. The difference was small, but enough that I wouldn't have been able to pick out the details in the same way with the TeleVue.
Jupiter
As promised, Jupiter is very impressive through the FS-78 and on many nights reveals as much detail as any 'scope, period. I recently had the FS-78 mounted atop my TMB 175. With the absolute stability and perfect tracking afforded by the big mount, I pushed the magnification to 180x with a 3.5mm Nagler and was rewarded with a pin-sharp view of Jupiter that included several belts, polar hoods, the GRS and several dark storms, along with a beautifully defined shadow transit. The TMB showed little more and in fact the FS-78's smaller aperture gave a more stable image in the mediocre seeing.
Deep Sky
I you want to enjoy clusters, bright DSOs and star fields with the FS-78, you can. Although it is an F8 (compared to the faster F6.3 of the TV-76), the actual focal length is still just 630mm, so very wide fields are possible. What's more, the field is flat, the contrast superb with the typical diamonds-on-velvet of a good apo'. The only limitation for use on deep sky is lack of aperture.
On a night of decent seeing, the double double was an easy split at 90x, whilst at 225x each pair was two little hard balls of light with a big dark space in between – an impressive result for a 3" scope. Rigel was a very easy split for the FS-78.
Summary
Optically, the FS-78 remains among the very finest of three inch apochromats – razor sharp, high contrast and effectively false colour free. The FS-78's overall performance is undoubtedly a notch above a regular 3" doublet APO (something like a TV-76 or SW Equinox 80).
There is a problem though – size. It's a problem the FS-78 shares with others in the FS Series. Bulk and weight are more of an issue for the FS-78, though: mostly people buy refractors of this aperture because they are small and ultraportable, but the FS-78 really isn't. It's as large as a current Takahashi four-inch and really needs a medium sized mount. If you want a Takahashi three-inch, the newer FC-76D is much smaller (and the FC-76DCU even splits for airline transport) and perhaps 90% as good.
However, if the portability thing doesn't bother you, then the FS-78 remains a wonderful small refractor and one of the most false-colour free doublets ever made.
The FS-78 is very highly recommended, but the FS-102 is a better all rounder and not that much bulkier.
Updated by Roger Vine 2018
<![if !vml]>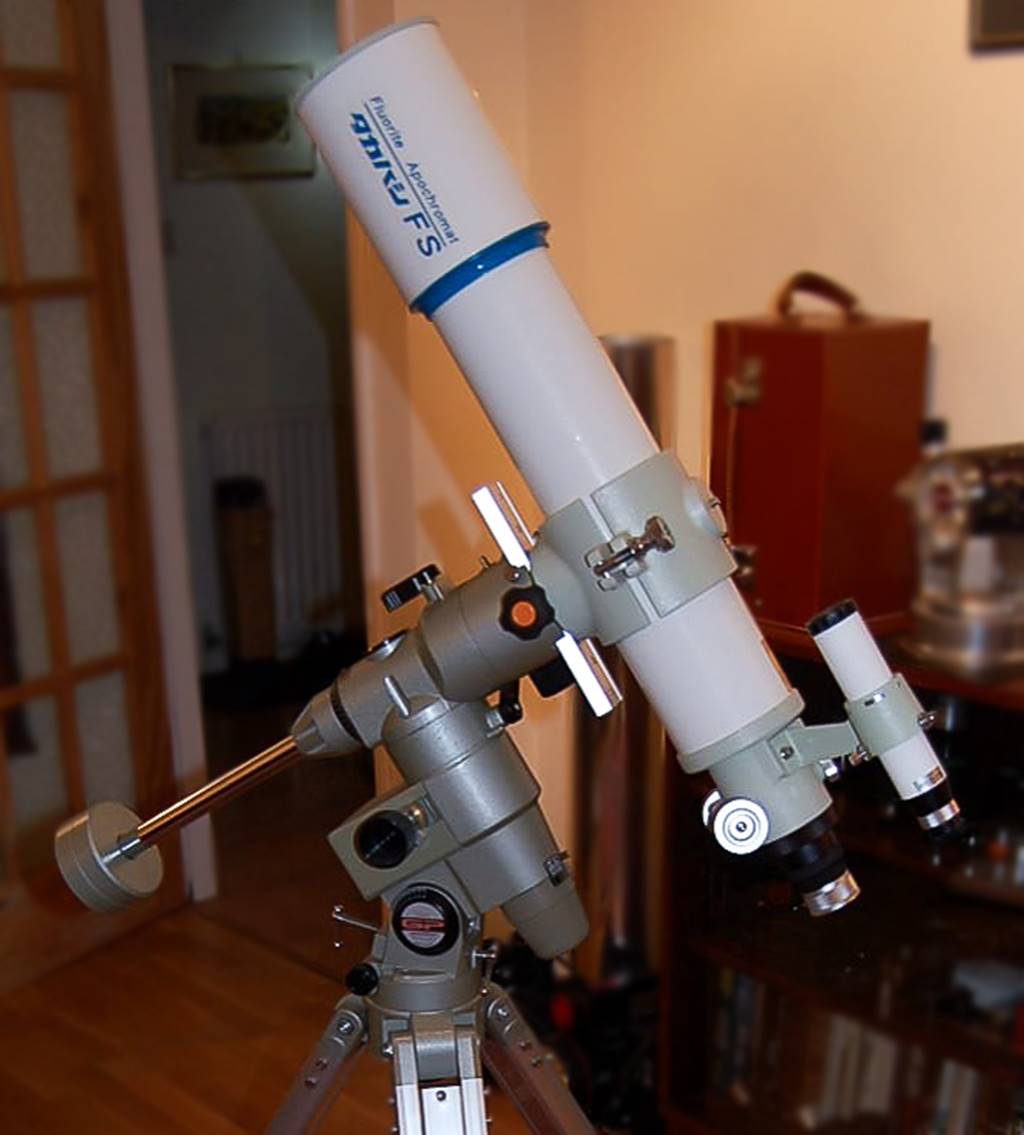 <![endif]>