Vixen APZ Mount Review
<![if !vml]>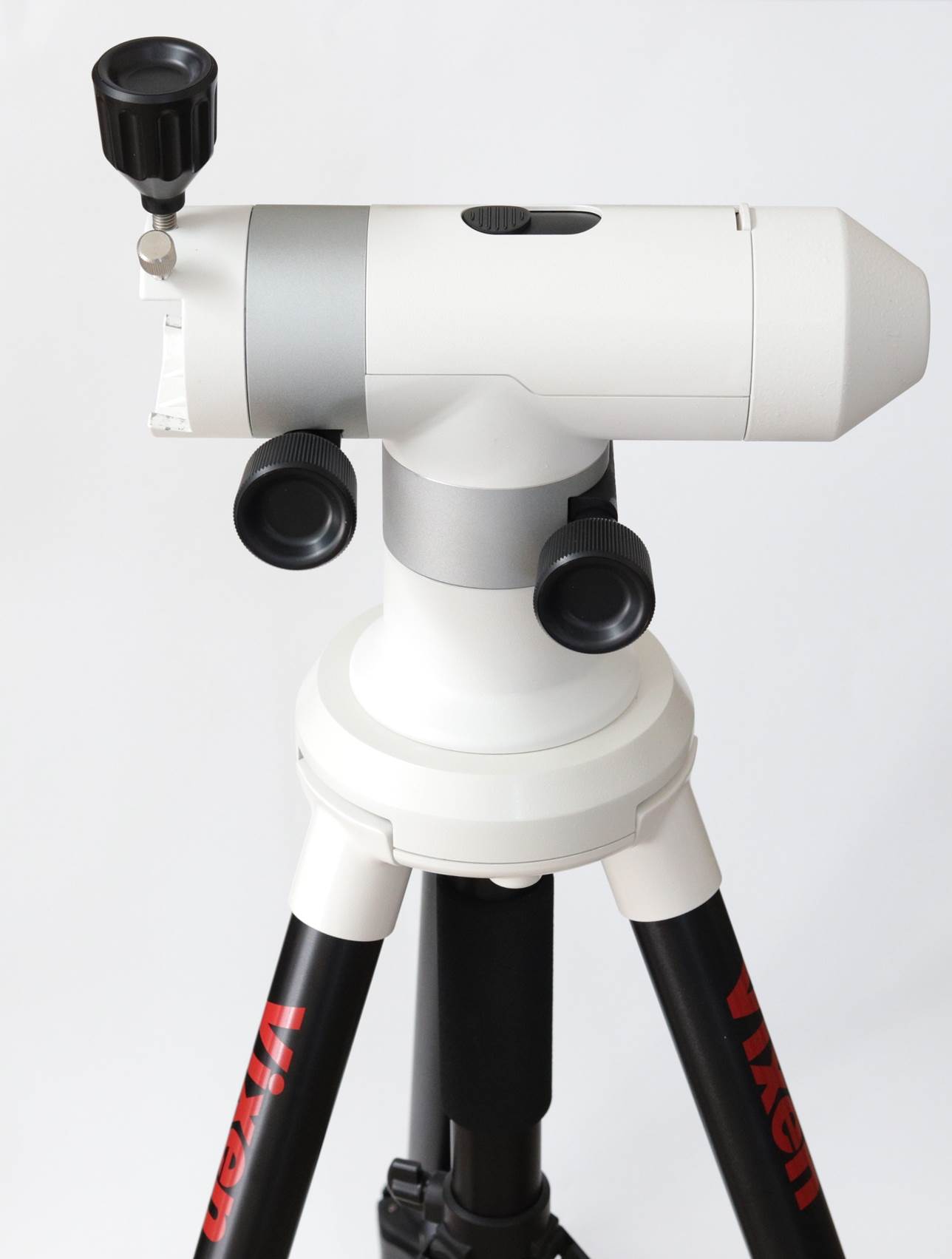 <![endif]>
Alt-az mounts seem to fall into two main categories Ė push-pull only, ideal for visual at moderate powers; or goto/tracking.
I prefer a simple push-pull mount for visual use, but with slo-mo controls for manual tracking at high powers. The Porta works like this, but it is only properly stable at high powers with the lightest scopes (refractors up to ~3Ē). Enter the APZ Ė an alt-az that works like the Porta, but built more like other push-pull mounts and capable of supporting medium sized scopes.
Iíve owned several Vixen mounts Ė including the GP, SX2, Porta and Mobile Porta. Iíve been very impressed by all of them, except for the Mobile Porta, so I hoped the APZ might work well with my AP Stowaway for travel.
The APZ also has some unusual design features that differentiate it from most alt-az mounts, as we will see.
At A Glance
| | |
| --- | --- |
| Mount | Vixen APZ |
| Weight | 2.2 Kg mount + 1.65 Kg conical weight + ~ 3 Kg tripod |
| Capacity | ~8 Kg |
Data from Vixen.
Whatís in the Box?
The APZ comes in the usual thick vixen crate with polystyrene inserts. All you get is the mount head, counterweight and slo-mo knobs.
<![if !vml]>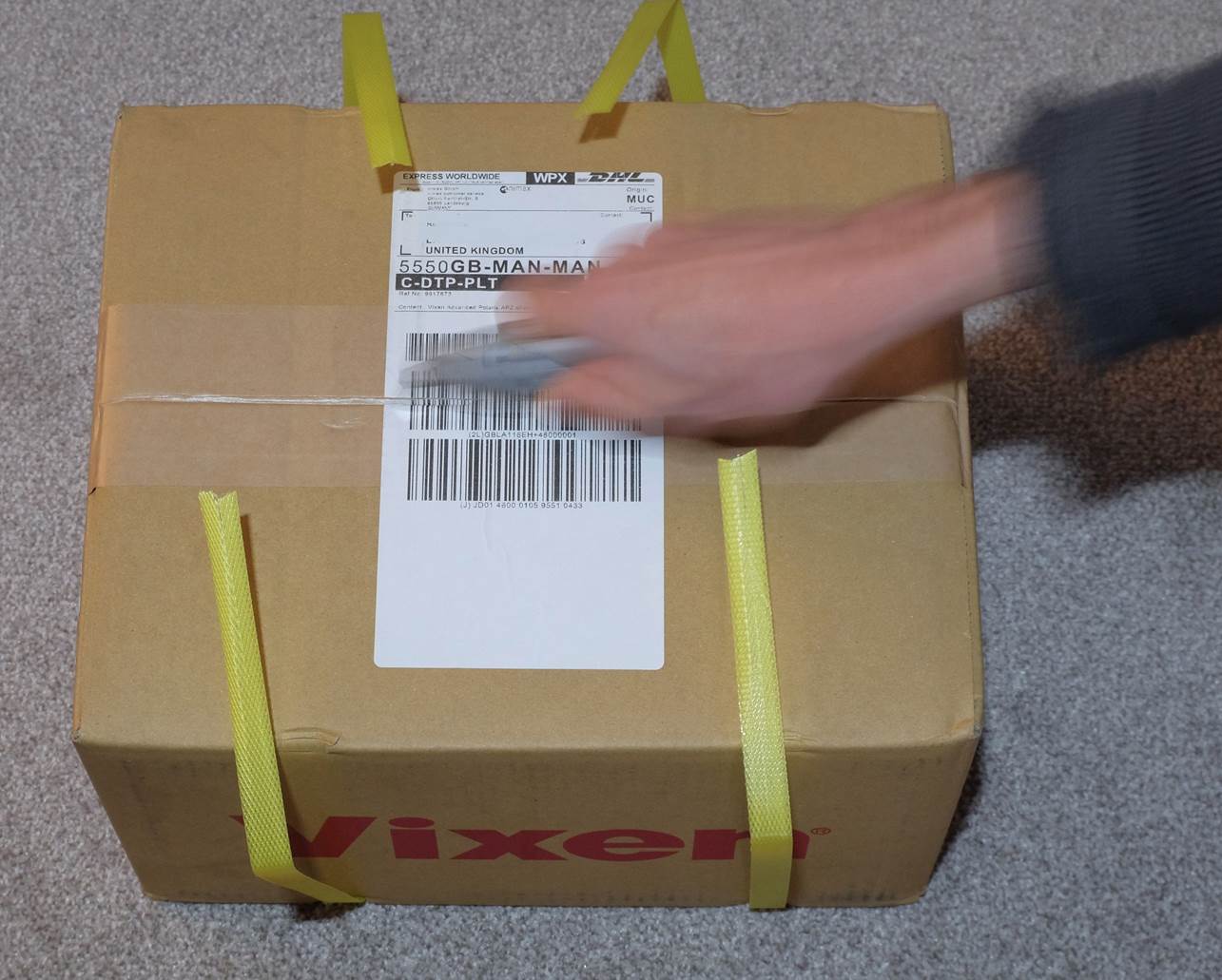 <![endif]>
<![if !vml]>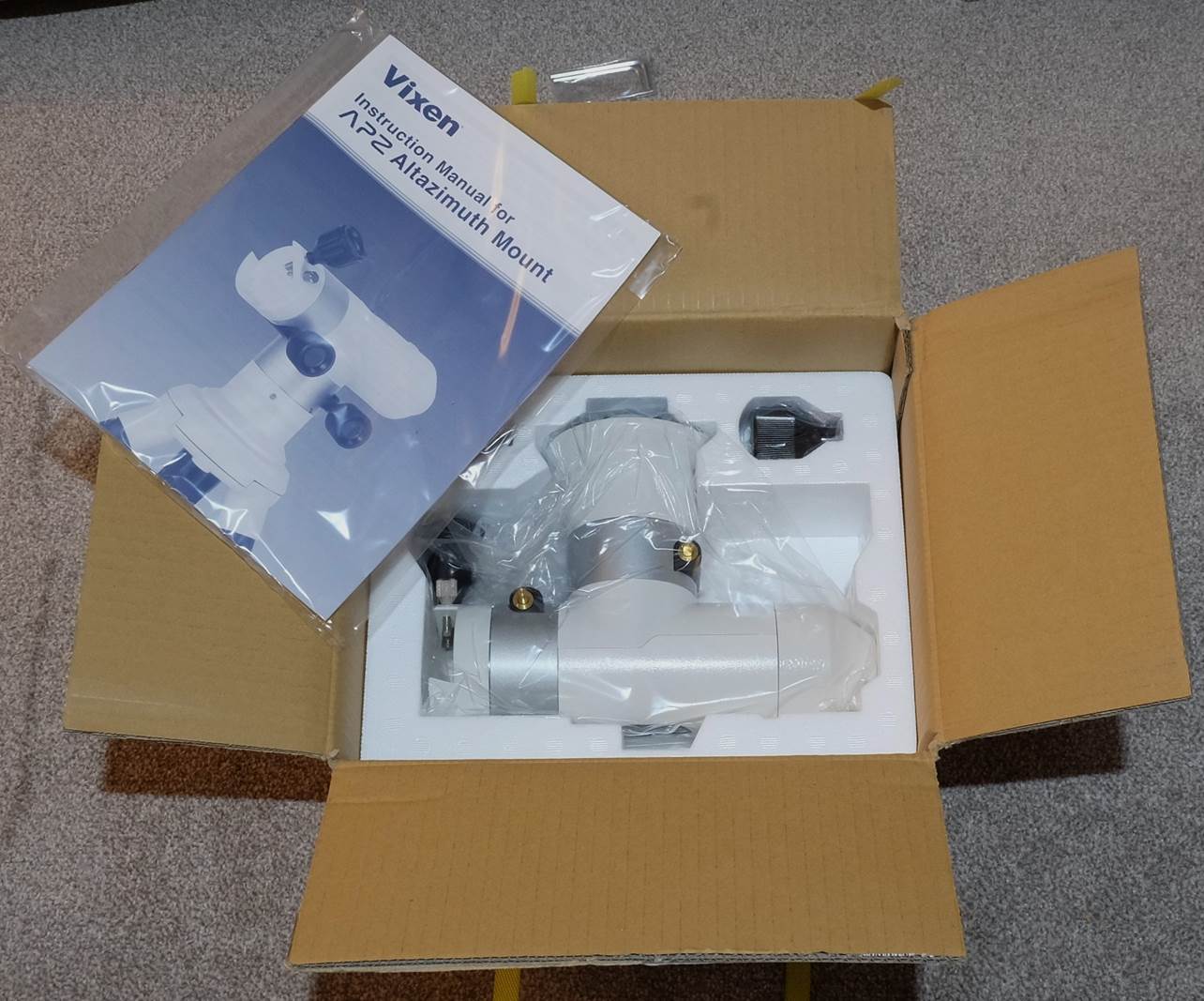 <![endif]>
Design and Build
If the APZ looks strangely familiar, thatís because itís essentially the declination axis for an AP equatorial mount. Indeed, by buying some accessories you can convert it into an AP (and vice versa) - a really useful feature for saving both storage space and cost.
Otherwise, the APZ appears similar to many Giro-type push-pull mounts and works much the same. You can just push it around the sky, but it has those slo-mo controls on both axes for fine control as well.
Build quality is typical of Vixenís equatorial mounts, which is to say excellent. It may use castings rather than CNC components, but these are finely fabricated and solid, that white powder coat very durable (as I know from many years of using my SX2).
Mount Head
The T-pattern APZ mount head looks like a lot of Giro-type mounts from various makers, but has some unique features.
The APZ comes with a 1.65 Kg counterweight, screwed into the coarse thread for the AP counterweight bar. The weight is conical, fits flush and makes storage and set up unusually easy, as well as looking compact and neat. The weight appears integral, but it is not - it can be unscrewed for really light loads, or you could thread in a short bar and standard Vixen weight to balance heavier ones. For scopes up to about 5 Kg (e.g. a 4Ē refractor + accs), itís ideal as it is.
As you would expect, the APZ has a built-in Vixen-fit dovetail with both main and safety set screws.
The axes run in ball bearings and so move with a very fluid action, without the stiction you get with so many. Like the Portaís, the slo-mo knobs push on to brass axles with flats, but are made from a more durable plastic than the flimsy ones on the Porta and its derivatives.
Tripod
The APZ ships without a tripod, so you can choose from a range of Vixen ones. It is probably intended for use with the medium-duty APP-TL130 tripod you see in the photos here and that weighs about 3 Kg. You could also use the ubiquitous, but heavier, HAL-130. Another option would be any Berlebach wooden tripod, for which they make a Vixen adapter.
In some of the photos here, Iím using the heavy-duty Vixen ASG-CB90 carbon fibre tripod Ė light at 3.5 Kg and intended for larger AXJ mount, so very solid. The ASG-CB90 is very simple to use too, with just one set of leg extensions locked by big twist-lock clamps (super convenient in the dark with gloved or cold hands). However, the ASG-CB90 is quite short and so wouldnít be ideal for longer OTAs where the eyepiece would be too low with the scope set near the zenith.
In all cases, you have to remove the tripodís post for the AP equatorial/SX mount before fitting the APZ head. The post just screws into the bottom of the centre post for storage Ė another thoughtful design feature.
The mount head then slots into a circular dovetail recess on top of the tripod, so fitting is quick and easy, even in the dark.
Finally, you just twist the tripodís centre pole to tighten the thread into the mount head Ė the thread is much coarser and so more fool-proof than a ľ-20Ē or 3.8Ē photo tripod thread.
<![if !vml]>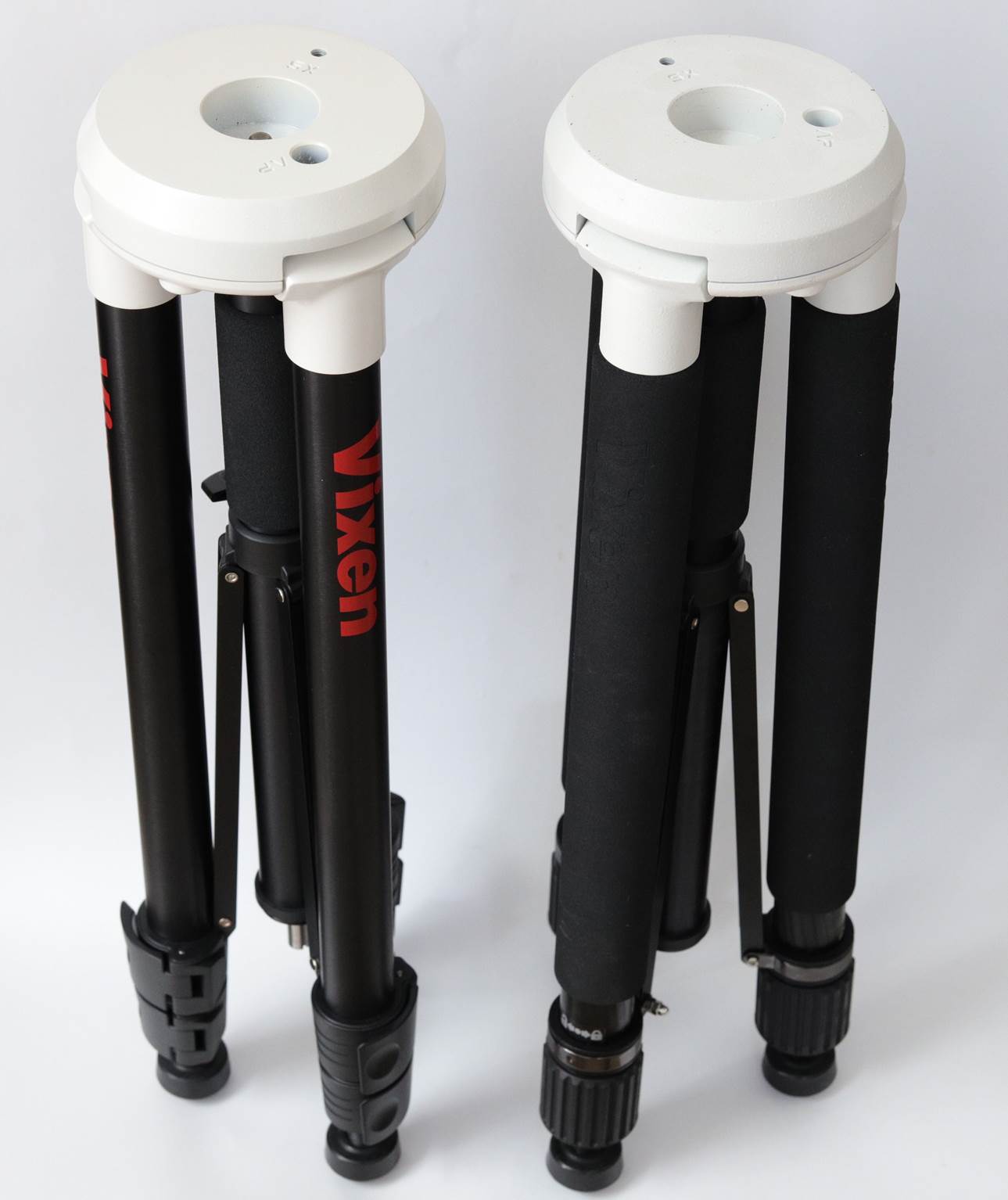 <![endif]>
APP-TL130 and ASG-CB90 tripods.
<![if !vml]>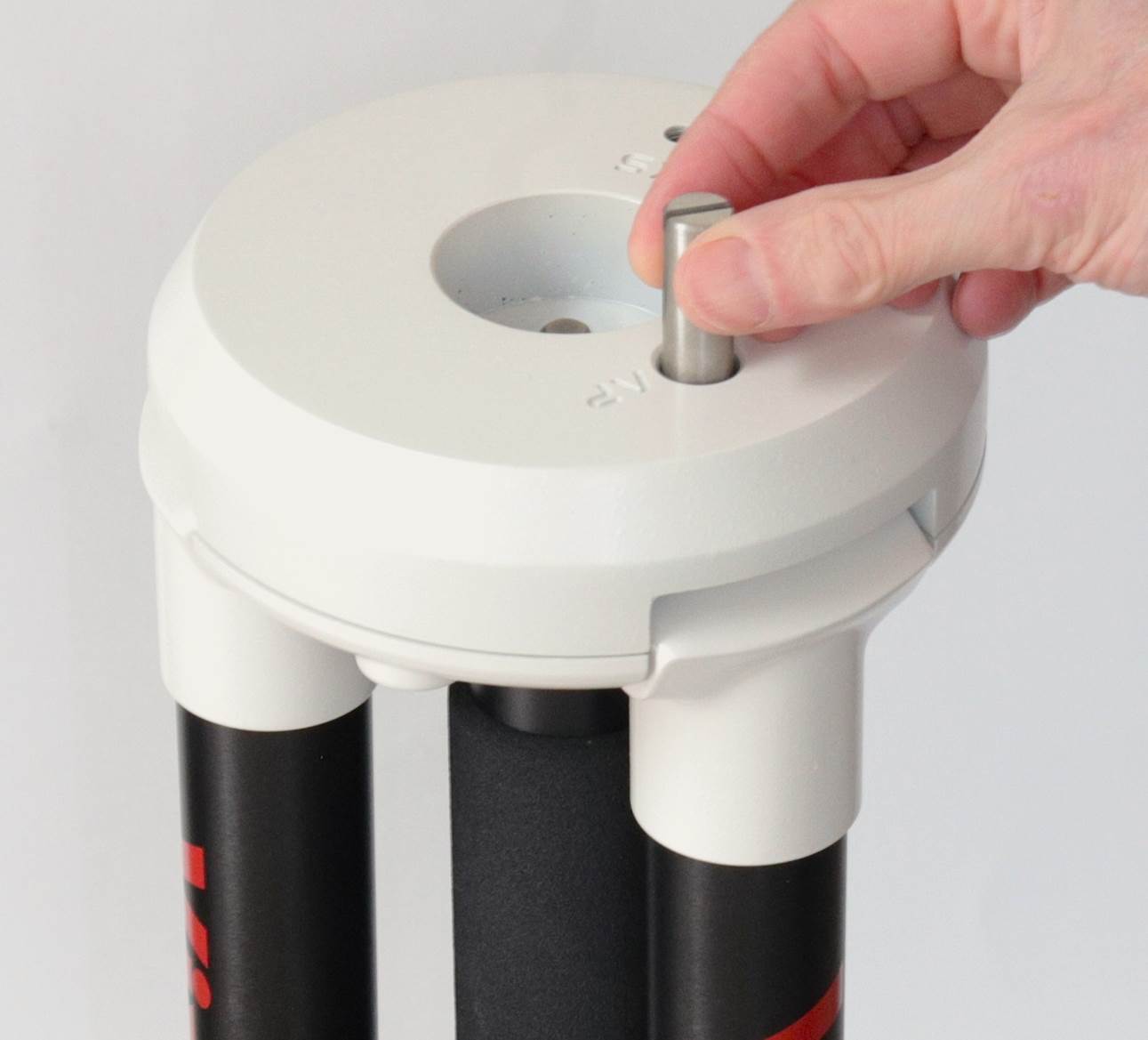 <![endif]>
<![if !vml]>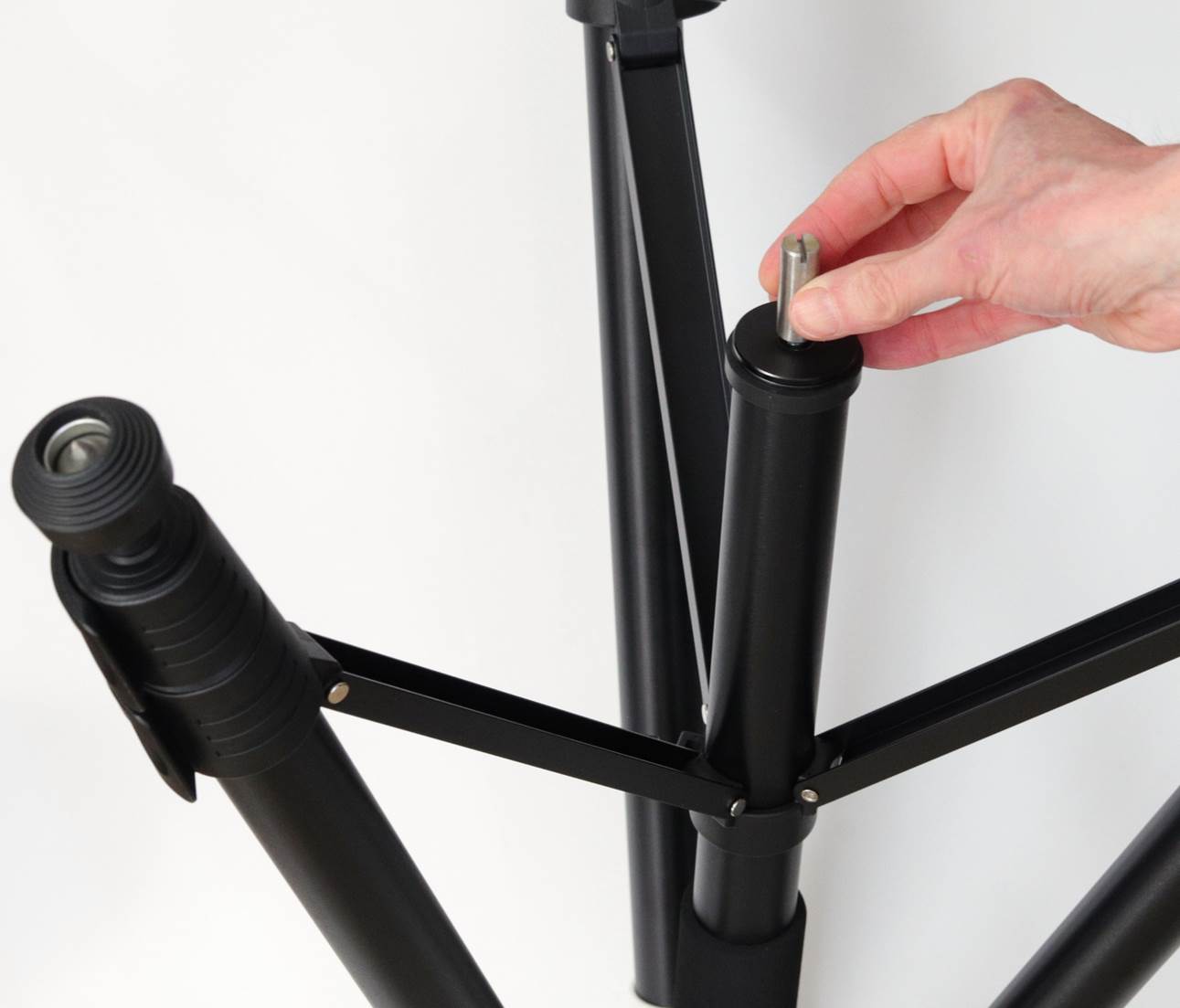 <![endif]>
On all Vixen tripods, first remove and stow the azimuth adjuster post for equatorial mounts.
<![if !vml]>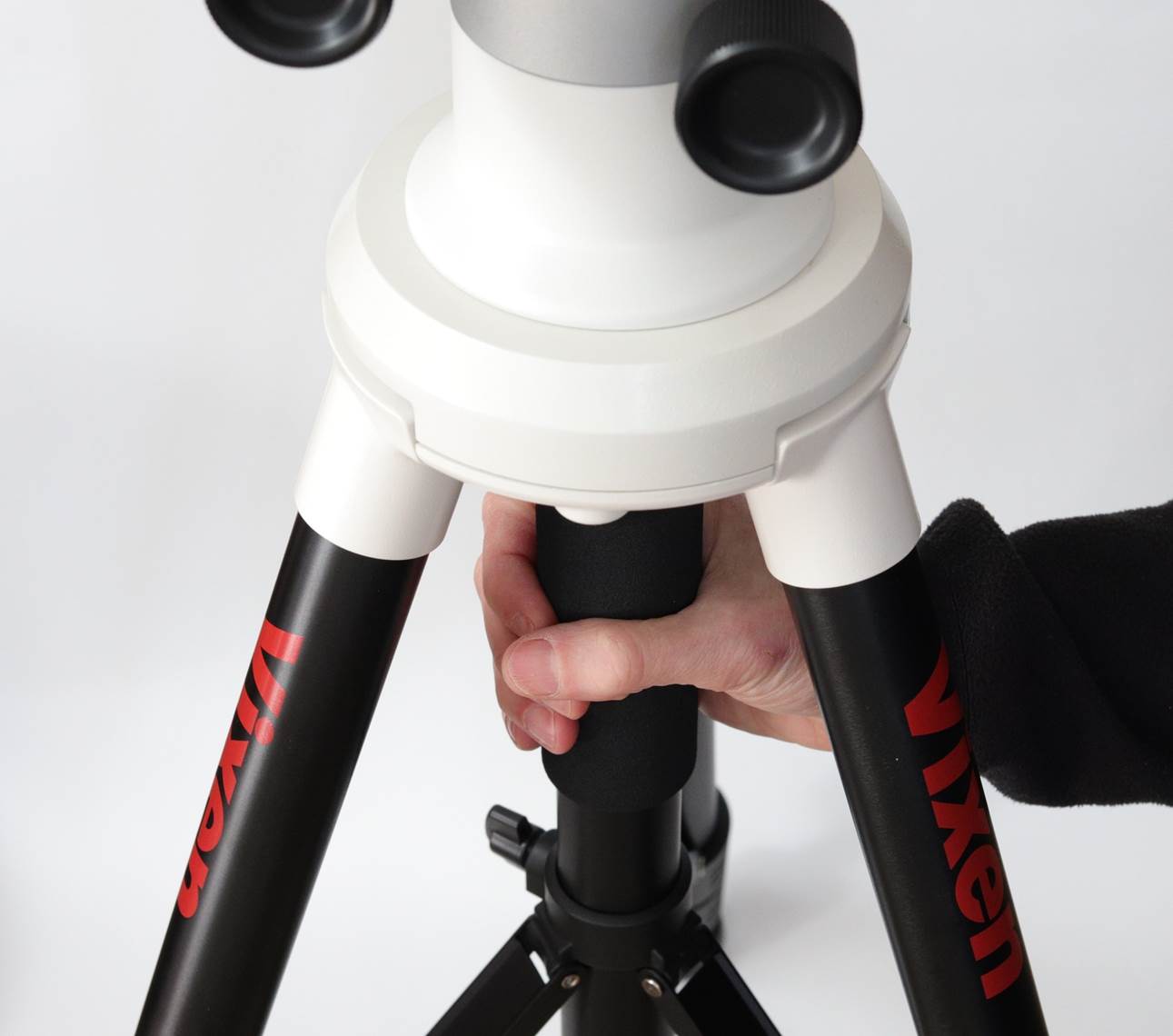 <![endif]>
Tripod is secured by twisting the centre post.
Accessories
A range of accessories from Vixen are available for the APZ:
<![if !supportLists]>∑ <![endif]>A stylish semi-rigid case with lots of pockets and pouches thatís a snug fit for either the APZ or AP
<![if !supportLists]>∑ <![endif]>Various tripods, see above
<![if !supportLists]>∑ <![endif]>A set of accessories that convert the APZ into an equatorial AP mount:
<![if !supportLists]>∑ <![endif]>The Polar Axis unit turns the APZ into a small and light equatorial with manual slo-mo controls
<![if !supportLists]>∑ <![endif]>A counterweight bar and weight(s) for all but the smallest OTAs (for the equatorial AP conversion)
<![if !supportLists]>∑ <![endif]>An RA motor module set to make the mount tracking, which includes a the basic StarBook One controller. All the internal wiring connectors are already fitted, so this end up as a very neat (if expensive) upgrade
<![if !supportLists]>∑ <![endif]>A declination motor to give a fully motorised mount. Vixen suggest these motor options could be fitted to the APZ to make a driven alt-az, but Iím not sure I see the point
<![if !supportLists]>∑ <![endif]>The final equatorial upgrade would be a polar finder
Vixen originally offered other accessories to convert the APZ into an ultra-light portable photo-platform, but these seem to have been discontinued.
<![if !vml]>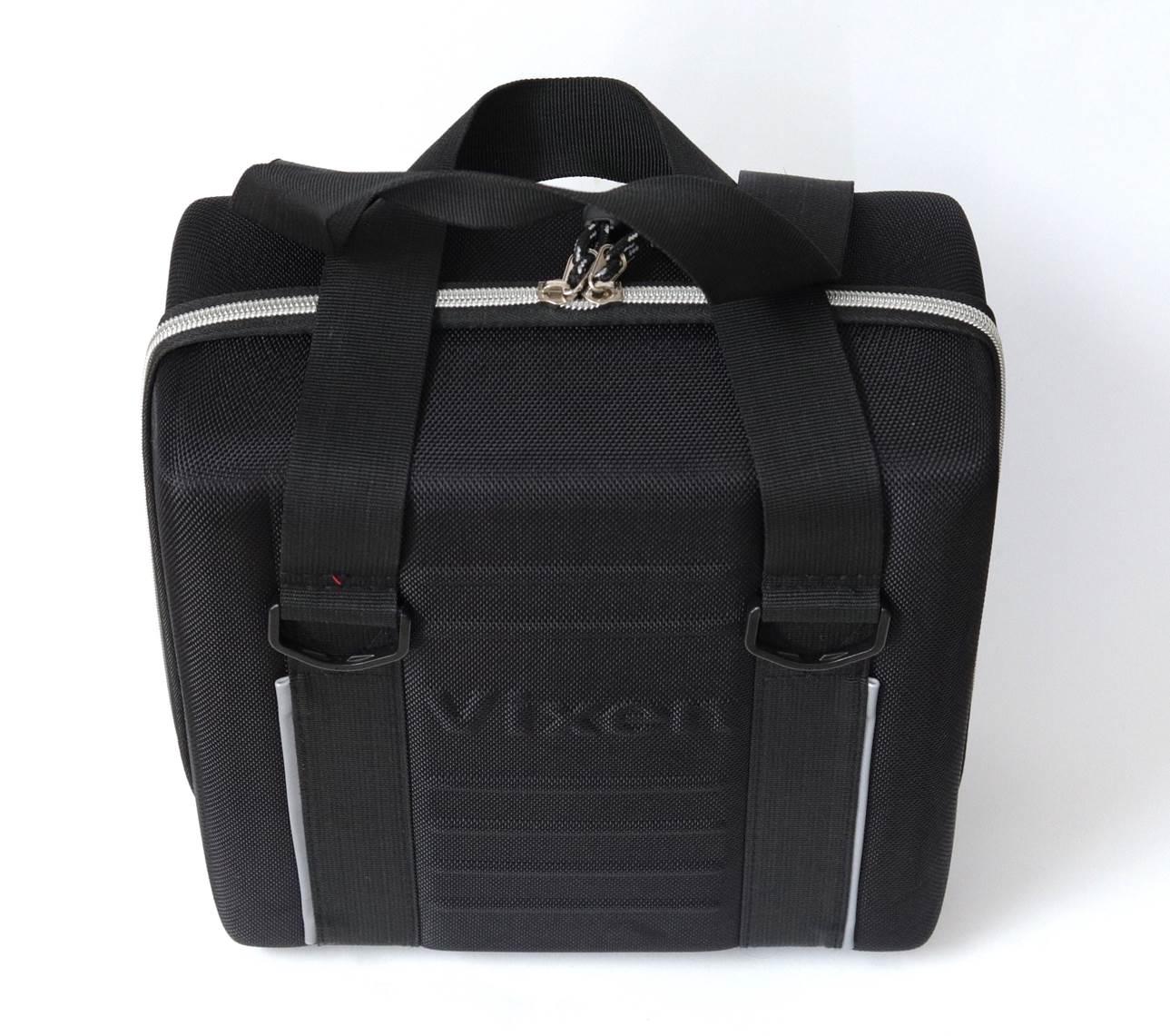 <![endif]>
<![if !vml]>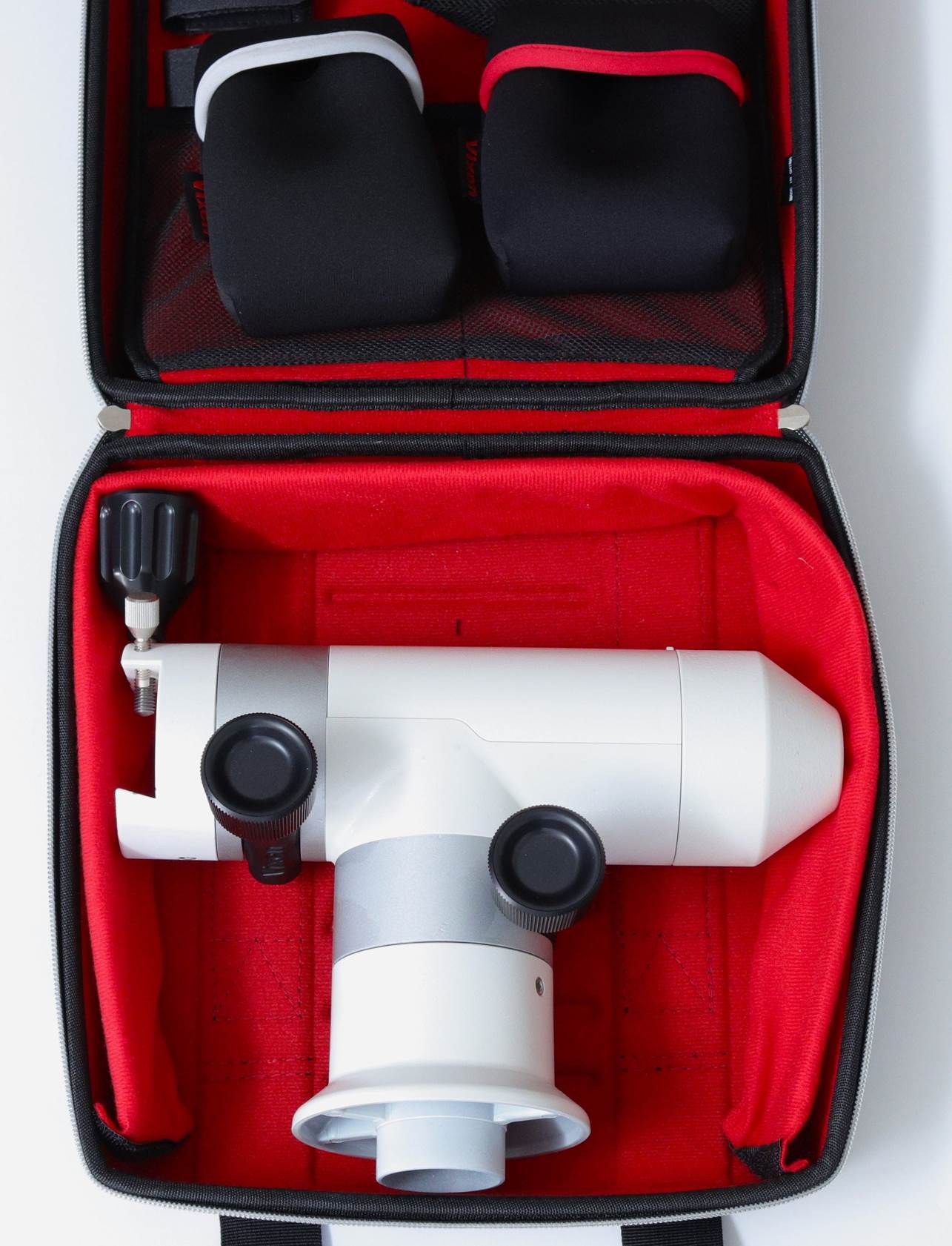 <![endif]>
In Use Ė Daytime
The APZ is an astronomy mount, but you could certainly use it as a very stable scope-mount for birding or nature viewing.
In Use Ė Photography
I used the APZ as a platform for my AP Stowaway when imaging a recent occultation of Mars by the Moon: with low vibes, zero slop and backlash, it proved ideal for a situation where long exposures arenít required.
In Use Ė The Night Sky
For loads of ~~5-7 Kg, the APZ proves truly excellent.
On the ASG-CB90 tripod, the APZ is essentially vibe-free with refractors in the ~100mm class, even at very high magnification. I have now used it with the Stowaway, an FC-100DC and an FSQ-85, all of which would tax a Porta except at low powers. But with the APZ, even drumming on the focuser induces only the smallest and briefest vibes that damp after a second or so. This means itís easy to get critical focus.
Pushing the scope around works very well: there is none of the stiction, backlash and droop you get with most photo heads. It just goes where you push it and stays there. The slo-mo controls are similarly good: precise and accurate, with no slop or backlash, allowing for perfect fine control even at 200x and more (I used it extensively for viewing Mars around the 2022 opposition).
<![if !vml]>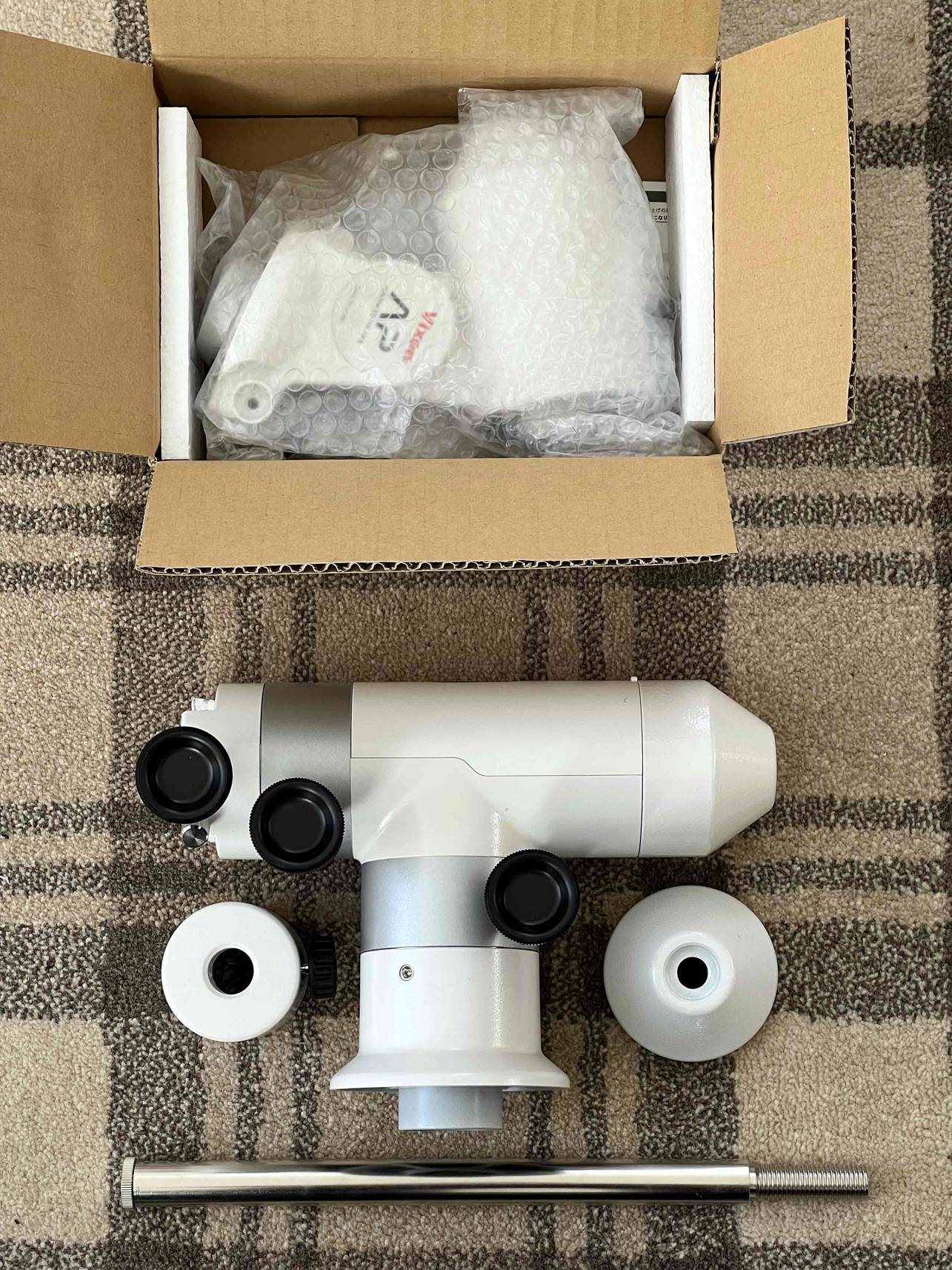 <![endif]>
Viewing Mars at opposition with the APZ and an FSQ-85.
Summary
Iím hugely impressed with the APZ and canít find anything to criticise. Itís like a Porta, but much better. For small to medium scopes, performance is flawless, with none of the nasty droop, vagueness, vibes and backlash that plague many alt-az mounts at high powers.
I like the ability to use a range of tripods, depending on your needs. Sharing tripods with other Vixens is space and cost saving too (I use the ASG-CB90 for my SX2 mount as well). Fitting it on a tripod is rapid and fool-proof, thanks to thoughtful design.
The flexibility to convert it to an equatorial AP mount is a useful feature, as are the various options for counterweights.
The APZ is quite expensive, but you do get what you pay for here.
The Vixen APZ is a superb piece of kit that delivers a very stable and low-vibe platform for medium scopes, with slo-mo controls fine and precise enough for high powers. It gets my highest recommendation.
<![if !vml]>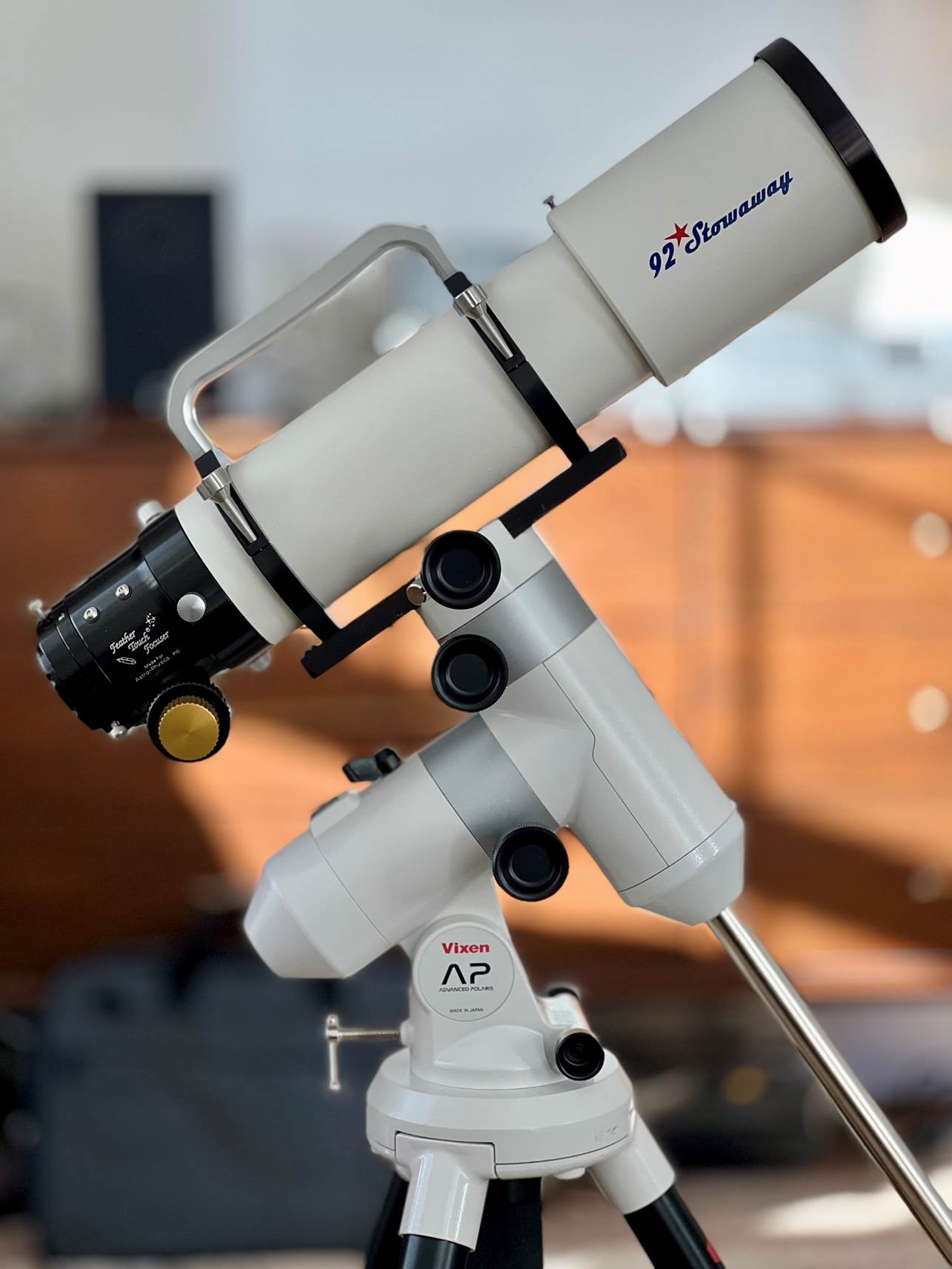 <![endif]>
APZ is perfect with the Stowaway.