Just about the only thing not to like about Zeiss' wonderful SFs is their size (and maybe cost). Zeiss claim the SFLs fix that without sacrificing the comfort and the wide bright view.
Zeiss 10x40 SFL Review
<![if !vml]>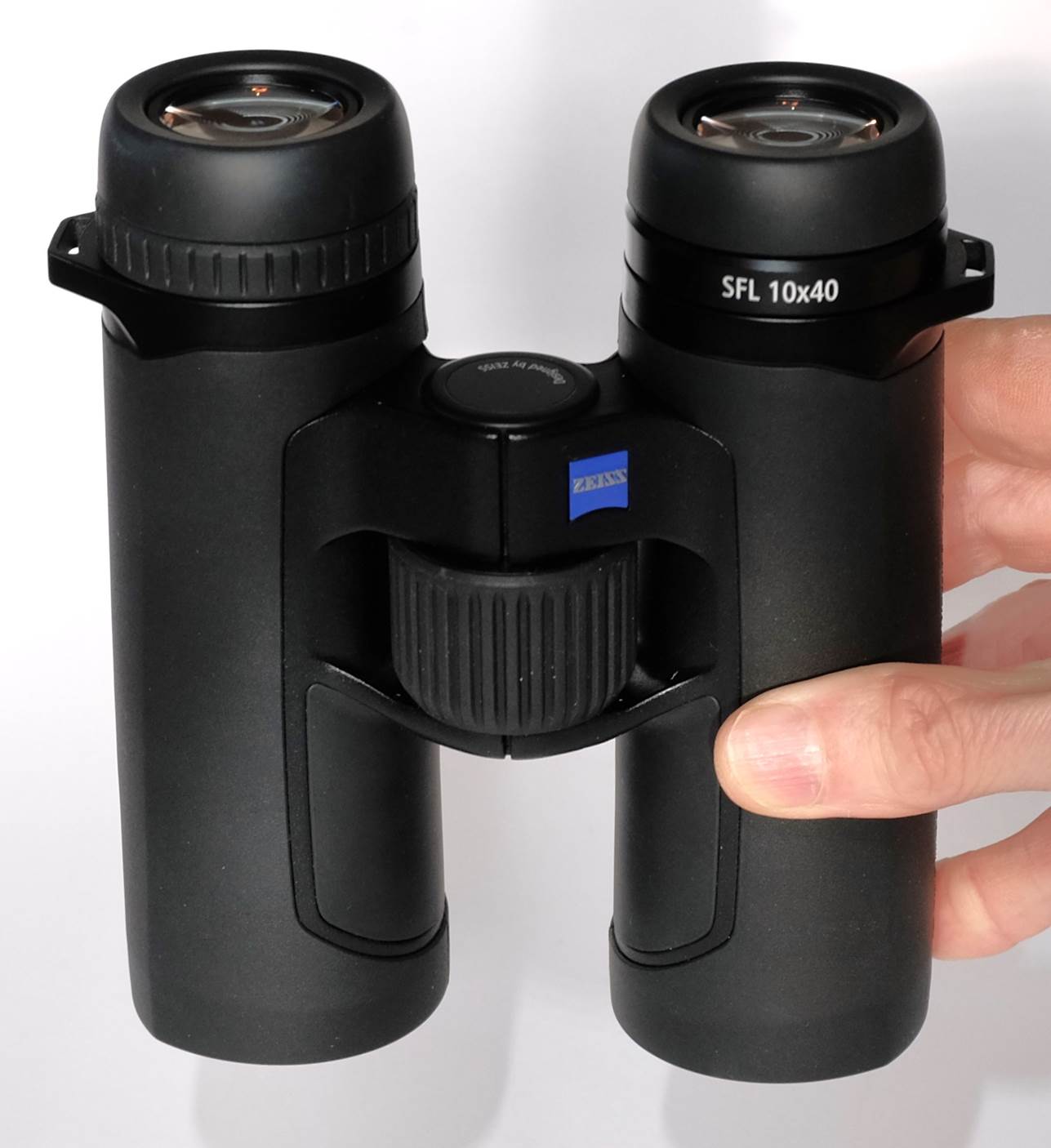 <![endif]>
I love Zeiss' premium birding binoculars, the SFs. For birding (as opposed to nature viewing or astronomy) they might just be my favourite. But there's no escaping that they're large for a 42mm model. They're lighter than they look, but still as heavy as most.
So, how about an SF that's as small and light as an old-fashioned pair of 10x40s, like Leica Trinovids or Zeiss Jena Notarems? Here you go…
On paper the SFLs seem to offer all the optical goodness of the SFs, but in a 20% smaller lighter package. Read on to find out if that's just too good to be true…
At A Glance
| | |
| --- | --- |
| Magnification | 10x |
| Objective Size | 40mm |
| Eye Relief | 18mm claimed, 16-17mm measured |
| Actual Field of View | 115m/1000m |
| Apparent field of view | 62° |
| Close focus | 1.3m measured |
| Transmissivity | 90% |
| Length | 144mm |
| Weight | 640g measured w/o caps. |
Data from Me/Zeiss.
<![if !vml]>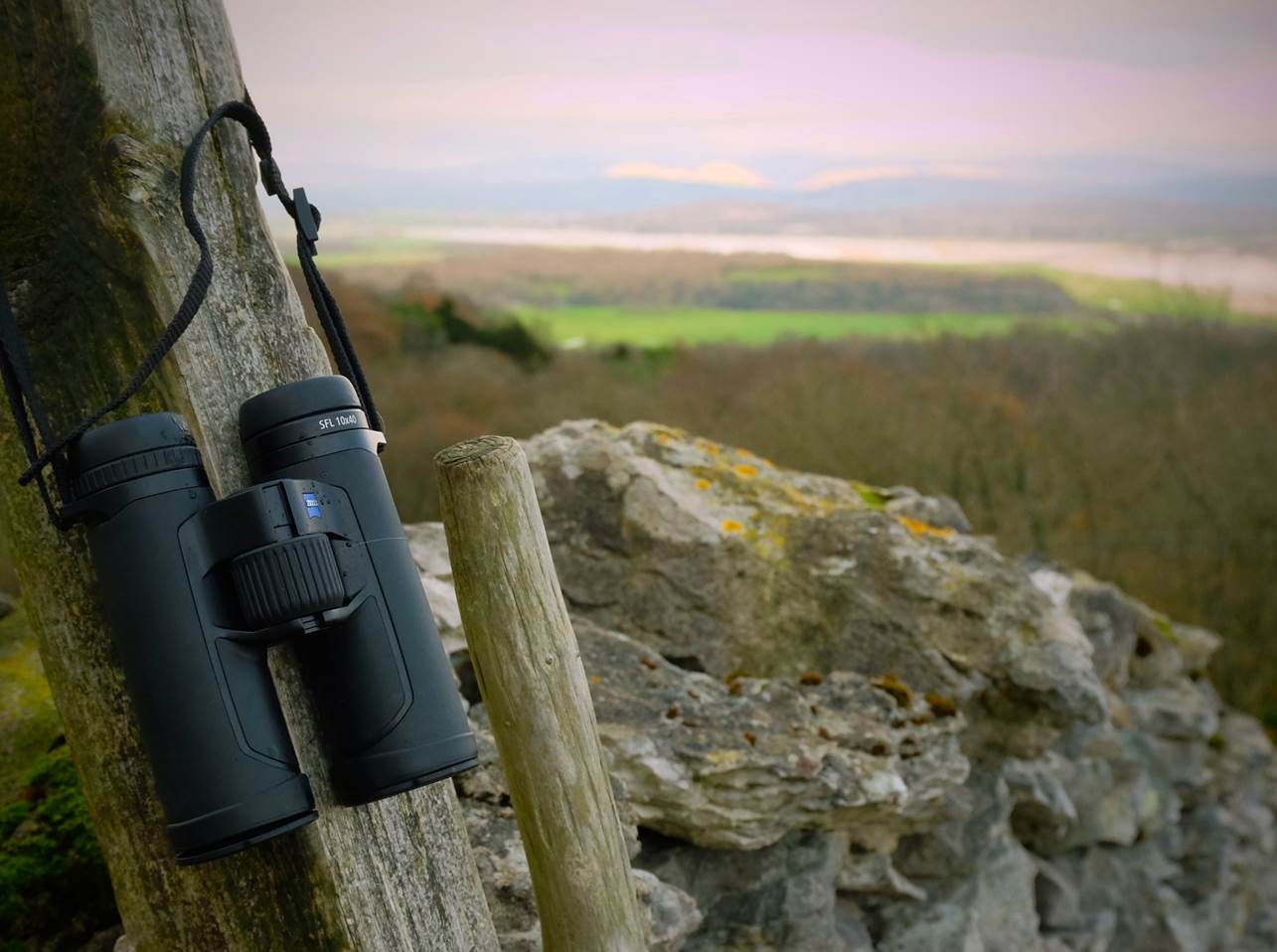 <![endif]>
SFL: designed for long tough days in the field.
What's in the Box?
The box is outwardly typical Zeiss, but no soaring raptor image like the SFs'. This pair didn't come boxed, so no pics.
<![if !vml]>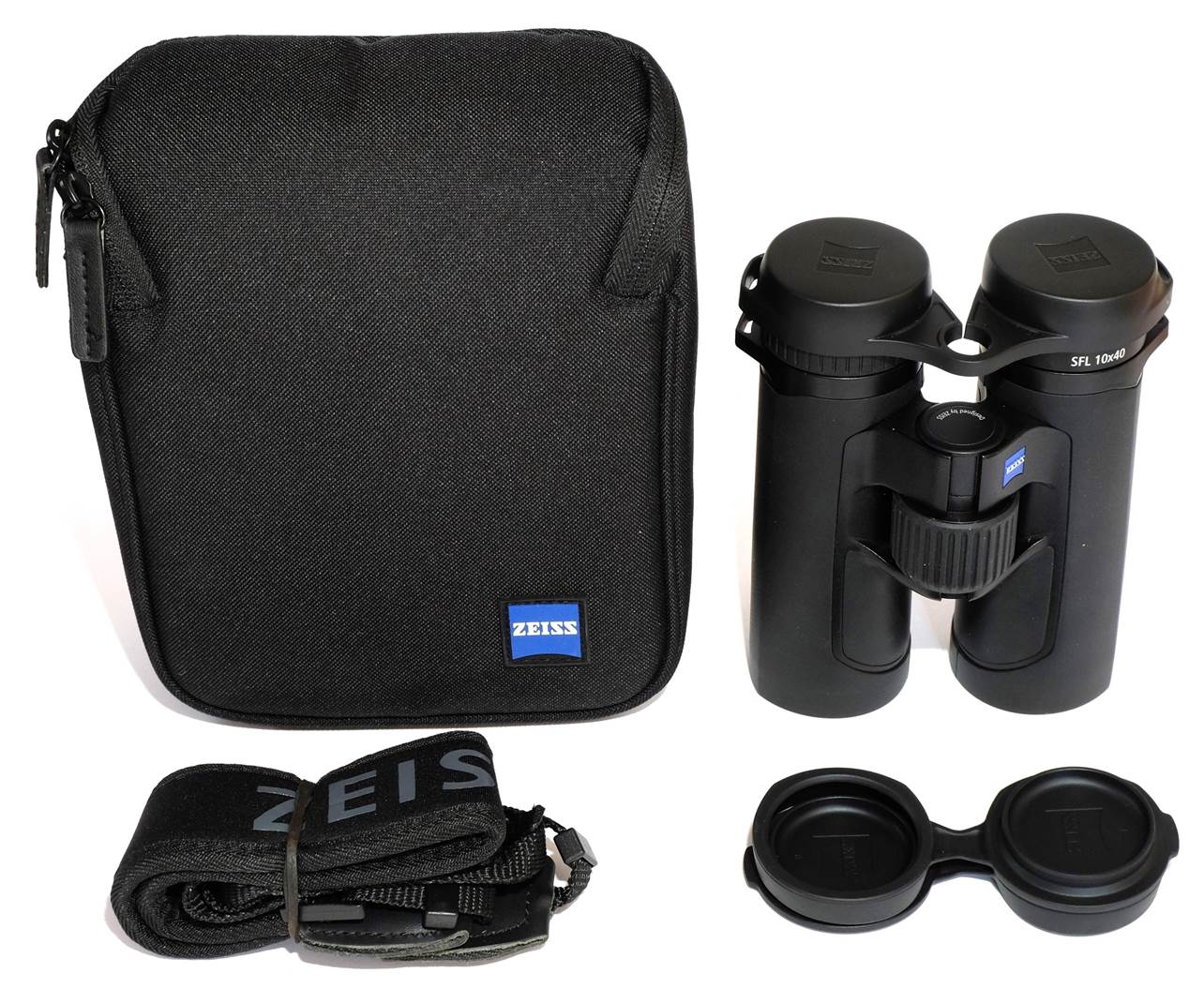 <![endif]>
Design and Build
As you might guess from their moniker, Zeiss describe the SFL as 'part of the SF family', but one 'optimised to be as compact and lightweight as possible'. So these are a premium binocular, albeit more conventional (and cheaper) than the full-fat SFs.
Made in Japan
I've seen some slightly shoddy Zeiss bino's in the past, but build quality on these SFLs is outstandingly high in all respects, with top-line mechanical and optical quality as well as fit and finish. But the SFLs are a lot cheaper than the SFs so what's going on?
When buying HiFi I've become wise to 'Designed in…' as distinct from 'Made in…'
On the bridge of the SFLs it says 'Designed by Zeiss' and sure enough, hidden away under the hinge it says 'Made in Japan' like the very successful Pockets. This is quite a departure for a premium full-sized 'European' binocular (even the cheaper Conquests are made in Germany). Does this matter?
If you drop a pair of Leicas or Swarovskis, if they develop a fault out of warranty, or if you just wear them out (I've seen all these things), you can send them off to be completely re-manufactured for a modest sum (usually much less than their purchase price). This is good for you and good for the environment. But my experience of doing this for stuff made outside Europe has been much less reassuring. When a pair of Pockets went out of collimation Zeiss just sent me a new pair.
<![if !vml]>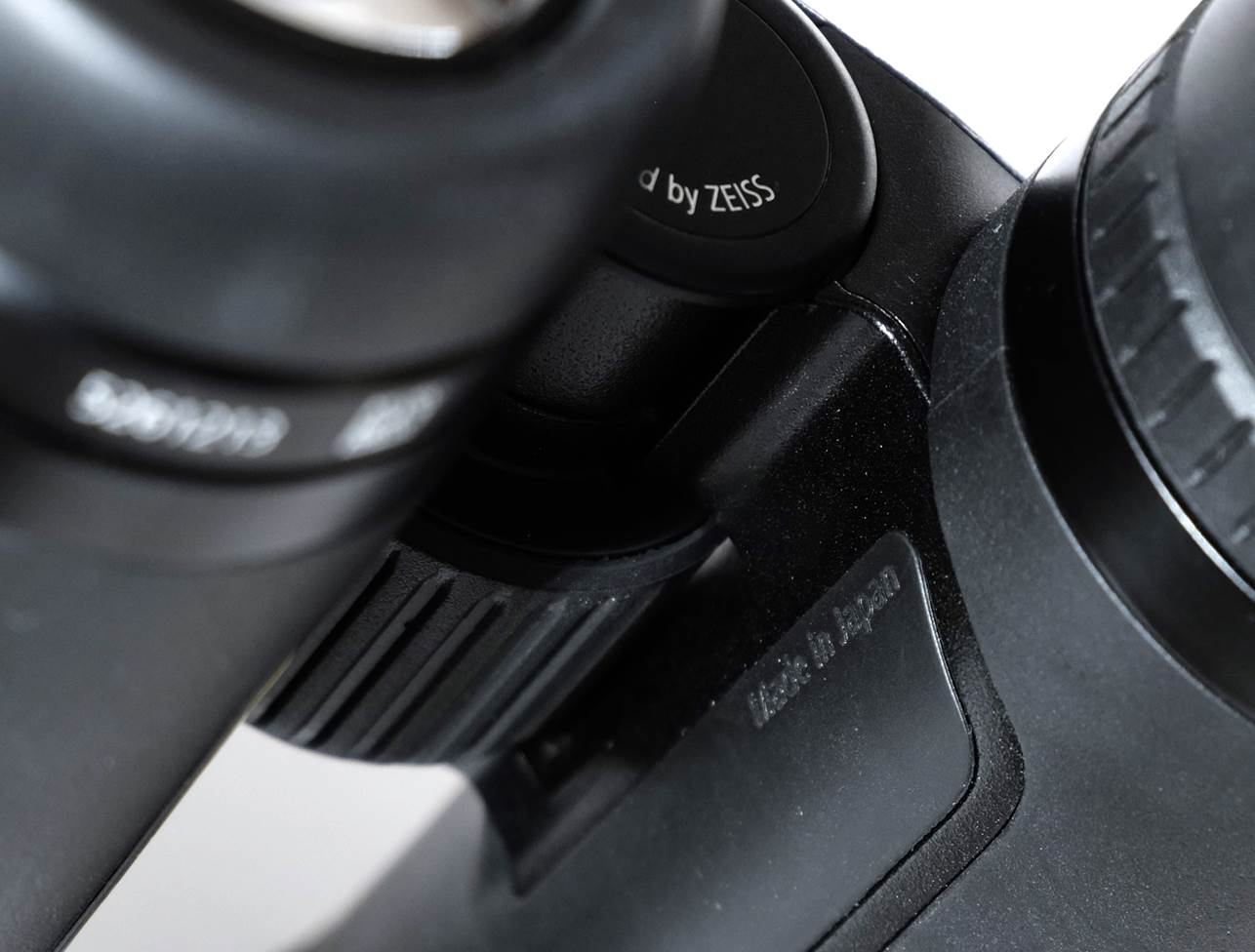 <![endif]>
<![if !vml]>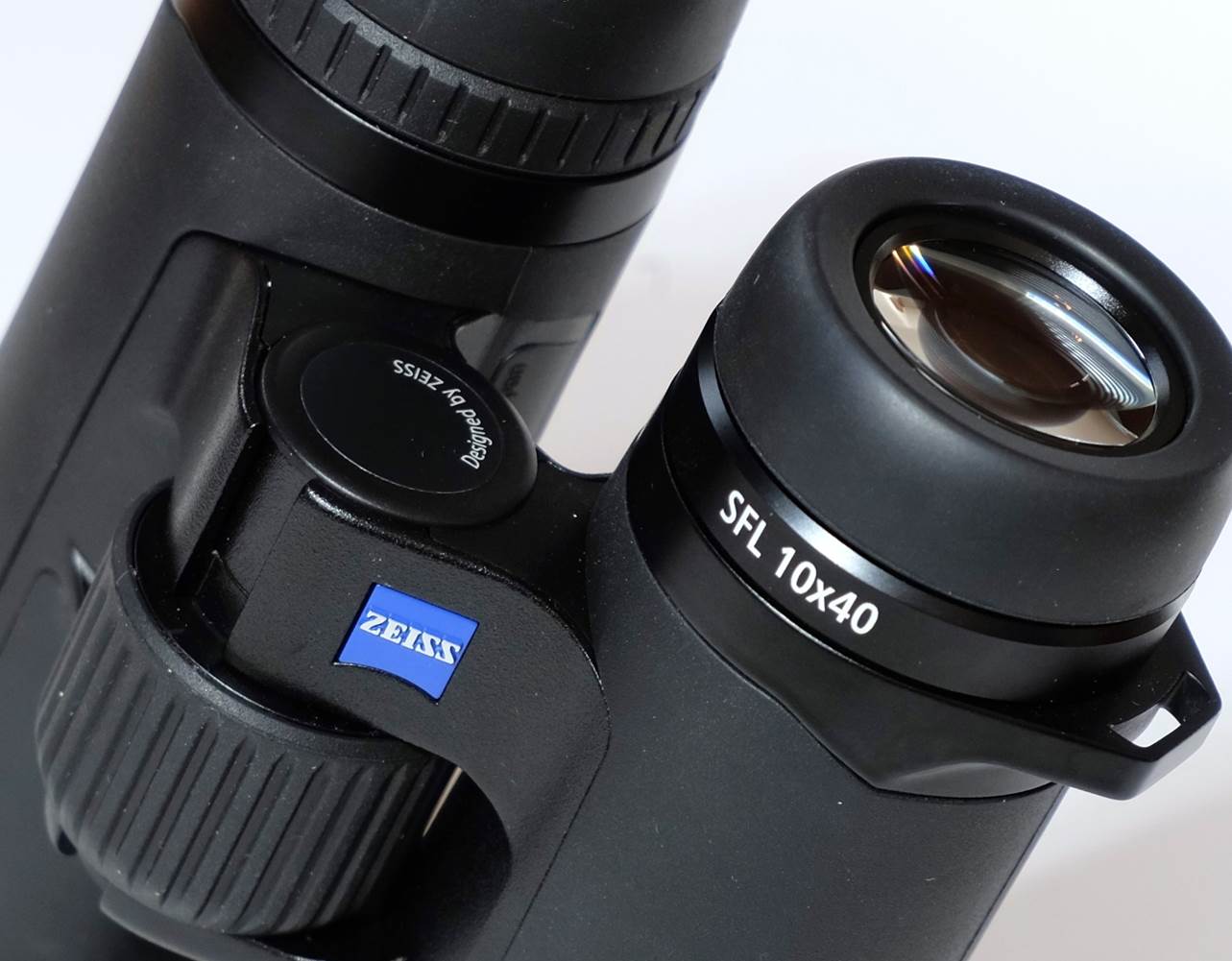 <![endif]>
Body
The SFLs have a conventional bridge and body, not the open design of the SFs. The body is made of magnesium to help keep the weight down. The SFLs are waterproof to 400 millibar and nitrogen purged as usual.
Indeed, for a fully rugged 10x40 the SFLs are impressively feather-weight at about the claimed 640g on my scales: just a few grams heavier than Leica's non-armoured Trinovid classics of the same spec' and 20% lighter than the 10x42 SFs.
The SFLs are small too – 144mm long compared with 174mm for the SFLs, 17% less. But that's the same length as Swarovski's 10x42 SLC HDs, though the SFLs are much lighter than the SLCs.
The SFLs' armour is well fitted, hardly smells rubbery and whilst grippy it isn't too much of a magnet for dust and prints, much the same as the SFs.
<![if !vml]>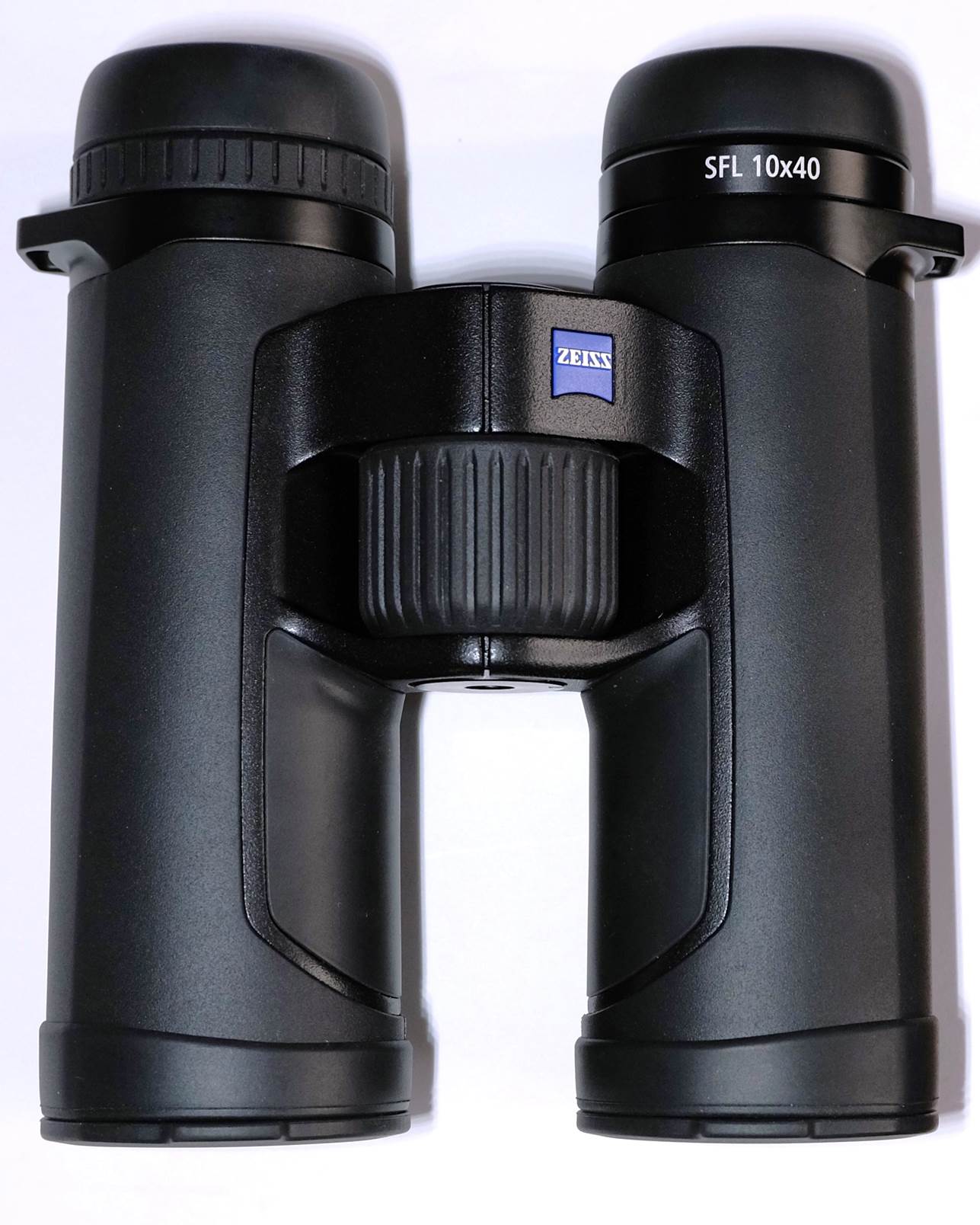 <![endif]>
<![if !vml]>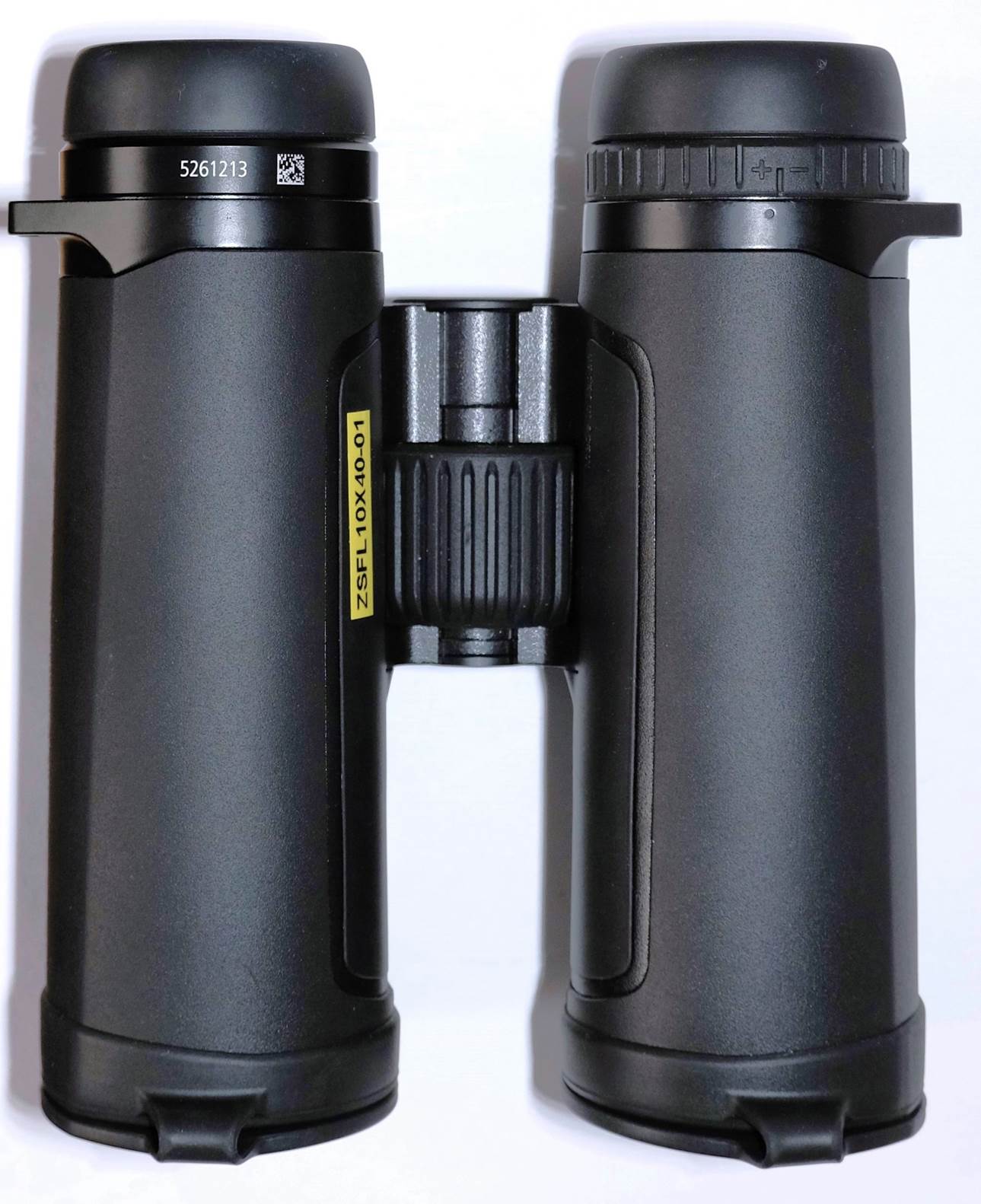 <![endif]>
<![if !vml]>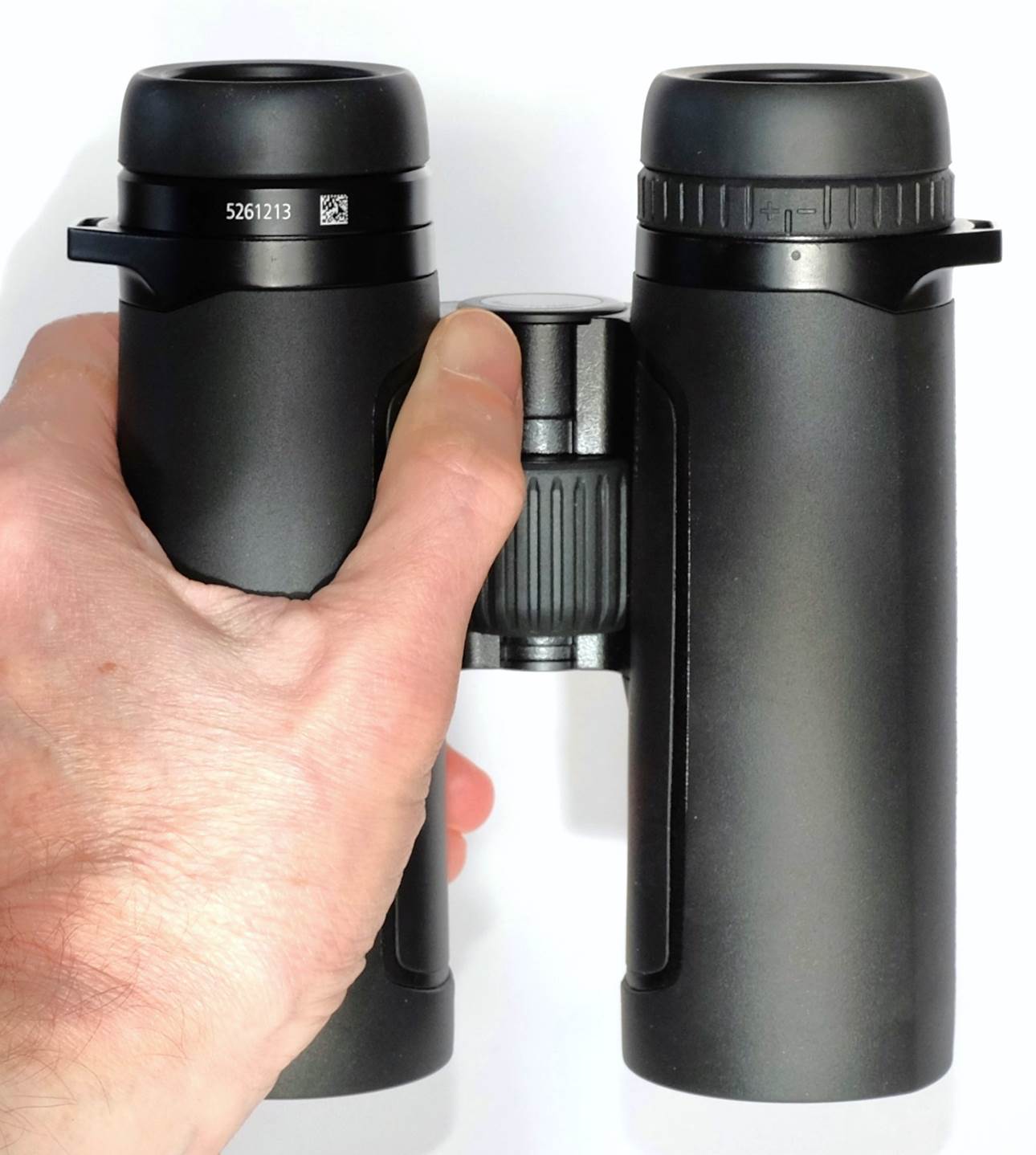 <![endif]>
Focuser
The SFLs share the SF for 'Smart Focus' brand and have a big rubberised wheel like the SFs. The focuser feels well weighted, smooth and very precise, but not as light and fluid as the SFs' on this pair. Functionally, it's just perfect as we'll see. Focus snap is an absolute point – suggestive of excellent optical quality.
Close focus is a ludicrous 1.3m (1.5m claimed) – fantastic for observers of insects. Even so, it's a fast focuser with infinity arriving just 1.25 turns later. Thereafter there's lots of extra travel to cope with various prescriptions. As always, merge isn't perfect below about 2.5m, but still very usable.
The dioptre adjustment is via a ring behind the right eyepiece: the standard on basic bino's. The action is well weighted, but slightly vague. I'm disappointed that there's no click-stop for neutral (though it is marked). I prefer the bridge-mounted wheel on the SFs.
<![if !vml]>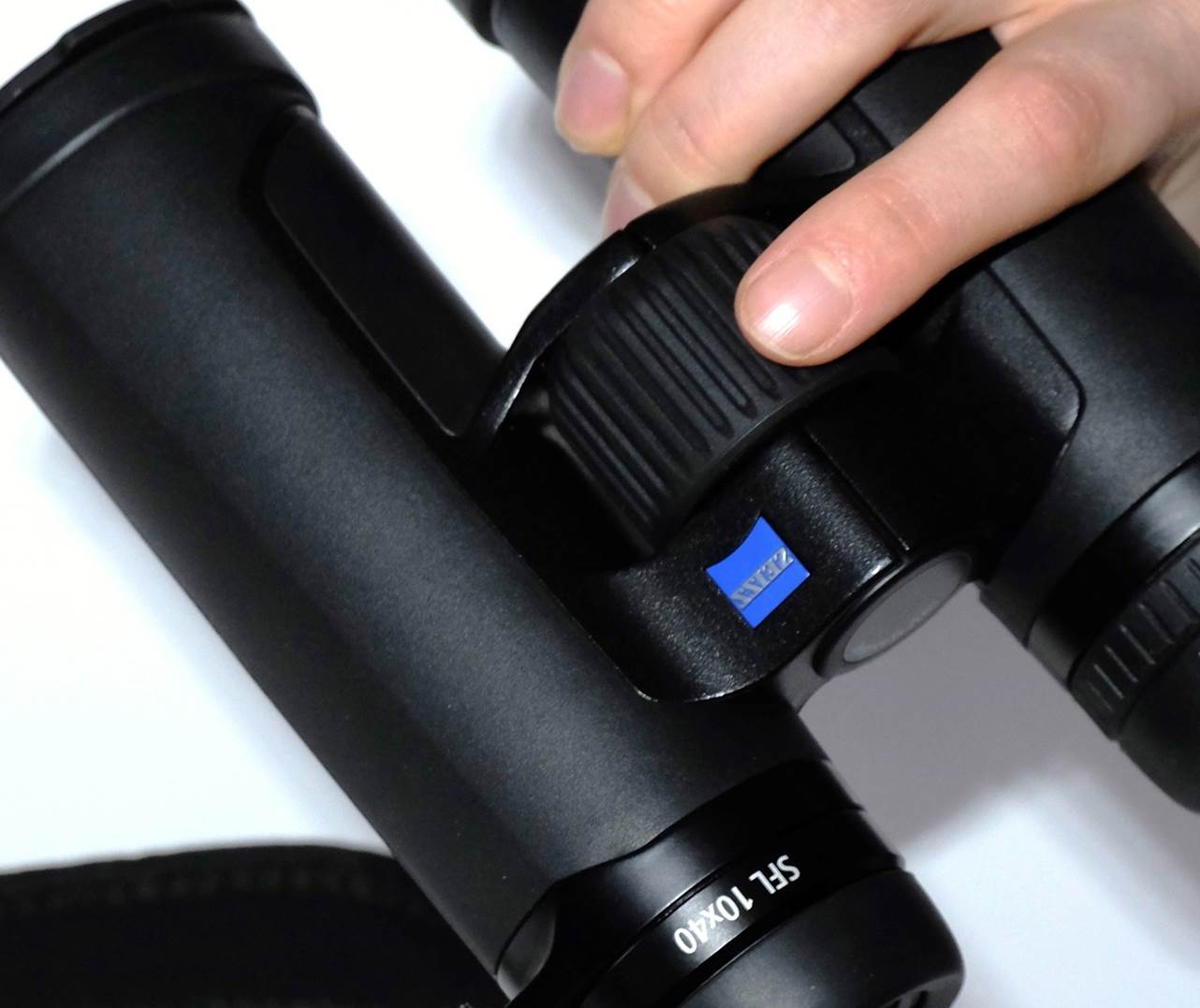 <![endif]>
<![if !vml]>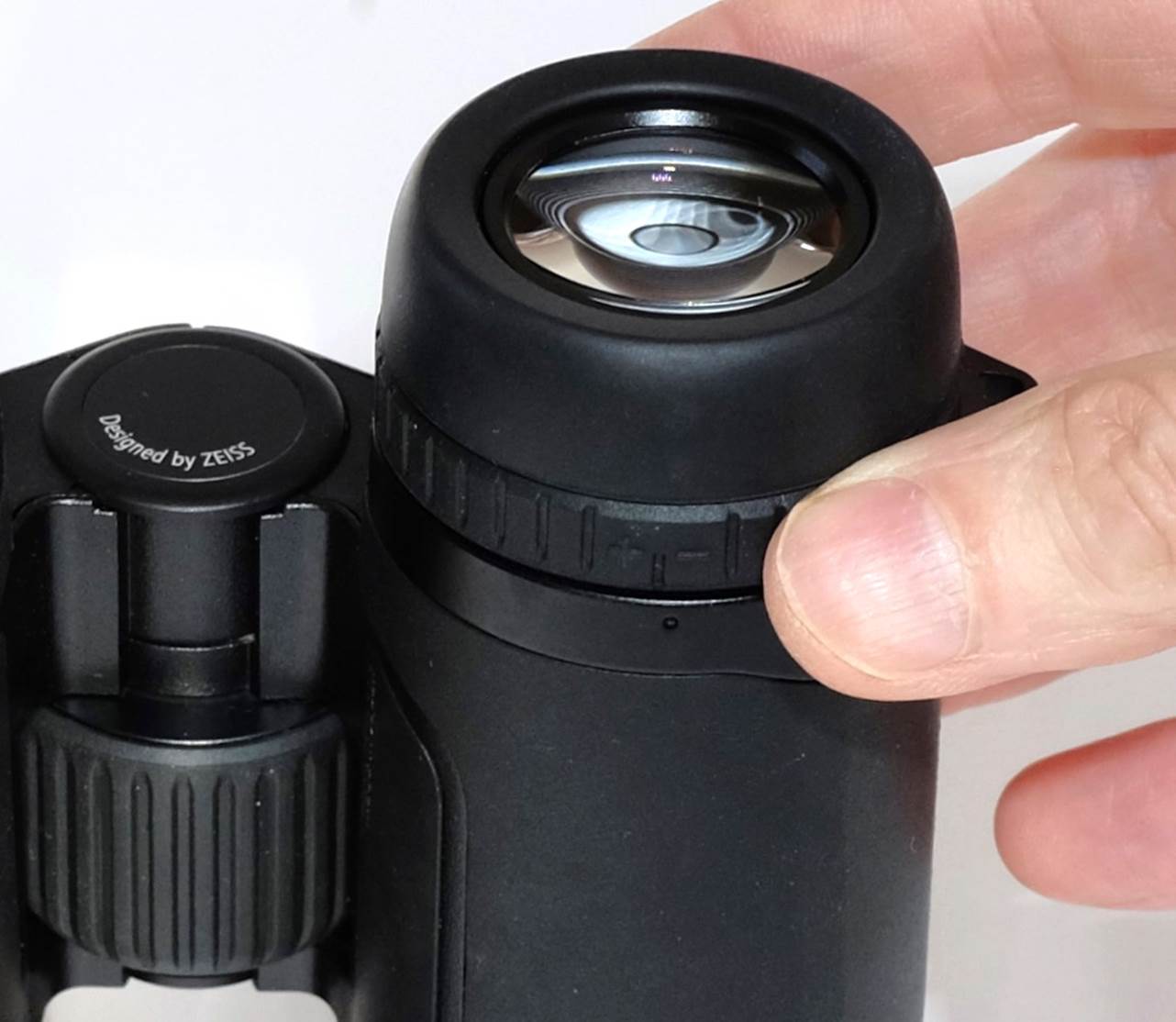 <![endif]>
Optics - Prisms
These have a standard Schmidt-Pechan (a.k.a. Roof) prism design, presumably with phase coatings.
Transmission of 90% is a couple of percent down on the SFs, but good by general roof-prism standards.
Optics - Objectives
A laser suggests the objectives are a triplet with a pair of crowns, probably of ED glass – special extra-dispersion glass high in fluorides to quell false colour fringing.
The triplet comprises a cemented doublet with the crown in front and a single air spaced convex crown behind the doublet. This is the arrangement used in Kowa's XD's (for example) and the double-ED configuration should offer state-of-the art resistance to false colour, hence the Zeiss UHD branding for the SFLs.
Zeiss reckon that the smaller lens diameter (40mm vs 42mm) helps keep the weight down by allowing thinner lens elements.
Each barrel contains a single knife-edge baffle behind the objective and the focuser carriage has multiple ridge-baffles and a single knife-edge baffle at the rear, but no black paint. There are fine baffles in the lens ring too.
Zeiss claim premium T* Coatings for SLFs, but these are like other brands' coatings with reflections in both pink and green, not the distinctive dark pink/purple found on the SFs. They're very transmissive, though, and a bright light finds no uncoated internal surfaces. The coatings have LotuTecTM water-repellent technology.
<![if !vml]>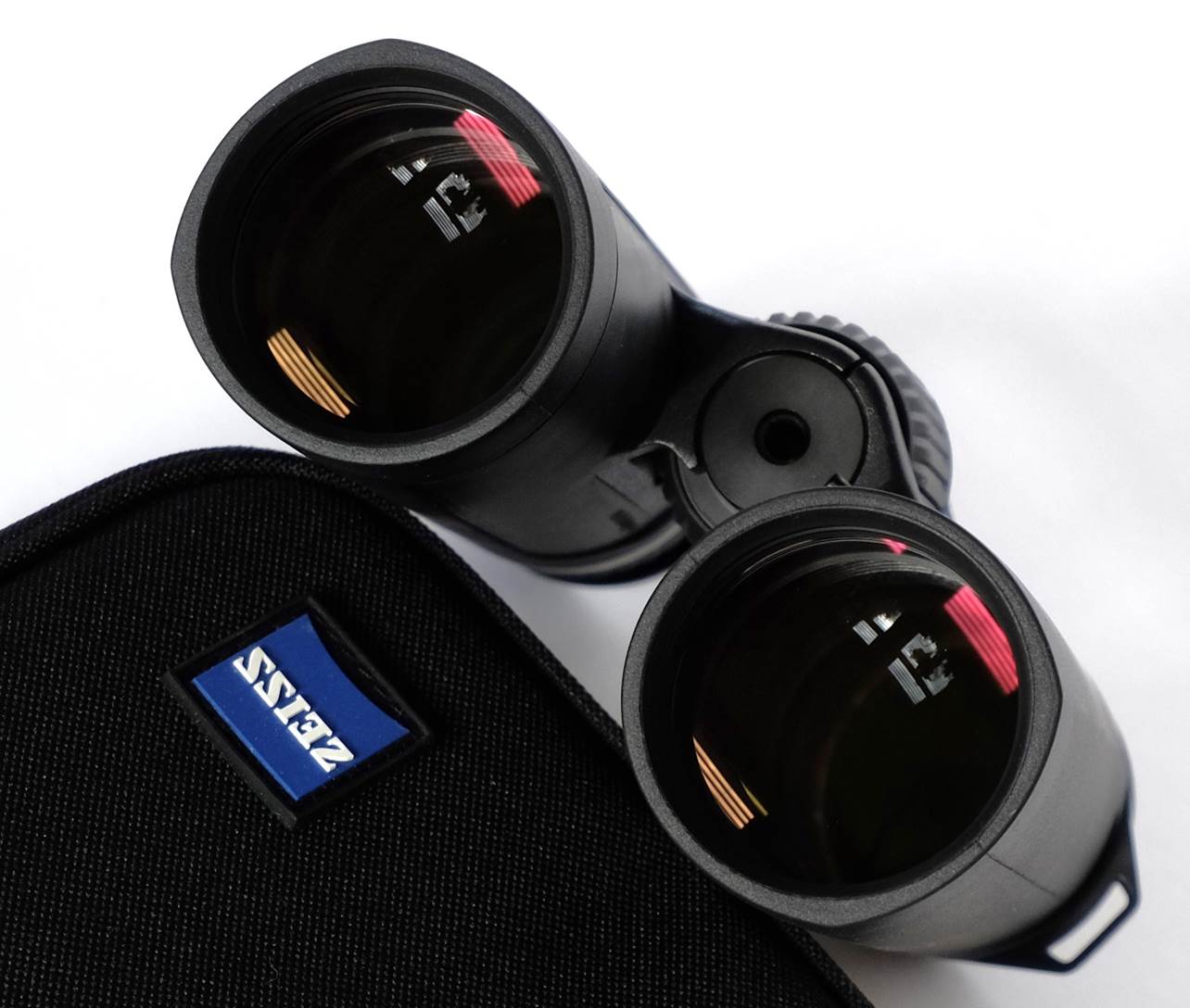 <![endif]>
<![if !vml]>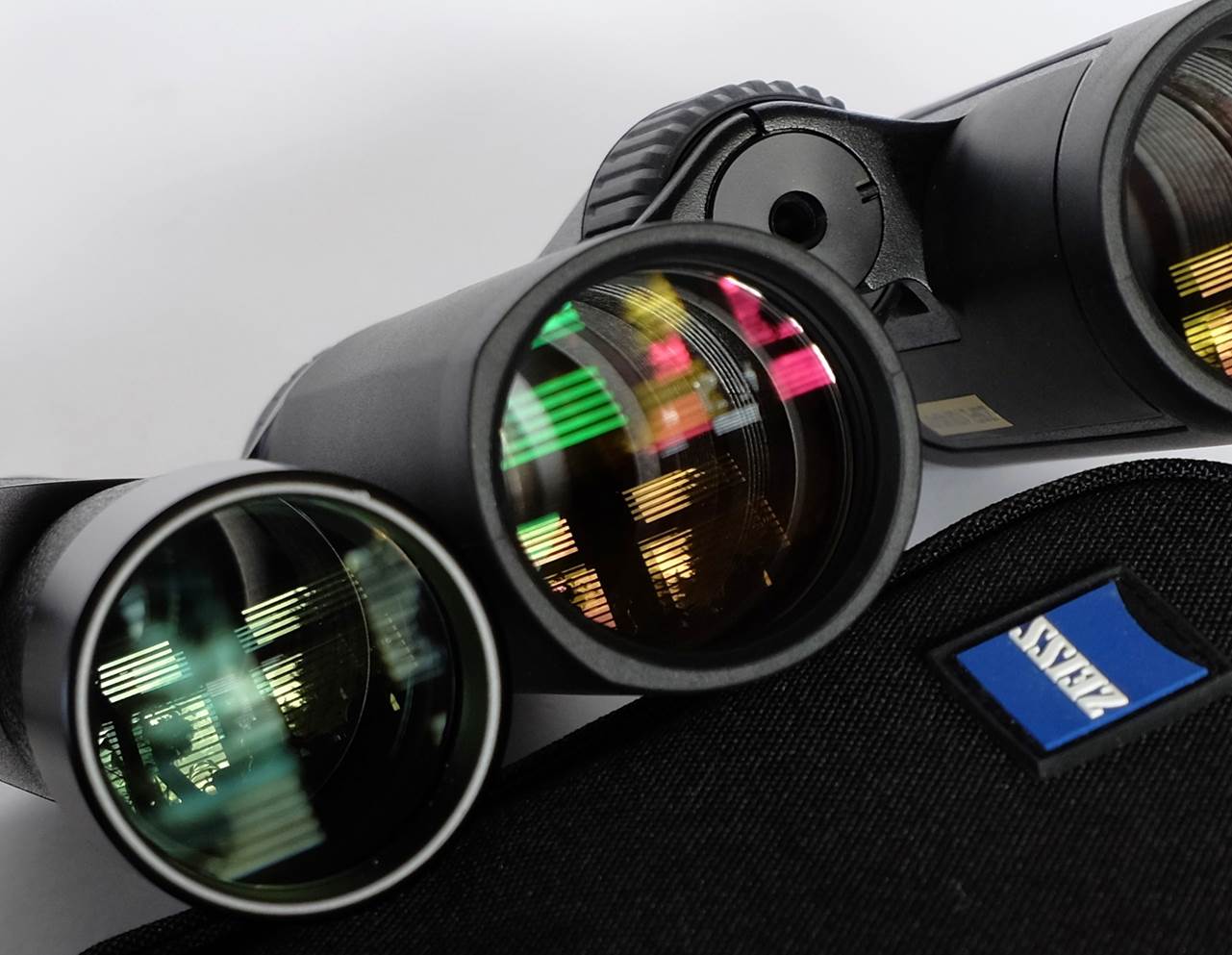 <![endif]>
Coatings look similar to Leica's Trinovids.
<![if !vml]>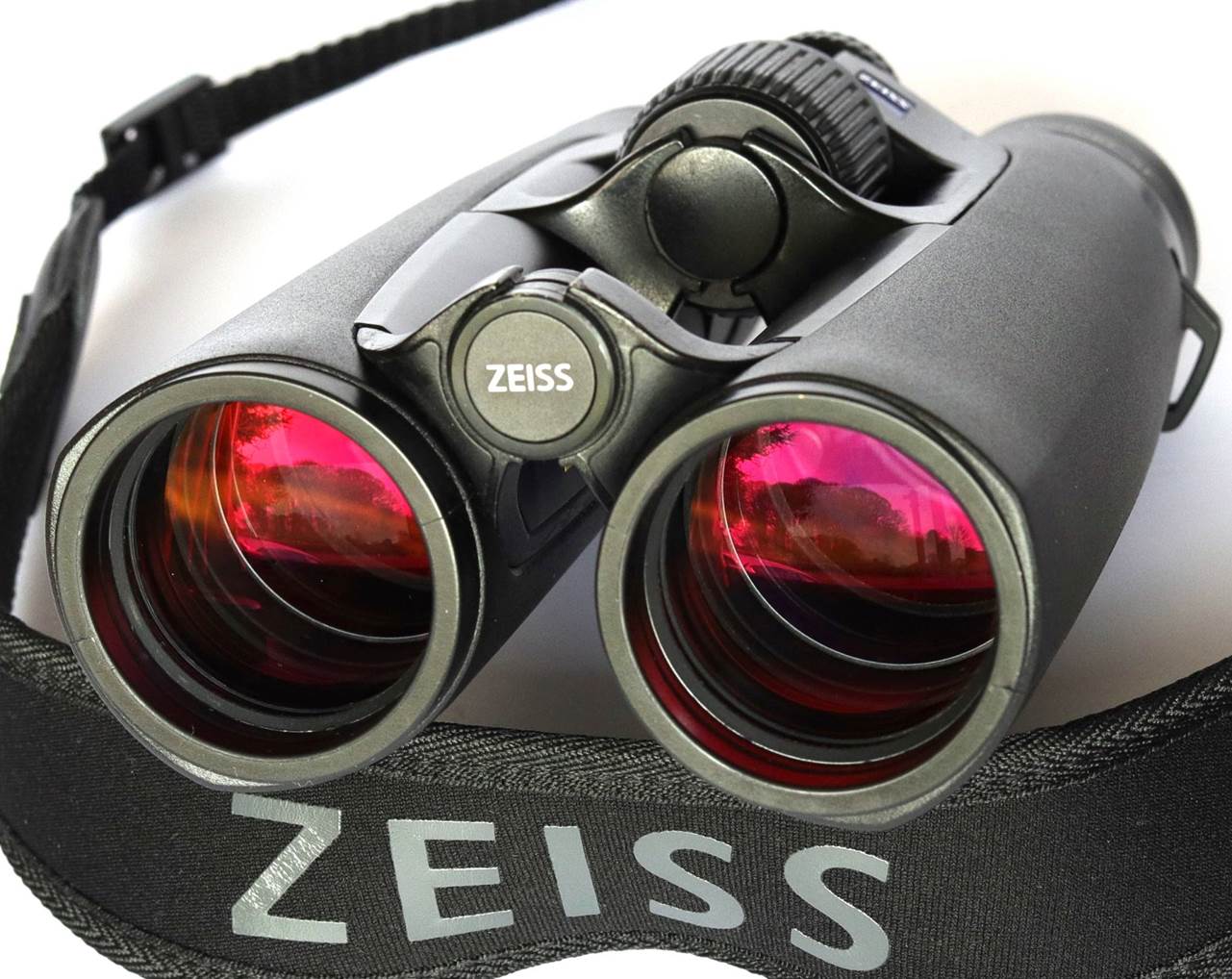 <![endif]>
For comparison, the pink T* of the 10x42 SFs.
<![if !vml]>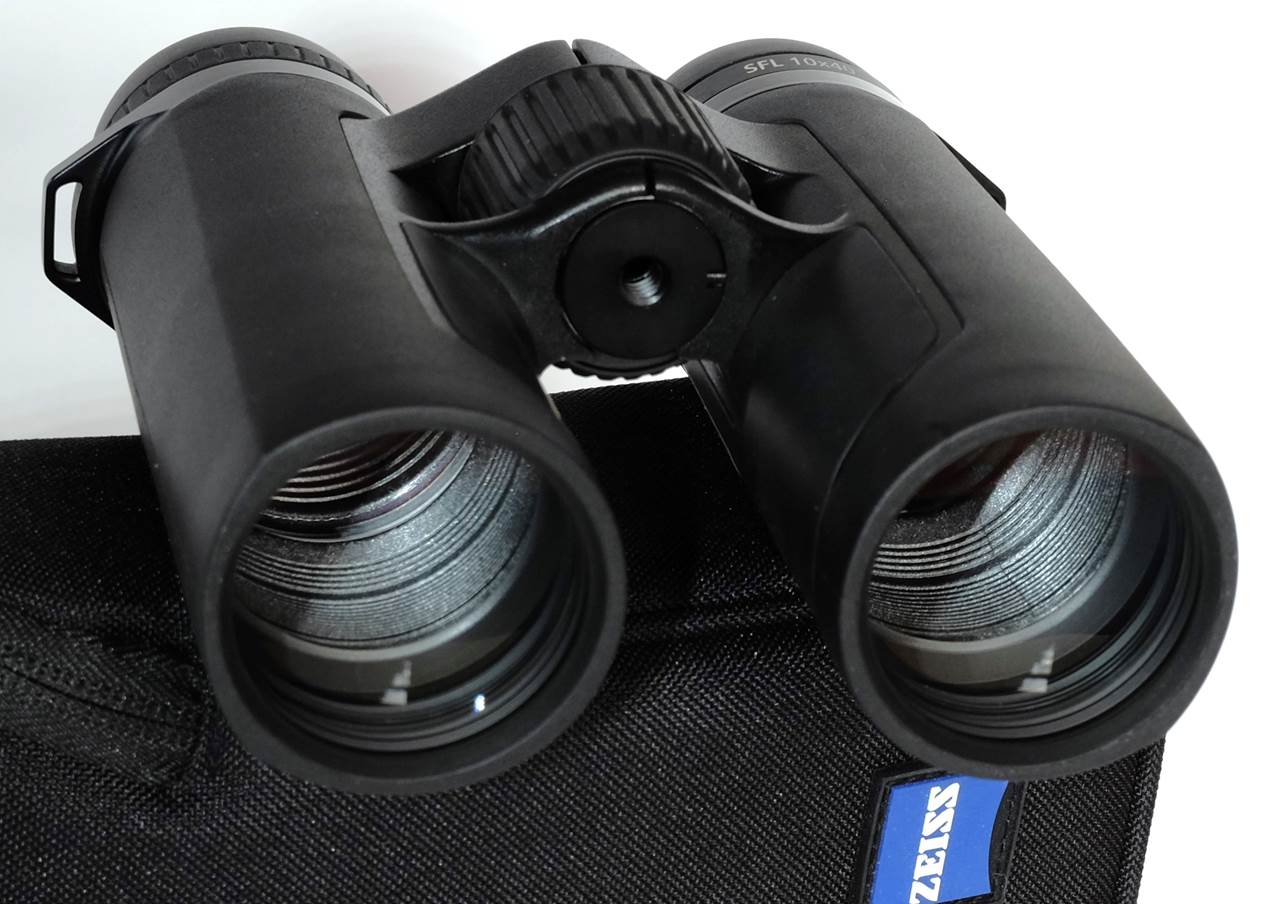 <![endif]>
Both ridge and knife-edge baffles for maximum stray light protection.
Optics – Eyepieces
The eye lenses are huge (25mm diameter) and flat, like the SFs.
Eyepiece comfort is a strong point, with plenty of eye relief for glasses wearers: Zeiss claim 18mm (roughly 16-17mm from the rim of the cups on my ruler). Blackouts (caused by spherical aberration of the exit pupil) are effectively absent.
Apparent field of view is 62° - not quite as wide as the 10x42 SFs, but wide by other standards. That translates to 6.7° true field (115m/1000m): less than the 7° (120m/1000m) of the 10x42 SFs and 7.6° (130m/1000m) for the 10x32 SFs, but compare the 6° of Nikon's 10x42 SEs which were once my 10x reference standard.
The rubber eye cups twist out to three extra positions. The action is positive and firm with no squish or problems re-seating them.
<![if !vml]>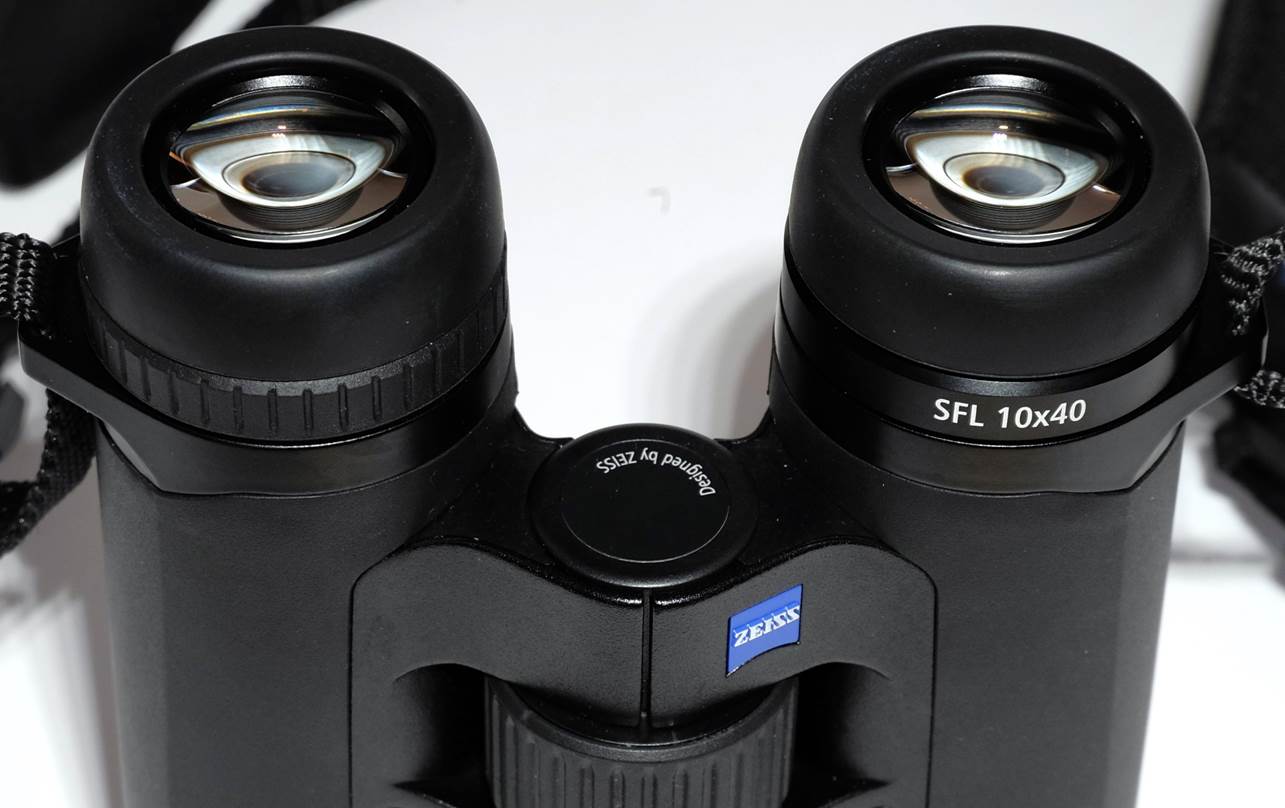 <![endif]>
<![if !vml]>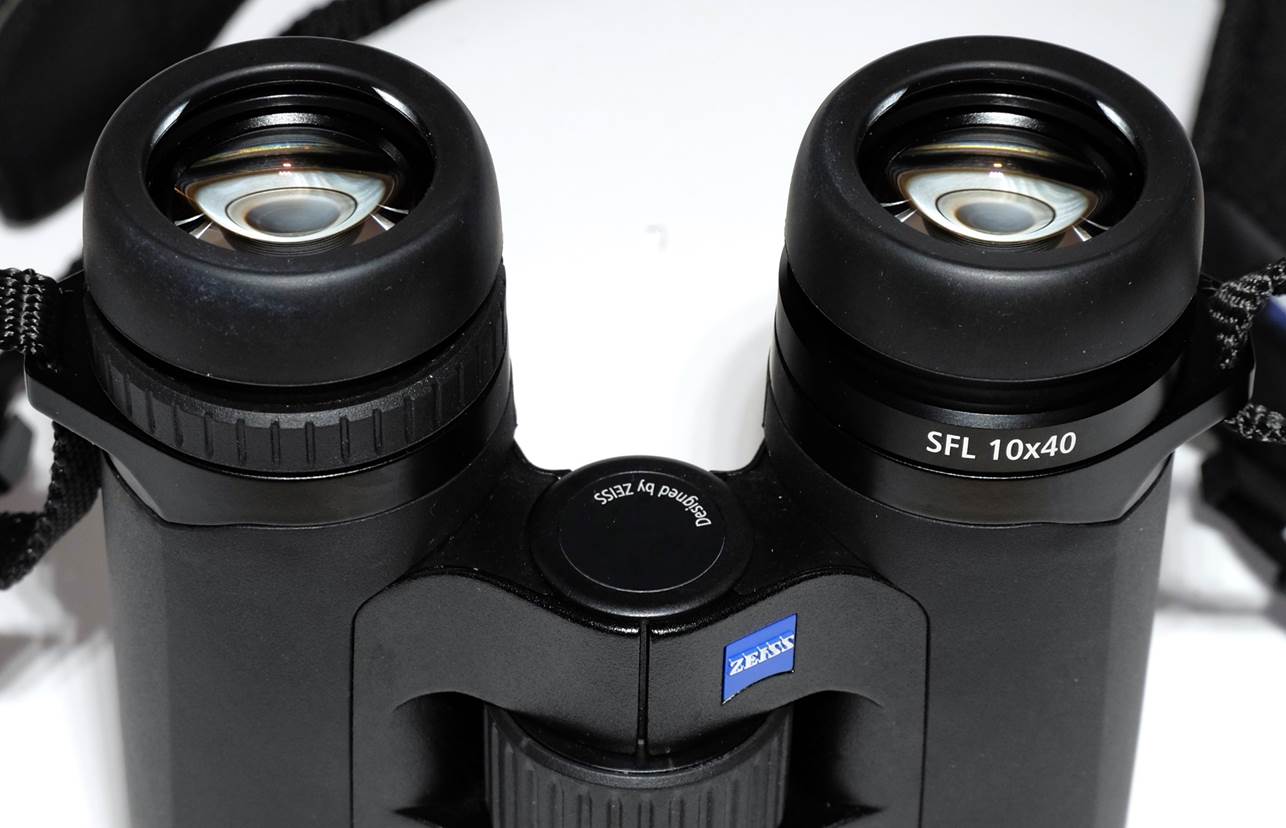 <![endif]>
<![if !vml]>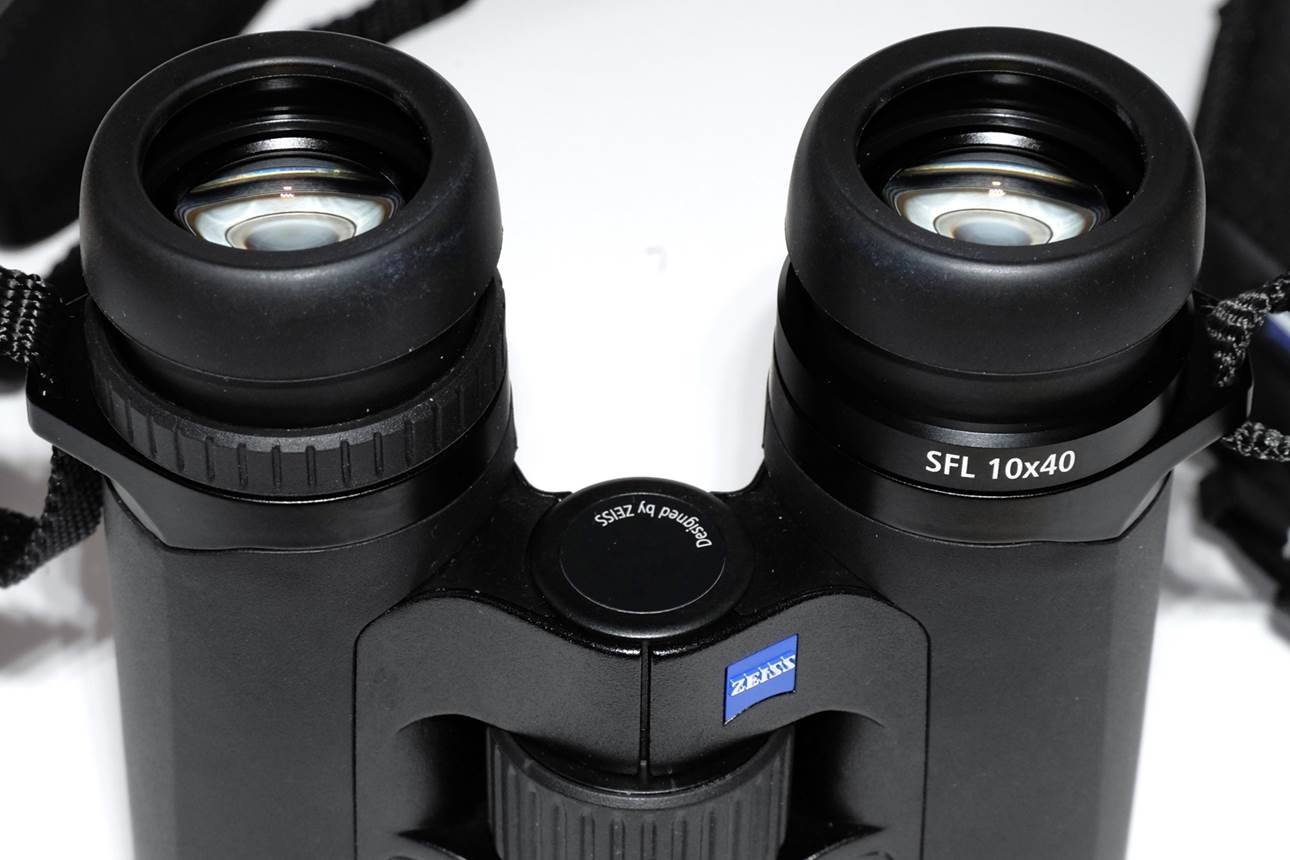 <![endif]>
<![if !vml]>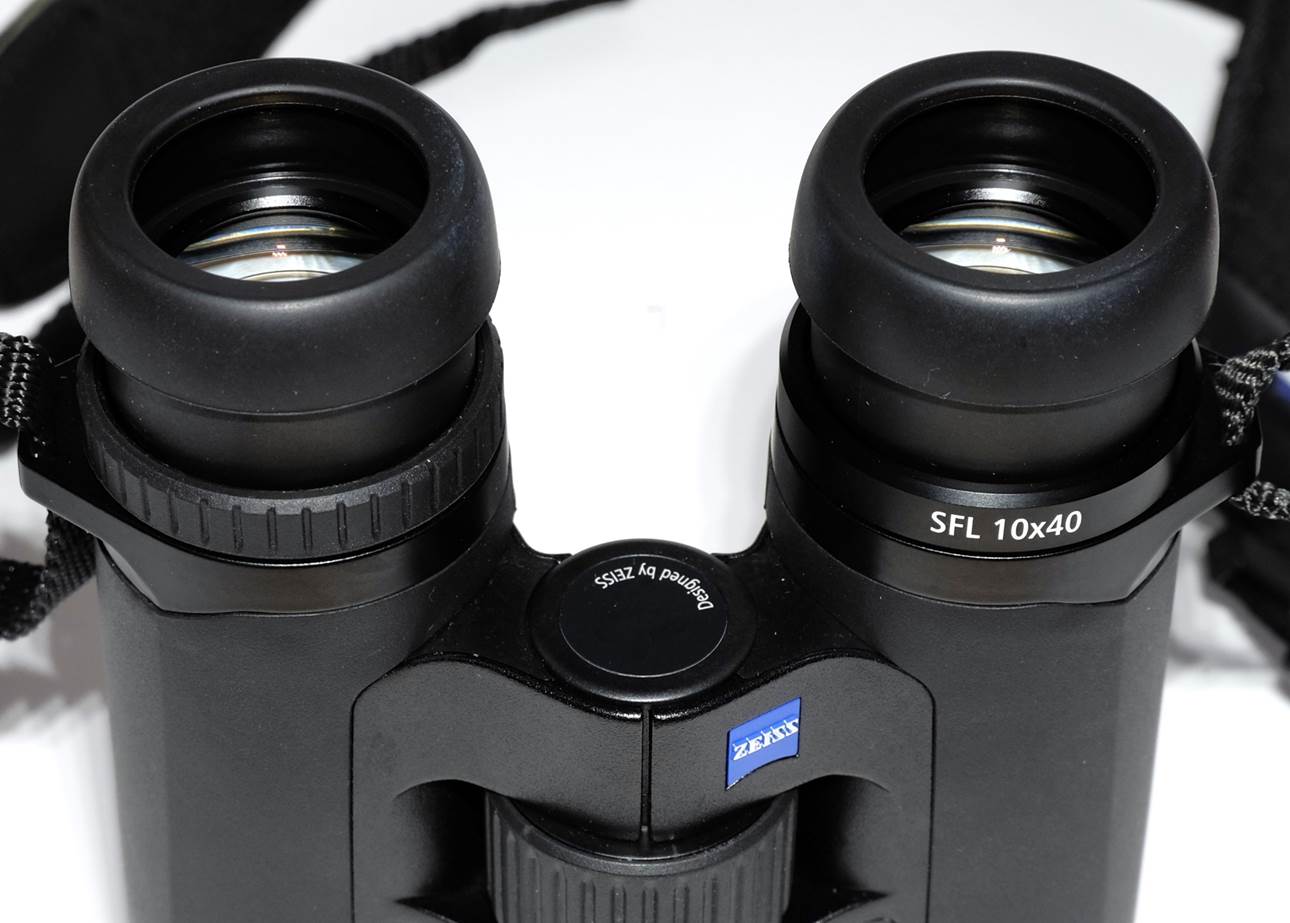 <![endif]>
Accessories
Objectives caps are the band-on, push-in type, but they're a quality item shaped to cover the barrel ends; I thought they were integral to the armour at first. The eyepiece cap is of the standard soft rubber variety.
The strap is completely standard Zeiss, as is the semi-rigid Cordura type case - same as the 10x32 SFs, not the fancier job you get with the 10x42s.
<![if !vml]>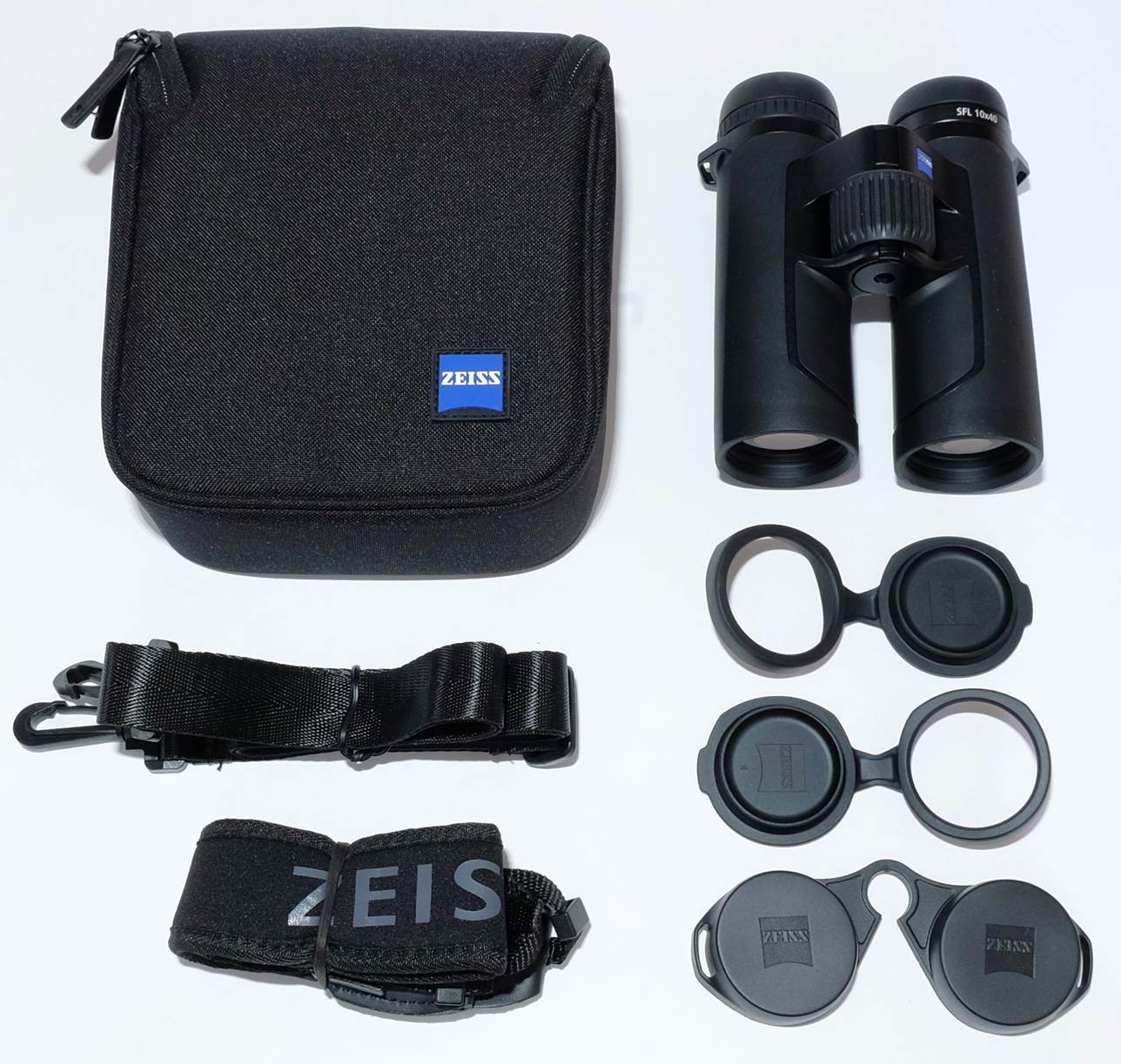 <![endif]>
<![if !vml]>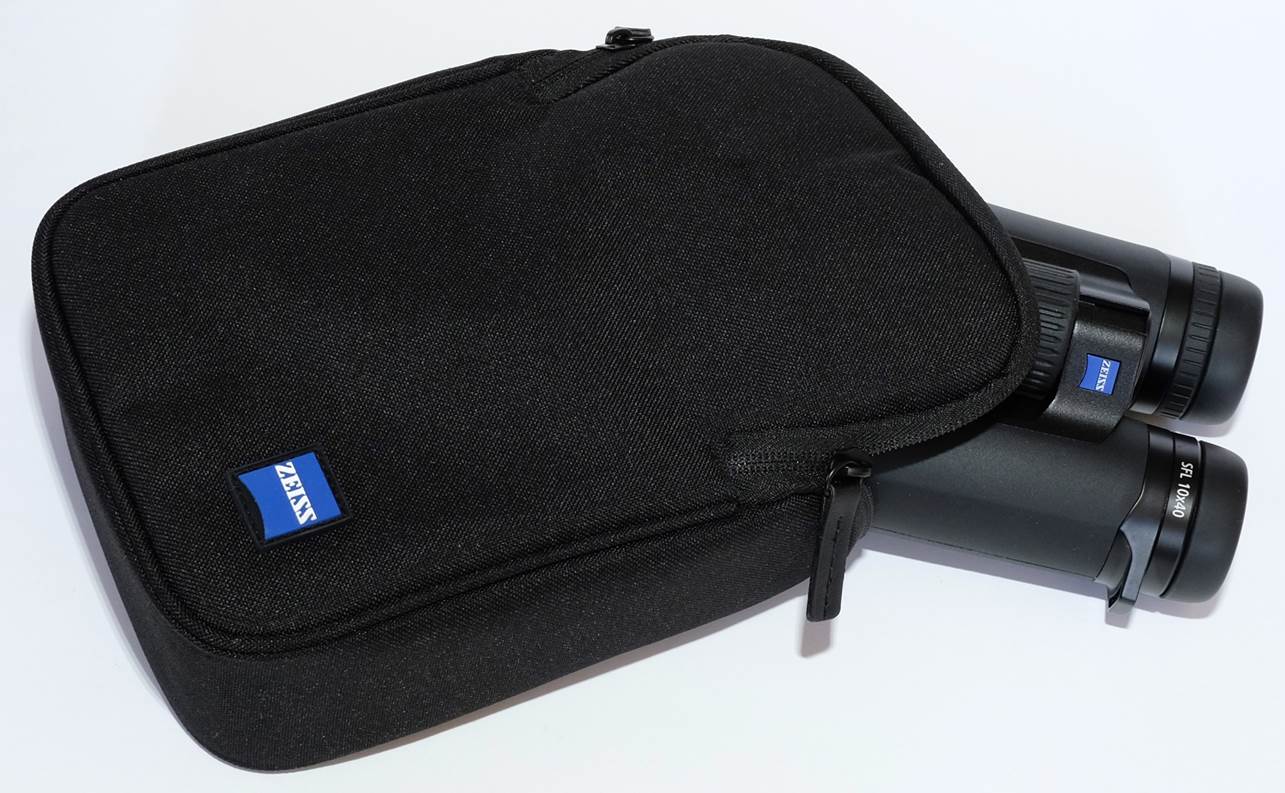 <![endif]>
<![if !vml]>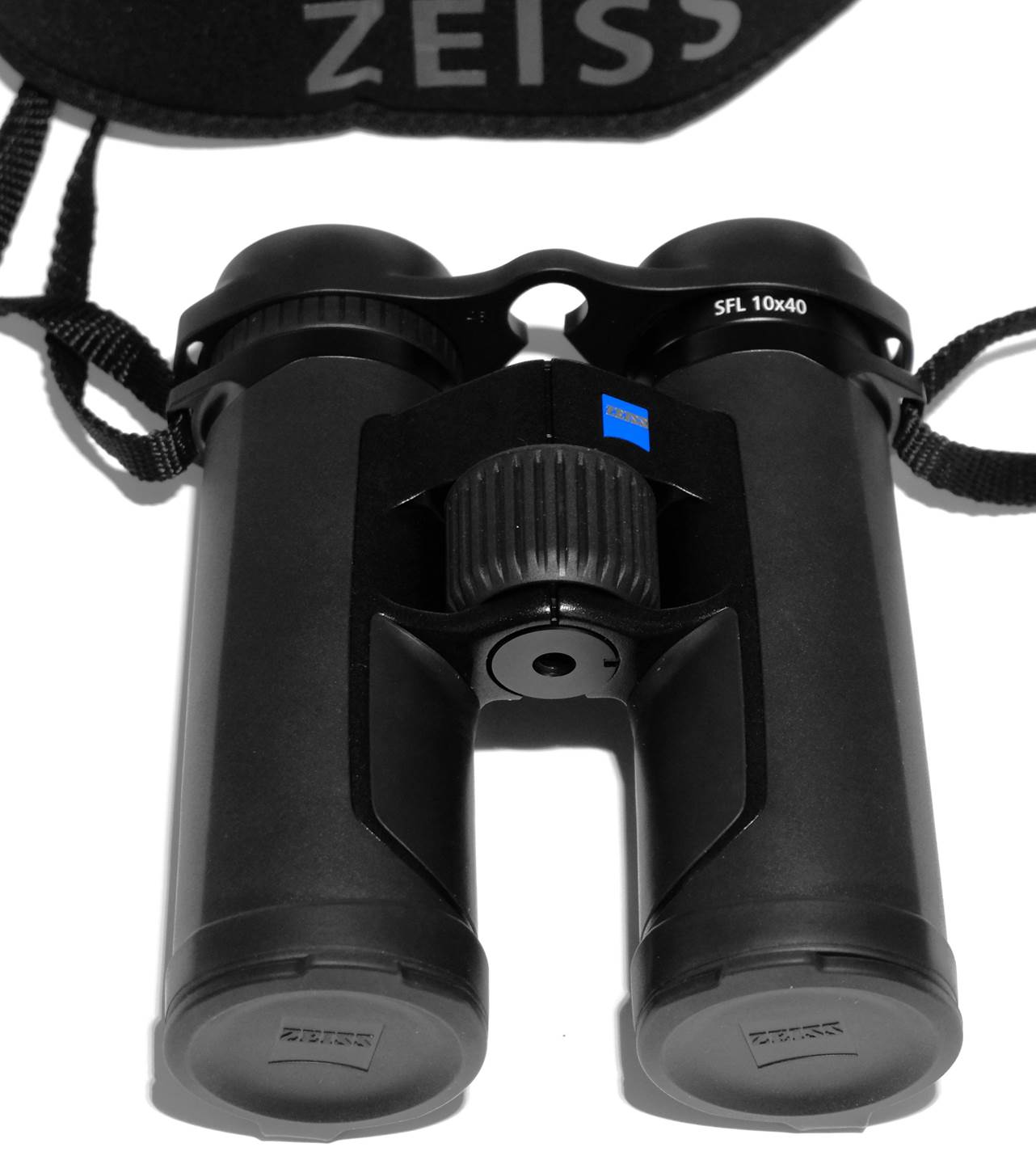 <![endif]>
In Use – Daytime
Ergonomics and Handling
There is no ErgoBalanceTM rearwards weight bias (SFs) or specially contoured body (NL Pures) here, but the SFLs are very small and light and easy to handle. I carried them on some long hikes in the hills and really appreciated the low weight – tuck them into my jacket and forget them until I need them.
The large focuser comes easily to a gloved finger. Focus action is perhaps not quite as liquid-light and twirly as the SFs', but it is smooth, fast and ultra-precise with no play or backlash, absolutely no variation in focus point when switching direction. This matters because you often seem to be giving it the merest breath of a nudge to achieve that perfect focus point.
Eyepiece comfort is outstanding, with lots of eye relief for glasses-wearers but very low levels of blackouts so exact eye positioning isn't important and you can look around the view without getting kidney beaning.
For an armoured binocular these are unobtrusive and look classy to wear.
<![if !vml]>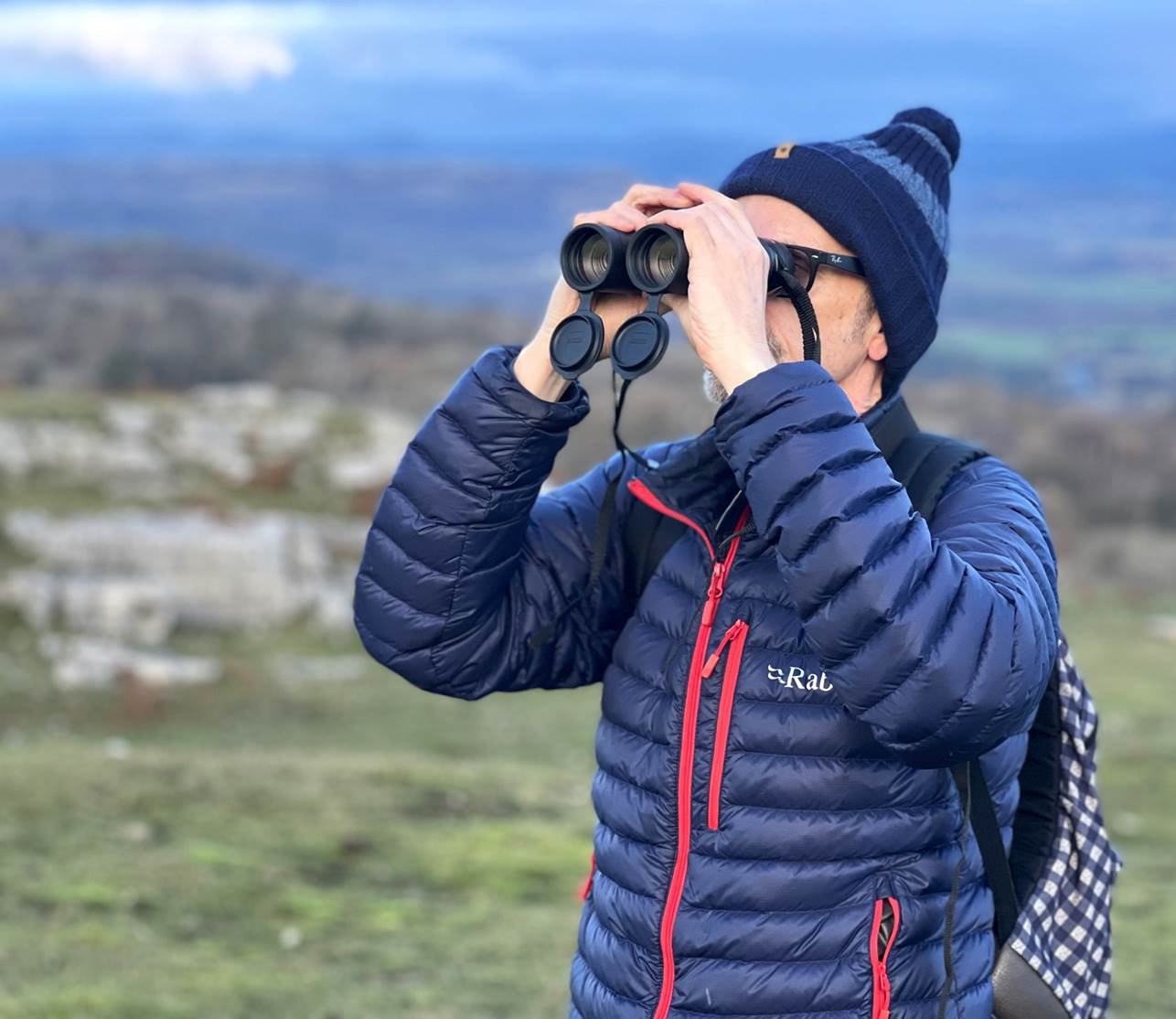 <![endif]>
<![if !vml]>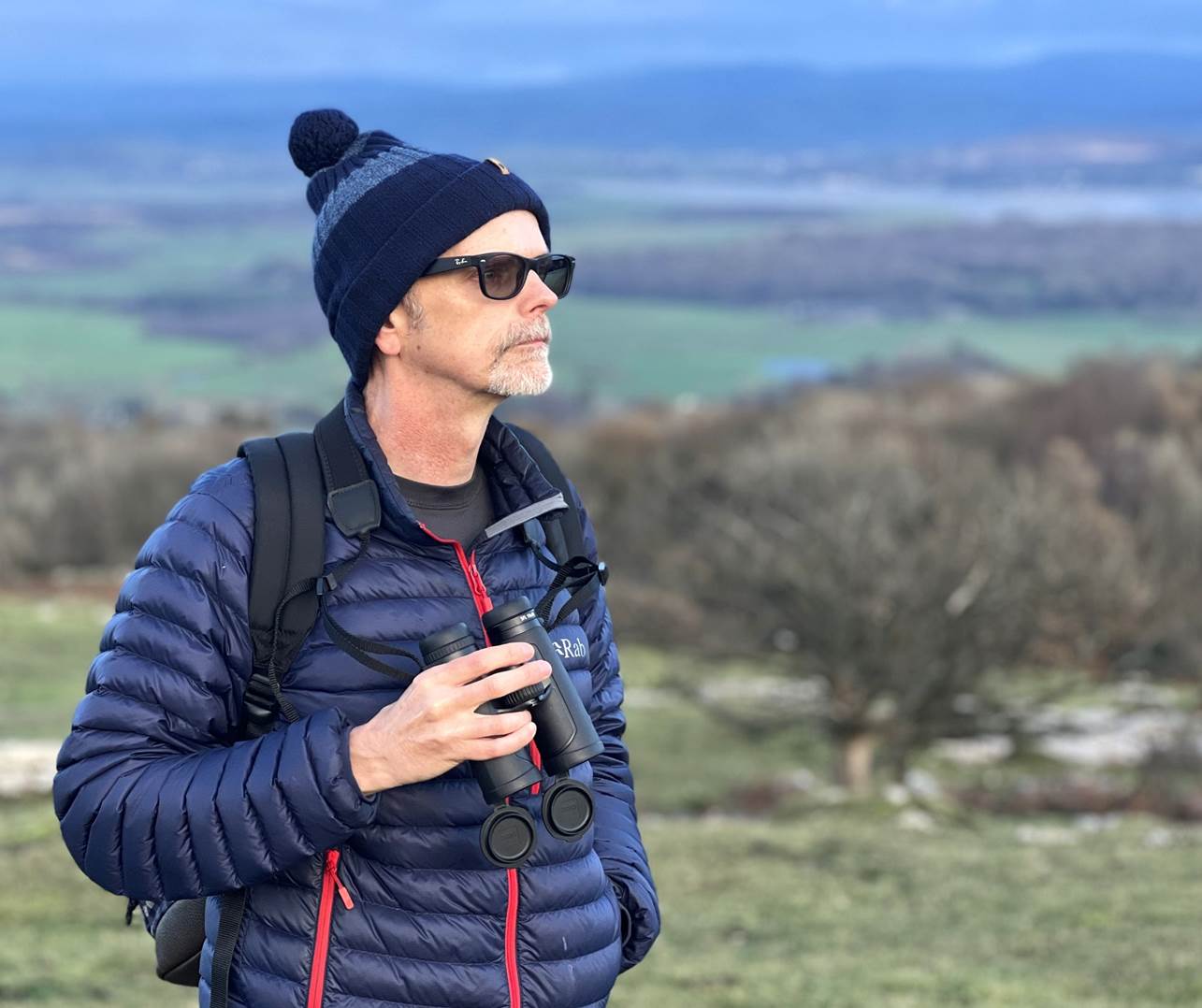 <![endif]>
<![if !vml]>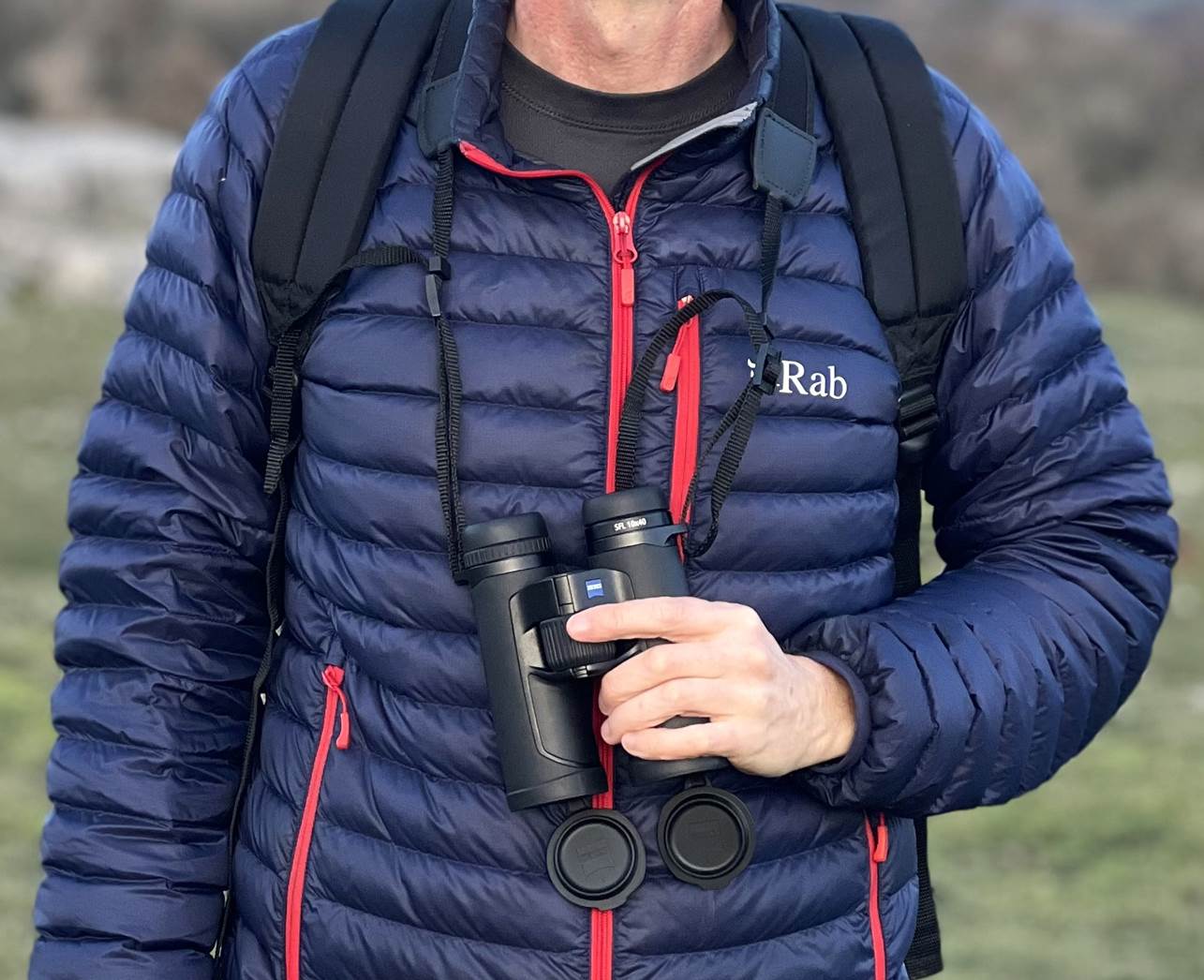 <![endif]>
The View
Views of waders – Oystercatchers and Curlews – on the brilliantly gleaming bay sands of morning are wonderful. It's a bright, detail-filled, vibrant picture-window view with no obvious aberrations. It's also notably easy and relaxed for a 10x bino'.
The focus snap is such a fine point it's almost a minor problem, with just the slightest nudge required to get it perfect. I've seen this before with Kowa's XDs and it usually means superb optical quality.
The upside of the supreme (and on this pair it really is) optical quality is that these have subjectively some of the best resolution I've seen in small hand-helds. Looking across the bay I can see extraordinary detail in buildings, cars, trees; It's super easy to read the time on the Priory clock across the valley and the number plate of the farmer's landrover (he's rounding up sheep on the hillside opposite). Those bay waders are picked out from the bright water in pristine detail.
A distant plane in the airway is silhouetted perfectly against the luminous sky. It's tiny, but I can ID it as a twin-engined Airbus.
The SFLs' view may not be quite as super-wide and ultra-bright as the SFs', but it is very good nonetheless.
Flat field?
The field seems well corrected (and completely usable) to the field stop. Inspection of my meter rule reveals that the cm markings get a progressively blurry in the last 30% or so, but are still (just about) readable at the edge. This slight blurring can't be focused away: it's not field curvature, but mild off-axis astigmatism that's quite typical of Zeiss.
There's just a little distortion for comfortable panning, but you mostly only notice it panning through branches.
<![if !vml]>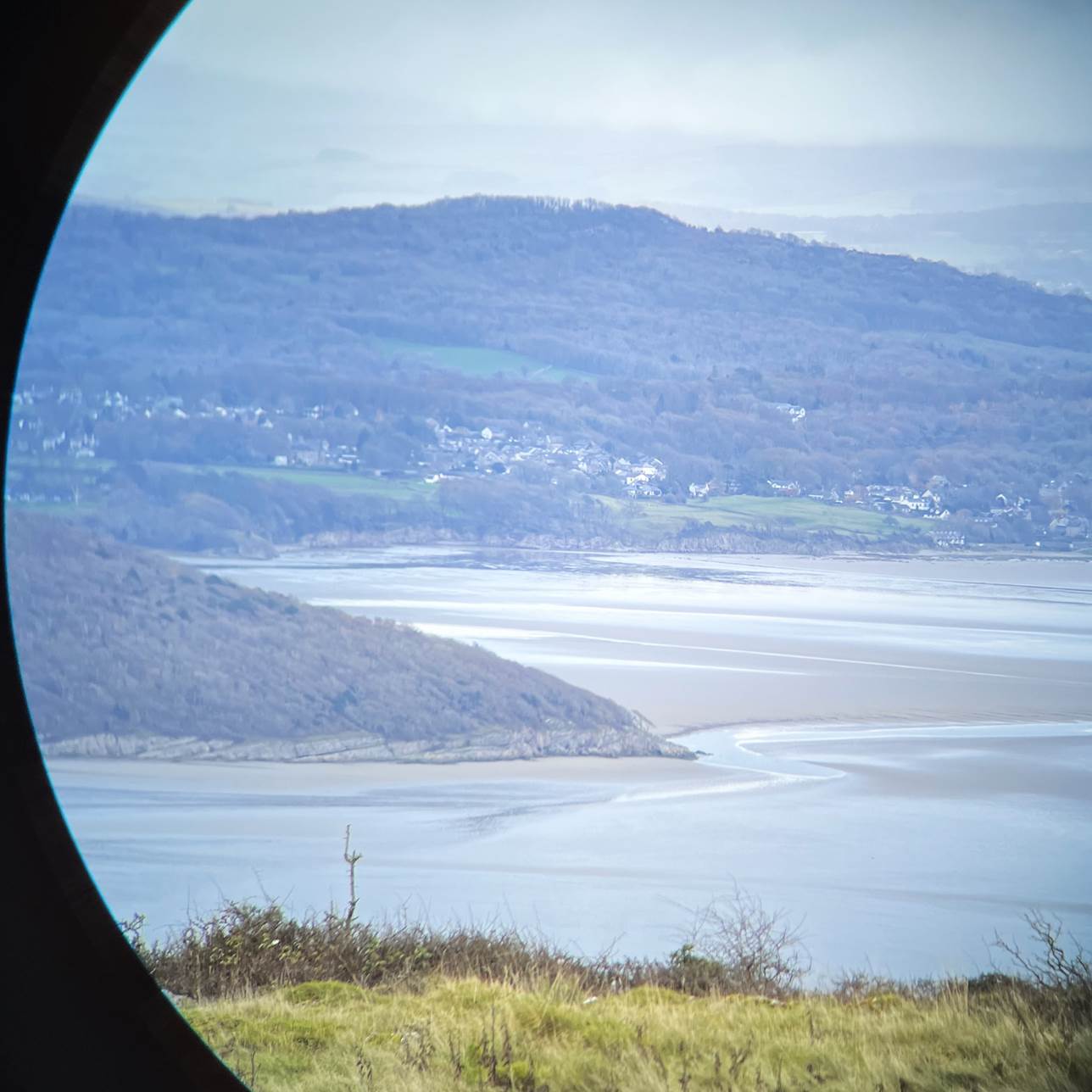 <![endif]>
Field is very flat with minor astigmatism causing a trace of blur at the edge.
Chromatic Aberration
In keeping with the UHD tag, centre field false colour is well controlled and the trace that remains probably comes from the eyepieces (there's none focusing through), but it worsens towards the edge of the field. Again, this is most noticeable when panning through silhouetted branches.
Stray Light and Ghosting
Viewing bright lights at night produced no significant ghosts and no spikes, no flare. This is a really excellent result that few can equal.
Watching waders out on the sands next to a rising Sun there was minimal veiling flare, but I did notice a little when doing astronomy around streetlights.
In Use – Dusk
Viewing the bay in deep dusk, twilight performance is very decent. I watch the waders on the sands settling to roost. But these don't have the quite the deep dusk and moonlight penetration of the brightest 10x42s.
In Use – Observing the Night Sky
The field is very well corrected on the night sky too. A touch of astigmatism creeps in from 30% field width, but it's never more than mild, yielding slightly comatic stars at the field stop; but the sword and belt of Orion are quite enjoyable in one field. There's almost no curvature of the focal plane.
Stellar images are some of the tightest I've seen in binoculars – real dazzling pinpoints.
The Moon
A waning dawn crescent isn't the most interesting Moon, but the SFLs gave a fabulous view of it – sharp and hard with no false colour and good contrast against a brightening sky.
Planets
A brilliant mag. -1.6 Mars close to opposition produced no spikes or flare, excellent true colour.
Jupiter showed a perfect disk, with no flare or spikes at all. The Galilean moons were very easy to spot and track.
Deep Sky
With Orion rising over the bay, the Great Nebula (M42) looked good with its central spike prominent. Betelgeuse's orange colour was very well delivered.
I quickly spotted the Crab Nebula (M1) off Zeta Tauri with averted vision – always a minor challenge in smaller bino's.
M31 and M33 were very easy to spot bracketing Mirach in Andromeda – brighter and more defined than most at this size. M31 was especially fine – bright and extended, with some definition of the dark lane "cutoff" on one side.
Open clusters M35-38 running up through Auriga were nicely resolved into star dust with averted vision, revealing their differing sizes and shapes. The Double Cluster region through Stock 2 was populous with no nasty 'warp tunnel' effect that off-axis aberrations can produce.
The Pleiades' pinpoint blue stars glittered coldly. The Milky Way up from Deneb to Cassiopeia was full of faint stars and smudges of clusters.
I might not choose 10x40 as a dedicated astronomy binocular, but the SFLs work very well on the night sky: good views of Moons Earthly and Jovian; great quick peeks at deep sky highlights.
Zeiss 10x40 SFL vs Zeiss 10x42 SF
<![if !vml]>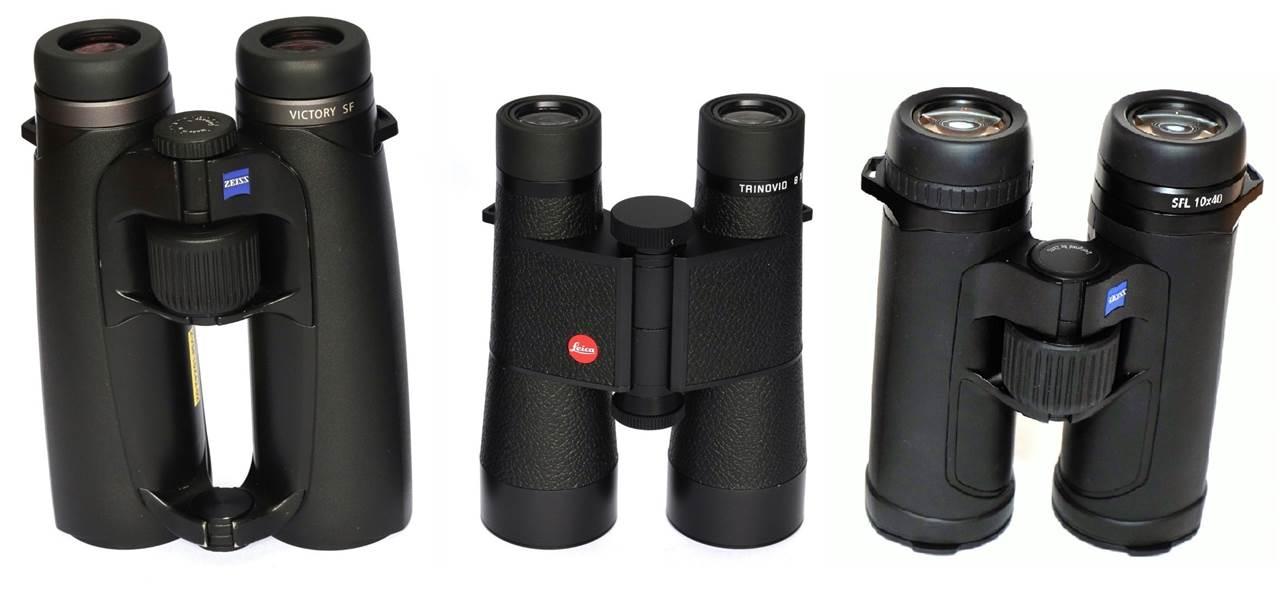 <![endif]>
Zeiss 10x42 SF and 10x40 SFL with Leica's 40mm Trinovids for reference.
This is an obvious decision for a keen birder, so let's break it down:
<![if !supportLists]>· <![endif]>The SFLs are about 20% smaller and lighter – very noticeable on a long walk
<![if !supportLists]>· <![endif]>The SFLs are more conventional with no double bridge or ErgoBalanceTM
<![if !supportLists]>· <![endif]>Focuser action is excellent on both, the SFLs' not as fluid though
<![if !supportLists]>· <![endif]>The dioptre adjust on the SFs is easier to use, more intuitive
<![if !supportLists]>· <![endif]>The SFLs have supreme eyepiece comfort
<![if !supportLists]>· <![endif]>Smaller objectives and slightly lower transmission mean the SFLs are a little less bright under all circumstances
<![if !supportLists]>· <![endif]>The view is very similar, the SFLs' slightly less wide, slightly less brilliant and sparkling for me
<![if !supportLists]>· <![endif]>Resolution is outstanding on both
<![if !supportLists]>· <![endif]>Some lateral false colour is present in both, but otherwise well controlled
<![if !supportLists]>· <![endif]>Optical and mechanical quality was slightly better for the SFLs
<![if !supportLists]>· <![endif]>The SFLs are significantly cheaper
<![if !supportLists]>· <![endif]>The SFLs are made in Japan, so may not be as repairable out of warranty
The SFs are perhaps a more 'special' binocular, with more wow factor for me. But the lower weight, size and cost, combined with superb comfort, might swing it in the SFLs' favour, especially if you're carrying them all day.
Summary
All-round excellence, with a great view, superb comfort and perfect build quality. The SFLs did everything well with no weak spots, day or night. The light weight and small size is a big deal for long days in the field on rugged terrain.
The SFLs give me the strong impression that Zeiss have carefully designed them (like it says on the hinge) to offer outstanding general-purpose performance for heavy use. But therein lies the only problem: they're the kind of binocular to use a lot, but Zeiss didn't actually build them so can they repair them? I'd need reassurance for when I inevitably bash them, drop them or just plain wear them out once the warranty has expired.
If you're not a gear fan, just someone who wants one really good pair to use a lot, the SFLs are compelling: they do everything (including casual astronomy) superbly, whilst being super comfy to use and very light and compact to carry. They get my highest recommendation, but check you're happy with the repair prospects given their non-European manufacture.
<![if !vml]>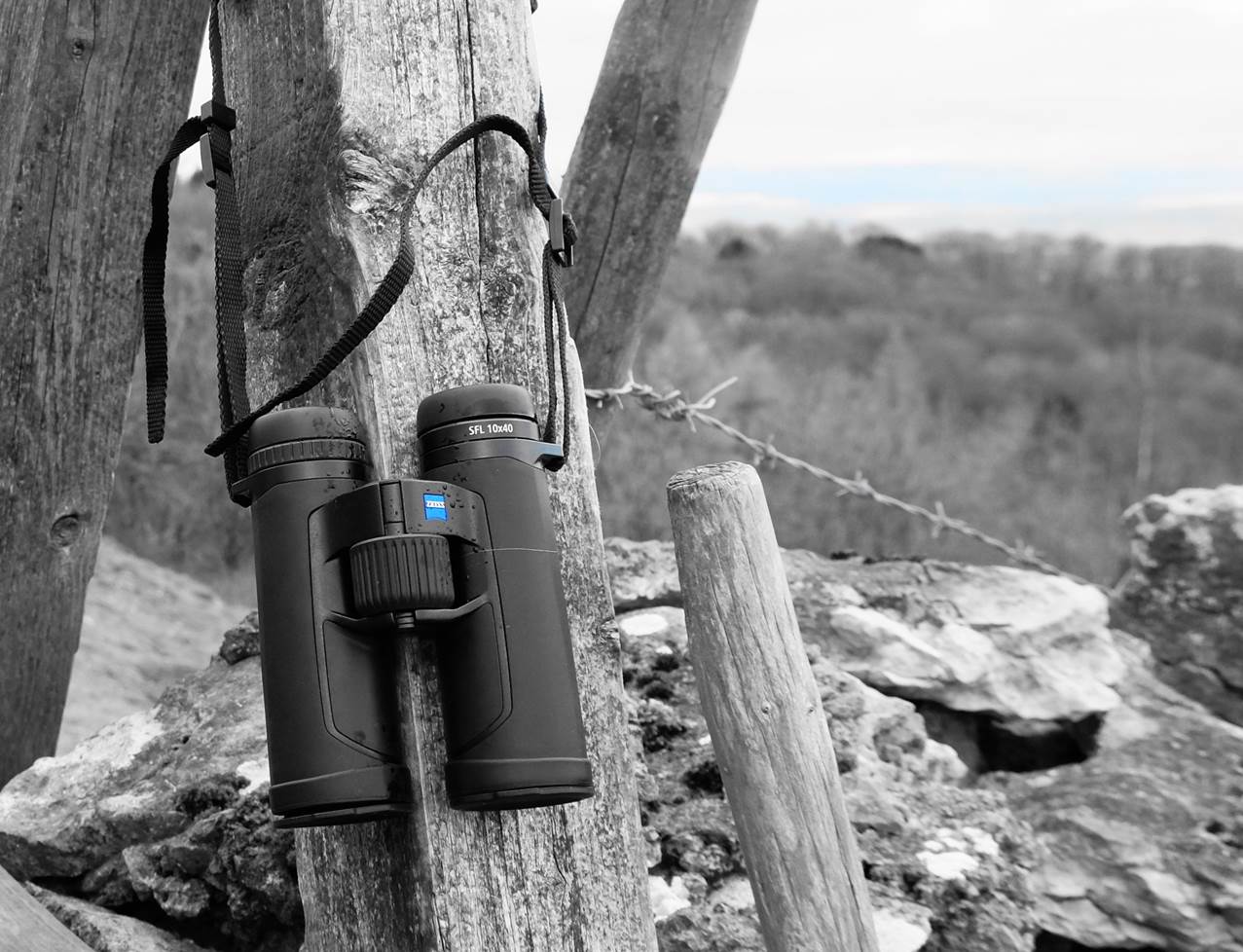 <![endif]>
Buy Zeiss 10x40 SFL from Wex here: