Zeiss' 8x32 Victory FLs have been around for years, but they remain among the lightest and smallest full-size binoculars you can buy. In this review I put them to the test to find out if that diminutive stature means a compromised view.
Zeiss Victory 8x32 FL Review
<![if !vml]>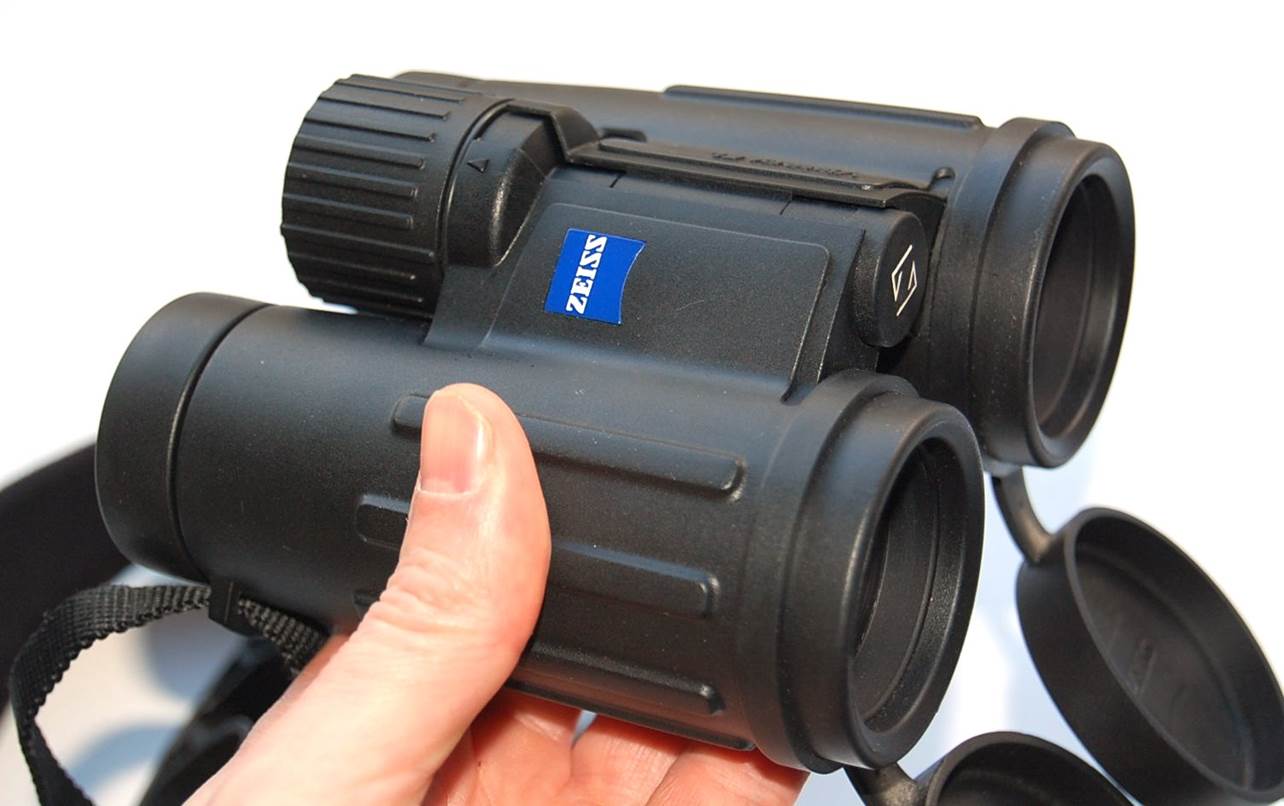 <![endif]>
Living as I do on the edge of the English Lake District, I like to go walking and do so most days. I am not a birder in the sense of collecting IDs, but I do like to look at birds and other wildlife, both in the hills and along the shore of the bay. So I usually take a pair of binoculars. But most full-size binoculars are just too heavy to hike with and I make do with tiny 8x20s. I would prefer 8x32s, with their brighter, wider view. But are there any light and small enough to go walking with every day?
Nikon's excellent HGs are just too heavy. Swarovski's ELs are on the big side for my needs. Leica's Ultravids are the smallest of the lot, but eye relief is too tight for me. The New Zeiss Conquest 8x32 HDs are too large and heavy. Nikon's light and bright 8x30 EII porros aren't waterproof and I know I'll get caught in a storm and ruin them one day; they don't have armouring to protect them from the inevitable bash on stile or gate either.
Just about the only model that ticks all my boxes is the Zeiss 8x32 Victory FL, the baby brother of the 7x42 FLs I owned for years.
(Note: I have owned both black and green 8x32 FLs, hence the mix of armour colours in this review.)
At A Glance
| | |
| --- | --- |
| Magnification | 8X |
| Objective Size | 32mm |
| Eye Relief | 16mm |
| Actual Field of View | 8 degrees |
| Apparent field of view | 64 degrees |
| Close focus | 2m |
| Transmissivity | 90% |
| Length | 117mm |
| Weight | 550g |
Data from Zeiss Europe.
What's in the Box?
<![if !vml]>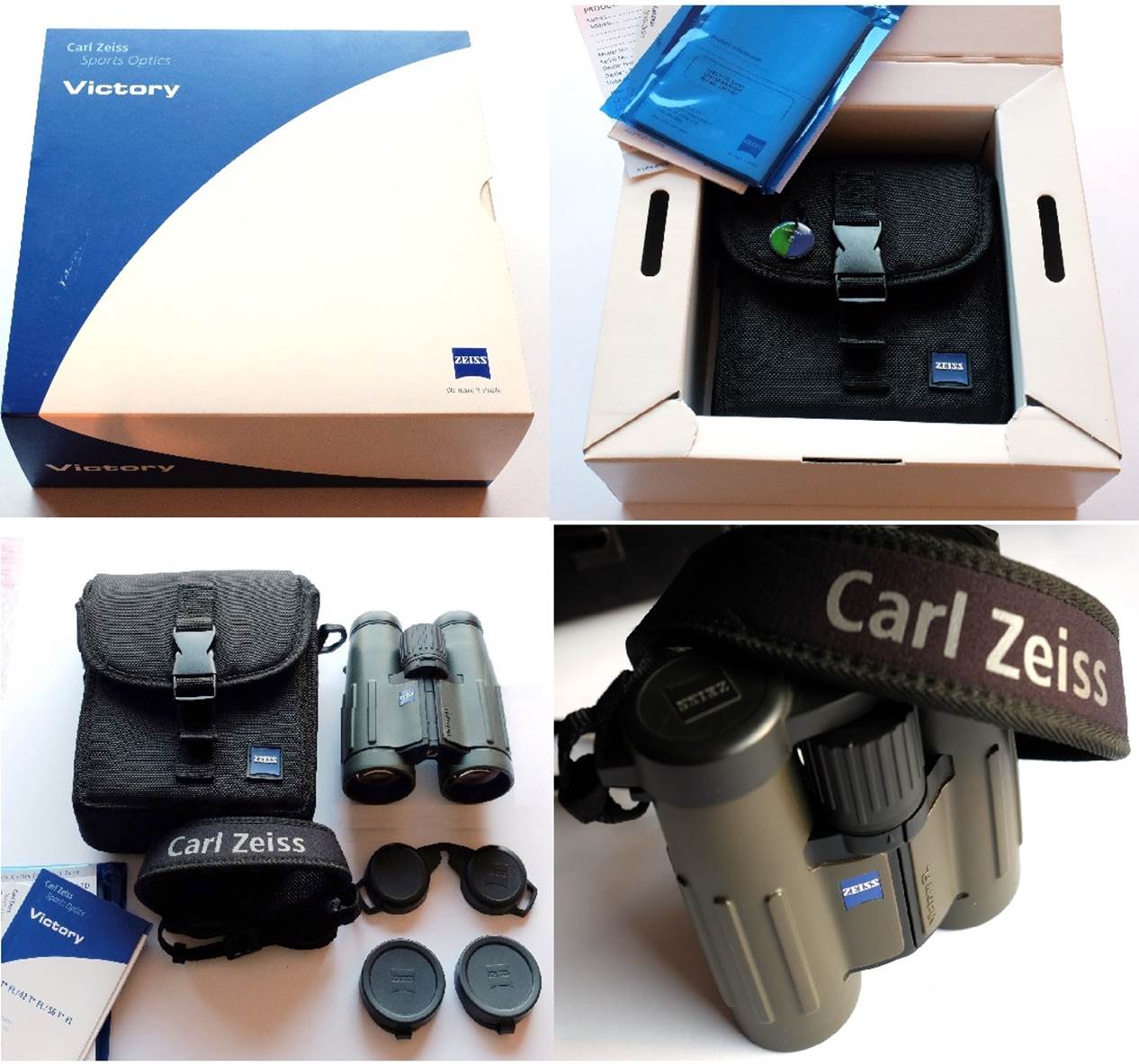 <![endif]>
Design and Build
The Victory FLs were Zeiss' premium birding binoculars before the Victory HTs and SFs. They were pioneering in many ways, with a composite body for low weight and the high-fluoride glass lens elements that reduce false colour fringing and that most binoculars now denote as 'HD'.
Even after the 42mm and 56mm Victory FLs were discontinued to make way for the HTs, the 32mm models remained in production as Zeiss' top-of-the-range in this size. They were finally discontinued in turn after release of the 32mm FLs, which are a larger heavier binoculars.
Update: the 32mm Victory FLs arguably remain unique (early 2023). The new SFLs promise similar characteristics, but in a Japanese-made design that's cheaper and still slightly heavier. I can think of few (if any) that offer their combination of optical and physical features in a premium bino'.
Body and Ergonomics
Physically, the Victory 8x32s are amongst the smallest in their class at just 117mm long, shorter than all but the Leica Ultravid 8x32 HDs. The Victory FL 8x32s are lighter than most too, thanks to that composite (not aluminium or magnesium) construction – just 550g. Again the only lighter premium model is the Leica (note that many cheaper binos are lighter, why? Because they contain less glass).
To my eyes the Zeiss Victorys have a slightly more utilitarian appearance than other alpha binoculars: they are not as elegant as Leicas or Swarovskis. However, build quality is functionally excellent and I prefer the armour on these to the new two-texture shiny variety on the latest HTs, SFs and Conquests.
Update: a heavily used example shows some scratching on the plastic focuser knob and bridge and the armour has become shiny and slightly loose, but otherwise they're proved very rugged.
<![if !vml]>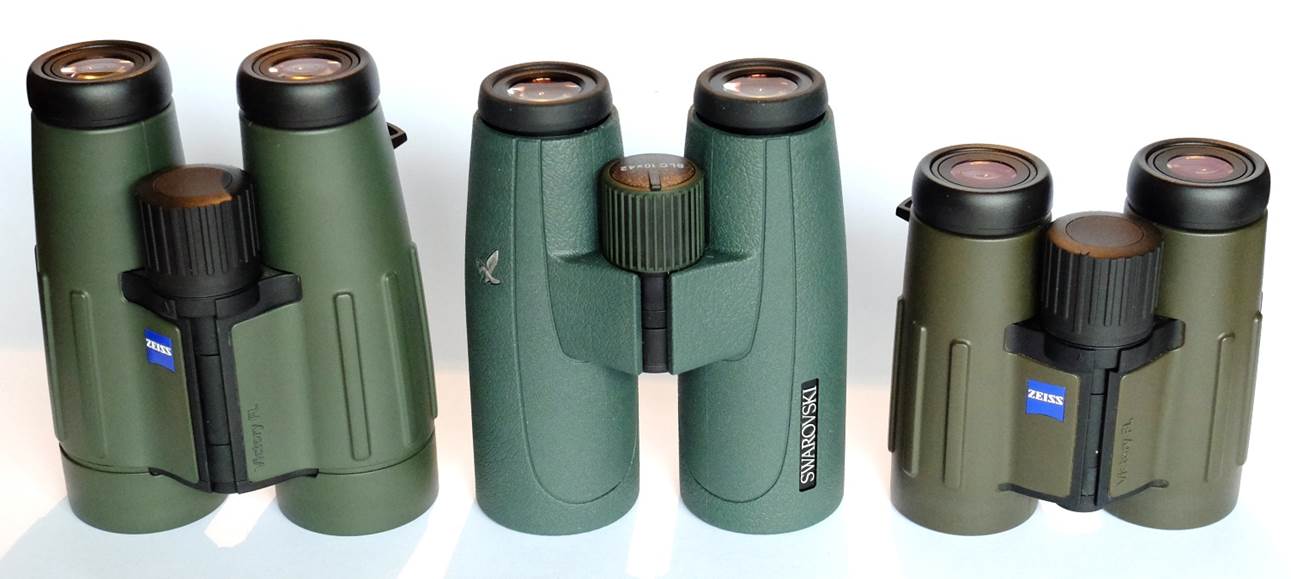 <![endif]>
Zeiss Victory FLs: 7x42 and 8x32, with Swarovski's 8x42 SLCs. The 7x42s and 8x42s are already compact designs, but the 8x32s are much smaller still.
Focuser
Focusing is by a large, fast and smooth rear-set knob that is as good as any on an "Alpha" bino'. It's typical of modern greaseless focusers and is perfectly precise, without the small amount of free play I noticed in Zeiss' Conquests.
The 8x32 FLs focus close – about 2m, at which I was able to get a comfortable merge. This is one fast focuser, too: from close-focus to infinity is little more than half a turn. This makes them extremely intuitive to use (see below).
Dioptre is adjusted by pulling the focuser knob to reveal a click-stop scale. It's an ideal method for me that I much prefer to the stiff separate wheel Zeiss now use on their HT and SF models.
<![if !vml]>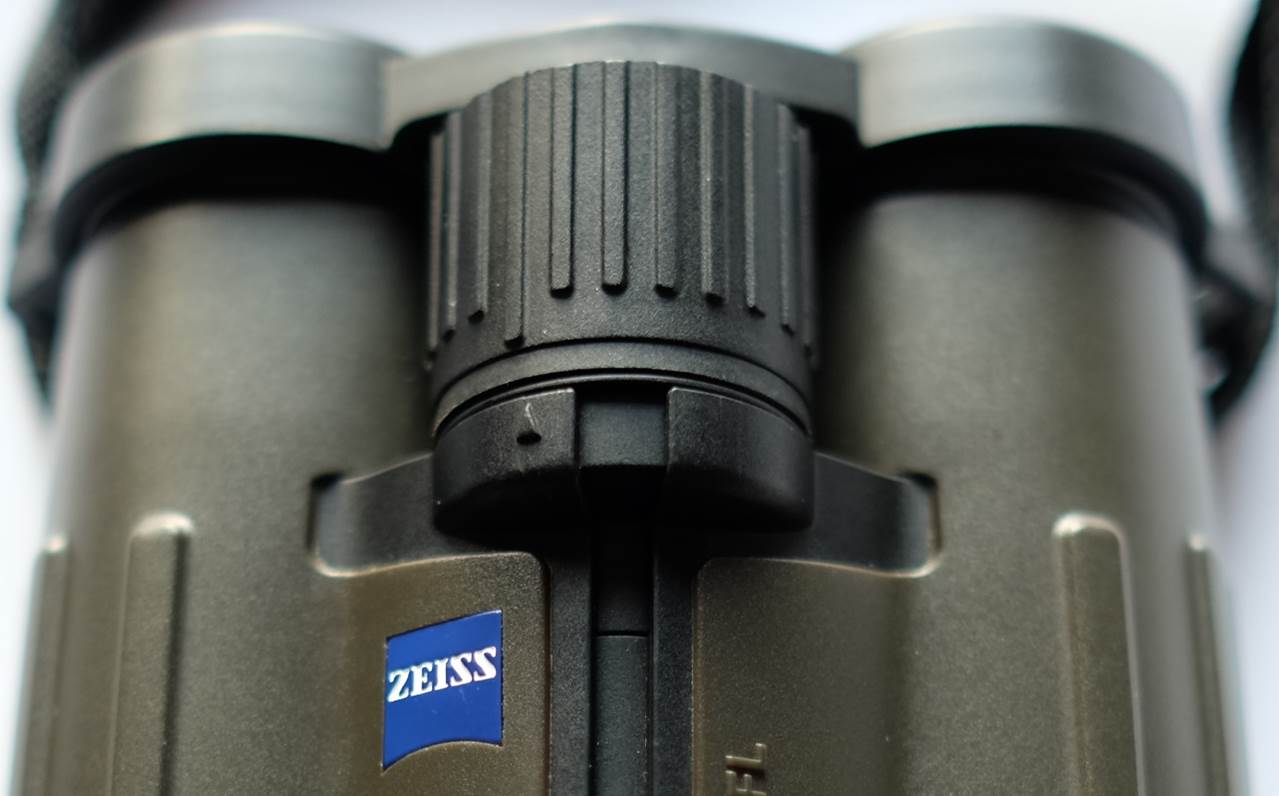 <![endif]>
The Victory's focuser is big, smooth and fast, but very plasticky for a premium model and scratches badly over the years.
Optics - Prisms
The larger Victory FL models used the high-transmission Abbe-König prisms now found in the HTs and 56mm Conquests. To keep the length down (Abbe-König prisms are long and thin), they have had to switch to conventional Schmidt-Pechan prisms for the 32mm models. This means a slightly lower transmissivity than the 42mm models, but it's still top-notch for roofs at ~90%.
Optics - Objectives
The Victory FLs may not carry the 'HD' moniker, but these are an HD model, i.e. they use low-dispersion, high-fluoride glass elements in their objectives to reduce false colour fringing. I say 'elements' because these may have more than one, like the latest models and pioneered by Kowa. Certainly Zeiss state it's a four-element objective.
The objectives must be a very short focal ratio to keep them so compact and they appear to have very steep curves.
Given their short length, Zeiss might have been tempted to put the objectives near the front, compromising performance for veiling flare. In fact the objectives are very deeply recessed and have ridge-baffles in front of them to help reduce stray light – the sort of attention to detail you get when you pay for the best.
Zeiss' T* coatings are among the very finest and these are no exception. They have a pinkish hue that means high transmission in blue and green to give a cool, bright colour balance. These have the "Lotutec" hydrophobic coatings as well. On a heavily used example, the coatings have proven very resistant to scratching.
Interior construction appears very solid and on a heavily used example collimation and focus precision have remained perfect.
<![if !vml]>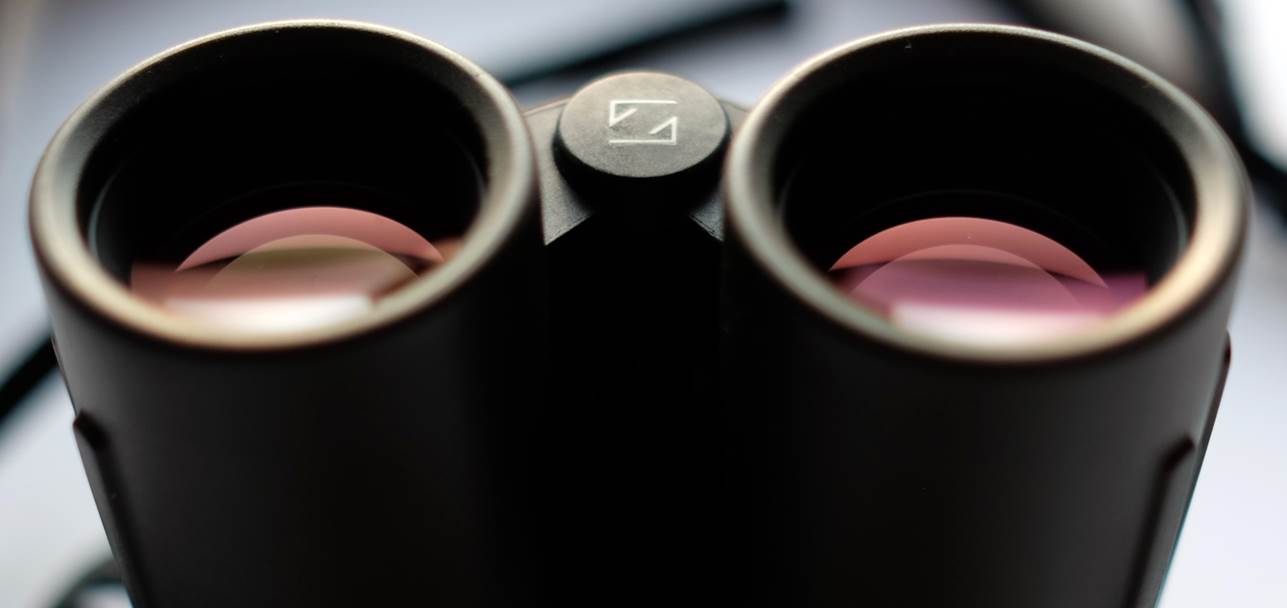 <![endif]>
Short focal length objectives have strong curves.
<![if !vml]>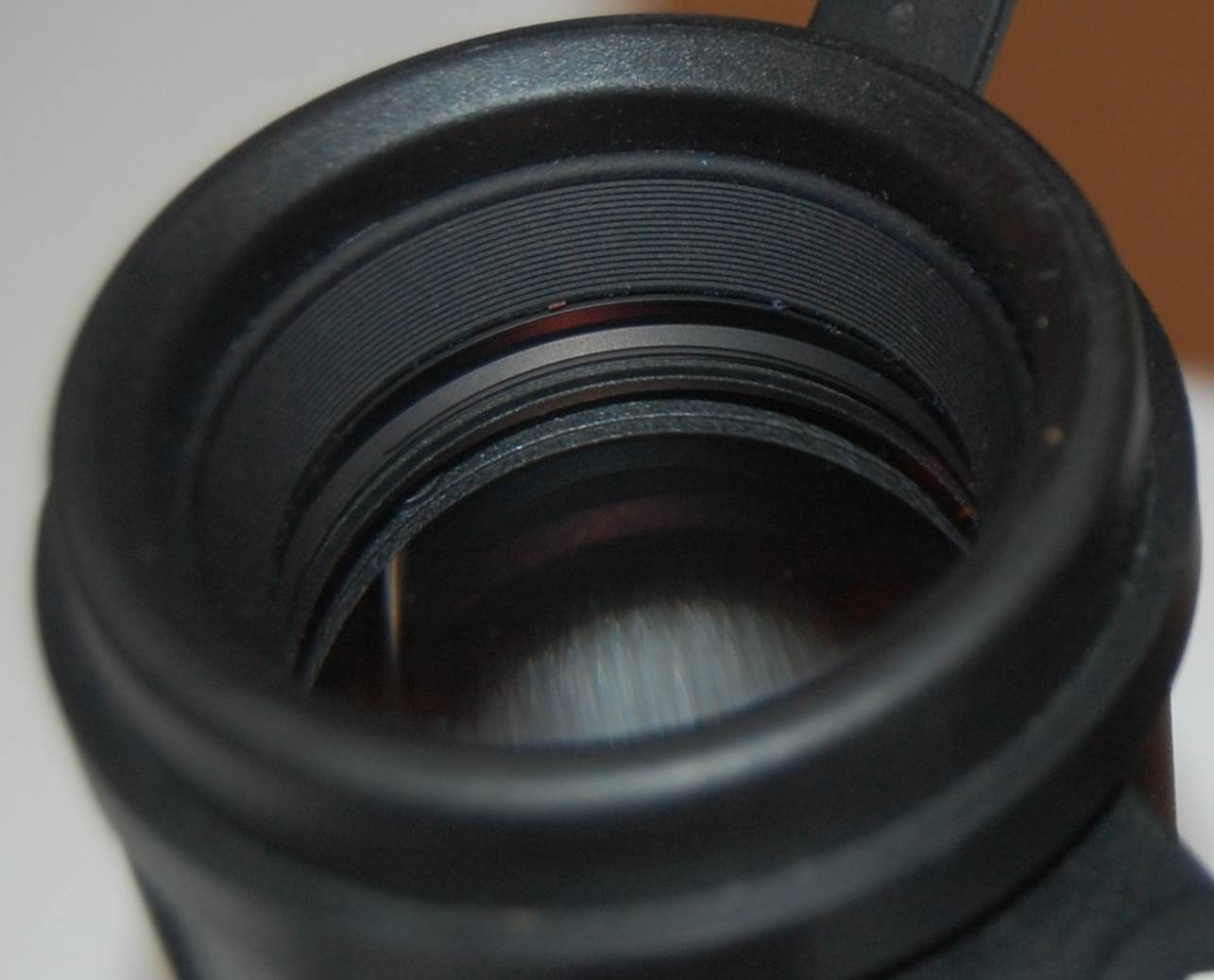 <![endif]>
Objectives are deeply recessed and micro-baffled against stray-light.
Optics - Eyepieces
The eyepieces must be a complex multi-element design and they deliver a very wide, class-leading field of view at 64 degrees apparent and around 8 degrees true – 140m at 1000m.
These binoculars manage something that virtually no other compact model does – decent eye relief and a really short body. Eye relief isn't as good as my 7x42 FLs, but at 15.5mm it's quite reasonable, especially given the flat profile of the cups (some designs like the Conquest HDs give you loads of eye relief than take some away with a tall ridge on the cup rims): I can almost see the whole wide field with specs on.
Why is it hard to get decent eye relief in a compact binocular? Due to the short focal length of the objectives, the eyepiece has to be of short focal length too and eyepiece ER tends to naturally drop off at shorter focal lengths (some astro' eyepieces avoid this, but they are typically huge).
These eyepieces are thankfully free from blackouts as you move your eye around, a problem that some other long eye relief designs suffer from.
<![if !vml]>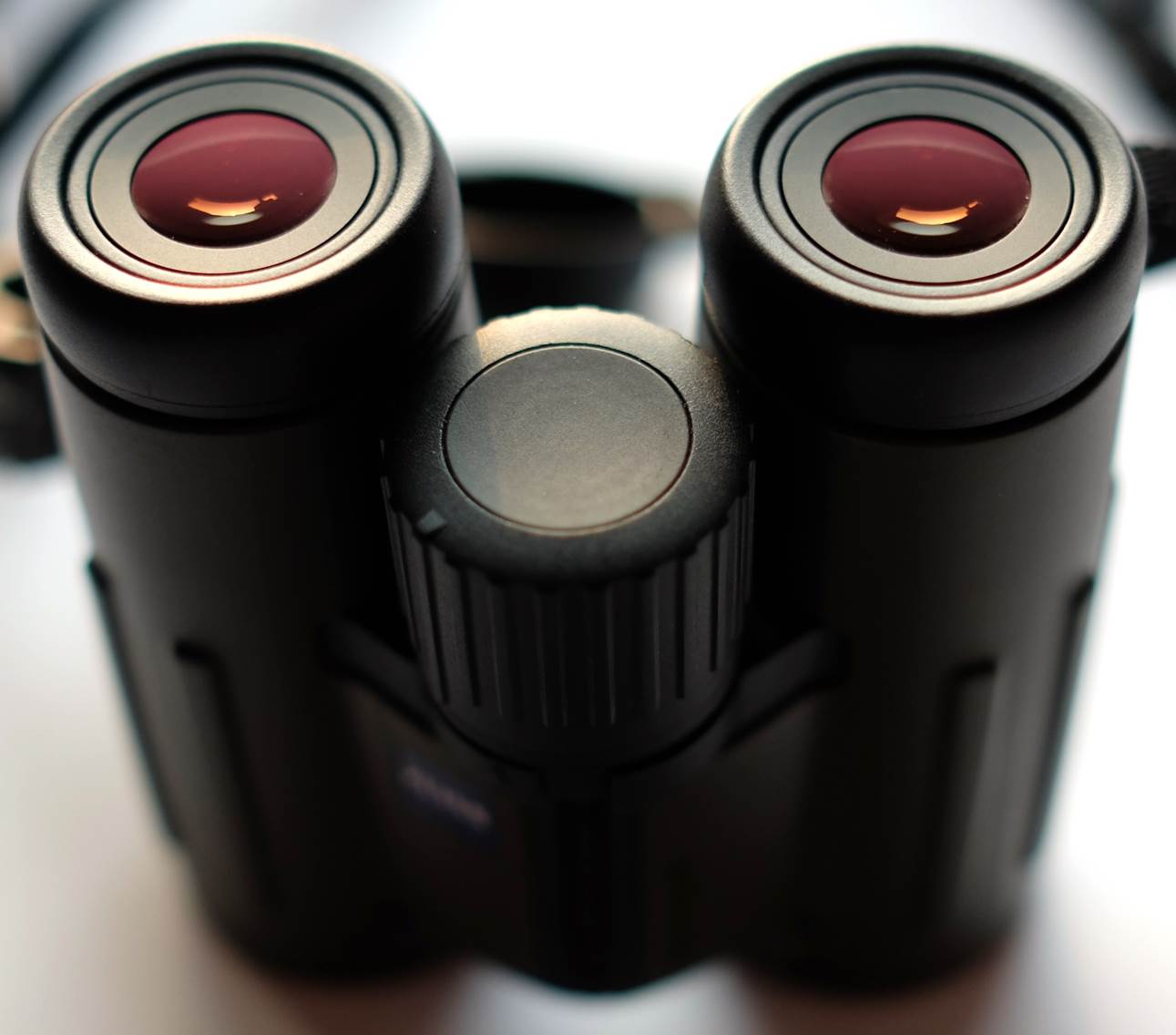 <![endif]>
Eye relief is modest but the low-profile eye cups make the most of what's available.
Accessories
The case is the standard Zeiss cordura job that I always think looks a bit cheap for an "Alpha" bino; it's functional enough.
The caps are conventional too – a soft rubber one for the eyepieces that grips on nicely and band-on caps for the objectives.
<![if !vml]>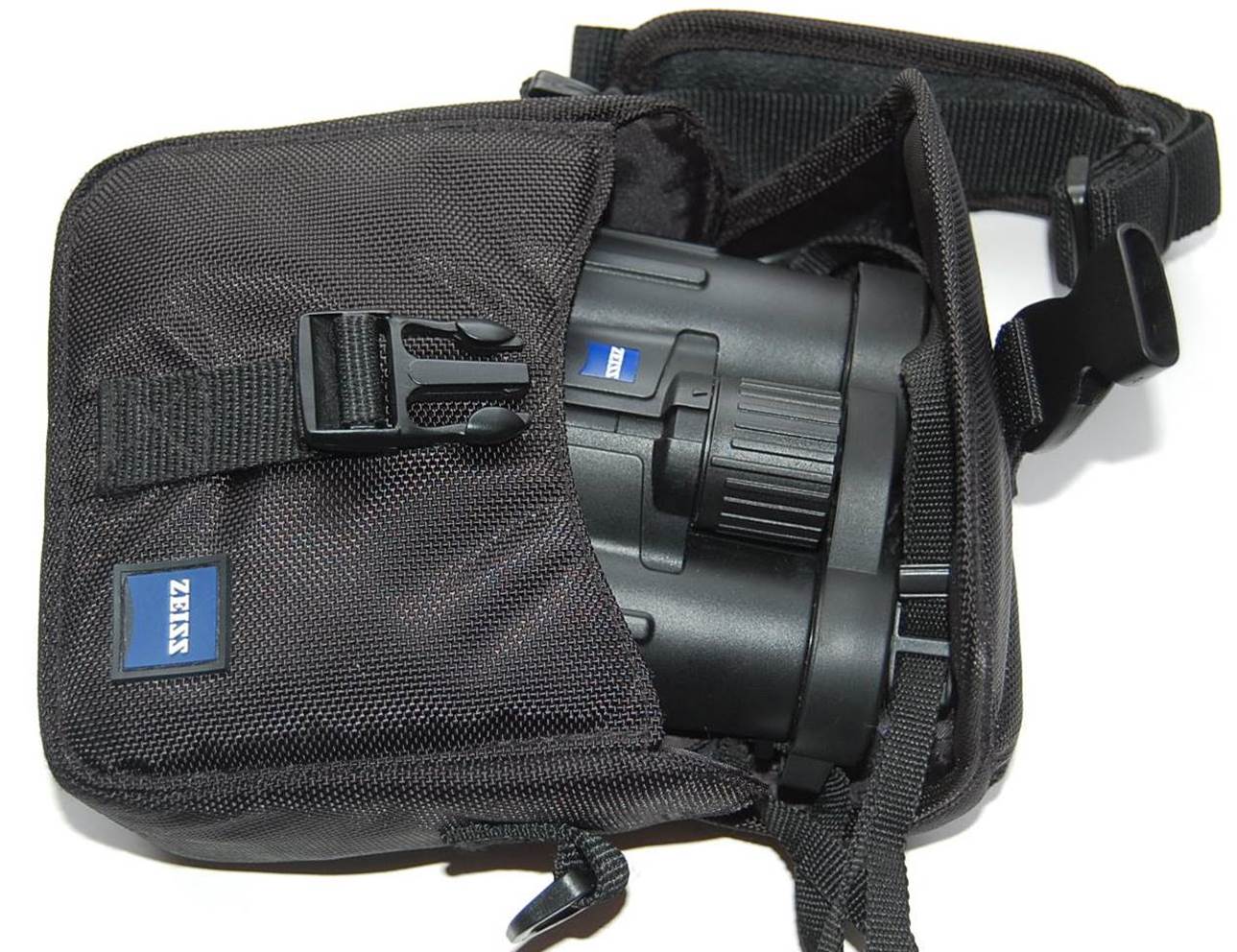 <![endif]>
<![if !vml]>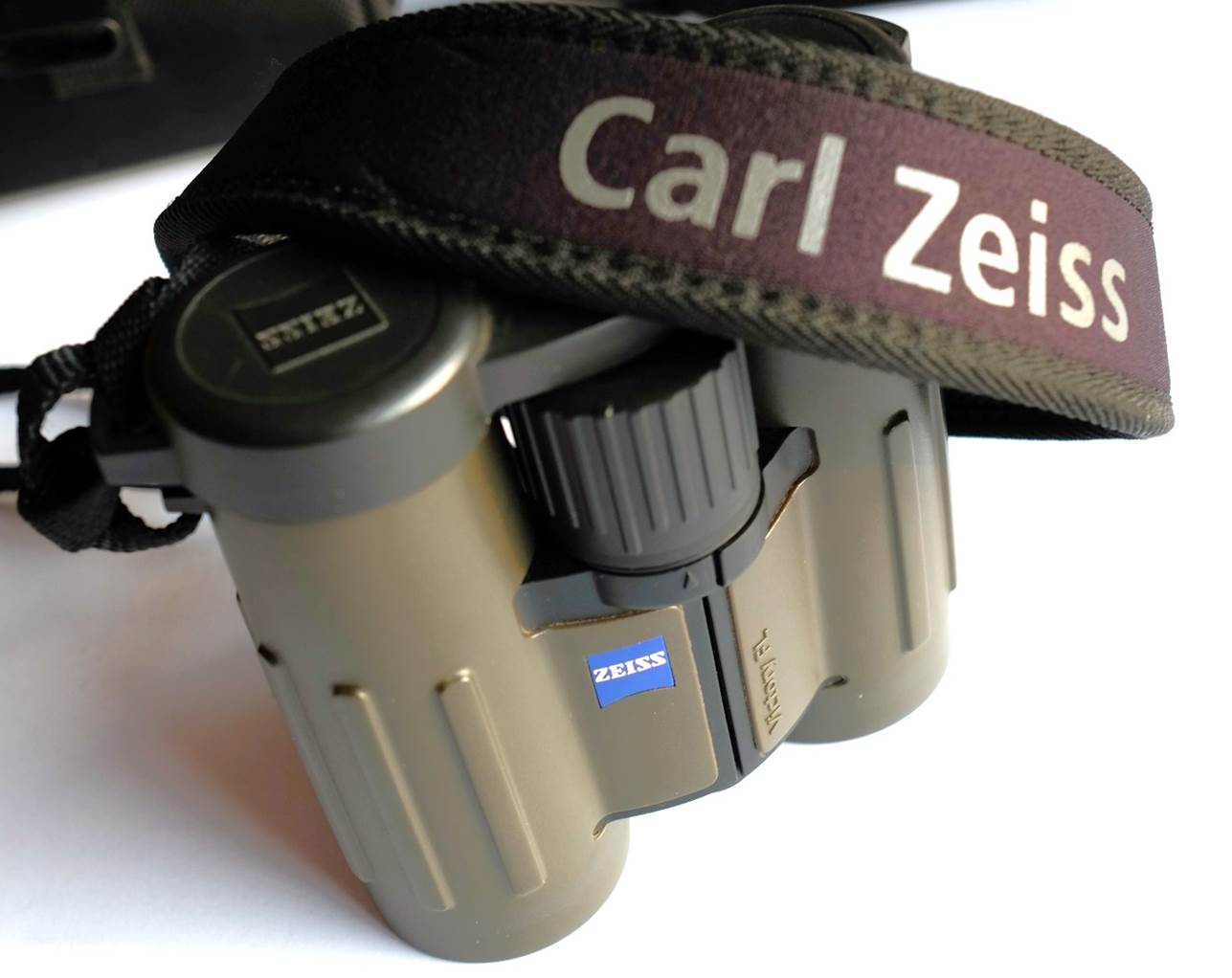 <![endif]>
Victory's case and strap are standard Zeiss.
In Use – Daytime
Ergonomics and Handling
The 8x32 Victory FLs are light and comfortable to use: I can walk all day with them and not really notice they are there. They balance nicely in the hand and though the armouring isn't pretty, it is pleasant to handle. Another unexpected advantage of the composite construction is that they are warmer to hold in really icy weather.
The big, fast focuser is a cut above most others and has that intuitive feel of the Nikon LXs': refocusing on birds in flight is easy, but then again the depth of field is excellent anyhow. On a heavily used pair, the focuser had freed up to be super-light but retained its precision, with no backlash or vagueness creeping in. I love this fast fluid focus action, which really adds to the intuitive feel.
Eyepiece comfort is first-class. Eye relief for once (at this size) isn't a problem – the 8x32 FLs have much more than most Leicas, for example, and there are no nasty blackouts either. The screw-up cups work well for sharing with people who don't need specs. At first I thought I could see the whole field with glasses on, but the field is so wide I was mistaken: I can't quite see the full eight degrees, but eye relief is still good for such a compact design.
These are a tiny binocular and are very unobtrusive to carry – ideal when you're hiking or on holiday and not specifically birding.
<![if !vml]>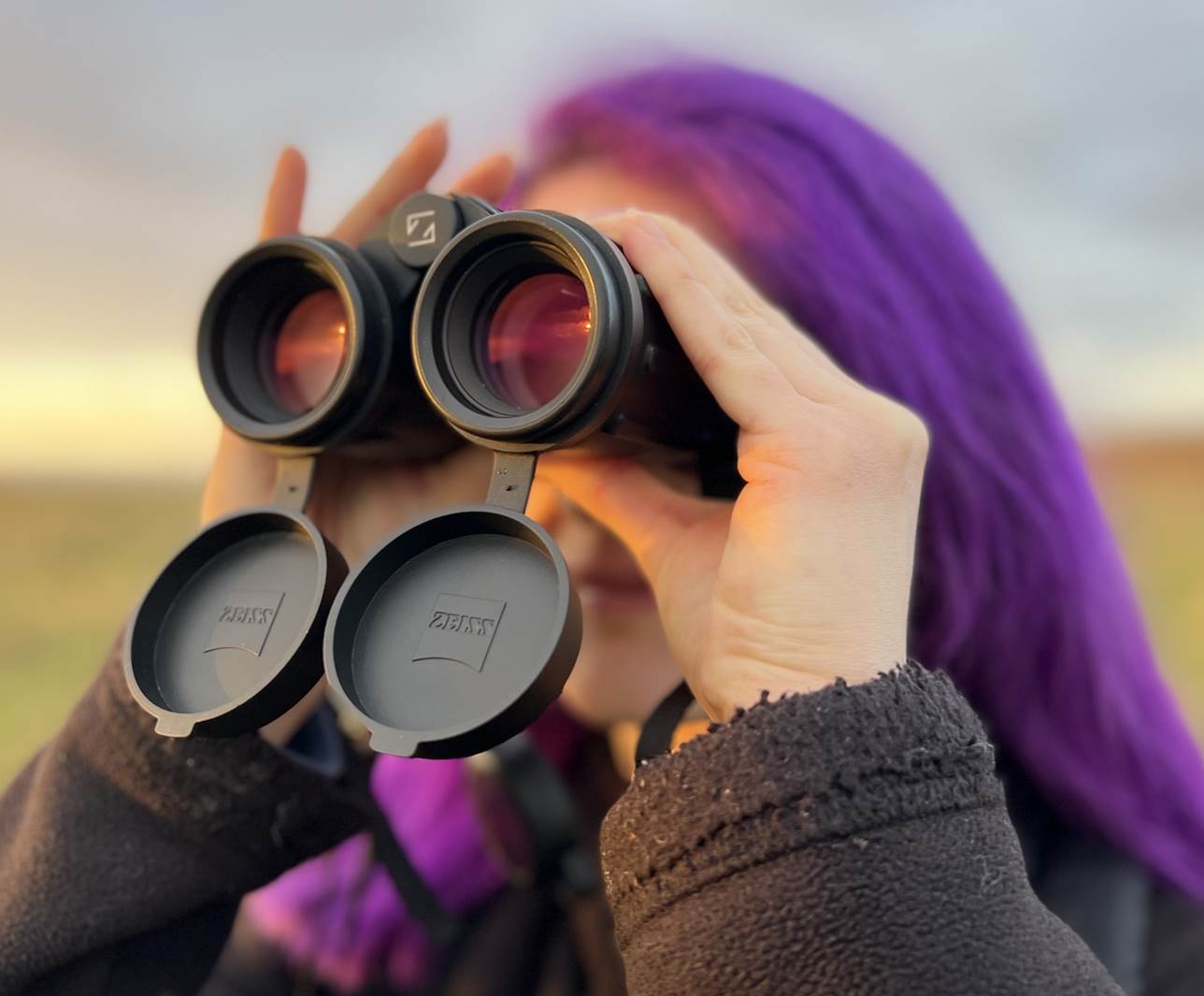 <![endif]>
<![if !vml]>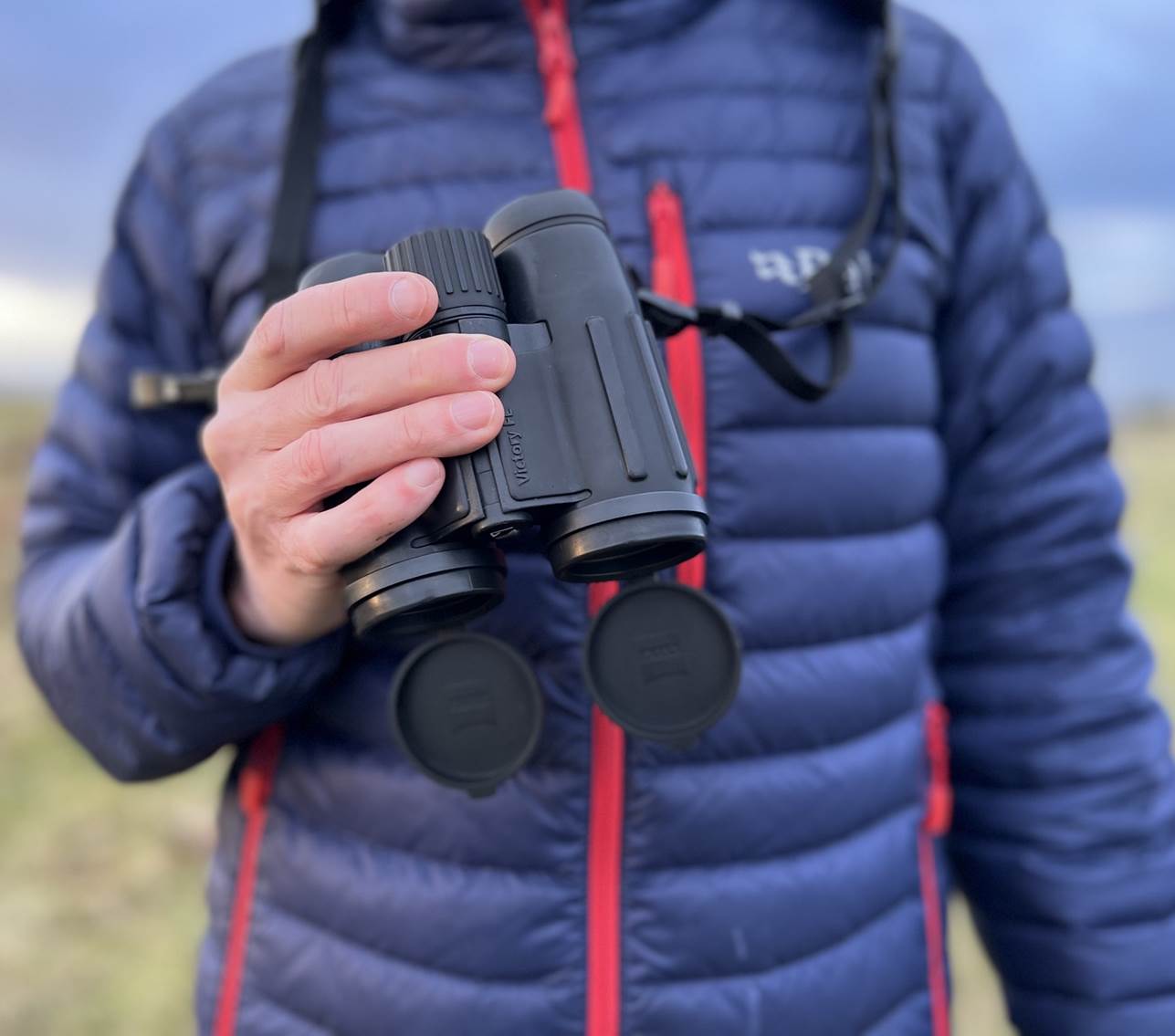 <![endif]>
The View
The view is simply superb – right up there with the best. It really has everything: sharp, contrasty, wide of field and a very neutral colour rendition I really like. These may not have the ultra-high transmission of the larger FL and HT models, but brightness is exceptionally good too.
Resolution is superb. Bird feathers, distant vistas, light on water, all sparkle with the highest imaginable level of detail, centre-field anyhow.
The focus has that "snap" that immediately suggest good optics and collimation is perfect so they are very comfortable for extended viewing.
The daytime view is sensational in the Zeiss Victory FL 8x32s. They may not be the prettiest binocular; the view through them is where your money goes.
Flat field?
Like most Zeiss binoculars (the new SFs excepted), the field drops off at the edge more than in binos with field flatteners. The field is so wide that this isn't a huge problem during the day and it does make for more comfortable panning.
Chromatic Aberration
These deserve their "FL" designation because they are virtually free of CA – better than most other binoculars I have tested, apart perhaps from the very latest premium designs. To me this really makes a difference in the view. Crows seen against a bright sky are a source of frustration no longer!
In Use – Dusk
No smaller-lensed binoculars are ideal at dusk, but these actually work very well in lower light. This is an area where 32mm binoculars really win over pocket (20mm and 25mm) designs. The high level of light throughput Zeiss has achieved mean they work in very low light daytime conditions and even in bright moonlight. I personally can't see any great need to carry a 42mm glass for daytime use when these 32s are so good in low light.
Stray light suppression at dusk proved excellent thanks to the careful baffling.
Despite their small size, these are a real "all-day" binocular and you can keep going right into dusk.
In Use – The Night Sky
Again, no 32mm binos are ideal for astronomy. Nonetheless, these work surprisingly well for it.
Flare on even a full Moon is very well controlled. There is no significant ghosting in-field and no internal reflections when it's just outside the field, either. I was about to pronounce this aspect of the binos another perfect ten, when I pointed them up to a random star field and spotted a pair of bright orange laser beams at an obtuse angle to each other. It took me a few seconds to realise these were reflections of a streetlight from a prism corner: strange because the light was well away from the field of view and it was difficult to reproduce the effect from other positions.
General use on the night sky is good, with pin-point stars and great contrast meaning these show richer star fields than you might expect. The wide field, light weight and comfort (perfect collimation, long eye relief, freedom from eyepiece blackouts) make these surprisingly pleasing to use for astronomy, but of course the limited aperture means Messier marathons are not on the agenda.
The Moon
The Zeiss 8x32 FLs are wonderful for bird-watching, just as you would expect, but they also show a surprising amount of lunar detail. The Moon through these is small, but perfectly formed – sharp and hard with no yellow tints or false colour fringes to spoil things.
Jupiter
These passed the 'Jupiter test' with no nasty flares or spikes or bloating. You can easily make out Jupiter's four Galilean moons – Io, Europa, Ganymede and Calisto.
Deep Sky
Coming back from a late night Christmas walk, the sky was really dark and I was amazed at the wide field detail available with these diminutive Zeiss binoculars. At over eight degrees, both Orion's belt and sword easily fit within the field. The Great Nebula appeared surprisingly bright.
That wide field means you can sweep the whole sky and not lose your bearings.
Obviously these are not ideal for finding small DSOs, but they do make a nice job of star fields and open clusters like the Pleiades and the O-B association in Perseus.
Overall, the Zeiss Victory 8x32 FLs work surprisingly well for astronomy.
Zeiss Victory 8x32 FL vs Nikon 8x32 HG
<![if !vml]>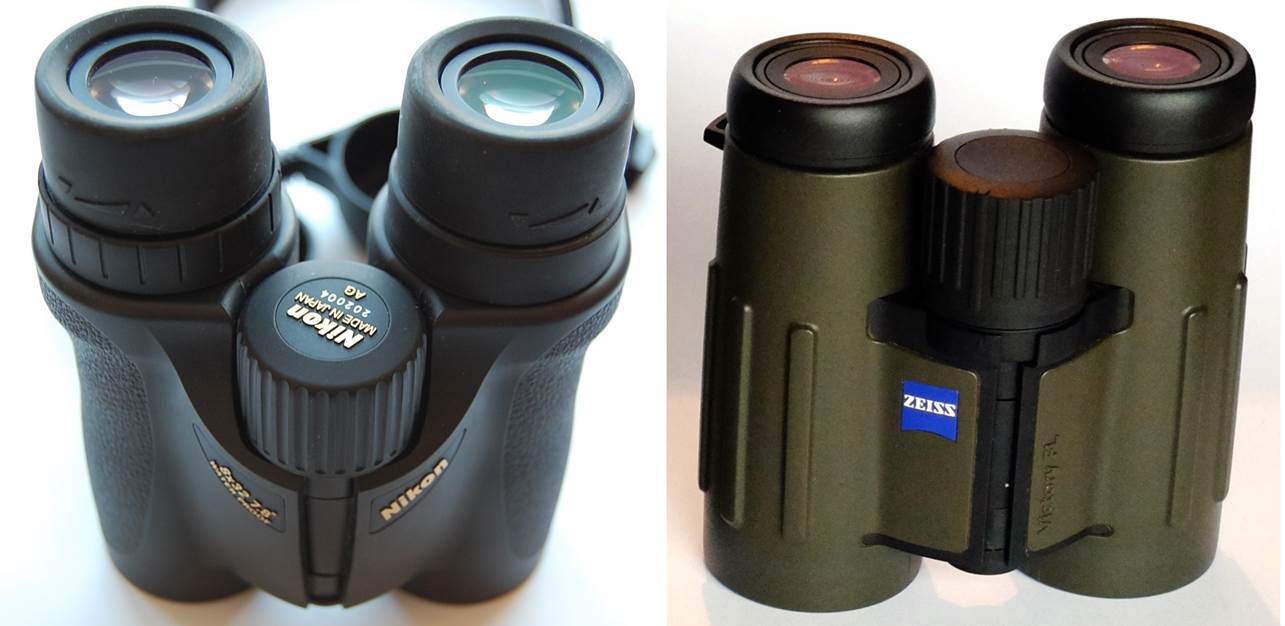 <![endif]>
The Nikon High Grade 8x32s (Superior LX in the US) were for a long time my favourite binocular in terms of their view. A comparison of their relative merits versus the Zeiss Victory 8x32s follows:
<![if !supportLists]>· <![endif]>The Zeiss Victorys are much lighter and more compact.
<![if !supportLists]>· <![endif]>The Victorys have a wider field, but it drops off a lot more at the edges.
<![if !supportLists]>· <![endif]>The Victorys have much lower levels of false colour due to their high-fluoride lenses.
<![if !supportLists]>· <![endif]>The Nikons have a palpably superior external build quality.
<![if !supportLists]>· <![endif]>The Nikons have more eye relief.
<![if !supportLists]>· <![endif]>The Nikons' focuser is even smoother than the Victory's, but may not be greaseless (so might get stiff in very cold conditions).
<![if !supportLists]>· <![endif]>Street price for the Zeiss Victorys is about double at the time of writing.
The main advantage of the Victorys is their size and weight, which really matter in this market segment. They have much lower false colour, too.
Summary
The Victory FLs are not beautiful, elegant binoculars like Leica Ultravids. But in use these are the best really small binoculars (as opposed to the larger and heavier 32mm SFs) I have tested.
They do everything superbly well, with the only mark-down being not quite enough eye relief for me. I love the wide, sharp, bright false-colour-free view, especially in such a small, light package. The focuser is very good too, making them ideal for birding.
Low-light performance is especially impressive in a small binocular. The only other oddity was that reflection from a prism corner, but mostly they work well at night too, offering a very different experience from a high power binocular.
These remain the pick of the crop of compact binoculars, if you value really small size as well as a great view. They ended up as a very expensive binocular new, but they are finally becoming affordable used and make a great choice.
Update 2023: These remain one of my favourite binoculars. They do everything well and are just tiny. A heavily used pair proves their build is truly rugged too.
The Zeiss Victory 8x32 FLs get my highest recommendation (even in 2023): small and light but with a big view and an outstanding focuser.
<![if !vml]>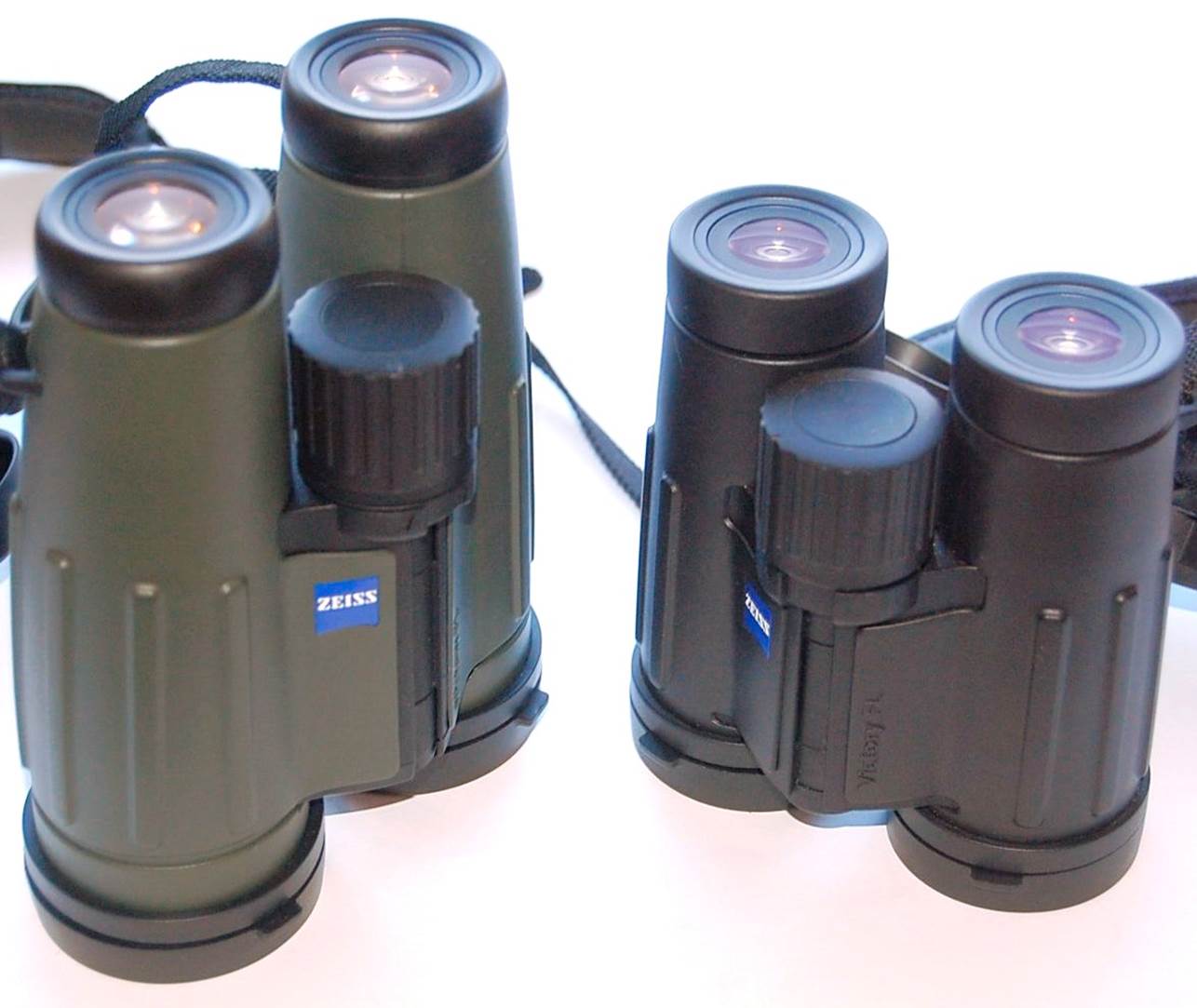 <![endif]>
Zeiss Victory FLs: 7x42 and 8x32.