Zeiss have tried hard to make a top-class no-frills birding binocular for everyman with the 42mm Conquest HDs. In this review, I pit the 8x42 model against its Victory SF equivalent and see how it fares on the night sky too.
Zeiss 8x42 Conquest HD Review
<![if !vml]>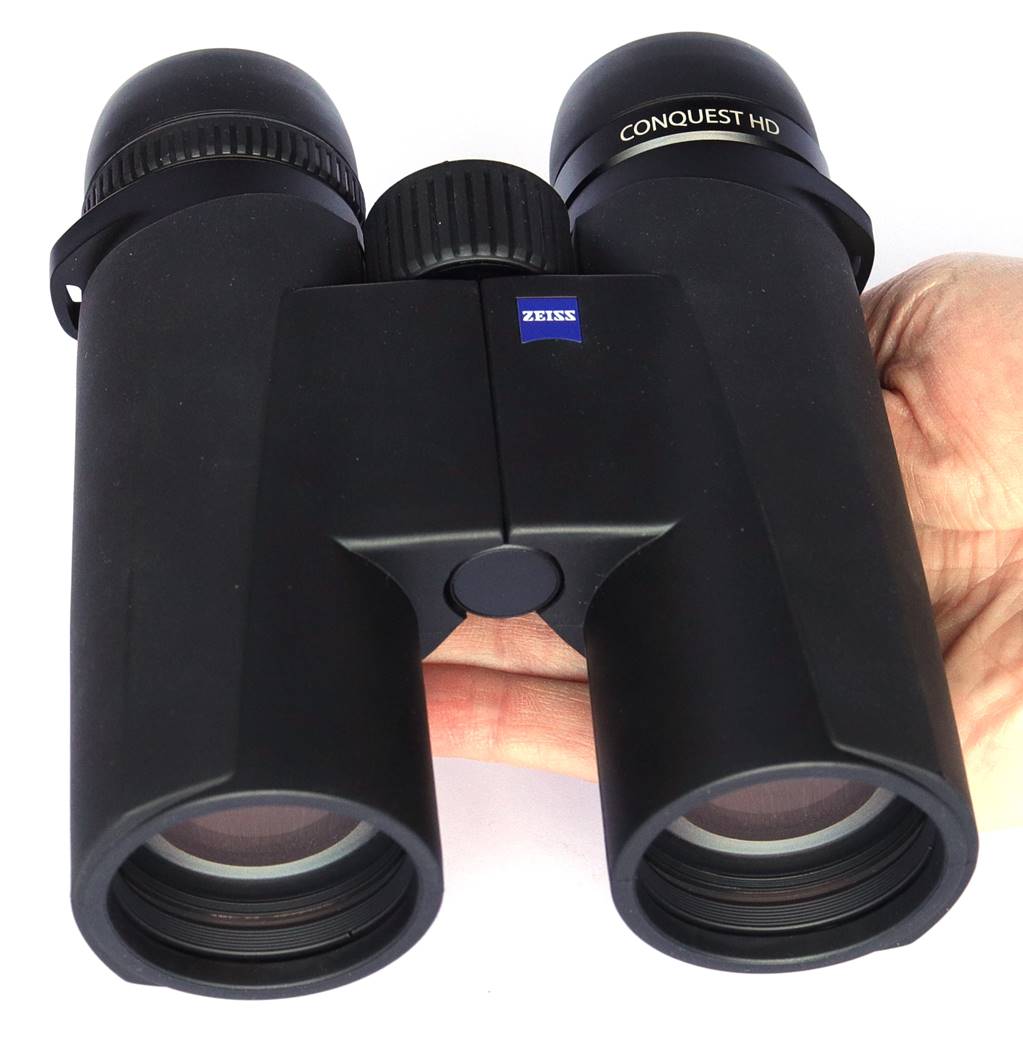 <![endif]>
I've always liked the 56mm models in Zeiss' Conquest HD range, which offer a cheaper alternative to Swarovski's big-eye SLC HDs in a proper European binocular from a prestige brand: no doubt great for hunters, but for astronomers too. Then last month I tried a pair of mainstream Conquests for the first time - the 10x42s - and found them excellent, if anything better than their big-eye siblings.
In this review I find out if the 8x42 model, the most traditional birding format in the entire Conquest range, is as good. To add some extra value, though, I compare them with the 8x42 Victory SFs, Zeiss' top model for birders, to see what extra you get for twice the price. And I put the astronomy performance of both to an extended dark-sky shake-out.
At A Glance
| | |
| --- | --- |
| Magnification | 8x |
| Objective Size | 42mm |
| Eye Relief | 18mm measured |
| Actual Field of View | 128m/1000m, 7.4° |
| Apparent field of view | 59° |
| Close focus | 2m claimed/measured |
| Transmissivity | 90% |
| Length | 150mm |
| Weight | 795g claimed/measured |
Data from Zeiss/Me.
What's in the Box?
The Conquest range share much the same the glossy, fold-out presentation box with an arty wildlife photo, as other Zeiss' models. No cut-price packaging here.
<![if !vml]>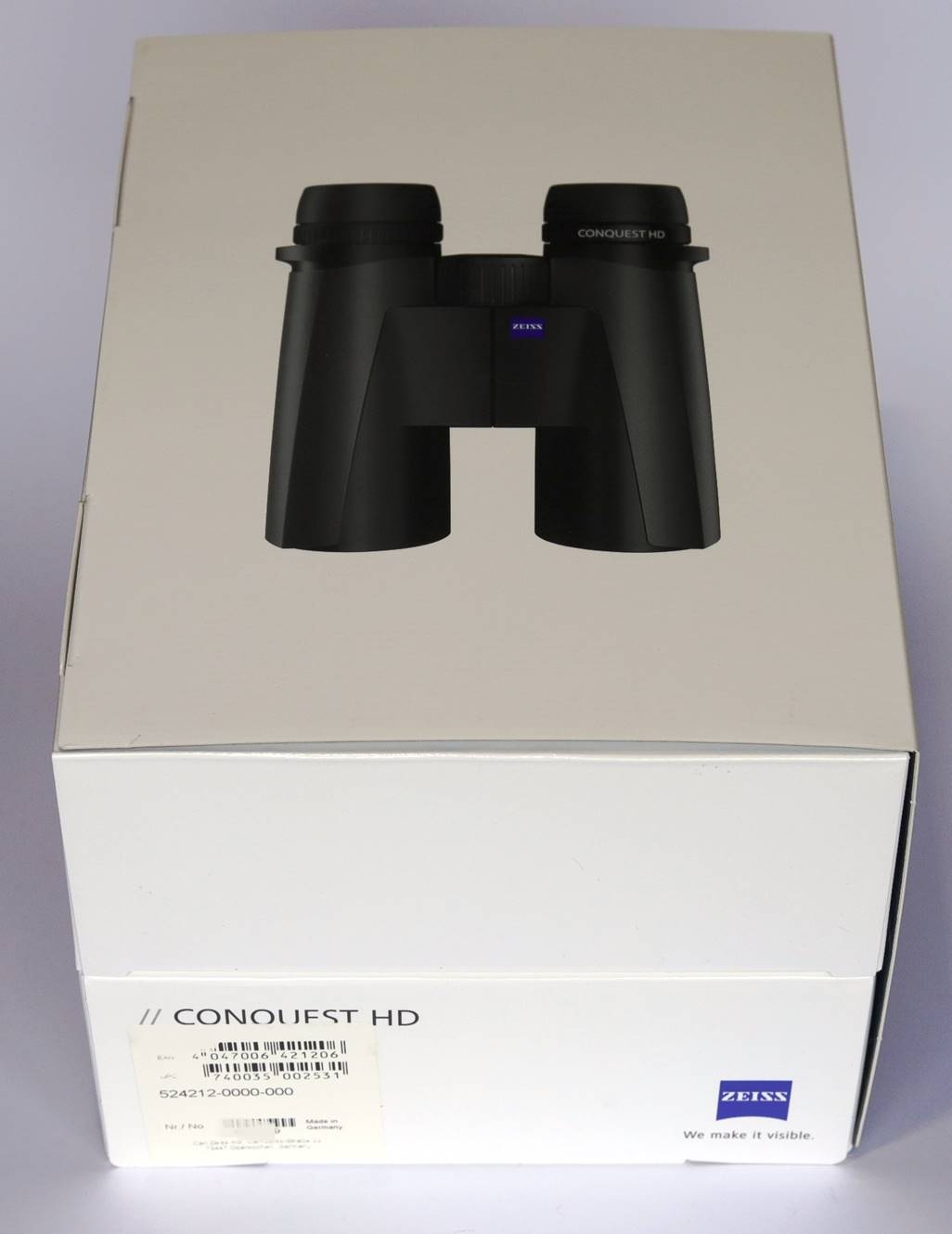 <![endif]>
<![if !vml]>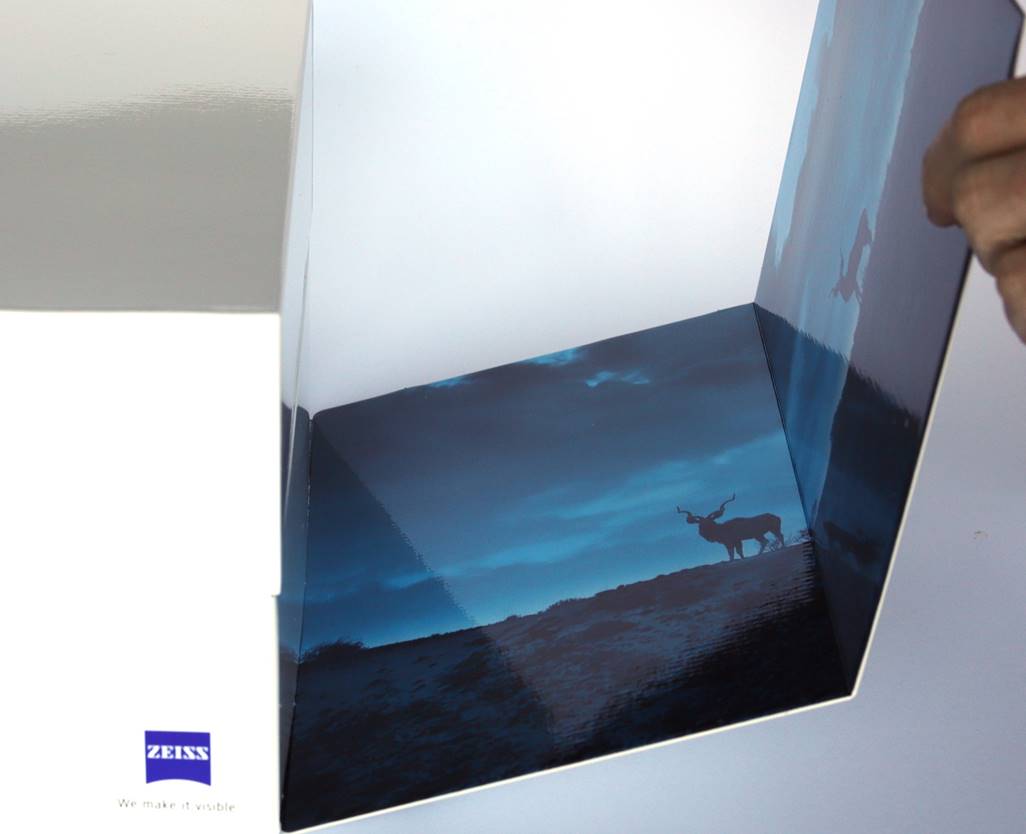 <![endif]>
<![if !vml]>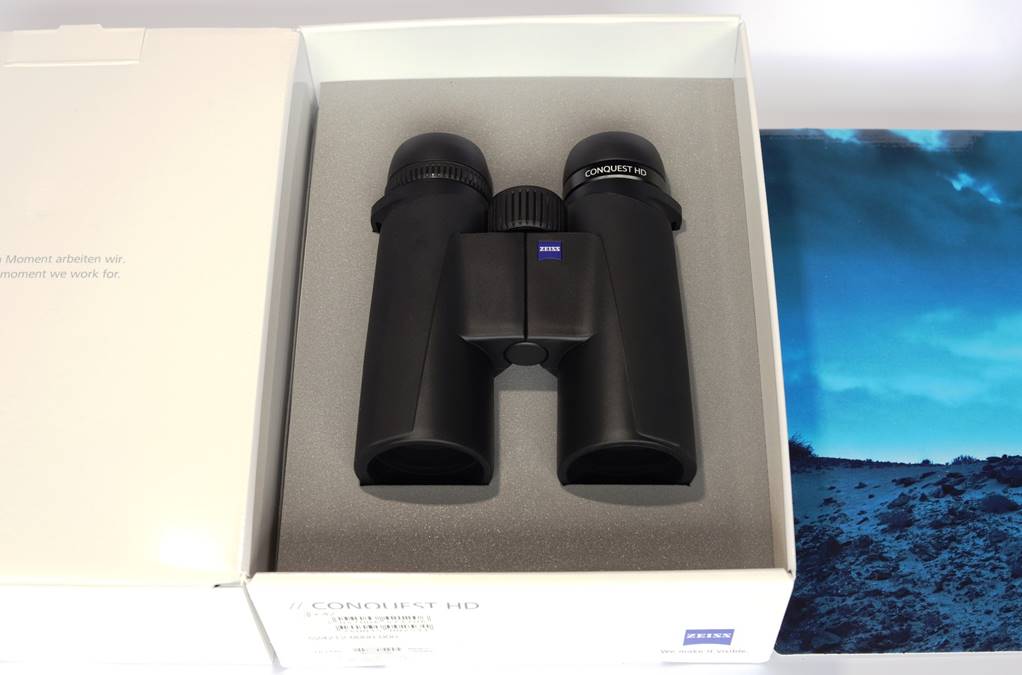 <![endif]>
<![if !vml]>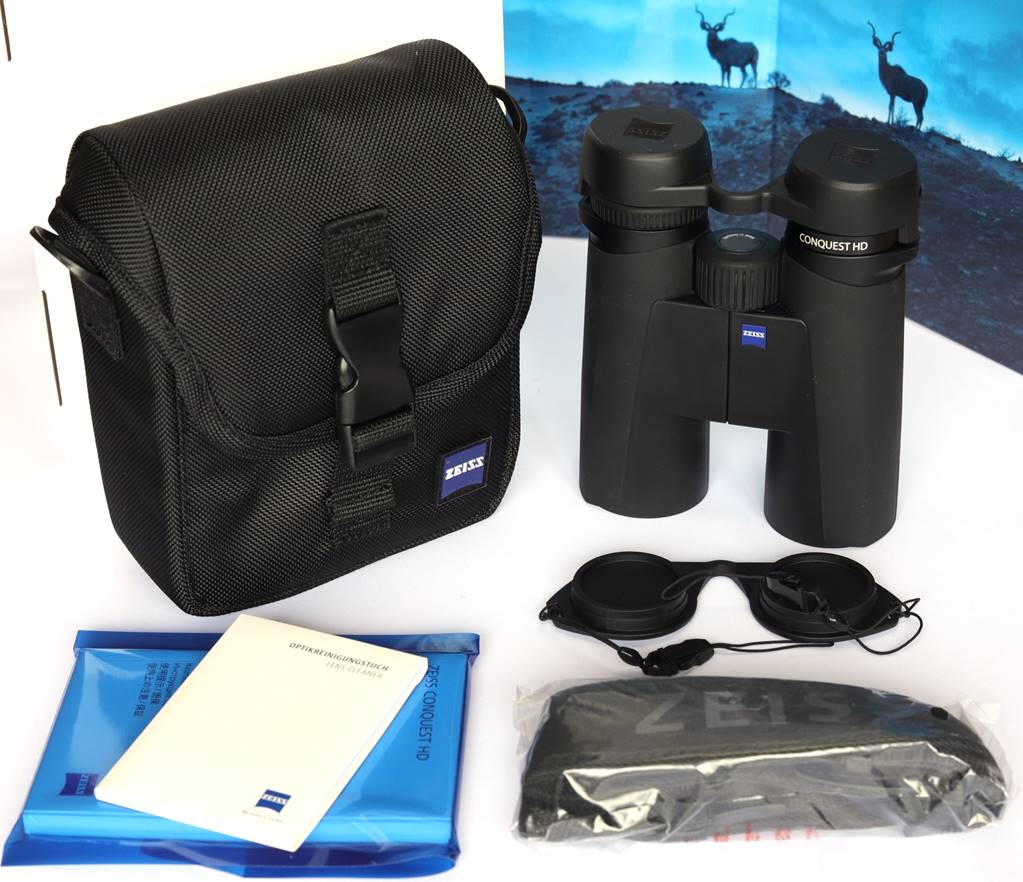 <![endif]>
Design and Build
The Conquests are Zeiss' largest range of binoculars in terms of the magnifications and apertures on offer: equivalent of Leica's Trinovid HDs and Swarovski's rather more expensive SLC HDs, but with more variety than either - all the way from 8x32 to 15x56 via these birding-standard 8x42s.
All the models seem to share a similar style and approach, with rugged made-in-Germany build (the ad's show them all scuffed and covered in mud) and wide fields for their class.
The 32mm and 42mm Conquest HD models are fairly standard roof prism binoculars, with nothin' fancy – no special prisms like the HTs, no innovative optical and mechanical design like the SFs. And whilst the 56mm models are large for their spec, these are a normal compact size.
The Conquests certainly seem like 'proper' Zeiss, but whether 'Made in Germany' means fabricated or merely assembled, I don't know. In either case, Zeiss are likely to support them for service and repair in a way only the European brands do in my experience.
<![if !vml]>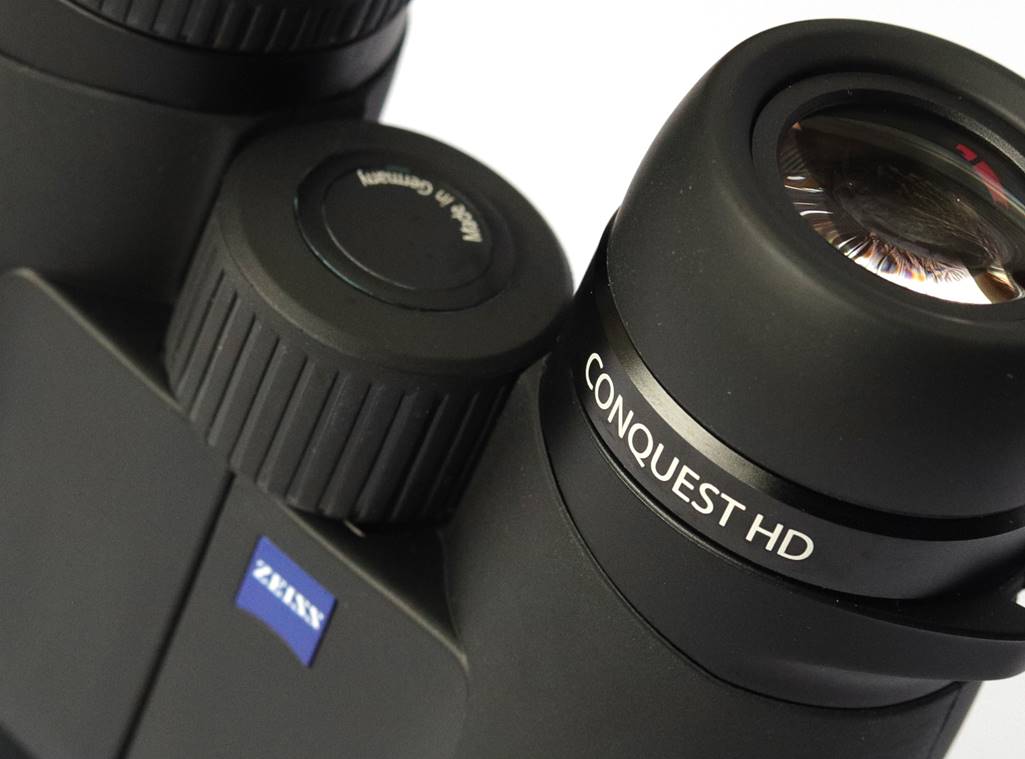 <![endif]>
<![if !vml]>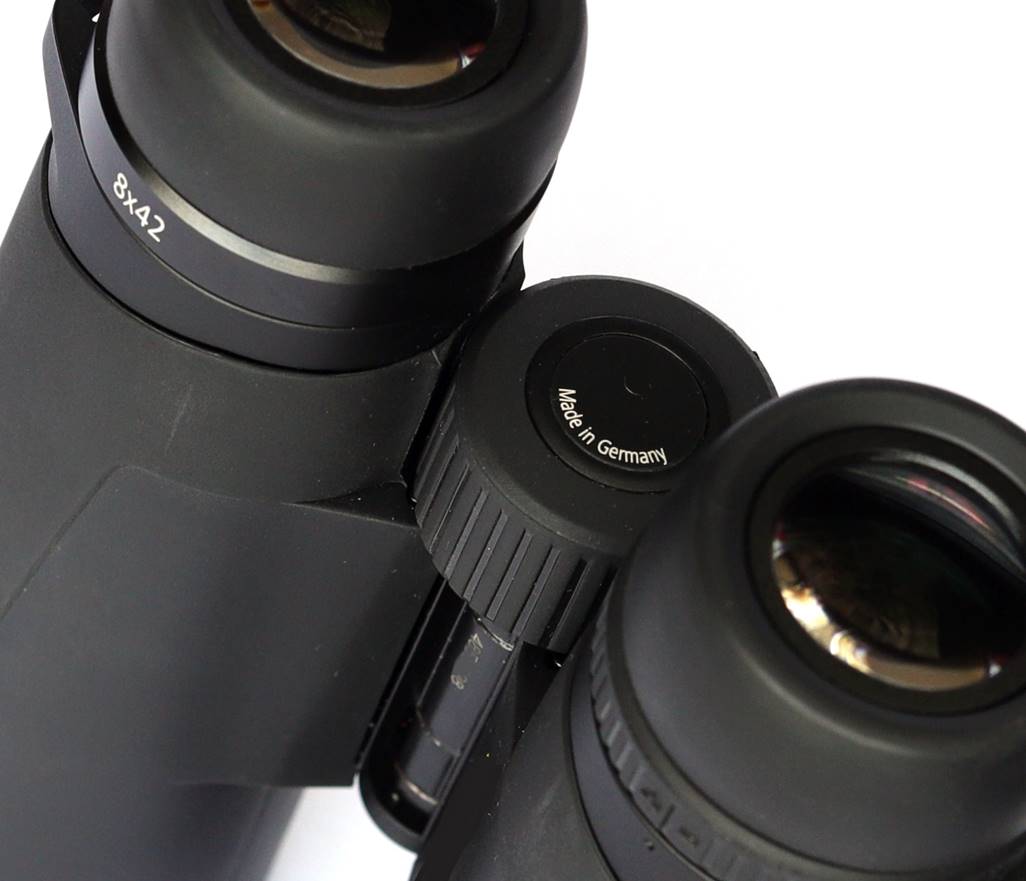 <![endif]>
Body
More than the huge 56mm models, Zeiss' 42mm Conquest HDs share a look and feel with the much more expensive Victory HTs and SFs too. However, the Conquests have a more conventional design than either of those premium models, with an armoured hinge and the focuser at the back, rather than the double-link open bridge and huge central focuser on the SFs.
Like the SFs, the Conquests lack thumb cut-outs. But here there isn't the innovative rear-biased handling to compensate by taking weight off your wrists.
Compared to the Leica Trinovids and SW SLC HDs, these Conquests are a bit heavier at 795g vs 745g and 765g respectively; a bit larger too. And whilst they're 25mm shorter than Zeiss' own SFs, they're actually a bit heavier.
Part of that extra weight is due to the thick two-texture anthracite-black armour. It looks similar to the SFs', but it's not the same: unlike the SFs', it smells rubbery, has very obvious seams and is the worst for attracting prints and fluff. The SFs' armour looks like Leica's; the Conquests' reminds me of sticky rock-boot rubber.
To me the look and feel of the whole binocular isn't as refined as Swarovski's or (esp.) Leica's, with a rugged utilitarianism that's typical Zeiss and attractive in its own way.
It perhaps goes without saying that these are fully waterproof. Independent tests have found Zeiss to be tops on ruggedness and the Conquests look it.
<![if !vml]>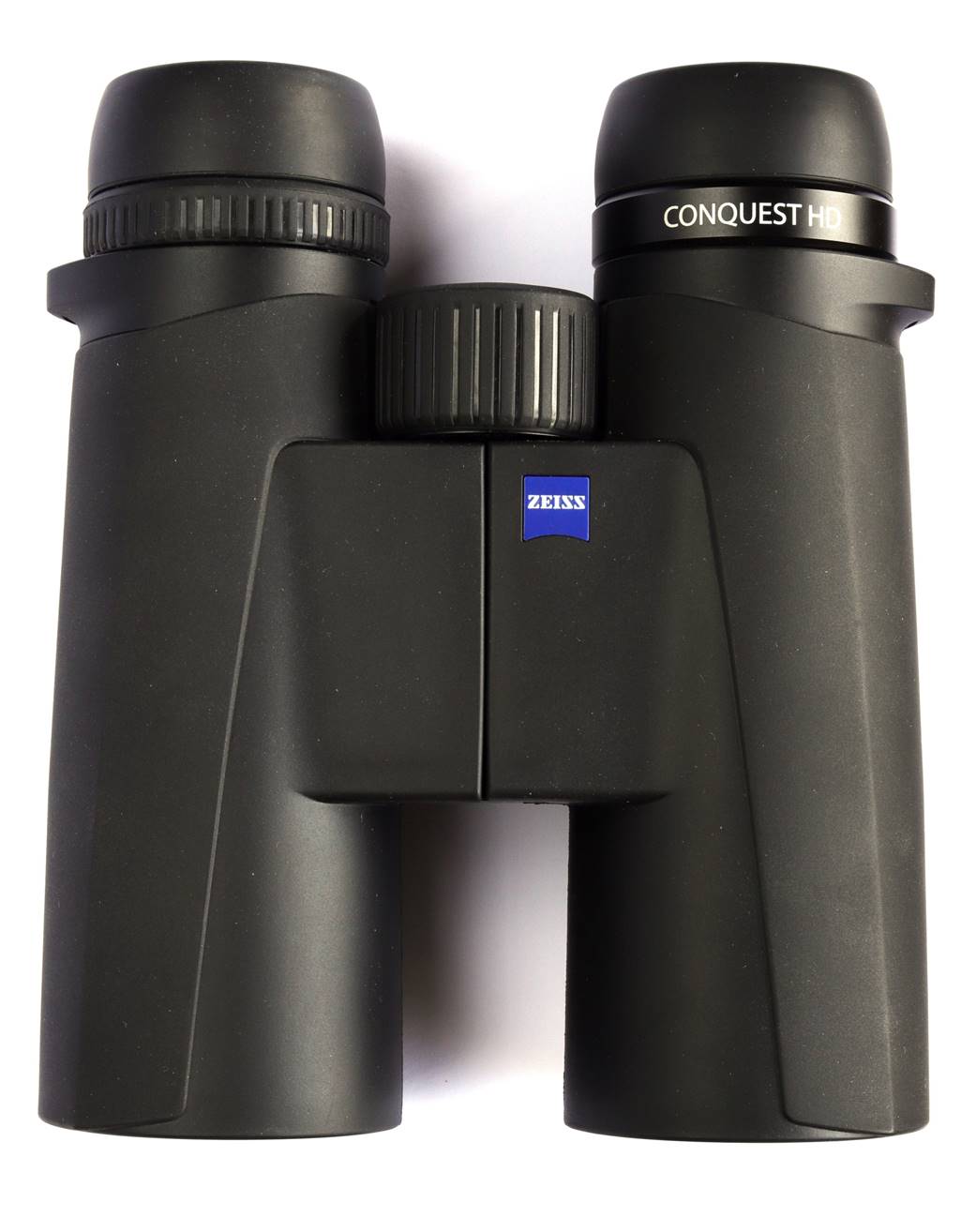 <![endif]>
<![if !vml]>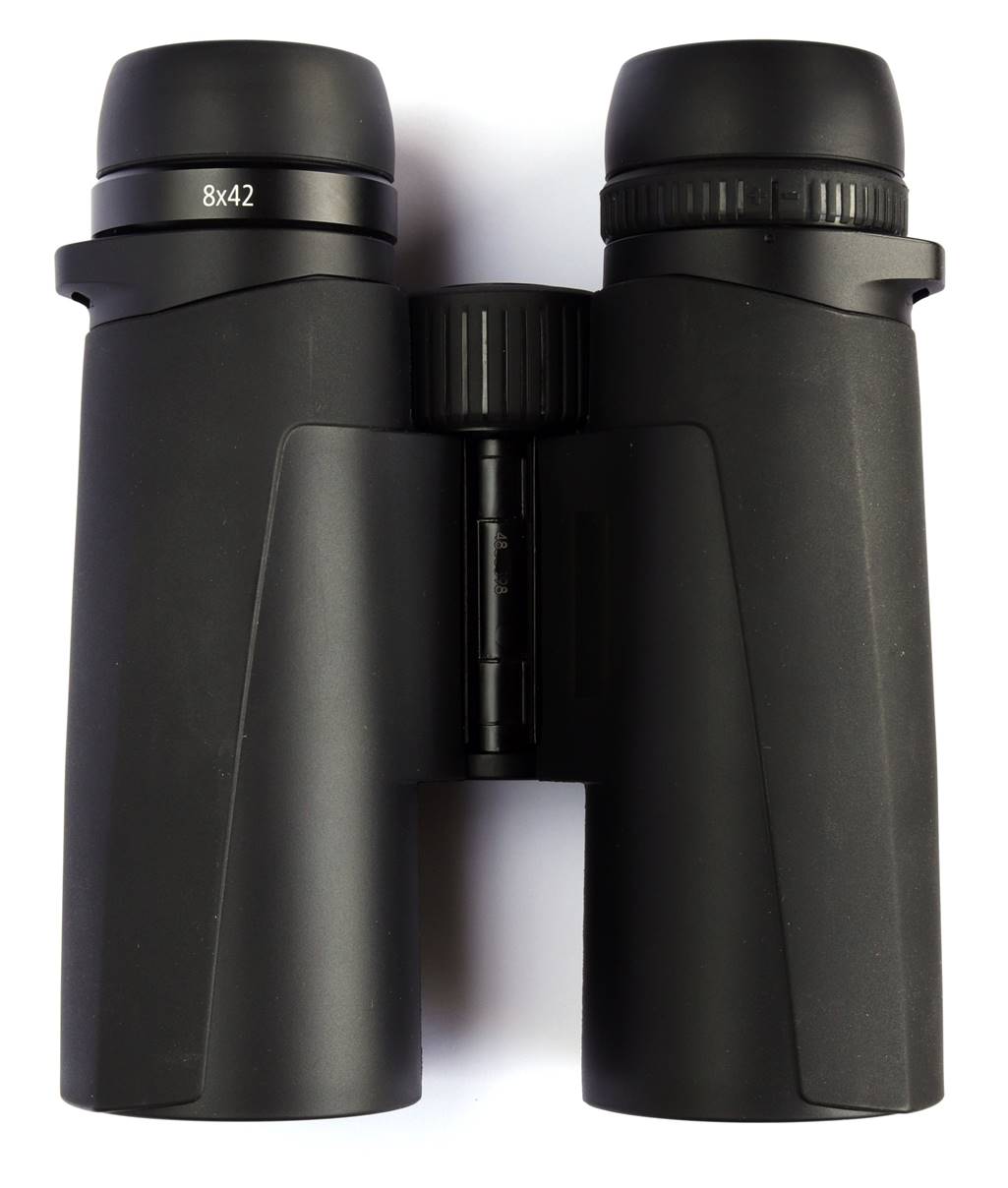 <![endif]>
Focuser
The focuser wheel isn't as large as some, but it's well placed and covered in (likely replaceable) grippy rubber. Only the outer part turns on a fixed inner axle.
Focus action is smooth and accurate, but not quite in the league of the SFs' for twirly intuitiveness. The Conquests' is slightly 'dry' feeling by comparison. But, overall, the focuser gives little to complain about, whilst being super-fast at just over ¾ of a turn from close focus of 2m to infinity. There is some travel beyond infinity too.
I assumed the focuser would be greaseless; but after some use, I found a trace of grease seeping from the around the axle of the focuser on the 10x model.
Dioptre adjust is by a ring under the right eyepiece, the traditional way many bino's do it. It's functional and accurate, with a sensible weight to prevent accidental movement.
<![if !vml]>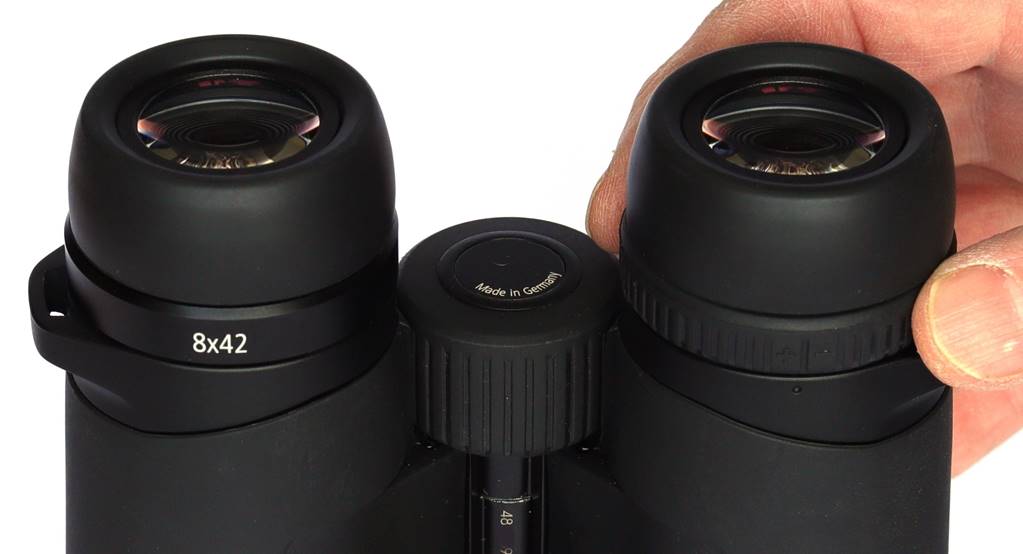 <![endif]>
Optics - Prisms
These 42mm Conquests have modern-standard Schmidt-Pechan (a.k.a. Roof) prisms, not the high-transmission Abbe-König prisms found in Zeiss' HT range and in the 56mm Conquests. Still, transmission is claimed at 90% - up there with most modern roof designs, if a (noticeable I think) couple of percent down on the SFs.
Optics - Objectives
Like most things about these binoculars, the objectives are standard stuff: a triplet comprising a cemented doublet with a small airgap and another single element behind, like many modern bino's.
The 'HD' tag suggests they contain high-fluoride glass to cut false colour fringing, a feature that's rapidly becoming the norm.
The objectives are well recessed and the lens ring is micro-baffled with fine ridges. A knife-edge baffle sits behind the objectives, for further control of stray light. The focuser carriage has also been ridge-baffled, but the interior isn't painted flat black the way some are. Interior build is interestingly different from the SFs, which take a minimalist approach (probably to reduce weight).
The Conquests have Zeiss' usual excellent T* coatings with their distinctive pink tint that gives a cool view I like. They also get LotuTecTM dirt and water repelling coatings. In the photo, the coatings look the same as the SFs', but close inspection suggests they're actually not quite as dark and transmissive.
<![if !vml]>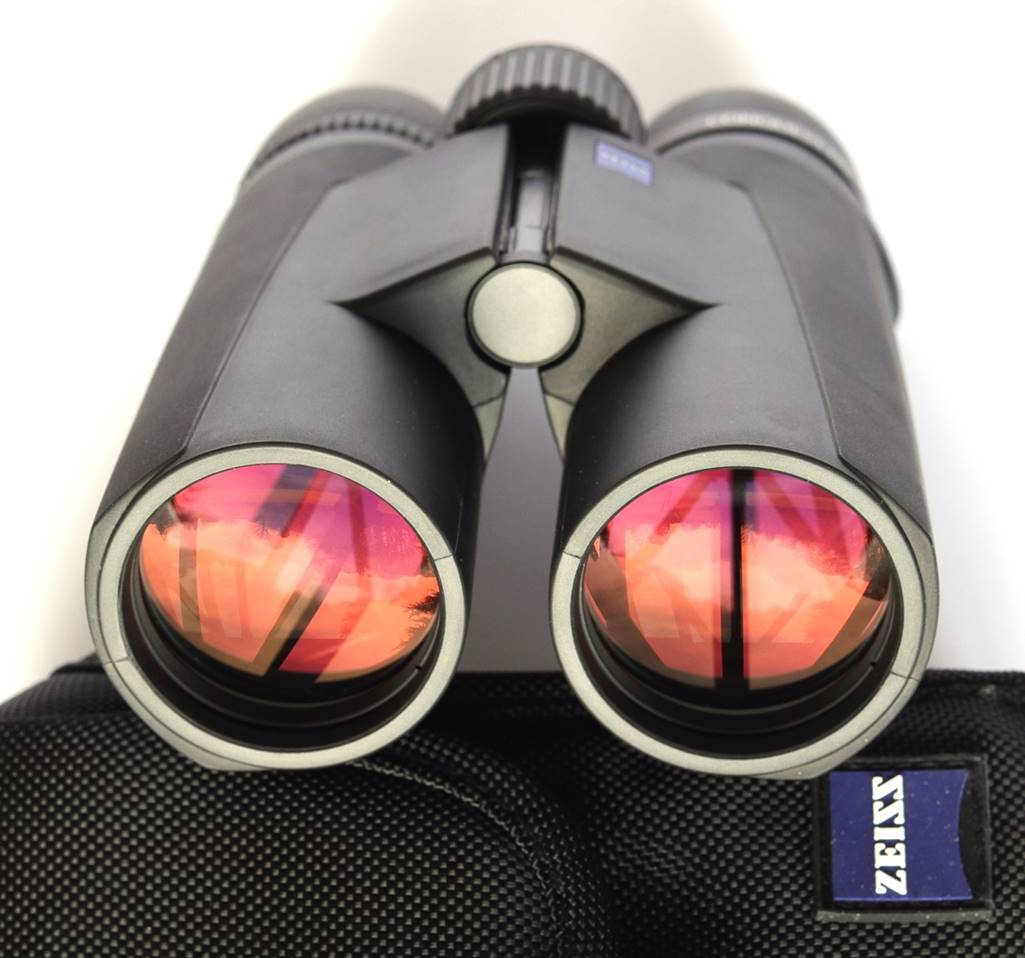 <![endif]>
<![if !vml]>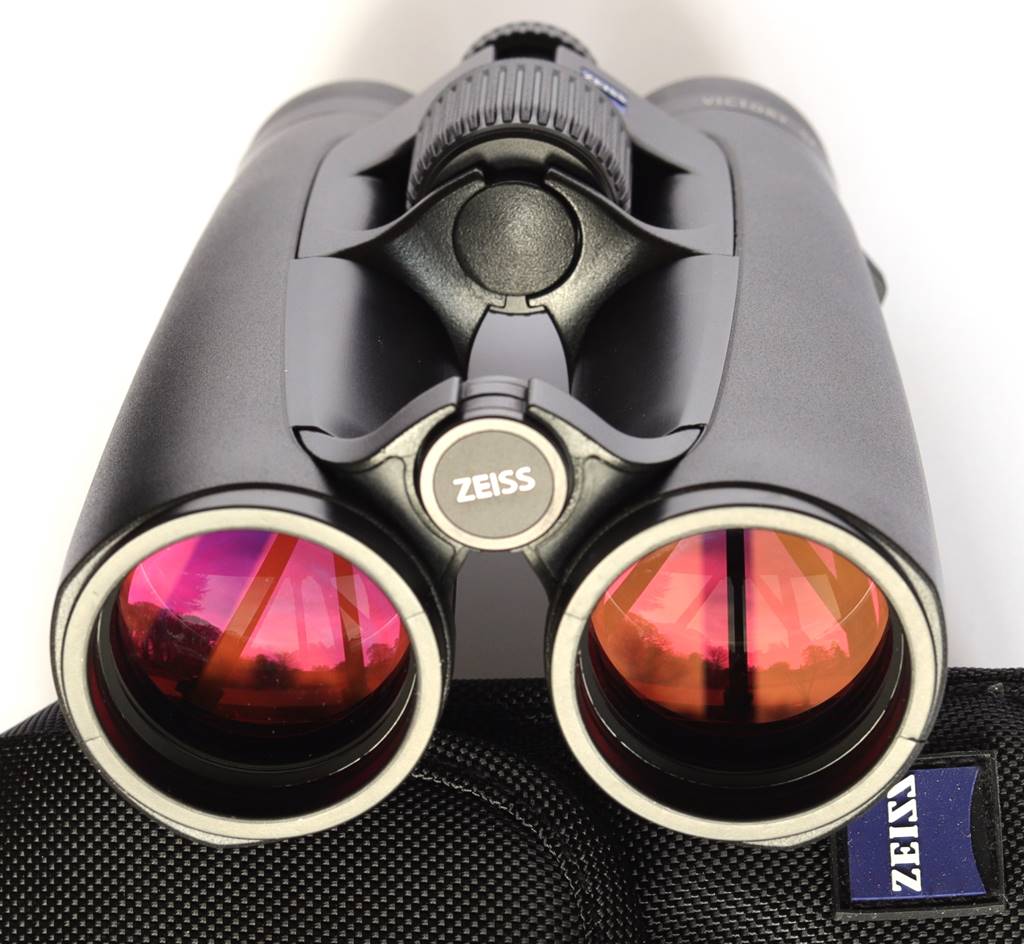 <![endif]>
Conquest HD and Victory SF both have T* coatings, but SFs' (bottom) are slightly more transmissive.
Optics - Eyepieces
The eyepieces are likely a sophisticated modern design, with large (24mm) eye lenses. Though the objectives have the virtually the same coatings as the SFs, eyepiece coatings are quite different (see below).
Claimed eye relief is 18mm. Unlike the 10x42s which had a bit less in reality, 18mm was what I measured. It's class-leading at this price point and is enough to see the whole field with my specs on.
The eyepieces offer a fairly typical field for the 8x42 class, at 59° apparent and 7.4° true. It's roughly the same as Leica's Ultravid 8x42s' and just as for the Ultravids, apparent field is well down on the 10x42 model, something you do notice. The 8x42 SFs have quite a lot more at 64° apparent, 8.6° true.
Blackouts as you move your eyes around aren't a big problem with these, but they have rather more than I'd like – more than the SFs and (I think) more than I recall in the 10x42s for some reason, perhaps just because of that millimetre or two extra real eye relief (long eye relief and blackouts were once inextricably linked, but less so in recent premium models like the SFs).
The eyecups themselves are one of the areas that let these Conquests down. There are three click-out positions, which is fine. But I use the term 'click' loosely, because the action is sticky and a bit rough.
<![if !vml]>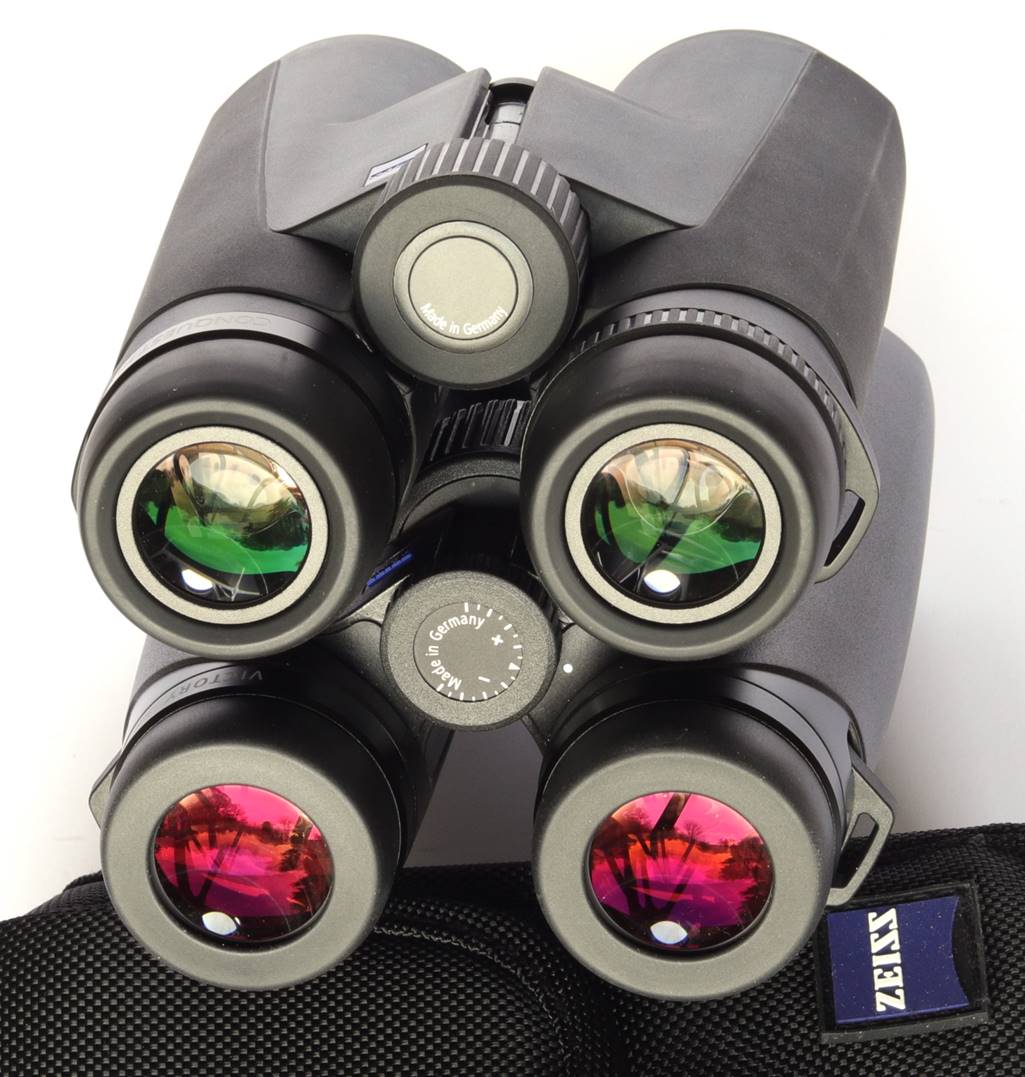 <![endif]>
Zeiss Conquest HD and Victory SF eyepieces compared.
<![if !vml]>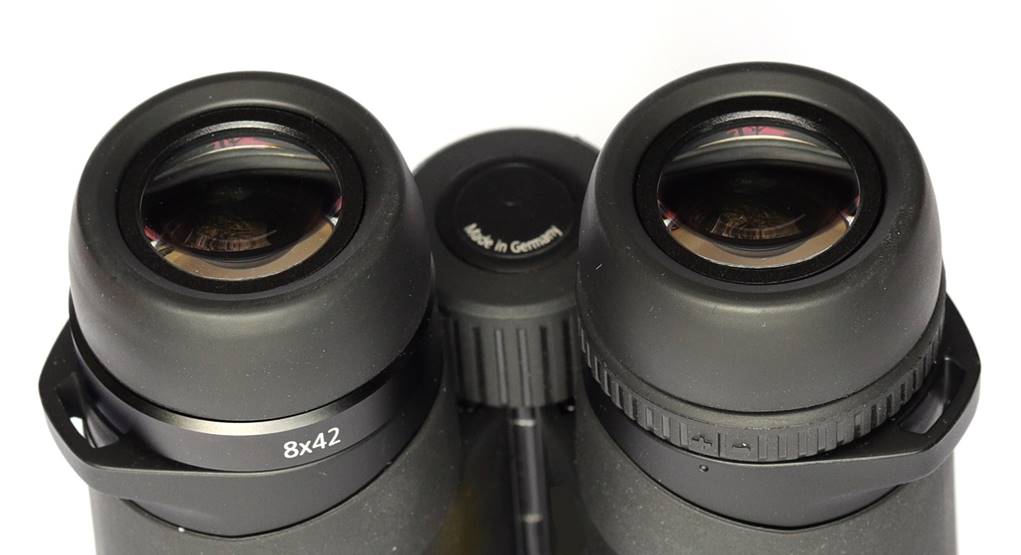 <![endif]>
<![if !vml]>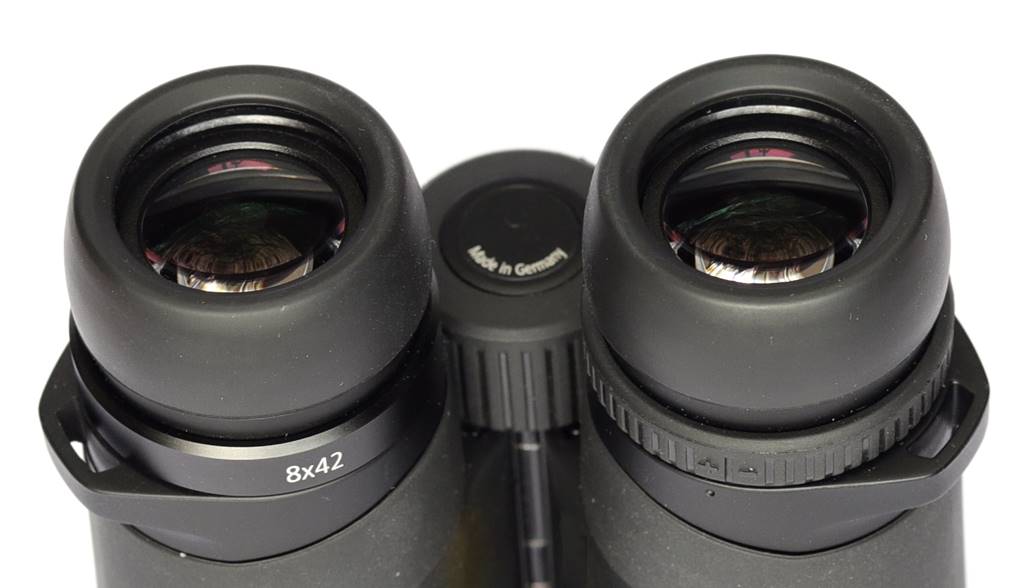 <![endif]>
<![if !vml]>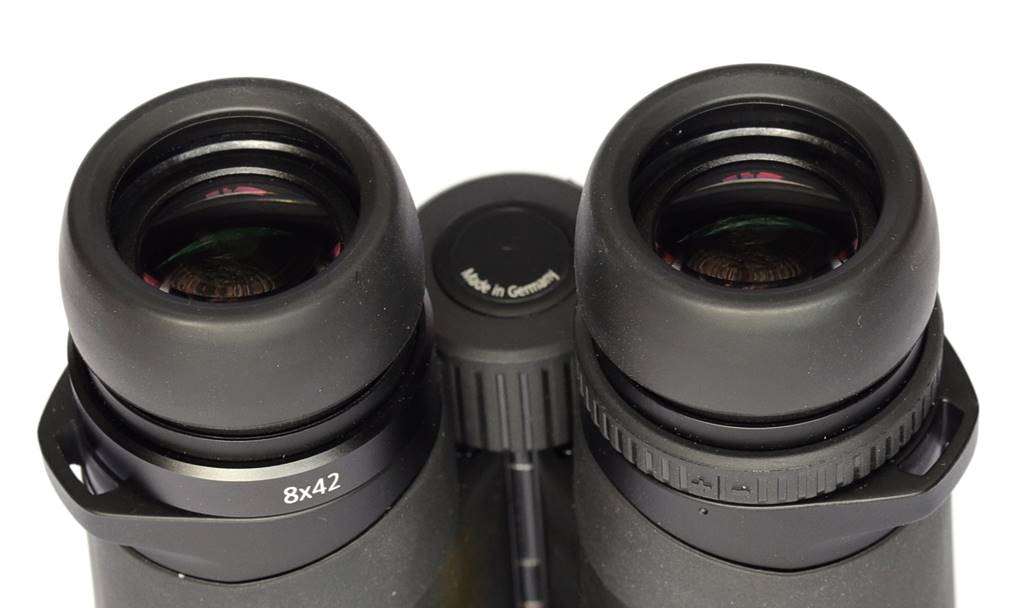 <![endif]>
Accessories
The Conquests get Zeiss' usual neoprene strap, which fits standard lugs. Even the high-end SFs get the same (no equivalent of Swarovski's Field Pro at Zeiss). But simple does mean light weight and cheap to replace.
The case is the same as Zeiss used to ship with their FL models and different from the more stylish item the SFs get: plain black Cordura, but likely to be rugged and protective (unlike Leica's stylish-but-impractical cinnamon-coloured Trinovid pouch).
The eye cap is a soft rubber job which is easy to push on and stays there. The end caps are moulded in one and hang off a lanyard for attachment to the strap lugs. Again, they just work.
Full marks for accessories that are basic, practical, rugged and just do their job – for me that's the Zeiss vibe.
<![if !vml]>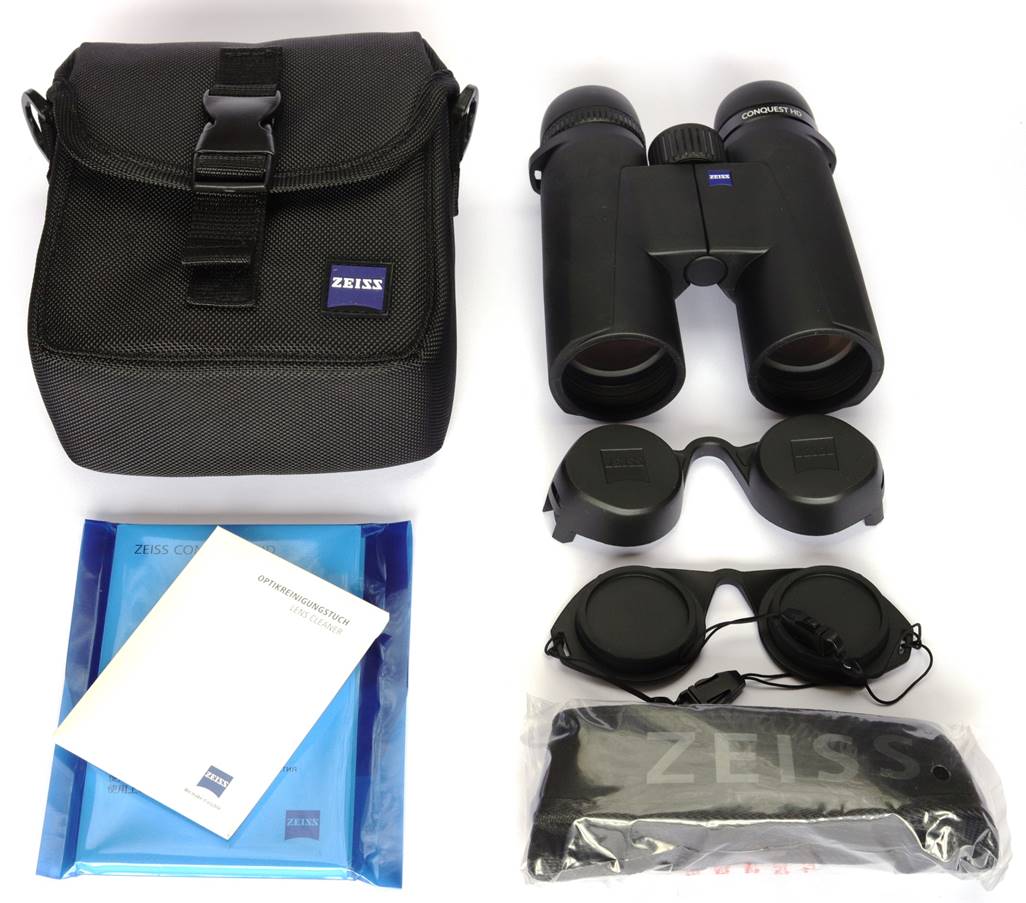 <![endif]>
<![if !vml]>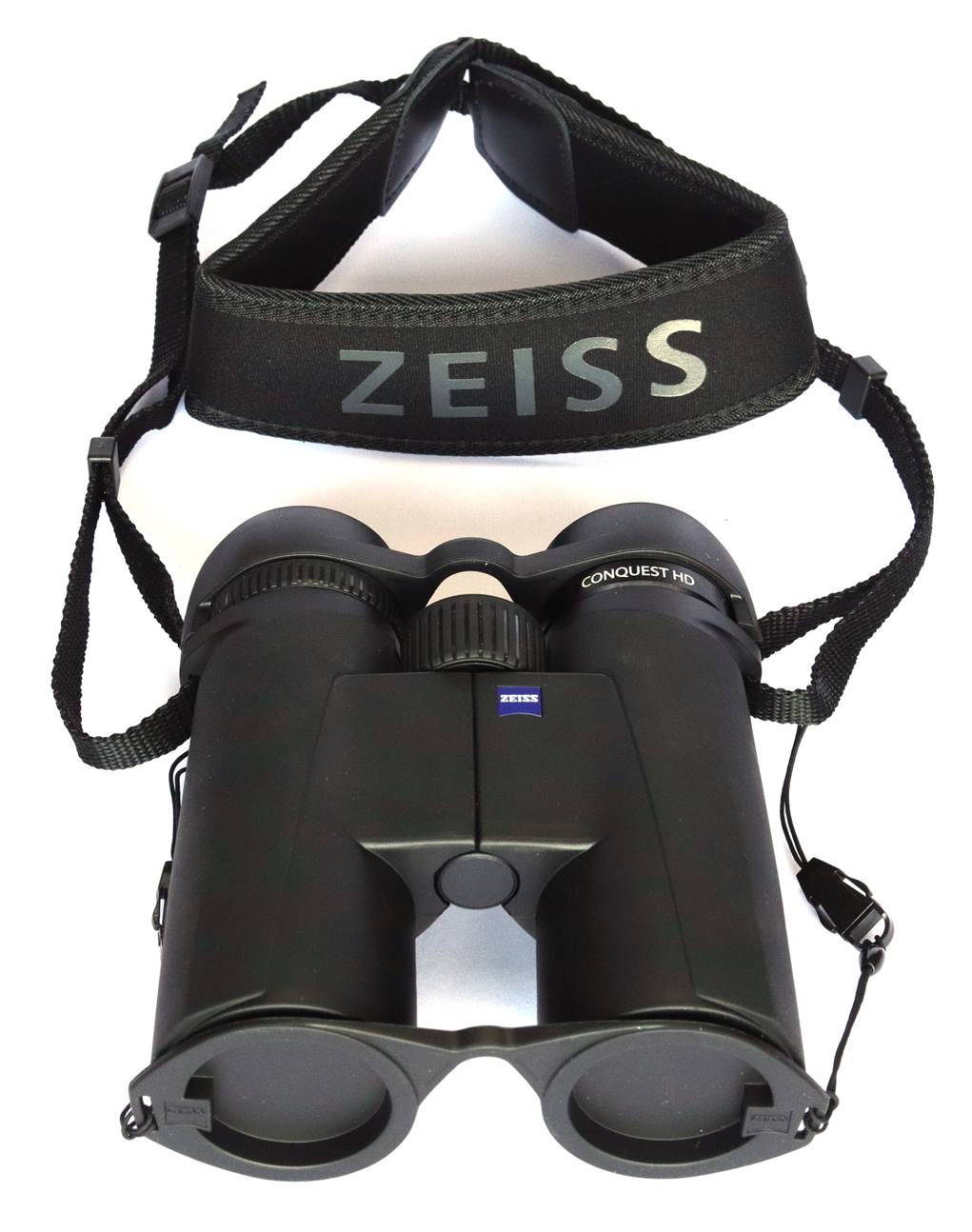 <![endif]>
In Use – Daytime
Ergonomics and Handling
Handling is fine, but then these are a fairly generic binocular with no special innovations. By that I mean that there are no thumb cutouts or double-bridge; no specially sculpted barrels to help with a snug fit, no SF-style ErgoBalanceTM concept. They're just a typical, if shortish, 42mm roof. The barrels feel quite chunky to my smallish hands, partially thanks to the very thick armour.
Similarly, the focuser wheel and dioptre adjust are standard fare (no fancy integrated-bridge design here) but work just fine. The dioptre ring is smooth and accurate (better than the 10x model I tried); together with the snappy focus, it makes finding your best setting easy. One negative point I noticed is that dioptre does wander slightly between focus settings: I had to reset it for use at infinity on the night sky.
Eyepiece comfort would be outstanding, with plenty of eye relief, but blackouts are noticeable even with specs on; the eye cups are comfy, though, if you view without.
The Conquests look quite plain and lack the panache of Leica's Trinovids (to me anyway, you might disagree), but are small and unobtrusive to wear.
<![if !vml]>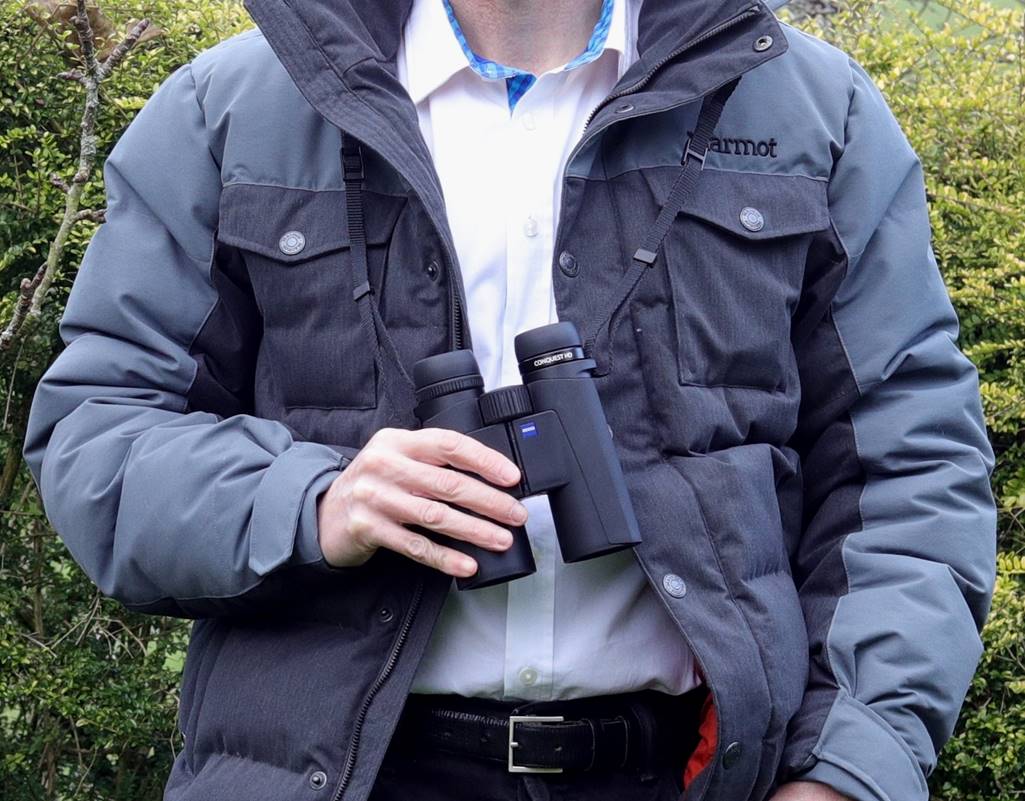 <![endif]>
<![if !vml]>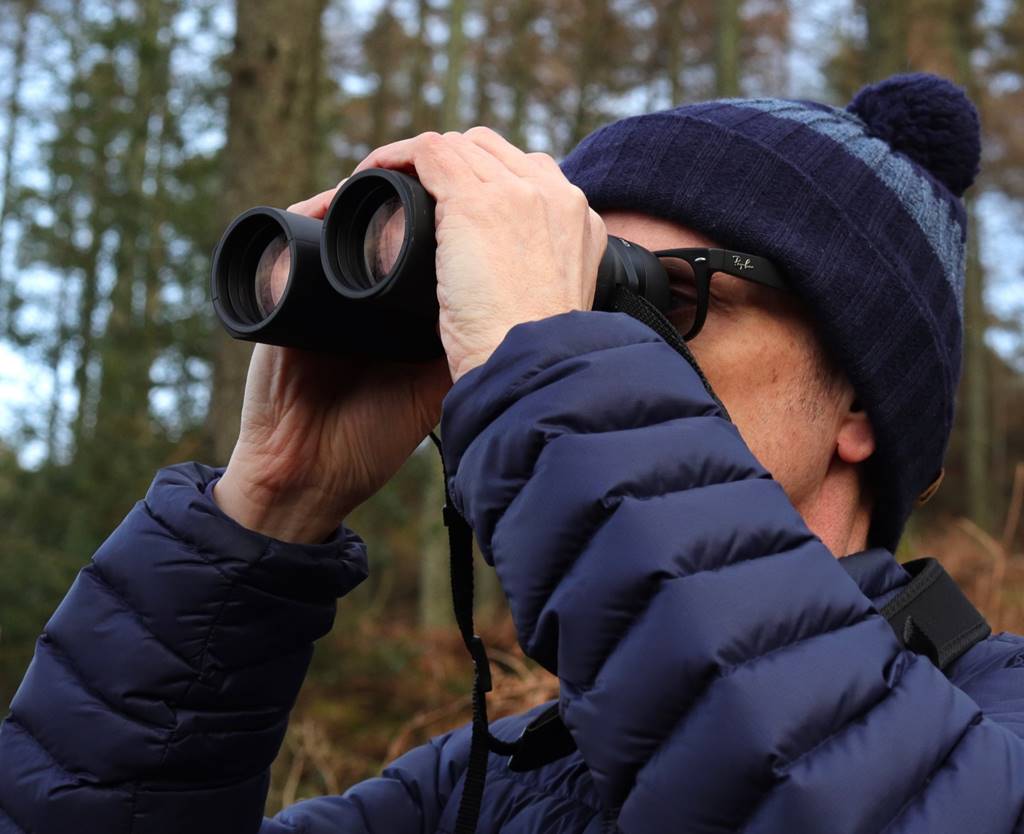 <![endif]>
The View
Like the 10x model, the view immediately impressed me. It's noticeably wider and more immersive than most and has that real crystal clarity and detail that high-end binoculars give. It seems even brighter than the (good) 90% transmissivity would suggest. However, the SFs are palpably just a little brighter.
The other big difference comparing a recent pair of Swarovski CLs with these was the colour rendition. The Swarovskis had never seemed to me overly warm, but the Conquests have a cooler colour balance that I actually prefer and that they share with other Zeiss models.
Resolution is another area where these subjectively excel. Watching a huge flock of tiny Goldfinches in the top branches of their favourite tree 100m away, I could still easily ID them, make out their yellow wing flashes and orange crowns. These really are a birders' binocular. Repeated swapping with a pair of SFs suggested a miniscule difference in resolution, but so small I couldn't swear to it.
The apparent field of view is noticeably less expansive than the 10x model which features 7° extra apparent width. No, it's not the tunnel view of an old-skool bino', but whilst dropping power from 10x to 8x improves steadiness and reduces some aberrations, it doesn't give the extra true field you might expect – just 0.7° more than the 10x42s.
Overall, these have the best view of any 8x42 binocular I've tested in this price bracket.
<![if !vml]>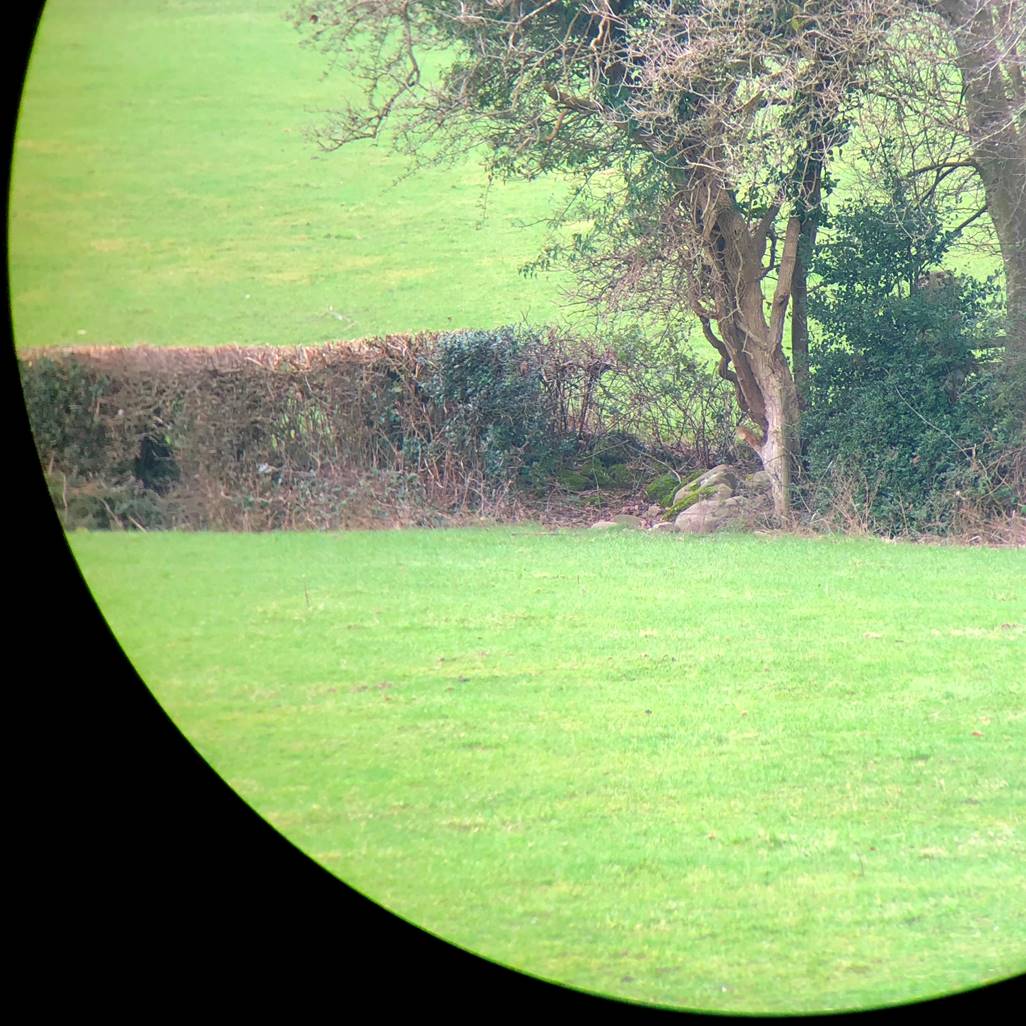 <![endif]>
Flat field?
No, the 8x42 Conquests, like others in the range, don't have the flat field of Swarovski's ELs or NL Pures. Even compared with Zeiss' own SFs, the field is more blurred beyond 50% and especially at the edge. But this isn't the kind of highly curved and astigmatic field old-fashioned bino's often have and was never a problem for me.
Rolling ball effect when panning seemed more marked than the SFs' for some reason, despite the narrower, less edge-sharp field.
Chromatic Aberration
As one of the lowest power models in the Conquest HD range you might expect these to be well corrected for false colour and they are. What little there is, visible when panning through silhouetted branches, is from the eyepieces and varies with eye position, worsens a little at the field edge.
However, false colour never really troubles the view in practice, neither of birds roosting in top branches nor on the wing. If you're a keen birder, HD optics do make a difference to getting that ID under challenging conditions.
In Use – Dusk
Performance in dusk and moonlight is very good, creating a proper light intensifier effect where you can make things out that are all black shadow to the naked eye. For older eyes like mine, low-light performance is only a little down on a pair of premium 7x50s because my pupil doesn't open to their full 7mm exit pupil.
In Use – Observing the Night Sky
Astronomy performance is strong for an 8x42, with good eyepiece comfort, a wide sharp central area, and snappy focus, excellent contrast.
Stars start to distort slightly from as little as 50% field width, but the effect is very subtle until the last ~10%. The distortion is a classic mix of some curvature and astigmatism too. However, even at the edge, stars don't become long lines and only the faintest stars are extinguished – you don't get that tunnel effect where all the stars around the edge have smeared into a mist.
Stray light performance is good. Viewing a bright distant security light produces short and very dim spikes, but minimal ghosting.
The Moon
You wouldn't choose 8x for the Moon, but still the Conquests give an excellent view - a hard white and grey marble with bright highlands, brilliant rays, dark maria; and with no significant ghosting, flare or false colour.
Mars
Mars, the only available bright planet, gave a clean image: a strong deep orange point without false colour or spikes.
Deep Sky
I had a most enjoyable deep sky session with the 8x42 Conquest HDs late one clear, Moonless night.
The field is good and wide for astronomy: the whole Hyades easily fits in, as do both Orion's belt and sword. In both cases, the outer stars nearest the field edge suffer only mild distortion.
Orion's Great Nebula, number forty two in Messier's list, showed a lot of misty nebulosity for this aperture, thanks to the bright optics and sharp stars.
Despite the field-edge softening, star fields looked wonderful, with the area around the Double Cluster and that arc of stars leading out to Stock 2 a real rich-field treat. Other bright open clusters were full of brilliant sharp stars too – glittering Pleiades and populous Praesepe (the Beehive), with its inner 'hut' shape.
Below the Beehive, I easily found the patch of mist which is M67 at this aperture – a much smaller open cluster in Cancer (my birth sign, but don't lets even go there, astronomy and astrology don't mix).
Bright cluster M35 resolved into masses of stars and nearby M36 and M38 (Pinwheel and Starfish clusters) in Auriga resolved with direct vision, though M37 remained an unresolved mist as usual for this magnification and objective size. I found lots of smaller open clusters that Messier missed too – little TR 2 in Perseus and NGC 1907 near to much larger M38.
With Boötes rising over my roof, I tracked up from Arcturus to find a different type of DSO, a big fuzzy star: M3 is a globular cluster, a strange and ancient bundle of stars on the edge of the galaxy. Left of Denebola in Leo I found numerous faint patches of nebulosity, where masses of spiral galaxies infest this bit of sky in Coma Berenices.
The 8x42 format is still limited for hunting smaller DSOs, though. I struggled to find the Crab Nebula off Zeta Tauri without averted vision.
Due to their wide field and sharp stars, good contrast, the 8x42 Conquest HDs are among the best mid-range birding bino's for a spot of deep sky astronomy, despite some mild off-axis aberrations.
<![if !vml]>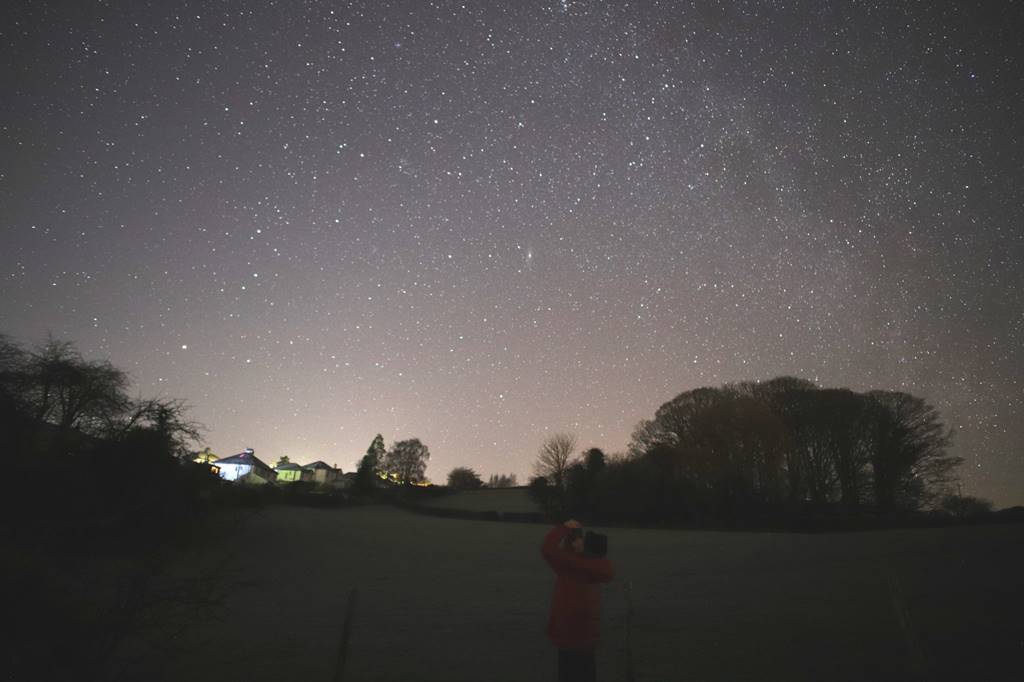 <![endif]>
Built for birding, but great under a dark starry sky too.
Zeiss 8x42 Conquest HD vs Zeiss 8x42 Victory SF
<![if !vml]>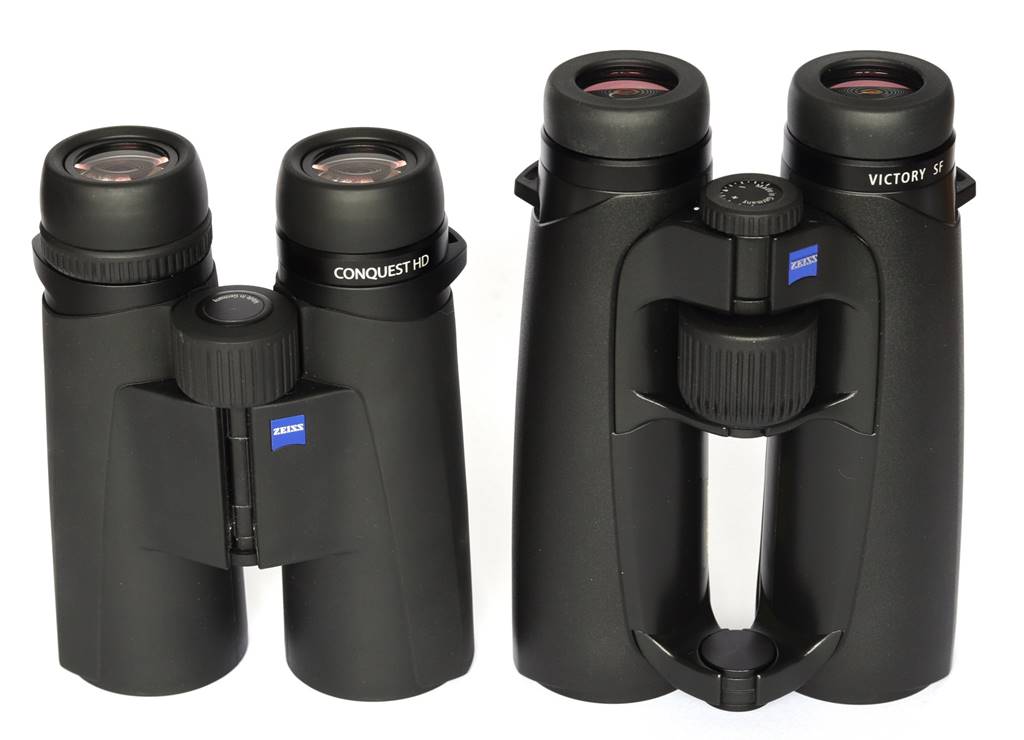 <![endif]>
The 8x42 Victory SFs are Zeiss' best birding bino's and a personal favourite. But at over double the price of these Conquest HDs, what do you get for all that extra cash? Let's break it down:
<![if !supportLists]>· <![endif]>The SFs are bigger but lighter
<![if !supportLists]>· <![endif]>I find the SFs rearwards weight bias less fatiguing
<![if !supportLists]>· <![endif]>The SFs have a wider field of view
<![if !supportLists]>· <![endif]>Off-axis aberrations start earlier, are slightly worse at the edge than the SFs'
<![if !supportLists]>· <![endif]>Despite that sharper field edge, I found the SFs gave a less pronounced rolling-ball effect when panning
<![if !supportLists]>· <![endif]>The SFs focus closer
<![if !supportLists]>· <![endif]>The SFs' focuser is lighter, smoother more accurate and intuitive: even my bino' novice daughter mentioned it, though the Conquest HDs' is still very good
<![if !supportLists]>· <![endif]>The SFs are slightly brighter, have a slightly cooler tone
<![if !supportLists]>· <![endif]>Objective coatings are very similar but close inspection suggests the SFs are slightly better; eyepiece coatings are totally different
<![if !supportLists]>· <![endif]>Repeated swapping suggests the SFs have a slightly higher resolution view
<![if !supportLists]>· <![endif]>False colour levels on and off-axis are very slightly lower in the SFs
The SFs are just a little better in most areas, but honestly not that much better, certainly not enough that you need those differences for twice the price. Sure, I'm a perfectionist too, maybe just don't take your non-birder partner to the store to compare them if you're buying the SFs.
Summary
Perhaps you can tell that I'm impressed with Zeiss' 8x42 Conquest HDs. In this smaller size and lower-power format, the everything-you-need-nothing-you-don't formula just works really well. The view is bright, sharp and full of high-resolution detail and with a distinctive cool tone. The field isn't flat and false colour isn't completely eliminated, but all aberrations are low enough you won't notice them in day-to-day use. Mechanically things are mostly good too, with a smooth fast focuser and a comfy if basic hold. Eye relief for specs wearers is top notch.
Negatives? That long eye relief comes with more blackouts than I'd like and the eye cups aren't the best. The field width is decent, but the apparent field is well down on the 10x42s, so much so that you might go for the higher-powered model if you can hold them steady.
Otherwise, Zeiss' 8x42 Conquest HDs are just an excellent basic (in a positive sense) pair of birding bino's with a great view that you can enjoy every day because they're rugged and Zeiss will fix them if you drop them.
The more I used these 8x42 Conquests, the louder my inner Captain Sensible whispered, 'these are all the binoculars you need, really'.
The 8x42 Conquest HDs make a great every day birding bino': inexpensive and rugged enough to take lots of hard use, but with plenty of comfort, a fast focuser and a great view. They work well for astronomy too. Highly recommended.
<![if !vml]>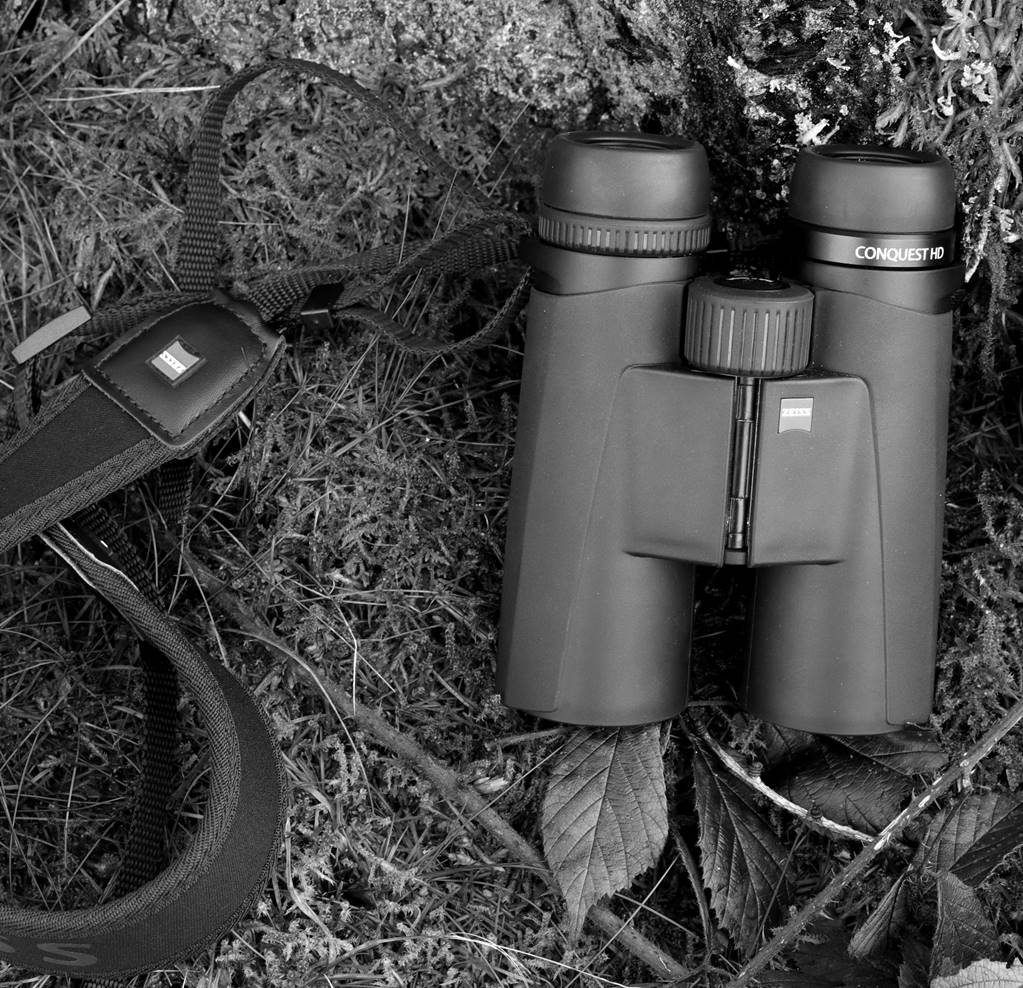 <![endif]>
Buy Zeiss 8x42 Conquest HDs from Wex here:
<![if !vml]>

<![endif]>