My original review of Zeiss' range-topping 10x42 SFs found a superb binocular flawed by poor build quality. Five years on, can this updated 'Black' pair overcome those quality issues to become a contender for the world's best binoculars?
Zeiss 10x42 Victory SF Review
<![if !vml]>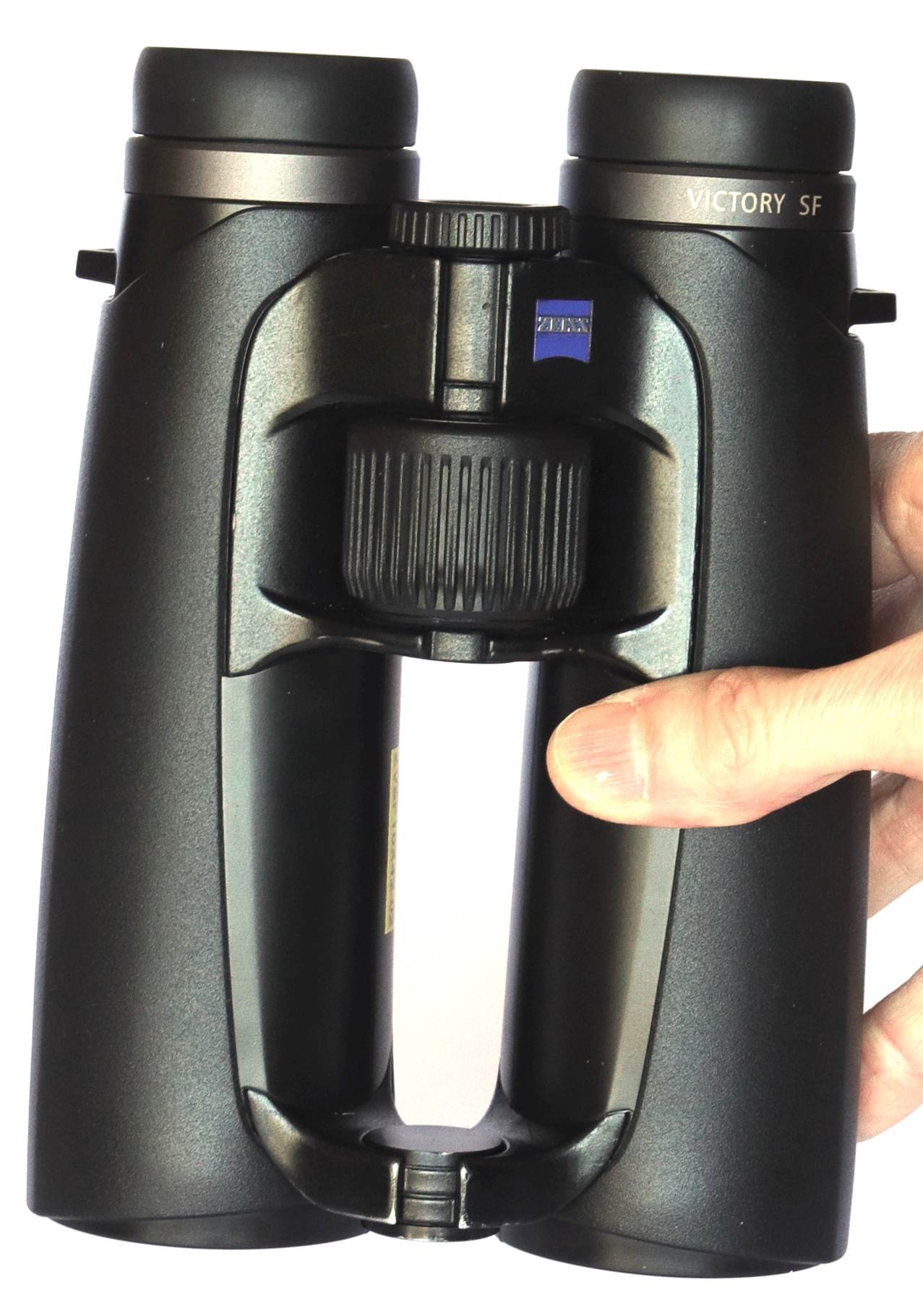 <![endif]>
Zeiss' Victory SFs have been available for a few years now. Of the four sizes now on sale, the first pair I reviewed back when they were launched was this 10x42 model. I loved many things about the 10x42 SFs, but there was a serious problem: quality.
Quality is the theme of Robert Pirsig's 1970s pop-philosophy classic 'Zen and the Art of Motorcycle Maintenance'; it turned out to be the theme of my original review too. There were so many issues they felt like a pre-production pair. It left me in an odd situation. Here was the world's best birding binocular that I just couldn't recommend.
Recently, though, I've reviewed the other models in the SF range and found quality hugely improved. So I've updated this review as well. How did it turn out second time around? Read on to find out ...
(Note: I've left a few images of the original grey pair in this updated review for reference).
<![if !vml]>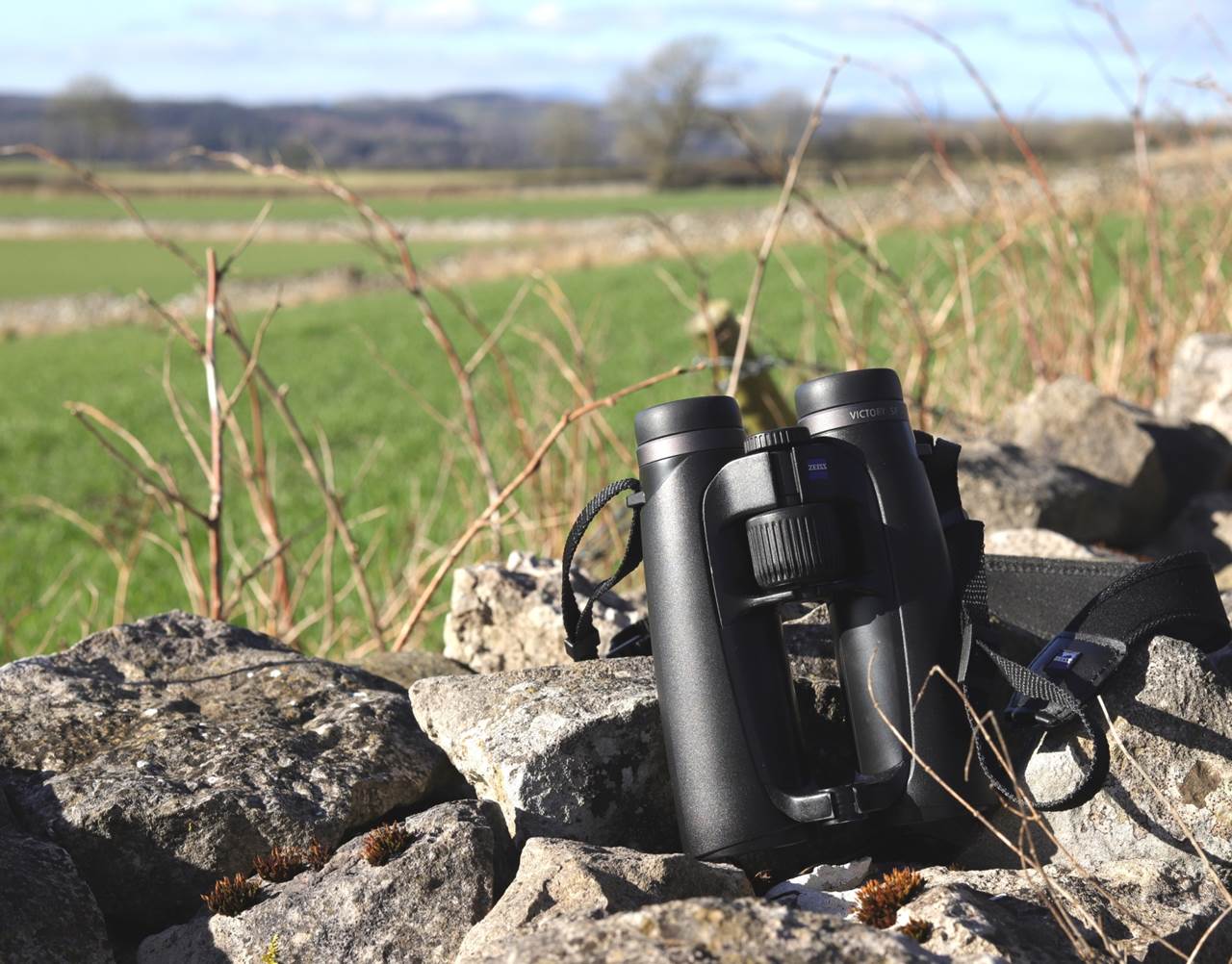 <![endif]>
At A Glance
| | |
| --- | --- |
| Magnification | 10x |
| Objective Size | 42mm |
| Eye Relief | 18mm measured |
| Actual Field of View | 120m / 1000m, 7° |
| Apparent field of view | 64° |
| Close focus | 1.5m |
| Transmissivity | 92 % |
| Length | 174mm |
| Weight | 800g measured |
Data from Me/ Zeiss Europe.
What's in the Box?
The whole Victory range, scopes included, now gets a similar style of box, with a striking nature photo on the inside flap and a magnetic catch:
<![if !vml]>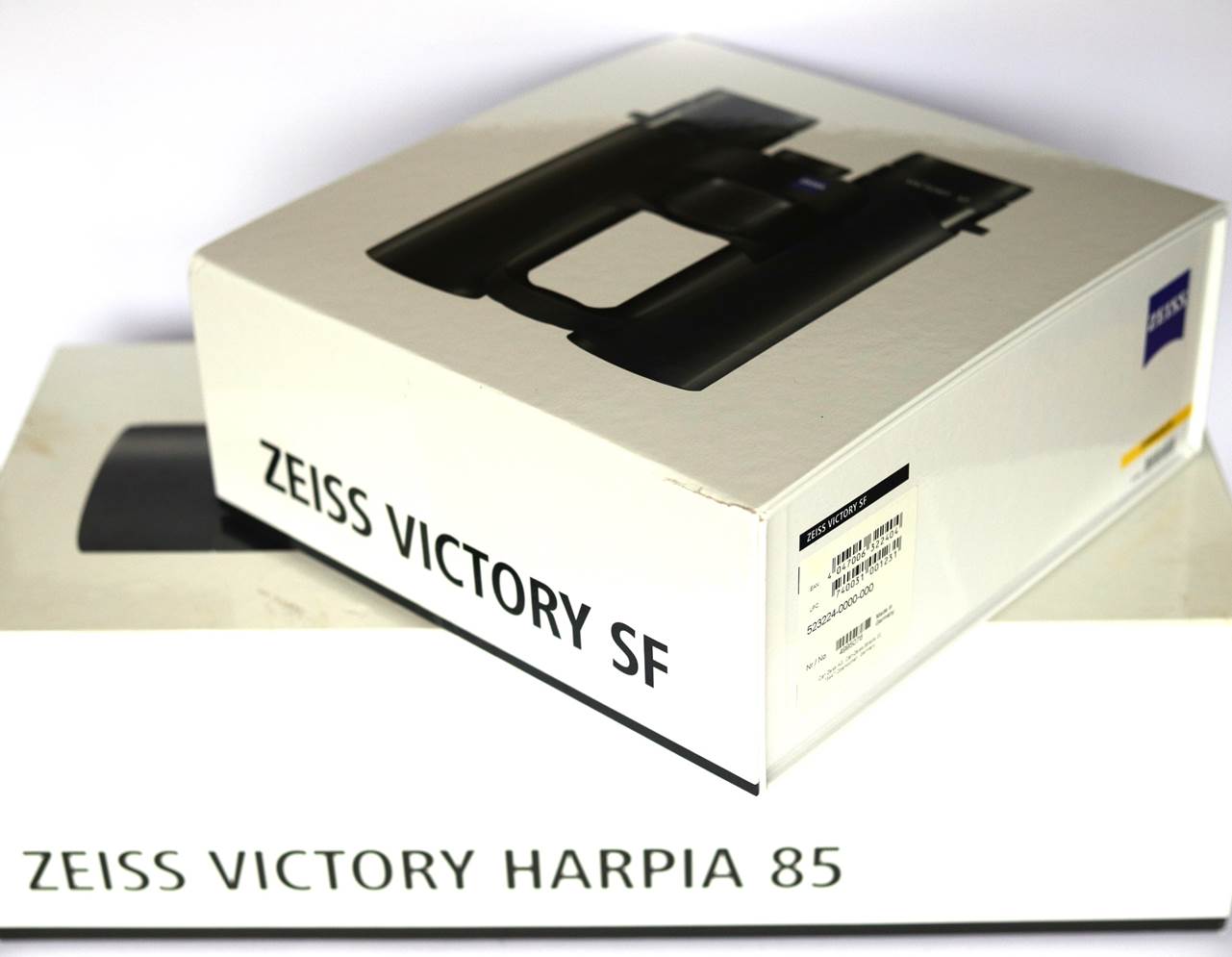 <![endif]>
<![if !vml]>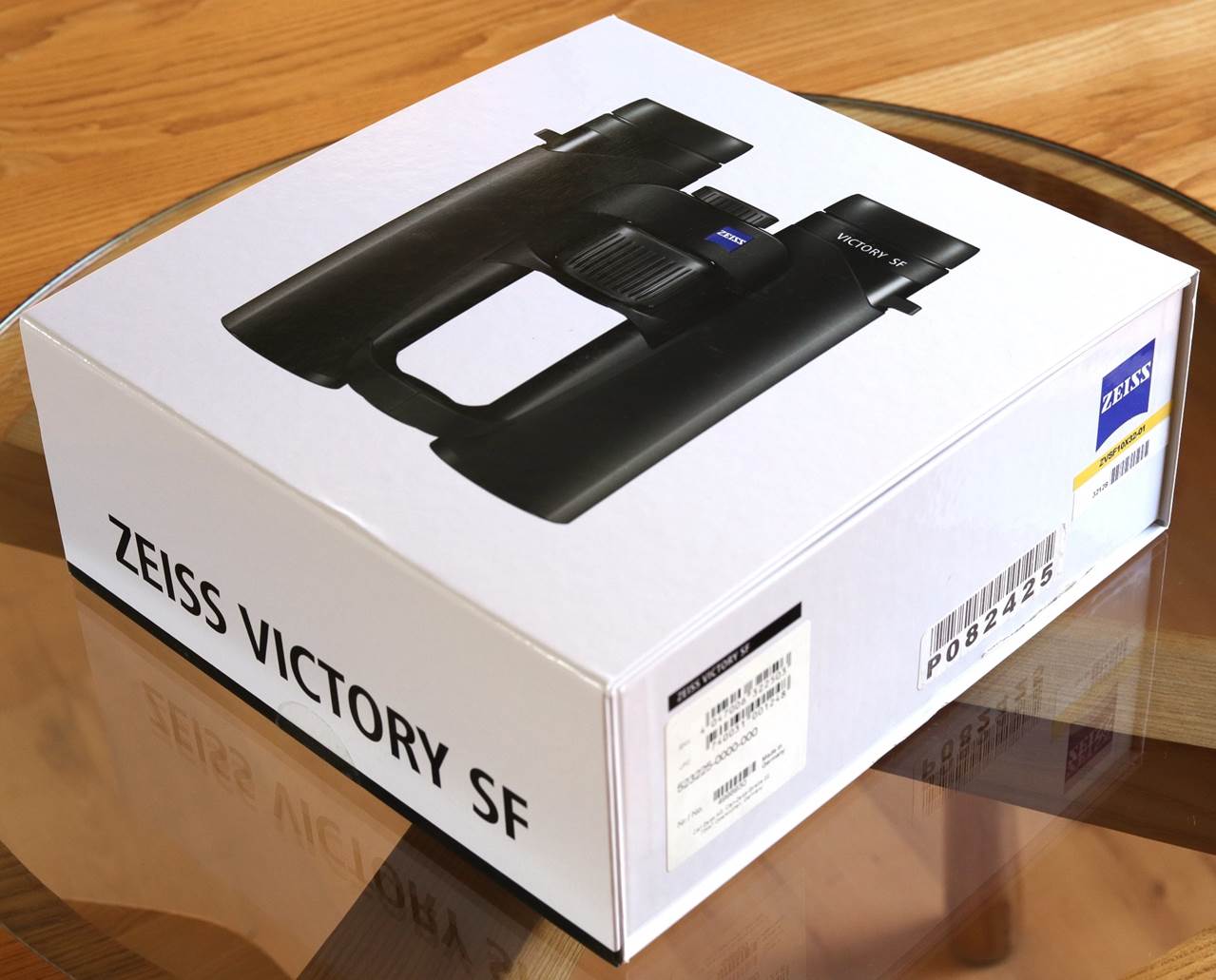 <![endif]>
<![if !vml]>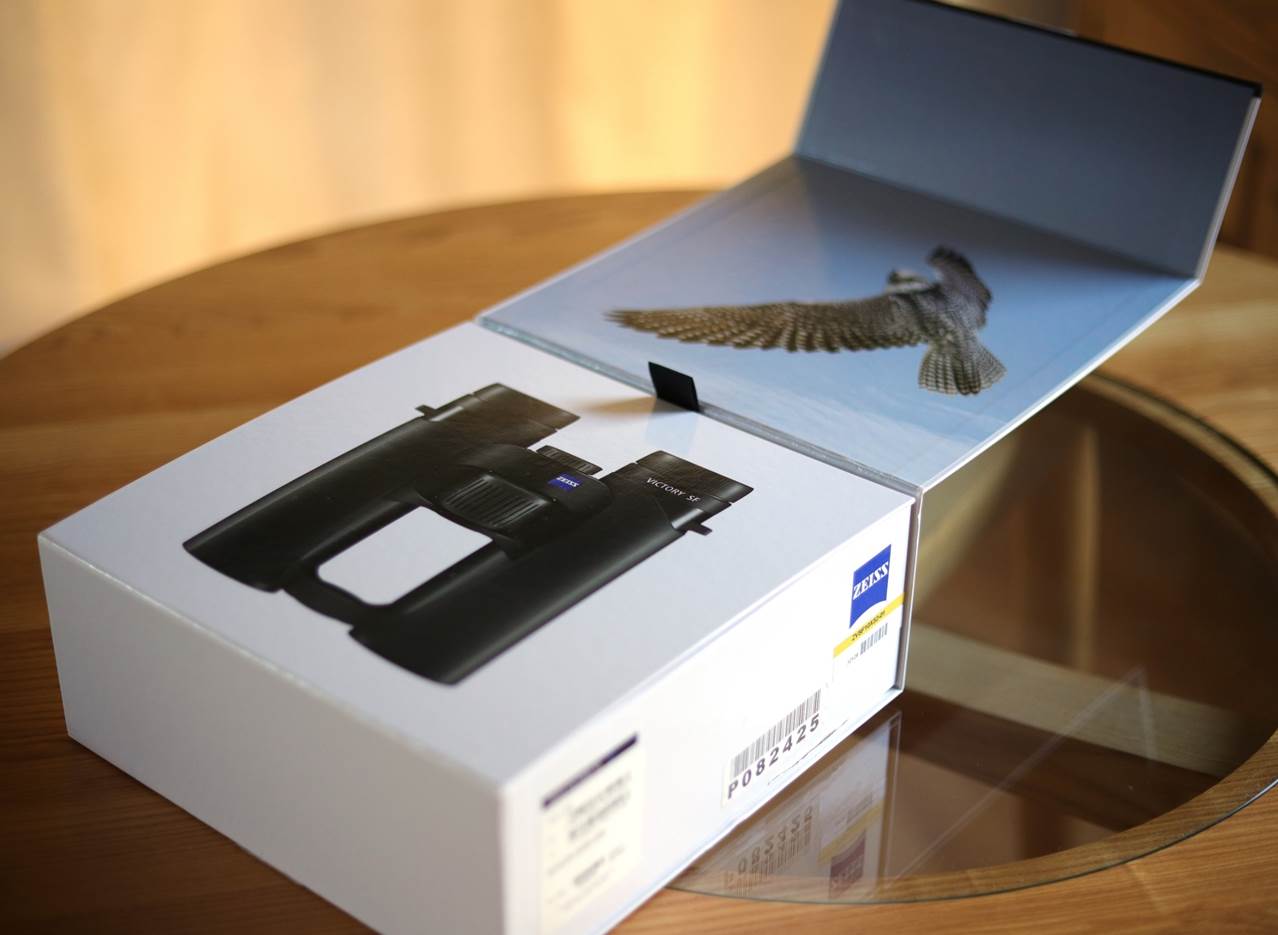 <![endif]>
<![if !vml]>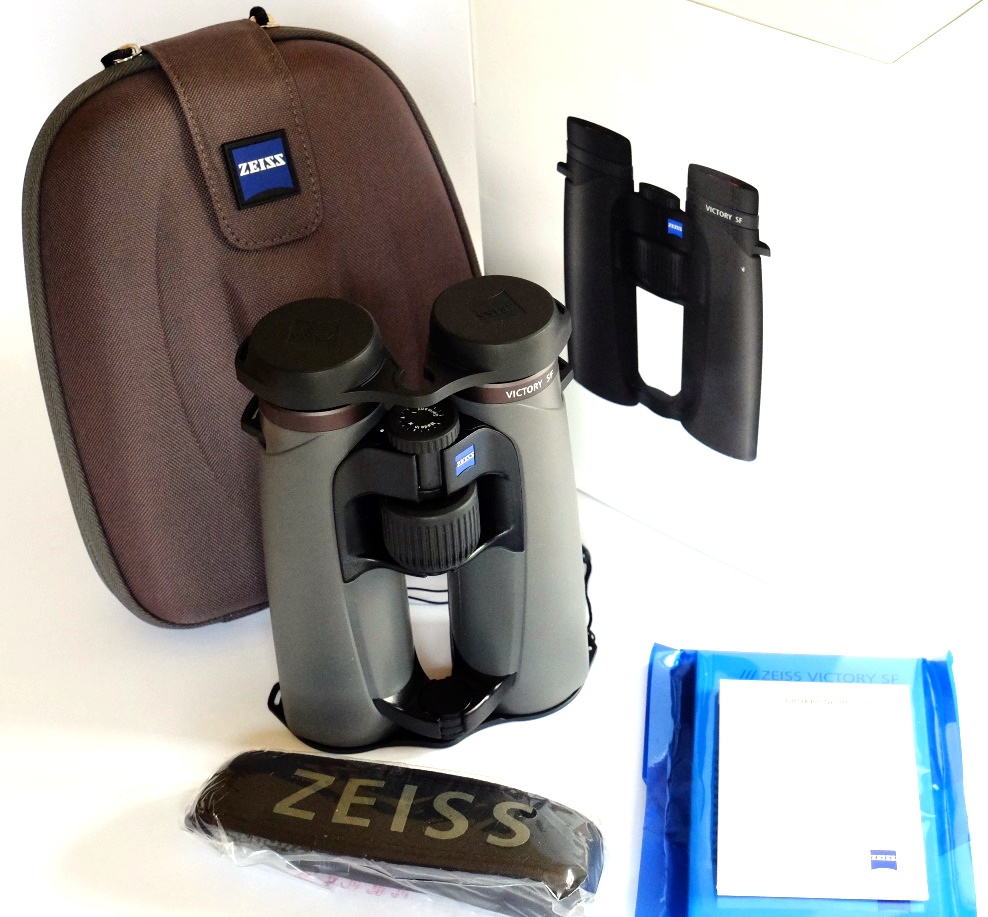 <![endif]>
Design and Build
The SFs were an all-new model in 2015, owing virtually nothing to earlier Zeiss premium lines like the Dialyts and FLs. Their slim open-bridge design seems an admission that Swarovski got the ELs right. But appearances are deceptive: Swarovski has moved on; the SFs have evolved.
The Victory SFs were originally only available in two versions, the main birding sizes of 10x42 and 8x42. Those originals have been subtly updated for this newer black armoured version and joined by 8x32 and 10x32 Victory SF models as well.
All the SF models share a look and a design philosophy, but in fact the 32mm versions are quite different in terms of their internal design and so also in terms of their view and 'feel'. You'll find reviews of the three other Victory SF models on this site.
<![if !vml]>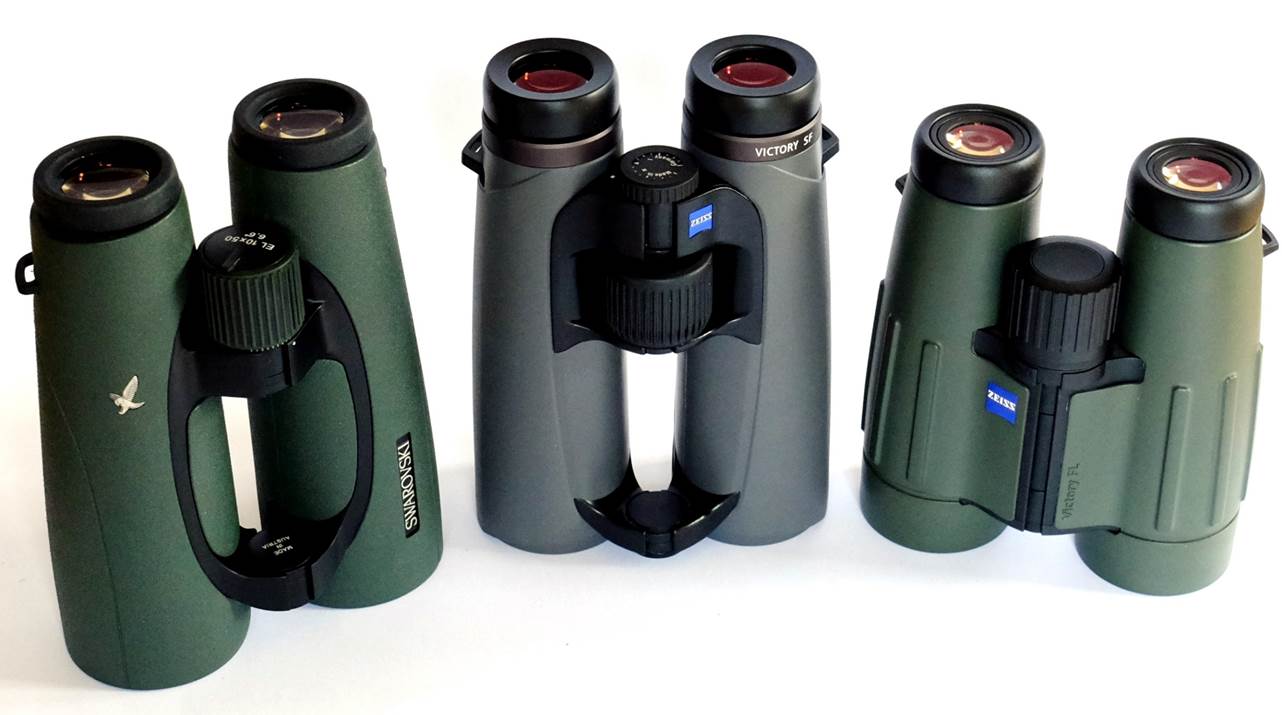 <![endif]>
Left to right: Swarovski 10x50 EL, Original grey Zeiss SF 10x42, Zeiss Victory FL 7x42.
<![if !vml]>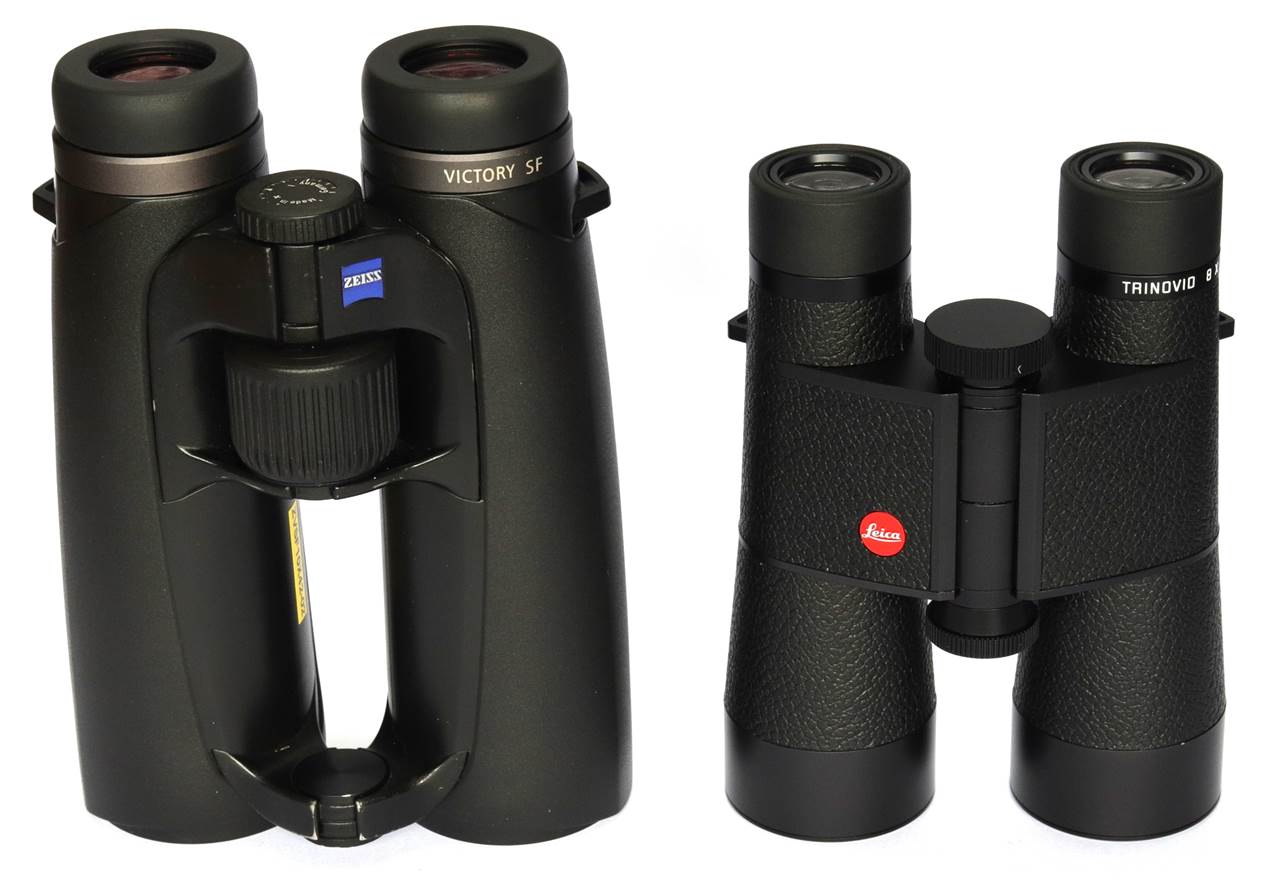 <![endif]>
Zeiss Victory SF and current Leica Trinovid 8x40.
Body and Ergonomics
The first thing you notice about the SFs is how long they are. This is part of that radical thinking I mentioned before, but for now it's a bit puzzling. To put this stretched design into perspective, the 10x42 SFs are almost exactly the same length as Swarovski's ELs – the 10x50 ELs! They are longer than almost any other 42mm binoculars, a whopping 30mm longer than Swarovski's 10x42 SLCs or Leica's 10x42 Ultravids, for example.
It's not just length either – the barrels are quite fat and chunky too. Compared with a pair of 40mm Leica Trinovid Classics, they look huge.
The SFs may be surprisingly large for a 42mm design, but they aren't especially heavy. In fact, at ~800g they are lighter than many of the competition (100g lighter than Swarovski's ELs or NL Pures) and they feel it too. That low weight is partly due magnesium construction, partly to the thinner, simpler long focal-length objectives that a longer body allows.
I wasn't keen on the original light grey colour. More seriously, the armour on my original test pair was loose in places, making scrunching noises when pressed. Thankfully, the armour on this revised model is excellent, with a two-texture finish that's grippy, looks classy and isn't too much of a magnet for dust and prints. What's more this pair has had a fair bit of use, but the armour is holding up well and still looks new.
The body barrels are plain tapered tubes and don't have the thumb indents you get with Swarovski's ELs or NL Pures, but the armour is flattened off at the sides for a more natural hold.
Despite the light-weight feel, the SFs are of course fully waterproof and nitrogen purged like any Zeiss binoculars.
<![if !vml]>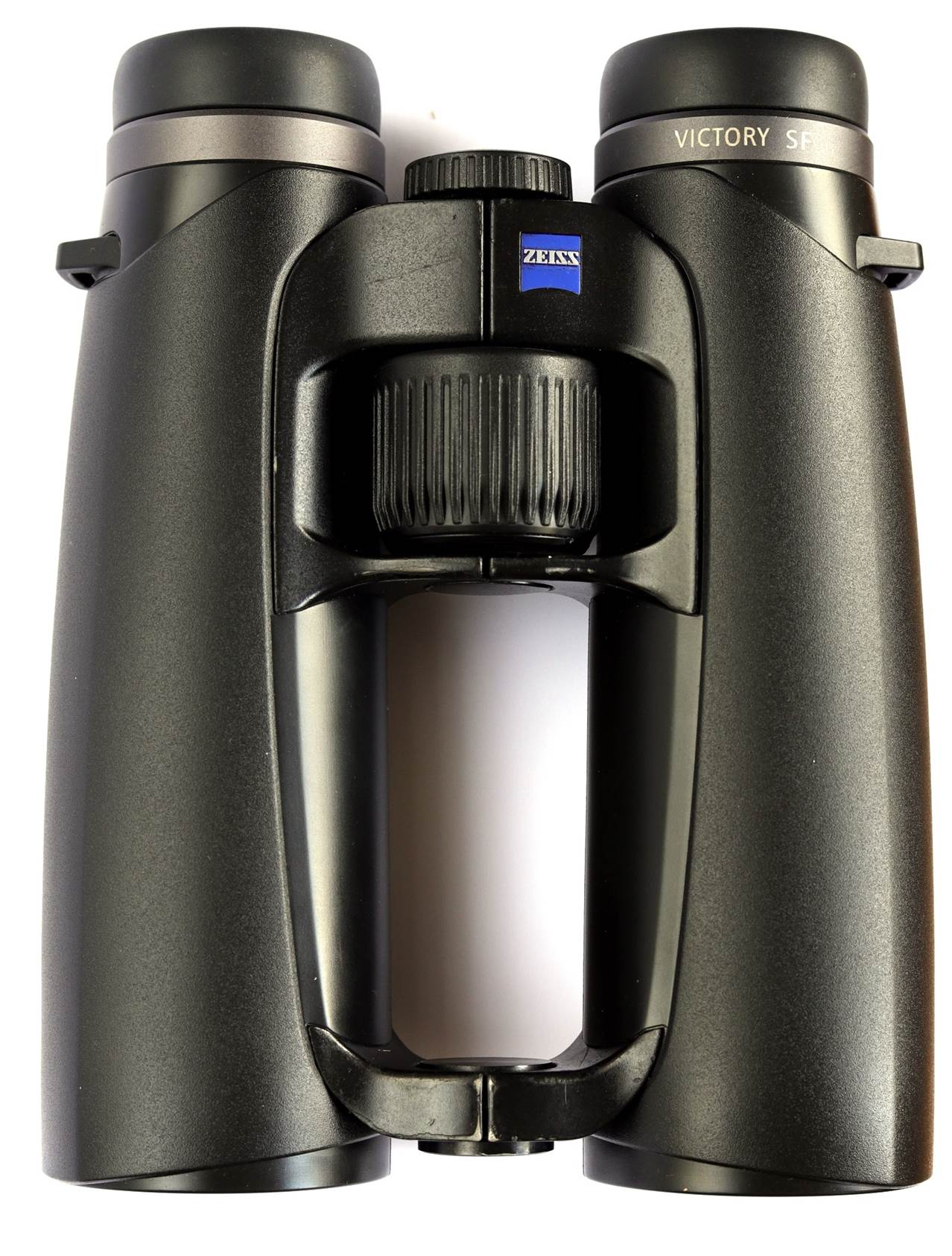 <![endif]>
<![if !vml]>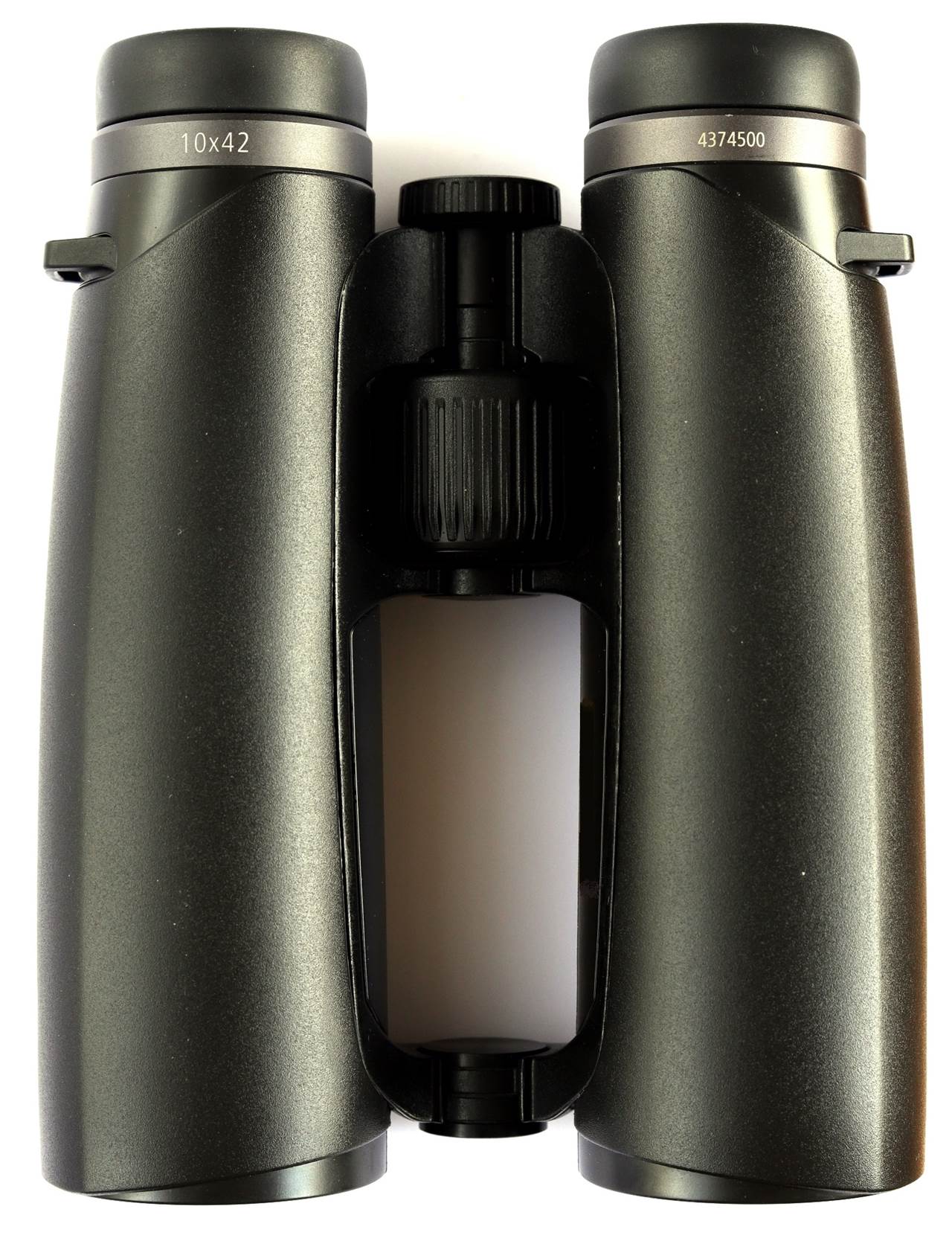 <![endif]>
<![if !vml]>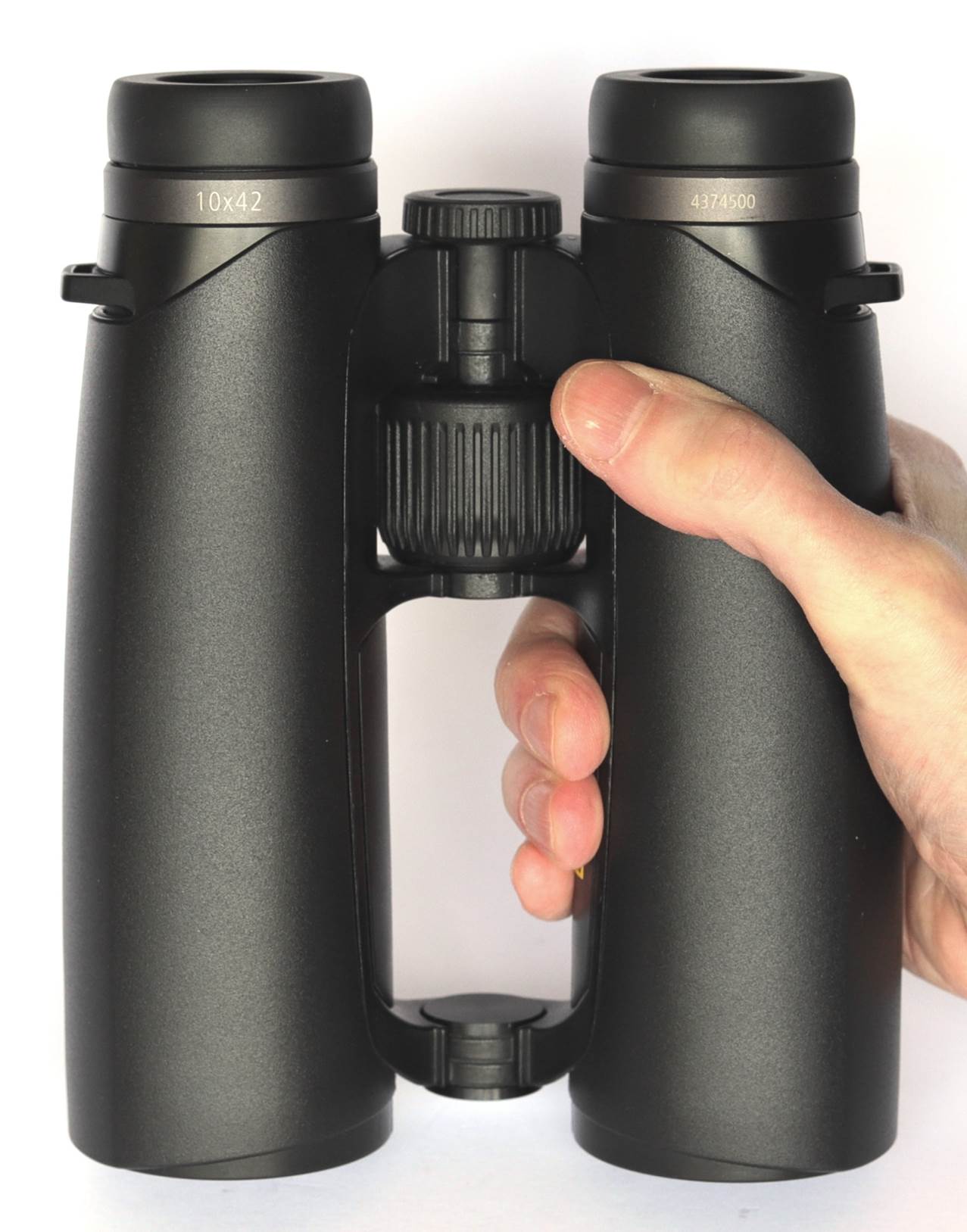 <![endif]>
The natural way to hold the SFs is to curl your fingers around those long barrels.
<![if !vml]>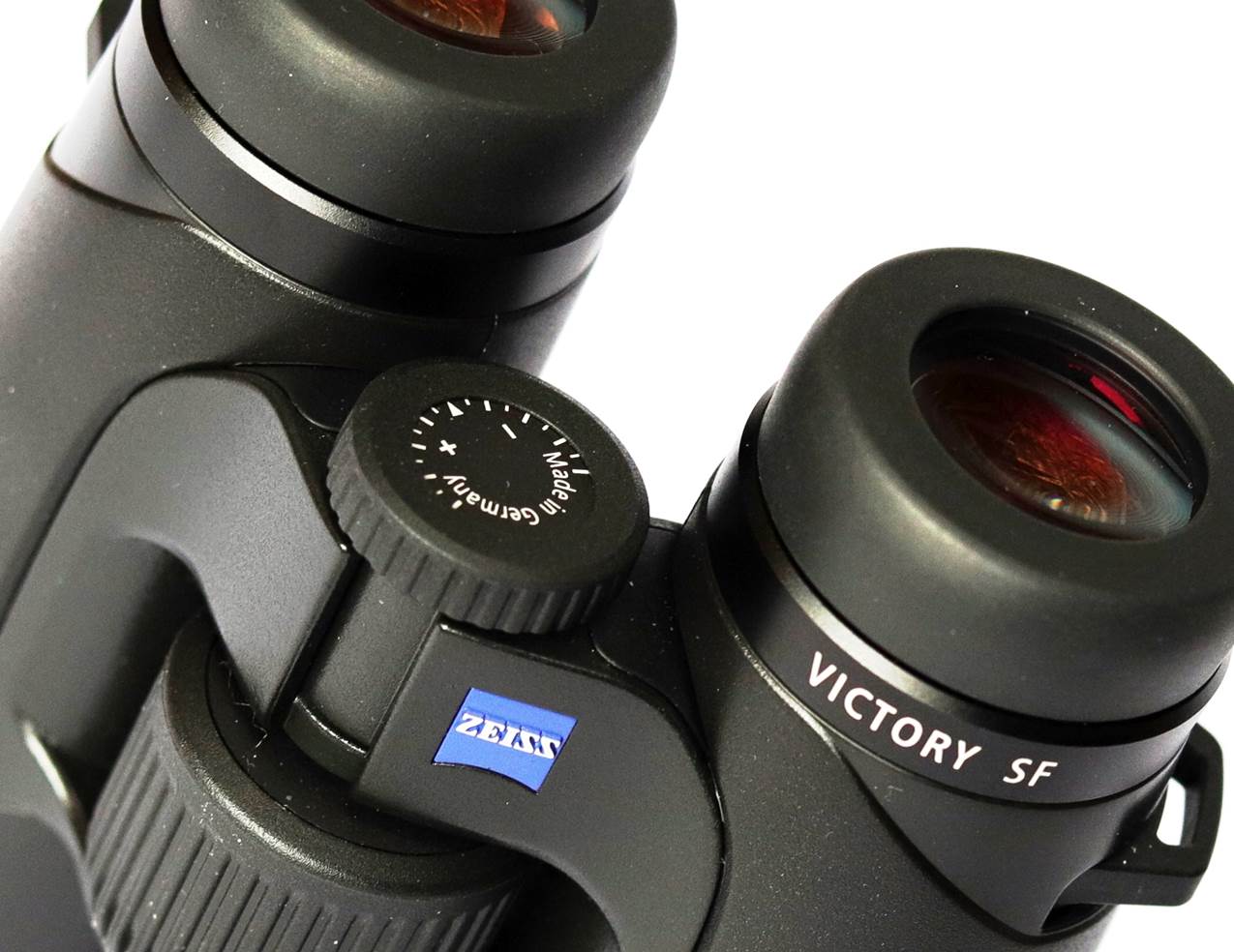 <![endif]>
<![if !vml]>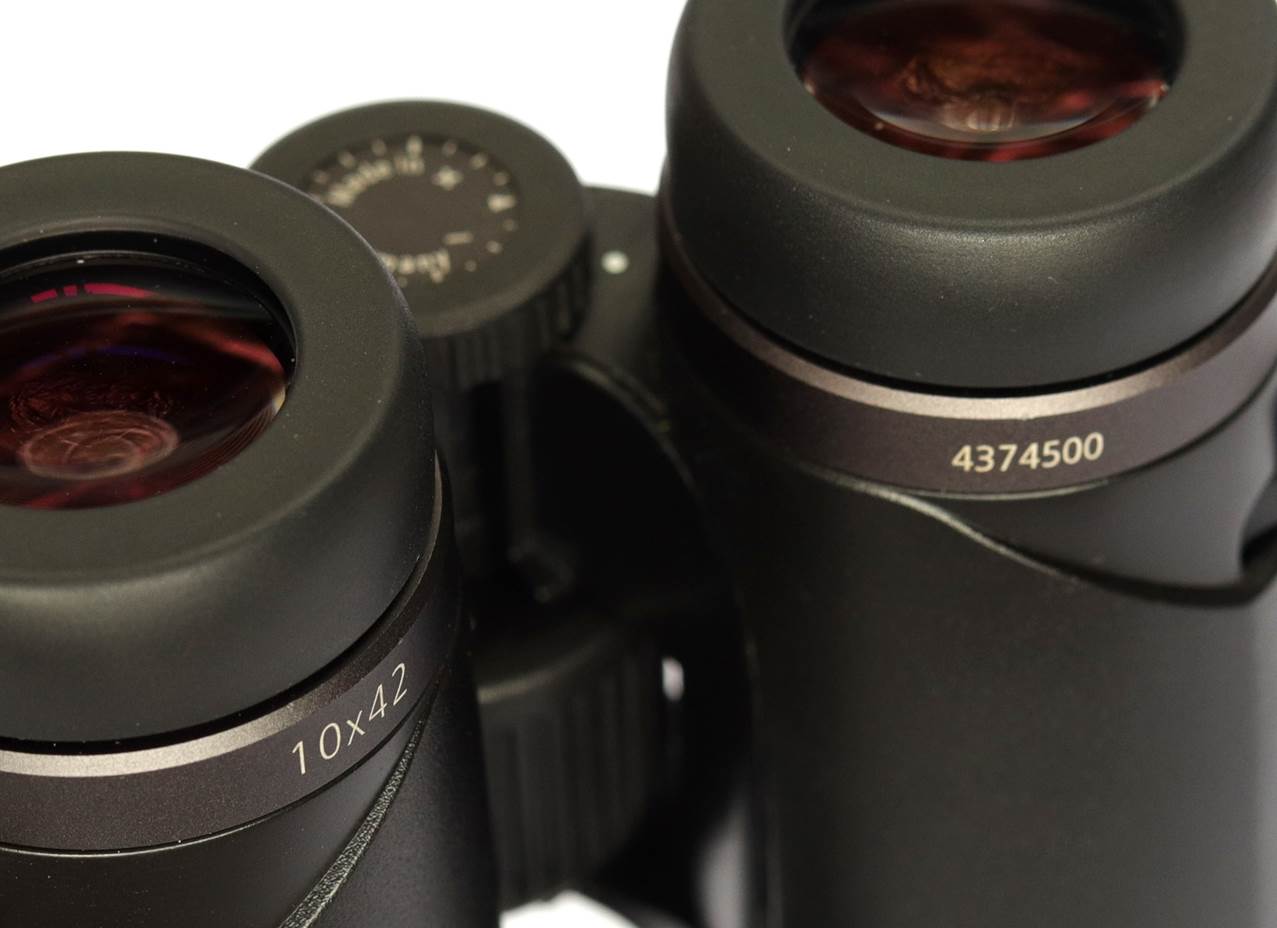 <![endif]>
Focuser
The focuser has an oversized wheel moved forwards in the bridge to reduce finger spread in the hold. The focuser is very smooth and superbly accurate, with a light action and no play. That lightness gives a more intuitive feel than the weightier focus action on a pair of Swarovski ELs and is fully competitive with the new NL Pures' excellent (and similar) focusing action. The SFs' focuser takes 1.5 turns from close focus to infinity, but because the SFs focus so close (1.5m) it's as fast as most focusers that take a single turn.
Dioptre adjustment on the SFs is by a separate knob at the front of the bridge, which you pull out to adjust. The mechanism has a centre click stop and a basic scale. The action on the original grey pair was sloppy and vague, but here it's just right.
<![if !vml]>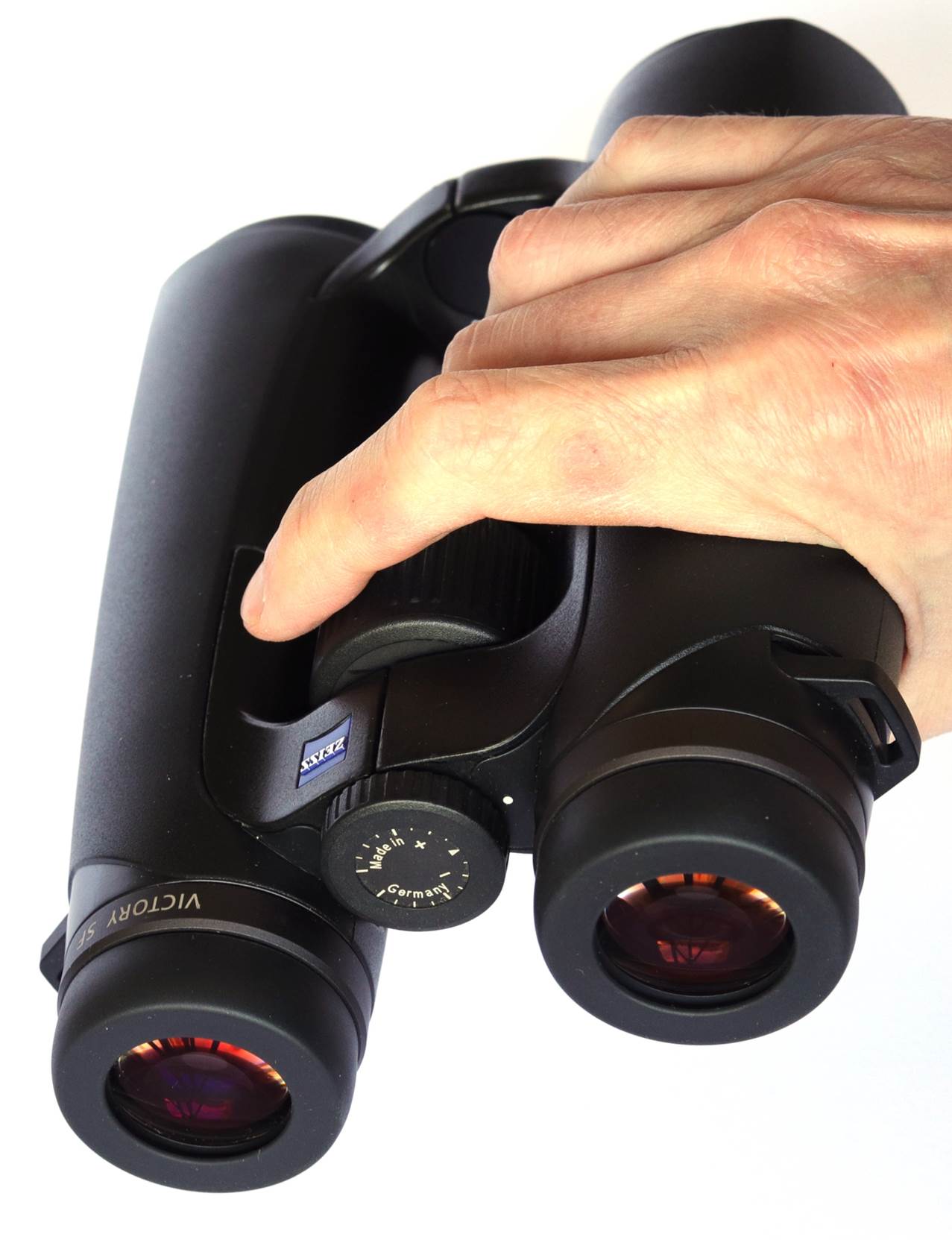 <![endif]>
<![if !vml]>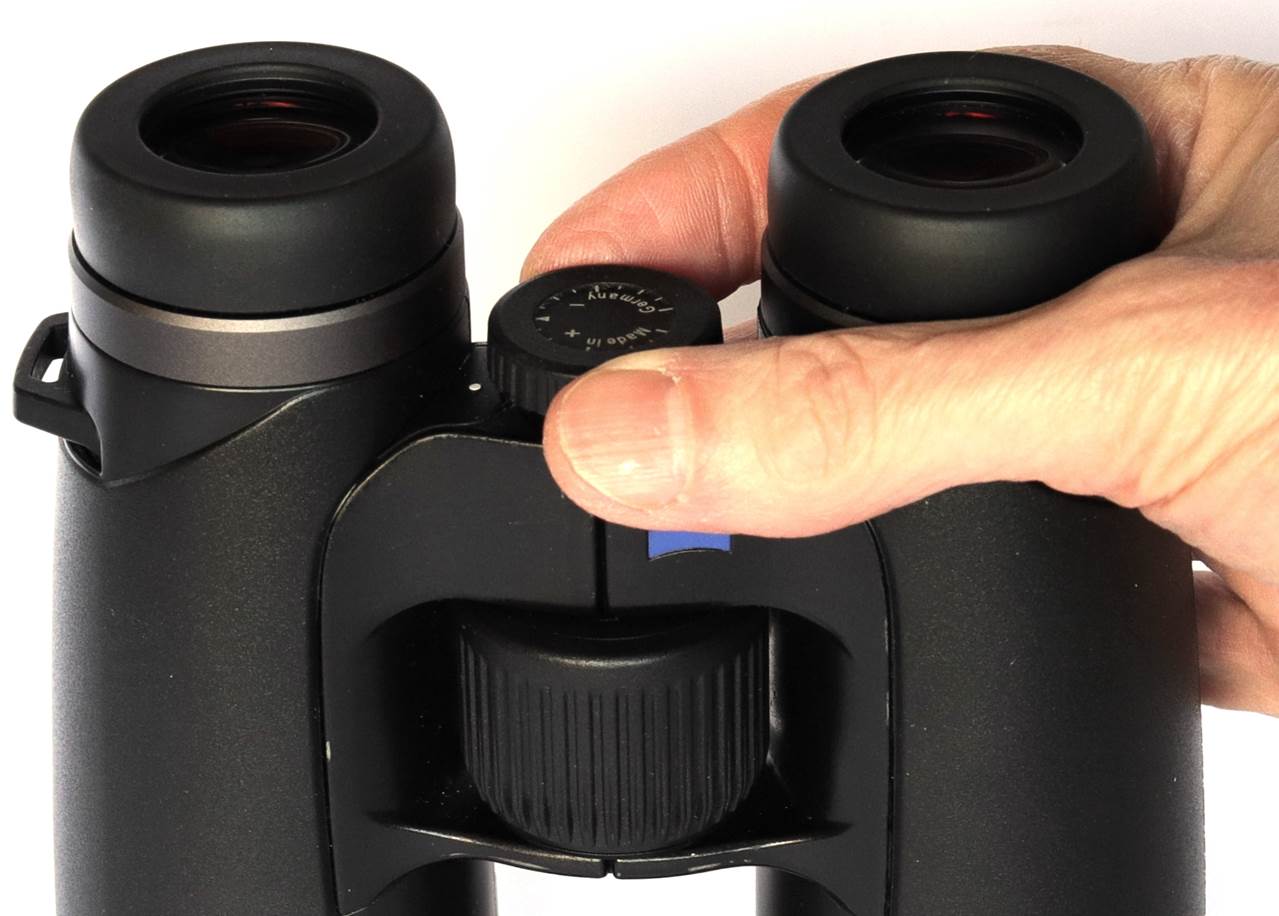 <![endif]>
<![if !vml]>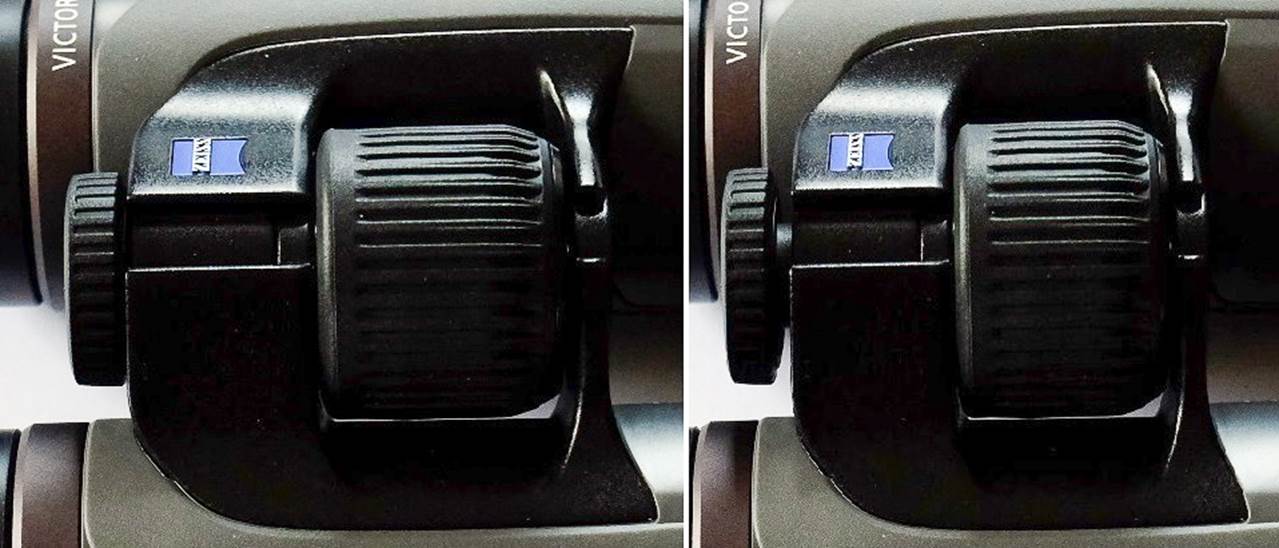 <![endif]> 
Dioptre adjustment is via a separate wheel at the front of the bridge – pull out to adjust.
Optics - Prisms
Zeiss are famous for high-transmission Abbe-König prisms, like the ones in their HTs. So, it seems strange that these SFs use the more common Schmidt-Pechan type. Especially strange because the main reason for not using Abbe-Königs is that they're long; yet these SFs are long anyway. Perhaps it's to do with achieving that rearwards balance point.
The SFs have the latest dielectric mirror coatings, like most premium binoculars these days and Zeiss' claimed 92% transmission is still up with the competition, albeit a few percent down on the HTs:
<![if !vml]>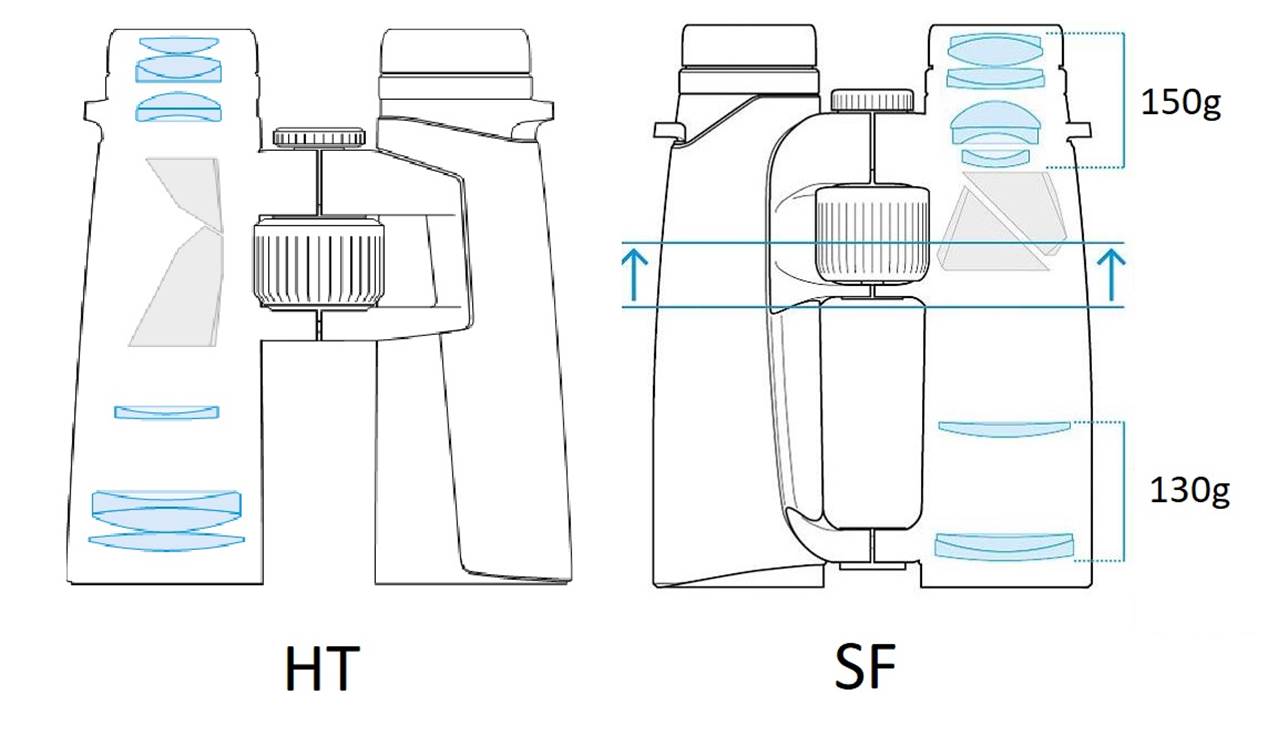 <![endif]>
Two Victorys: cutaway comparing HT and SF optical systems. Note the HTs' long Abbe-König prisms.
Optics - Objectives
The SFs have a simple two element objective design (plus focusing lens), compared with the more usual triplet. I suspect that to achieve this, Zeiss have used long (for bino's) focal length objectives. Aberrations decrease with longer focal ratios so fewer, thinner elements with shallower curves suffice.
The advantage of this approach is that the objectives are lighter in weight (78g lighter than the HTs' objectives, according to Zeiss), throwing the balance point towards the eyepieces and improving handling. And this also explains why the SFs are unusually long.
The objectives are described by Zeiss as 'Ultra FL'. This means the best ED glass (in this case apparently from Schott), but also that two of the elements employ special glasses, instead of the usual single ED element found in most HD binoculars. In this case, there is a single ED element in the main objective plus another as the focusing lens. This should give near perfect correction for false colour.
It's worth noting that the focus mechanism here is the usual focusing lens between objective and prism, whereas the 32mm SF models employ moving objective focusing.
Coatings are the familiar dark pink Zeiss T* variety. These are some of the very best coatings around and despite the lossy Schmidt-Pechan prisms they give the SFs a very bright view indeed.
The focusing assembly contains a knife edge baffle and careful blacking to counter stray light, but there is no blackened lens ring.
In my original grey review pair, the left hand focusing assembly contained a lot of dust which was a clear manufacturing fault. This pair is fine in all respects.
<![if !vml]>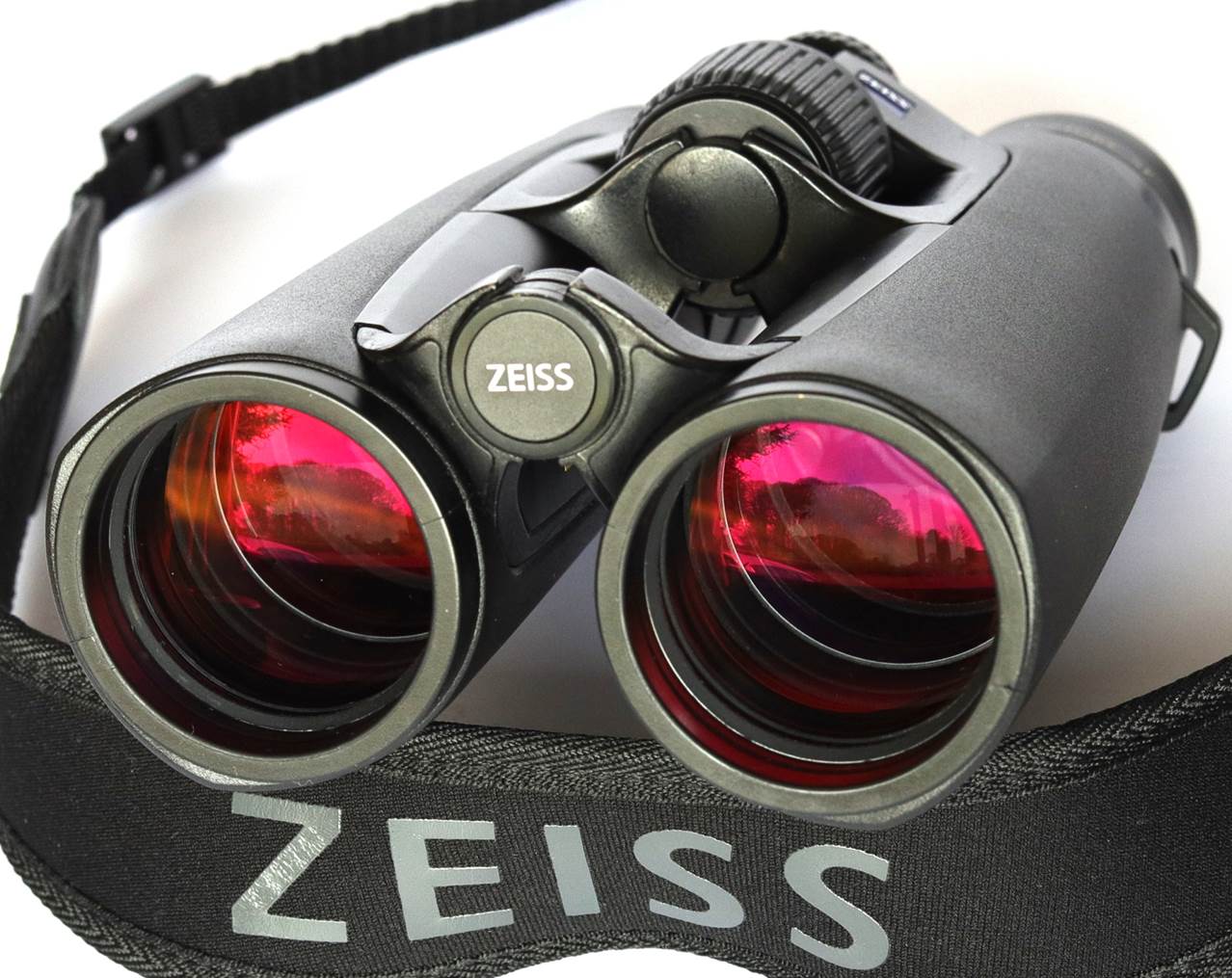 <![endif]>
<![if !vml]>

<![endif]>
Zeiss Victory Objectives, SF and FL: coatings are similar, but note the steeper curves on the shorter focal-length FLs'.
<![if !vml]>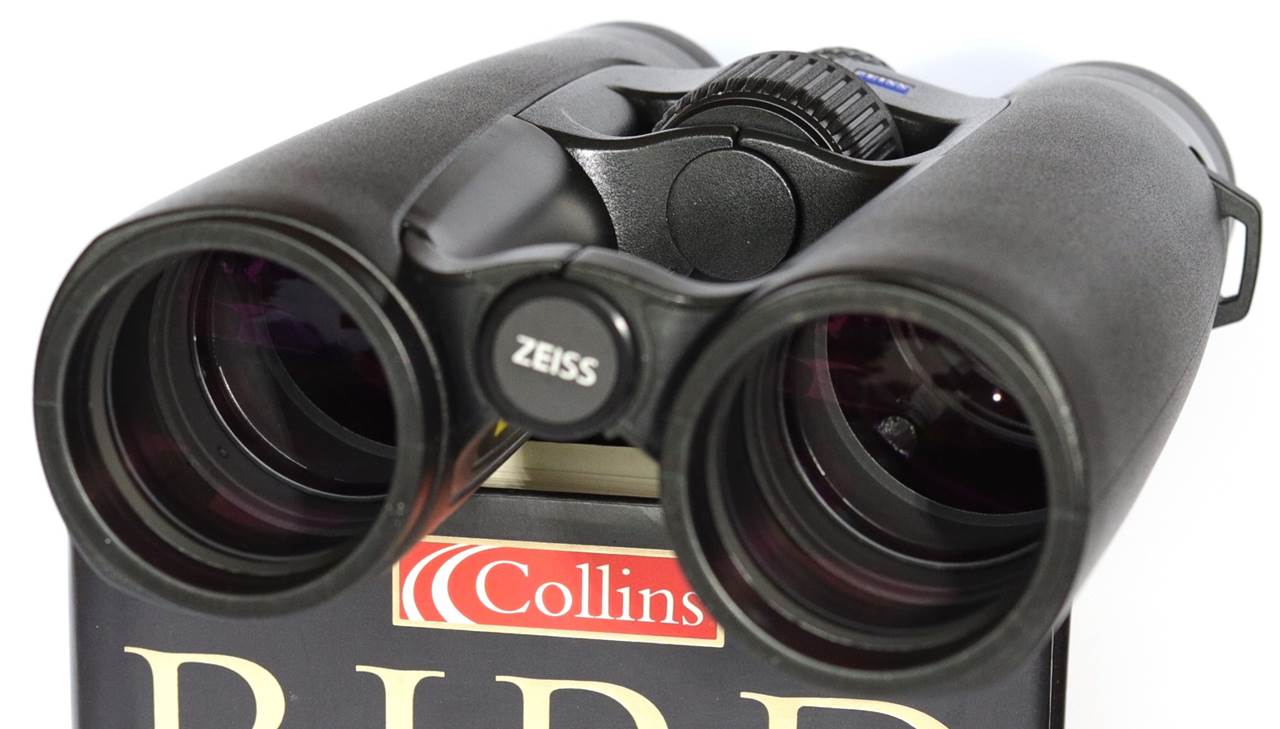 <![endif]>
Focuser assembly includes a slim knife-edge baffle, but note no blackened lens ring.
<![if !vml]>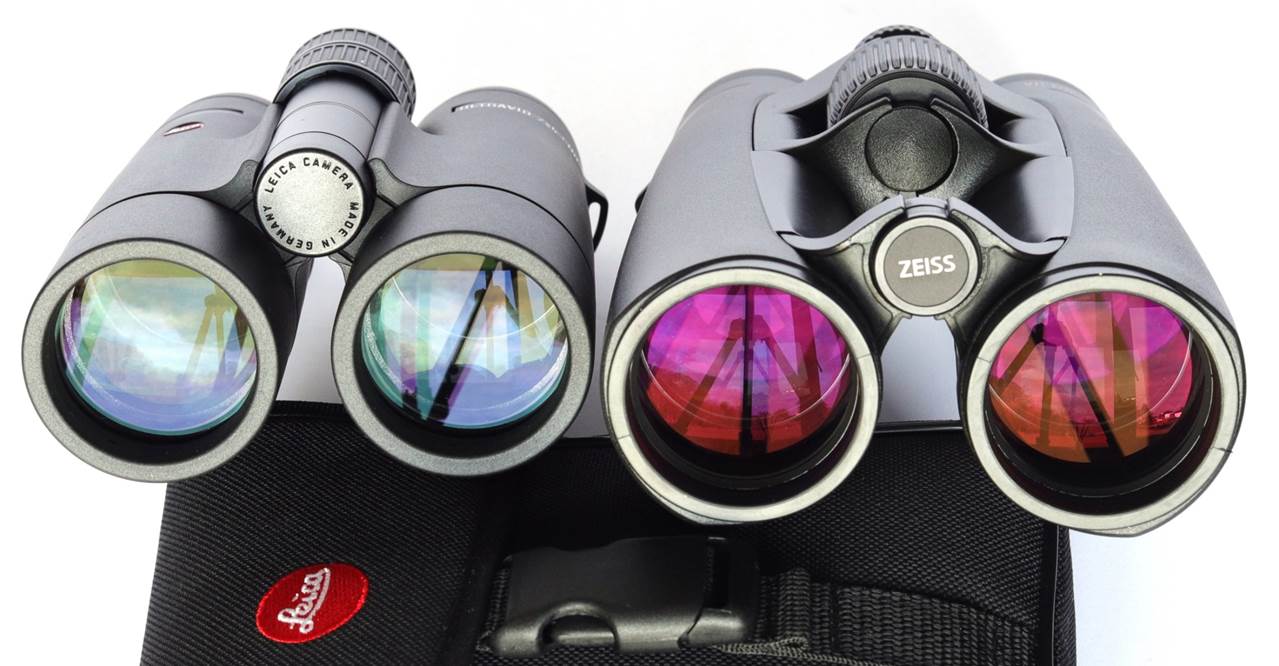 <![endif]>
Zeiss SFs' T* coatings compared with the latest Leica Ultravids'.
Optics – Eyepieces
If the objectives are simple by modern standards, the eyepieces are the opposite – a complex design with seven elements, including a field flattener. They allow Zeiss to offer the full wish-list of features: plenty of eye relief with a very wide and well-corrected field. Zeiss have used these complex eyepieces to their advantage in another way too – they are 60g heavier than the HTs' eyepieces, helping throw the balance point backwards.
(Update 2021: A recent Zeiss simulation seems to show an even more complex eyepiece design, see below, but this may be for the 32mm models.)
Actual field of view is 120m at 1000m, giving an apparent field of 64°. That puts these SF eyepieces into wide-field astro' eyepiece territory. Of other premium models, only the 10x32 SFs and Swarovski's NL Pures have a wider view.
I measured eye relief at 18mm from the rim of the cup – exactly as claimed and very good, so I can comfortably see the whole field with glasses on. In practice it feels a little better than any other Alpha 10x42.
That much eye relief often comes at the price of spherical aberration of the exit pupil which causes blackouts as you move your eyes around. However, these 10x42 SFs are well corrected for blackouts (unlike the 10x32 SFs, which have a lot).
I've reviewed several pairs of SFs with dodgy eye cups, stiff and vague, but these are absolutely spot-on: with a light smooth action and plenty of positive click-stops:
<![if !vml]>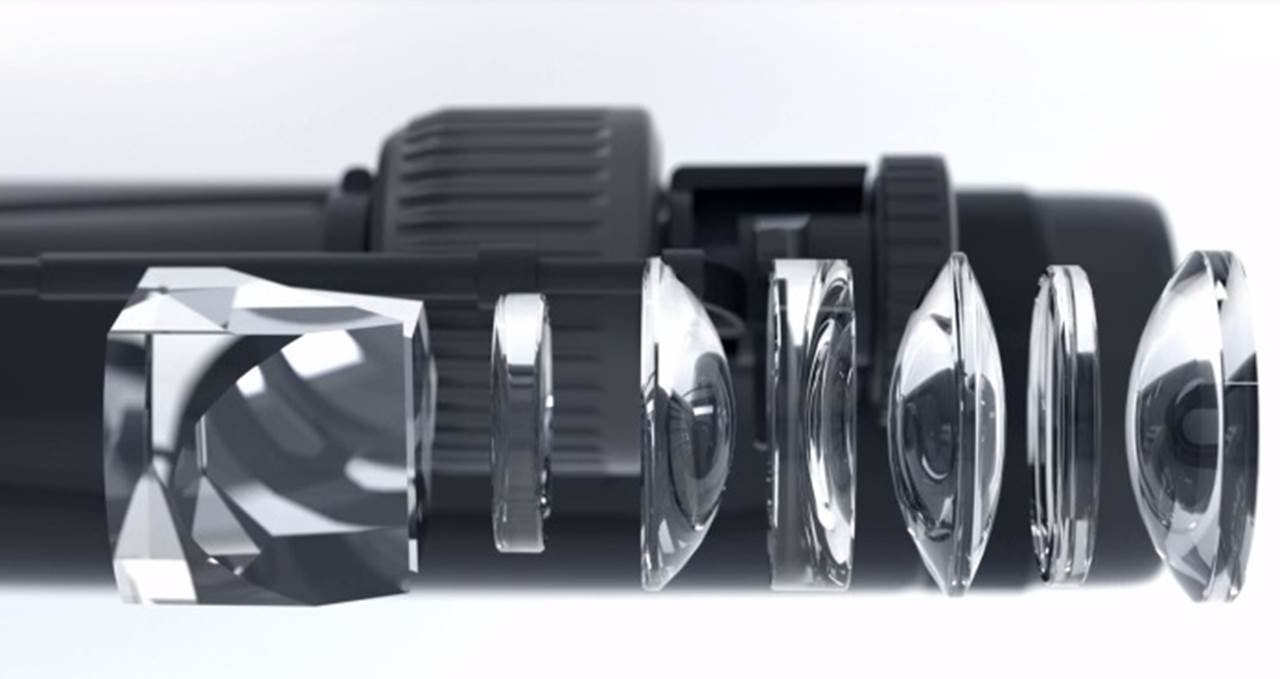 <![endif]>
Recent Zeiss simulation shows an unusually complicated eyepiece design, perhaps unique to the optically-different 32mm models.
<![if !vml]>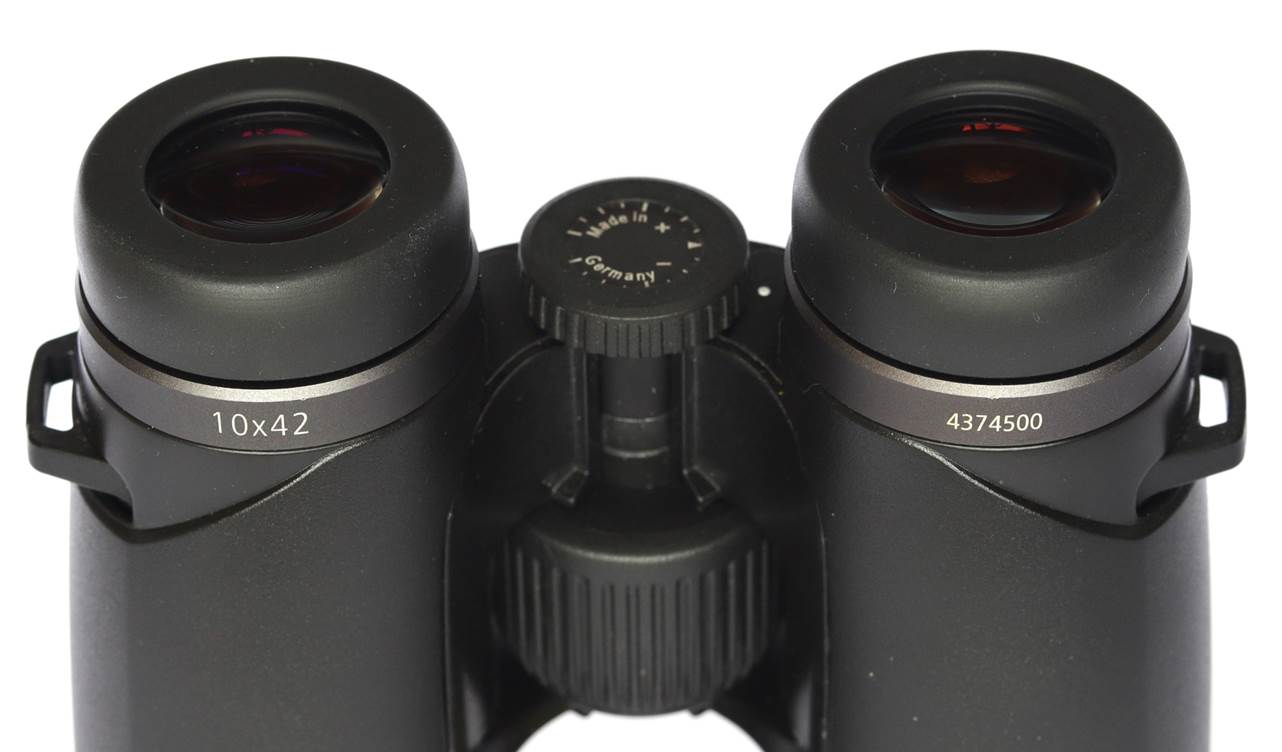 <![endif]>
<![if !vml]>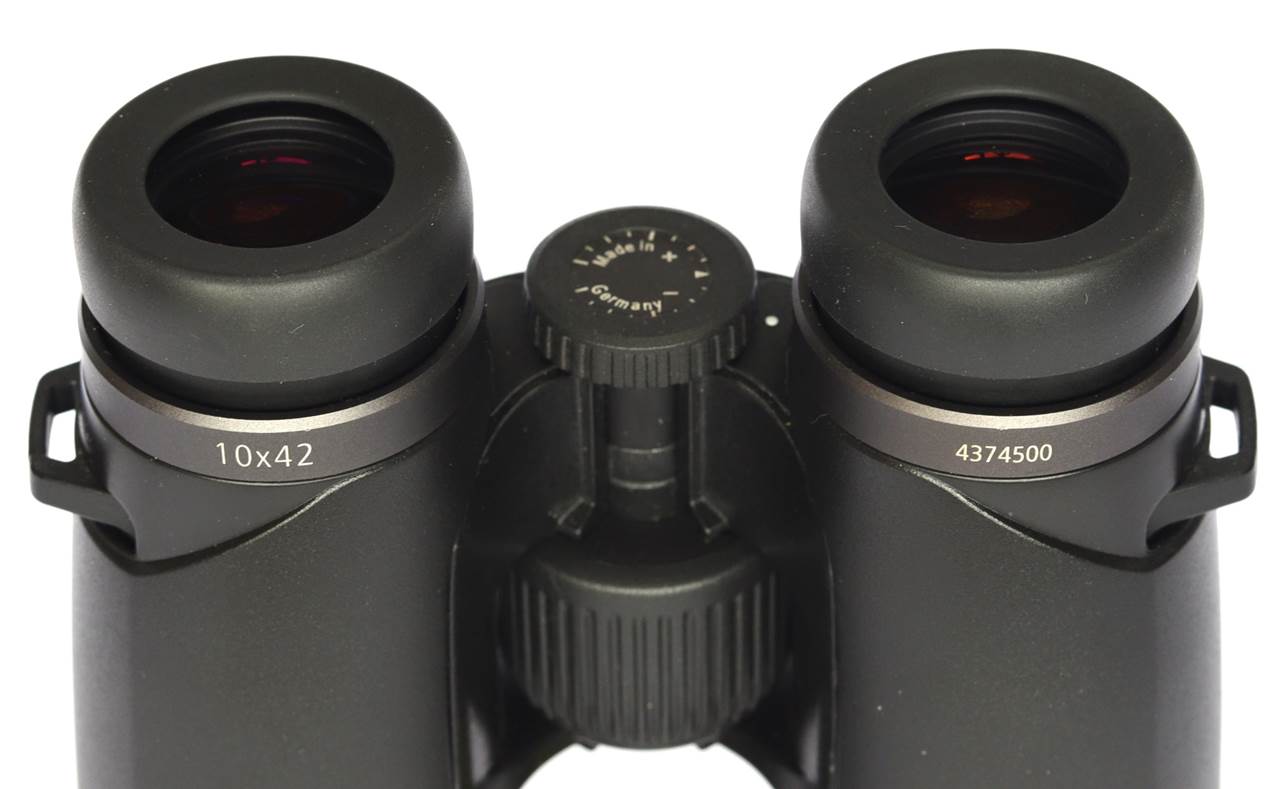 <![endif]>
<![if !vml]>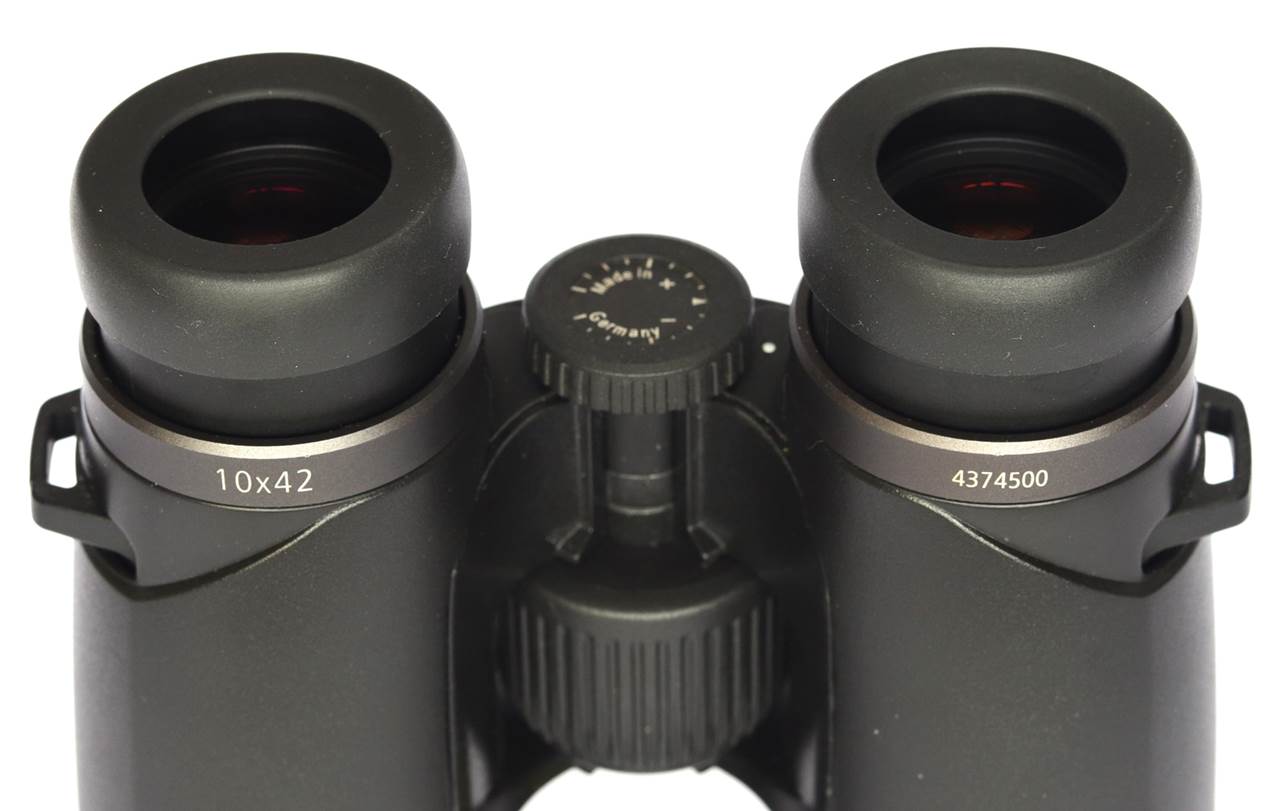 <![endif]>
<![if !vml]>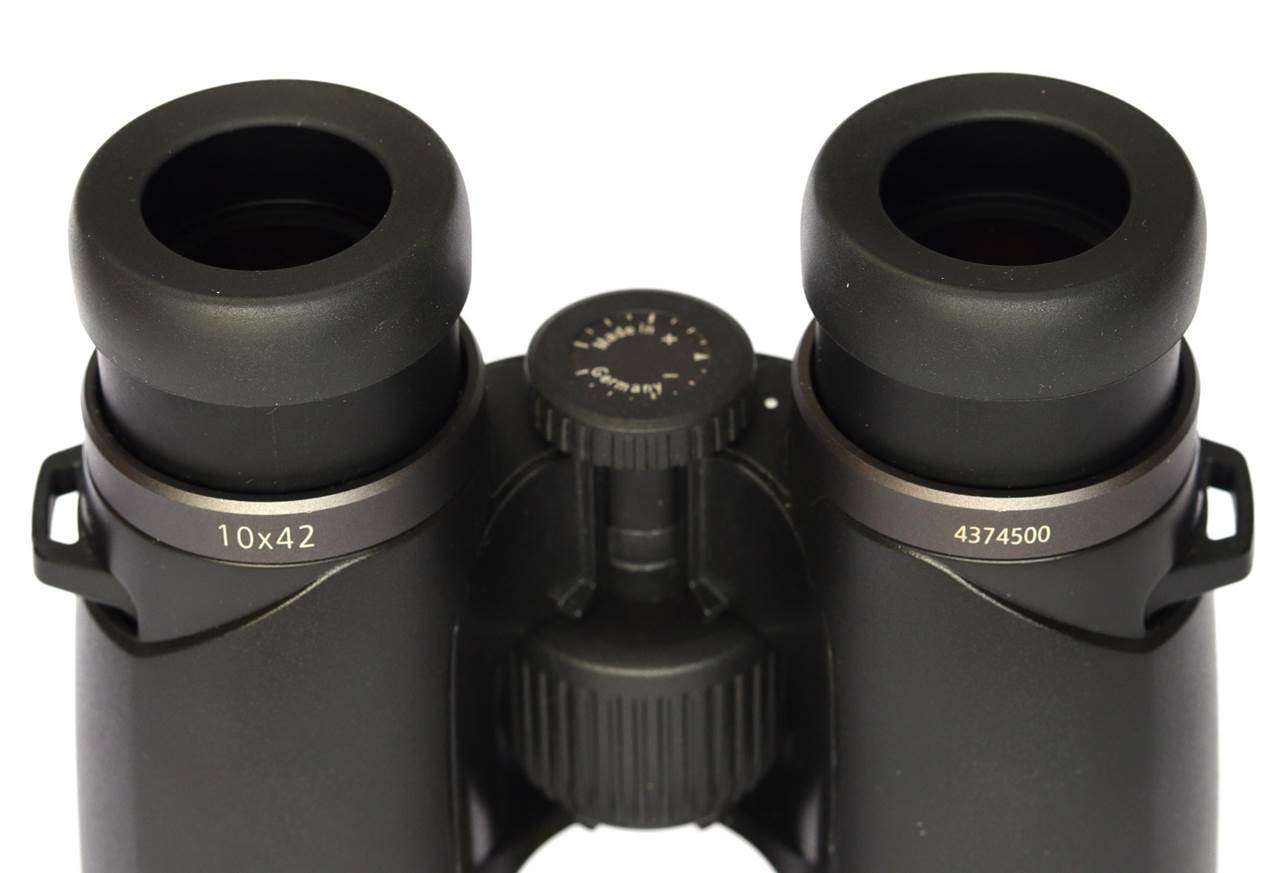 <![endif]>
The updated black version of the 10x42 SFs has excellent eye cups, with plenty of click-stops and a smooth, positive action.
Accessories
Zeiss have provided the SFs with a high-quality semi-rigid case to compete with the field case Swarovski now ship with all their binoculars. The Zeiss version is usefully slimmer than the Swarovski equivalent, with a more tailored fit, but still has a protective plush interior and separate accessories compartment.
This is one way in which the 42mm models differ from the 32mm ones – the smaller Victory SFs geta basic Cordura case more like the cheaper Conquests.
The strap and caps are familiar recent Zeiss. The objective caps push in and are kept captive with a lanyard.
<![if !vml]>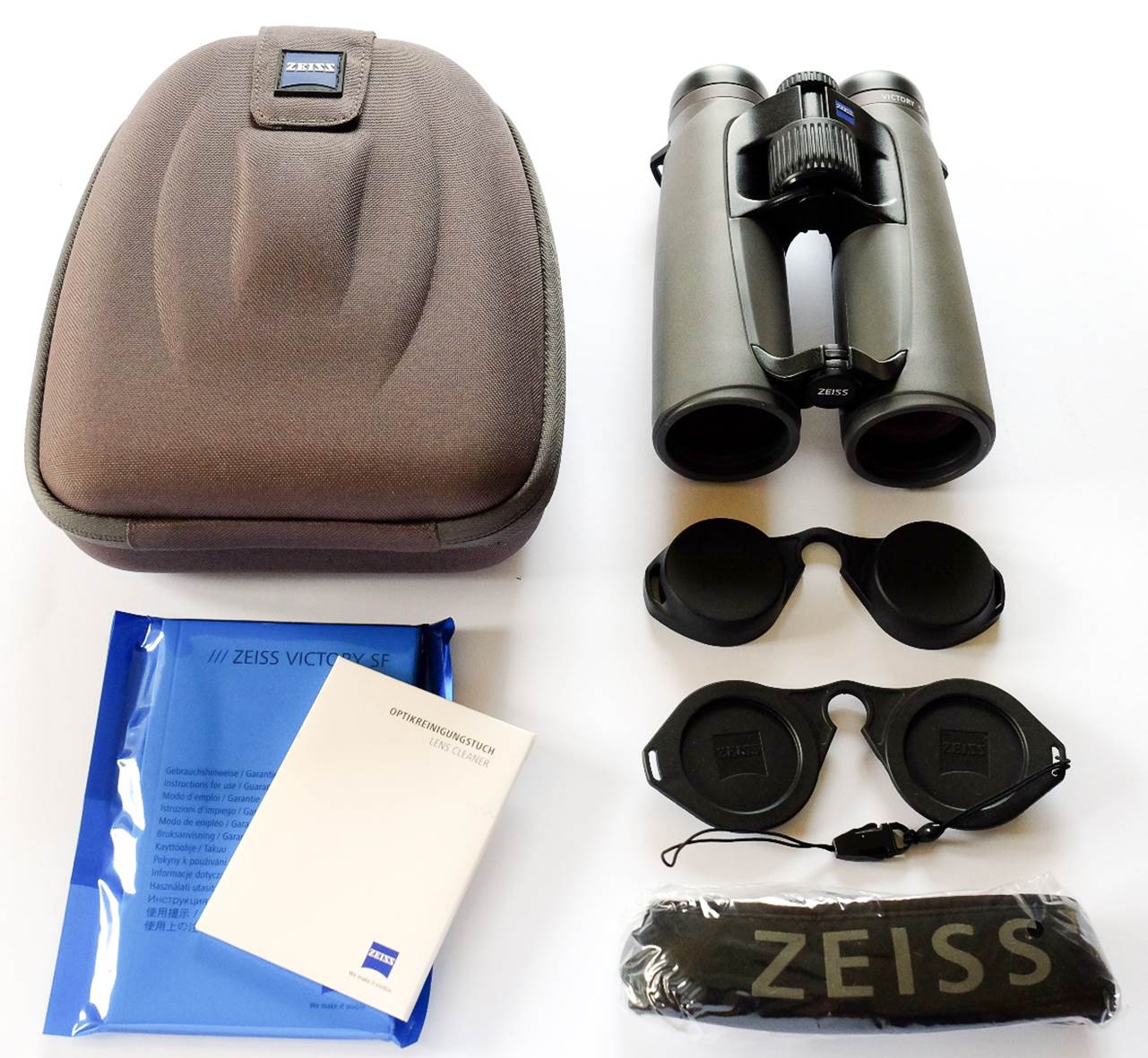 <![endif]>
<![if !vml]>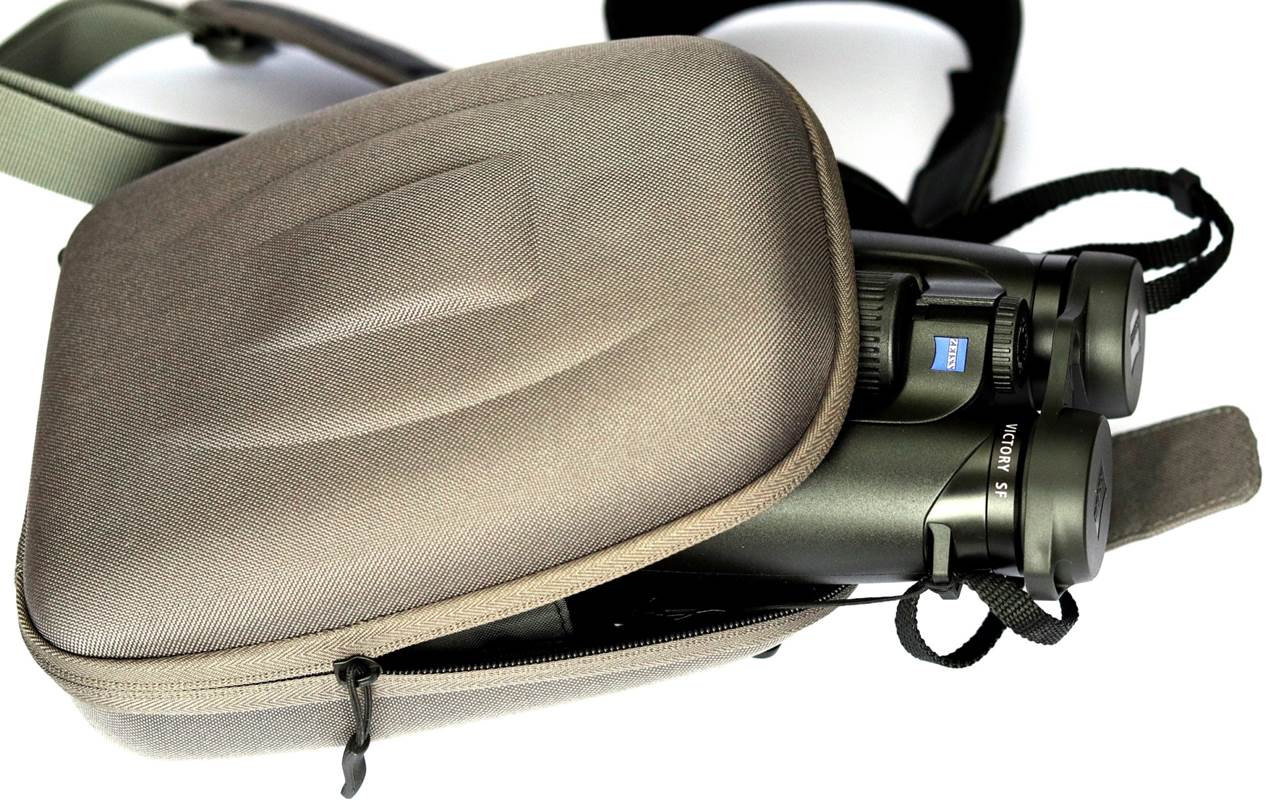 <![endif]>
Field case is a quality item.
<![if !vml]>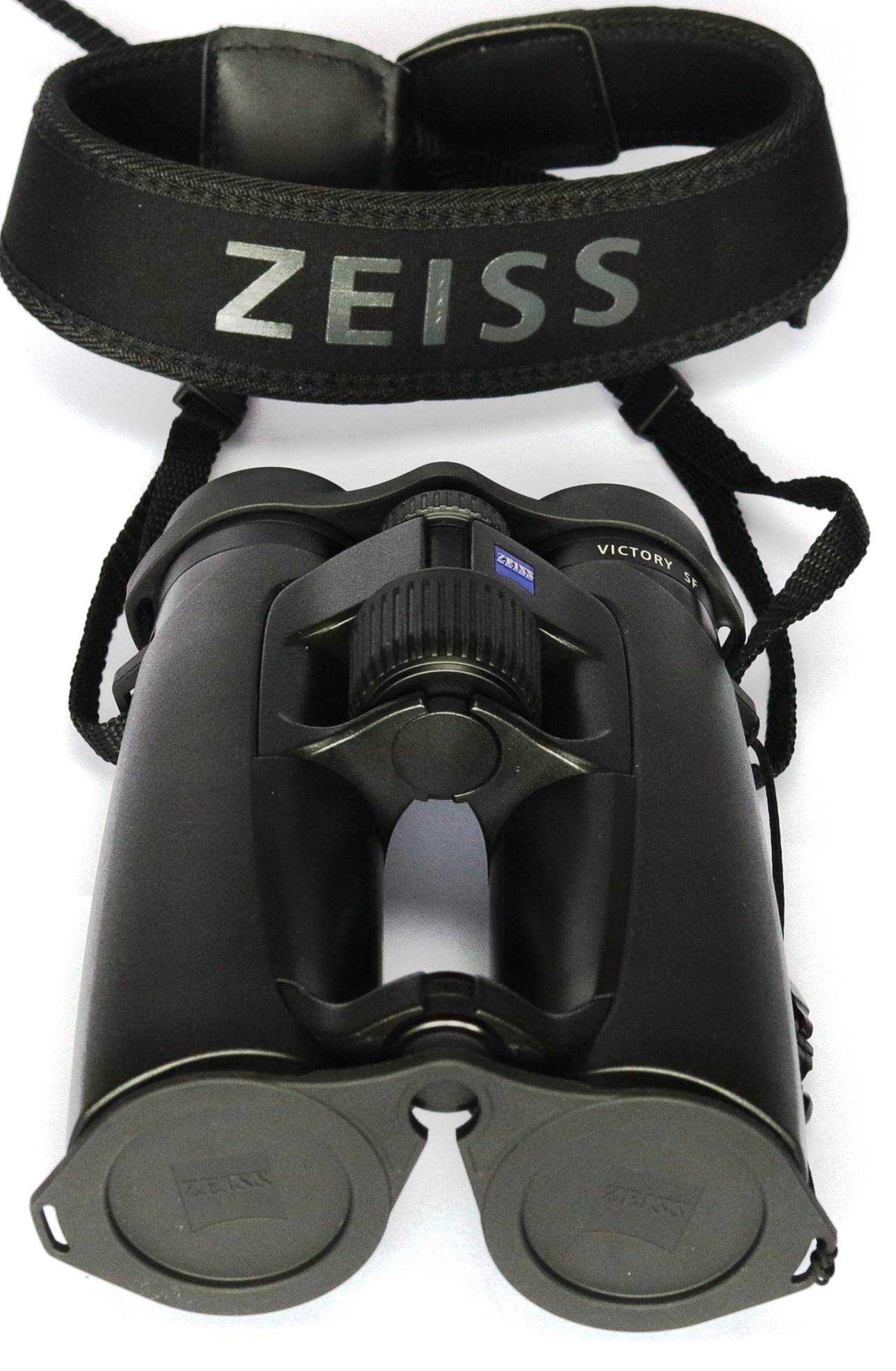 <![endif]>
In Use – Daytime
Ergonomics and Handling
The SFs' light objectives and heavy eyepieces shift their balance point backwards. Zeiss call this their ErgoBalanceTM concept. That rearwards weight bias is very apparent and really works for me, helping to reduce fatigue when viewing for long periods. Handling is consequently outstanding. The long barrels allow me to curl my fingers around them: this feels natural and helps reduce shakes. For me this makes the lack of thumb indents irrelevant.
The focus wheel is large enough to operate with gloves. I can easily reach it with my forefinger, even when gripping the SFs around the front of the barrels, because Zeiss have moved it nearer the objectives. The focuser's action is near perfect – smooth and light, yet precise and fast. Unlike the original grey pair I reviewed, the dioptre mechanism is solid and effective, with just the right tension and a détente to let you know when you're at neutral.
Eyepiece comfort is outstanding, with lots of eye relief for specs wearers and almost no blackouts, even when panning, with specs or without. This is very different from the 10x32 SFs which suffer from a bothersome level of kidney-bean blackouts when panning.
The SFs look elegant when worn - larger than some 10x42s, but not much more so than Swarovski's NL Pures for example.
<![if !vml]>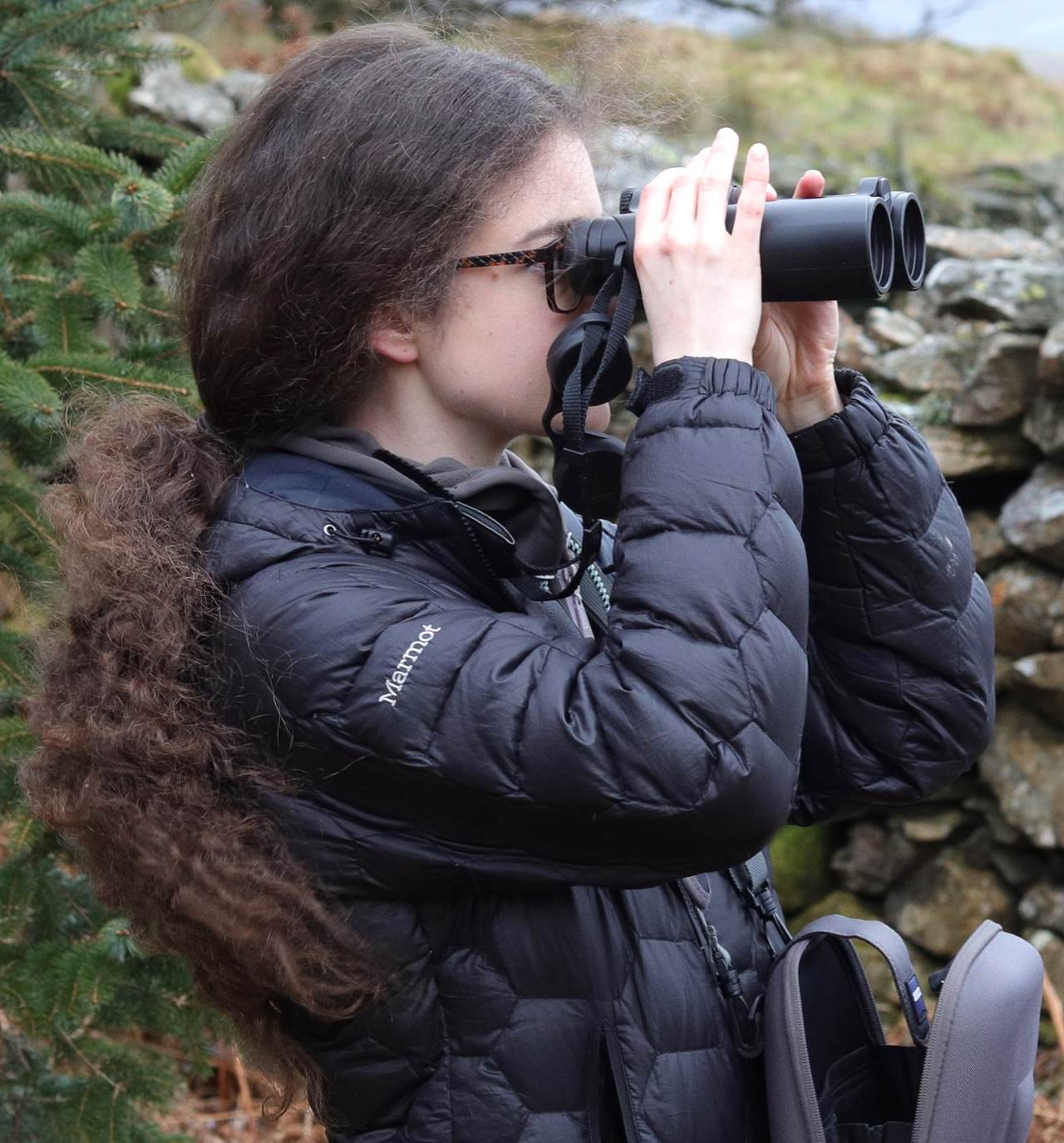 <![endif]>
<![if !vml]>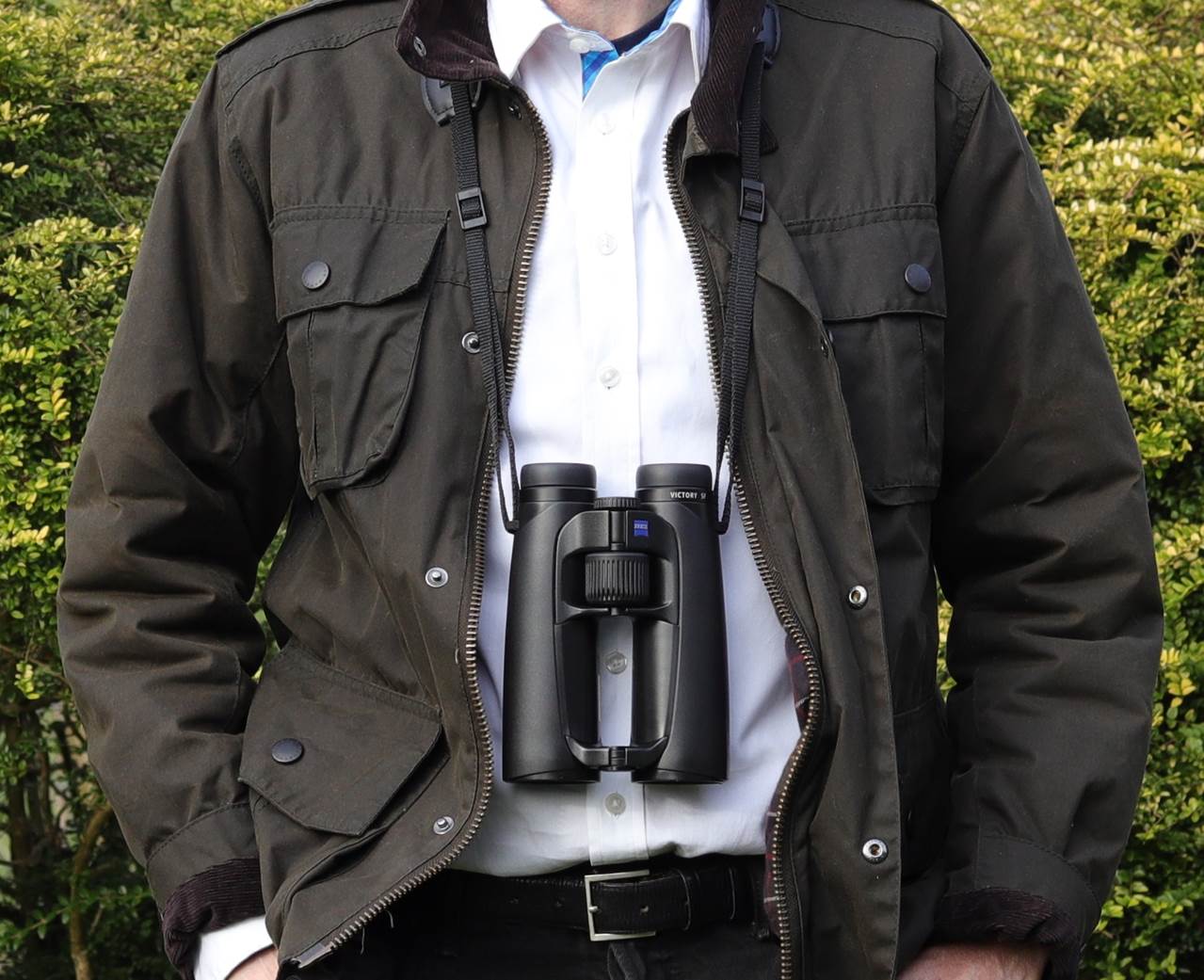 <![endif]>
<![if !vml]>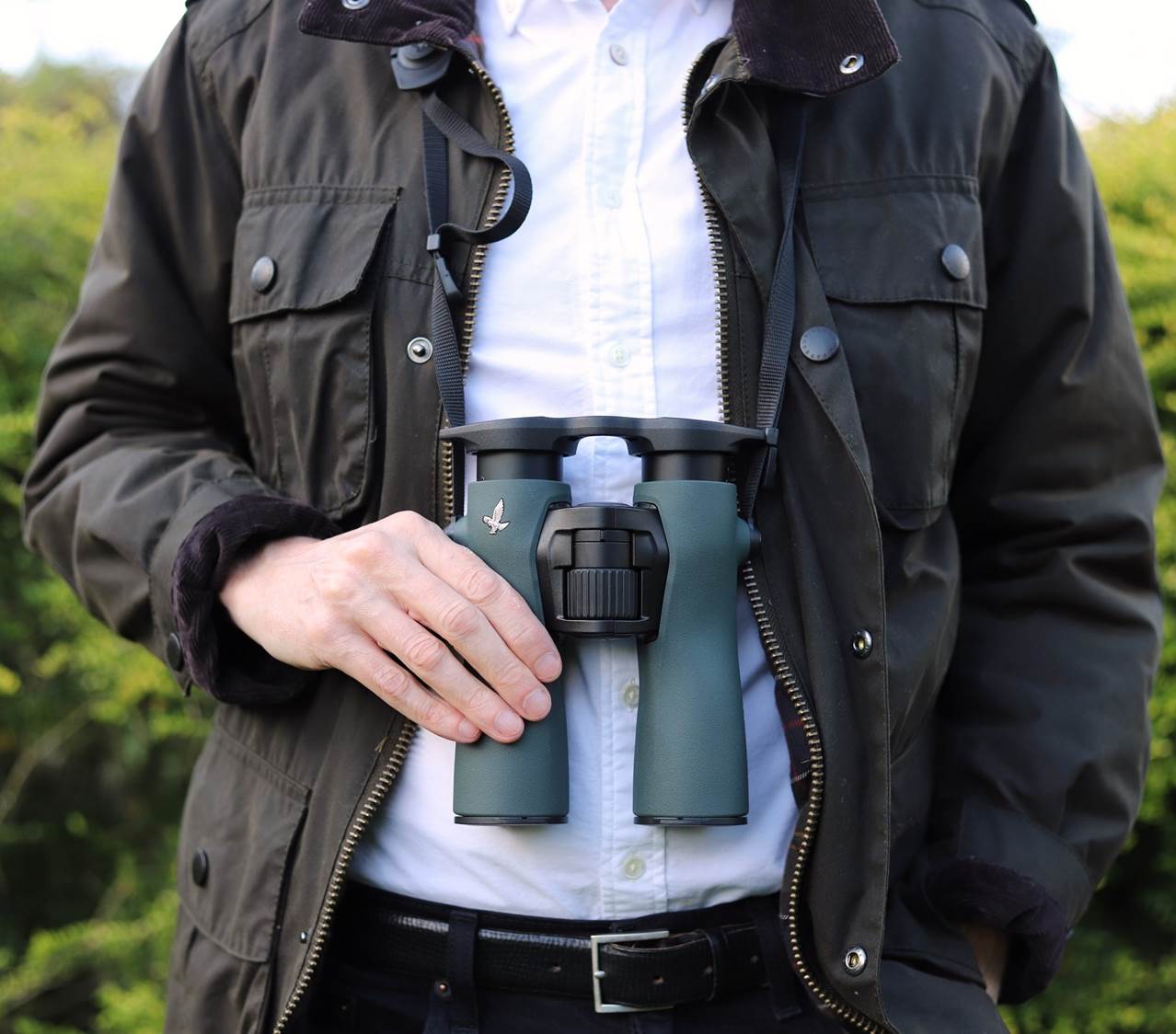 <![endif]>
Swarovski's competing top-of-the-range birding bino's, the 10x42 NL Pures, for comparison.
The View
The view is my favourite out of the SF range and is amongst my favourites of any binocular: wide, bright, detailed. Supremely sharp on axis, it seems well corrected to the edge too. Focus snap is superb. It's an easy, effortless view for a 10x binocular, one you just sink into and enjoy. That ease of view is unusual in a 10x model and a real stand-out feature for me.
The colour balance seems slightly cooler than most and is typical of Zeiss. I like it.
One metric by which the SFs beat most of the premium competition is field width. The increase in actual width over the ELs' may be only 7%, but that equates to about 15% in area and it's certainly noticeable. Only the 10x42 NL Pures have a wider field of view in the 42mm Alpha class.
Interestingly, the actual field width of the 10x42 SFs comes close to that of some 8x42 binoculars and so if you can manage the extra shakes there is less reason to go for the lower power. I watched a buzzard circle in the far distance in a way that would have been a struggle with less magnification. In fact, long distance viewing of birds on the wing is one of the SFs' specialities, given its ultra-high resolution and near zero false colour (see below)
Depth of field is excellent - right up there with the best at this power, but one way you do lose out if you switch from 8x to 10x.
The SFs focus closer than just about any other binocular. This makes them wonderful for examining flowers and insects, but be aware that you may have to strain to merge the images below about 2.5m.
Taken as a package, the 10x42 SFs' optical characteristics are amongst the top two or three binoculars currently on sale.
Flat field?
Of the four SF models (I've now reviewed them all), the 10x32s have probably the best corrected field, with these second. Viewing a metre ruler at ~3m, all of the millimetre markings are readable until the last 10%, with just a very slight softening from about 60%, due to curvature and some astigmatism. There's a little distortion to the same end. You can see these aberrations in the snap below.
So, the 10x42 SFs' field isn't as sharp-to-the-edge as Swarovski's ELs or NL Pures, but offers more comfortable panning to compensate.
<![if !vml]>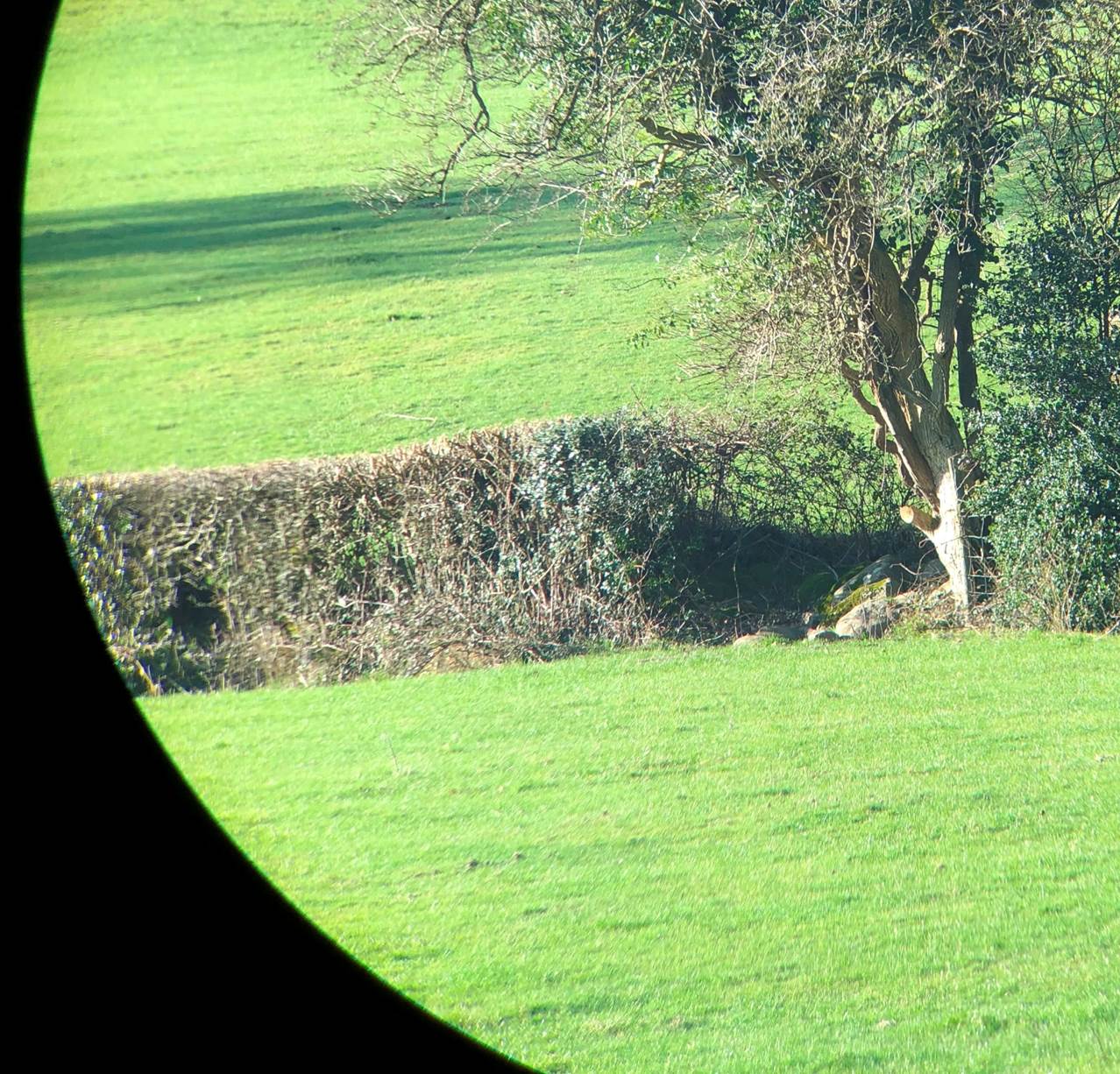 <![endif]>
Chromatic Aberration
The 10x42 SFs show very slight residual chromatic aberration in the highest contrast situations, but otherwise they are free from false colour in normal use. Even panning through silhouetted branches reveals little. Only a very few binoculars, perhaps including the 10x32mm SFs, do slightly better.
Birds in high branches or on the wing are un-polluted by contrast- and detail- robbing false-colour fringes. This makes a big difference. It actually makes long-distance IDs easier and is one good reason to choose a super-premium pair like these. It also makes them great for spotting and identifying planes at altitude.
Stray Light and Ghosting
Viewing under a brilliant, clear dusk sky gave just a trace of veiling flare in the bottom of the objectives, as it did with the 8x42 SFs. Viewing a very bright security light generated no ghosts with the light in field and no spikes, unlike the 8x32 SFs. Viewing around the security light produced no veiling flare.
Viewing around a bright, low Moon generated no significant flare or other stray light problems as it often can, just very occasional flashes when panning around.
In Use – Dusk
Dusk performance is particularly good for a 42mm bino'.  The bright optics deliver deep shadow penetration in twilight. The very high optical quality makes these easy to focus in very low light – something lesser binoculars often fail to do.
The 10x42 SFs even work really well in bright Moonlight and I was able to go searching for a noisy local owl at Midnight. I also spotted one of the blacked-out Special-Forces Hercules aircraft that regularly fly close to our house at ultra-low-level, the 10x42 SFs' bright optics and high contrast making the plane easy to pick out of a dark sky.
In bright (but not full) Moonlight, I watched Mr Badger scurrying across the fields opposite - every detail of brindled backside and stripy nose. He thinks I didn't see him and he'll be back to scratch holes in my lawn.
In Use – The Night Sky
Stars are very sharp on axis, but distort just a little starting at 60% or so, but mostly in the last 20%. Like the 8x42 model, this distortion was caused by a little astigmatism and some field curvature – the distorted stars near the field edge can be re-focused to some degree but remain as small crosses due to that astigmatism.
My regular test of placing both the sword and belt of Orion in the field of view left Mintaka and Nair al Saif close to the field edge, but even so they suffered only the most minor distortion.
On axis stars are especially pin-point in this pair, better than the originals I reviewed and one of the better roofs I've tested in this respect.
I found that the SFs low weight, rearwards balance point and long barrels made them unusually comfortable for long astronomy sessions.
The Moon
The 10x42 FS deliver the sharpest of Moons, with no false colour or ghosting even at full Moon. Most quality bino's give good views of the Moon these days, but the 10x42 SFs were a clear cut above.
The Moon was superbly detailed and crisp – one of the very best views I've had through lower powered binoculars, with huge detail and an indefinable comfort and perfection that eludes most bino's and reminded me of an astro' telescope.
Planets
My previous test pair generated no flare or false colour on Jupiter. The Galilean moons appeared as very distinct, sharp stars, easily picked out even when close to the planet. On this occasion, Mars was a deep red and obviously not a star, showed no spikes or flare.
<![if !vml]>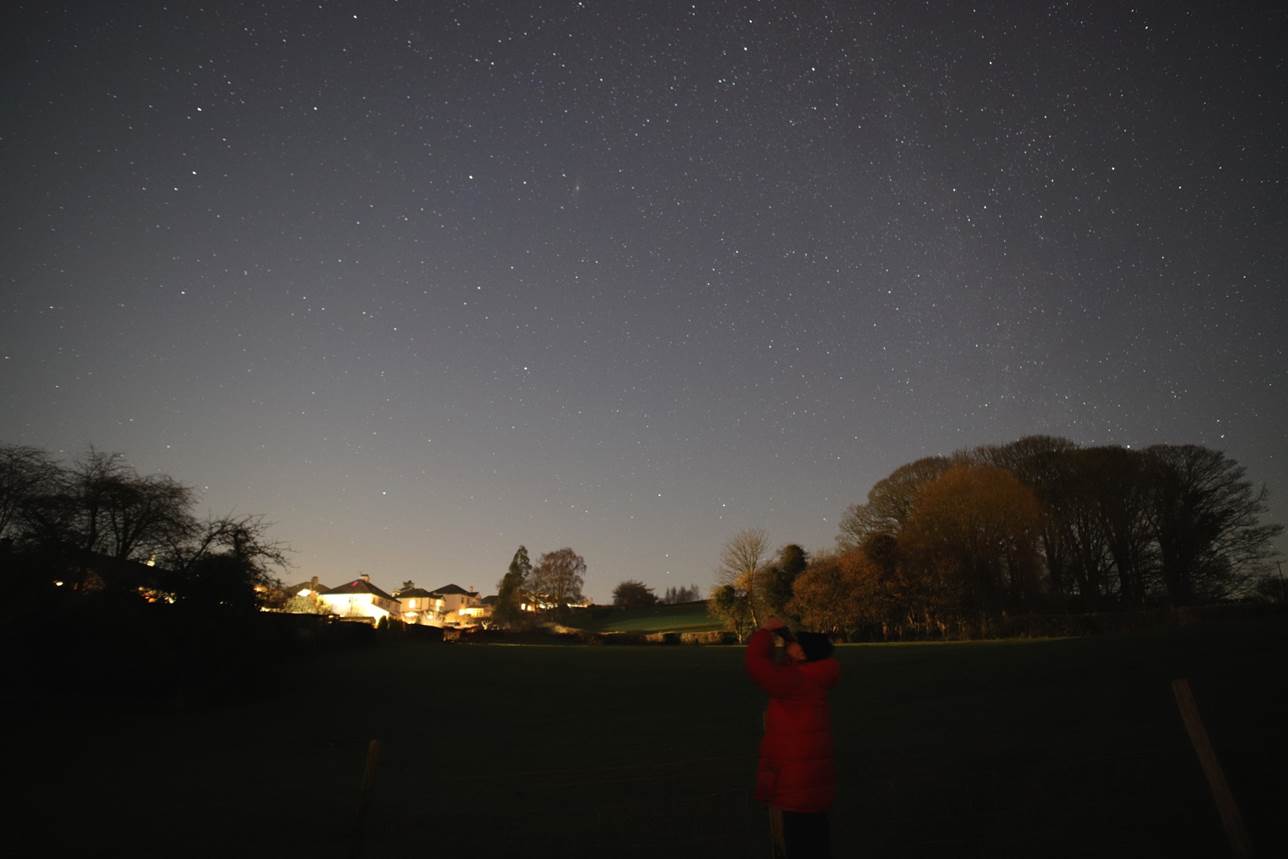 <![endif]>
Testing the 10x42 SFs on deep sky, just before Moon rise.
Deep Sky
The wide, fairly flat field and pin-point stars, along with high-transmission optics, mean the 10x42 SFs work well on deep sky.
However, dimmer stars do get blurred-out in that last 20% where the curvature and astigmatism get worse, creating a ring of mist around the field stop where only the brightest stars are still visible. Why? Blurring and stretching a star's light makes it appear dimmer.  This effect is most noticeable on dense Milky Way star fields.
As an example, with the Double Cluster centre field, a larger and more diffuse cluster nearby, Stock 2, is in the edge zone where its fainter stars get extinguished by that smearing effect from the off-axis aberrations. This is the only major area where the SFs are behind SW's NL Pures.
Nebulae are bright and well-defined for the aperture and I had some great views of a variety of DSOs. The Orion Nebula revealed more structure than through most 10x42s, including the central spike of nebulosity, curving arms, the bright boxy core and even the dark lane behind. I easily found the Crab Nebula (M1) in Taurus as a patch of misty light, where some 10x42s struggle.
The open clusters in Auriga, M35 – M38, all resolved at least partly into their component stars, even M37 which often looks like a fuzzy patch at this aperture. M36 and M38, the Pinwheel and Starfish clusters, were bright and well enough resolved to reveal the arms of stars that give their unique shapes. I watched SpaceX's Starlink satellites stream past those clusters but wished I hadn't.
The 10x42 SFs gave good views of brighter galaxies like M31 and M33 too.
Orion's belt region was a mass of fainter stars, even in strong moonlight, proof of the SFs' excellent contrast and pinpoint star images. Those pinpoint stars and the higher mag' make for strong star colours too – La Superba in Ursa Major looks a deep marmalade orange in these, where it's a pale gold in many 10x42s.
The 10x42 SFs were designed as birding binoculars, but they make good astronomy binoculars too, though the off-axis aberrations narrow the useful field a bit.
Zeiss 10x42 Victory SF vs Swarovski 10x42 NL Pure
<![if !vml]>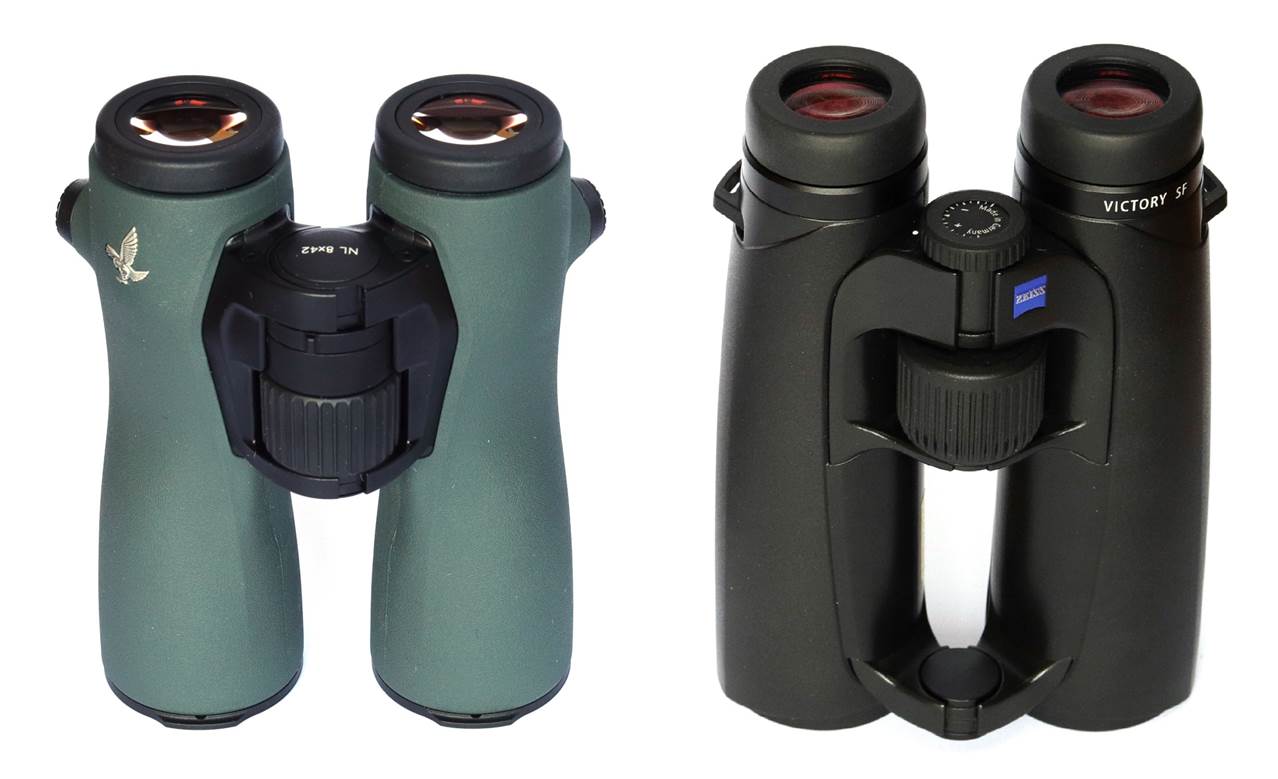 <![endif]>
This is likely to be the decision every keen birder with a generous budget is going to face sooner or later. A while back I called it for the NL Pures, but that was before I tested these new and improved SFs.
<![if !supportLists]>· <![endif]>The NL Pures are shorter, but heavier
<![if !supportLists]>· <![endif]>The NL Pures have the very best hold ever, thanks to their sculpted barrels, but the SFs are less tiring on the wrists due to their low weight and rearwards balance point
<![if !supportLists]>· <![endif]>The NL Pures have an even wider, better corrected field that is really noticeable for astronomy
<![if !supportLists]>· <![endif]>Both feature minimal false colour, the NL Pures essentially none at all
<![if !supportLists]>· <![endif]>I felt the SFs might be a touch brighter, its tones a touch cooler
<![if !supportLists]>· <![endif]>Focus action is the very best ... on both
<![if !supportLists]>· <![endif]>The NL Pures' dioptre adjustment is little better
<![if !supportLists]>· <![endif]>The SFs have slightly better eyepiece comfort – maybe a fraction more ER, better resistance to blackouts
<![if !supportLists]>· <![endif]>Stray light suppression is good in both, but perhaps a slight win for the NL Pures
<![if !supportLists]>· <![endif]>Now I'm used to it, I prefer Swarovski's Field Pro strap system
<![if !supportLists]>· <![endif]>Build quality now feels similar, but with a different vibe and the SWs just slightly ahead
<![if !supportLists]>· <![endif]>A trivial point, but I prefer the appearance of the SFs
<![if !supportLists]>· <![endif]>The SFs were already showing wear on the exposed metal in the bridge; the NL Pures are more fully armoured, perhaps for this reason
Apart from field of view, differences are subtle. Both are superb binoculars.
For astronomy I would choose the Swarovskis for their wider, flatter field that makes star fields more natural and enjoyable. For birding in this 10x42 size, I might prefer the SFs for their greater ease of view and eyepiece comfort. But it's very close. Maybe I just prefer the ones I'm holding at the time.
Summary
The management summary of the 10x42 Victory SFs is that they are my equal favourite ever binoculars, very different from but equal to Swarovski's NL Pures, especially in this 10x42 size, my pick of the bunch. Why the 10x42s? They have much better all-round comfort than the 10x32s, but a slightly better corrected field than the 8x42s.
They do have a slightly more curved and astigmatic outer field than the NL Pures and a slightly narrower field of view. But on the plus side, I felt eyepiece comfort to be superior and perhaps brightness too. And they a bit lighter to carry. I love the NL Pures' sculpted shape, but I find the long-barrelled hold and rear weight bias of these SFs very comfortable.
Compared to the original grey pair I reviewed, these are much improved – in quality, but also in function. My original gripes about the dioptre and eye cups have been fixed. Optical quality is even better in this pair.
Zeiss' 10x42 Victory SFs are my equal favourite birding binoculars with Swarovski's NL Pures. But for astronomy I would still choose the NL Pures for their wider, flatter field.
Updated by Roger Vine 2021.
<![if !vml]>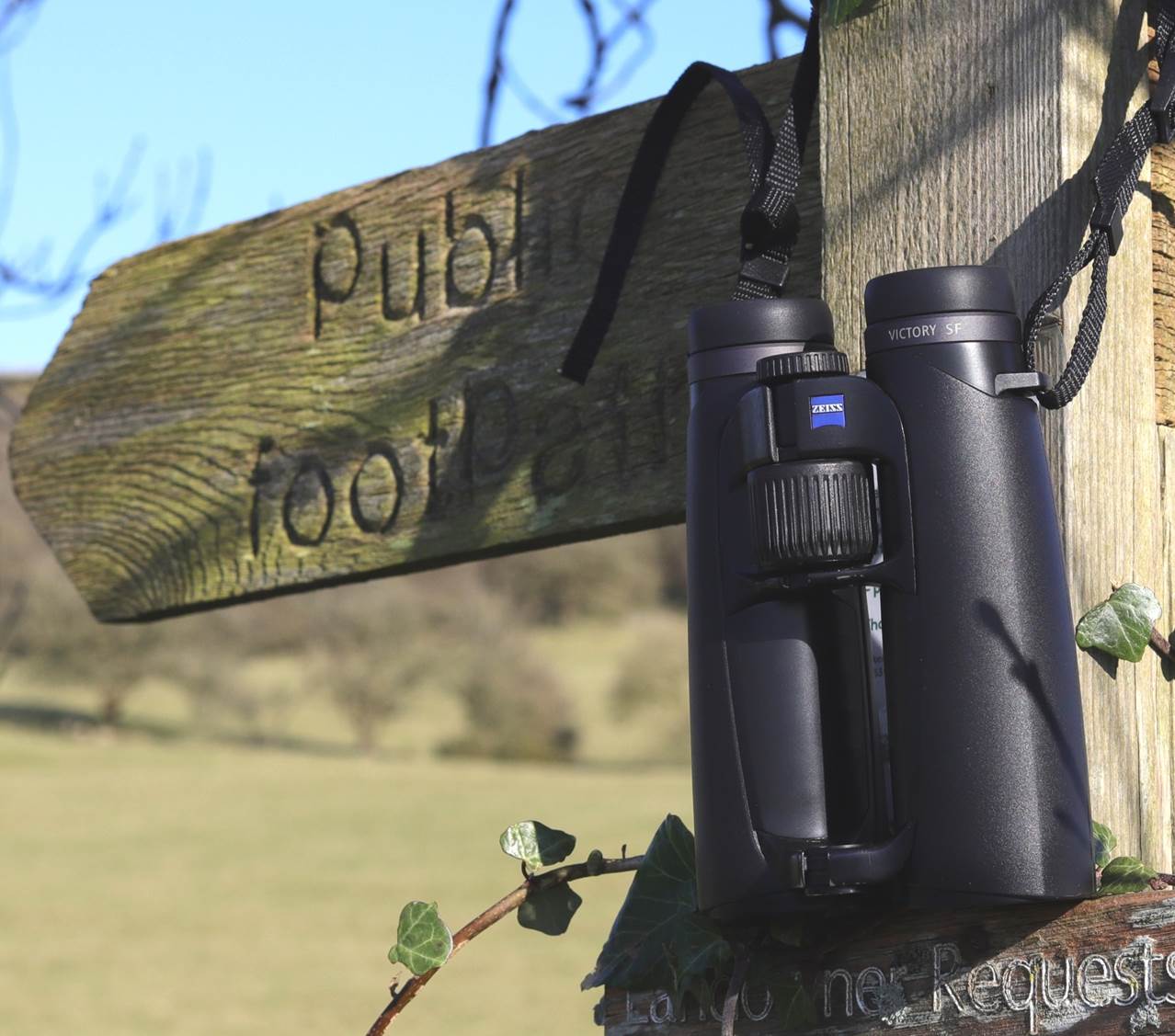 <![endif]>
Buy Zeiss 10x42 SF from Wex here:
<![if !vml]>

<![endif]>