Zeiss has a long history of making wide-field 7x binoculars with Abbe-König prisms. These Victory FL 7x42s were the last of the line: they dropped the 7x42 format with the new Victory HT range. In this review I'll explain why I think that was a mistake.
Zeiss 7x42 Victory FL Review
<![if !vml]>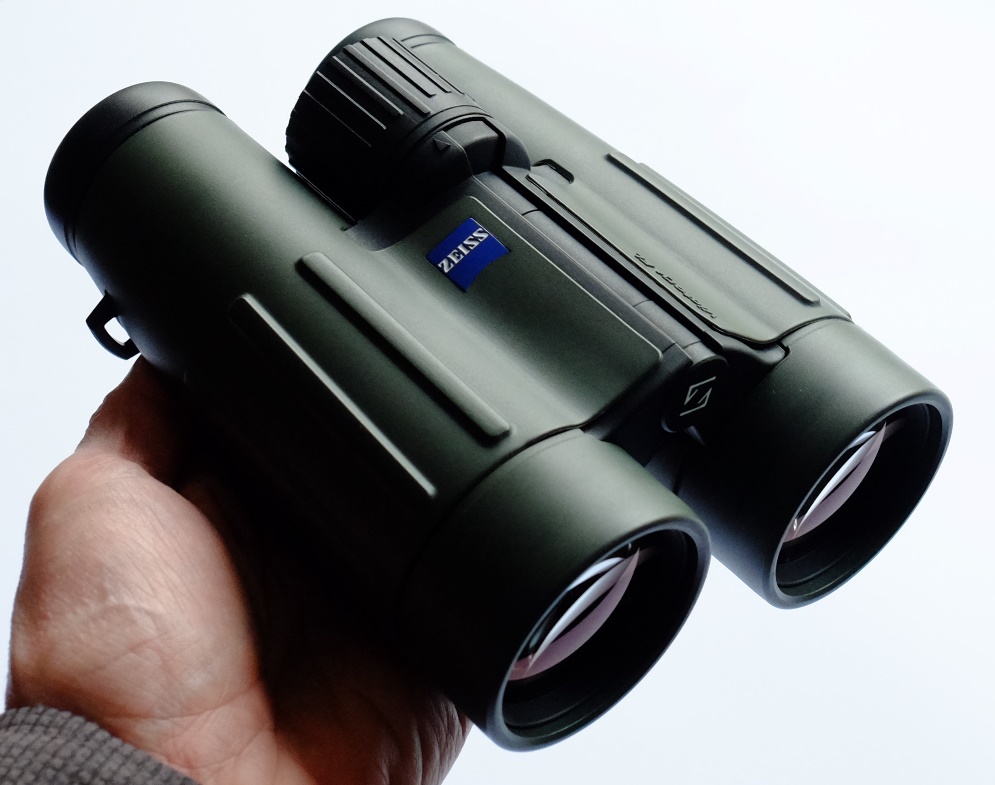 <![endif]>
In the US, binocular fashion is changing relentlessly in favour of higher powers. Bigger is of course always better. Or is it? I always thought so, until I tried a low power and was surprised at how comfortable and easy it was. The trouble is that the traditional 7x50 is big, heavy and has a narrow apparent field. These Zeiss 7x42 FLs are the opposite of that: light and compact, with one of the widest fields of any binocular.
These are not the usual test piece that passes through my hands in a few weeks. I've owned these for years, so I thought I'd update this review in the light of that long relationship. As we will see, they remain an all-time favourite and proof that fashion is great for handbags, but maybe not for optics.
At A Glance
| | |
| --- | --- |
| Magnification | 7x |
| Objective Size | 42mm |
| Eye Relief | 16mm |
| Actual Field of View | 8.6 degrees |
| Apparent field of view | 60 degrees |
| Close focus | ~2m |
| Transmissivity | ~95% |
| Length | 150mm |
| Weight | 750g |
Data from both Zeiss and my own measurements.
What's in the Box?
<![if !vml]>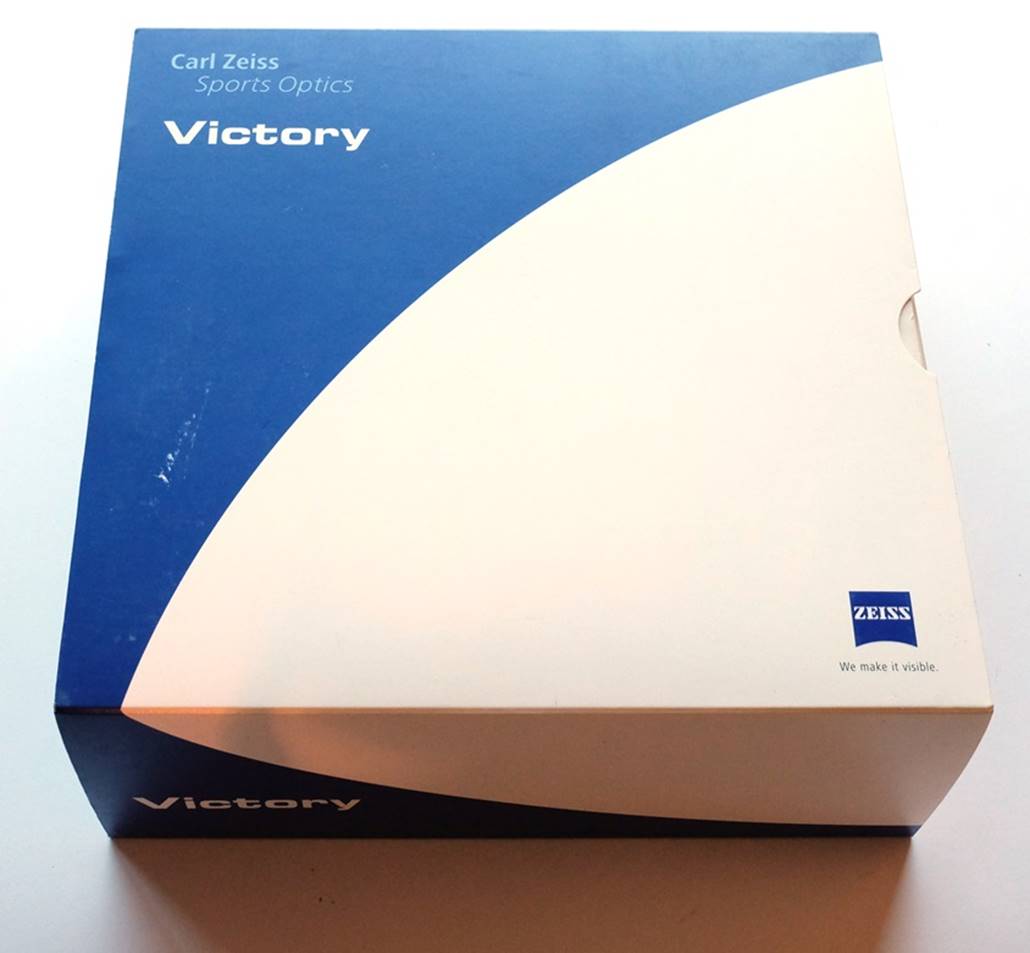 <![endif]>
<![if !vml]>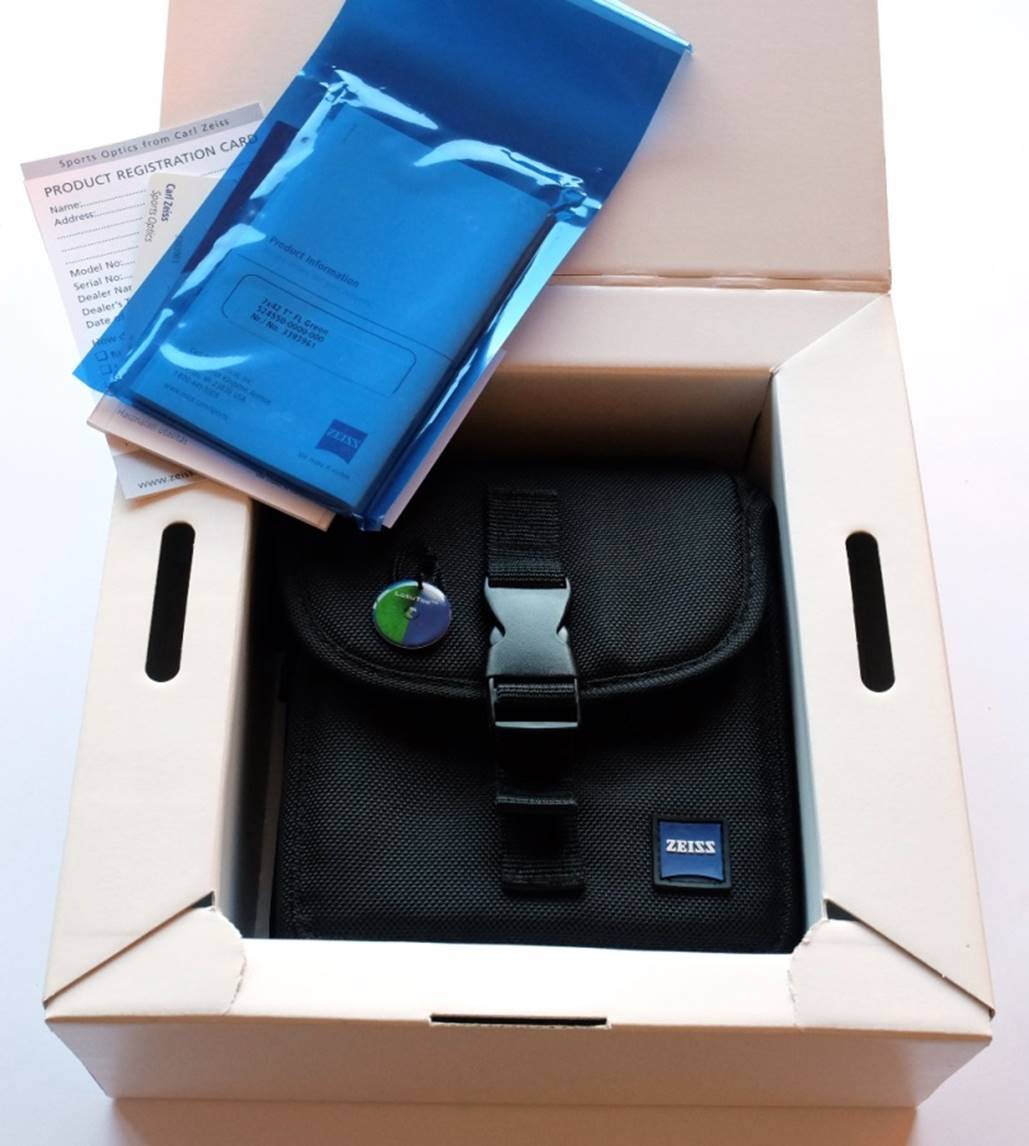 <![endif]>
<![if !vml]>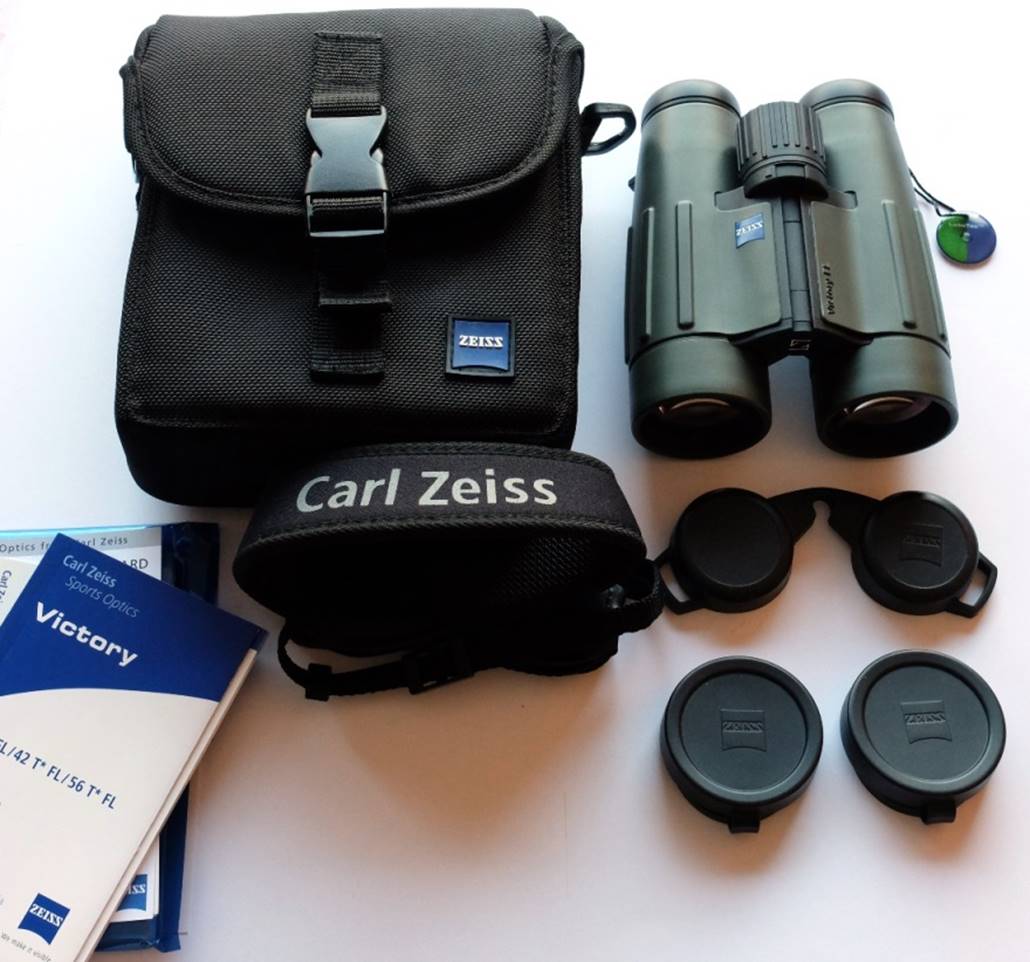 <![endif]>
Box and accessories are standard Zeiss Victory.
Design and Build
The Victory FL range was a big departure for Zeiss and a huge success. They met with almost universal acclaim and still top the list of many reviewers' favourite binoculars.
The Victory FLs were the first from Zeiss to incorporate high-fluoride glass to reduce chromatic aberration, hence the 'FL' in the name (it is equivalent of the now more common 'HD'). At the time they were Zeiss' premium range (sitting in the spot the HTs now occupy) and included a big range of models with similar underlying technology – from 8x32 up to 10x56.
The only Victory FL models remaining in production at the time of writing (early 2016) are the 32mm models. That's perhaps understandable – the 32mm Victorys are tiny and excellent and still a ScopeViews best buy, a very different beast from the HTs which are larger and heavier than the older FL equivalents (and the 32mm class is very size and weight sensitive).
In a sense, though, these Victory 7x42 FLs owe a lot to their heritage from the famous Zeiss Dialyt binoculars.
Body and Ergonomics
All the Victory FLs share a glass reinforced composite body that reduces weight and also makes them warmer to hold in cold weather. I was dubious about a premium binocular essentially made out of plastic, but mine show no signs of ageing after five years.
Another advantage of that composite body is low weight. All the Victory FLs are light for their size, but these 7x42s are among the lightest at just 750g. For reference that's 80g lighter than the newer 8x42 Victory HT and about 50g lighter than most 'alpha' 8x42s (only Leica's 8x42 Ultravid BLs and Silverlines are lighter at 695g because they have no armour).
The 7x42 Victory FLs are quite short, too: just 150mm long (compared with 167mm for the HTs). But note that other 42mm models in the range are centimetre or so longer.
That stubby plastic body with its drably functional armour looks utilitarian against the flashy appearance of the HT, but I actually prefer the styling to the newer model.
The Victory FLs' armour is usually black, but I bought these in green 'cos I like it. The armour feels solid but isn't as grippy as Swarovski's and has faded slightly, again unlike the Swaros' I own.
The Victory FLs certainly feel rugged and independent tests prove it. The respected Allbinos website conducted a big endurance test of 42mm binoculars a few years ago and the Victory FLs came top.
<![if !vml]>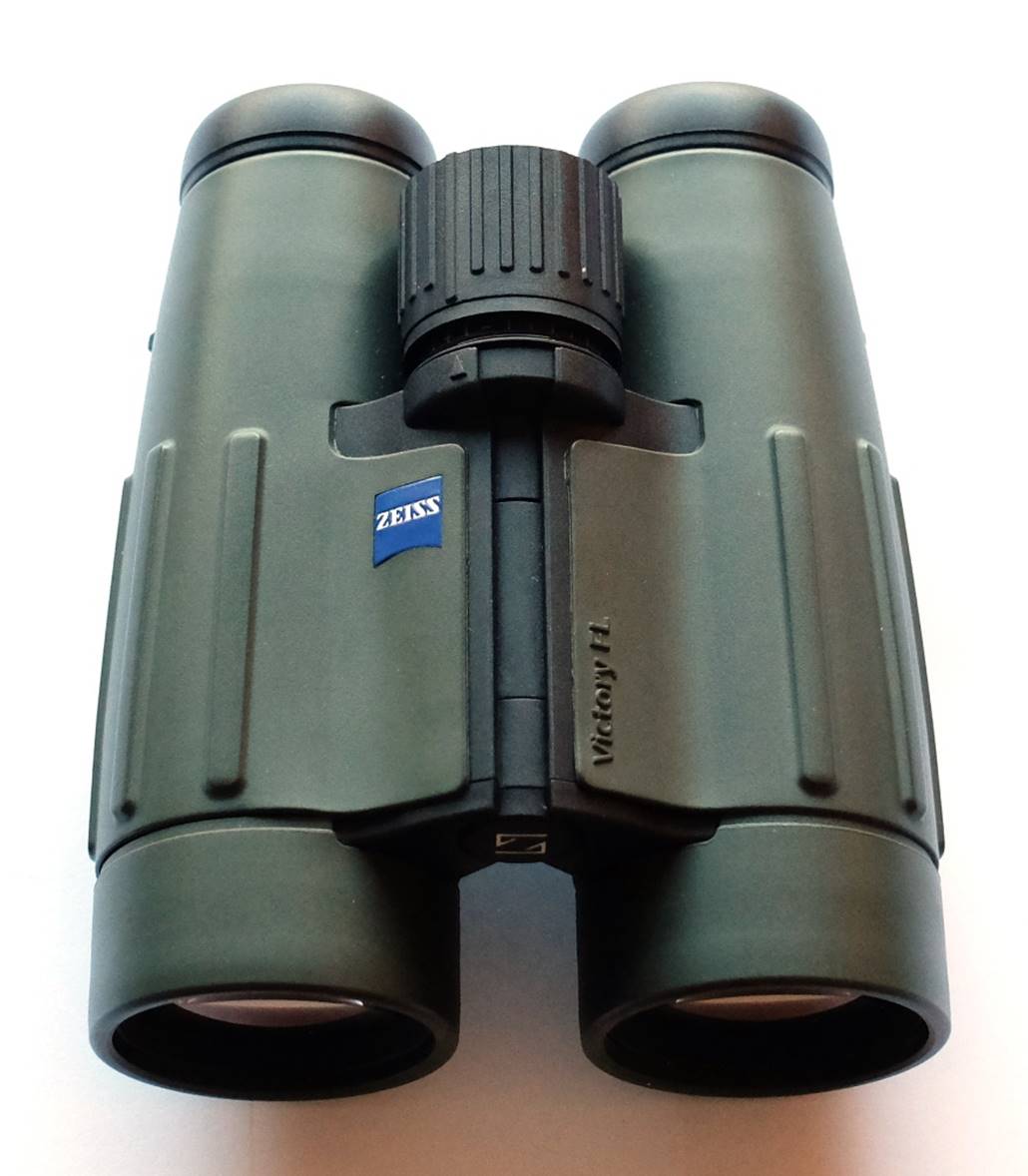 <![endif]>
<![if !vml]>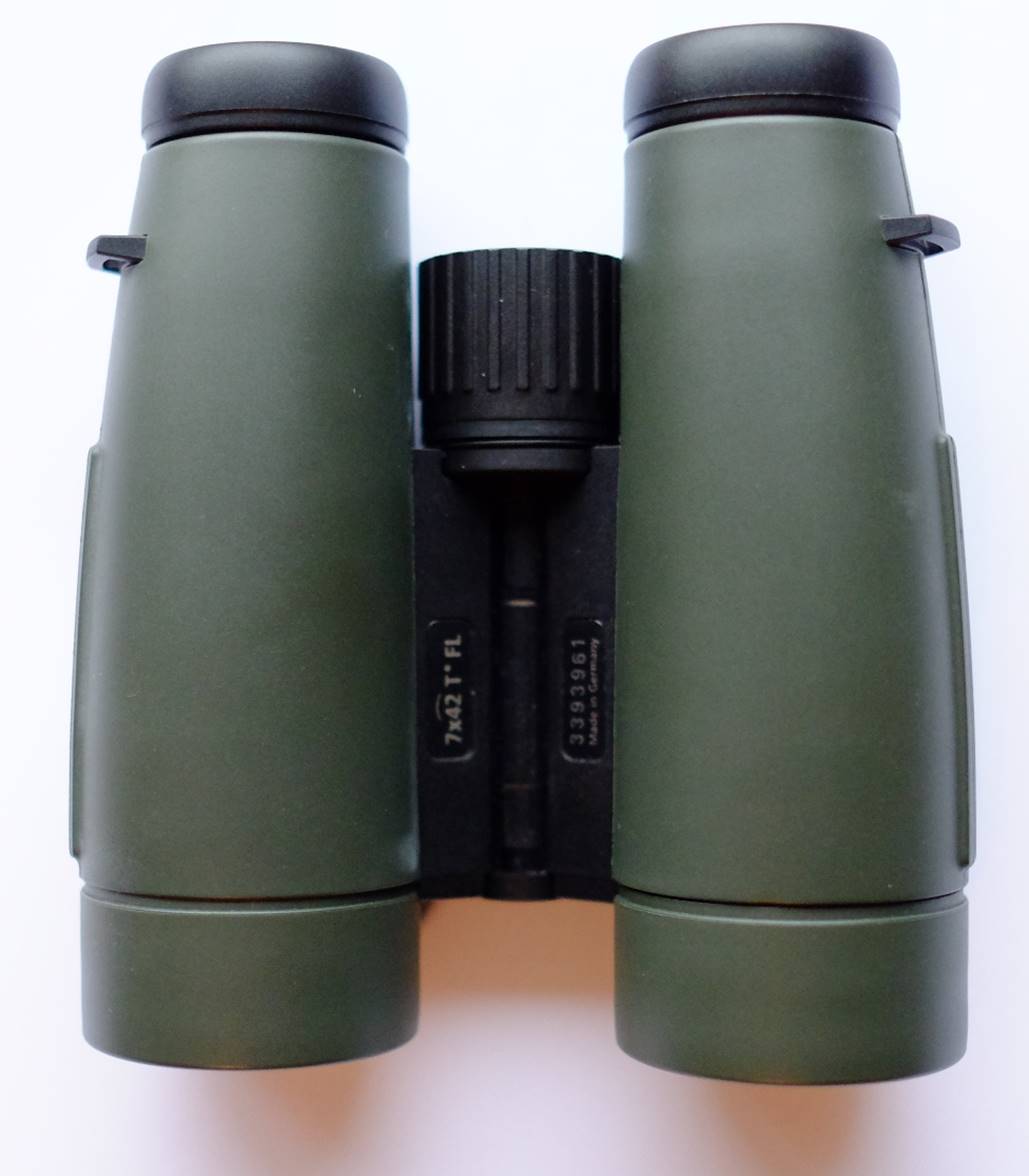 <![endif]>
Focuser
The Victory FLs have a massive chunky focuser made from black plastic to match the exposed bits of the body. Like all the exposed plastic, it scratches easily. But functionally it is excellent – as smooth and accurate as any greaseless design. The action is fast too – from close focus of just over a metre to infinity is a single turn.
The dioptre adjustment is different from Zeiss' recent designs. You pull the focus knob and it clicks out to adjust the right-eye dioptre. I prefer this mechanism to the separate wheel used on the HTs, but Swarovski's similar system is better, with a smoother action and click stops against a numbered scale.
<![if !vml]>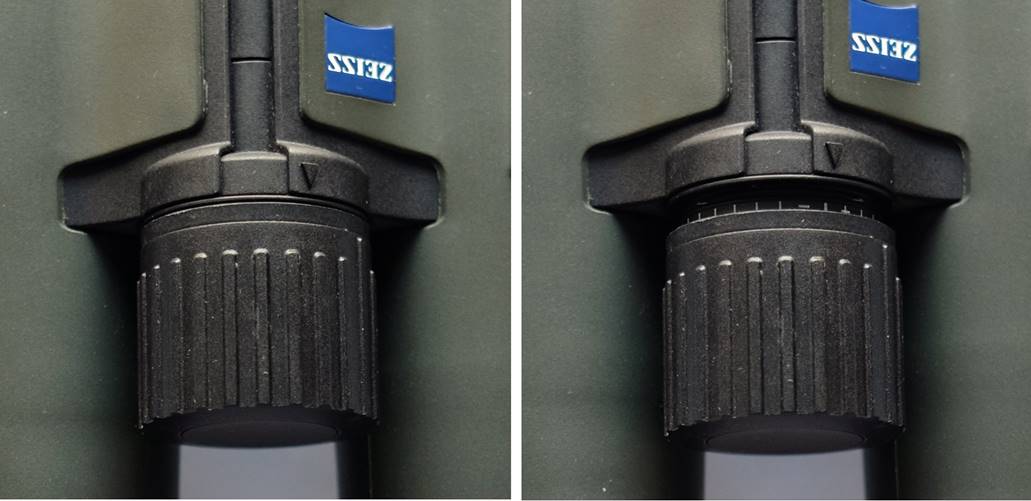 <![endif]>
Dioptre mechanism is different from the HTs' which have a separate wheel.
Optics - Prisms
The 42mm Victory FL models all use Abbe-König prisms like those old Dialyts I mentioned at the start, a type of prism that needs no mirrors and so transmits more light than the usual Schmidt-Pechan roof prisms. Note that the 32mm Victory FL models use the more conventional Schmidt-Pechan type for reasons of compactness.
Those Abbe-König prisms help give the 42mm FLs very high levels of overall light transmission at around 95% - one of the few roofs comparable with the best porros for transmission.
Optics - Objectives
The objectives are a three element plus focusing lens design that employs air gaps and at least one element made from high-fluoride glass (hence 'FL') to curb chromatic aberration (false colour fringing on high contrast areas of the view) and so improve critical definition and resolution.
The optics benefit from Zeiss' outstanding T* coatings on all surfaces. The coatings have a pinkish hue and so very good transmission in blue-green that gives a cool-but-vivid rendition of colours.
The coatings also have the dirt and water repelling technology that Zeiss call 'LotuTec', which should make them easier to keep clean.
Ridged baffles in front of the objectives help cut veiling flare. The barrels aren't baffled internally. Instead, the focuser assembly has ridges machined into it. It's a different baffling arrangement from a typical Swarovski or Leica, but seems to work fine.
<![if !vml]>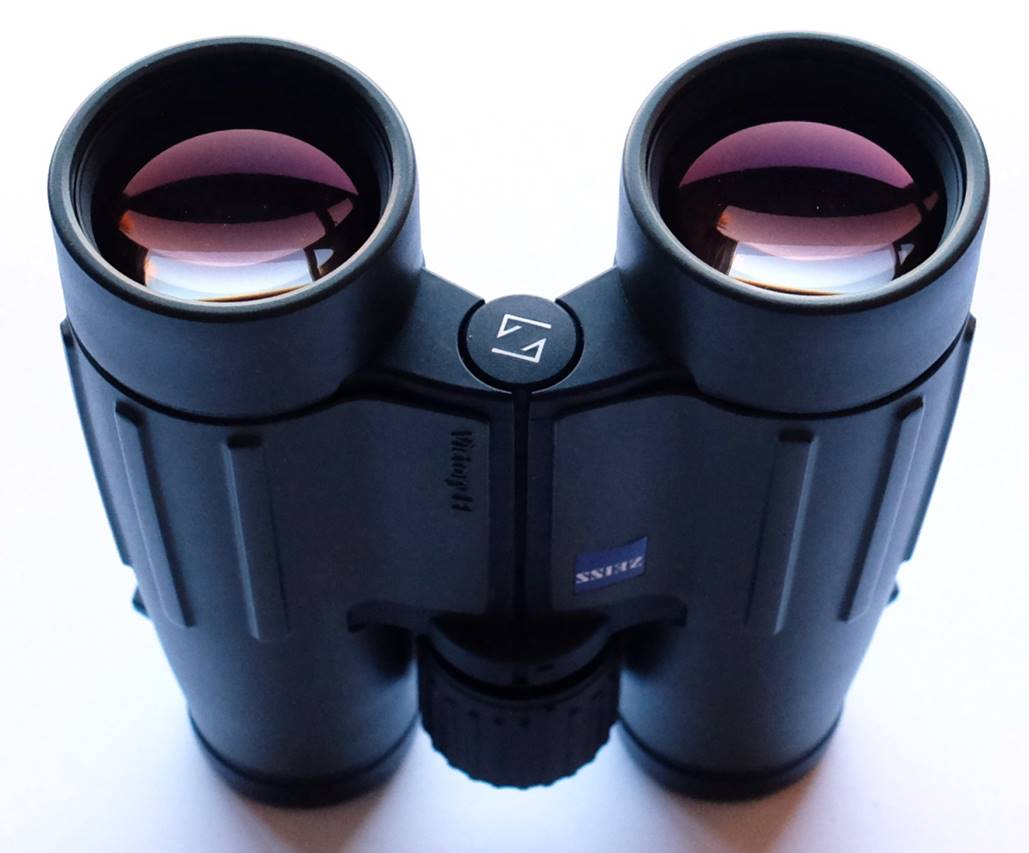 <![endif]>
<![if !vml]>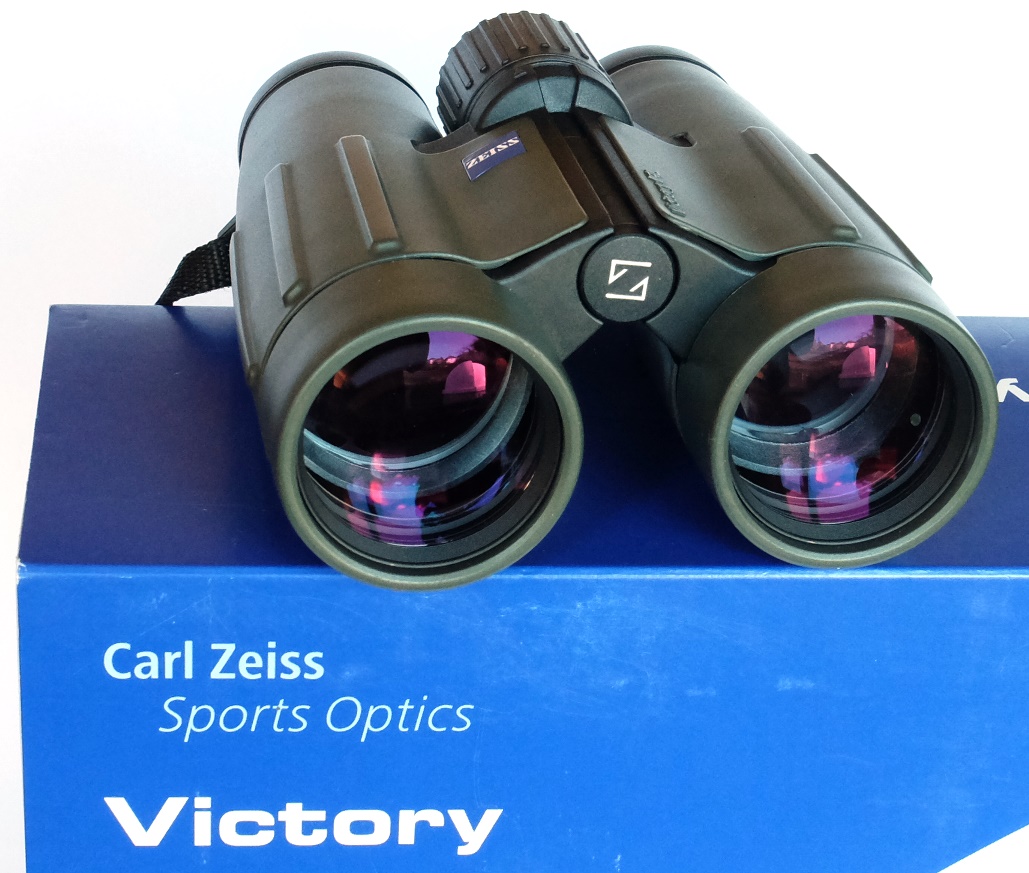 <![endif]>
Objectives are well baffled in front.
Optics - Eyepieces
The eyepieces are a five element design with a moderately large eye lens.
Eye relief is very generous and an example of the Zeiss variable millimetre (don't worry, Swarovski and Leica have them too). The brochure claims 16mm, but I measure a bit more than that from the rim of the eye cup. That gives them about three millimetres more real eye relief than a pair of Zeiss Conquests which claim to have 18mm. Does this matter? If you wear glasses it does because you can see the whole field with these Victory FLs but not with the Conquests.
One area in which the FLs' optics excel, even on paper, is field of view. In general, 7x binos have low apparent fields of 50° or less, but the FLs have a 60° apparent field that, whilst still a little less than others in the line, delivers a whopping 8.6° true. That's about the widest true field of any premium binocular I am aware of.
Blackouts are not a problem unless you get the eye-cup setting wrong and fortunately there are three extended eye cup positions to choose from. The eye cups work well and have a positive click-stop at each setting. They're much better than the cheap ones used on Conquests and much the same as the newer HTs'.
<![if !vml]>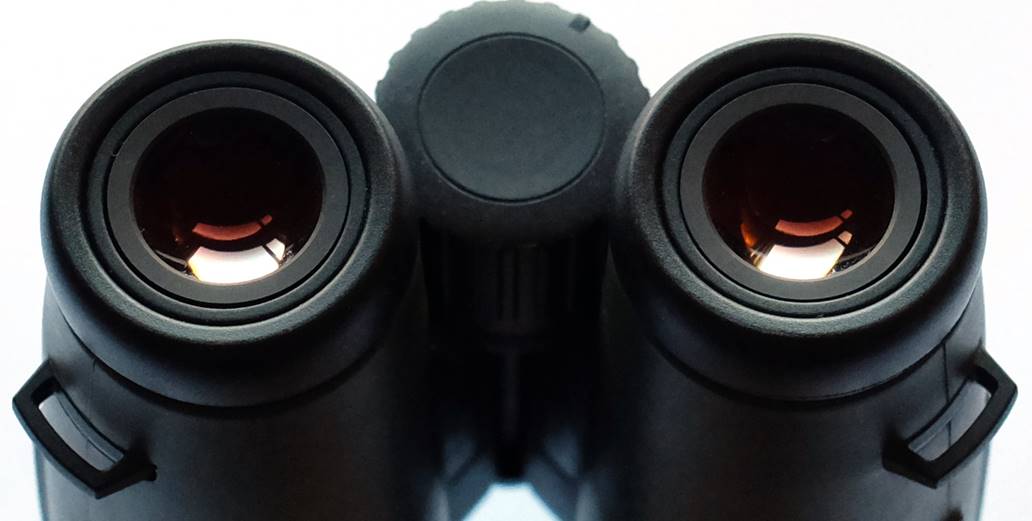 <![endif]>
<![if !vml]>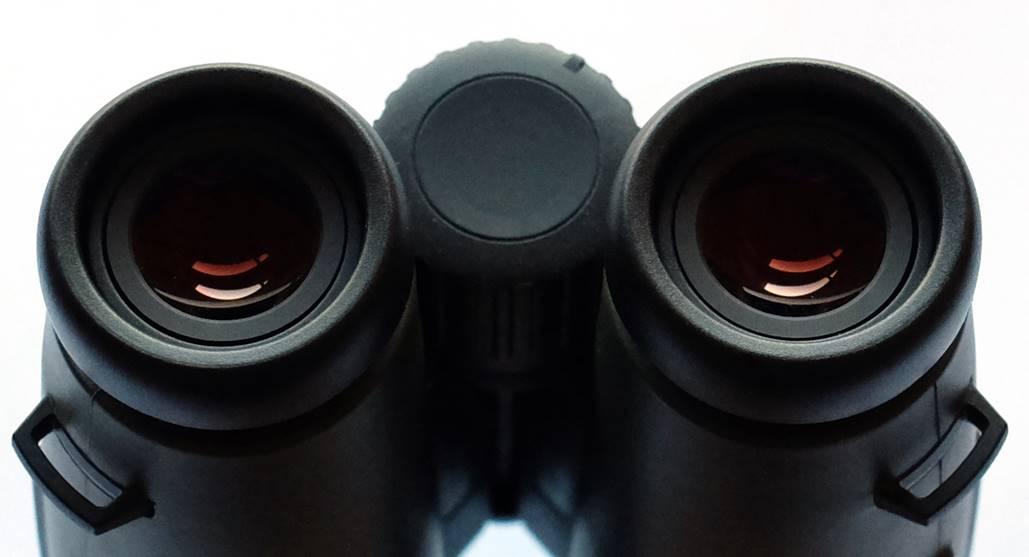 <![endif]>
<![if !vml]>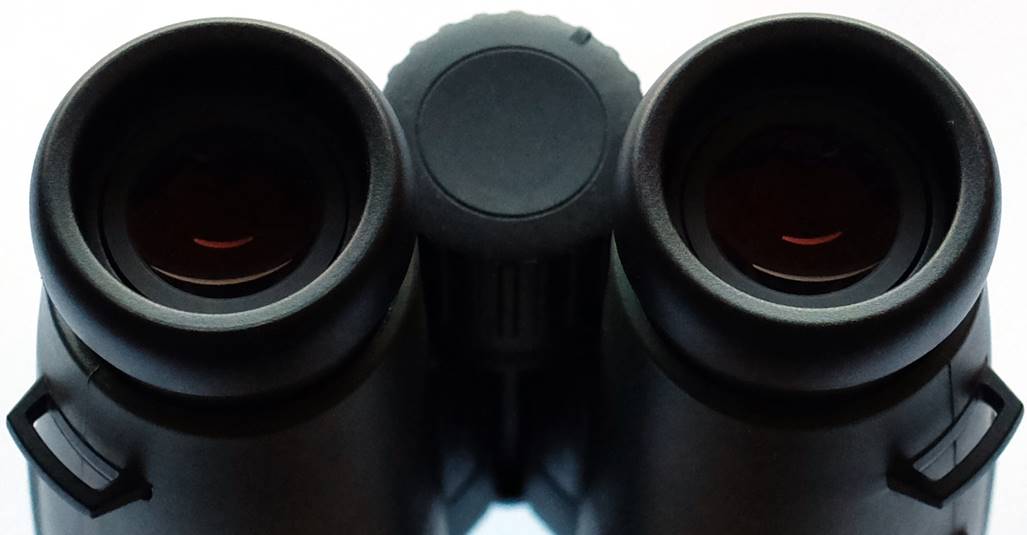 <![endif]>
<![if !vml]>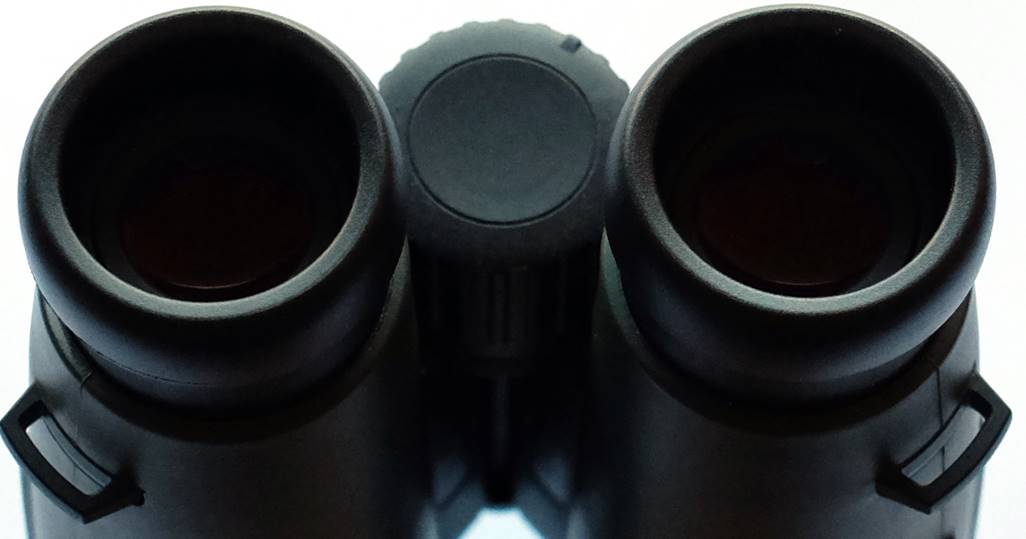 <![endif]>
Multi-position eye cups are usual Zeiss premium: same as HT and better than Conquest.
Accessories
The Victory FLs come with the rather basic cordura case you get with all recent Zeiss binoculars. The objective caps are of the rubber band-on variety and the strap is the standard Zeiss item too.
<![if !vml]>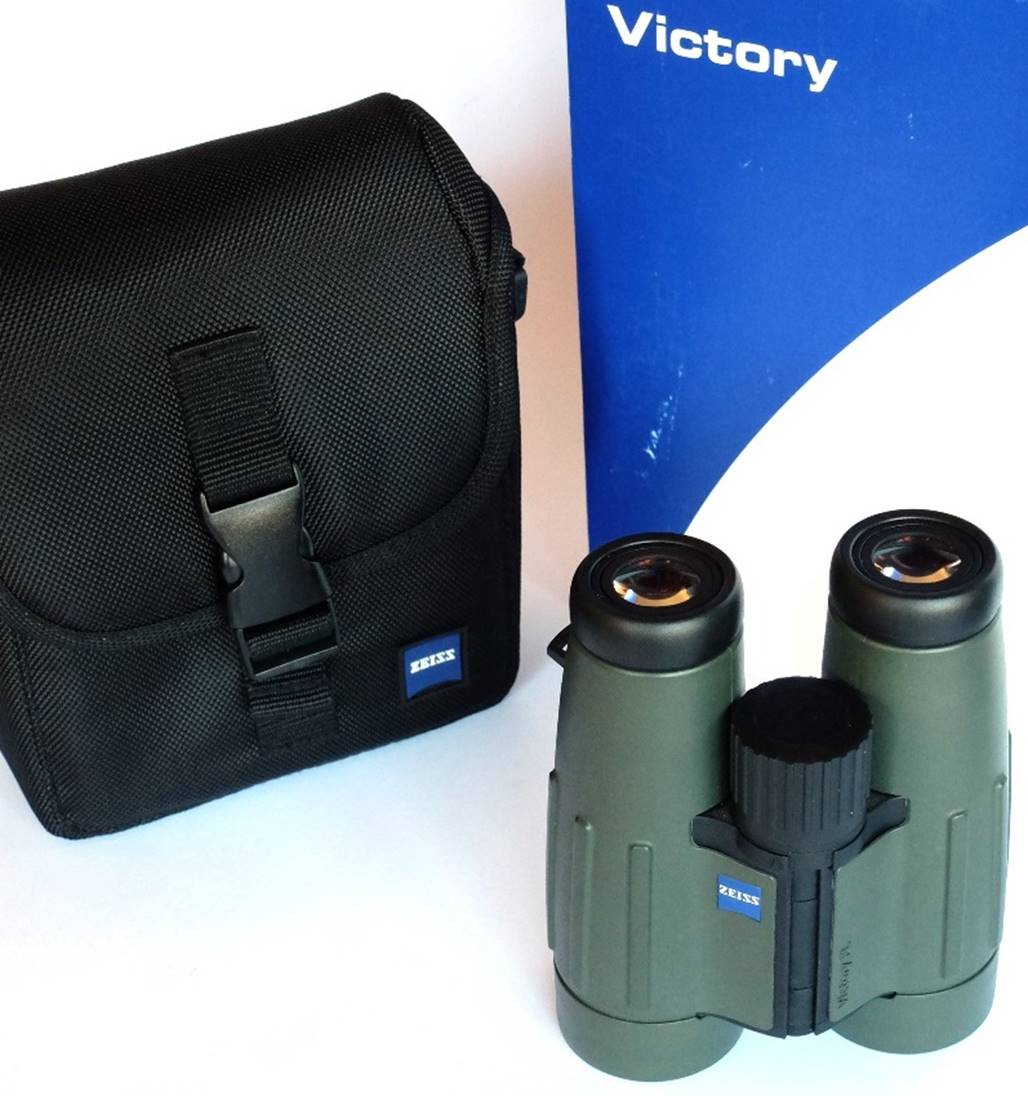 <![endif]>
<![if !vml]>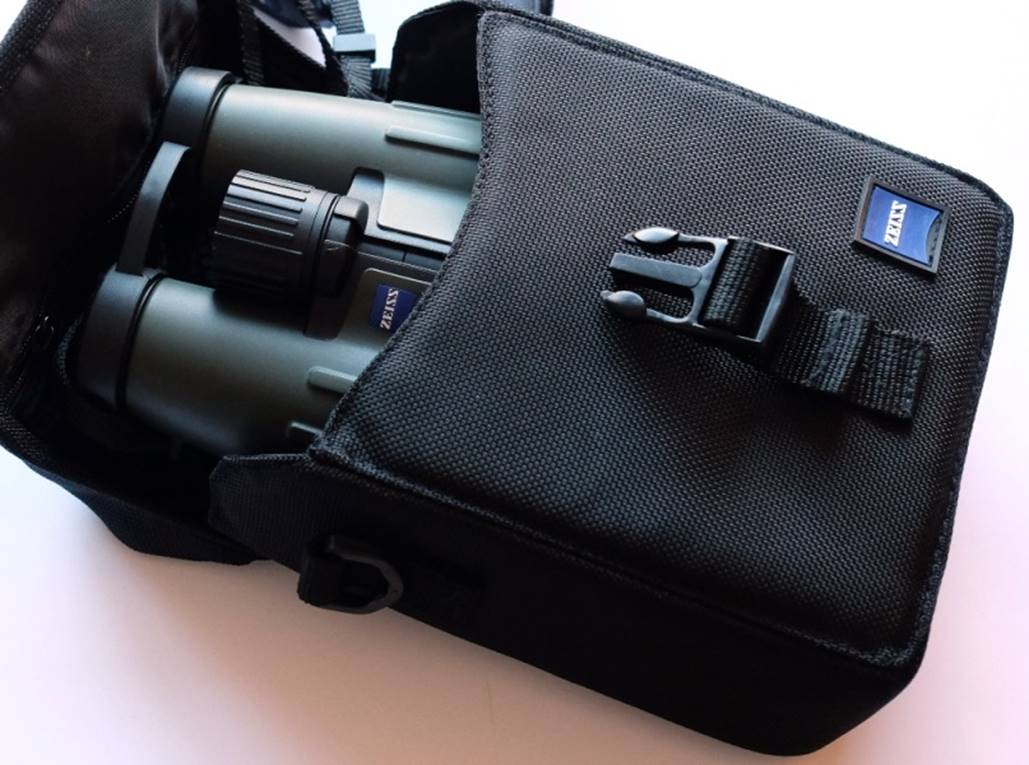 <![endif]>
<![if !vml]>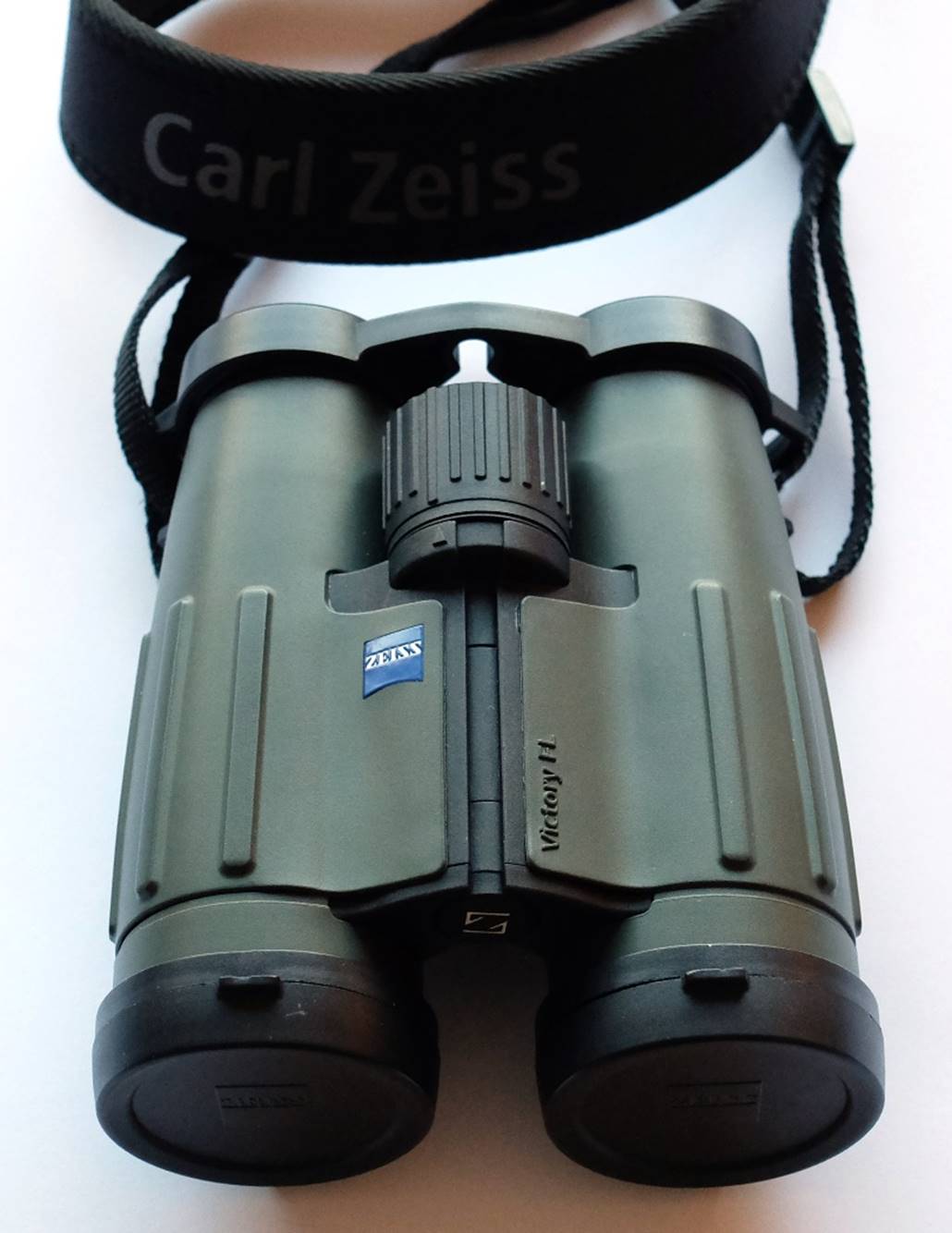 <![endif]>
In Use – Daytime
Ergonomics and Handling
Handling of the Victory 7x42s is pretty much perfect for me. They fall very nicely to hand, with their tapering shape and good balance, so that they are relaxing to hold and the focuser is in just the right place. The light weight and warm, ridged armour make them comfy for extended periods of use in cold weather.
The focuser has a light and smooth action. The same is not true of the dioptre mechanism – the system is a good one, but here it is too stiff and would be better with a click-stop scale like Swarovski's (it only clicks at the neutral position).
Eyepiece comfort is among the very best with lots of eye relief and good eye cups with plenty of adjustment. Accurate collimation and perfect optics make for a particularly strain-free view, with the low power helping too.
I like the fact you can roam your eyes around the view without moving the binoculars. This may have to do with the large exit pupil, but is also a result of eyepieces that are resistant to "blackouts" – in technical terms they are well corrected for spherical aberration of the exit pupil.
The curved field has the advantage of very comfortable panning. That and the wide and deep view encourage you to keep these held up to your eyes longer than any binoculars I know.
These Zeiss Victory 7x42 FLs are light enough to wear for an extended period, but not quite enough for me to take them hiking on a regular basis. They look compact and unobtrusive hanging around the neck, but aren't a stylish binocular (at least to me).
<![if !vml]>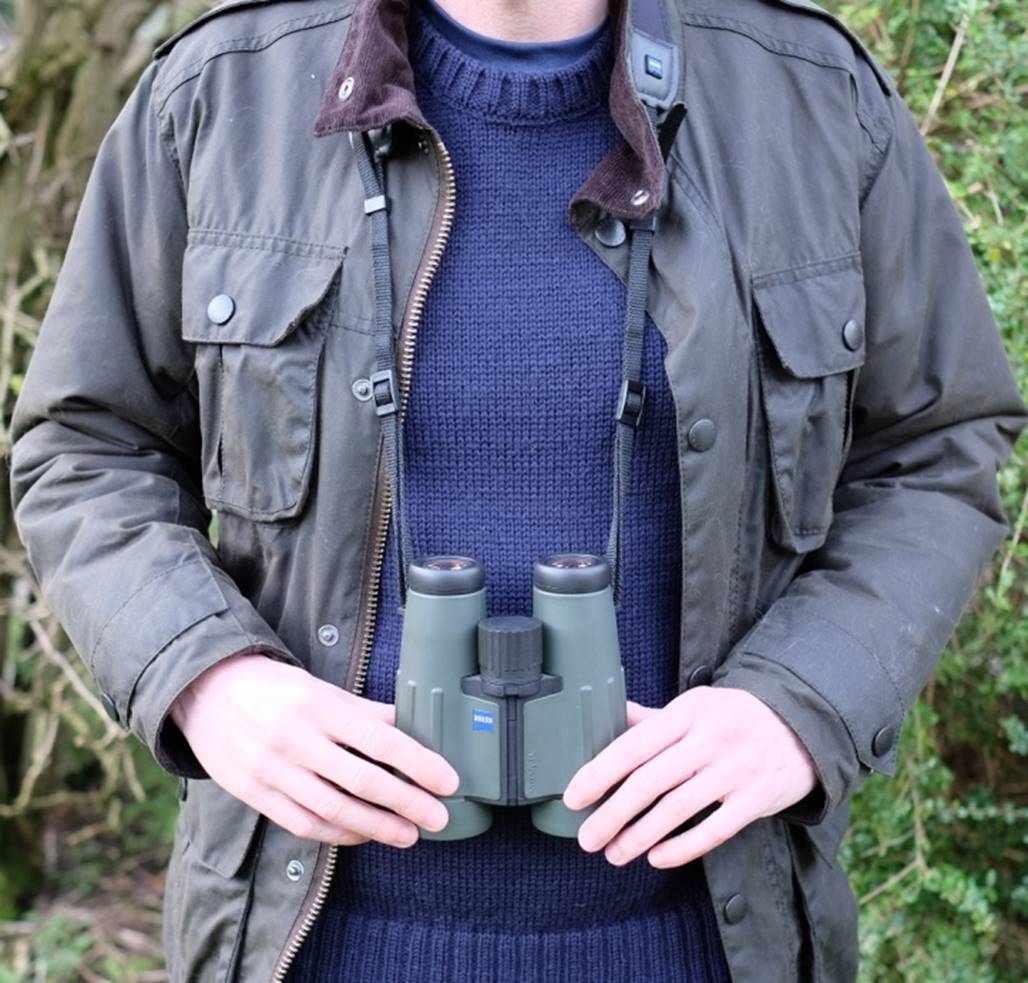 <![endif]>
The View
Five years on and many pairs of binoculars later, the view through these 7x42 Victorys is still among my very favourites.
For a start the view is one of the very brightest. It must be those Abbe König prisms and T* coatings. But the good stuff doesn't end with brightness.
The view is just easy – wide, detailed, virtually free of chromatic aberration, full of vibrant colour. Because the low magnification reduces shakes, it's a very comfortable view too. You can relax and just look and look, without any strain at all. When I switch to higher powered binos, the first impression isn't of more detail, just of a much narrower, much more jiggly view. Even compared to the smaller FLs (the 8x32s), the view is wider and brighter and easier. For me, being able to take in more at one go is often nicer than being closer. For birding that means enjoying a whole flock of pigeons taking flight from the copse opposite, rather than just a few at a time.
Unlike some wide field binoculars with low powers, these have an absolute focus snap, a sign of good optics. But you don't need to refocus much anyway, because another great feature of these binoculars is the depth of field, which is outstanding – from perhaps ten metres to infinity is in focus at once, even for my ageing eyes.
Despite the low magnification, resolution is really outstanding. Superb optical quality, lack of chromatic aberration and (paradoxically) the steadiness of the low power, all help. It's possible to see minute detail – winter branches a mile away.
Colour reproduction is generally excellent, too – quite cool in tone, but vivid. Only pink sunset clouds suffer a bit from the blue-green centric transmission curve.
Flat field?
The field has a large perfect sweet spot, but the field does curve off a lot at the very edge, where it is only good for context. This typical of most Zeiss binoculars.
Chromatic Aberration
The high-fluoride optics deliver false-colour free views under most circumstances. Only extremes of contrast – black feathers against a bright cloudy sky – show just a residual trace of false colour. Even the very latest HD designs struggle to better the FLs in this respect.
I've said it before: the absence of CA really makes a difference to the comfort and naturalness of the view when scanning tree-tops or hedgerows, anywhere with a lot of contrast. Even the best ordinary bino's (e.g. Nikon HGs) coat branches and feathers with a thin line of yellow or green or purple which isn't really there, edge rooflines with a shimmering edge as if they were glass-plated.
In Use – Dusk
The large exit pupil and high transmission optics give these outstanding dusk and night performance, with a strong 'light intensifier' effect, even in Moonlight. The steadiness of the view and the great depth of field help in low-light as well.
To substantially better the dusk performance of these you'll have to go to 8x56s or 10x56s (depending on your age – your pupil dilates less as you get older), but they will have a narrower, shallower field and be much heavier and bulkier.
In Use – The Night Sky
As expected of a premium binocular, the Victory FLs show exemplary star images on-axis – very bright and tight and strongly coloured, but without false colour or other aberrations.
On a really dark, clear sky, the combination of 42mm objectives, ultra-high transmission and a very wide field mean these must pack more Milky Way stars into the view than just about any other telescopic device.
Suppression of veiling flare when working around a bright light or the Moon is exemplary and ghosting is almost perfectly suppressed too, even on a bright security light.
The Moon
You wouldn't choose 7x for looking at the Moon because it's too low to show much detail. But aesthetically the Moon is lovely through the FLs – a cold, blazing and hard marble. The wide field is great for watching the Moon in context – rising over a mountain or drifting through tangerine-tinted ice clouds on a frosty night.
I used the FLs from the comfort of my living room armchair to enjoy a recent lunar eclipse, where they rendered the changing hues perfectly with no false colour.
Venus
The magnification is too low to show Venus as other than a dazzling star, but the Victory FLs don't generate any nasty spikes or flare.
Jupiter
The Victory FL 7x42s reveal Jupiter as a perfect tiny disk and easily pick out the Galilean Moons as pin-point stars around it.
Deep Sky
Deep sky is the 7x42 FLs' real forte, but they do need a dark sky to give of their best, because a low power accentuates any sky-glow from city lights.
Given a dark sky, the field is so wide that you can just sweep from one constellation to another, looking for deep sky objects, without getting lost.
The low power means that they are best for diffuse DSOs, like M31 and the North American Nebula (of which they've given my best ever binocular view), but they have a surprising ability to find smaller DSOs too. I managed to find the Crab Nebula (M1) and the Dumbbell Nebula and several globular clusters.
Zeiss 7x42 Victory FL vs Zeiss 8x32 Victory FL
<![if !vml]>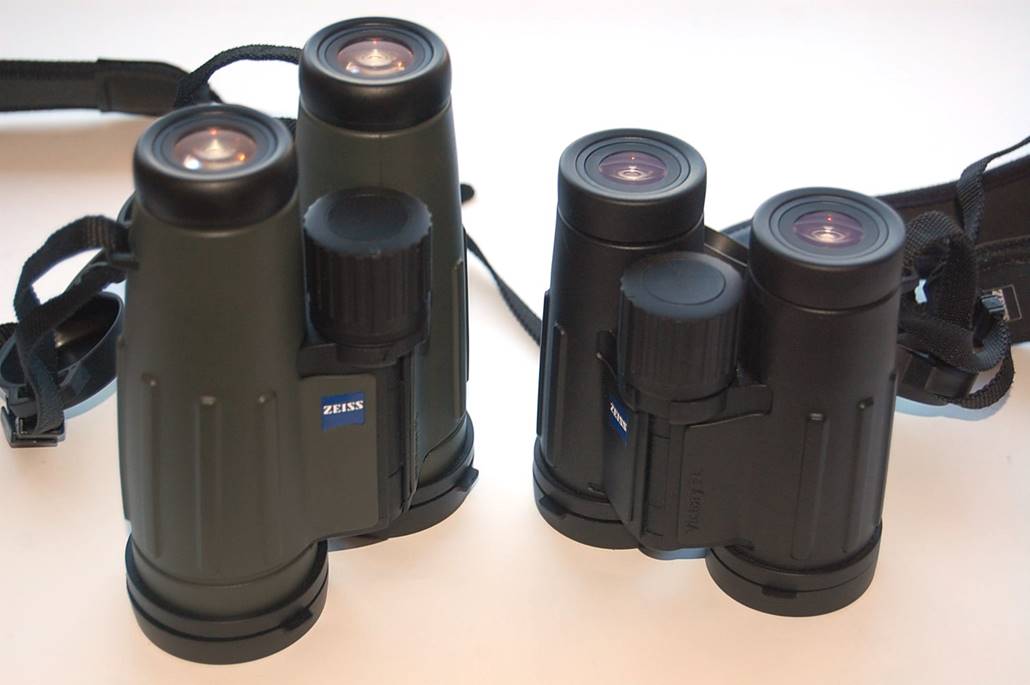 <![endif]>
Are the still-available Zeiss Victory 8x32 FLs a good alternative to these now-discontinued 7x42s? I'll go through a point by point comparison to find out.
<![if !supportLists]>· <![endif]>The view and handling of these two fine binoculars are really very similar, as you would expect.
<![if !supportLists]>· <![endif]>The 8x32s are 200g lighter and 33mm shorter.
<![if !supportLists]>· <![endif]>During the day, the 7x42s are noticeably brighter due to the Abbe-König prisms.
<![if !supportLists]>· <![endif]>The 7x42s have a more comfortable, steadier view due to the lower power and wider field.
<![if !supportLists]>· <![endif]>At night, the 7x42s are a lot brighter due to their larger objectives, so the 7x42s are much better for dusk or astronomical use.
<![if !supportLists]>· <![endif]>Resolution and comfort are similarly outstanding aspects of the view in both.
<![if !supportLists]>· <![endif]>The 7x42s have a bit more eye relief. You can't quite see the whole field with glasses and the 8x32s, but they're still one of the very best 8x32s for those of us who view with spectacles (most 8x32s are short on eye relief).
<![if !supportLists]>· <![endif]>The focuser is identically fast and smooth on both.
<![if !supportLists]>· <![endif]>The 7x42s have a touch more chromatic aberration.
<![if !supportLists]>· <![endif]>Depth of field is substantially greater in the 7x42s.
<![if !supportLists]>· <![endif]>I slightly prefer the view through the 7x42s overall, day or night – it's just so wide and bright and sharp, yet steady and easy.
Summary
In my view these Zeiss Victory FLs represent the Zeiss brand at its good old-fashioned best: a compact, light and rugged, but utilitarian, device with superb optics and mechanicals.
I am unaware of a low-power binocular with better characteristics than these. The view is ultra-bright, pin-sharp and false-colour free. The field is wide and very deep, but does curve off at the edges. Handling is excellent with that warm-to-hold composite body. The focuser is excellent, too, with a big wheel that's quick and smooth to spin even with gloves. During the day, their comfort and ease of view is hard to beat.
Outstanding in difficult terrestrial conditions way into dusk, the Zeiss 7x42s excel at astronomy too: they're not ideal for picking out small DSOs and they need dark skies, but their bright-and-wide views of whole constellations and star fields is unrivalled.
I struggle to understand why Zeiss dropped the 7x42 – for most terrestrial situations I just prefer that steady wide, deep view to anything else. For astronomy under dark skies they have a unique appeal, too.
Zeiss' 7x42 FLs remain very highly recommended, but for astronomy only under dark skies.
<![if !vml]>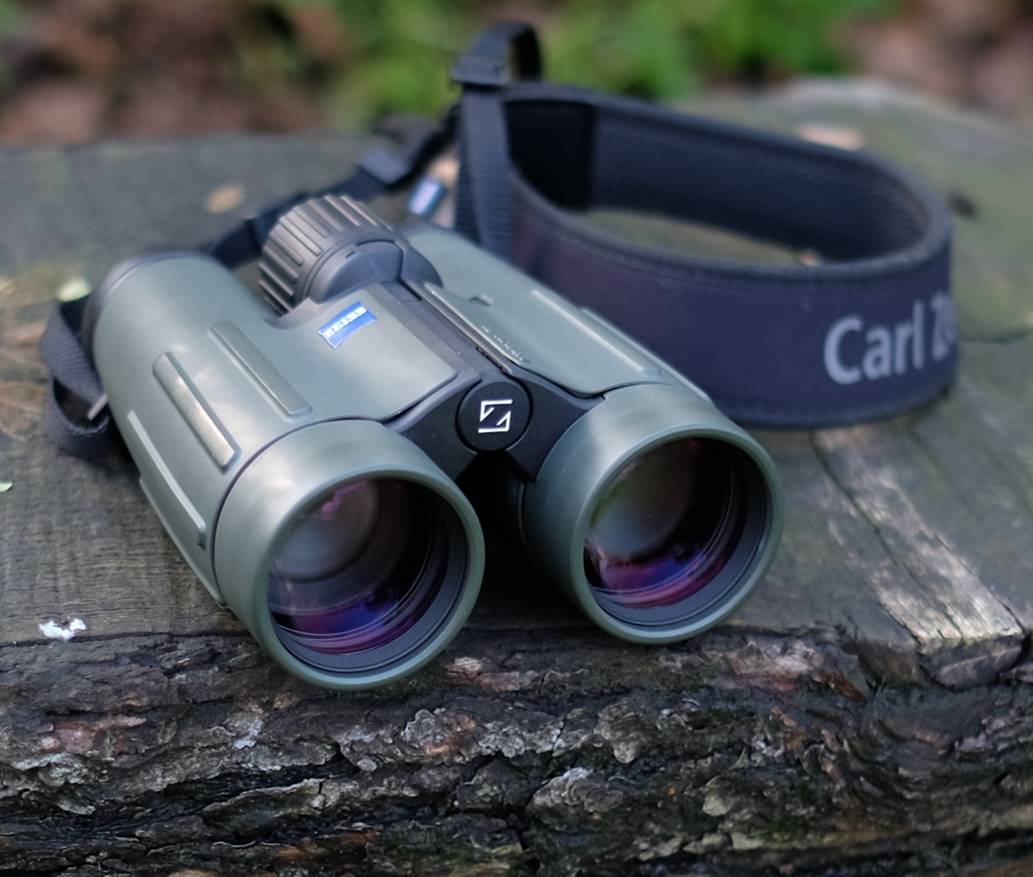 <![endif]>