Folding binoculars are usually compromised by a narrow, dim view and fiddly handling. Are these new Zeiss Victory Pockets any better?
Zeiss Victory Pocket 8x25 Review
<![if !vml]>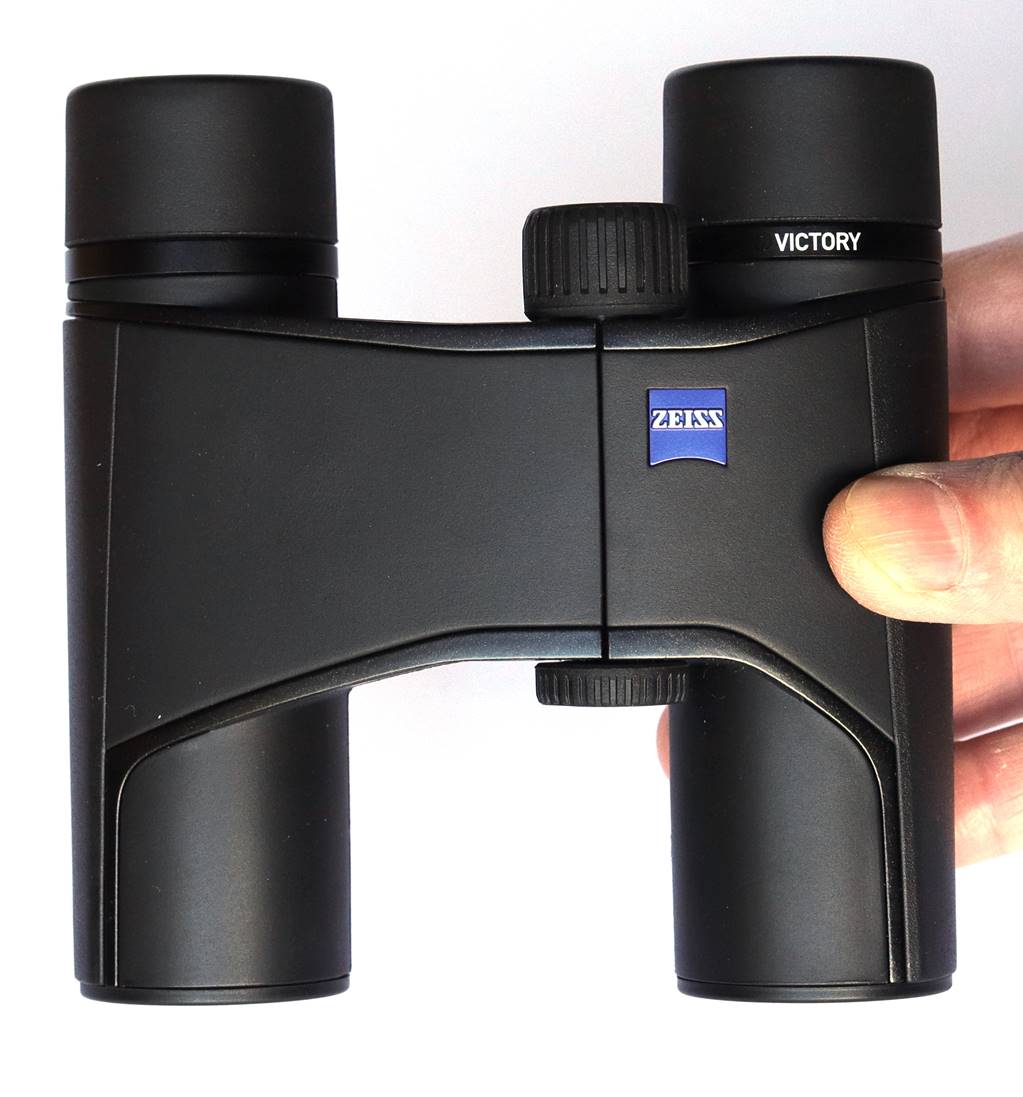 <![endif]>
I've owned several pairs of 8x20 folding binoculars over the years, taking them hiking and travelling. I used them a lot. But then I started to realise how compromised they were, even the best (which at that time were Nikon's HGLs and Zeiss' previous Victorys).
Yes, they were super compact and gave a decent view in bright conditions, but still the view was narrow and the eyepiece comfort compromised by lack of eye relief. The narrow strap cut into my neck more than their light weight promised.
The killer problem, though, was performance in low light. On rainy days or in the understory of forest or woodland they were dim indeed. Forget astronomy (apart from the Moon).
Then a few years ago, a new size started to appear – 8x25. Not a radical innovation maybe, but with much greater light gathering potential than the old 8x20 format. The latest Alpha brand to launch a folding binocular in this size is Zeiss with these Victory Pockets: expensive, but with spec's that seem to defy the mini-bino' norm. So I thought I'd get hold of a pair to see if folding bino's have improved.
At A Glance
| | |
| --- | --- |
| Magnification | 8x |
| Objective Size | 25mm |
| Eye Relief | 15-16mm measured (16.5mm claimed) |
| Actual Field of View | 130m/1000m (~7.6°) |
| Apparent field of view | 60° |
| Close focus | ~1.5m measured (1.9m claimed) |
| Transmissivity | 91% |
| Length | 112mm |
| Weight | 290g claimed |
Data from Zeiss/Me.
What's in the Box?
This pair didn't come boxed, but the carton shares its look with the rest of the Zeiss Victory line:
<![if !vml]>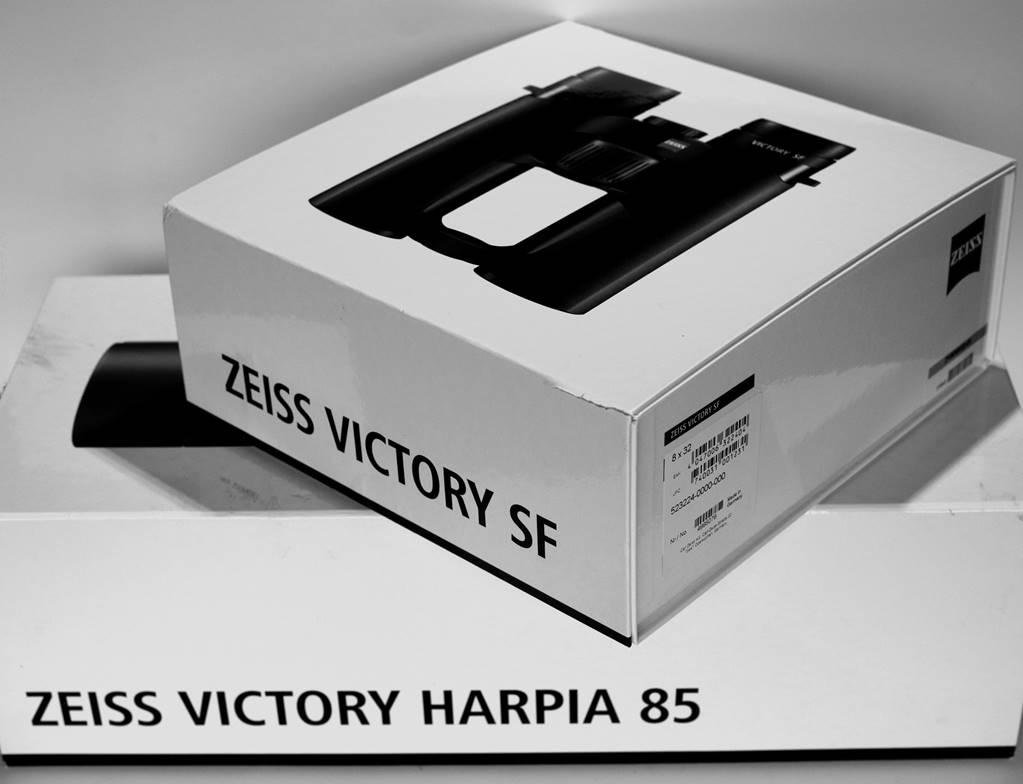 <![endif]>
Zeiss' Victory line now shares a common look for its boxes.
Design and Build
Zeiss' 'Victory' range now embraces all their top-line products, including the Harpia spotting scopes and SF birding binoculars, as opposed to 'Conquest' – their midmarket (by Zeiss standards) sub-brand.
So, by calling their ultra-compact folding binoculars 'Victory Pocket' they're setting up an expectation of premium quality and design. This is interesting, because the outgoing folding model was also labelled Victory, but though it had excellent optics I didn't find its 'Made in Hungary' quality up to a truly premium product.
For the new Pockets, Zeiss has opted for outsourced manufacture again – this time from Japan. This is slightly surprising, because the rest of the Victory line are Made in Germany (the Conquest Gavia spotting scope is Japan made too, though).
As we'll see, build quality is now excellent with premium touches the previous model lacked, but it leaves Swarovski's compacts the only ones from the top three still made in the same factory as their top-line bino's. Does this matter? Perhaps it does, if you worry about sustainability. When I returned my previous Zeiss Victory compacts for repair, they just sent back a new pair.
The Pockets are available in the usual 10x25 format, but with the old 8x20 replaced by the 8x25s on review here, following Swarovski's lead.
<![if !vml]>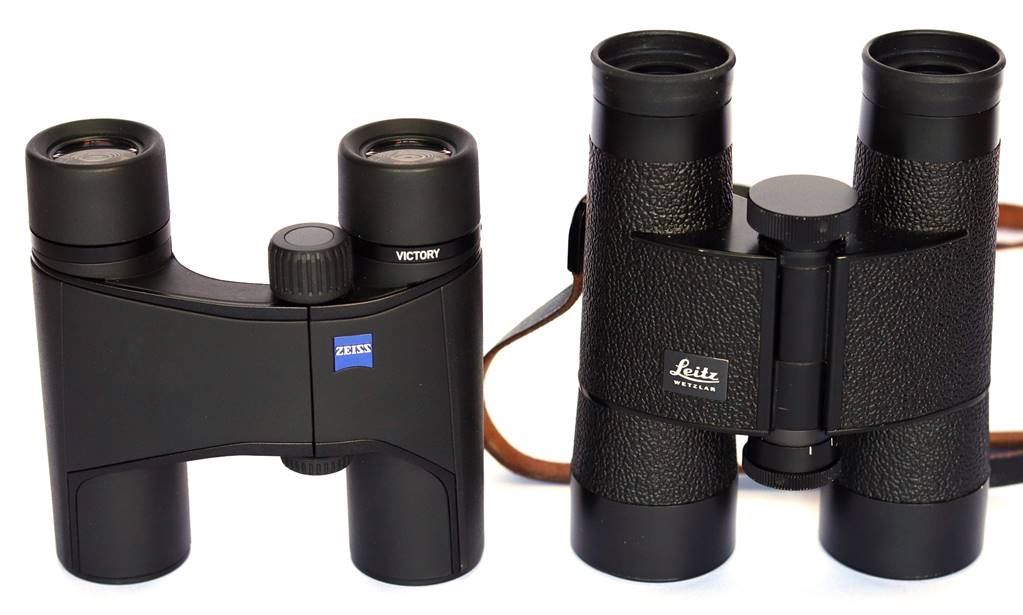 <![endif]>
The Victory Pockets are large for a folding design, still smaller than the most compact 'full-sized' bino's (here Leitz/Leica's 7x35 Trinovids).
<![if !vml]>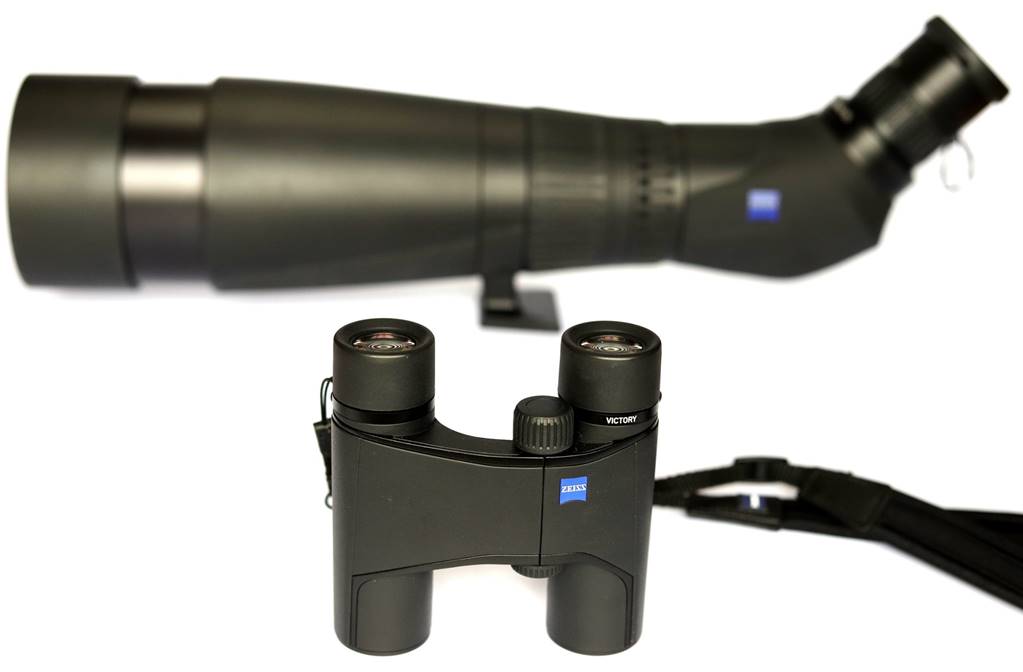 <![endif]>
Victory range encompasses Zeiss' premium bino's and scopes (like this Harpia 95).
Body
The new Victory Pockets have the same basic (and unique) design as the outgoing model, with an unusual single, asymmetrically hinged body. As before, this looks plain odd if you're not used to it.
This odd design does mean that they handle more like 'proper' bino's in some ways, with just one fold point and the focuser set on the hinge as usual, rather than in the centre of the bridge.
Whatever the rationale, the single hinge does mean that these don't fold up as small as some, with the hinge projecting from the folded barrels. It also means that the focuser and dioptre knobs are offset.
The Victory Pockets look superficially just like the outgoing model, but closer inspection reveals higher quality finish with two-texture armour and black metal accents – much the same as the SF range, in fact.
The 8x25 Pockets are inevitably a bit larger (and heavier at 290g) than the old 8x20 Victory, but they're still smaller and lighter than any regular binocular by a good margin (see above).
As usual, these are nitrogen purged but waterproof to just 1m (most Zeiss bino's are 4m).
<![if !vml]>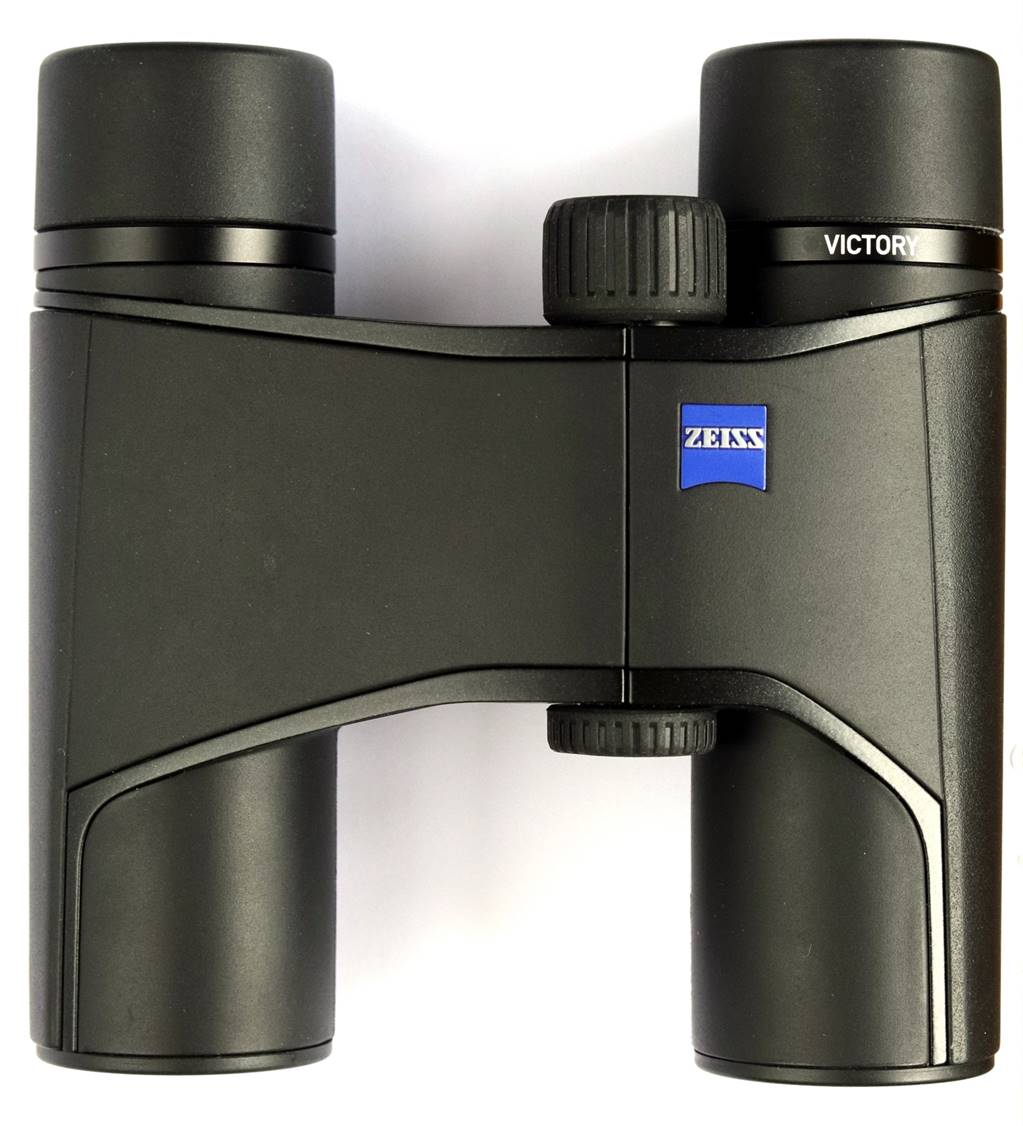 <![endif]>
<![if !vml]>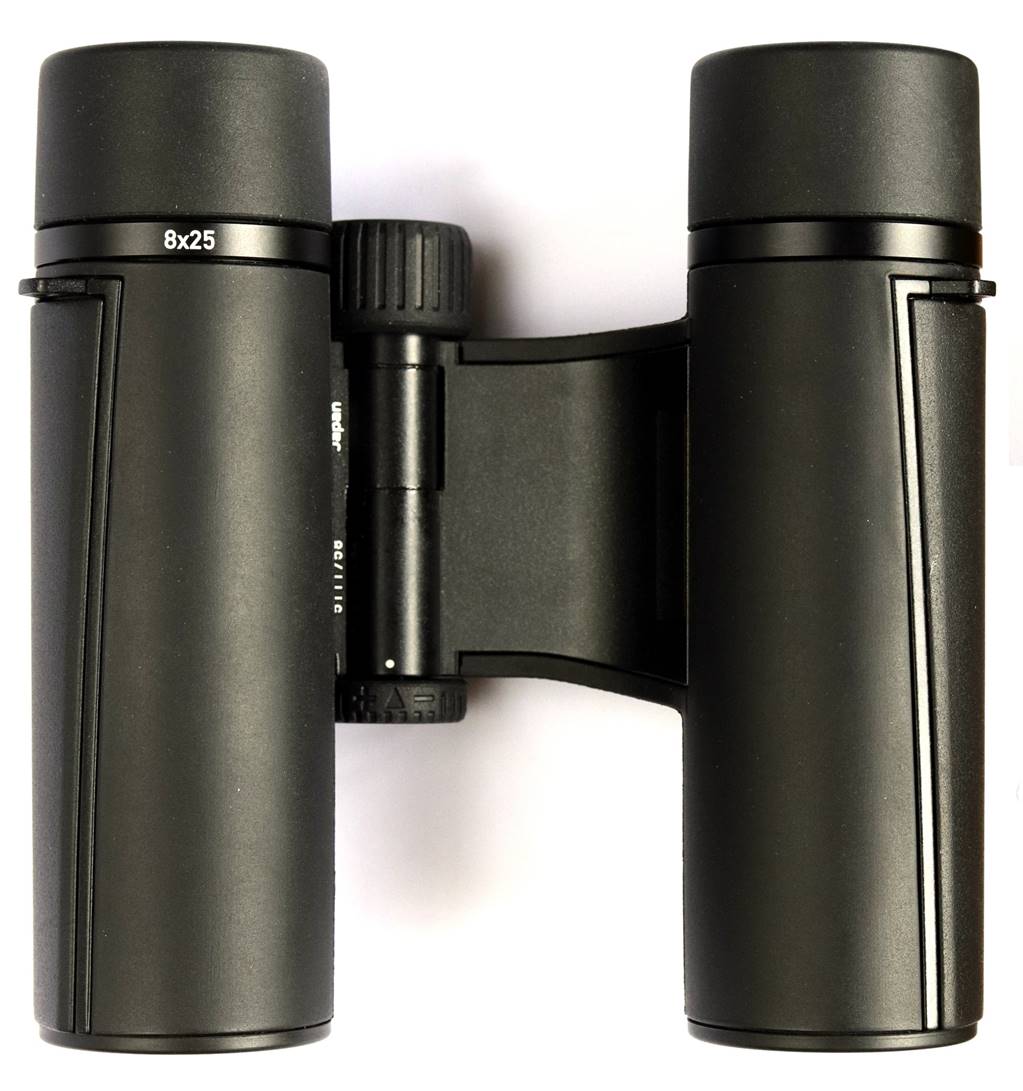 <![endif]>
<![if !vml]>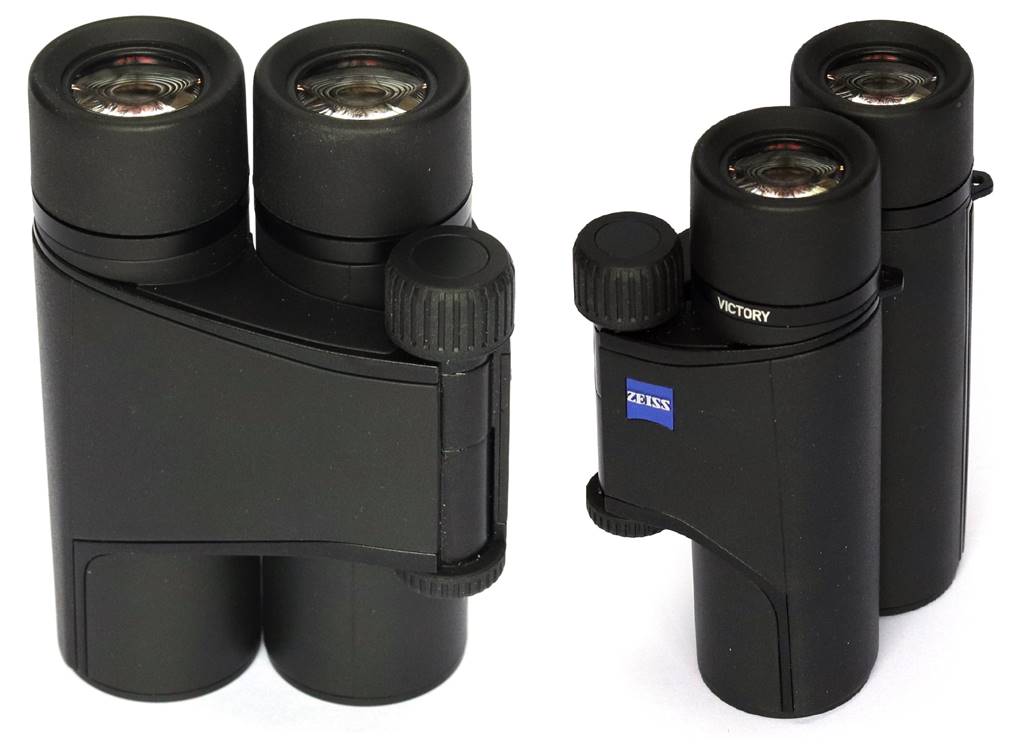 <![endif]>
The offset single hinge looks awkward when folded, but makes for a comfier hold.
<![if !vml]>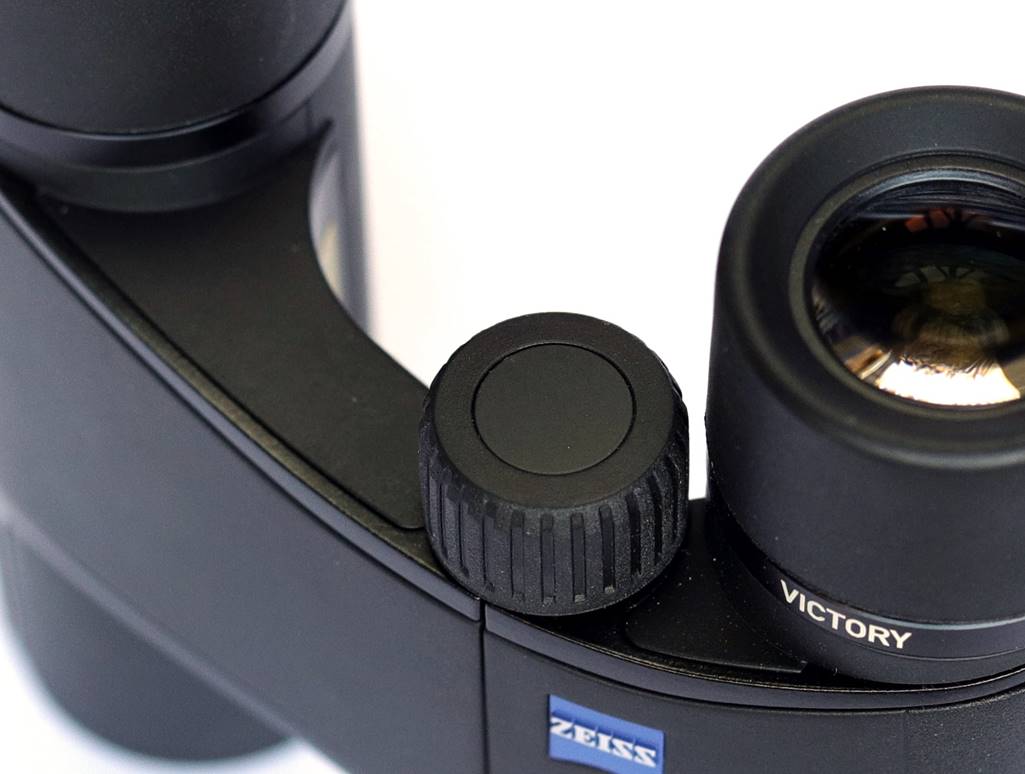 <![endif]>
<![if !vml]>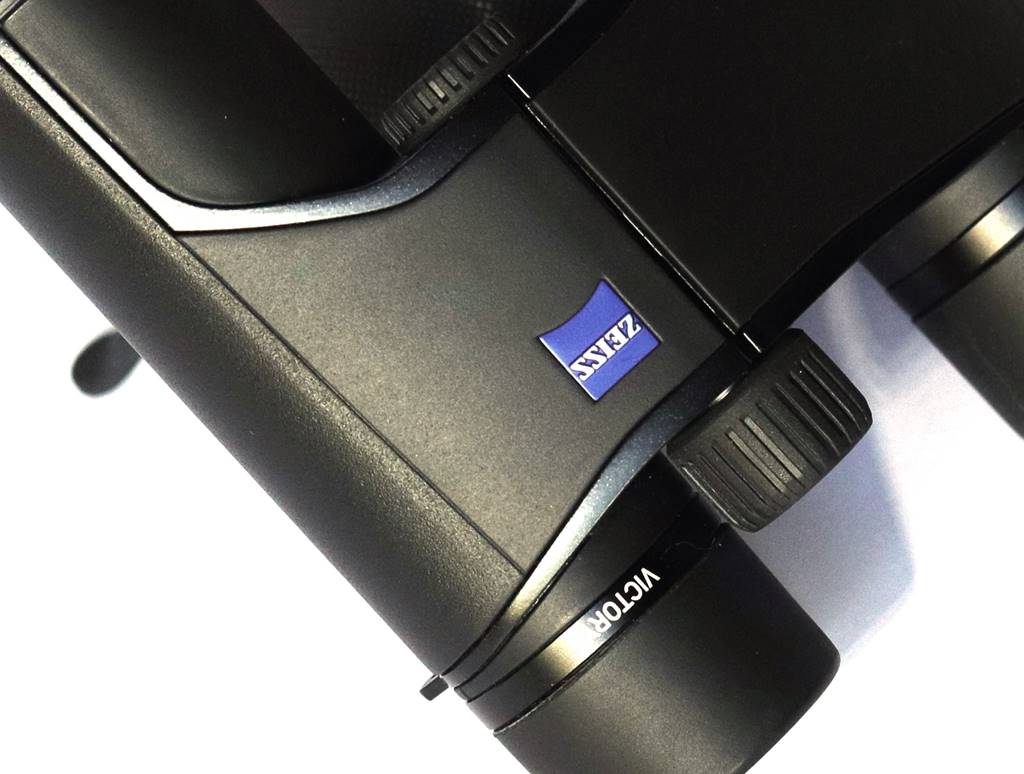 <![endif]>
Two tone armour, metal accents and focuser knob all remind of the Victory SF.
Focuser
The focuser is a small, offset wheel at the eyepiece end of the bridge. It looks like a perfect miniature of an SF one, though it doesn't have the same super-fluid, twirly-whirly action. Still, it is smooth, positive and precise.
Close focus is an impressive (for a pocket design) 1.5m (Zeiss claim a conservative 1.9m), making these a viable choice for viewing insects and butterflies. From close focus to infinity is 1.5 turns, again quite fast.
The dioptre adjustment is by a separate smaller knob on the front of the bridge. It has a central détente for neutral and adjustment is positive and easy with both eyes on the view. The underside has a dot for neutral and +/- direction marks too.
<![if !vml]>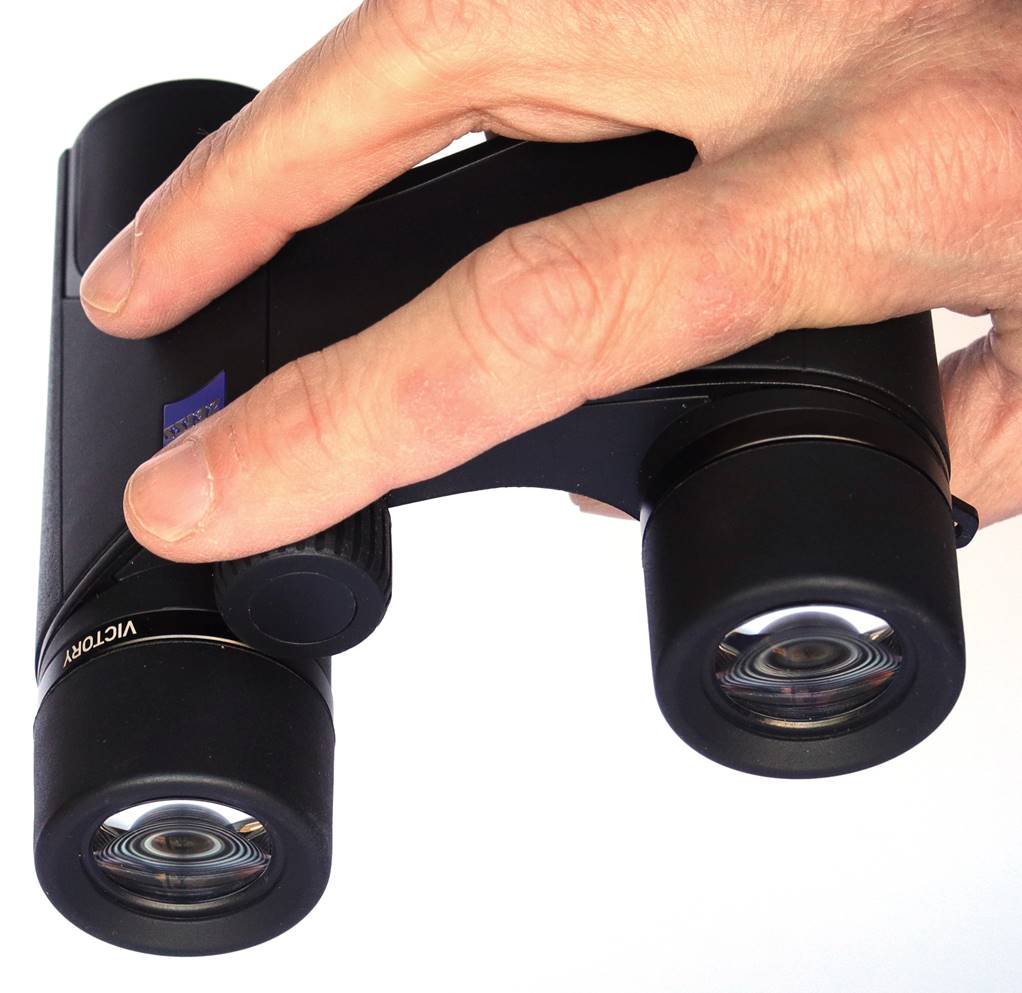 <![endif]>
<![if !vml]>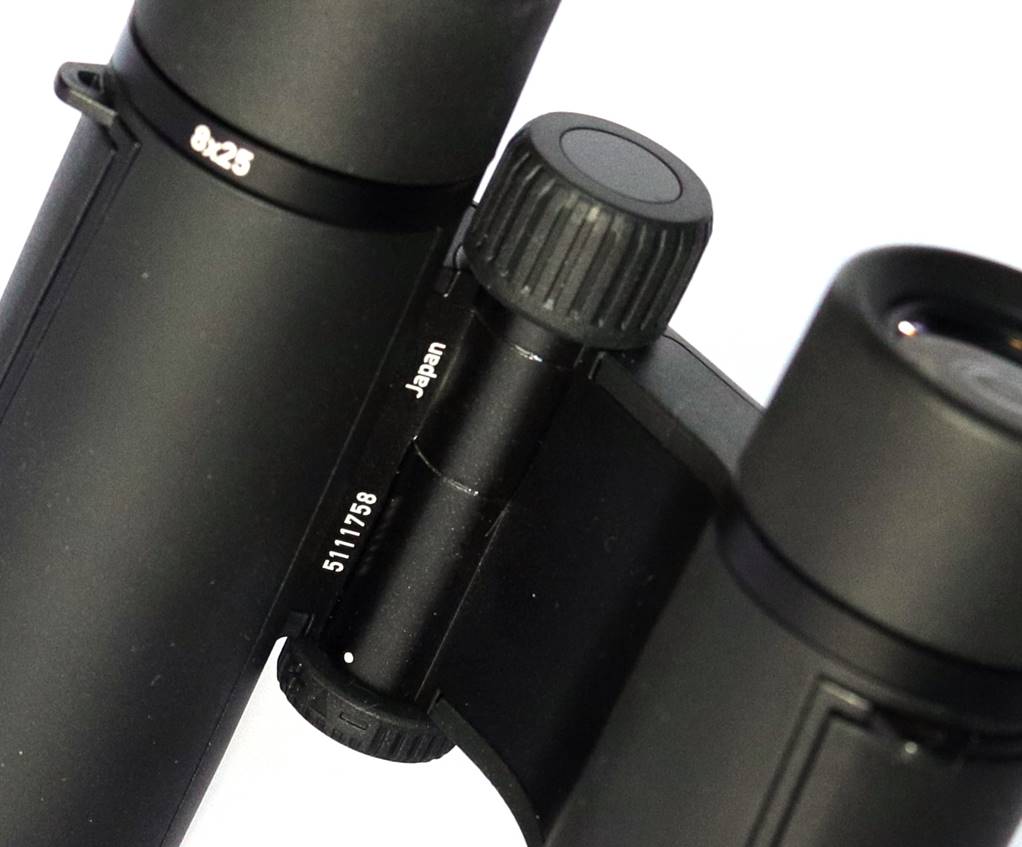 <![endif]>
Markings for the dioptre adjust are hidden underneath.
Optics - Prisms
These have conventional Schmidt-Pechan (a.k.a. Roof) prisms, doubtless with phase coatings and dielectric mirrors. However, the transmission figure is a really excellent 91% - significantly more than most compacts and something that's noticeable in use.
Optics - Objectives
A laser test suggests these have air-spaced doublet objectives with an Ultra-FL crown with very low scatter at the front. Focusing is by a lens between objective and prism as usual.
The Victory Pockets boast 'T*' coatings and here it's a very dark pink. All the internal elements appear coated to some degree, with pink reflections. The objectives also boast Zeiss' LotuTecTM water repellent coatings.
Internal quality looks excellent with lots of ridge baffles.
<![if !vml]>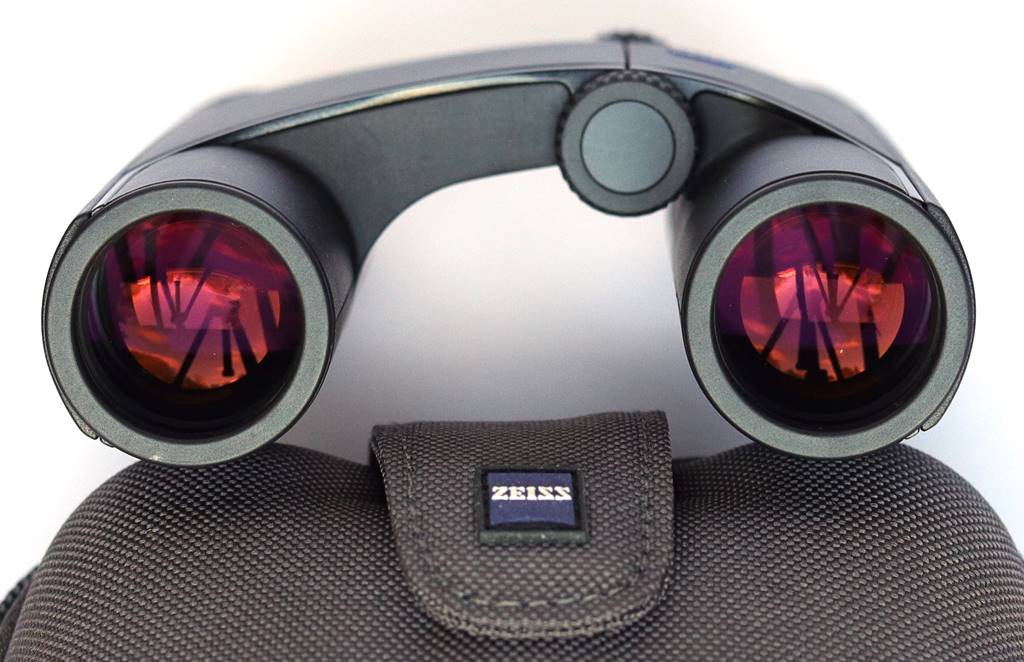 <![endif]>
<![if !vml]>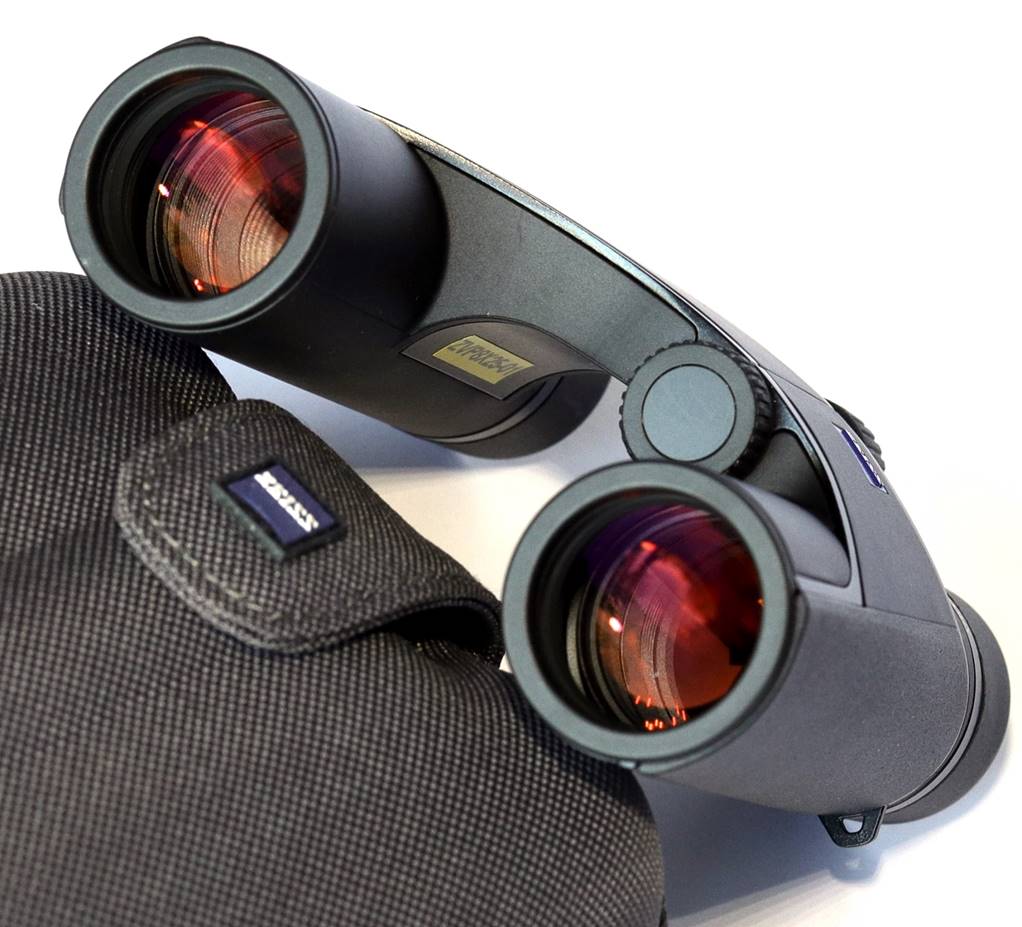 <![endif]>
Optics - Eyepieces
The eye lenses are quite large for pocket bino's – 20mm diameter. Marketing photos show the Pockets having the same dark pink coatings as the objectives, but not on this pair! Instead, the eyepieces have different, more reflective coatings that remind of the eyepieces on the Conquest Range.
Eye relief can be a challenge for compact binocular designers because the short focal length of the objectives also means short focal length eyepieces which naturally have less E.R. However, here, Zeiss have pulled some optical magic to deliver good eye relief. I measured 15-16mm – enough to see most (but not all) of the field with my spec's on and consistent with Zeiss' claimed 16.5mm.
One oddity is that the eye lens is very deeply recessed within the cup; a more normal eye cup would give these outstanding E.R.
Long eye relief can come at the expense of blackouts as you move your eye around or pan, but these are essentially blackout free.
The eye cups only have one twist-out-and-lock position, but it's sufficient.
<![if !vml]>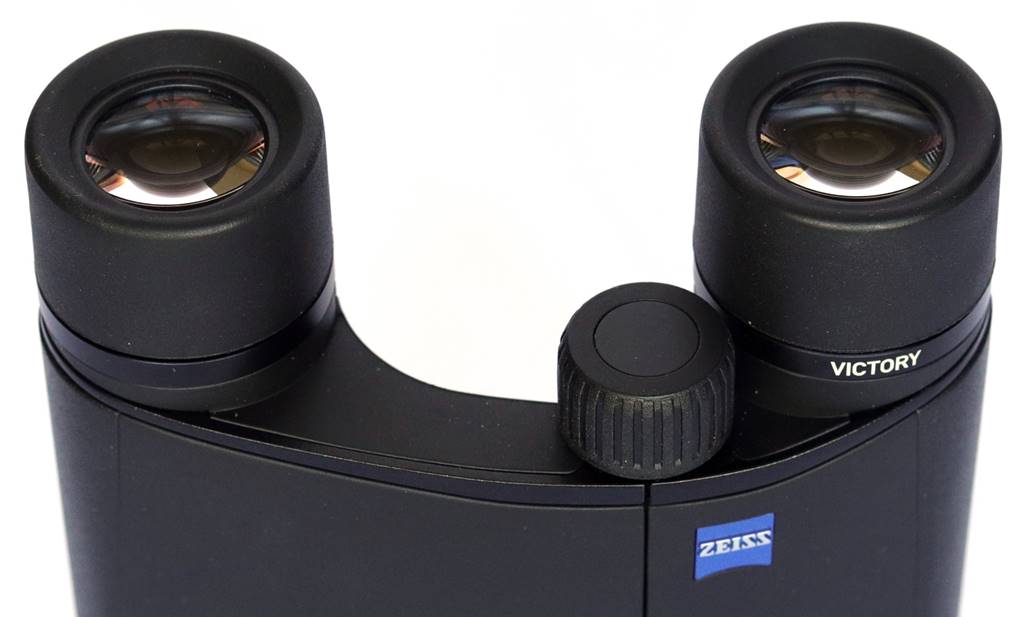 <![endif]>
<![if !vml]>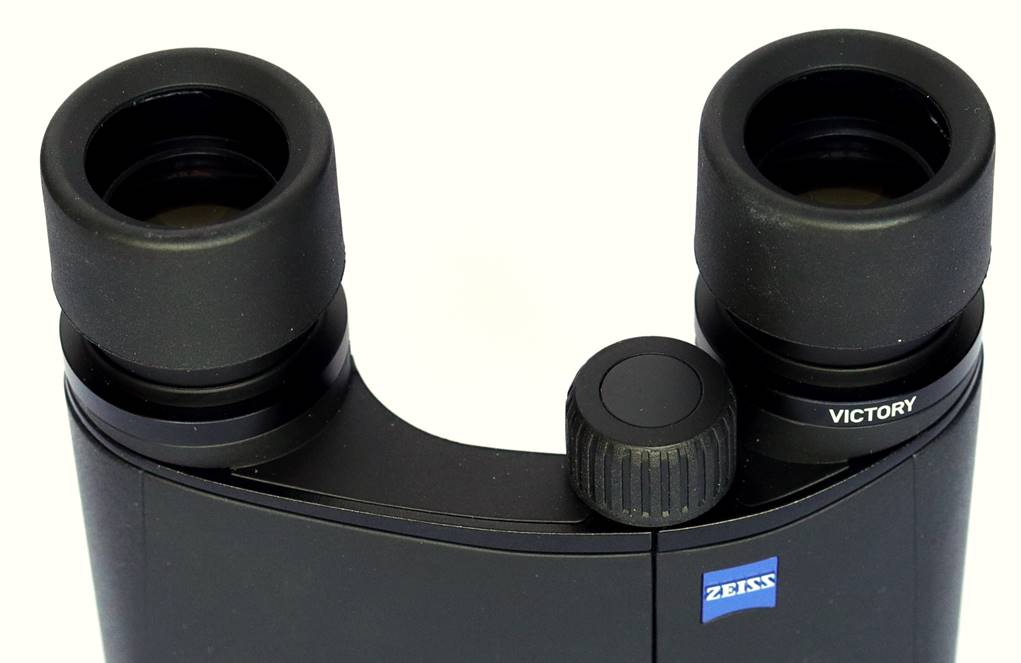 <![endif]>
Accessories
These get a miniature version of the high-end silver-grey case for the SFs – nice! The strap, unlike most compacts, has a padded area like a miniature of a standard Zeiss neoprene strap. I really like this as I find that the thin strap you get with most folding bino's makes them as uncomfortable to wear around my neck as a larger, heavier pair.
<![if !vml]>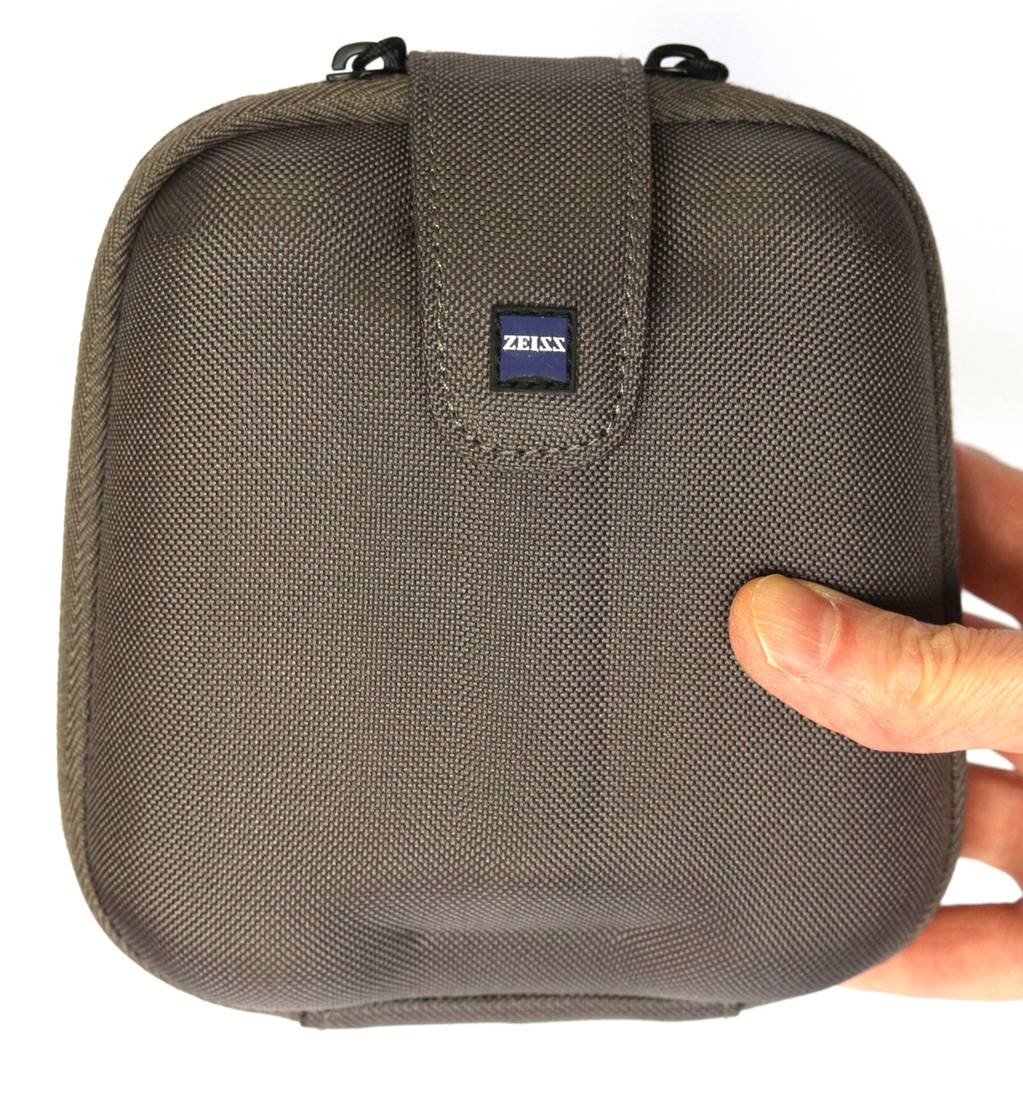 <![endif]>
<![if !vml]>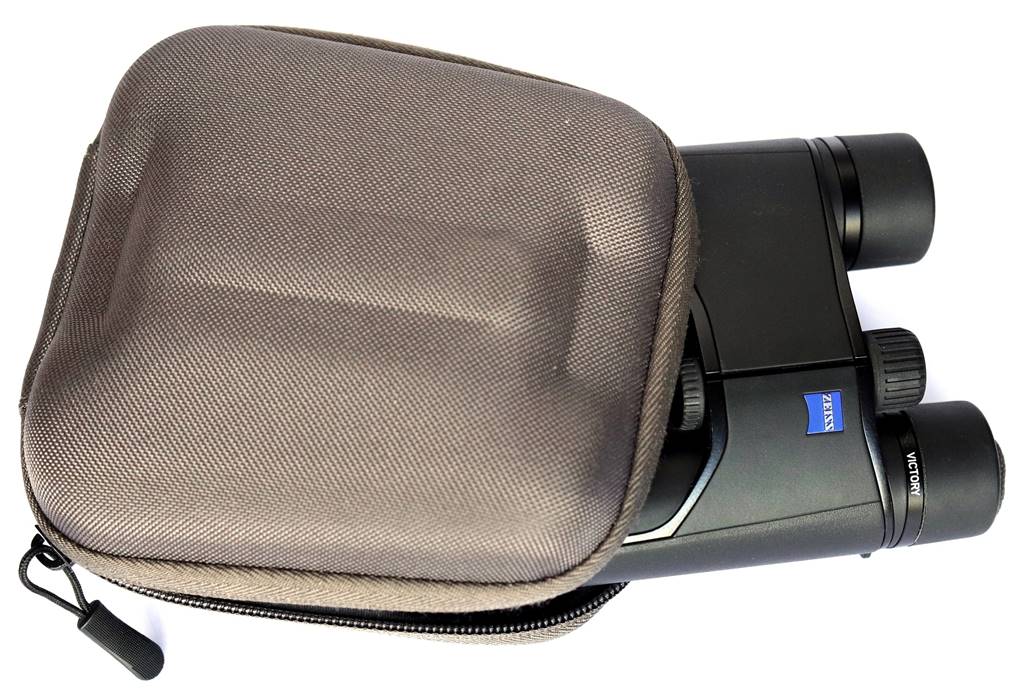 <![endif]>
<![if !vml]>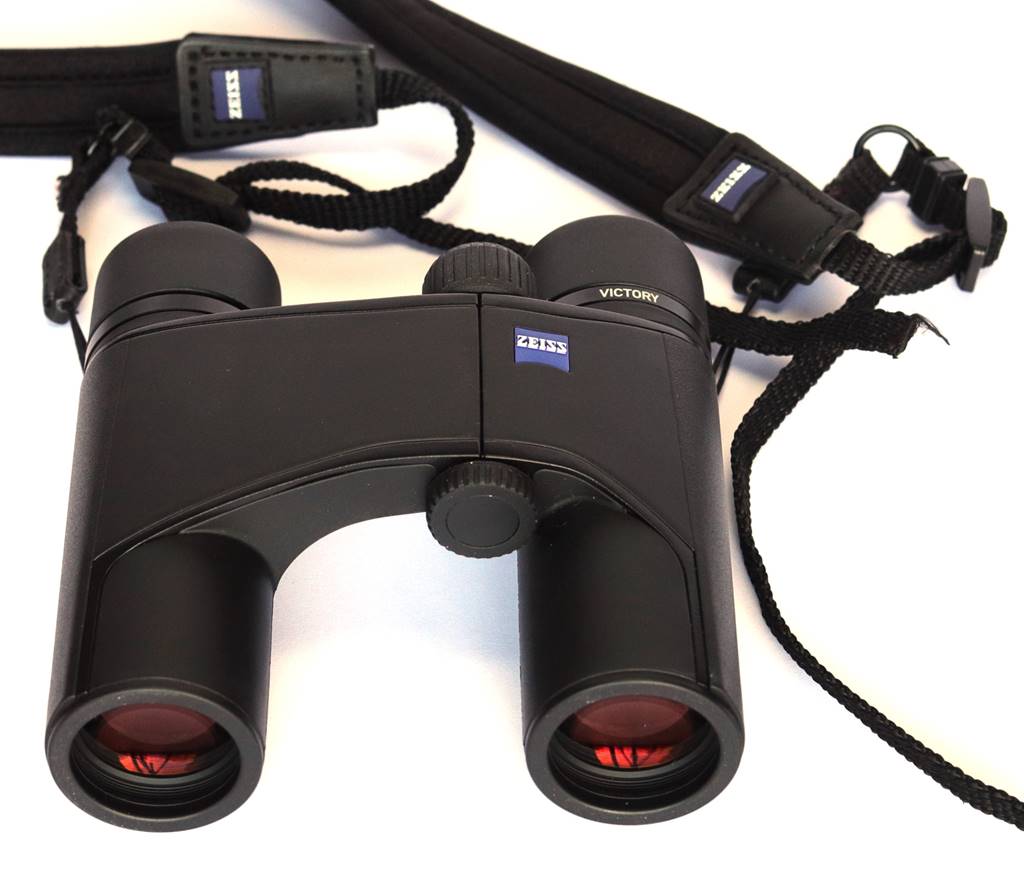 <![endif]>
In Use – Daytime
Ergonomics and Handling
In terms of handling, I do prefer this bridge design to the typical dual-hinge: it's easier to set them to my eye spacing without fiddling to get the barrels symmetrically folded. They just feel more like 'proper' bino's too.
However, the downside is that having the focuser off-centre feels a bit strange at first; still, I soon got use to it (again – my earlier Victory 8x20s were the same).
The focuser works well and makes following birds on the wing easy. Best focus is an absolute snap, indicative of excellent optical quality. Dioptre is easy to set without taking your eyes off the view and the centre détente position was perfect for my corrected vision (as it should be).
Eyepiece comfort is very good for a compact design, with enough eye relief to be properly comfortable with glasses and no nasty kidney-bean blackouts as you pan or look around the view.
These have a wider field than most compacts, so it seems like I can see the whole field with glasses on; but in fact, I do lose some.
To me the appearance of these Victory Pockets isn't as classy and elegant as a pair of Leica Ultravids (especially the BL model) or even the old Nikon HGLs. Does this matter? Not unless you plan on using them as opera glasses, in which case it actually might!
<![if !vml]>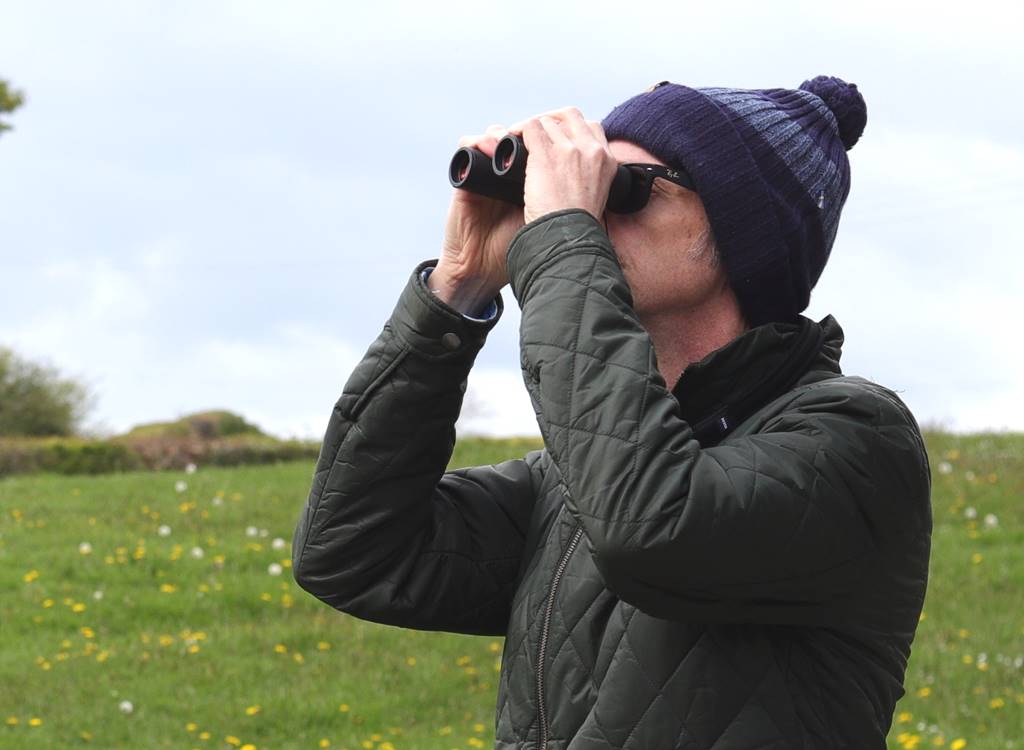 <![endif]>
<![if !vml]>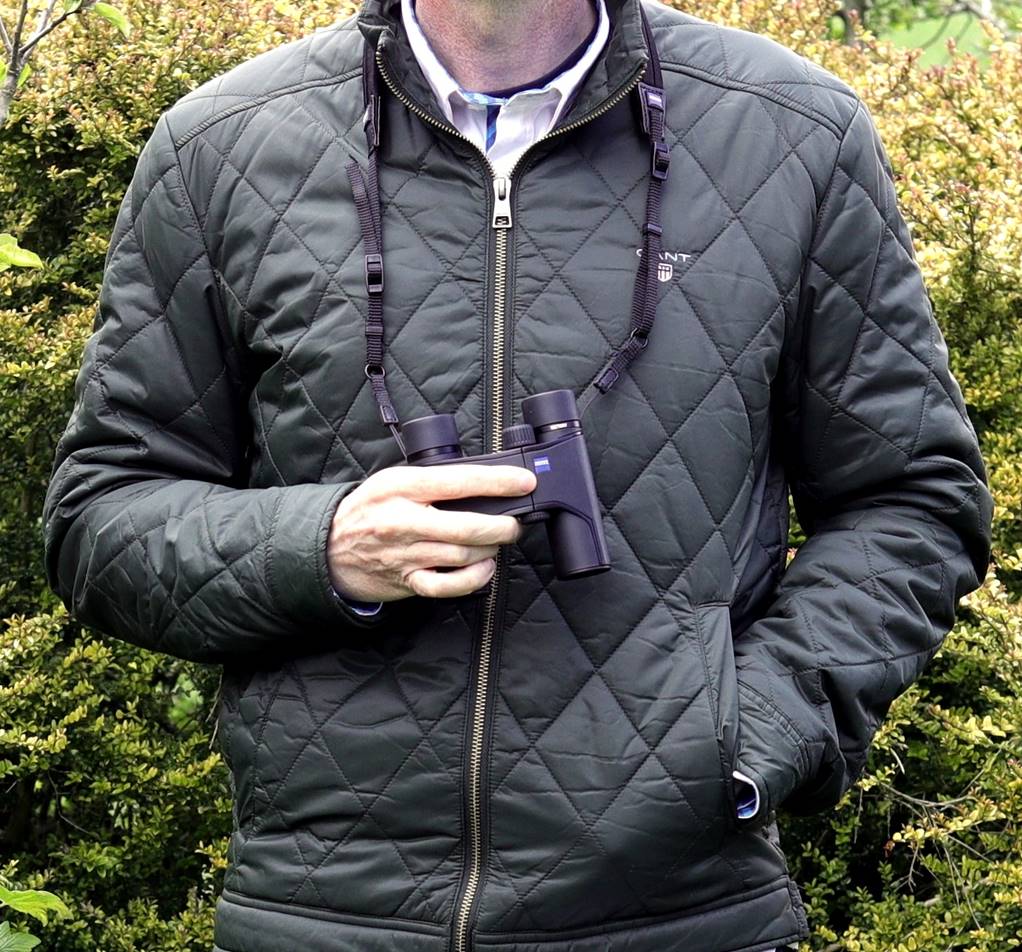 <![endif]>
The View
The view is just much less compact than other folding bino's I've tested, much more like full-sized binoculars'. First impressions are that it's bright and wide and razor sharp, full of fine detail.
Closer inspection suggests brightness (in broad daylight, at least) is well up there with proper birding bino's, as is resolution (subjectively a really standout feature of these). Every detail of plumage is picked out, just like a fine pair of larger bino's and I spent ages watching my garden birds (something I've never really done with previous compact bino's). Nature views – of spring cherry blossoms and buds, a deer in the fields opposite – are just superb too. Views of the distant villages across the bay are as detailed as I've seen at this power.
The view is really vivid and holds up better in lower light conditions too, thank that class-leading 91% transmission and the 31% greater light gathering of the 25mm objectives.
<![if !vml]>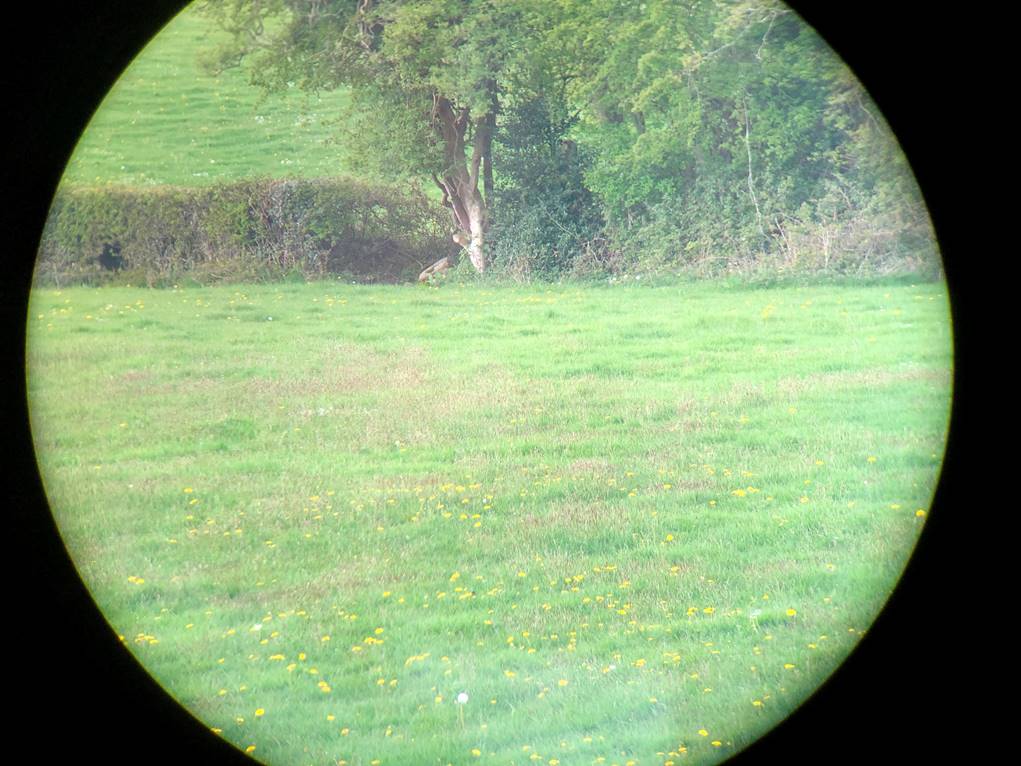 <![endif]>
Flat field?
The field, like most recent Zeiss bino's, isn't as perfectly flat and well-corrected to the edge as a pair of Swarovskis, but it's not far off, with just some minor curvature and a trace of astigmatism towards the very edge. The numbers on a metre rule just blur into unreadability in the last 15% or so, but can easily be focused back in.
Chromatic Aberration
You might expect that with 25mm objectives and Ultra-FL elements should mean minimal false colour and you'd be right. False colour is basically below the noticeable level in all circumstances. Even viewing a blackbird's glossy jet plumage in silhouette reveals almost no false colour fringing.
Stray Light and Ghosting
A bright but distant security light revealed just the dimmest trace of ghosts and spikes, an excellent result. However, Zeiss' quest to make a small binocular mean the lenses aren't especially well recessed and I noted some veiling flare from a full Moon.
In Use – Dusk
Dusk shadow penetration and even streetlight views at night were surprisingly good for a pocket binocular.
In Use – Observing the Night Sky
Pocket folding binoculars - with 20mm or 25mm lenses - are mostly useless for astronomy (apart from the Moon). I'd usually consider 30mm objectives the absolute minimum. Why? Because even 30mm objectives gather 125% more light than 20mm ones, 44% more than 25mm ones.
Still, it's clear these 8x25 Victorys are the current best of the best, so on a nicely dark spring night I gave it a go ...
The first thing to note is that stars were sharp and undistorted, with only minor field curvature and a trace of astigmatism towards the field stop. Eyepiece comfort was good and the field wide, focus absolutely snappy on the night sky and dioptre very easily set.
The Moon
The 8x25 Pockets gave a really outstanding (for an 8x binocular) view of a just-past-full Moon – full of detail and contrast, but not painfully bright. The otherwise-blinding Moon near full remains an interesting niche use case for this type of binocular.
Planets
The only planet around was a small and low Mars - just an orange star.
Deep Sky
I found the open clusters – M35 to M38 – running up through Auriga, but they were just faint, misty patches. The Double Cluster at least looked like a double nest of stars, but again faint and depopulated compared to the view through even a 30mm bino'. Another bright open cluster, Praesepe, revealed its primary stars and pattern, but all was dim and unsparkly.
Unlike a pair of 8x20s, the 8x25 Victorys are not useless for deep-sky astronomy, but they're pretty marginal.
Zeiss 8x25 Victory Pocket vs Nikon 8x20 HGL
<![if !vml]>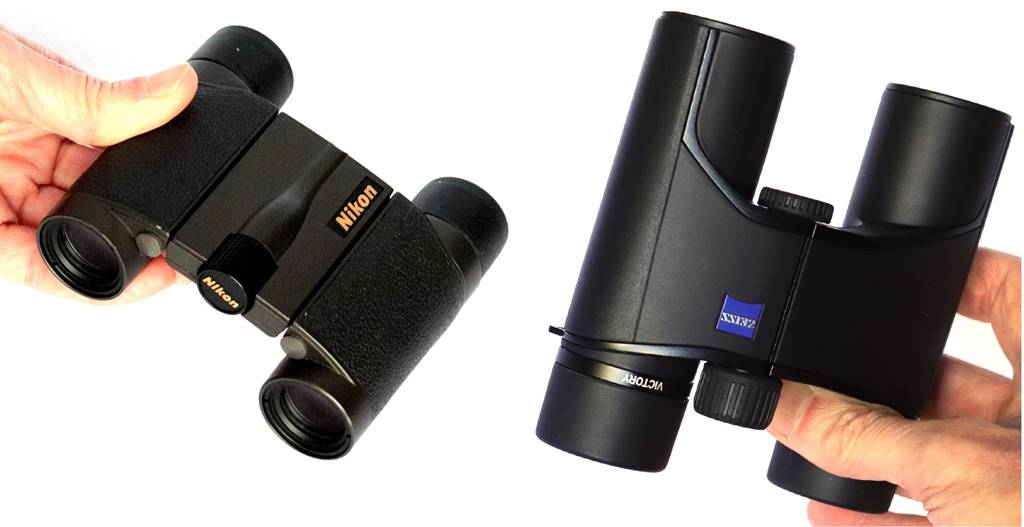 <![endif]>
The Nikons were my choice of folding binoculars for many years and I used them a lot. How do these new Victory Pockets compare?
<![if !supportLists]>· <![endif]>The new 8x25 format means the Victory Pockets are longer and heavier
<![if !supportLists]>· <![endif]>The Victorys' view is significantly better in almost every way - wider, brighter in all conditions, with a high-res' big-bino' clarity and detail
<![if !supportLists]>· <![endif]>The Victorys' eyepiece and hold comfort is superior
<![if !supportLists]>· <![endif]>The Victorys' armoured body isn't as stylish perhaps, but will wear better (the HGLs' anodised metal chipped and corroded in places)
<![if !supportLists]>· <![endif]>The Victorys are notably better in low light and not quite as useless for astronomy
The Victory Pockets are significantly better in almost every way, except if you need the ultra-small size and weight of the HGLs (that tiny size and their leathered look make them more suitable for concerts and the opera – a niche use to which this style of bino' is frequently put).
Summary
I've been impressed with all the Victory products I've reviewed of late and the Pockets are no different. Here at last is a pair of folding binoculars you'd be happy to take birding. What do I mean? Let's break it down ...
Compared to a pair of premium 8x32s, the Pockets held up well in full daylight. Perhaps just a touch dimmer and a little narrower, the view was similarly sharp and vivid and full of detail. In most ways it's just not a folding-bino' view, not compromised the way most are.
Then there's the handling. For a compact design they fall nicely to hand; Zeiss' odd-looking single hinge design works well. The focuser isn't super-twirly like the SFs', but it's smooth, precise, fast and snappy.  Eyepiece comfort is very good for folding binoculars, with excellent eye relief and no blackouts.
The Victory Pockets will doubtless mainly be found on cruises and safaris, city breaks and treks. But they offer the well-healed birder an intriguing possibility: instead of buying 8x32s, why not a full-sized pair and these as a lightweight backup?
Zeiss' Victory Pockets are the least compromised folding binoculars I've tested and an obvious best buy for travel: daytime view and handling are quite close to a pair of premium 8x32s, but these are much lighter and more compact.
Buy Zeiss 8x25 Victory Pocket from Wex here:
<![if !vml]>

<![endif]>