Zeiss's Victory SFs sit at the top of its range: the best birding binoculars the most famous name in optics can make. The last pair I tried were wonderful but flawed. Is this latest version better?
Zeiss 8x42 Victory SF Review
<![if !vml]>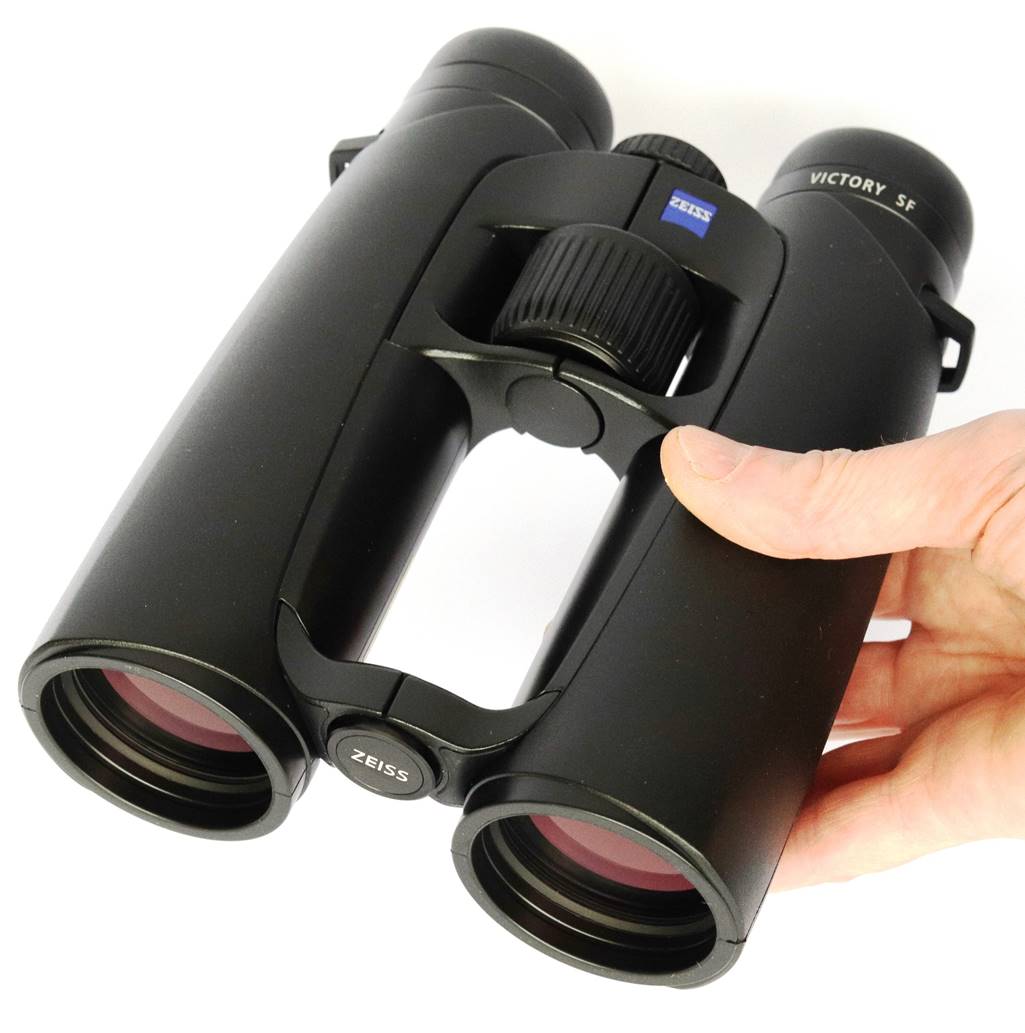 <![endif]>
When I tested an early pair of SFs it was clear that here was a new world's-best-binocular. I loved the view and innovative handling, the superb eyepiece comfort, intuitive focusing and the wide, sharp, brilliant picture window view.
But there were problems. The eyecups were vague and squishy, didn't re-seat properly and didn't have enough stops. The dioptre knob was wobbly and vague. Trivial perhaps, but I didn't like that light grey colour at all.
Much worse, though, was the overall lack of quality. The armour was loose and crackled when you squeezed it. One barrel had lots of trapped dust inside. The bridge had a rough finish. I'd seen faulty binoculars before, but never with multiple basic QA fails like this. How could I recommend them, even if their design was simply the best?
Recently, though, I've read about (and seen for myself) big improvements in Zeiss Q&A. So I thought it was high time to revisit the SFs with an extended test and review, compare them with Swarovski's NL Pures which are my current favourite 42mm binoculars.
<![if !vml]>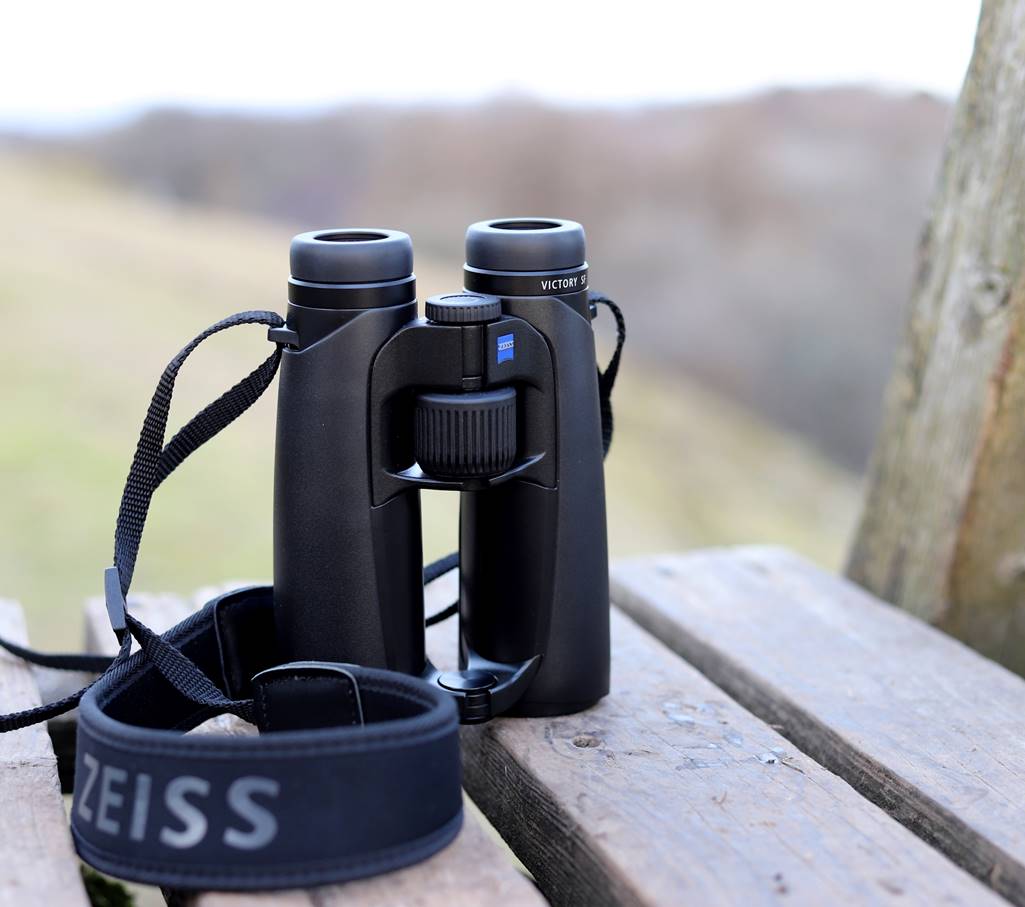 <![endif]>
At A Glance
| | |
| --- | --- |
| Magnification | 8x |
| Objective Size | 42mm |
| Eye Relief | 18mm claimed (slightly more measured) |
| Actual Field of View | 148m/1000m |
| Apparent field of view | 64° |
| Close focus | 1.5m claimed/measured |
| Transmissivity | 92% |
| Length | 175mm measured |
| Weight | 790g claimed/measured |
Data from Zeiss/Me.
What's in the Box?
This pair came without their original packaging, but it hasn't changed since the original grey-armoured version:
<![if !vml]>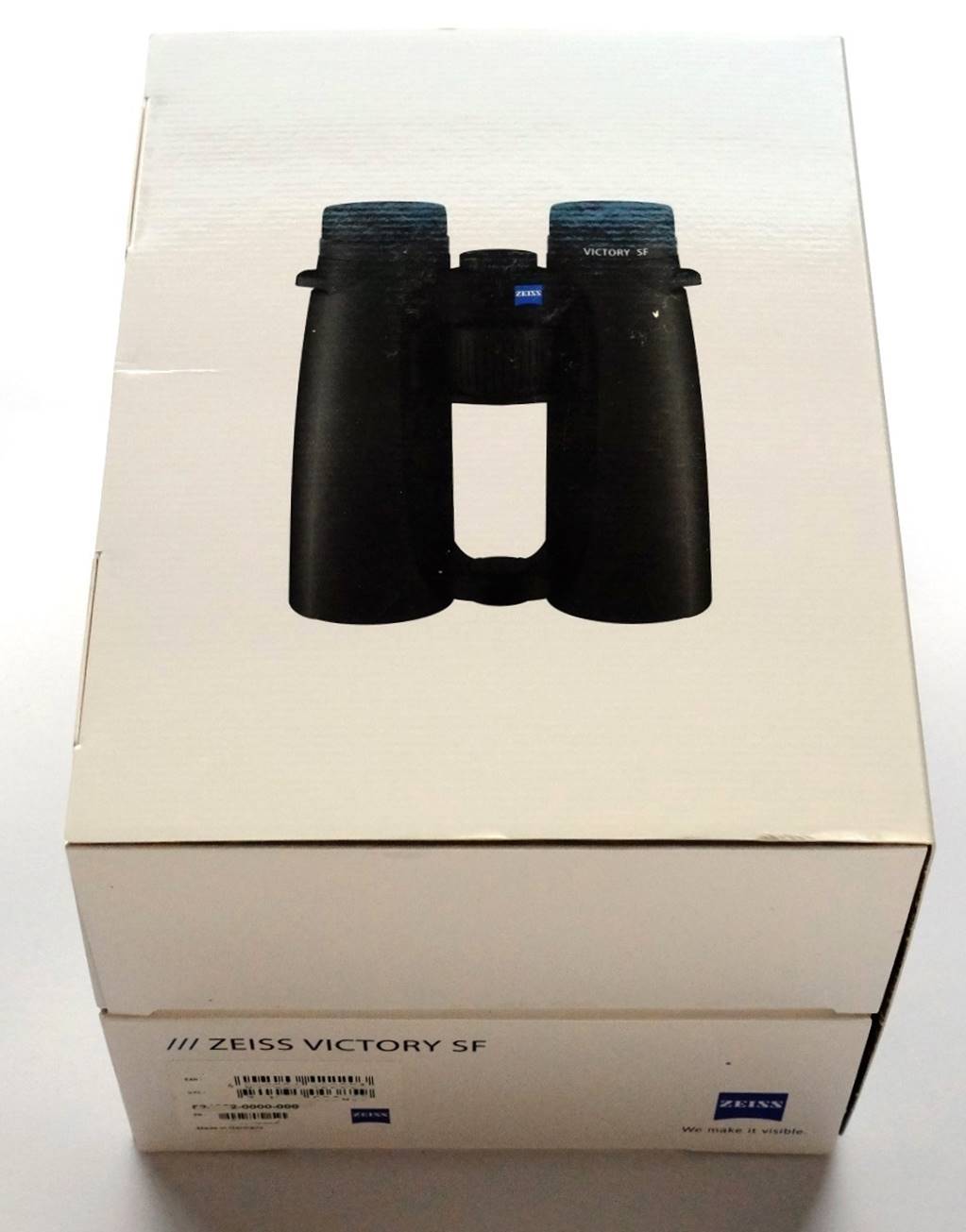 <![endif]>
<![if !vml]>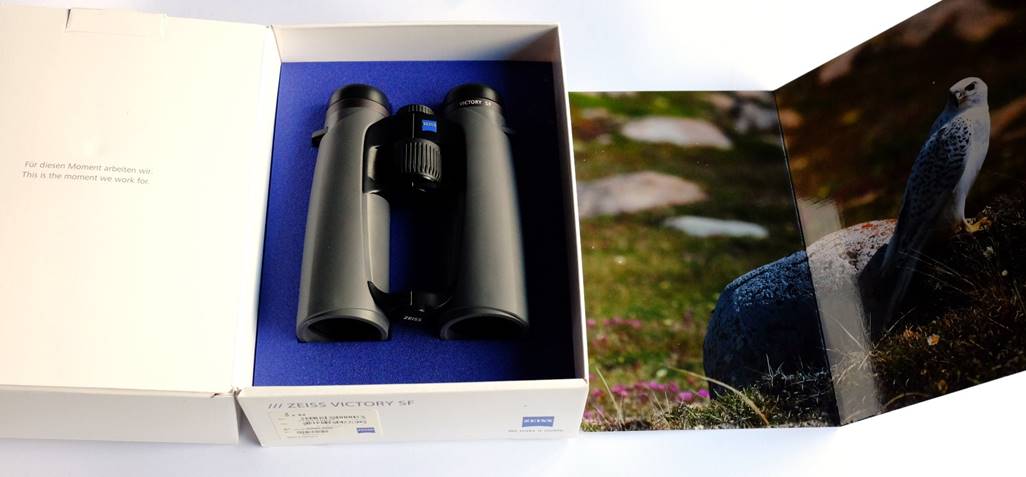 <![endif]>
<![if !vml]>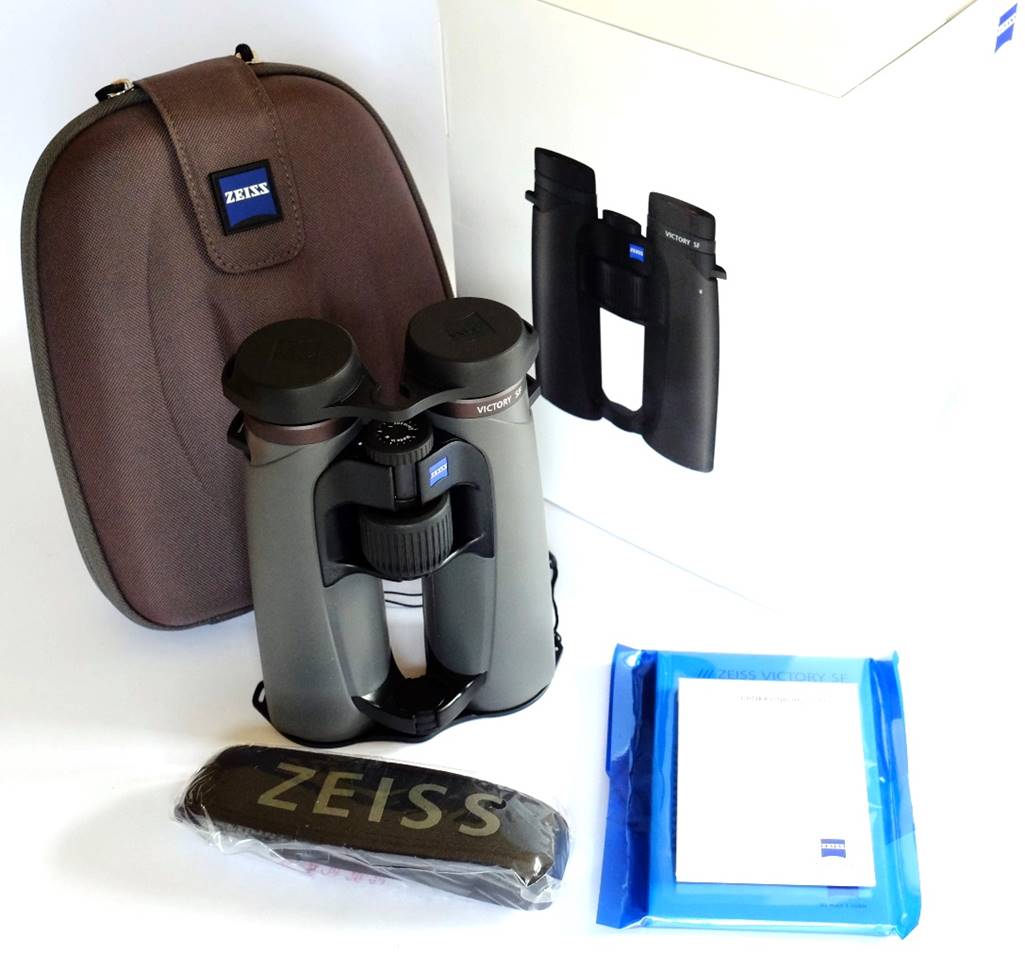 <![endif]>
Design and Build
The Victory SFs were an all-new model in 2015, one that owed virtually nothing to earlier Zeiss premium lines like the FLs and HTs, despite sharing the 'Victory' label. Their open-bridge design seems a rip-off of Swarovski's ELs, but appearances are a bit deceptive in this case – SF takes the open-bridge concept a step further.
Meanwhile, Zeiss seem to be quietly dropping the Victory HTs, leaving the roof-prism SFs to stand alone as their top model, ending decades of premium Zeiss binoculars with Abbe-König prisms; why, I don't know.
The SFs were originally available in only two sizes, 8x42 and 10x42. But they have since been joined by 8x32 and 10x32 models that are almost as expensive, in a nod to the fact that more and more keen birders are going for the smaller formats.
The original versions had grey armour, but the newer black versions have some subtle upgrades beyond colour that I'll cover in the following sections.
<![if !vml]>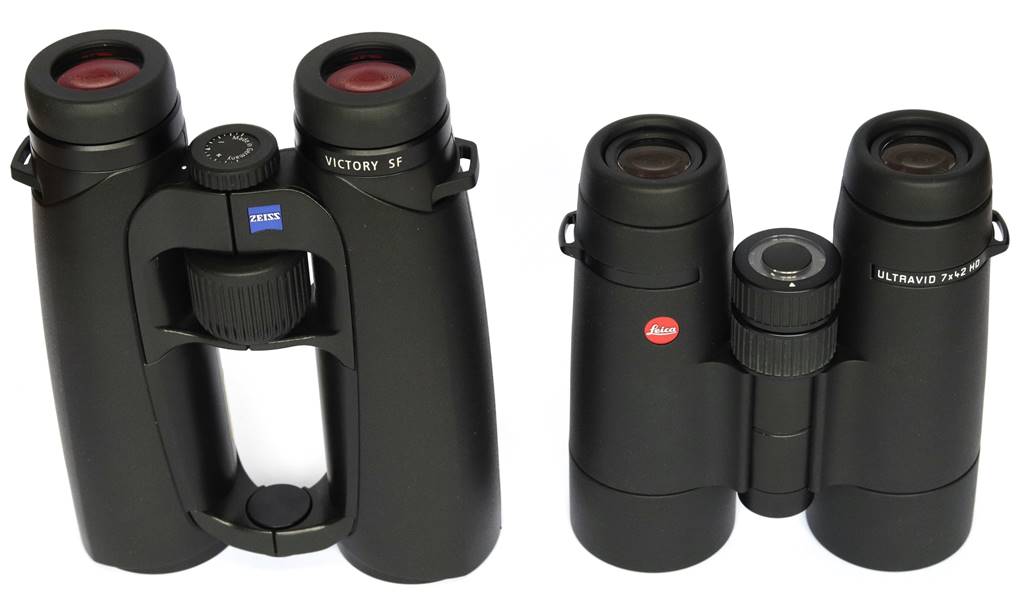 <![endif]>
The Victory SFs are long for an 8x42.
<![if !vml]>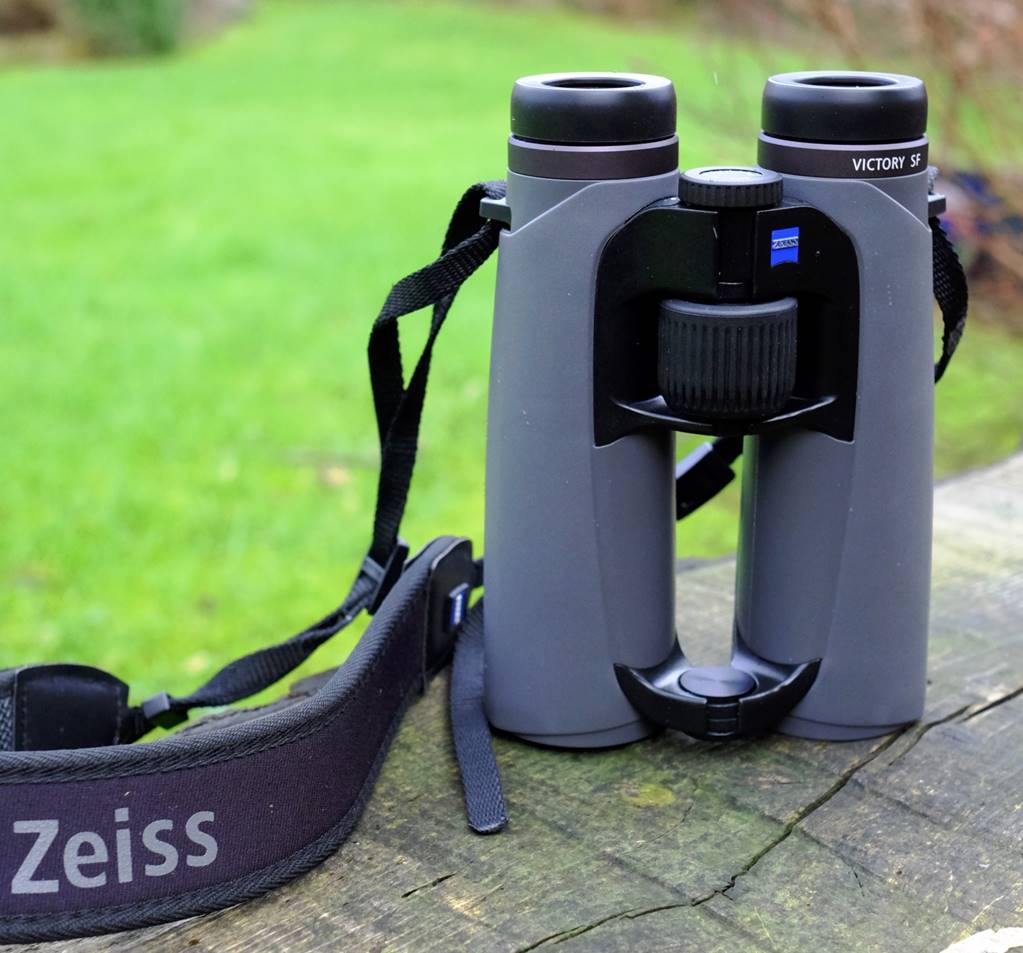 <![endif]>
Early Victory SFs had distinctive pale grey armour.
Body
The first thing I noticed about the SFs back in 2015 was how long they are. On first acquaintance this is a bit puzzling, even off-putting, if you're used to other Alpha 8x42s. To put this into perspective, the 10x42 SFs are almost exactly the same length as Swarovski's ELs – the 10x50 ELs! They are longer than almost any other 42mm binoculars, a substantial 35mm longer than Leica's 42mm Ultravids (see above).
The SFs may be surprisingly large for a 42mm design, but they aren't heavy. In fact, at 790g they are lighter than many of the competition (100g lighter than Swarovski's ELs or NL Pures) and they feel it too. In fact, their low density makes them feel lighter than a pair of Ultravids, though actually they're a bit heavier. That low weight is partly due magnesium construction, but also to simpler, thinner, long-focal-length objective lenses.
Those long-focal-length objectives explain the SFs' unusual length and are part of what Zeiss call its ErgoBalanceTM concept. Zeiss have changed the optical configuration to throw more glass and so weight into the eyepiece end for a less fatiguing hold. I'll explain this in more detail below.
I wasn't keen on the original light grey colour and it seems other weren't either. A dodgy colour was one thing, but more seriously the armour on my original pair was loose, making scrunching noises when pressed. Thankfully there's none of that here. The two-texture armour remains, but it's a conventional black, has a fine but grippy texture where you need it, doesn't smell or mark or attract fluff.
The body barrels are plain tapered tubes and don't have the thumb indents you get with Swarovski's ELs, let alone the fancy sculpted form of the NL Pures. But the long open bridge gives plenty of space to choose a rearward hold with finger on focuser, or to hold them at the barrel ends for extra stability.
Despite the light-weight feel, the SFs are of course fully waterproof and nitrogen purged like any Zeiss binoculars.
<![if !vml]>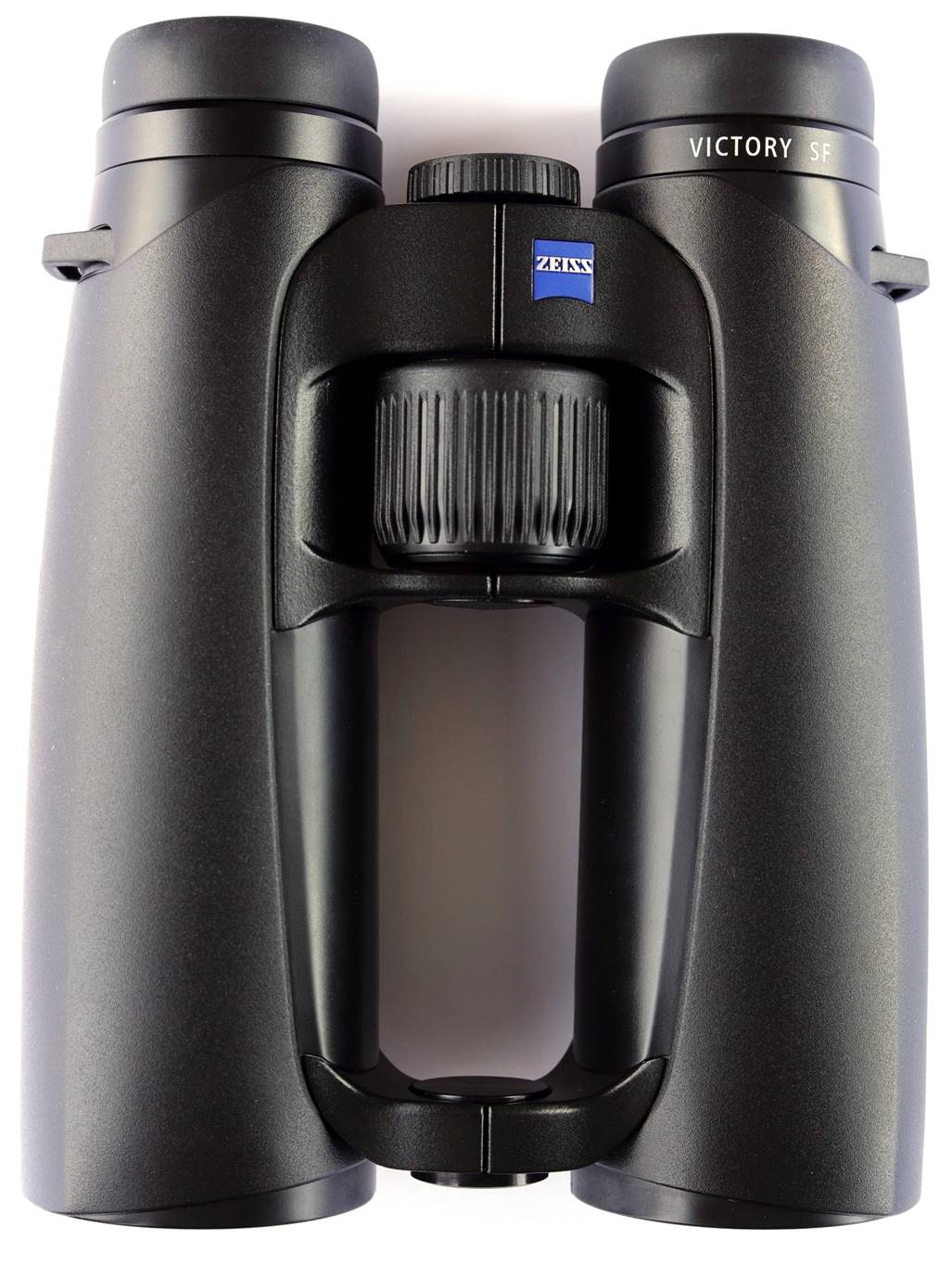 <![endif]>
<![if !vml]>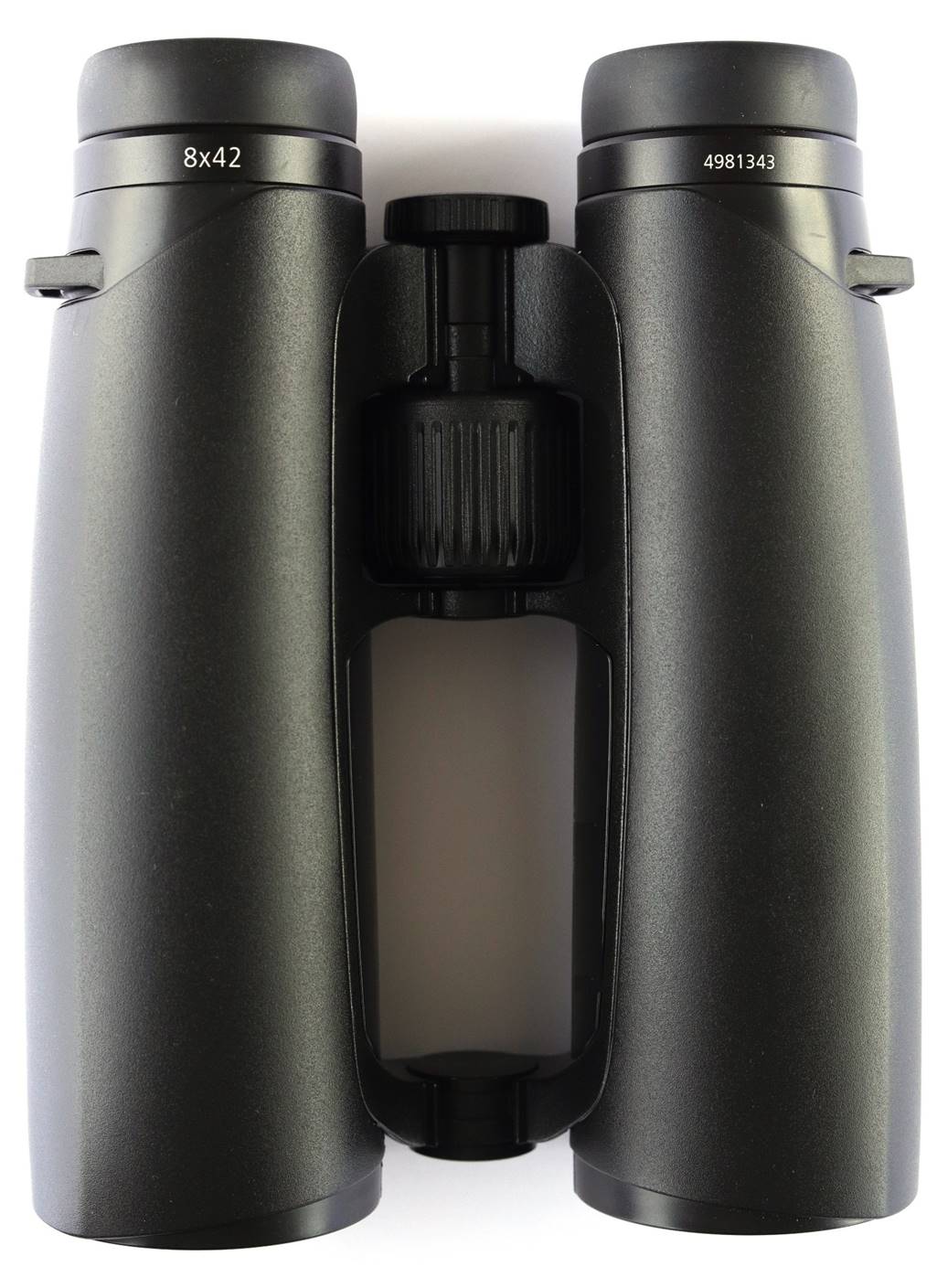 <![endif]>
<![if !vml]>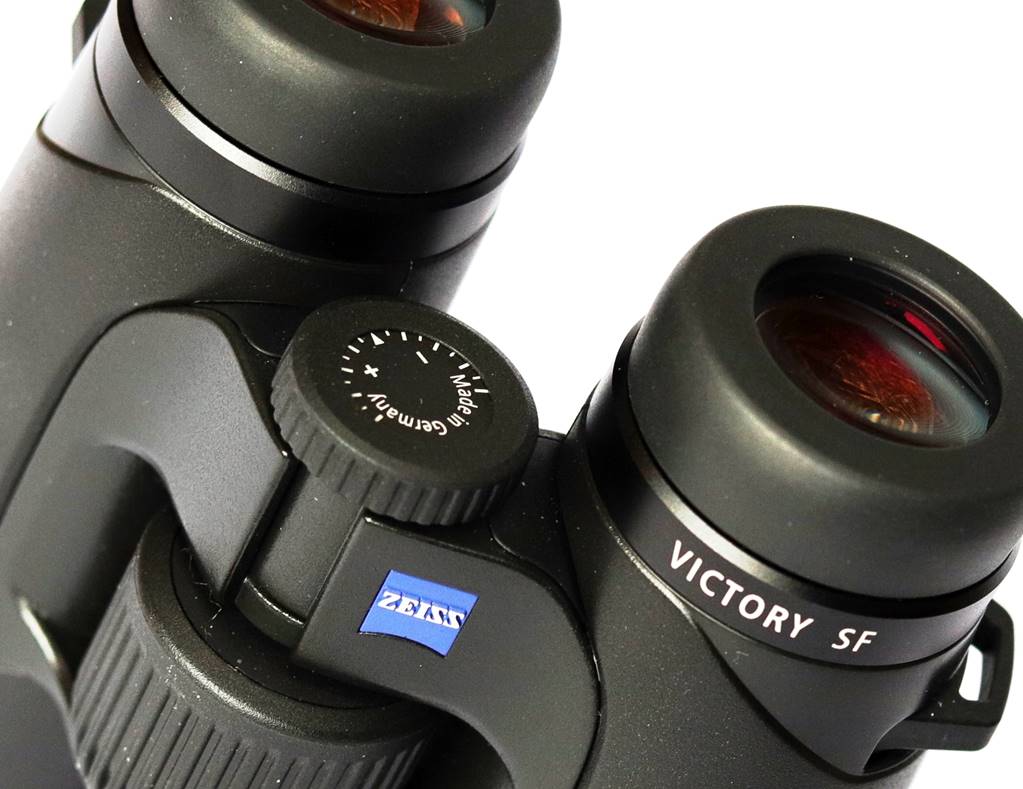 <![endif]>
<![if !vml]>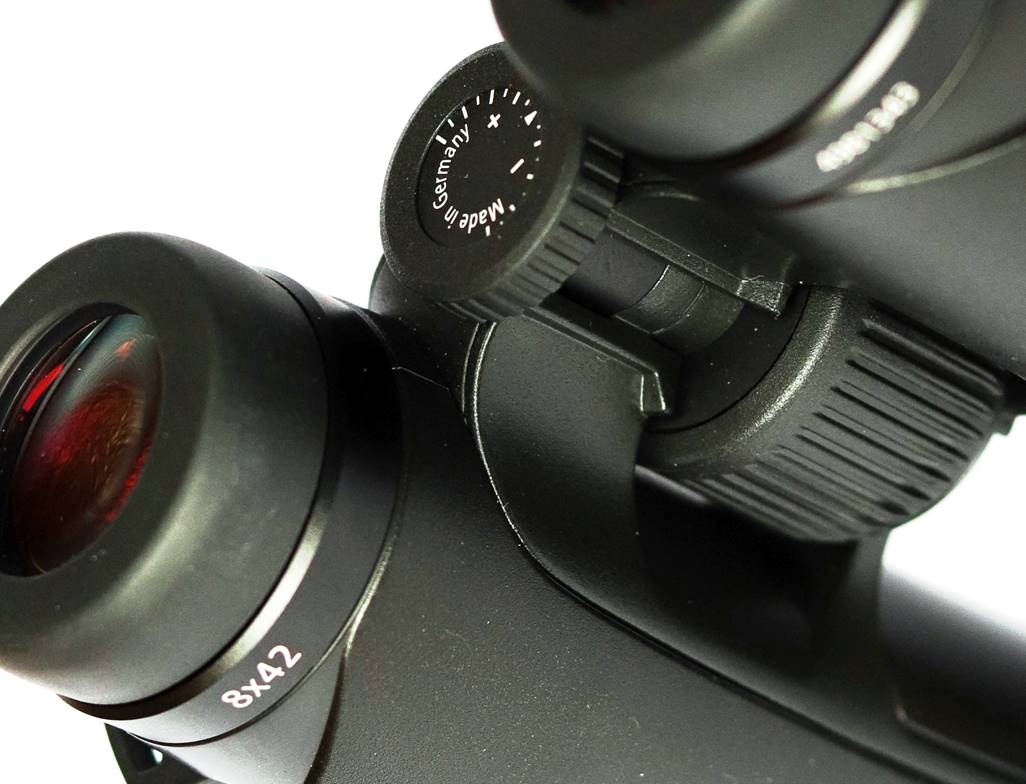 <![endif]>
Focuser
The focuser has an oversized wheel that has been moved forwards in the bridge to reduce finger spread in the hold. The focuser is super fluid, with a light action and no play. That lightness gives a more intuitive feel than the weightier focus action on a pair of Swarovski ELs, making it among my very favourite focusers. A pair of Ultravid HDs I'm testing feel a bit stiff, dry and sticky by direct comparison and with more play too. However, looking in the SFs' barrels I can see evidence this may not be a completely greaseless design.
These SFs focus astoundingly close at just over a metre (slightly better even than the claimed 1.5m) and are still quite usable at that distance, with acceptable image merge. This is an outstanding feature for up-close viewing of butterflies and other insects, one of the luxuries you get with a really high-end binocular.
The SFs' focuser takes 1.5 turns from close focus to infinity, which is plenty fast considering how close they focus.
Dioptre adjustment on the SFs is by a separate knob at the front of the bridge, which you pull out to adjust. This pair has a better dioptre action than the originals I reviewed, with a smooth, yet accurate feel and a positive détente for neutral. I like the scale on the Swarovski ELs and NL Pures, but otherwise this is functionally almost as good.
<![if !vml]>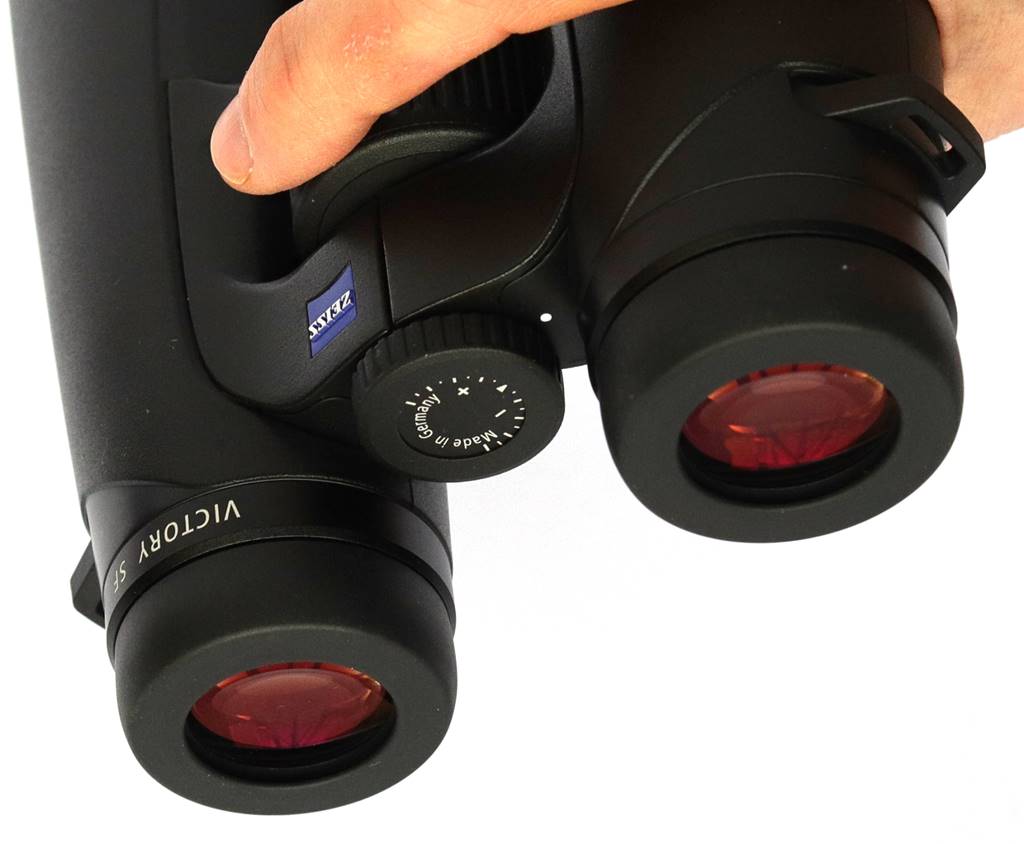 <![endif]>
<![if !vml]>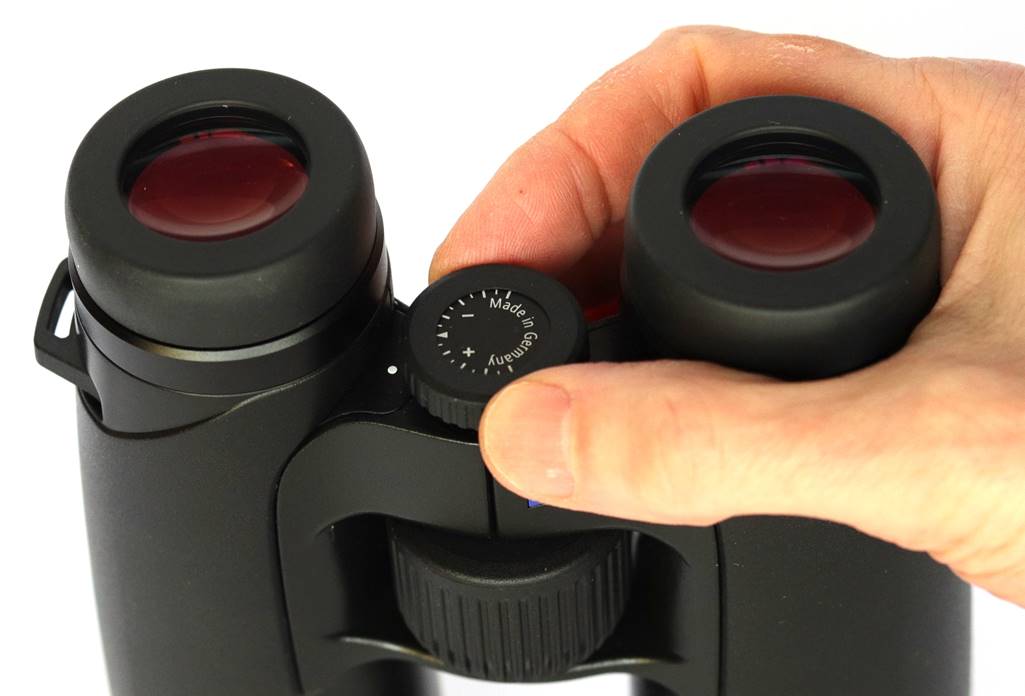 <![endif]>
Pull and twist to adjust dioptre.
Optics - Prisms
Despite having modern-standard Schmidt-Pechan (a.k.a. Roof) prisms, not the low-loss Abbe-König prisms of the HTs, these manage a really excellent 92% transmissivity that really shows in their supreme daytime brightness.
Optics - Objectives
This is where we get into the nuts and bolts of the ErgoBalanceTM concept that gives the SFs their unique character and handling.
In order to keep them compact, most modern bino's have short focal length objectives that need three or more thick glass elements to curb aberrations like false colour. For the SFs, Zeiss have employed doublet objectives like old-fashioned bino's (plus an additional focusing element), but made with one element of the very best high-fluoride crown glass (Ultra-FLTM in Zeiss marketing terminology) and perhaps a special glass for the flint element too.
All this makes the objectives much thinner and lighter (78g lighter than the HTs, apparently), but the price is that those objectives have an extended focal length, F4.x rather than the usual F3.x, explaining the SFs' long barrels. This throws the weight towards the eyepieces and off your wrists – clever!
Internal build quality has a few rough edges I don't see in Leicas or Swarovskis. There is just a single low knife-edge baffle behind the focuser carriage and there is no internal camera-blacking or blackened or ridged lens ring either. But this apparent paucity of stray light protection doesn't affect performance, probably thanks to careful ray-tracing.
The objectives feature the dark-pink T* coatings that have been a feature of Zeiss binoculars since the 1990s. They are very transparent, as you can see, but reflecting more of the red means a cool-toned view, a 'trick' that has made Zeiss Bino's since the Dialyts seem super-bright and which I like.
<![if !vml]>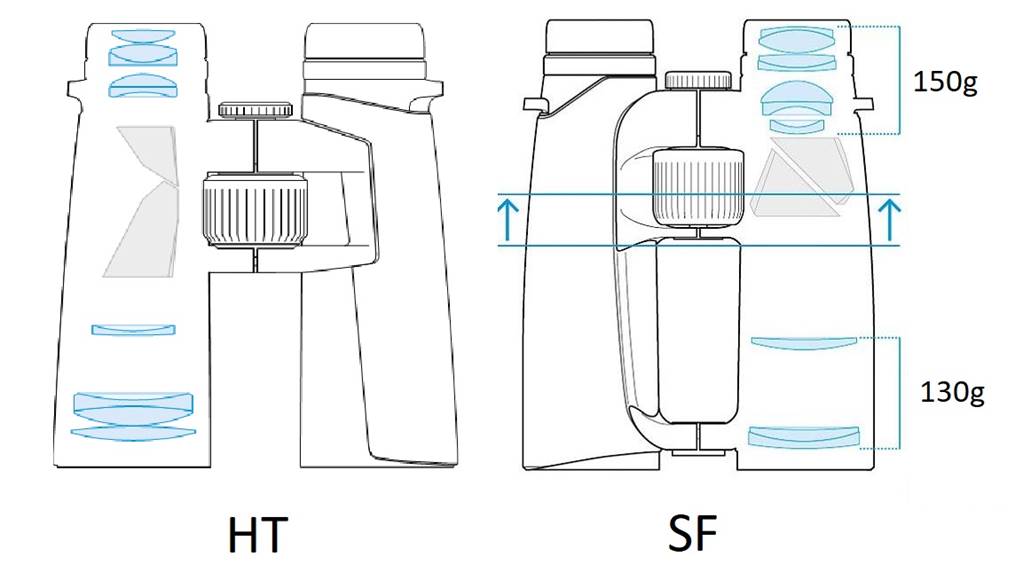 <![endif]>
Zeiss HT, SF optical systems compared.
<![if !vml]>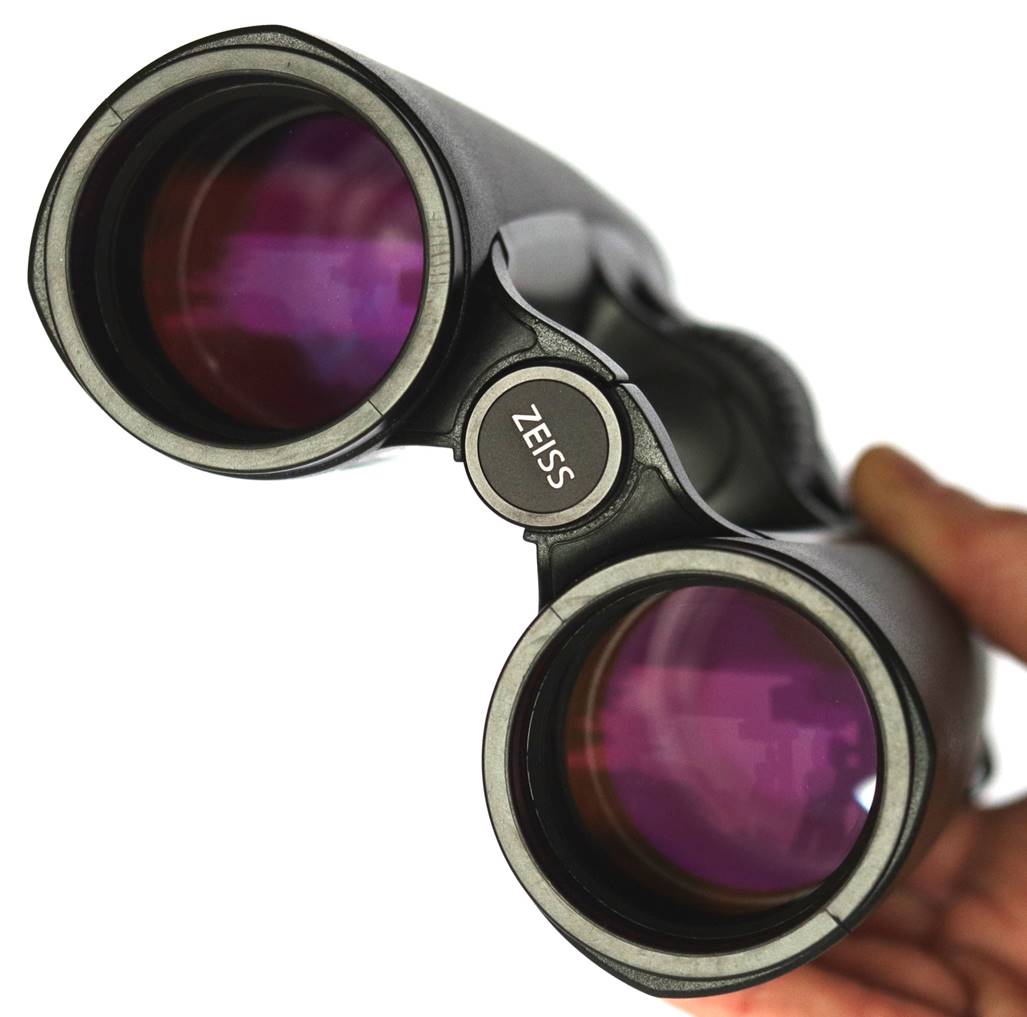 <![endif]>
Zeiss T* coatings have a hallmark deep pink hue.
<![if !vml]>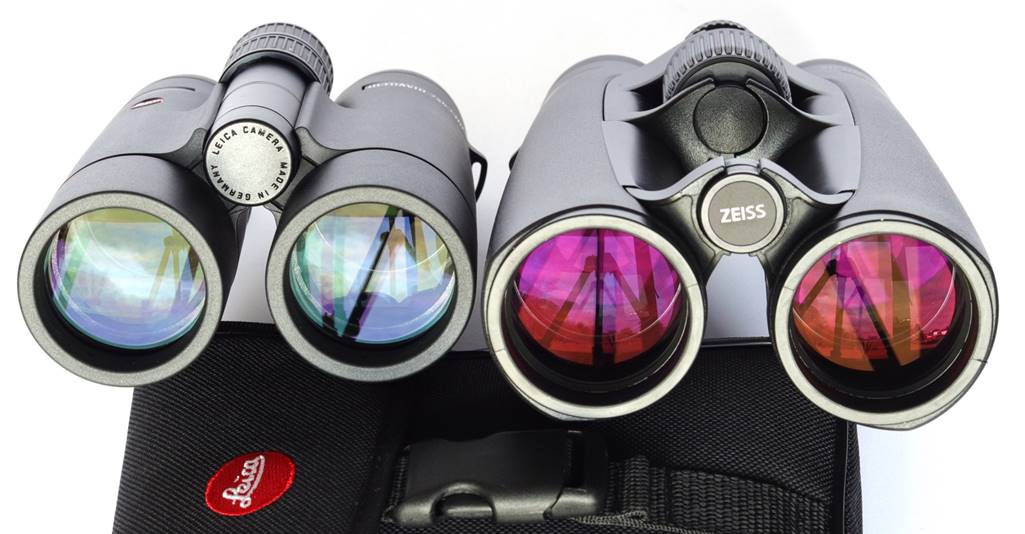 <![endif]>
Premium coatings compared: Leica Ultravid, Zeiss SF.
<![if !vml]>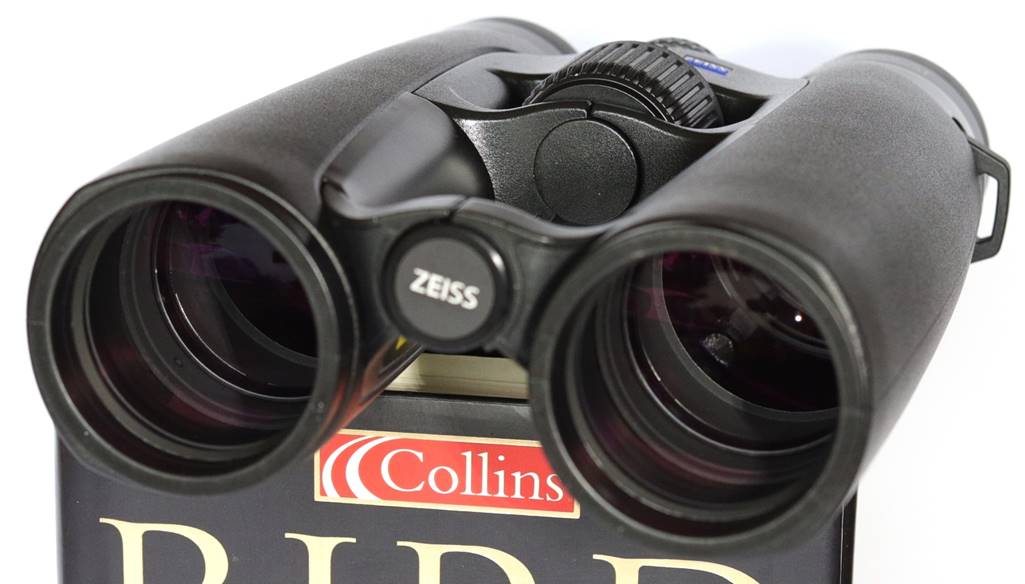 <![endif]>
Baffling appears minimal, but stray light performance is excellent.
<![if !vml]>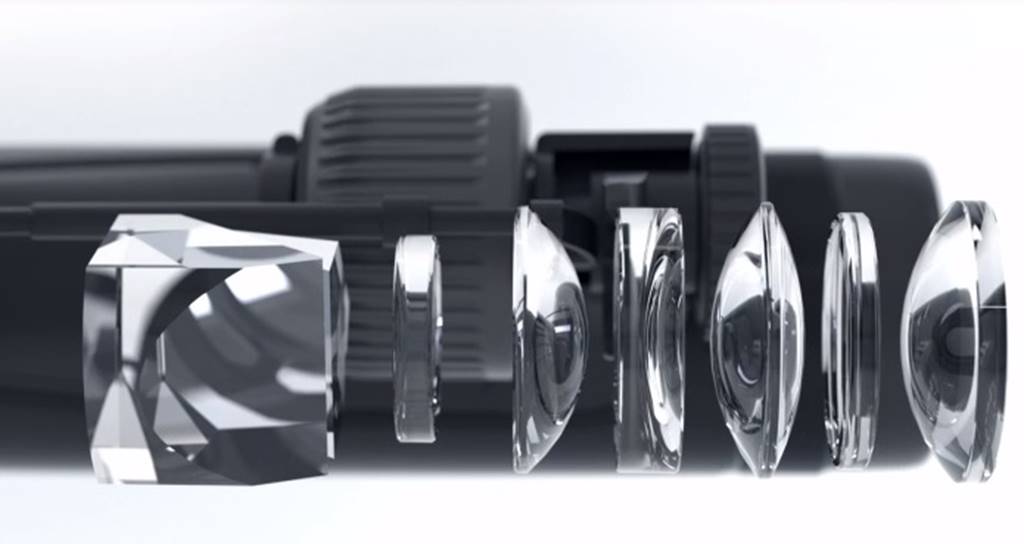 <![endif]>
Complex SF eyepiece design (Zeiss image).
Optics - Eyepieces
If the objectives are simple by modern standards, the eyepieces are the opposite – a complex design with seven elements rather than the standard five, including a field flattener – as many as a Tele Vue Nagler astro' eyepiece! You can see the construction in the simulation and diagram above.
Those eyepieces allow Zeiss to offer the full set of premium features: plenty of eye relief with low blackouts and a very wide and well-corrected field. Zeiss have used the complex eyepieces to their advantage in another way too – they are 60g heavier than the HTs' eyepieces, helping throw the balance point backwards.
True field of view is 8.6° (148m/1000m) at a wide apparent field of 64°, but a bit down on the 8x42 NL Pures', which boast a 9.1° true field (157m/1000m) and 69° apparent. Still, here is an 8x binocular with a wider true FOV than most 7x models.
Zeiss claim 18mm of eye relief, but I measured slightly more. That may be a critical millimetre or so up on Swarovski's ELs or NL Pures for even greater comfort with specs.
That much eye relief often comes at the price of spherical aberration of the exit pupil which causes blackouts as you move your eyes around. However, the SFs are well corrected in this respect, so long as you choose the right setting for the eye cups ...
The eye cups of the original were a negative point: loose and squashy and vague of action, with just two positions. This newer version has three twist-out click-stops and their action is perfect – smooth and positive.
<![if !vml]>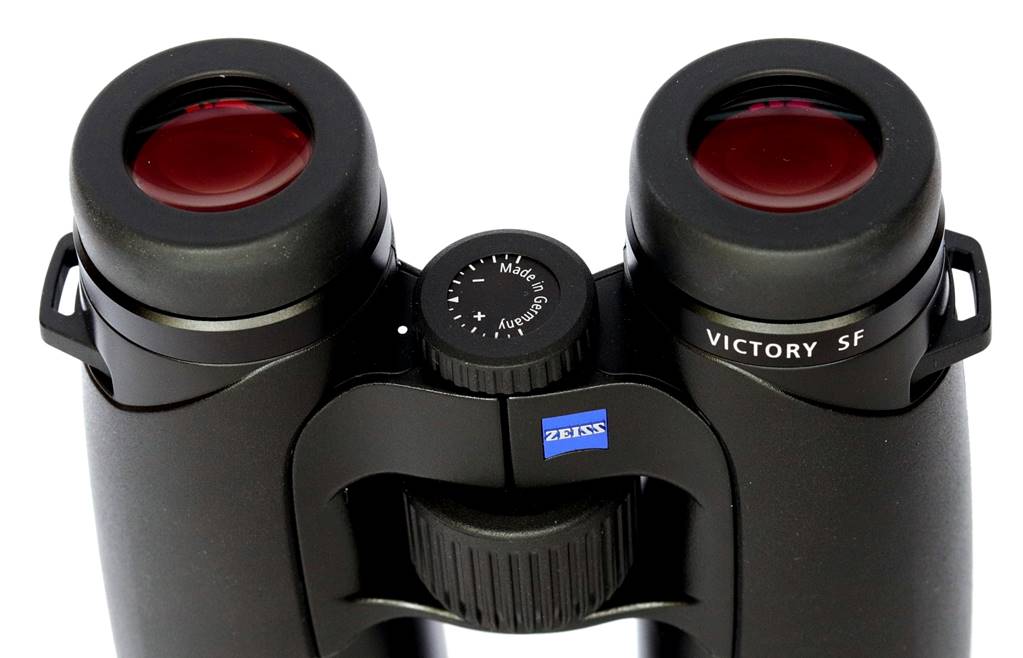 <![endif]>
<![if !vml]>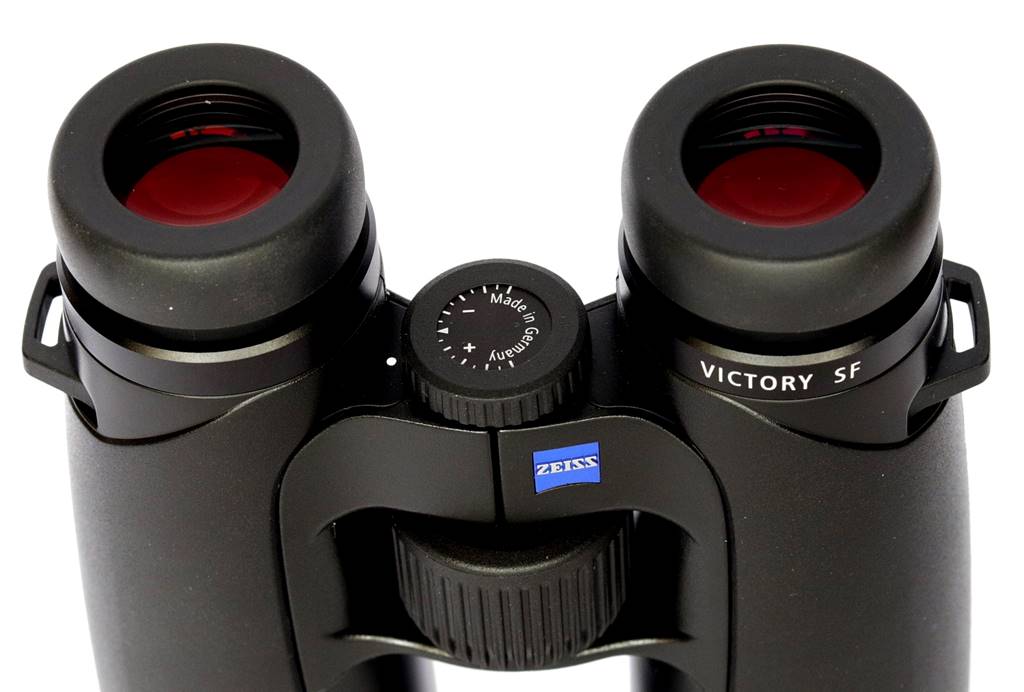 <![endif]>
<![if !vml]>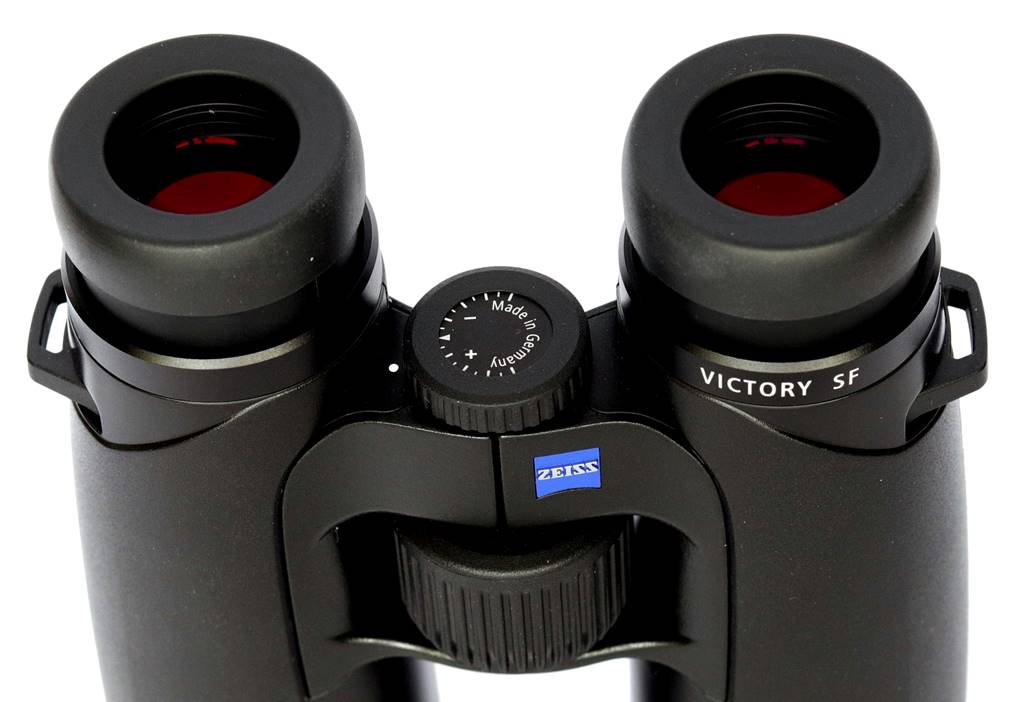 <![endif]>
<![if !vml]>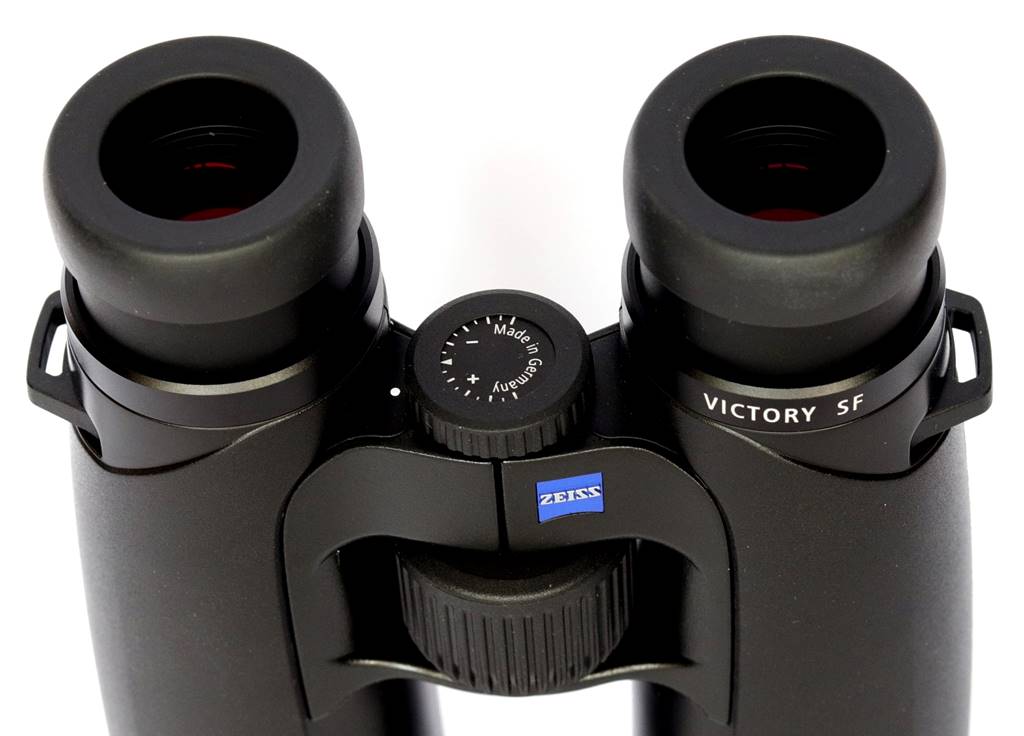 <![endif]>
Accessories
The SFs have a high-quality semi-rigid case to replace the basic Cordura item that shipped with the FLs. The SFs case is usefully slimmer than the Swarovski equivalent, with a more tailored fit, but still has a protective plush interior and separate accessories compartment.
The strap and caps are familiar recent Zeiss. The objective caps push in and are kept captive with a lanyard.
<![if !vml]>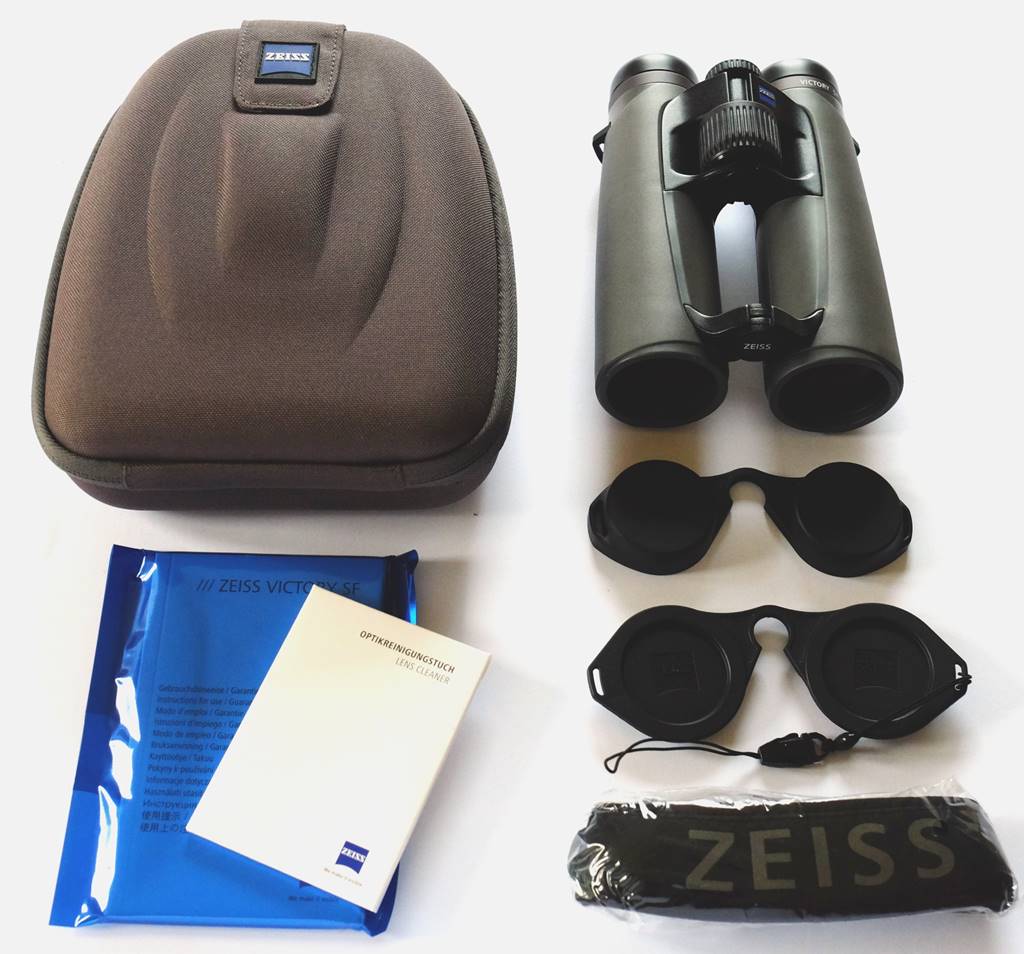 <![endif]>
<![if !vml]>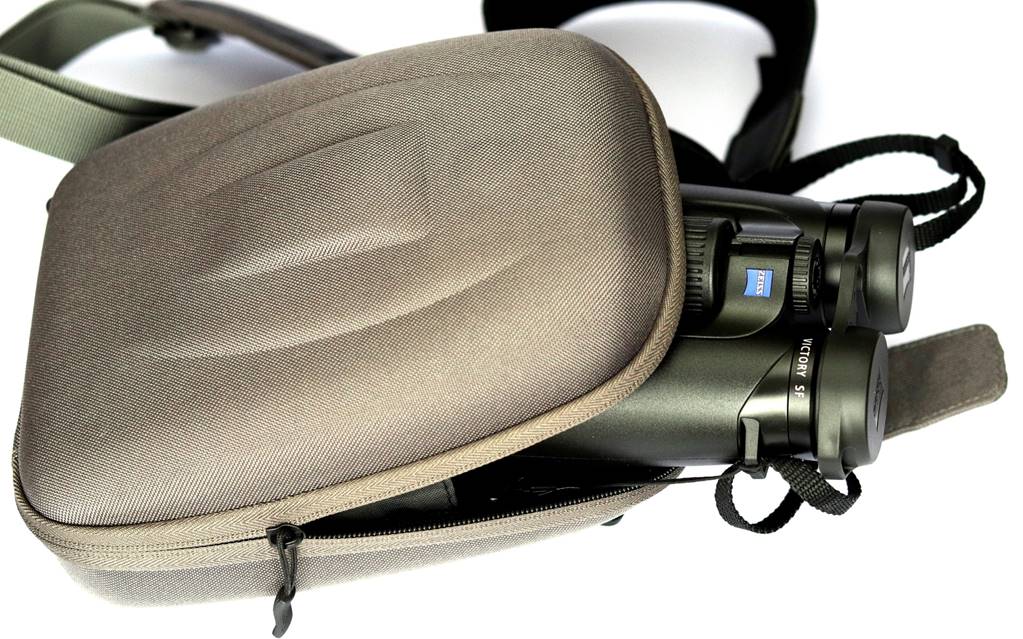 <![endif]>
<![if !vml]>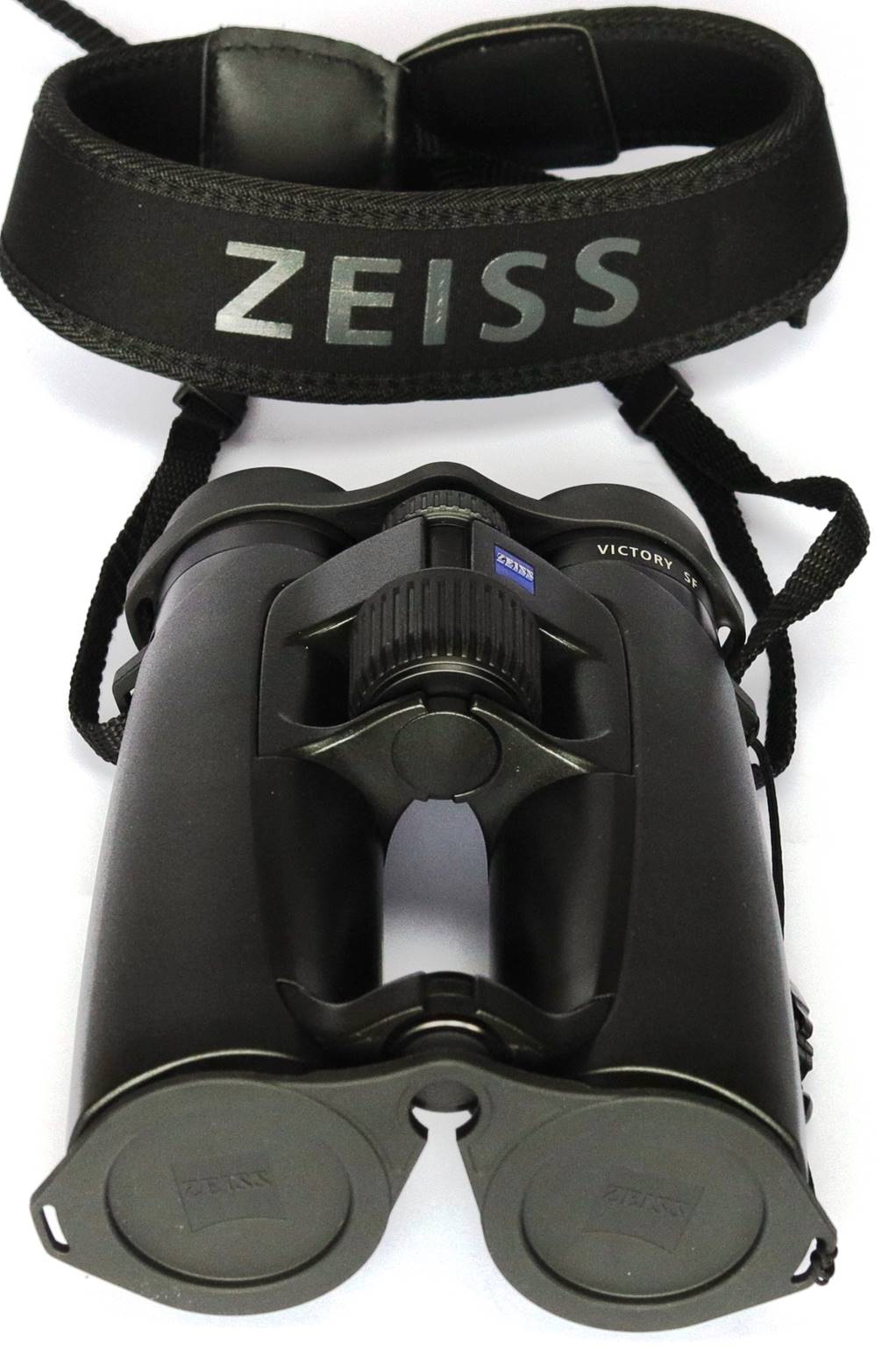 <![endif]>
In Use – Daytime
Ergonomics and Handling
Although these have a simple cylindrical barrels compared to the NL Pures' organic curves sculpted to fit the hand, I found them extremely comfortable to hold and use. Their light weight and rearward weight bias really aid comfort. ErgoBalanceTM isn't just marketing BS.
The focuser action is just right for me – light, fluid and super-precise. Moving focus to follow birds on the wing or flitting around my garden has never been more intuitive. The only negative was that the action stiffened a little during protracted use in very cold conditions.
The 19mm or so of actual eye relief is slightly more than Zeiss claim and gives the SFs unrivalled comfort with specs. Testing alongside a pair of Ultravids with 17mm, I could immediately notice the difference, able to tell that the SFs had more even before I'd measured them. For specs wearers, millimetres matter.
A slightly narrower apparent field means fewer blackouts than the NL Pures, something you notice as you swivel your eyes when panning around. Panning these doesn't induce too much rolling ball effect either.
These may be a big binocular, but their light weight makes carrying on long walks easy. Getting the weight down was a good decision by Zeiss. What's more, something about their shape and weight distribution means they seem less susceptible to swing about than some smaller bino's.
These do look a bit big hanging around your neck, but in their newer black livery they're still an understatedly stylish binocular.
<![if !vml]>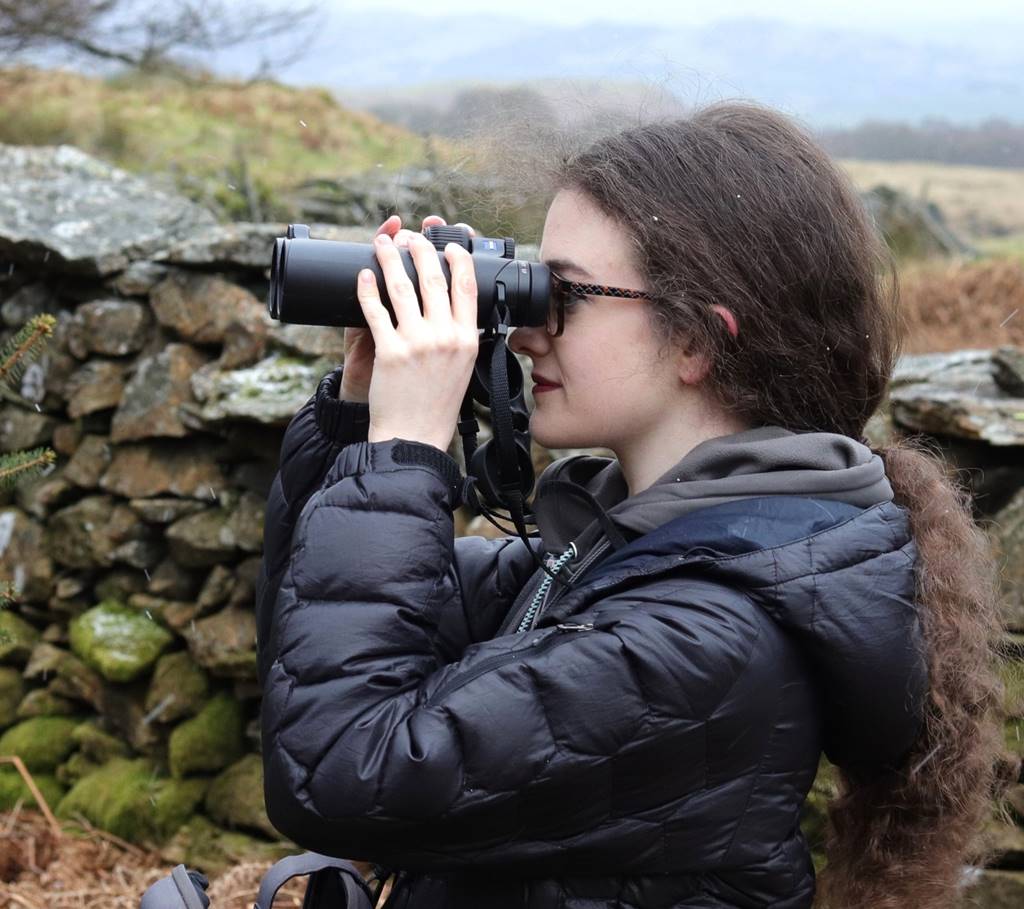 <![endif]>
<![if !vml]>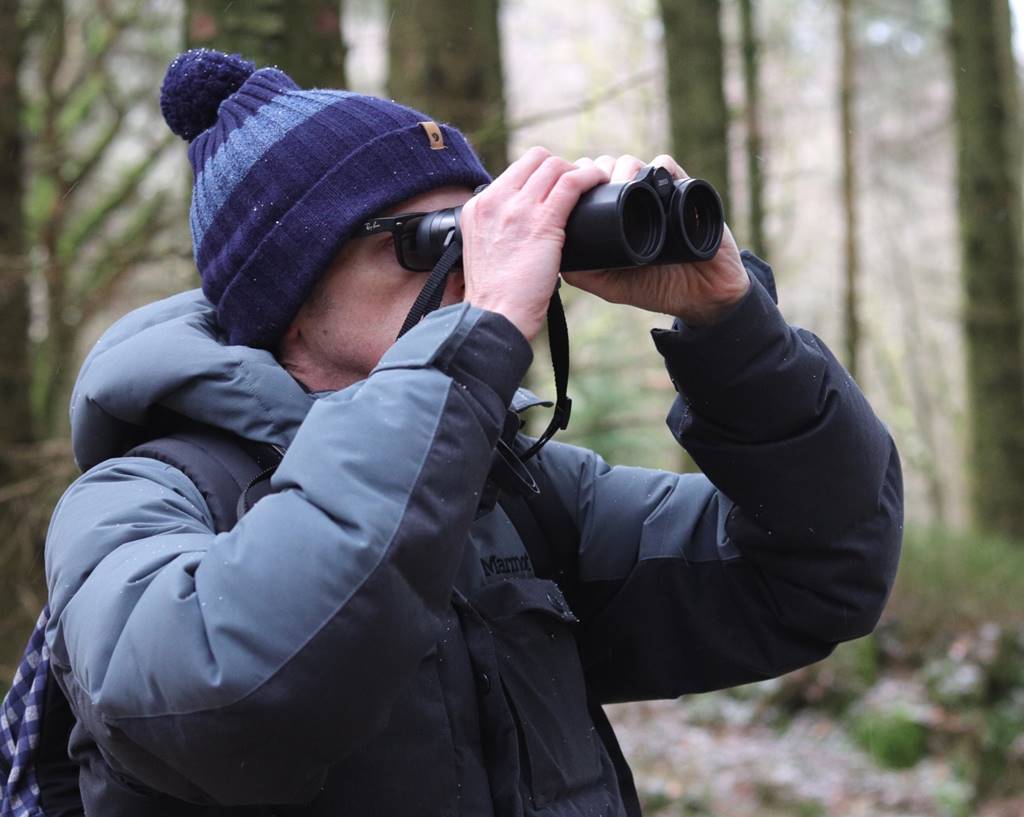 <![endif]>
<![if !vml]>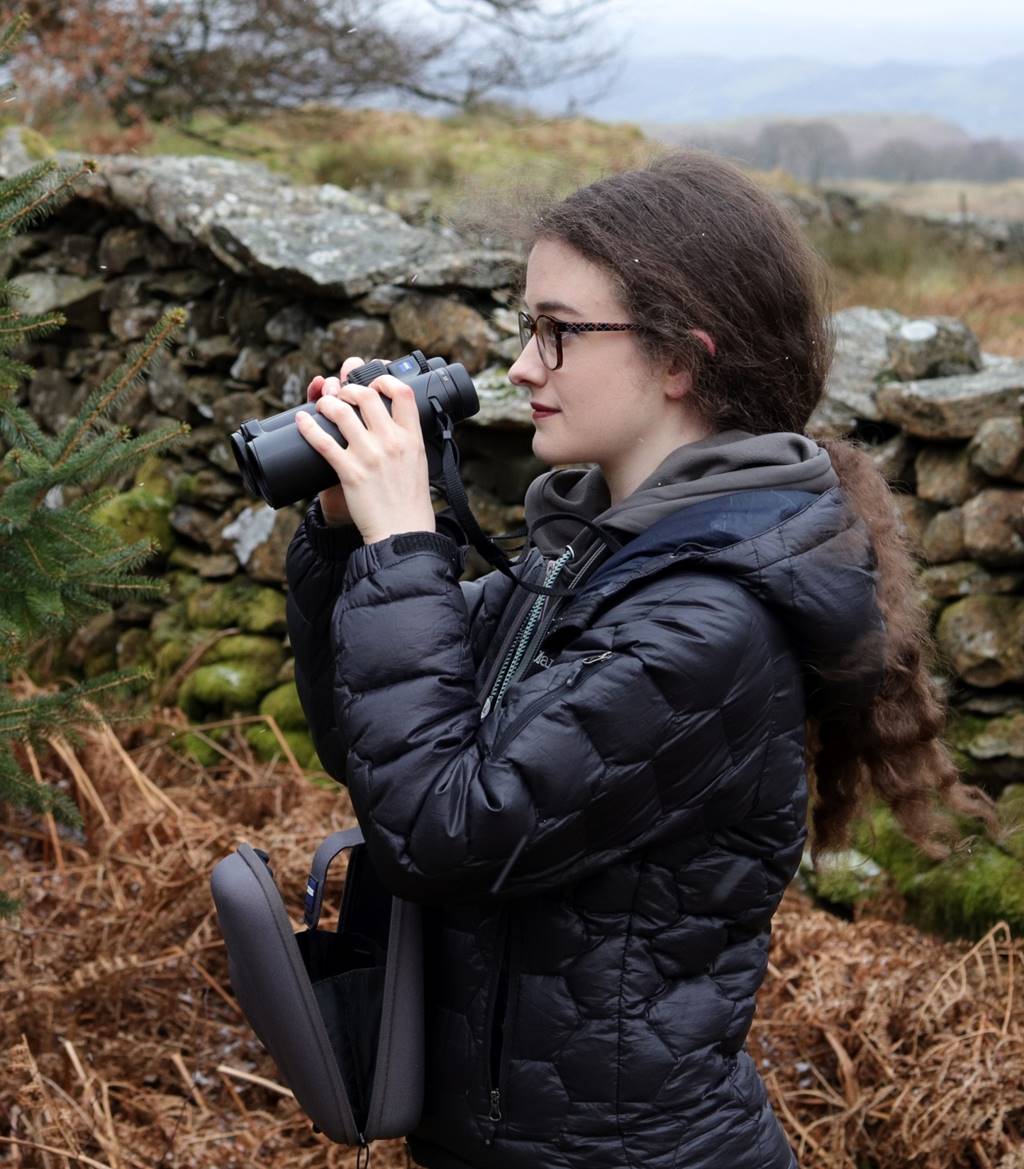 <![endif]>
<![if !vml]>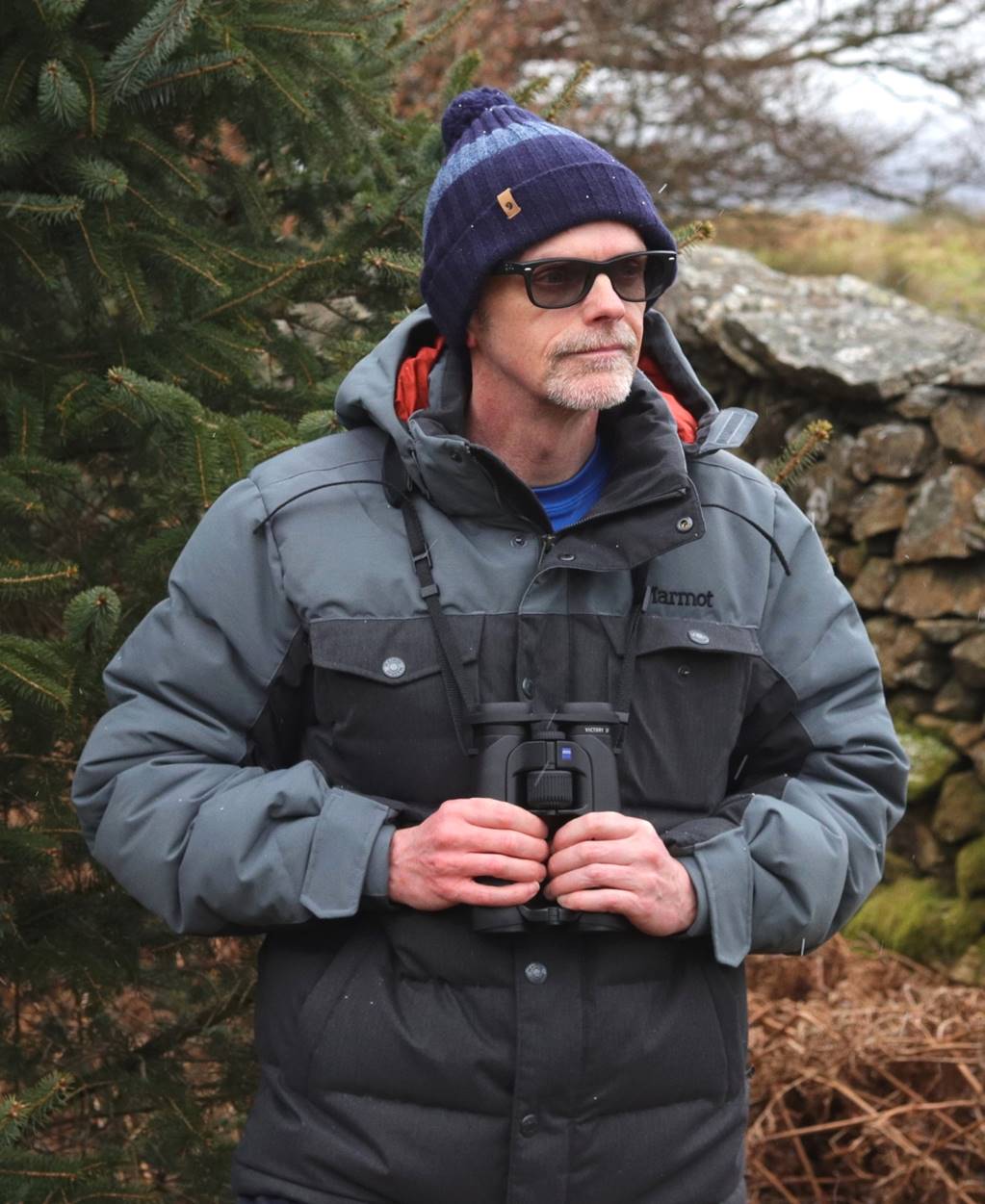 <![endif]>
The View
The view is the best of the best. Like most premium birding binoculars these days, it's extremely sharp and high-resolution, but everything else is wonderful too – colour rendition, depth of field and especially brightness. In fact, these may be the brightest of current premium birding binoculars, noticeably brighter than the Leica Ultravids I was testing at the same time. That makes it possible to pick out all the feathery colour and detail you want, even in very dull conditions.
I love the cool-toned colours that are a Zeiss signature feature. These pick out delicate plumage hues to perfection.
Field of view feels very wide and gives a much airier, more picture-window image of the world than the Leica 7x42s, good though they are. I find myself reluctant to go back to my other binoculars because that wide bright field feels more natural and relaxing. Only Swarovski's new NL Pures beat these on field of view.
So, in a positive sense the view is fabulous, but it also lacks noticeable aberrations during the day: the field seems usable to the edge and there's no significant colour fringing to mar the plumage of birds in silhouette, no flare or ghosts either, few blackouts when panning around.
All this contributes to the SFs' addictive usability. It was these I kept picking up to go out walking and viewing with, whether to watch waders on the bay sands, or just to enjoy vistas of winter forests and snowy mountains on a walk. During the couple of weeks I spent with the SFs, I used them a lot.
I found them super-relaxing at close range too, watching my garden birds for hours. Not only did the fast and intuitive focusing make following the aerobatics of Blue Tits, Coal Tits and Great Tits easy, but the picture window view made it a real pleasure, the extreme resolution picking out every feather, every open-beaked burst of song in hyper-reality like some iMax movie.
For birding and nature viewing, the view is just fantastic. So good that to try them is to want them.
Flat field?
Like the Leicas, a bit of blurring creeps in from about 70% field width, but it remains mild until the last 5% or so. Unlike the Leicas, though, here it's almost all curvature – you can focus it away to get a pin-sharp image at the field stop. That mild curvature and some distortion do make these very comfortable for panning, which is why Zeiss designed them in.
<![if !vml]>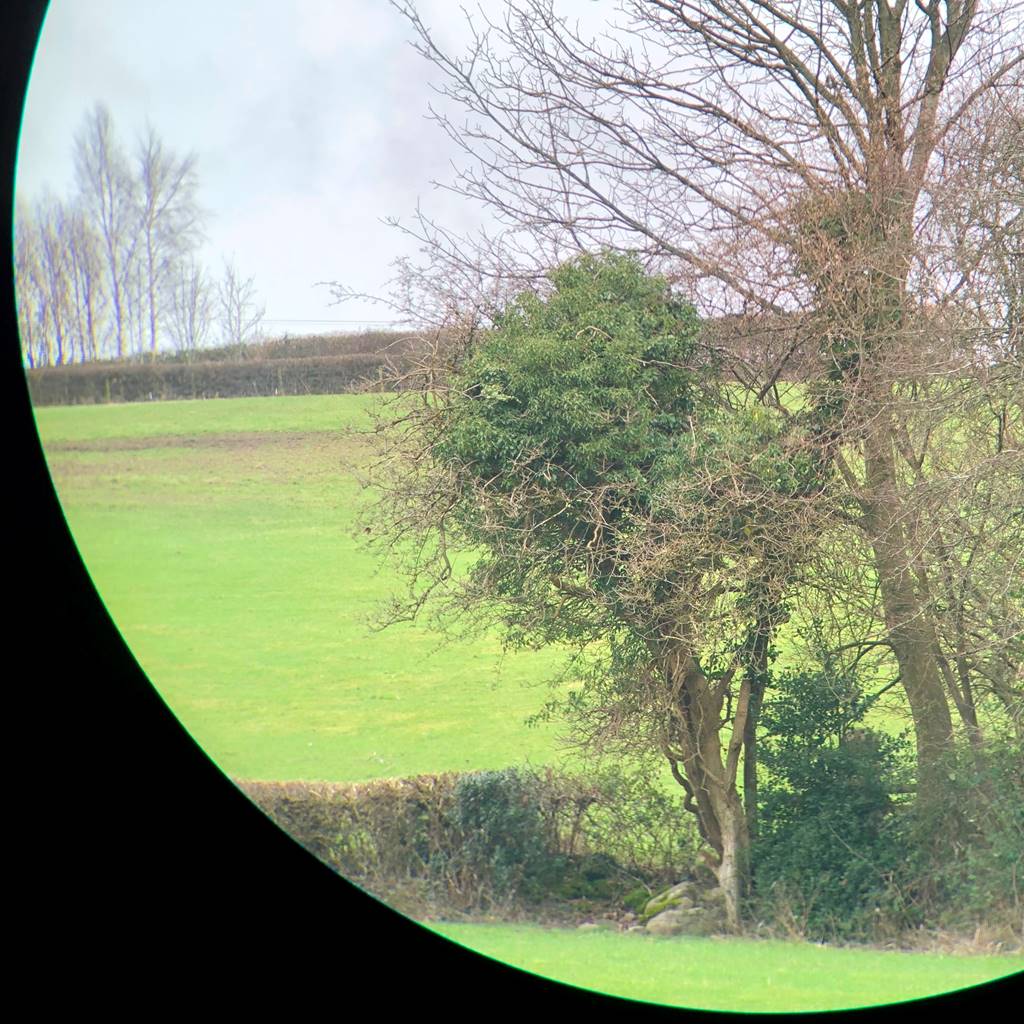 <![endif]>
Chromatic Aberration
These are almost false colour free. Most would think they are. It takes determined viewing of silhouettes against a bright cloudy sky to find the faintest residual fringing. The only exception is the field edge, where the last 15% has a bit more. Still, false colour is unlikely to trouble even the most picky.
In Use – Dusk
32mm binoculars are becoming more and more popular. I recently had a shop trying to persuade me to buy a pair instead of the 10x42s I'd asked for. These 8x42 SFs show why that's unfortunate, because they continue to work into deep dusk in a way even the best 8x32s don't, with a real ability to reach into the understory when all detail has gone to the naked eye.
I didn't get any significant veiling flare out of these SFs, even under a bright dusk sky when a pair of Ultravids were giving some.
In Use – Observing the Night Sky
Their light weight, eyepiece comfort and good handling make the SFs a pleasure to use for astronomy.
Stars become distorted progressively by field curvature (you can re-focus them back to points) from about 60% field width. Astigmatism only starts from 90%, where stars turn into crosses if you try to re-focus. This does result in some loss of fainter stars around the edge of Milky Way star fields, which the flattest fields don't suffer.
Viewing Orion's belt and sword in the same field does result in the outer stars – Mintaka and Nair al Saif - being slightly elongated in a way the best avoid, but the effect is very mild. The field is truly wide: the whole Hyades arrow-head fits in the field; likewise the whole constellation of Lyra, but then Vega and Sulafat are both quite elongated.
Stars showed strong natural colour and most were perfectly pinpoint centre field
<![if !vml]>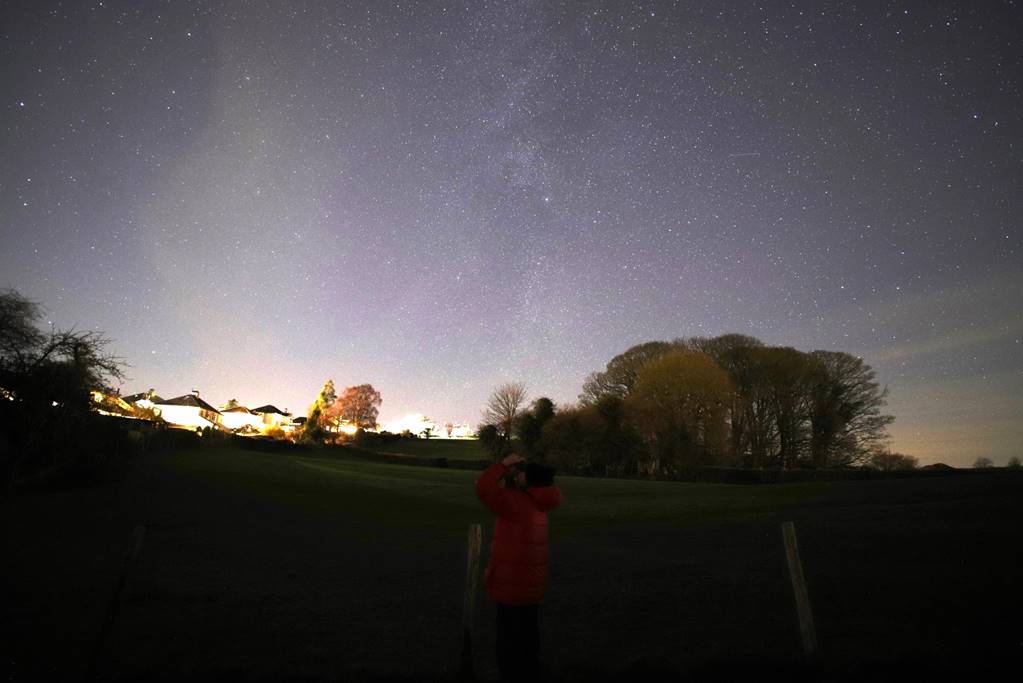 <![endif]>
The Moon
The Moon was stunningly crisp and sharp and even a full Moon failed to create spikes or ghosts in field. Viewing around a full Moon did produce some very minor veiling flare.
Mars
The only bright planet around in the sky at the time, Mars, threw up no nasty spikes or flare and was a superbly saturated orange-red through the SFs, with hardly any of the usual dark red blur of false colour, even out of focus.
Deep Sky
I was surprised by how much better the SFs were on deep sky than the Leica 7x42s I was testing, what a big jump the extra power seemed. The only exception was the richest star fields, where the 7x42s excelled.
The well-corrected part of the SF's field is large and the distortion of stars at the field edge is not bad enough to really spoil what is a genuinely great view of the night sky.
I enjoyed the clusters in Auriga, from M35 through M36 and on to M37 and M38. The latter three easily fitted into a single field and the Starfish and Pinwheel both resolved nicely with direct vision, surprising me at this magnification.
I craned my neck back to get at the Double Cluster region, but it was well worth it, with spectacular views of the arc of stars reaching out to Stock 2, with tiny dense cluster TR 2 behind and nearby patches of hazy nebulosity in the Heart and Soul nebulae.
Albireo split easily and beautifully. Moving up through Cygnus, I enjoyed the rich star fields until I arrived at the big patch of mist above of Deneb which is the North American Nebula.
Other extended objects, like Galaxies M31 and M33 in Andromeda, easily fitted into the well-corrected central field and looked just great, framed by a huge star fields.
I prefer the even wider and better corrected field of Swarovski's 8x42 NL Pures, but the SFs still give a wonderful view of the night sky.
Zeiss 8x42 SF vs Swarovski 8x42 NL Pure
<![if !vml]>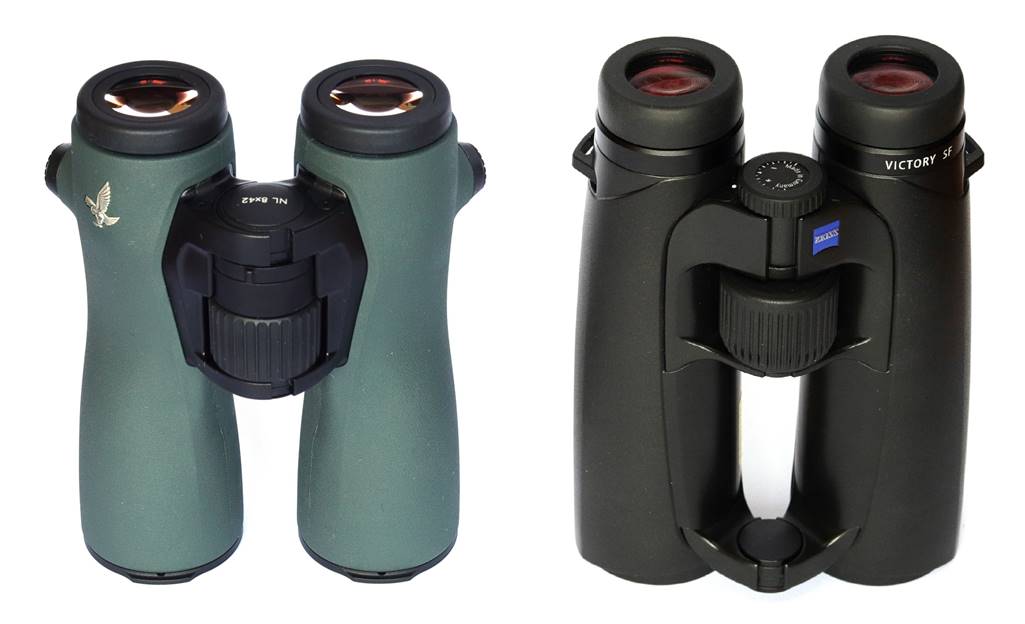 <![endif]>
This is the main event, the question every keen birder with a generous budget is going to face sooner or later. Unfortunately, these improved SFs leave no clear answer.
<![if !supportLists]>· <![endif]>The NL Pures are shorter, but heavier
<![if !supportLists]>· <![endif]>The NL Pures have the very best hold ever, thanks to their sculpted barrels, but the SFs are less tiring on the wrists due to their low weight and rearwards balance point
<![if !supportLists]>· <![endif]>The NL Pures have an even wider, better corrected field
<![if !supportLists]>· <![endif]>Both feature minimal false colour, the NL Pures essentially none at all
<![if !supportLists]>· <![endif]>I felt the SFs might be a touch brighter, its tones a touch cooler
<![if !supportLists]>· <![endif]>Focus action is the very best ... on both
<![if !supportLists]>· <![endif]>The NL Pures' dioptre adjustment is better
<![if !supportLists]>· <![endif]>The SFs have slightly better eyepiece comfort – a fraction more ER, slightly better resistance to blackouts
<![if !supportLists]>· <![endif]>Stray light resistance is outstanding in both
<![if !supportLists]>· <![endif]>Now I'm used to it, I prefer Swarovski's Field Pro strap system
<![if !supportLists]>· <![endif]>Build quality now feels similar, but with a different vibe and the SWs just slightly ahead
Both are just superb. For astronomy I would definitely choose the Swarovskis due to their wider, flatter field. For birding, I keep editing this sentence because it's a very tough call ...
Summary
I really love the SFs in their improved form. I recently wrote that Swarovski's new NL Pures are the best birding binoculars available, but having tested these newer SFs I'm less sure. The original SFs I reviewed had significant problems – poor build, loose armour, dodgy eye cups and a vague and wonky dioptre knob - that have since been fixed. Meanwhile, all the goodness of the original is still there in abundance. They're now ideal for me, for birding at least.
Yes, the NL Pures have a wider, better corrected field that makes them better for astronomy; and an even comfier hold, perhaps even less false colour. But the SFs are noticeably lighter to carry and I like their rearwards weight bias too. They may have even better eyepiece comfort from a millimetre extra real-world eye relief; and their field curvature and distortion does curb that rolling ball effect when panning. In every other way – brightness, resolution, focus action – SF vs NL Pure is too close to call.
So for a mix of astronomy and birding, the NL Pures' still have the edge for me, thanks to their ultra-wide and well-corrected view. But purely for birding you might prefer the SFs for their lighter weight and slightly better eyepiece comfort. Zeiss and Swarovski have never offered a more different top-line bino' and never been closer. The choice is yours and it's a great one to have.
Zeiss have fixed my original quality complaints, making the 8x42 SFs one of the very best bino's money can buy. For astronomy I prefer Swarovski's NL Pures, but for birding the updated SFs are now every bit as good.
<![if !vml]>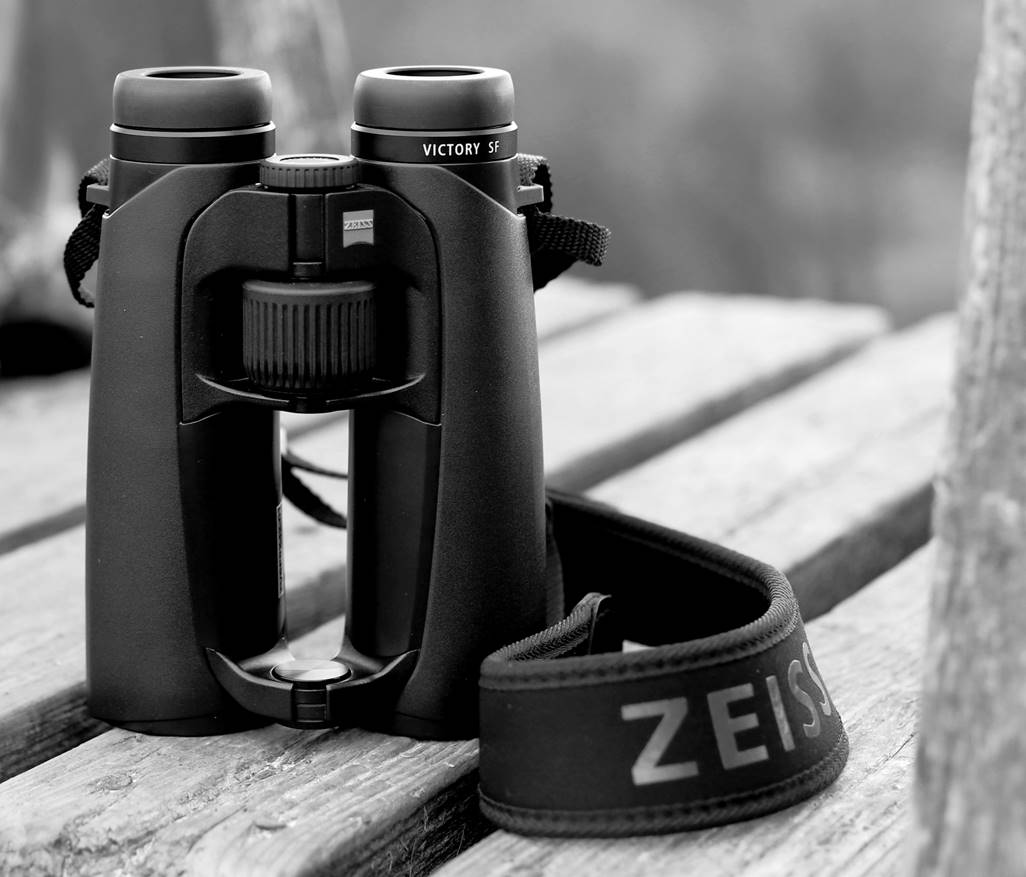 <![endif]>
Buy Zeiss 8x42 Victory SF from Wex here:
<![if !vml]>

<![endif]>